Best Things to Do in York County, SC during an Adults-Only Weekend
We were pumped for a sunshine-filled weekend with great food and wonderful things to do in York County, SC. We packed our weekend bags for a two-and-a-half-day getaway, Friday to Sunday. We worked off calories consumed by eating and drinking by walking around to see the pretty landscapes mother nature had to offer, in its parks, murals, and shops in the area.
Rock Hill and Fort Mill are just about three and a half hours southwest of Raleigh. It's only about 30 minutes south of Charlotte, North Carolina…and there is plenty to do in this beautiful area!
Please note: We thank Visit York County for generously hosting us. We also may make a small commission from affiliate links in this post but all opinions are ours and we bring you genuine content with real facts, photos, thoughts and recommendations. Always.
Ideal Hotels in Rock Hill and Fort Mill, within York County, South Carolina
You'll need a place to stay during your trip! We stayed in both cities (Fort Mill and Rock Hill) to take advantage of the ability to walk from the hotels to nearby things to do in York County.
Rock Hill Hotel near Downtown and Main Street
We stayed at the CAMBRiA Hotel Rock Hill University Center, conveniently located within walking distance to downtown. This meant we were able to park our car in the parking garage, not worry about moving it from parking spot to parking spot, and simply enjoy our weekend getaway.
It's right next to the Rock Hill Sports and Event Center so it draws a lot of people going there for events and competitions. It was a lot of fun to have the energy of a basketball tournament fill the hotel that weekend.
Their rooftop bar, 354 SkyBar, was a great place to grab a drink during late afternoon and in the evening, especially following our dinner at Kounter. We had a cocktail and beer on the rooftop before we called it a night and took the elevator to our room, crawling into our comfy bed!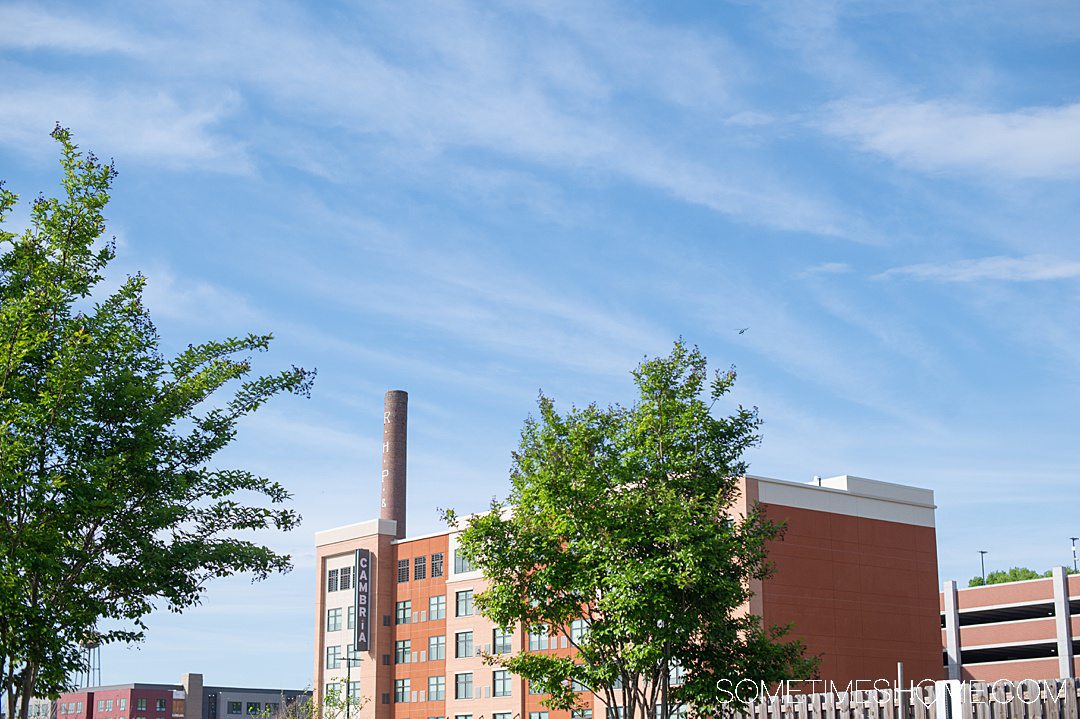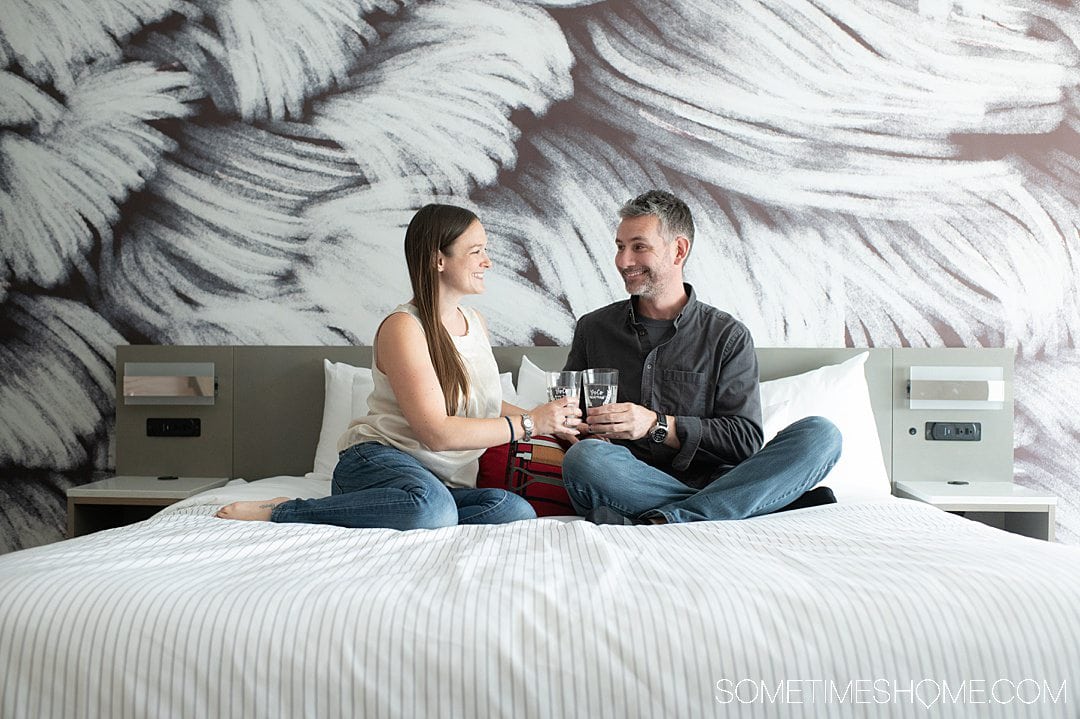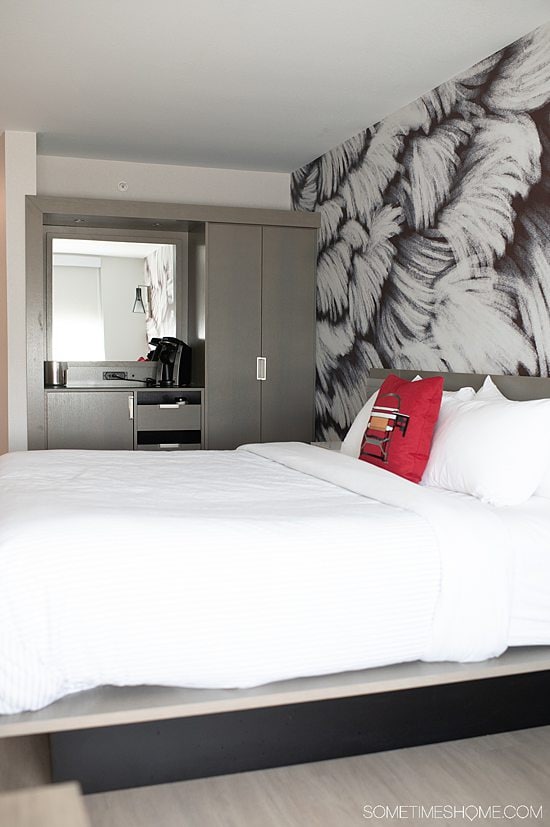 Fort Mill Marriott Hotel in an Ideal Location Near Restaurants and Shops
The Courtyard Marriott at Kingsley town center is the perfect location because of its proximity to awesome restaurants and bars. It was perfect for us to not only be at a Marriott hotel but also to be near what we ultimately wanted to do that night: dine and drink! (We're also loyal Marriott Bonvoy customers.)
We could safely eat and drink here after we parked our car and walked to the evening's destinations.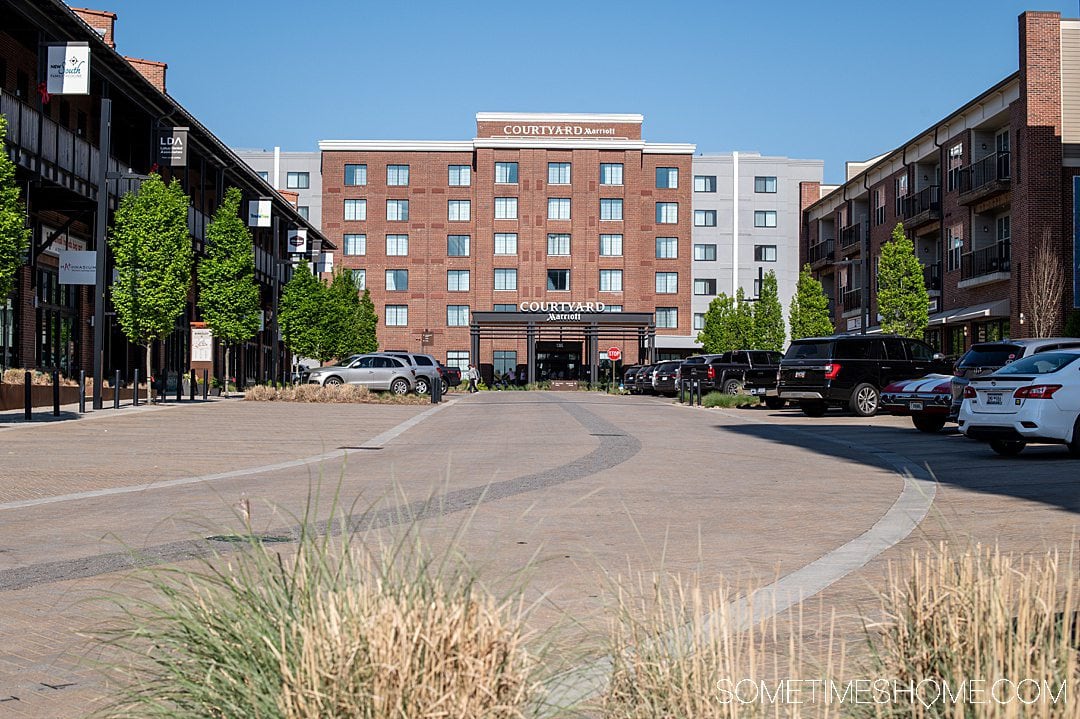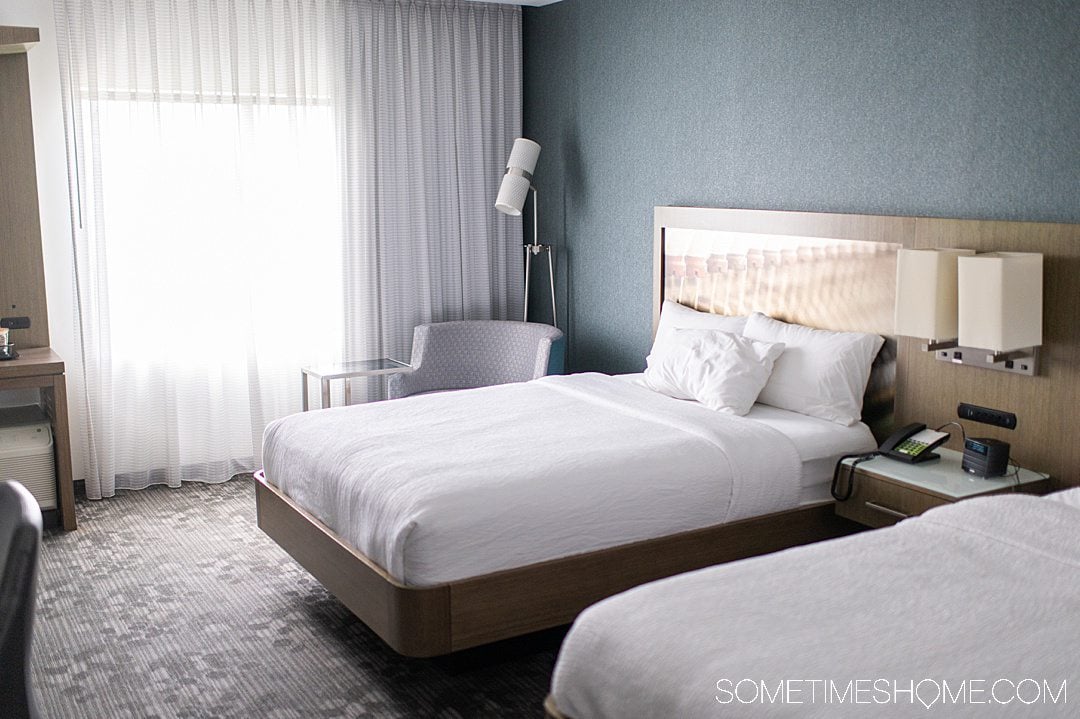 Should You Stay in Fort Mill or Rock Hill?
There's not really a wrong answer! They're so close to each other that we would suggest checking the availability of the two hotels we recommended first, based on your travel dates.
Then decide if it's more important to you to walk to things at Kingsley or in downtown Rock Hill. That's our best advice! But know that there isn't a right or wrong, bad or good decision regarding which of the two cities to stay in within York County.
Things to Do in York County, Rock Hill
Rock Hill's Glencairn Gardens
We hit the jackpot when we visited Rock Hill's Glencairn Gardens. It was mid-April, and the light pink, hot pink, red, and white Azaleas were in full bloom. The park was aglow with the vibrancy of the season.
We took no less than 50 pictures here because the flowers, ponds, and fountains were too pretty not to photograph. The photos of Glencairn Gardens included here are just a taste of what we captured that day.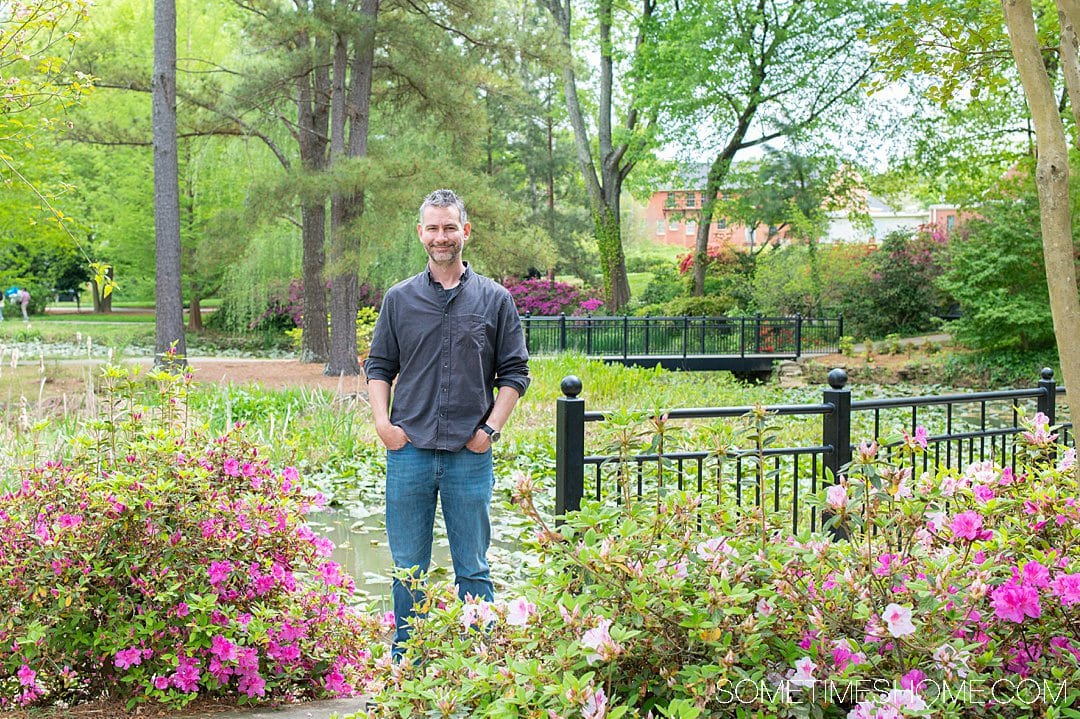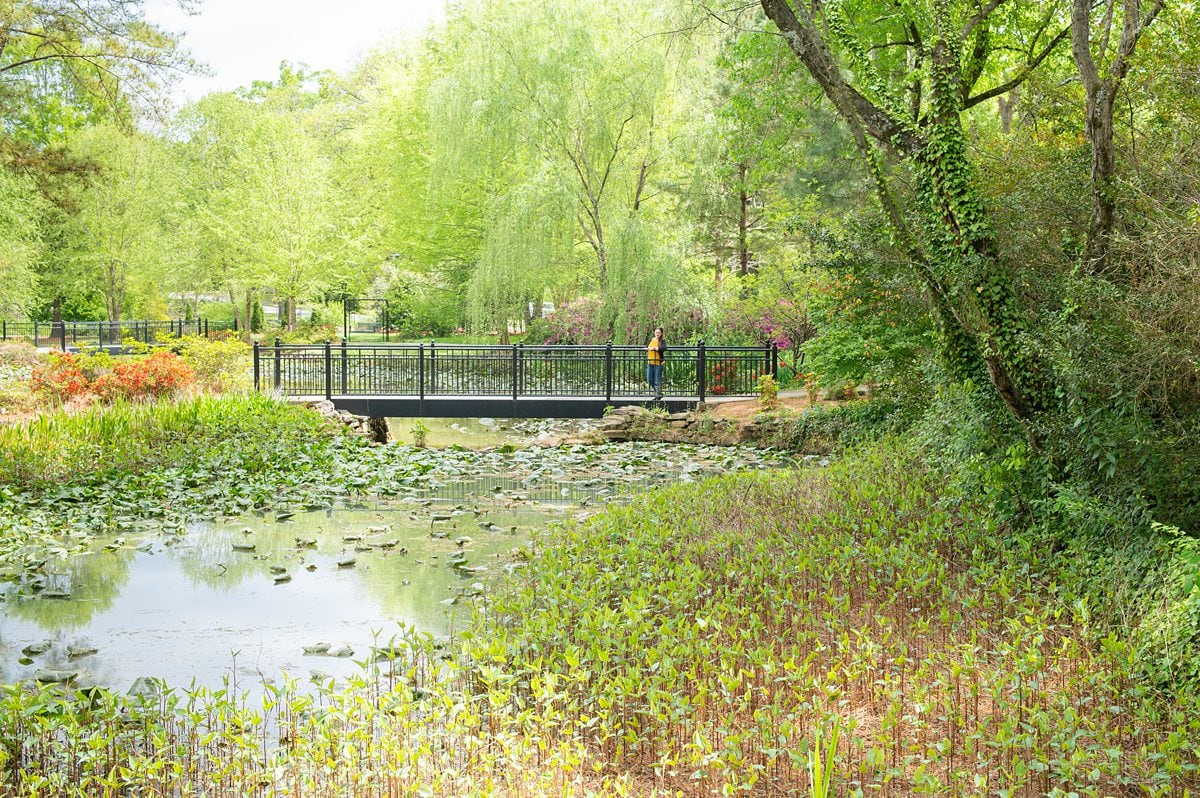 It's hard to believe that the 11 acres of gardens originally began as the personal backyard garden of David & Hazel Bigger in 1928. Glencairn has been open to the public for all to enjoy for nearly a century, from dusk until dawn.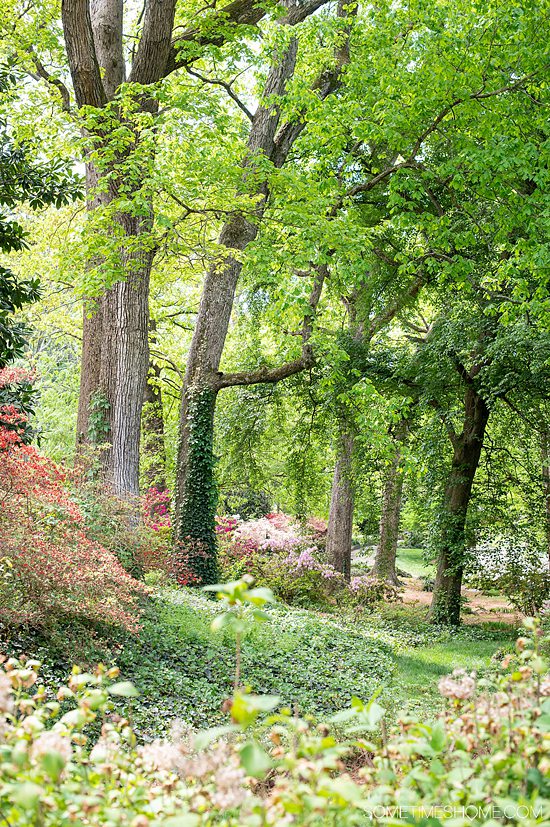 Walk Around Downtown Rock Hill
The walk from our downtown Rock Hill CAMBRiA hotel to the heart of Main Street only took about ten to fifteen minutes. We went there a few times in the less-than-24-hours we were there for beers, shopping, dinner, and breakfast, and more shopping the next day.
Be sure to look for the attractive street signs on the corner of Caldwell and E. Main Street, and the murals around town too. One of the murals was right under our feet on Caldwell Street. The mural, supporting racial equality, read: Rock Hill for All.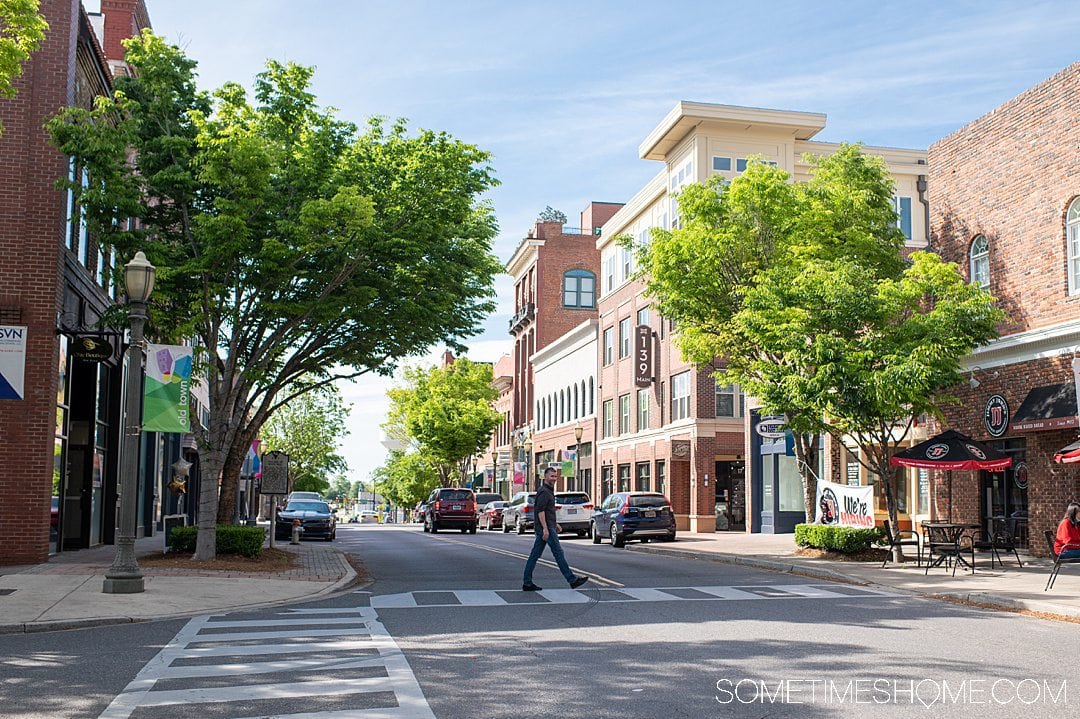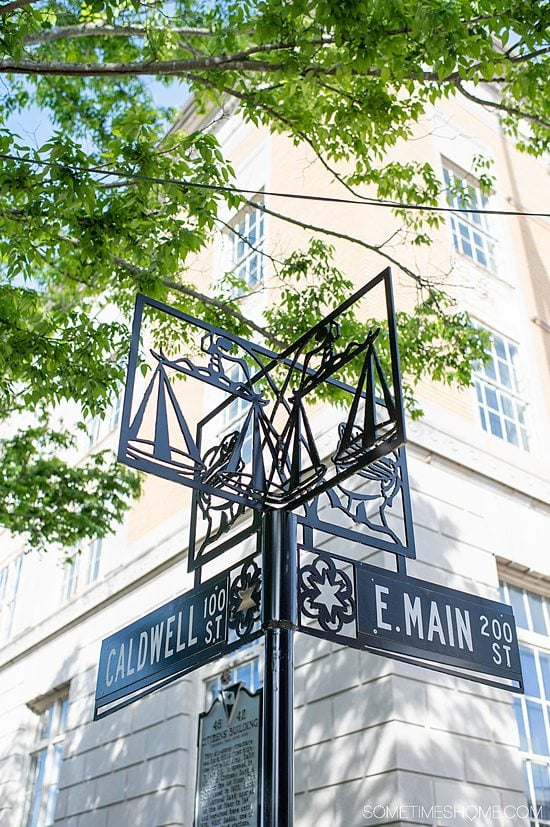 Visit the Gettys Art Center and Stop by Rock Hill Pottery & Downtown Artistry
What was once a courthouse and post office is now Rock Hill's Gettys Art Center. It serves as the home to dozens of artists and creative professionals, and lucky for us, we were able to visit on Saturday.
We picked up a little gift for ourselves and our plant obsession there! (And being there reminded us of our trip to Seagrove, the pottery capital of the world, which brought back nice memories.)
Inside, you'll find old post office boxes as well as galleries of many artists. We loved picking out a special vase from one, which is now hanging over our kitchen sink at home. It holds all the leaves we're trying to propagate. (We're a little addicted to houseplants!)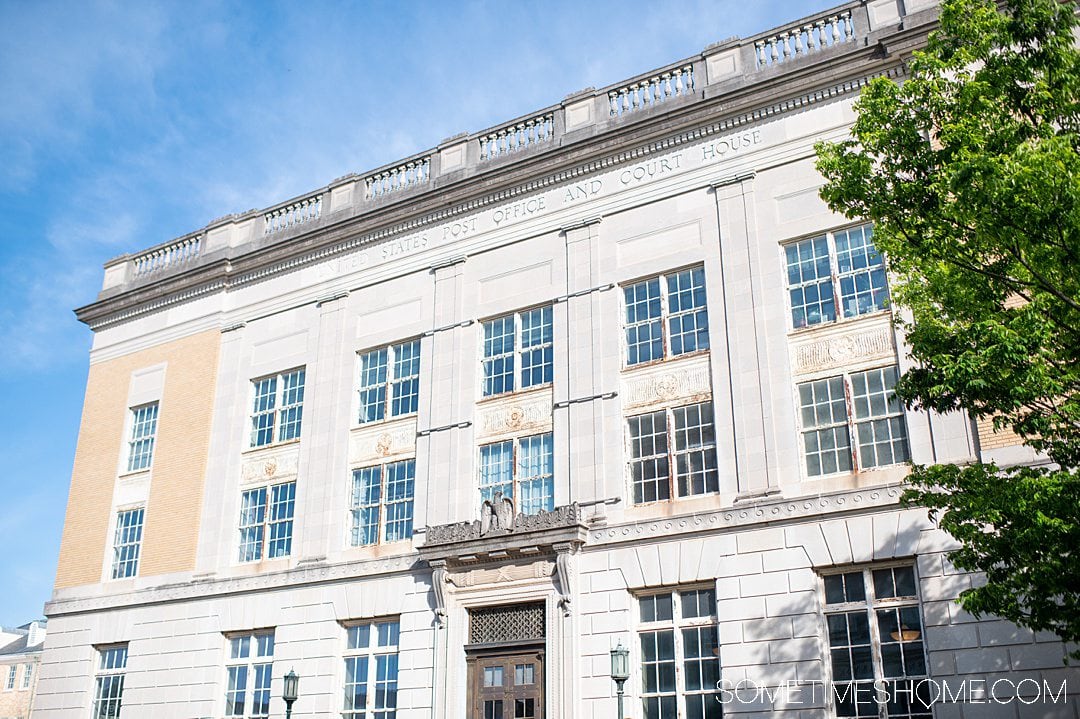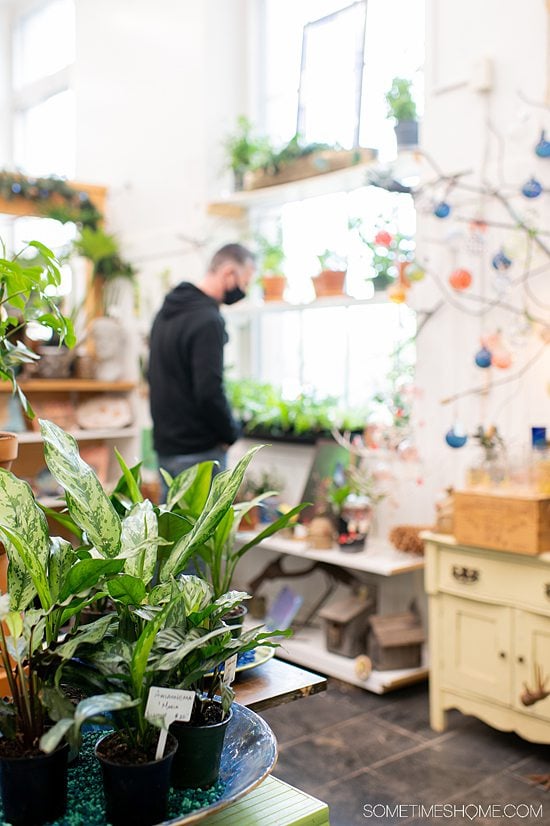 Shop Rock Hill's Main Street
Speaking of shopping, if you're looking for something to do on Friday afternoon or Saturday – go shopping! We're not huge shoppers, per se, but we do love looking at artists' creations as artists, ourselves.
Here's the interior of The Hickory Post, which offers home furnishings, artwork, and accessories made by all kinds of artists. It was really neat to walk around three levels of the shop to see what talented people are creating.
If popping into clothing boutiques is your thing there are one or two boutiques on Main Street you'll enjoy. There was even a clothing boutique on the bottom level of The Hickory Post.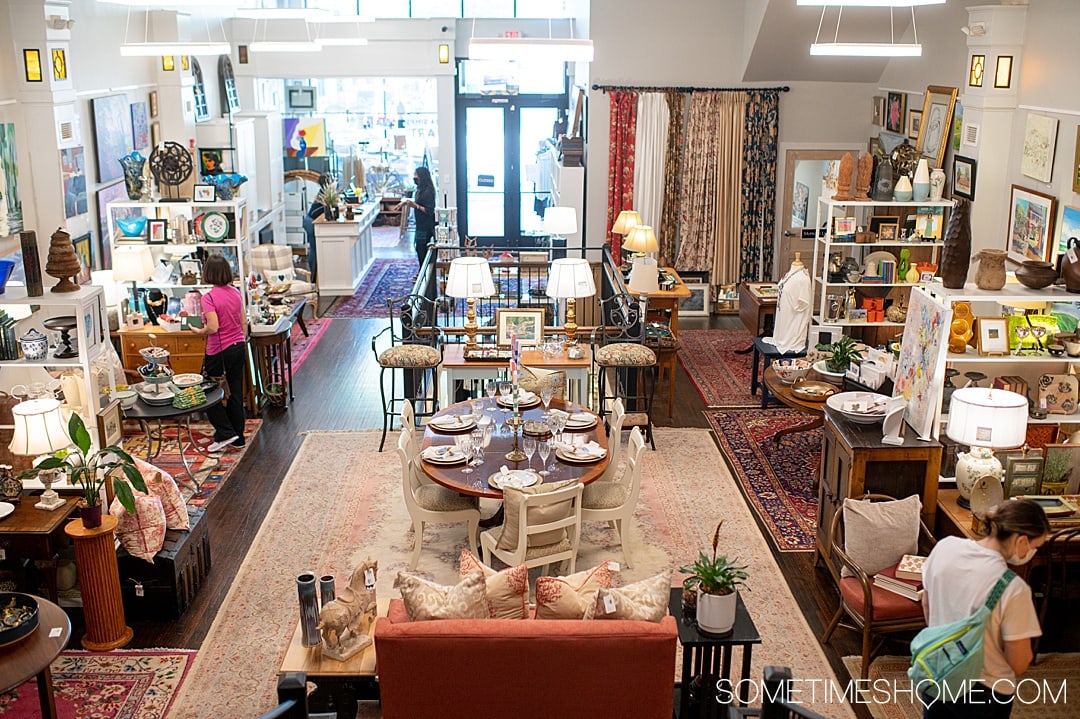 Find Murals in Downtown Rock Hill
One of our favorite things to do in any city is find murals. So naturally, one of the best things to do in York County, SC (in our humble opinion) is to find these murals. Rock Hill had several though two, in particular, really impressed us.
The first one was a mural we passed on our first walk from our hotel toward Main Street. We saw it as we walked south down W. White Street towards the heart of downtown. It's on the side of Dust Off Brewing Co., and you see it as you pass the parking lot just after you cross over N. Wilson Street on your walk.
The colorful mural, created by Osiris Rain, says "Rock Hill" in his signature style, which is a prismatic patchwork of sorts, usually with people painted into the piece. It was created using many colors, including purple, aqua, blue, red, orange, yellow, and pink.
A hand holds a white flower surrounded by a pink heart in the middle. Two people were skillfully painted into the mural, giving it a human connection.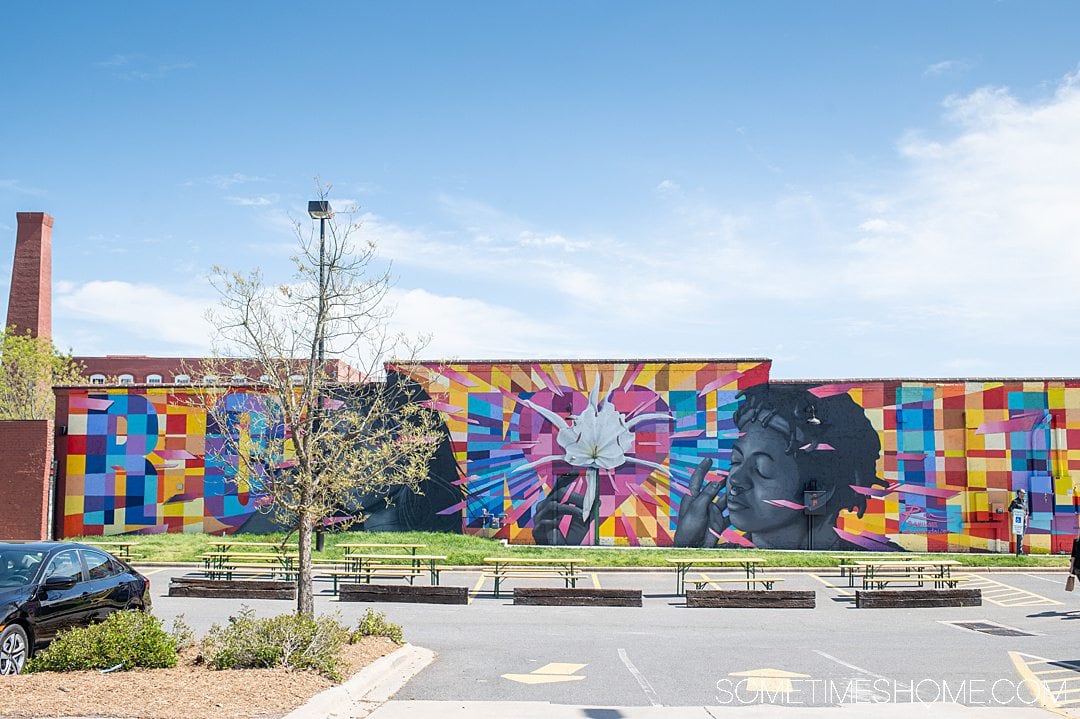 Another amazing mural looks like a photograph. But it is, indeed, painted. The talented artist, Darien Fleming, created it. A child's imagination runs wild in this mural, which we learned used his friend's daughter as a model. It all started with a yellow crayon.
Fleming wanted the viewers to remember to always encourage children to create.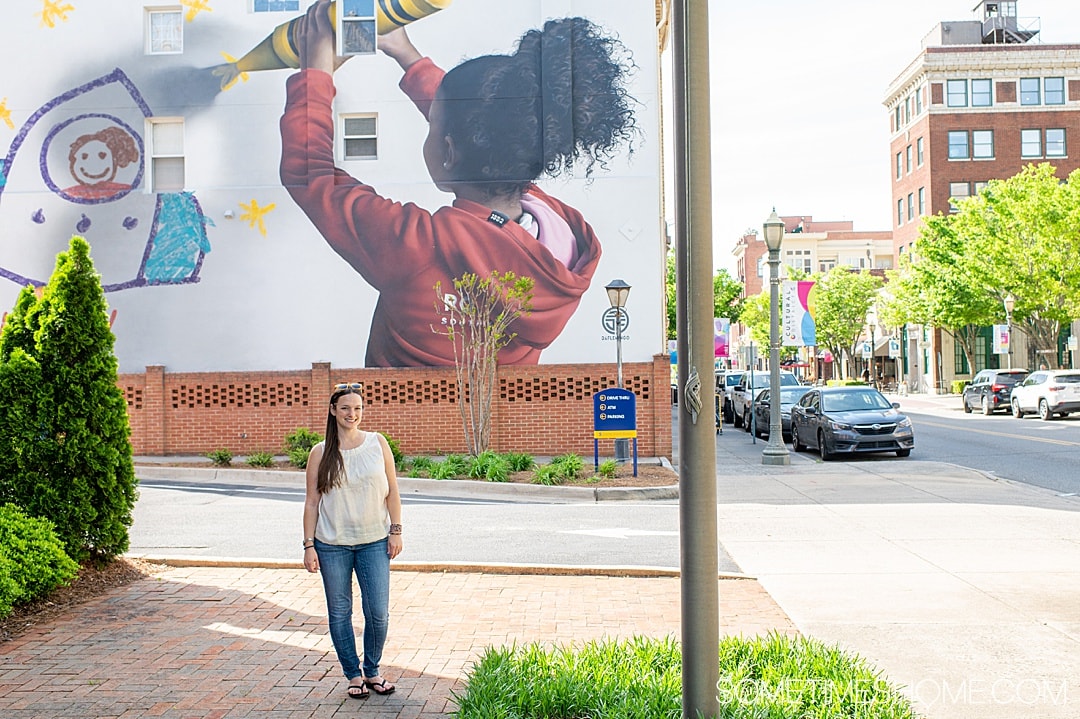 Learn about an Important Black Civil Rights Movement in Rock Hill at Freedom Walkway
Freedom Walkway is just next to Kounter, in the former space that McCrory's Five and Dime occupied in the 1960s. It was the site of the historic peaceful sit-in by ten freshmen at Friendship College in Rock Hill, in 1961.
There is an alleyway that goes from Main Street to the parking lot behind it, called the Caldwell Street lot. It's here that you'll find a mural painted with "Liberty and Justice for All."
The Freedom Walkway art project honors the Friendship 9 with nine granite stools, interconnected bricks and tiles, and a mural declaring equality. (The Friendship 9 was down from ten people at the sit-in at McCrory's, because one of the men ended up paying bail, leaving nine who stood together to make a political statement with, "Jail, no bail.")
Be sure to walk to the end of the walkway if you're entering from Main Street. There, you'll find plaques that share additional information about the project and the Friendship 9. We spent about 10 minutes reading about it and another ten minutes admiring the art. You can also learn more about it on the Freedom Walkway website.
Jail, No Bail Exhibit
If you are visiting the area during the following hours, check out the exhibit that chronicles the 30 days that impacted the Civil Rights Movement of the Friendship 9.
It is open: Tuesday through Friday, 10:00am to 4:00, and Saturday and Sunday 11:00am to 4:00pm.
At this exhibit that opened in fall 2021, you can see original photos, letters, and newspaper clippings that help bring the story back to life.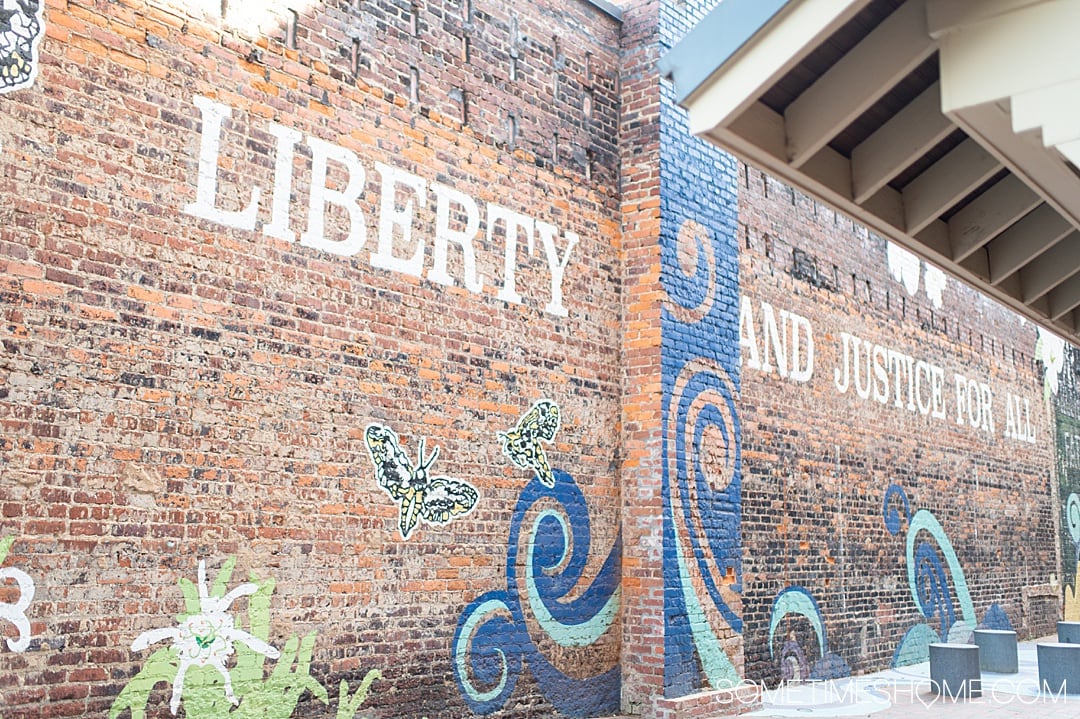 Spend Time Gazing at the Dancing Water at Fountain Park
A beautiful downtown Rock Hill park has a central fountain as its main feature. The fountain's many jets dance and swirl to put on a show for onlookers. We stayed for about 15 minutes to enjoy the weather and show. We also enjoyed the spritz from the water that drifted our way in the spring breeze, and seeing what the jets would do next.
Curious what the fountain is doing right now? Check out the live webcam!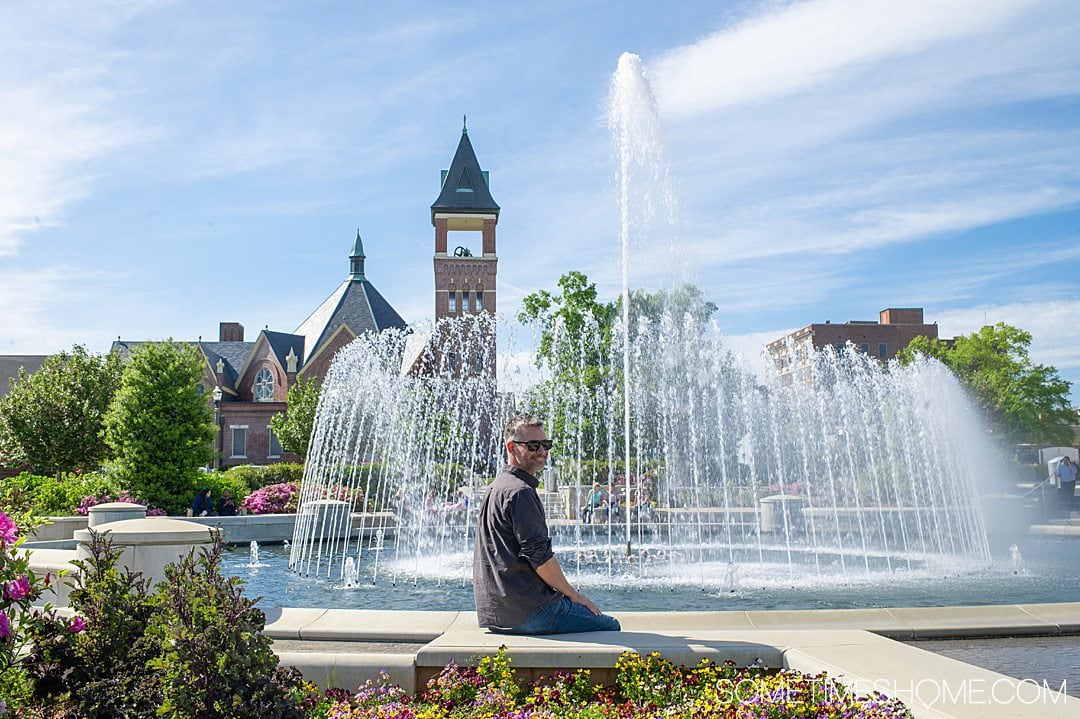 Shop at The Mercantile
We passed The Mercantile on our walks between our CAMBRiA hotel and downtown's Main Street a couple of times before we had a chance to go in. And we're glad we left it for when we had a good half hour to spare because you don't realize how huge it is – and how much great merchandise they have – until you're inside.
They have anything you can think of from puzzles to candles, to plates and salt & pepper shakers, to clothing, books and even live flowers. Stopping in is a must! Good news: they're open daily.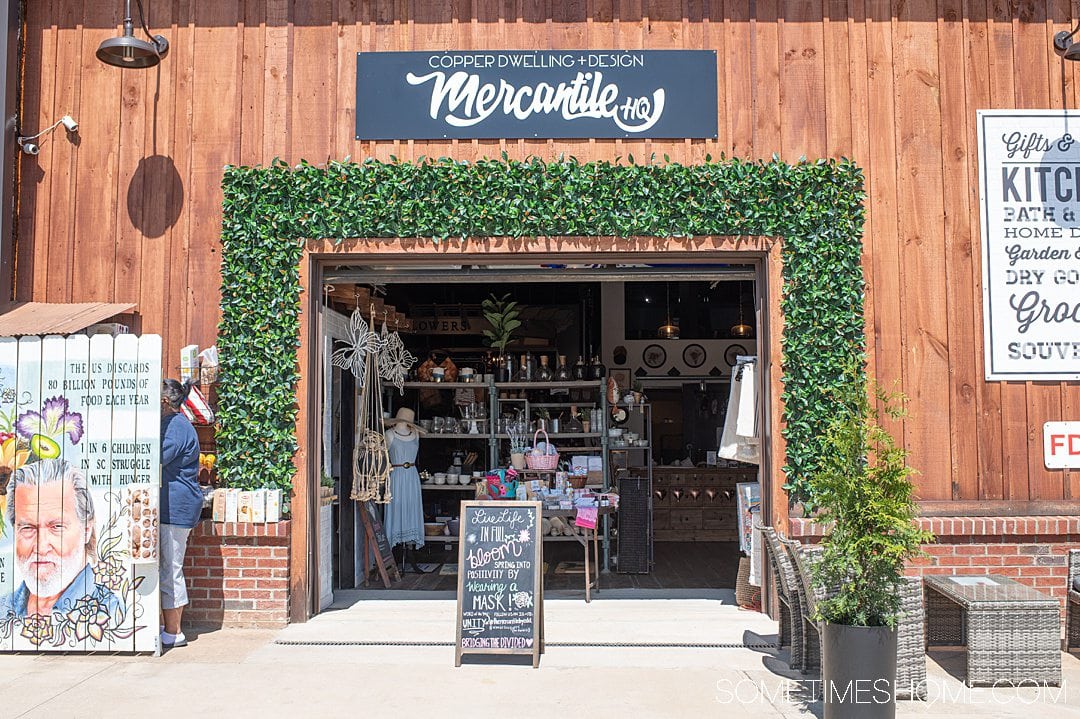 Walk along the Catawba River and Visit Riverwalk
Riverwalk is aptly named because it's right against the Catawba River. You'll find kayakers and canoers enjoying time on the water and people exercising. Piedmont Medical Center Trail offers over three miles of paved trails along the river.
There are also restaurants, a wine bar, shopping and athletic fields at River District at Riverwalk. We stayed a while and enjoyed a meal at Pump House, overlooking the river.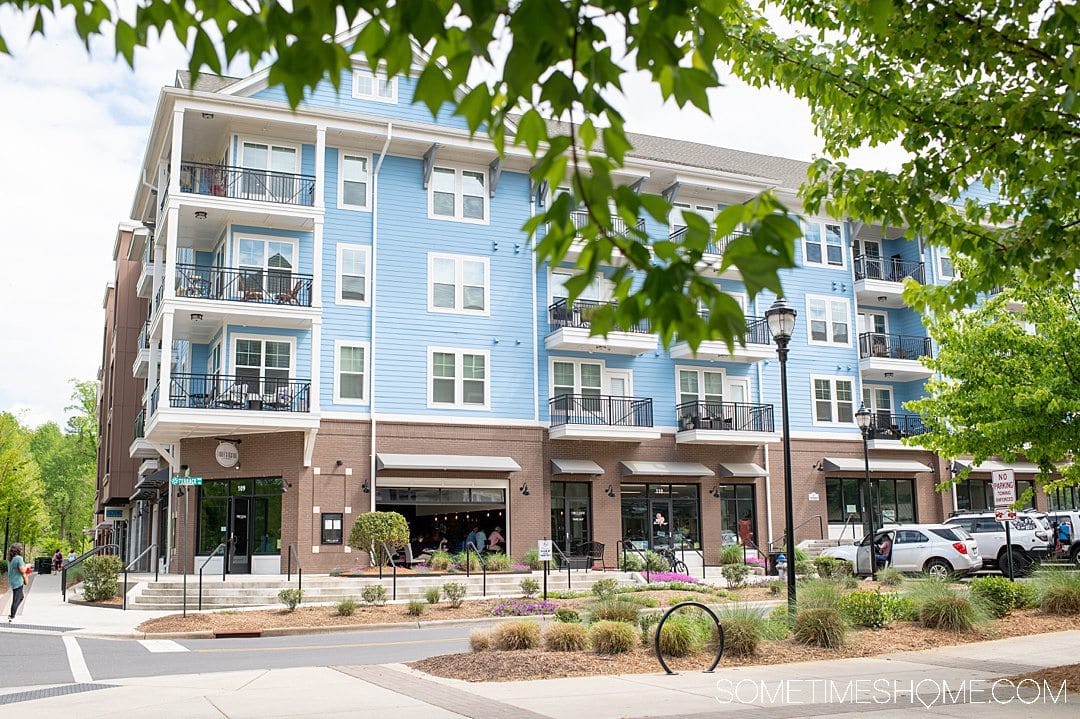 Fun Things to Do in York County at Fort Mill
Visit Kingsley Town Center
Staying at the Courtyard Marriott at Kingsley put us in the perfect location to enjoy Fort Mill for the night. Kingsley is a wonderfully designed area, that has apartments and office space, a hotel (of course) and many restaurants, shops and bars. It also has a lot of outdoor areas of interest.
Find the Springmaid Murals at Kingsley
The murals at Kingsley help tell an important story about Fort Mill, which was once a popular textile production area. We were able to learn about this history on the display nearest Spice Asian Kitchen, near the industrial smokestack. (Which we imagine is simply a modern-day icon at Kingsley – an ode to a time when such a smokestack may have been in use.)
Rock Hill Printing and Finishing existed in the 1980s, as did Fort Mill's White Plant. This is where Springmaid Fabrics were produced, which were first introduced in the 1940s. The company went public in the 1960s and ended up being the largest supplier of sheets and pillowcases in the country.
It changed its name to Spring Industries in the 1980s, when it had 24 textile plants in South Carolina. This public company was a recognizable brand across the nation back then.
In 2000, the company was switched back to being private. Manufacturing needed to change to keep up with the times and to keep prices competitive. With this, manufacturing in South Carolina ended for Spring Industries.
But the murals in Kingsley pay homage to this significant South Carolina story in the history books. And there are a few murals at Kingsley to commemorate it.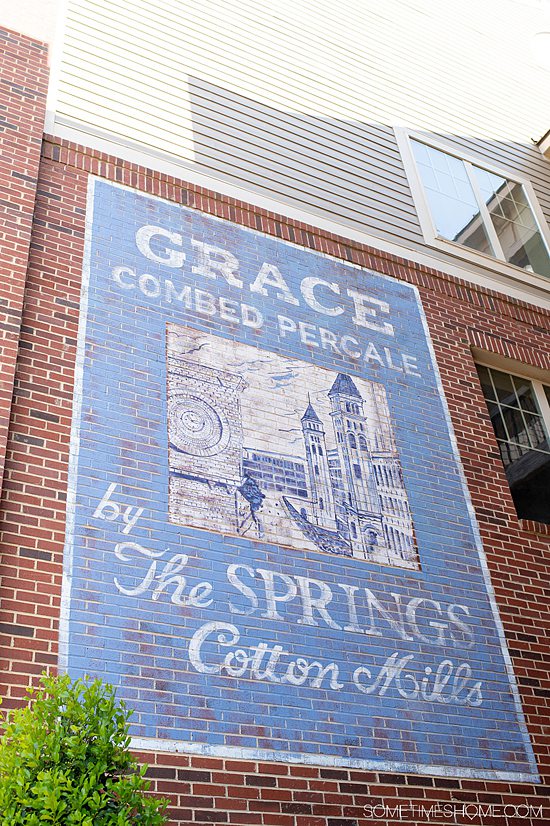 Enjoy the Scenery at Kingsley
There's a pond that you can walk around and a small amphitheater at Kingsley. The pond is especially great if you like to exercise in the morning. The boardwalk that runs next to the pond (near Napa at Kingsley, where we had dinner Saturday night) has an electric fire pit that we some people enjoying, getting warm on a cool spring night.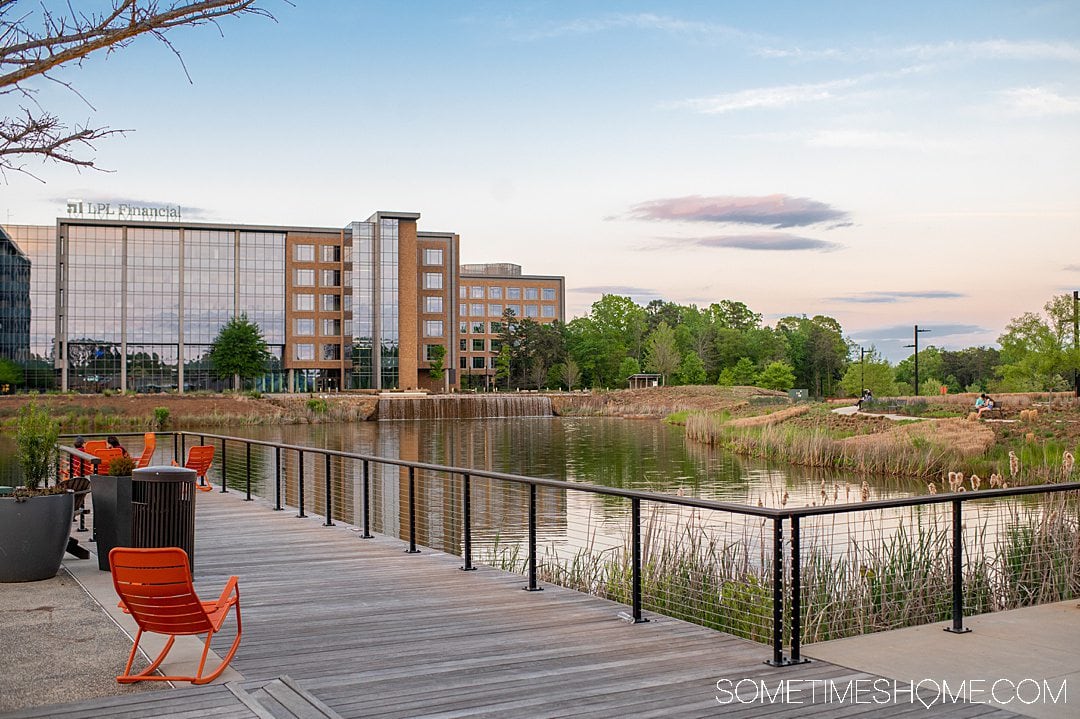 Try the Restaurants in at Kingsley in Fort Mill
We had drinks and a snack at Spice Asian Kitchen before heading down to the other side of Kingsley for dinner at Napa. We were having such a great time, we didn't want the night to end.
So after dinner we went to Corkscrew for a glass of after-dinner wine and chocolate truffles. (The restaurants are all within five minutes walking distance from each other.) Needless to say, one of the best things to do in York County, SC is eat and drink your way through Kingsley!
(Reminder: Book the Courtyard Marriott there for an overnight stay so you can safely find your way home and won't have to worry about drinking and driving.)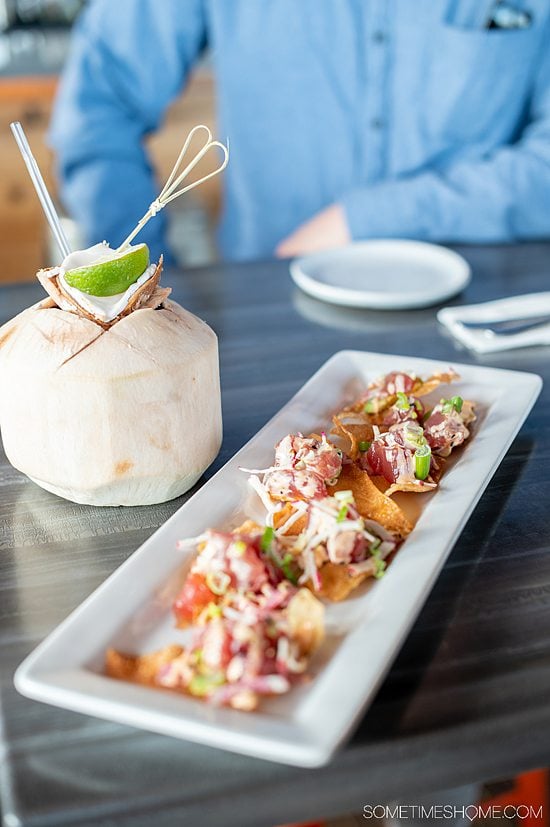 Go to Fort Mills' Main Street
We went to Main Street for a little while to see what it was all about. There are a few restaurants there, an antique shop, bars, and a coffee shop. PuckerButt Pepper Company, selling dozens and dozens of hot sauces, is also there. It's owned by Ed Currie, famous for inventing the hottest pepper in the world, the Carolina Reaper®.
We also enjoyed a stop at Olive's Mud Puddle, which serves coffee…and pottery! It's both a coffee shop and pottery studio, where artists can rent space by the month, or residents and visitors can sign up for pottery classes.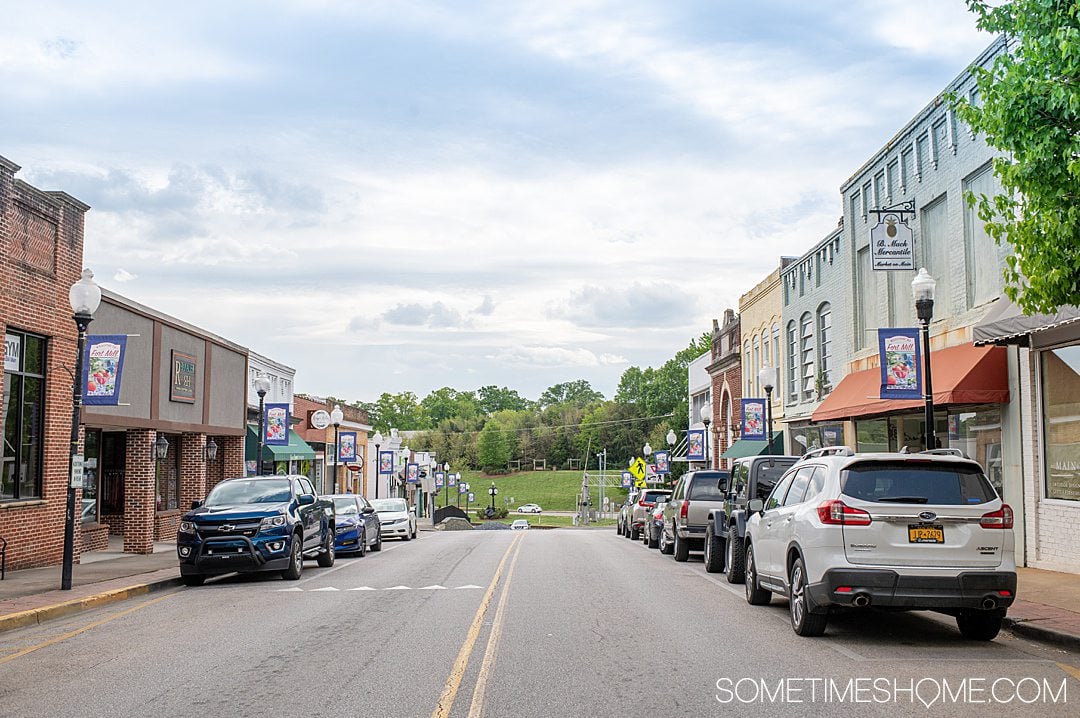 Visit Anne Springs Close Greenway and the York County Swinging Bridge
If you're looking for things to do in York County, SC that involve the outdoors, look no further than the Anne Springs Close Greenway. Starting our day off on Sunday with a walk around the greenway was utterly delightful! We lucked out with a beautiful spring morning and the park was abuzz with an event that day.
The greenway celebrated its 25th anniversary in 2020. Note that there is a small fee of $6 to enter the park Friday to Sunday. It's free to the public during the week though, Monday through Thursday.
We started at the Greenway Canteen then proceeded around the corner for a 10-minute walk. Our goal was to get to the swinging bridge, one of the most Instagrammed locations in Fort Hill. The area of the path we walked was once Catawba Native American Territory. (The Catawba Native Americans, or "People of the River," are known as Kawahcatawbas in their native language. They're the only federally recognized tribe in the state.)
Just in case you're scared of heights, don't worry – it's not that high off the ground. (Our estimate was that the bridge was less than 15 feet above the ground below.) And the water the bridge crosses is more like a creek than a river.
The water level was so low that day that you could almost walk across the creek without the water reaching higher than three inches above your feet.
There are several trails to enjoy at Anne Springs Close Greenway, whether you want to hike, bike or go horseback riding. They're open from 7:00am until sunset.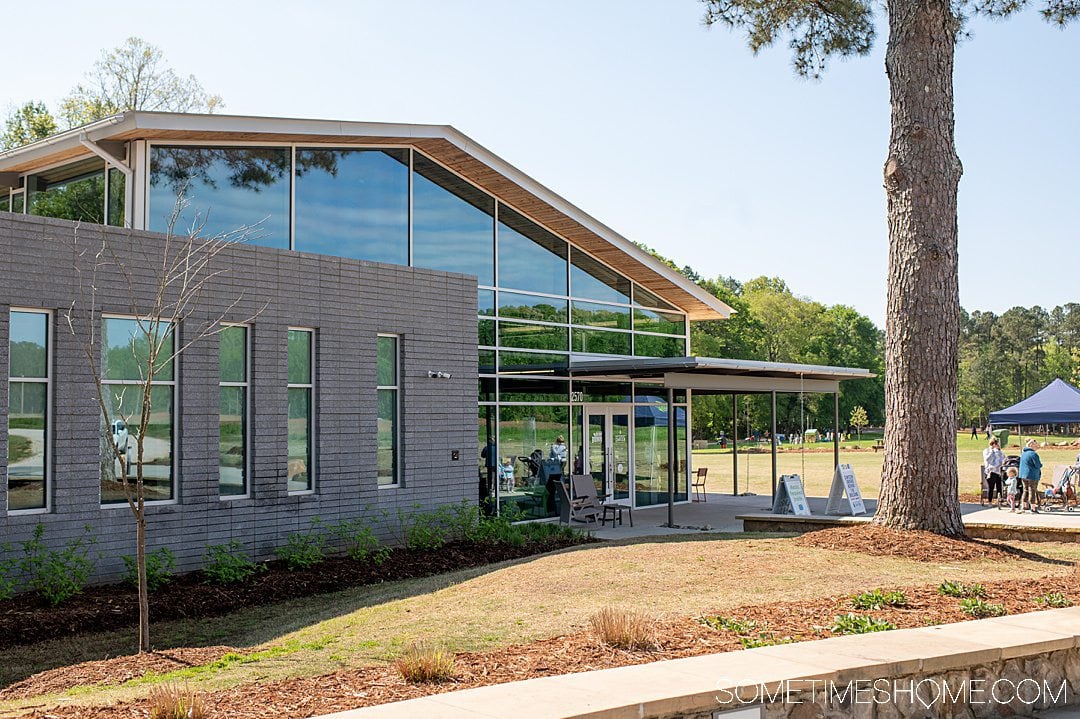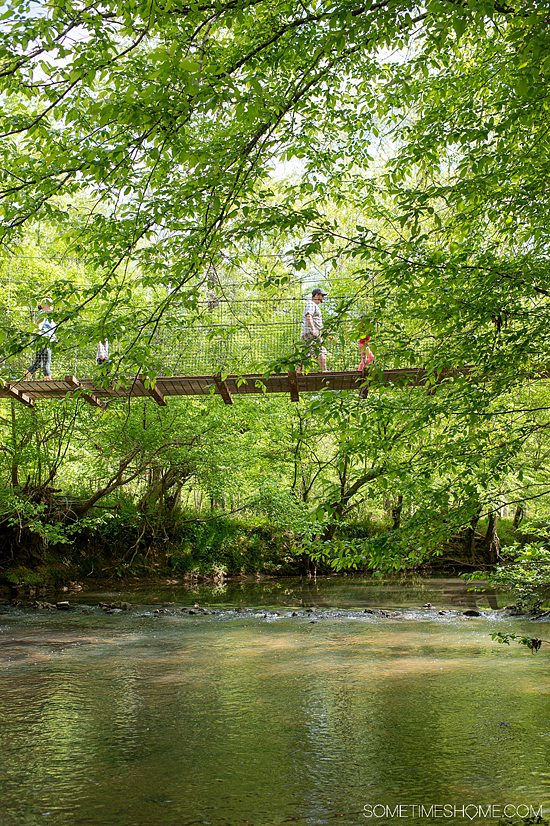 Heading to the Carolinas? Also check out: