Hacienda Temozon: Best Luxury Collection Hotel in Temozon Sur Mexico
It was important that Dan and I explore a lesser-visited area of Mexico during a trip to the Yucatan Peninsula's west side, near Merida. Its fantastic region, Temozon Sur, was the perfect spot. It's common for people to travel to the east side, where Cancun and Riviera Maya are the usual tourist retreats, but what about the west side?
We wanted to connect with the Mexican culture in a beautiful hacienda hotel that was built around the landscape and honored Mexican culture. We wanted nearby attractions that weren't swarmed by tourists. This led us to a four-day trip in Temozon Sur, with two of those wonderful days at Marriott's Hacienda Temozon resort.
Disclosure: There are affiliate links in this post, which means we may earn a small commission if you click the link and proceed with a purchase, at no cost to you. We truly only recommend hotels, products, and services we personally use. As Amazon Associates, we earn from qualifying purchases.
Getting To Hacienda Temozon near the Merida Airport
We arrived in Merida on an international flight (airport code MID). There are great things to do in Merida and unique places to visit in Mexico you have to see to believe, nearby. It's also a really popular city for American expats, looking for a better way of life.) It was simple to rent a car and drive less than an hour south to Hacienda Temozon, in Temozon Sur, which is part of Marriott's Luxury Collection of hotels.
We felt safe driving in the western Yucatan Peninsula throughout our stay. You arrive at Hacienda Temozon after a drive from the airport on highways, through some rural areas, and past a small village. There was good signage during the drive and we also did our little "OK Maps" trick for international travel to have the map already downloaded via the Google app on our phone.
You'll surely be in the right place if you follow all the signs and directions. Signs even specifically mark where to locate the hotel.
A low fenced-in area with a gated entrance to the hotel welcomes you in and you see the beautiful scene below as a twisted ficus tree frames the walkway to the grand staircase of the hotel's main building. Tranquil fountains allow water to fall from the walls on either side of the staircase.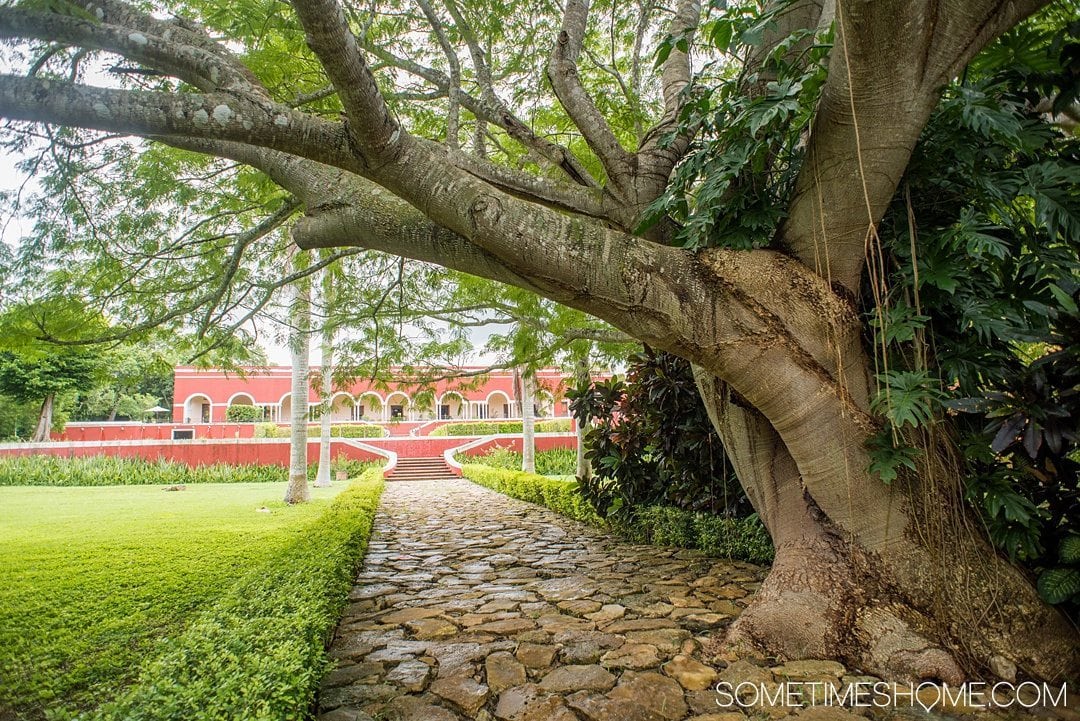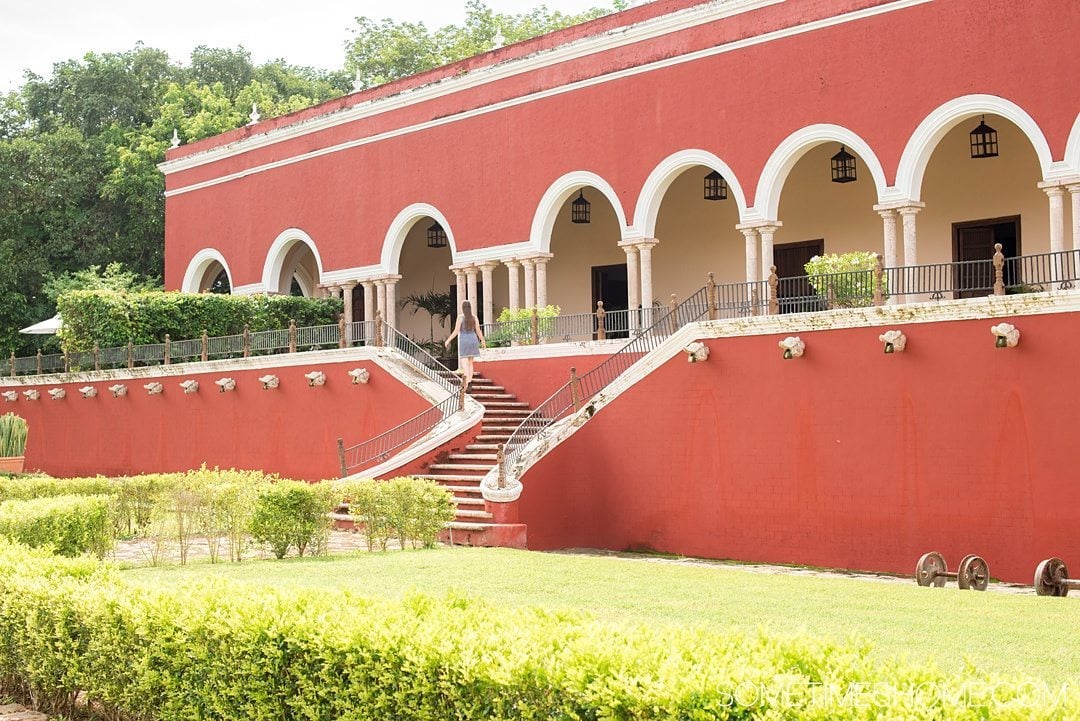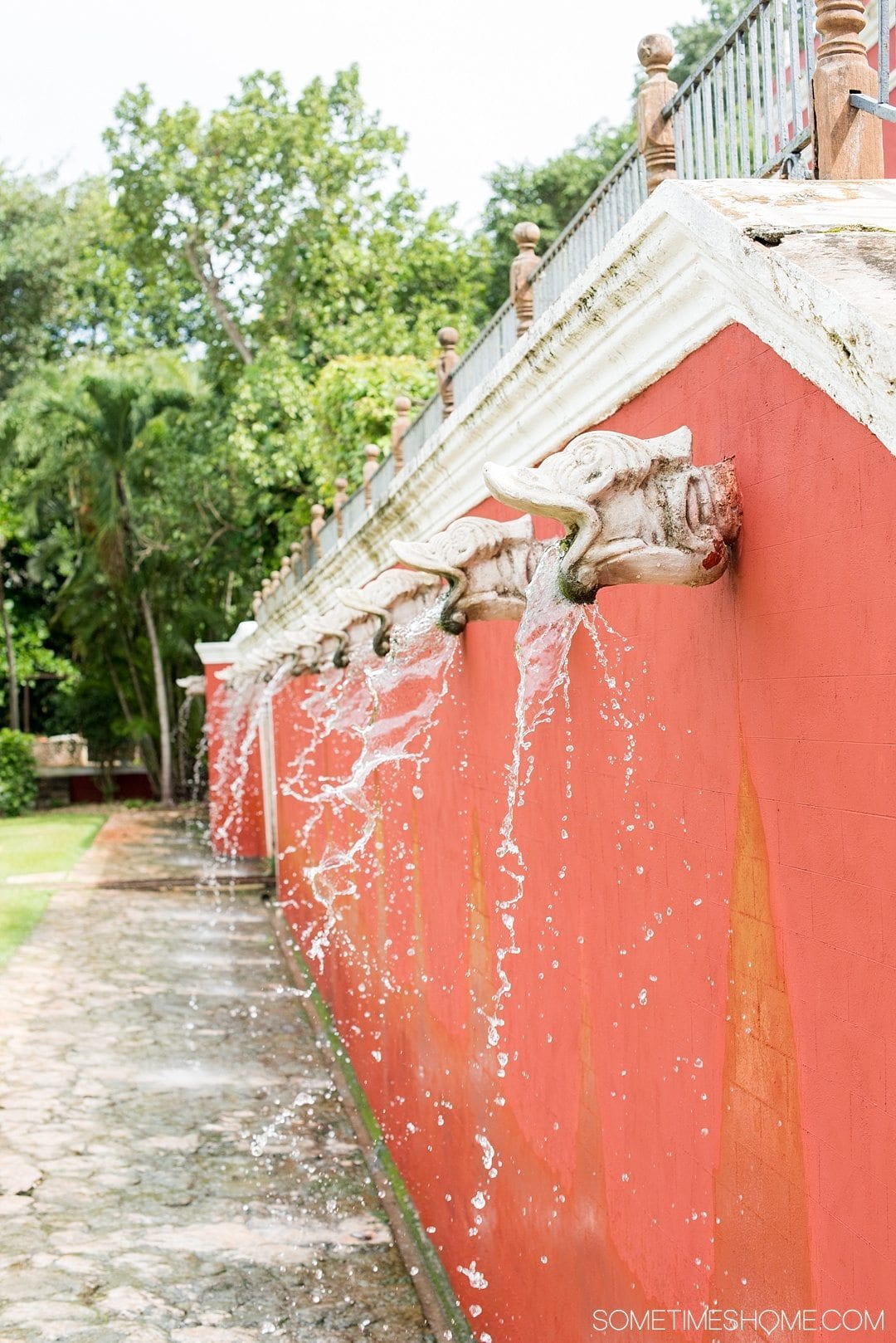 Gorgeous Areas of Hacienda Temozon Property
Hacienda Temozon is a historic hacienda, or estate, with a 350-year history. It is also a member of the World Heritage Alliance, in partnership with UNESCO World Heritage sites. It is a hotel that supports sustainable tourism (and so do we!).
We were welcomed by the resort staff in an inviting covered outdoor seating area, pictured below. We gladly accepted cold and refreshing welcome beverages.
Though we arrived a few hours prior to check-in time, which is at 3:00pm, and were informed our room was not ready for us to inhabit quite yet, we were free to enjoy the resort. We gladly obliged and explored its various spaces.
We ended up at the restaurant where we decided to fill our travel-hungry bellies!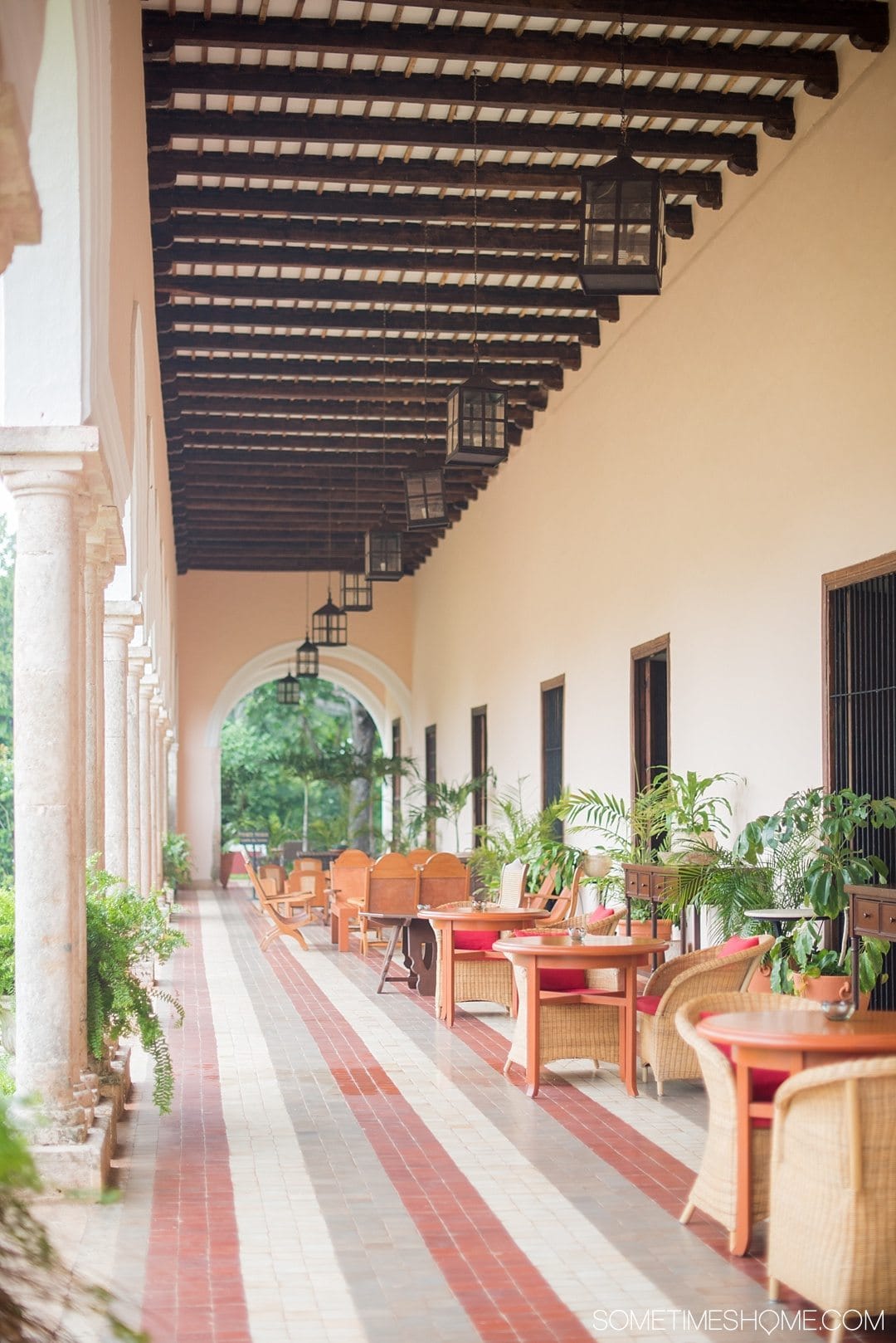 Main Building Lobby and Sitting Area at Hacienda Temozon
The main building is very open-air, with rooms flowing from one doorframe to the next. A parlor-type public space, seen above, complete with couches and various games like checkers and chess, drew me in with its checkerboard floor. It connects to the restaurant, the only one at the resort. They serve breakfast, lunch, and dinner there, until 10:30pm.
Hacienda Temozon Restaurant
We enjoyed so much of the native food that I believe anyone would love. I adored the ceviche, tacos, morning plantain and egg options, pastries, and more. It was especially joyful to relax with a cup of coffee in the morning and listen to the birds chirping as we gazed out to the pool. 
The restaurant is where you'll eat all your meals if you stay on this beautiful Marriott Luxury Collection hotel property. This cozy Hacienda Temozon area lets the outdoors in with its open shutters on its windows that overlook the pool.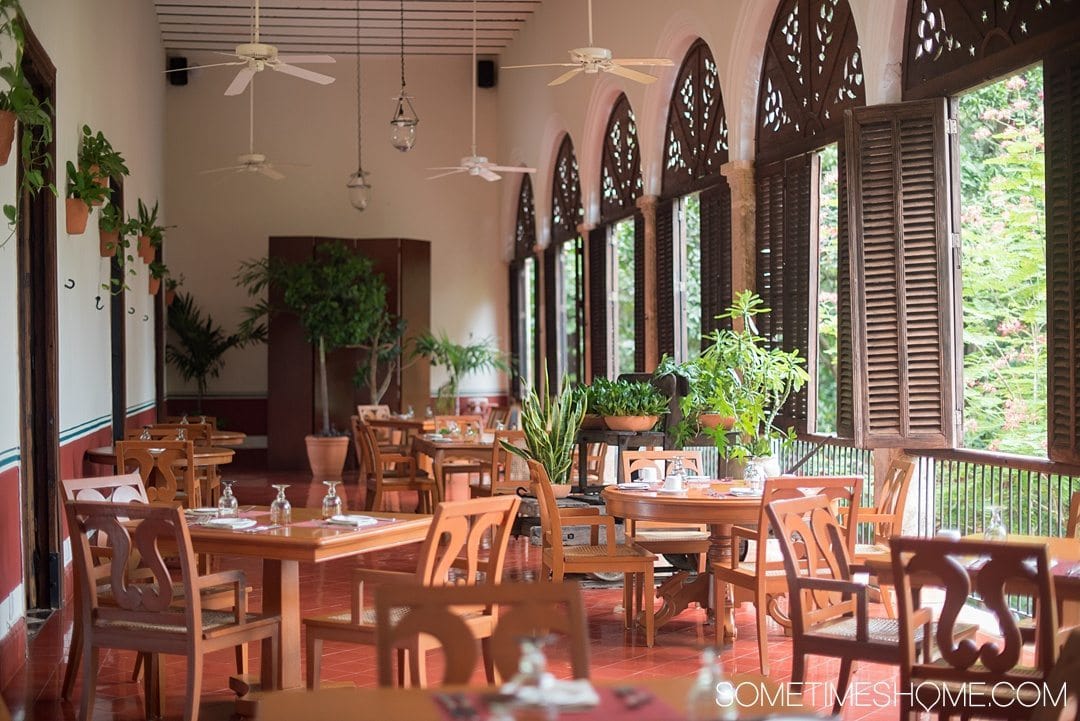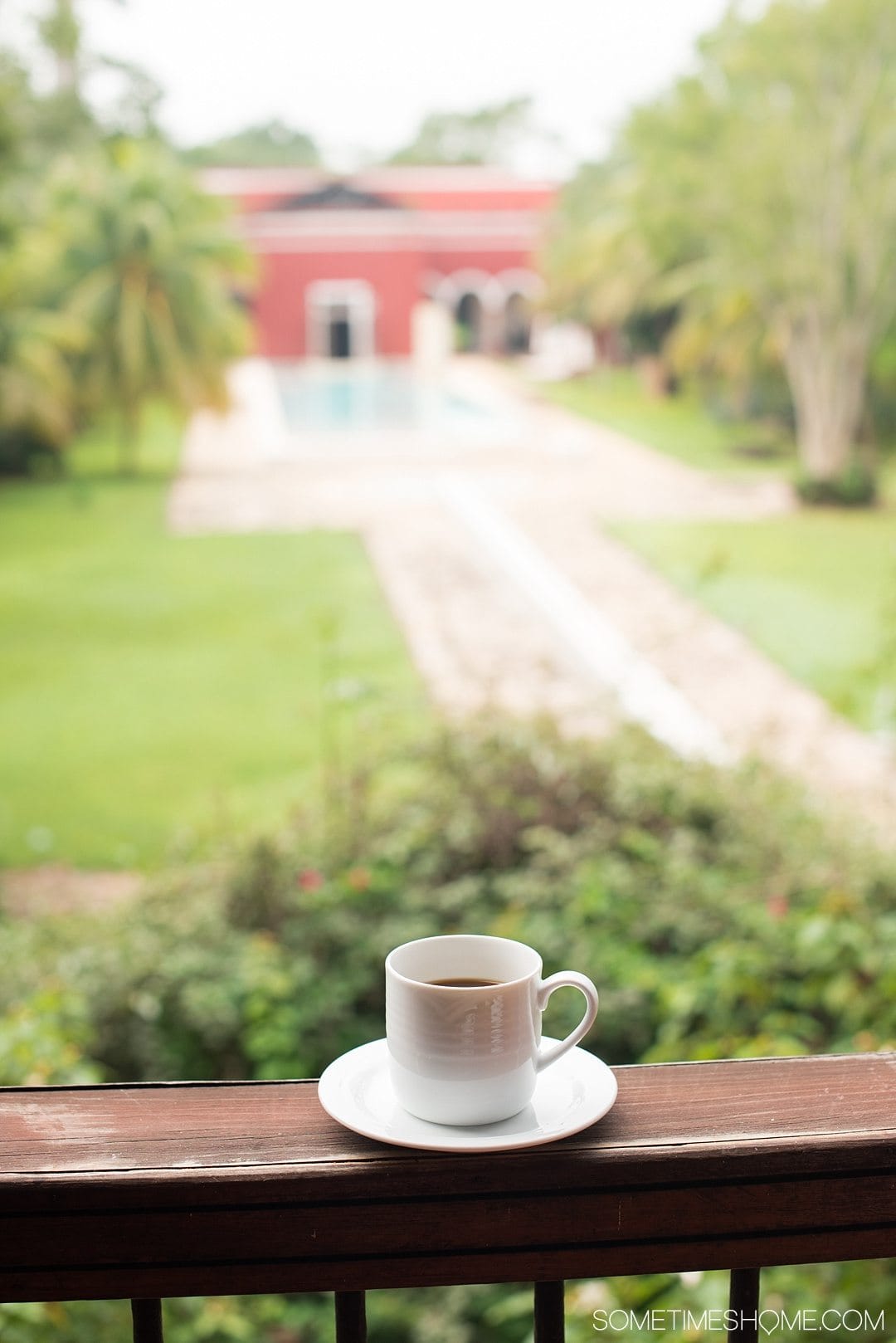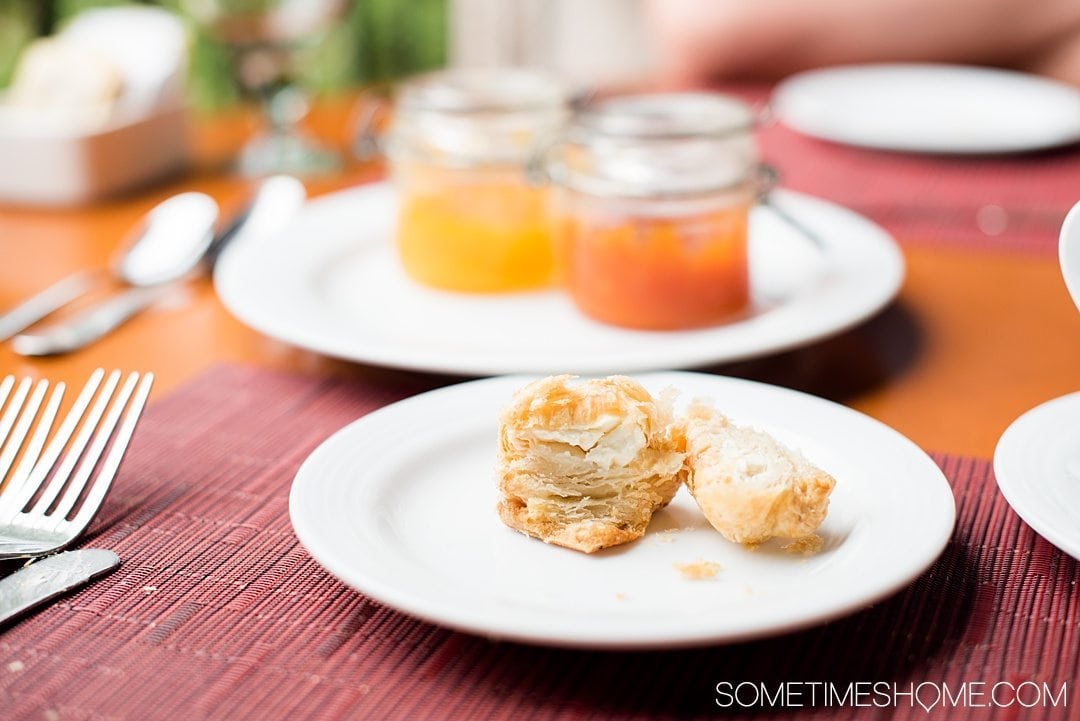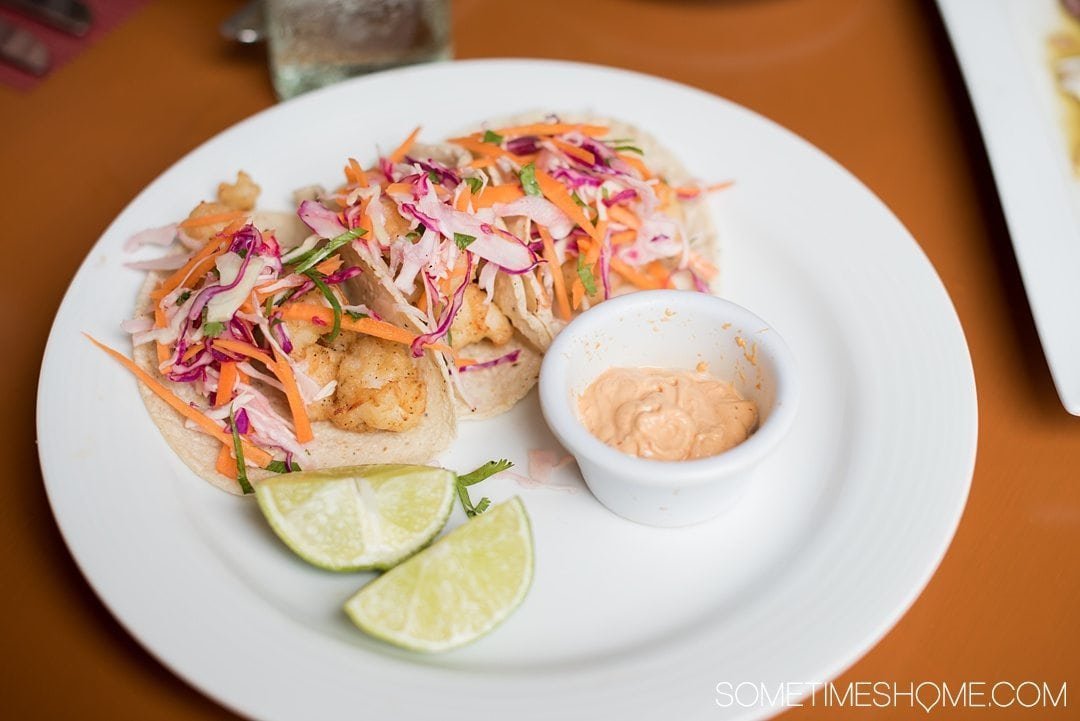 Hacienda Temozon: A Historic Marriott Resort
Hacienda Temozon was a livestock farm in the 17th century then, more recently in the 19th century as the need for rope in the U.S. grew, a sisal farm and factory. (Sisal is derived from agave plants and is used in making strong rope, which we learned at the resort.) We saw a few agave plants there.
The evidence of the sisal factory is certainly still visible, especially where metal tracks lay for use with donkey-pulled vehicles like the one below. They still work!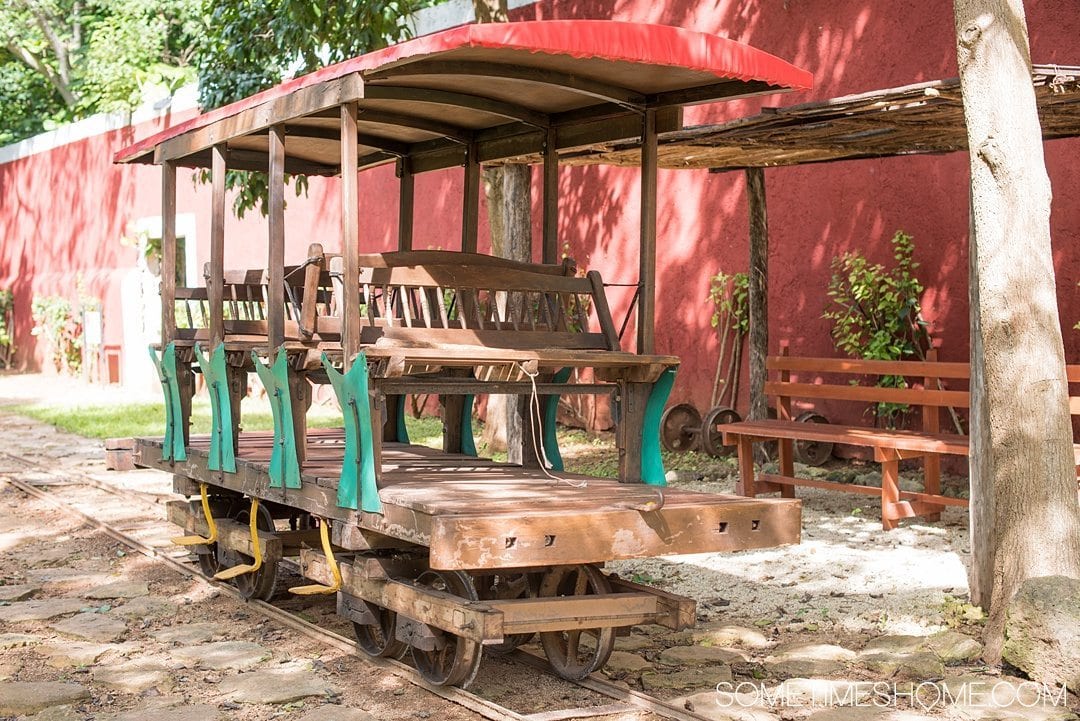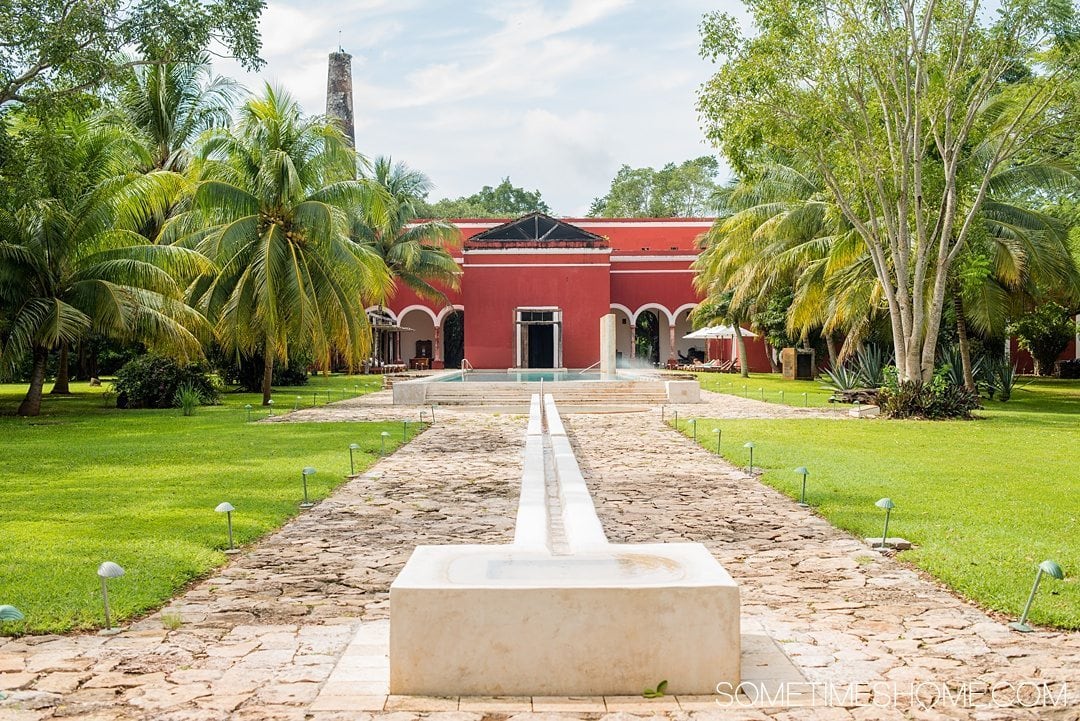 Amazing Activities at Hacienda Temozon
One of our favorite things about the resort was its activities. They have just enough options to feel like you have plenty to do but not be overwhelmed with choices. You will not feel at all guilty simply relaxing and enjoying the property.
Cooking class: We enjoyed a cooking class while we were there set in the prettiest scene: within the wild foliage of a well kept jungle!
Cenote visit with a Shamen: Our visit to a private, on-property cenote, about a thirty-minute donkey-drawn carriage ride away, blew our minds. We were enamored with the Mayan culture and overjoyed to be experiencing an intimate ceremony with one of the 48 remaining trained shamans of his kind. It was also beneficial to have a translator there, which was included in the experience. (See my post about The Most Romantic Things to do in the Yucatan Peninsula on the Department of Wandering for more about this activity.)
Spa treatment: There is a smaller cenote closer to the resort's main property for spa experiences. It's a very unique location to enjoy some pampering.
Private guided tours: Arrange a private tour with the help of the hotel staff. Tour with an archeologist, historian or field expert.
Relax: The resort has many great options for rest and relaxation. Enjoy the pool, lounge on a hammock, or sip a cold beer on the front colonnade area at the main building. If you have a private plunge pool at your room take advantage of that as well. We sure did!
Play games: They own many board games and even have a billiard table for guest enjoyment.
Walk the resort trails: The property is truly breathtaking. Don't forget to walk the property a bit, no matter your schedule – and bring your camera! There are so many photo opportunities.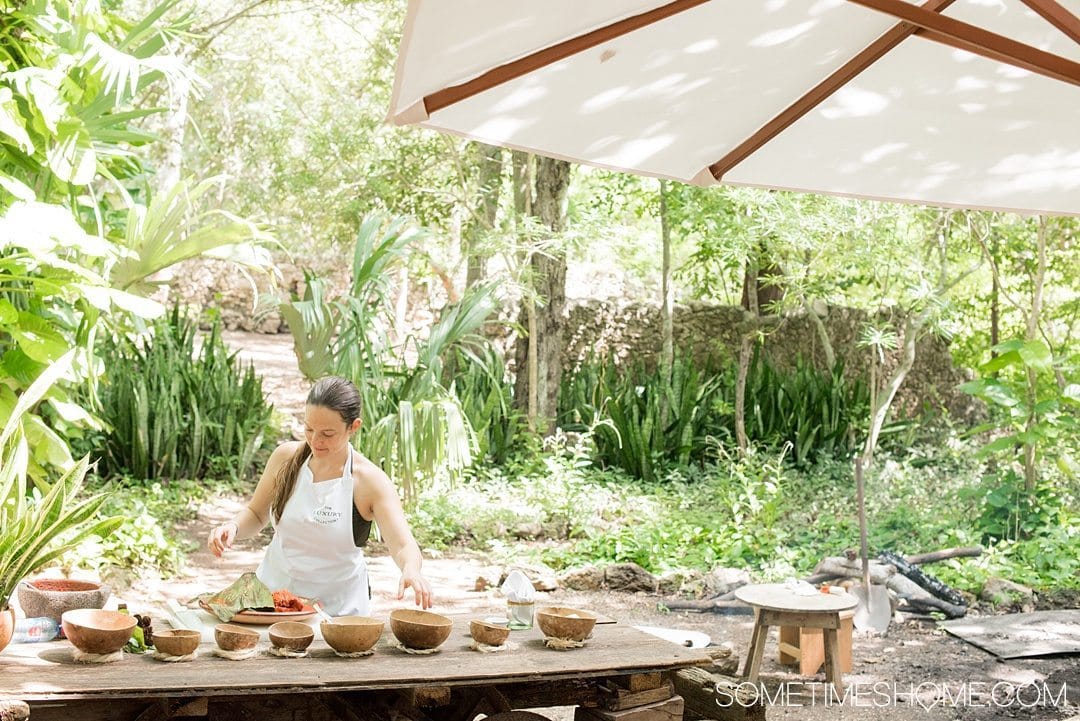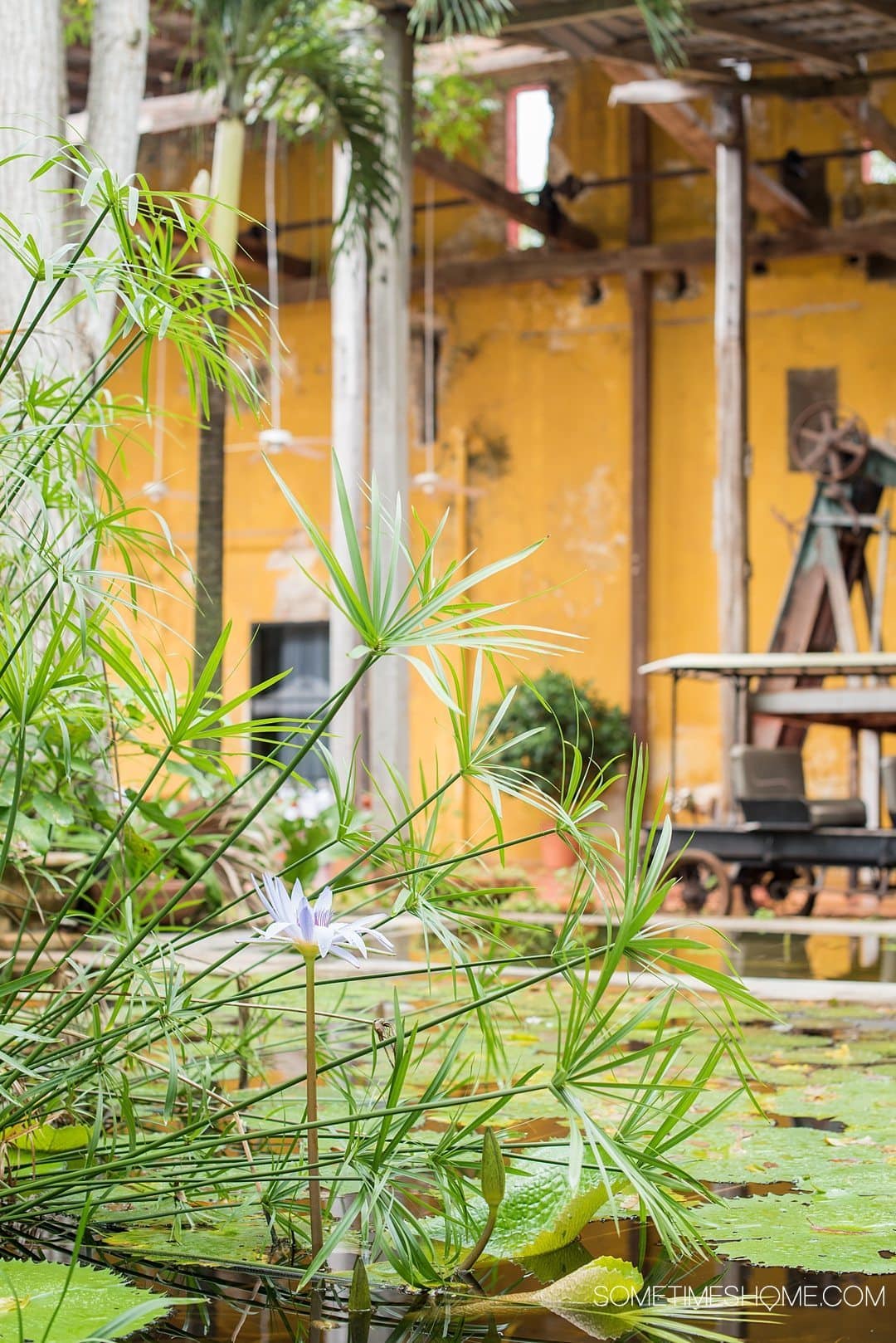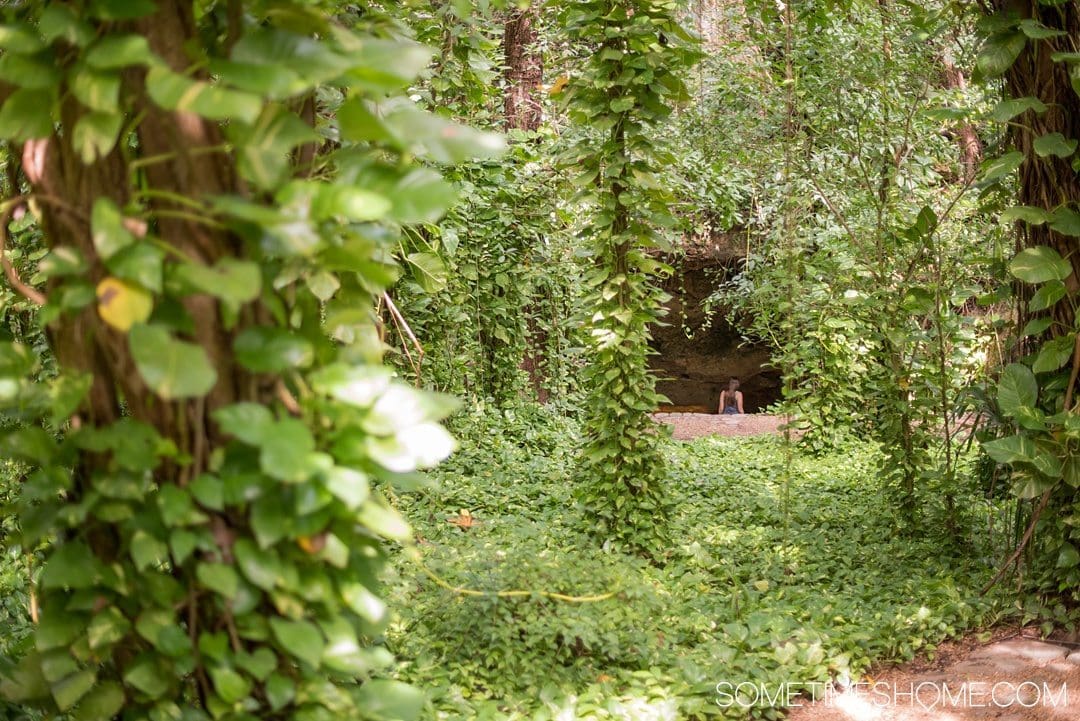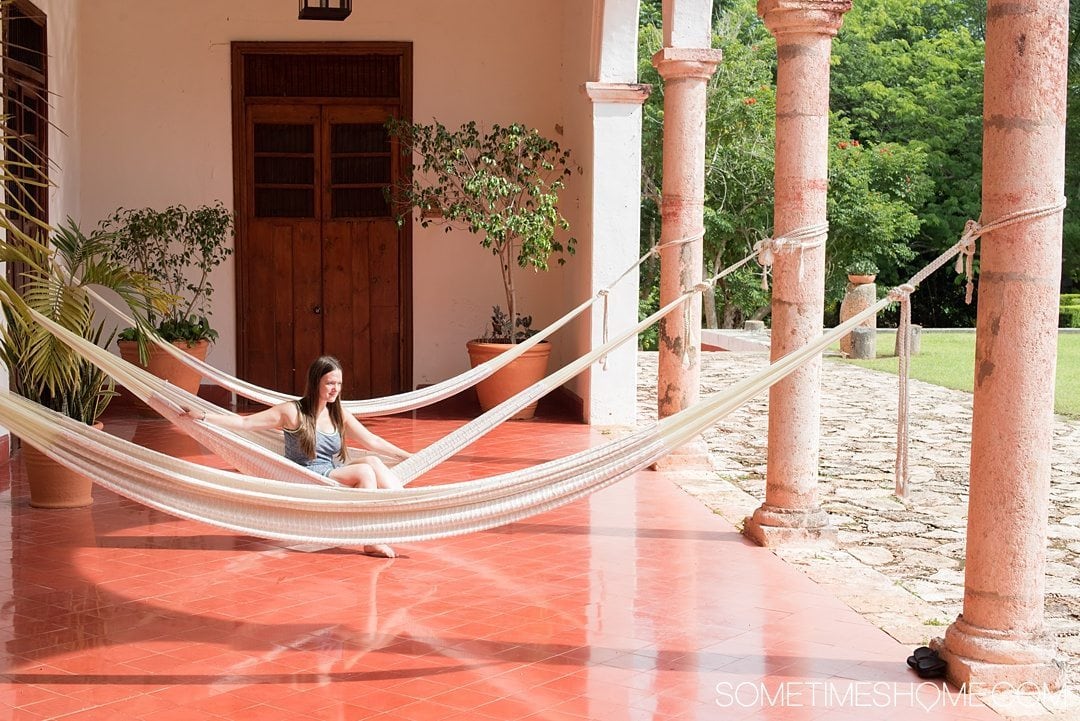 Our Hacienda Temozon Accommodations
There are less than 40 rooms at Hacienda Temozon. (Which was actually nearly 30 more rooms than at our next hotel in the western Yucatan, Hacienda Santa Rosa.) It was nice not to feel like the hotel was packing in guests; its intimate size is one of the reasons we felt strongly connected to the property.
Its scale allowed us to quickly familiarize ourselves with it and not be overwhelmed by the number of rooms or people there.
We happily checked into our impressive room at 3:00pm after our delicious lunch. Our plush and comfortable queen-size bed was the true mark of a Marriott resort of this caliber. I have to admit we indulged in a little afternoon nap!
Features of Our Hacienda Temozon Room
Indoor hammock
Fresh bottles of water, replenished daily
Air conditioning
Ceiling fans
Television
Wifi
Bath products (including shampoo, conditioner and shower gel)
Shower cap, shoe shining cloth, and nail file
Robes
Hair dryer
Facial mirror
Mini bar
Umbrella
iHome docking station and radio
Additional seating in a living room area
Plunge pool (with bath salt)
Divided screened in windows so we could open the top half, bottom half or both
Safe
Closet and drawers, with hangers
High ceilings
It was a treat to have a turn-down service that left us sweets each night. I was very excited to come back to our room one evening to votive candlelight, the perfect size cake square, and a coloring book with colored pencils. It was a truly special touch.
**Note not every room is the same at Hacienda Temozon.**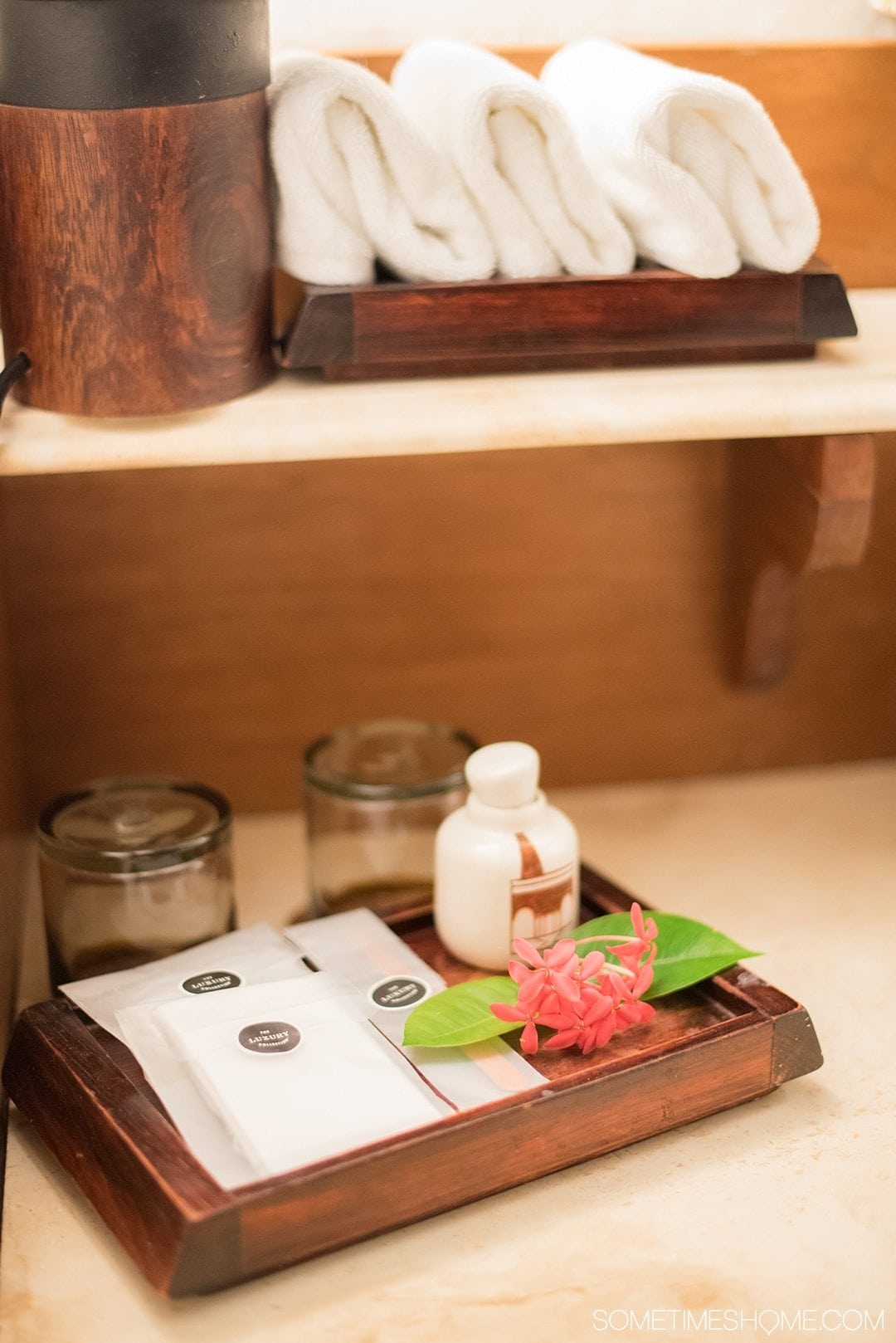 Attractions near Temozon Sur's Hacienda Temozon in Mexico
We enjoyed exploring the area one of the two days we were there. (It's certainly a good idea to leave at least one day to enjoy the resort, if not more.) Some nearby sites include:
Merida: This is the major city where the airport is, about an hour to an hour and a half drive from Hacienda Temozon.
Uxmal: We loved going to the Mayan Ruins at Uxmal. It was approximately a 45 minute drive to this historic site of Mayan ruins. You could spend the better part of a day there exploring this Mayan civilization. You'll get a lot more out of it with a guided tour of Uxmal.
Choco-Story: This museum is across the road from Uxmal and worth a visit. It recounts the history of the region through the importance of cocoa during many centuries.
You can book a private Uxmal and Choco-Story tour and make sure you hit up both during your trip (which we recommend).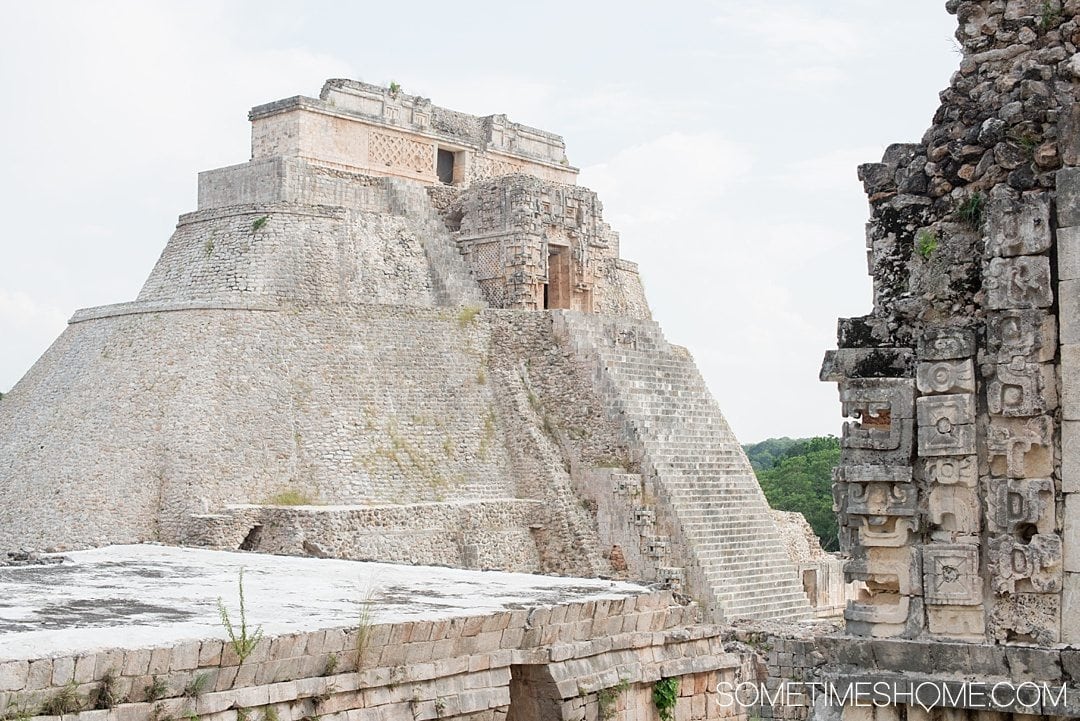 Our Hacienda Temozon conclusion is it's truly a wonderful resort to make your destination in the Merida area on the western side of the Yucatan Peninsula. Be sure to book your stay through the Marriott website and consider booking through a Marriott Bonvoy American Express card, our favorite rewards credit card. (And one of our favorite things in general!)
Heading to the Yucatan Peninsula in Mexico? Also check out: