Madrid to Zaragoza by Train: How to Get There and What to See in a Day
We traveled to Madrid for our first trip abroad together to Europe. I had been several times but it was Dan's first. As such, we wanted to explore some cities together we had both never been to. The thought of seeing it with fresh eyes, as a couple, excited us. Zaragoza came on our radar as I looked at a map, as a stand out city in slightly larger font. It was labeled a bit more boldly than the rest as if to call out to us. We investigated "Zaragoza things to do" there and if it was possible to get from Madrid to Zaragoza by train. And was it worth it?
One of reasons it became instantly appealing to us was because of our love of street art. We adore trying to find colorful and creative murals in any city we visit. There is a huge street art mural festival held in Zaragoza each year, called "Asalto". Having previously been to Segovia (which is fantastic) I was left with a few options. Salamanca didn't seem like the right fit for this trip though it was appealing. I had already been to Segovia (another popular day trip from Madrid) and we had a trip to Toledo on our agenda; Zaragoza felt like the perfect city for us to visit.
Where is Zaragoza and How Do you Get There?
Zaragoza is east of Madrid. You can drive there, of course, but it's also very accessible by train from Madrid's city center. Madrid is centrally located in Spain (it's literally in the middle of Spain) and Zaragoza is about four hours east via car or one and half hours via high speed train. That's how we arrived.
I looked up train tickets prices and admit I was a little shocked. It was $204 for two round trip train tickets for this not-even-24-hour trip we were taking to Zaragoza. Yet I became so quickly hooked on the idea of going my mind was already made up. We were going. I reluctantly hit "purchase" as I gazed at the price from my home office, knowing if I waited even a day longer the price would likely increase the closer it got to our travel day, just weeks away.
We were booked for Thursday, May 3, with a train leaving Madrid's Puerta de Atocha station at 8:30am and leaving later that evening at 10:43pm.
The train, however, sure beats a four hour drive from Madrid to Zaragoza by car! Not only did it allow us to maximize the short time we had there but it saved us the trouble of renting a car.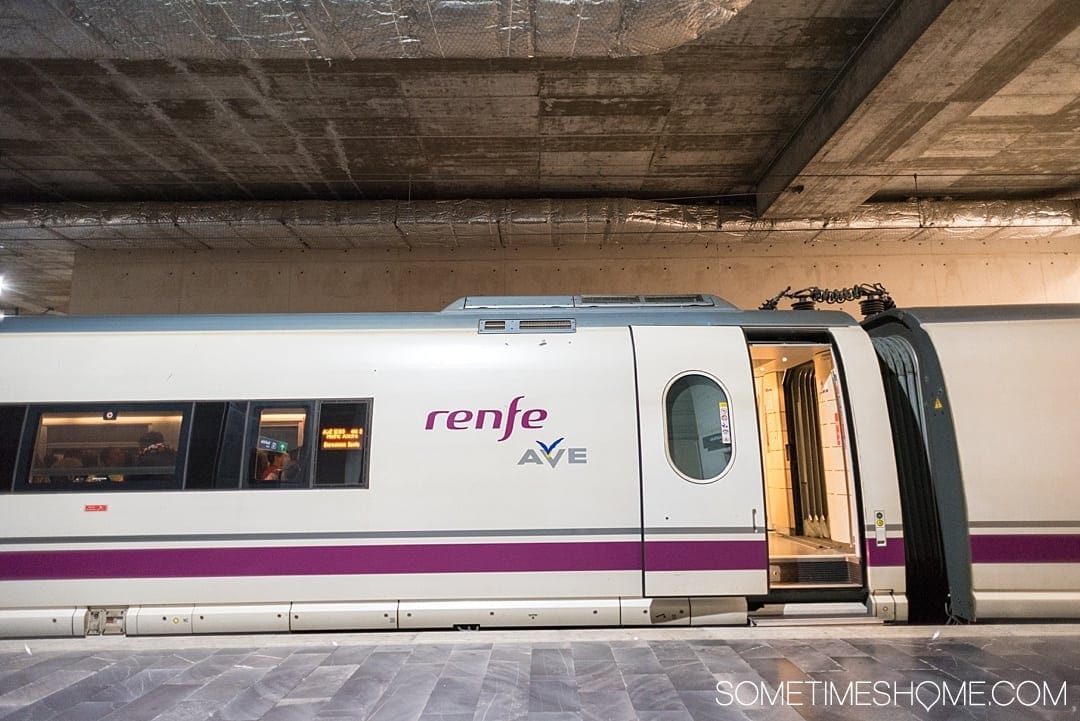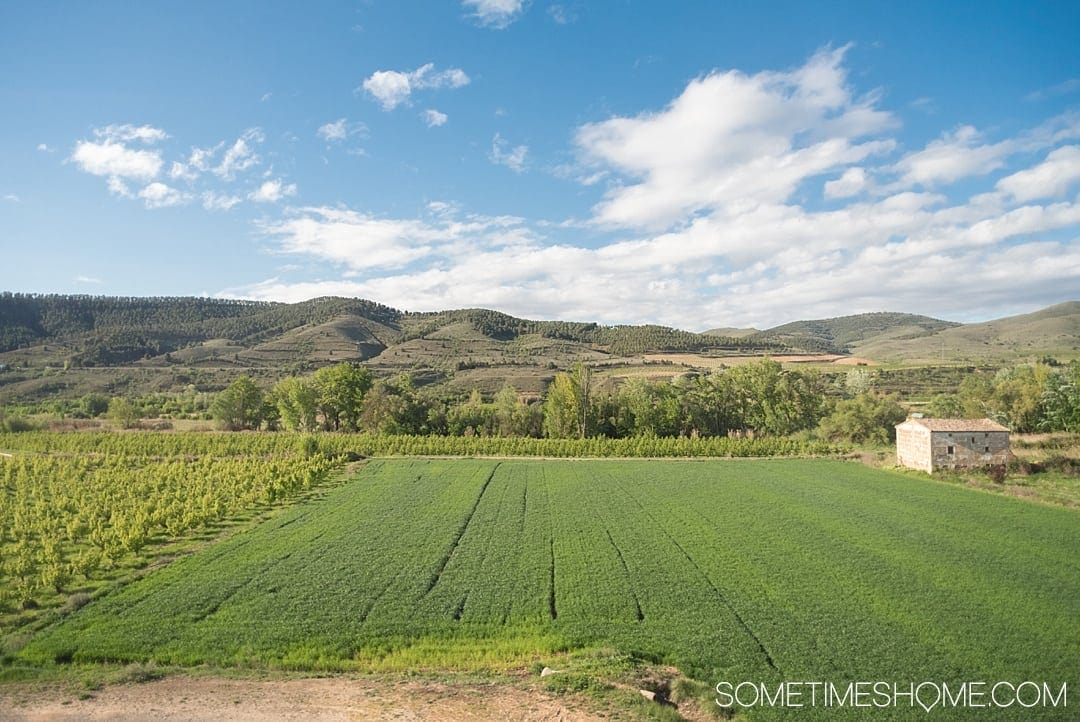 Upon Arrival from Madrid to Zaragoza by Train
We got to Zaragoza just before 10:00am and were shocked to feel the wind so strongly hitting us as soon as we walked outside the protection of the train station. One thing came to mind in that moment: we wished we wore warmer clothes!
(We had on spring clothes because we visited during May. Our lightweight coats and light scarfs were a tad too light for the Zaragoza wind, which clocked in at 25 mph. It wasn't just breezy – it was downright windy.)
We soon learned the wind was typical for the city. Luckily, as we walked deeper into the city and as time went on towards mid day, the wind subsided a bit and things warmed up to the high 60s/low 70 degree temperatures.
Bring sunscreen, sunglasses, a hair tie to hold your hair back if you have long locks, and a coat and scarf of some sort to be on the safe side if you're going during spring or fall.
There is a Zaragoza Tourism Office at the train station and it was just a few minutes they opened when we arrived so we waited. We benefitted from asking for local expertise and advise on what there was to do in the city aside from our previous research.
Things to Do and See in Zaragoza for a Day Trip
We were pleasantly surprised by some things to do in Zaragoza. We went for the street art but other tourist attractions ended up being the real stand outs for us.
Head to the city center's main plaza: pose for photos with the fountain (Fuente de la Hispanidad), enjoy the large plaza, and see Bisilica del Pilar
Spot Zaragoza's Mudéjar architecture: San Salvador Cathedral and Palacio de la Aljaferia
Hunt for street art
Discover Zaragoza's Roman past: see the Roman theater and Roman wall ruins and go to the Museo del Foro de Caesaraugusta
Enjoy the waterfront view from the stone bridge
Food, glorious food: Admire the Central Market (or admire its architecture – currently closed for major renovations), grab coffee at Santiago on the plaza, visit the Mercado Gastronomico Puerta Cinegia, and stop by the old Fantoba Bakery
We've gone into more depth about the things to do above, in further detail below.
City Center's Main Plaza
Basilica del Pilar
This impressive basilica dominates the main plaza in Zaragoza. It's architecture is comprised of Romanesque, Baroque and Gothic. We took a quick walk through its interior but it was such a pretty day outside (and the inside isn't that impressive) we preferred the exterior view.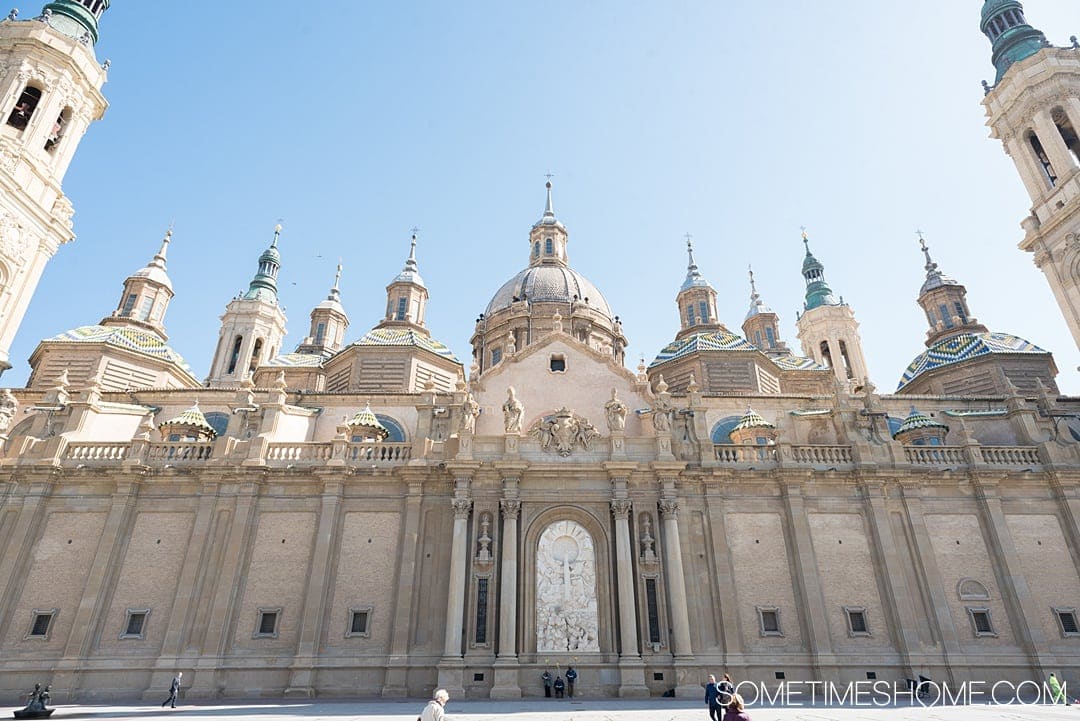 Fuente de la Hispanidad
This modern fountain is beautiful and a photographic highlight! It was created in 1991 to honor the Hispanic connection between Spain and Central and South America. A bird's-eye view reveals a map outline of the two nations.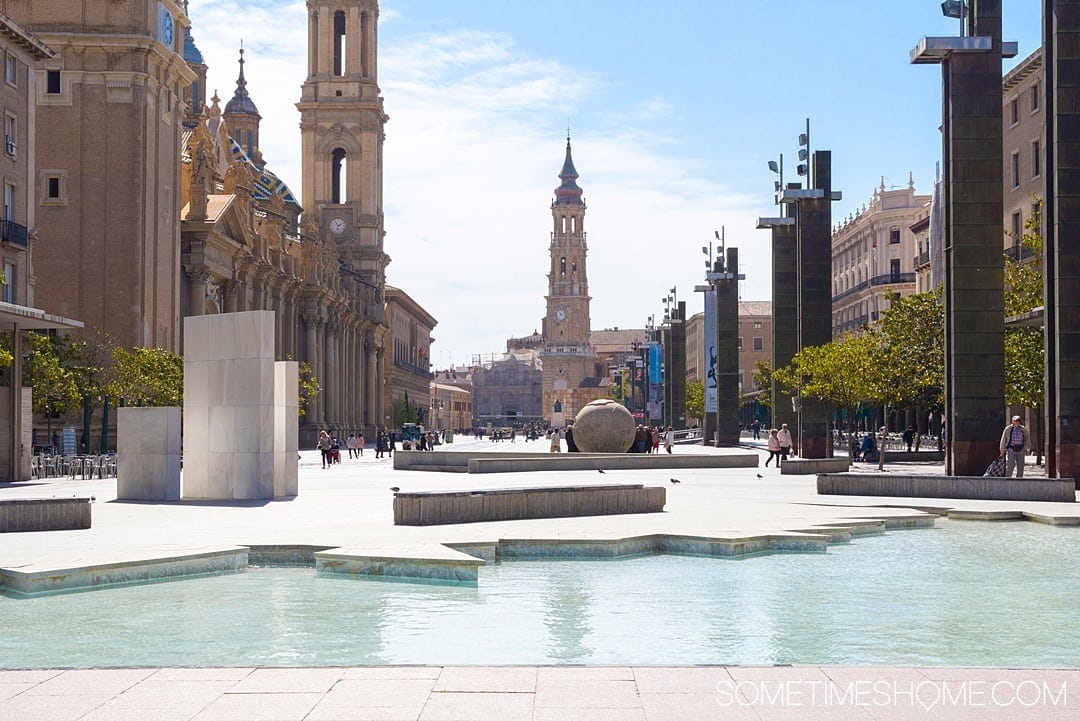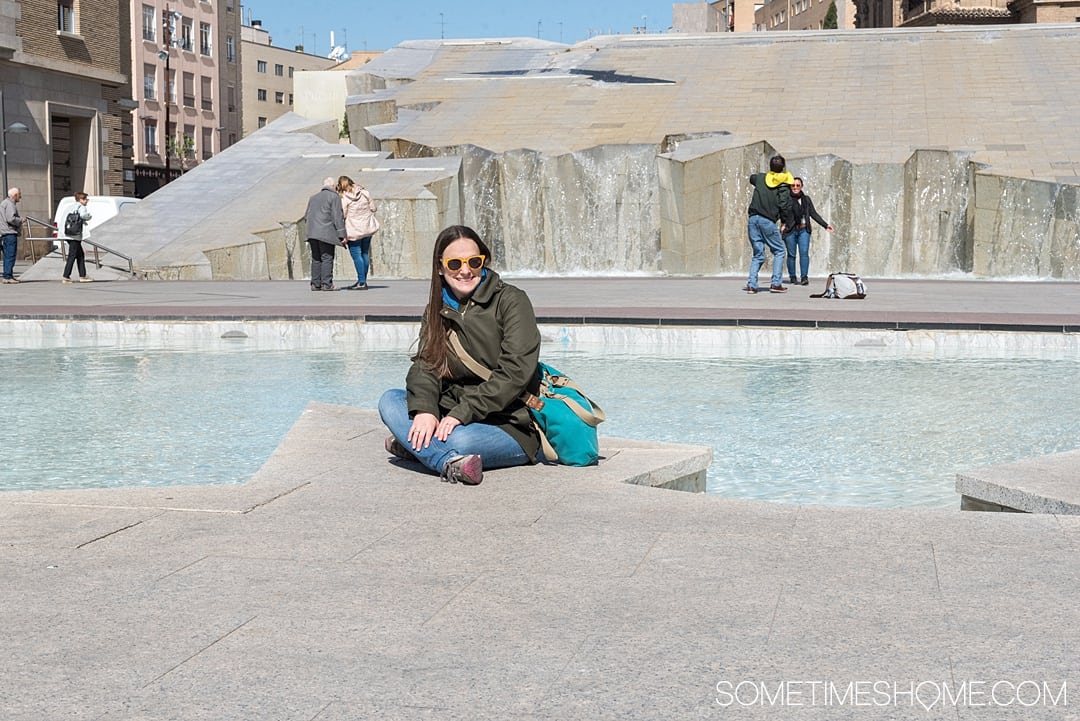 Spot Zaragoza's Mudéjar Architecture
San Salvador Cathedral
Seeing some Mudéjar architecture was a reason Zaragoza appealed to me. The side of San Salvador Cathedral just off the main plaza was a beautiful example of it. The tiles were exactly what I wanted to view; it's what exhilarates me about that type of Islamic architecture.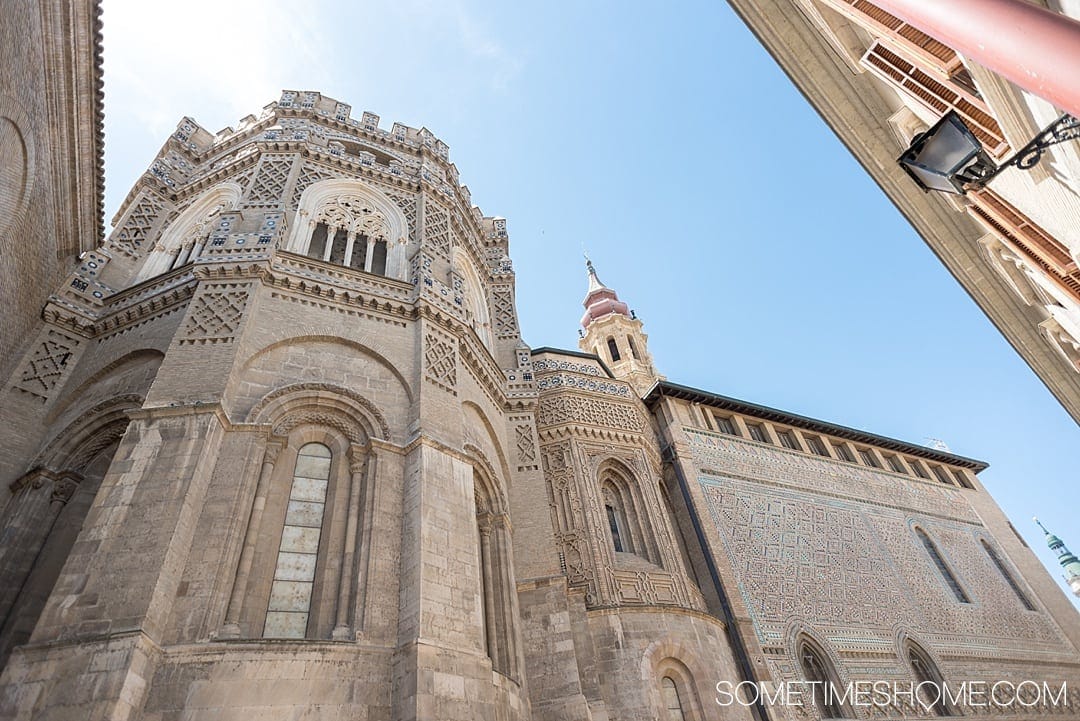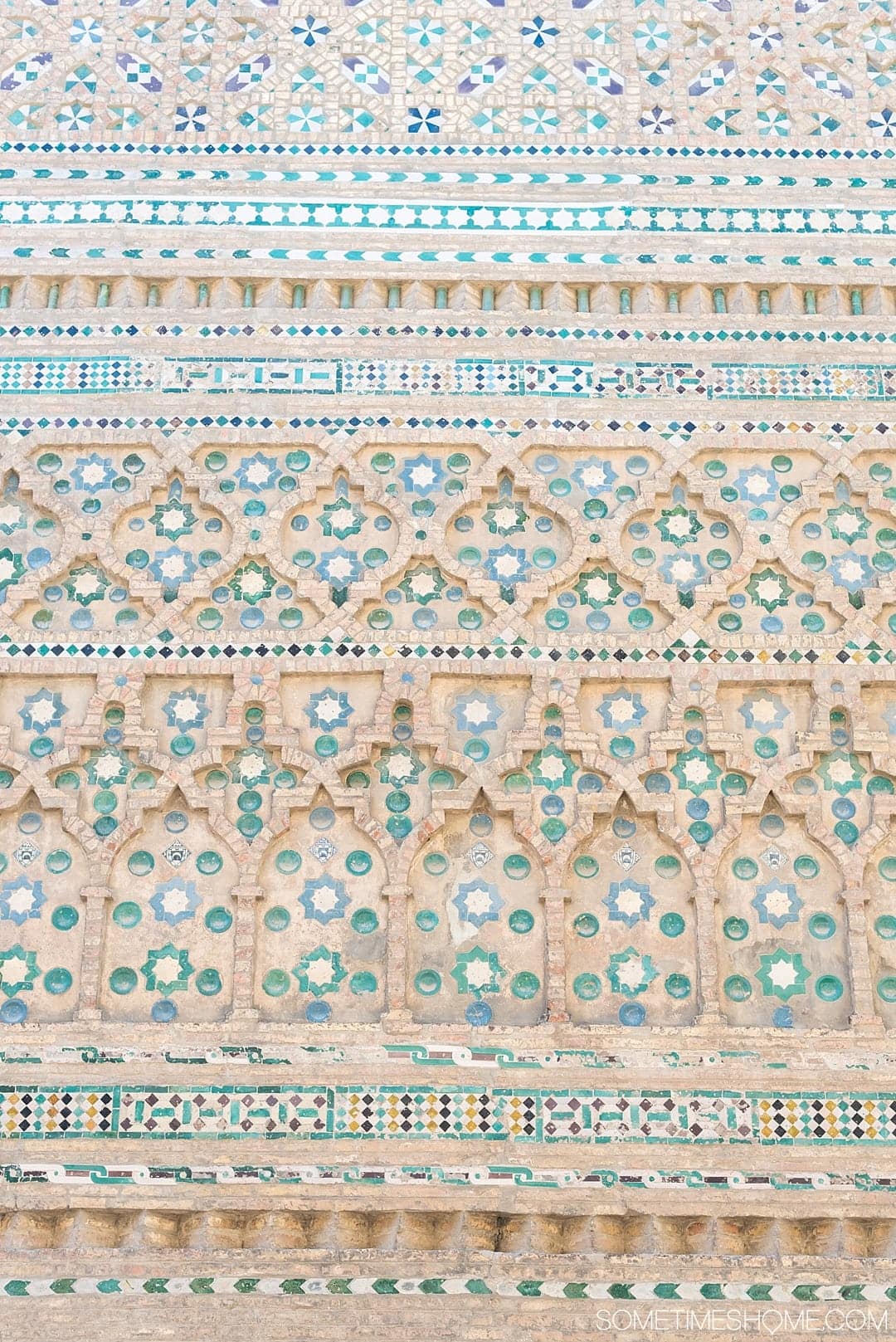 Palacio de la Aljaferia
On days the Parliament of Aragon isn't in session the public can pay a small fee to visit the palace. The architecture of the building is also done in the Islamic Mudéjar style. Unfortunately the government was in session the day we visit so we weren't able to see inside!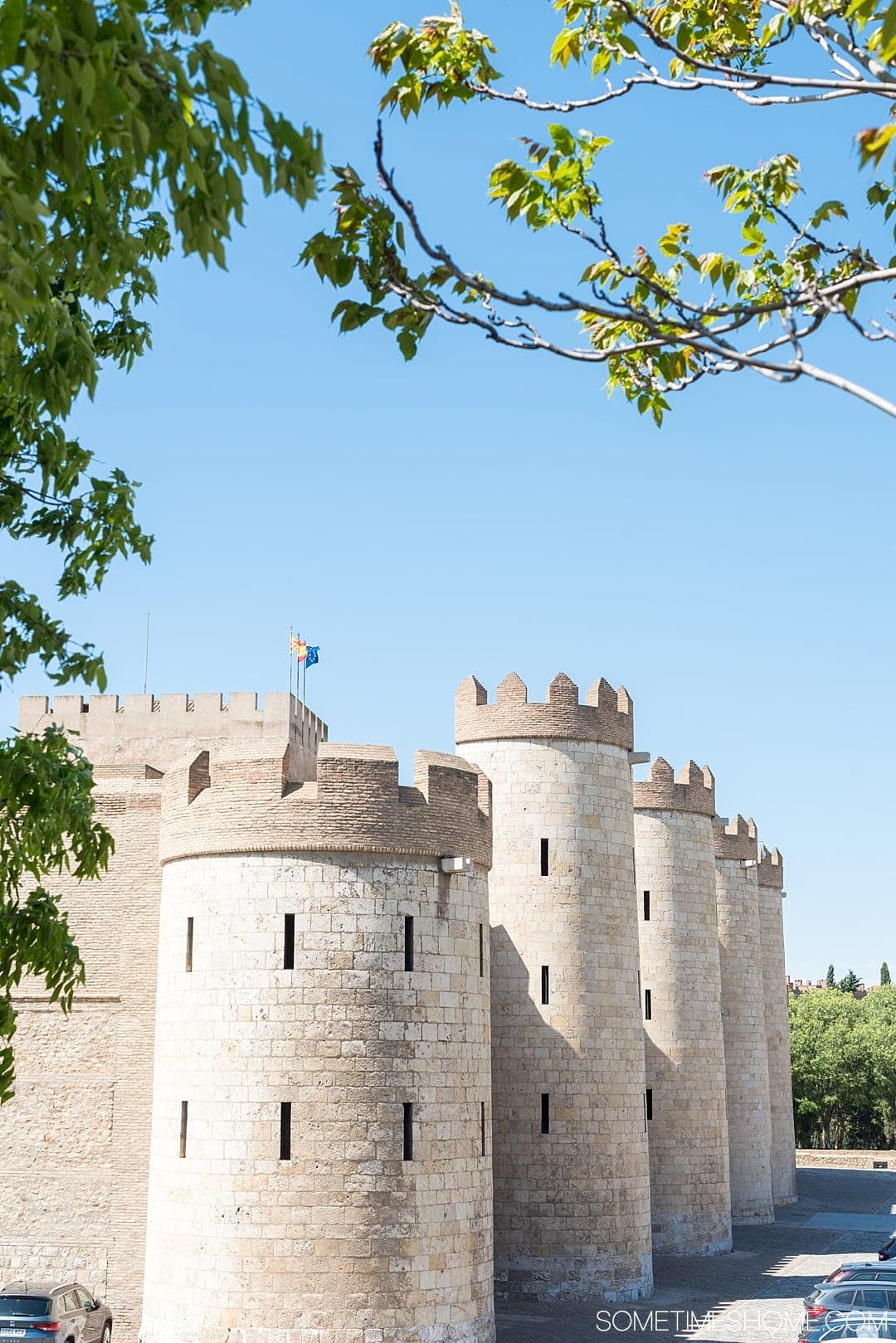 Hunt for Street Art
One of the reasons we wanted to go to Zaragoza was because of the big street art festival every year, mentioned earlier in the post. While we weren't going to be there during the fall, when the ASALTO festival takes place, we figured the street art and murals may still be there. Since we adore street art we decided to give it a whirl.
I thoroughly researched where many murals may have been painted. Yet, like I've said many times in the past, street art is unpredictable in many ways. It could be there one day have sustained weeks or months of life, then gone the next. While we didn't see the overwhelming abundance of murals we hoped for we did see a lot of fantastic street art.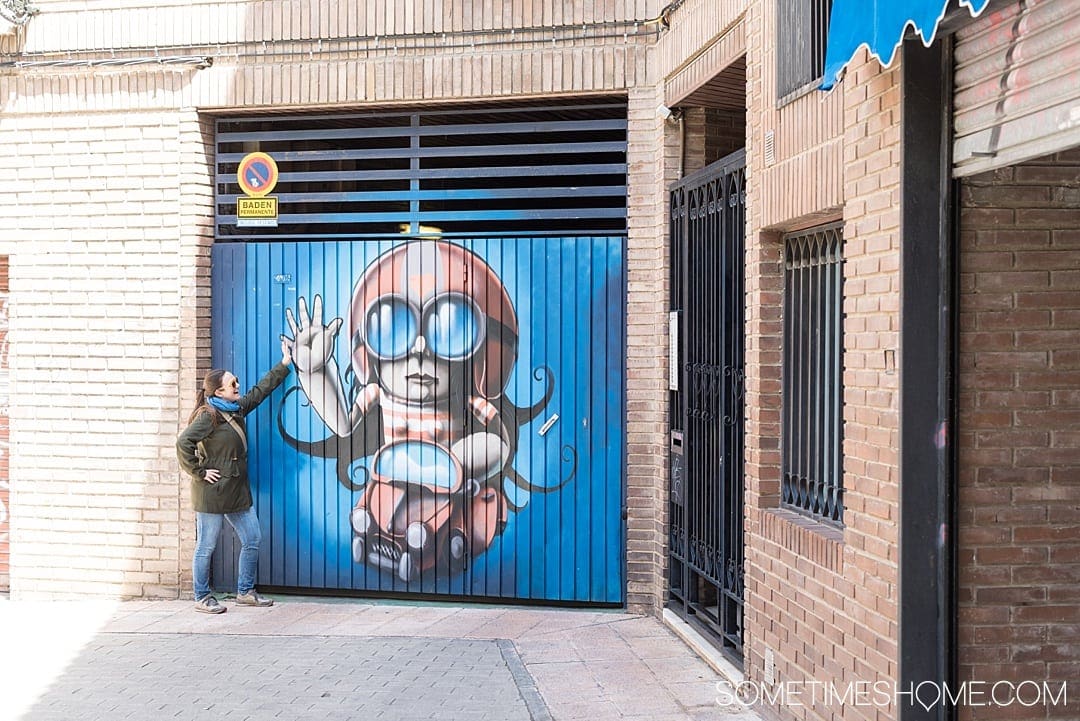 We particularly found great Zaragoza street art in the Valdefierro neighborhood. We took a public bus there from the center of Zaragoza to save time. It took about 20 to 30 minutes for us to arrive in the neighborhood then at least 30 to 40 minutes time walking around to find street art. (We somewhat aimlessly walked around yet our route was guided by a map I previously marked before our trip of where the murals were supposed to be.
When we happened upon the butterfly mural below, we stood in awe of the trompe l'oeil we were looking at. When you stand at the right angle it looks as if you're simply looking at a collector's box of these beautiful insects nailed to the sky. It was a bonus we were able to view it with a foreground of purple spring flowers for our May trip.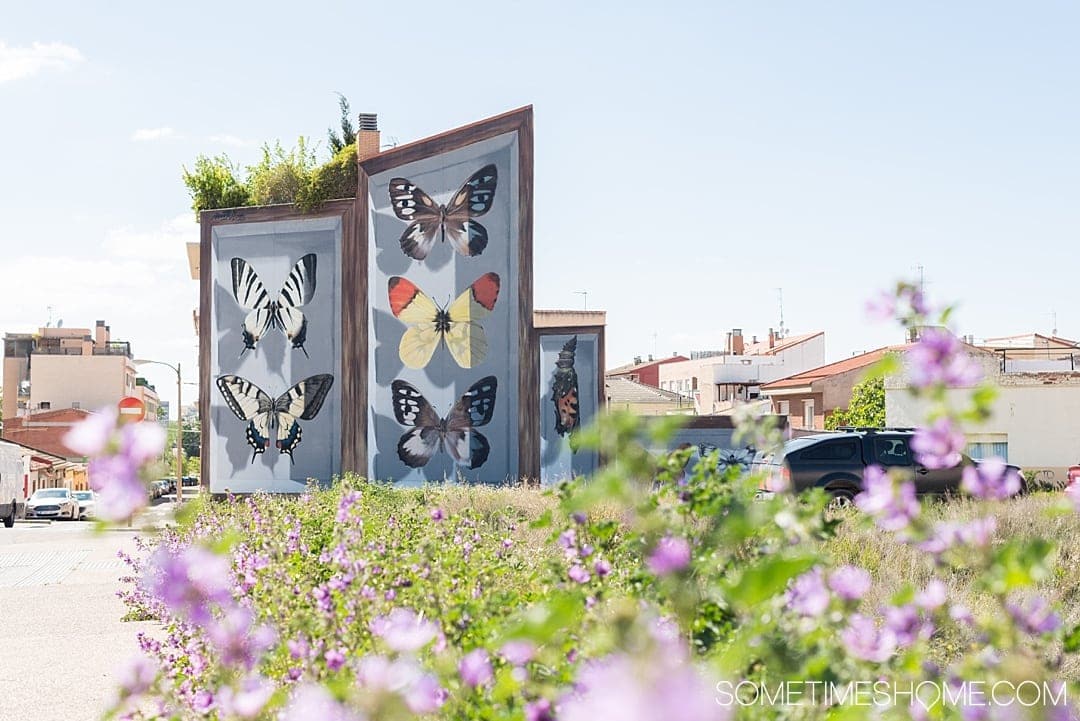 We also randomly found an incredibly colorful staircase at the end of a street in a neighborhood we were walking through. The road had become pedestrian only and we kept walking towards the splashes of color. We had fun with self-timer on our camera!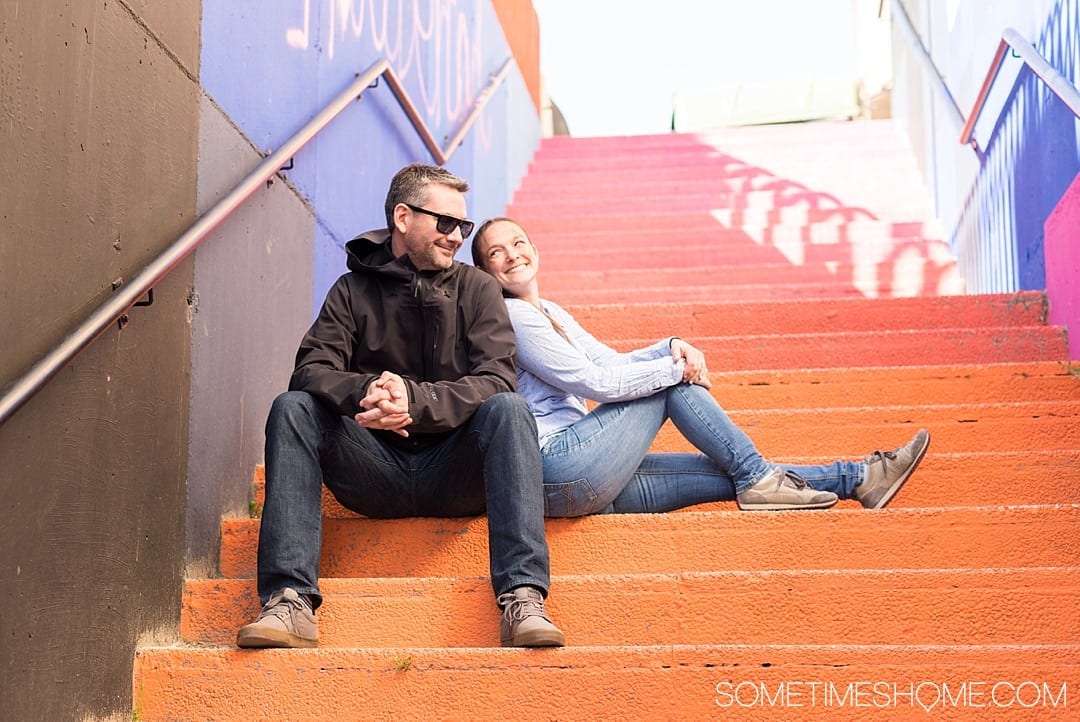 Discover Zaragoza's Roman Past
Roman Theater Ruins
One of the most impressive sites in this city is the Roman theater and the theater museum, or Museo del Teatro Romano de Caesaraugusta. Out of all the things to do in Zaragoza this should be near the top of your list if not the thing to do.
They closed fairly late the day we were there so we left it for last. We arrived at 6:00pm knowing we had two hours to explore. (I wish we had two and a half to three hours!)
It's really incredible to experience what Spanish archeologists uncovered in the 1990s. It's an entire Roman theater they've worked to restore since its discovery. What's amazing is how in tact a lot of the amphitheater seats are HUNDREDS of years later.
They've also done a great job to showcase how it was in its heyday when Romans would gather for plays and such. They also include incredibly informative plaques and reading material to go along with artifacts, scale models and displays inside the museum.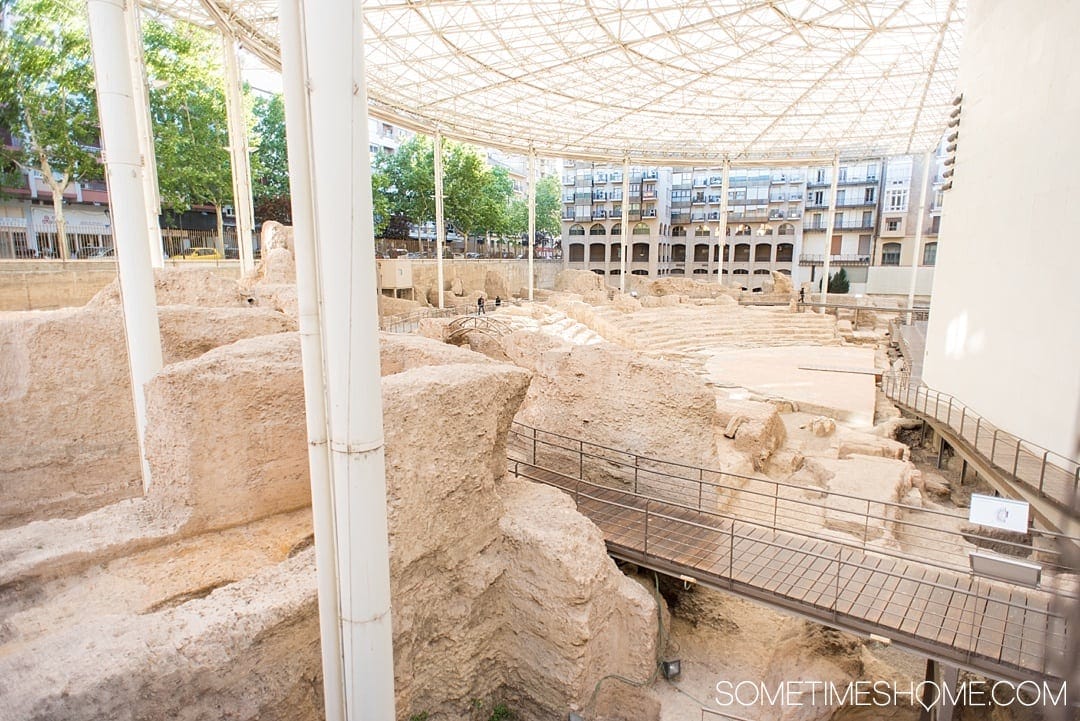 Roman Wall Ruins
A nod to Zaragoza's Roman heritage can be seen throughout the city. A statue of Caesar stands tall near Zaragoza's Central Market. You can see remains from a stone Roman wall just a few yards away. What remains of the Roman city wall is also near another visitors center (Oficina du Turismo) so if you need any information about Zaragoza it's a great place to stop. Coincidentally it leads to an interior staircase where you can climb to the top of this tower. You can see a unique perspective of the city from this height, where rooftop and turrets meet your eye.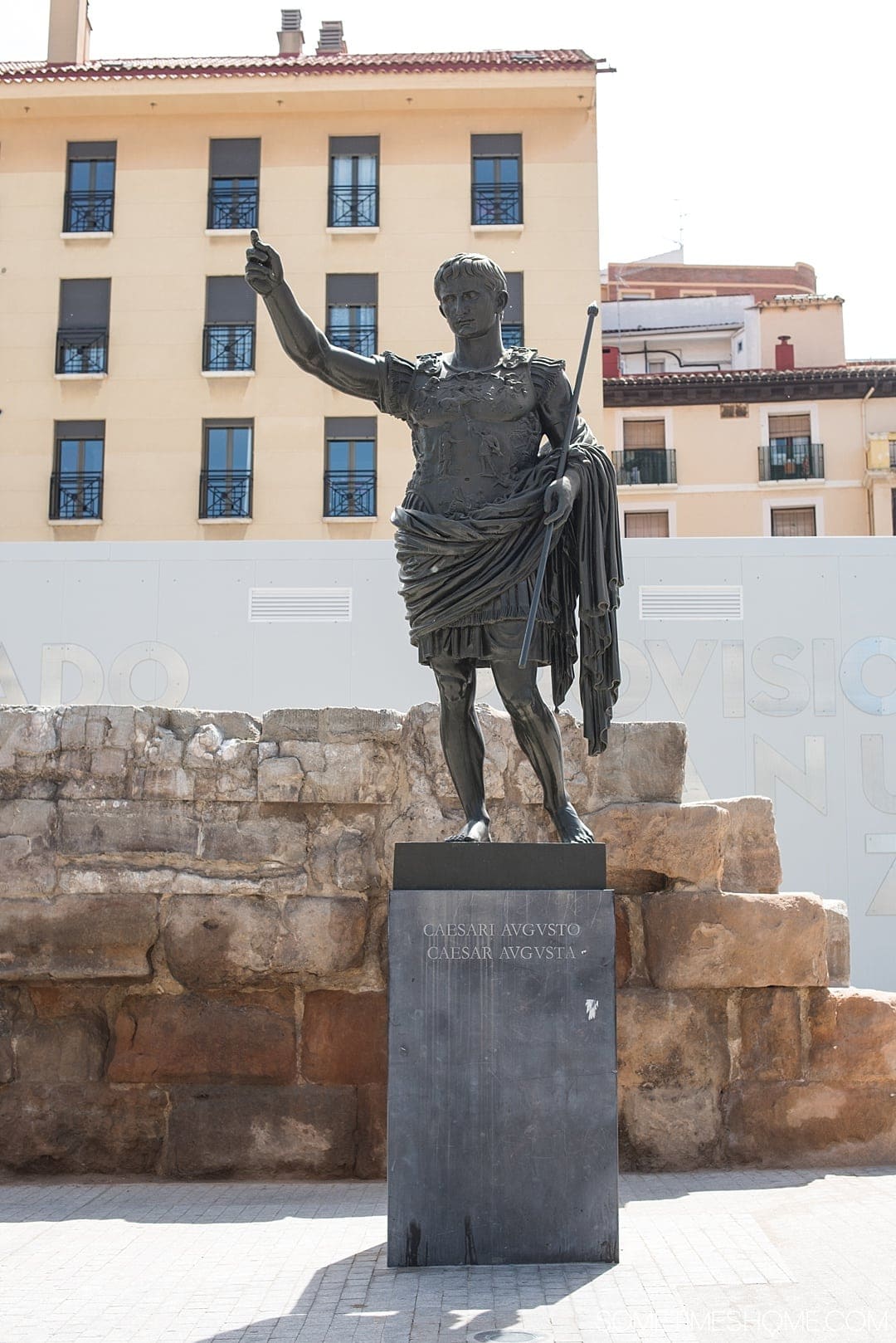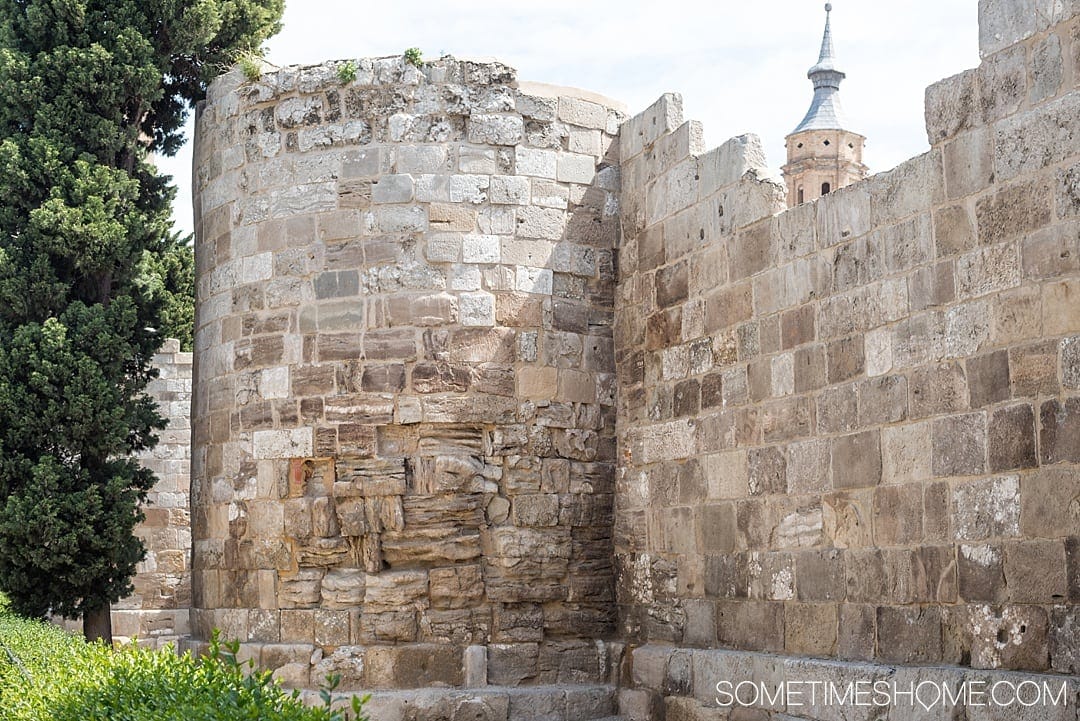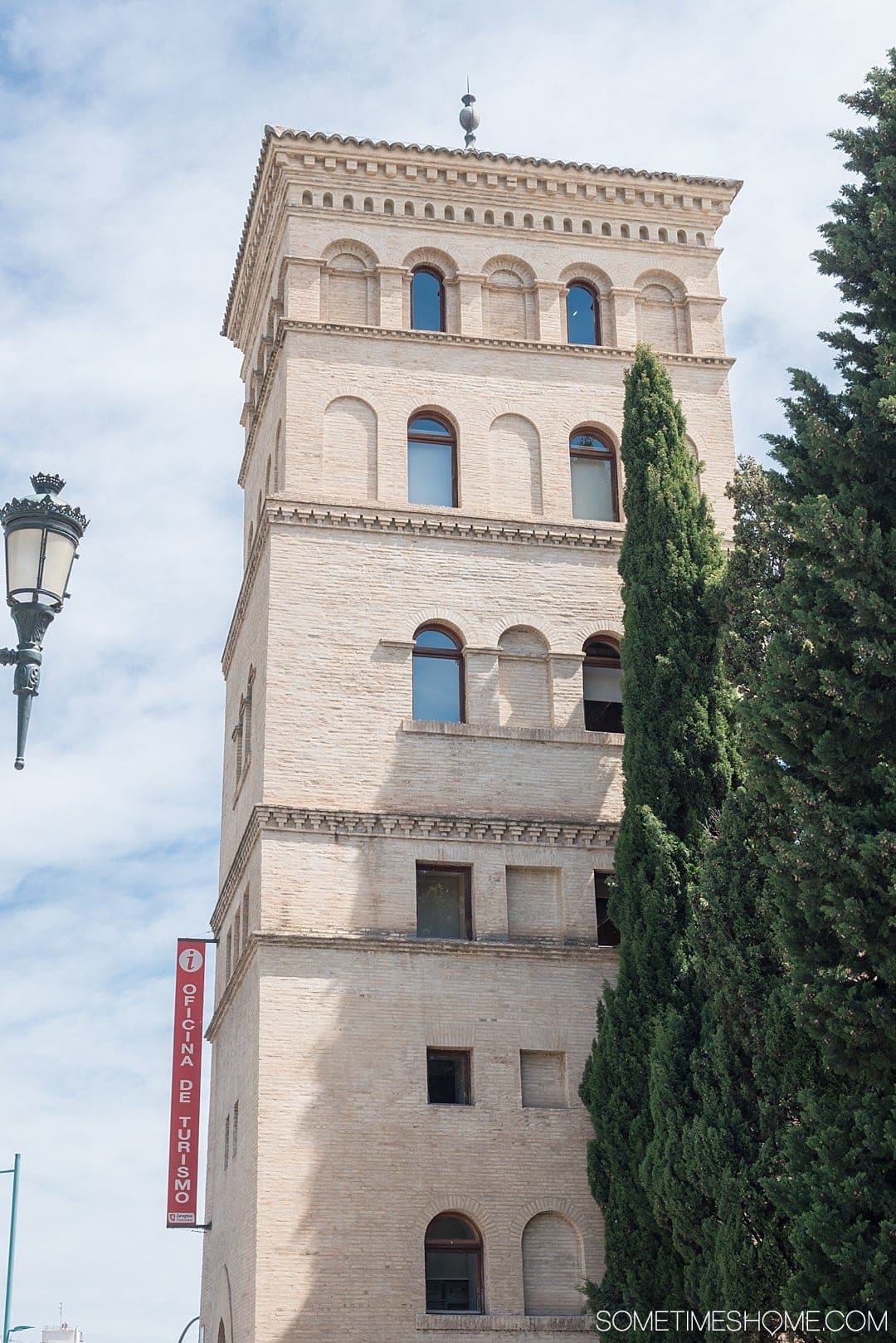 Museo del Foro de Caesaraugusta
Unfortunately this museum was closed when we visited (notice Dan's look of disappointment!) but from what we understand it's very good! It explains what life in Zaragoza was like during the Caesaraugusta time period, which is dated BCE! (BCE, as in Before Common Era, as in over 2,000 years ago! Estimated 25 to 11 BCE.) Visitors can see the excavated city remains preserved within the museum, uncovered just beneath the old city plaza grounds, steps from the Basilica de Pilar.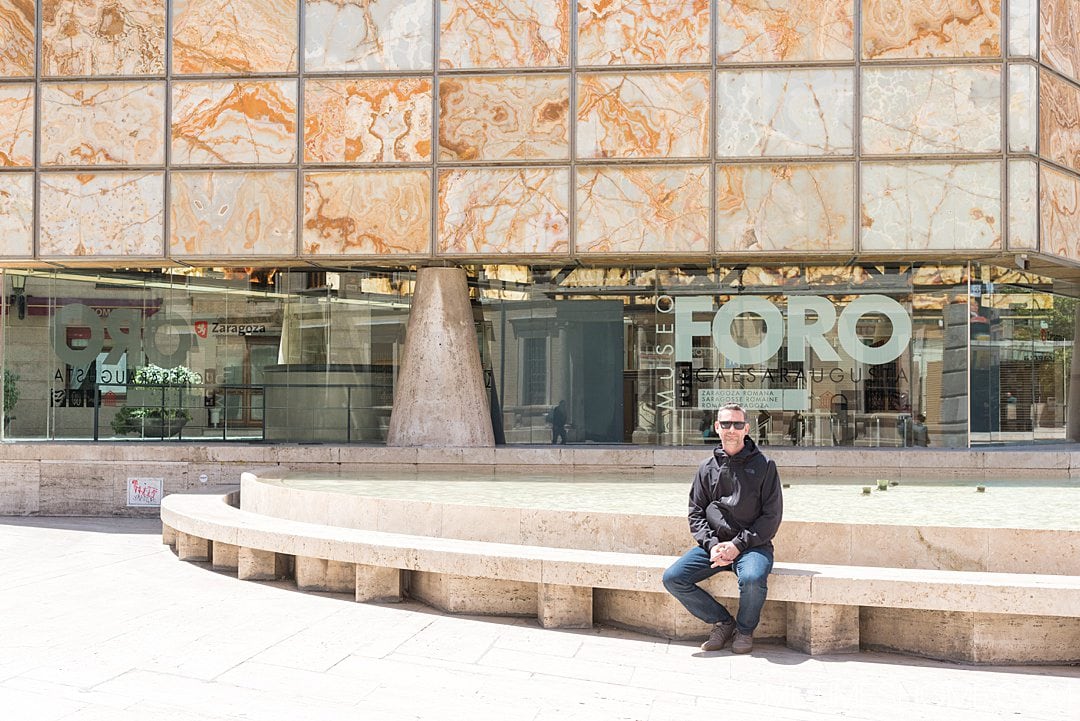 Enjoy the Waterfront View from the Stone Bridge
Do take a walk over the Ebro River in Zaragoza, particularly on the attractive stone bridge, named Puente de Piedra. The view of the Basilica from the river is impressive!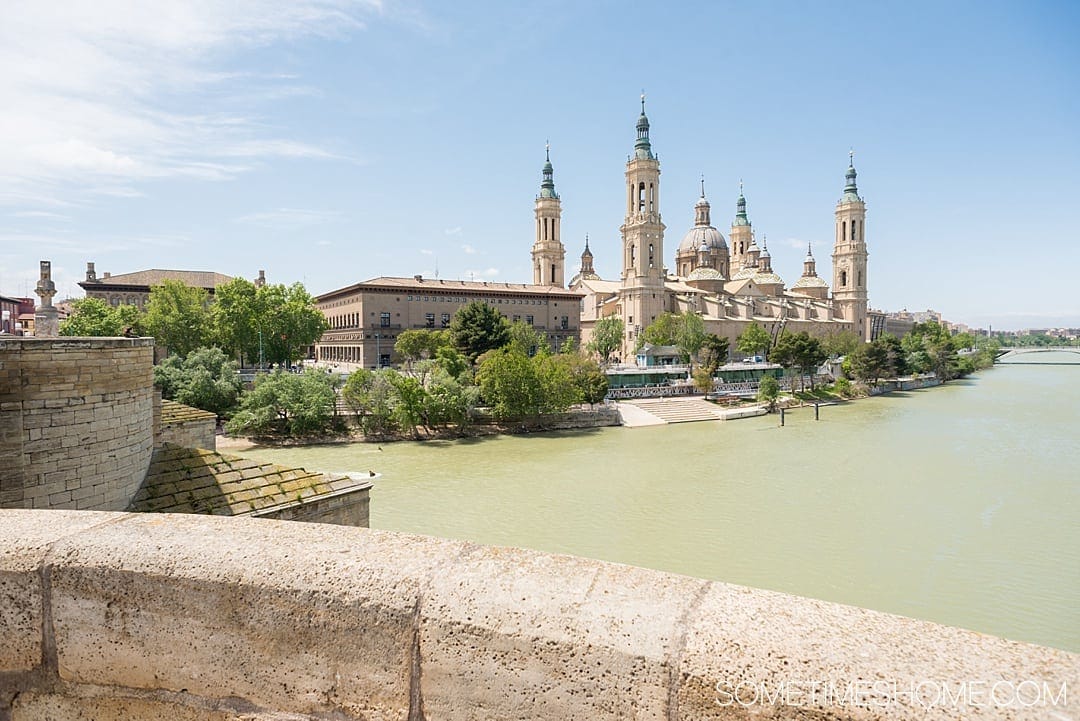 Food, Glorious Food!
Zaragoza's Central Market
Zaragoza's Central Market is near the Caesar statue. It's a market for residents and visitors to buy groceries, including fruits, vegetables, proteins and the like. It's currently closed for major renovations (and has been for some time) but we know it will be open and better than ever in the near future!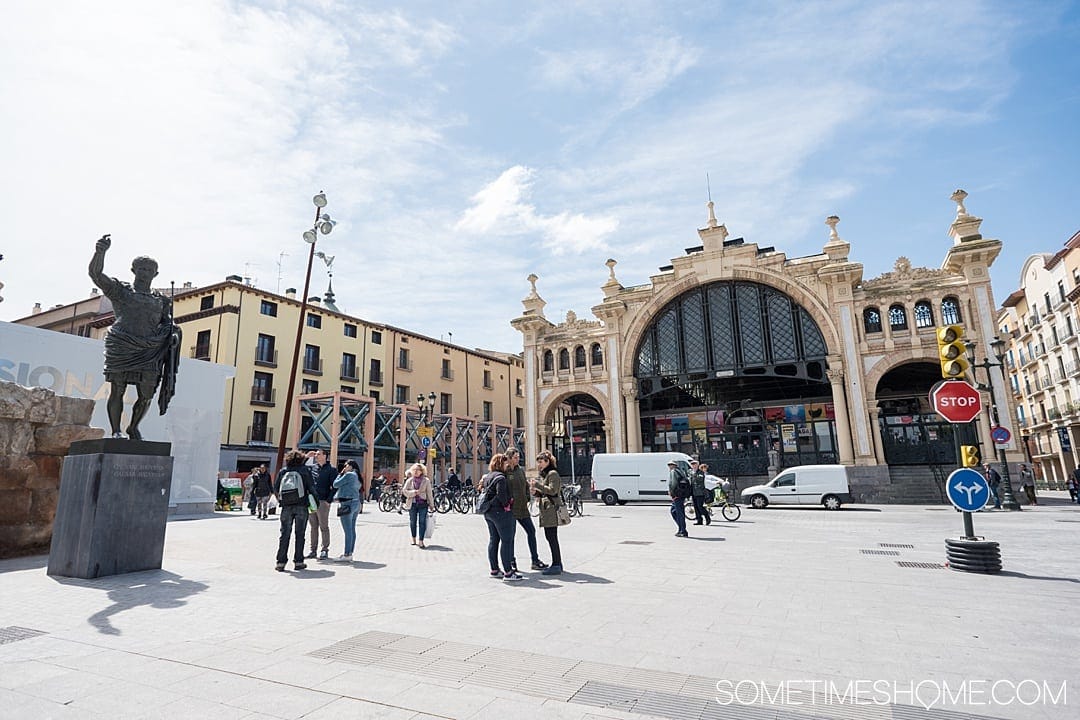 Santiago Restaurant on the Plaza
We decided to take a pastry on the train from Madrid to Zaragoza to snack on, and then stop for a full breakfast when we arrived in Zaragoza. What interested us was a breakfast spot with ambience, coffee and sandwich options.
We ate at Santiago, very close to the cathedral. (It was just across the plaza.) It was a wonderful location for access to wifi and "food fuel" (I got pan con tomate, as usual, a Spanish staple and personal favorite!) and somewhere to caffeinate with good espresso.
The staff speaks English and was very welcoming. The place won't blow you away but it's really quite good and the location can't be beat!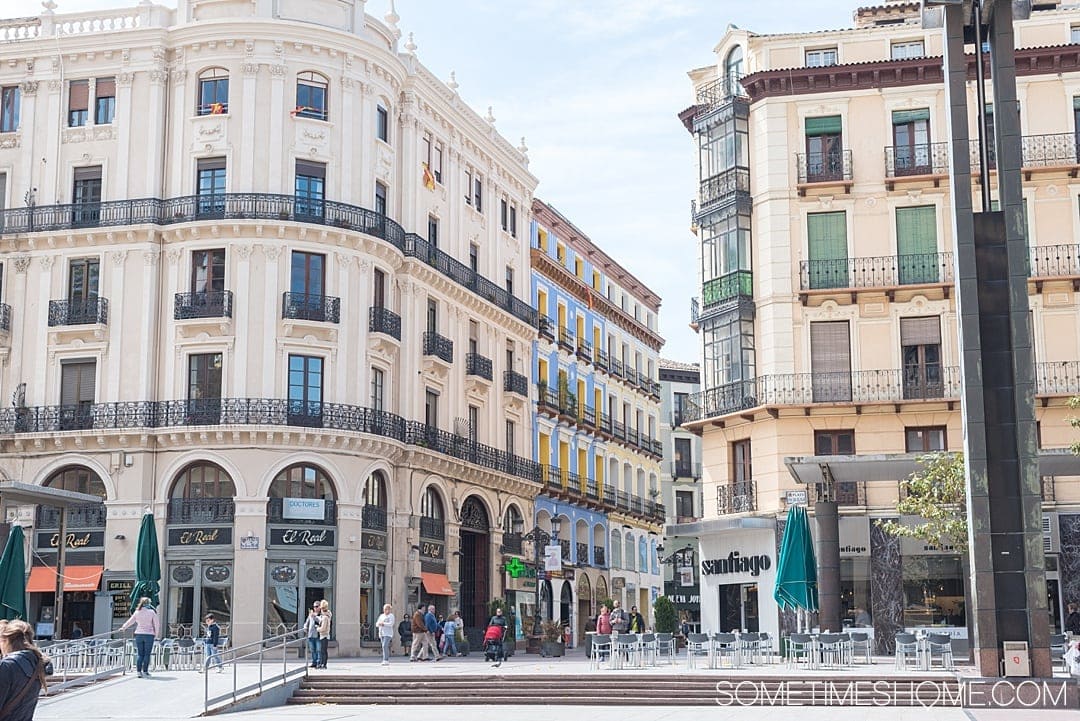 Mercado Gastronomico Puerta Cinegia
We learned about the Mercado Gastronomico Puerta Cinegia food market from an employee at one of the three visitors centers we stopped in that day. We were so grateful to learn of such an awesome spot.
It's about a fifteen minute walk from the main attractions in town and has an abundance of options. Visitors can choose from pizza, sandwiches, tapas, burgers and more in a trendy, hip atmosphere. Of course there's plenty of alcohol options there too.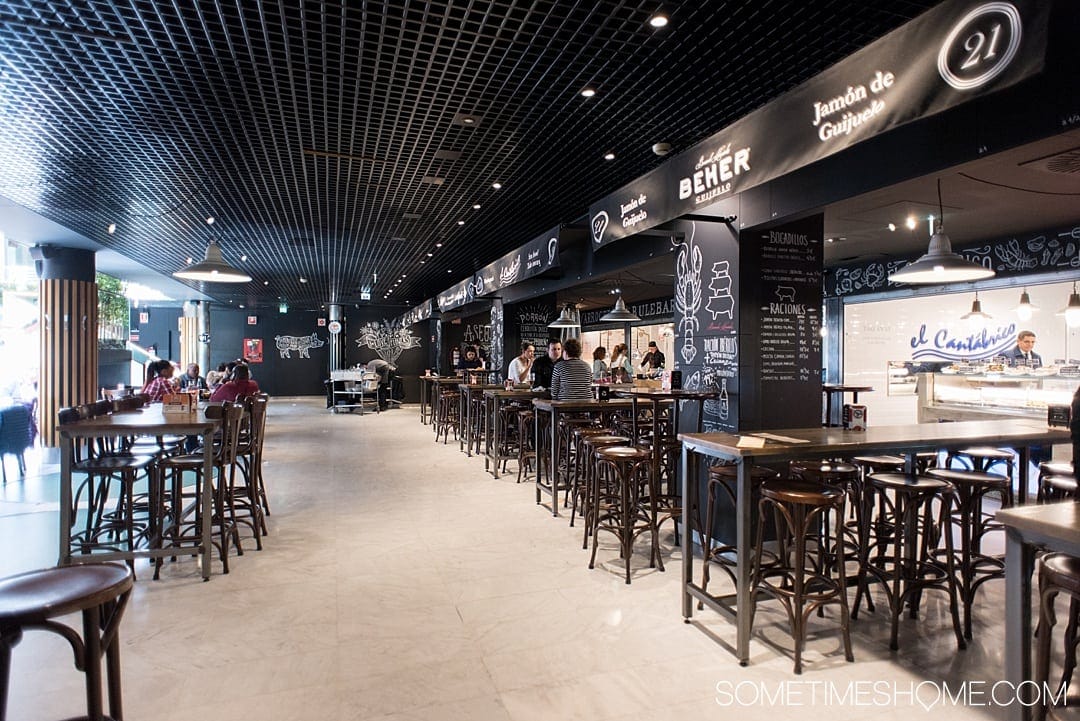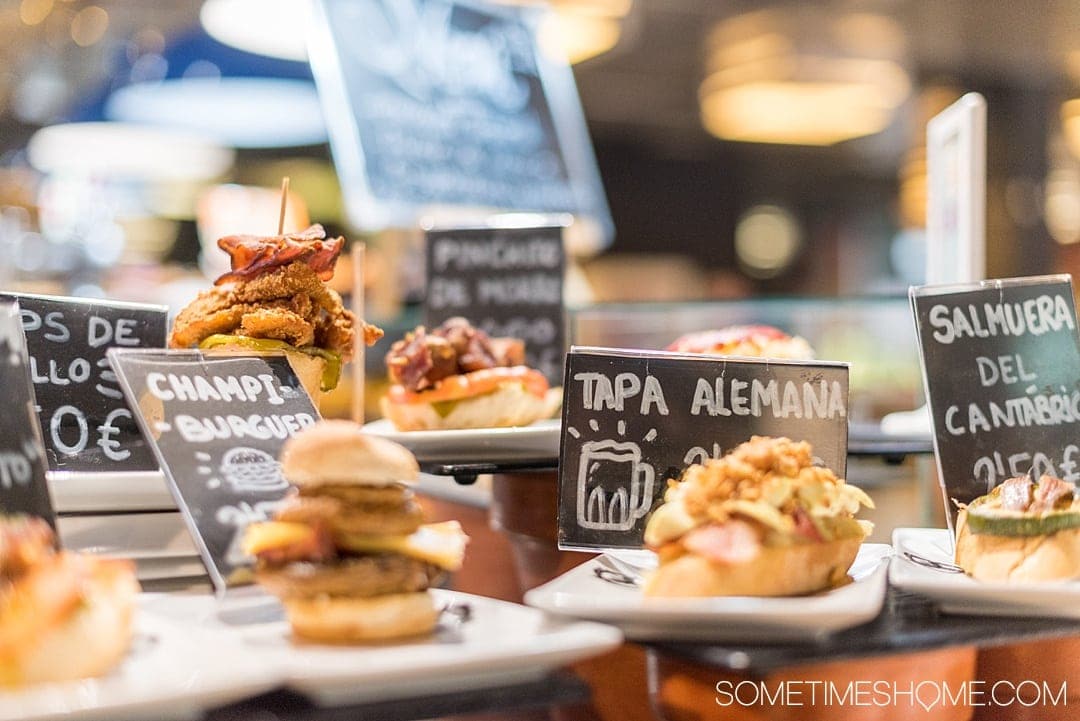 Fantoba Bakery
Anyone with a sweet tooth knows to seek out the best cake and candy shops in any town. I knew we had to visit Fantoba Bakery when I read about its history and existence, dating back to 1856. Stepping into the shop feels like a step back in decades with beautiful cases of pastries and modeled marzipan to back up years of experience.
We weren't too hungry so we took a look around and decided to try one of their petit fours. It was yummy!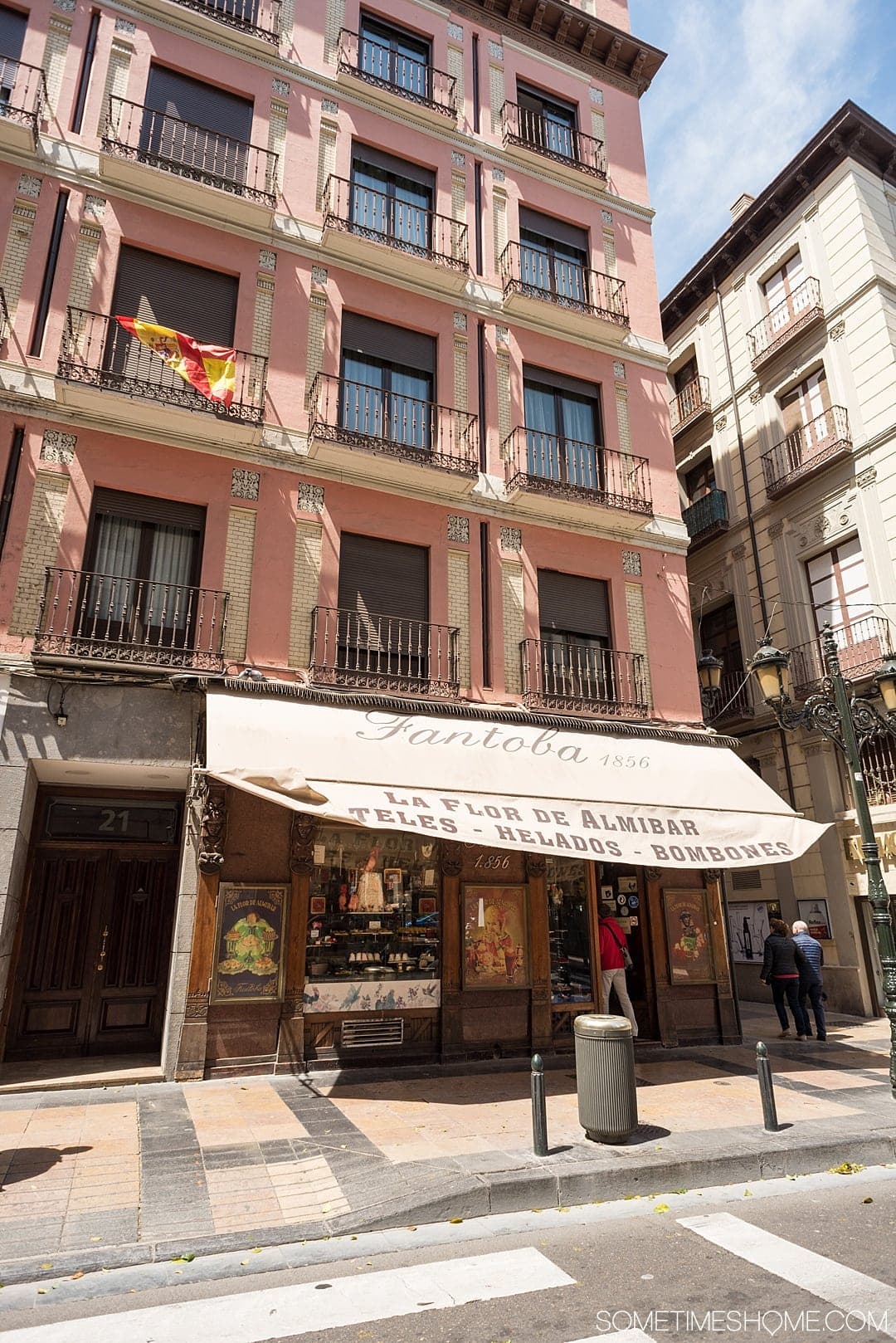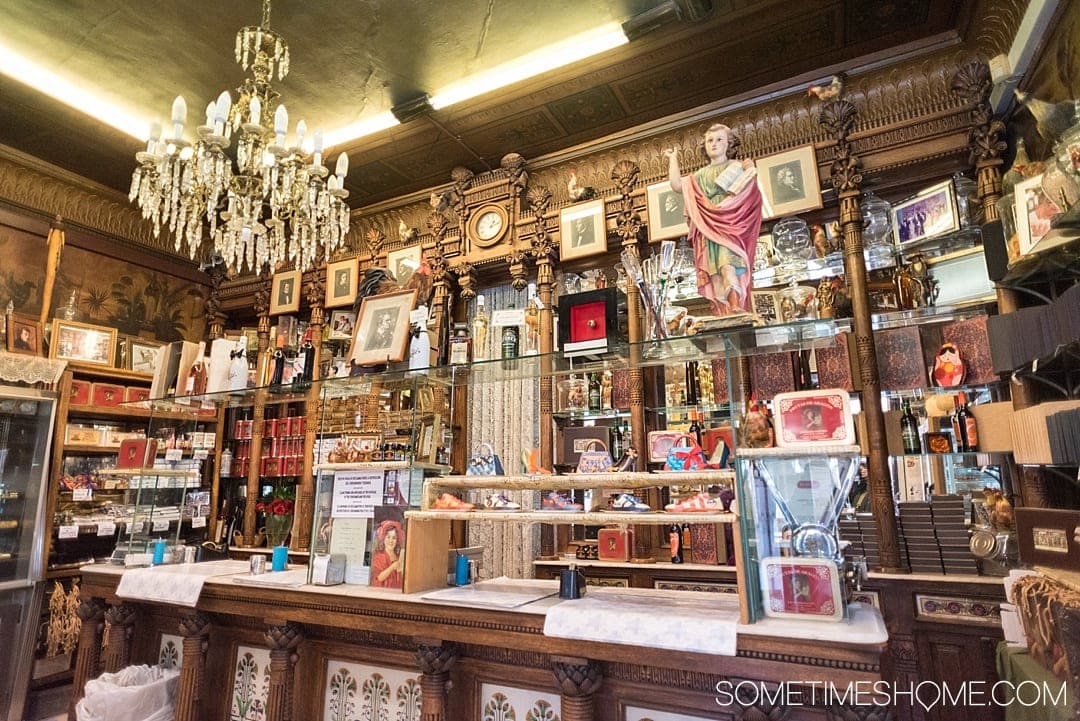 Was Our Day Trip from Madrid to Zaragoza by Train Worth It?
The answer to this question lies in what you're interested in. Zaragoza doesn't have the feel of Toledo or Segovia, which both have an old world charm and tightly packed, small scale city centers like European villages of centuries ago.
We were a bit disappointed when we went, in the moment, but only because the street art murals weren't as prevalent as our research led us to believe. Perhaps a lot of them had been painted over or we simply couldn't find them. (And trust me, we searched well.) But if we had reframed our expectations I know we wouldn't have felt so let down.
We also happened to have been there on a day a lot was closed. If there's a piece of advice I could give, it is check what may be closed the day of the week you want to go. For instance, the Caesaraugusta museum and the Palacio de la Aljaferia weren't open.
Looking back I fondly recall that day. Walking around the city on the search for art was pleasurable – it was a beautiful day and we got to see a lot of the city that way even though it was largely simply an everyday city, with everyday residents and citizens in Spain.
But it was so cool to see the Roman Ruins, something we didn't expect would be there. And memories of posing for fun photos in the town square, with its iconic fountain, makes me smile. If we had not gone there we wouldn't have known that joy and have those memories. Plus I would always wonder what Zaragoza was like. I'm glad we went.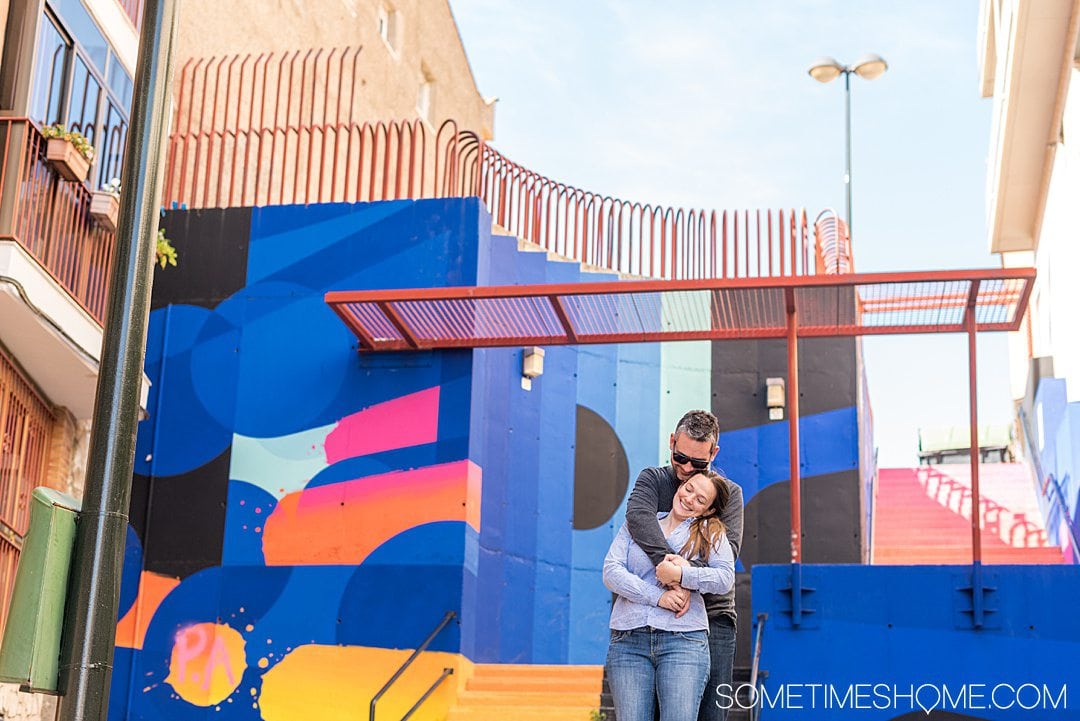 Disclosure: There are affiliate links in this post, which means we may earn a small commission if you click the link and proceed with a purchase. We only recommend products or services we personally use and recommend.
For more adventures in Spain check out:
Would you travel from Madrid to Zaragoza by train for the day? Remember this post by saving one of the images below to Pinterest!