San Diego Gaslamp District Hotel: The Hard Rock, SD
The Gaslamp Quarter is one of the hottest areas in San Diego, California. If you're researching San Diego Gaslamp District hotels, the Hard Rock Hotel San Diego is the perfect spot.
The city's consistent warm weather makes it a popular west coast destination with plenty to do and see. It has picturesque beaches, national parks, a world famous zoo, an abundance of great restaurants and bars and more.
As soon as I walked into the Four Diamond San Diego Hard Rock Hotel I realized it's got to be the coolest place downtown to stay and play.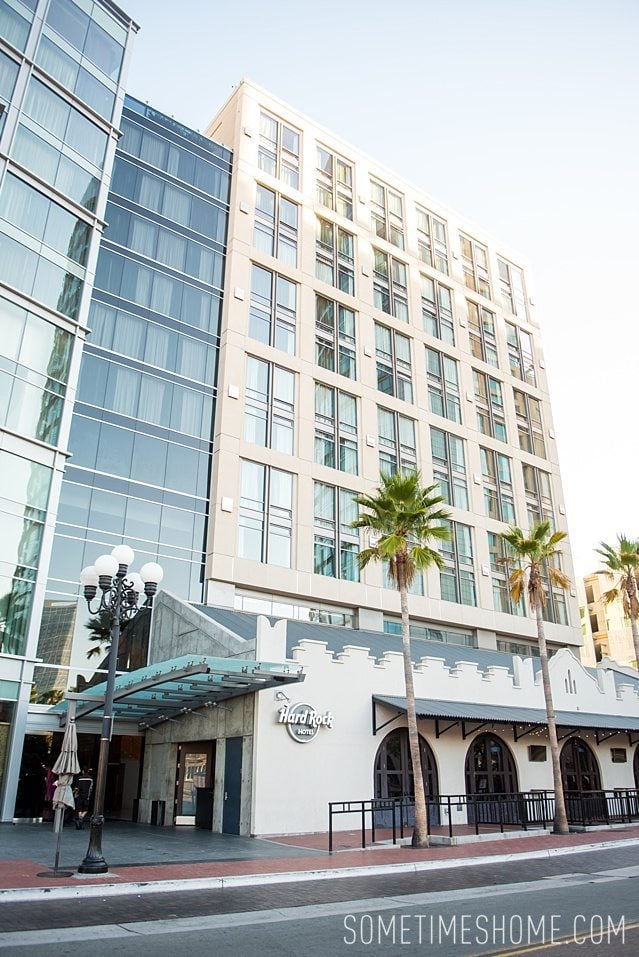 Hard Rock Hotel, San Diego Features
This wonderful San Diego Gaslamp District hotel offers the following:
Prime location in downtown San Diego, right across the street from the convention center
Downloadable playlist included in your stay
Complimentary electric bicycle rentals
Sleek, posh interiors
Complimentary Fender guitar check-out system (guitar skills not required)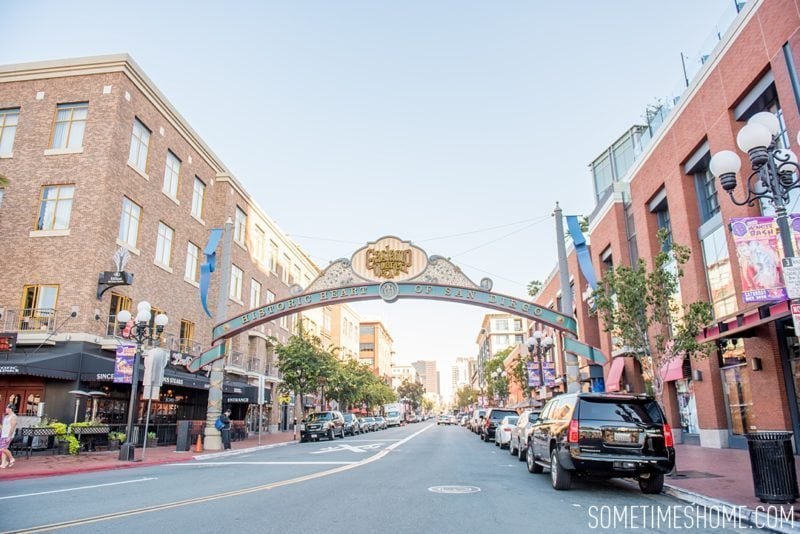 The Hotel Lobby of the Hard Rock Hotel in San Diego
I'm always interested in what makes something unique in little ways that make a big impact as a detail-oriented person. I entered the hotel into a no-fuss, organized lobby. I quickly learned of a unique feature, proudly in guests' view to inquire about adjacent to the front "desk" area.
Guests have the option to check-out a Fender guitar, complete with an amp and headphones so neighboring guests aren't disturbed! You're welcome to practice your guitar playing or even try it for the first time. Whether you're actually a rock star, just want to feel like one or anything in between, this is a hotel perk you won't find elsewhere. (Many celebrities stay at the hotel so don't be surprised if you see one or two during your stay.)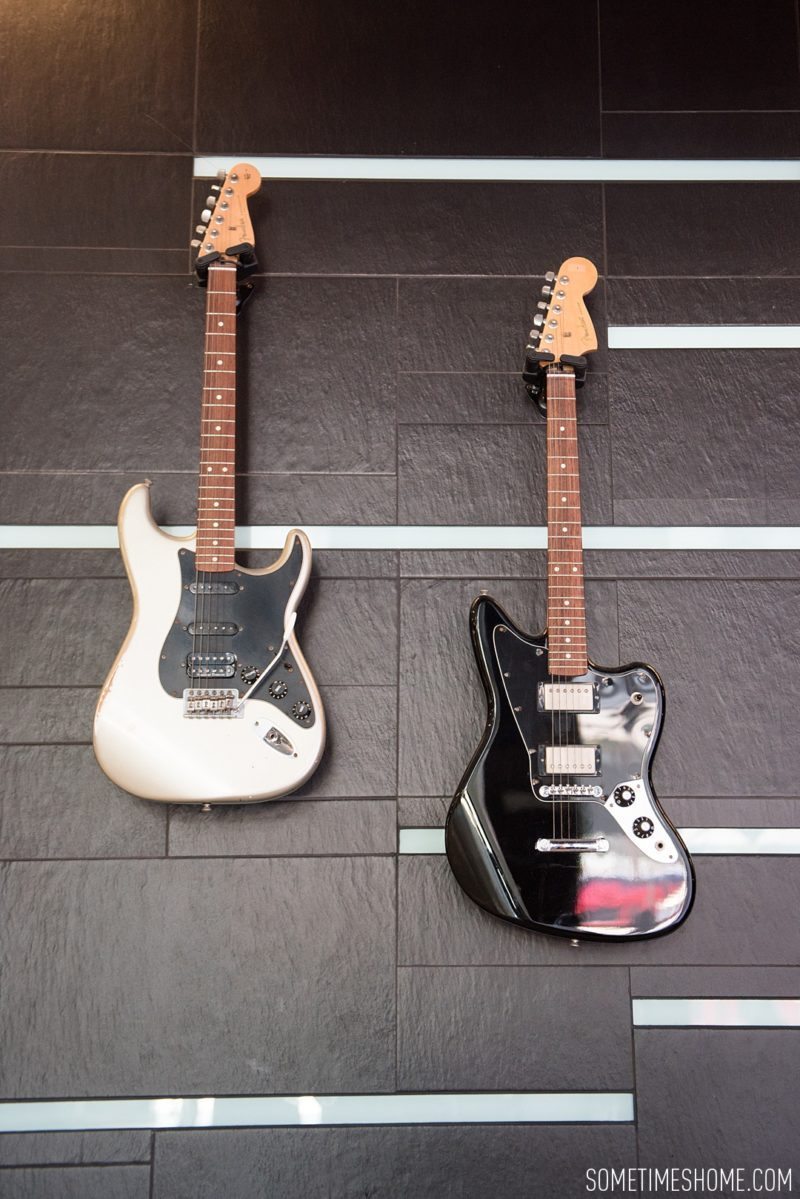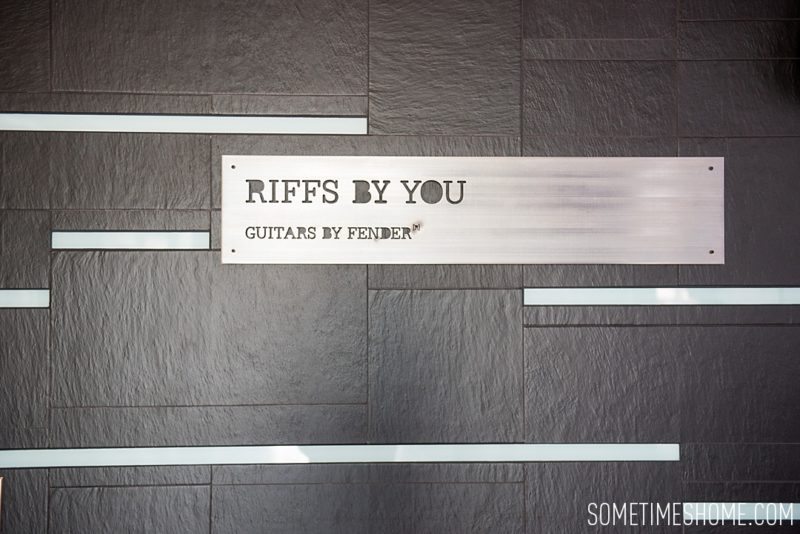 There's really cool memorabilia around the musically-focused hotel, like Shakira's famous bikini top from her last world tour or hand written notes between Stevie Nicks and one of her dear friends. The memorabilia is tastefully positioned and not in-your-face; if you care to learn more you simply walk up to whatever great piece is in front of you and read about it.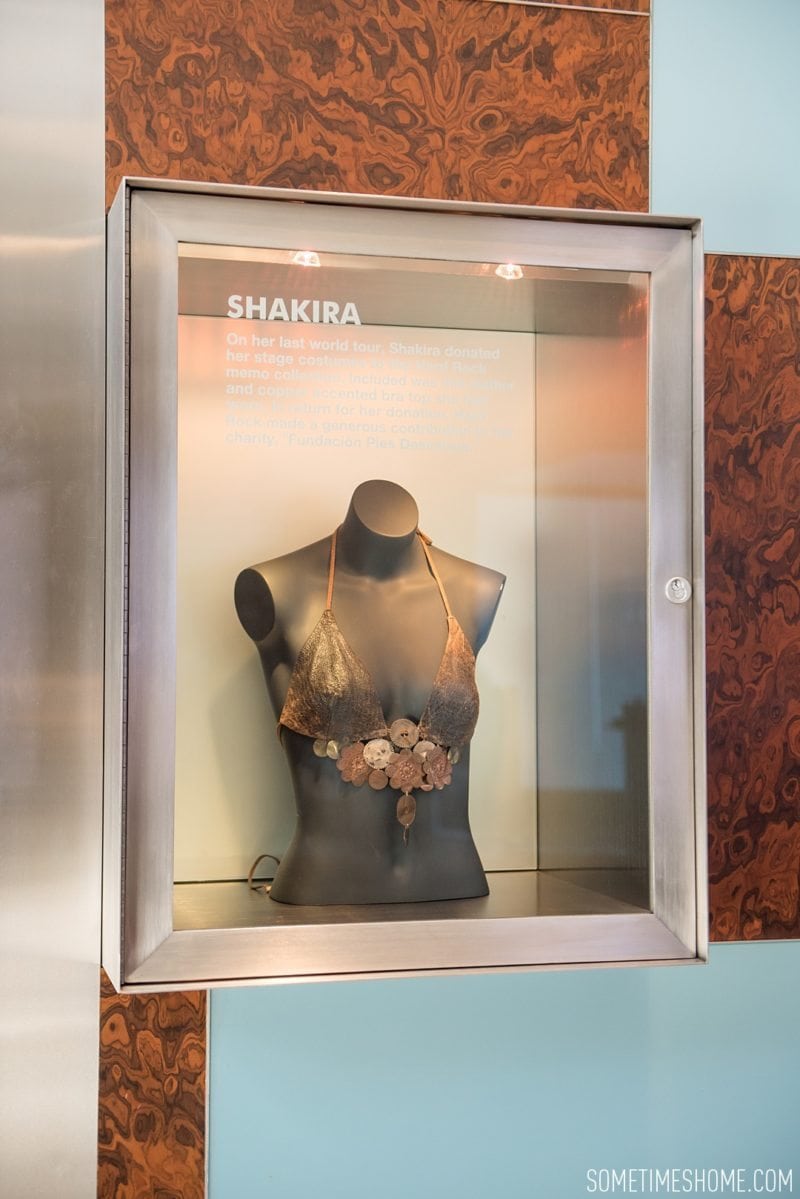 Custom Music
During check-in you're asked what kind of music you prefer – and a playlist with that genre, one of 52 specially curated for the hotel by a Vibe Manager, is playing in your room as soon as you enter it!
Guest Accommodations
I toured an impeccable suite. Their rooms are sleek and attractive – any room with a grey, black and white base is great in my book. I love textures and thoughtful finishes like the wallpaper in one of the rooms that I swear had a texture reminiscent of a vinyl record. The finishing details on their pillows is a sweet, small embroidered guitar. It's truly those details that make it a cut above the rest.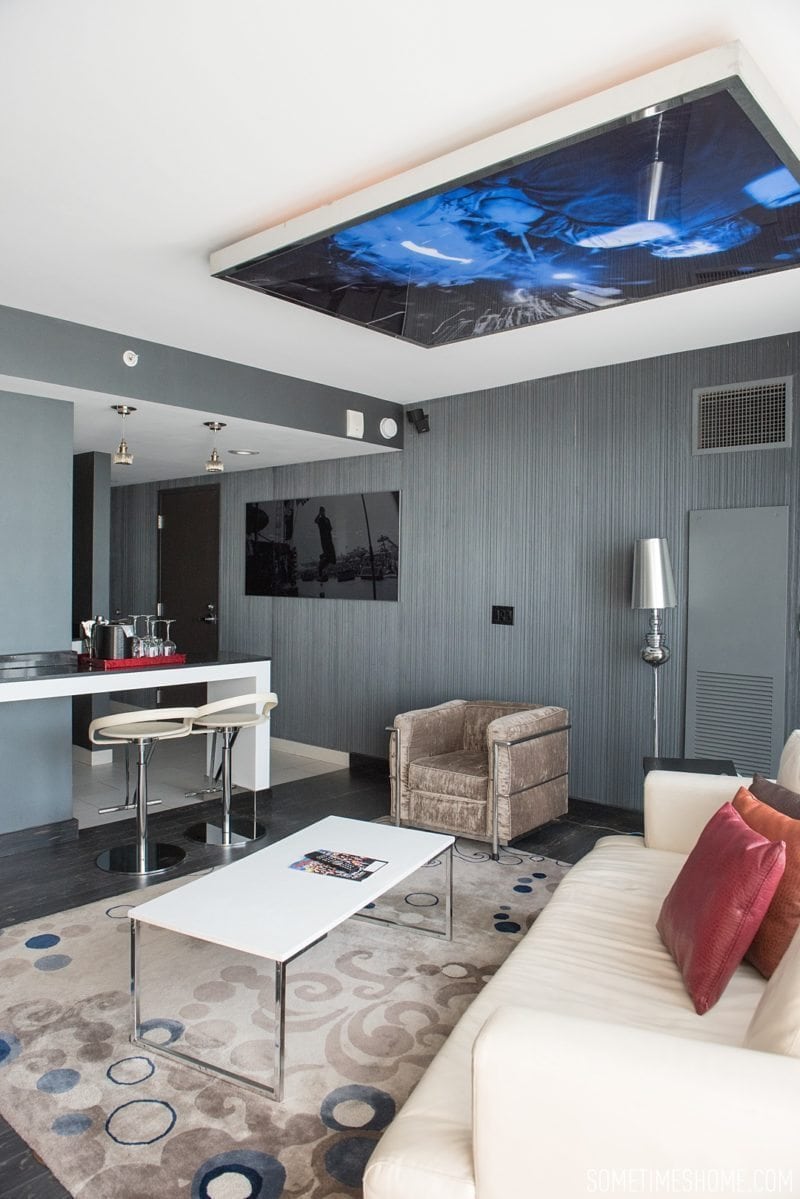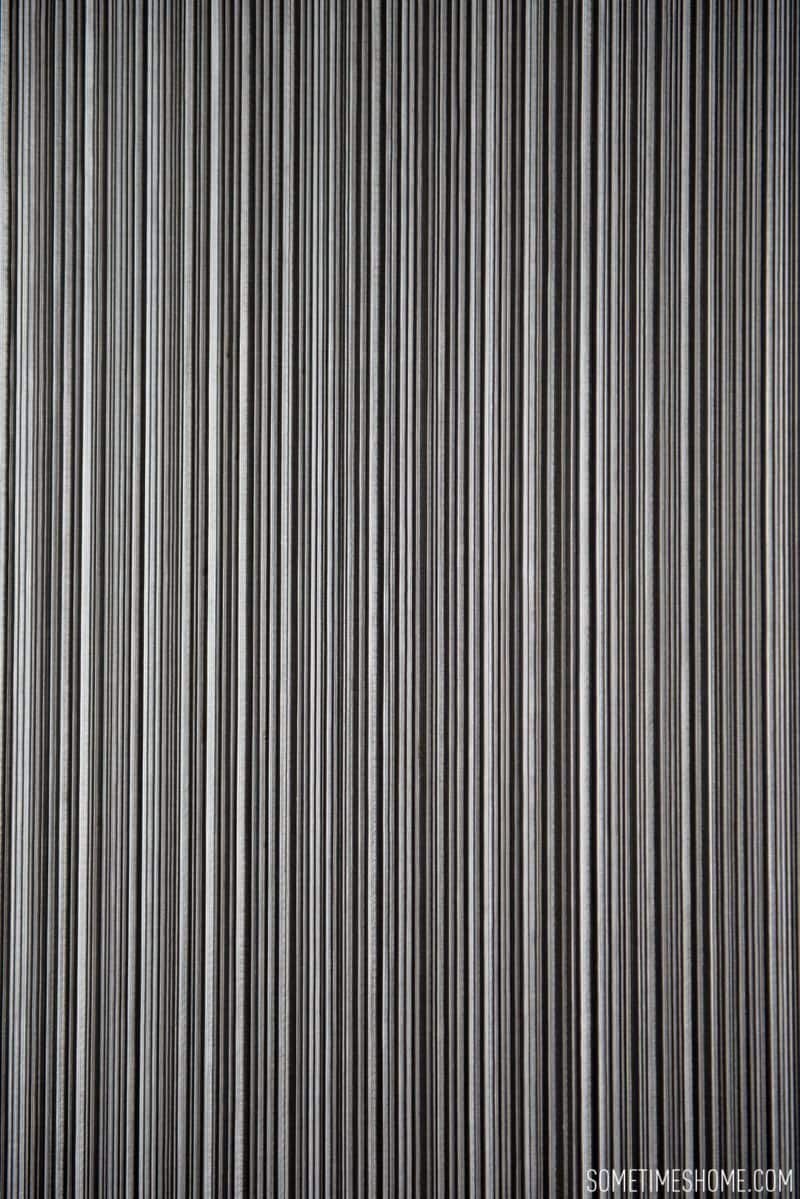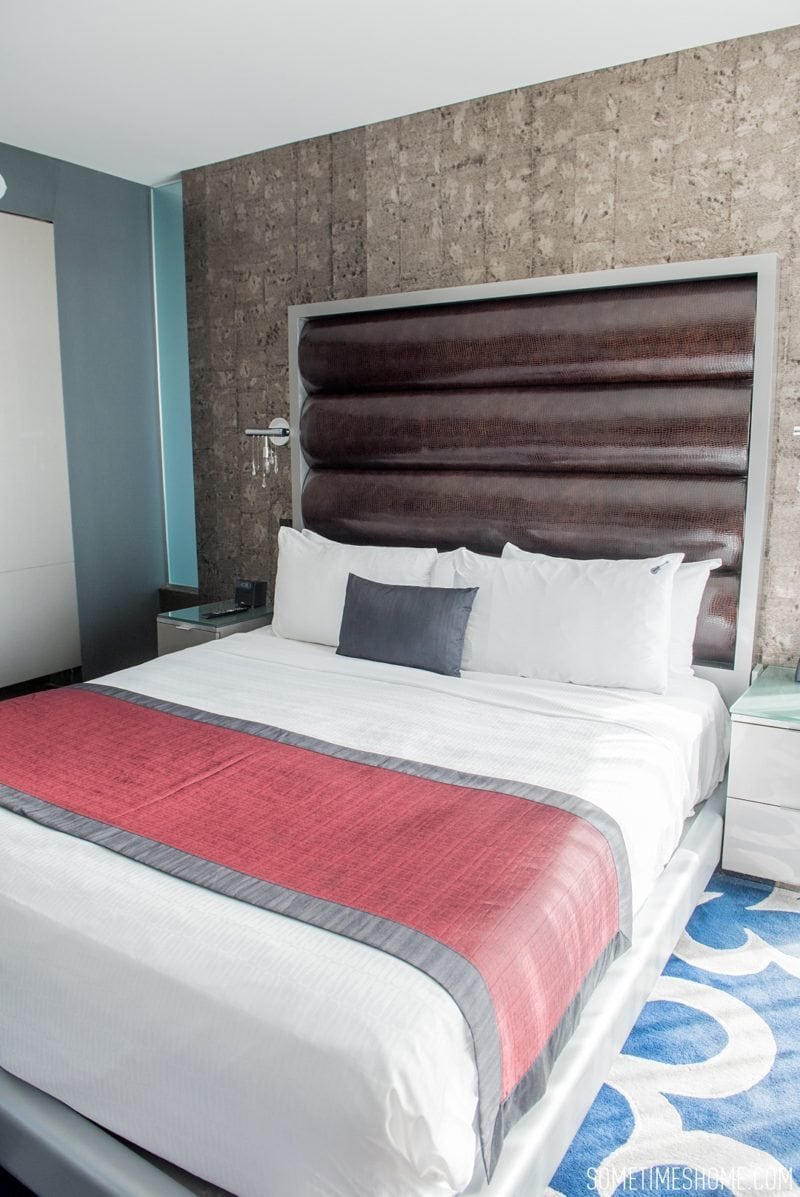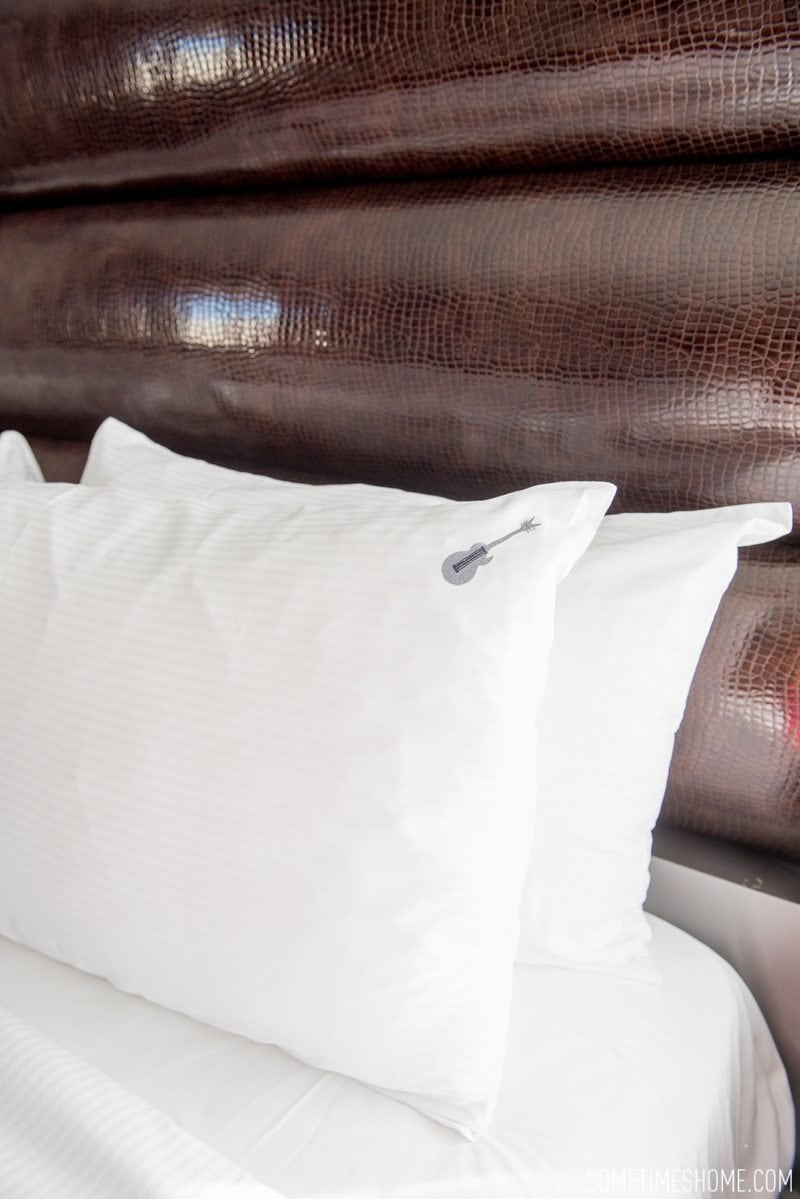 Look at the view from the suite window across the street to the San Diego Convention Center: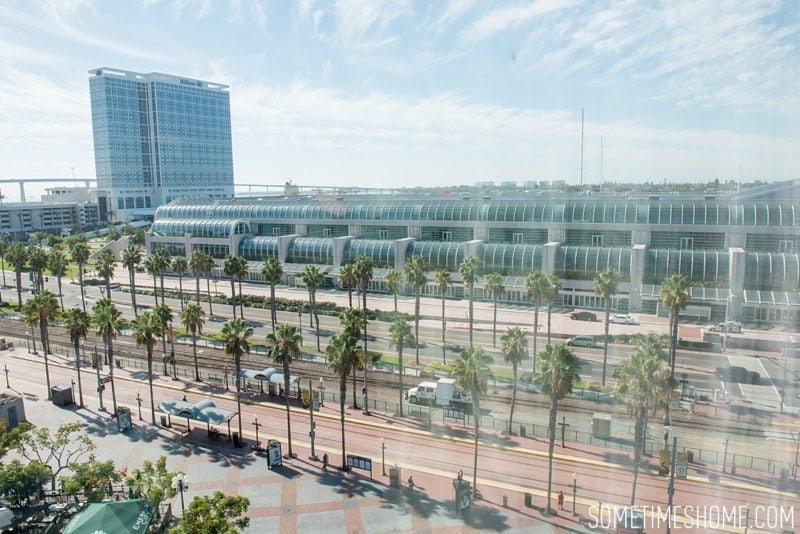 Luxurious Amenities
I entered the tranquil Rock Spa decorated in calming earth tones. It has five treatment rooms and offers a variety of services including facials and massages. A notable options is their Rhythm and Motion menu. This fully immersive experience uses a variety of musical queues – from vibrations to notes and songs, and pressures – to give the guest an extraordinary full sensory spa treatment.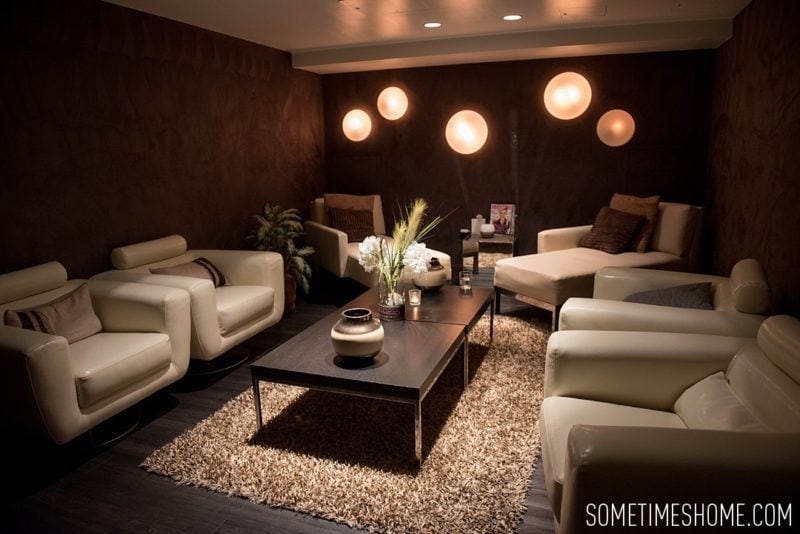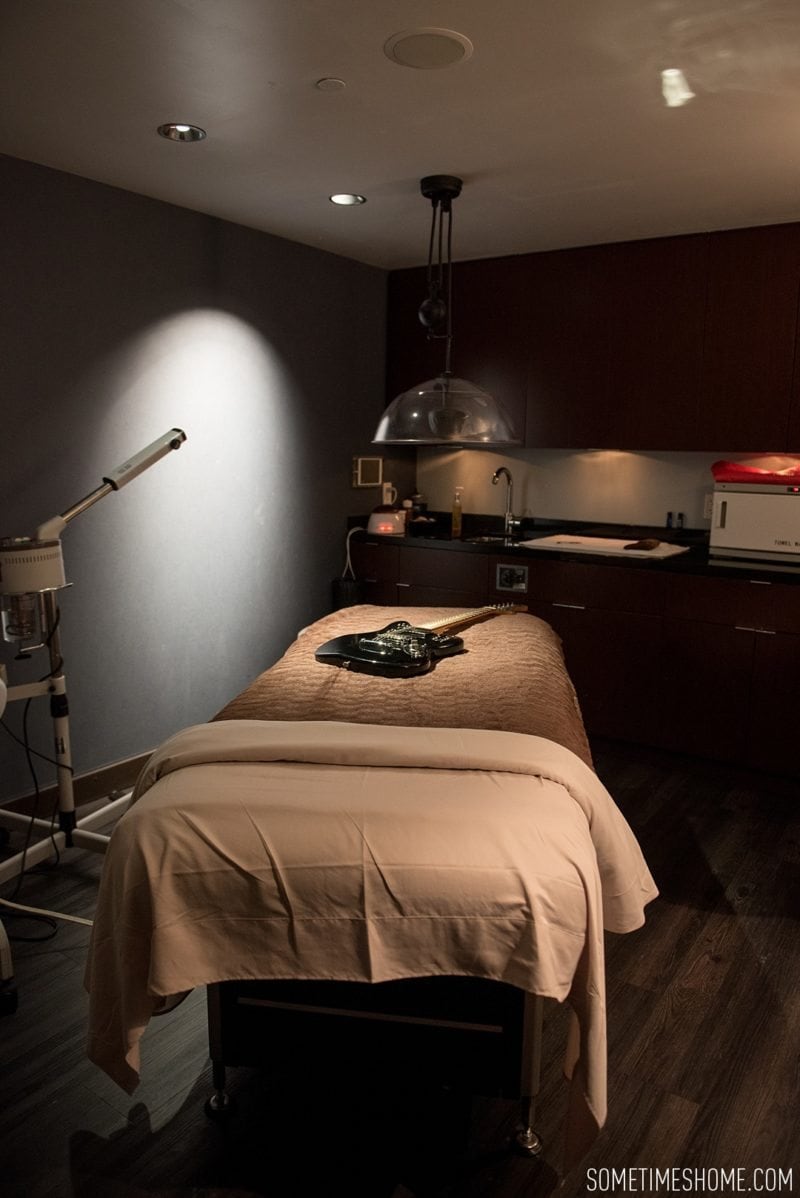 Dining at the Hard Rock Hotel in SD
I finished my morning in an attractive mid-century modern diner type setting. The hotel's restaurant, Maryjane's, had an extensive menu and I ordered a delicious breakfast.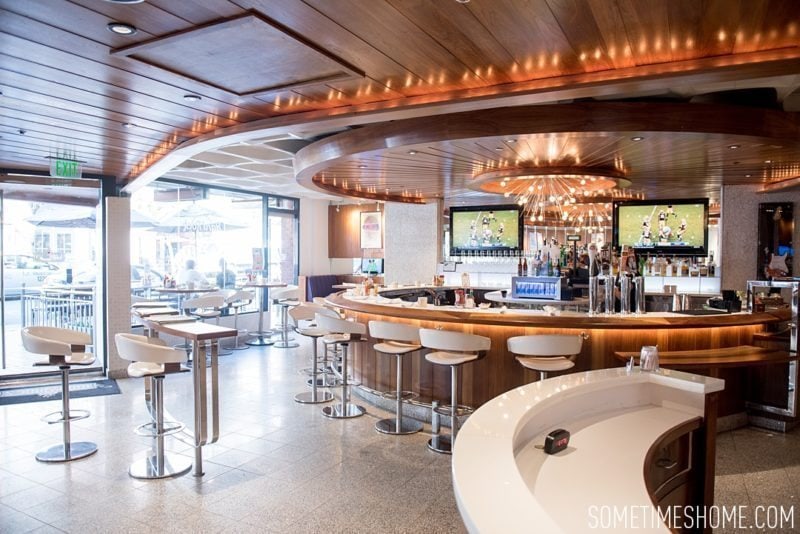 Another dining option is the world-famous Nobu, an upscale gourmet culinary experience featuring Asian fusion fare. The Hard Rock Hotel kicked off a renaissance of exquisite cuisine in the area when it brought Nobu to the neighborhood.
If you're looking for a spot in the hotel to relax with a cocktail and catch fresh air, their rooftop is beautiful and where a lot of their famous parties (including their New Year's Eve bash) take place.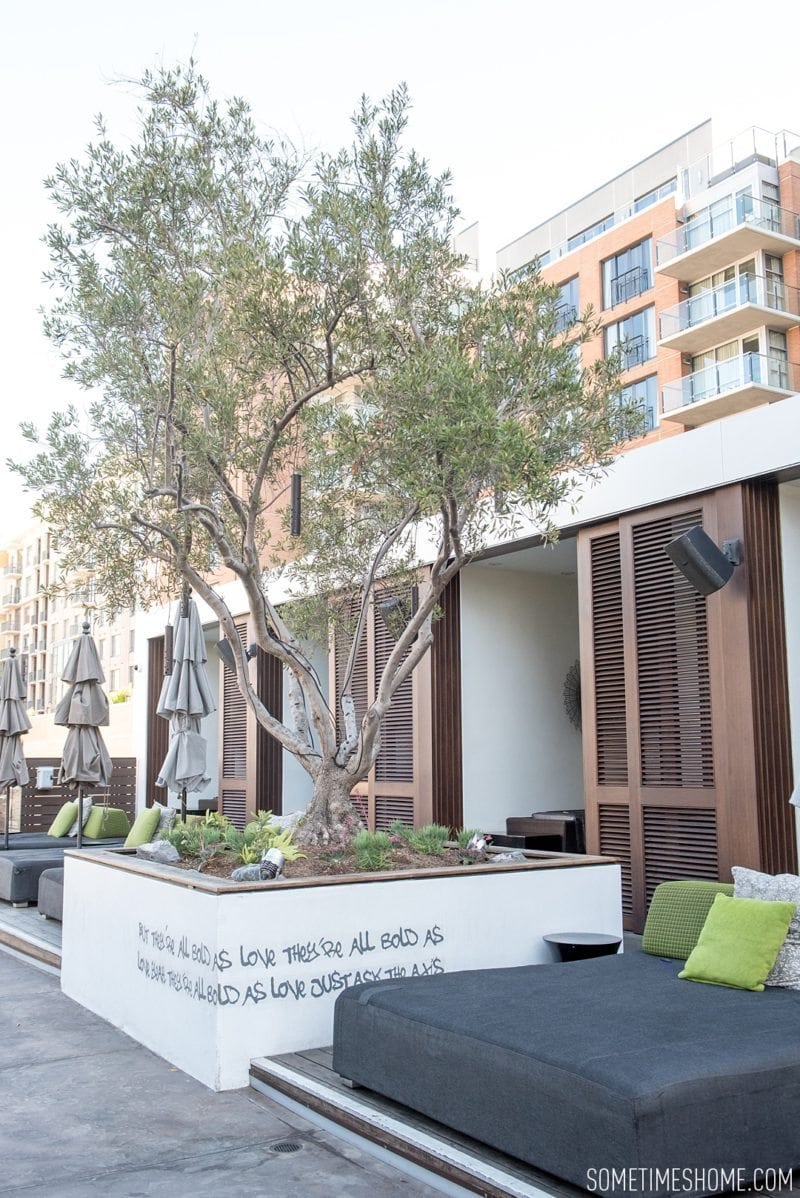 And as a bonus, the hotel's also walking distance to Petco Park where the San Diego Padres play. (You can choose to walk or take an Electra bike ride, which you can rent free of charge from the front desk.) They offer a variety of sport packages during baseball season including popcorn and craft beer packages to enjoy before or after a game. It's just another wonderful incentive to stay and play at the Hard Rock Hotel San Diego.
Please note: We thank the Hard Rock Hotel San Diego for generously hosting us. We also may make a small commission from affiliate links in this post but all opinions are ours and we bring you genuine content with real facts, photos, thoughts and recommendations. Always.
For more activities to do in San Diego check out:
What would be the first thing you check out on a San Diego vacation?