Over 40 of the Coolest Murals in Tampa Florida (and Where to Find Them)
Perhaps it's because we identify with a passion for making art publicly accessible, or that C-O-L-O-R just speaks to our souls. Regardless of the reasons, we simply adore street art. I set out on a quest to find the best murals in Tampa on a day trip from Orlando.
These street art spots in Tampa Bay will absolutely inspire and delight you. They are free for all to see and enjoy.
We've done our best to credit the artist where we have been able to find out who created the street art or mural since credit is important to us.
Also note the title I've given the murals are not necessarily their official names. Be sure to check out the map locater I custom created in Google My Map at the end of the post as well.
A disclaimer about murals: They are like living, breathing things. They could be there one day and gone the next, painted over by another commissioned artist or changed with the evolution of a city. We do our best to keep up with murals but it's possible you could arrive and what we've posted isn't there. If that's the case, please understand we can't be everywhere at all times. Hopefully a mural has gone up in its place. Feel free to add a comment to this post or contact us to inform us of any mural changes.
Curious Child at Glazer Children's Museum
This immediately caught my eye. What may be a stark white, angular building comes to life with orange, yellow, teal and black paint on the side of the museum.
This Tampa mural is located downtown near the prettiest area of the city's Riverwalk, a lovely area to explore any time of the year. It is actually part of a bigger mural by Bask (Leon Bedore) and Tes One that continues into #2 on our list.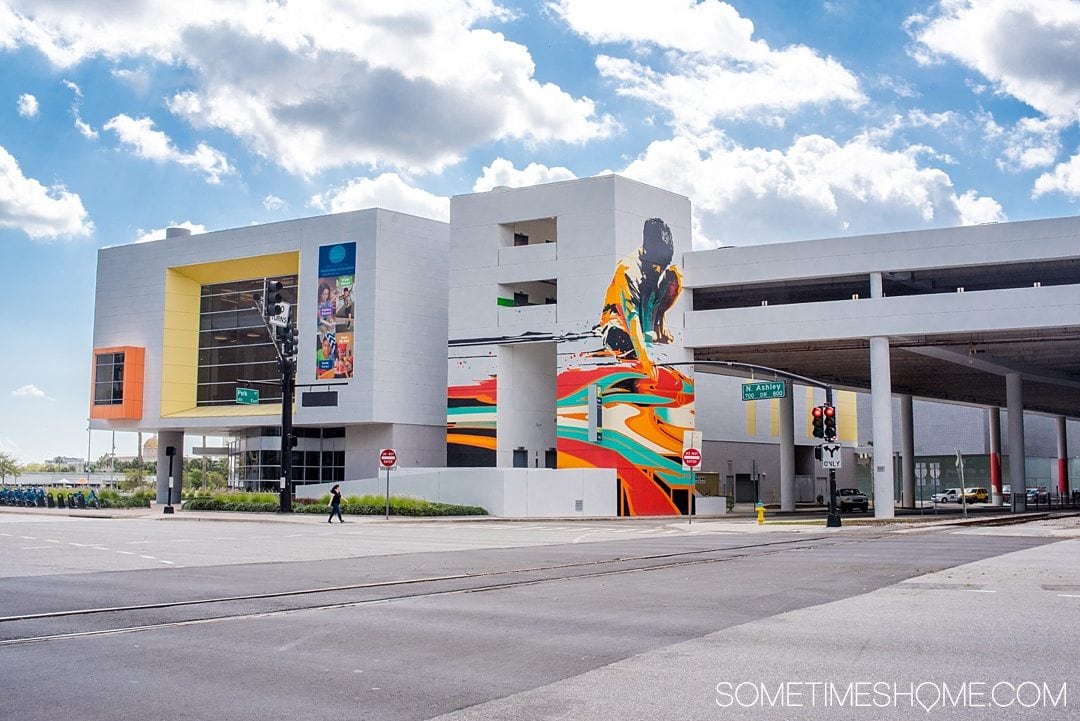 Stay Curious
Just across the mural above is one of the most awesome wall murals in Tampa, with huge painted letters. It reads, "Stay Curious" along a wall that runs adjacent to city train tracks thanks to artists Bask (Leon Bedore) and Tes One. Please do NOT jump the fence to get close to the wall – the fence is there for safety! But do venture under the parking garage to see this beautiful "graffiti", safely on the sidewalk.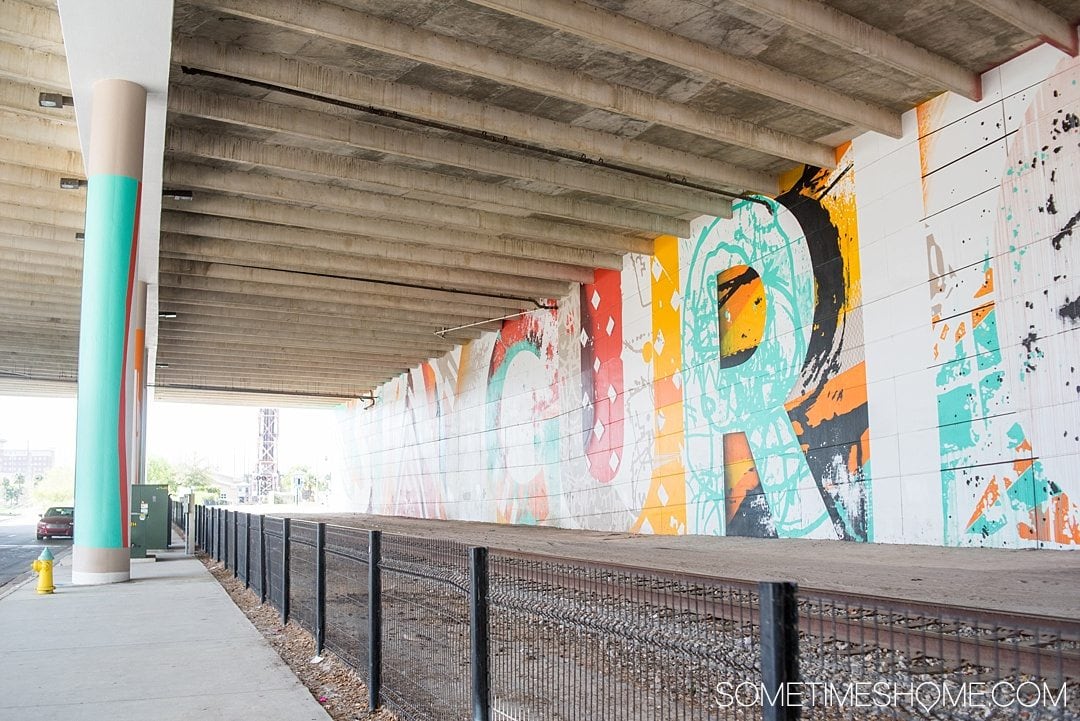 See the work in progress, from when it was being created, on Tes One's Instagram account:
For the Love of This City
This hodgepodge mural contains a little of a lot and was commissioned by the Portico Art Initiative.
Every piece of it has meaning. It contains a rooster representing Tampa Bay's Ybor City. The star and halo around the rooster's head is part of the West Tampa Seal. It is paired with a two-headed alligator, which is the Seminole Heights seal. The artists also included elements from the water and water sports, including Sea Grape leaves (popular plants in southern coastal communities) and Orange Blossoms (the state flower).
Its coral, blue, red and grey tone palette against the asphalt parking lot. The three-story Tampa mural was painted by the husband and wife team, Illsol.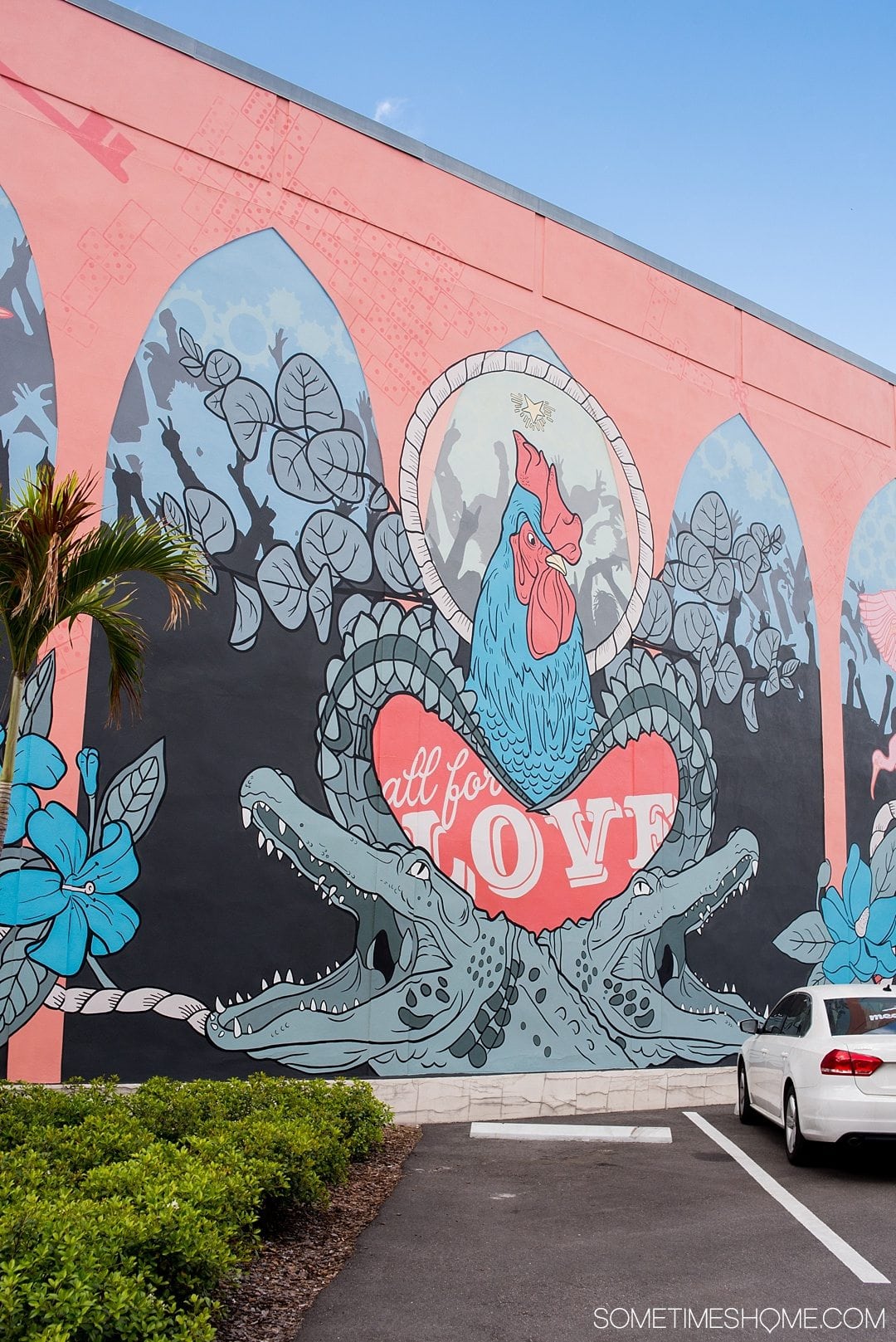 City of TAMPA Postcard Mural
This postcard mural is one of the most sought out in Tampa. It's very close to the parking lot mural with the alligator; it's about a block up and across the main road.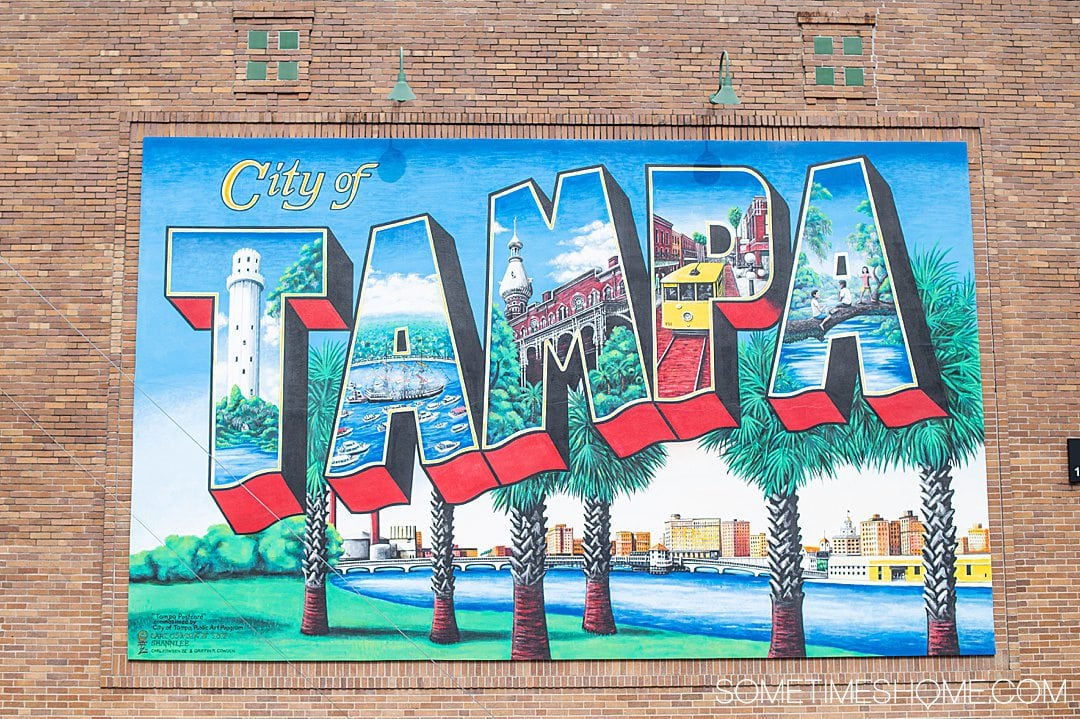 Colorful Indian Elephant
The front of a building is painted absolutely beautiful colors, including orange, purple, blue and white. This Ganesh mural (or the Sloane Street Capital mural) was painted by Holland King for Tampa Murals, Inc. The original design was by @guilloatue.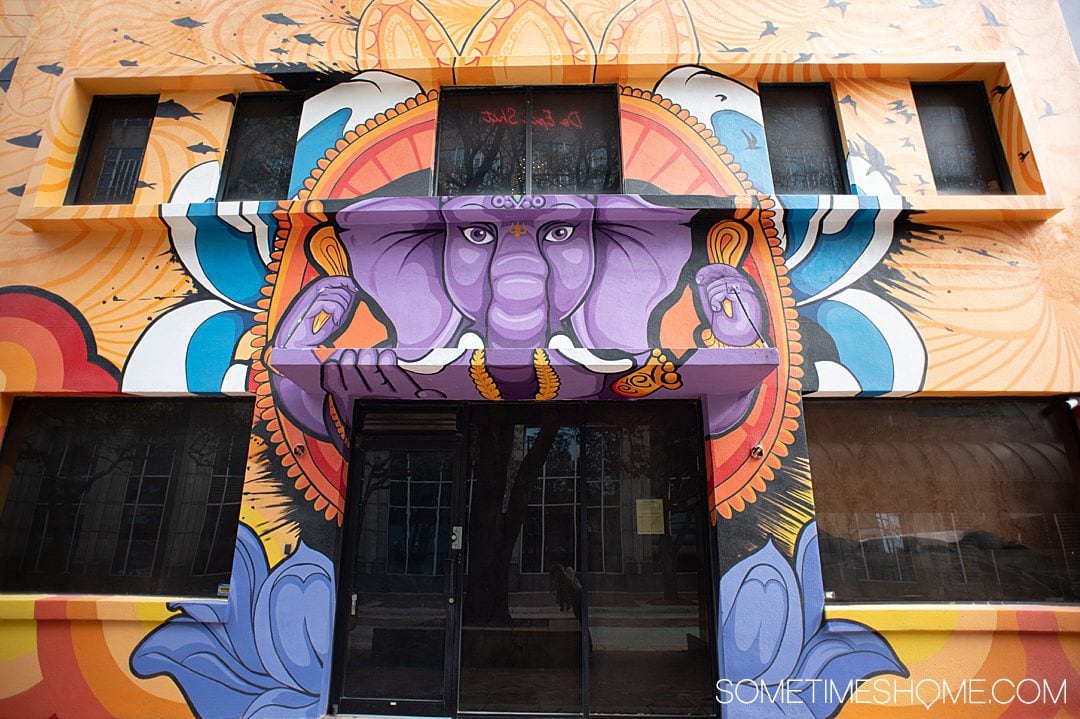 Tampa Skyline
This blue and orange Tampa Skyline will welcome you into the city if you're coming from St. Pete. It was sponsored by Stella Artois and created by Illsol, the husband and wife team who also created "For the Love of This City" mural mentioned above.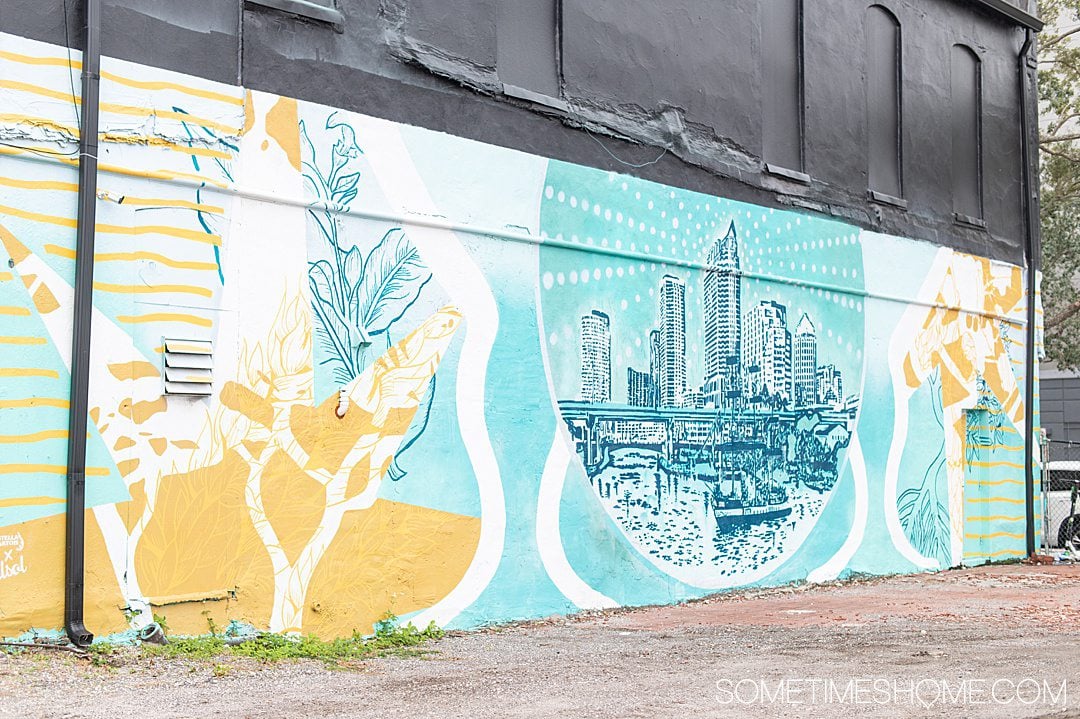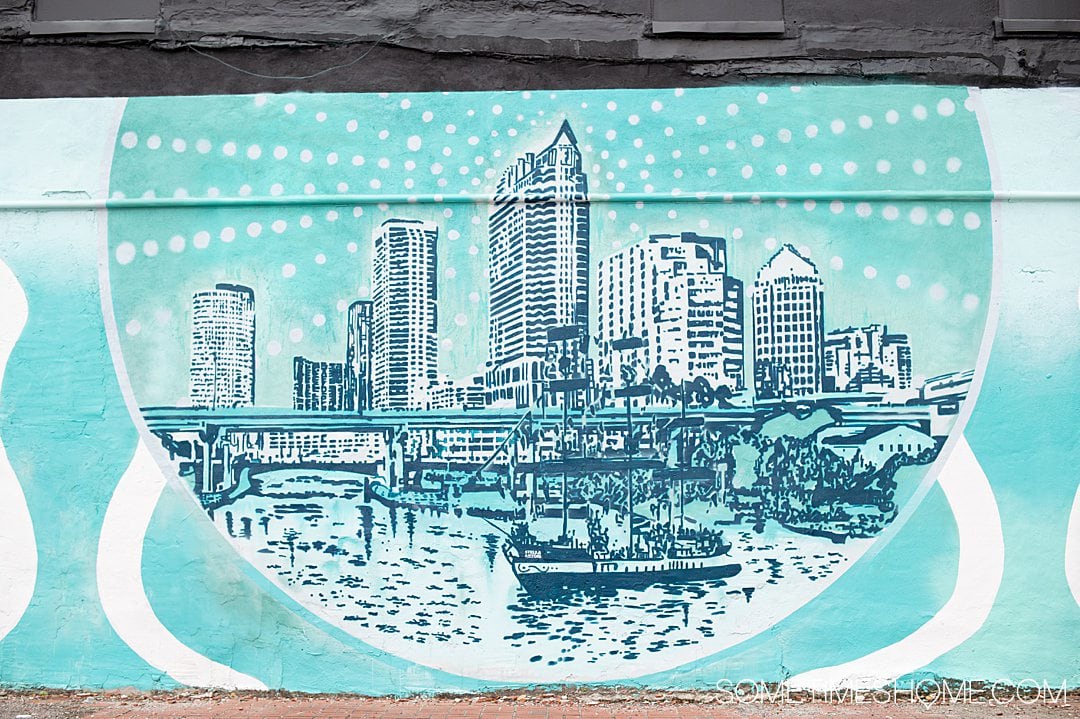 Floral Wall into Geometric Patterns
This beautiful mural is across the street from Yeoman's Cask & Lion restaurant. The white flowers are against a beautiful blue background. It transitions to water and green geometric shapes. It was created by Pep Rally Inc.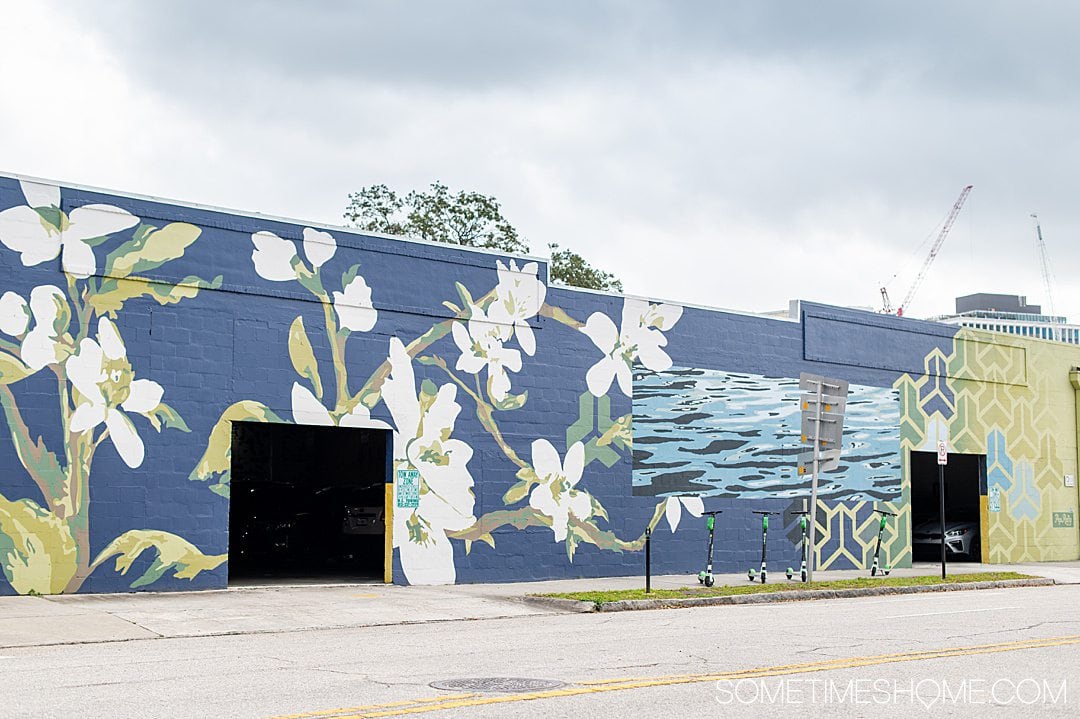 Go Bolts Lightening Mural
This lightning bolt mural is surrounded by shades of blue in the form of clouds. It's a "Go Bolts" mural, which we can only guess is for the Tampa Bay Lightning, who play in downtown Tampa not far from the mural.
It was created by Pep Rally Inc.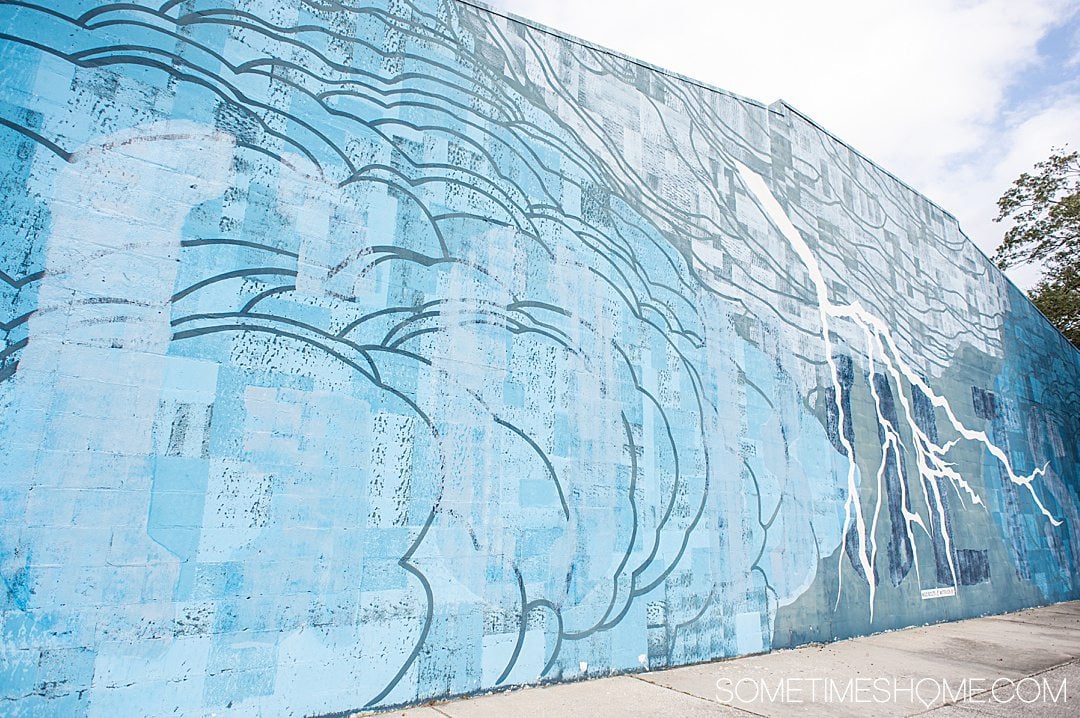 813 Pug Mural
This cool pug has Tampa's skyline reflected in his sunglasses and 813, Tampa's area code, on his dog tag. Who wouldn't vote this cute pooch as one of the best murals in Tampa?
What do you think he's listening to?
We cannot figure out who created this mural so if you know, please let us know!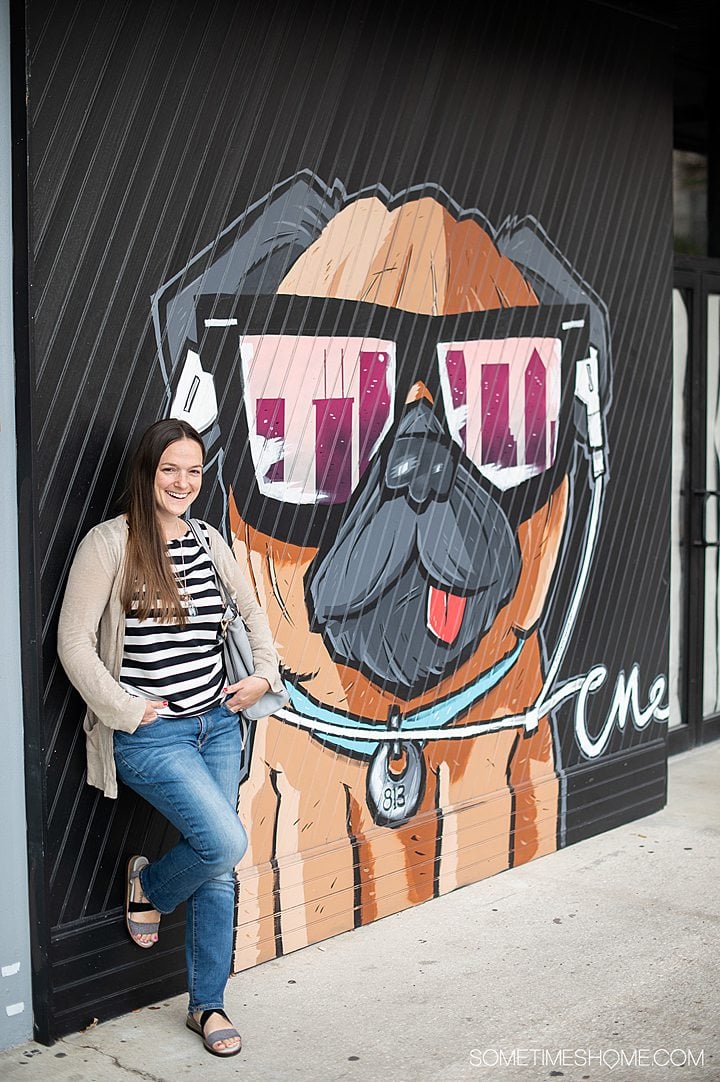 First Watch Tampa Mural
This mural has a bit of Tampa's history in its illustration and is painted on the corner walls of the restaurant, First Watch. It has Florida's orange blossoms on there with a rooster, perhaps for the West Tampa Seal, which has the same animal on it. There's also some of the Tampa skyline in the mural, a recurring image in a few of Tampa Bay's murals.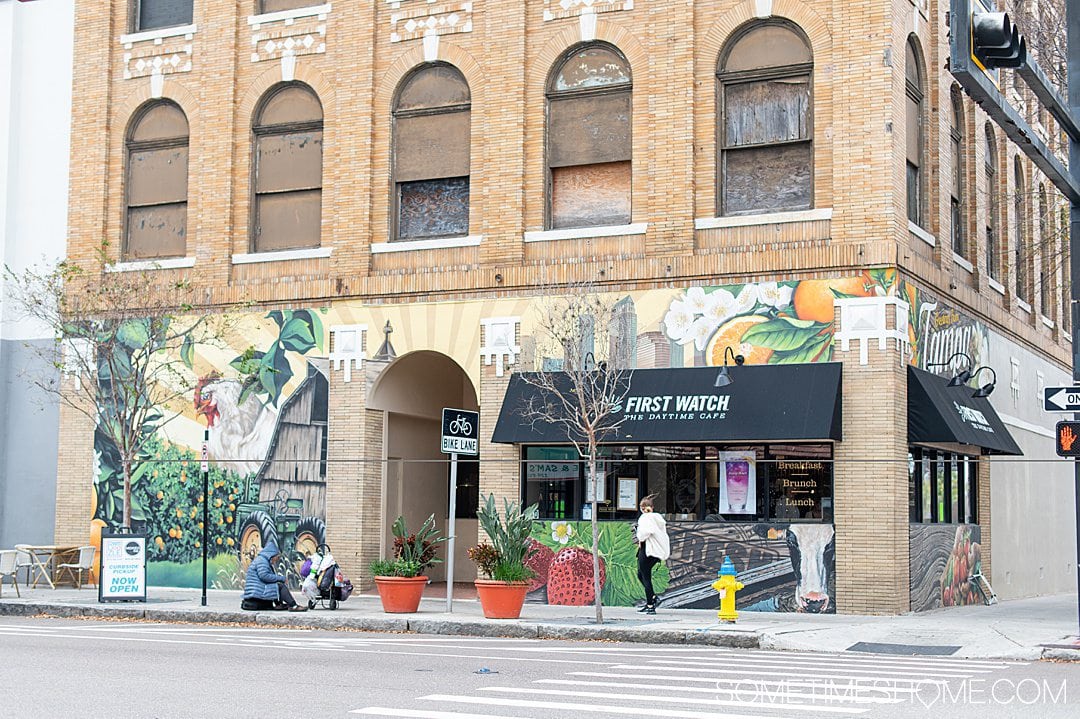 Tampa Heights
This is one of the grungier wall murals in Tampa (and I mean that in the best way possible). It's seemingly simple but upon a deeper, second look it reveals something about the history of the area. For instance, "est 1889" is seen in the painted letters on the grey background and Florida's state flower (the Orange Blossom) is repeated in it as well. Michelle Sawyer once again knocked it out of the park on this piece! wall murals tampa
Tampa Heights is very supportive of street art and have many programs supporting it on a regular basis. For more check out their Instagram account, @heightswalls.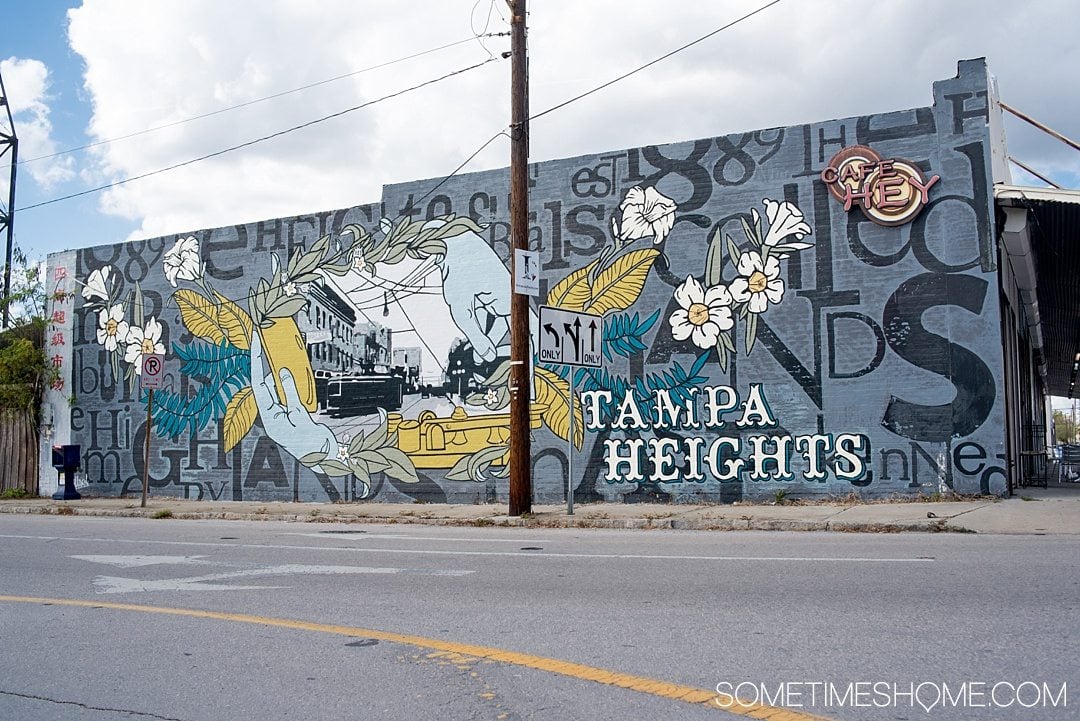 Bird, Bird, Bird…Mural Tampa
Just around the corner from the mural above is a wall of beautiful birds. This mural in Tampa was created by Michelle Sawyer as well. I love that she favored simplicity in her color palette, sticking to two colors: blue and pink (with various shades of both to create outlines and some shading). The black background gives this statement piece an even bigger pop!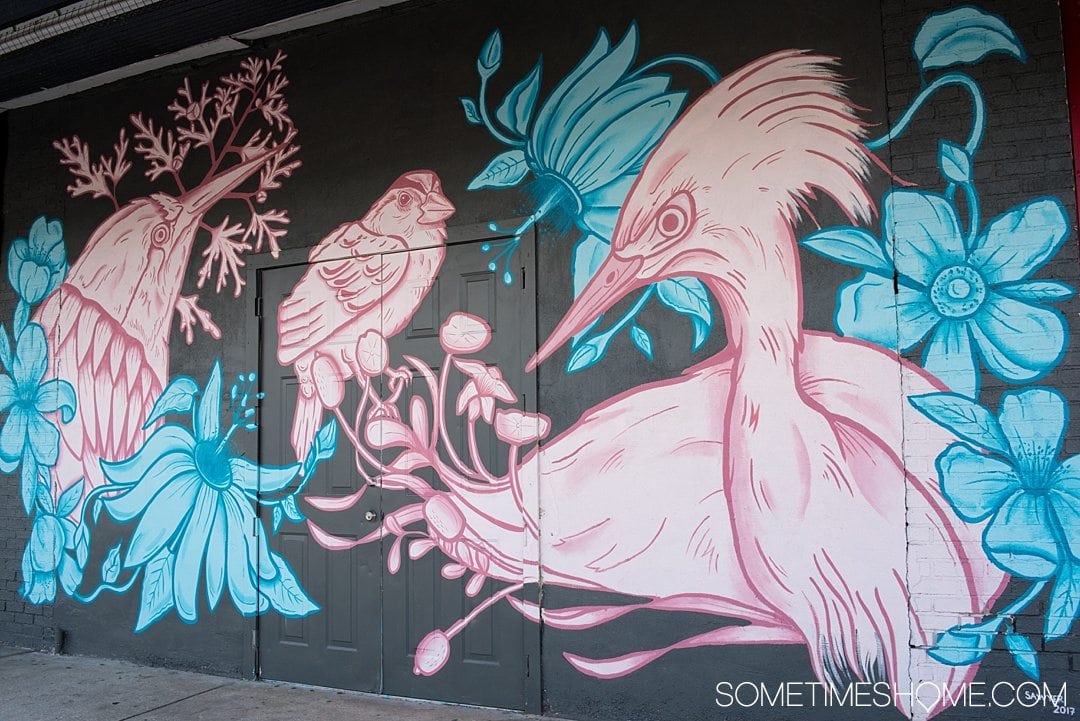 I got the title for this one from Michelle's Instagram account photo, seen below. She is available for all kinds of commissions so definitely check out her site!
Rad Cats!
Cats aren't my "thing," but I have to say any cat mural like this is one I fully endorse! And this cat wall mural is also one of the raddest murals in Tampa. It was created by Cory Robinson whose playful creations strike the perfect tone between cute and cool.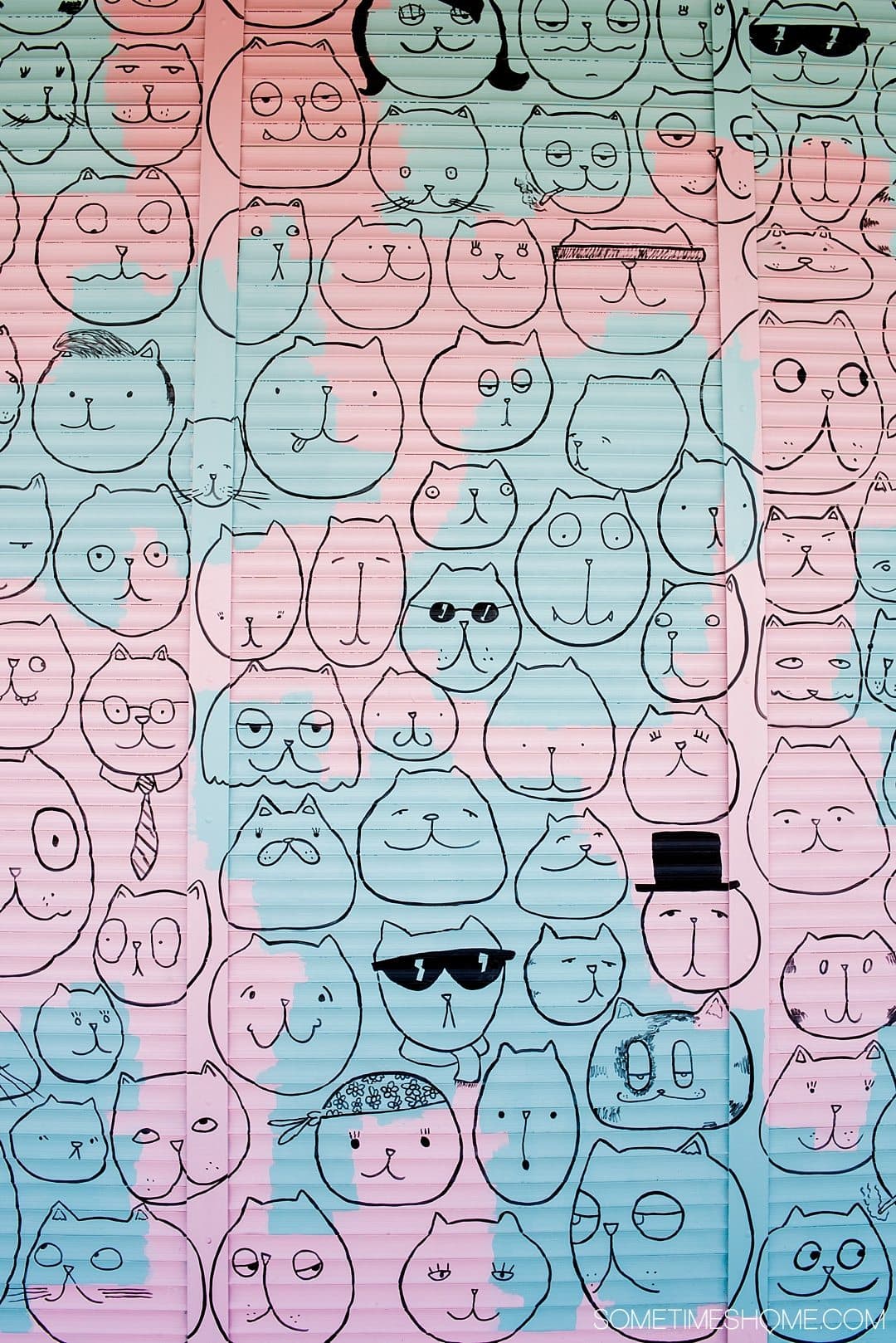 Check out the many cat sketches he showcases in his notebook on his Instagram account, @mrcoryrobinson:
Colorful Playful Animals
These colorful animals in a rainbow palette of colors has a menagerie of character living in 2-D harmony.
We think the artist signed with "LTHO" in the lower lefthand corner but we couldn't find any artist online to match any interpretation of those letters. If you know who the artist is please let us know.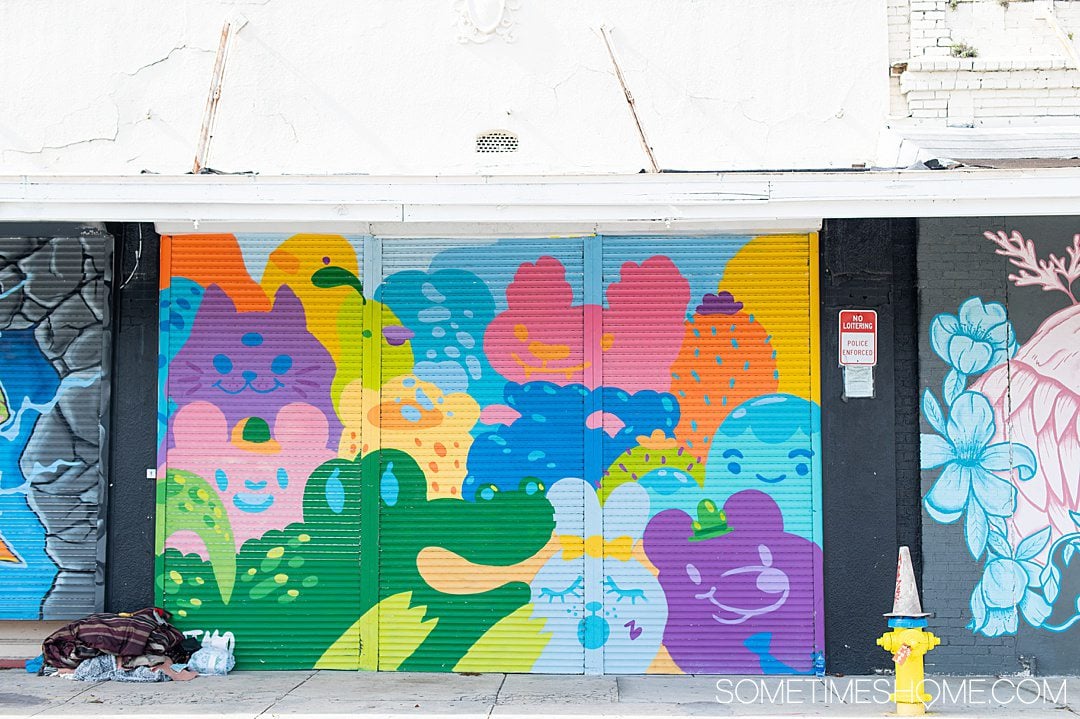 Bad Romance Tampa Mural
"You think you really know me?" the woman asks the handsome man before she kisses him. To the right of Sawyer's Bird, Bird, Bird… is this bad romance mural by artist Charles Gallagher. He's also known as @scumrag on Instagram.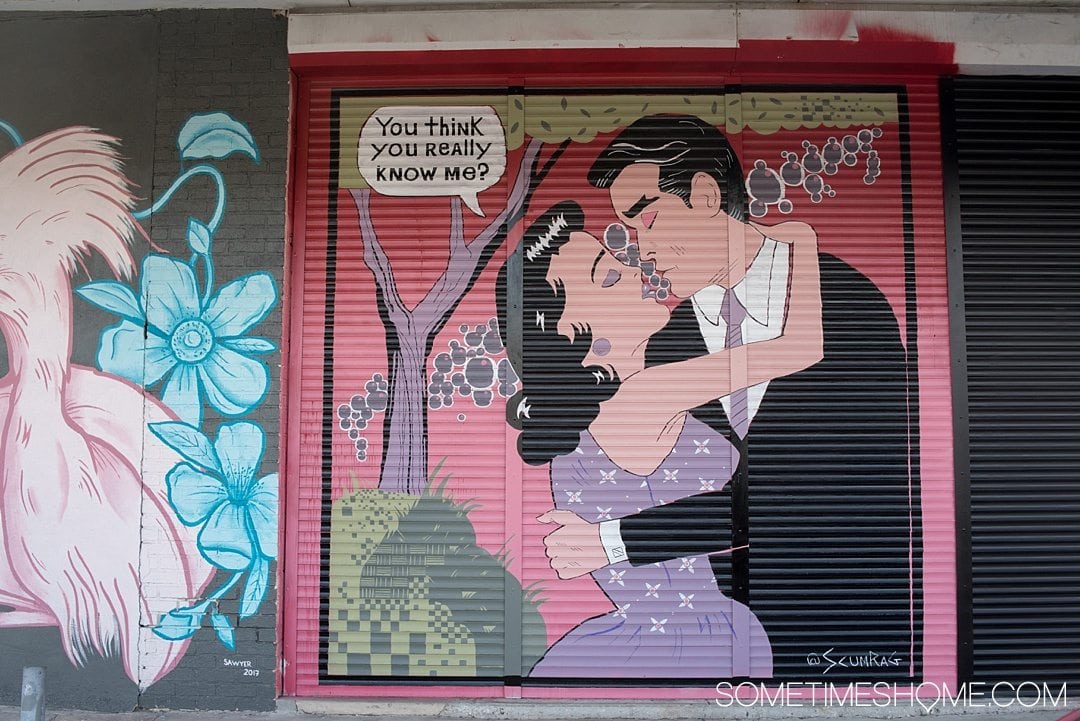 Artists in a Cadillac
I love how whacky and wonderful this mural is, nevermind its wonderful colors. It's on the side of the the Cafe Hey building and the Oceanic Market in Tampa.
It was created by four talented artists from across the country in 2019: Lillipore, Sentrock, Jujmo and Birdcap. We can only guess the four characters in the car are representative of each artist.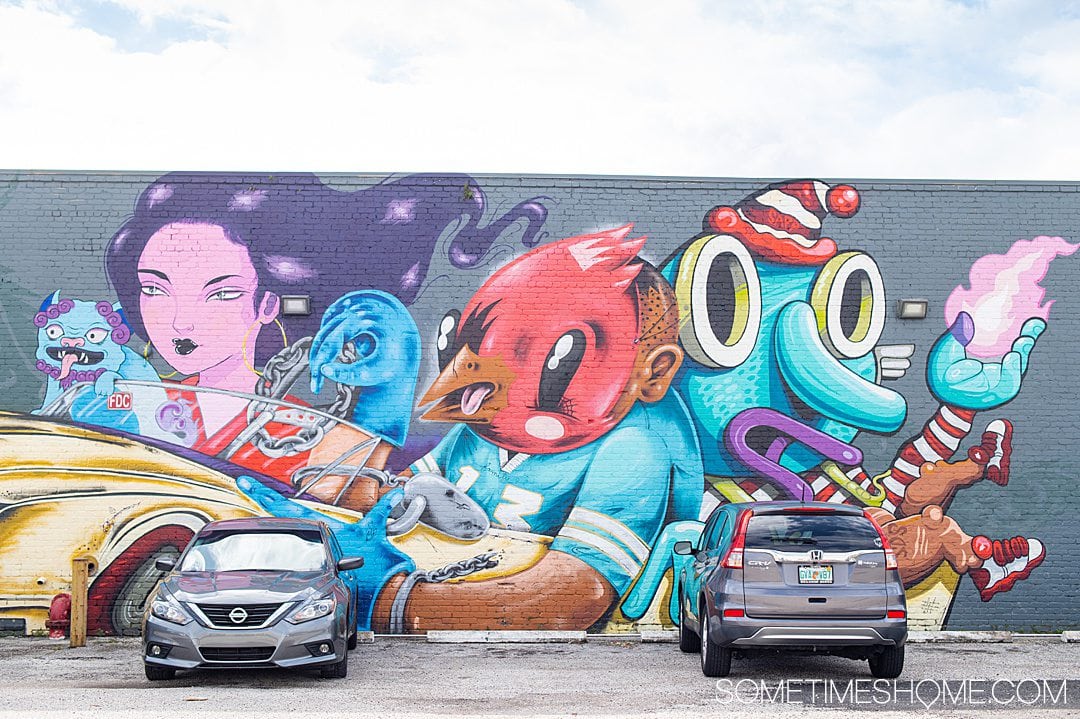 Yellow Brick Row (Wizard of Oz) Mural
Just across the street from Cafe Hey is this Yellow Brick Row, or better known in Tampa as the Wizard of Oz mural. It was created by @Tararchy. (She sells amazing screen prints on Etsy.) A message on the mural reads, "Thanks to Salvation Army and Tampa Civic Association."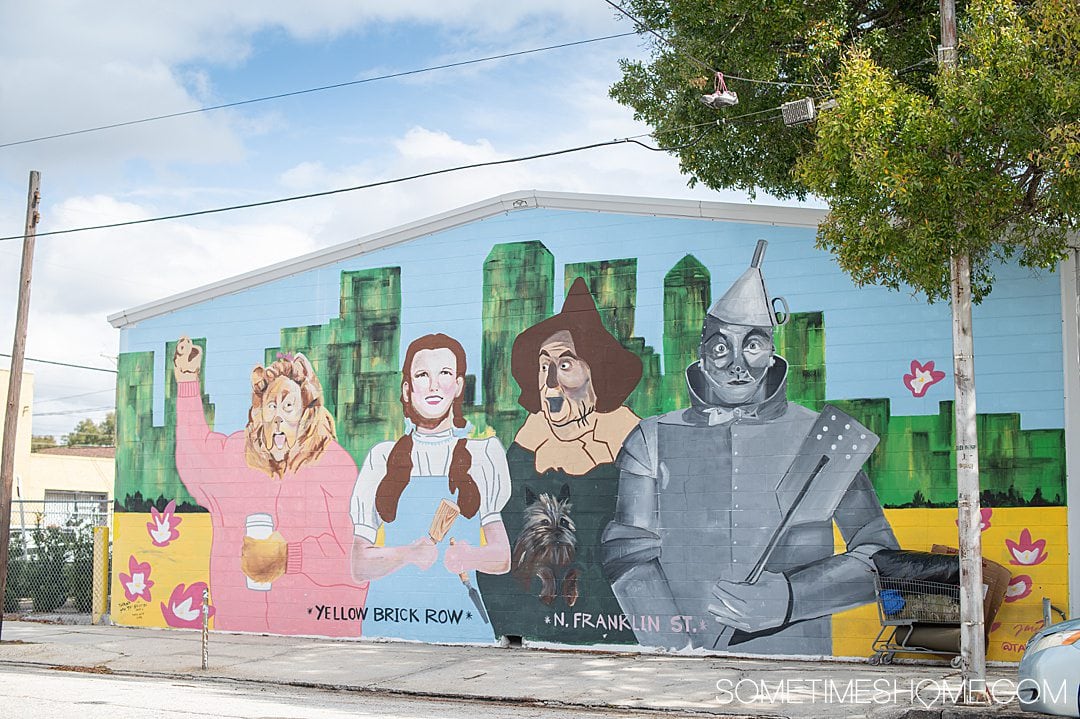 Feminine Stare
This mural in Tampa stared at me as I drove by her. I knew I had to get closer to her; I easily found her, the backdrop of a small parking area, as I walked around the block after parking my car. The grayscale portrait is incredibly impactful against a lavender and light blue sky with energetic clouds. Thank you to a reader for informing me it's officially "Untitled," by Tara Zanzig.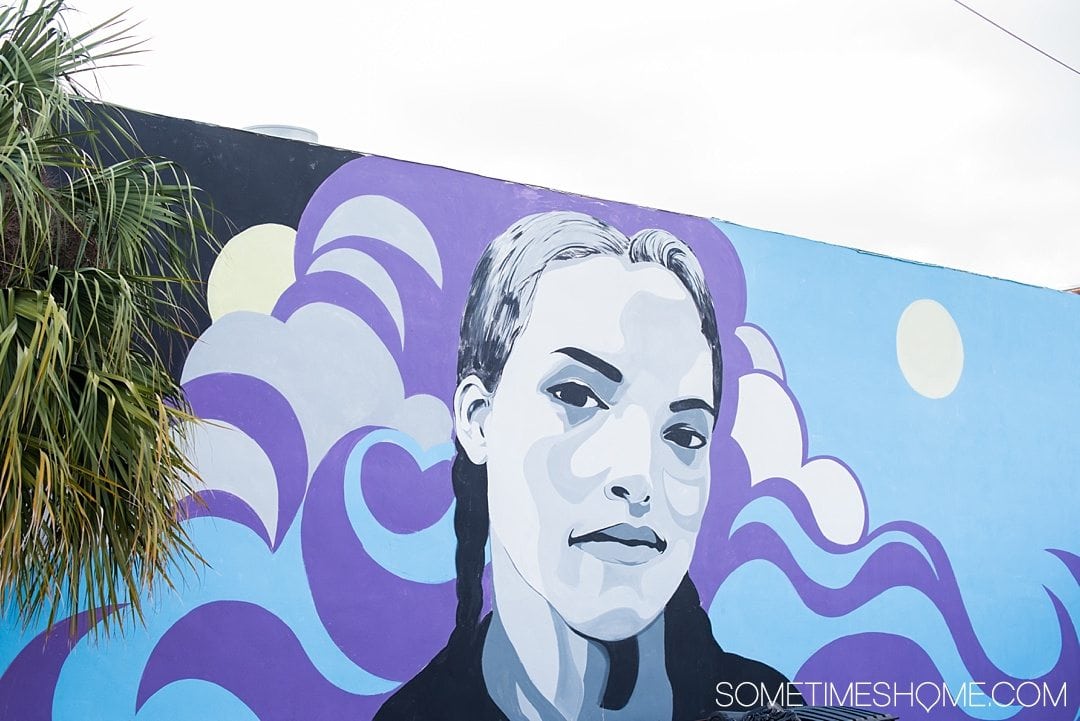 Second Tampa Heights Mural
Another beautiful Tampa Heights mural in the neighborhood, one street over from the other, is entirely different in design. A colorful bird is surrounded by yellow flowers, a pink water lily and a bee. It was created by @artcapco, or CAPco, Juan Pablo (JP) and Vanessa Parra. I love their work.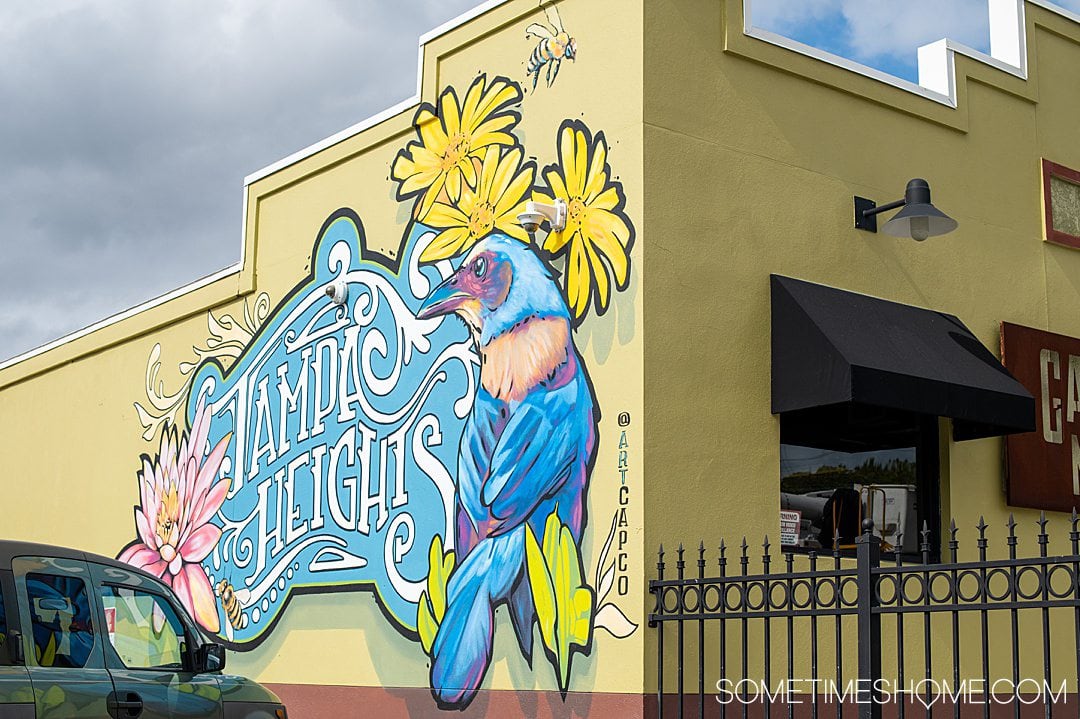 Continuous Mural Walls
There's are several murals that line the wall in a parking lot. They're of designs and cartoons. My favorite is a collab between CAPco and @ashley_cantero, with a pirate ship captained by skeletons and a red headed woman. It reminds me of Pirates of the Caribbean at Walt Disney World and Disneyland!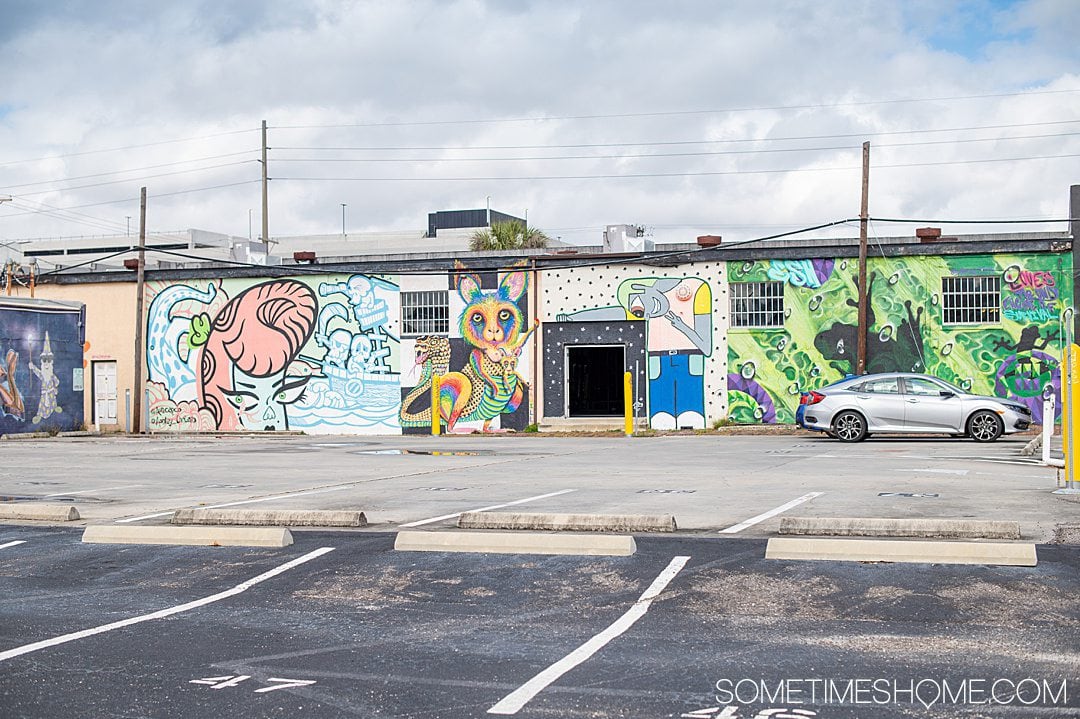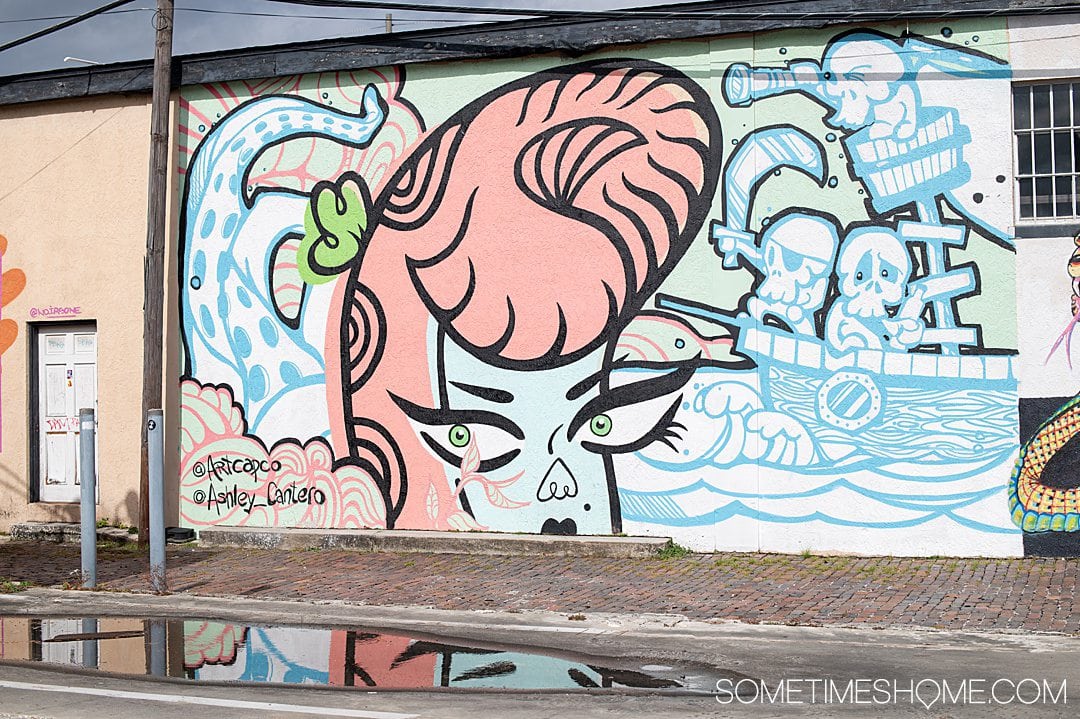 Kobe Bryant and Gianna
This tribute to the late, great Kobe Bryant and his daughter, Gianna, was created by @WARArtifex and @reda3sb. It's also a testament to the bond the father had with his daughter. It's one of the murals in Tampa with a sentimental message.
This mural is on the back of the building that faces Franklin, and across from Stetson University. See the map at the end of this post for more detailed location information.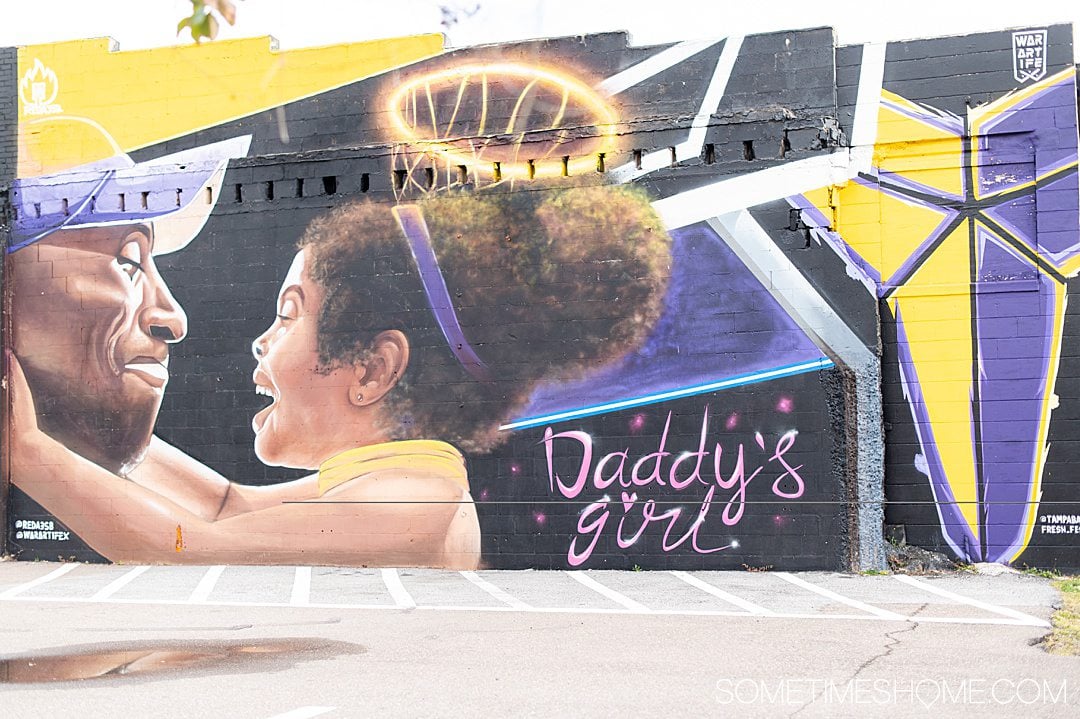 Bluebird and Alligator
If you continued walking around the building you'll see this lively alligator with a Blue Jay on her back. There's a few other critters to spot on the mural too aside from the colorful strings of blue, mint and pink cubes.
This mural was created by Artist Esh! He's the founder of the Tampa Bay Fresh Fest, the official mural festival of Tampa. (We loved this mural because it reminded us of a cool alligator mural we saw on the east coast of Florida, in Wynwood, Miami.)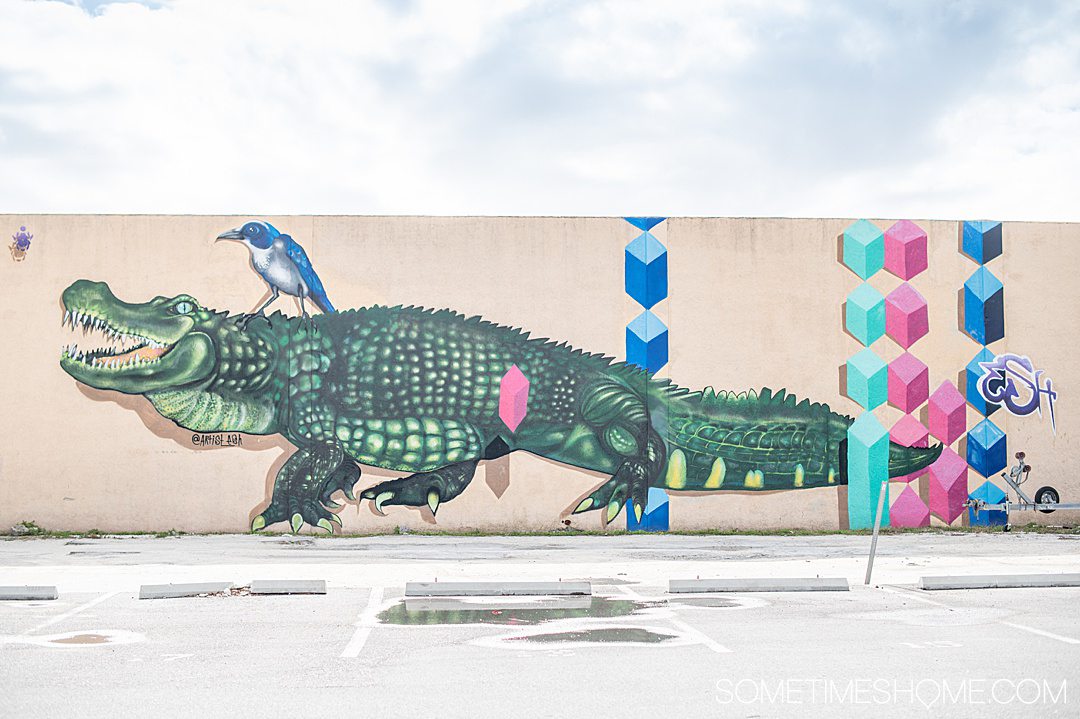 Woman with the Wind Tampa Wall Art
This incredible Tampa wall art mural by Bekky Beukes is on top of the historic Rialto theater in The Heights of Tampa Bay. This "South African lost in Florida", as her Instagram account states, is an incredibly talented artist. I love the way she intertwines shapes with human forms and animal representations.
This Bohemian woman has been watching over the city since the mural's completion in October 2016. I like to think her hair is blowing in the wind, carefree, as she smiles at passersby.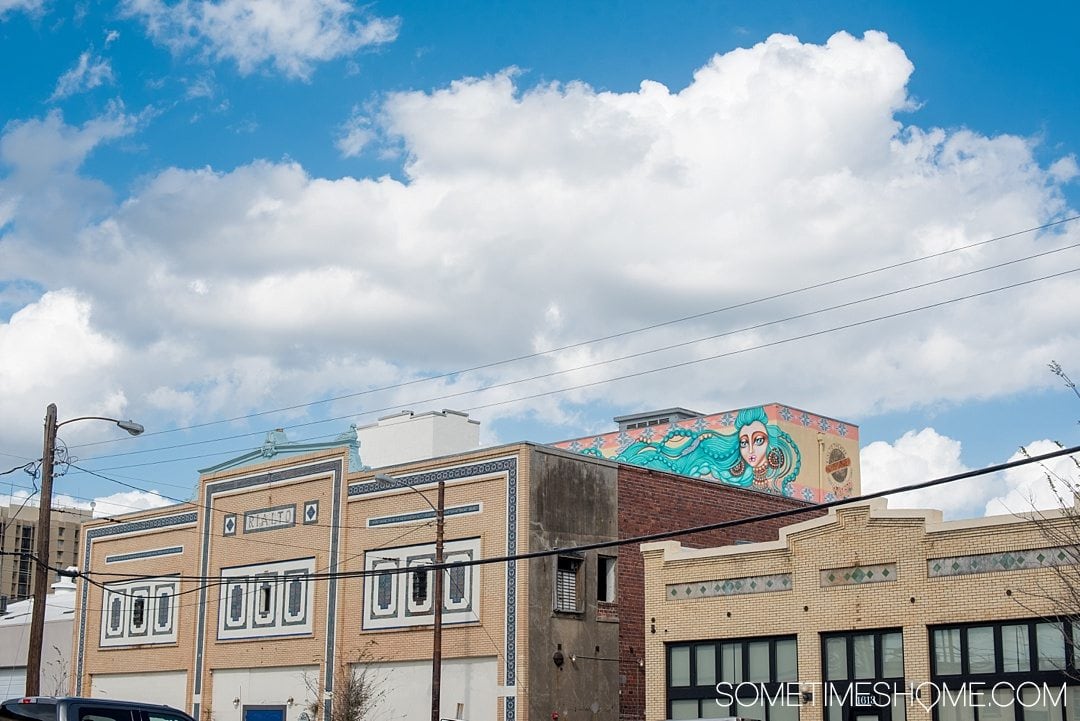 The view from below is beautiful but I'm certain the view from above is phenomenal:

Check out this incredible video of its creation, filmed and edited by Austin McCurry:

Bekky Beukes- Rialto Theatre Mural from Austin McCurry on Vimeo.
The Incomparable, Lady Gaga Mural
Thank you to Cam Parker, the artist behind this incredible portrait mural of the one, the only – Lady Gaga!!! (Find Cam Parker on Instagram here. He invested over 100 hours of dedicated time to complete the piece, ensuring it was perfect!)
This mural radiates confidence and happiness with its yellow, blue and purple palette. I also love the small, accidental detail of the tiny reflection the stream of water falling down the sidewalk creates.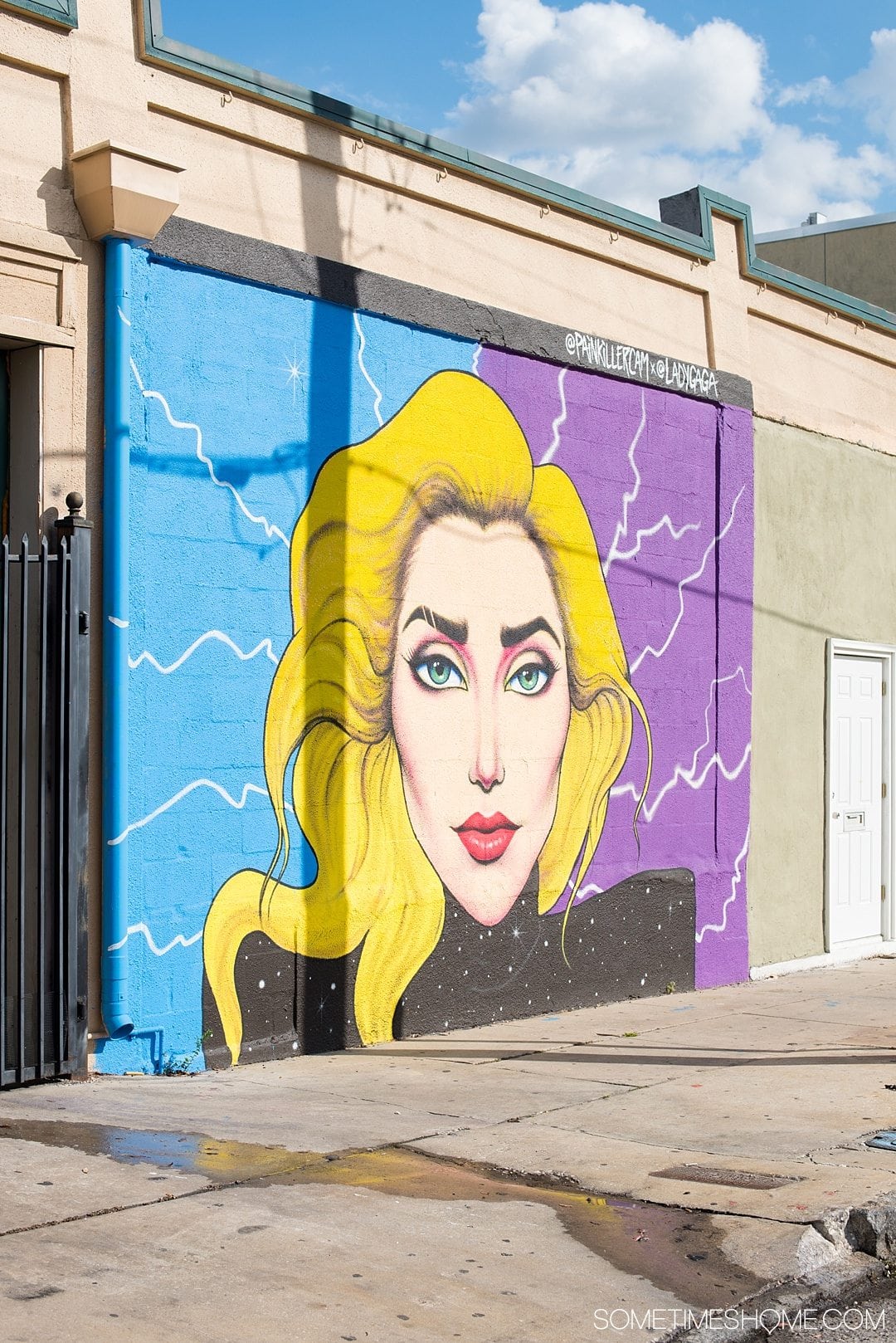 Watch Cam in action:
And the incredible dance team at VYB Dance Company at who choreographed, performed and recorded an incredible routine in front of Cam Parker's mural:
Rainbow Skeleton Bird
This intriguing piece lights up the space next to Lady Gaga. We love how @jerrycahillart painted its colorful feathers and how the shape of the piece makes a heart. (Whether intentional or not, we don't know!)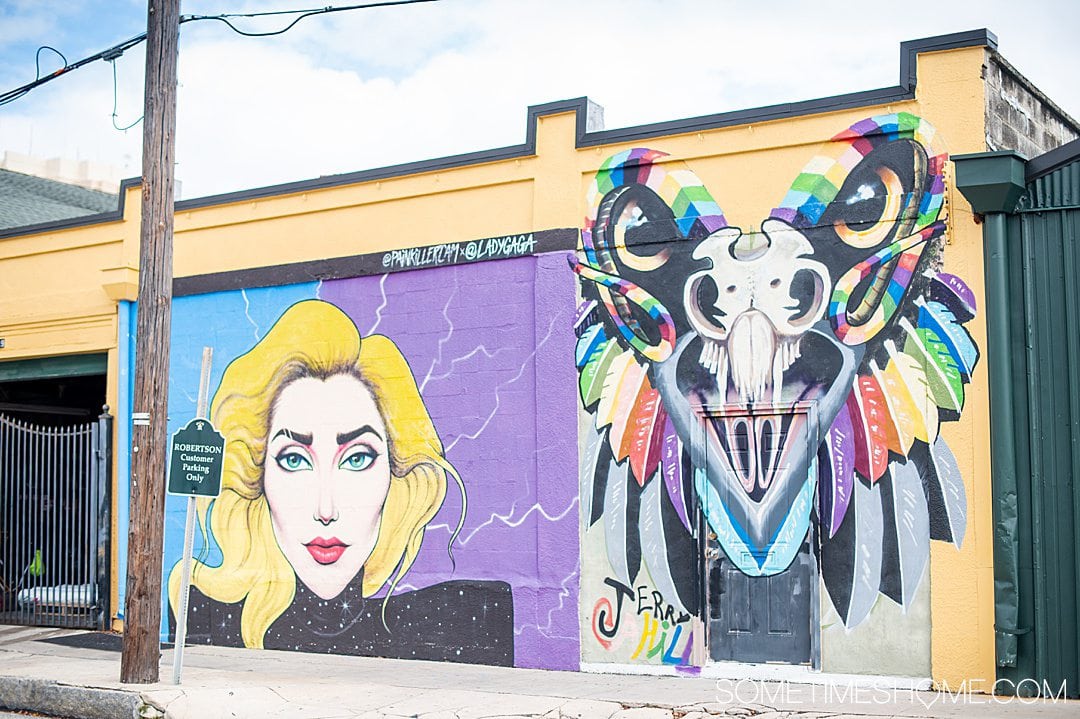 Robertson Wall Murals: Rhino, Colorful Animals and Hulk hand with Heights Public Market
We were pleased to return to Tampa recently to check on the murals and see that the Robertson Billiard Supplies building was further decorated with more murals! They now cover the facade of the building.
There is an Incredible Hulk hand holding The Heights Market building (which isn't too far from the mural, and is currently called Armature Works), a Rhinosaurus amongst black and white flowers, more colorful animals (like those near Cafe Hey) and even one that wraps around the side of the building. That colorful pink, blue and green mural appears to be two faces and a flamingo.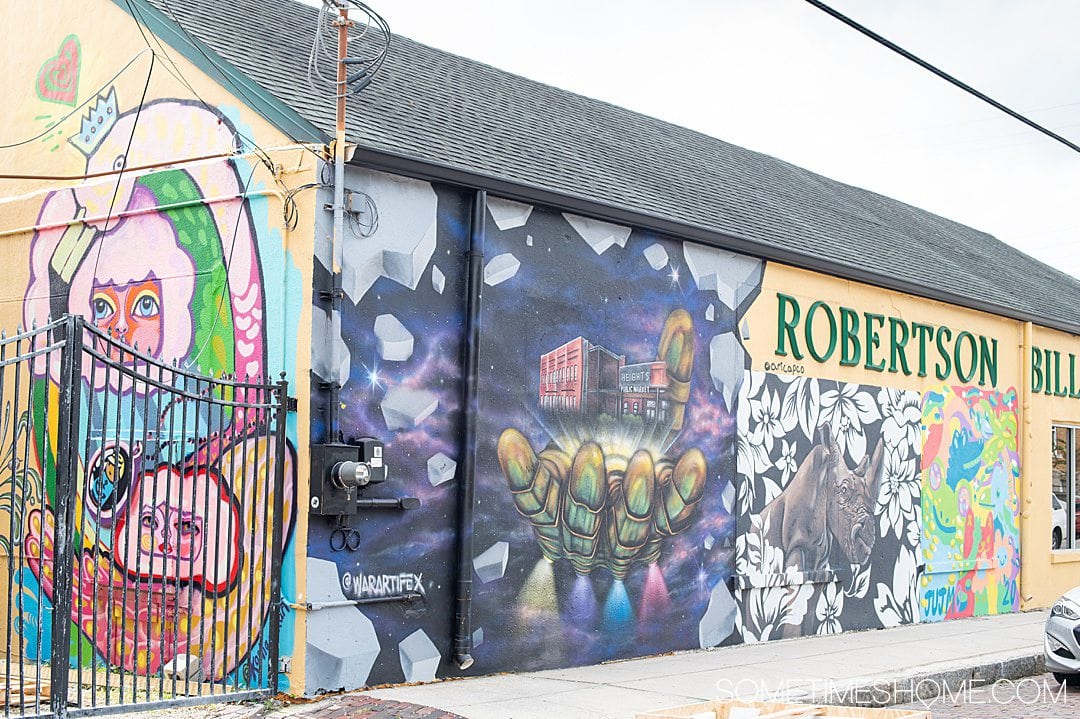 Previous: Punch of Passion Tampa "Graffiti" (Now a TAMPA letters mural with women's faces)
This mural used to boast, "Do Good, Feel Good, Be Good." It was replaced by some beautiful faces and "TAMPA" letters, during the 2020 Tampa Bay Fresh Fest. It's definitely worth checking out.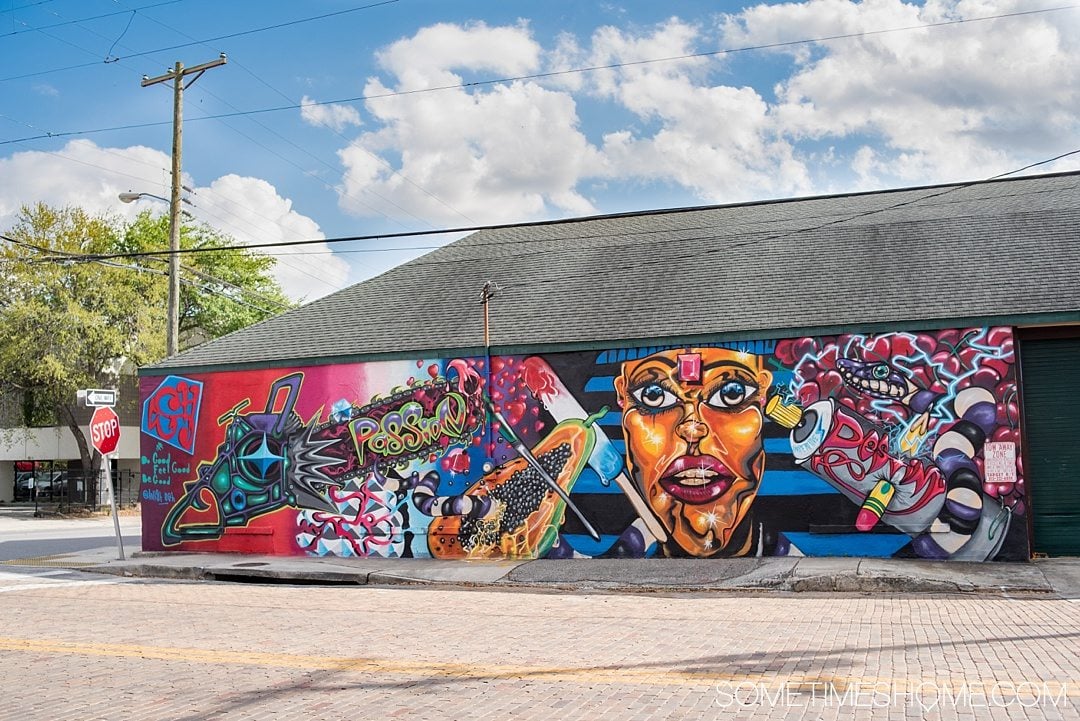 The current murals include pieces by: @artist_esh and @dustinspagnola.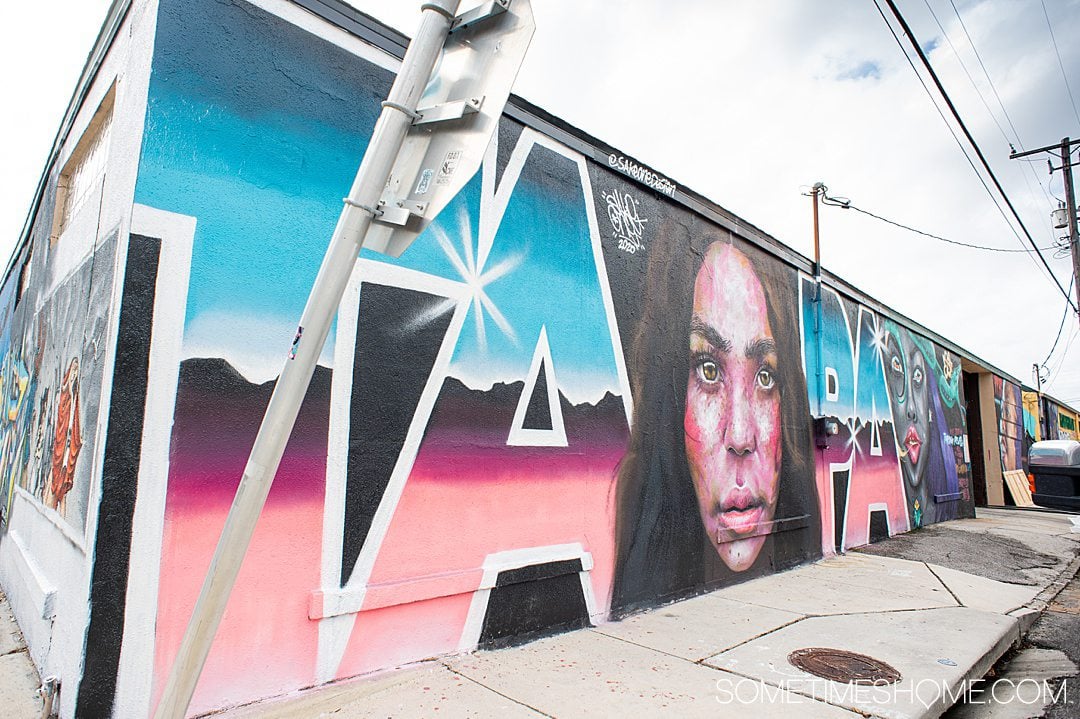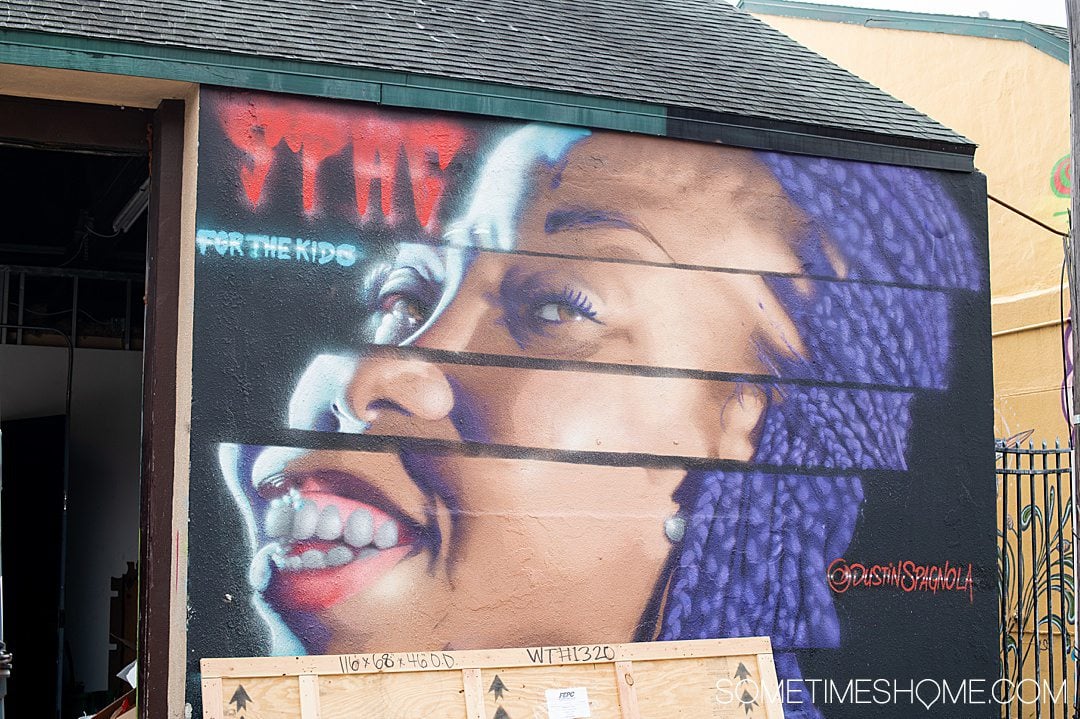 Posing Skeletons
There are three playful posing skeletons painted on the side of the green and black and white striped building at Tampa Bay Holistic Wellness. We think they're pretty cute!
It was created by W.A.R. Artifex.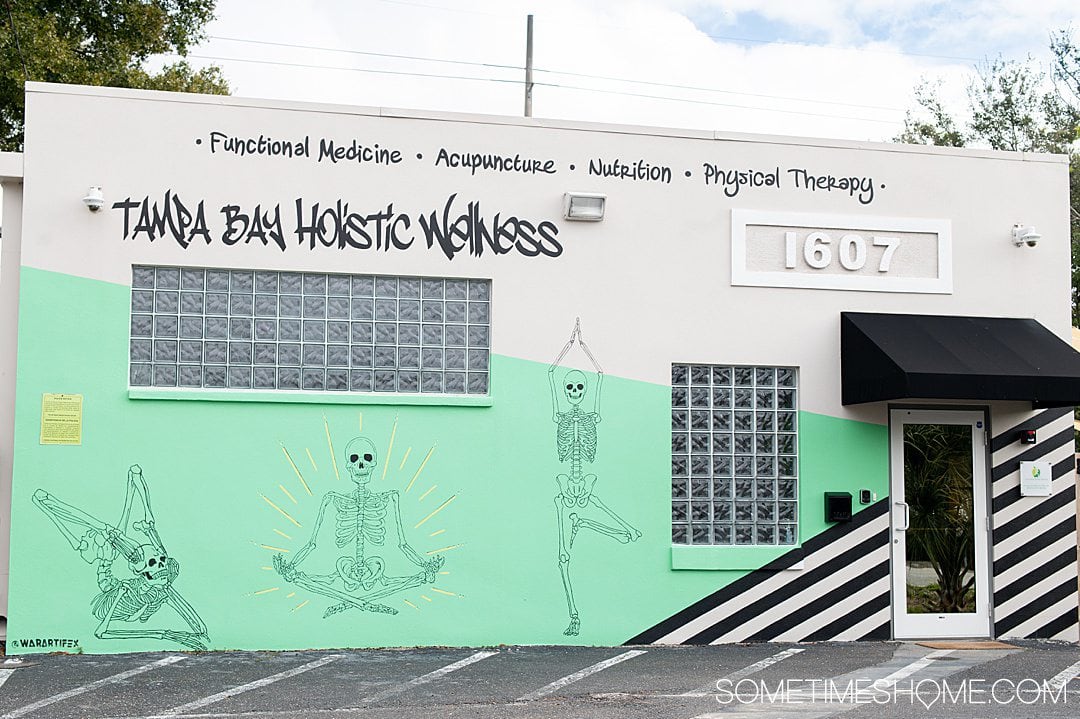 Crossfit Walls
The walls of Crossfit Downtown Heights are incredibly colorful. They come alive with portraits of people and animals on both sides.
Both walls include murals by: @steventellerarts, unnknownknowitall, @ripe143, @spchwalls, @CosbyHayes, and @sarahpainter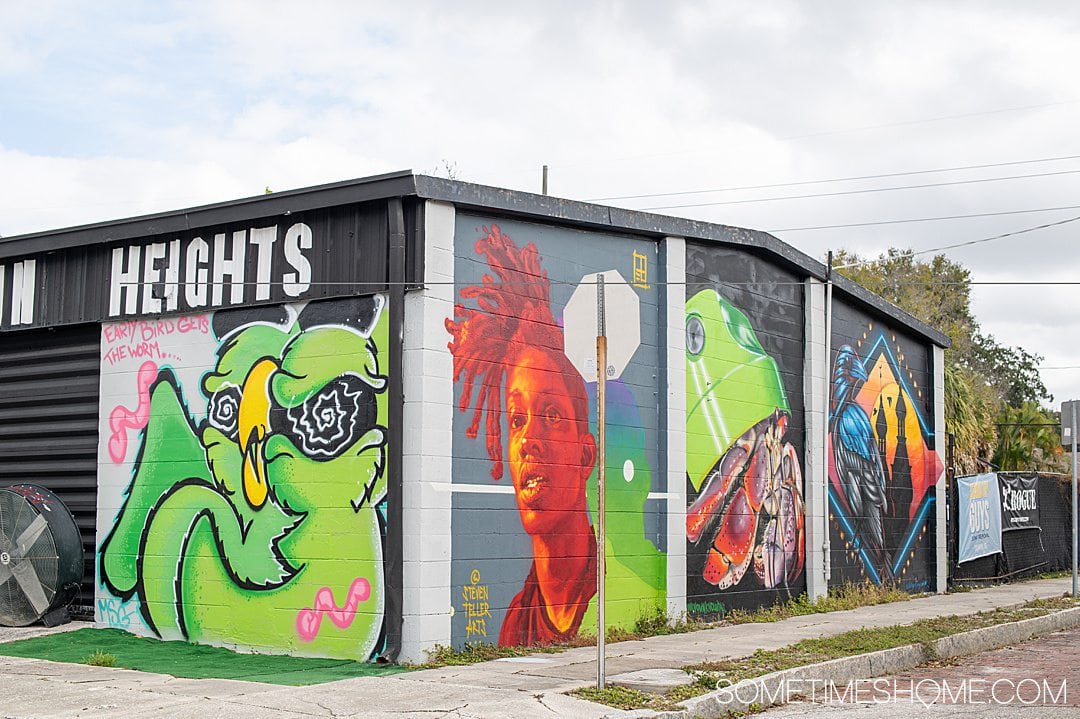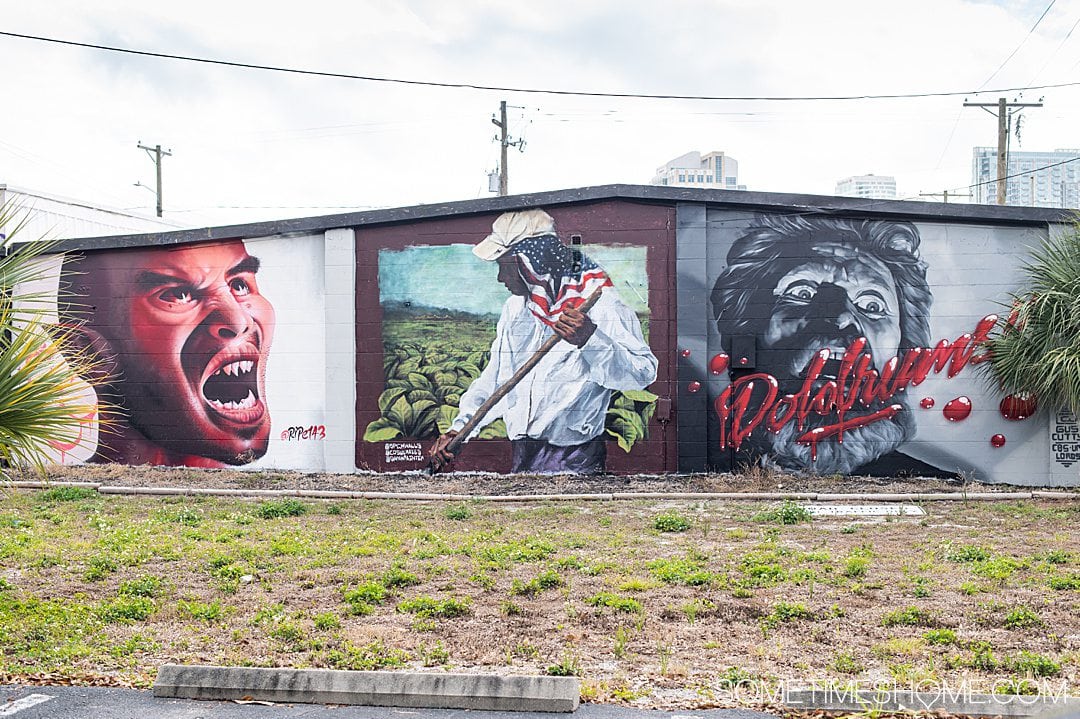 Sideways Swirl
I love how artist Sebastian Coolidge works pieces of drawings together to make a collective mural. I'm SUPER excited to have identified a mural in Orlando, Florida I have as his as well, which gives me an even better first-hand idea of his range of work. Check out more of his amazing murals on his Instagram account, @sebastiancoolidge.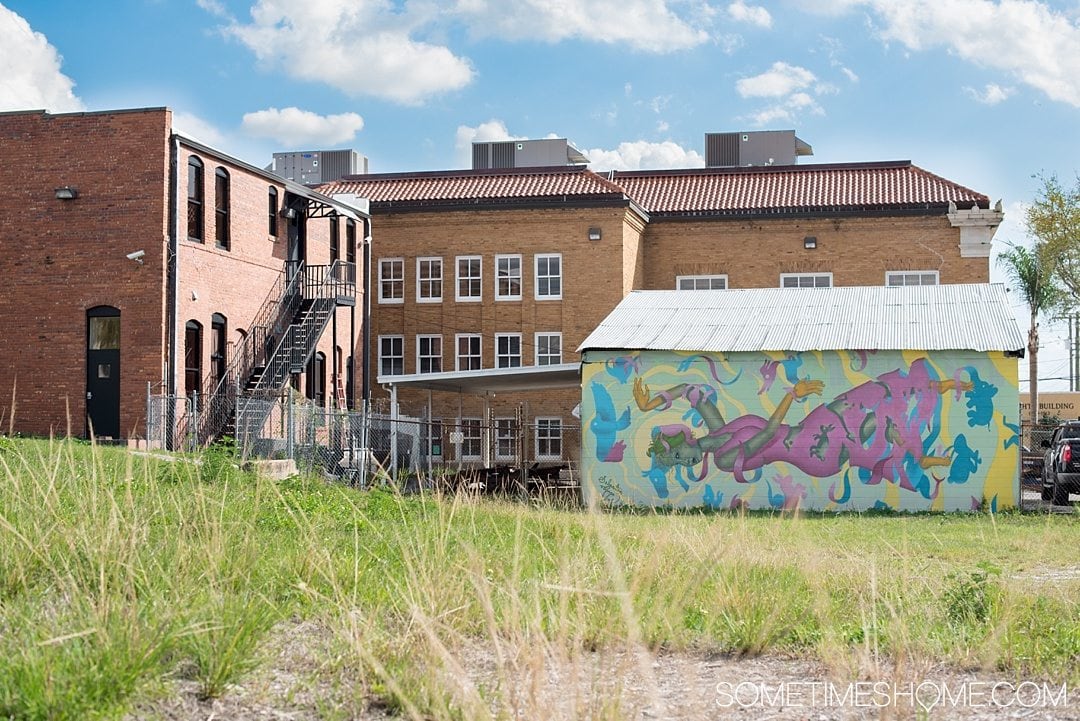 Armature Works Mural Wall
There's a mural wall at Armature Works food hall (we love the places to eat in downtown Tampa that support the arts, especially) that's currently sponsored by the #OneShareOnePair campaign. It was created in collaboration with the venue, the Pep Rally Inc. artist collective, and Glazer Vision Foundation.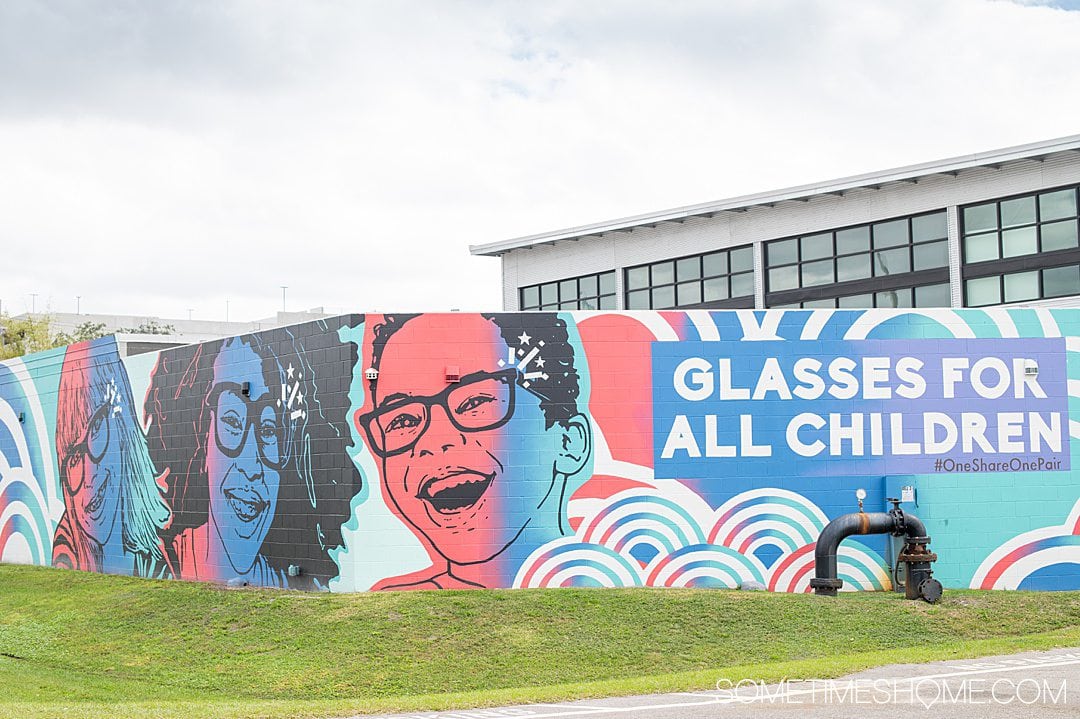 Sparkman Wharf Neon Peace Sign and Heart
Adam Fu is a muralists that specializes in neon-style painting. I love his technique and it's very cool to see him in action in some videos on his Instagram feed.
He proudly writes he is the "Son of a Japanese Internment Camp survivor" on his profile. As travel writers who are sensitive to history and war, and who personally adore Japan and the Japanese culture, we enjoyed learning this and that Adam Fu is proud of his heritage.
We also love the products he has in his online store.
This neon pink peace sign and neon blue heart are at Sparkman Wharf, as you go from its parking lot to the food vendors, towards the water.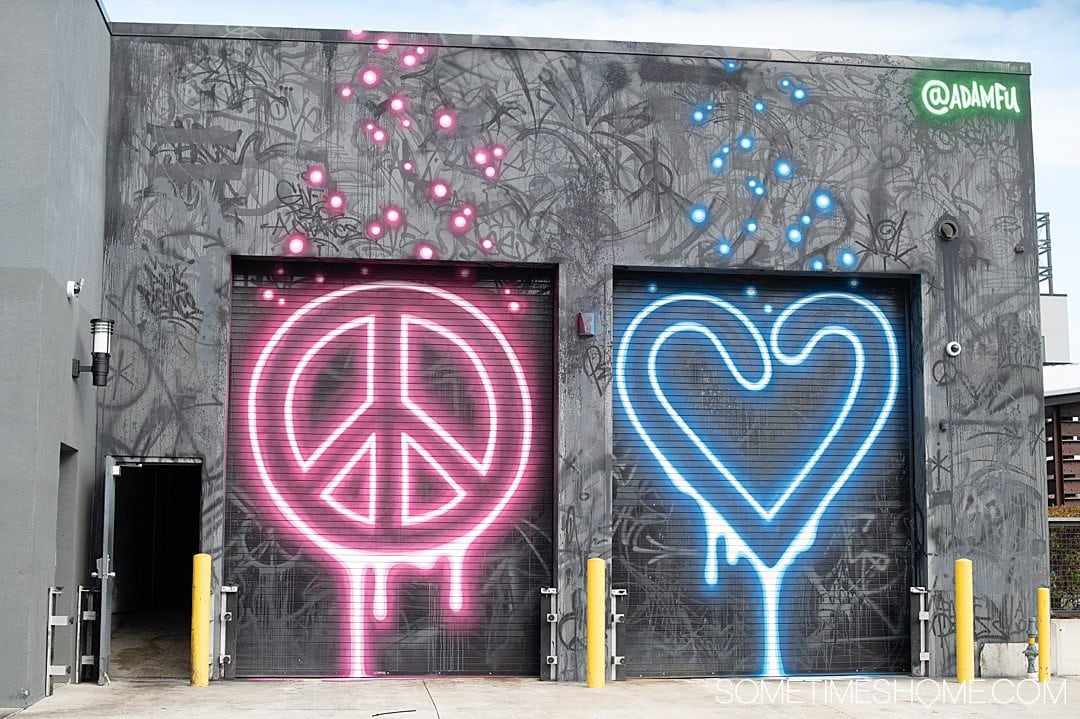 We couldn't resist getting a photo with the mural as a memory of our visit to downtown Tampa: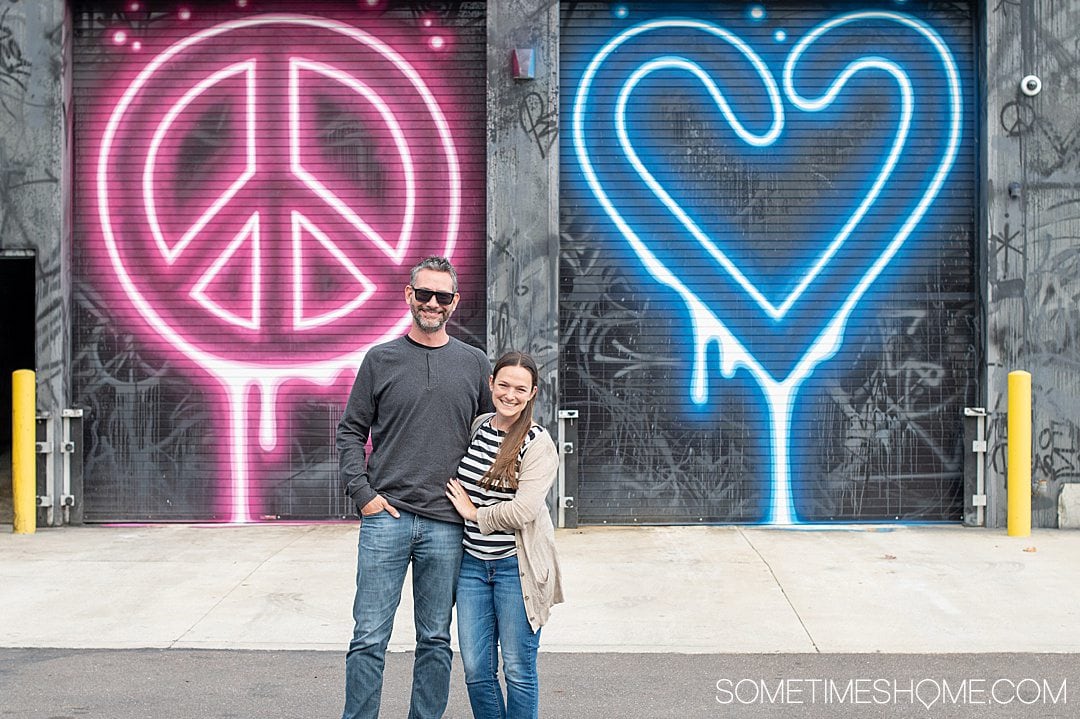 I cannot wait to go back to the city to explore the area more and find new murals in downtown Tampa and beyond!
**FOR A BONUS GOOGLE MAP WE'VE CREATED, showing exact Tampa mural locations, click HERE.**
For more in Florida check out:
Know about an awesome area for street art? Tell us in the comments below!