We ventured out of our place in Fort Lauderdale to take a drive 30 minutes south. Our destination-du-jour was Miami. We adore street art and we were excited to see if Wynwood Walls was open on a slight whim. (It was the tail end of Phase 1 of the pandemic going into Phase 2 in South Florida.)
And what we realized is there is an abundance of fun things to do in Wynwood, Miami. Whether you go for a day or half a day – simply go!
Don't forget to check out our section of this article with things to purchase for the visit, like reef- safe sunscreen and a portable handheld fan, because that Miami sun is no joke!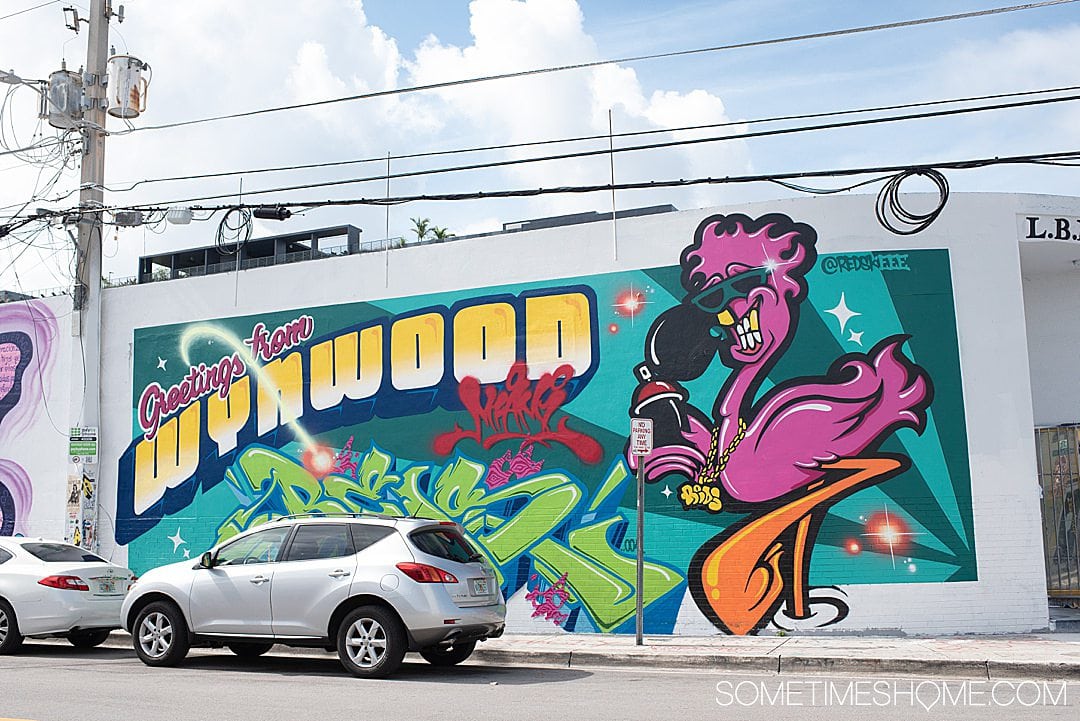 Third-Party Tours at Wynwood
Wynwood Wall tours are only of a specific area in the neighborhood. A great option is to sign up for a tour of the whole area with a third-party vendor.
Viator, our favorite tours site, offers a number of Wynwood, Miami tours including an Instagram tour, exploring Wynwood with a local artist, a tour of the area learning about its history and murals by golf cart, a food and art walking tour, street art and gallery tour, and more. And they range from as low as $30 to $196 if you want to tour the area in a private vintage convertible! (Talk about photo-worthy!)
Pack for Hot Weather
Miami is HOT most of the year. Protect yourself from the heat and sunshine with these items, to keep your body hydrated with water and eyes shielded from the sun with sunglasses:
no products
Wynwood Walls Tours
It turns out that the distinct area entitled "Wynwood Walls" was still closed when we visited. But the cool thing was we felt like we had the whole neighborhood to ourselves.
We looked up some history about the area and learned it's not that old of a concept or area. It's blown up in popularity since its inception in 2009, by Tony Goldman. And its popularity increases every year. It's not to miss if you're in the area, especially if you're in Miami Beach for a couple of days, for example.
The mastermind behind Wynwood Walls has since passed away but his family continues to carry on the company's operations around the world. (I have to interrupt myself to note that I've seen it written as "Wind Wood Walls" once in a while. I can completely understand someone searching it as those words if they didn't know how it's spelled or they have never seen this Miami neighborhood name written!)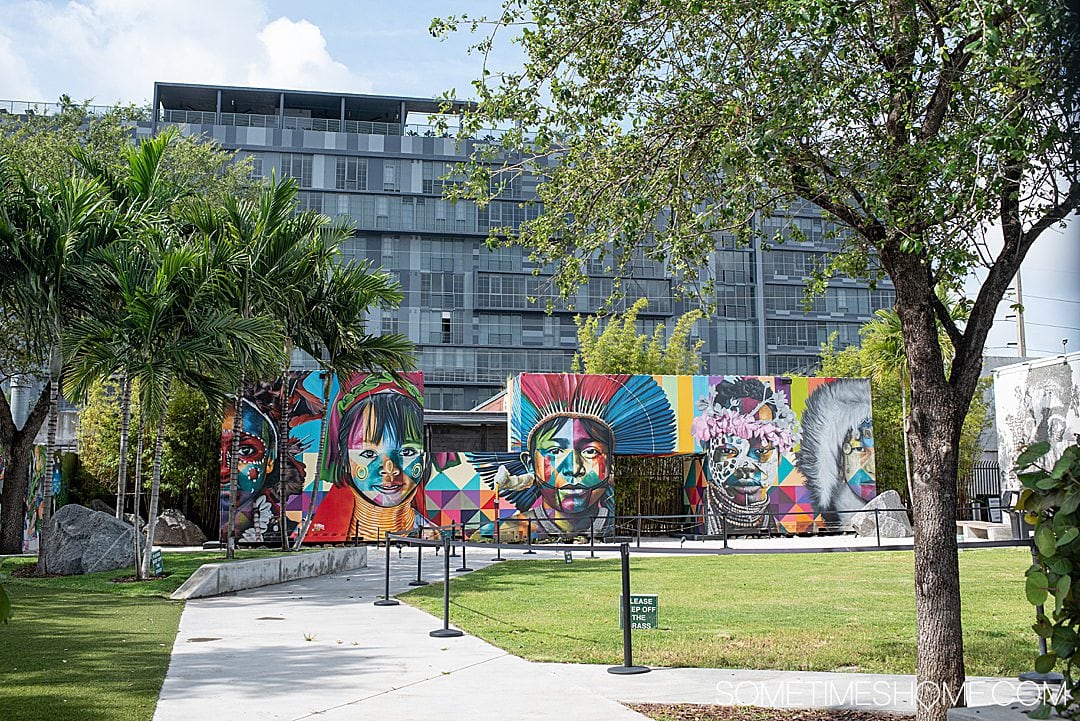 What started as an idea to allow and encourage artists to cover the walls of old warehouses has grown into a national (maybe even global, since such a huge majority of their artists aren't even from the US) phenomenon.
There is, indeed, one "gated" area that is officially, "Wynwood Walls." Its address is: 2520 NW 2nd Ave, Miami, FL 33127.
Tours at Wynwood Walls
A fun thing to do in Wynwood is to take an "official" tour of Wynwood Walls, the original six buildings and converted parking lot. (In general, admission to Wynwood Walls is free if you just want to walk around. But to maximize your experience, and learn something while you're at it, take a tour. Plus your money will go towards supporting them.)
We always think tours are a great idea. On these tours, in particular, you'll learn more about the history and conception of Wynwood Walls. You'll also learn more about the murals currently painted there, including information about the artists and the message of each artwork. Additionally, you'll visit the three galleries on site. Each tour is 50 minutes.
There are three main options for official tours at Wynwood Walls:
General Tour starting $20 with an optional dining experience (every hour on the hour 11:00am to 6:00pm).
Early Access Tour at 9:45am for $50 (which, we have to note is just 15 minutes before the next tour comes in) – note there are conflicting times on their website. It says 10:45am on the booking but when you click it to book the tour the fine print says to please be there on time at 9:45am.
Private Tour starting at $40 – available upon request.
Then there are two additional tours, available upon request: Events Tour ($20) and University & Education Tour ($10).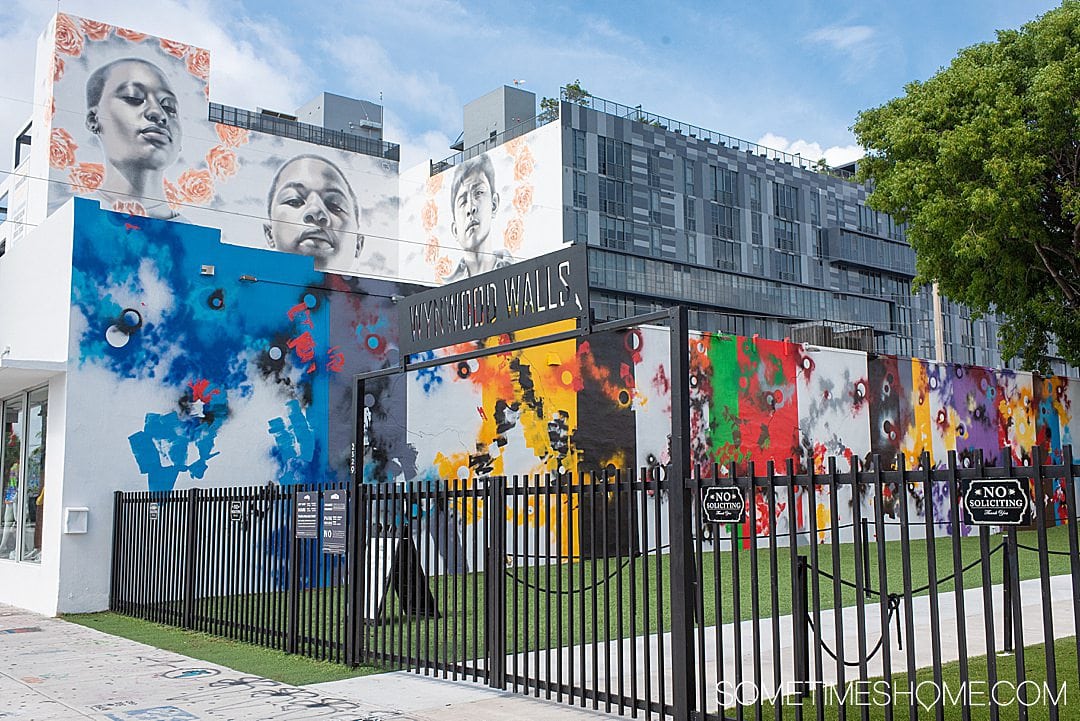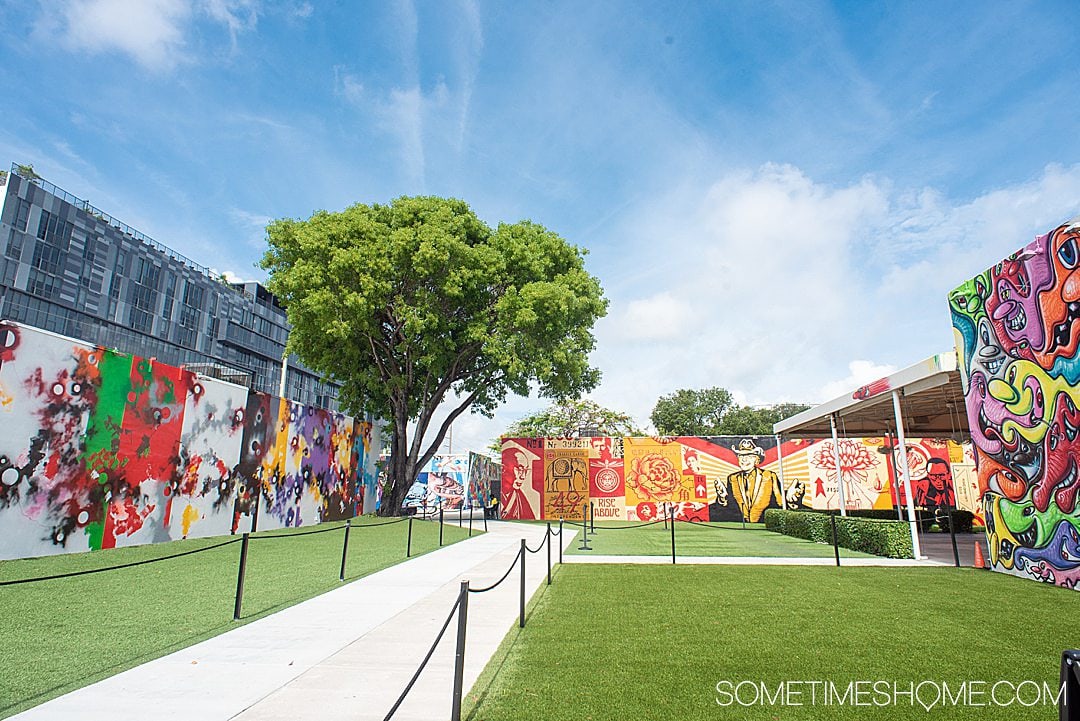 General Things to Keep in Mind with any Fun Activity in the Wynwood Area
It's important to keep a few things in mind if you're heading to Wynwood, Miami:
This is south Florida. It gets HOT. So bring water, sunscreen, and sunglasses. Stay hydrated and protected from the sun. (Bring your reusable water bottle!)
It gets busy. It's a big tourist attraction so if you go during the day (aka aside from the early morning or later on at night) expect to maybe contest with crowds. However, seeing as the neighborhood has plenty to do, hopefully people will be spread out amongst the streets anyway.
It's an area where it's best to park then walk. Thus, wear comfy walking shoes.
Be respectful. Of the art and of people there. The great thing about the murals there is that mostly all of them are tagged with the Instagram account of the artist. If you're posting a mural to Instagram, please take the extra few seconds to look up the artist. It's proper etiquette and you wouldn't have the art piece to share with your social media followers if it wasn't for them creating it. This is also a cool way to communicate with the artist, if you wish. We tag every artist, whenever possible to find the creator. And it's common for us to get a note from the artist saying "Thank you!" or even a repost.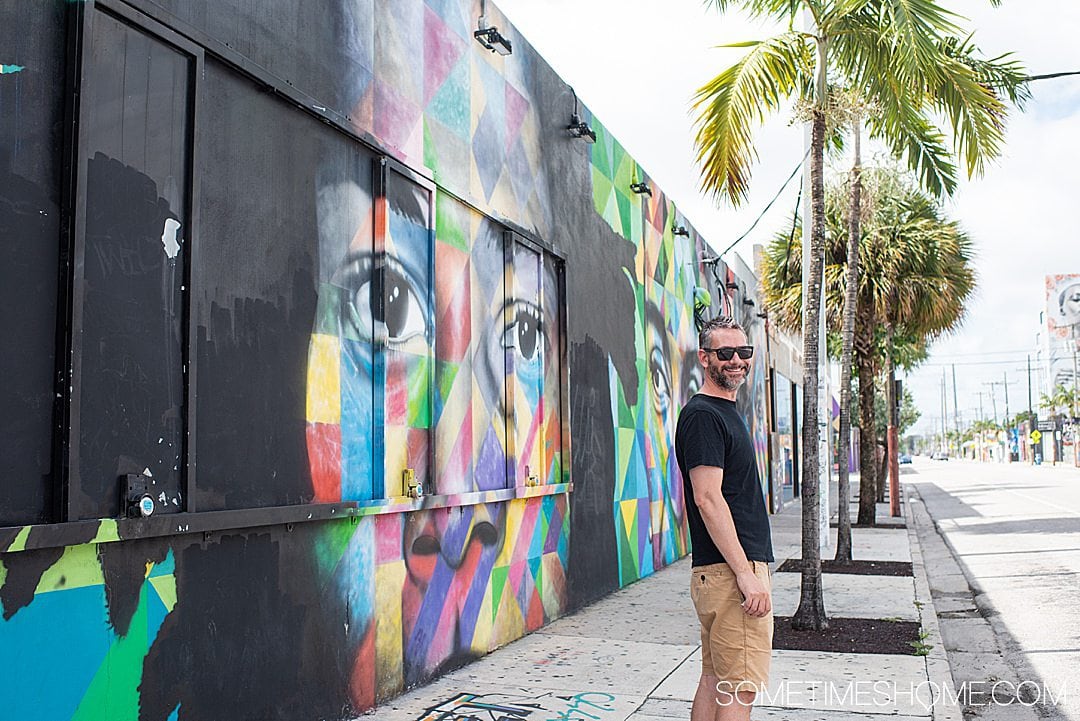 Where to Stay Near Wynwood
Marriott Hotels
We love Marriott resorts because we have a Marriott Bonvoy American Express and the rewards points let us stay at their hotels for free. Yup, for free. (We use points, naturally)
Here's a few nearby Marriotts:
Where to Park at Wynwood Walls
It's not difficult to park in the area – simply find a nearby garage (which may be your best bet if it's peak time) or find street parking. Parking in Miami isn't cheap – it's over $3 an hour for street spots, which you can pay for via the parking app, "PayByPhone".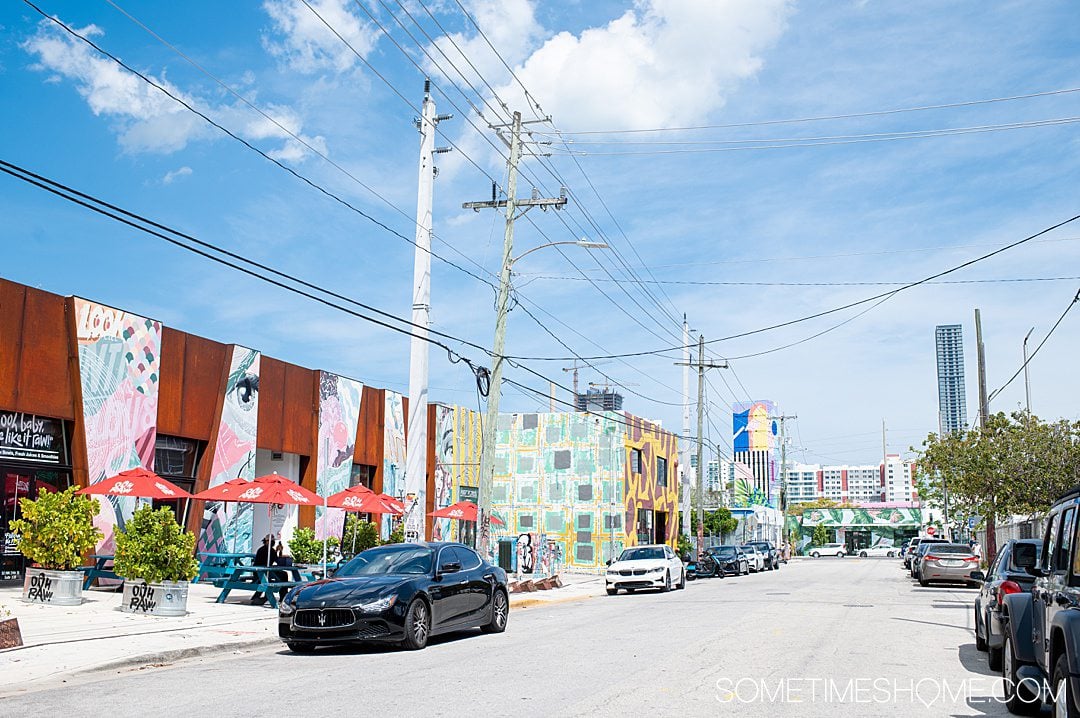 The best parking garage to aim to park in if your fun activity in Wynwood, Miami is walking around to see the murals is The Wynwood Garage. It's just under $10 for two hours – it's pretty much the same price as street parking in the area
Wynwood Garage address: 311 NW 26th St, Miami, FL 33127 (Try booking your parking spot online with Spot Angels.)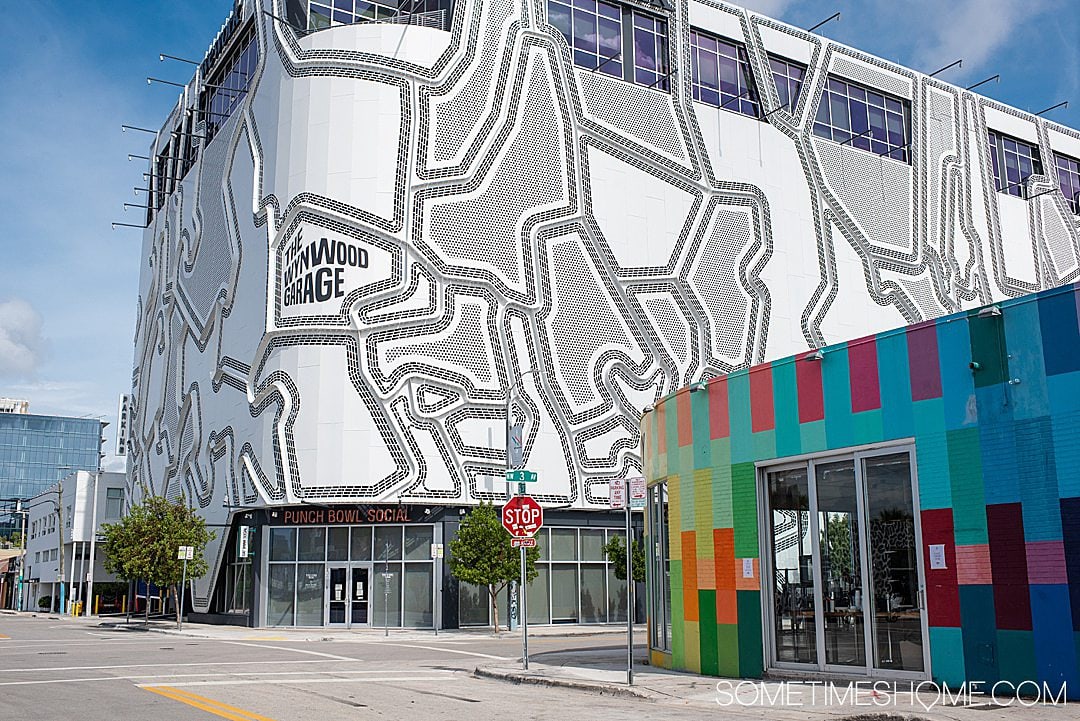 Have Fun with Murals "Outside" Wynwood Walls
When you approach Wynwood you quickly realize that the ENTIRE neighborhood (and then some) is COVERED in impressive murals. What started as a concentrated idea and project by Goldman properties has expanded. It's covered the neighborhood walls of Wynwood in creativity. And you can see the blending of cultures between so many of the murals too, one of the inspirational and quotable aspects of Miami.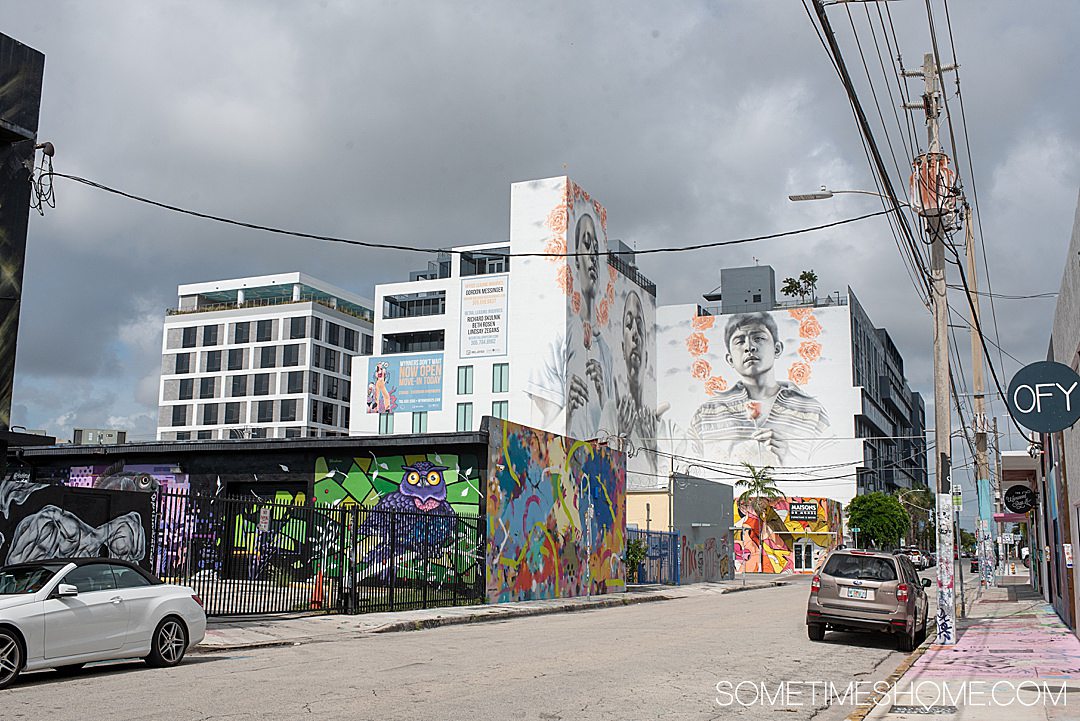 We spent the better part of two hours walking around exploring each street. It's easy to get happily lost in time each time you turn a corner or discover a mural poking out of a fence. Here are just a few murals we saw…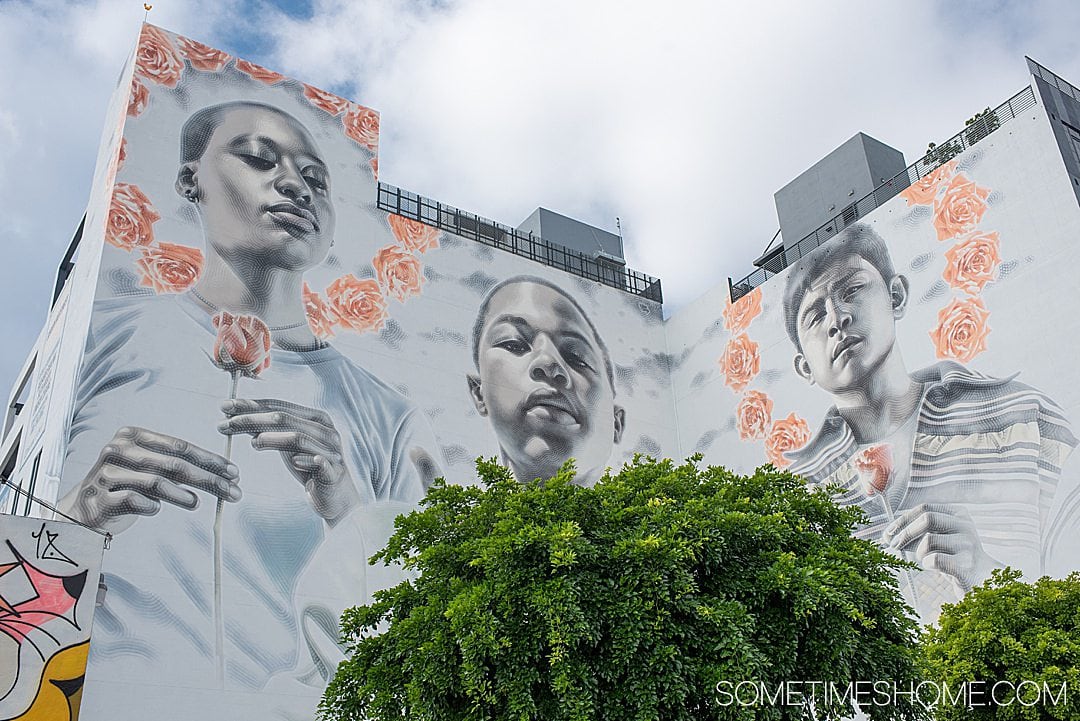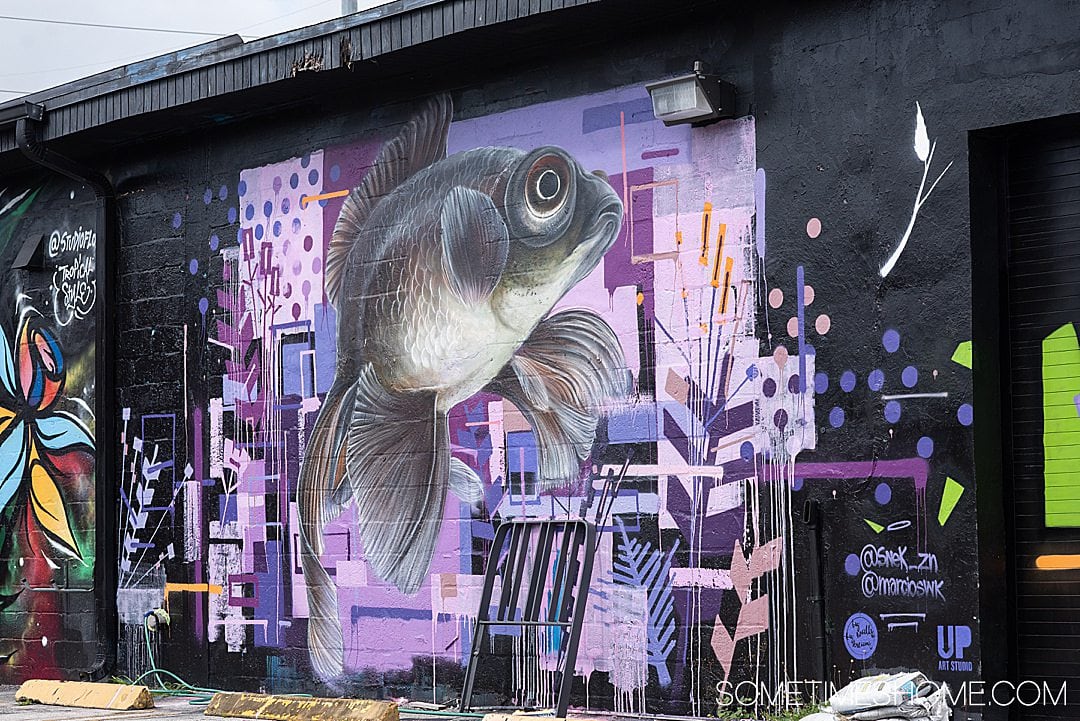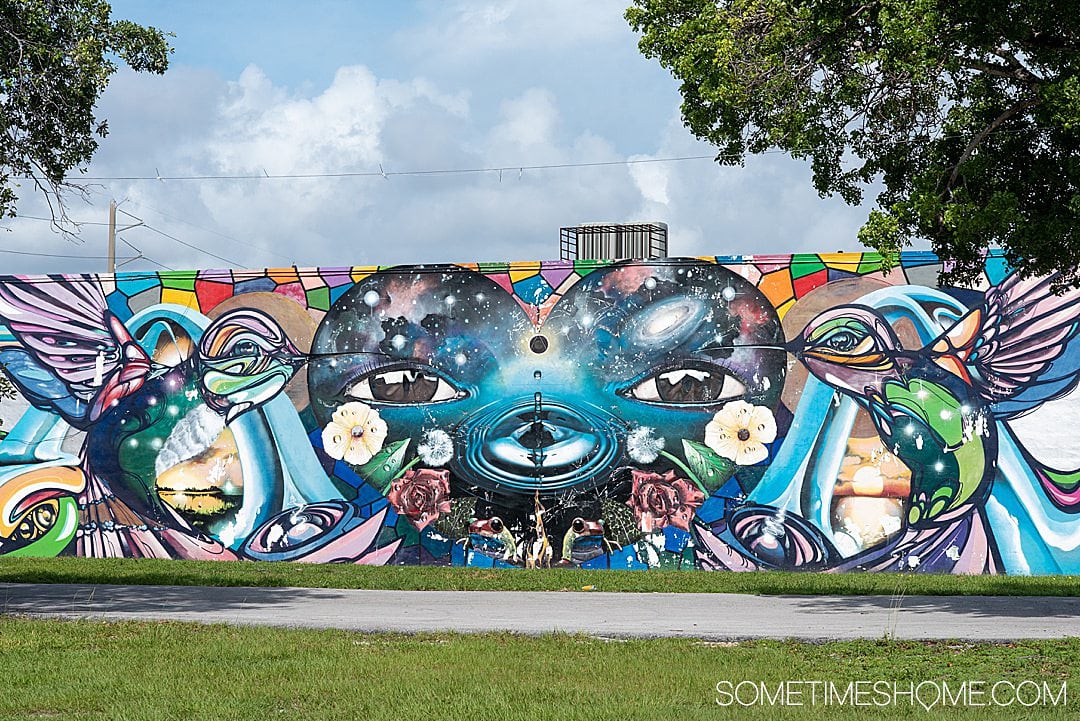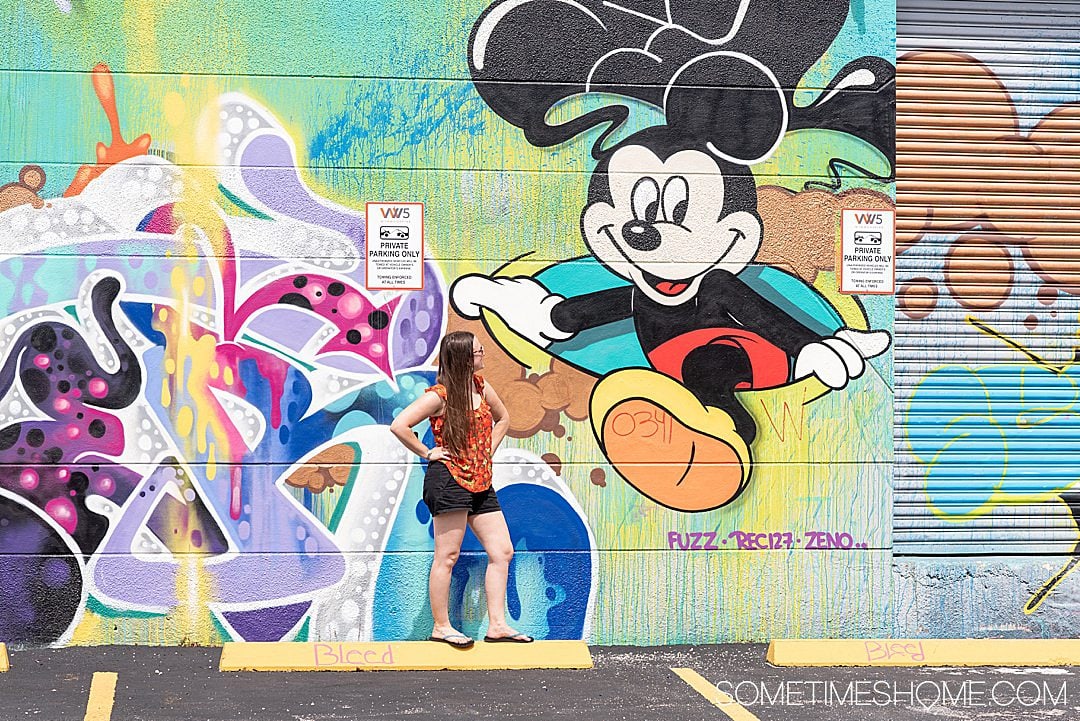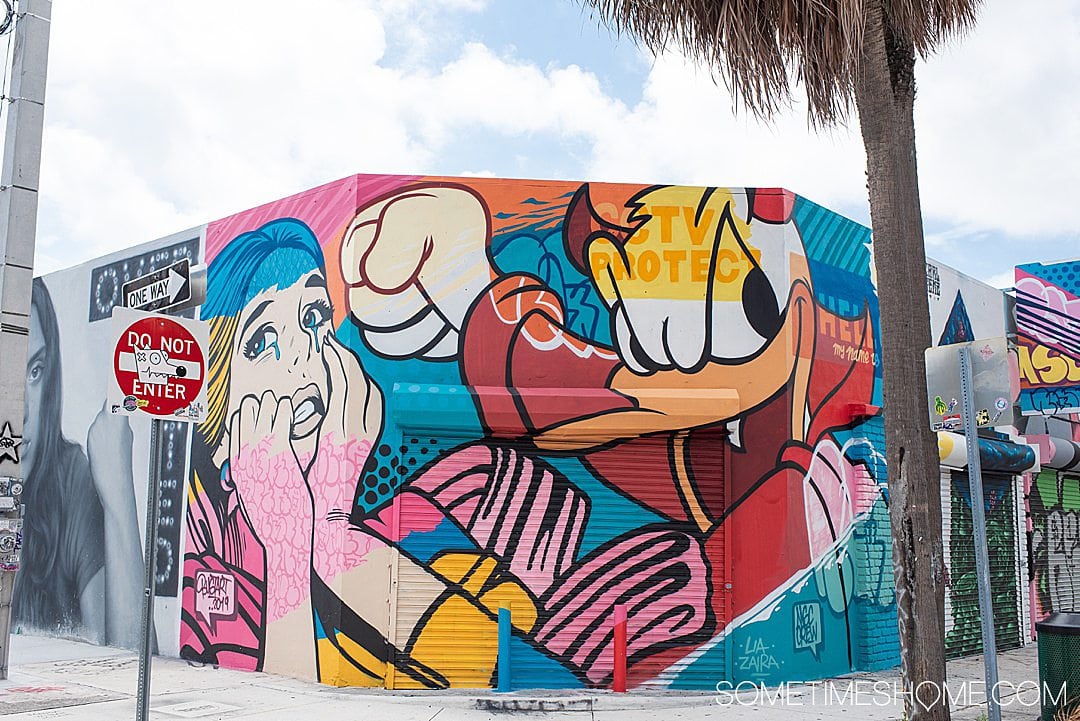 I love the one above, by BustArt. We first discovered this Swiss Artist's colorful work in Greensboro, North Carolina.
Need to Store your Luggage in Miami While you Explore Wynwood?
Check out Bounce and don't worry about lugging around your suitcase as you take selfies all over town!
Fun Things to Do in Wynwood Beyond Simply Viewing Murals
We have seven great ideas for things to do beyond seeing murals in Wynwood:
Find Sculptures
Visit the Museum of Graffiti
Eat (and drink)
Get dessert
Shop (for clothes and art)
Get beer at a local brewery
Visit the Neighboring Design District
Find Sculptures
There's more art than paintings in Wynwood. We were blown away by this wooden troll that reminded us of the famous "Treemont Troll" in Seattle, Washington. When we passed a heap of tire pieces on the sidewalk I stopped to look at the front of it wondering if it was a piece of art. It was – and we were floored but its face.
We also spotted a "flying" raven in the neighborhood. One of the fun things to do in Wynwood is just walking around to keep your eyes peeled for any kind of art, sculptures included.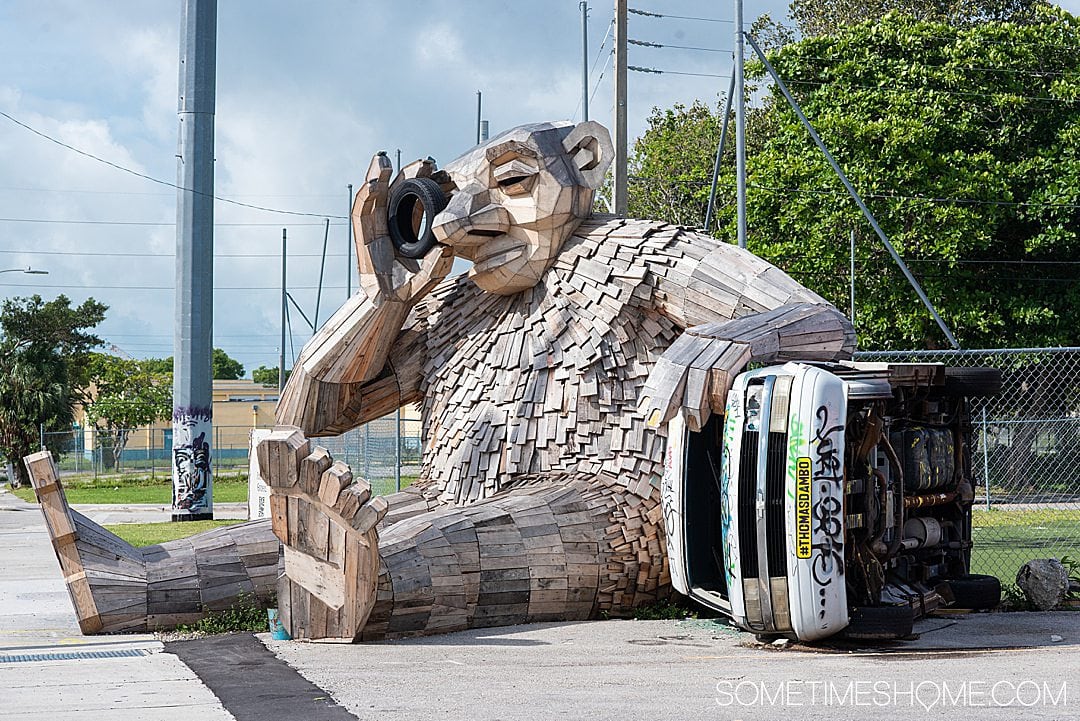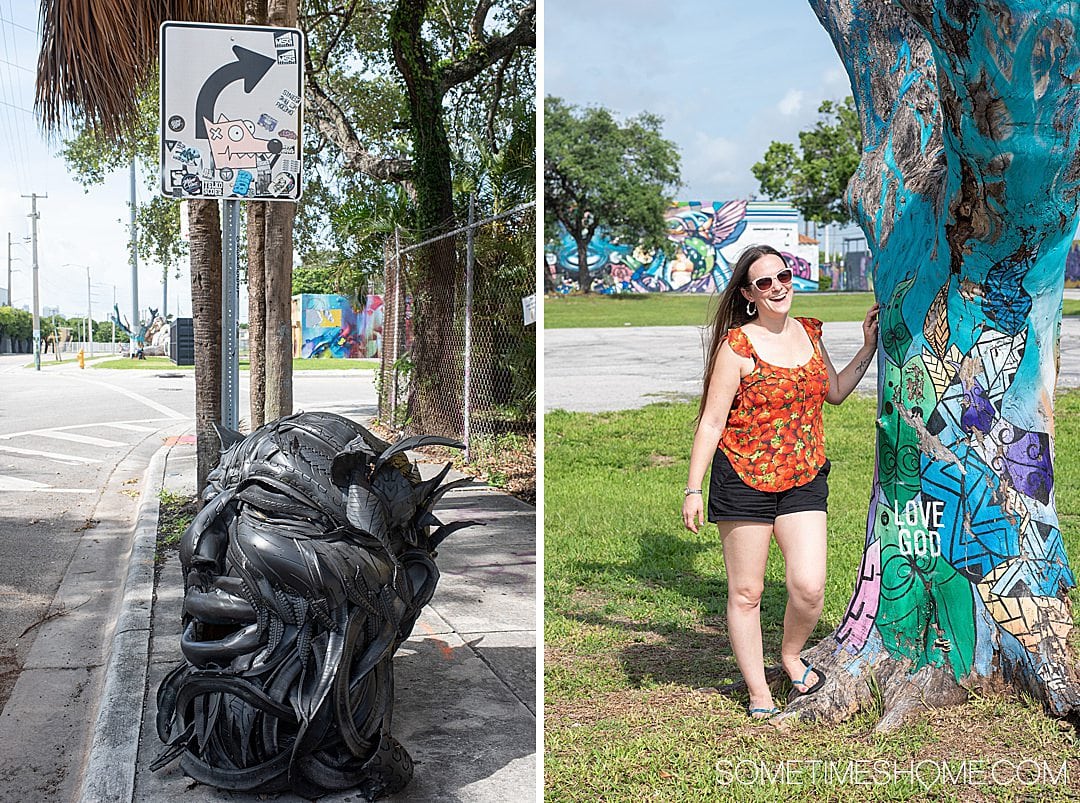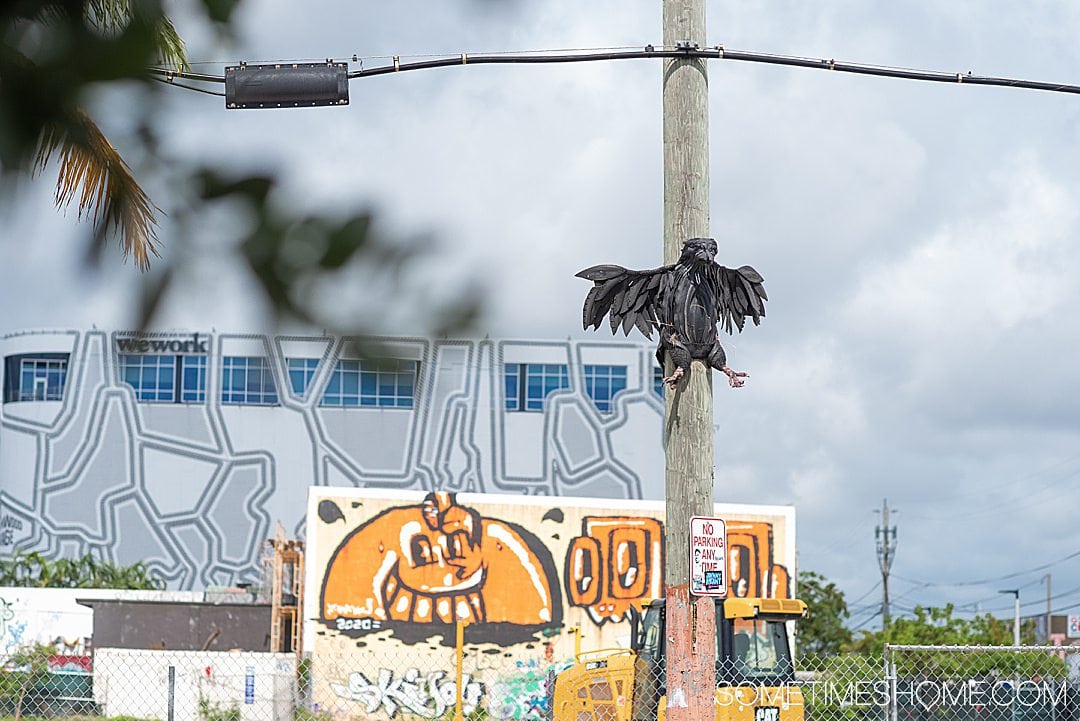 Museum of Graffiti
If you want an education about graffiti you should visit the Museum of Graffiti. There's an entry fee ($16) but it should be worth it to open your eyes to the beauty of the art form. It's currently open six days a week, closed on Tuesdays.
They offer guests exhibits, art for purchase, classes (like a beginner graffiti class) and various artist events. It takes between thirty minutes to an hour to walk through the museum.
Address: 299 NW 25th Street, Miami, FL 33127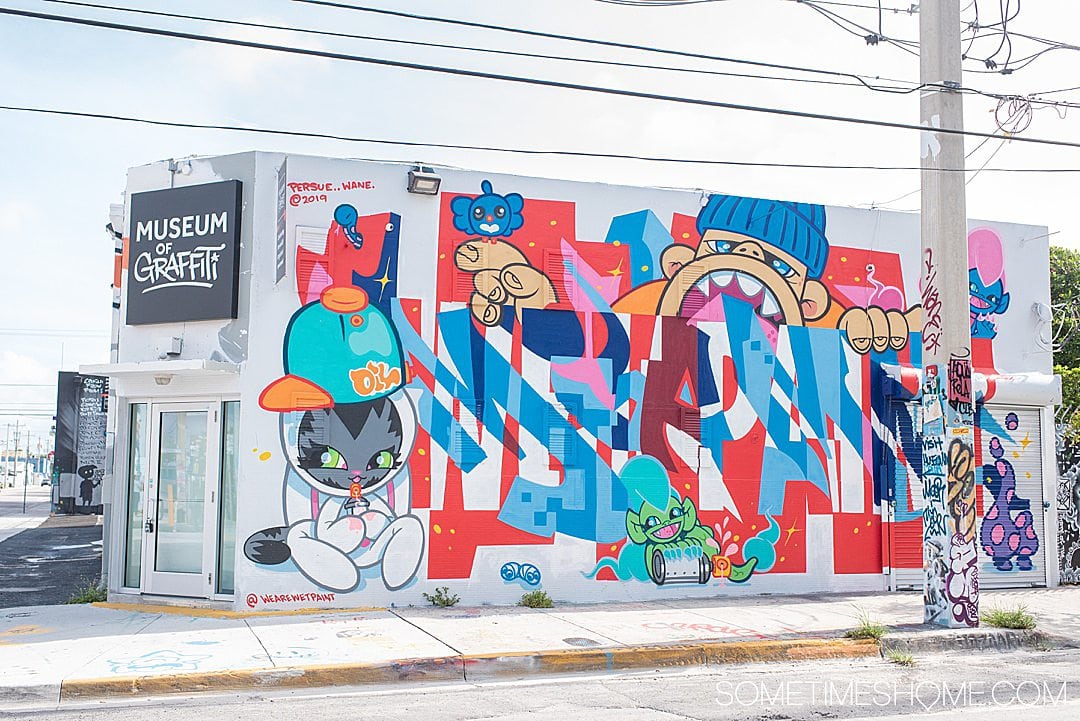 Restaurants
Amongst the fun things to do in Wynwood is eat and drink, of course! There are several restaurants in the neighborhood (all within walking distance) including:
Lower Cost and Over-the-Counter Options
Valentina's Pizza: This pizza "window" is just across the street from the entrance of Wynwood Walls. Could be great for a snack too if you're a little noshy!
Crazy Poke: We think sushi rice and raw fish are a great idea from any reputable place. And Crazy Poke gets rave reviews for their poke bowls and sushi burritos.
1-800-Lucky: If you want to try a few things from a bunch of places, and love Asian food served in a casual setting, this is the place for you. It's a food hall with 7 restaurants, including things like sushi, dumplings, bubble tea and even ice cream.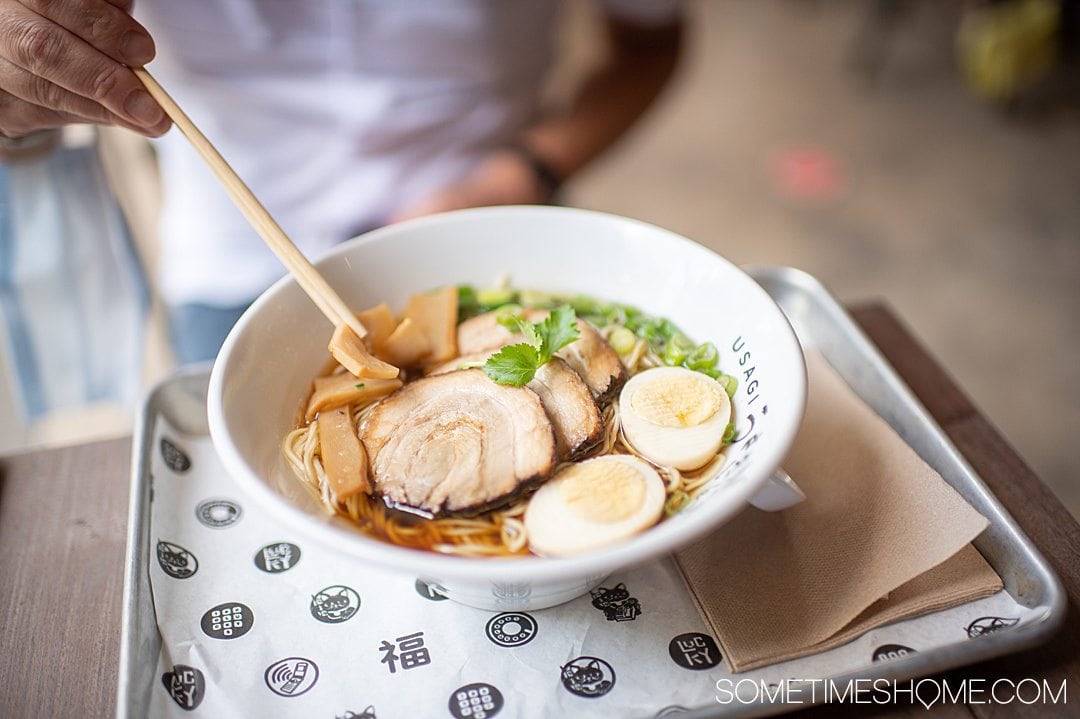 Fun Dessert Things to Do in Wynwood
Ice Pops/Paletas: It would be usual for you to be craving "something cold" in the Miami heat. Morelia Gourmet Paletas serves Mexican ice pops made with 100% natural ingredients. You can choose a pre-made pop or create your own flavor and topping combination, on the spot. The company is named after the location in Mexico where the first paleta was believed to have been invented. And they now have several locations and shops within South Florida.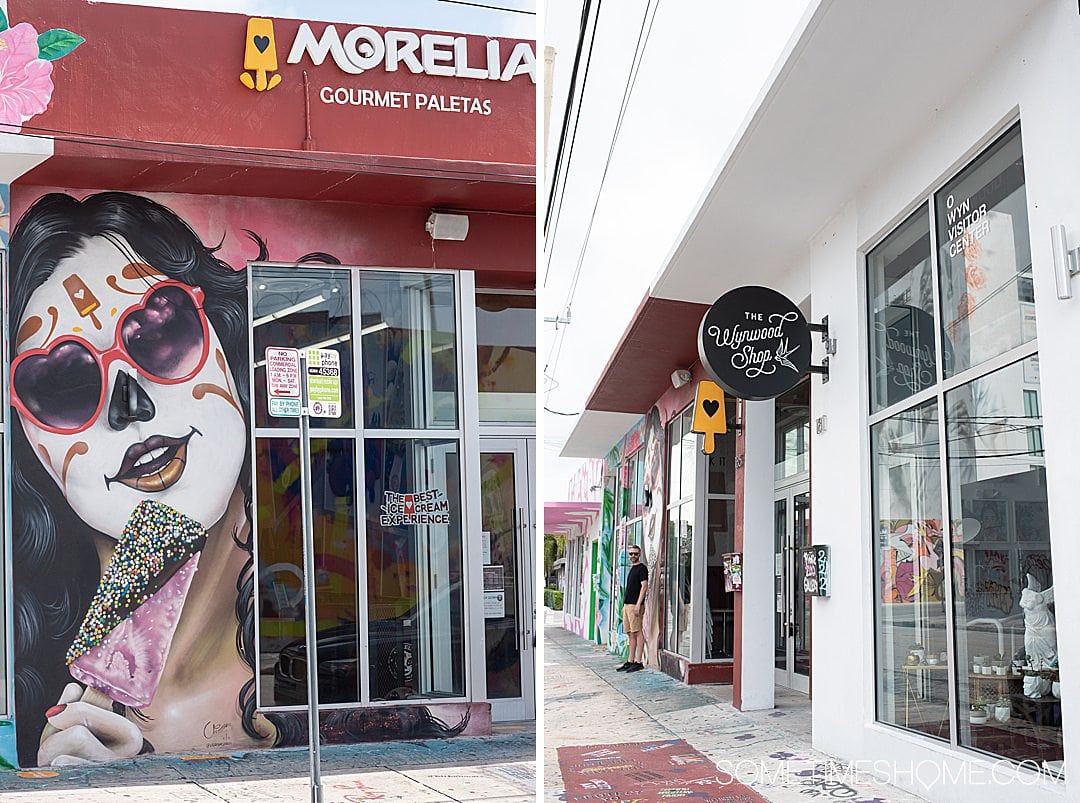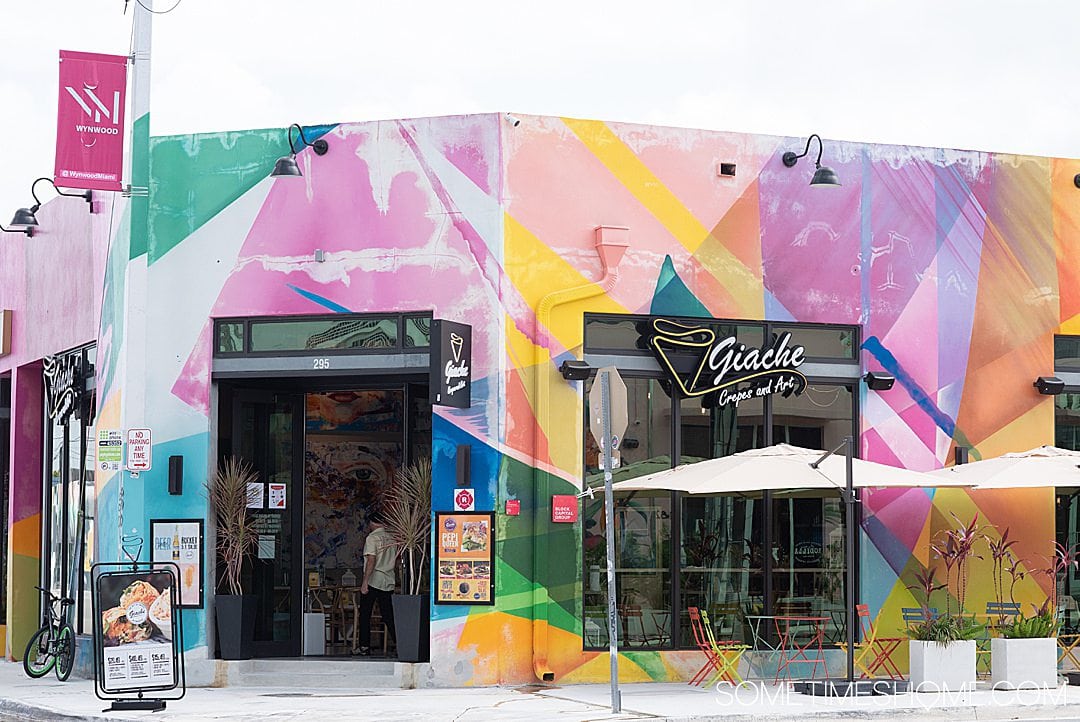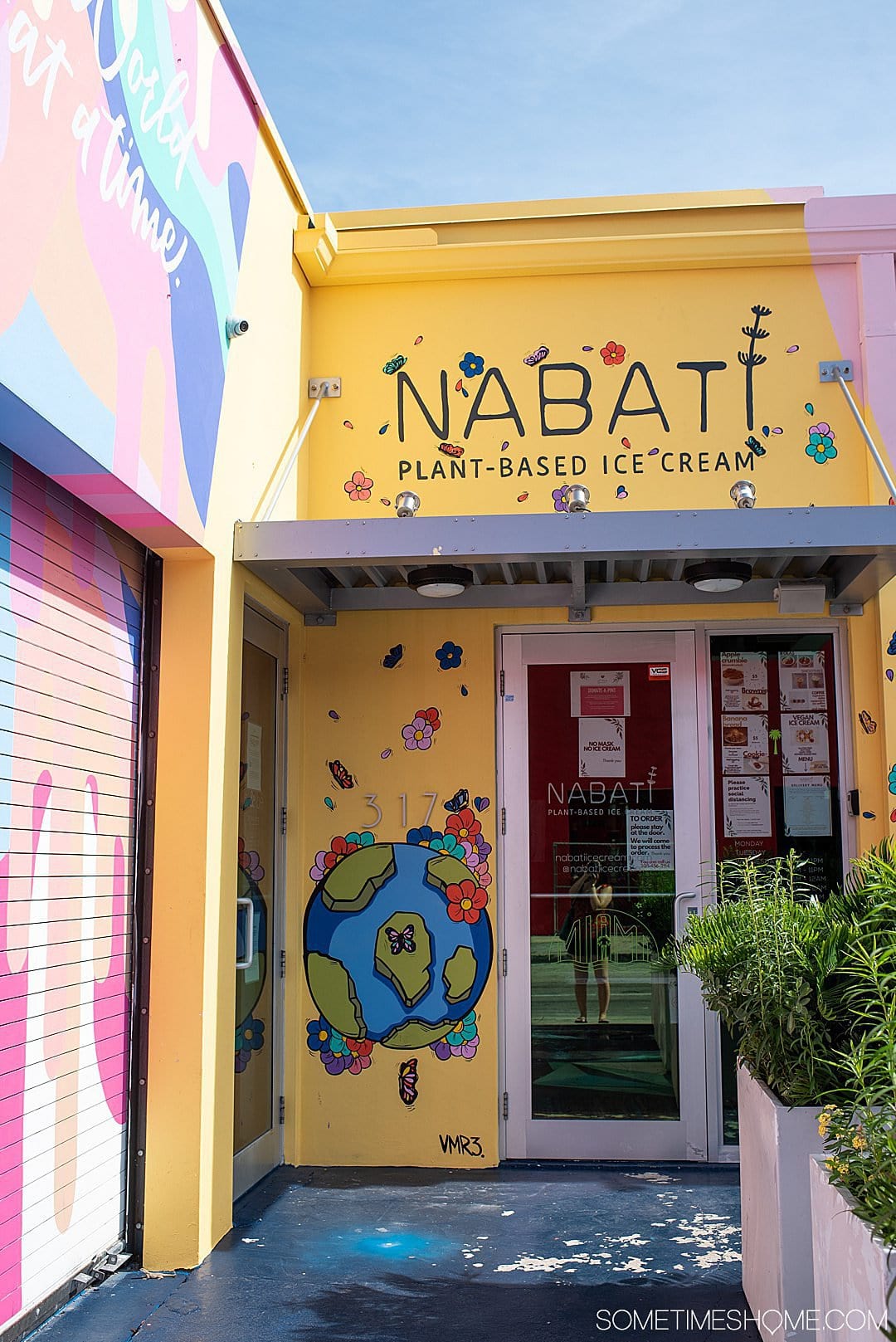 Shopping in Wynwood
There are several cute boutiques in the area if your version of fun things to do in Wynwood includes shopping! There are also shops to get your own piece of art to take home, in addition to more upscale galleries.
These include:
Clothing stores, like BASE and Marine Layer (very coastal-hip).
The Wynwood Shop: It's definitely worth stopping in. It's a boutique store that sells men and women's clothing and jewelry, but also things like art prints and enamel pins. They even sell Street Art Coloring Books!
And of course, the gift shop at Wynwood Walls. (Which is free to visit if Wynwood Walls is open.)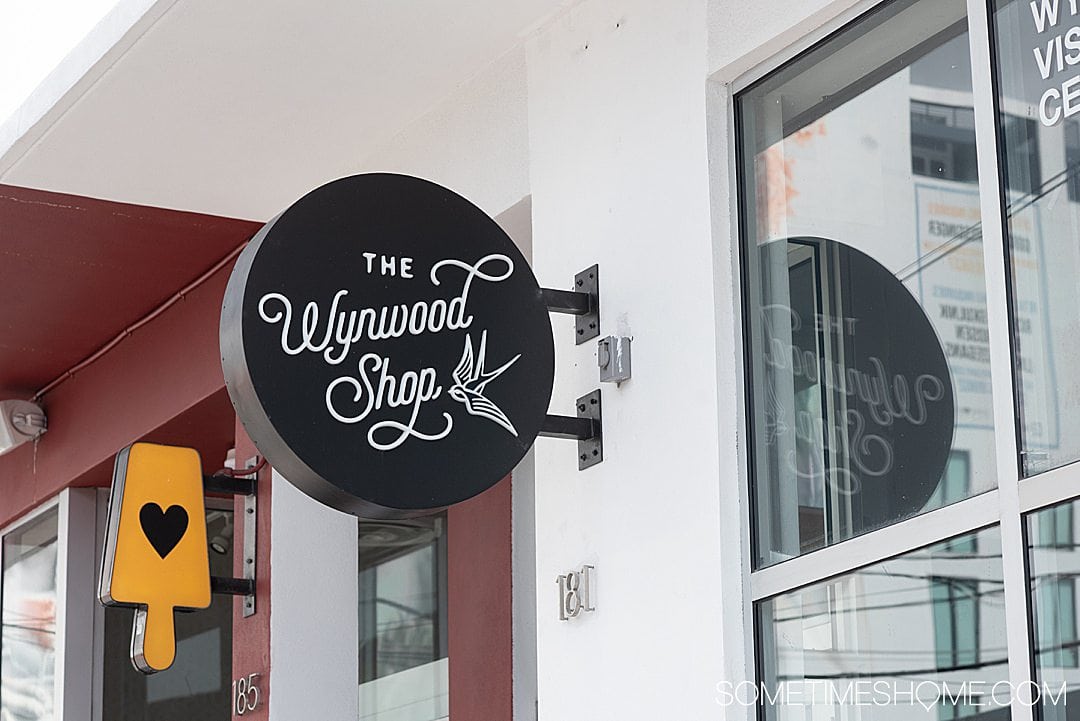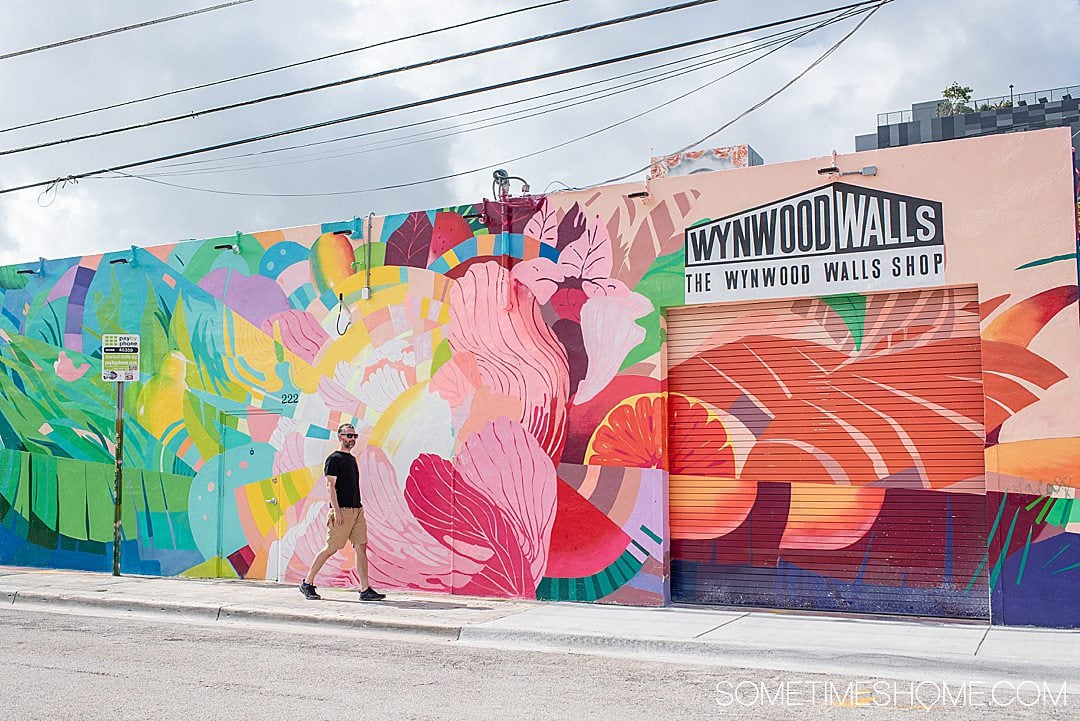 Drink Beer at a Local Brewery
There are three great options for craft beer in Wynwood, which is a solid amount for the size of the area…
J.Wakefield Brewing: If you're wondering where a Star Wars mural is in Wynwood, you'll find it here. This fun brewery proudly displays a Star Wars theme inside its tap room, as well as a playful comic book vibe on their website. They have weekday happy hours for $1 off their beers and often have food trucks onsite.
Wynwood Brewing Company: A father and son duo started this craft brewery in Miami. They have 18 beers on tap in their Wynwood tasting room.
Veza Sur: They are a local brewery with Latin and American roots (very Miami). They have a beautiful indoor space that's pretty cozy and an outdoor patio that's dog friendly. What's more is they have a great happy hour and also offer brewery tours. If you're hungry this could be the best fit for your thirst and appetite – their Peruvian food gets rave reviews.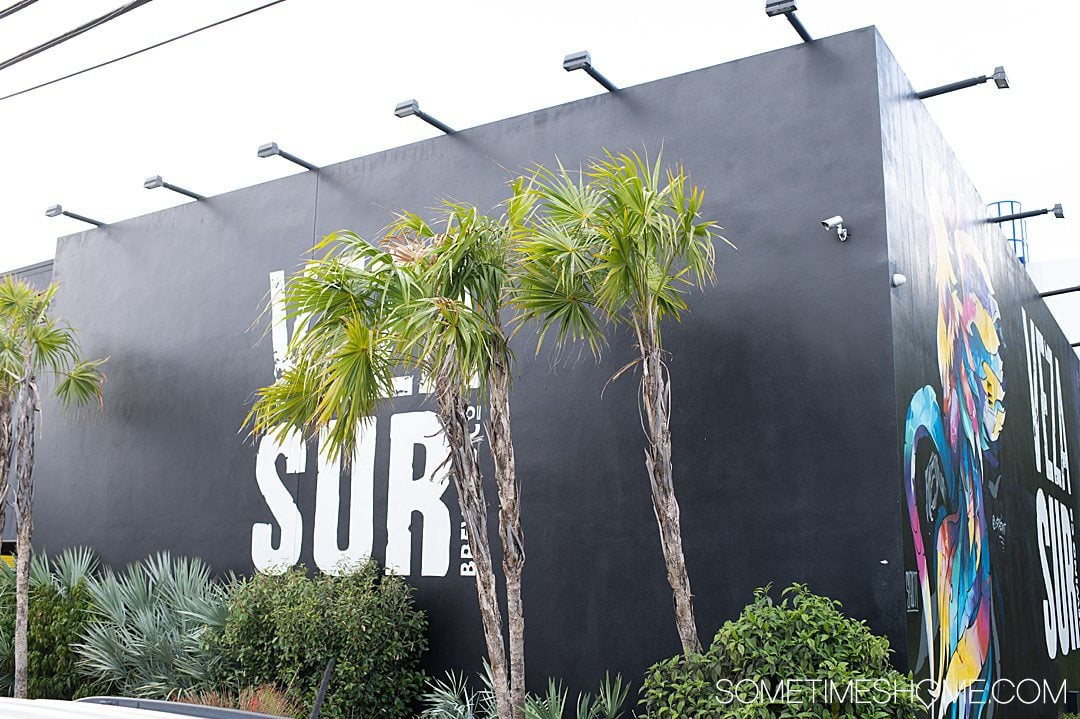 Fun Things to Do Nearby: Neighboring Miami Design District
There are plenty of fun things to do in Wynwood. But if you're game to venture just 10 minutes down the road we recommend visiting the Design District of Miami. Why not make a complete day of your trip?
There are upscale shops here (think: Gucci, Christian Louboutin, Balenciaga, Creed) and a few places to eat or grab a coffee. The well designed shopping center is worth a walk around.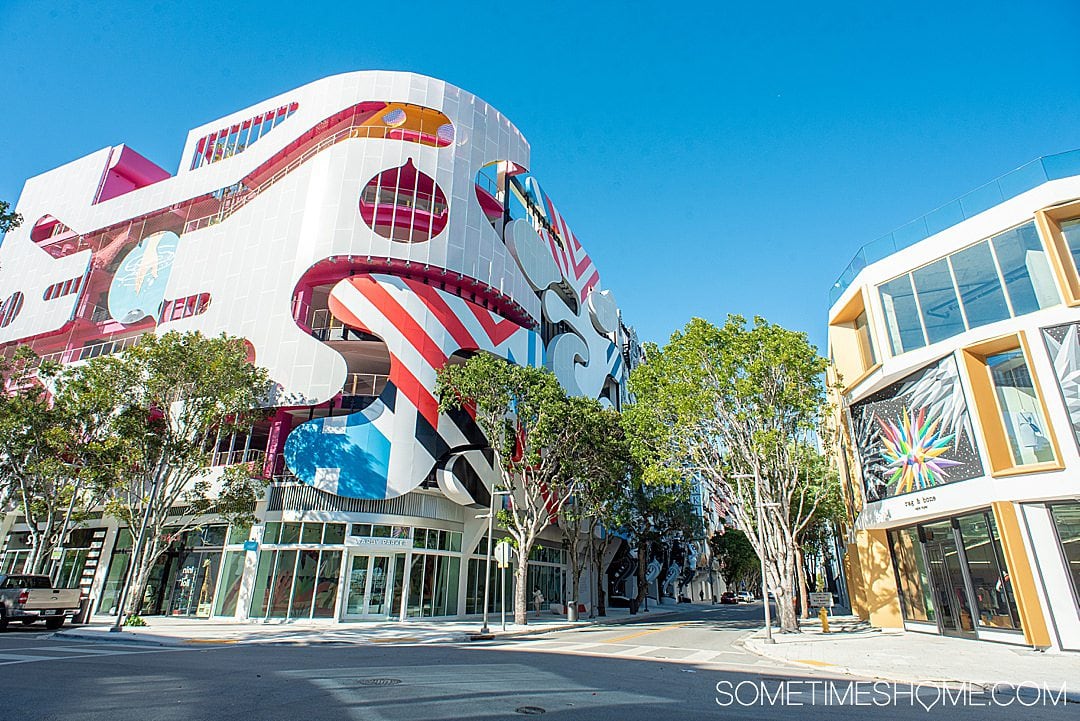 We also recommend a visit to the Institute of Contemporary Art. Admission is free, however they recommend reserving tickets in advance online.
The parking garage across the street from there is the coolest we've ever seen (truly). And the art along the street where the museum is located (NE 41st Street) has some pretty noteworthy art above eye level as well.
Street parking in the Design District is pretty much the same cost as in Wynwood. We recommend valet parking because when you compare their one time fee to several hours of street parking they end up being nearly equal cost. If you don't want to valet your car and can't find street spots then try the garage, located across from the museum. (Simply put "Museum Garage, NE 41st Street, Miami, FL" in GPS.)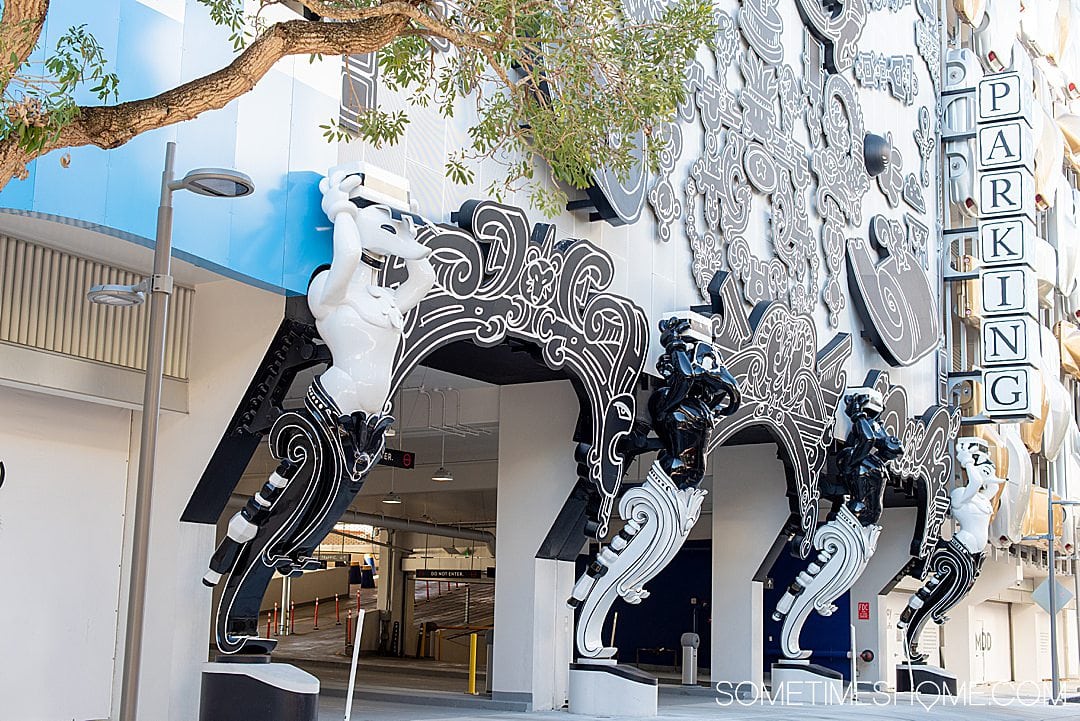 Enjoy Time in Little Havana
Another awesome neighborhood in Miami, which is south of Wynwood, is Little Havana. We had a lovely day there and felt the rhythm of Latin cultures through the vibrant music in the neighborhood bars, the delicious Cuban cuisine in the restaurants, and street art in town.
Disclosure: There are affiliate links in this post, which means we may earn a small commission if you click the link and proceed with a purchase. We only recommend products or services we personally use and recommend.
Heading to Florida? Also check out:
Pin an image below to find this post later!