Fun Things to Do in Wynwood, Miami in Addition to Seeing Murals
After going to Miami countless times, our all-time favorite neighborhood remains Wynwood. So if you're wondering if Wynwood Miami is worth visiting or how to spend the day in Wynwood, we have you covered!
There are so many great things to do in Wynwood, and we're sharing all the tours to book, what to do beyond the walls, the delicious Wynwood restaurants, and vital info like where to park and the distance to other exciting Miami neighborhoods.
Disclosure: There are affiliate links in this post, which means we may earn a small commission if you click the link and proceed with a purchase, at no cost to you. We truly only recommend hotels, products, and services we personally use. As Amazon Associates, we earn from qualifying purchases.
Wynwood Attractions Overview
This district is unique in the WORLD and the United States, not just in Florida. It's become one of the things Florida is known for. We have the most fun things to do in Wynwood, including the best tours and places to eat.
Whether you venture to this Wynwood arts district on a whim during your Miami vacation or specifically plan tours in advance and have dedicated time to walk the colorful streets, our advice is to simply GO! Doesn't matter where or when!
We absolutely L-O-V-E street murals and the artists who create them, but we realized there is an abundance of fun things to do in Wynwood, Miami, beyond walking around to see (and photograph) murals. It's the perfect place to spend a day or half a day!
🕐 Short on time? No Problem!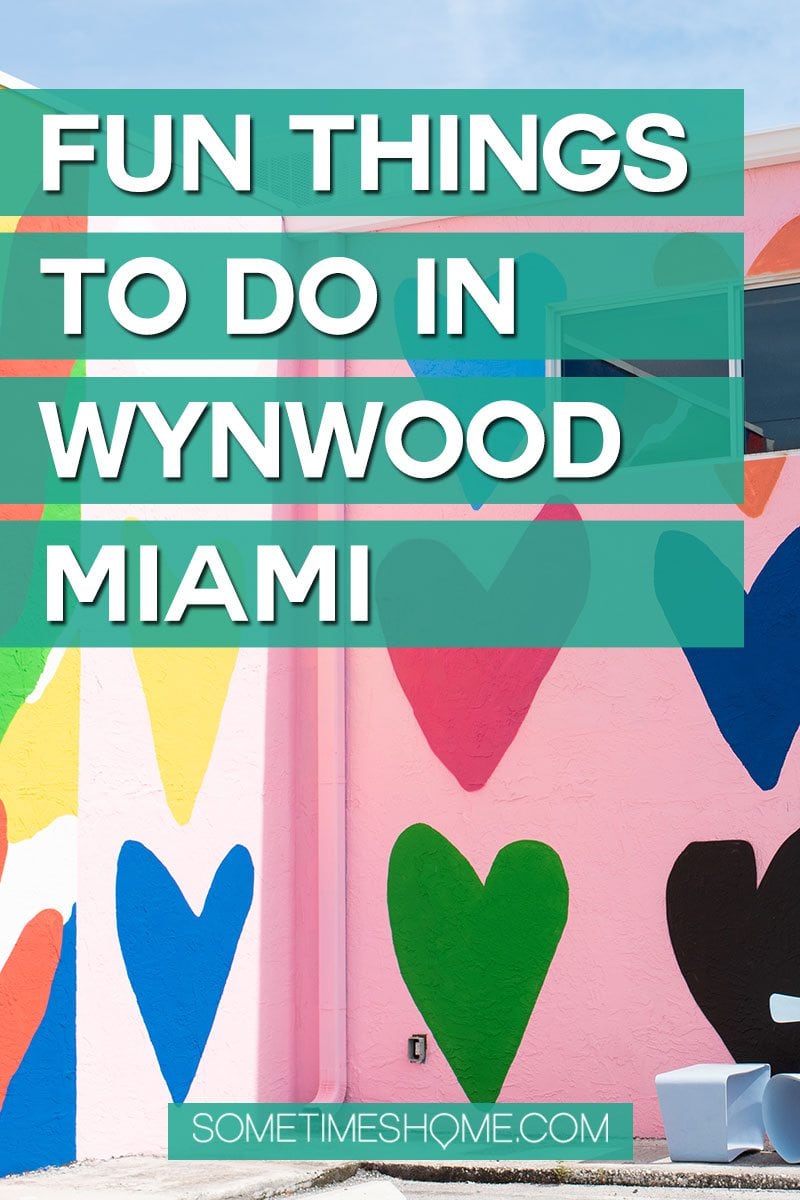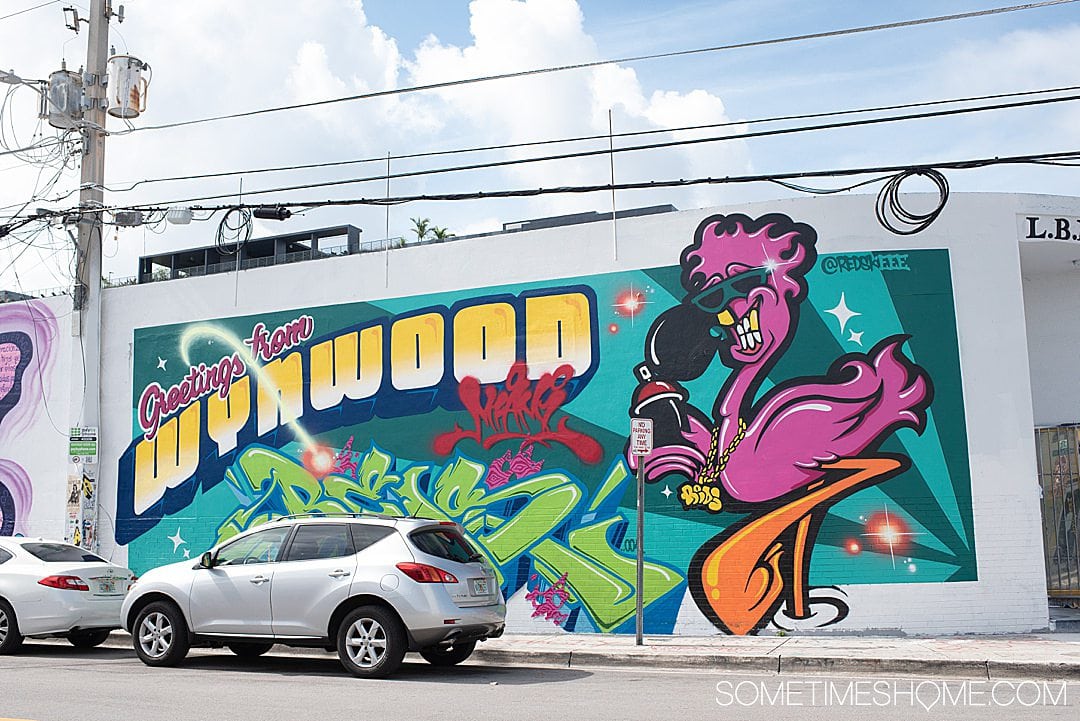 Fun Things to Do in Wynwood
Best Thing to Do in Wynwood: Sign Up for a Guided Tour
Wynwood Wall tours are only for a specific area in the neighborhood. A great option is to sign up for a tour of the whole area with a third-party vendor.
Viator, our favorite tours site, offers a number of Wynwood, Miami tours, including:
Tour Wynwood, Miami, in a Private Classic Convertible Car
One of the coolest things to do in Miami is "see and be seen" as you cruise around the streets in a classic vintage car. On this tour, you'll be IN the car, not simply taking videos of it passing by wishing you were in it!
Hotel pickup is offered, and the driver, Thierry, speaks English and French. You'll drive through Wynwood and the famous Art Deco District in Miami Beach over the course of 2 hours with the top down, feeling like the celebrity you always knew you were meant to be!
The car can accommodate 5 passengers, so you can split the cost amongst your guests or treat others as a gift for one of the most fun things to do in Wynwood.
There's a reason this tour has ⭐️ 5 out of 5 stars ⭐️ from over 50 reviews! It's the BEST!
➜ Travel through Miami like a celebrity: Book a Classic Car tour
Tour Wynwood by Golf Cart
Learn about Wynwood's history and murals as a guide drives you around. You're able to stop and get out and take photos.
Since Wynwood covers a lot of streets, this golf cart tour is great if you are mobility impaired or simply want to feel the breeze of the golf cart zipping through streets in the Miami heat!
Take a Food and Art Walking Tour
If there's any tour we take whenever possible, it's a walking food tour. Not many cities offer a food and art tour, so this is a rare gem! The price includes the entry fee to Wynwood Walls, so the cost is less than you think.
You'll try the neighborhood culinary delights across various cuisines, including Mexican and Japanese flavors, as well as tastes of beer and cookies, as well as see tons of art and learn about artists' signature styles during this 2.5-hour tour.
Explore Wynwood with a Local Guide
You'll meander through the neighborhood streets and galleries as you see artwork by world-renowned street artists, including Shephard Fairy.
This Local Guide Tour starts at a central meeting location in the Wynwood art district and lasts 1.5 hours. It's a great way to see the impressive murals, especially if you're a first time visitor to the neighborhood.
➜ This Wynwood tour is likely to sell out; book now!
Wynwood Squad Safari
This one-hour tour teaches you about famous street artists from over 30 countries who have painted the area in colorful murals.
This tour is guided by an artist, Pedro Amos, who helps you understand a firsthand perspective of the meaning behind the murals.
In a unique optional upgrade, add the 30-minute "Can Control Crash Course" to understand how to use this unique medium to pain on a real wall in Wynwood.
Get Your Start in Painting Murals and Graffiti
Sign up for a graffiti lesson with Pedro Amos, who will teach you this cool, expressive art form's ins and outs.
Learn how to use a spray paint can and assorted techniques to achieve the look you desire with a seasoned local artist over the course of this one-hour tour.
Our Wynwood Cheat Sheet's clickable links will ensure you're well prepared for your visit with tours, suggested hotels, car rentals, parking options, and items for your daypack to beat the Miami heat, all in one easy-to-view sheet.
Wynwood Walls Tours
The distinct area known as "Wynwood Walls" used to be free to enter and walk around, but they now charge admission.
Regardless, it's not to miss if you're in South Florida, especially if you're in Miami Beach for a couple of days, for example.
We looked up some history about the area and learned it's not that old of a concept or area. It's blown up in popularity since its inception in 2009 by the late Tony Goldman. And its popularity increases every year.
The mastermind behind Wynwood Walls passed away, but his family continues to carry on the company's operations worldwide.
(I have to interrupt myself to note that I've seen it written as "Wind Wood Walls" once in a while too. I can completely understand someone searching it as those words if they didn't know how it's spelled or they have never seen this Miami neighborhood name written!)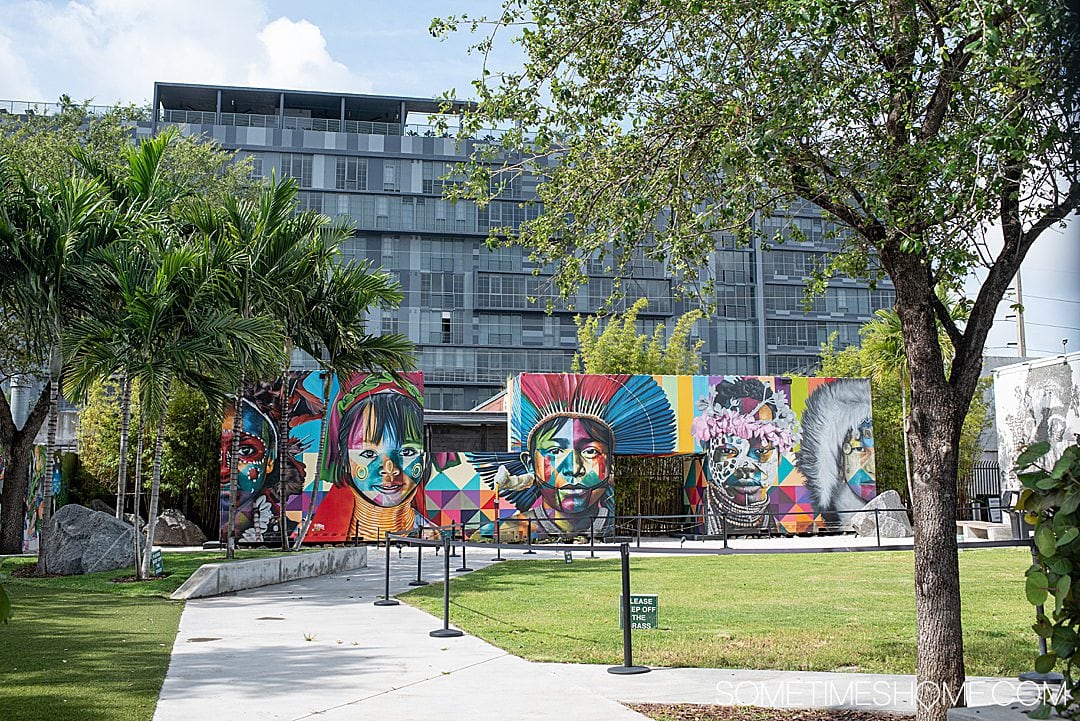 What started as an idea to allow and encourage local artists to cover the walls of old warehouses has grown into a national (maybe even global, since such a huge majority of their artists aren't even from the US) phenomenon.
Indeed, one "gated" area is officially entitled "Wynwood Walls." The address is 2520 NW 2nd Ave, Miami, FL 33127.
Tours at Wynwood Walls
A fun thing to do in Wynwood is to take an "official" tour of Wynwood Walls, the original six buildings, and the converted parking lot. It is truly a unique experience.
General admission is $12 for adults to tour Wynwood Walls at opens at 11:00 am, daily. Seniors and students are $5, Military are $10, and children are free. Be sure to bring your ID with you for the seniors/student/military tickets.
Go with a tour guide to learn something while you're there for a few dollars extra. This is a great way to maximize your experience and gain early entrance to Wynwood Walls.
On these tours, in particular, you'll learn more about the history and conception of the famous Miami attraction.
You'll also learn more about the murals currently painted there, including information about the artists and the message of each piece of art. Additionally, you'll visit the three art galleries on-site. Each tour is 50 minutes and can be booked online.
Official tour options at Wynwood Walls include:
General tour offered every hour on the hour from 10:00am to 6:00pm (availability differs depending on the day).
Official Early Access Tour at 9:45am (which, to note, is just 15 minutes before the next tour comes in most days).
Private Tours are priced/available upon request.
Wynwood Walls Practical Information
Wynwood Walls is equipped with things like Braille plaques, tactile guide paths, audio induction loops, assistive listening devices, ramps and elevators, and lower countertops at the information desk, restaurant, and shop for those with visual, audio, and mobility challenges.
This attraction closes at 7:00 pm Sunday through Thursday and at 8:00 pm Friday and Saturday. Doors close 30 minutes before closing time.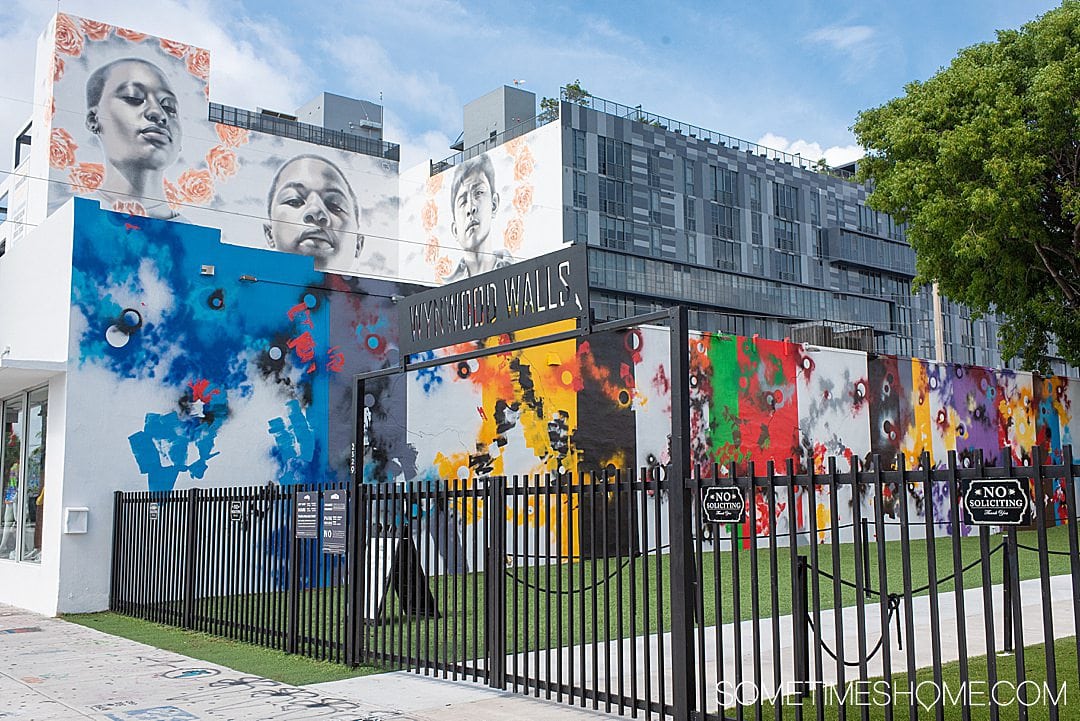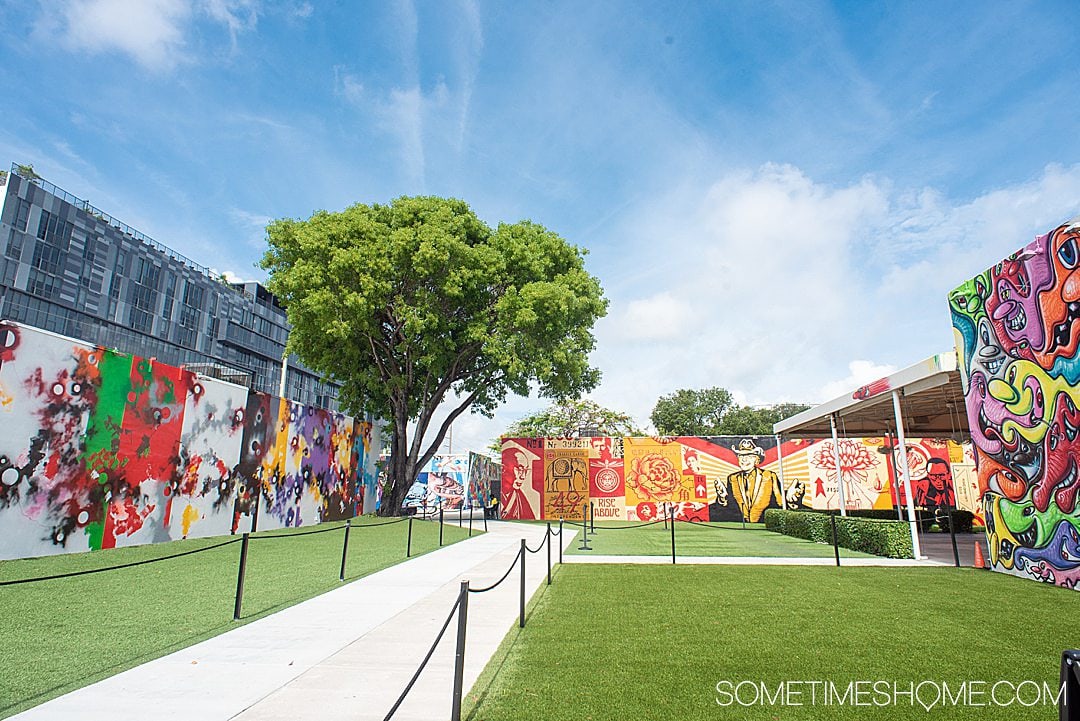 Have Fun with Murals "Outside" Wynwood Walls
When you approach Wynwood, you quickly realize that the ENTIRE neighborhood (and then some) is COVERED in impressive murals. What started as a concentrated idea and project by Goldman Properties has expanded.
It's covered the neighborhood walls of Wynwood in creativity. And you can see the blending of cultures between so many of the murals too, one of the inspirational and quotable aspects of the city.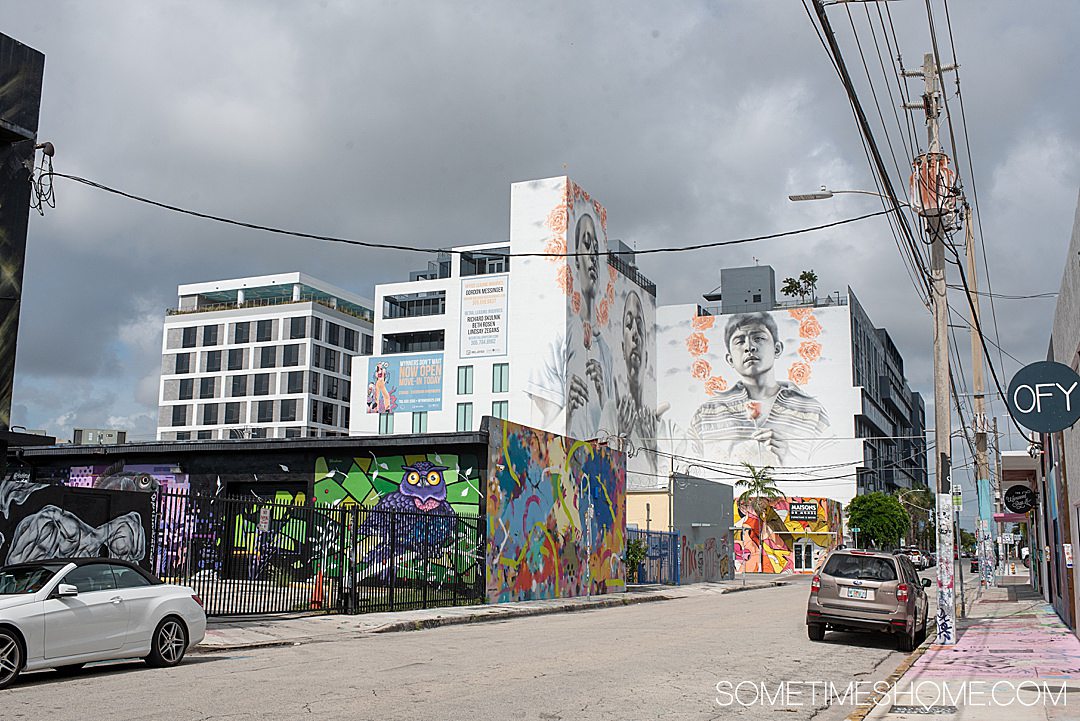 We spent the better part of two hours walking around exploring each street. It's easy to get happily lost in time each time you turn a corner or discover a mural poking out of a fence. Here are just a few murals we saw…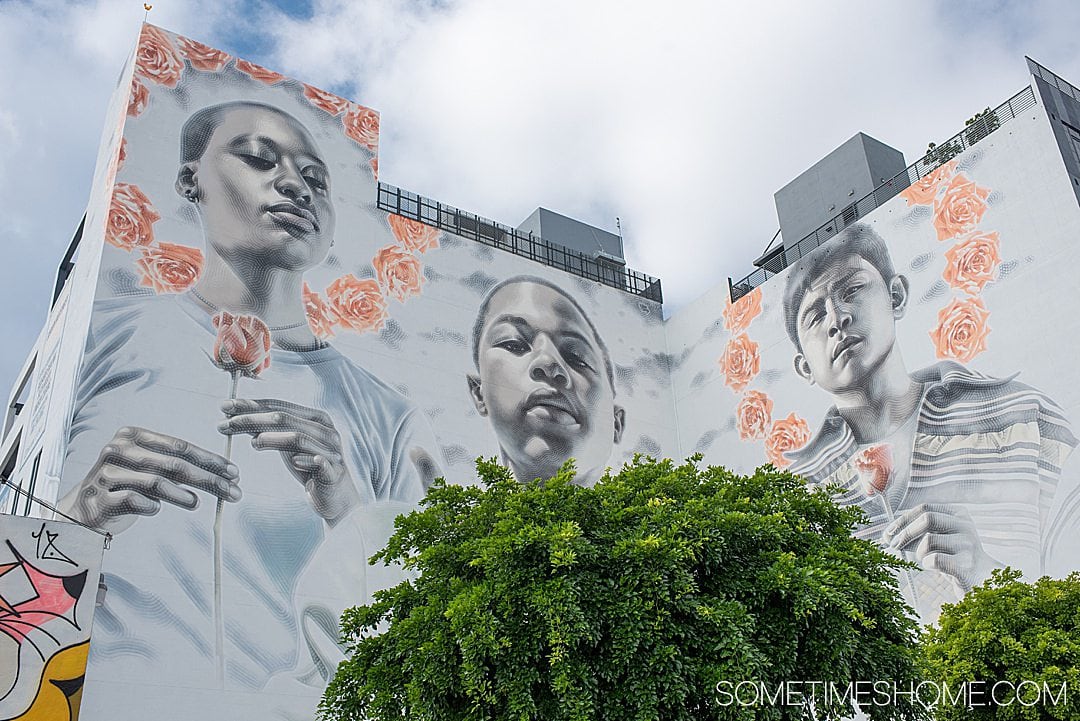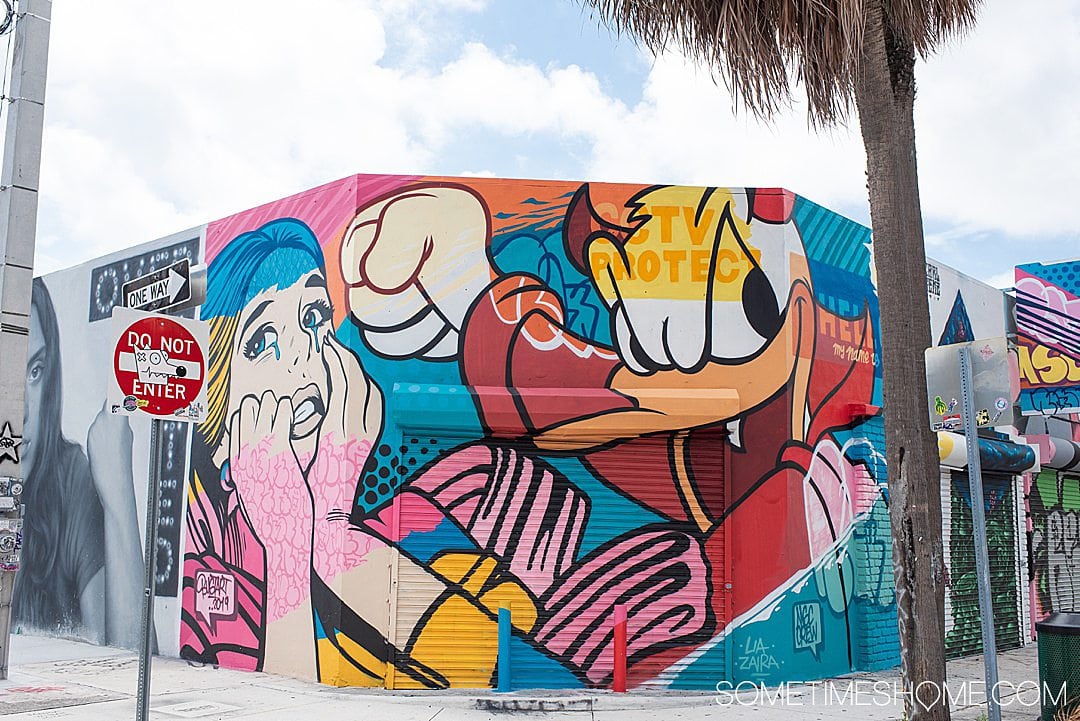 I love the one above by BustArt. We first discovered this Swiss Artist's colorful work in Greensboro, North Carolina.
Fun Things to Do in Wynwood Beyond Wynwood Walls and Simply Viewing Murals
We have seven great ideas for things to do beyond seeing murals in Wynwood:
Find Sculptures
Visit the Museum of Graffiti
Eat (and drink)
Get dessert
Shop (for clothes and art)
Get beers at a local brewery
Cycle your way through the neighborhood on a bicycle pub crawl
Visit Wynwood Marketplace
Safely handle a machine gun
Make a candle (doubles as a souvenir from your trip)
1. Find Sculptures
There's more art than paintings in Wynwood. We were blown away by this wooden troll that reminded us of the famous "Treemont Troll" in Seattle, Washington.
When we passed a heap of tire pieces on the sidewalk, I stopped to look at the front of it, wondering if it was a piece of art. It was – and we were floored but its face.
We also spotted a "flying" raven in the neighborhood. One of the fun things to do in Wynwood is just walking around and keeping your eyes peeled for any kind of art, sculptures included.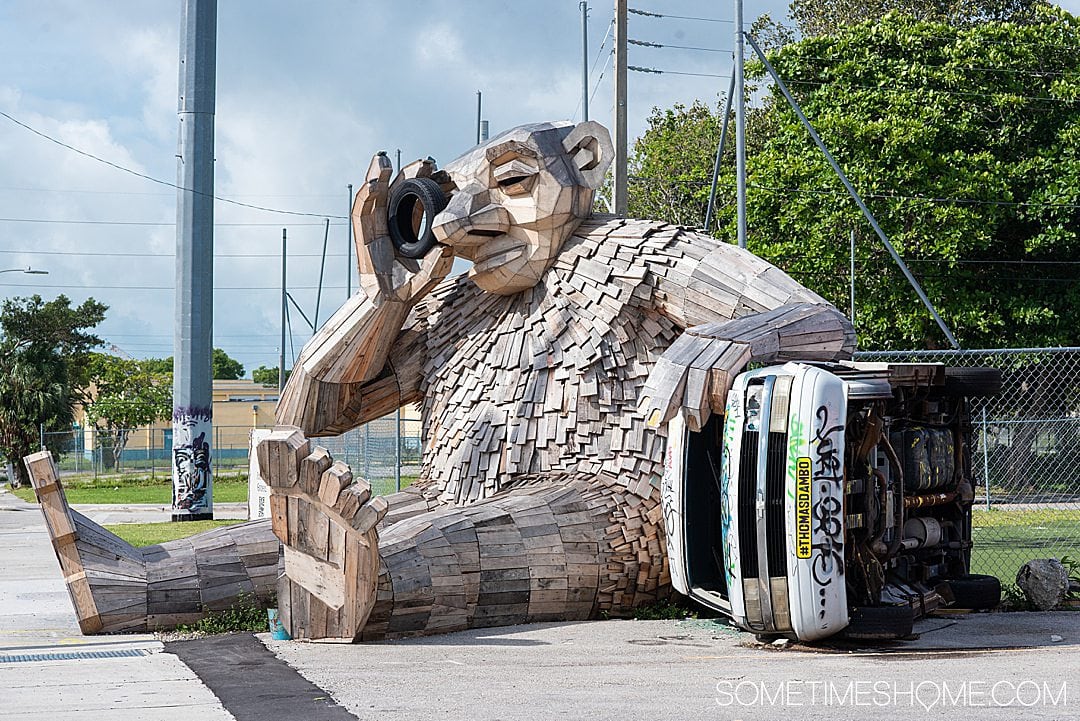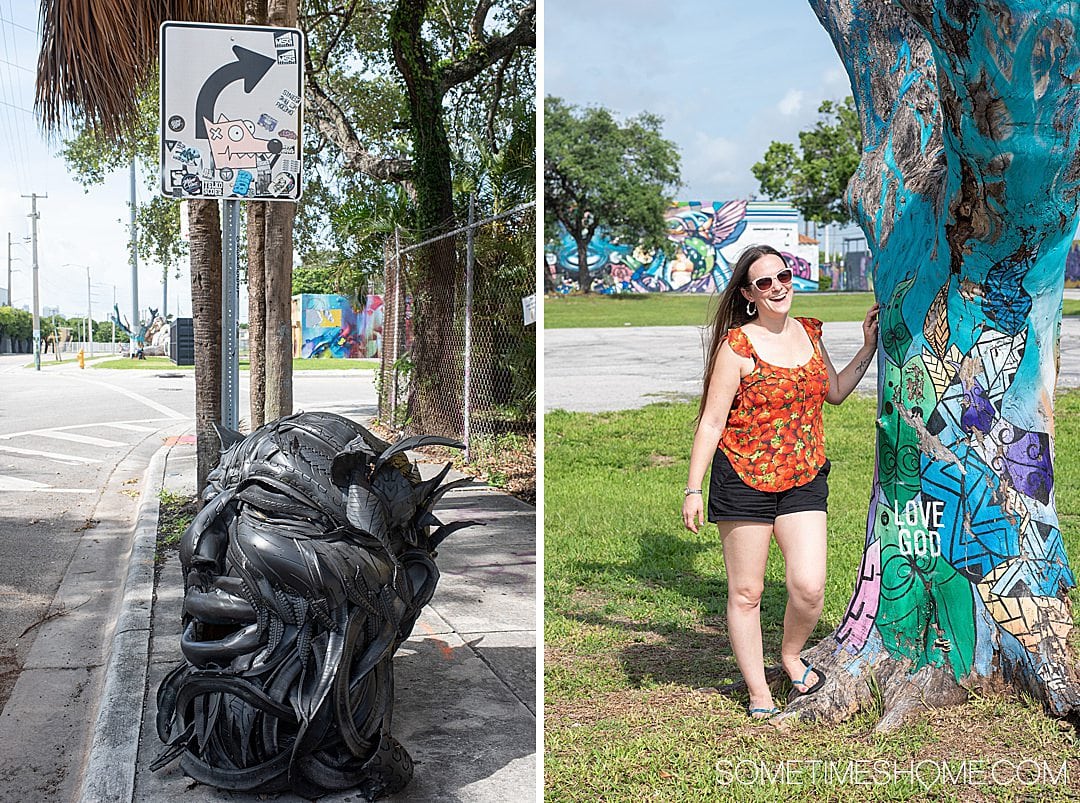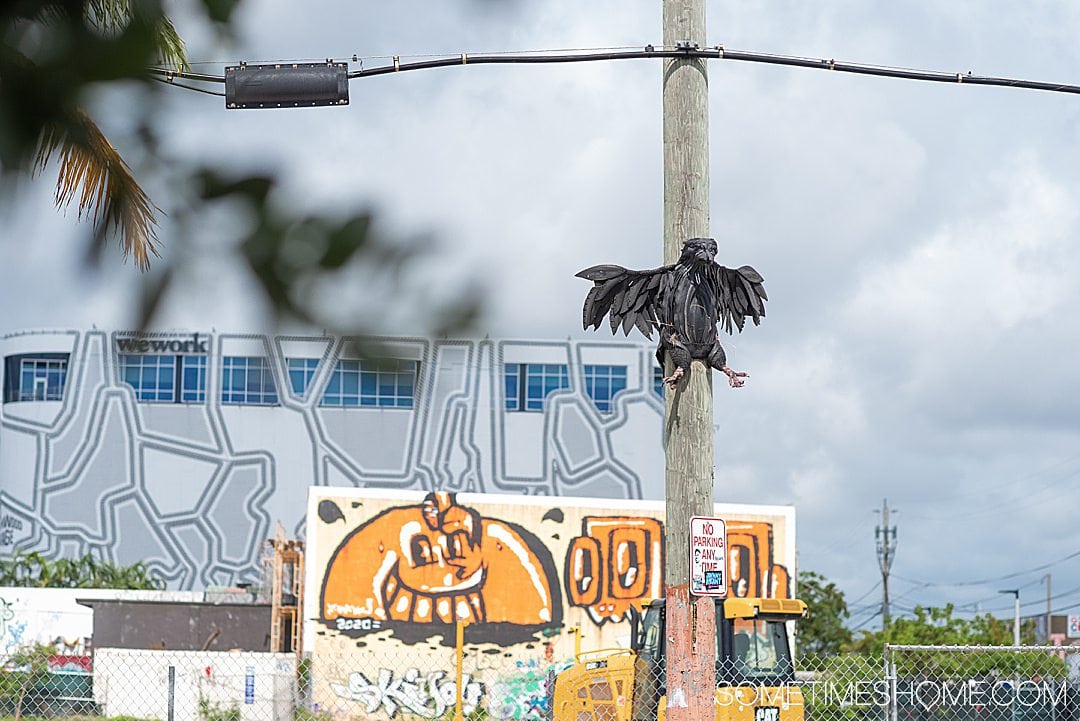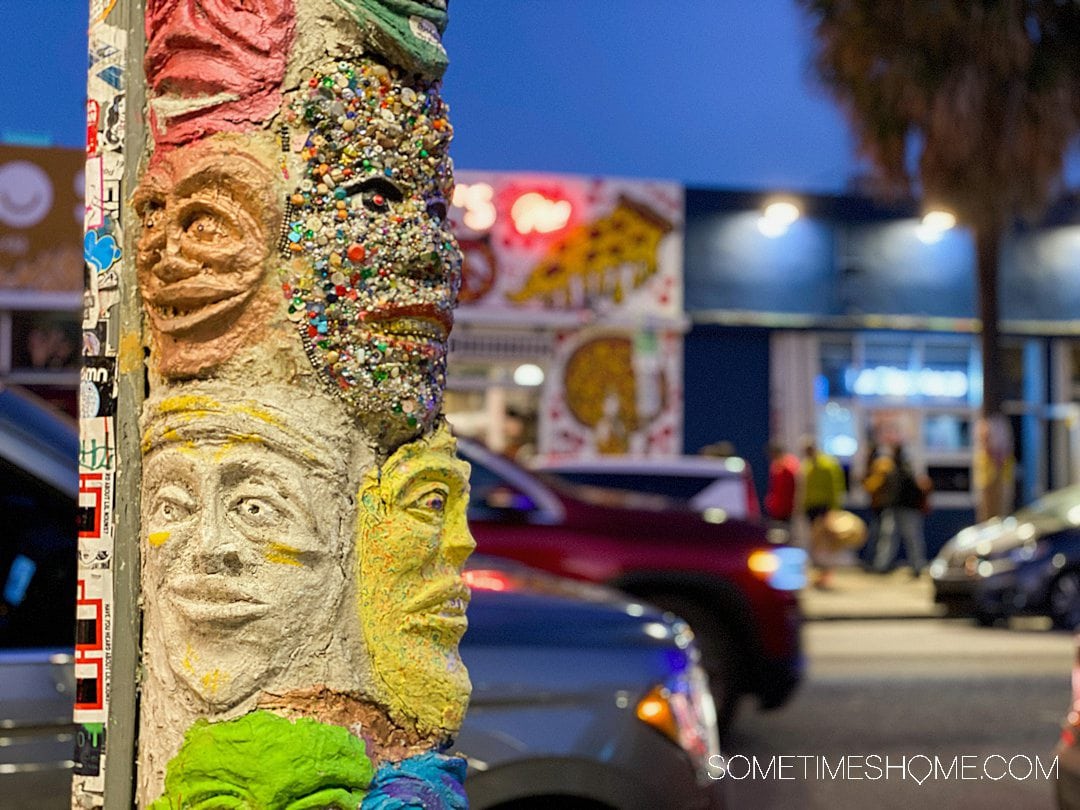 Need to Store your Luggage in Miami While you Explore Wynwood?
Check out Bounce and don't worry about lugging around your suitcase as you take selfies all over town!
2. Visit the Museum of Graffiti
If you want an education about graffiti, visit the Museum of Graffiti. There's a general admission of $16, but it is worth it to open your eyes to the beauty of the art form. It's open seven days a week, and you can book online ahead of time.
They offer guests exhibits, art for purchase, classes (like a beginner graffiti class), and various events by graffiti artists. It takes between thirty minutes to an hour to walk through the museum.
Address: 299 NW 25th Street, Miami, FL 33127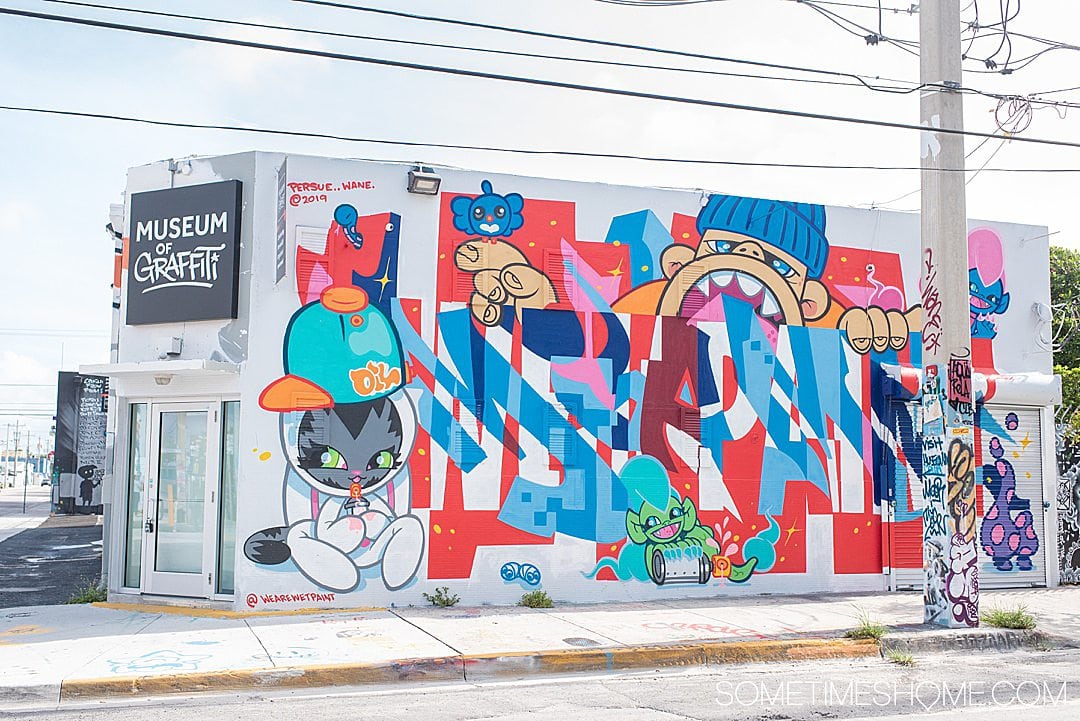 3. Eat at Wynwood Restaurants
Among the fun things to do in Wynwood is eat and drink. Here are some of the best Wynwood restaurants (all within walking distance):
Zak the Baker
If you're walking around and see a building covered in a rainbow of rectangles with "BAKERY" on the outside, you've found Zak the Baker. They bake artisan bread at their Wynwood shop (or at 15 Whole Foods locations throughout South Florida!) and have won too many awards to count.
They serve things in addition to bread, including fresh sandwiches, salads, bagels, avocado toast, and of course, assorted pastries.
R House
R house has a great happy hour from 3:00-7:00pm Wednesdays through Fridays. (Give us all the sweet pea hummus and Yellowfin Tuna Tartare!)
They have a patio space to enjoy that Florida sunshine and a delicious menu, including anything from short rib meatballs to pan-seared snapper.
KYU
Kyu has a wood-fired Asian menu featuring proteins from fish dishes to beef and then some.
They're eco-conscious and operate using green and sustainable methods, including not offering plastic straws. Kyu also participates in a zero-waste citrus program.
Bakan
This sit-down restaurant has ample indoor and outdoor seating. Their affordable menu items like tacos and enchiladas are delicious in flavor and beautiful in presentation.
We loved Bakan's purple homemade flour tortillas they use for tacos and toast for chips. They had perfect flavor and texture. We recommend the Los Esquites street corn, Cochinita Pibil tacos, and watermelon margaritas.
Low Cost and Over-the-Counter Options
Whether you're limited on time or money, there are plenty of low-cost and quick-service dining options in Wynwood.
Zazzy's Pizza
This pizza place with low-key counter service is just across the street from the entrance of Wynwood Walls. Could be great for a snack too if you're a little noshy!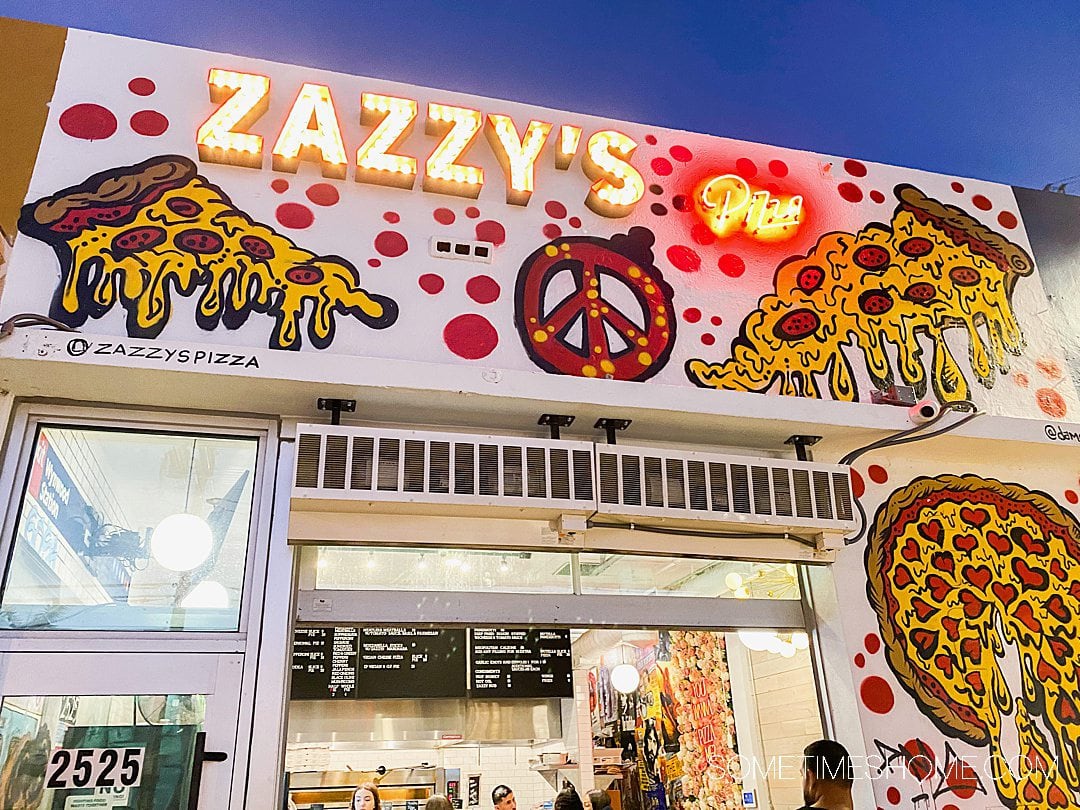 Sweetgreen
If there's any meal I crave when I'm in Florida, it's a refreshing salad. Sweetgreen is an affordable plant-forward quick-service eatery (though they do have meat proteins, too), serving up fresh greens and grains bowls made to order.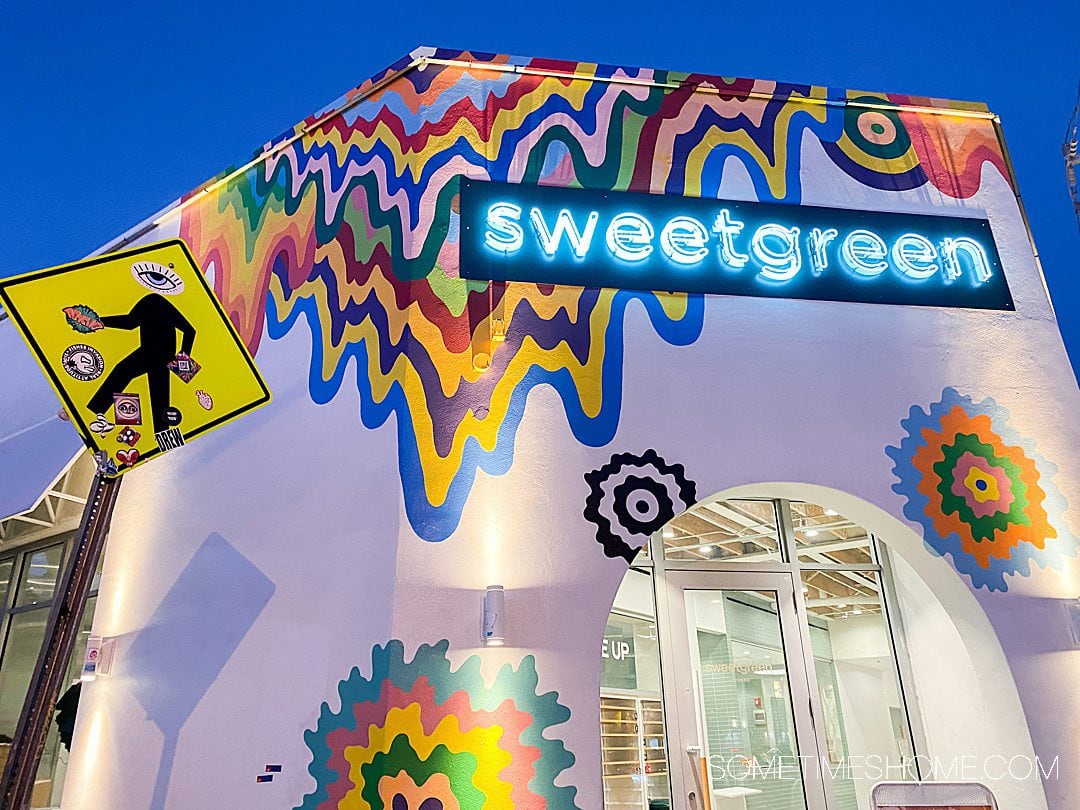 this casual sandwich spot gets rave reviews. You can choose your bread, like a croissant or baguette, and load it up with toppings, including proteins and veggies. Split the sandwich with a friend or between lunch and dinner if you're on a small budget or not that hungry.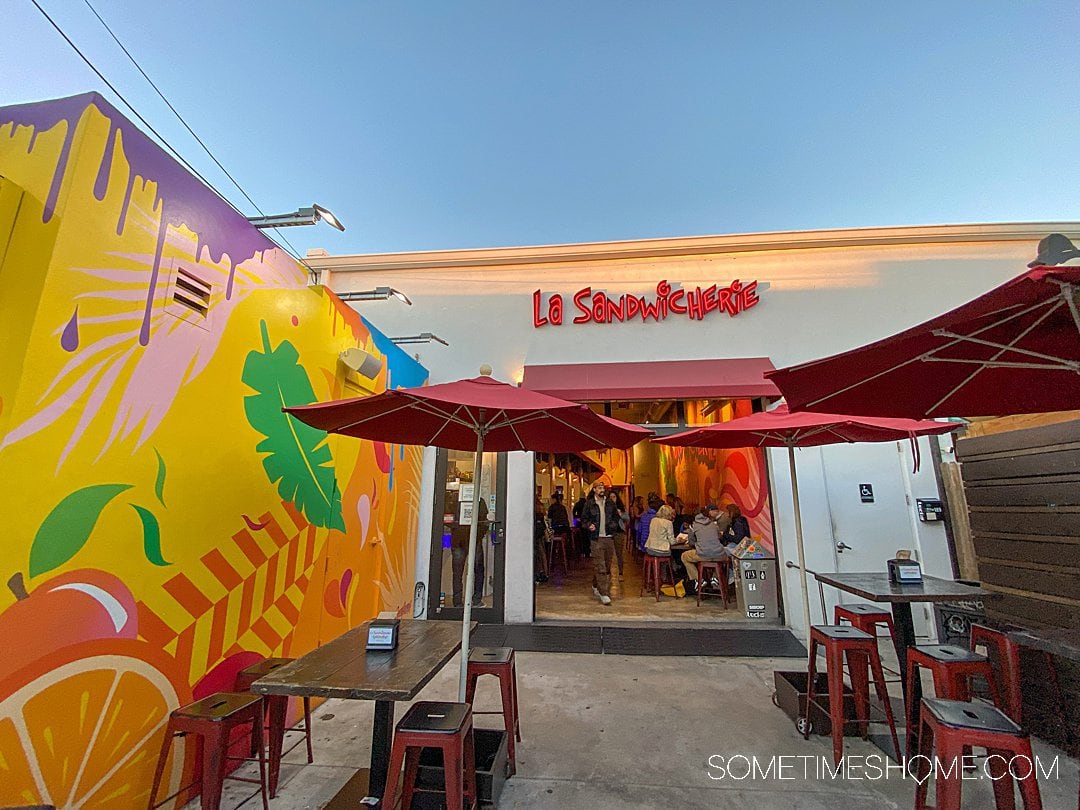 Crazy Poke
We think sushi rice and raw fish are a great idea from any reputable place. And Crazy Poke gets rave reviews for their poke bowls and sushi burritos.
Smorgasburg Miami
If you're familiar with the famous food market in Brooklyn, NY, "Smorgasburg," they have expanded nationwide in key cities like Los Angeles and Miami.
Every Saturday from noon to 7:00 pm, you'll find an eclectic mix of food vendors in an outdoor area of Wynwood, selling everything from Kombucha to lobster rolls, dumplings, milkshakes, bao buns, tacos, paella, and more.
Address: 2600 NW 2nd Avenue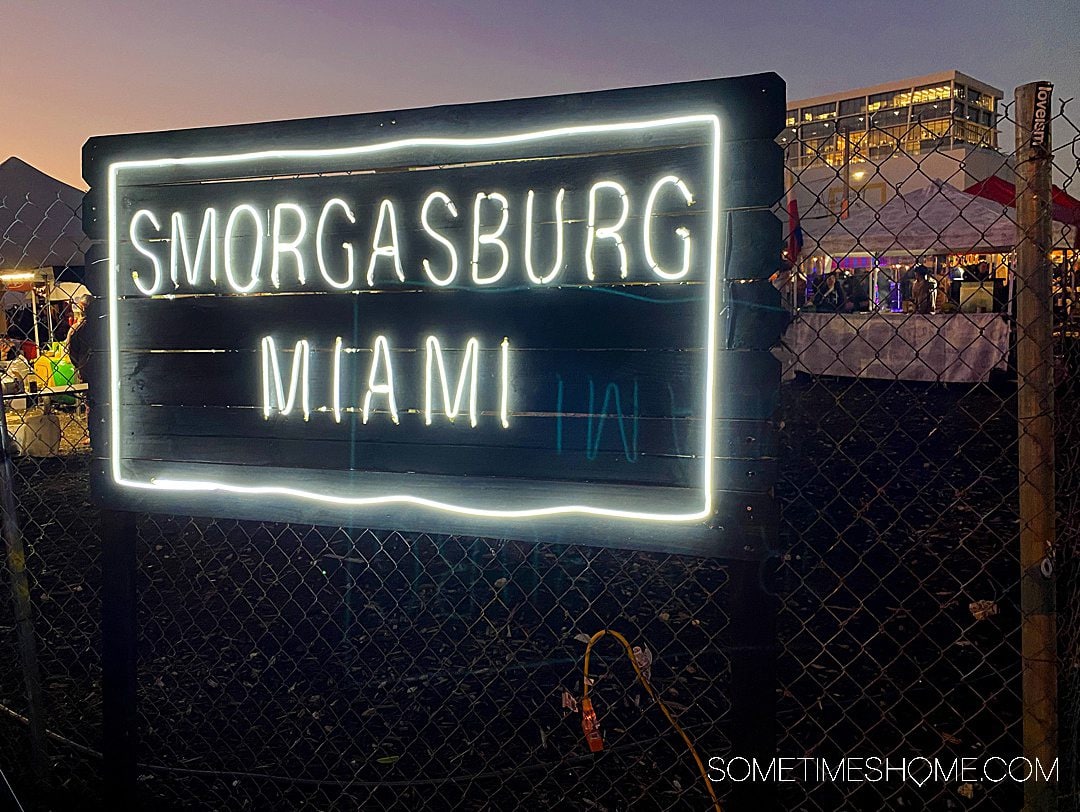 If you want to try a few things from a bunch of places and love Asian food served in a casual setting, this is the place for you.
This food hall has various restaurants, including food options like sushi, dumplings, bubble tea, and even ice cream.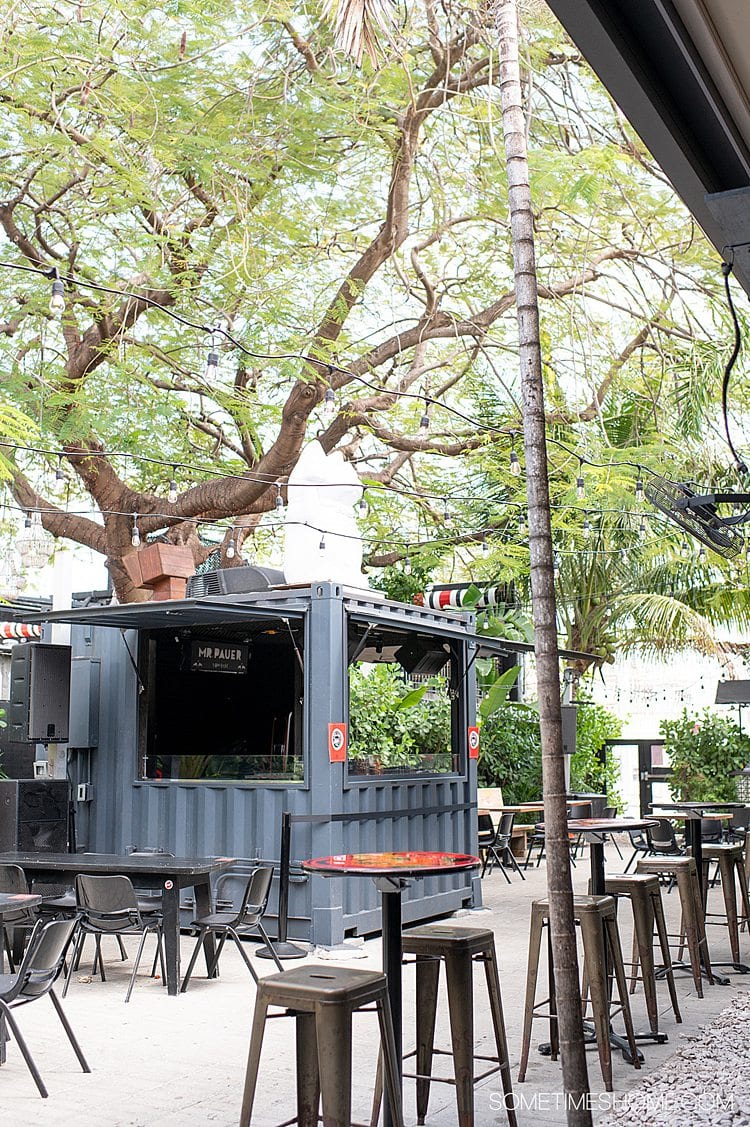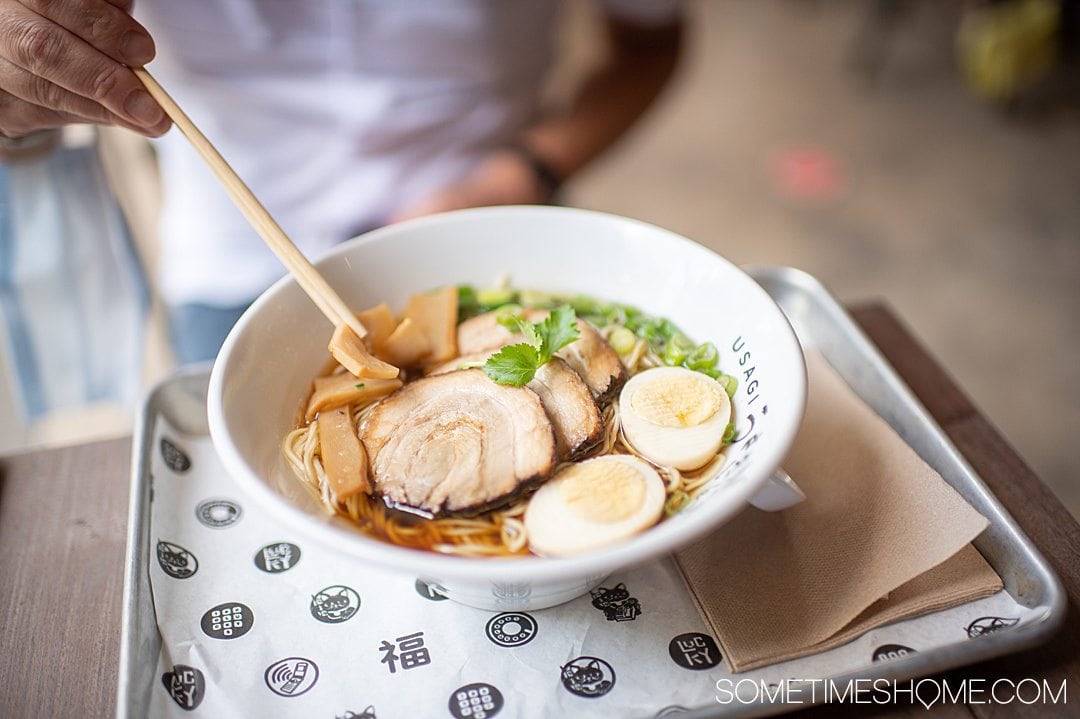 4. Fun Dessert Things to Do in Wynwood
Night Owl Cookies
If you absolutely love cookies, you must include a stop here on your fun things to do in Wynwood list!
Their sugary cookies are often served warm, and you can sit at cute sprinkle tables inside the shop. (How delectable they are reminded us of Gideon's cookies in Orlando.) Reviews proclaim they're the best cookies in Miami!
Ice Pops/Paletas
It would be usual for you to be craving "something cold" in the Miami heat. Morelia Gourmet Paletas serves Mexican ice pops made with 100% natural ingredients.
You can choose a pre-made pop or create your own flavor and topping combination on the spot. The company is named after the location in Mexico where the first paleta was believed to have been invented. And they now have several locations and shops within South Florida.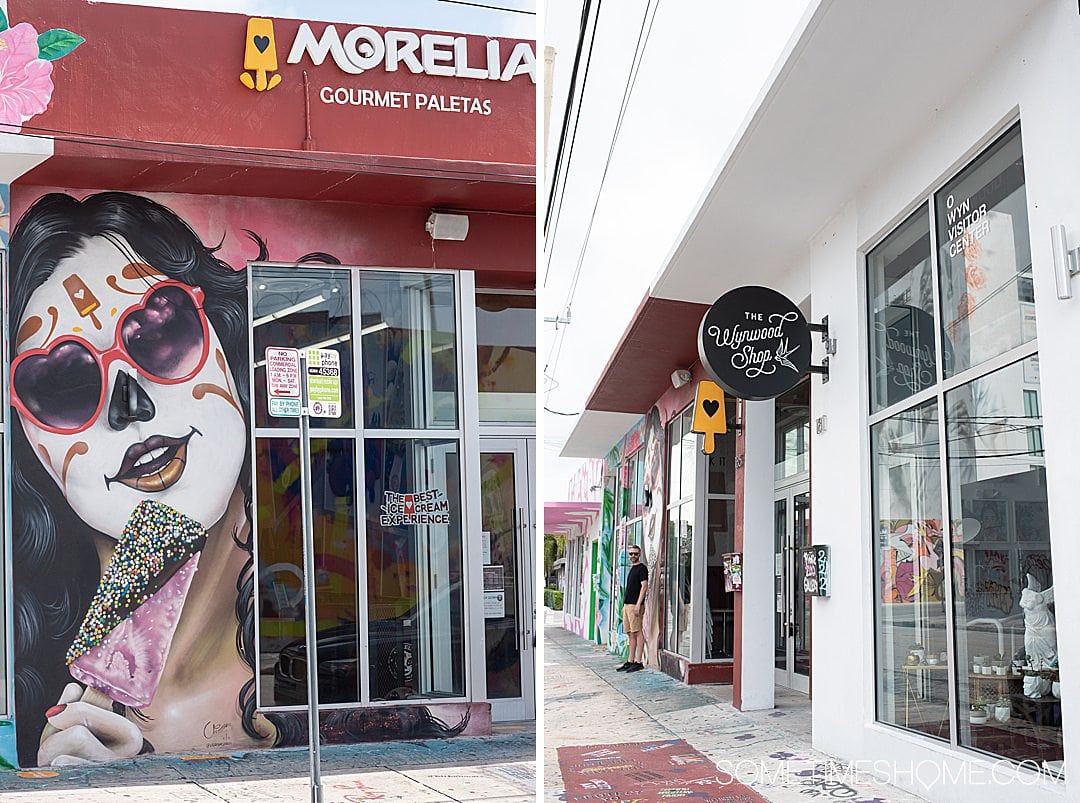 Ice Cream
Stop at Nabati ice cream to beat the Florida heat! They're 100% plant-based, which is great if you're dairy-free.
The shop's owner and head chef, Ola Kayal, graduated from Switzerland's Culinary Arts Academy. So we are sure she knows a thing or two about great foods and desserts.
Another place to get ice cream is Wynwood's Dasher and Crank. Deemed the "Best Ice Cream in Florida," they have plenty of flavors to choose from and ways to eat it, including in ice cream sandwich form. They also have a Matcha Cafe inside.
Instagram-Worthy Soft Serve
Have you heard of Japanese ice cream served in fish-shaped cake cones? Taiyaki NYC is famous for it. And they have a location in Wynwood, Miami!
Not only is it photo-worthy ice cream, but the flavors are hard to find elsewhere, and it tastes so good. It's difficult for me to find flavors like black sesame in the states otherwise. (I fell in love with it in Japan.) But Taiyaki has it.
Note that this location of Taiyaki is a little kiosk/shipping container inside the 1-800 Lucky food hall area.
Coffee and Tea
If you want coffee, tea, or even wine and beer at a casual meet-up spot in Wynwood, check out Panther Coffee. Grab a pastry to go with your drink.
Crepes
Giache Crepes is a great place if you have a sweet tooth or you're with someone who prefers something savory for a snack or dessert.
They offer sweet and savory crepes that they roll or stuff with ingredients, depending on your order. They also offer waffle pops!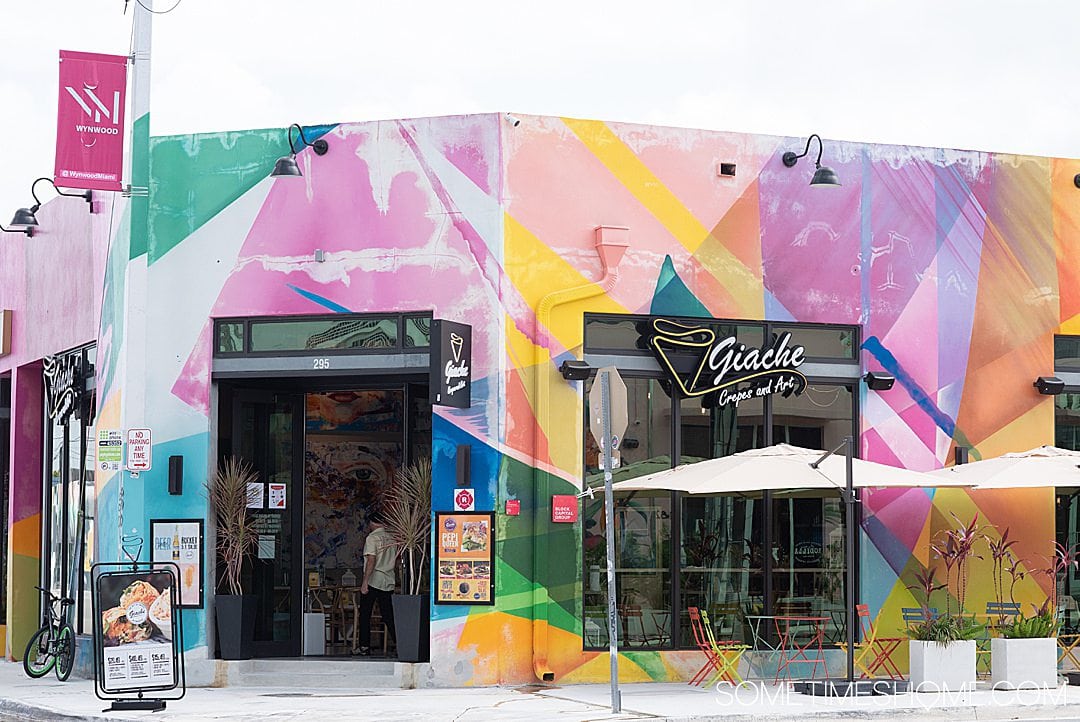 Donuts
The Salty Donut is a place that serves beautiful donuts. And let's face it…the donut craze isn't going away any time soon. They've been voted as a top donut place in the country by many outlets (Thrillest, Zagats, Business Insider, etc.).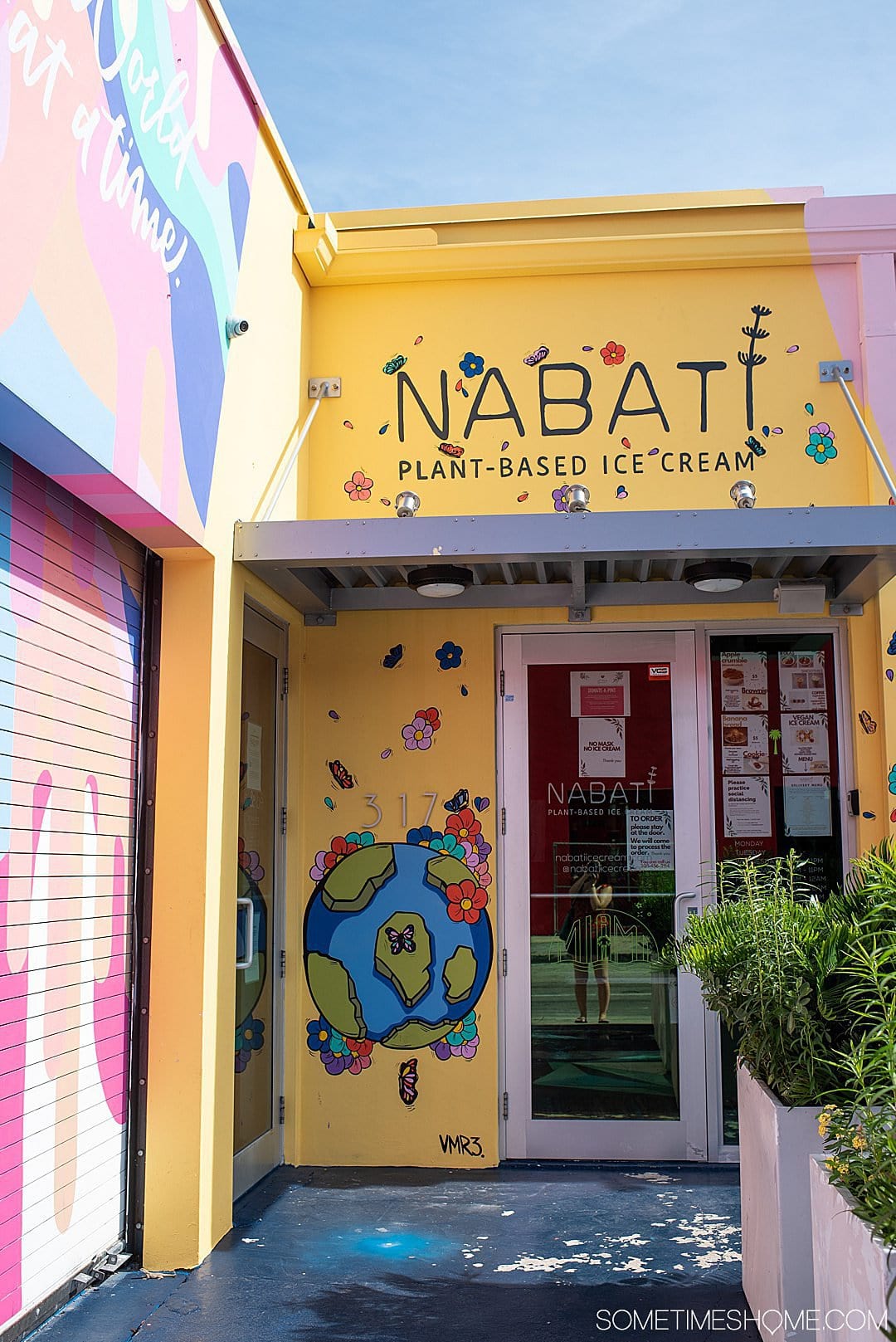 5. Shopping in Wynwood
There are several cute boutiques in the area if your version of fun things to do in Wynwood includes shopping! There are also shops to get your own piece of art to take home, in addition to more upscale galleries.
These include:
Clothing stores, like BASE and Marine Layer (very coastal-hip).
The Wynwood Shop: It's definitely worth stopping in. It's a boutique store that sells men and women's clothing and jewelry, but also things like art prints and enamel pins. They even sell Street Art Coloring Books!
And of course, the gift shop at Wynwood Walls. (Which is free to visit if Wynwood Walls is open.)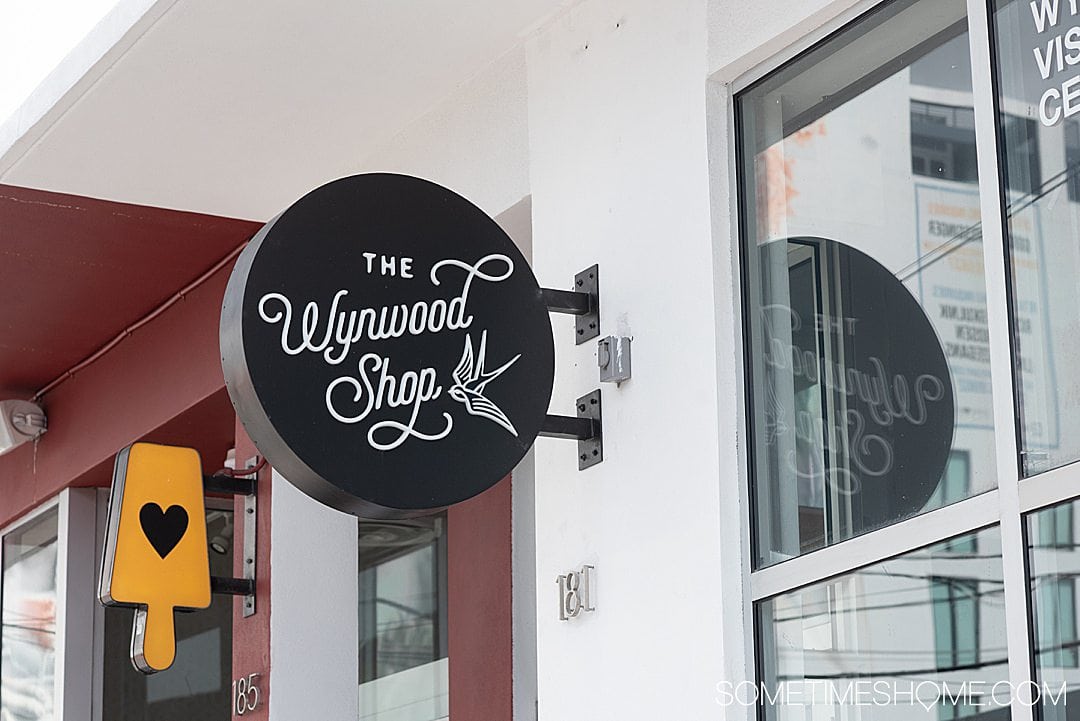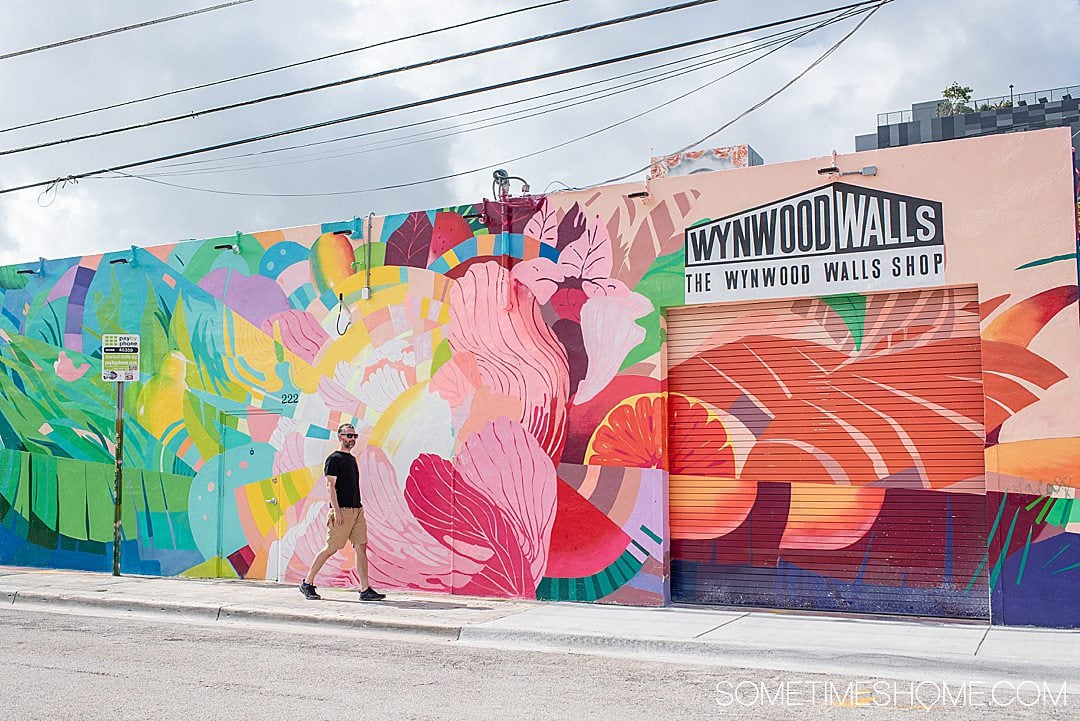 6. Drink Beer at a Local Brewery
There are three great options for craft beer in Wynwood, which is a solid amount for the size of the area…
J. Wakefield Brewing
If you're wondering where a Star Wars mural is in Wynwood, you'll find it at this brewery. This fun watering hole proudly displays a Star Wars theme inside its taproom, as well as a playful comic book vibe on its website.
They have a weekday happy hour from 4:00pm to 7:00pm, offering $1 off beers. They also often have food trucks on site.
Wynwood Brewing Company
A father and son duo started this craft brewery in Miami. They have 18 beers on tap in their Wynwood tasting room.
Veza Sur
This local brewery has Latin and American roots (very Miami). Veza Sur has a beautiful indoor space that's pretty cozy and an outdoor patio that's dog friendly.
Moreover, they have a great happy hour and also offer brewery tours. If you're hungry, this could be the best way to quench your thirst and appetite – their Peruvian food gets rave reviews.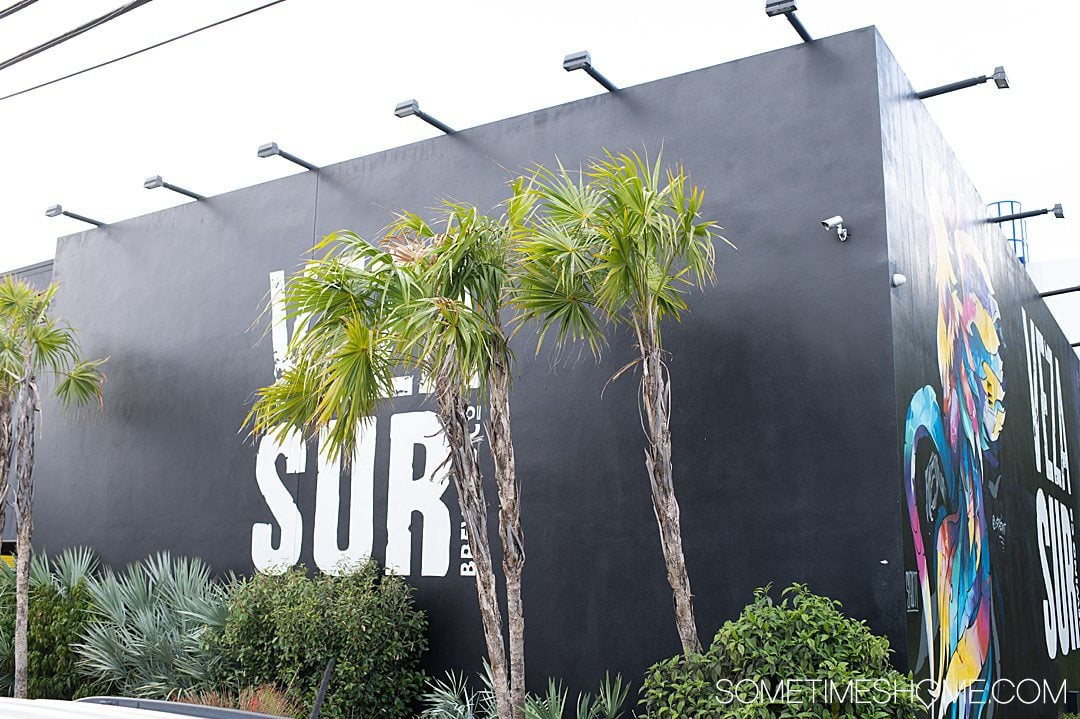 Cerveceria La Tropical
What started as a Cuban brewery in the 19th century has made its way to Wynwood. The brewery, which has survived being exiled from its home country, has been passed down through the family from generation to generation.
But not without a fight! Manny Portuondo is the 5th generation owner who fought to bring the family company back to its glory after the business was taken, at gunpoint, during the Cuban Revolution.
Fast-forward to the 21st century, when Manny's passion project paid off! Heineken invested significant money to bring La Tropical to the Wynwood Arts District. And since 2020, we can all enjoy it.
They offer over a dozen beers on tap and a Cuban-inspired menu of appetizers, entrees, and desserts. The brewery is closed on Mondays.
Cerveceria La Tropical Gives Back
Take a walk in their Jardine, and you'll see a beautifully landscaped paradise. This partnership with Fairchild Tropical Botanic Garden has a philanthropic twist: $1 from every growler and brewery tour goes towards the One Million Orchid project, aiming to bring native orchids back to Florida.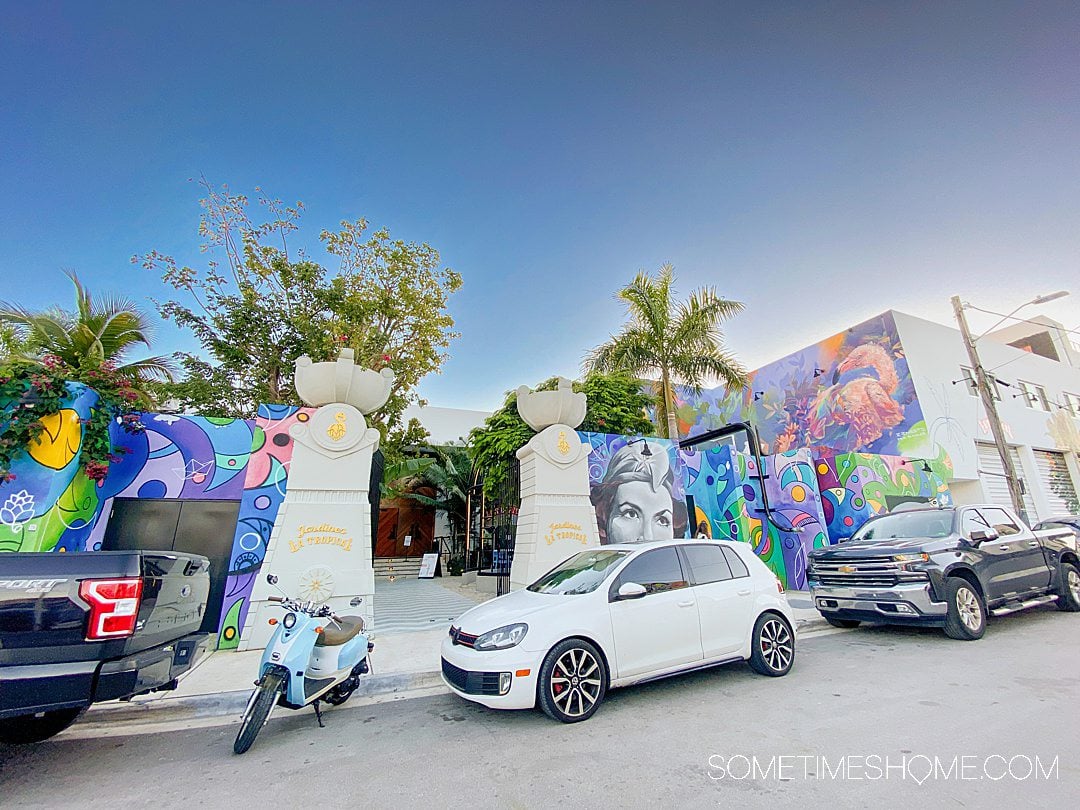 7. Cycle Your Way Through Wynwood on a Bicycle Pub Crawl
If you have a group of people and you're looking for something fun and different to do through Wynwood – and you enjoy beer – sign up for this pub crawl tour.
It just so happens one of the fun things to do in Wynwood allows you to exercise, explore, and drink! You'll bicycle your way through the neighborhood on a contraption that can accommodate up to 15 people.
Don't worry if your legs tire of pedaling during this two-hour tour – you stop at bars and aren't pedaling the whole time. And, truthfully, you don't even have to pedal to make the vehicle move. The novelty of the experience is the most fun and important part.
8. Go to Wynwood Marketplace
This destination is a collection of food vendors in an outdoor food hall, of sorts, plus a stage for live music performances and an outdoor lounge bar area. There are also a few murals inside that are prime for Instagram photos, as well as vendors selling things like clothing.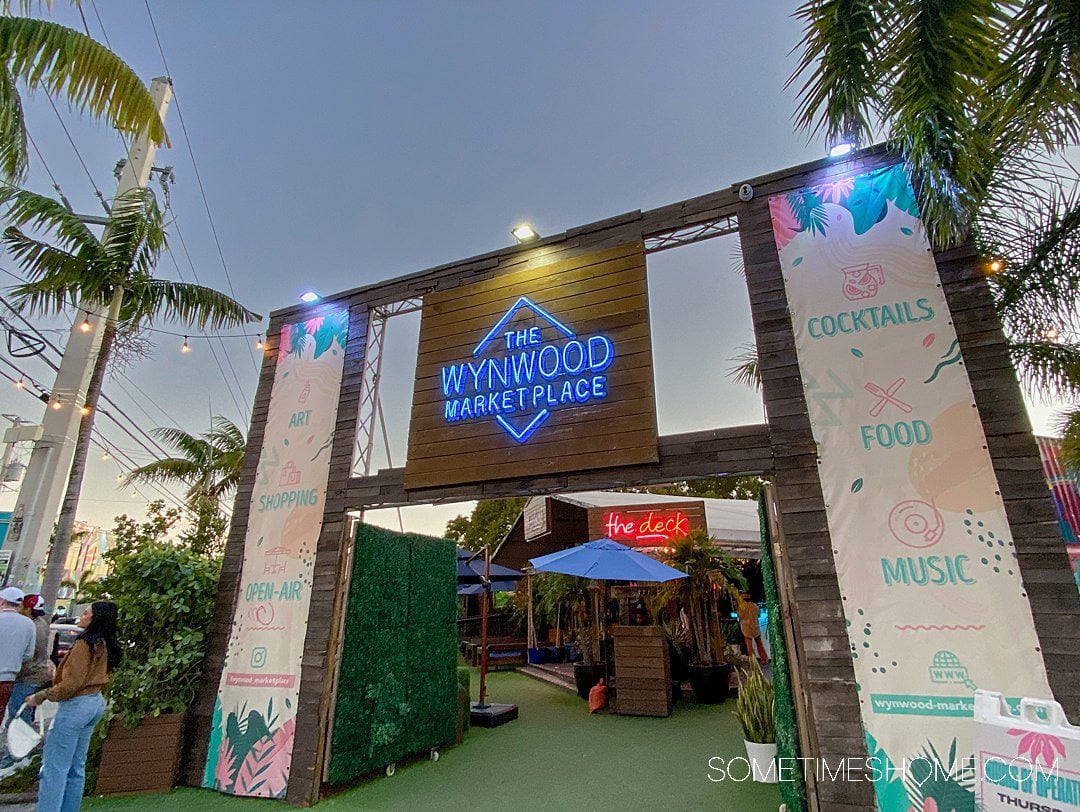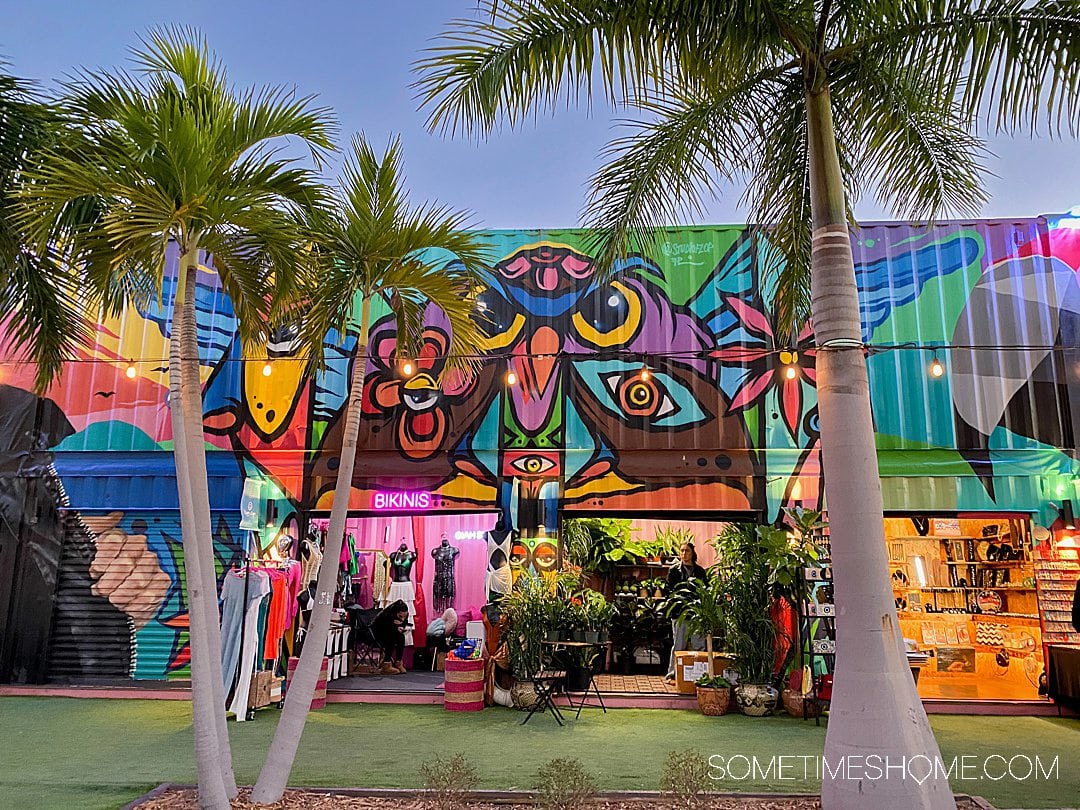 9. Safely Experience Handling Exotic Firearms at Lock & Load
Believe it or not, there is an indoor gun range in Wynwood, Miami. If you sign up to go to Lock & Load, you'll have one-on-one instructions from a firearms specialist who is a former military veteran.
What better way to learn the proper and safe way to handle an exotic firearm – including machine guns – and get a chance to shoot at a paper target. The machine gun experience lasts approximately one hour; you will certainly feel an adrenaline rush!
10. Make a Candle
At Candle Land Miami, you can create a candle to take home as a keepsake from your trip or a fun day out with friends. They have three locations in Florida, and its flagship location is in Wynwood.
You choose your vessel, then select your scent. You can add things like petals or sprinkles to the wax that you pour into the vessel with a wick in it, then wait for it to dry. Voila – you have a useful keepsake ready to take home!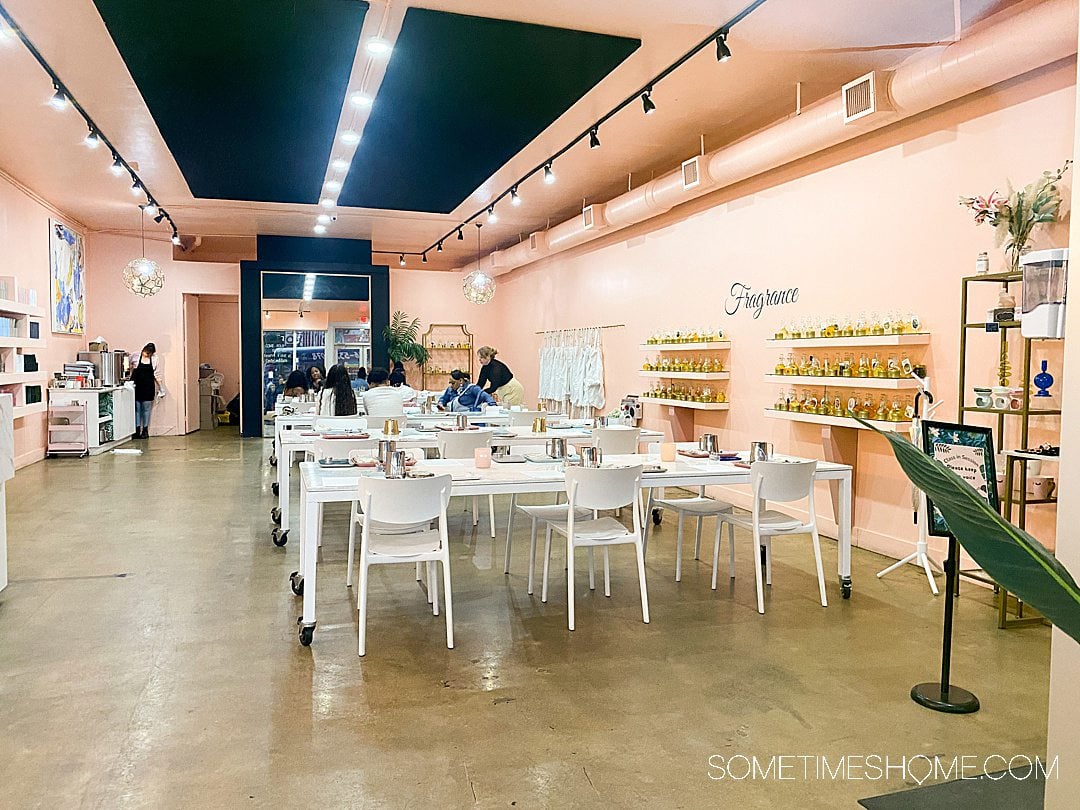 Where to Park at Wynwood Walls
It's not difficult to park in the area – simply find a nearby garage (which may be your best bet if it's peak time) or find street parking.
Parking in Miami is around $3 an hour for street spots, which you can pay for via the "PayByPhone" parking app.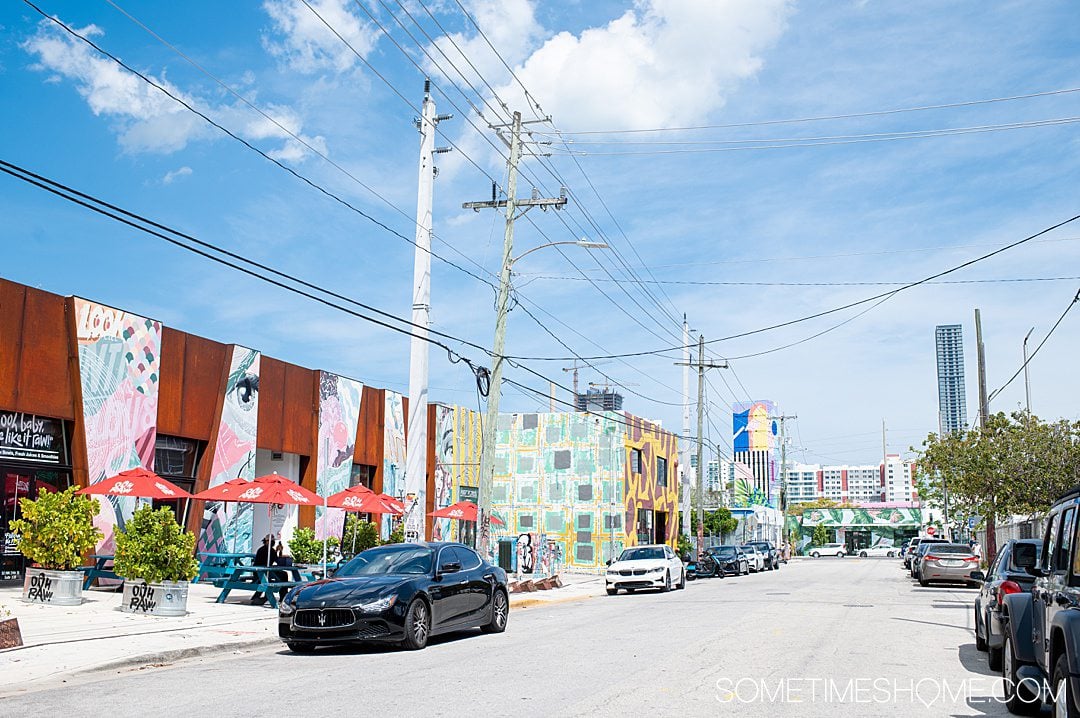 The best parking garage to aim to park in if your fun activity in Wynwood, Miami is walking around to see the murals is The Wynwood Garage. It's just under $10 for two hours – it's pretty much the same price as street parking in the area.
It's also very attractive and photo-worthy if you want to stop by to see it, even if you don't end up parking there.
Wynwood Garage address: 311 NW 26th St, Miami, FL 33127 (Try booking your parking spot online with Spot Angels.)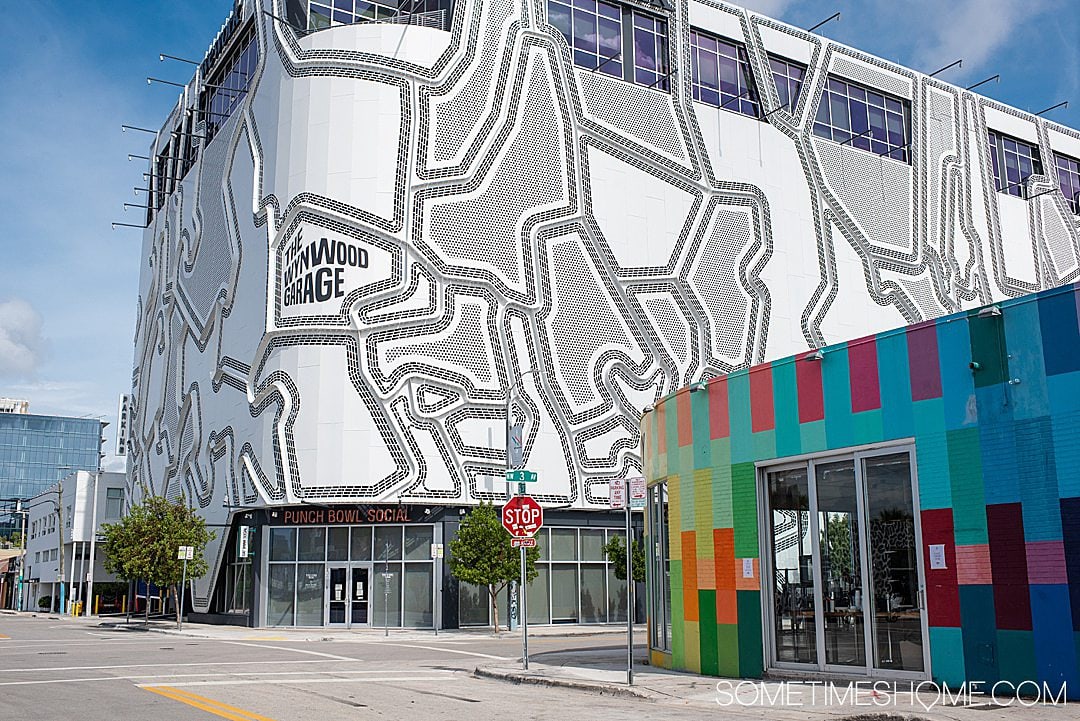 Distance to Wynwood from Other Miami Locations
Don't let the fact that Miami is one "city" with many things to do deceive you. It's BIG, and you'll need a vehicle to get around in most instances.
For example, if you're flying into town from Miami International Airport, we recommend renting a car for your time in Miami.
Don't Postone Renting a Car!
Even if you need to pay for parking at your hotel and street parking throughout the city, it could be worth it for the freedom of having a car and not having to deal with the hassle of Uber (which is very often on "surge" rates).
We recommend Discover Cars for its ease of use, great options, and great customer service.
Below are the times it takes to drive from Miami's popular neighborhoods and local airports to the Wynwood Art District, without traffic, in a private car.
You can take buses to navigate the area if you rely on public transportation. In that case, plan for driving times that are double or triple what is listed below.
Downtown Miami: 15 minutes
Miami International Airport: 15 minutes
South Beach: 20 minutes
Key Biscayne: 30 minutes
Fort Lauderdale-Hollywood International Airport: 35 minutes
Key Largo: 1 hour 40 minutes
Key West: 3.5 hours
Luggage Storage in Miami, Near Wynwood
Need to store your luggage in Miami while you're in Wynwood's art district? Check out Bounce luggage storage for neighborhood availability.
Need to Store your Luggage in Miami While you Explore Wynwood?
Don't worry about lugging around your suitcase while you take selfies all over town…
🧳 Bounce has limited availability!!
Fun Things to Do Nearby in Miami Design District and Little Havana
Tour the Neighboring Miami Design District
There are plenty of fun things to do in Wynwood. But if you're game to venture just 10 minutes from the streets of Wynwood, we recommend visiting the Design District of Miami. Why not make a complete day of your trip?
There are upscale shops here (think: Gucci, Christian Louboutin, Balenciaga, Creed) and a few places to eat or grab a coffee. The well-designed shopping center is worth a walk around.
You can also sign up for a tour of Miami's Design District, where you'll get a guided walk of Palm Court and enjoy generous food tastings.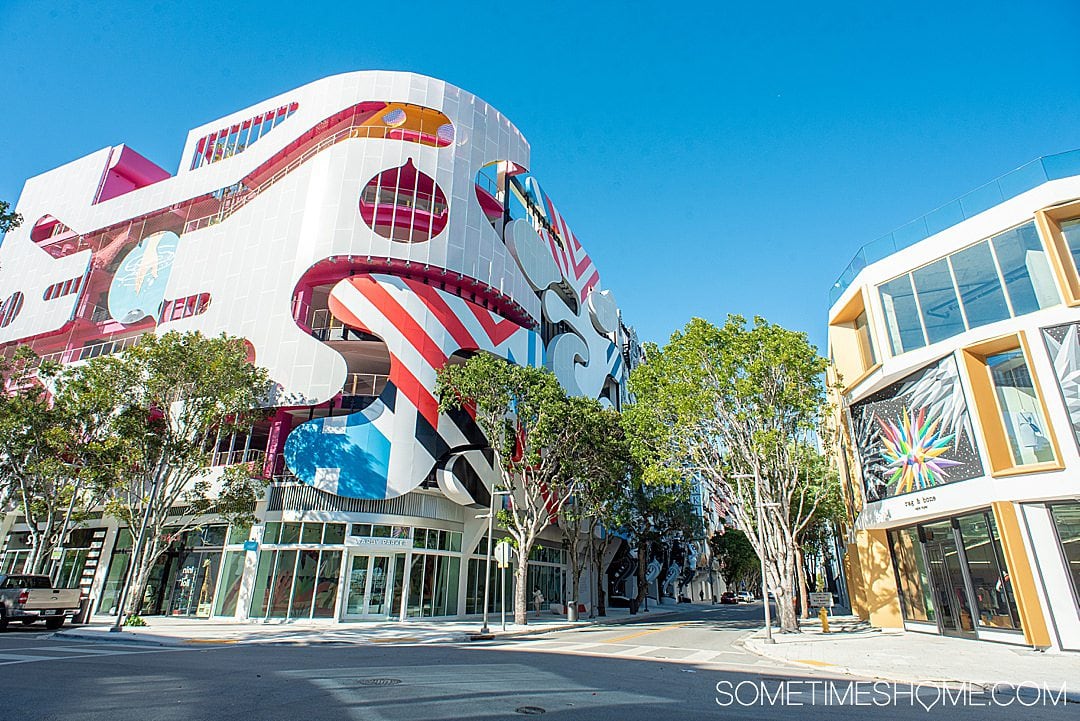 We also recommend a visit to the Institute of Contemporary Art. Admission is free, however, reserving tickets in advance online ahead of time is recommended.
The parking garage across the street from there is the coolest we've ever seen (truly). And the art along the street where the museum is located (NE 41st Street) has some pretty noteworthy art above eye level as well.
Street parking in the Design District is pretty much the same cost as in Wynwood. We recommend valet parking because when you compare their one-time fee to several hours of street parking, they are nearly equal in cost.
If you don't want to valet your car and can't find street spots then try the garage, located across from the museum. (Simply put "Museum Garage, NE 41st Street, Miami, FL" in GPS.)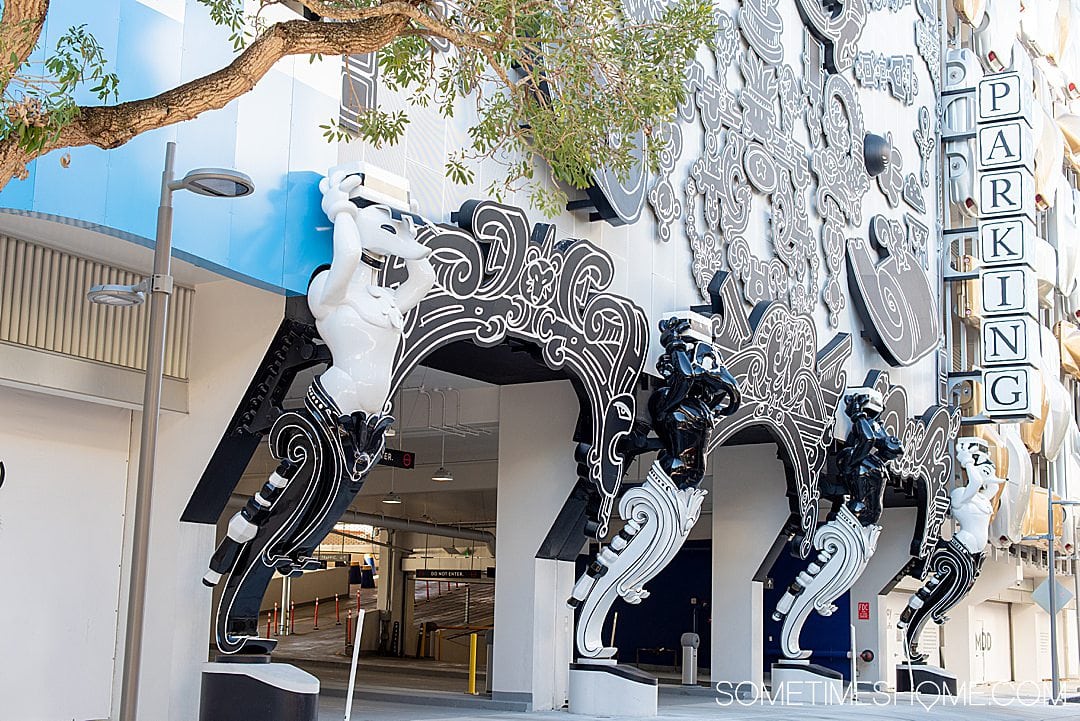 Enjoy Time in Little Havana
Another awesome neighborhood in Miami, which is south of Wynwood, is Little Havana. We had a lovely day there and felt the rhythm of Latin cultures through the vibrant music in the neighborhood bars, the delicious Cuban cuisine in the restaurants, and the street art in town.
You can sign up for this tour, which offers everything you could want in exploring the area: education about Cuban culture, a mojito and a snack, and seeing local landmarks!
There is plenty to do and see near Wynwood, Miami. Check out nearby Miami Design District and Little Havana, or go on a boat ride in Miami to see the coastline from another view.
Go on a Miami Boat Tour
Another fun thing to do in the Miami area is to take advantage of the water surrounding the city. Head out on a boat tour!
Tips When Touring the Wynwood Neighborhood
Prepare for Hot Weather
Miami is HOT most of the year. Protect yourself from the heat and sunshine with these items to keep your body hydrated with water, eyes shielded from the sun with sunglasses, and the potential threat of bug bites affecting your day far, far away (with our favorite little tool, Bug Bite Thing):
It Gets HOT
This is south Florida. It gets HOT. So bring water, sunscreen, and sunglasses. Stay hydrated and protected from the sun. (Bring your reusable water bottle!)
It Gets Busy
This is a popular spot for tourists so expect to contest with crowds. However, seeing as the neighborhood and the surrounding area have so many great things to do, hopefully, people will be spread out amongst the streets and Wynwood's attractions anyway, as everyone does their best to experience Miami.
Plan to Walk Around, Not Just Drive Around
It's an area where it's best to park then walk. Thus, wear comfy walking shoes.
Be Respectful (and Tag the Artists)
Respect the art and the people in Wynwood who worked hard to make it such an amazing attraction. The great thing about the murals is that almost all of them are tagged with the artist's Instagram account.
If you're posting a mural to Instagram, please take the extra few seconds to look up the artist. It's proper etiquette, and you wouldn't have the art piece to share with your social media followers if it wasn't for them creating it.
This is also a cool way to communicate with the artist if you wish. We tag every artist whenever possible to credit the creator. And it's common for us to get a note from the artist saying "Thank you!" or a repost.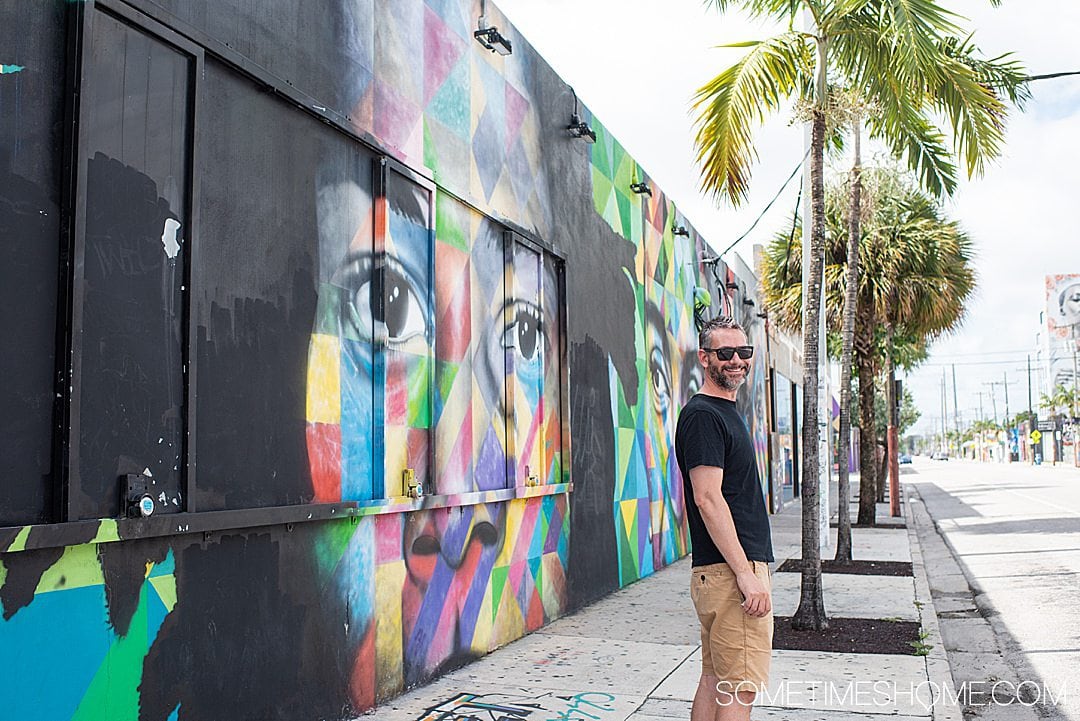 🎨 Where to Stay Near Wynwood 🖌
Marriott Hotels
We love Marriott resorts because we have a Marriott Bonvoy American Express and the rewards points let us stay at their hotels for free. Yup, for free. (We use points, naturally)
Here are a few nearby Marriotts:
Additional Options
---
Heading to Florida? Read this next: