Armature Works Restaurants in Tampa: the Historic Food Hall with Something for Everyone
We sipped cocktails as the Florida sunshine gleamed through the windows contemplating which of the Armature Works restaurants we'd enjoy for lunch.
The well-designed and incredibly decorated food hall, called Armature Works, is inviting and relaxing. Armature Works restaurants in Tampa will delight and surprise its visitors; it's oozing with options for everyone – from Japanese ramen to Cuban pork sandwiches – and drinks from cocktails to coffee.
Disclosure: There are affiliate links in this post, which means we may earn a small commission if you click the link and proceed with a purchase, at no cost to you. We truly only recommend hotels, products, and services we personally use. As Amazon Associates, we earn from qualifying purchases.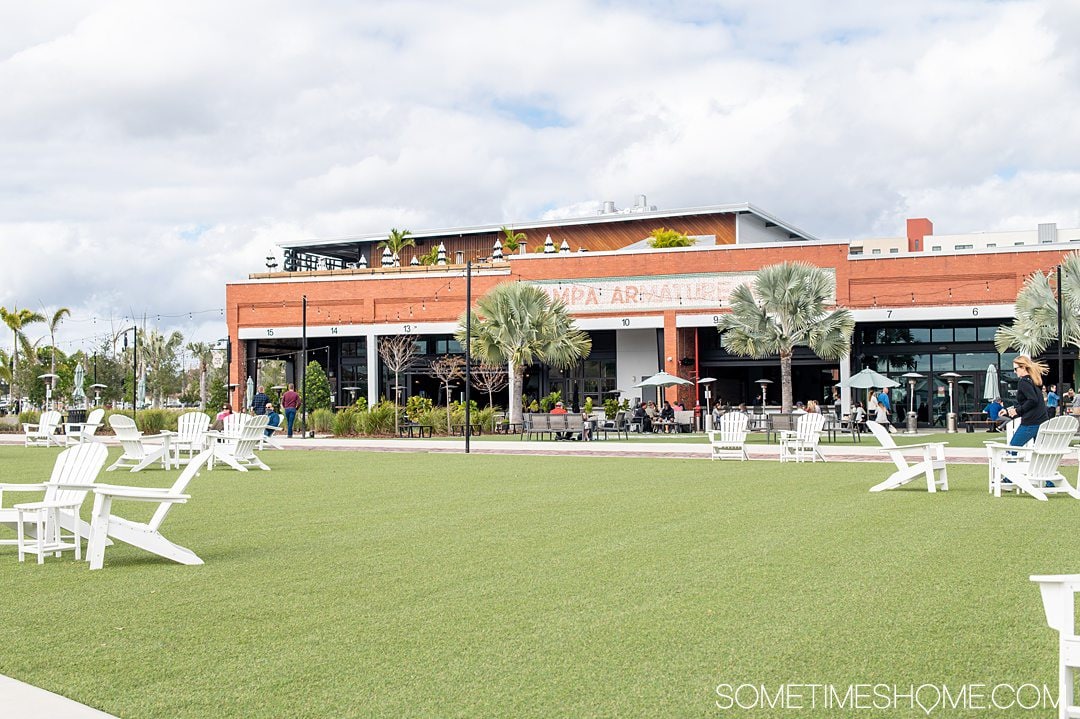 Location of Armature Works in Tampa Bay
Tampa Bay has distinct neighborhoods that add to the character of this wonderful west coast city in Florida. Armature Works is located in The Heights neighborhood. The family-friendly area has a bit of a hipster vibe and seems to somewhat focus on the growing population that appreciates art with their urbanism.
This flourishing area was the perfect home for this food hall in Tampa Bay Florida, on the Hillsborough Riverfront.
Is there Free Parking at Armature Works?
There is plenty of parking (which we also discuss in this post about where to eat in Downtown Tampa) in an adjacent lot. There is also limited free street parking.
We have to admit, we've been there when the parking is absolutely packed and we wish we Ubered there or took a Lyft there instead. Consider a rideshare option if you don't have a lot of parking patience!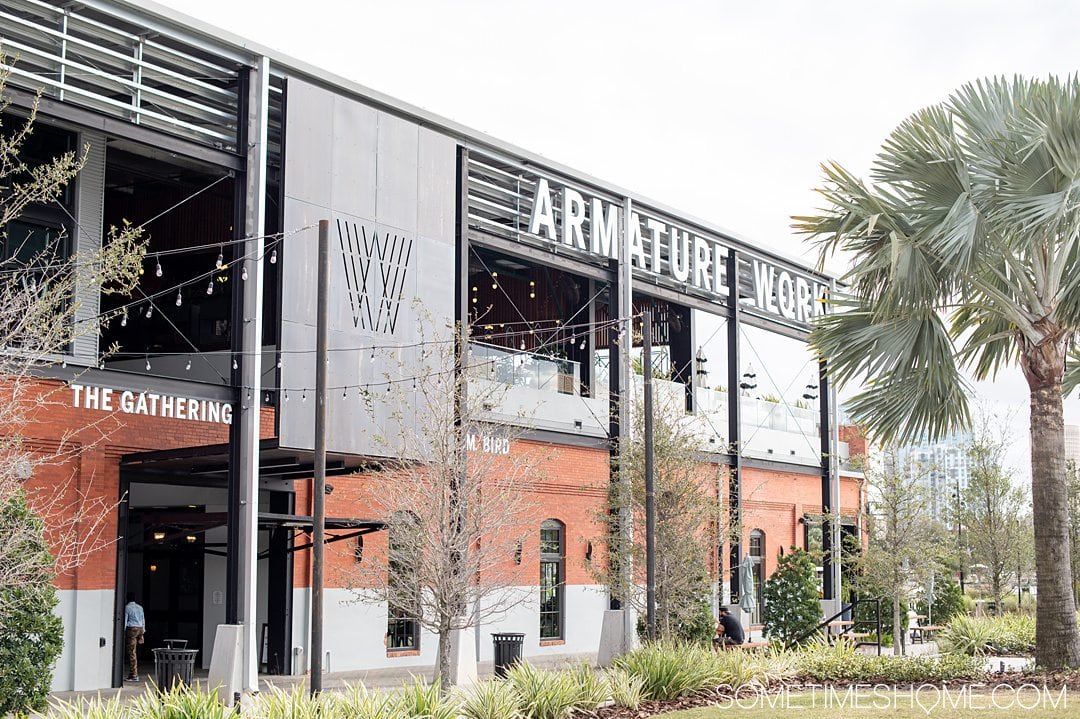 History of the Public Heights Market and Tampa Armature Works
The history of the building that houses Armature Works restaurants and its spaces gives it additional character and significance. It once housed Tampa's electric streetcars during the second decade of the 20th century, which were the city's main mode of public transportation at the time.
When automobiles became more prevalent the building was sold to a phosphate company in 1960.
As the electric streetcars in the 73,000 square foot building were once a vital part of connecting Tampa Bay's neighborhoods the building is once again an integral part of bringing people together. Today, The food hall occupies 23,000 square feet of the entire building.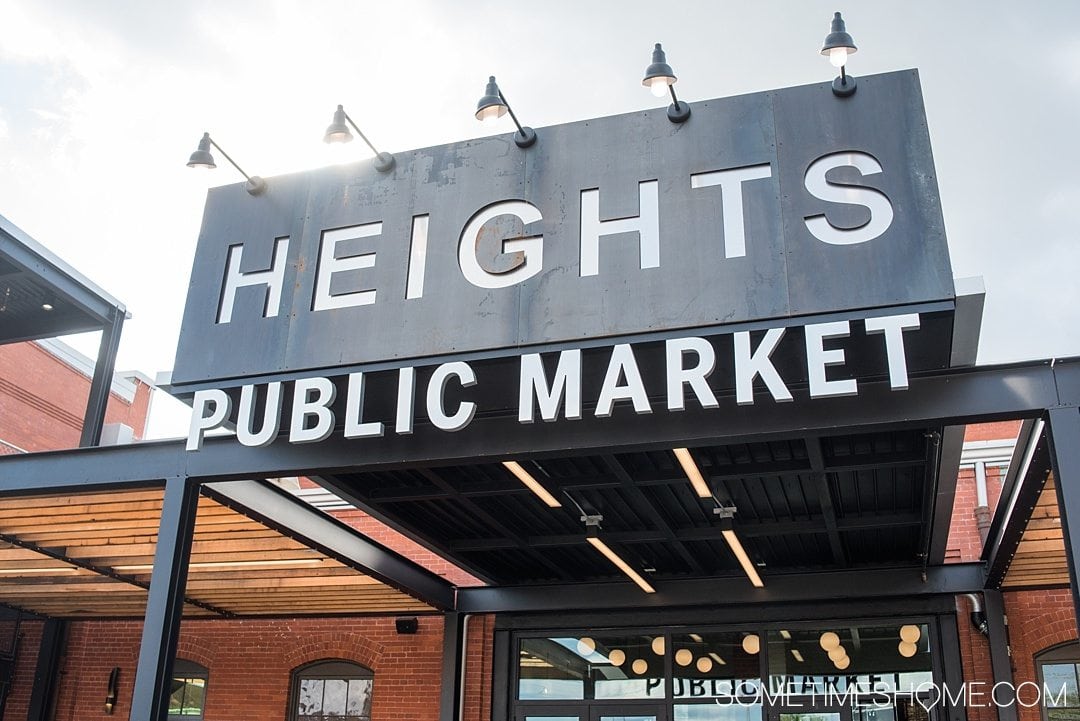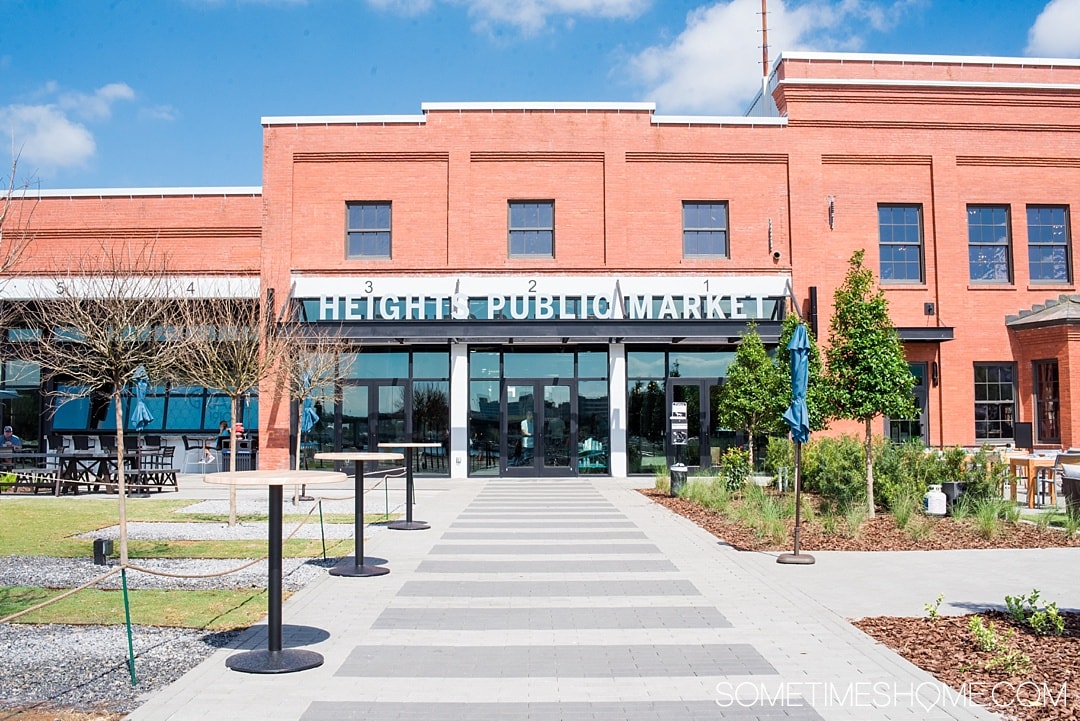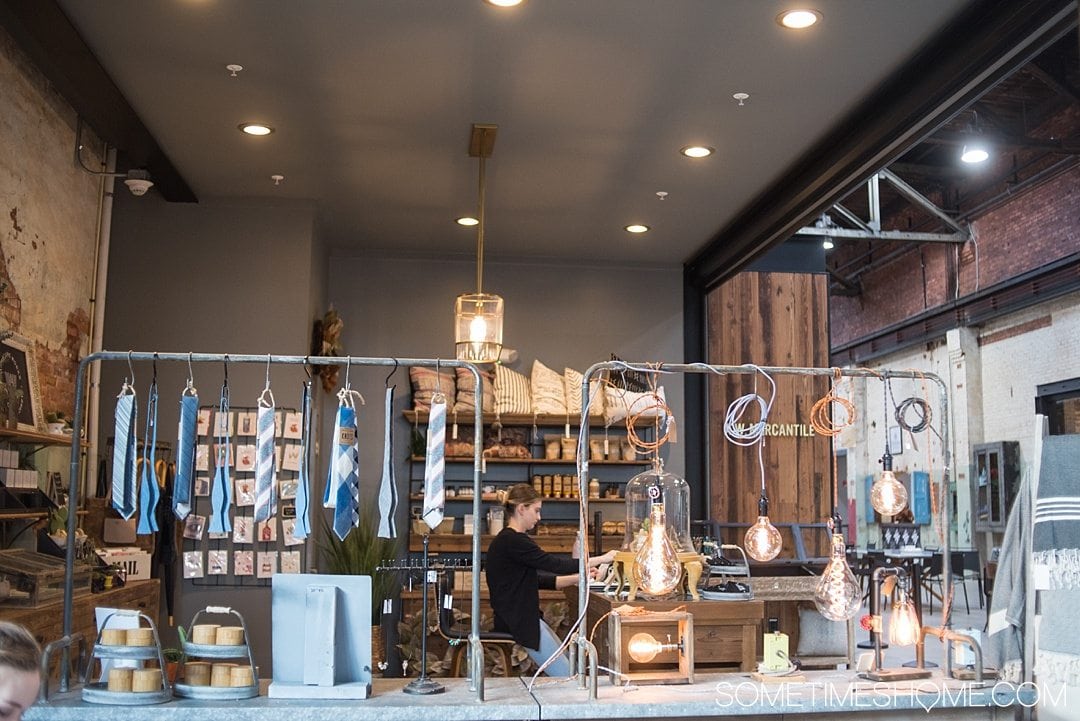 Today: Armature Works Tampa…
The developers have pumped a lot of time, energy, and money into preserving the character of this decades-old building while adding complementary furniture and spaces.
It has been serving the community as a multi-purpose destination since its official opening on February 1, 2018, even though it has lived previous lives for decades. (It's been hoppin' ever since!)
What is there to do at Tampa's Armature Works?
It's home to Armature Works restaurants in Tampa, co-working and event spaces, bars, and riverfront recreation. They even have a "Show + Tell" space to host cooking classes, pop-up dinners, and assorted special events. Needless to say, perhaps, is that it's a popular wedding venue with plenty of event space for ceremonies and receptions, without even having to reserve any space inside the food hall during operating hours.
While it is, of course, a "food hall" in Tampa Bay Florida, it's much more: it's a space for locals and visitors to congregate, be productive and enjoy life. There is indoor and outdoor seating.
If you're planning on sitting outside don't forget to bring outdoor essentials like reef-safe sunscreen and a reusable water bottle (there's a place to refill your water near the indoor bathroom in Armature Works) to protect yourself from the Florida sun!
Florida Essentials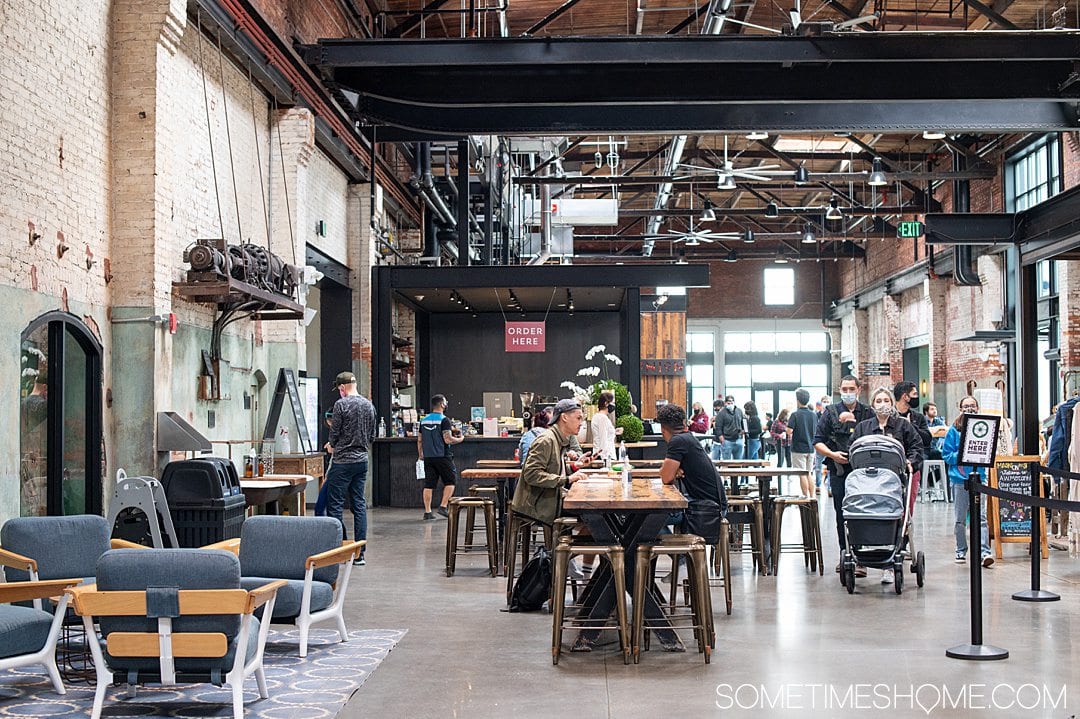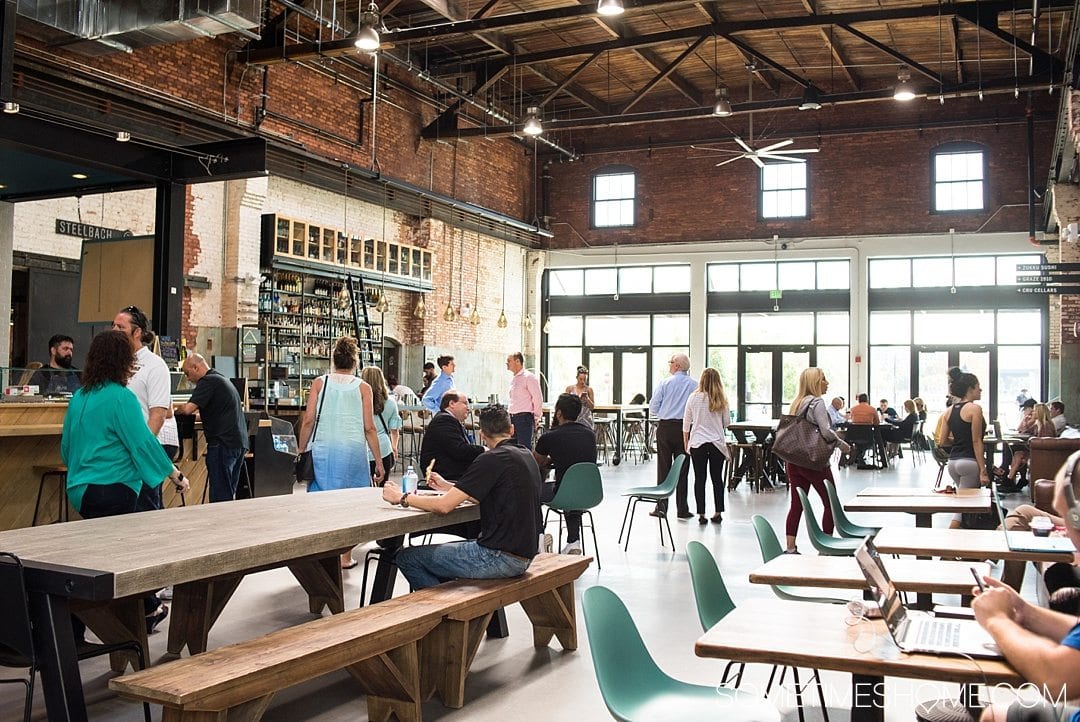 Places to Stay near Armature Works
Interested in staying overnight in Tampa? We recommend it! (Especially if you're drinking…then take advantage of Ubers or walking and treat yourself to a hotel room.)
Nearby Downtown Tampa Hotels
We are tried and true fans of Marriott hotels. Here are three ideally-located downtown Tampa Marriott options:
Design of Armature Works
No expense was spared to create this thoughtful, sexy space. From leather couches to beautiful wood tables and chairs created from mixed materials (whether stand-alone pieces gathered around a coffee table or as repeated stools at the bar) the design is complete and cohesive. It honors its past while bringing the historic building into the 21st century.
Matte greens and rustic browns are accented by metallic and wood details, flanked by original brick and concrete that define the character of this unique place.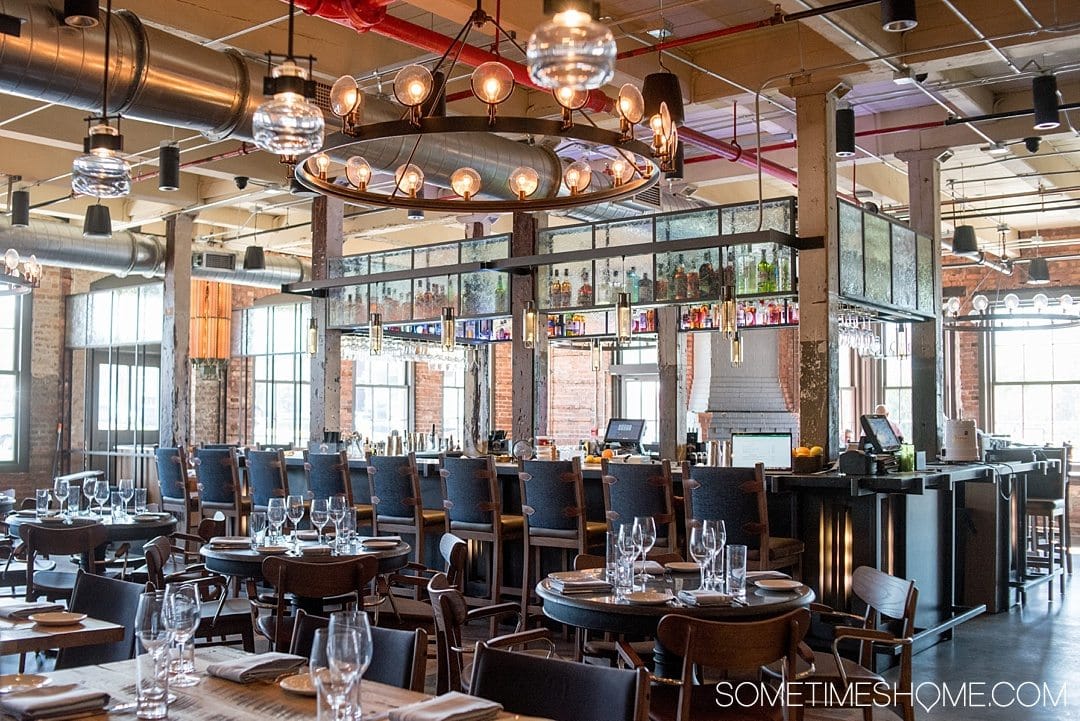 If you love mid-century modern design be sure to check out M. Bird. It's a full-service restaurant and rooftop bar at Armature Works too.
Armature Works Restaurants and Bars
There is something for everyone in terms of cuisine at Armature Works, including cuisines around the globe and drinks and dessert for all.
The options at this food hall in Tampa Bay, Florida are plentiful. They have quick service options and a few full-service dining options.
Quick Service Armature Works Restaurant Options
AVA: wood fired pizza
Bento Asian Kitchen

: noodles, rice and bento boxes, of course

BnB: butcher and BBQ (their sandwiches looked amazing!)
Buddy Brew Coffee: Cafe and coffee
Dharma's Southern Kitchen: southern specialties sandwiches and sides, like mac 'n cheese
Empamamas: empanadas, tacos, chicken tenders
Graze 1910: elegantly refined American comfort food
Kipos: Mediterranean food
Hemingway's:

Cuban cuisine

Muchachas: Mexican inspired cuisine
Zukku Sushi: Japanese cuisine, including sushi, burritos and bowls
Armature Works Restaurants with Full Service
It may be up for debate, but I would say the main restaurant of "Armature Works, The Heights Public Market," is Steelbach. You can enter the restaurant from outside of the building or from inside the market. The lunch we had there was excellent! (Some photos from our delicious meal are shown below, which included a vegetarian open face beet Reuben, bacon cheeseburger, and Brussel sprouts.)
I highly recommend the cooked carrots if they're on the menu when you visit; we couldn't get enough of their unique well-balanced flavor. They serve dinner and brunch at Steelbach as well.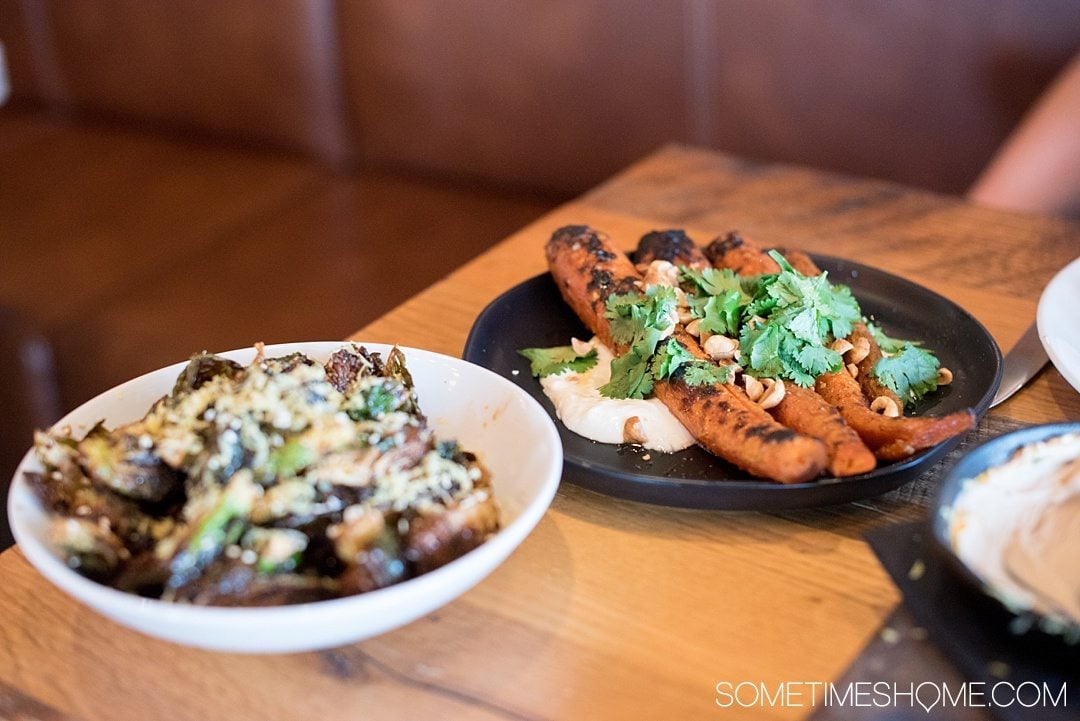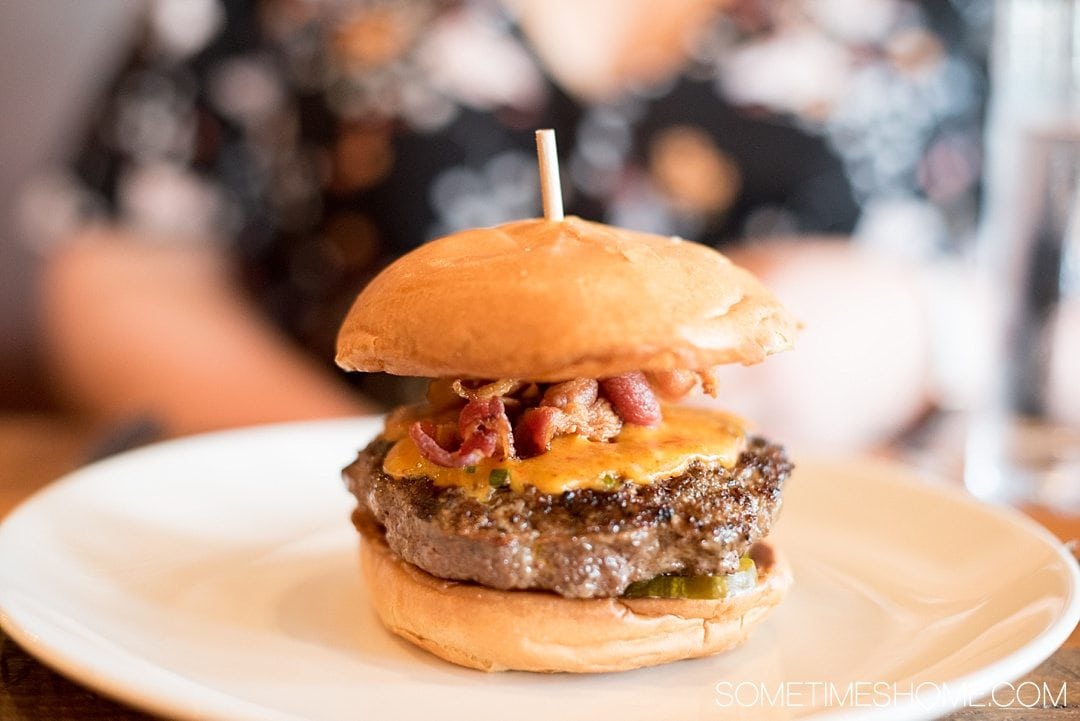 Armature Works Coffee, Cocktails and Wine
Union by Commune + Co: coffee and assorted caffeinated delights
Bar AW: indoor cocktail bar
Cru Cellars: wine bar and kitchen for light bites, including gourmet fries and charcuterie and cheese plates
M Bird: listed above as a full service restaurant, as well
I highly recommend the Bar AW (Armature Works), which is next to the interior entrance to Steelbach. We enjoyed the cocktails we ordered as we admired the beautiful bar. If it's a beautiful day head to the rooftop to get a dose of the Florida sunshine at M. Bird.
Desserts and Sweets at Armature Works
Bake'n Babes: desserts and incredibly Instagram-worthy treats
Astro Ice Cream Co: candy and ice cream
There's also a rotating food stall so be sure to check their website for the current gourmet delight.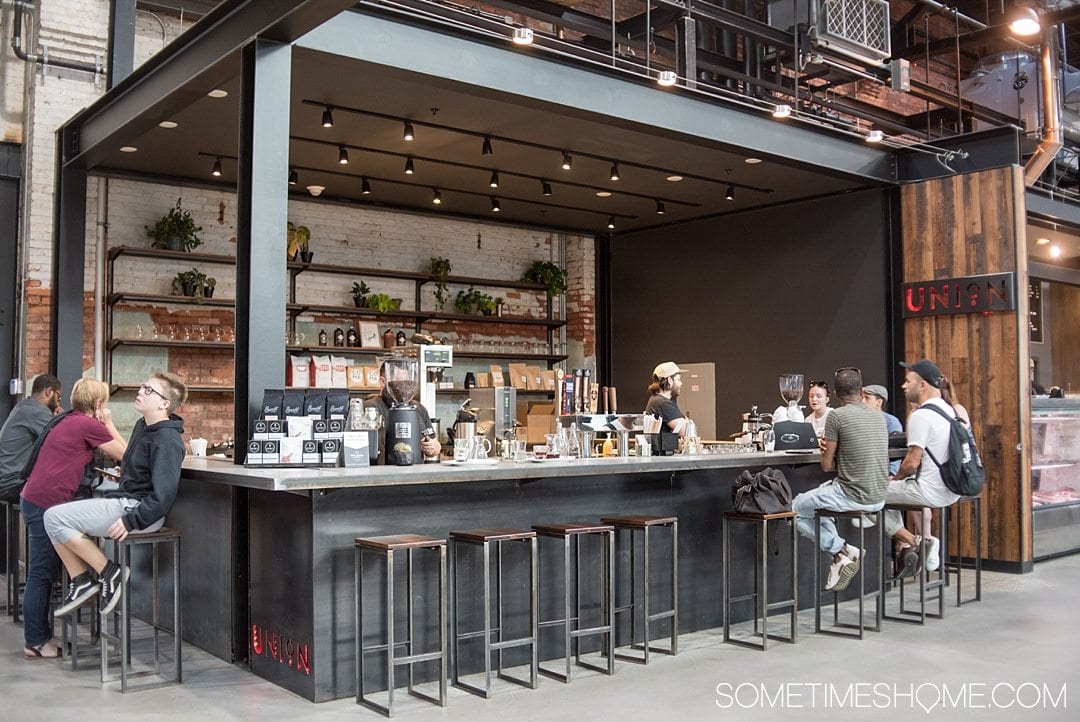 Miscellaneous Shops at Armature Works
A.W. Mercantile: if you're looking for a cute card to pick up for a friend or awesome tie to complete your business attire this is your go-to location inside the market.
Please note: We thank Visit Tampa Bay for generously hosting us. All the opinions in the post are ours and we bring you genuine content with real facts, photos and thoughts. Always.
Heading to Florida? Also check out: