Unscripted Hotel Review: One of Durham's Coolest Places to Stay
There are plenty of places to stay in Durham, NC, but one of the coolest is Unscripted. Its murals, rooftop pool, and cheeky branding are among its appealing features.
Our Unscripted hotel review will reveal what its rooms look like, details of the art and who created it, where the hotel is, and what the rooftop pool and restaurant are really like.
Disclosure: This post has affiliate links, meaning we may earn a small commission if you click the link and proceed with a purchase at no cost to you. We were hosted by Unscripted for this review. We recommend experiences, hotels, products, and services we use and support. As Amazon Associates, we earn from qualifying purchases.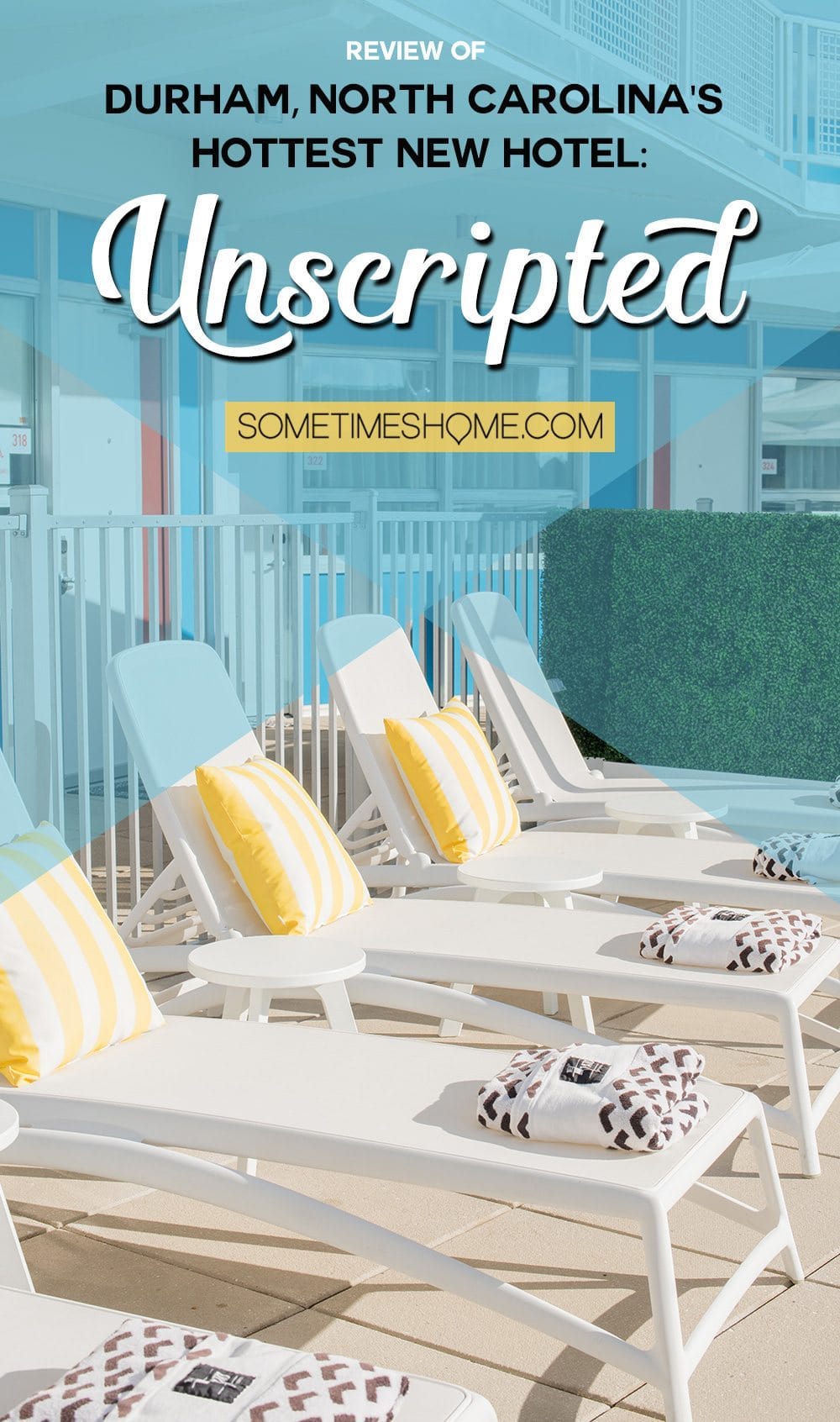 Durham Unscripted Hotel
We were impressed from the moment we checked into the hotel. They have a parking garage attached to their property, which is a major plus because parking is sometimes hard to find in downtown Durham.
We LOVED that they had hand-picked street artists paint the area (they even flew in a few from Los Angeles) so whether you enter from the sidewalk or garage it's an attractive scene.
They set the tone right away with bright colors, stylistic furniture, and green boxwood walls as you approach the hotel doors.
➜ Check rates and availability at Unscripted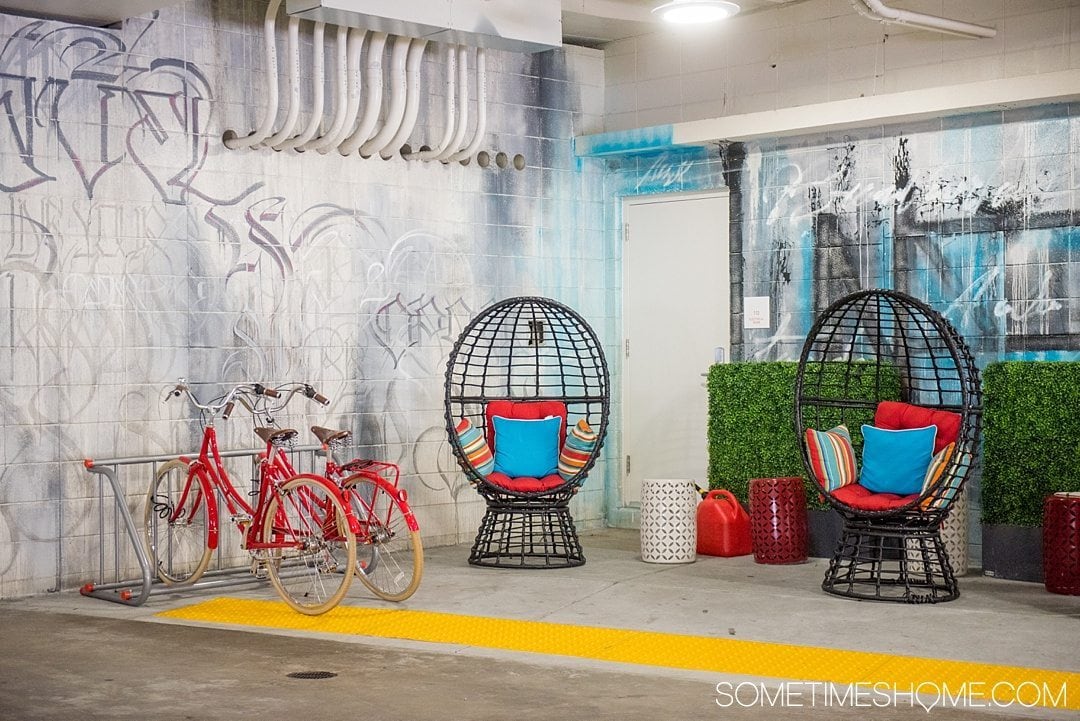 Check In and Lobby at Unscripted Hotel
Their check-in area is sleek. It perfectly blends with the posh living room scene you see upon entry. Warm and inviting, their employees quickly greet you at an unassuming, approachable table as you take it all in. They have keys ready for your room as they seamlessly complete your check in. All of this is done with the help of iPads in lieu of bulky, stuffy computers.
I describe their interior design as a fresh take on Mid-Century modern (an era which the Longleaf Hotel in Raleigh, 30 minutes south of Unscripted, has honored as well).
It's a nod to when the space was Jack Tar Motor Lodge in the 1960s. They've honored the era but updated the look; they combined awesome graffiti (something treasured today more so than ever before) and typography with the era's iconic colors and furniture ingeniously.
From a velvet sofa, to matte-finished metal tables, to statement pieces like an organically designed wooden chair, there's a ton for your eyes to feast upon.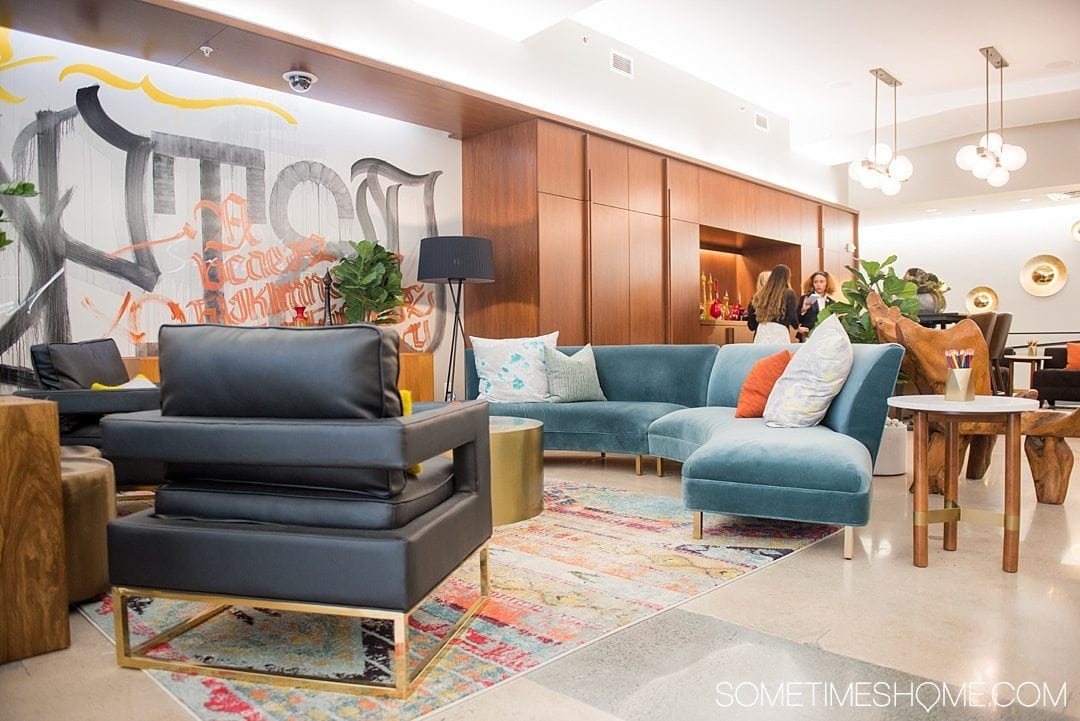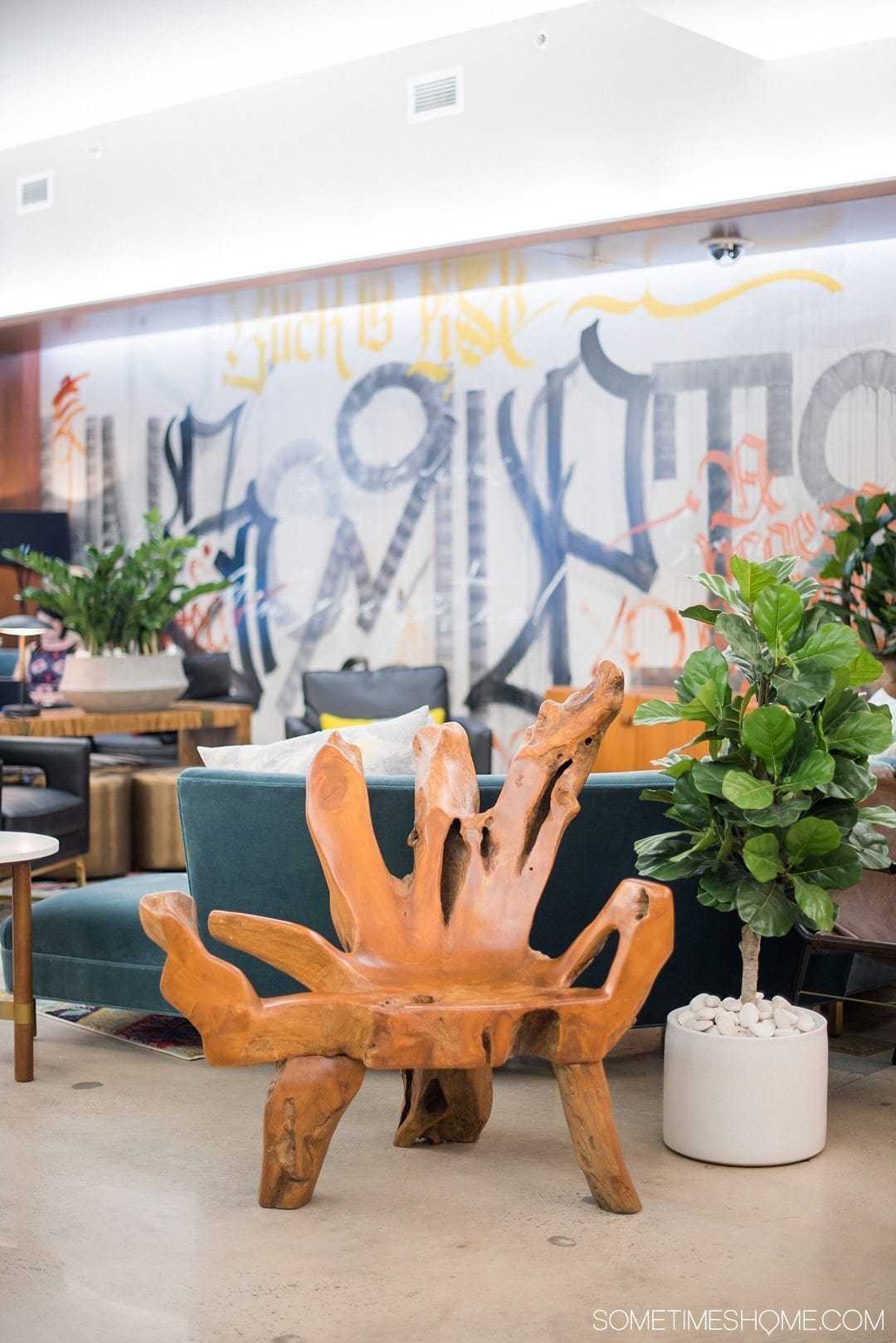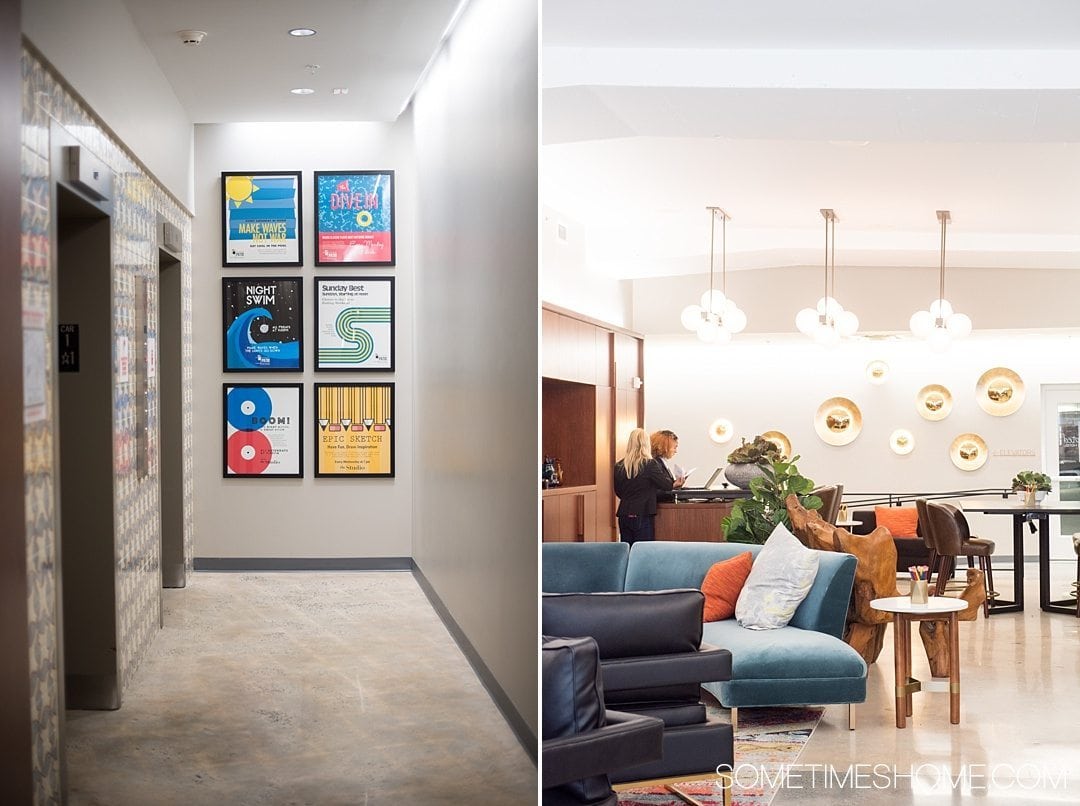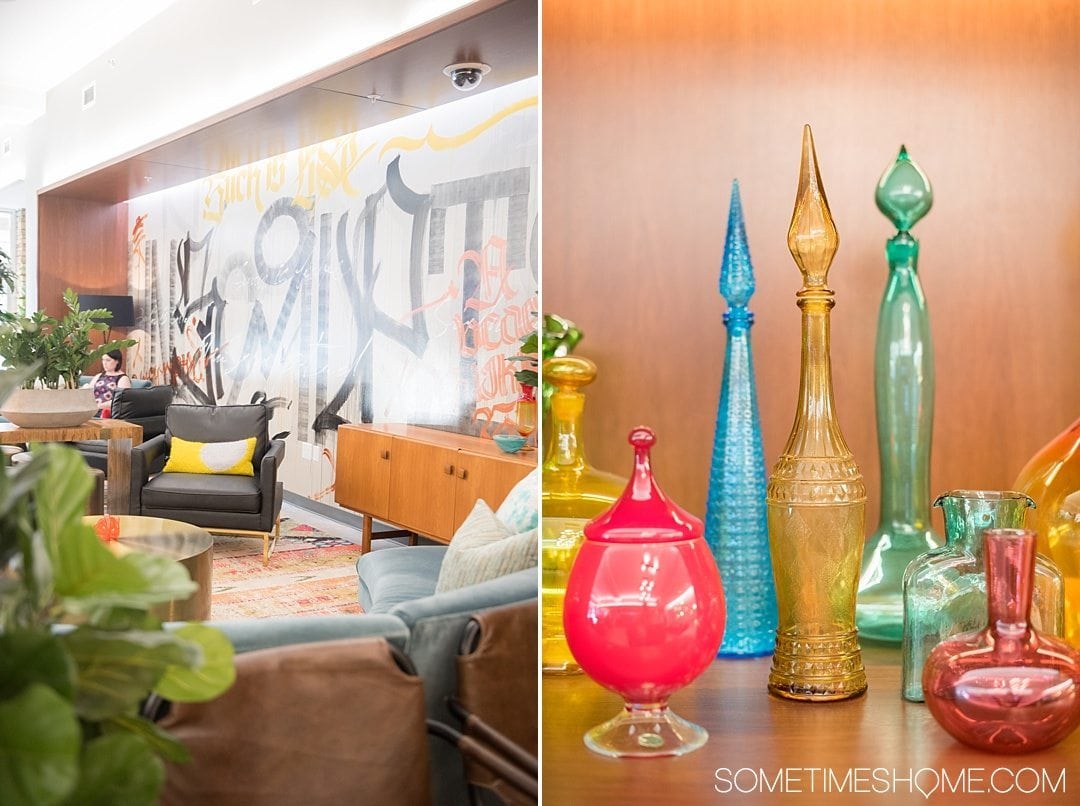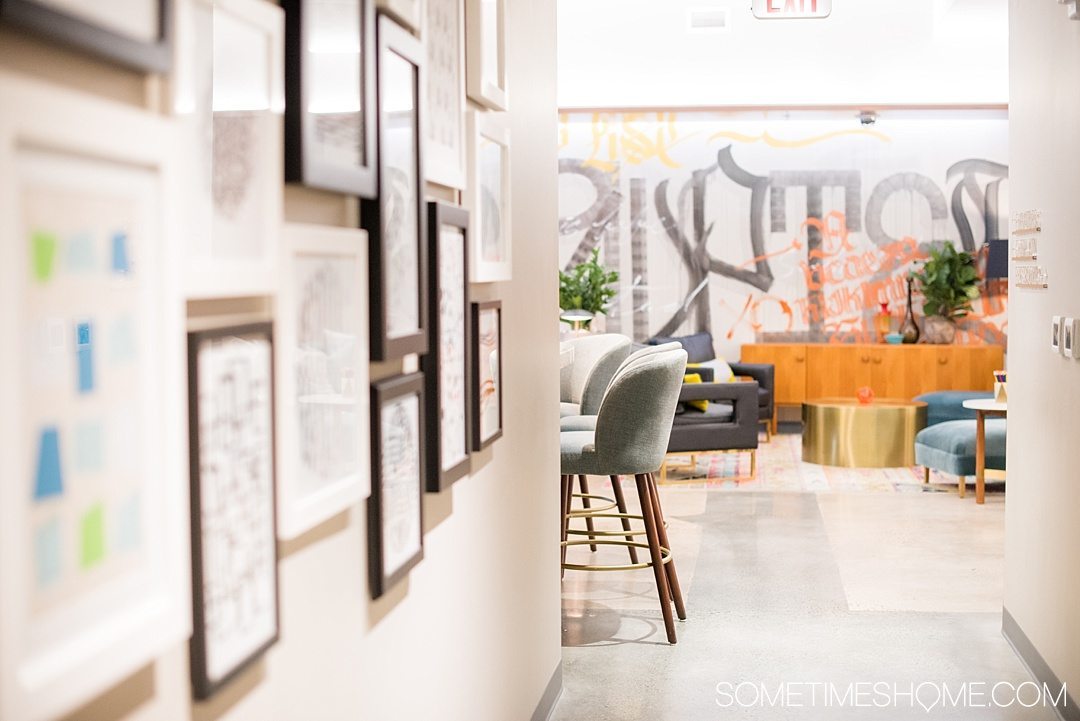 Guest Rooms at Unscripted Durham
Unscripted has a total of 74 guest rooms. We were in room 422 with a city and pool view on the fourth floor. I had a blast looking through the room when I entered. Nothing is overlooked.
I loved the "marble notebook" envelope they gave me the room keys in and admired all the black and white mats outside the room doors. Sayings like, "Hang Out" or "Have Fun" welcome guests to their rooms.
I even appreciated how the grate railing creates an interesting pattern on the exterior concrete walkway on each level. (When you're a photographer you tend to notice these things!)
Round magnets (pictured on the left, below) allow guests to playfully indicate they don't want to be disturbed or that they brought their dog along for their stay. "I'm Hot" is for summertime!
It's not so much for if you're feeling sexy 🙂 as it is for a staff member to simply indicate caution if the metal door to your room is hot to the touch in the heat of seasonal days.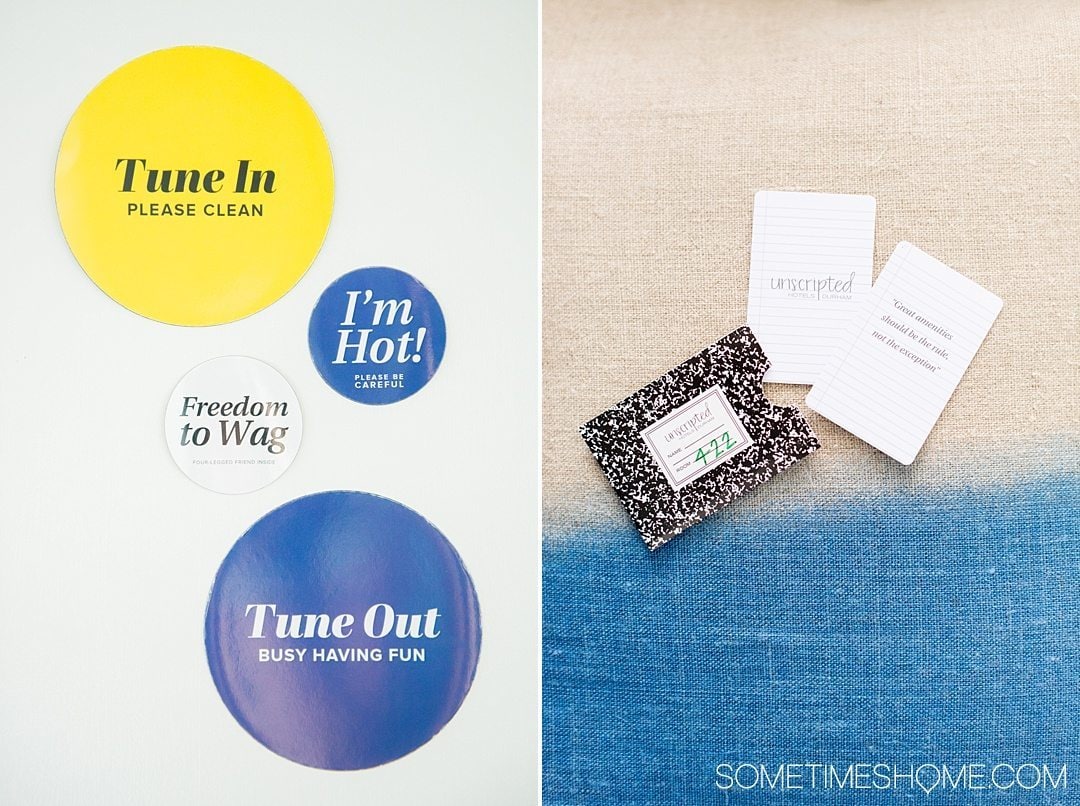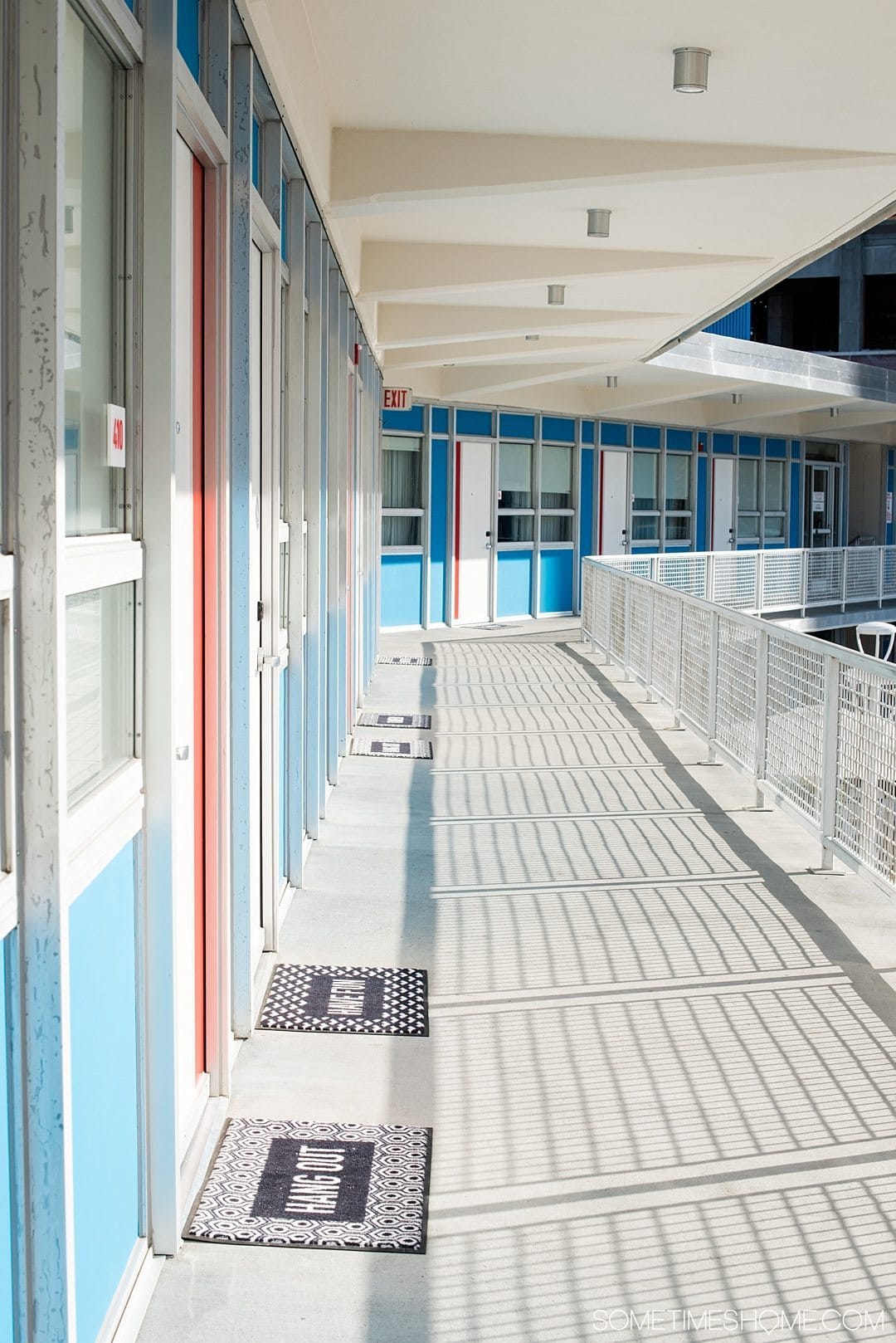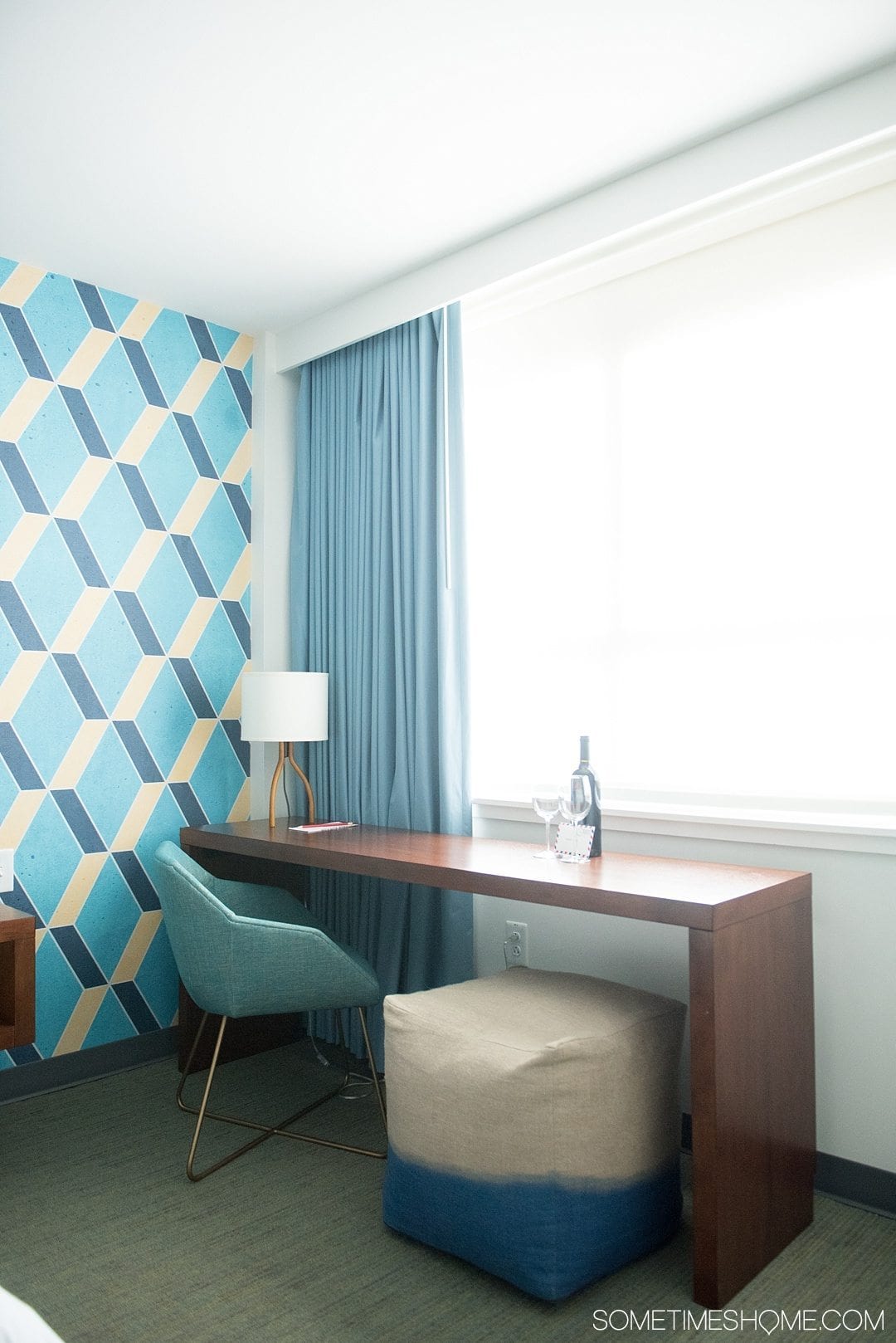 🌴Florida Packing List
The Florida sun is HOT and STRONG! Don't forget to pack outdoor essentials like reef-safe sunscreen and a reusable water bottle to protect yourself from the Florida sun!
It's also a good idea to pack an umbrella or poncho (you never know when it will rain) and a cooling towel – because even if it rains, it can still be well over 90 degrees!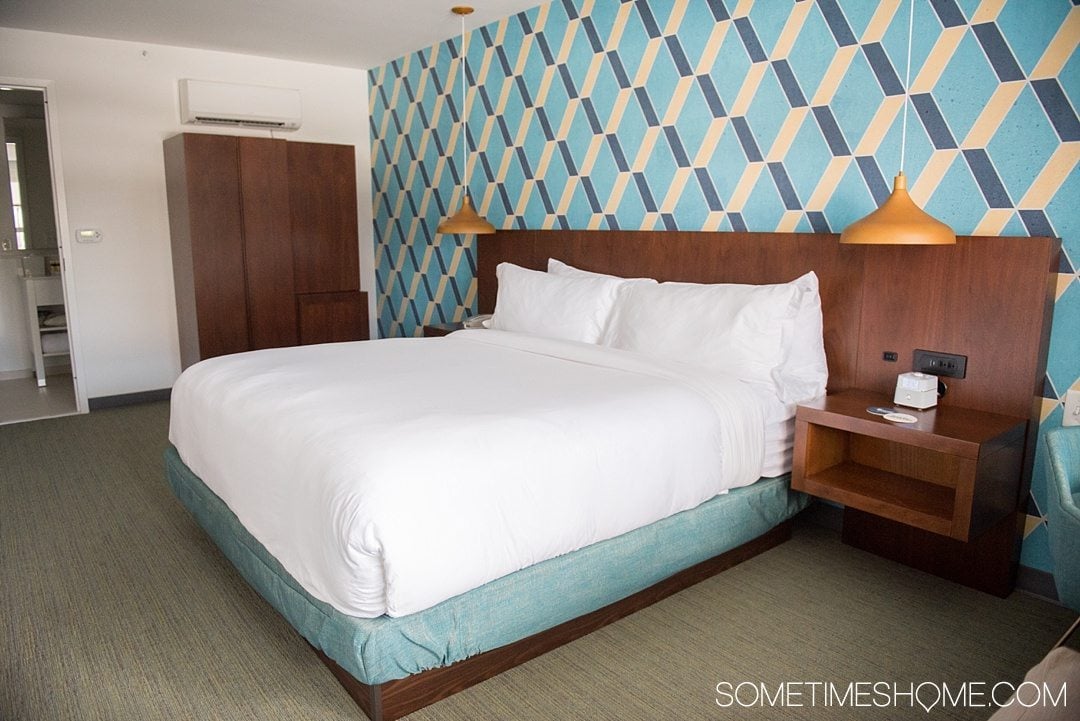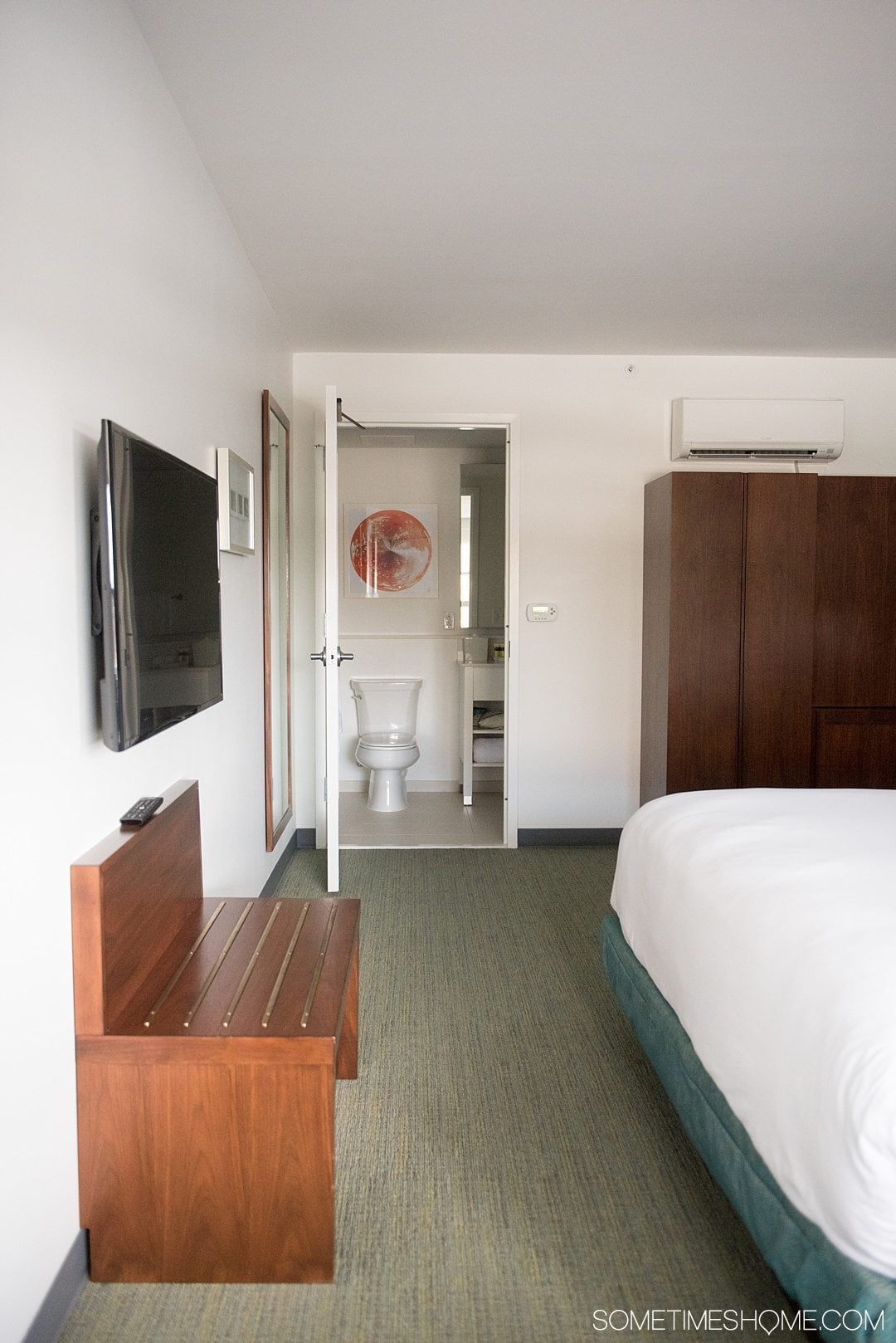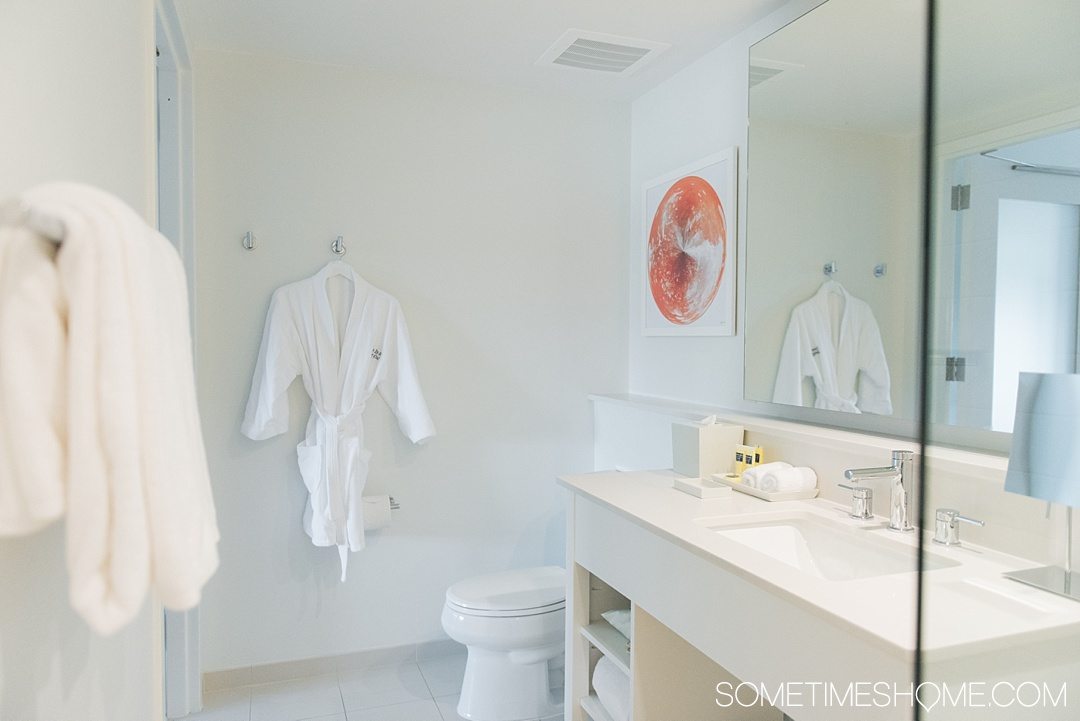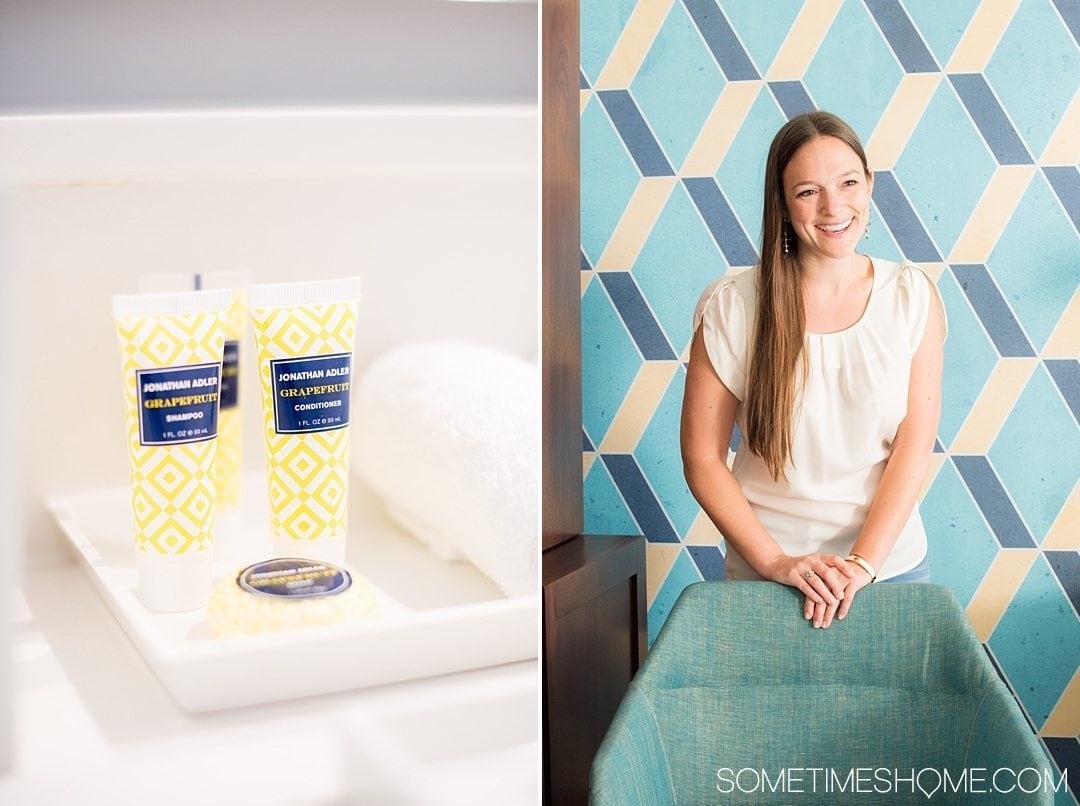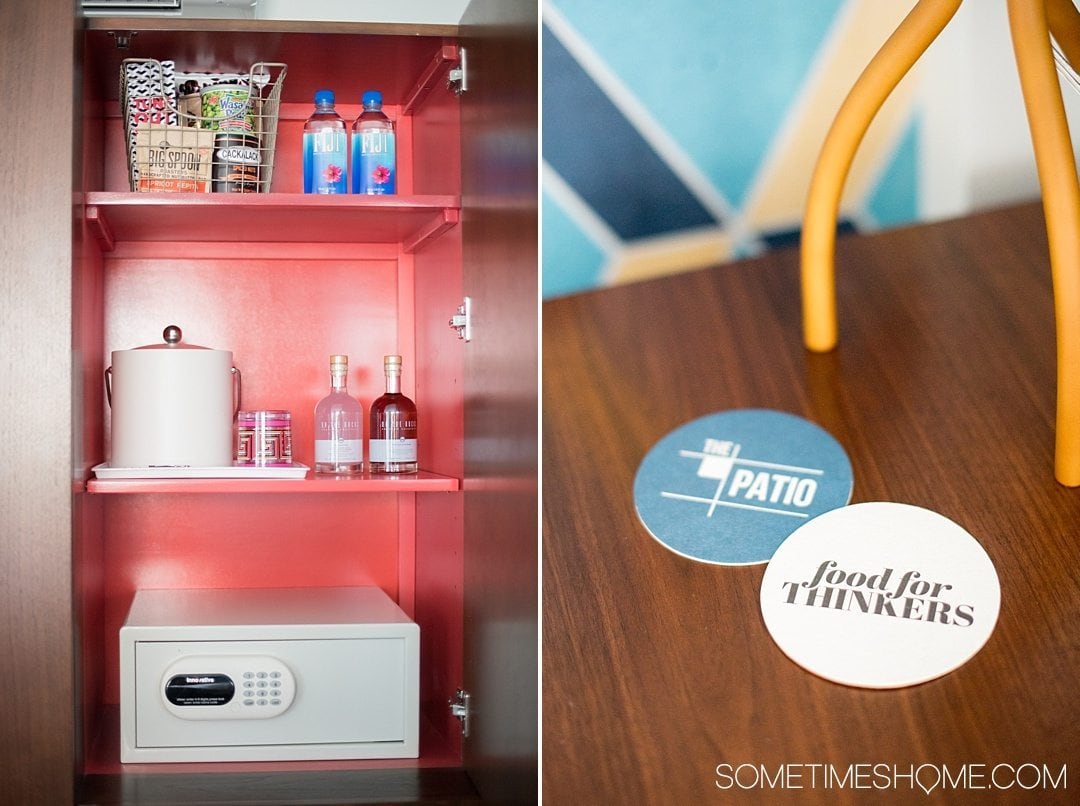 Everything down to the glasses in the mini bar and coasters by the bed match the branding of Unscripted Hotel Durham. The soft, fluffy allergen-free king size bed was dreamy! I love anything ombre so the ottoman under the desk had me googly-eyed over it's blue fade to tan fabric. (Swoon!)
I very much enjoyed getting some work done in the comfort of the robin's egg blue chair and wooden desk. I clearly gave into posing for some photos in front of the mid-century modern patterned accent wall behind the bed. (Why should I resist, right?)
Can we just discuss how integrated and well done their branding is, one more time? Even the Jonathan Adler bath products were seamless! Can I get an AMEN for that?! (Thank you!)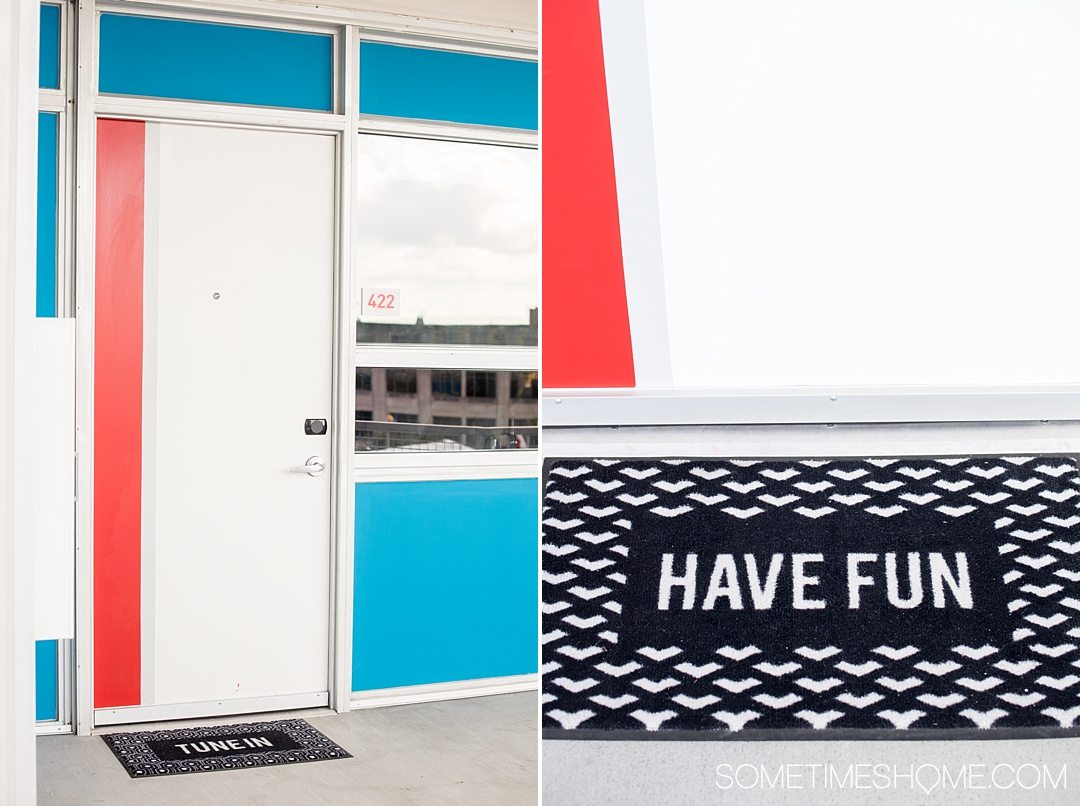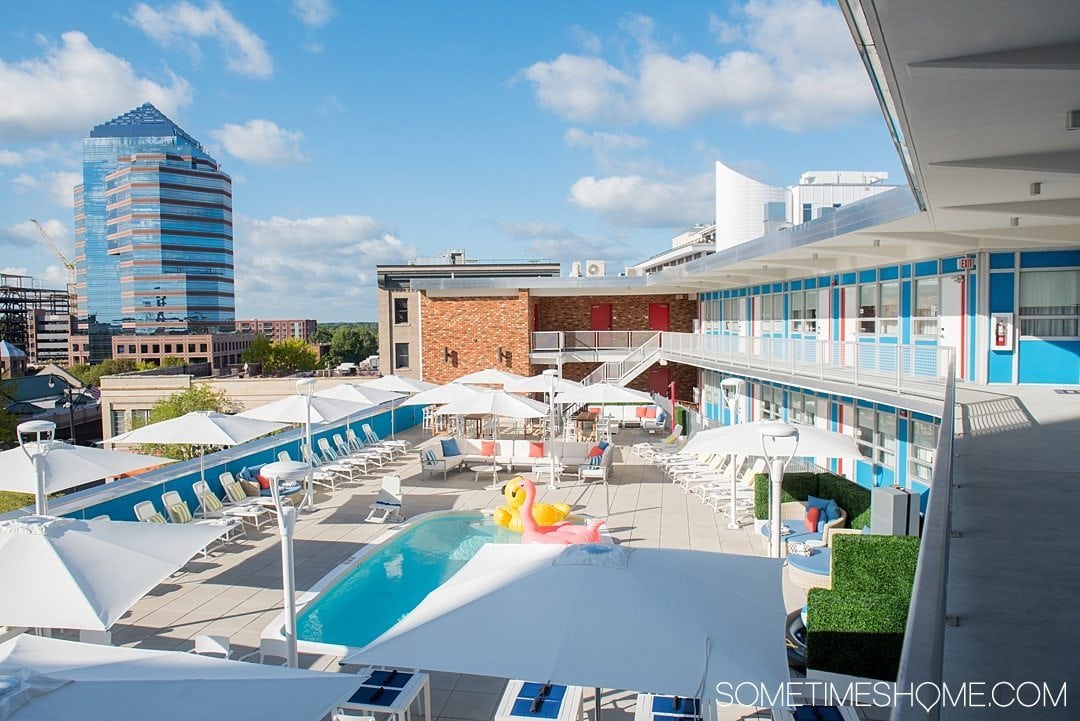 Unscripted hotel review: The Patio
It is widely known that novelty pool floaties have been all the rage this decade. A yellow duck and pink flamingo called us to The Patio.
We appreciated their nod to classic poolside lounges and a magnetizing view. It didn't take long for us to decide to get poolside cocktails; I wanted to try their activated charcoal margarita. It was the perfect pre-dinner cocktail.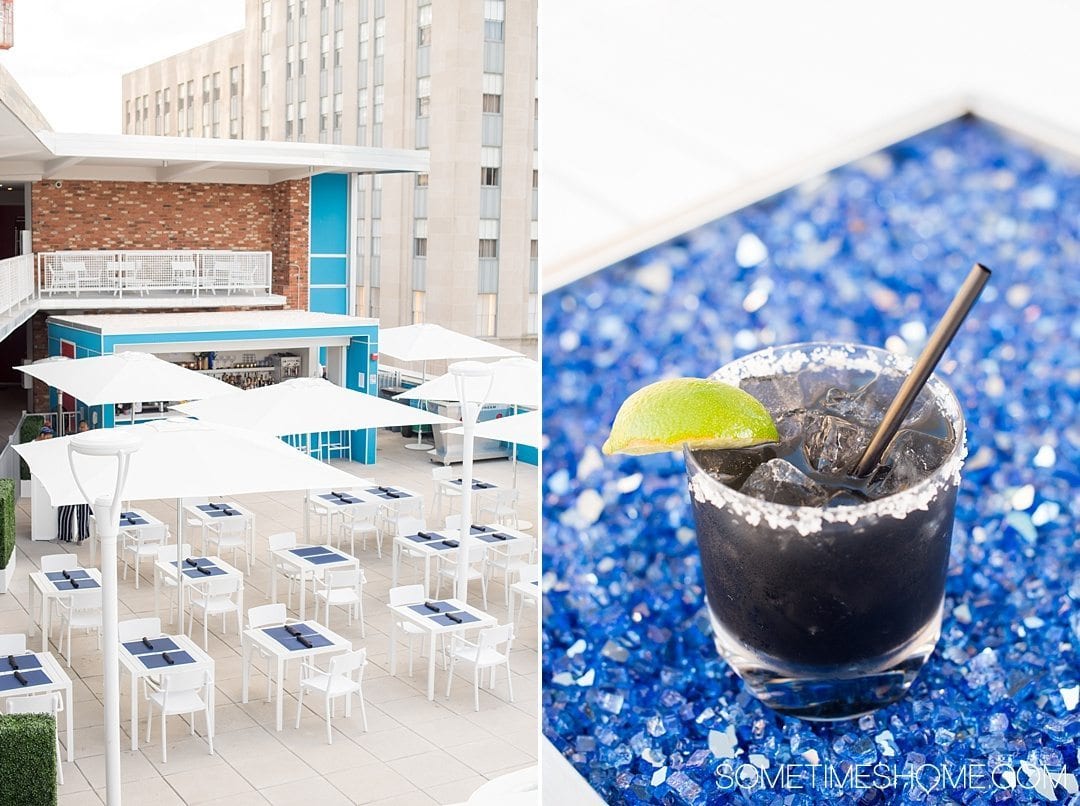 Overnight at One of the Best Hotels in Durham
I always appreciate a great TV in a hotel room. We purposely opt not to have a TV in our bedroom at home, so I treat it as a bit of a fun perk when I stay overnight at great hotels. (We enjoyed this about The Durham Hotel too.)
We had dinner with friends in downtown Durham (a convenient walk from our hotel – it's always great not having to drive anywhere) then curled into bed to enjoy some evening shows on the in-room Smart TV.
Morning at the Unscripted Hotel
Waking up is easy at the Unscripted Hotel. We was looking forward to checking out their gym for a morning workout and visiting their AllDay cafe for coffee. It welcomes visitors from the hotel and those in Durham looking for a lovely place to grab some caffeine and good snacks or perhaps an evening cocktail…because it is, in fact, open all day.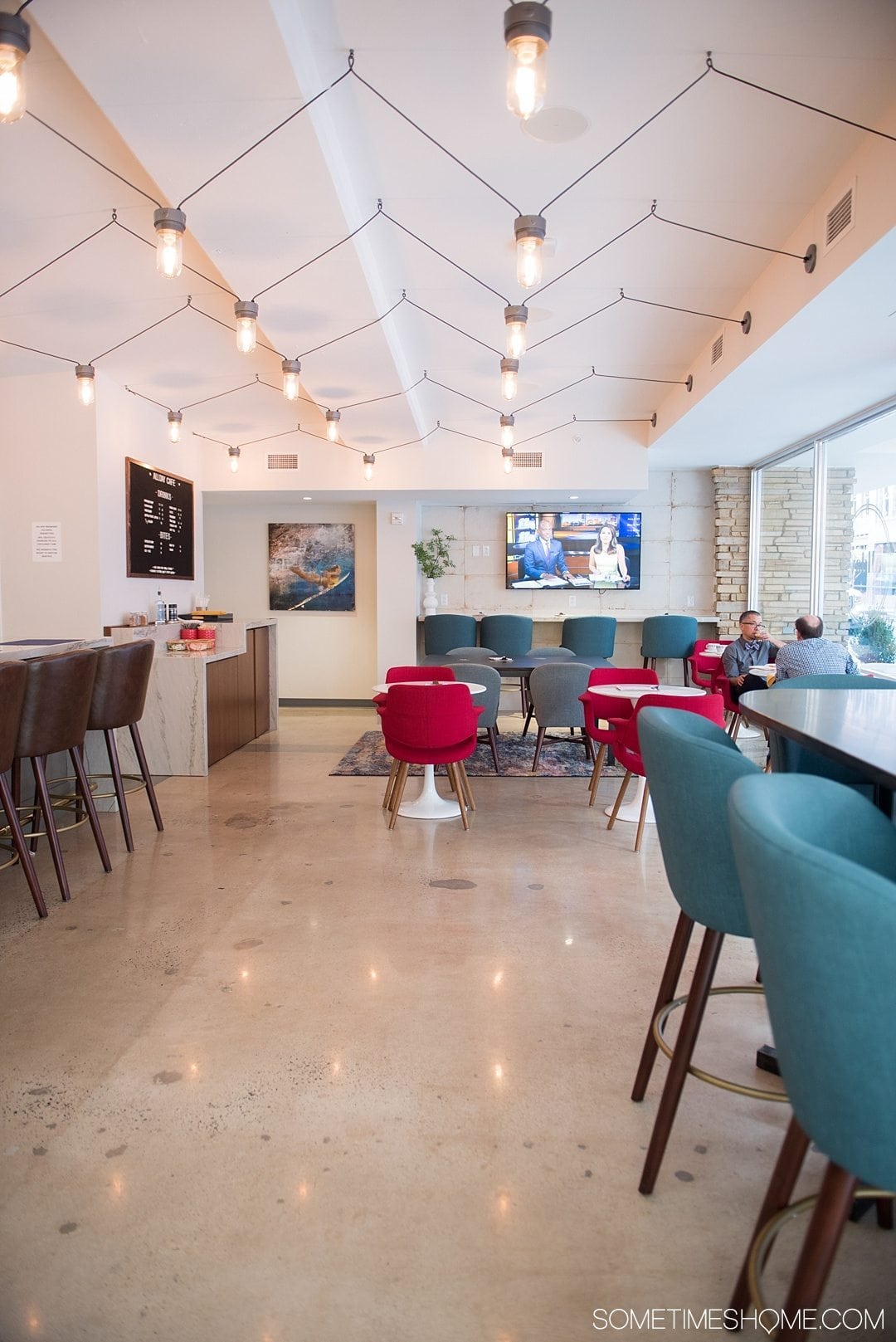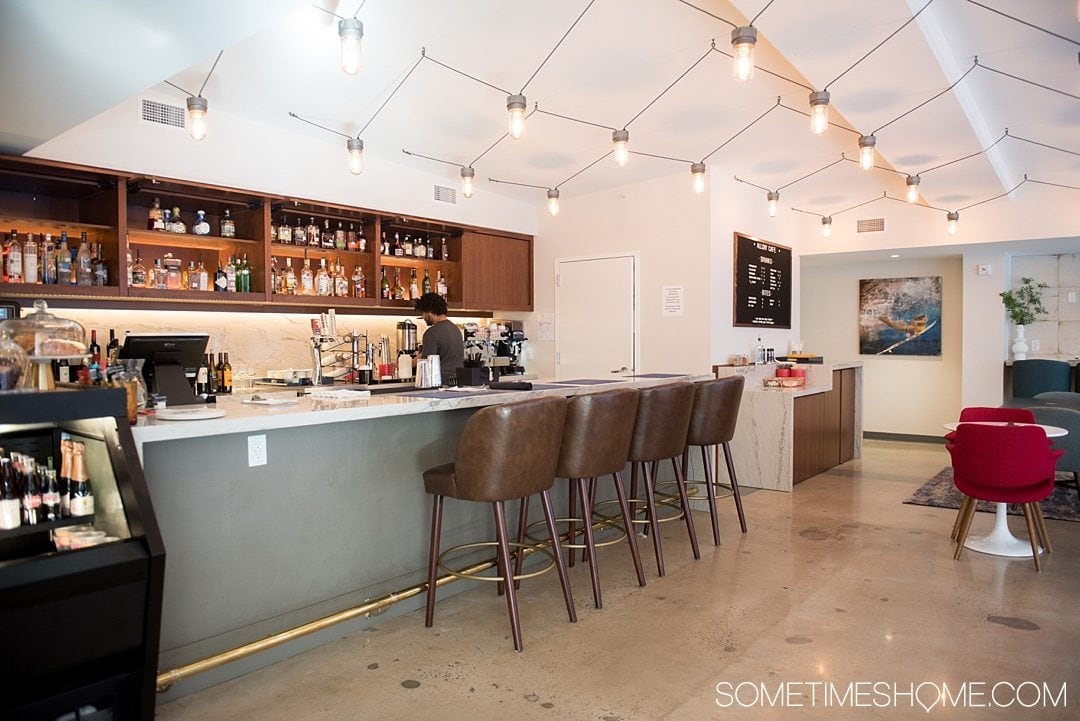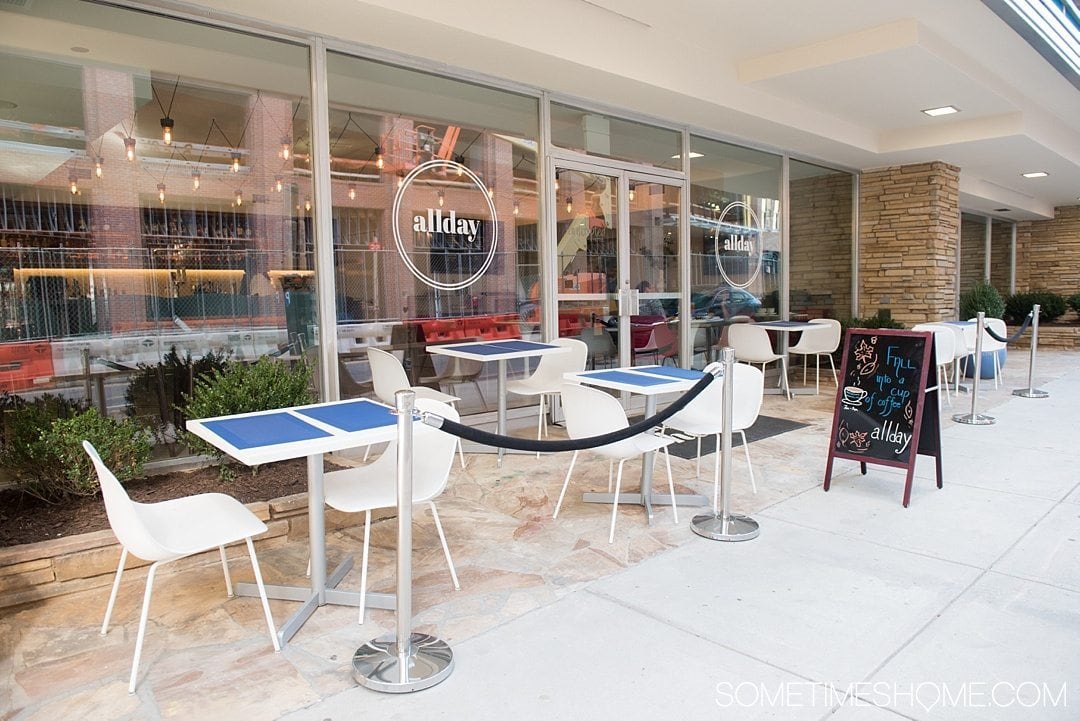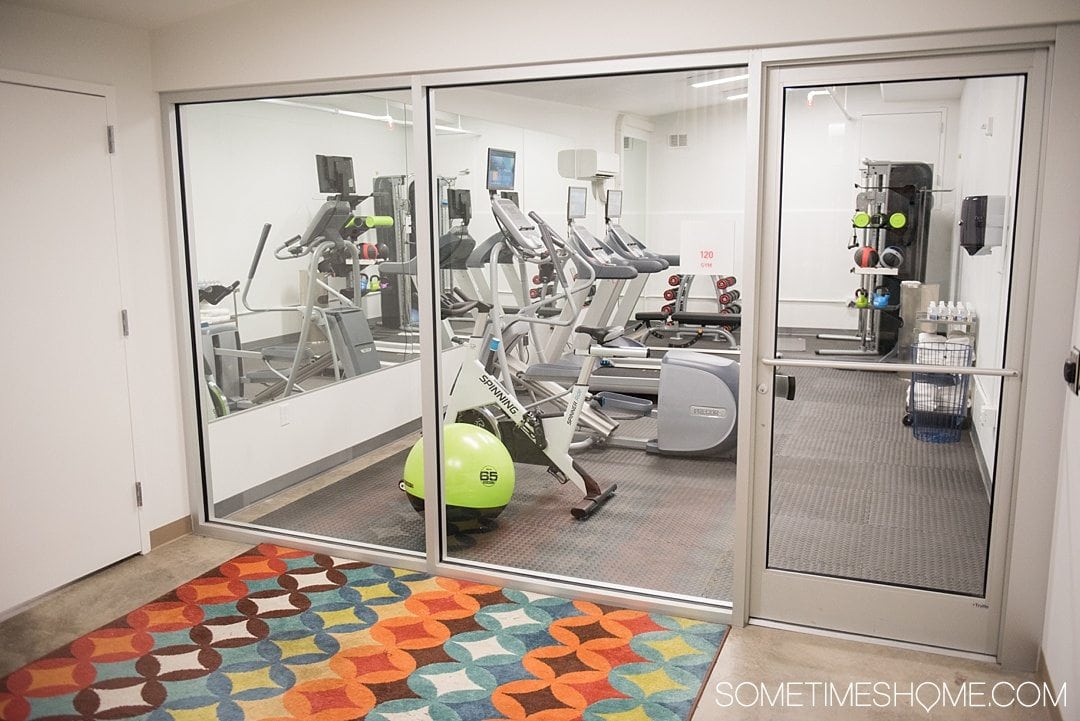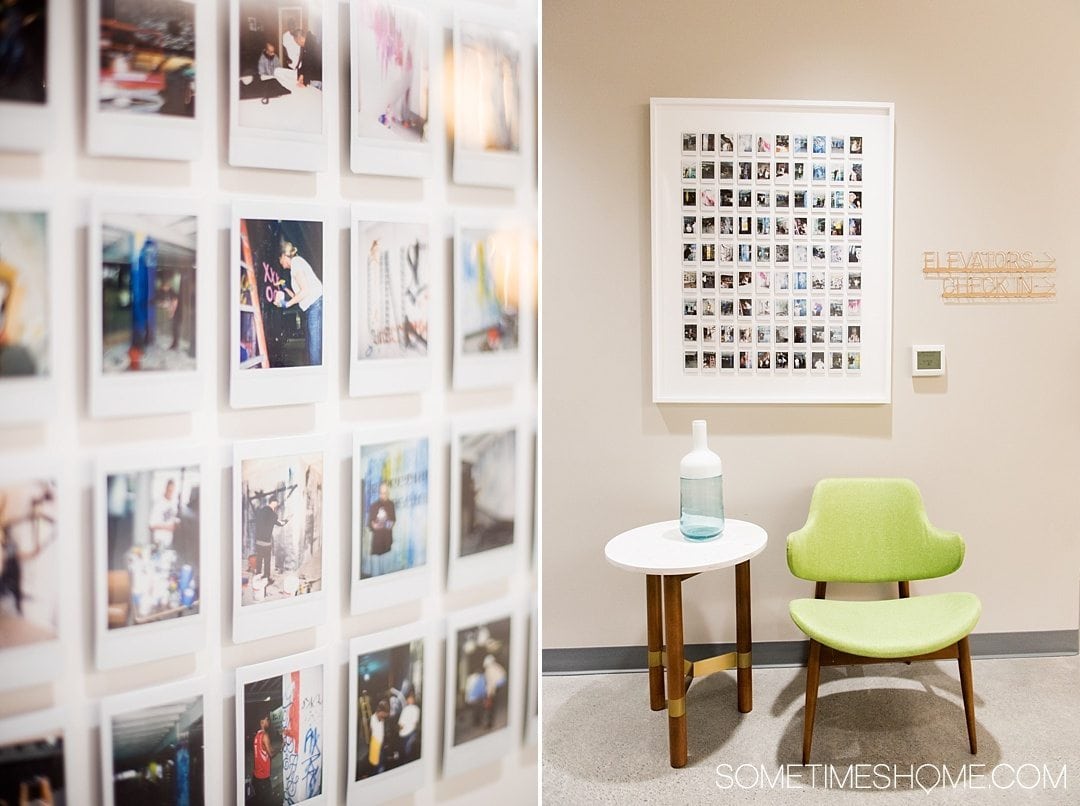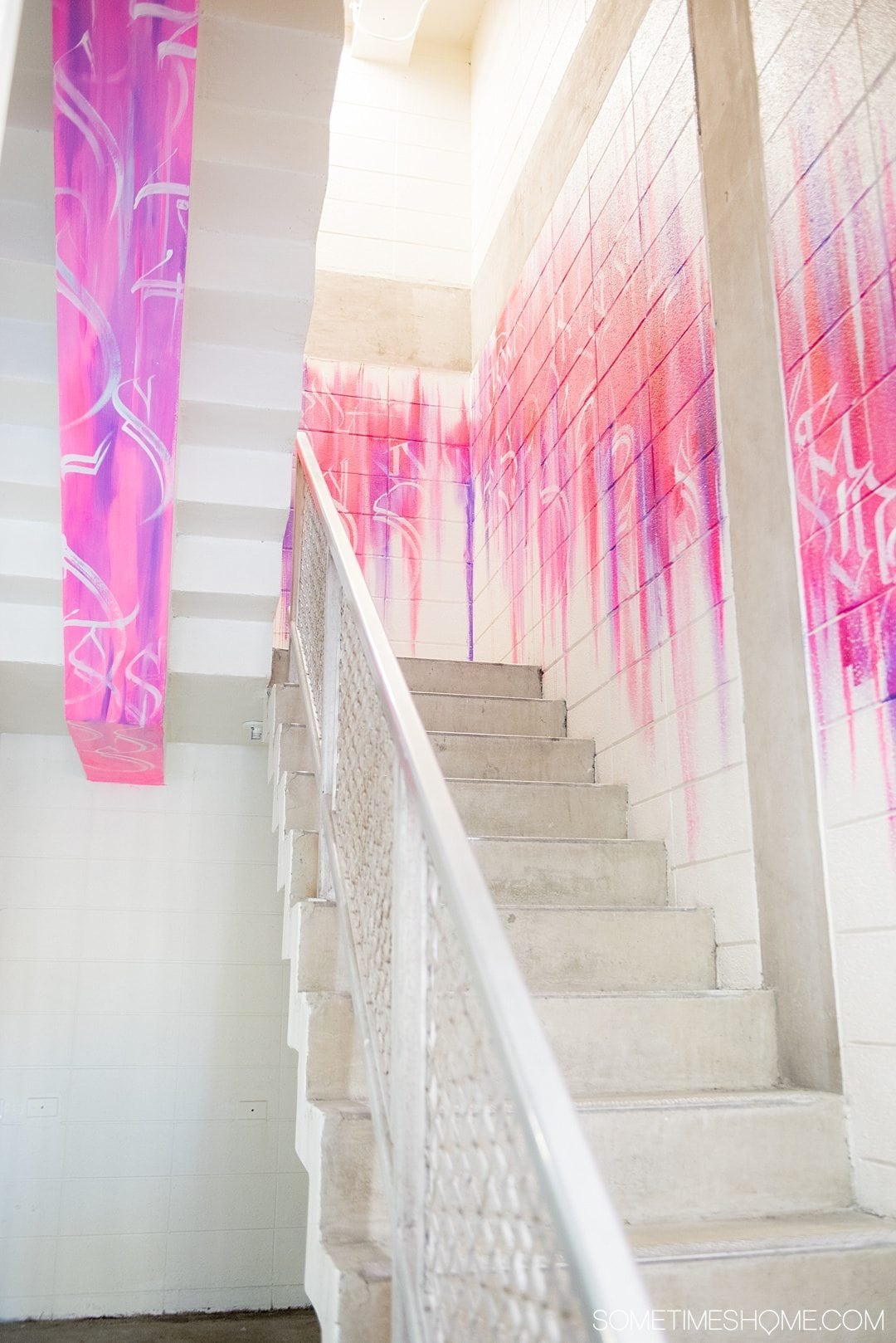 We Didn't Want to Leave The Unscripted Hotel in Durham 
We lingered as much as we could the morning we were due to checkout, not wanting to check out! Could we move into this Durham hotel?
I popped around for a few more photos before leaving. (Be sure to check out their framed Instax mini (Polaroids) frame in the lobby. It has photos of the hotel's creation!) If you're into street art, you'll see photos of the artists Big Sleeps, Alex Kizu, Jose Reza (part of K2S graffiti crew in Los Angeles) and Ryan Keeley from Durham at work.
We packed lightly so we chose to leave our hotel room via their staircase, not needing the elevator. The staircase is beautiful. Again, nothing is overlooked! The pops of pink and purple have a design reminiscent of the paintings in the hotel's lobby and garage entryway.
We appreciated that every hallway and staircase requires access via a hotel key card; extra security is reassuring no matter where you are whether it's your own home or home away from home for a night.
If you're visiting the area and need a place to stay, we urge you to check out Unscripted Hotel Durham! It's amazing and you'll love your time there.
Thinking of visiting North Carolina? Also check out:
Have you visited Durham, North Carolina?