Chic Paris Hotel in NYC's Midtown East Manhattan, Frequented by Stars
We love Paris, and we love New York City. So a Paris Hotel in NYC is a sublime accommodation for us!
There is a chic, Library Collection Hotel, called Hotel Elysée, in a great location in Manhattan. And it's giving us all the European feels. It took us back to France without having to board a flight.
Hotel Elysée's Safe Location in Manhattan
The hotel is on E. 54th Street, between Madison and Park Avenue. The area is considered Midtown East and is an incredibly safe area of Manhattan. It's very close to the 6 subway (green line) or E (blue line), which is perfect if you're taking the subway to JFK airport or pretty much to any major subway stop in NYC. It's only blocks away from the N/R/W subway (yellow line).
The hotel is also very close to the 59th Street bridge, which is incredibly convenient if you're taking a car to LaGuardia airport (LGA) or taking a car through the Queens Midtown Tunnel for any reason, like to Brooklyn for hundreds of things to do, or JFK airport to fly home.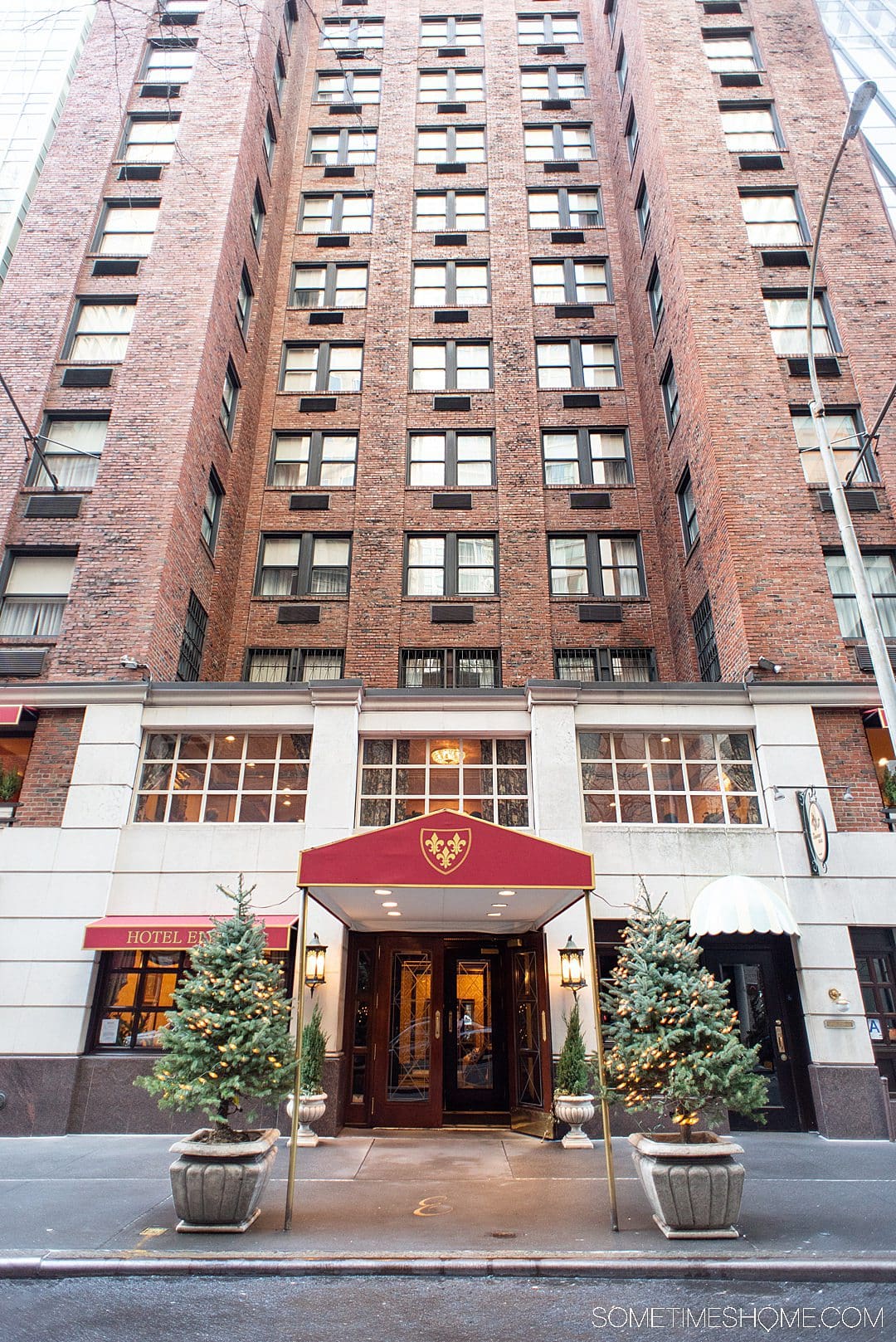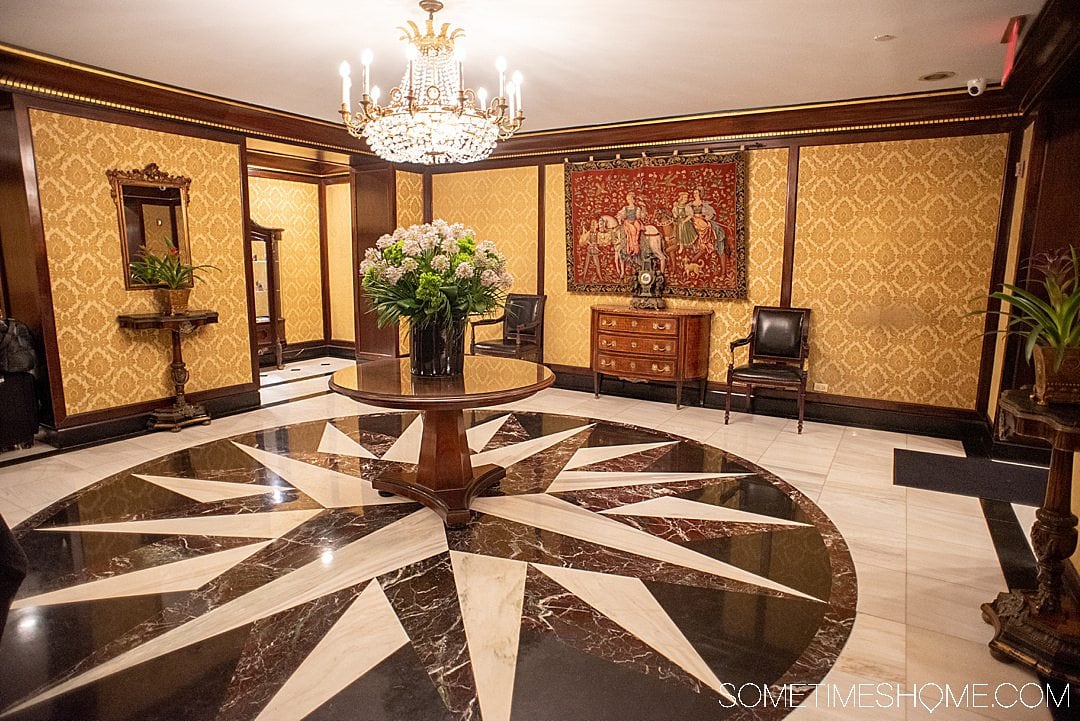 What's in the Area Near this Parisian Inspired Hotel in NYC
It's in a wonderful location within a 10 to 15 minute walk from the following NYC landmarks:
Rockefeller Center, including Top of the Rock
Bryant Park
Radio City Music Hall
Central Park
5th Avenue's famous shops (including Bergdorf Goodman, Tiffany & Co, Cartier, Saks Off Fifth, Harry Winston and Apple)
Carnegie Hall
Grand Central Station
Chrysler Building
Bloomingdale's
Ess-a-Bagel (because you can't visit Manhattan and not have a true "NY bagel")
Everything else is just a ride away. One of the best things about its location is it's on the east side of Manhattan, which means you're as close to all three of this hip neighborhoods as you can get while still staying in Manhattan:
Astoria, Queens
Williamsburg, Brooklyn
Long Island City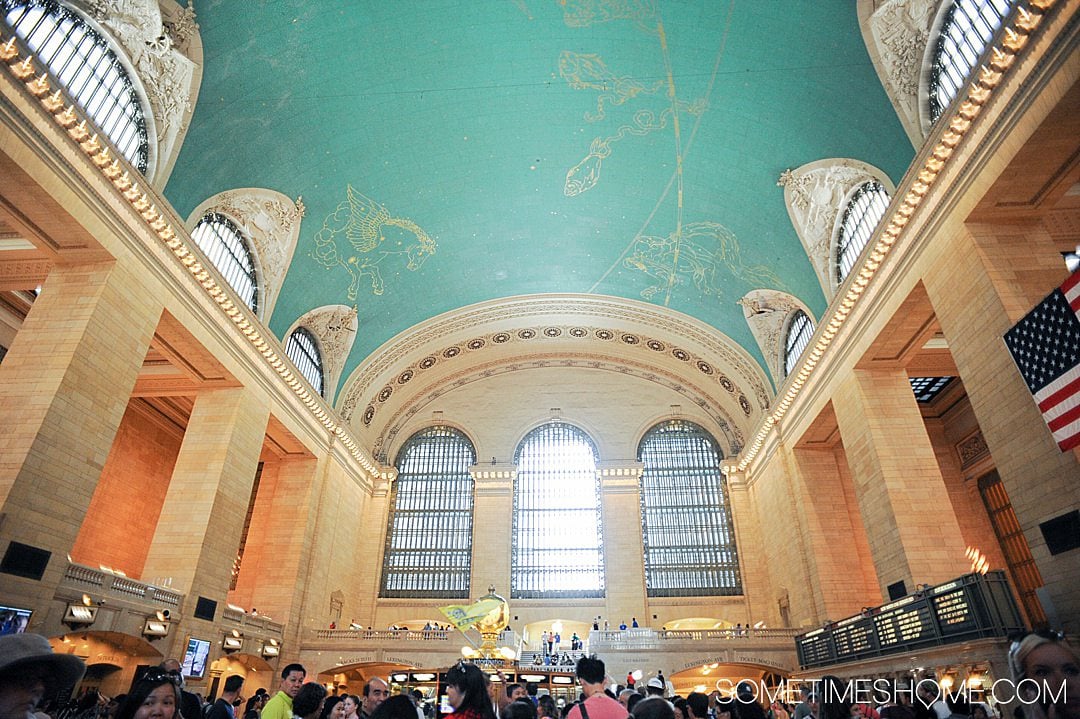 Library Collection Hotel with Nods to Paris
We love staying at hotels that reward us with consistent high quality in guest services, design standards and amenities. Hotel Elysée is one of four hotels in New York City that are a part of the Library Collection. (And if you're wondering how to pronounce Elysée, it's elle-ee-say. Truly French!) Most of the perks at Hotel Elysée are perks consistent with the brand (free WiFi, complimentary water bottle, wine + hors d'oeuvres hour).
The hotel has deep roots, established in the 1920s. Many famous stars frequented here, like Ava Gardner, Marlon Brando and Sidney Poitier. Tennessee Williams, the famous playwright, took his last breaths at the hotel in the 1980s. It was refurbished in the 1990s, when it was considered one of the first boutique hotels in NYC.
Key Parisian touches didn't go unnoticed, including the mural of the Champs Elysée, Paris's most famous avenue, painted behind the check in desk. And the Trompe L'oeil paintings of gardens and stonework in some hallways. Or little handpainted details on the elevator doors, which provided a personalized and humanized design touch. The elevator even has the British "lift" written on it. It isn't French, of course, but takes us over the pond to Europe, nonetheless.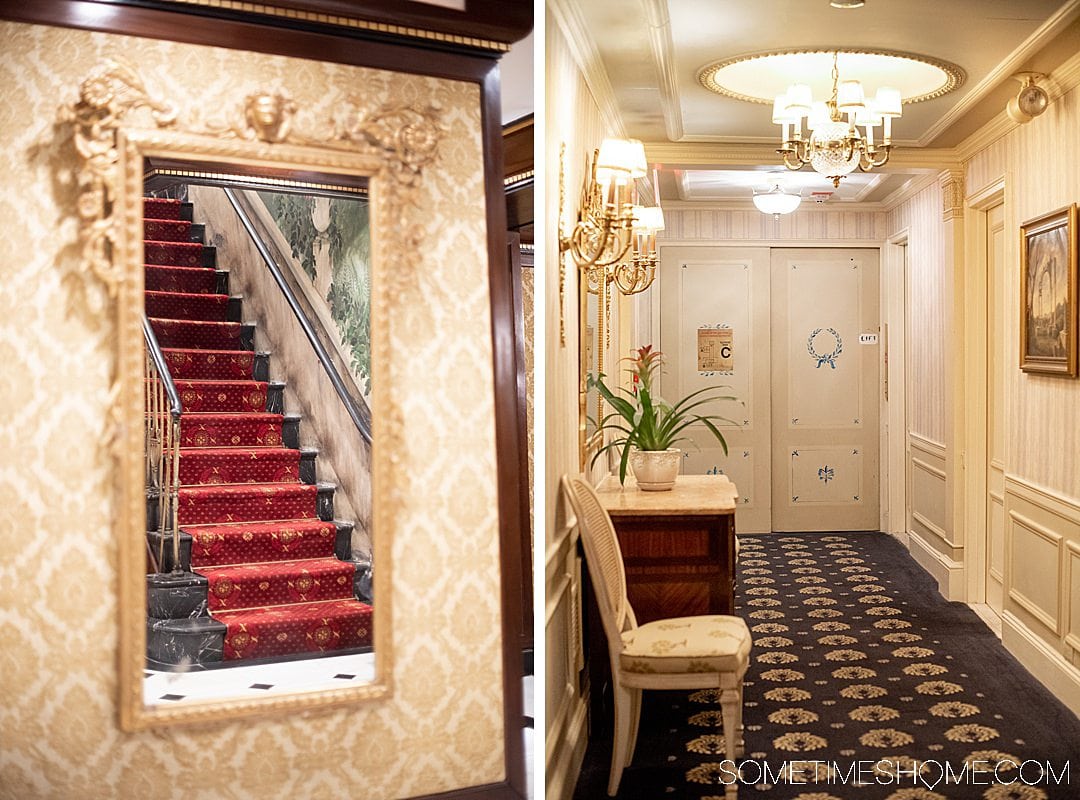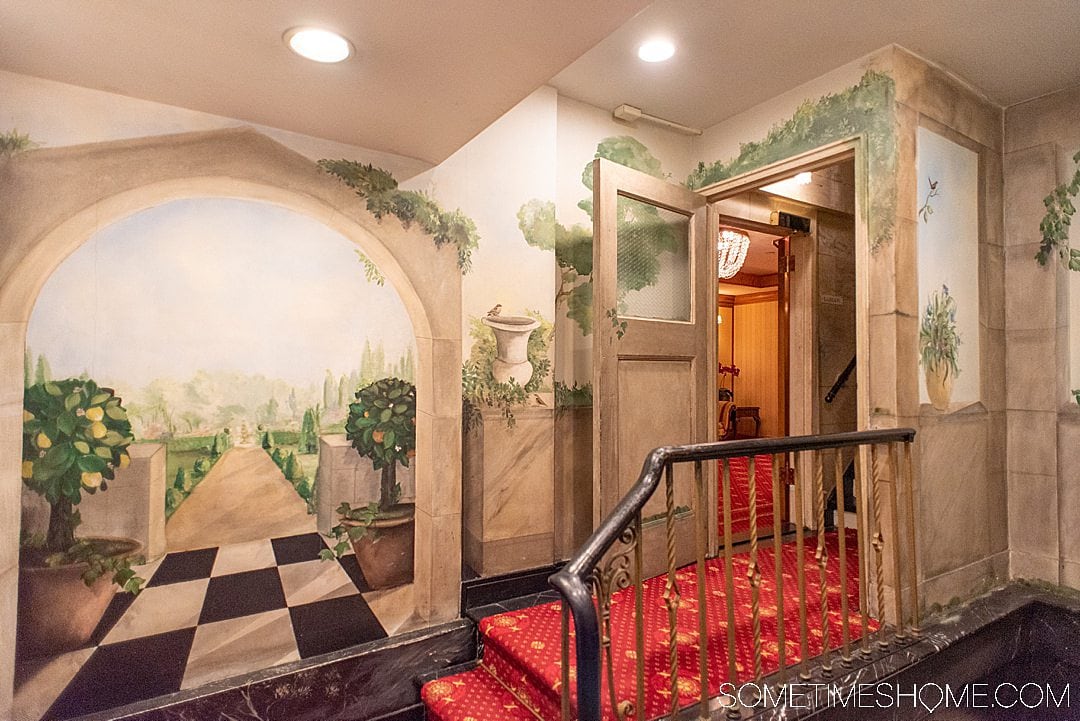 A Parisian Room at Hotel Elysée
My stay was in a Deluxe Queen room at the hotel. And it was SPACIOUS! I was pleasantly surprised to walk in and find three separate spaces, including the bedroom with a seating area and pull out sofa. The bathroom and a desk area with a large closet were next to it, divided by two walls.
Each room at the hotel is slightly different but the overall vibe is akin to a French Bed and Breakfast. Here's what is consistent across the board in every room though: inclusive of bottled water, free high speed WiFi, health club passes, and breakfast. It also includes a daily three hour "wine and hors d'oeuvres" reception.
The decor reminded me of the chic Parisian boutique hotel we stayed at in the Marais district of Paris. Its beautiful gold framed paintings, ruffled curtains and striped wall paper recalled these memories. (Even the rich red carpet in common areas reminded me of the cozy interior of Hotel de la Bretonniere, as did the quaint library on the second floor of Hotel Elysée.) There's also a desk in every room; it came in handy since I had to do a bit of work when I visited. (The WiFi was strong, which I was grateful for!)
The view outside the windows reminded me of rooftops in Paris, with European inspired architecture just across the street. The bathroom was spacious with a full size tub and Gilchrist and Soames bath products. And I love a tub, which most of the new hotels we stay in don't even have these days. There's definitely benefits of staying in a hotel with a long history!
I was able to fully enjoy the room even though I was exploring Manhattan during the day. Check in is at 3:00pm, but luckily check out is later than most hotels at 1:00pm. It allowed me to maximize my time, even more.
Room prices vary depending on season and type, starting between $200 and $450. (If you sign up as a member of the Library Collection "Book Club" you'll be notified about special offers, like giveaways and discounts!)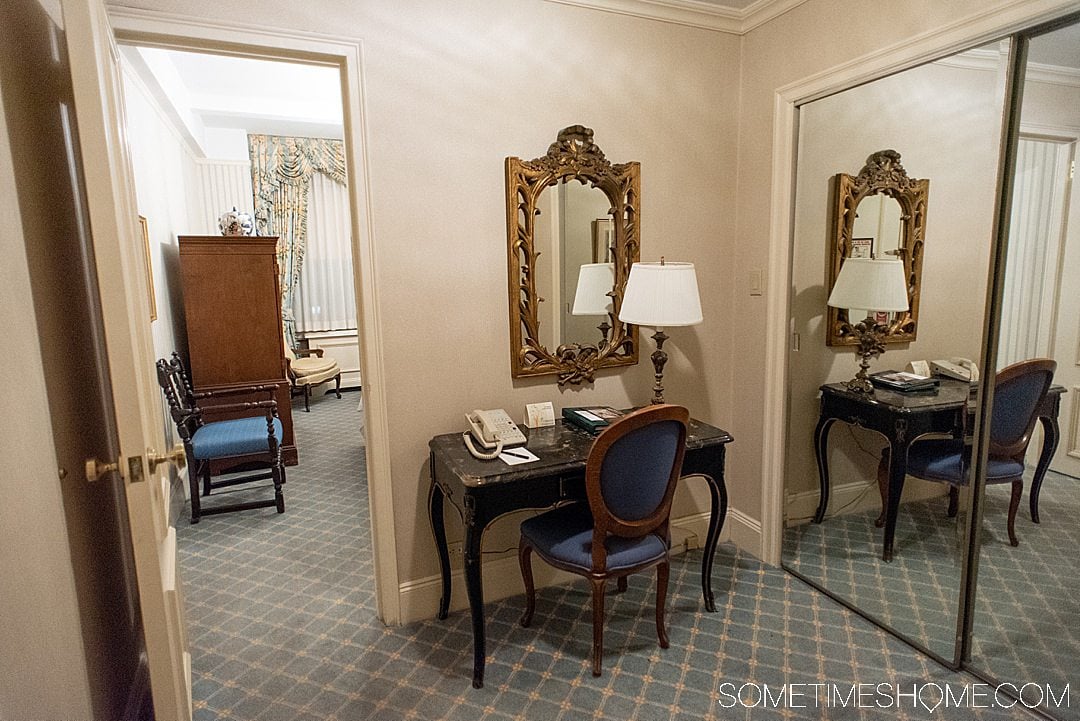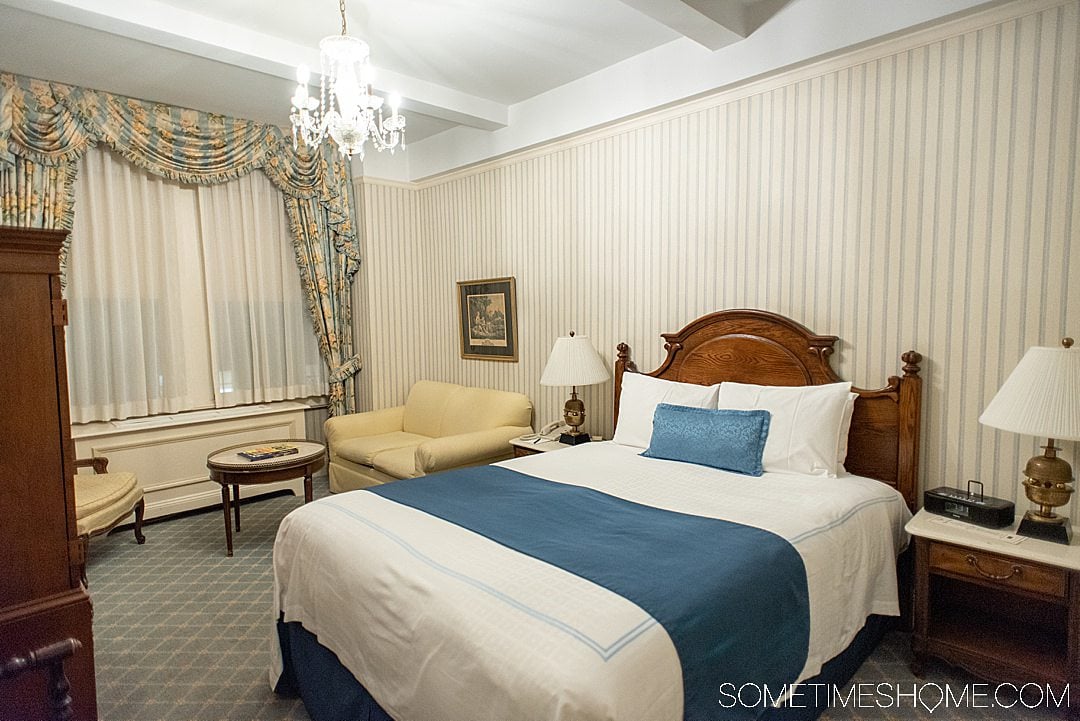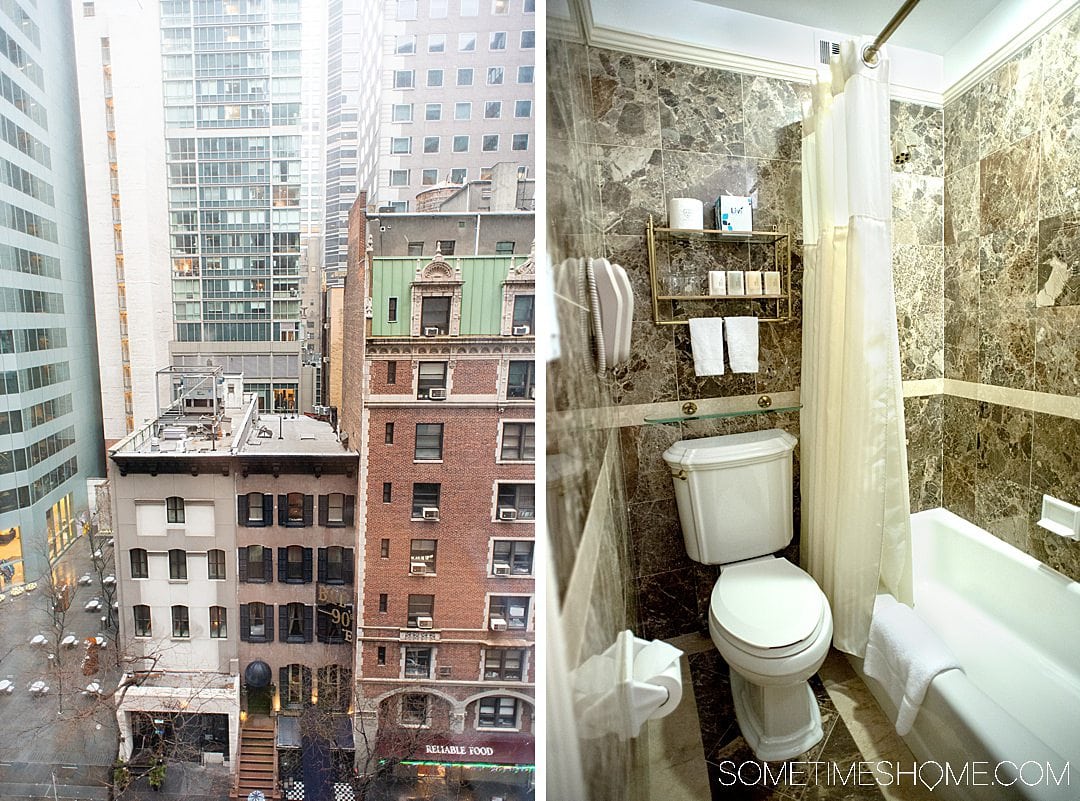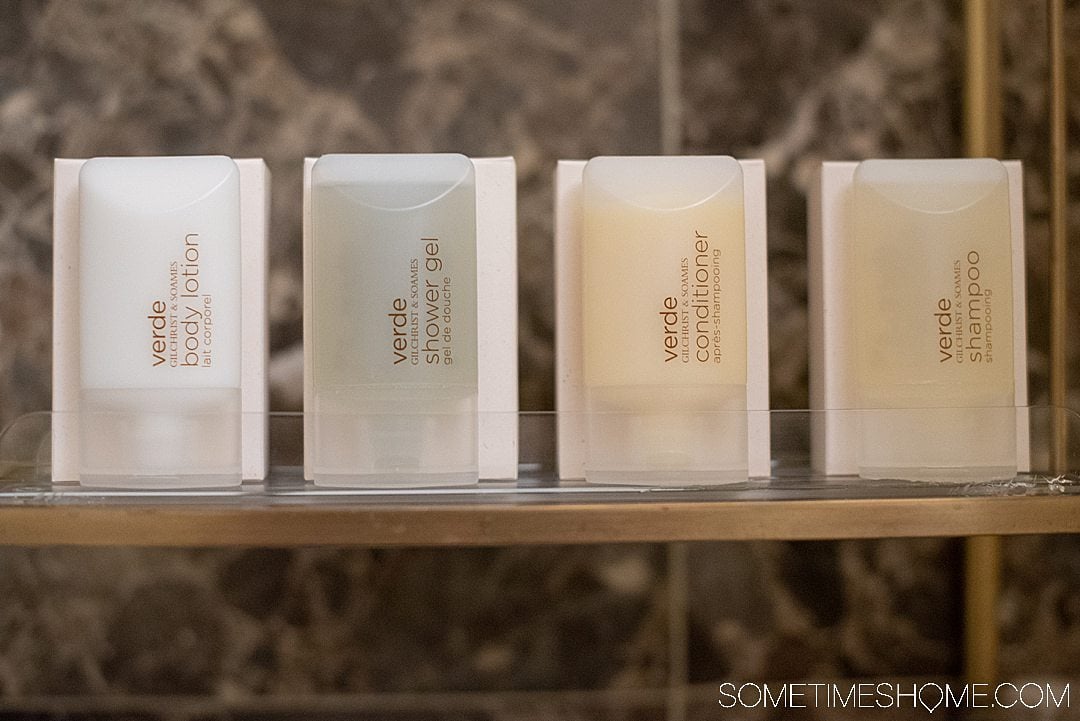 Three Hours of Wine, Prosecco and Hors d'Oeuvres Daily
One of the best parts of staying at a Paris Hotel in NYC was winding down with a glass of wine and a cheese, vegetable and olive plate in late afternoon before dinner. It was the perfect way to unwind from the chaos and high energy of Manhattan. To simply chill out before dinner plans. It's a daily occurrence and complimentary for all hotel guests, from 5:00pm to 8:00pm.
There was also something about the atmosphere on the second floor that made me want to bring a physical book to read instead of my computer or checking my phone. Which was so, so nice. (Maybe it was subconsciously the actual library that's there for guests to enjoy.) Complimentary wine, cheese and a good book? Sign me up.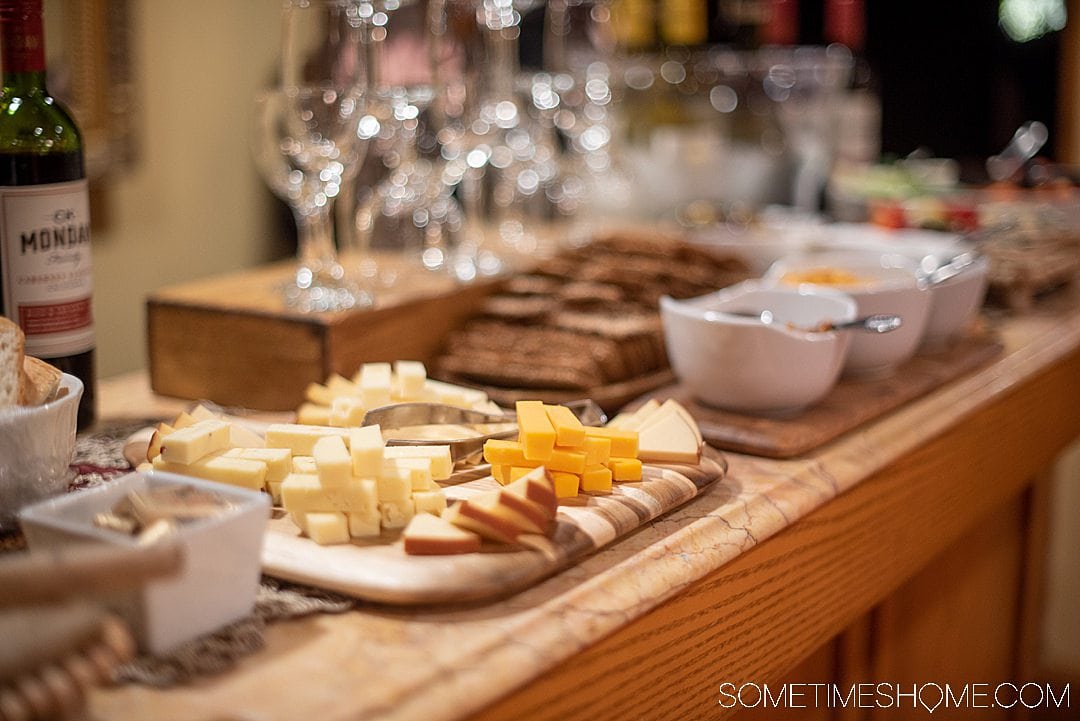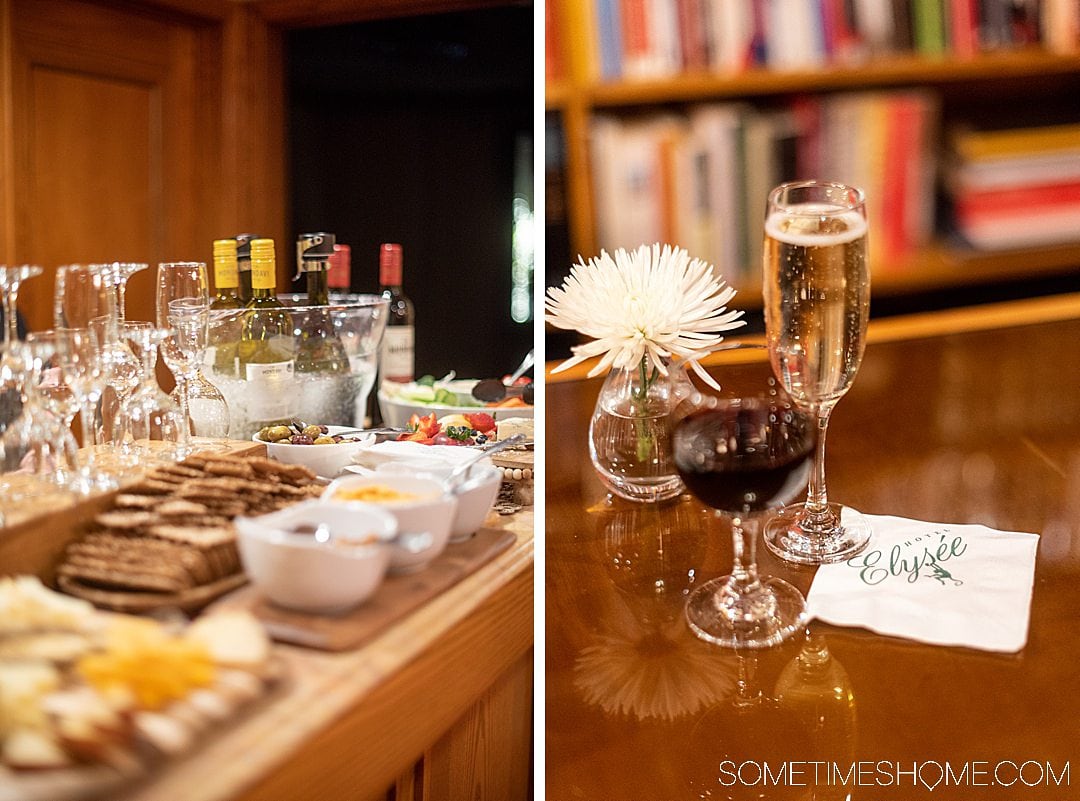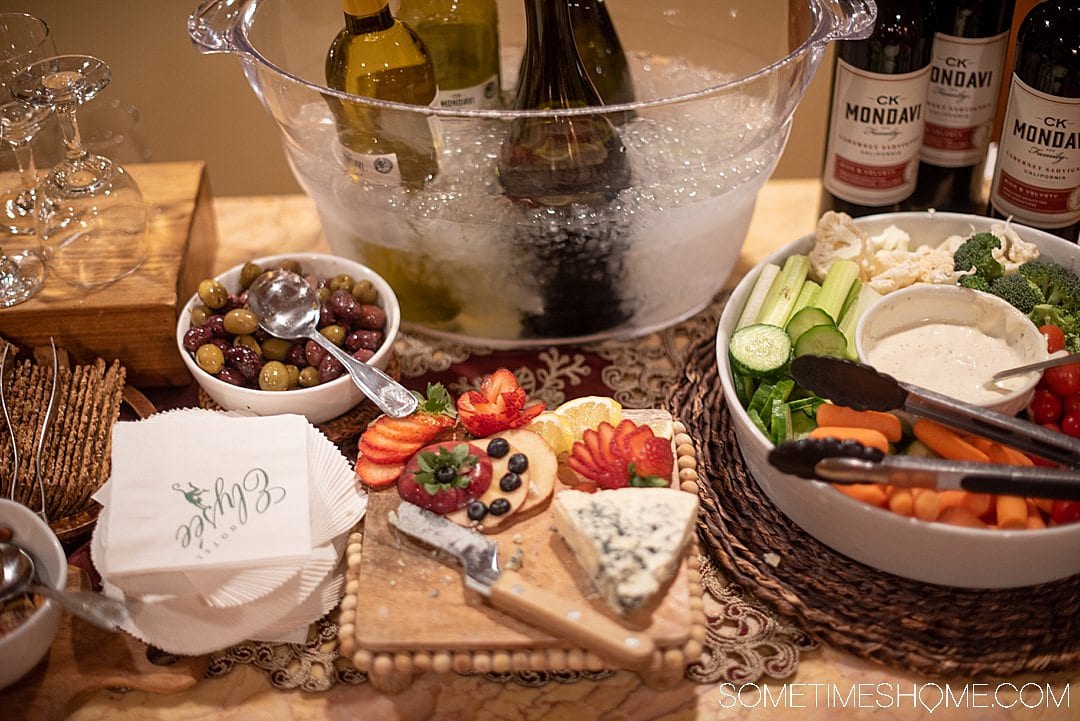 Hotel Elysee's Second Floor Lounge and Breakfast
The second floor lounge is open 24 hours a day for guest enjoyment. They have comfy chairs and sofas, refreshments including tea and coffee, and cookies out all the time. Breakfast is served daily from 7:00am to 10:30am, and until 11:00am on Sundays.
The continental breakfast includes pastries, fresh fruit, yogurt and cereal. It's not a substitute for an authentic NYC bagel or real French pastry, however it's included and does the job. This way you can spend more time, money, and calories at The Monkey Bar next door. Or one of the hundreds of other NYC restaurants surrounding you.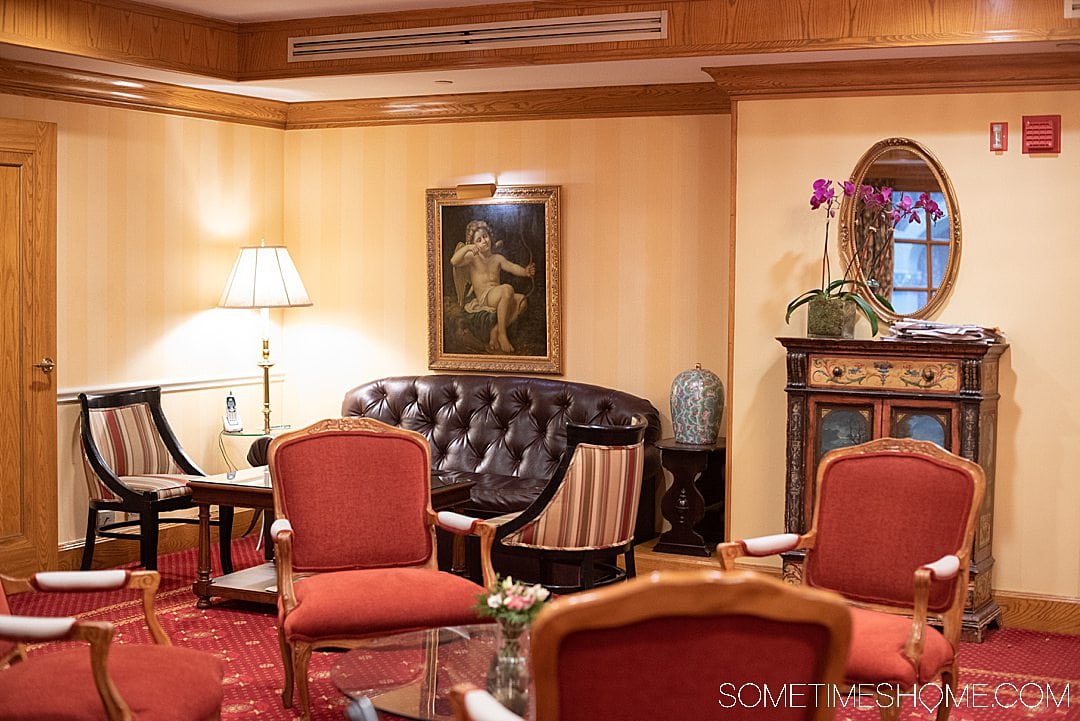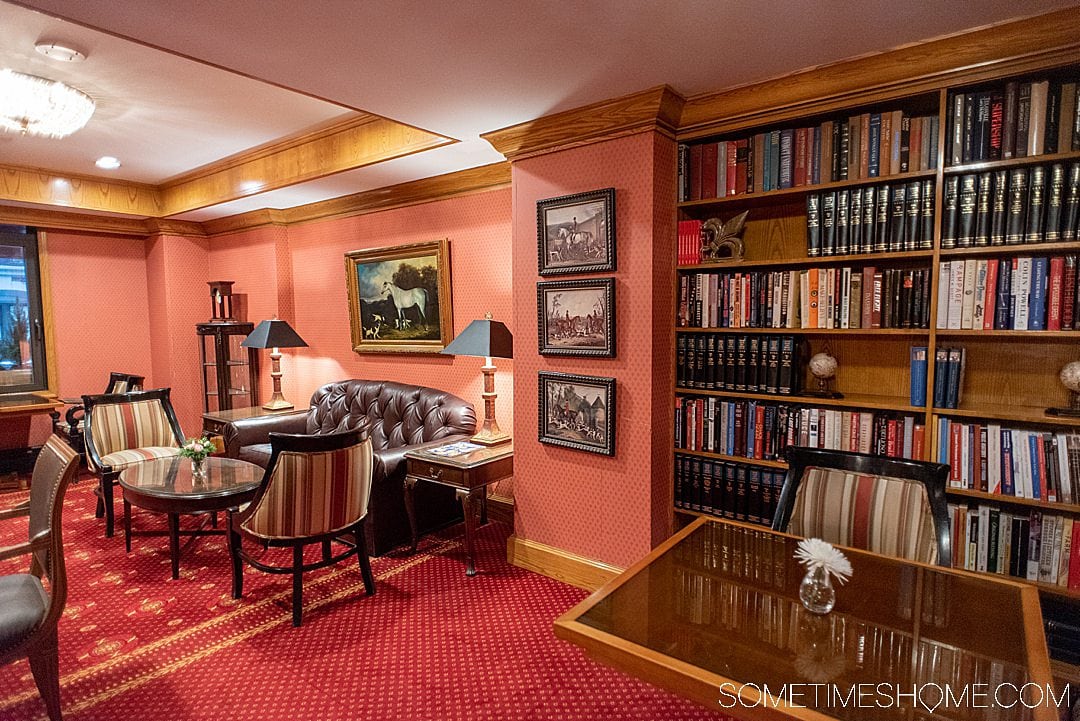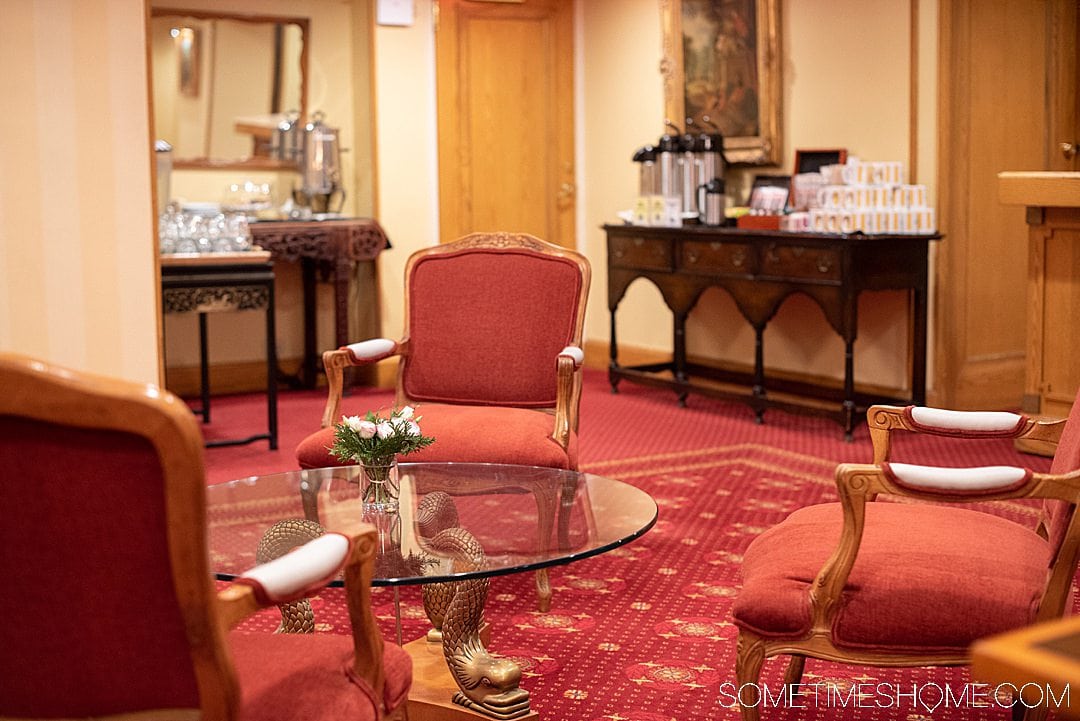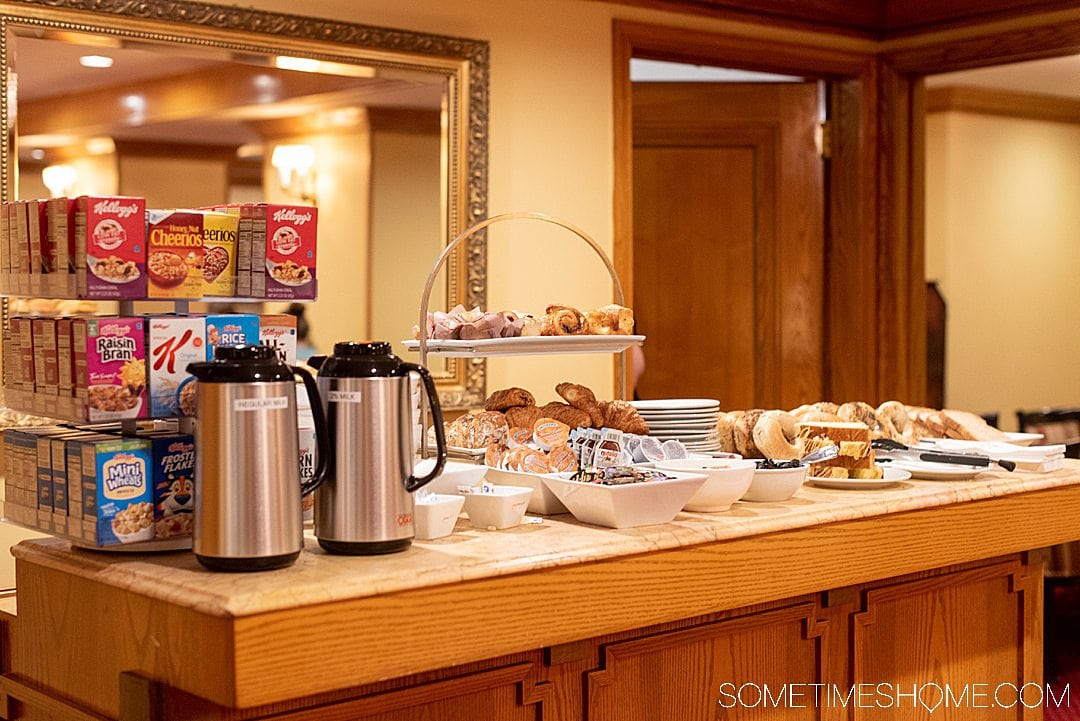 Notable Restaurants and Bars Nearby
A very famous restaurant and bar is next door to Hotel Elysée: The Monkey Bar. In fact, there's a door on the main floor that connects the two. It's been featured on two television series: Sex and the City and Mad Men.
The Monkey Bar has been welcoming famous people and satisfying clients since 1923. It's remained a place to see and be seen since the Great Depression era. Below is a photo of the restaurant, with an iconic caricature painting spanning the back wall. It's of 60 Jazz Age icons, including Ella Fitzgerald, Condé Nast, Langston Hughes, Zelda Fitzgerald and Frank Sinatra. It was created by Ed Sorel, a famous cartoonist born in the Bronx. You'll have to visit the bar yourself to see the bar area complete with fun monkey sconces!
The Monkey Bar serves dishes to satisfy any taste, though perhaps it's not ideal for a vegetarian or vegan. Appetizers include Raw Oysters and Lobster Bisque. Try having a Caesar salad before an entree of NY Strip Steak or Steamed Mussels and Clams. Room service at Hotel Elysée has a limited menu from The Monkey Bar available from 11:30am to 3:00pm, and 5:30pm to 10:00pm.
The Monkey Bar is closed on Sundays.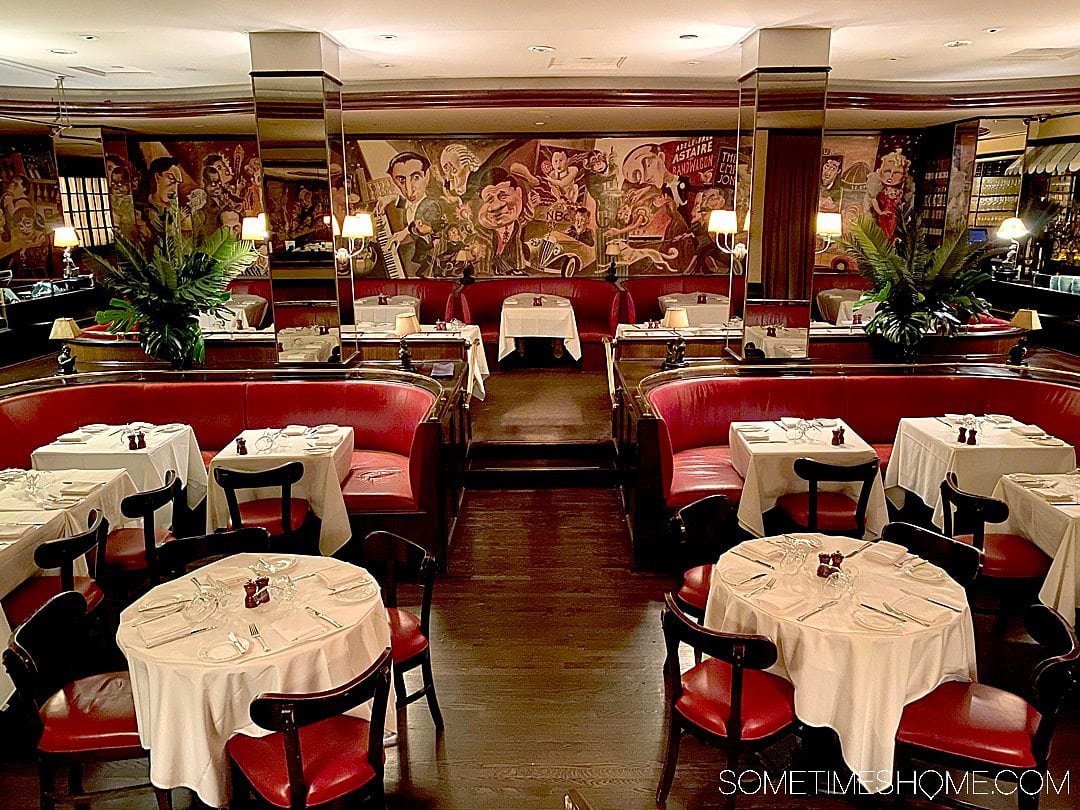 Some nearby restaurants that may be to your liking and are worth checking out include:
We never expected to find a Paris Hotel in NYC that brought us so close to our trip to France but it did. And we look forward to more stays when we visit Midtown in New York City in the future!
Please note: we thank Hotel Elysée for generously hosting us. All the opinions in the post are ours and we bring you genuine content with real facts, photos and thoughts. Always.
Travel planning? Also check out:
What's your favorite type of hotel to stay in?