Breweries in Winston-Salem Self-Guided Tour
It was immediately obvious we needed to go back to the city for a self-guided tour of breweries in Winston-Salem within hours of our first visit. Craft beer has become a wonderful part of the thriving community and culture here.
There's something about the hip vibe of the downtown area, especially, with its revitalized hotels, shops and Art District, that encourages visitors and residents to meet up at cool bars and breweries. And let's face it – few things satisfy like a cold beer, no matter the weather!
How the Self-Guided Tour of Breweries in Winston-Salem Info is Organized
This post is broken down into walkable destinations downtown and those just outside the city limits. (It depends on how far you want to walk since their downtown area is a little large!)
It's a sort of "Craft Draft Crawl" version of our own that we know will more than satisfy any beer-loving-palate.
We urge you to use public transportation and ride shares like Uber or Lyft to safely transport yourself from one destination to the next when hopping from one Winston-Salem brewery to the next if you're drinking a lot. Drinking and driving don't mix and we don't encourage it.
Walking Distance Within Downtown Winston-Salem
Foothills Downtown Brewpub
Downtown Winston-Salem is home to Foothills Brewpub. (They have another brewery outside of downtown. Foothills has three locations overall if you include Footnotes, beside the brewpub, which also serves coffee drinks.)
Their Downtown Brewpub has a chill vibe, full menu (as well as appetizers if you're just feeling noshy) and events like open mic and trivia nights. Feeling musical on a Sunday? They've got Sunday jazz too!
It's a great destination for the whole family, solo trip or even a date. Check their calendar for brewery tours and additional events.
We loved that it was easy walking distance from the center of downtown, like from the Kimpton Cardinal Hotel, and it has great seasonal releases. Try their very popular Sexual Chocolate Imperial Stout in January and February or Foothills Oktoberfest in the fall. (A personal favorite when we went to the North Carolina Renaissance Festival.)
Read on to our info about Foothills Brewing Tasting Room, below, for more information about how Foothills gives back to continuously help the community.
Address: 638 W 4th St, Winston-Salem, NC 27101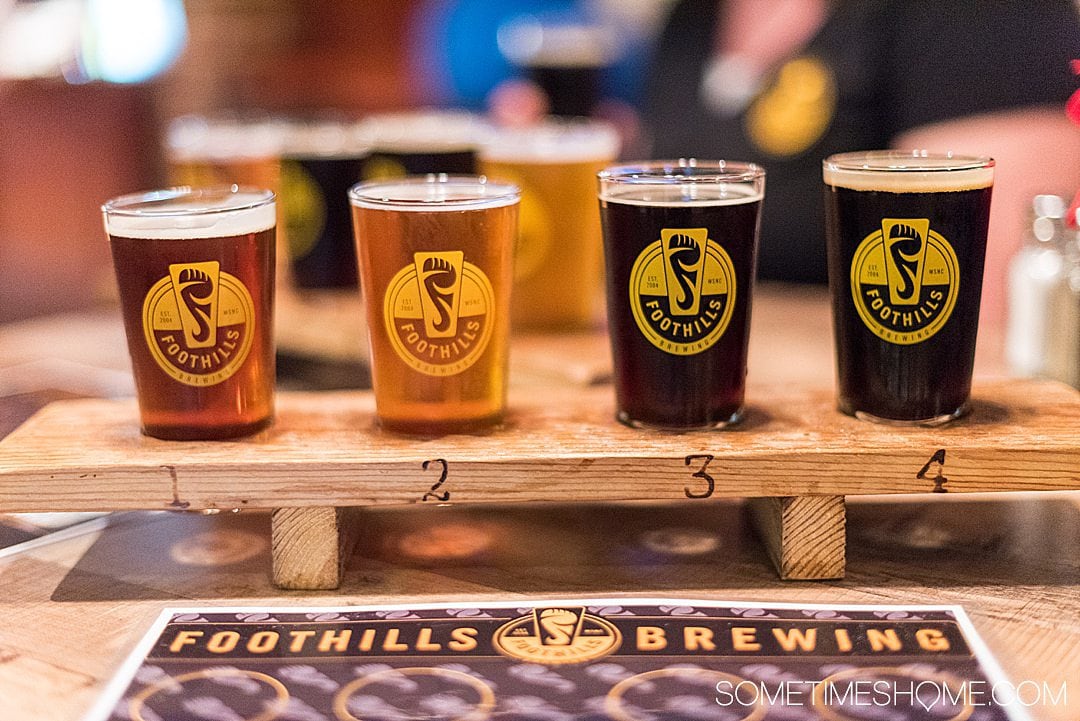 Footnotes Cafe
Consider
Footnotes
a more caffeinated, more laid back sibling to Foothills Brewpub. It's just down the mural-painted alleyway next door to their Downtown Brewpub and leads to a cafe with coffee, tea and all the beer you know and love next door. (It's especially great to come here if you're with a designated driver who loves lattes and cold brews!) They also offer Signature Cocktails made with all your favorite liquors, including Vodka, Rum, Bourbon and Moonshine.
Did you know Foothills roasts their own coffee beans?! How cool is that?
Address:
634 W 4th St, Suite 120, Winston-Salem, NC 27101

Winston-Salem's Nano-Brewery: Small Batch Beer Co.
As soon as we arrived to Winston-Salem we headed to Small Batch to start of our self-guided tour of breweries in Winston-Salem, NC. It was perfect to have beer and food to coat our bellies before the afternoon ahead of us.
Small Batch Beer Co. was founded in 2014 as a nano-brewery. Though they have grown, they have stayed true to their "small batches of beer" roots.
As their name indicates, Small Batch beer is brewed in limited quantities. Each brew contains a local ingredient like farmers market herbs or Black Mountain Chocolate. They have delicious burgers, salads, sandwiches and….milkshakes! They have cocktails too if that's what you're craving.
Address: 241 W. 5th Street, Winston-Salem, NC 27101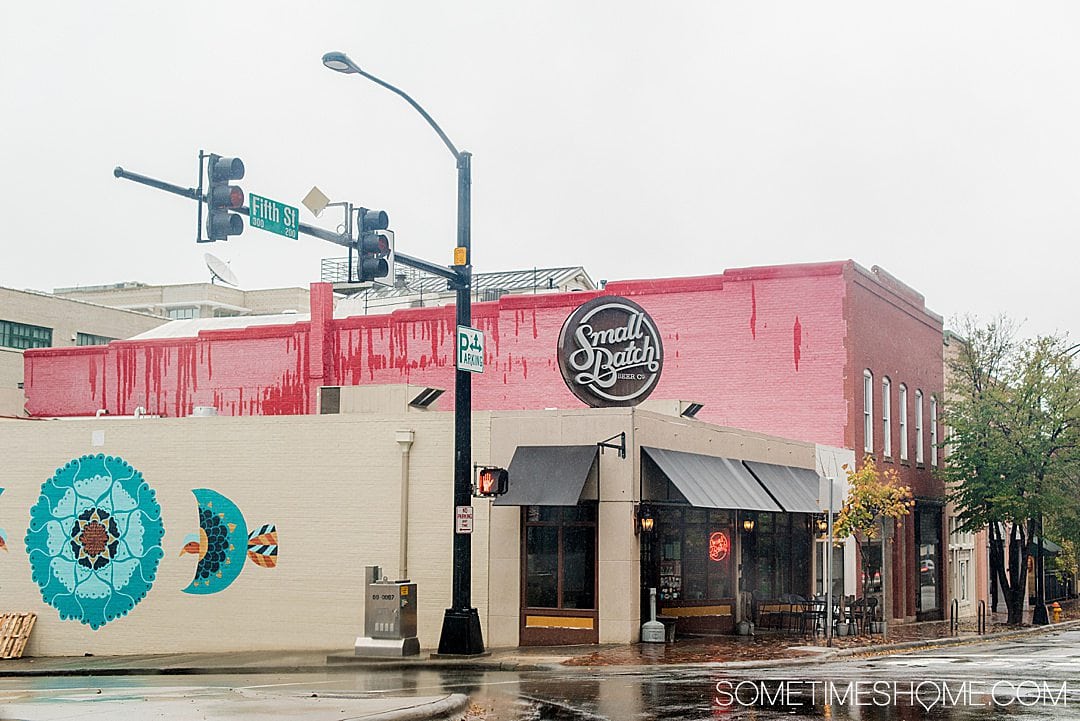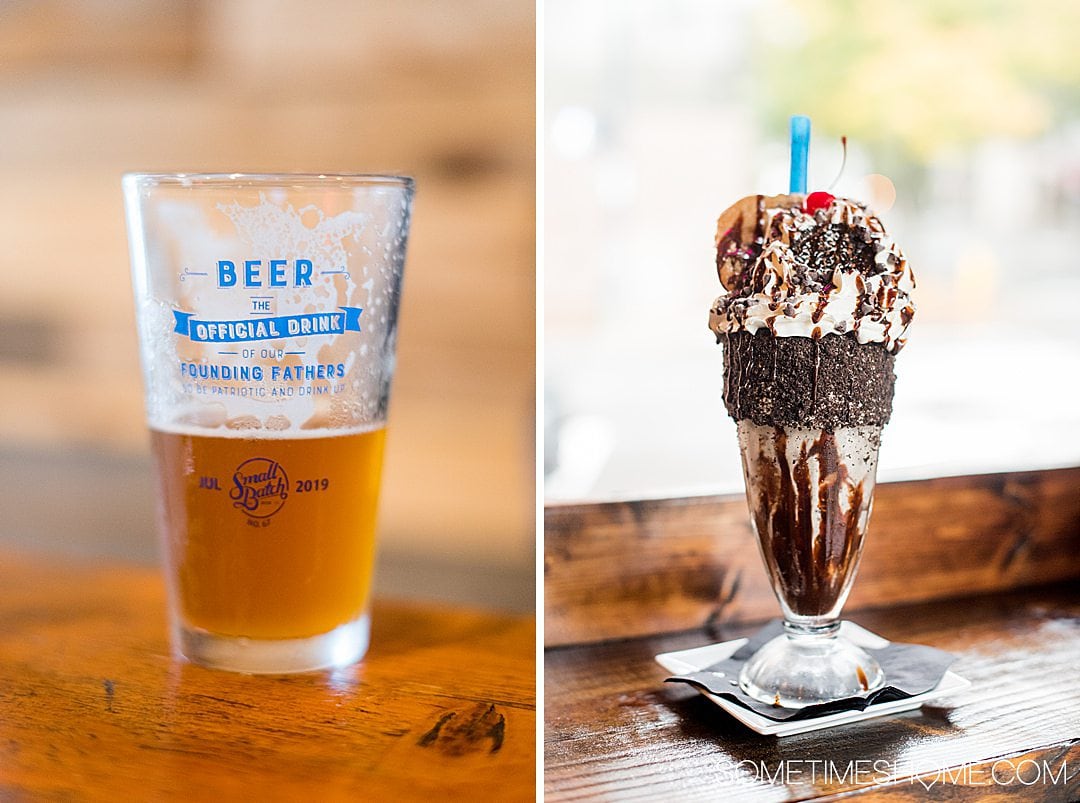 Downtown Winston-Salem's Fiddlin' Fish Brewing Company
If faced with a career choice to be a brewmaster or in finance, which would you choose?
If you're like Fiddlin' Fish co-owner, Stuart Barnhart, you'd choose brewmaster! He started Fiddlin' Fish in August 2017 with his wife, Hillary Stevens. It's a brewery that's grown quickly in Winston-Salem.
We fell hard and fast not just for their beer but the ambiance inside their tasting room, with a huge mural of a musician fiddlin' a guitar on the back wall. We love how they honor local artists and businesses inside, from art to the reclaimed wood they used for tables from a local restaurant.
They also have the Slanted Shed food truck semi "permanently" stationed there, serving North Carolina seafood.
Stuart gave us an inside look at the brewery, with its pristine tanks, before we sat down to taste the results.
We couldn't resist trying a flight to maximize our tasting. Flights are served on wooden fish trays Stuart carved himself. Try their staple "That Fish Cray" New England IPA and their Buena Vista Blonde.
Address: 772 Trade Street NW, Winston-Salem, NC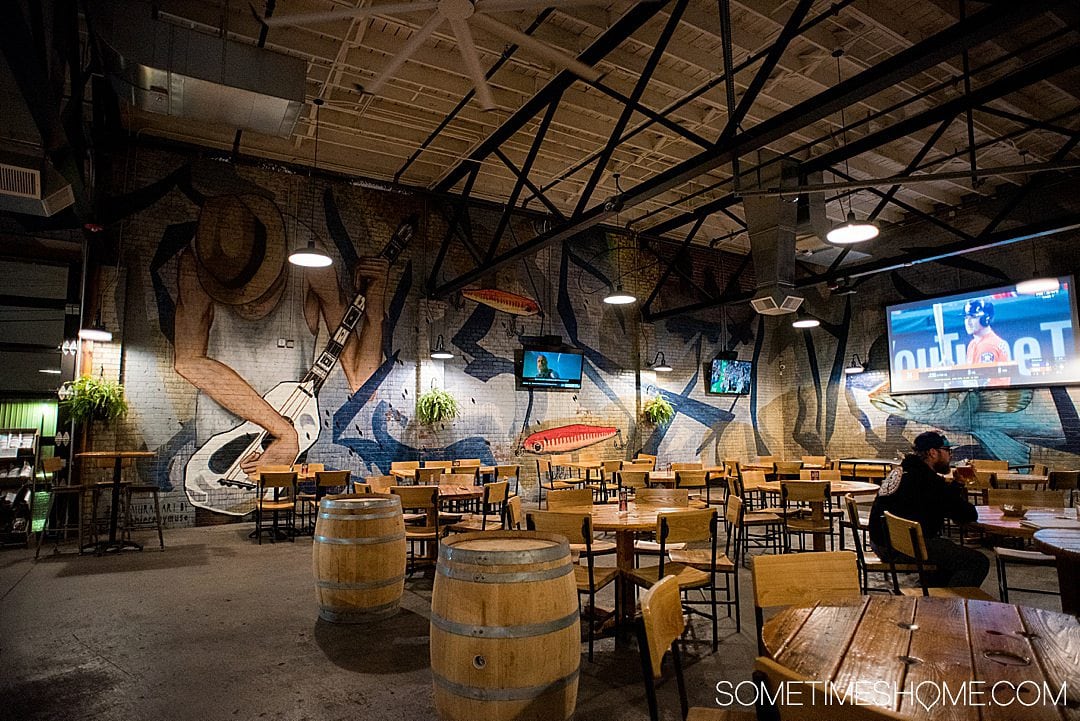 Wise Man Brewing (A Favorite Brewery in Winston-Salem)
We love the vibe at Wise Man Brewing. This is probably our favorite amongst all the breweries in Winston-Salem.
Street art and colorful murals are one of our favorite things of all time, locally and while traveling. They have great art on their building and beer cans. And an Art-o-mat inside too!
Their master brewer, Dr. Sam Victory, is like the Walter White of brewing! He has PhD in chemistry but decided creating beer was more to his liking. They mostly brew ales because they take less time than lagers and they have limited brewing space.
The name "Wise Man" came from Plato's famous quote, "He was a wise man who invented beer."
Their beers are named after wise men.
Here's some of the clever beer names and the famous people they came from:
Body Electric, from Walt Whitman
Mountain Calling, from John Muir
Scoop Dog, from Snoop Dogg (a cream ale with reduced gluten levels)
The building they are located in is nearly 100 years old; it was the old Angelo Bros. building that sold wholesale goods, like tobacco and candy. It sat vacant for eight years but they bought it, restored it over a year and a half's time and breathed new life into it.
Did you know the entire roof is outfitted with solar panels?
There are still several pieces from the original building inside, like the light fixtures that used to be bars over the Angelo Bros. windows. Or the old glass windows whose panes are now marker boards for the beer menu by the bar.
They host a number of events:
Complimentary brewery tours nearly every Sunday at 12:00pm and 1:00pm, which last about 45 minutes.
Live Music every Wednesday and every other weekend.
Monday trivia.
Tuesday run club.
Ever since Dan first tasted their beer, he has declared it some of the best brewed in all of North Carolina (not just one of the best breweries in Winston-Salem.) And that's saying something!
Address: 826 Angelo Bros Ave, Winston-Salem, NC 27101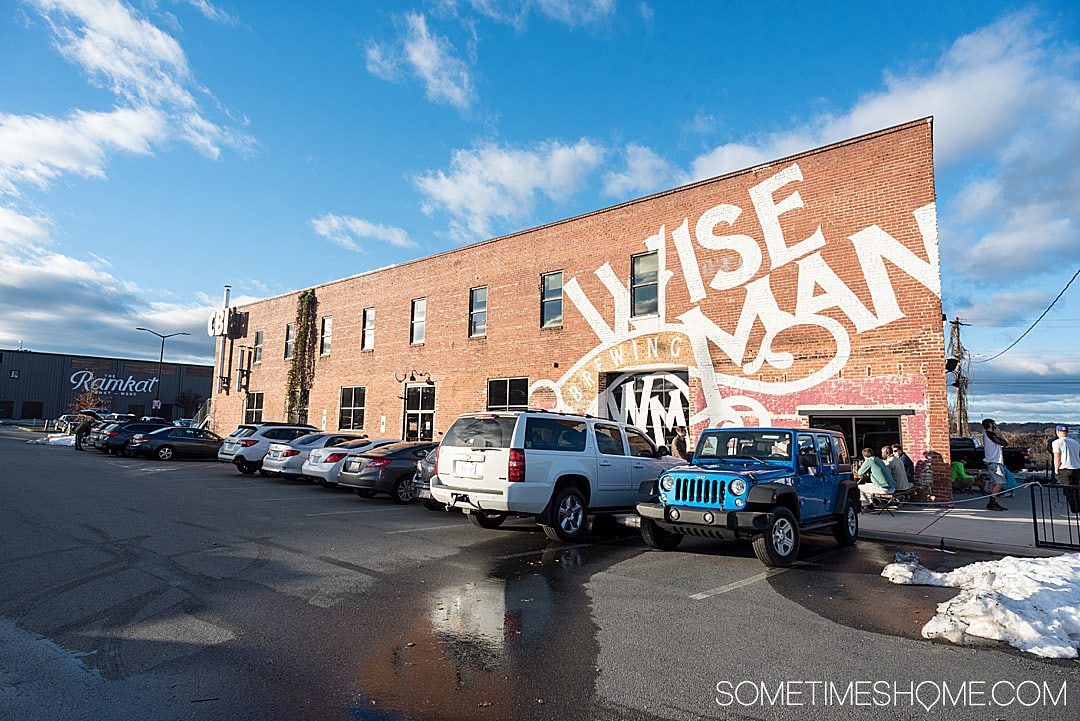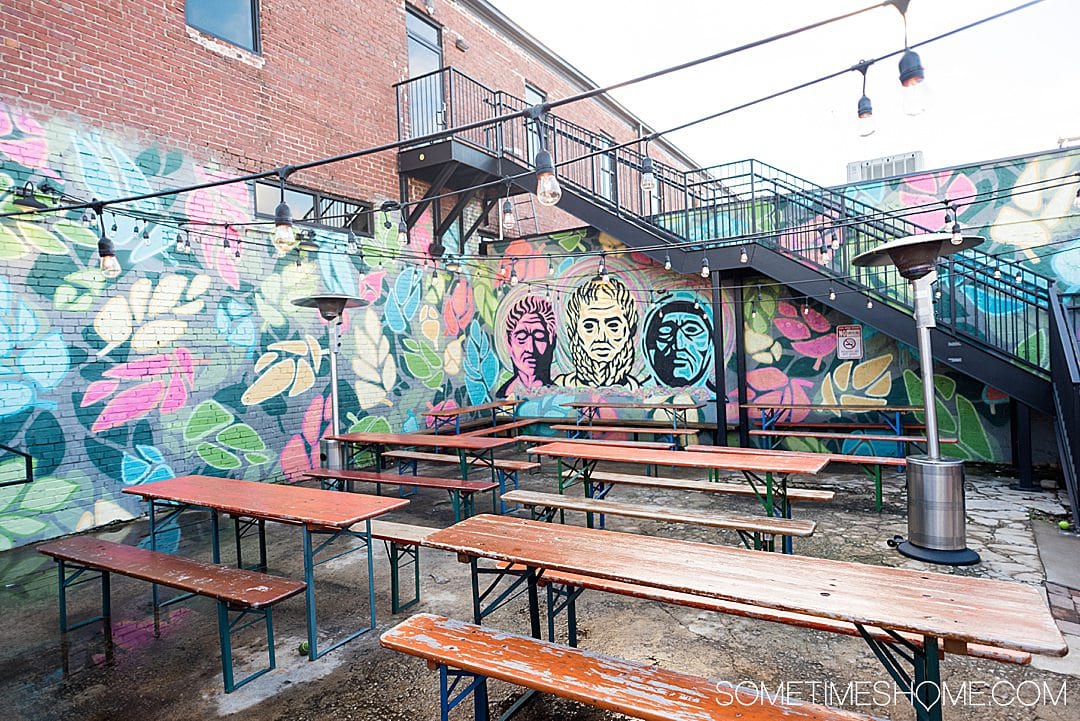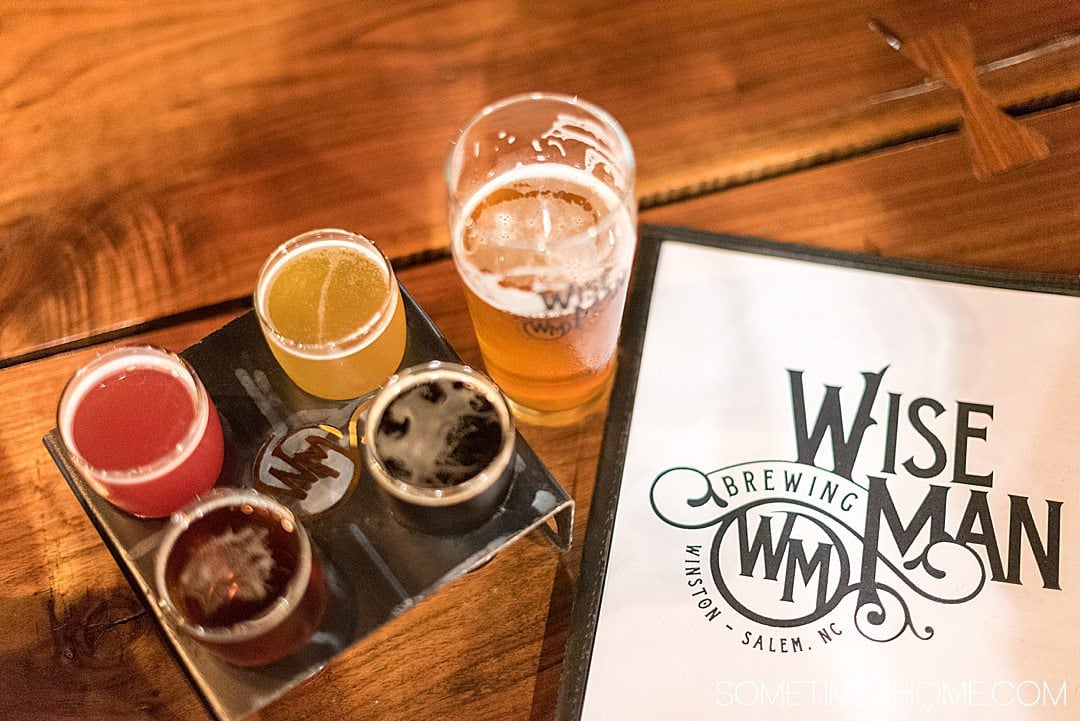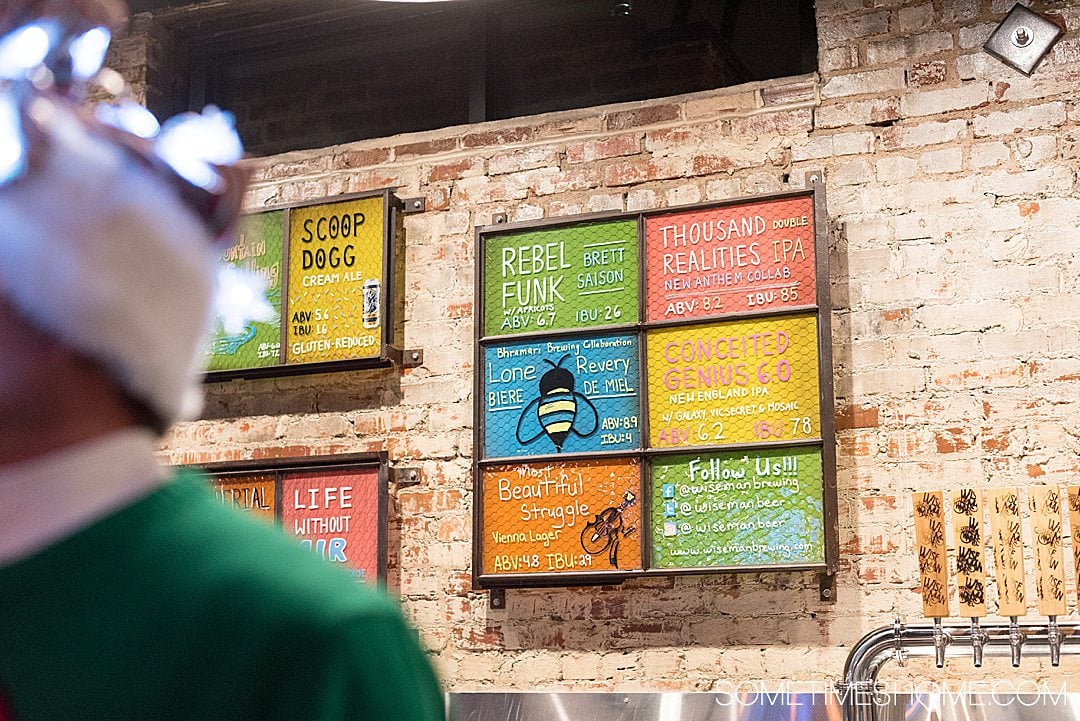 Radar Brewing Company
This new brewery is piggy backing on the burgeoning area in Winston-Salem, named Industry Hill. It's only a five minute walk from Wise Man Brewing and a 10 to 15 minute walk from Fiddlin' Fish.
Three friends (two Aarons and one Eric) who had a dream to own their own brewery and create their own beer, started Radar. They have many years of experience working at other breweries that gave them the technical know-how and business chops to do it.
They wanted to provide a different design and vibe than all the other brewing destinations in the area when dreaming up Radar Brewing Company. The space was a storage building for NASCAR vehicles before they flipped it. Now it's filled with brewing tanks, long tables and a very attractive bar composed of 2″ pieces of cut plywood that created a two-toned bar top not to be overlooked. The current interior design is minimal yet well done. it strips away the "noise" that sometimes fills breweries.
They focus on open fermentation, which was how all brewing was done once upon a time. They have several beers brewed in-house on tap with a strong focus on Belgium styles. You'll find others here too, though, including Session IPAs, West Coast IPAs and Stouts. They also feature a few rotating guest taps to round out their offerings. Be sure to check their food truck lineup on their Facebook page.
Address: 216 E. 9th Street, Winston-Salem, NC 27101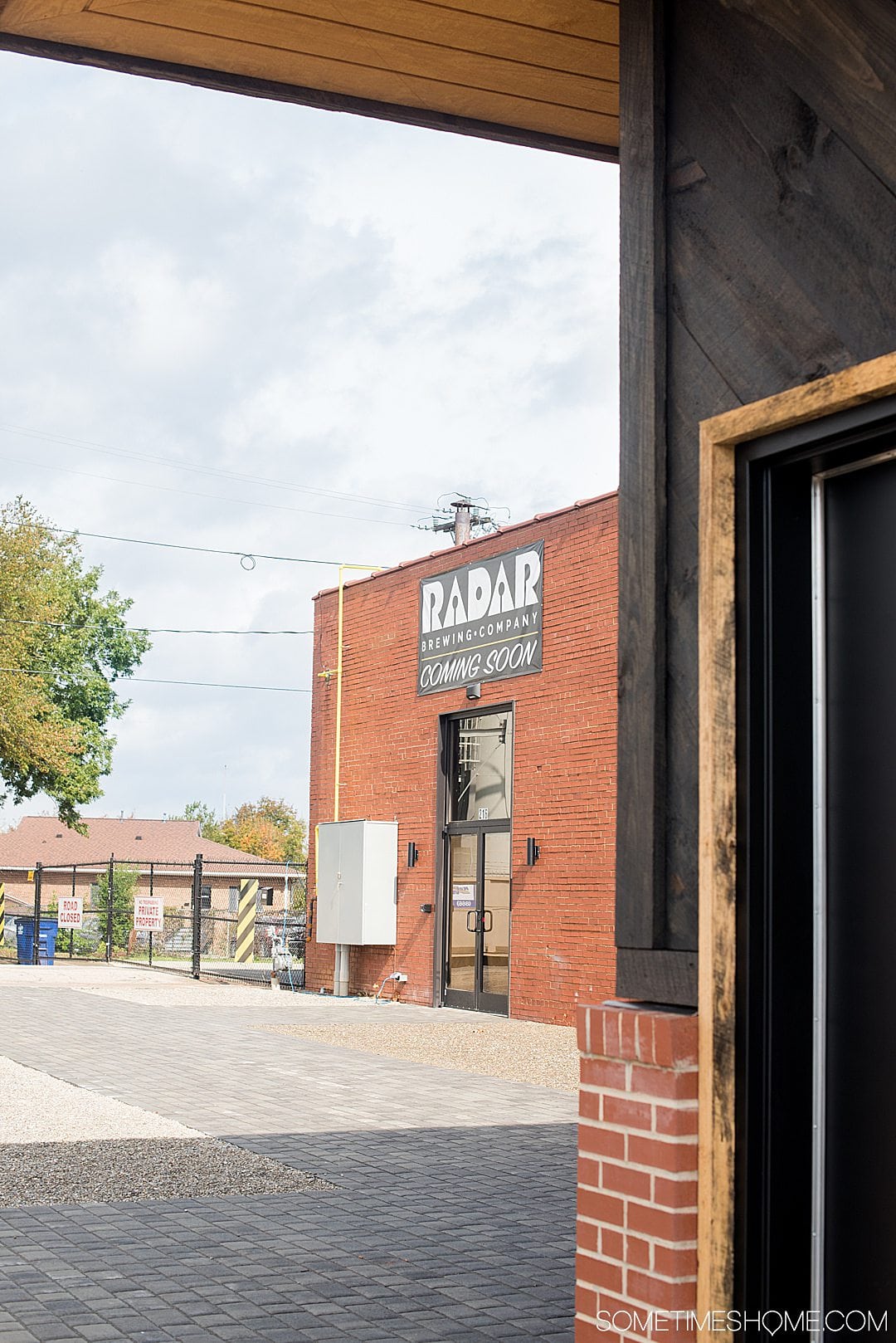 City Beverage Co. (Winston-Salem Bottle Shop and Bar)
You know when you walk into a shop and just feel the love and dedication a family has poured into it over many decades of business? City Beverage Co. is that place. Dan and I visited on a rainy day and walked in cold and a little wet. But we immediately felt the warmth of the business surround us from the friendly employee who greeted us to the interior design of the space.
We walked around in awe of what they carry – not just local North Carolina items and beer but also supplies for home brewers including barley, yeast and extracts, stoppers, airlocks and even red wine coloring.
We selected our beers and sat in the bar area. Dan picked out a Johnny Cash record and placed it on their record player (with their permission and encouragement) and relaxed in upholstered chairs. We talked and admired the articles about the store and athletic photos covering the walls.
City Beverage Co. has had three generations of owners and operators from the same family, including Harry Davis Sr., Harry Davis Jr. and, presently, Harry Davis Sr's grandson, Spencer. We enjoyed looking at the old photos of Harry Davis Sr. playing softball, for which he is in the North Carolina Softball Hall of Fame.
They carry over 900 types of beer and have wine available too, as well as draughts at the bar. You can stop by to simply purchase and go, but why not stay with such a wonderful sitting area and inviting people there?
Wine tastings take place Fridays from 4:00 to 6:00pm. Beer tastings take place Saturdays from noon to 4:00pm. They are closed Sundays.
Be sure to stop at Camel City Goods, less than a block away, for really cool Winston-Salem garments and souvenirs when you visit. We were instantly hooked when we discovered it our first time visiting the city.
Address: 915 Burke Street, Winston-Salem, NC 27101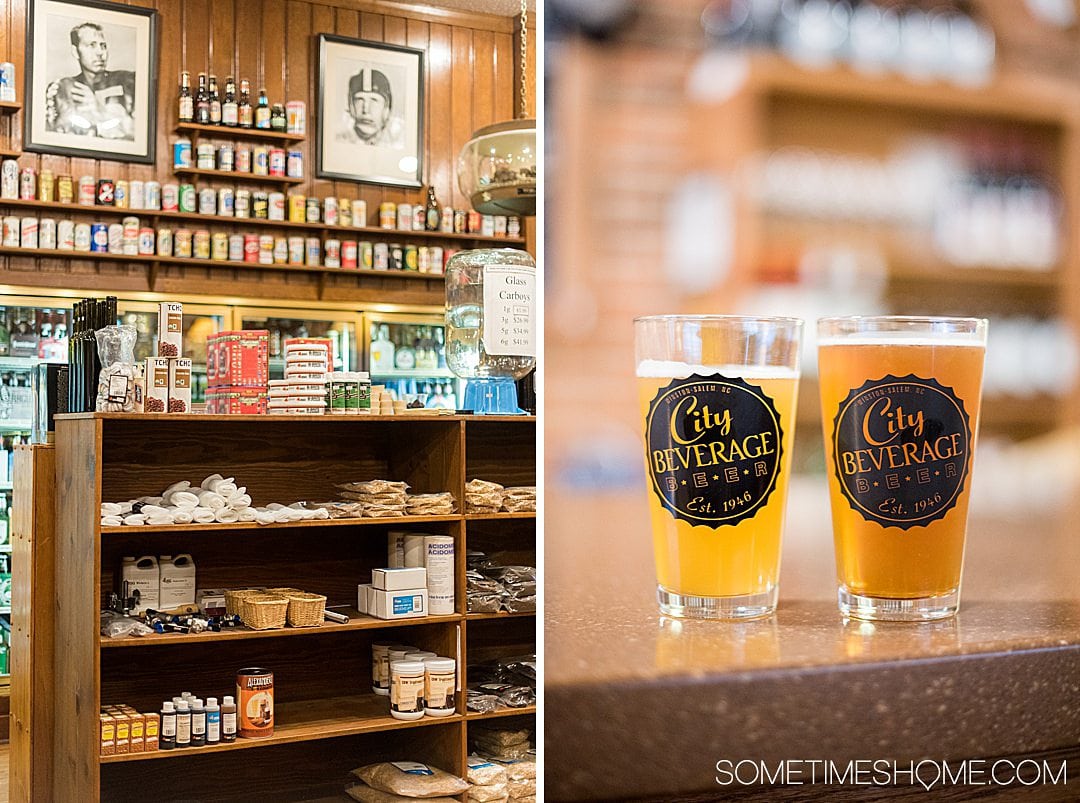 Dogwood Hops and Crops Bottle Shop and Winston-Salem Bar
This bottle shop and bar in the heart of downtown Winston-Salem, NC is easy to walk to if you're staying in the city. (We suggest the Kimpton Cardinal or Hotel Indigo.) They have a limited panini sandwich menu and charcuterie + cheese plate as well as a huge list of local North Carolina beers. (Don't get me started on my love of condiments and their Ivan Drago sauce, unlike any other condiment I've ever tried. They truly need to consider bottling it and selling that too!)
If you prefer something in the many refrigerators to what's on tap you're welcome to crack open a beer and enjoy it at the bar or take it home. They also have a cooler of "last chance" beers for discounted prices that could make your money go even further. Craving something stronger? They have an extensive list of bourbon, ryes, gin, tequila and more.
Address: 517 N Liberty St, Winston-Salem, NC 27101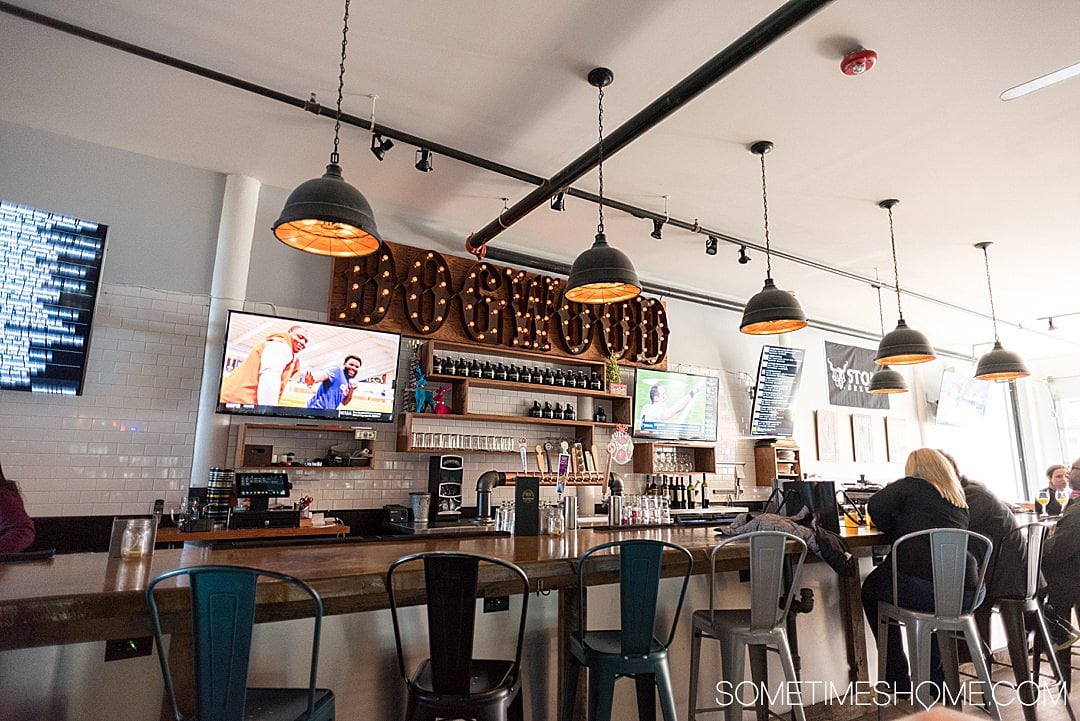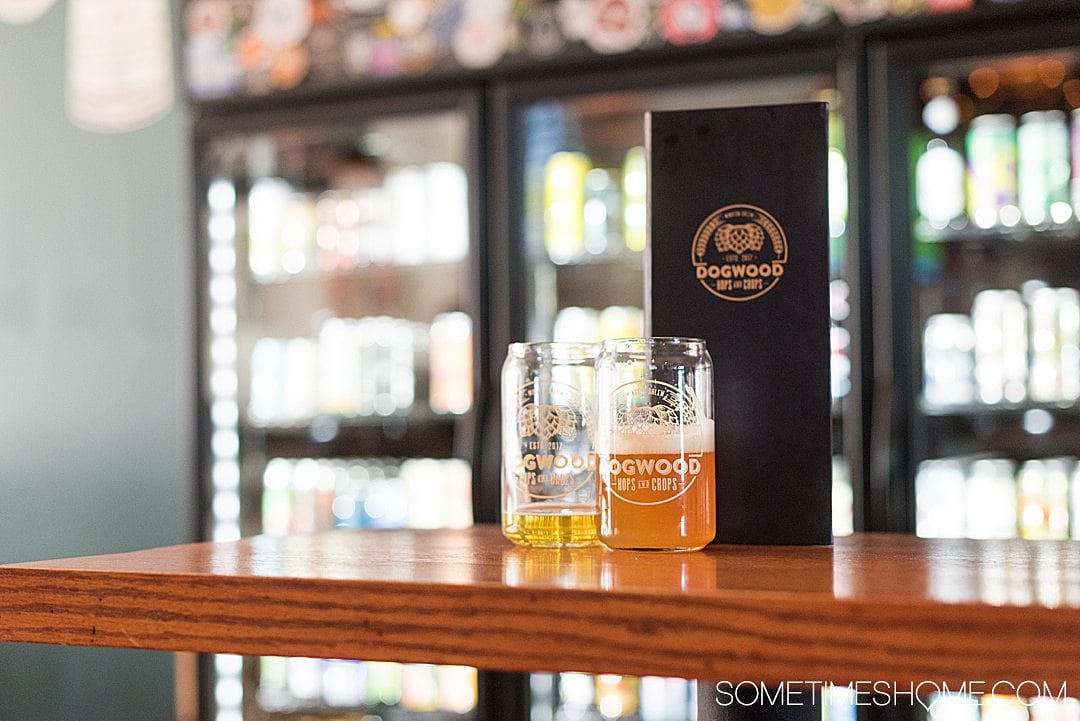 Incendiary Brewing Co.
You can feel the electricity of Incendiary Brewing Co. as you approach the building. It's in the old Bailey Power Plant and uses a play on power in its name to honor the building's history. This is where coals were ignited to become steam power many years ago.
The owner, Chris, had a grandfather who worked at the power plant. After the building sat vacant for over a decade, he breathed new life into it using some original materials as part of the new brewery but updating others. For instance, the steel doors and valves on the walls are original but the tables and bar are new and locally made. Its life has come full circle as a gathering place for beer enthusiasts, energized over the power of great drinks and a family run operation.
Their flagship beer is Shift, a New England IPA. But if you can't decide on just one, like us, have a bunch. They have porters, pilsners, wits and more. Be sure to check out the mural inside, by super talented local North Carolina artist Jeks, too.
Address: 486 N. Paterson Avenue, Winston-Salem, NC 27101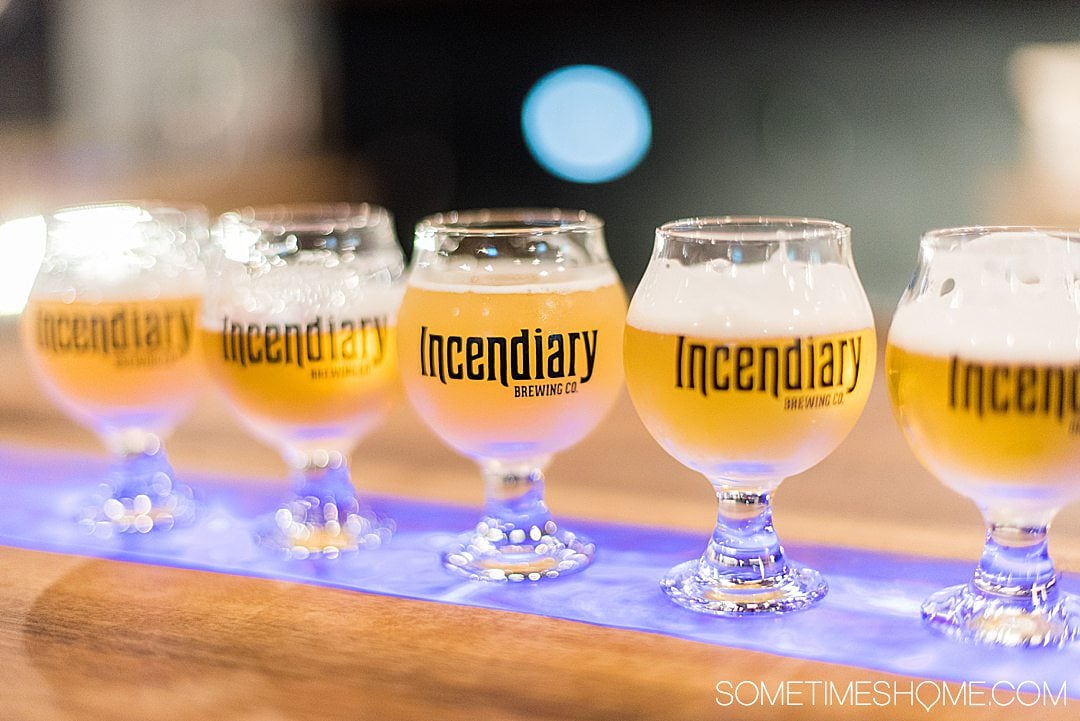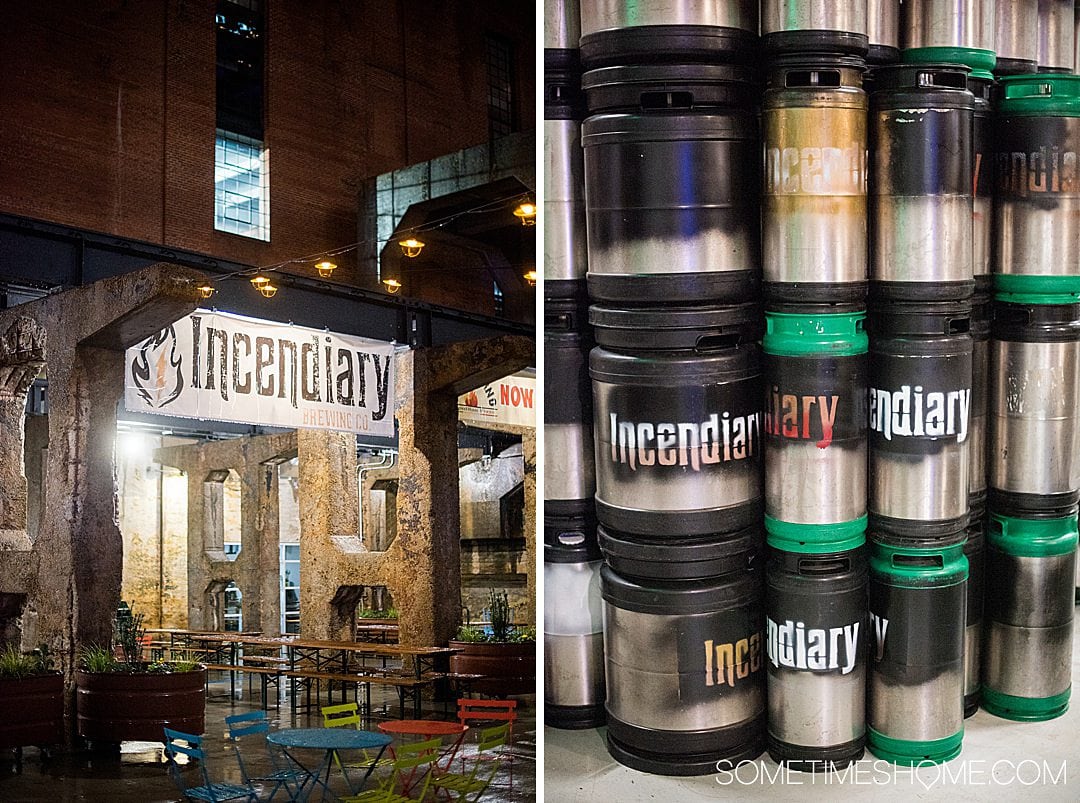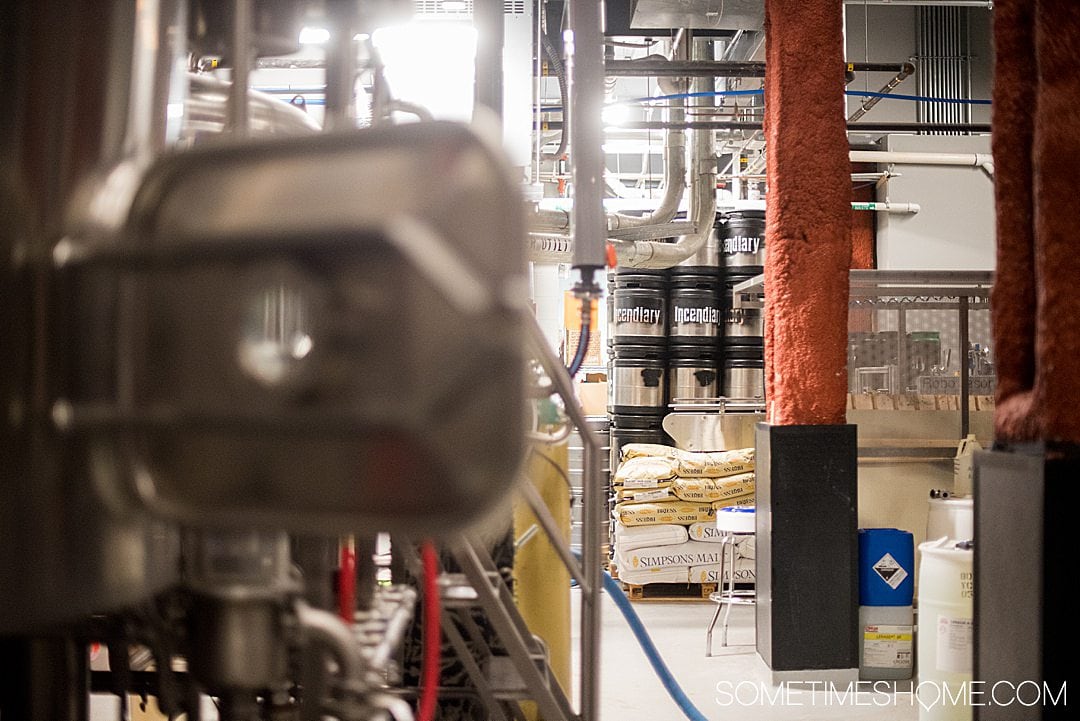 Short Driving Distance from Downtown Winston-Salem
Foothills Tasting Room
If there's a father of brewing in Winston-Salem we would consider Foothills to be the patriarch. Their Tasting Room location is a short drive from downtown and is completely worth going to see the operation they have! In fact, it's their main brewing area and they offer free brewery tours of the space Saturdays and Sundays at 3:00pm. It's on a first come, first served basis so be sure to inquire upon arrival. (You may want to call first just in case, since they sometimes cannot do a tour if they're changing the equipment or are working on construction.)
Their name was inspired by the foothills of the North Carolina Blue Ridge Mountains nearby, which we learned on tour of their 48,000 square foot space. Foothills is in a former Manilla Envelope factory and they own the property outright, which allows them to do almost anything they like with it. With this expansive location they can store 75,000 barrels, bottle their beer onsite, create "coopertition" brews in conjunction with other North Carolina breweries (like Wise Man) and even roast their own coffee.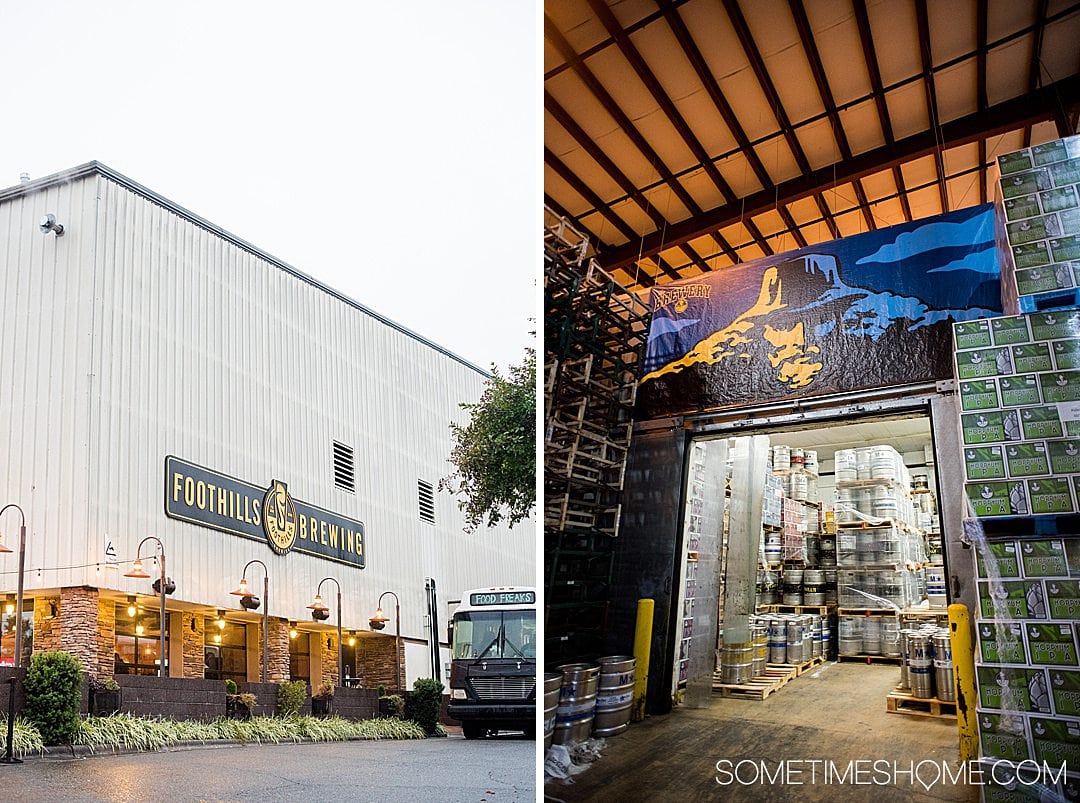 If they brew it, they'll have it at this location, including their staples, like Hoppyum and People's Porter (which features their owner, Jamie, in the illustration for its label (fun fact!) and was named one of the 8 Essential East Coast Beers in 2017), or popular seasonal beers like their Moravian Porter come holiday time.
They truly "Craft Happiness" here, a place where people enjoy gathering. We couldn't believe how many people knew each other in the tasting room and were saying hellos and "how are you's?" like old friends (probably because many of them are). It made us feel all warm and fuzzy, and like instant members of the neighborhood!
Part of the sense of community is no doubt a result of how much Foothills supports the community, whether through hosting a weekly run club or by donating thousands of dollars to incredible causes that help the environment and local organizations. They donate a portion of the proceeds of their Craft Happiness IPA to a new cause every month, like aiding in Australia's rebuilding after the brushfires in early 2020. It's all a part of their mission to make the world a better place. Here are some of our favorite specialty beers they've created with their associated causes:
Domicile, benefitting affordable housing and homelessness
Nautical Hazy IPA, to aid in cleaning up the plastics in our oceans
Annual Raptor IPA, to benefit the Carolina Raptor Center in Lake Norman
They hold weekly events, like Bingo and trivia, and have food trucks and live music on location throughout the week.
Address: 3800 Kimwell Drive, Winston-Salem, NC 27103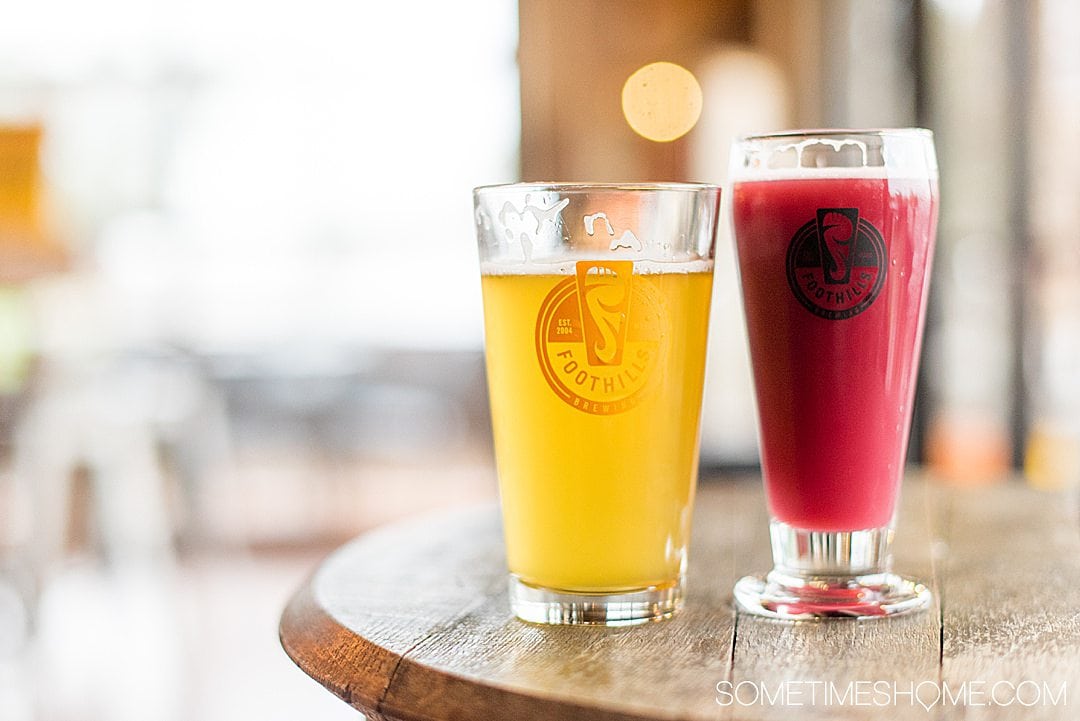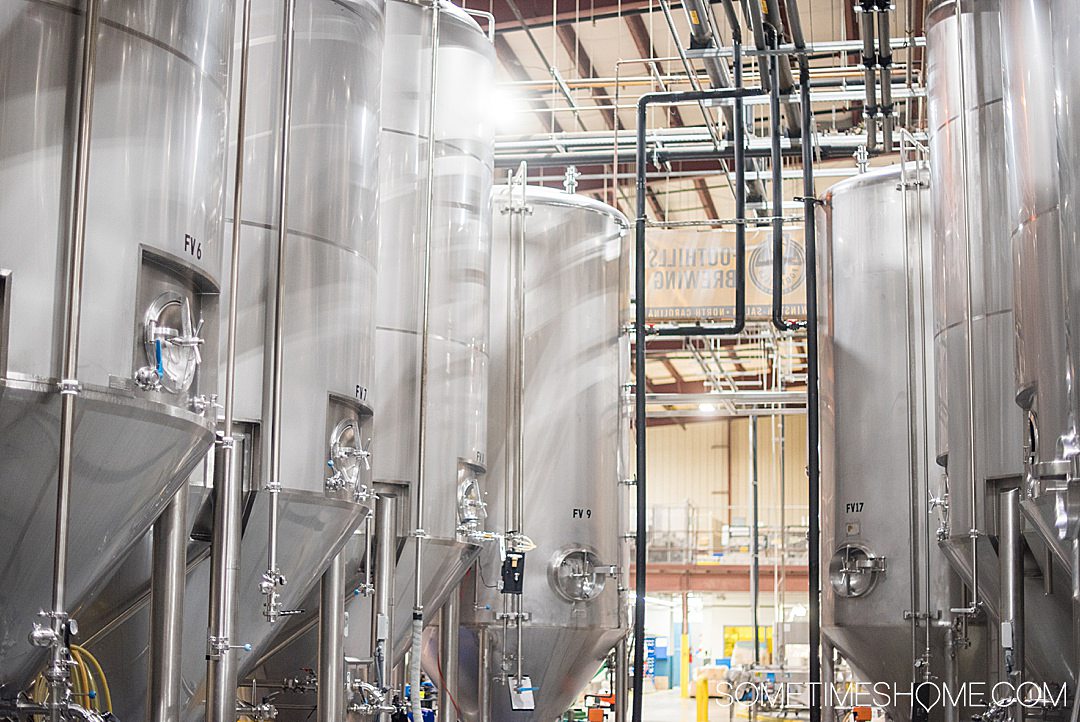 Joy Mongers Barrel Hall
We walked into a neighborhood vibe at Joy Mongers Barrel Hall. Families accompanied by children and their dogs gathered as adults drank beers and talked. Long tables inside the converted old garage in Winston-Salem's West End added to the sense of community, as you would expect shared tables might.
As a fish monger brings fish, a joy monger brings joy. And that's what the brewers of Joy Mongers is hoping to do for the community. We had to ask about the giant Mighty Mouse character flying from the wall; it's one of three in the world yet the only one whose whereabouts are known! It was purchased by the owner in Savannah and is proudly on display at Joy Mongers, becoming an icon of sorts for the barrel hall.
Dan tried a Belgo IPA and I had the Blackberry + Black Currant Foederbier. We appreciated their unique take on flavors that can be added to beer. They seem to favor fruits and citrus but have plenty of classics to keep everyone smiling. Be sure to stop by for a variety of events they host, including Pint Nights, Bingo, and themed trivia nights, and enjoy rotating food trucks that stop by daily.
Address: 480 W. End Blvd, Winston-Salem, NC 27101
(Joy Mongers is pretty close to downtown and some would argue it is downtown. We were torn about where to place it but stuck with right outside since it'd be a long walk from central downtown if you tried it.)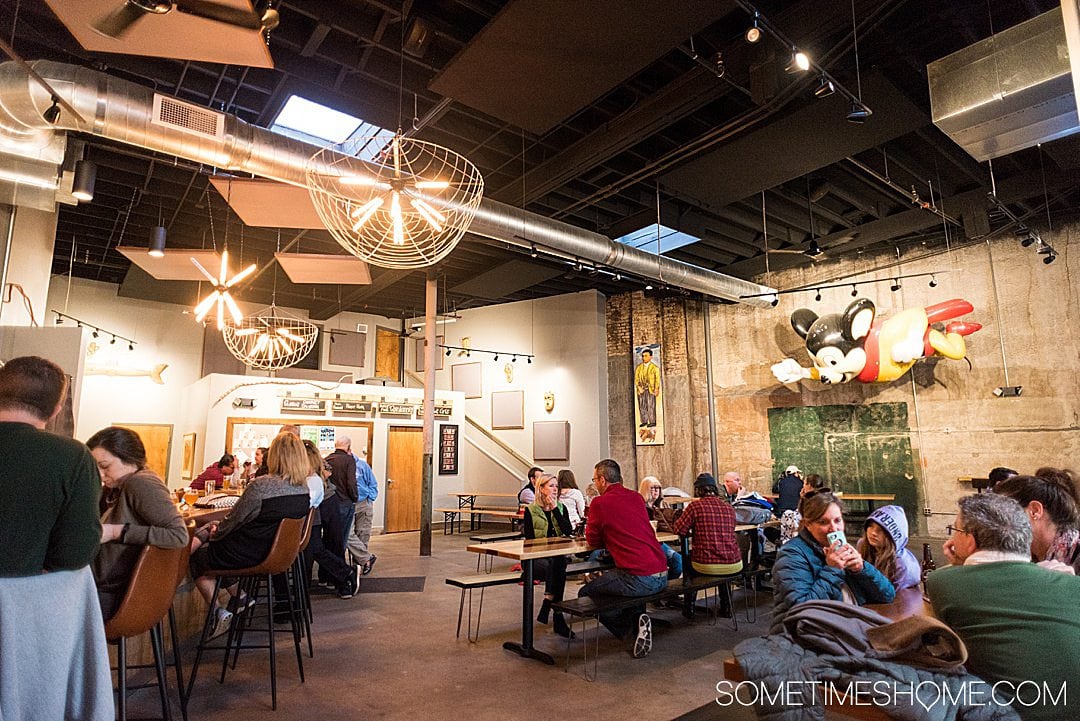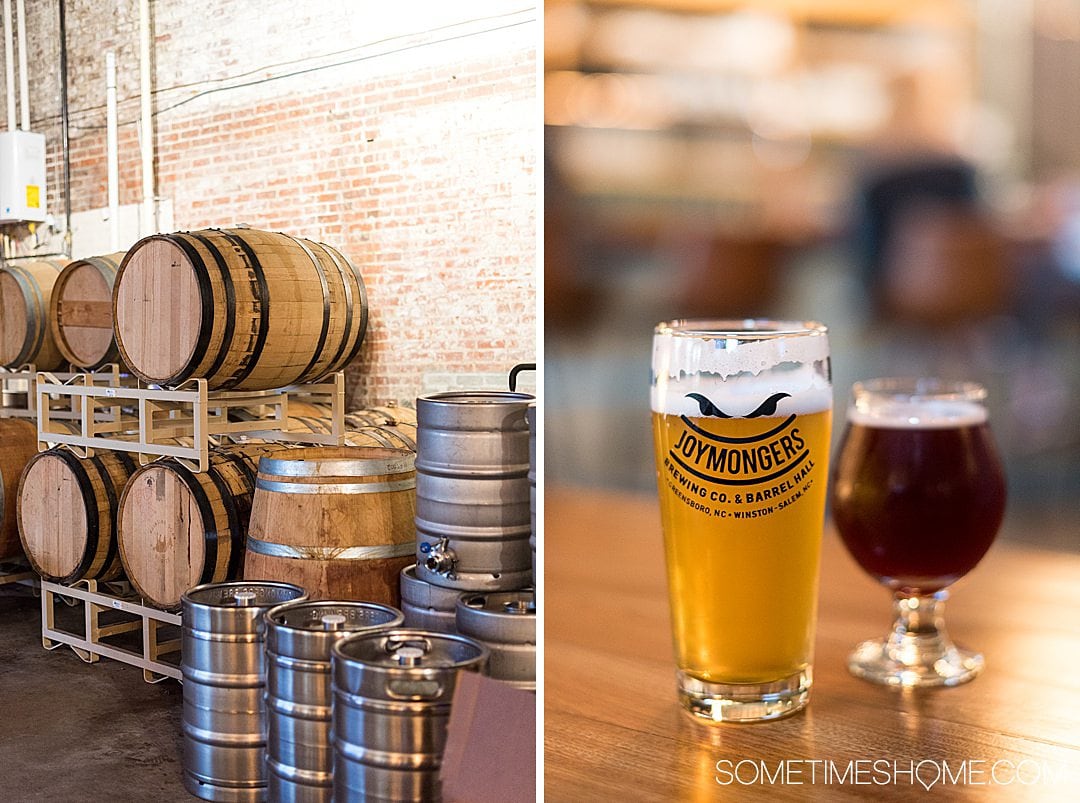 Beyond Breweries in Winston-Salem: Hyphen Hops
This was, by far, the coolest most enlightening stop we made on our Winston-Salem breweries tour. You cannot make beer without…hops! And they are is growing the essential base for beer in a creative way.
Hyphen Hops is growing hydroponic wet hops, south of the 35th parallel. (The Pacific Northwest is generally regarded as the best area to grow hops because of its arid climate. It's north of the 35th parallel. They also have low pest pressure in the high desert. It's for these reasons they grow 98% of hops in the world.) Sierra Nevada's Northern Hemisphere Wet Hop IPA is a great example of a beer made with wet hops. Whew, so much information on hops, right? But without them you wouldn't have beer!
The greenhouse it's located in used to be a nursery. It backs up to a Winston-Salem greenway.
Hyphen Hops is using hydroponics to do amazing things with growing the crop locally. Their method of growing began at the University of Colorado, yet there aren't many people producing hops this way around the world, let alone in North Carolina.

Grow lights are used for a photoperiod of 18 hours (or longer) to manufacture the light hops need to grow. Blackout "curtains" are then utilized to control 12 hours of darkness the hops need to flower. (If this growing method reminds you of cannabis, it's probably because hops are a close cousin.)
They harvest the hops from the bine (not vine) within 24 hours after they flower. This process is done with the help of a special on-site hop harvester. Once harvested, brewers have 24 to 48 hours to to use them.

The small plants transform to fully grown within three to four months. Hyphen Hops is hoping to have at least four solid harvests a year from their 1,973 plants. Hop farmer, Jason Kohrt, tests the mineral levels daily to ensure the crop is doing well and can turn into a profitable business. And with an estimated yield between 8,000 to 16,000 pounds per harvest, we are confident they will succeed and help to revolutionize the business.
They will be selling their hops to the public per ounce or pound on a first come, first served basis. They also hope to have standing contracts with some local breweries, which would be a whole new farm-to-table concept for Winston-Salem!

The 37 acre site Hyphen Hops is hopes to eventually have harvest parties, a biergarten, and potentially a restaurant on site too. We wonder what creative dishes they can create with hops!
Address: 400 Styers Ferry Road, Winston-Salem, NC 27104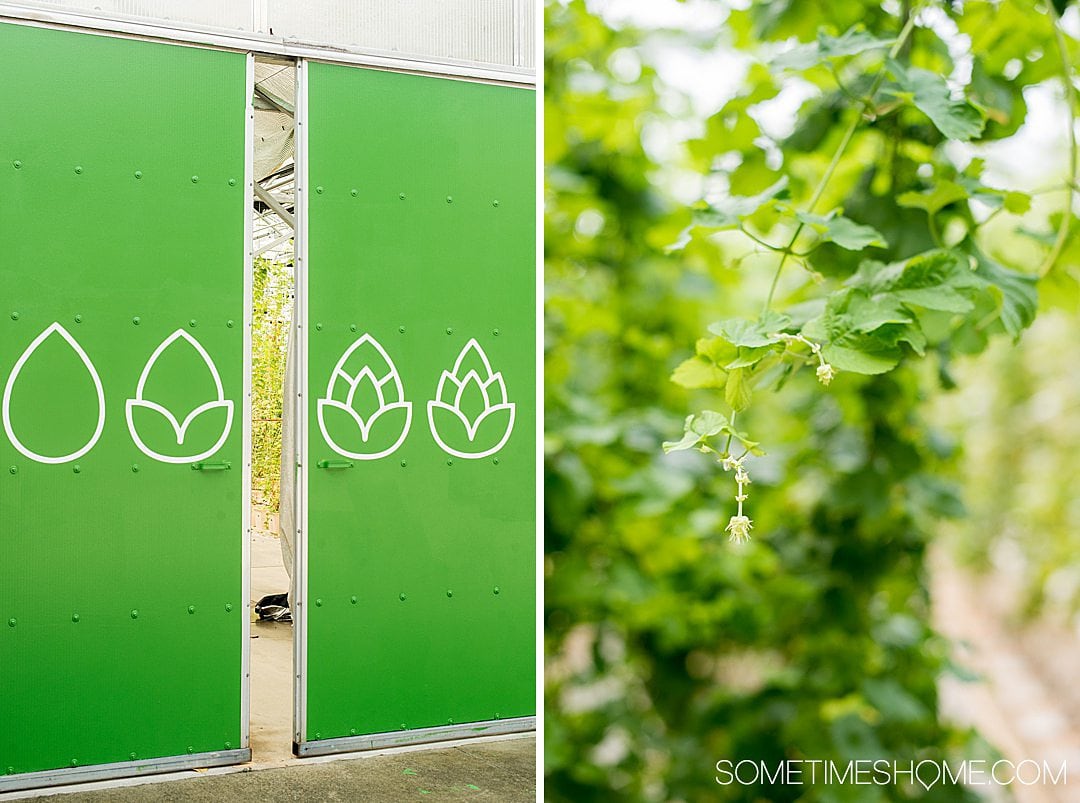 Stella Brew (Bottle Shop)
Owner Matt informed us the name Stella Brew was taken from the Grateful Dead song, "Stella Blue". Needless to say, he's a big fan of the band!
Matt was tired of having to hit sales goals when he worked for a distributor. He knew what people wanted and how to get it to them, which gave him the idea to open a bottle shop. Fast-forward a few successful years later and they are onto their seventh year of business in 2020.
They don't have a bar but do fill growlers. Matt loves craft beer and, lucky for Stella Brew, says the hospital employees, residents and staff at the neighboring Wake Forest Baptist Health and Brenner Children's Hospital stop by to stock up after work; they love it too!
Address: 1305 S. Hawthorne Rd., Winston-Salem, NC 27103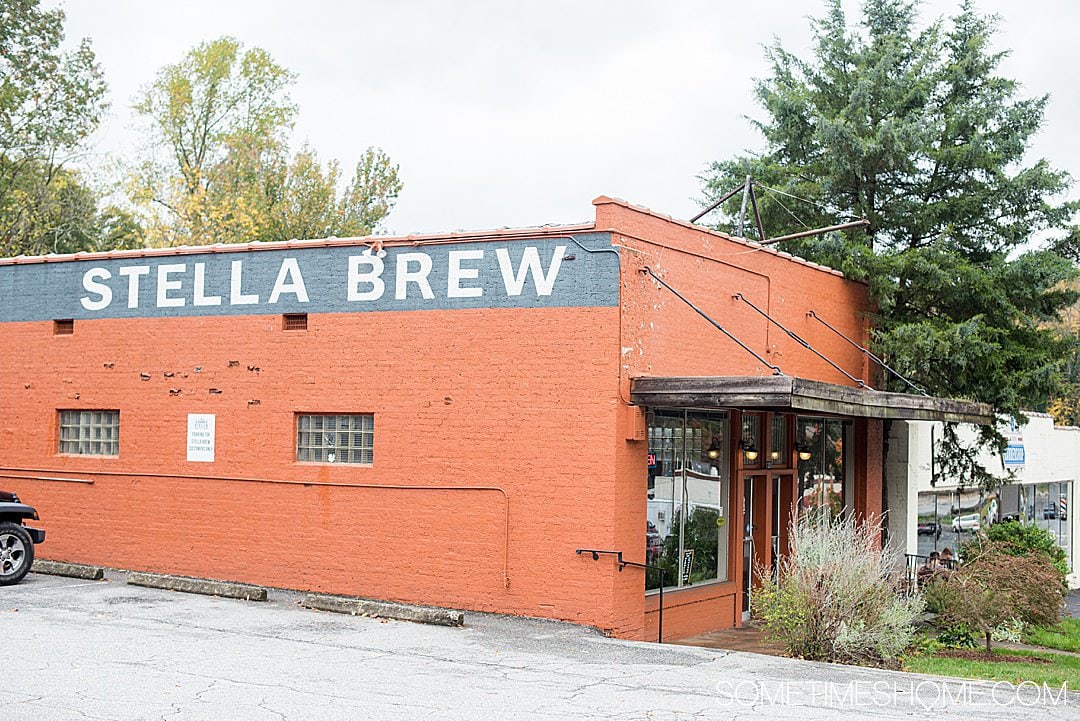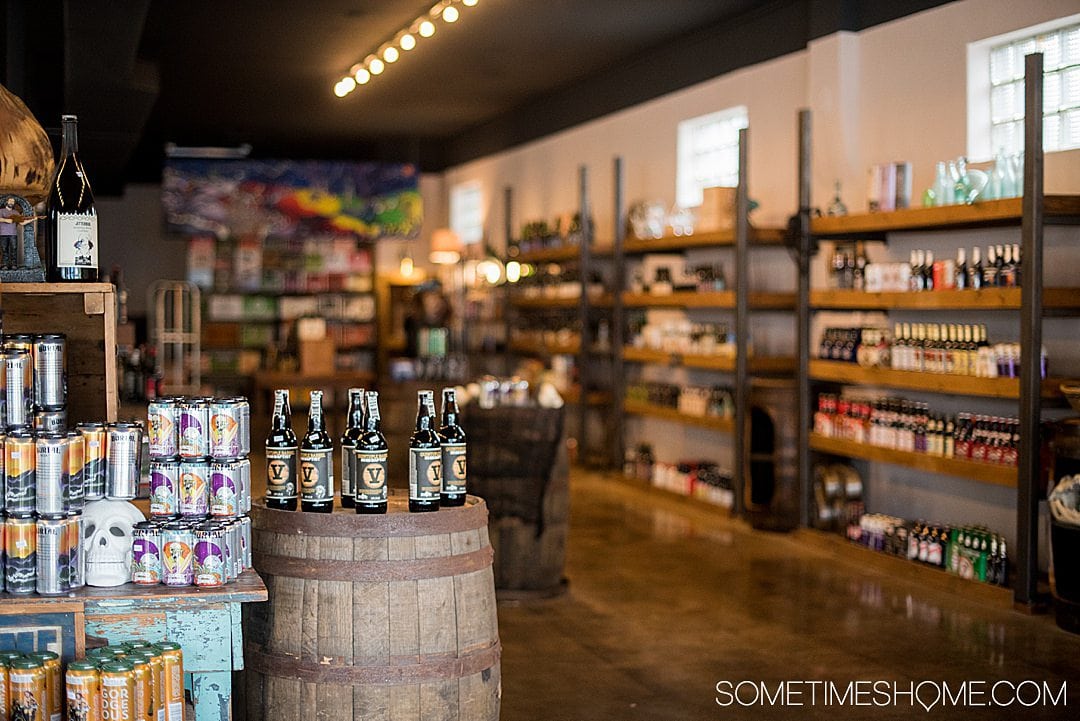 Please note: We thank Winston-Salem for generously hosting us. All the opinions in the post are ours and we bring you genuine content with real facts, photos and thoughts. Always.
Visiting North Carolina? Also check out:
Where is your favorite brewery? Let us know in the comments below!