Five Fantastic Reasons to Visit Florida During Summer
Now is the time to go to Florida to watch sea turtles nest along the Gulf and Atlantic Coasts. As summer heats up, so does the nesting activity of Loggerheads, Green Turtles, and Leatherbacks.
In addition are more reasons to visit Florida right now, including Universal's 30th-anniversary celebration of the Jurassic Park movie, an underwater art installation of 1,000 Mermaids in Hollywood Beach, Miami's Spice Months highlighting its notable restaurant scene, and concert programming on the Historic Coast.
Disclosure: We may make a small commission from affiliate links in this post, but all opinions are ours. We bring you content with genuine facts, photos, thoughts, and recommendations. Always. As Amazon Associates, we earn from qualifying purchases. This helps keep our content free and accessible to our readers.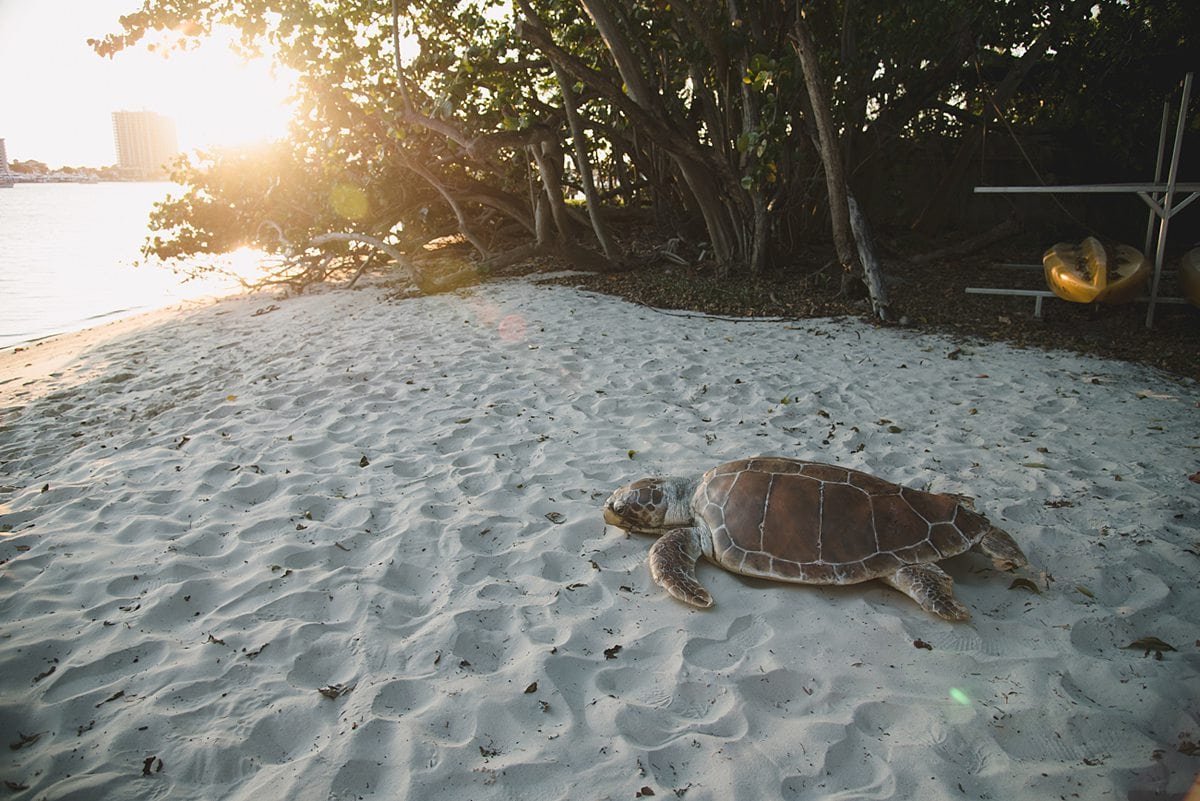 1. Summer Is Turtle Nesting Season Along the Florida Coast
May through October constitutes turtle season in Florida. It's a particular time when sea turtles crawl from the ocean to the sandy shores to create over 385,000 nests.
Whether you head to the Mote Marine Laboratory and Aquarium in Sarasota on Florida's Gulf Coast or Loggerhead Marinelife Center on the Atlantic Coast, learning about these magnificent creatures is eye-opening.
Sarasota's Mote Marine Laboratory and Aquarium supports the research and rehabilitation of our oceans. It is an independent, nonprofit marine research institution with world-class marine scientists. A visit to the aquarium helps Mote's Sea Turtle Rehabilitation Hospital, which works to save turtles.
The hospital has helped more than 650 injured and sick sea turtles since 1995. If someone finds a turtle needing help on the west coast of Florida, they can bring it here. After the hospital nurses the turtle back to health, it is released back into its natural habitat. For example, in May, two sea turtles who suffered from red tide toxicity were released back into the ocean after a healthy recovery, thanks to the hospital.
On the east coast, there are various ticketed opportunities to sign up for a guided night walk on the beach to see hatchling releases or walks to see the turtle nests from a safe distance, like with Loggerhead Marinelife Center at Juno Beach or Gumbo Limbo Center in Boca Raton.
2. Universal Celebrates 30 Years of Jurassic Park
This year marks the 30th anniversary of the groundbreaking film, Jurassic Park, acclaimed for its revolutionary use of computer graphics to create its dinosaurs. Step through the legendary gates of Jurassic Park at Universal Islands of Adventure (IOA), commemorating the momentous anniversary of the film in a myriad of ways.
Immerse yourself at The Jurassic Park Tribute Store as you move through themed rooms highlighting pre-production storyboards and blueprints, and recreations of memorable movie scenes that provide memorable photo ops. Buy special 30th-anniversary merchandise, including collectibles.
Ride Jurassic Park River Adventure and Jurassic World VelociCoaster – Florida's fastest and tallest launch coaster, which opened in 2021. Afterward, try Jurassic-themed menu items at IOA's Thunder Falls, including an exclusive Jurassic Park 30th Anniversary Fanta flavor, the Wild Refresherrrr.
3. Miami Spice Months Return in August and September
Greater Miami and Miami Beach's annual tourism study proves the area's dining and restaurant acclaim draws visitors. In line with these findings is Miami's "Food City of the Year" award by Bon Appétit magazine. The news comes on the heels of the Robb Report and Bloomberg praising Miami's culinary scene.
David Whitaker, president and CEO of the Greater Miami Convention & Visitors Bureau, says, "These recent recognitions by leading voices in the culinary space validate Greater Miami and Miami Beach's hard work and dedication to building and supporting a vibrant food and beverage community. Culinary tourism is a strong motivator for travel, and we remain incredibly thankful to the chefs, restaurateurs, mixologists and the event producers who have helped make our local hospitality industry one of the best in the world."
Summer is the perfect time to explore the city, with Miami Spice Months returning in August and September. Try the food and drinks at some of the city's coveted dining establishments; a three-course meal may cost only $30. Last year, a record 266 restaurants participated in the event.
As past years indicate, expect to see options in Miami's popular neighborhoods participating in the event, including Cuban restaurants in Little Havana and James Beard Award-winning restaurants in the Design District. Even if the event doesn't appeal to you, you can stop at establishments like Zak the Baker in Miami's Wynwood neighborhood to taste award-winning bread. The official list of participating Miami Spice Months restaurants will debut in July 2023.
4. Fort Lauderdale Launches 101 Days of Summer
This Atlantic coast Florida city has 24 miles of beaches and 300 miles of navigable waterways. Whether you want to dive to see mermaids or go horseback riding, the area offers plenty of unique outdoor activities.
As part of 101 Days of Summer, Fort Lauderdale visitors and residents are invited to climb to the top of Hillsborough Lighthouse for a stunning view, scuba dive or snorkel the living coral reef at Lauderdale-By-The-Sea or in Hollywood Beach, or horseback ride at Parkland's Equestrian Center Park or American Horse Trails in Southwest Ranches.
Certified scuba divers will cherish exploring the extraordinary 1,000 Mermaids Artifical Reef, a creation off the coast of Hollywood Beach, new for 2023. The ocean-friendly art installation serves an eco-tourism clientele and is accessible to skilled divers via boat transfer. If you're not a diver, head to B Ocean Resort's 1950s Wreck Bar, which has plenty of ticketed mermaid shows. Sip a cocktail as you watch the portholes to see mermaids swim by.
Brightline, an inter-city railway, has new stops in Fort Lauderdale. The high-speed rail recently added stations in Boca Raton and Aventura, making the city more accessible than ever from Miami or West Palm Beach.
5. Florida's Historic Coast Focuses on Water Sports and Summer Concerts
The Historic Coast attracts summer visitors with weekly bioluminescence kayaking tours, surf camps, and live music. St. Augustine, Ponte Vedra & The Beaches comprise Florida's historic coast, just south of Jacksonville.
Hone your water skills with lessons from various St. Augustine schools, like Endless Summer Surf School or PIT Surf Shop summer surf camp at St. Augustine Beach – they offer summer camp for ages eight and up. Sign up for lessons in Ponte Vedra at East Coast Boarding School or Saltwater Cowgirls Surf Camp.
Let nature's bioluminescence wow and excite you at SciFridays at Guana Lake. The weekly evening kayaking tours are available from South Guana Outpost in Ponte Vedra Beach through the end of September.
On Sundays through the end of August, kids become junior marine scientists during Florida Water Tours' Marine Field Experiences. The company donates every ticket dollar to Florida Water Warriors, an educational boating company providing equitable access to eco-education.
Music venues host summer concerts from Jason Mraz, Barenaked Ladies, Counting Crows, My Morning Jacket, Peter Frampton, and more for ticketed shows at the St. Augustine Amphitheatre on Anastasia Island and the Ponte Vedra Concert Hall.
Free summer concerts abound on the Historic Coast. Attend a performance during the St. Augustine Music Festival at the Cathedral Basilica of St. Augustine over two weekends from the end of June through early July. Head to Plaza de la Constitución in historic downtown St. Augustine, where Concerts in the Plaza is hosted every Thursday through August 31. Lastly, stop by Music by the Sea Concert Series at the St. Johns County Ocean & Fishing Pier most Wednesday nights through the end of September.