The Best Things to Do in Little Havana in Miami, along Calle Ocho
If you want to feel the vibrancy of Cuban culture and the pride of it within Miami, look no further than things to do in Little Havana.
Little Havana is a vibrant area of Miami, Florida with great food, friendly people, lots of music, great coffee, memorials, and more.
Please note: We thank Casa Habano for generously hosting us. We may make a small commission from affiliate links in this post if you click through and proceed with a purchase or action, and we thank you for supporting our small business, at no cost to you. All the opinions in this post are ours and we bring you genuine content with real facts, photos, thoughts and recommendations. Always.
Activities in Little Havana Along and Near Calle Ocho
Take a Hand-Rolled Cigar Factory Tour
The most interesting thing we did in Little Havana all day, was to be a part of a hand-rolled cigar tour. We cannot recommend it enough!
This one-hour tour starts and ends in the same place: Casa Habano. And Rene, the business owner with decades of experience in hospitality and the business of cigars, is the perfect guide.
What to Expect during a Casa Habano Cigar Factory Tour
You arrive to the Casa Habano shop and, should you agree to try some, Rene pours you a small amount of Cuban coffee. It was our first taste of coffee served the way Cubans drink it, and we got a kick out of the very small serving size, which is typical for a taste of "Cafe Cubano."
Cuban immigrants started to roll cigars in the United States in the 19th century, and here you witness the craft is alive and well.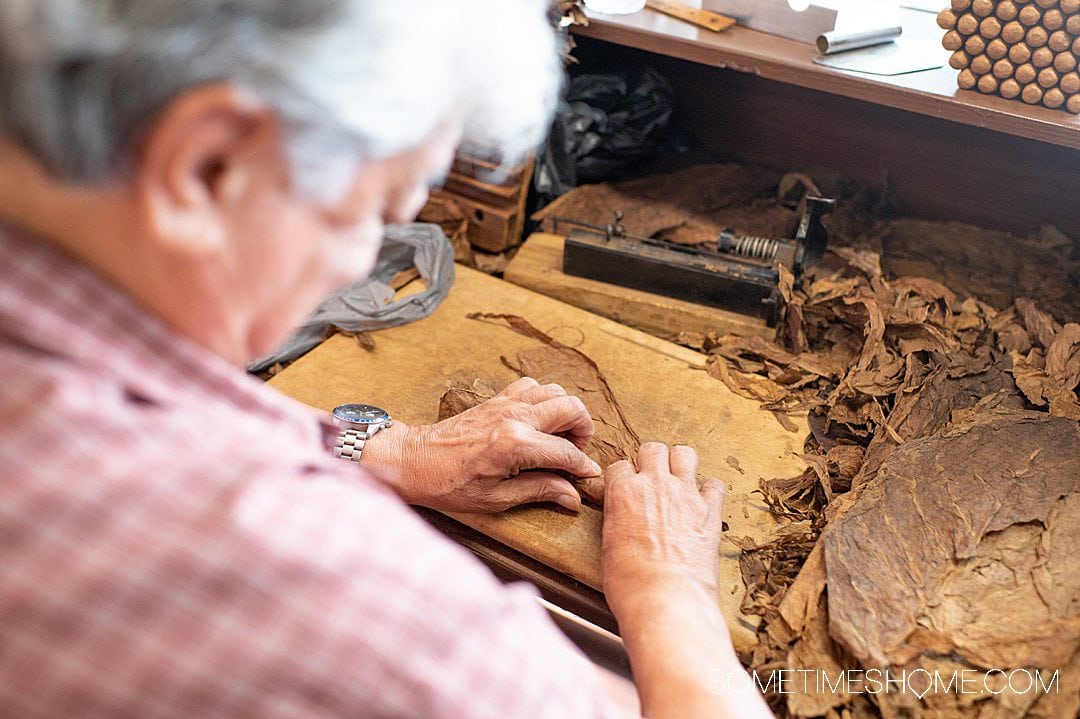 What You'll Learn During the Cigar Rolling Factory Tour
Not only did we love seeing each step of the process through a video that showed how the tobacco is grown and harvested during our Cigar Factory Tour, but we adored our tour as Rene explained each subsequent step that has to happen to create the cigars at his factory:
Primary Process, and sorting of the tobacco leaves into piles by type and country of origin.
Deveining, whereas the center vein of the tobacco leaves is removed.
Twisting and rolling, where first the center of the cigar (or "filler") is formed and pressed for an hour, then the exterior finish of the cigar is applied then pressed before the finishing touches occur.
Packing, when the final labels are applied.
We loved smelling the tobacco leaves to note the differences between varieties and feeling the quality of the product through touching the leaves to feel their oils shine through.
What we most appreciated was how down-to-earth Rene is; no question was too silly, no ask to insignificant. He graciously answered everything we inquired about in an unpretentious and humble way. We realized that part of his passion for cigars is in educating curious visitors.
Each tour guest gets a complimentary cigar. It makes the cigar factory tour in Little Havana even sweeter.
We recommend signing up for the hour tour by clicking one of the options below, but if your schedule doesn't allow it, at least stop by to see the Master Torcedores at work and purchase a cigar at Casa Habano for later.
Address: 1743 SW 8th Street, Miami, FL 33135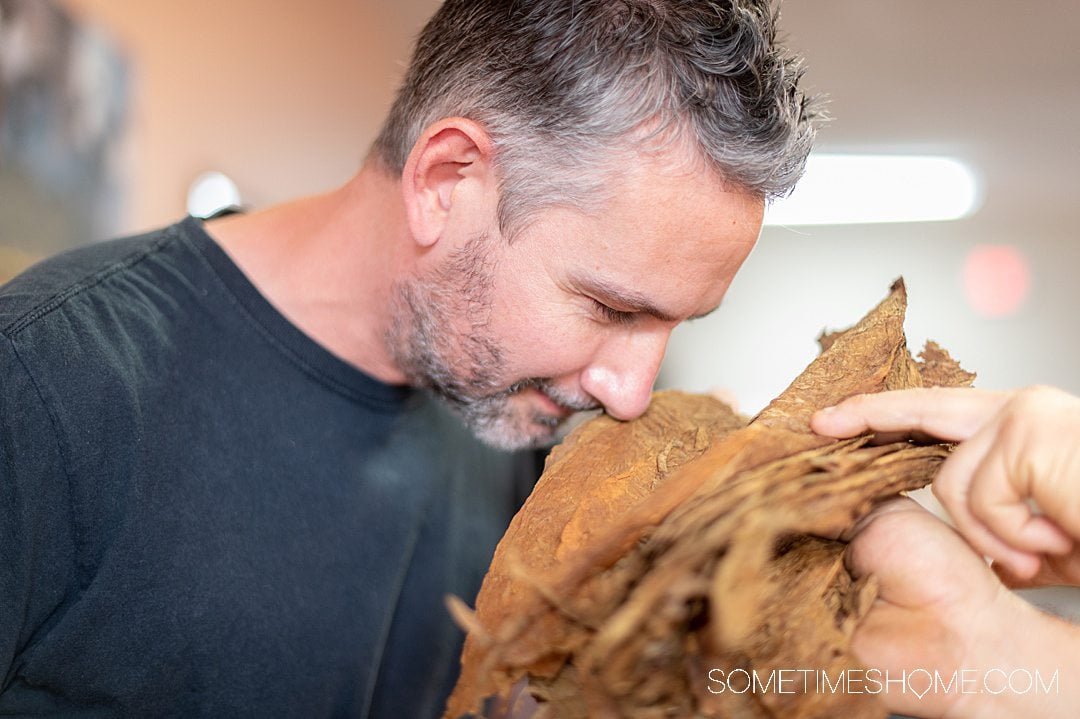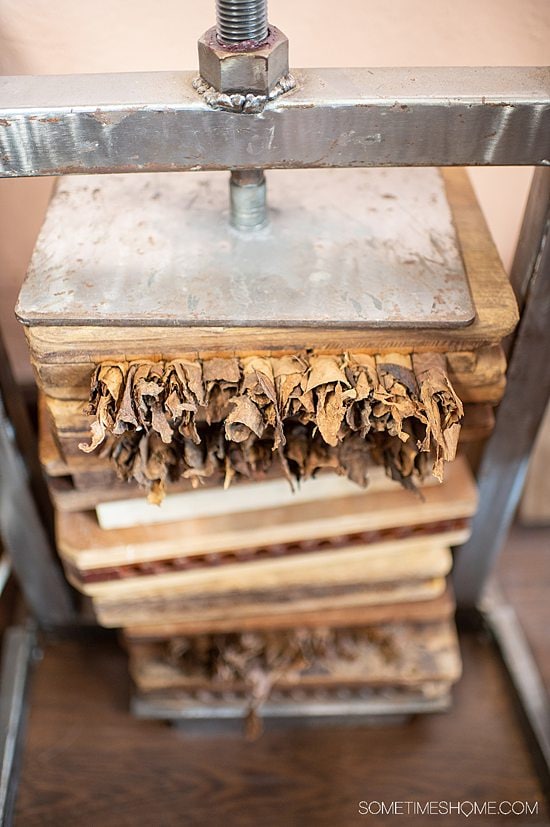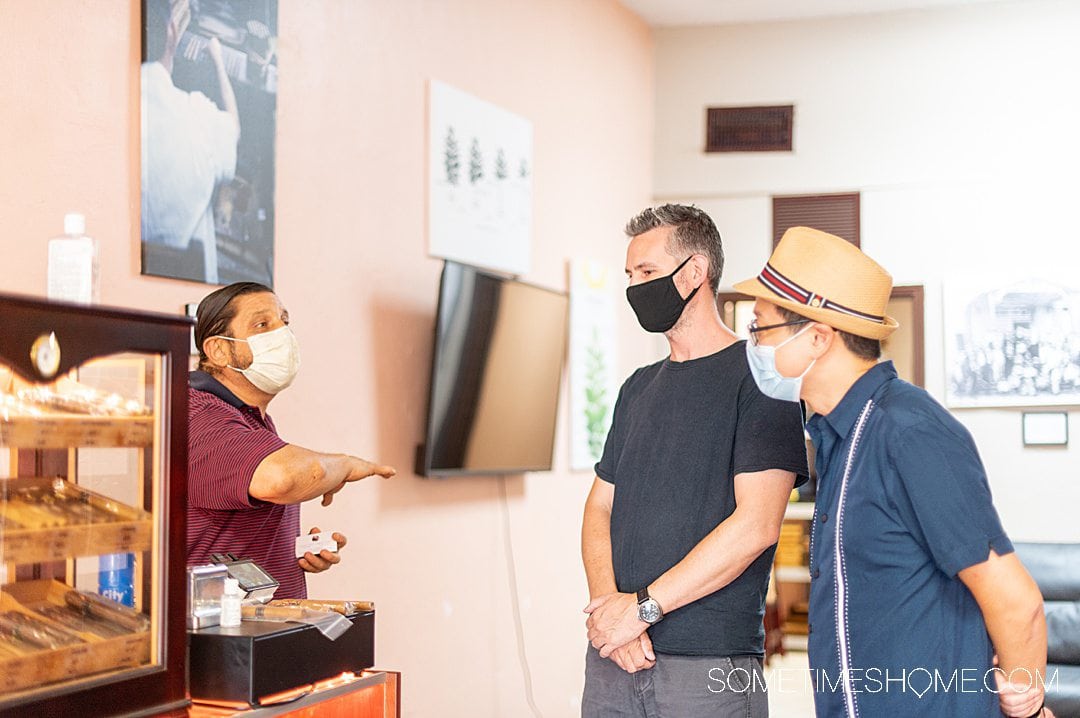 Stop at Domino Park
This little park, whose official name is "Maximo Gomez Park" but is lovingly called "Domino Park," is nearly void of greenery inside. But the park has lots of tables and chairs there, filled with people (mostly men) over the age of 55, playing dominos. (A sign at the park says that there is a Dominos Club for 55 and older so it was easy to guess their age range.)
It's a quiet park except for a few chatting friends and the sounds of dominos moving on the tables.
There's not much to do here unless you're going to watch a whole game played. But it's worth a stop by to see them play since it's a part of the livelihood of the neighborhood.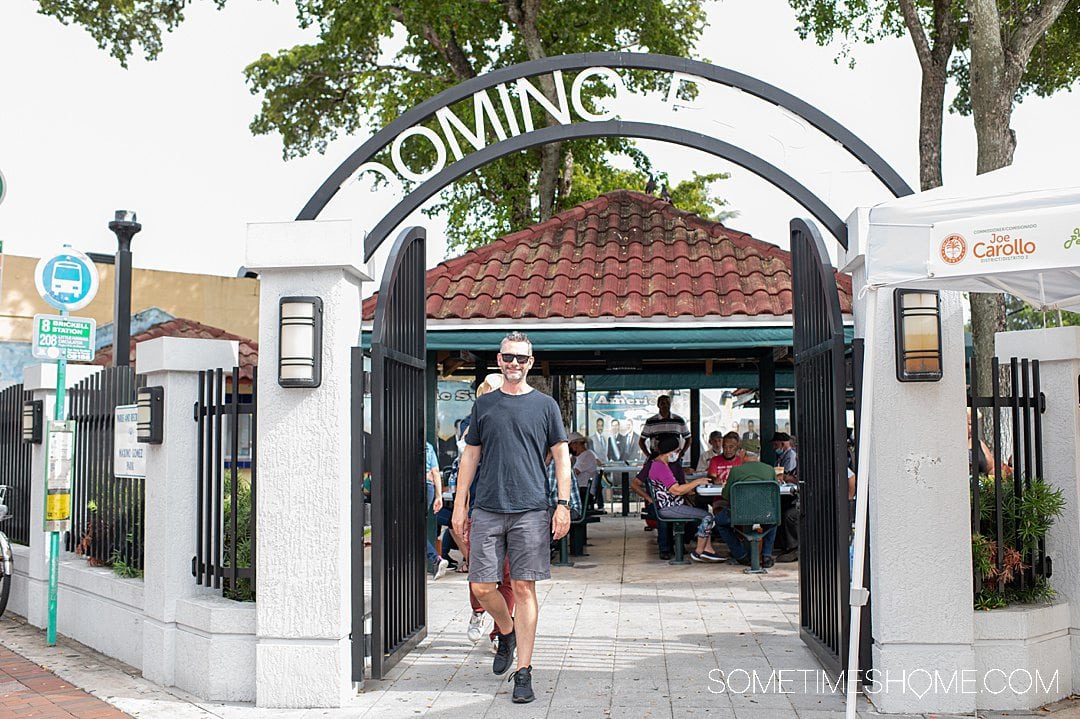 Want to know more about the history and culture of Little Havana?
Sign up for a walking tour:
Take Photos with the Painted Roosters on Calle Ocho and Walk Down Rooster Alley
There are larger-than-life roosters all along 8th street (aka: Calle Ocho). One of the most humorous things to do in Little Havana is to take photos with them.
We stopped to take pictures with a few and even strolled down the short walk of Rooster Alley for a look at the rooster memorabilia. (We spotted some live feral roosters on the side streets of Calle Ocho during our visit.)
There was an old classic car in the parking lot behind the alleyway when we walked through, which was a treat to see!
The "alley" by the way, simply cuts through one part of the sidewalk to the back parking lot. It's just a few paces long.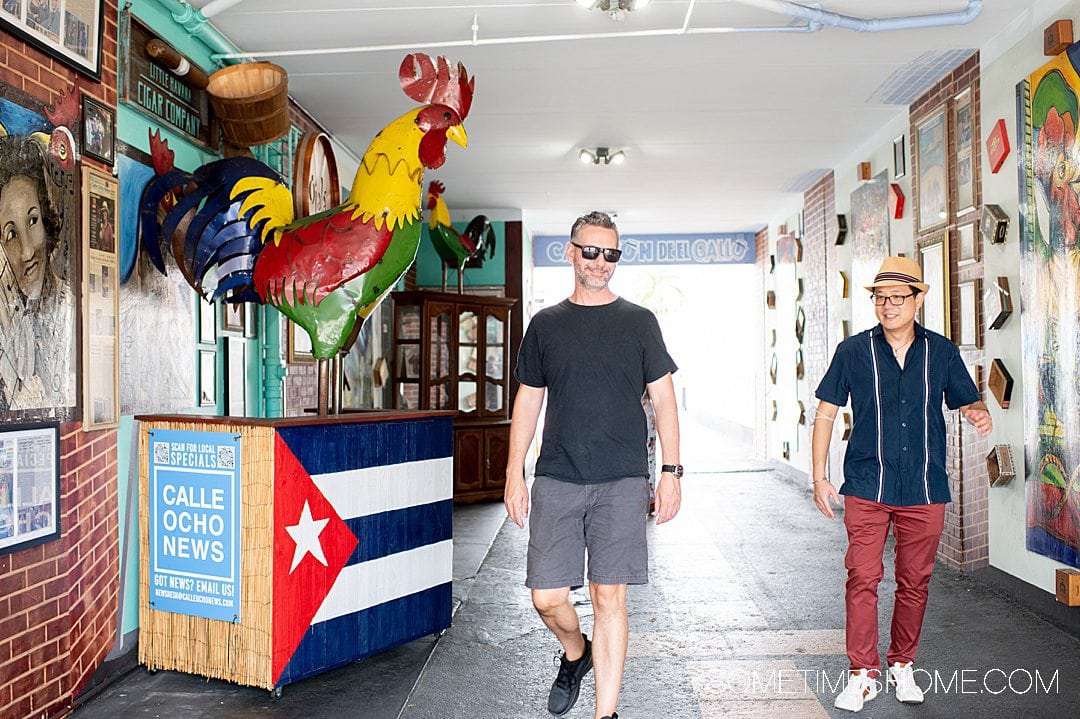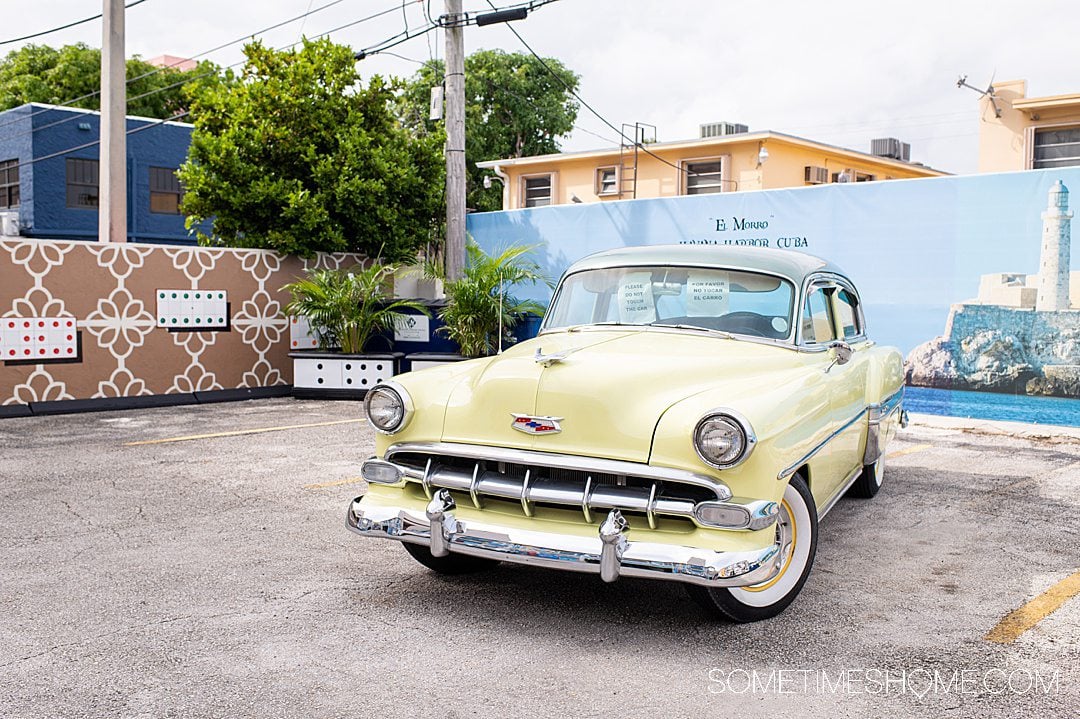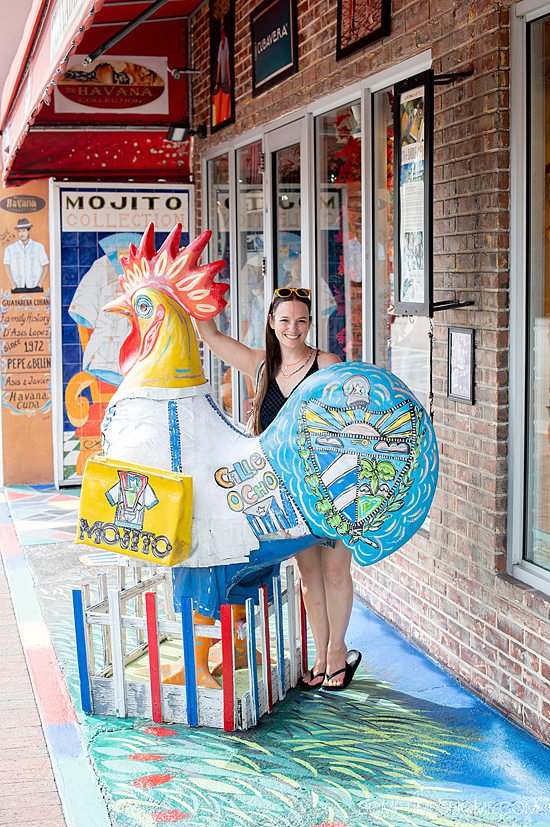 Learn about Famous Latin Figures in America, Along the Walk of Stars
See the granite stars on the sidewalk of Callo Ocho, engraved with famous Cuban and Latin actors, singers, and other well-known personalities, along the Walk of Stars.
Well-known people commemorated in this way along 8th Street include:
Celia Cruz: incredibly famous Cuban-American singer, in the 1960s and 1970s
Betty Pino: famous DJ, who helped launched the career of famous people like Julio Iglesias (who is also on the Walk of Stars)
Thalia: well known Latin singer
Gloria Estefan: rarely needs an introduction, but she is an incredibly famous singer and producer
Pedro Vargas: famous Mexican singer and actor from the 1940s and 1950s
Take Photos in front of Beautiful Murals and Street Art in Little Havana
One of our favorite things we did in Little Havana was taking pictures with the cool murals there. This was only natural for us because we absolutely love street art no matter where we are, from Tampa, FL to York, PA, and beyond.
Murals in public spaces (like the streets and sidewalks) usually change over time. What's there today could be gone tomorrow. However, we've seen these murals we were seeking in photos for several years, so there's a good chance they will be there when you visit too.
Here are some of our favorites:
"Cuba Libre" words and the red, white and blue character (who is usually orange, because it resembles a Florida orange) by famous street artist, Atomik.
"Welcomes you to…Little Havana," which is a bit of a way away from the main area of Calle Ocho, but worth acknowledging as you drive by. (It's elevated so it's hard to get a photo with the mural, though not impossible if you're on the sidewalk with the mural in the background.) This mural is on 8th Street, closest to 27th Avenue.
They're all worthy of photos but of course, some are more Instagram-worthy than others.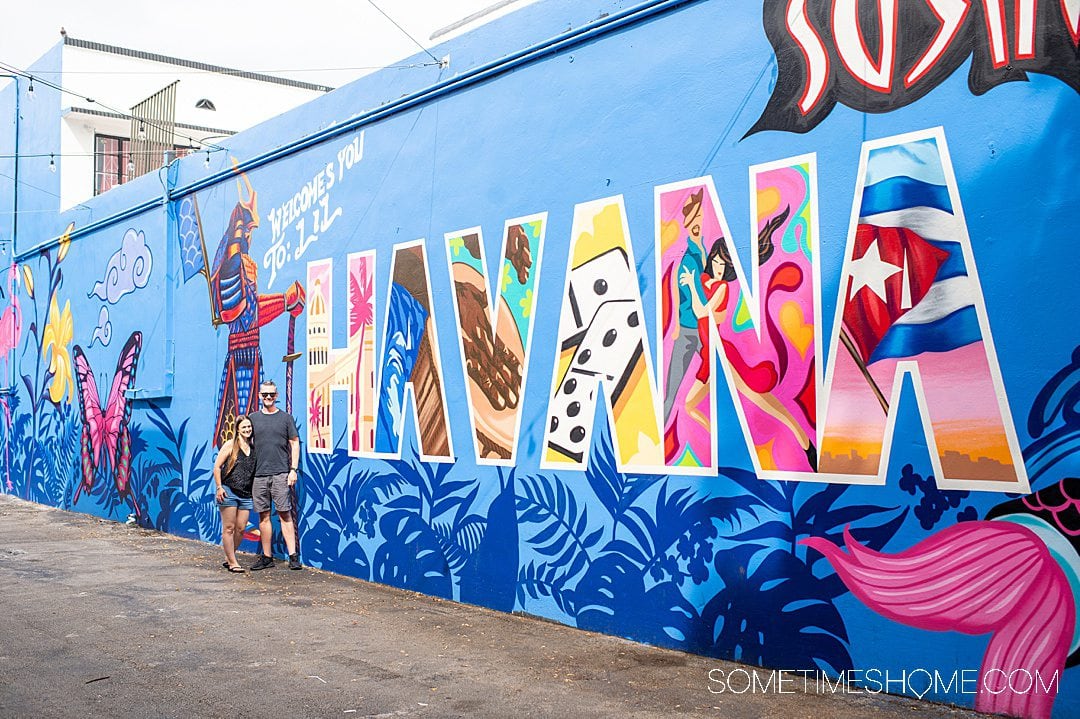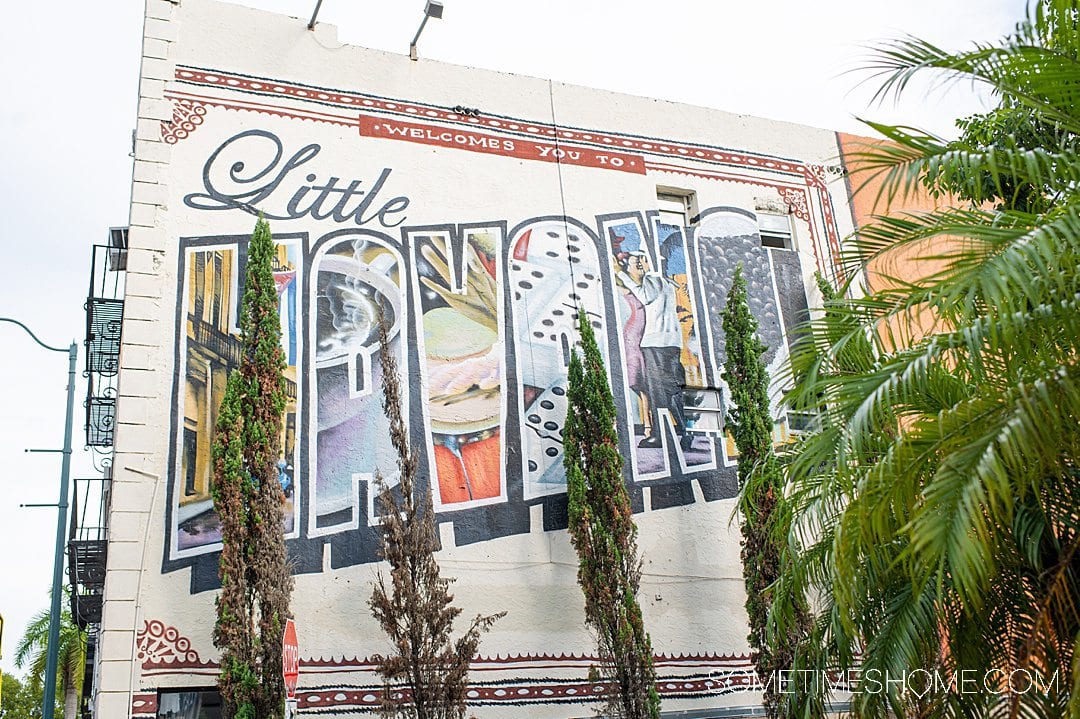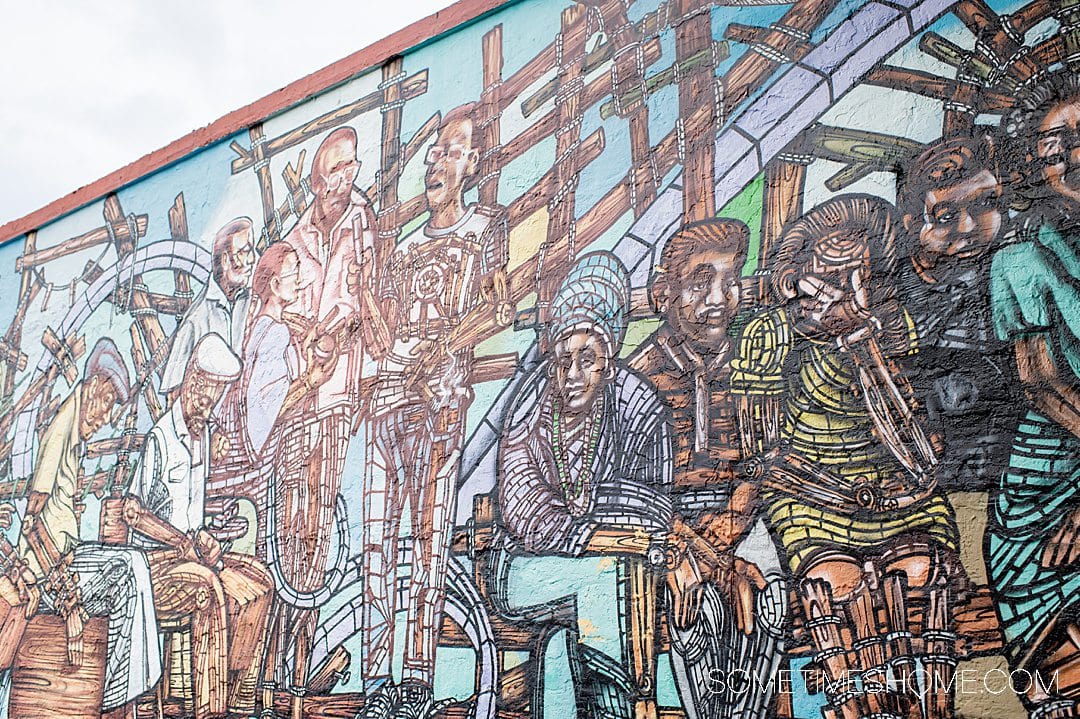 Dance to the Music in Little Havana
We think one of the best things about Little Havana is the nearly-constant live music. You won't be able to resist dancing down the street and into a coffee shop, cigar shop, or bar as horns blow, maracas shake, and drums create a syncopated rhythm for you to enjoy.
Some famous music venues along Calle Ocho include:
Ball and Chain Bar and Lounge
Guantanamera Cigar Lounge
Cubaocho, cultural arts center (they also have a large collection of Cuban art, produced from 1800 to 1956)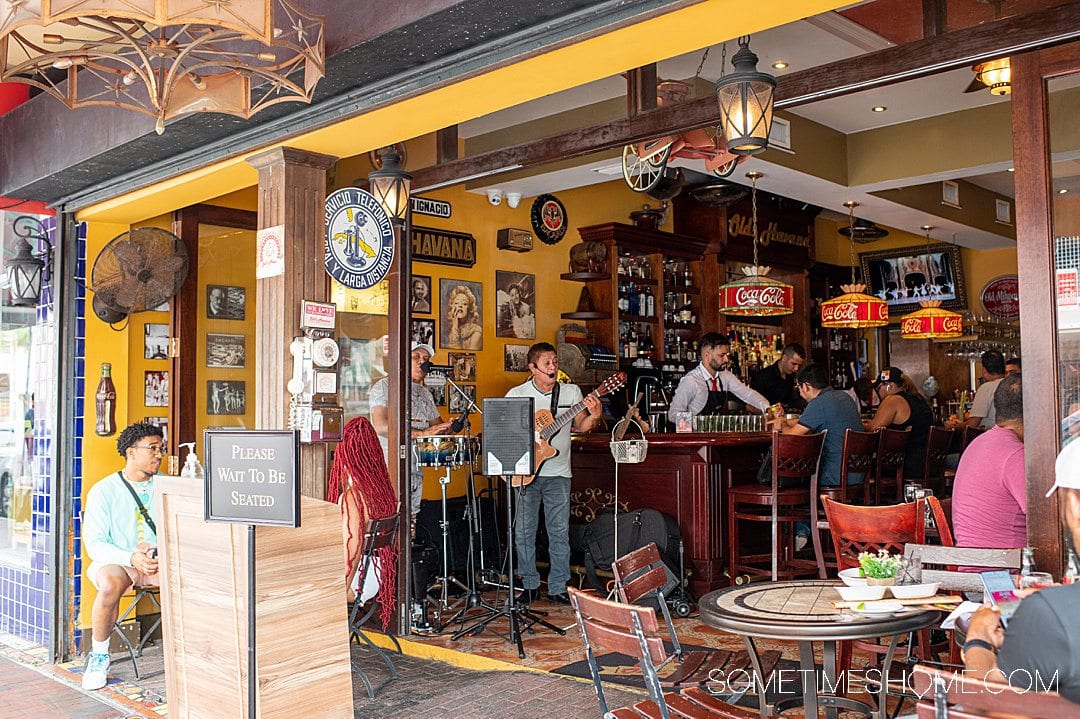 Bar Hop in Little Havana
One of the most popular things to do in Little Havana is to bar hop and try rum! You can get rum-mixed cocktails (like in a mojito) or try a high-end rum, pure: on the rocks.
Some of your bar hopping in Little Havana will crossover with listening to music since many of the bars on Calle Ocho have live music.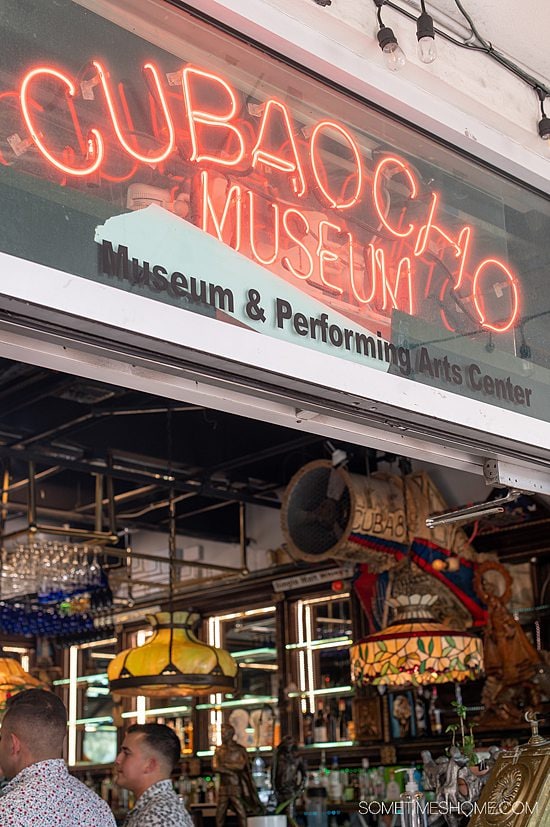 Go Shopping for a Souvenir on Calle Ocho
There are a lot of great souvenir shops on Calle Ocho. And we have to say, they have great things inside. It's not a lot of cheesy crap like in a lot of other tourist destinations around the world (if you know what we mean), but good homewares, hats, shirts, and jewelry.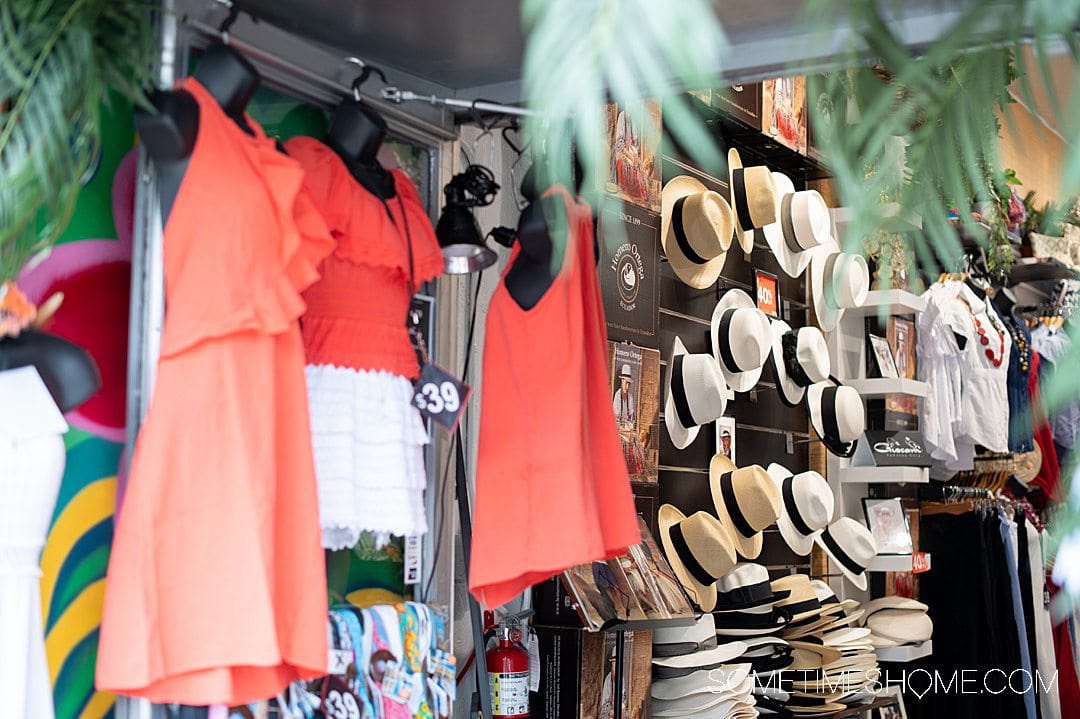 See a Film at MDC Tower Theater
This Art-Deco-designed theater facade is one of the most iconic buildings in Miami, and certainly in Little Havana.
It shows both English and Spanish movies with subtitles and aims to instill an appreciation of the cinema for future generations. Sometimes they pair a showing with a panel discussion associated with the film.
It's the host of the annual Miami Film Festival. And though it was privately owned for many years since its opening in 1926, it was purchased by Miami Dade College in 2002 after being closed since 1984. They breathed new life – and new generations – into the beautiful theater.
It's a great place to see a movie or, at the very least, take photos outside.
There is a parking lot behind the theater with hourly parking rates.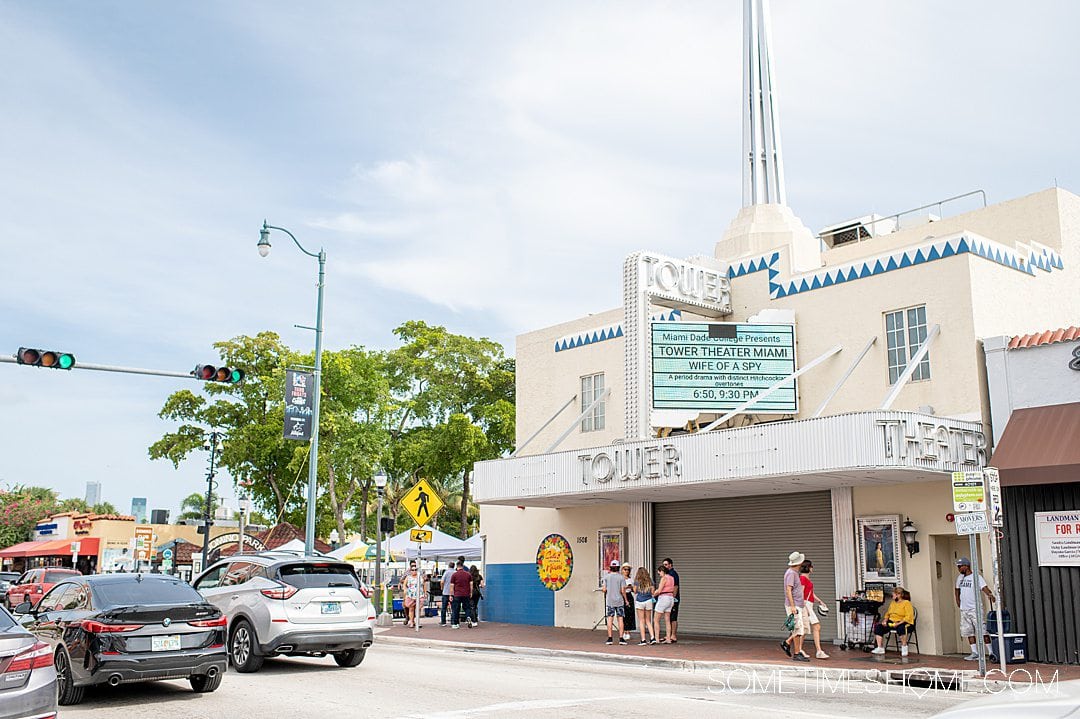 Go Shopping for Cuban Guayabera Shirts
A friend told us about Ramon Puig's Guayaberas store: a necessary stop for anyone visiting Little Havana. We trust and adore our friend, so we obliged and stopped in to find out what it was all about.
A guayabera is a famous Cuban shirt, with four pockets (two up top and two on the bottom), beautiful pleats, and many buttons (not just down the center of the linen shirt but on the sides and cuffs too). As the legend goes, the shirt was designed to hold cigars, writing utensils, a handkerchief, and guava fruits. Hence, the four pockets.
In 1943, Ramon Puig opened a shop in Cuba, where he created and sold his guayaberas. While he didn't invent the pattern, he is considered the "King of Guayaberas;" he made them famous.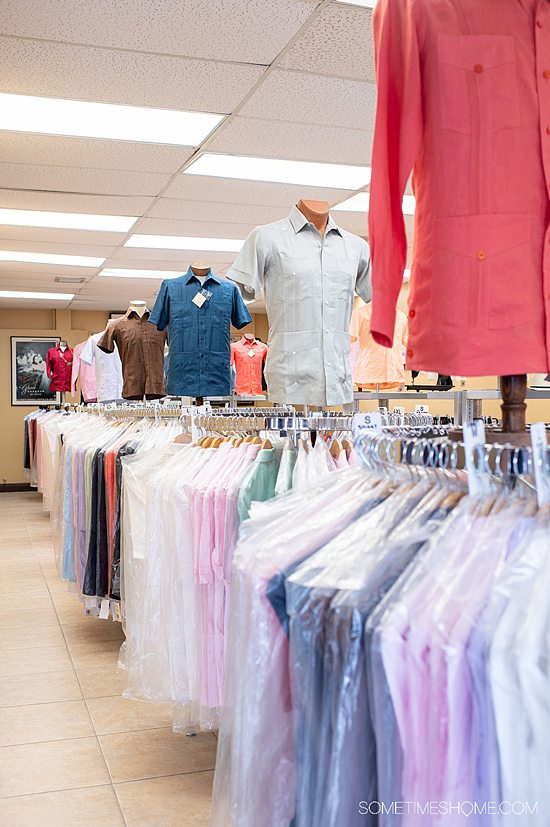 Ramon Puig Guayaberas Shop near Little Havana
The shop is on 8th street, but it's not near the stretch of Calle Ocho that's famous. So if you want to stop at Ramon Puig Guayaberas, we recommend taking a car service or driving there. Which is exactly what we did. There's a parking lot that is part of the shopping center where the shop is. It's a busy lot but if you're lucky you'll find a spot.
We walked into the store to see circular racks of impeccably placed guayabera shirts in plastic packaging on hangers, looking like they just arrived from the manufacturer. The store is owned by Ramon Puig's son and daughter-in-law; Ramon passed away in 2016. The shop is incredibly clean and pleasant to be in.
Marta, the store manager, greeted us with an emphatic hello. Her warmth was reminiscent of a welcoming mother with a close-knit family. She helped us find Dan's size so he could try on a shirt. (He usually wears a large and we were surprised the medium guayabera fit him better.)
Trying on and Buying a Guayabera
Though Dan always wears black shirts, he was game to try on a pretty lavender color. He said the material was heavier than he expected since it looks so light. Even though it wasn't his usual style, it was as attractive on him as it was on the hanger. Ramon Puig's guayabera shirts are stunning, well-made shirts.
Even looking at the striped pattern options – of which there is just a handful because most options are solid colors – I couldn't believe how precisely put together were. The vertical lines were perfectly so, and the horizontal lines were so precise you'd think the sewing team took a picture frame level to them.
There's more precision to this than meets the eye. If you have ever sewn anything involving patterned fabric, you know this involves not only sewing the pieces together with incredible precision but also requires cutting the pattern with keen attention to detail. You need to remain aware of how the lines are flowing on a striped piece of fabric as you place and cut the pattern before the sewing even begins.
A short sleeve guayabera shirt costs $140, and a long-sleeve costs $150. There's sometimes a sale rack in the back of the shop that you may get lucky with a good find.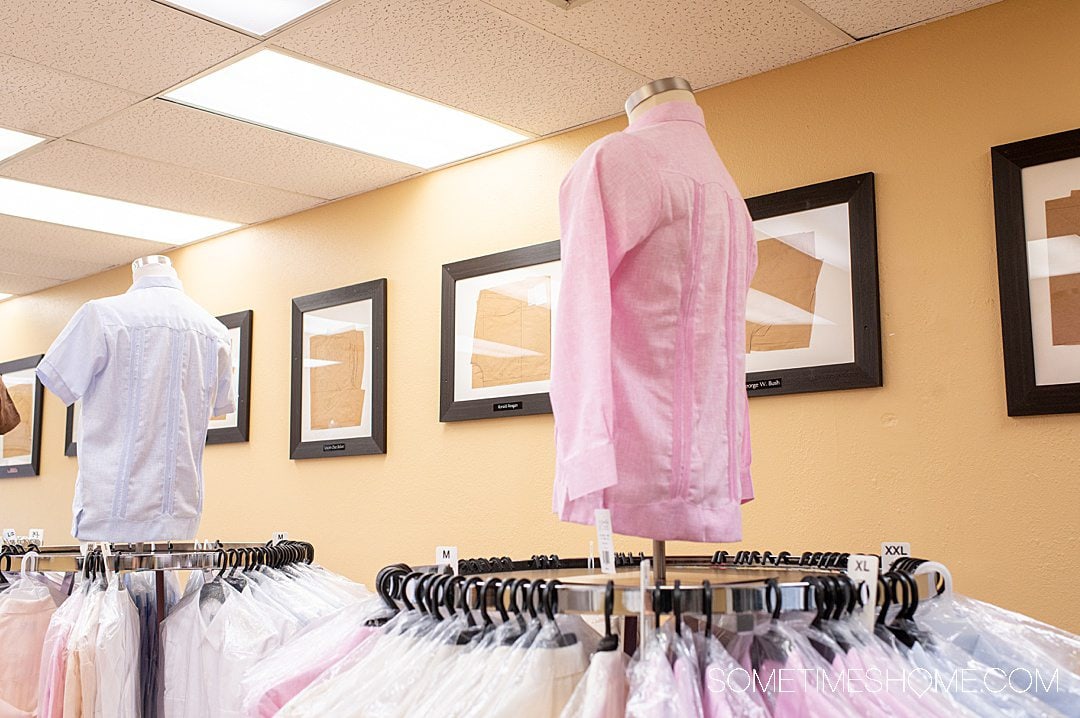 The shirts are currently manufactured abroad and imported. But you can see the patterns for famous people – from actors to politicians – adorning one wall of the shop. You'll also see two of Mr. Puig's oversized scissors in a shadow box frame above the fitting rooms.
If you can't get to the store or regret not buying one in person during your visit, they are available online.
Address: 5840 SW 8th St Miami FL 33144
"Must" Thing to Do in Little Havana: Enjoy the Food
Eat Lunch at Versailles
This is the most famous Cuban restaurant in Little Havana. (Which is a bit ironic, because it's named after the palace in France, not Cuba. But maybe there's some humor in that!)
Versailles is a bit like a diner inside, with a Cuban menu that's affordable and plentiful. They may have mirrored walls, but the similarities between Versailles – just outside Paris – and Versailles – the restaurant in Little Havana – pretty much stop at the name.
Regardless, Versailles (the Cuban restaurant in Little Havana) is doing things right because it celebrated its 50th year of business in 2021.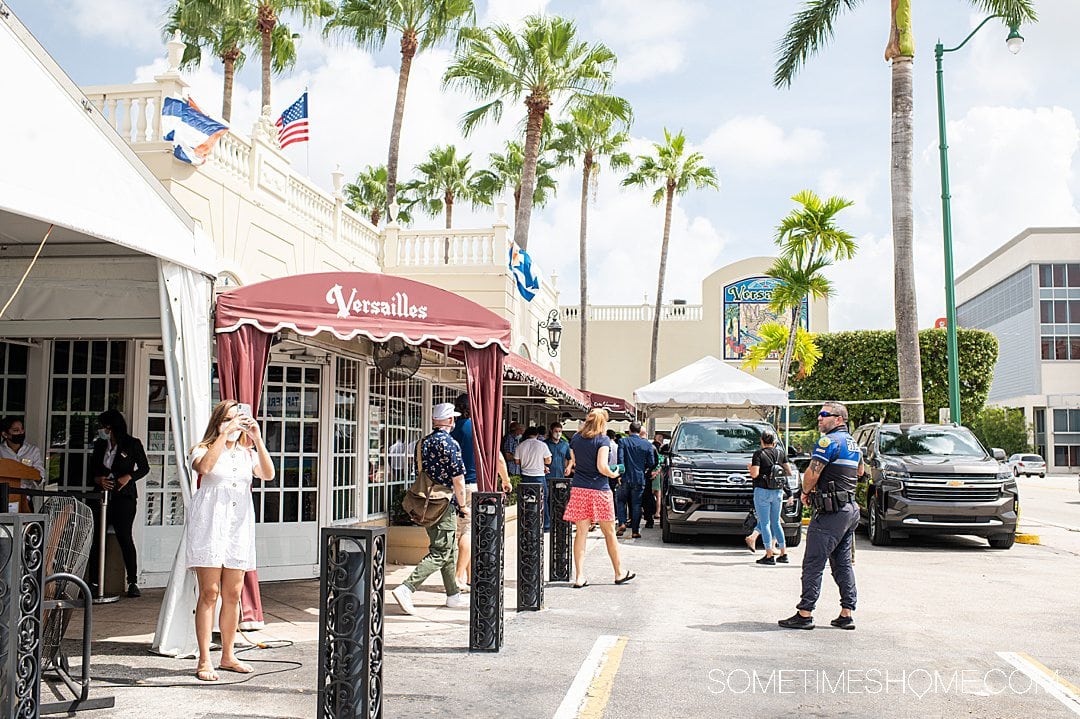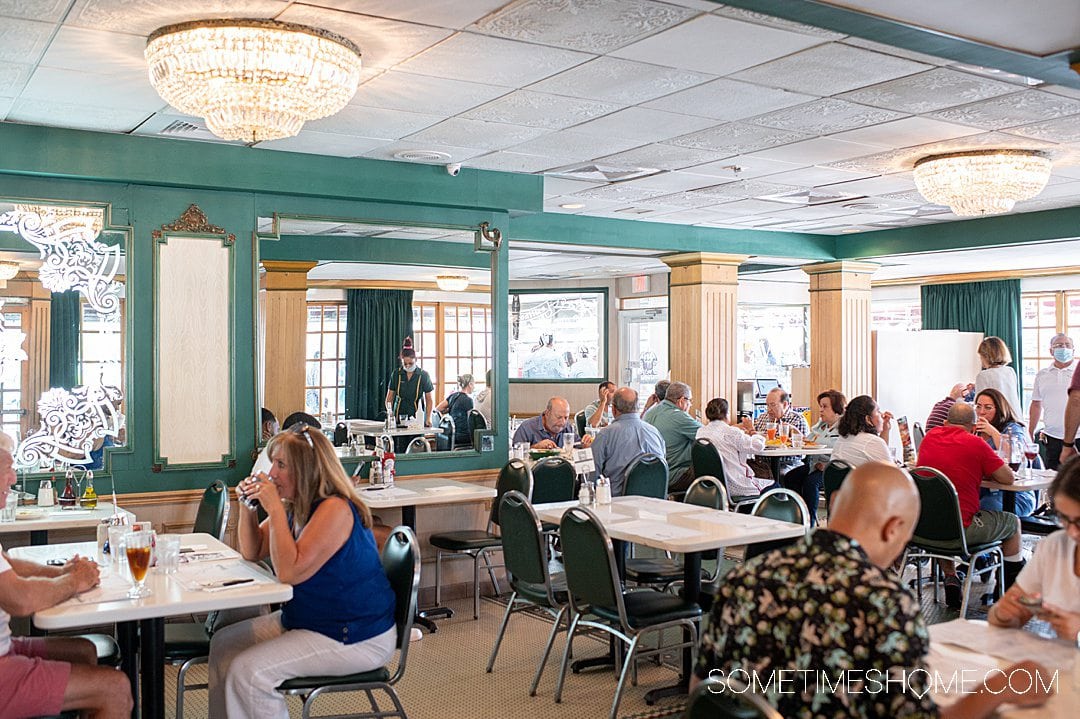 Eating a Cuban Lunch at Versailles
The inside of the restaurant has plenty of seating. We were delighted we didn't have to wait more than five minutes for a table during prime lunchtime on a Friday.
We ordered their famous Cuban sandwich (which was actually invented by Cuban immigrants in Tampa, on the other side of the Florida peninsula) and a "Classic" Cuban plate option. (The classic plate includes white rice, black beans, "picadillo" ground beef, roast pork, sweet plantains, one ham croquette, a Cuban tamale, and cassava (or yuca) with Cuban mojo.)
It was all delicious and served so efficiently! We were out of there for under $25 and within an hour. We even had leftovers we added eggs to in the morning, for a little Cuban breakfast.
Their menu is extensive; we imagine anyone could find something they would like on it. They have rotating specials for each day of the week too.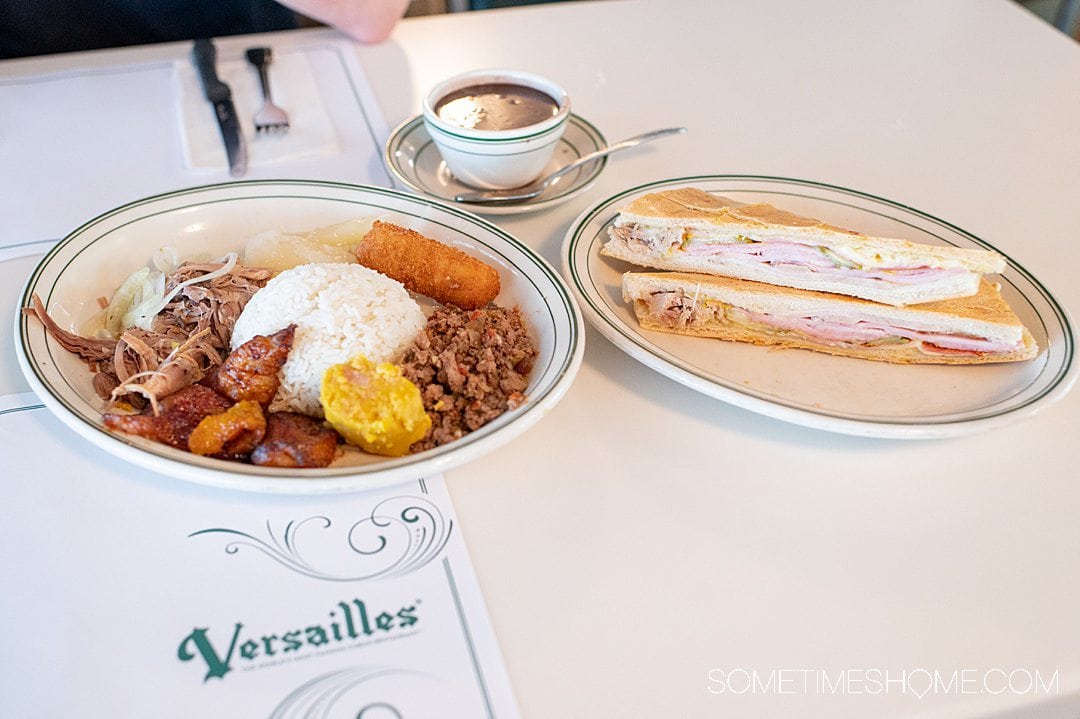 Their pastry shop is connected to the building, accessible from outside if you want to pick up some Cuban pastries on your way out. Their coffee shop, La Ventanita, will satisfy your Cuban coffee thirsts.
There are several parking lots for Versailles – a lot next door and one behind the restaurant – so parking shouldn't be an issue. Versailles is open daily, 8:00am to midnight, and until 1:00am (an extra hour) on Fridays and Saturdays.
Order Versaille's Famous Cuban Sandwiches from Home
Can't get to Miami? Or maybe you've been to Versailles and are craving their Cuban Sandwiches from home but you can't get one in your town. Or perhaps you want to share the taste with a friend who couldn't visit with you.
Great news: you can order a Cuban Sandwich from Versailles, delivered to your home! Check it out and order deliciousness to your doorstep.
As it says online at Goldbelly, the nation's premier website that ships outstanding comfort foods from small businesses around the world, "Versailles has been featured on Food Nation with Bobby Flay and The Best Of on Food Network, and in the Miami Herald, Conde Nast Traveler, and Eater."
Sign up for a Food and Walking Tour of Little Havana
Have Dinner at Cafe La Trova
A retro Cuban atmosphere is brought to life with music, craft cocktails, and contemporary Cuban cuisine. The restaurant is the result of a partnership between Michelle Bernstein, who is of Jewish and Latin descent and is a James Beard Award-winning chef, and the famous Cantinero (Cuban bartender) Julio Cabrera, who was born and raised in Cuba.
Cafe la Trova is named after a famous style of music that hails from Cuba. Naturally, Cafe La Trova features the La Trova guitar-led style of music seven nights a week, and daily happy hour at the bar from 4:00pm to 7:00pm.
It's interesting to note that Cabrera opened a Cuban cocktail school to keep the Cuban tradition alive in the United States.
Address: 971 SW 8th Street, Miami, FL 33130
Try Cuban-Inspired Ice Cream Flavors at Azucar
The most well-known ice cream shop in the area is easy to spot on Calle Ocho; it has a huge ice cream cone outside on top of its neon marquee.
Azucar was founded in 2011 and now has a location in Little Havana, Miami, and another in Dallas, Texas. The owner's inspiration to open the shop was her ice-cream-loving grandmother ("Abuela," in Spanish).
A ton of flavors are available at Azucar, some more savory than sweet. But there's a lot of great tropical flavors there to note. One is Abuela Maria, which has guava pieces in it with cream cheese mixed in and cookie pieces. Another favorite was Cafe con Leche (coffee with milk), with Oreo pieces mixed in.
They get fruit from the Los Pinareños fruit market down 8th street, which is also worth a visit.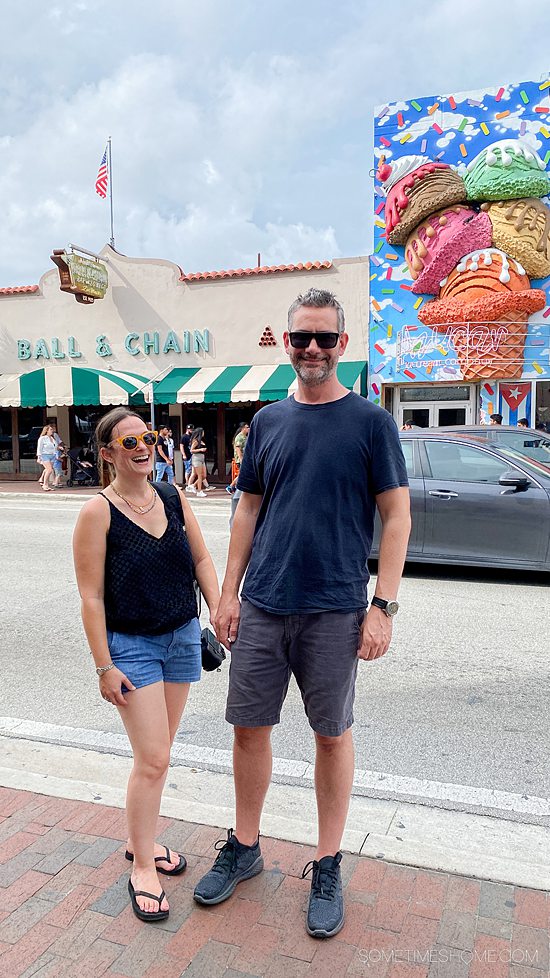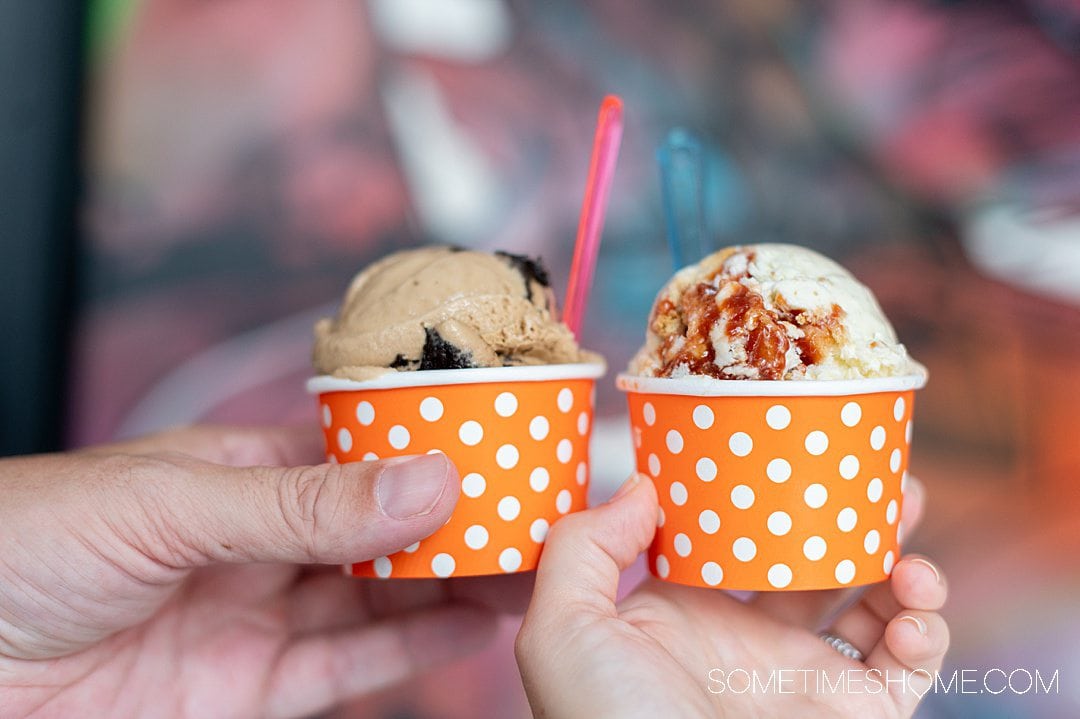 Visit Los Pinareños Fruitera: the Oldest Fruit Market in Little Havana
This open-air market has been owned and operated by a Cuban immigrant family for almost 60 years, since 1963.
The earlier you visit Los Pinareños in the day, the more fruit they have. When we went, around 3:30pm on a Friday afternoon, the pickings were a little slim but they still had a little bit left of the following: plantains, coconuts, yuca, papaya, bananas, and sugarcane.
They also sell coffee, juices, and smoothies.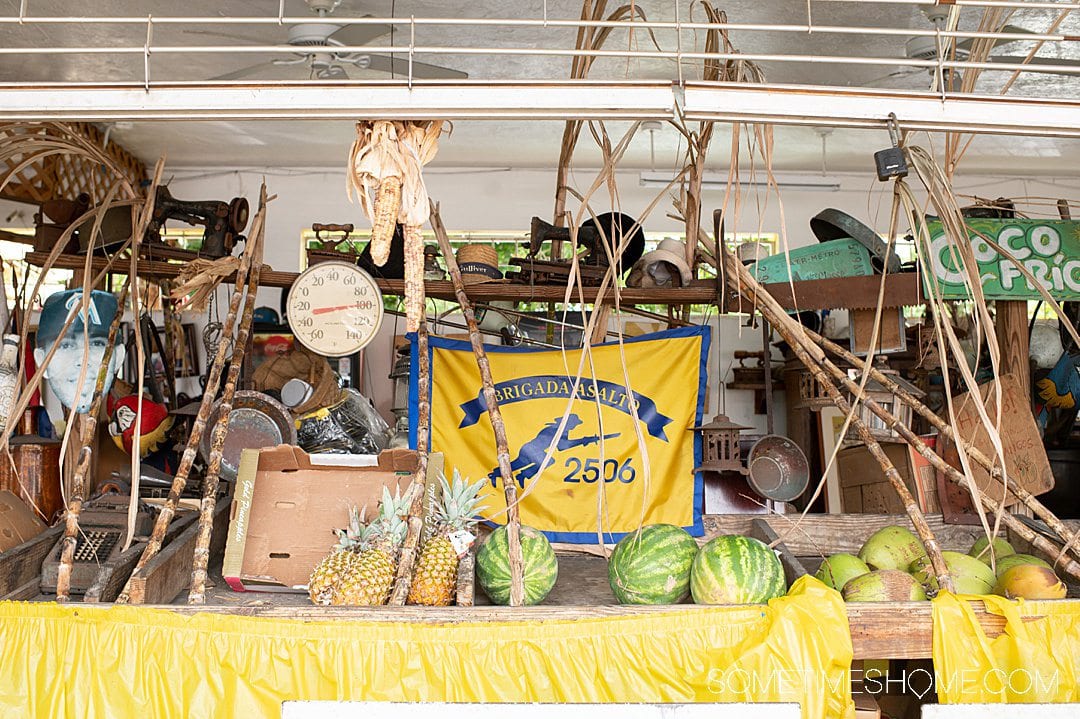 Enjoy Some Cuban Coffee
Cuban coffee is unique because it's served in a "thimble" sized cup with sugar and no milk. These one-sip-sized coffee hits are delicious and helpful in getting you caffeinated!
If you pass any window labeled a "ventanita," stop there for a coffee and gain a sense of the community that not only the drink – but the stand and people who work there – provide.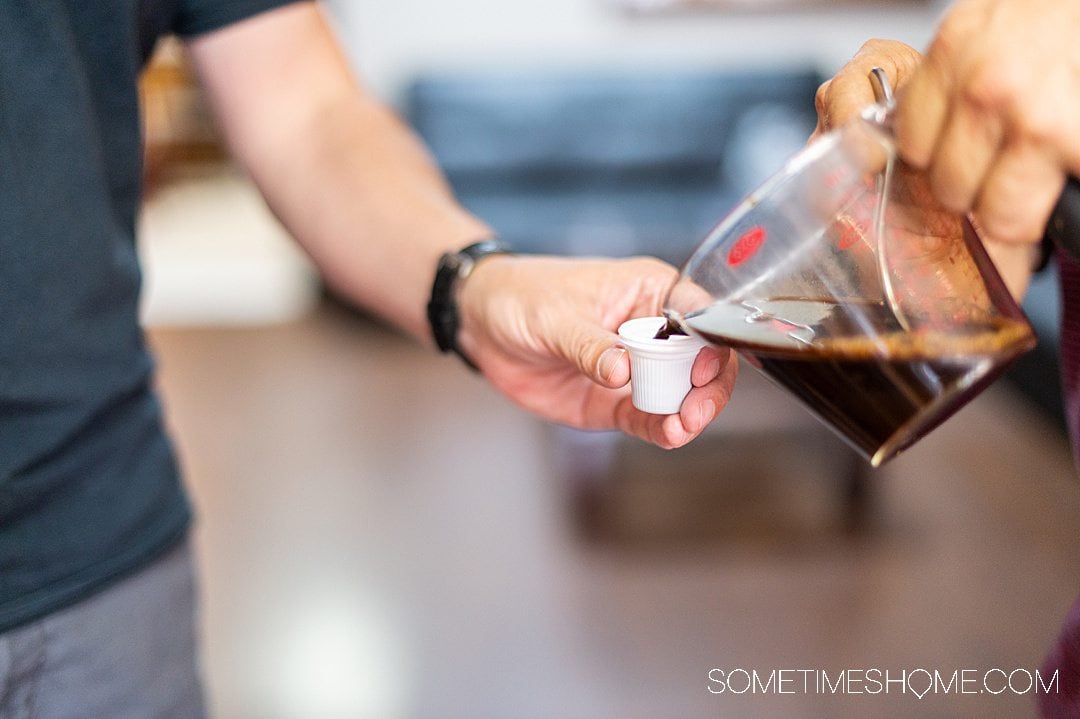 Buy Cuban Pastries at Arahi's Bakery
We wanted some guava and cheese pastries to take home for our next day, in Florida. Dan and I also wanted to support more local small businesses when we visited Little Havana.
Thus, we stopped at Arahi's bakery on our way back north and purchased two delicious pastries: a sweet guava empanada and a custardy slice of cake. (We're still not sure what the cake was because there was a language barrier, but it was yummy!)
The bill was less than $5, and we gained a lot of delicious calories and a greater sense of the friendly community in Little Havana.
Address: 745 SW 8th St, Miami, FL 33130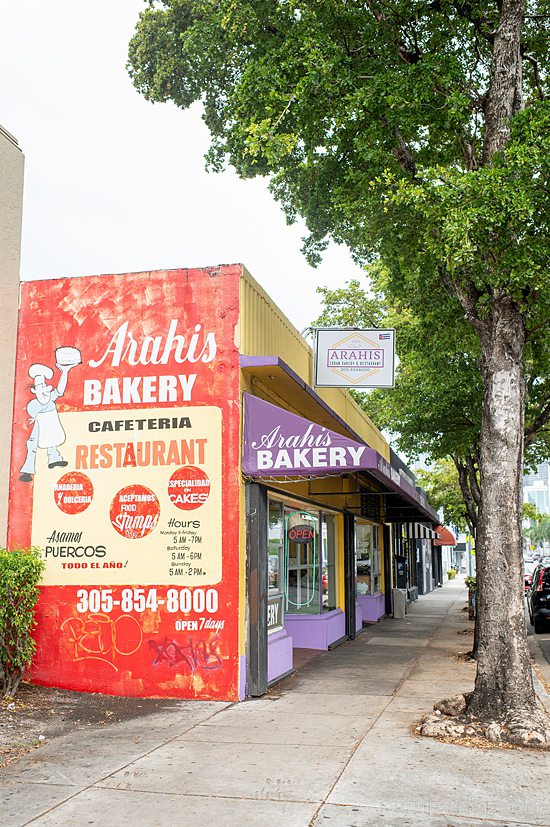 Related Things to Do Next to Little Havana
Learn about the Bay of Pigs Invasion at the Brigade 2506 Museum and Library
If you're into war history or want to learn more about Cuban in America during the 1960s, you will want to visit the Bay of Pigs Invasion Museum and library. The official name of the destination is, "Brigade 2506 Museum and Library."
The museum and library used to be in Little Havana off of Calle Ocho in Miami but recently moved to Hialeah, Florida. It's 17 miles northwest of Little Havana, which is approximately a 30-minute drive.
The old museum is pictured below, but the museum's new location brings increased space and a newer facility, with outdoor exhibits of a 1960s war tank and airplane.
The Bay of Pigs invasion happened in 1961, when Cuban exiles, then living in America, invaded Cuba in an attempt to overthrow Fidel Castro. JFK was president at the time.
Many of the troops lost their lives; this museum commemorates the invasion, those who fought, were taken prisoner, and those who lost their lives.
Address: 13651 NW 107 Avenue, Hialeah Gardens, FL 33018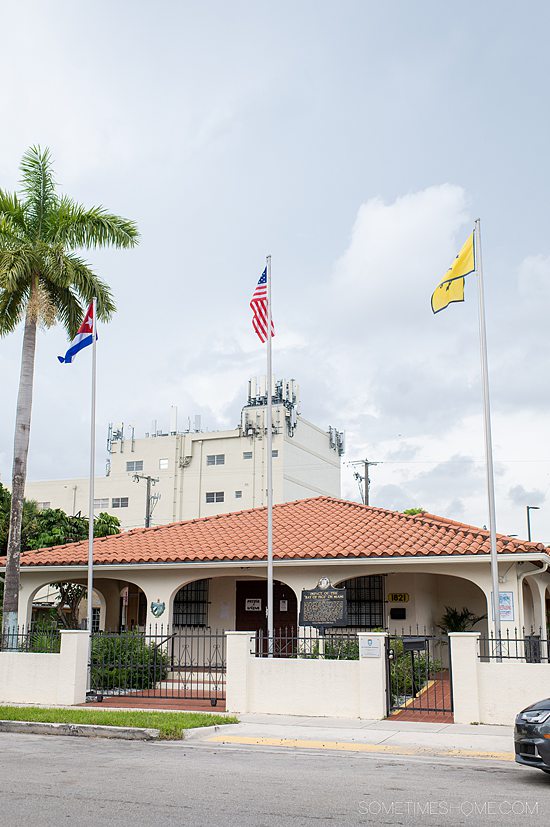 Pay Your Respects at the Bay of Pigs Memorial
The Brigade 2506 Museum may have moved to Hialeah Gardens, away from Little Havana. But a monument to remember the Bay of Pigs invasion remains in the neighborhood to honor the fallen.
Address: 806 SW 13th Ave, Miami, FL 33135
Planning for your Time in Miami, including Exploring Little Havana
What is Little Havana Like?
Little Havana is a small area of Miami. It's a neighborhood in a large city. Though it's named after Havana, don't expect the resemblance of Cuba to go beyond that, aesthetically speaking.
If you're staying nearby in Miami, we suggest taking a ride-share or car service to the area to avoid worrying about your car and paid street parking.
The bulk of things to do in Little Havana is along Calle Ocho, with some outliers. It's filled with Latin culture, including the sounds, sights, and foods of the sort. From drums and horns to people playing dominos in the park, cigar rollers in shops, and Cuban flags on the street, to delicious Cuban pastries made with guava fruit you're sure to enjoy your time there.
Though you can walk the main part of Little Havana (which is 8th Street, or "Calle Ocho," between 12th and 16th Avenues), it's easier to explore some notable spots beyond that with a car – and there are a few spots worth noting.
That being said, street parking may be difficult to find at certain times of the day, especially on nights and weekends but if you're lucky you'll be able to grab a paid-parking spot on the street or in a parking lot.
What to Pack for your Day in Miami's Little Havana
If you're venturing out for the day don't forget Florida essentials. The sun is hot, hot, hot in Miami, which means you'll need sunglasses, sunscreen, and your refillable water bottle – we love our flat Memo bottle because it fits in my purse.
And if you're prone to bugs biting you where the weather is warm (as I am) you're going to want The Bug Bite Thing on you at all times. (It's the only solution that has ever truly worked to getting bug bites to stop itching and interfering with my day.)
Little Havana vs Wynwood
Wynwood and Little Havana, two popular neighborhoods to visit in Miami, are incredibly different.
Little Havana is ideal for Latin culture and feeling the "flavor" of a specific aspect of the city. While Little Havana has some great murals and street art in the neighborhood, it isn't known for that.
On the other hand, Wynwood is filled with murals from well-known artists who come from around the world to paint walls in this famous neighborhood. There are way more art galleries, Instagram-worthy opportunities, and "see and be seen" places to hang out.
Both are wonderful yet different. If you have two days in Miami, we recommend visiting both neighborhoods. If you only have one day, consider the morning in Little Havana and the afternoon in Wynwood, or vice versa. (And be sure to read our extensive post on fun things to do in Wynwood if you visit.)
You can also sign up for something like an affordable private guided tour that takes you to several Miami neighborhoods, including Wynwood and Little Havana. This is an especially good option if you're short on time and without a car.
Quick History of Little Havana, Miami
Many Cuban exiles made their home in Miami in the 1960s, to escape the Castro regime. Prior to that time, from the 1930s, Little Havana (not yet named that, of course) was a thriving Jewish neighborhood.
The current name of this Cuban quarter neighborhood reflects the capital city of Cuba, though it looks different than Havana in Cuba.
Little Havana was added to the list of National Treasures, by The National Trust for Historic Preservation.
The area is west of downtown Miami, south of Wynwood, and north of Coconut Grove.
Many businesses there are Cuban-owned, but you'll find a wonderful mix of Spanish cultures here beyond Cuba nowadays. This includes people from Central American cultures, South America, and the Caribbean.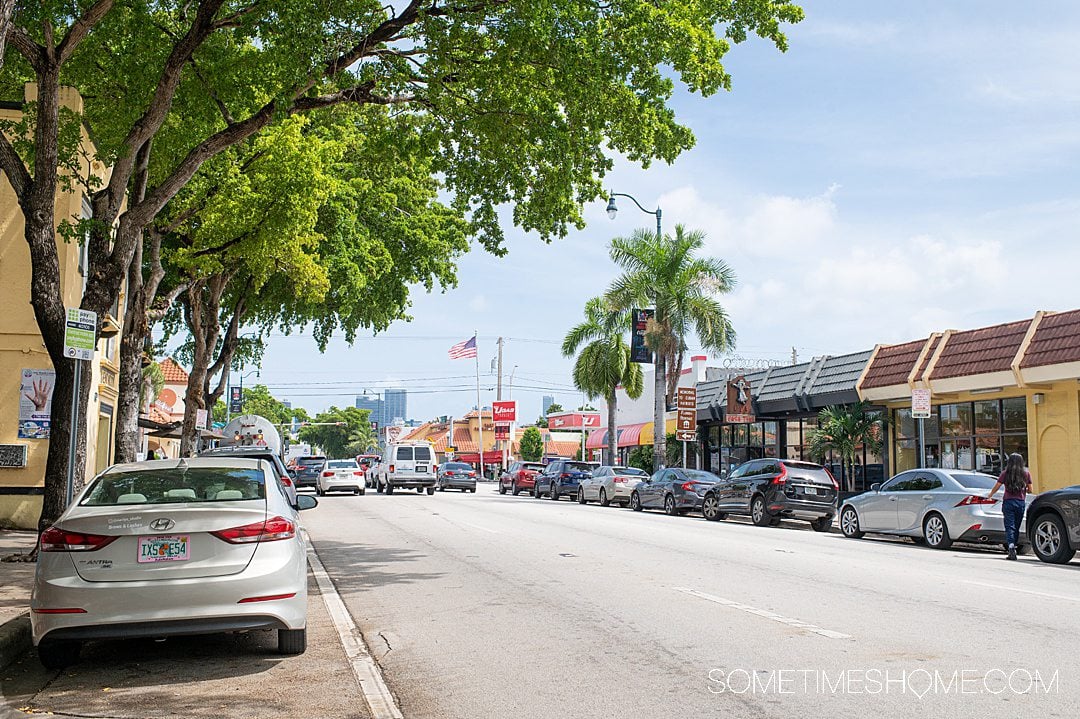 Other Things to do Near Little Havana
Take advantage of the beautiful water surrounding Miami and choose from one of many Miami boat tours. You can do a sunset cruise, a thrilling speedboat ride, an airboat tour of the Everglades, and even enjoy Biscayne Bay in Miami on a private boat rental.
Another option is to do a helicopter tour over Miami to see all of its neighborhoods – from Little Havana to Wynwood, South Beach, and Downtown, from above.
You can also take a Segway tour of some really cool areas of Miami near Little Havana, including Lincoln Road and the Art Deco historic district.
Going to Florida? Read this next: