33 Not-to-Miss Things to Do in Charleston, SC
Charleston, South Carolina is a must-see destination for history buffs, foodies, and anyone who appreciates picturesque architecture and beautiful beaches.
Steeped in a fascinating past revolving around the Civil War, past presidents, African American history, and even pirates, things to do in Charleston abound including architecture tours and guided tours.
The city's downtown area is where you can take a guided tour of the Charleston Battery, walk along Rainbow Row, and see the Aiken-Rhett House Museum, to name a few. There is also plenty to explore near downtown, including Fort Sumter, former plantations in West Ashley, tea tours, and more.
The city is also famous for its renowned culinary scene. You'll never want for more in the city of Charleston, with its variety of seafood and traditional Southern restaurants, and exceptional chef experiences. They say you can eat your way through the south, and Charleston food tours prove that's true.
Disclosure: This post has affiliate links, meaning we may earn a small commission if you click the link and proceed with a purchase at no cost to you. We recommend experiences, hotels, products, and services we use and support. As Amazon Associates, we earn from qualifying purchases.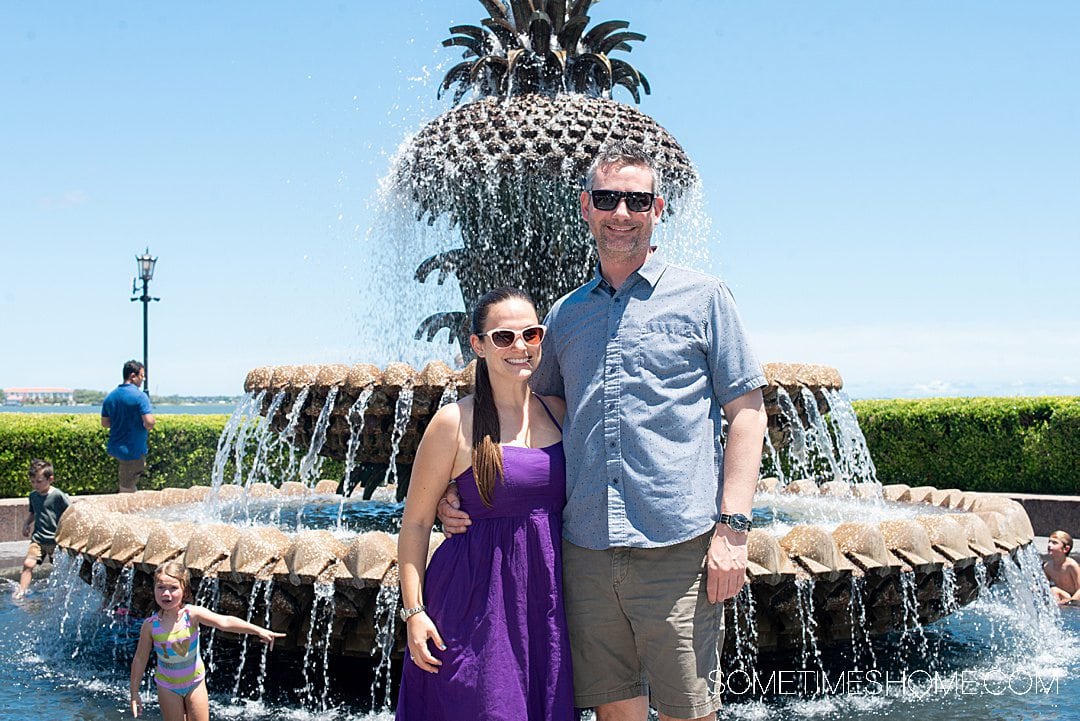 Things to Do in Charleston, DOwntown
Downtown Charleston, South Carolina is a historic and picturesque area known for its charming cobblestone streets, antebellum (pre-Civil War) architecture, and numerous restaurants and shops.
Take a self-guided stroll down the city's streets and pedestrian walkways, enjoying the colorful houses and gardens, or opt to join a tour or hire a private driver to take in the sights.
Buy a Charleston Tour Pass and…
⏱ Short on time in Charleston? Check Out these Great Tours Options
Tour Historic Homes and Architecture
Much of Charleston's architecture is considered unique, not only in North America but in the world.
City buildings are considered jewels in Charleston due to their history and conservation. There are so many beautiful and well-preserved examples of colonial and antebellum architecture, including famous "single house" and "double house" designs with beautiful side porches that are integral features of these southern homes.
Many of Charleston's notable homes feature ornate details such as wrought iron gates, elaborate brickwork, and intricate woodwork, which are not to be missed touring the city center.
That is why one of the best things to do in the historic city is sign up for house tours to learn more about the design of Charleston.
➜ 1. Rainbow Row
The city's historic district is home to Rainbow Row. This series of thirteen colorful historic houses is located on East Bay Street. The houses are considered one of the city's most popular tourist attractions and are easily the most photographed homes in Charleston.
Look up a hashtag for #Charleston and you're bound to see Rainbow Row pop up.
Admire the homes' architecture and take in the colorful charm of this historic neighborhood when you visit Rainbow Row. The purple, green, blue, and pink facades are incredibly Instagram-worthy.
The houses were built in the late 18th and early 19th centuries and were originally inhabited by merchants and seafarers. While the integrity of the houses declined over the years, they were restored to their former glory for historic preservation early in the 20th century.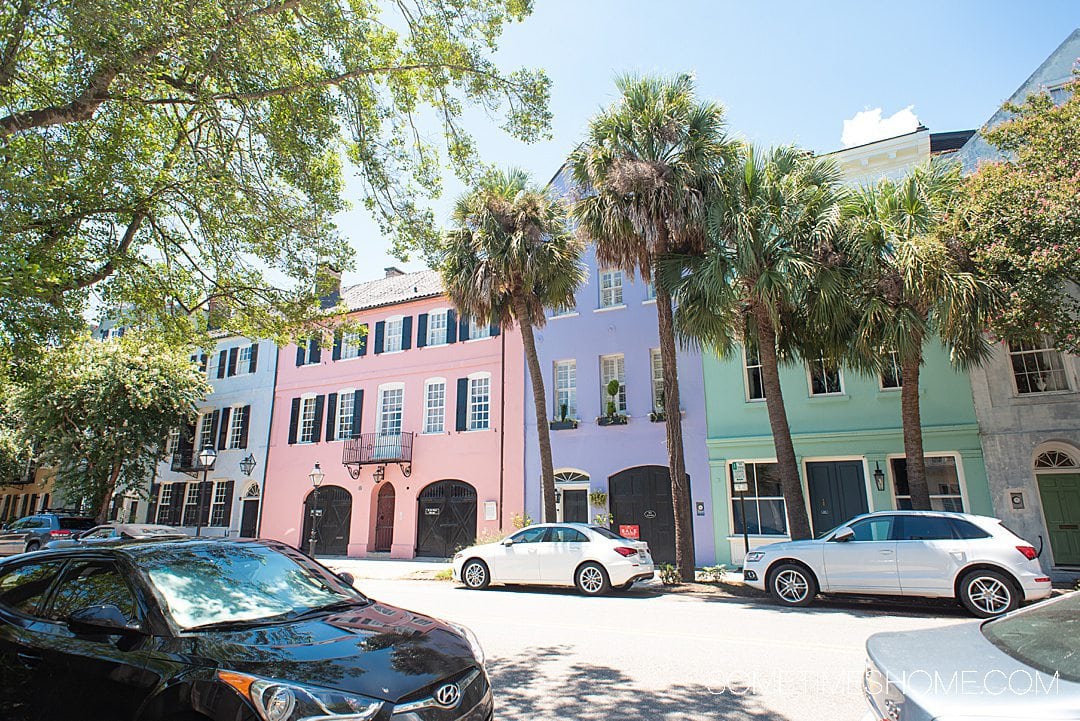 ➜ 2. Aiken-Rhett House Museum
The Aiken-Rhett House is an important piece of Charleston's history and a must-see for anyone interested in the city's past.
Built in 1820, it's considered one of the city's most important examples of antebellum architecture. It was originally owned by Governor William Aiken, Jr. and was later passed down to his son-in-law, William Rhett. The house remained in the Rhett family for over a century until it was donated to the Historic Charleston Foundation in the 1950s.
Today, the house is open to the public and offers a glimpse into the lifestyle of a wealthy 19th-century family. Visitors can tour the grand parlor, the formal dining room, servant quarters, and other areas during a 45-minute tour.
➜ 3. Southern Mansions on Charleston's Battery
The Battery is a fortified seawall and promenade in this famous southern city, at the tip of the Charleston peninsula. But perhaps it's most well known for its famous millionaire and billionaire mansions that line the promenade, overlooking the Charleston harbor.
This is the perfect place to admire the "lifestyles of the rich and famous" in Charleston.
If you sign up for one of the walking tours or a horse-drawn carriage ride of the city, listed below, you will likely be taken to the Battery area.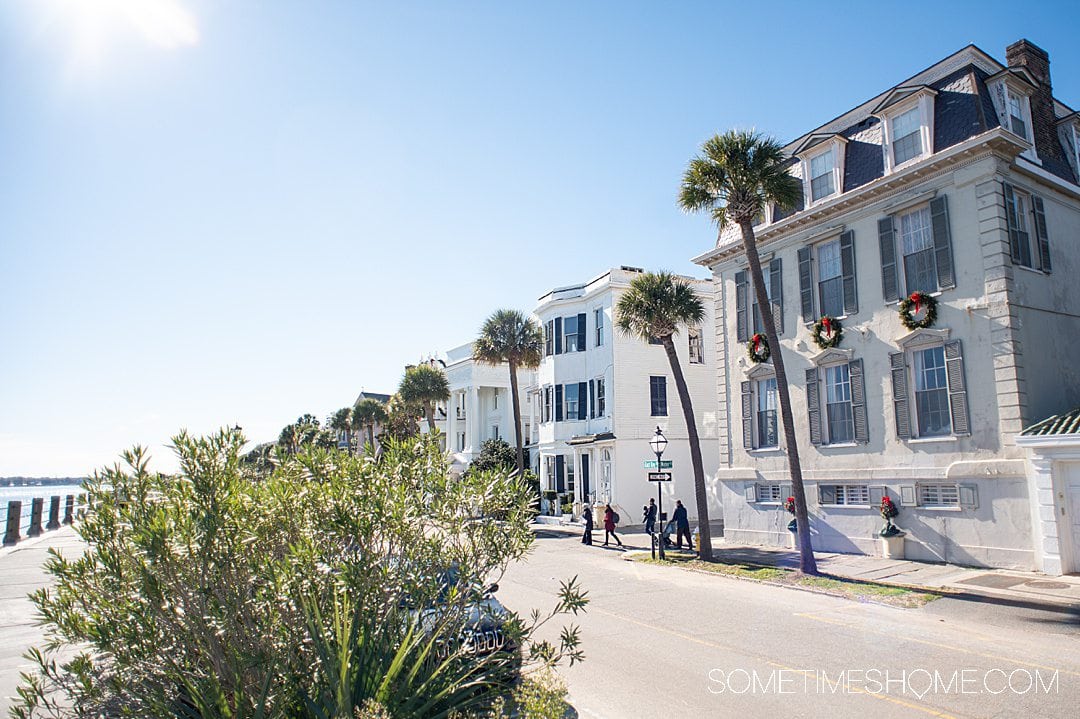 ➜ 4. See the Fish and Sharks at the Charleston Aquarium
The Charleston Aquarium features a variety of exhibits that showcase Lowcountry marine life. It is home to more than 10,000 animals.
A favorite highlight of this South Carolina indoor attraction is its touch tank. Here, visitors can interact with marine animals like starfish and stingrays.
A shark exhibit at the South Carolina aquarium features native SC species, there is a sea turtle rehabilitation program (which reminded us of the sea turtle center in Jekyll Island, GA), and you can see some impressive birds there too, like Liberty the Bald Eagle.
The aquarium also has 3D and 4D movies and a rooftop terrace. It's a fun place for all ages.
They're open daily from 9:00 am to 5:00 pm, with the last entry at 3:30 pm, with the exception of Thanksgiving Day and Christmas Day, when they are closed. They close at 1:00 pm on December 24.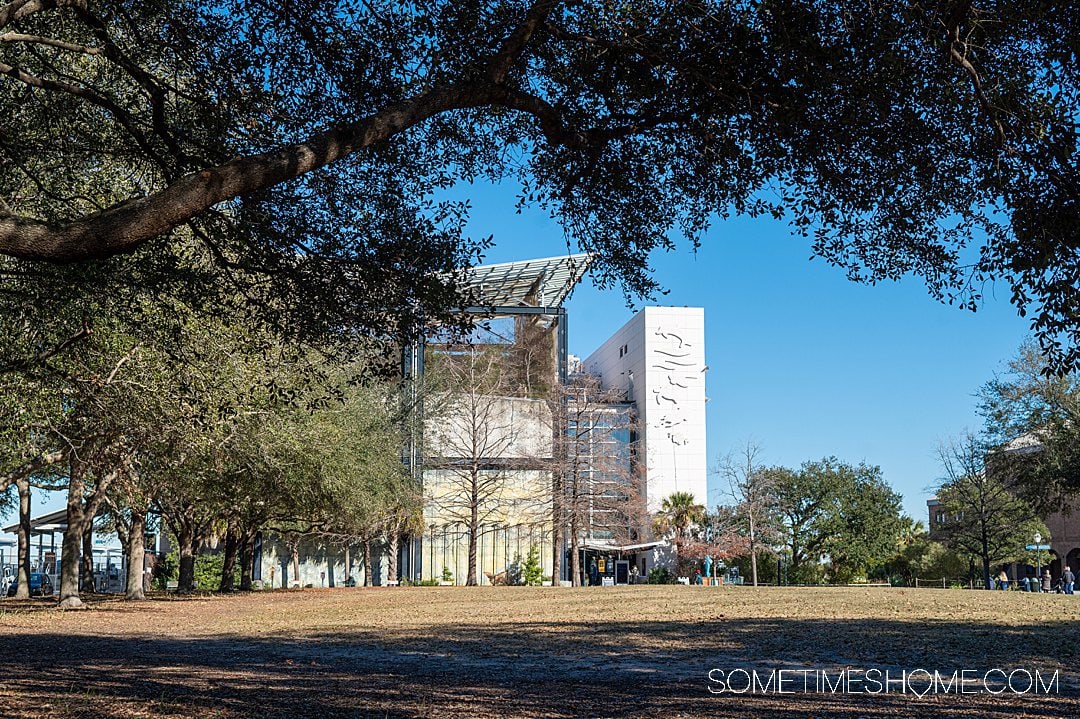 ➜ 5. Have a Picnic in White Point Garden (near The Battery)
White Point Garden is a historic park and public garden that sits on the tip of the peninsula at the city's southern end. A visit here offers breathtaking views of Charleston Harbor, where the Cooper River and Ashley River meet.
The garden features a wide variety of plants and trees, including majestic oak trees covered in Spanish moss, Palmetto Palm trees, and Magnolia trees. Visitors can also find historical features such as a World War II memorial, a Civil War memorial, and a cannon collection.
During spring, summer, and fall it's a particularly lovely area for an outdoor picnic! Grab food and drinks from a local market or takeout from a nearby eatery and enjoy White Point Garden, one of Charleston's most famous public parks.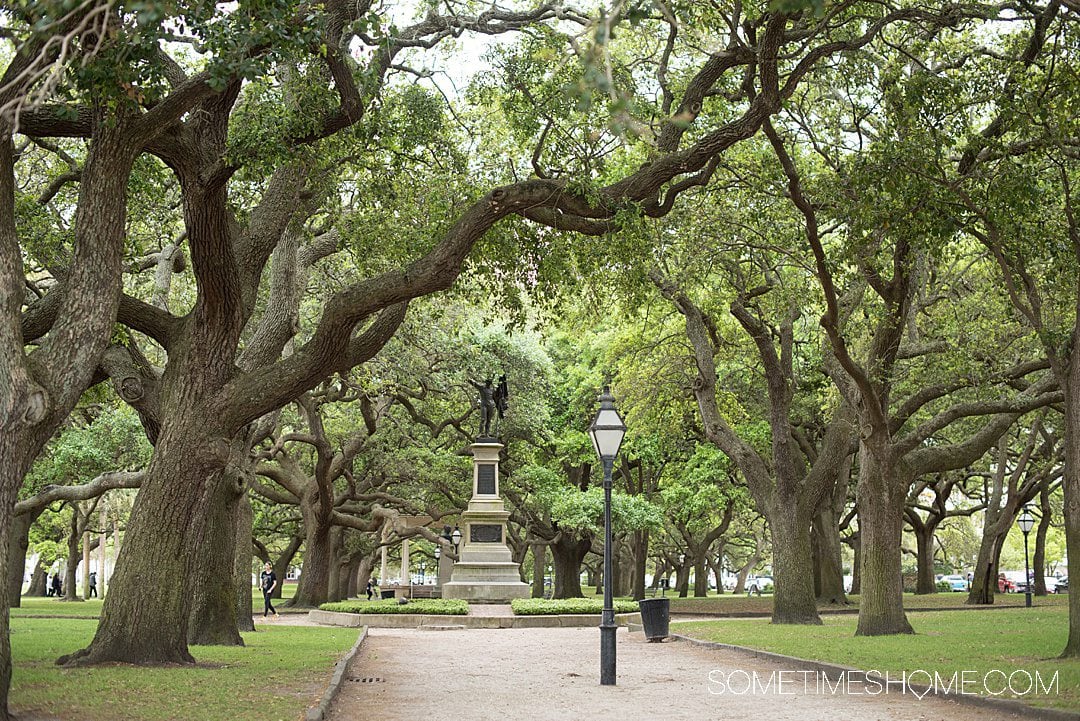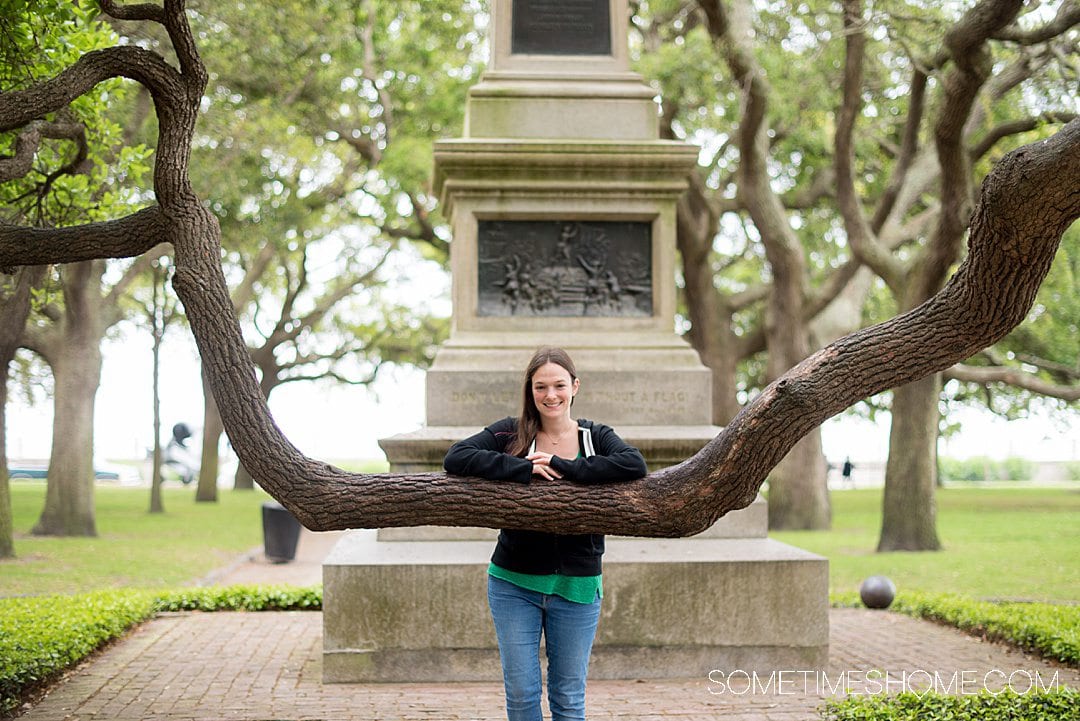 ➜ 6. Stroll Along the Battery Pedestrian Walkway
Located along White Point Garden's eastern edge is the "Battery," a seawall that dates back to the Civil War era.
The paved pedestrian walkway is a lovely place to walk or sit on a bench to enjoy the views. Across the harbor, way off in the distance, you can see Fort Sumter, the site of the first battle of the Civil War.
➜ 7. Snap Photos by the Pineapple Fountain in Joe Riley Waterfront Park
Another hugely photographed area in downtown Charleston is Joe Riley Waterfront Park. Its central monument is its famous pineapple fountain, which welcomes visitors into town, especially from Charleston's adjacent cruise port.
It's also a great vantage point to take photos of Charleston Harbor and the city's impressive white Ravenel Bridge.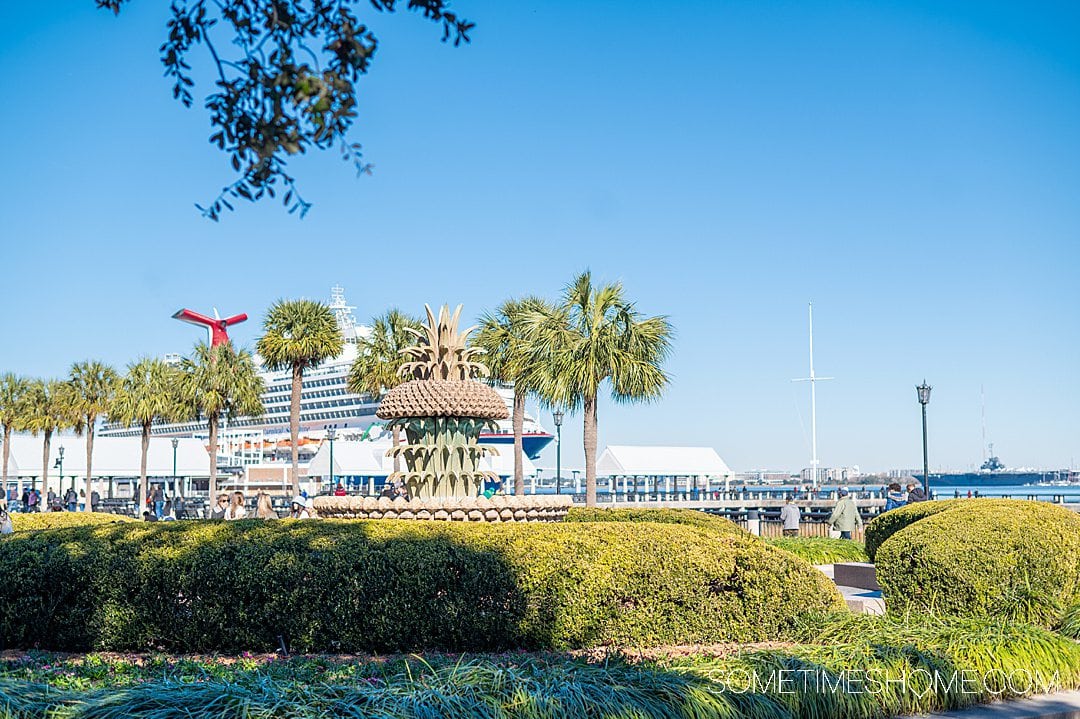 ➜ 8. Visit Marion Square
Marion Square is a public park located in the heart of the city. It is affectionately referred to as Charleston's "Central Park."
The park is comprised of approximately six acres of open grassy area with a fountain. It also features historic monuments and memorials and is surrounded by historic buildings, like the Old Citadel.
The historic square, with 18th-century roots, is a popular spot to meet for special events throughout the year, including a Charleston farmers market, live music, and assorted festivals. Many visitors and locals, including students from the College of Charleston, come to relax here and enjoy a picnic, and the ambiance.
➜ 9. Support Local Vendors at the Historic Charleston City Market
Located in the heart of downtown, the Charleston City Market features a variety of local vendors selling everything from handmade crafts and souvenirs to artwork and other traditional Lowcountry items.
Established in 1804, it is one of the country's oldest city markets. It's a great place to try southern food, support local artists, and take in the sights and sounds of the city. If you want some very local gifts and souvenirs from Charleston SC, this might be one of the best places to get them depending on what you're looking for.
Be sure to check out the local artisans who craft the well-known sweetgrass baskets at this longest-running public market in the United States.
They have a daytime market open daily from 9:30 am to 5:00 pm, and a seasonal night market. Check their website to see if the Friday and Saturday night market, from 6:30 pm to 10:30 pm, will take place when you're visiting, where there's also food and live entertainment.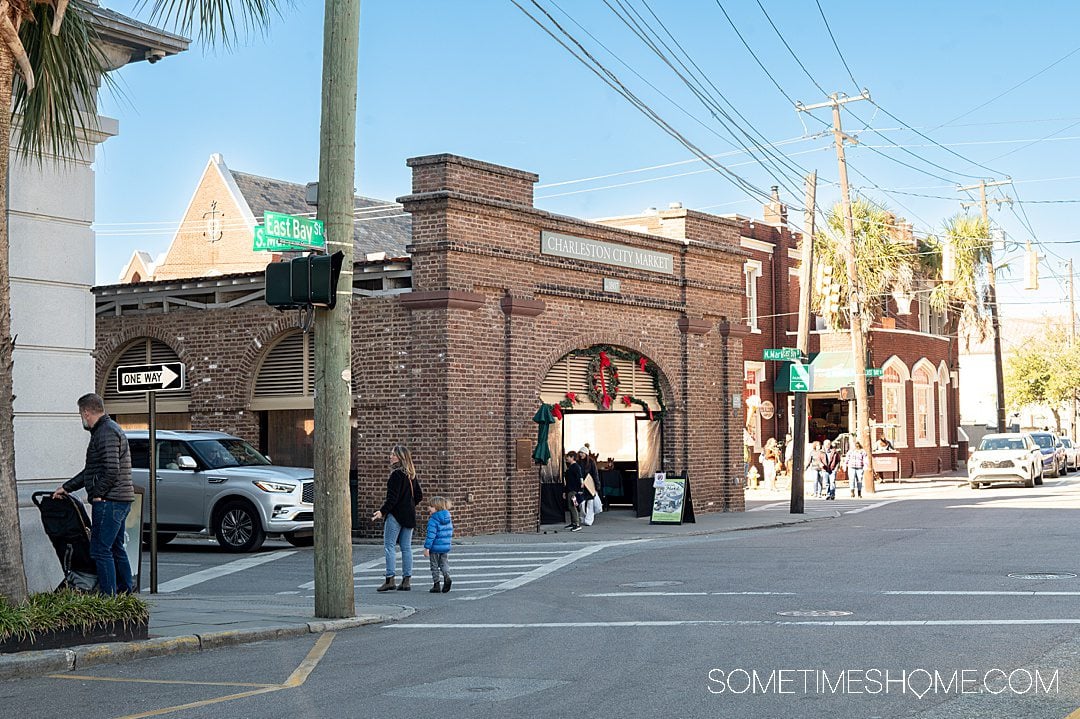 ➜ 10. Boat Tours on the Charleston Harbor
Charleston Harbor is surrounded by many historical and popular spots. This includes Fort Sumter, the USS Yorktown, and Patriot's Point Naval and Maritime Museum.
Board the Carolina Belle for a 90-minute harbor tour, enjoying attractive city views and Charleston's waterfront. O,r take a ferry to Fort Sumter. The harbor's surrounding attractions offer many amenities for visitors like marinas, fishing charters, and parks like White Point Garden.
The Charleston Harbor is a beautiful place to take in the waterfront views of the city.
➜ 11. Private Sailboat Cruise on the Charleston Harbor
A private sailboat cruise of the Charleston Harbor is a unique and memorable way to experience the city's beautiful waterfront.
A private charter will take you to the famous places listed above (Fort Sumter, the USS Yorktown, and Patriot's Point Naval and Maritime Museum). You will even have a chance to see dolphins in Charleston Harbor!
The best part of a private charter is that you have a say in your excursion time, including input for what sights you'll see. Don't miss out on this one-of-a-kind thing to do in Charleston.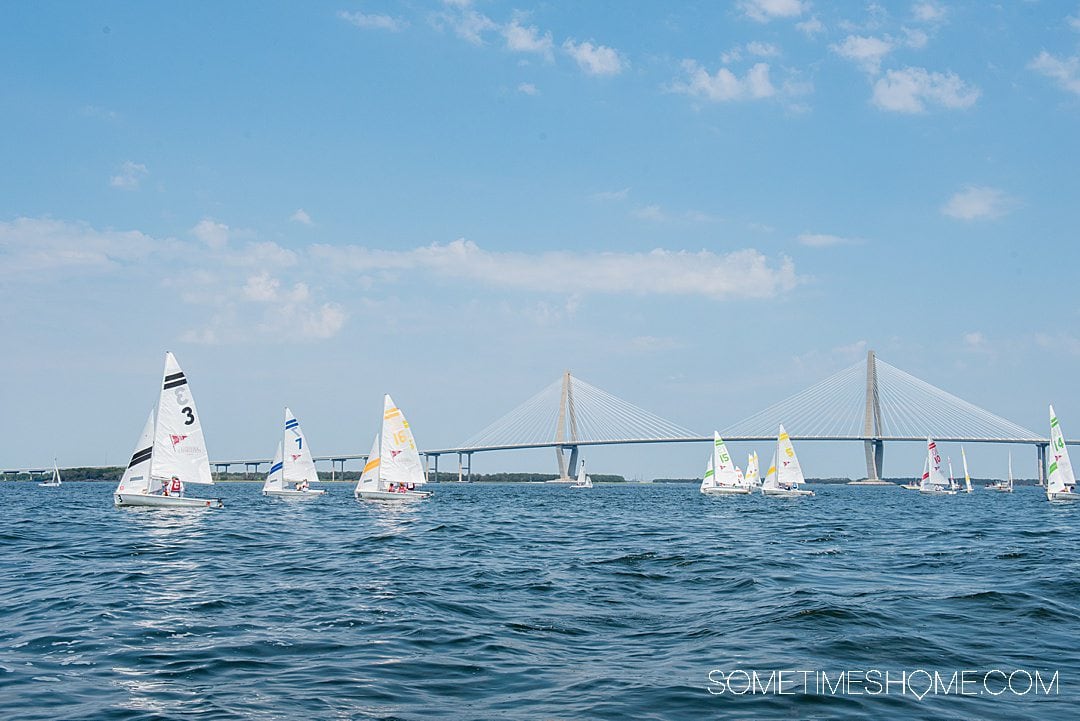 ➜ 12. Speedboat Tour
Literally, take your tour into your own hands! In this very special speedboat tour, you will learn how to operate and steer a boat yourself.
After you feel confident in the Captain's seat, you'll follow a guide boat past the Battery, under the famous Charleston Ravenel Bridge, to the USS Yorktown, and more, stopping for photo ops along the way. You may also have a chance to see wild dolphins.
This speedboat tour is great for soft-adventure travelers, up to eight people.
➜ 13. Catamaran Sunset Sail
If sailing is to your liking, climb aboard a 45-foot motorized catamaran and sail into the sunset during this golden-hour boating adventure.
This seasonal two-hour Charleston boat tour is perfect for an end-of-day activity before returning to your Charleston hotel or your evening dinner plans. You'll sail past the South Carolina Aquarium and see Fort Sumter in the distance as you watch the sunset on the horizon.
Take a Guided Tour of the City of Charleston
Who better to learn local history from than a certified tour guide? Each Charleston guided tour offers a unique perspective and insights into this historic gem of a city.
Which one will you choose?
➜ 14. Horse-Drawn Carriage Ride
Take a journey back to colonial times with one of the best ways to see the city: a horse-drawn carriage. Clip-clop your way through more than 300 years of rich history.
You'll learn about Charleston's part in the Civil War during your narrated carriage ride. Some sights you'll enjoy include the Old Exchange, the infamous Provost Dungeon, and much more.
You can choose from a private tour or a group tour – both take about one hour. Private carriages can accommodate up to four passengers and group tours up to 16.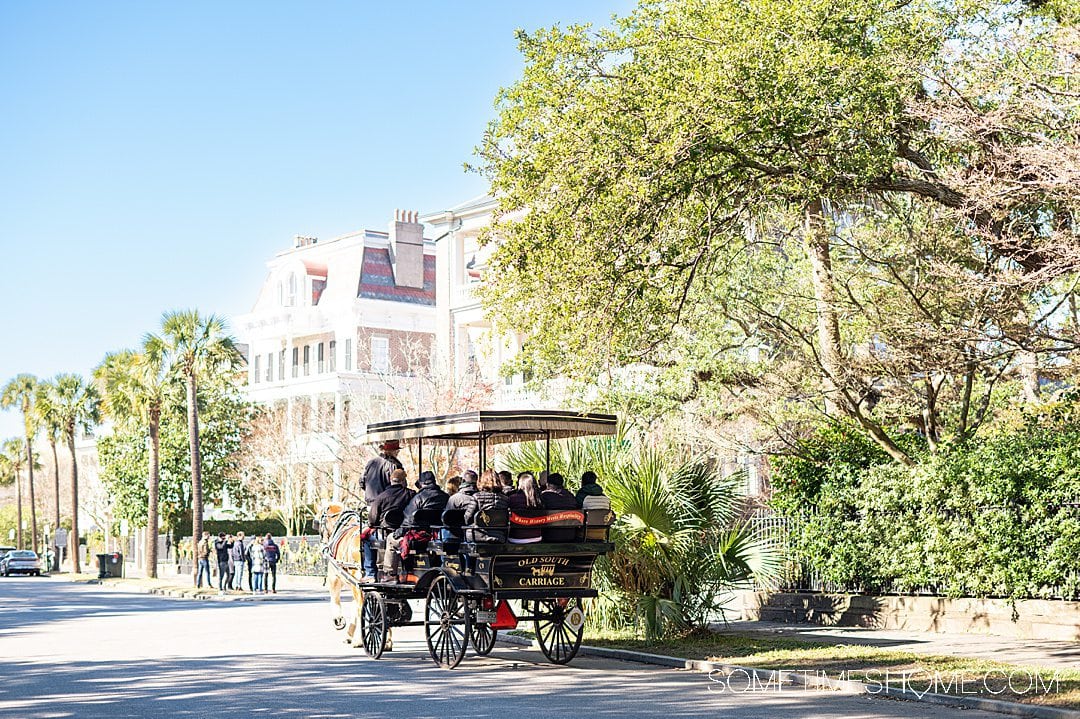 ➜ 15. Haunted Tours in Charleston
With a storied history of pirates, patriots, criminals, slavery, and the founding fathers, it's no wonder that one of the most popular things to do in Charleston is take a spooky tour of one of America's most haunted cities.
What better way to learn about Charleston's sordid past and hidden histories generally untold than with a ghost tour?
Enjoy a Guided Haunted History Walking Tour along cobblestone streets to see haunted graveyards, infamous execution sites, and even more ghoulish places.
You can also join the Pleasing Terrors Ghost Tour hosted by Mike Brown, the voice of Pleasing Terrors Podcast. He will take you on a suspenseful adventure sharing unparalleled knowledge of the frightening stories that lurk in the recent and past history of this auspicious city.
➜ 16. Historic Guided Walking Tour
If spooky history isn't your cup of tea, taking a 2-hour Charleston Historic Guided Walking Tour is a fantastic way to learn about the city's past and cultural heritage. A knowledgeable guide will educate you as you navigate Charleston's charming streets.
Your choice tour might explore sites such as Rainbow Row, the Aiken-Rhett House, and the Old Exchange and Provost Dungeon. You'll also learn about the city's architecture, colonial history, and the events that shaped it.
➜ 17. Hidden Alleyways and Historic Sites Walking Tour
Travel back in time to discover the city's most enchanting alleys and hidden passages during this two-hour guided small-group walking tour.
As you walk and learn, you'll hear about pirates, patriots, and presidents tied to Charleston. You'll make stops at some of the most famous sites in Charleston including the Old Exchange and Provost Dungeon, Rainbow Row, Philadelphia Alley, and more.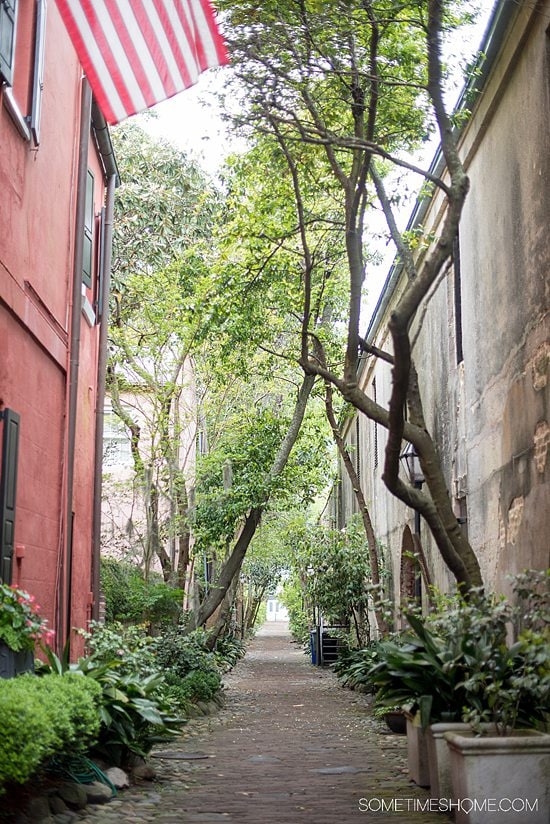 ➜ 18. Sightseeing Bus Tour
If walking isn't in the cards, this 90-minute guided bus tour is a great option. During this tour, you'll be able to set your eyes on 100 points of interest, including White Point Garden, a view of Fort Sumter, Rainbow Row, and many more sites.
Upgrade your tour to visit the famous Joseph Manigault House or the Charleston Museum.
➜ 19. Charleston in a Nutshell Private Tour
Charleston In A Nutshell is a popular, affordable private tour that offers guests the opportunity to get away from the crowds of group tours and gain a local's unique perspective in this Holy City.
Your guide will take you to places carriages can't reach all from the comfort of your vehicle during this two-hour tour. As you ride around, you'll be privy to wonderful historic tales. One of the perks of this tour is that you decide the pickup and drop-off locations for your convenience.
Gain a Deeper Understanding of the City's Culture Through Charleston Food Tours
You're going to be hungry after all that touring around and sightseeing! It's time to enjoy some of the decadent culinary heritage of Charleston and the Lowcountry through its food.
Enjoy southern BBQ, wine, and other delicious cuisines you can't get anywhere else.
🚨 Space is Limited: Book Your Charleston Food Tour
➜ 20. Charleston Tasting Tour
It's time to lose yourself in the flavors of Charleston. On this three-hour tasting adventure, you'll try classics like Carolina-style BBQ and She-Crab soup. You can't end your Charleston vacation without trying the city's famous fried green tomatoes!
You'll explore some of the city's best dining destinations during the tour. At the tour's conclusion, you'll be treated to a "Secret Dish."
➜ 21. Food, Wine, and Cooking Class
One of the most unique things to do in Charleston is sign up for a half-day, two-in-one walking tour that ends with a delightful lunch and wine pairing.
A local, celebrated chef, named Forrest Parker, will guide you through the streets of Charleston during this half-day two-in-one walking tour of "Undiscovered Charleston," teaching you about the historical influences on Lowcountry food. He'll even show you a cooking demonstration before lunch. How neat is that?!
➜ 22. Farm-to-Table Charleston Food Tour and Chef's Challenge
Explore a local market and handpick produce with a resident Charleston chef to create a five-course meal. Along the way, during this three-hour farm-to-table meal tour, you'll explore the Cannonborough-Elliotborough neighborhood, learning historical tidbits.
After your walk, it'll be time for your one-of-a-kind dining experience, with a meal made from the food you helped choose at the market.
Things to Do in Charleston, Beyond Downtown
The surrounding areas of Charleston have so much to offer. From a centuries-old oak tree to historic plantations to forts and tea houses, you'll find yourself trying to pack it all in during your Charleston vacation.
As there's so much to see, we recommend renting a car or joining a day tour for these excursions so you can fit in as much as possible. We also recommend booking a hotel for a few days at one of the best places to stay in Charleston.
Visit South Carolina's National Monuments
Fort Moultrie and Fort Sumter are popular tourist destinations; each is a national historic landmark. Both offer a great way to learn about the area's history and the events that shaped the United States.
➜ 23. Fort Moultrie National Park
Fort Moultrie is located on Sullivan's Island, just a short ferry ride or drive from downtown Charleston. The fort played a crucial role in the Revolutionary War and the American Civil War.
➜ 24. Fort Sumter National Landmark
Fort Sumter is located in Charleston Harbor, between Sullivan's Island and James Island. It is famously known as the site of the first shots of the Civil War in 1861.
Visitors can take a ferry to the fort and tour what remains, learning about its incredible history. Easily pre-book your tickets and roundtrip ferry online.
➜ 25. Tour Boone Hall Plantation in Mount Pleasant
Boone Hall Plantation is a historic destination located in Mount Pleasant. It's approximately a half-hour drive from downtown Charleston. Boone Hall was in operation beginning in 1681, making it one of the oldest working plantations in the United States.
While you're here, you can tour the grounds, including the antebellum mansion, slave cabins, and gardens, and learn about the history of the plantation. If the site looks familiar, it may be because it's said to have been featured in numerous shows and films, including The Notebook, with actress Rachel McAdams and actor Ryan Gosling.
➜ 26. Visit Patriots Point Naval & Maritime Museum in Mount Pleasant
Also located in the Mount Pleasant area is Patriots Point Naval & Maritime Museum. Spend the day in Mount Pleasant and add this to your itinerary before or after your Boone Hall Plantation tour.
The museum features several historic ships, including the USS Yorktown aircraft carrier, a Cold War submarine, and a destroyer. (We always appreciate seeing historic vehicles, as we did at the Valiant Air Command Warbird Museum on the Space Coast of Florida, just a few hours south of Charleston.)
You can tour the ships and enjoy additional interactive experiences here. Patriots Point Naval and Maritime Museum is a place that all ages love to explore.
➜ 27. Gaze at the Famous Angel Oak on Johns Island
The Angel Oak is a beautiful and possibly ancient live oak tree located on Johns Island, about a half hour from downtown Charleston.
Some say the tree is over 1,500 years old, while others estimate it's over 400 years old. No matter the case, it's known as the oldest tree in the country. It stands 66.5 ft tall providing shade over 17,000 square feet.
The Angel Oak offers a peaceful and picturesque setting for visitors to enjoy nature and reflect on the tree's (and the area's) history. Ponder, "Who has visited this tree in the centuries before us? What has this tree seen?"
Because there isn't much else to do where the tree is located, we recommend bringing lunch to enjoy on the grounds or extending your time on Johns Island at a local restaurant.
For example, Stono Market and Tomato Shed is a fuss-free restaurant with yummy southern food at affordable prices. There's also a cute shop inside the store where you'll find local souvenirs.
If you're an arborist or simply love the wonders of nature, Charleston's Angel Oak is worth visiting.
➜ 28. Magnolia Plantation and Gardens in West Ashley
Magnolia Plantation and Gardens is a short drive from downtown Charleston in West Ashley. It's home to a historic plantation and garden with an antebellum plantation home, former slave cabins, and beautiful gardens, including the world-renowned Audubon Swamp Garden.
It is also home to many species of birds, alligators, and other wildlife. The gardens have been recognized as one of the most beautiful in the world and a must-see when considering things to do in Charleston.
You can easily book a tour from downtown Charleston that includes transportation, admission to Magnolia Plantation, and a guided tour.
➜ 29. Middleton Place in North Charleston
If you're interested in Charleston and American history from the 18th and 19th centuries, visiting Middleton Place is a must. The story of 2,800 enslaved people, through seven generations of African Americans, is told at Eliza's House on the former rice plantation.
They offer several tours, including a guided tour of the gardens and a Beyond the Fields: Enslavement at Middleton Place tour to facilitate conversations about the history of slavery in America.
Seasonal, local Lowcountry food is served at the restaurant at Middleton Place, offering lunch, dinner, and Sunday brunch with live music. You can stay overnight at the inn on the property, which has 55 rooms overlooking a bluff on Ashley River.
We recommend reserving your All-Access Pass, which includes pick up and drop off from your hotel, admission to Middleton Place, and a 3-course meal there. This ticket is likely to sell out so don't delay in purchasing it.
➜ 30. Tour Drayton Hall
Another popular former plantation tour is of Drayton Hall. It's a well-preserved home from 1738, located 13 miles from downtown Charleston. Its Palladian architecture will capture your interest as you spend around an hour walking around the home and its grounds, including an 18th-century African American cemetery.
Drayton Hall is an active archeological site; only an estimated 2% of its artifacts have been excavated.
Book your admission tickets and guided tour, in one, in advance.
➜ 31. Charleston Tea Garden (Formerly Charleston Tea Plantation)
Charleston Tea Garden is a unique and beautiful destination in the Lowcountry area on Wadmalaw Island, which is thirty minutes outside of Charleston. It is the only tea farm in America and is open to visitors year-round.
Guests can tour the former plantation, learn about the history of tea, and sample the teas grown on-site. The farm is a great place for tea lovers and those who want to learn more about this ancient beverage.
➜ 32. Relax in the Sand at a Charleston-Area Beach
There are many well-known beaches in Charleston. If you're going to the beach, consider renting a car because the city's sandy beaches are a bit of a drive from downtown Charleston. They may look close on a map, but Charleston traffic (especially at the beach) can be substantial.
Some popular beaches in Charleston include Folly Beach and Kiawah Island.
➜ 33. Visit Morris Island Lighthouse on an Eco-Boating Tour
You'll get to see the beach and a historic lighthouse during a 2.5-hour tour with a private boat company.
The small group boat tour leaves from Bowens Island so you have to have a rental car, or access to a taxi or Uber, for example, to get there. There is complimentary parking onsite; once you're at the point of embarkation, the captain does the rest!
You'll pass Folly Beach and South Carolina wildlife, with a chance to see dolphins, sea turtles, and birds, as your captain helps shed life on the unique ecosystem of the Charleston area marshland.
The lighthouse itself is surrounded by water, but you'll be able to walk on the Morris Island beach for a little while during the tour.
Renting a Car in Charleston
Since you'll have a lot of ground to cover touring Charleston, we recommend reserving a rental car far in advance if you're flying to the area, especially if you're visiting areas beyond downtown.
Taxis and rideshares, like Uber and Lyft, are always an option. But it may be more economical to rent a car, even considering parking fees at downtown hotels. (If you're staying in Mount Pleasant or West Ashely, hotel parking may be complimentary.)
We recommend Discover Cars – their website is user-friendly and they have great customer service.
🚙 Reserve Your Choice Car for Your Charleston Vacation
Best Time of Year to Visit Charleston
Charleston is an incredibly popular tourist destination in the American south, attracting millions of visitors each year.
Though tourism happens there year-round, the most popular times of year to visit are in springtime between March and May, and again in the fall, September through November.
Summer brings high heat and humidity, though it's bearable with the right mindset. If you plan on visiting during the summer or early fall, don't visit this waterfront without a Bug Bite Thing, which cures bug bites within seconds. 
Must-have item for your Charleston vacation:
The only thing we have tried that gets rid of bug bites from your skin is The Bug Bite Thing. This item is a MUST pack when we travel. We always pack one in our backpack/day bag and have another packed in our luggage. Don't travel without it!
Conclusion: Things to Do in Charleston
With its combination of history, culture, and natural beauty, this southern-charm city is a must-see destination for anyone interested in US history or looking for a unique and memorable travel experience in the American south.
There are so many things to do in Charleston, with its attractive harbor, white sandy beaches, historically significant buildings, and culinary scene. Charleston is the perfect spot for a couple's getaway, solo trip, family travel, or friend vacation.
Make sure to book reservations and secure your tours ahead to ensure you don't miss out on your choice of incredible experiences in Charleston.
Read this next: