Three Day Itinerary of Awesome Things to Do In Jekyll Island Georgia
Things to do in Jekyll Island came on my radar before I even knew the name of the destination.
The beautiful, sinuous full trees of driftwood that lined the beach in other photographers' images immediately piqued my curiosity. Where was this majestic, seemingly otherworldly place? Location tags on photographers' social media posts are always directed to the same location: Jekyll Island.
It instantly became a destination on my bucket list and we were able to escape there for a glorious weekend. We visited from Friday afternoon to Sunday afternoon.
Disclosure: There are affiliate links in this post, which means we may earn a small commission if you click the link and proceed with a purchase, at no cost to you. We truly only recommend hotels, products, and services we personally use. As Amazon Associates, we earn from qualifying purchases.
Overview of Our Itinerary of Three Days of Things to Do In Jekyll Island
The truth is you don't have to jam-pack your schedule with a million things to do if you stay at a beautiful resort and enjoy nature, time to relax, and appreciate the island.
We were originally going to cram our schedule with day trips to nearby locations and experiences (other islands included, like Sapello Island). But we were in need of some spring rejuvenation and time to just "be" in beautiful Georgia, so thoughts of cramming our weekend quickly went out the window!
Thus, we ended up fully engaging ourselves with Jekyll Island Resort, the Ocean Club, one local restaurant and one iconic nearby beach. And it was plenty fulfilling!
Here's our three day weekend at a glance:
Friday:
2:00-3:00pm: early check in, if possible, at Jekyll Island Club Resort
4:00pm: explore Jekyll Island Club Resort to get acquainted with the property
5:30pm: back to the room to prepare for dinner
7:00pm: dinner at Driftwood Bistro
9:00pm: back to the hotel for rest or a drink
Saturday:
8:30/9:00am: casual breakfast at The Pantry at Jekyll Island Club Resort
9:30am: visit Mosaic museum to secure tickets and reservations for the 1:00pm trolley tour (there's also an 11:00am trolley tour but it may be sold out at this point)
9:45am: explore the historic village
11:30am/12:00pm: quick lunch
1:00pm: historic tram Landmark Tour (you must be there on time)
2:30pm: visit the Georgia Sea Turtles Center
3:30pm: see Faith Chapel
4:00pm: pool time (or a dolphin boat tour)
6:00pm: dinner and live music at The Wharf
9:00pm: back to the room for bedtime for early wakeup on Sunday
Sunday:
7:30am: breakfast via room service
9:00am: Ocean Club pool and beach time
10:30am: head back to Jekyll Island Club Resort
11:00am: hotel check out
11:30am: Driftwood Beach
12:30pm: lunch on the island
1:30pm: drive home
Friday: Check into Jekyll Island Club Resort, a Historic Hotel of America
2:00-3:00pm: Early check in and arrival at Jekyll Island Club Resort
We drove to Jekyll Island – a small coastal destination in Georgia – from The Carolinas. If you drive directly from Raleigh, North Carolina it's about a six-hour drive. I stopped in Charleston on the way so it was a quick three-hour drive from there. It's close to Jacksonville, Florida, and is only a 40-minute drive from Sea Island, which is another wonderful weekend getaway in Georgia.
We arrived in time for a chance at early check-in between 2:00pm and 2:30pm. The drive over the bridge from mainland Georgia to the island was like crossing into another world. We stopped at an entry toll to pay a mandatory $6 state park fee.
(It quickly became apparent the entire island is owned by the state. We were happy to pay the fee for its well-being and protection.)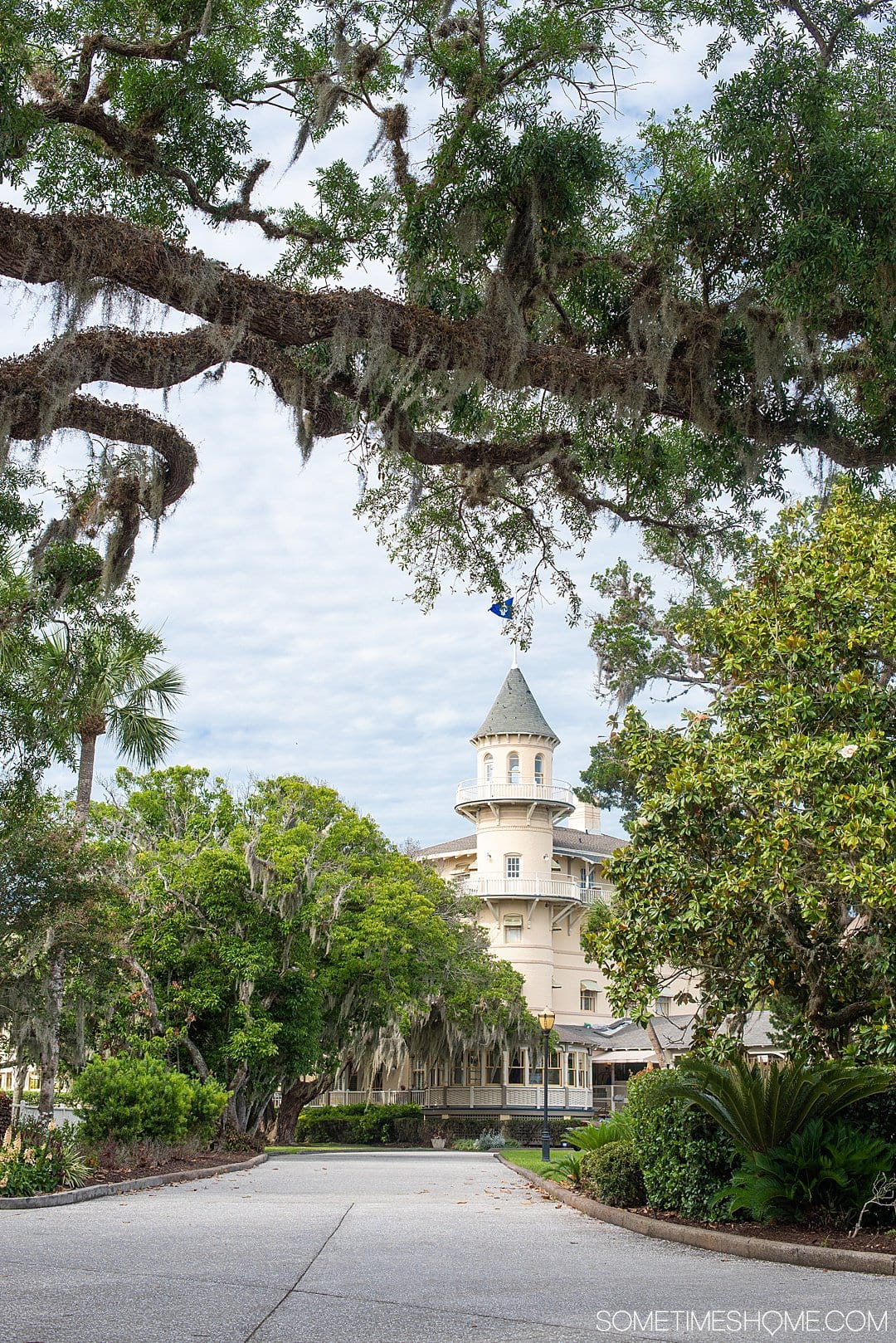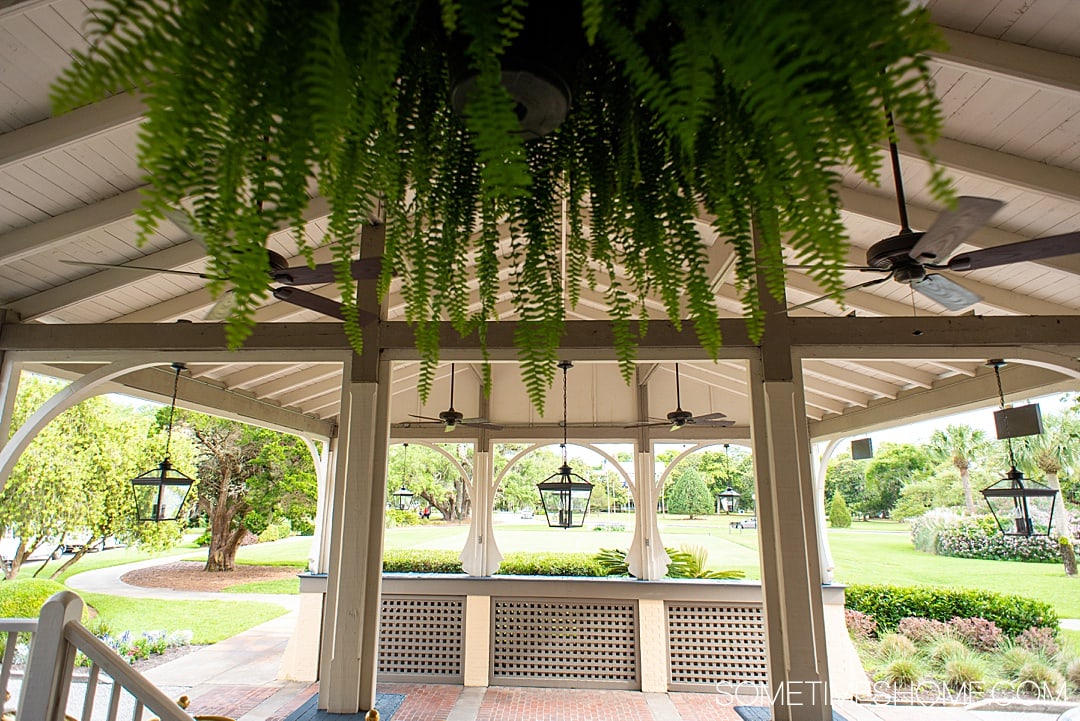 A simple six-minute drive from that toll would bring us to the entrance of Jekyll Island Club Resort. You could immediately feel the energy of years of history at this Historic Hotel of America and view evidence of nods to another era in the Clubhouse building's iconic turret and guests playing croquet on the front lawn as we approached the resort.
Even the check-in area lounge was gorgeous with a slight nautical vibe…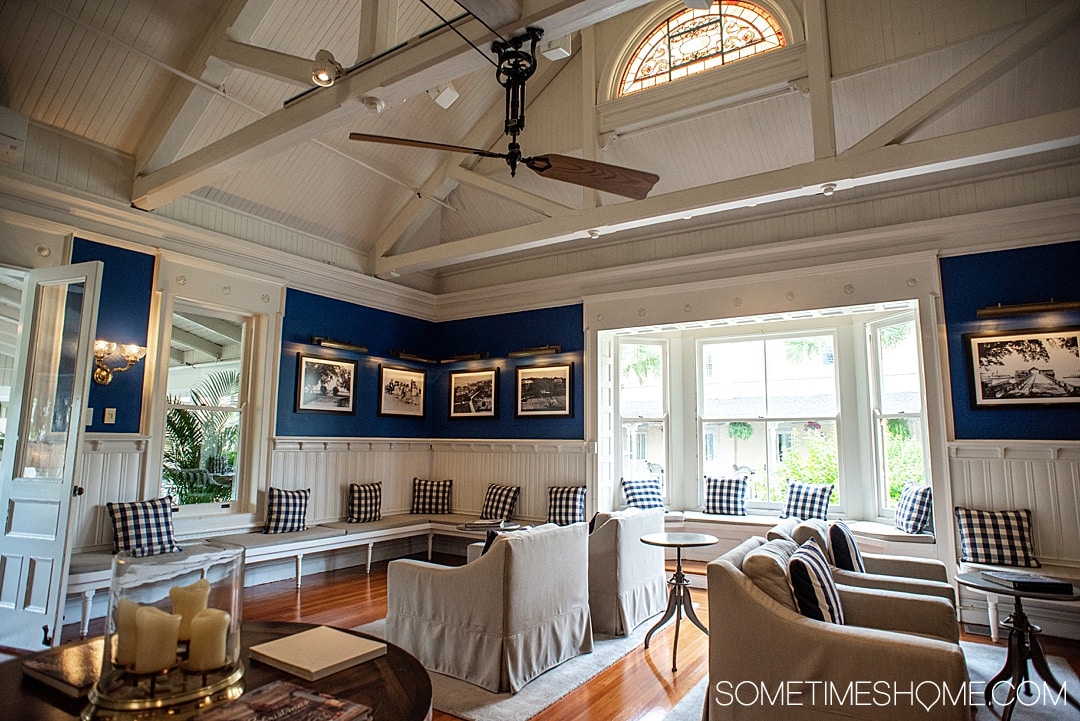 Our Accommodations at Jekyll Island Club Resort
Our room was in the Annex building of the hotel, which was built in 1901. (Don't worry! It's been remodeled since.) It was originally eight suites that were built as an addition to the Clubhouse. This was back when the popularity of the exclusive Jekyll Club was growing and there was a need for expansion.
They are not able to expand the hotel further because it's a historic hotel…but that's where the Ocean Club, their sister property on Jekyll Island, comes in. More on that during Sunday's itinerary, below.
Our lovely two queen beds deluxe room overlooked the Croquet Lawn and we had a gorgeous glass window enclosed sunporch we got great use out of. We enjoyed sitting at its wicker table on wicker chairs whether for refreshing drinks before heading out into the hot sun or room service breakfast.
Word to the wise: be sure the door is unlocked to the guest room before you close it if you're trying to keep the air-conditioned room cool while you're on the sunporch. We had no idea the door was locked and were shocked to find we were locked out of our room, quarantined on the porch! Luckily I had my cell phone and we called the front desk, who sent someone to the room to unlock the door.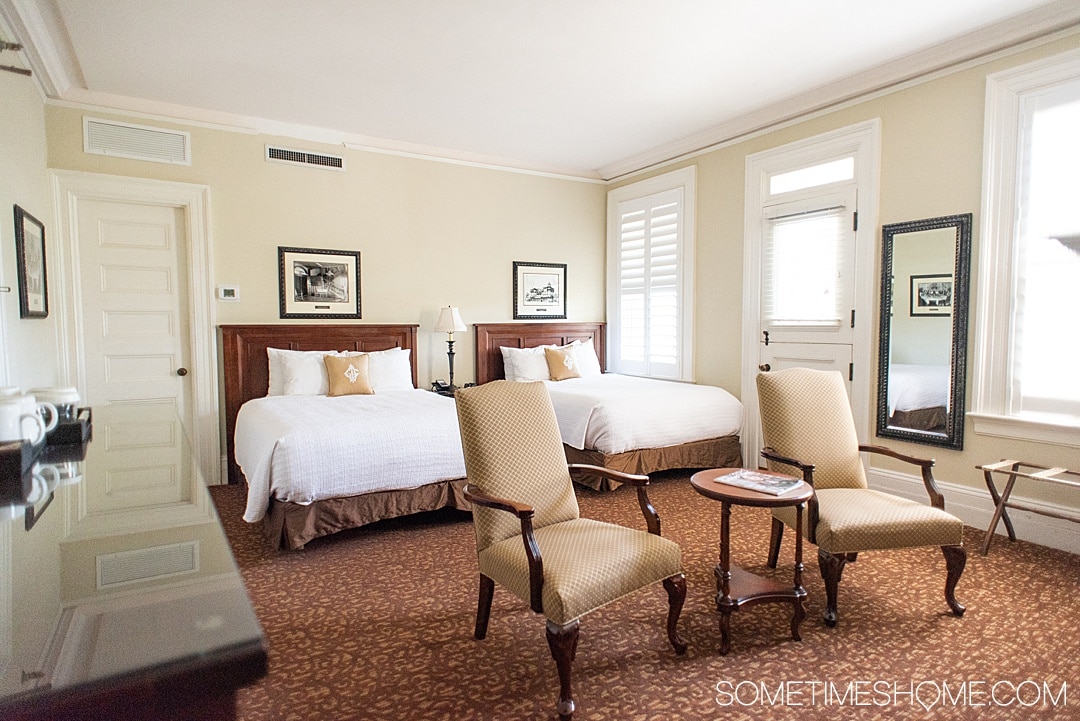 Might we add how lovely the bathroom was? There were marble fixtures and a luxurious standing shower with a European showerhead.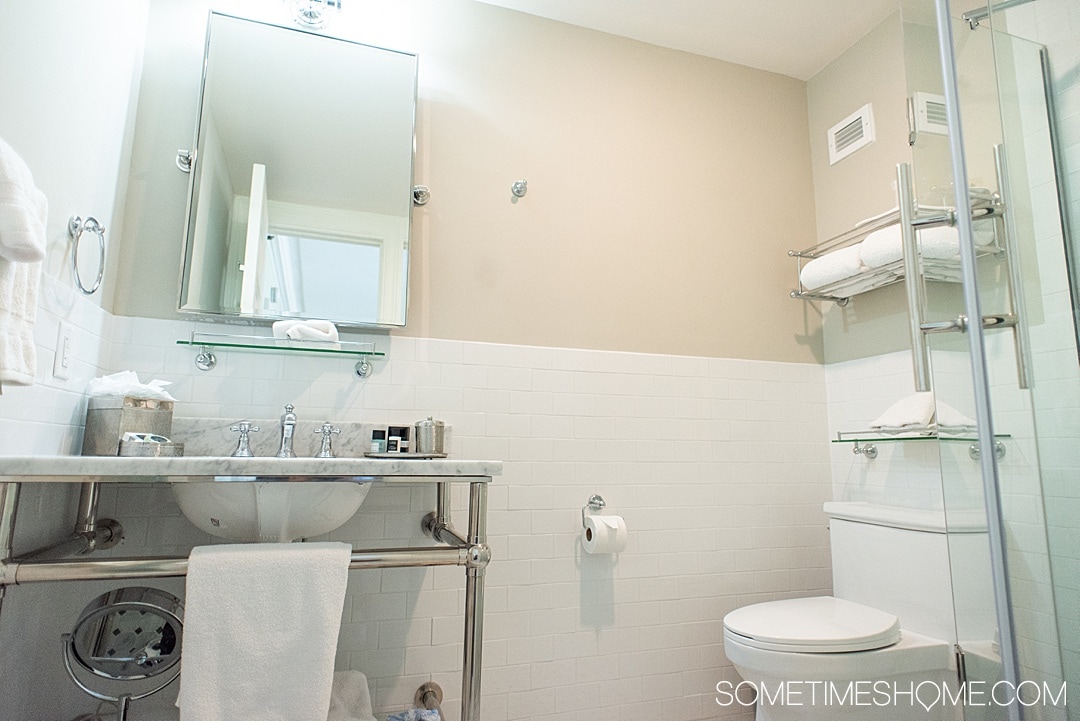 Exploring Jekyll Island Club Resort
4:00pm: Explore Jekyll Island Club Resort to get acquainted with the property
Jekyll Island Club Resort's property is expansive and incredibly beautiful. After we checked in and got situated in our room, (including the locked-into-the-sunporch fiasco) we set out to explore.
Though vast, it'd be somewhat difficult to get lost on the property. Rest assured you'll be fine without a map. Your memory will serve you when you need to get back to the hotel.
We recommend making a point to see Crane Cottage, admiring the exterior of the Cherokee Building (the beautiful white house with three semi-circle windows on top of doorways), and checking out fun things in the Clubhouse like the bar, a gorgeous staircase, outdoor pool, and restaurants. If you love biking, they have bicycle rentals on property, even "bicycles built for two." And an extensive network of bike trails on the island.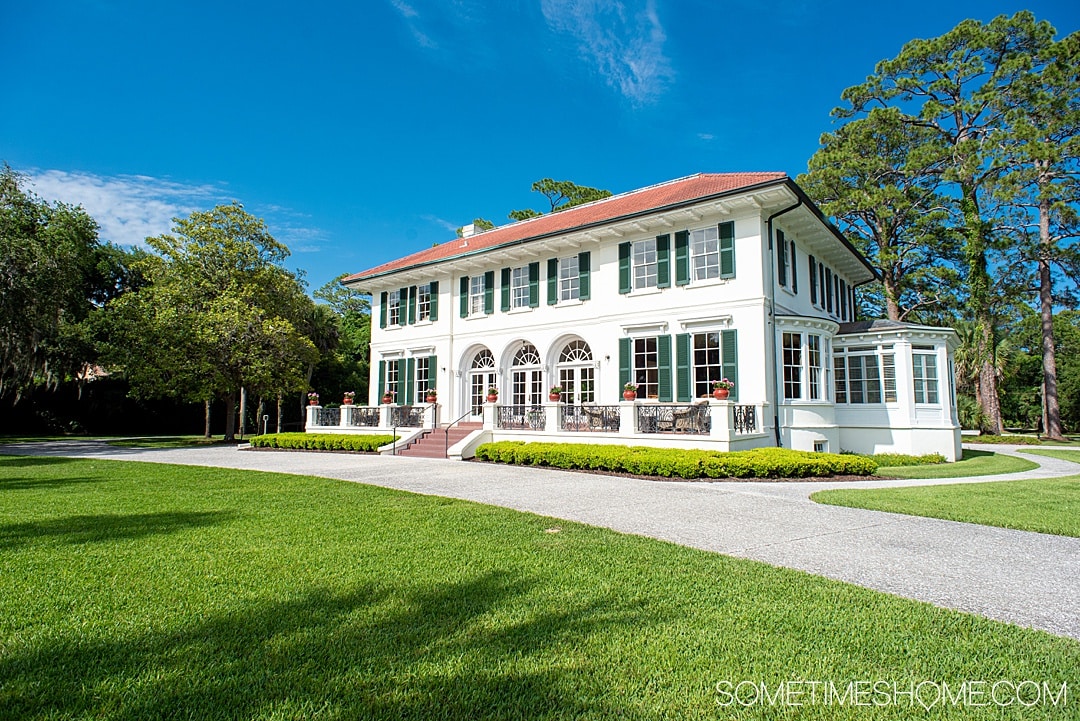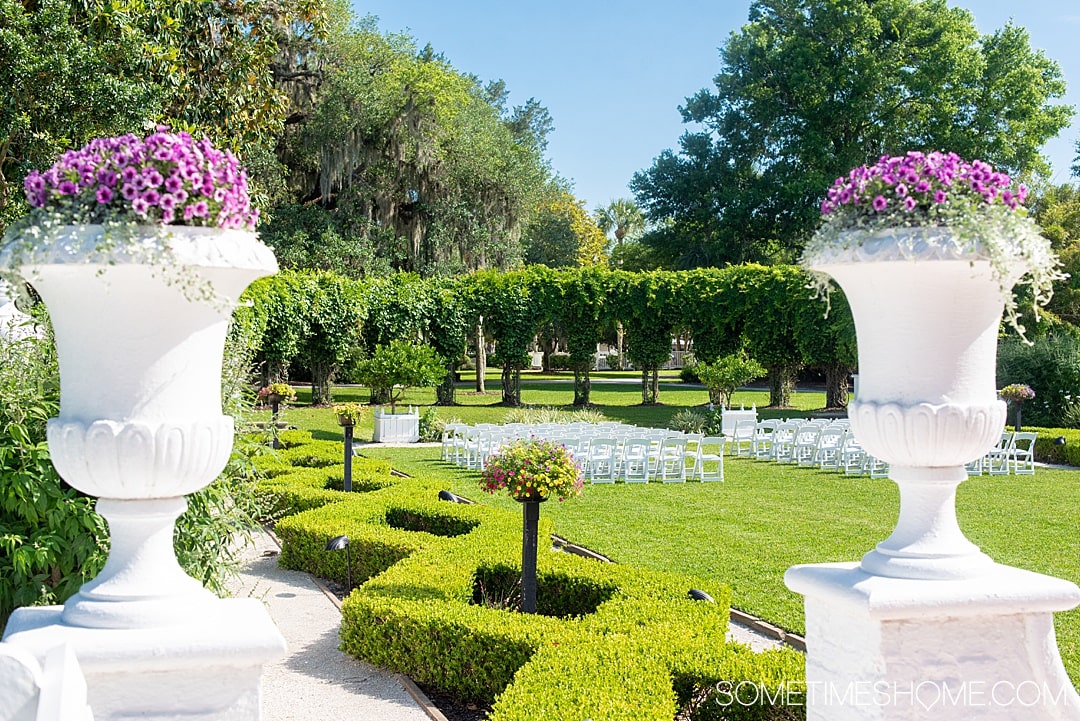 If you're there on a weekend no matter the time of year it's likely you'll see a wedding either happening or them setting up for one. They're so lovely there and, as a wedding photographer, I couldn't help but swoon!
5:30pm: Back to the room to prepare for dinner
We went back to our room to prepare for dinner, taking some time to shower and change. (We visited in mid-May and it was already really hot so a pre-dinner shower felt great.)
Local Seafood Dinner at Driftwood Bistro
7:00pm: Dinner at Driftwood Bistro
What made Driftwood Bistro so appealing was its use of local ingredients in a no-fuss environment. We'd soon discover the prices couldn't be beat too!
Main dishes came in petite or regular sizes for $11.50 and $14.50 respectively. They have everything from pot roast to pasta, sandwiches to seafood. We love getting seafood on coasts, like coastal Georgia, and seafood in the Outer Banks of North Carolina, where we know the chances it's fresh increase.
We ordered fried okra, prepared in such a cool way we'd never seen before with the vegetable split like calamari tentacles. And we gobbled up Wild Georgia Shrimp 'n Grits (local and favorite southern food of mine, especially in the Carolinas), incredible sauteed green beans, fried rolls (yes, fried!), and a special scallops dish on the menu that evening.
We had great drinks including a "Sea Turtle Green" Key Lime cocktail and red wine that benefited the turtles. Jekyll Island Reserve wines donate their proceeds to the Jekyll Island Foundation whose dollars benefit places like the Georgia Sea Turtles Center that we visited Sunday. It was nice to "Celebrate with a Purpose," as Jekyll Island Reserve's motto states.
The owner of Driftwood Bistro, Dan, used to own the restaurant that is now called The Wharf at Jekyll Island Club Resort. Back then it was called "Latitudes," and he ran it as a raw bar. He wasn't able to rebuild there after a devastating hurricane, so the hotel bought the restaurant from him and he relocated about a mile and a half away. We loved learning how everything was connected on this small island.
After our meal and several bites of a decedent Georgia Bourbon Peach Cobbler a la Mode we headed back to the hotel to enjoy tv in bed and an early bedtime.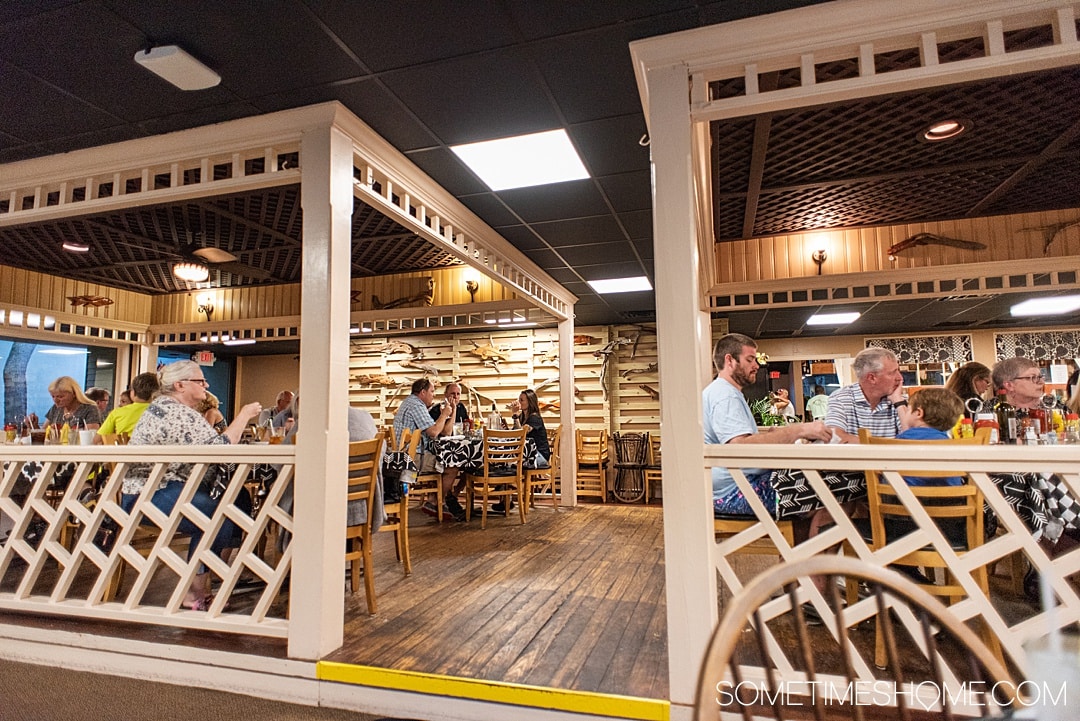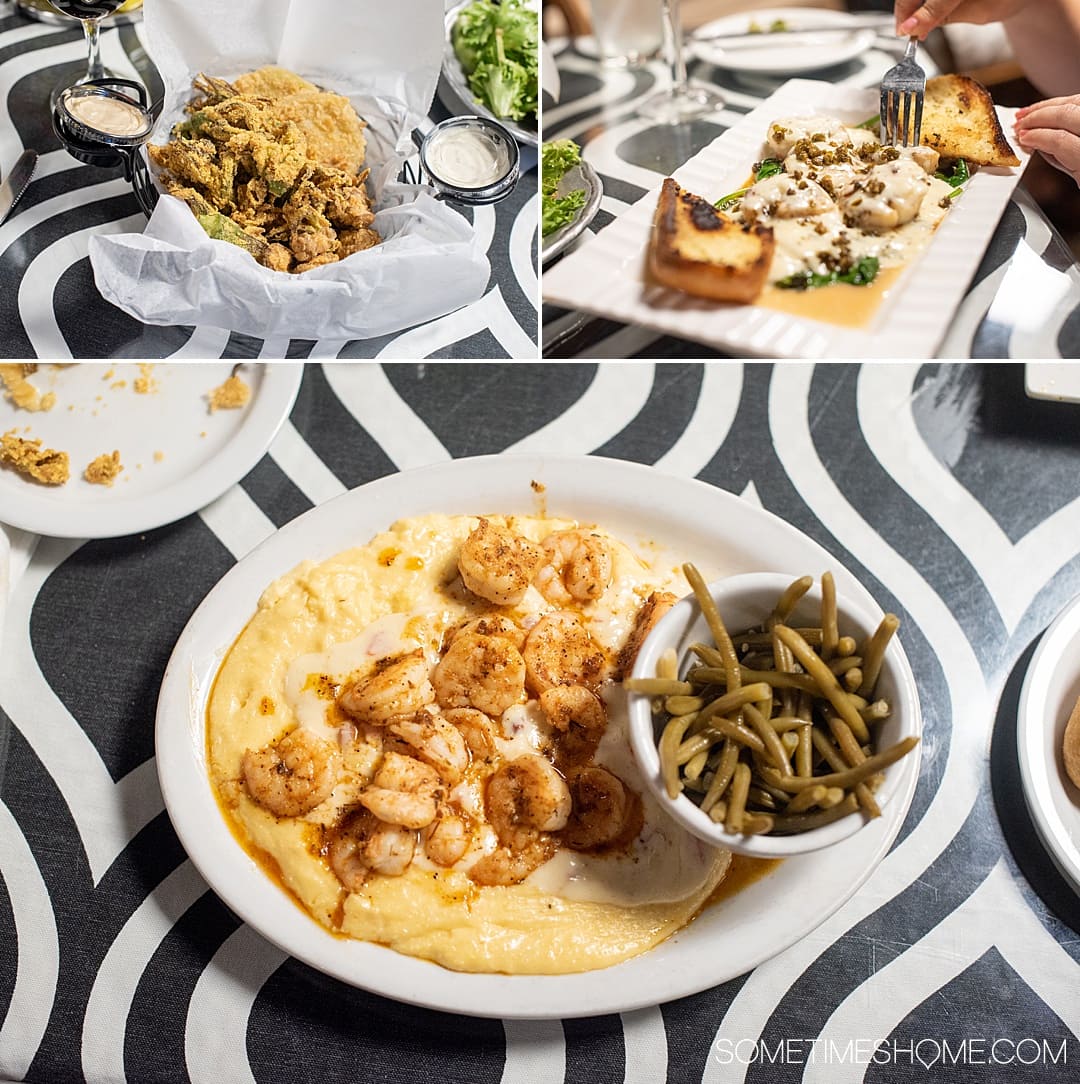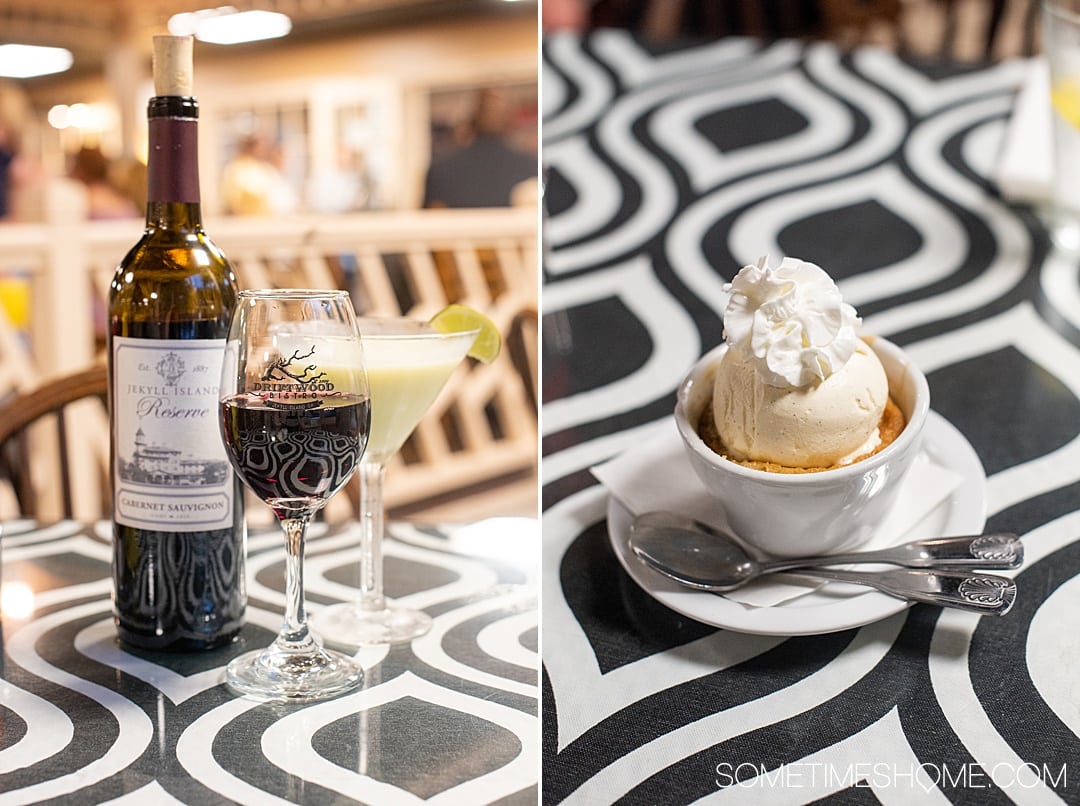 9:00pm: Back to the hotel for rest or a drink
Not ready for bed yet? Check out the bar outside the grand dining room, where the Legend of Bagger Vance was filmed in 2000. They are open until 11:00pm.
Saturday: Get to Know Jekyll Island Club in its Entirety
8:30/9:00am: Casual breakfast at The Pantry at Jekyll Island Club
We didn't have to travel far from our room for a good breakfast at The Pantry at Jekyll Island Club, right outside the main Clubhouse building. We shared a delicious breakfast sandwich with eggs, cheese, and bacon and a cheese danish that was sweet and very fresh.
9:30am: Visit Mosaic museum to secure tickets and reservations for the 1:00pm trolley tour
There's also an 11:00am trolley tour but it may be sold out at this point)
After eating our shared breakfast on the outside deck, enjoying the weather and lovely surroundings, we walked over to the Mosaic Museum to secure our spot on a historic tram Landmark Tour. We reserved space on the 1:00pm tour though they offer then daily at 11:00am, 1:00pm and 3:00pm.
Here's what included with the $20 per adult ticket:
Guided 90 minute tour of the 240-acre property
Entry to two cottages (within the 90 minute tour)
Entrance into Faith Chapel (which we went to after the tour)
Admission to Mosaic Gallery
9:45am: Explore the historic village
Just across the street from Mosaic Gallery, where you buy your Landmark Tour tickets, is the historic village shopping area. They have plenty of cute shops where you can buy anything from jewelry to apparel, beach signs, candy, and more.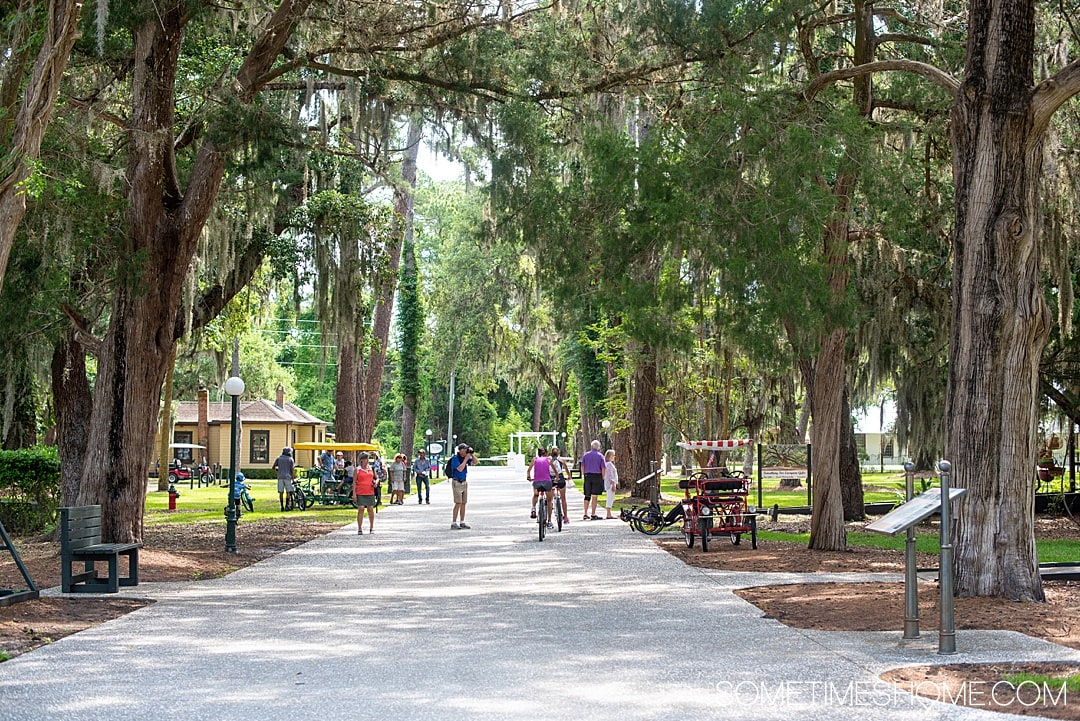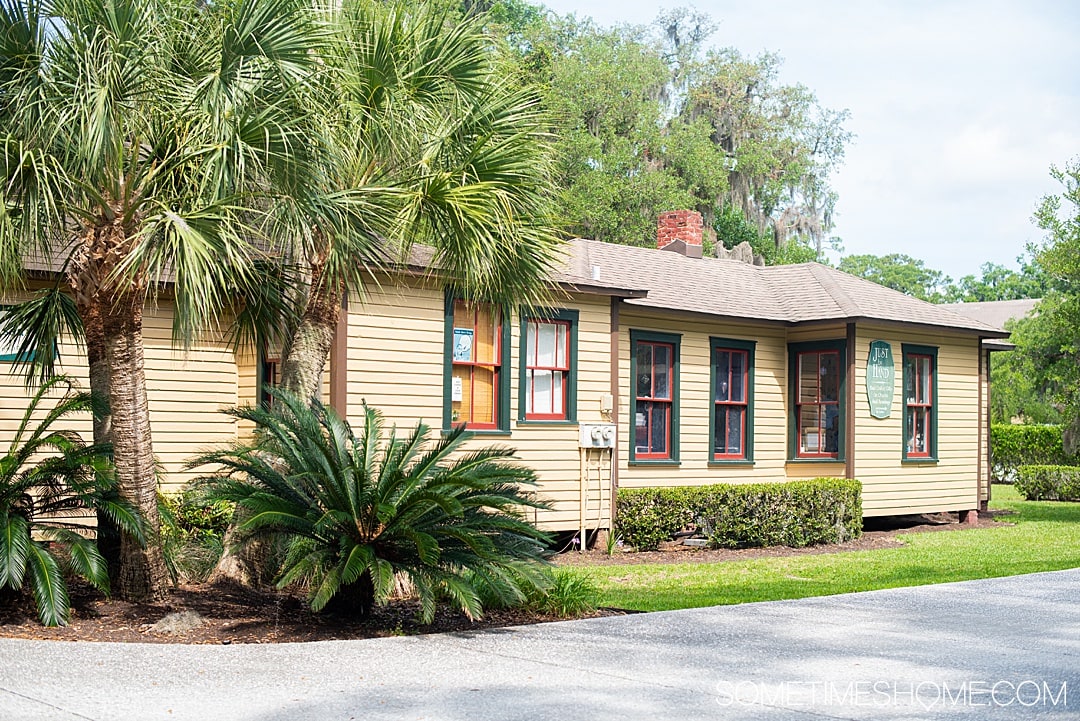 12:00pm: Quick Lunch
Around noon we had a quick bite at a sandwich store in the historic village. We ate hot dogs and wraps and munched on potato chips before walking back to Mosaic Gallery, where the Landmark Tour start.
1:00pm: Historic tram Landmark Tour (you must be there on time)
You must be on the tram on time because they leave promptly for the tour.
Our guide was fabulous and we learned so much about the history of the island, like how it was named after Sir Joseph Jekyll of England in the 18th century but he actually never even set foot on the island. It was fun to go inside the two cottages on the tour as well and see how rich people vacationed/lived at the height of the club's popularity.
2:30pm: Visit the Georgia Sea Turtles Center
Another activity we were excited to participate in was visiting the Georgia Sea Turtle Center. The way the main area is set up is geared towards children but adults will also get a kick out of the main attractions there.
Its primary purpose is as a hospital for sea turtles and it warmed our hearts to see turtle "medics" helped fix the shell of a turtle brought in after being found from a hit and run on the side of the road. It's where a turtle may be brought if found with plastic around it too, which is just another reason we advocate for reducing plastic waste to help save the planet.
We also enjoyed walking around the covered outdoor area within the center that is home to turtles being rehabilitated while swimming around in small child-size wading pools.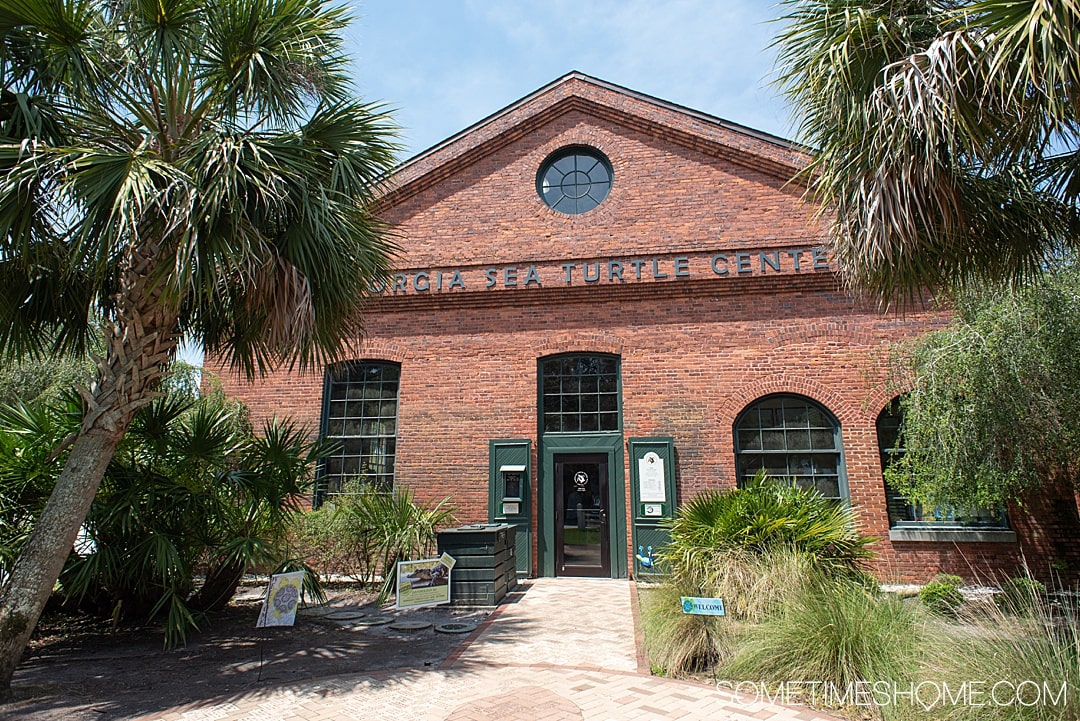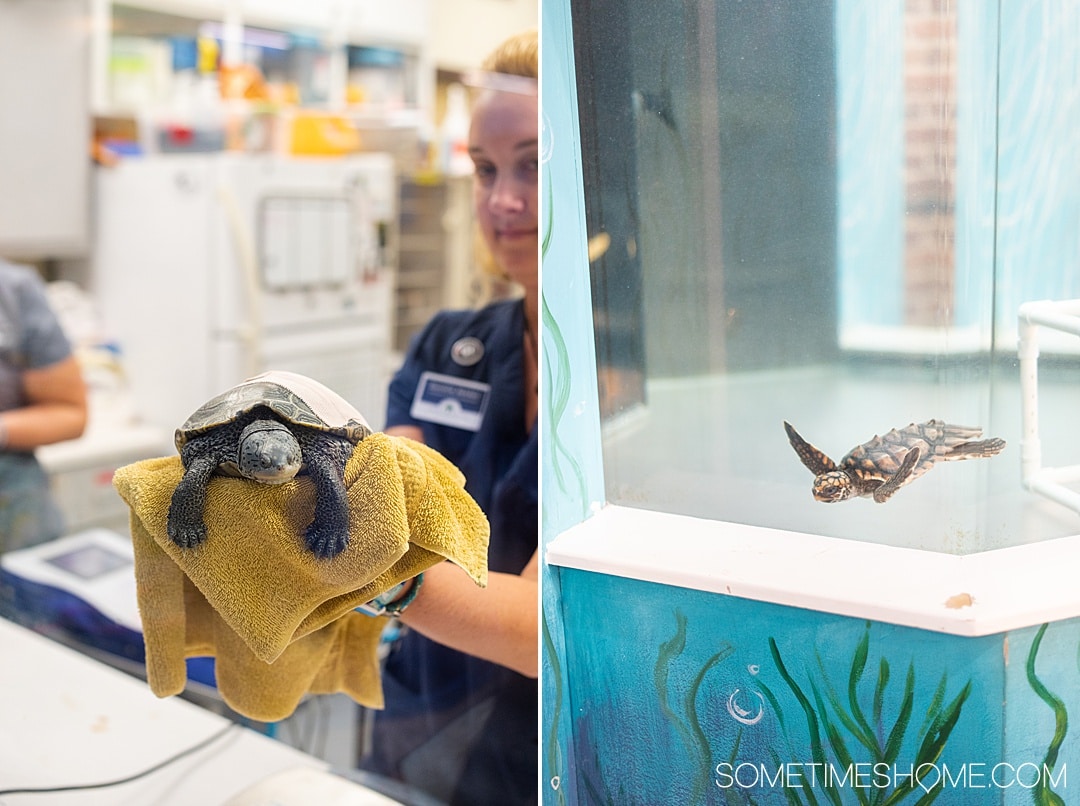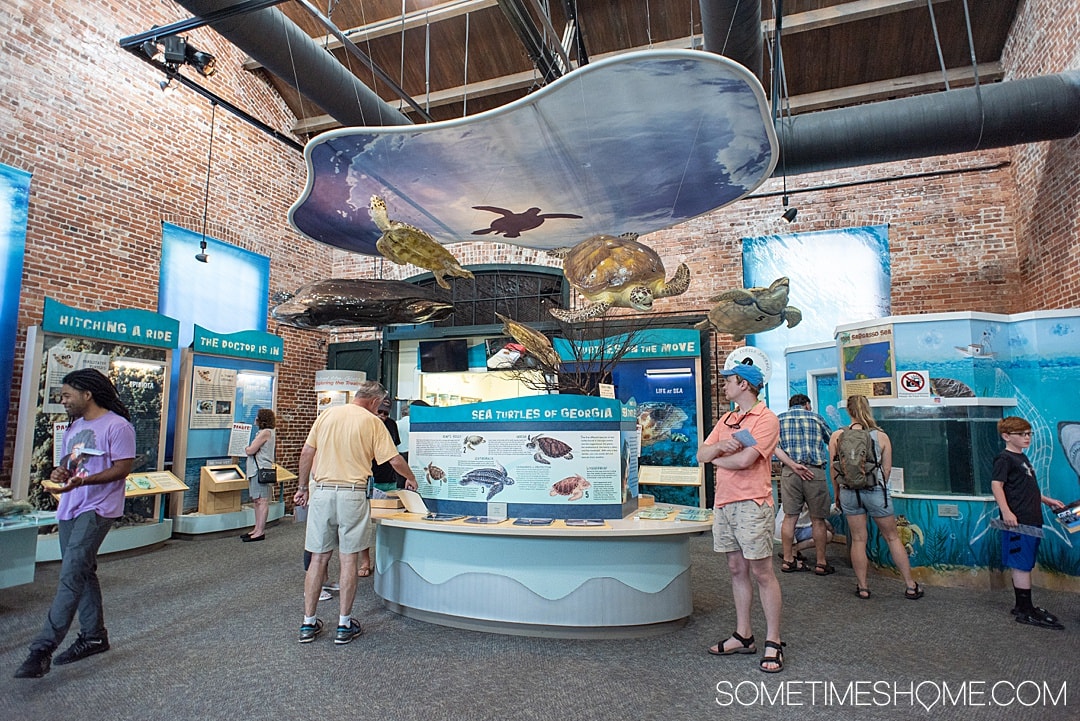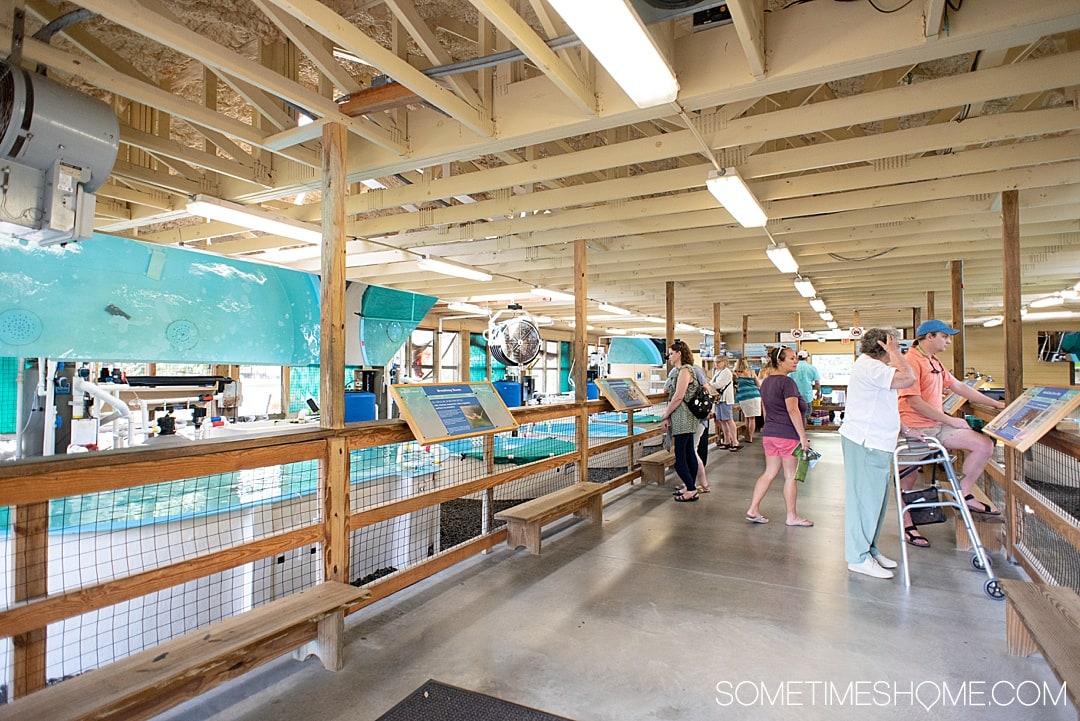 3:30pm: See Faith Chapel
We walked over to Faith Chapel to see its interior before it closed at 4:00pm for the day. It took 10 minutes to simply admire the interior and exterior.
The inside wood and architecture reminded me of Norwegian Stave Churches, and the beautiful Tiffany glass mosaic brought me back in time to New York at the Corning Museum of Glass. (The chapel is also open daily for free admission from 8:00am to 10:00am for "Daily Contemplation.")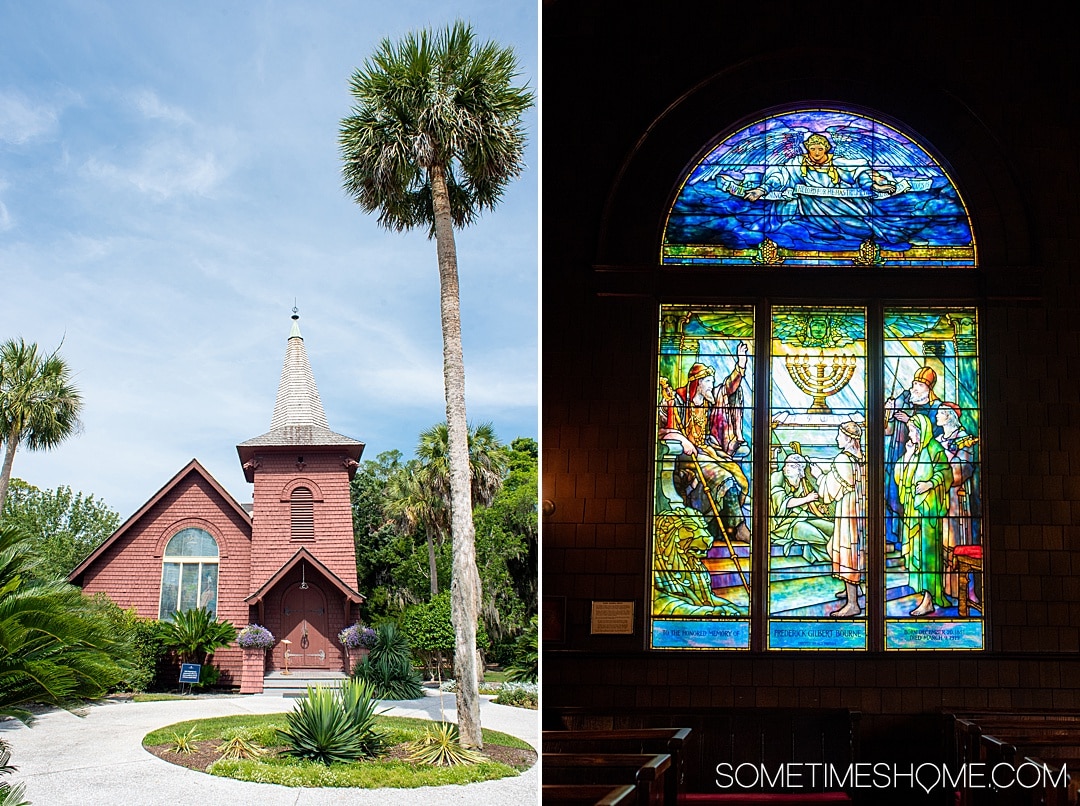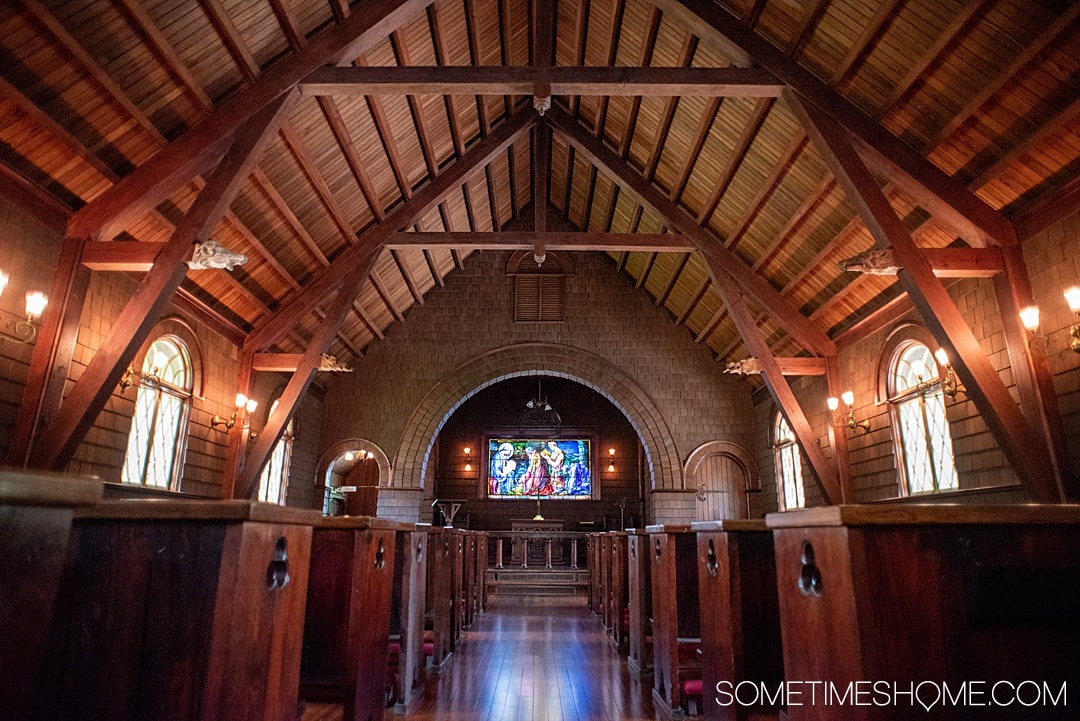 4:00pm: Pool time at Jekyll Island Club
After some time at the pool (we had to get it in when we could – there was so much to do at and around Jekyll Island Club!) we went back to our room to shower and prepare for dinner.
If we go back again, we'll definitely sign up for a one-and-a-half-hour boat tour with Jekyll Island Dolphin Tours. We didn't know about it until we left! You can swap out pool time with a boat tour if you wish.
6:00pm: Dinner and live music at The Wharf
Dinner was nearby, just a walk away at The Wharf overlooking the water. We loved looking at the muddy oyster beds surrounding the stilted restaurant. We put our names on the waiting list, grabbed a drink at the outside bar, and enjoyed live music that Saturday night.
9:00pm: Back to the room for bedtime, for an early wakeup on Sunday
Dinner went well into the night and we watched the sunset from where we were seated, enjoyed dinner and the tunes before going to bed in our comfy cozy suite.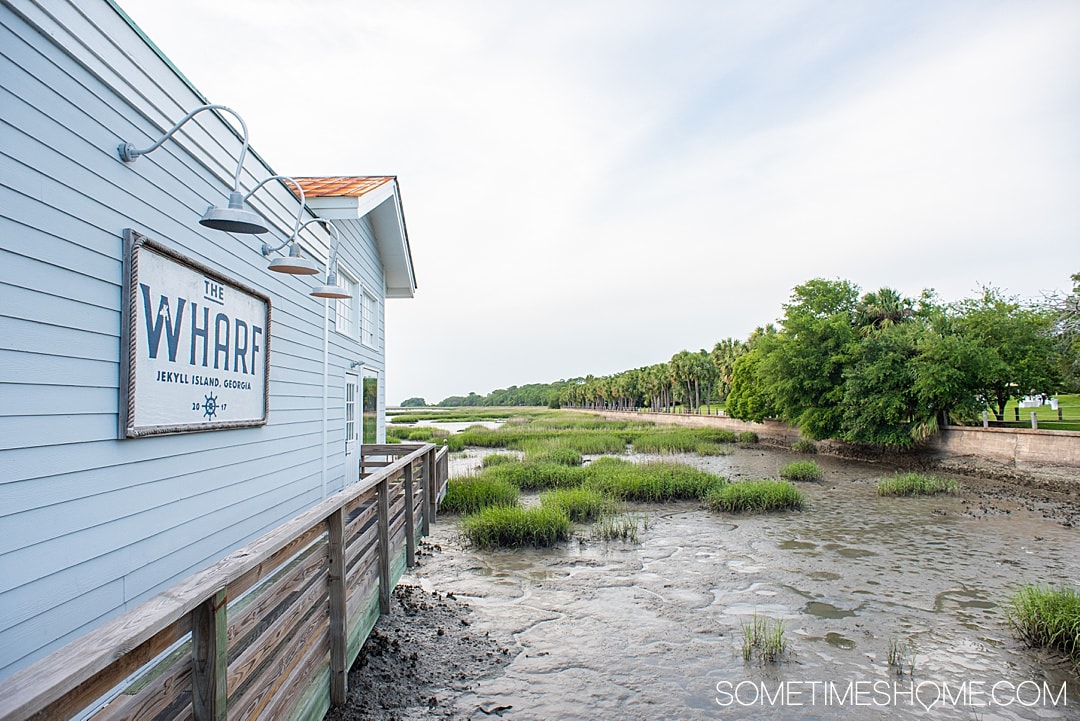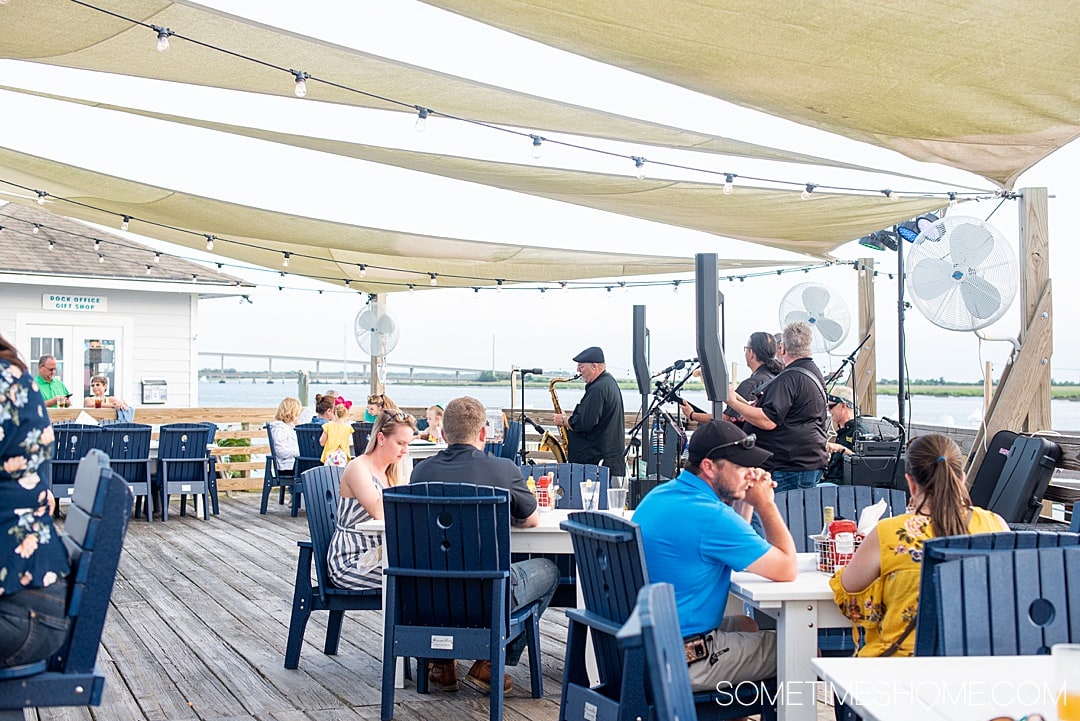 The Only Things Left to Do: Sunday Room Service, Relaxation and Driftwood Beach Enjoyment
7:30am: Room Service Breakfast
We set our alarms for an early wake-up on Sunday because we knew we'd have to wait about 30 minutes for room service to arrive (which is totally normal for any hotel, including meal prep and delivery).
We ordered their smoked salmon platter, an extra bagel, and coffee. (The salmon platter was plenty enough for two people.)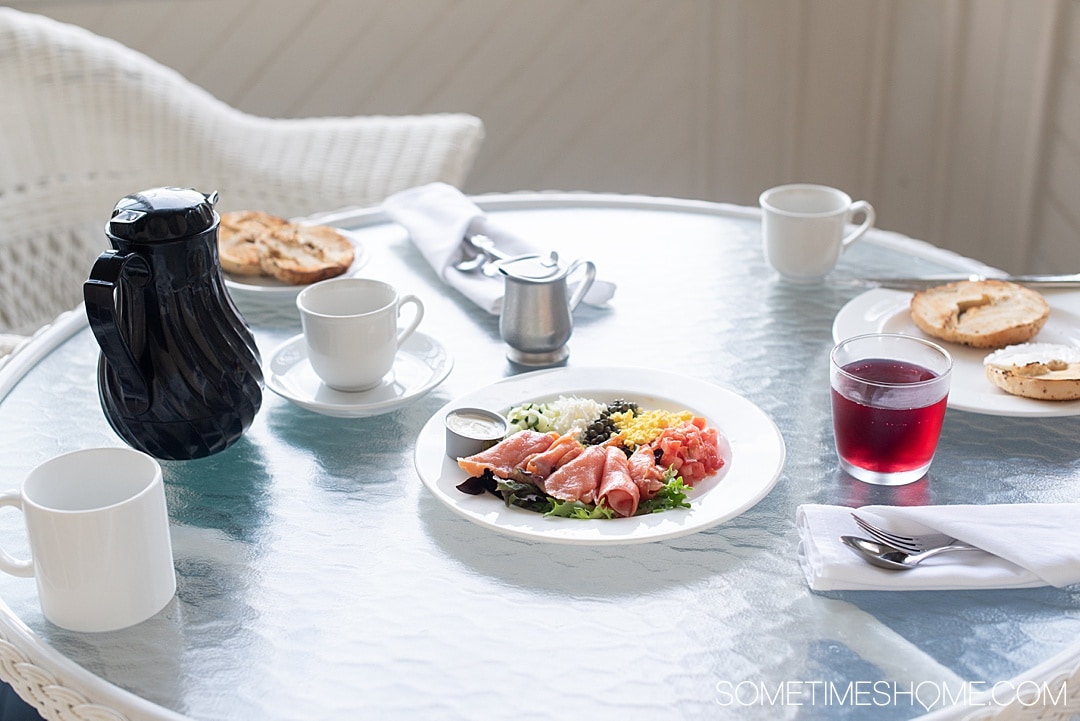 9:00am: Ocean Club pool and beach time
A great perk of staying at Jekyll Island Club is access to the Jekyll Ocean Club and its amenities.
Jekyll Island Club cannot be expanded because it's a historic property, as we alluded to earlier in the post. Thus the owners had to come up with another solution to accommodate the growing popularity and renaissance of Jekyll Island as a vacation destination. The answer? A sleek, modern hotel with all 44 rooms facing the ocean.
We went to the port-cochere of Jekyll Island Club and requested a shuttle to the Jekyll Ocean Club. We were there within about 10 minutes! Then we headed back to the pool to enjoy that and the hot tub and check out the rooftop view of the ocean. It was all very peaceful and quiet on a Sunday morning.
(This is also close to the Westin in Jekyll Island, which is a Marriott hotel. But Jekyll Island Club and Jekyll Ocean Club are not part of the Marriott brand of hotels like the Westin is.)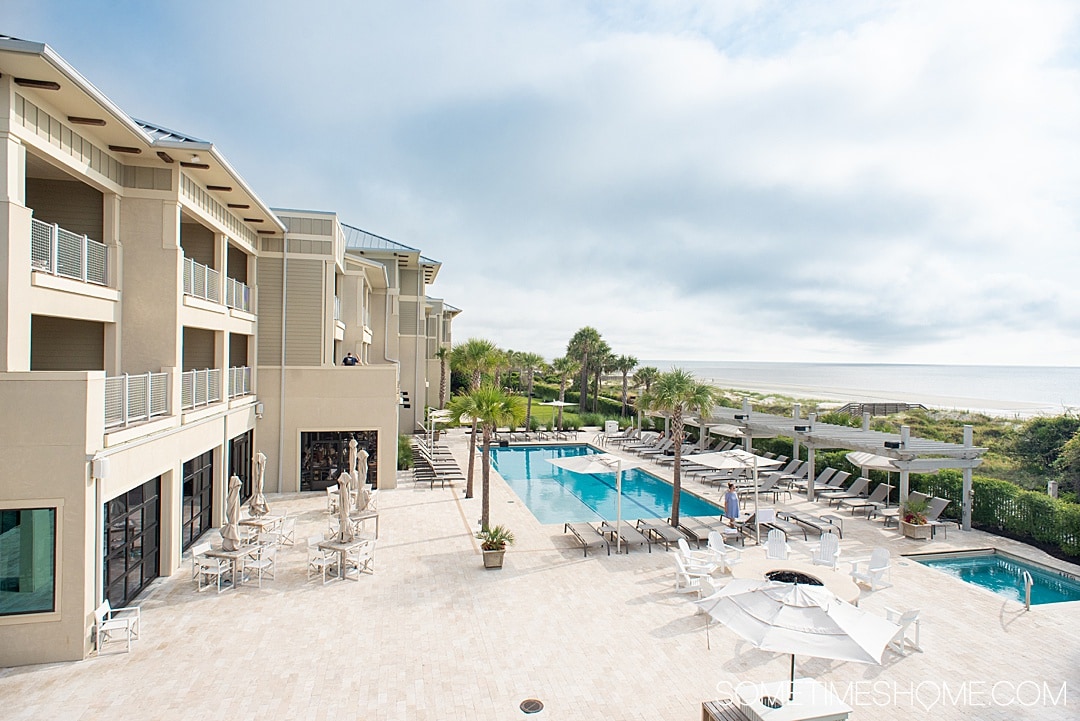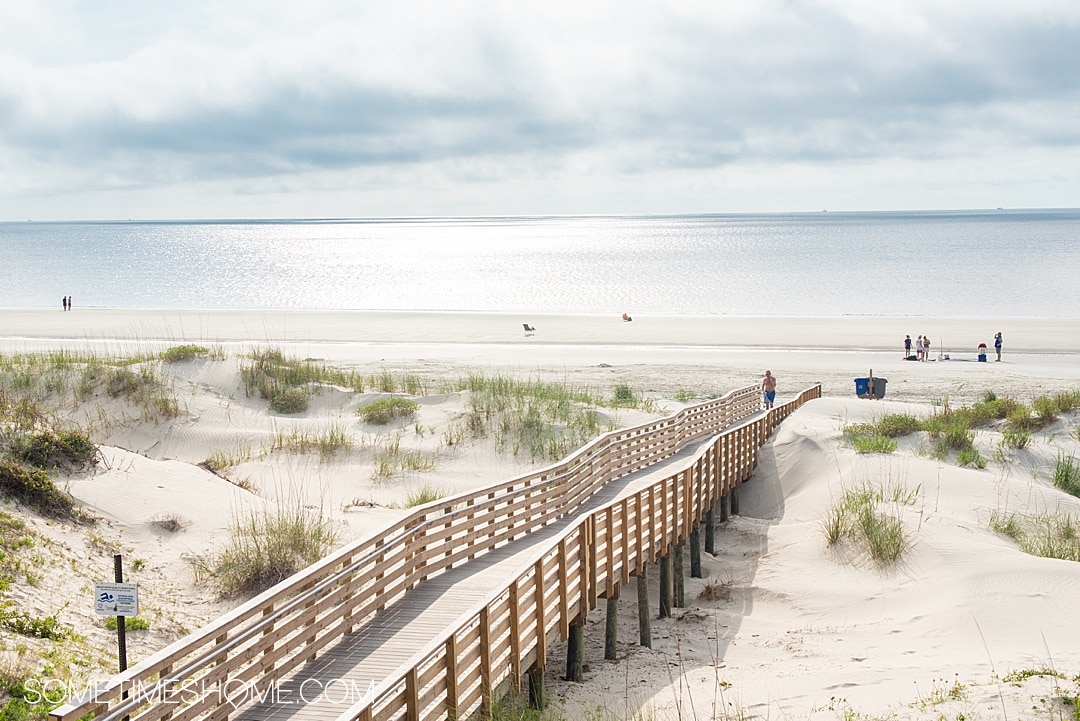 10:30am: Head back to Jekyll Island Club
About an hour and a half later we requested a shuttle back to Jekyll Island Club to shower, pack and check out of the hotel.
11:00am: Hotel check out
11:30am: Driftwood Beach
Driftwood Beach is about 4.5 miles away from Jekyll Island Club. There are several public parking spots at two entrances to the beach then it's a short walk to get to the sand and water.
I was worried I would be disappointed. Or that the beach would be a lot less filled with driftwood or simply be barren.
But Driftwood Beach fulfilled all my expectations and this was one of my favorite things we did on Jekyll Island!
We respectfully walked along the beach and admired the beautiful trees and how erosion had smoothed the branches of the fallen trees. It was so interesting to stare at their roots and see how some of the trees seemed to be softly placed on top of the sand by giants. From the tips of the tallest branches to the bottom of their roots.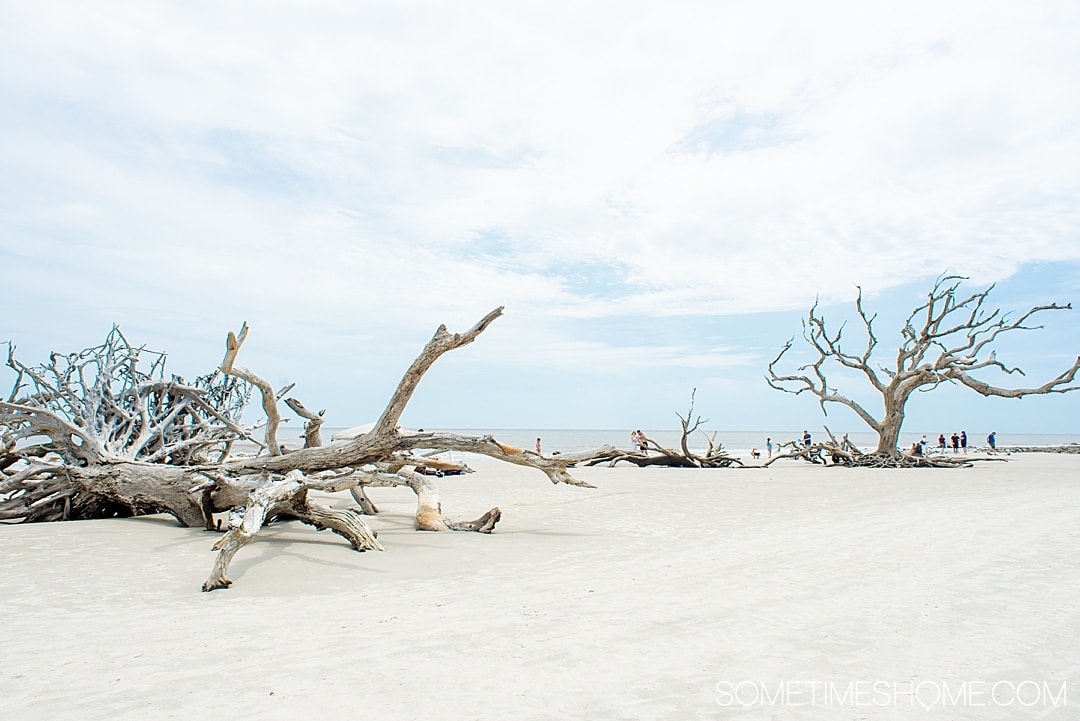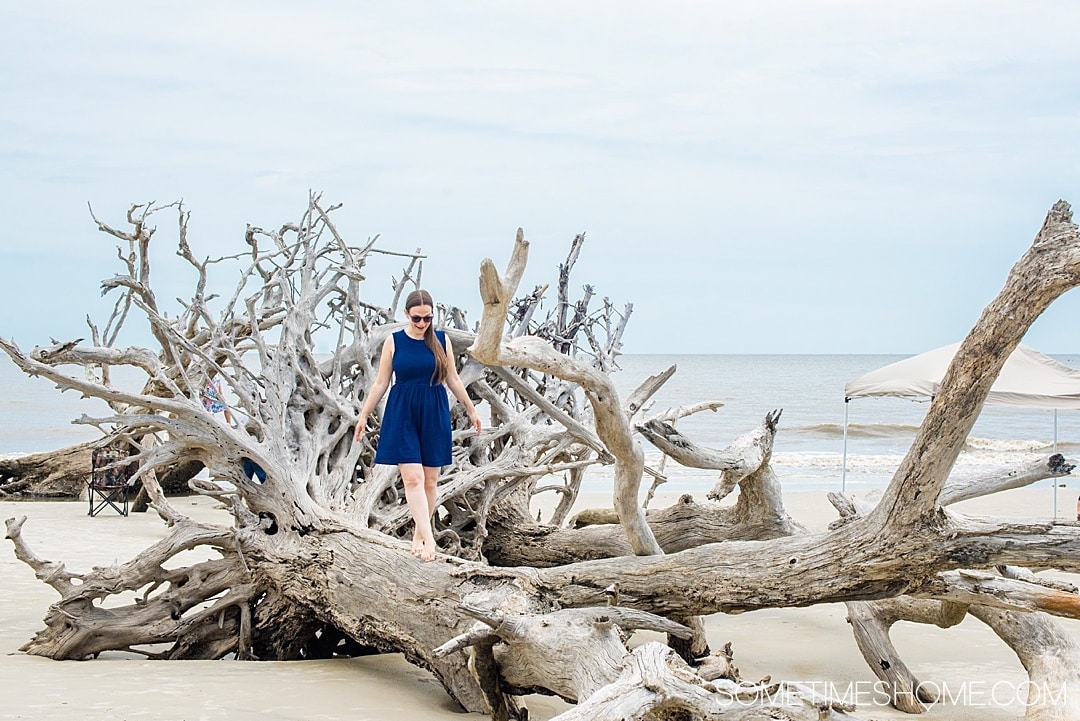 12:30pm: Lunch on the island
We grabbed lunch on the way out at Jekyll Island Market. It's in the perfect spot in a shopping center village closer to the Ocean Club. It's conveniently located just before the island entrance/exit where you have to pass to head home anyway.
1:30pm: Drive home
It was a wonderful weekend with so much to do we didn't have time for everything. For example, we would have loved to have done the Rockefeller Experience Tour, which we only found out about while on the Landmark Tour. Or visit the Jekyll Island Art Association art gallery at Goodyear Cottage. We view that as two great reasons to return!
Please note: We thank Jekyll Island Club Resort and Driftwood Bistro for generously hosting us. All the opinions in the post are ours and we bring you genuine content with real facts, photos and thoughts. Always.
Looking for a great coastal town to vacation? Also check out: