18 Unique Things to Do Near Cape Canaveral on the Space Coast (2023)
If you're heading to Florida's east side of the state, a visit to the Space Coast should be on your must-visit list. There is plenty to do and see there, and we're happy that we can share unique things to do near Cape Canaveral with you.
You'll have a blast as you enjoy a fun-filled weekend or weekdays, spending time at a space complex, dining at waterfront restaurants, browsing the items for sale at the largest surf shop in the world, and doing things like seeing Space Coast monuments and unusual museums.
This post is broken down into things to do that pertain to space and air travel, things to do if you like the ocean and beach, and additional unique things to do near Cape Canaveral.
Disclosure: This post has affiliate links, meaning we may earn a small commission if you click the link and proceed with a purchase at no cost to you. We thank the Space Coast for hosting our visit. We truly only recommend experiences, hotels, products, and services we personally use and believe in. As Amazon Associates, we earn from qualifying purchases.
Unique Space and Air Travel Things to Do Near Cape Canaveral
➜ 1. Visit Kennedy Space Center
No vacation in the area is complete without a visit to the famous Kennedy Space Center (KSC). If you've been in the past, it's worth another trip there as new things to do and experience periodically emerge. I hadn't been to KSC in over a decade, and wow, it blew me away! Dan had never been, and he was in awe of it too.
You need an entire day to see all that Kennedy Space Center offers if not two.
That said, if you only have a few days in the area, be sure you leave time for all the other unique things to do on the Space Coast that we mention here, and opt for the one-day pass to KSC. If you have more time, you may want to consider the two-day pass to KSC.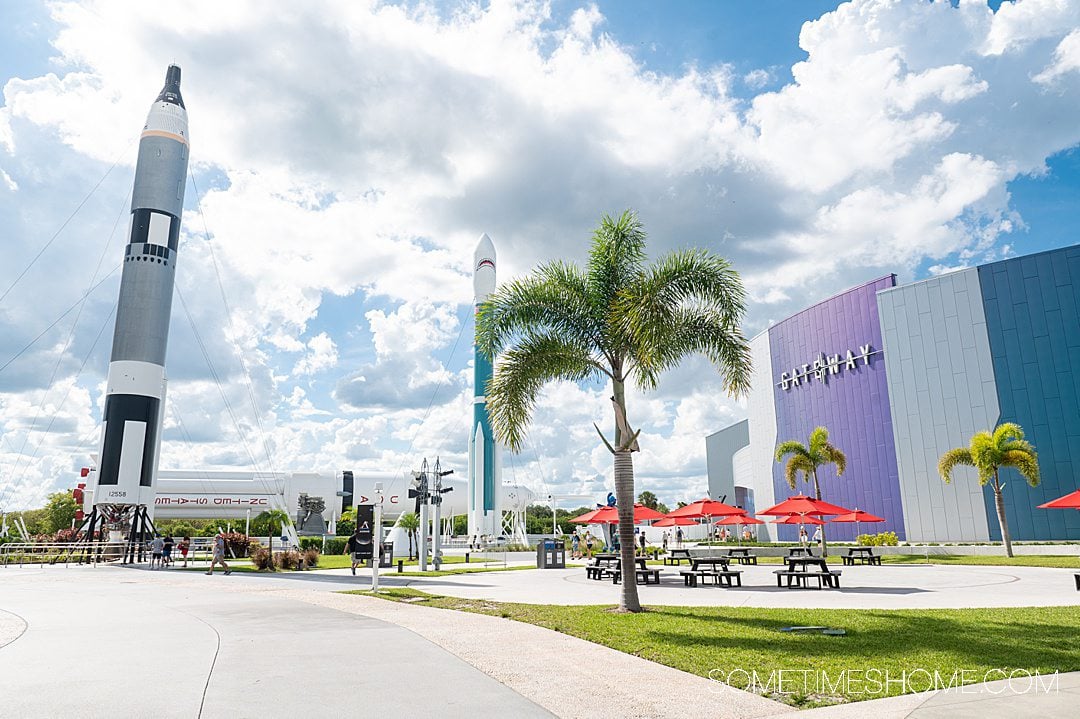 You can learn about the space missions (past and present), see IMAX films about space, take a tour of the Kennedy Space Center property on coach buses that also educate visitors about the Merritt Island Wildlife Refuge where KSC is located, and even sign up for additional experiences like meeting an astronaut.
You can buy tickets onsite or ahead of time for a chance at discounted tickets on Undercover Tourist, a reputable ticket website.
🚀 Secure Discounted Tickets to Kennedy Space Center and Head Directly to the Gate
➜ 2. Stop by the American Space Museum and Walk of Fame
In a little building that almost looks like someone's renovated home is a museum worthy of a visit. The American Space Museum and Walk of Fame greatly supplemented our time at Kennedy Space Center. (To clarify, they are not owned by the same companies or people.)
We recommend going to Kennedy Space Center first, then visiting the American Space Museum. If you can't get to Kennedy Space Center at all or beforehand, it's still worth visiting this small museum that shares so much about space travel.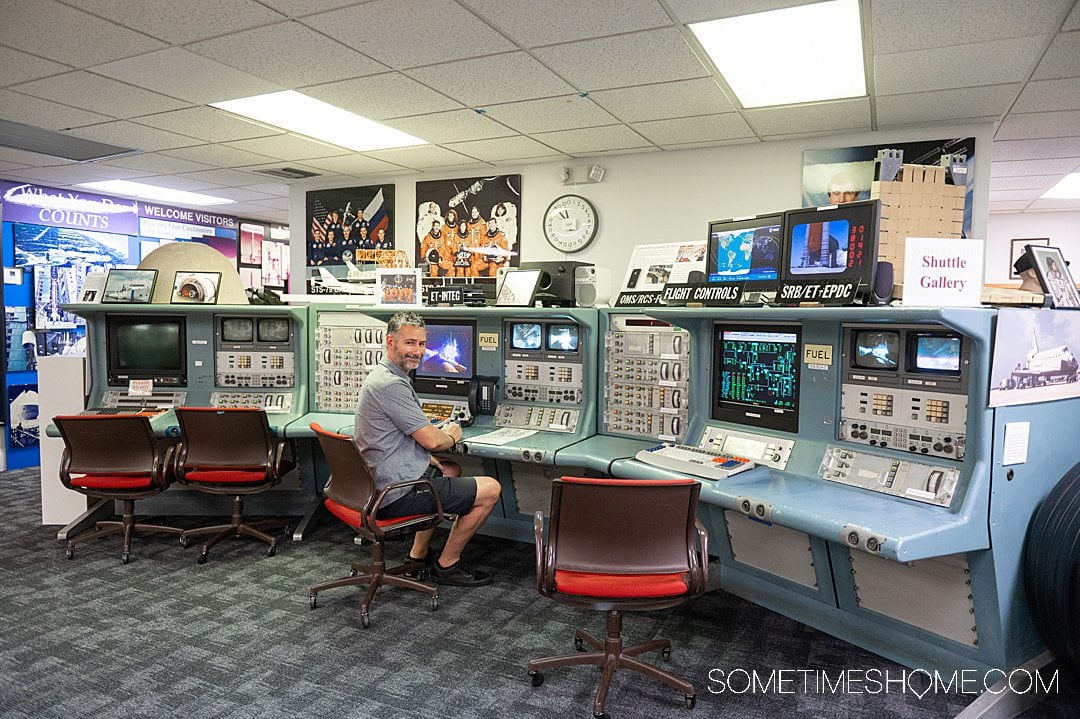 What's different about the American Space Museum?
While Kennedy Space Center provides an overarching view for visitors to understand the purpose of various space missions, we felt that this museum in nearby Titusville really gave those missions a human connection. It tells the story of the people behind the missions and delves deeper into the physical items that supported them all.
One example is some Florida license plates on display, which have a graphic of the Challenger space shuttle on them. Fees from these license plates went towards benefitting the Astronaut Memorial Fund after the disastrous accident that cost the Challenger astronauts their lives.
Another example is a small Snoopy doll on display. This museum explains how Snoopy became a temporary mascot for NASA during its early years, which is something we did not learn about at KSC.
What Else You'll See and Learn at American Space Museum
As we mentioned, we learned different things here than we did at KSC. For example, at KSC we learned that the first living being sent to space was a Chimpanzee named Ham. (Ham survived the Mercury space flight and lived out the rest of his life at the North Carolina Zoo after a few years at the Washington DC Zoo!)
But we didn't learn what his name, "HAM" stood for until we read about it at the American Space Museum, or learned that he was rewarded with banana pellets for successfully accomplishing tasks in space training. This Space Coast museum even has one of Ham's banana pellet treats on display!
There are several rooms to explore at the American Space Museum. Interesting things we saw and interacted with include handprints in bronze of six of the original seven astronauts (including Neil Armstrong), one of the original space command center station setups, the huge computers used to record data in the 1960s, and a Women in Space gallery.
In the Women in Space Gallery, we learned about Wally Funk. She was an astronaut during the 1960s. Learning about her helped our minds bridge the gap between space travel back in the 60s and present-day missions in the 21st century.
In 2021, she bought a $200,000 ticket to space with Blue Origin. She crossed the 100km Karman line, the internationally recognized line at the edge of space, making her the record holder for the oldest woman in space at age 82.
American Space Museum Founding
As the "legend" goes (also known as: the story told to us by one of the employees at the museum), in 2001, a local Space Coast physician went to California. Here, like many visitors to the west coast, he saw the Hollywood Walk of Fame. This gave him the idea to create something similar for the space missions closer to home.
He called for people who worked on the missions to come forward so he could add their names to the monuments and memorials that would make up the Space Walk of Fame and Space View Park. When these people came forward, they also brought him memorabilia from their space jobs.
He wanted to display these things for the public to see – and that's how the museum started. Everything you will see in the museum has been donated.
There's also a beautiful mural in the parking lot next to the museum that's worth a photo stop that shows the wildlife of Florida, even if it doesn't showcase space.
Plan to spend approximately one hour at this museum.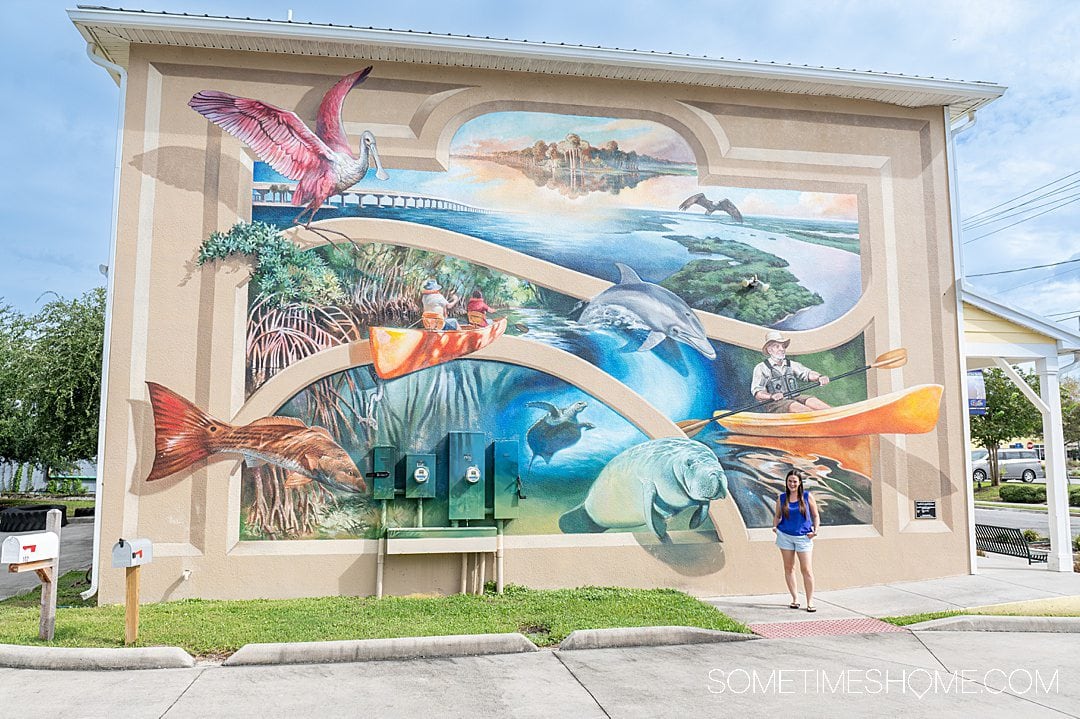 Gift Shop at the American Space Museum
If you are interested in purchasing some space-themed gifts while you're in town, this is a good place to do it. They sell NASA calendars, t-shirts, hats, space mission patches, and dehydrated space ice cream.
Perusing the gift shop does not require museum entry.
⬇︎ Don't miss any unique things to do on the Space Coast! Download our Free Printable Checklist!
➜ 3. Stroll Along Space View Park and See the Space Mission Monuments
Space View Park is just a few blocks from the American Space Museum. Monuments tower above the ground into the horizon commemorating several missions to space: Mercury, Gemini, Apollo, and the shuttle launches.
There is also an "In the Line of Duty" monument that remembers workers and astronauts who lost their lives during the space program.
We parked in Veterans Memorial Park off of Broad Street and easily walked to the monuments. The first monument we visited was Mercury. When we viewed it, we were facing the Indian River, looking out to the launch pads at Kennedy Space Center on Merritt Island.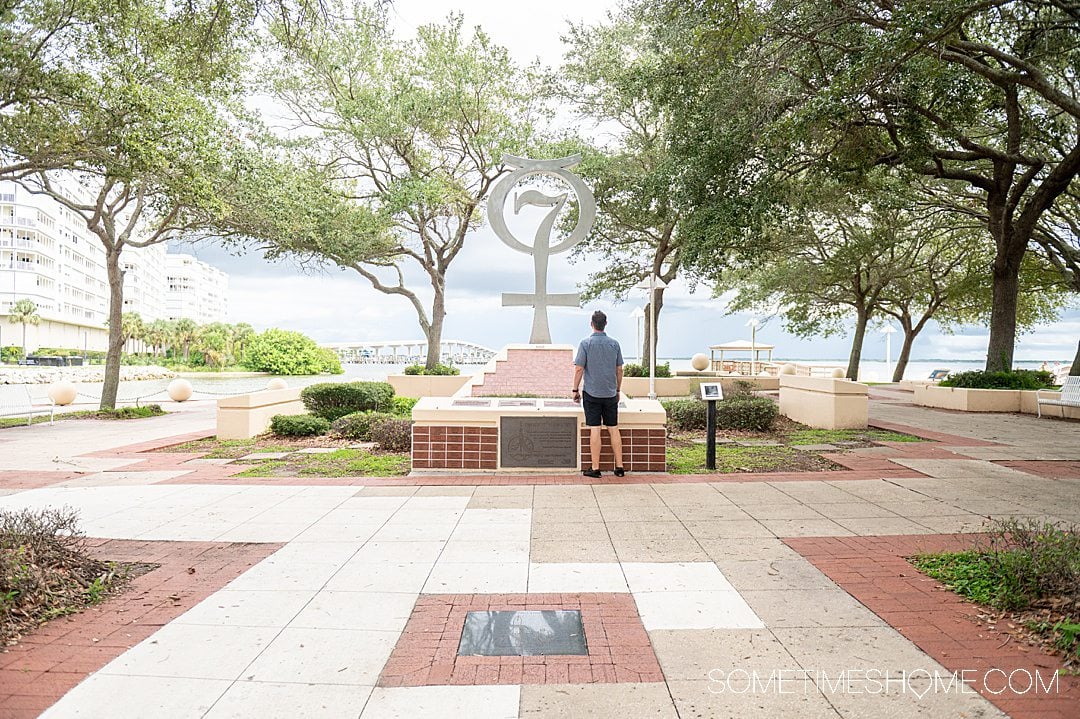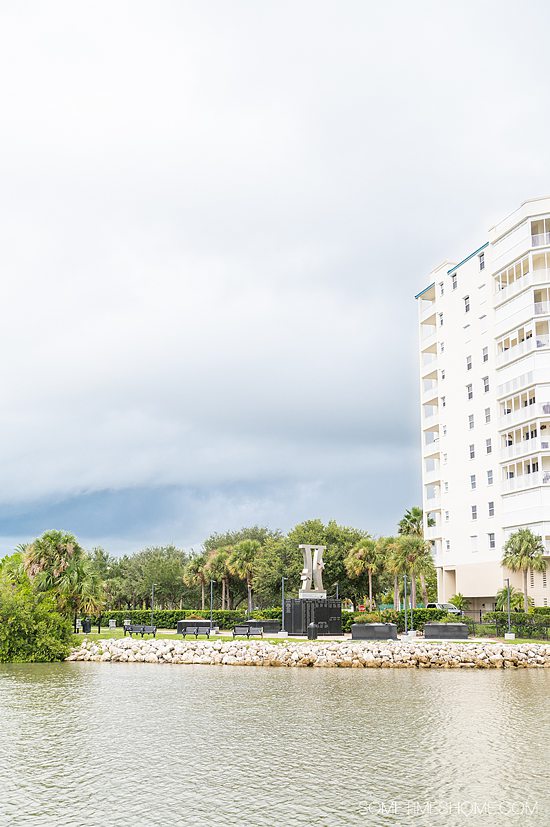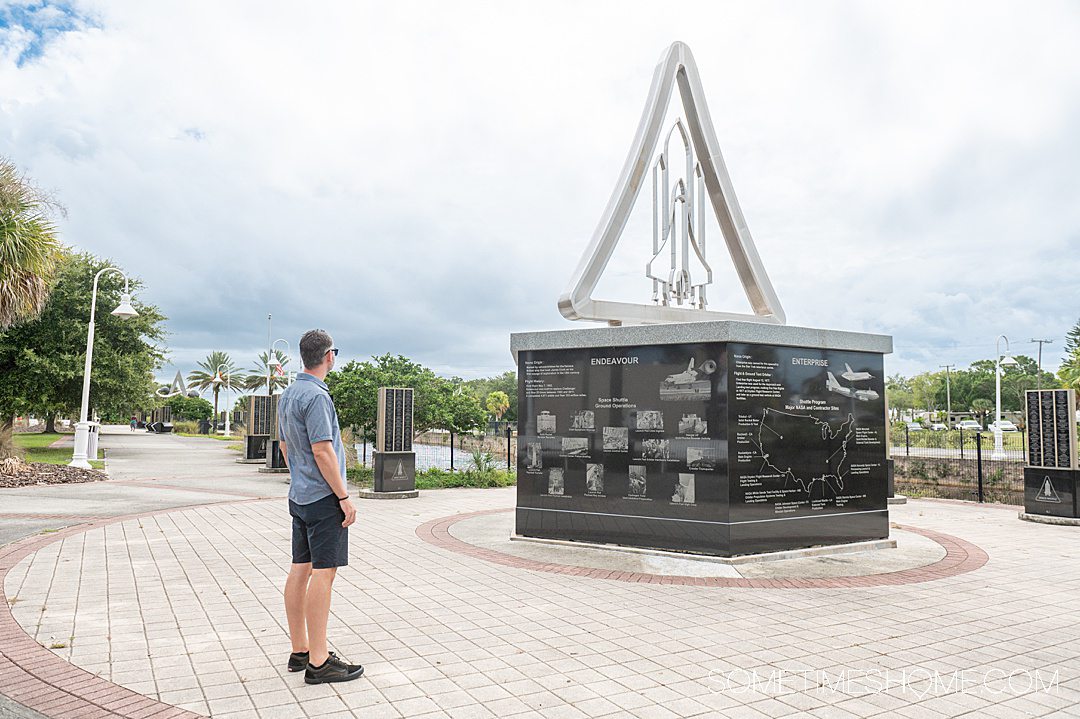 ➜ 4. Visit the Valiant Air Command Warbird Museum
Speaking of transportation, whether to outer space or the skies above, if you like air travel consider visiting the Valiant Air Command Warbird Museum.
The museum is mostly run by volunteers and veterans. Inside, you'll find 53 planes from various wars and missions, including WWI, WWII, and the Korean War. These airplanes are in pristine condition; many are restored onsite.
A lot of these airplanes still fly and are taken out a couple of times a month.
There are three categories of planes in the Warbird Museum:
Airplanes on loan (one example is an Air Force jet on display)
Some have been purchased by the museum, so they own them. For these planes, if it can fly, they fly it. If it's unable to fly, it's for display only.
Privately owned airplanes that park at the museum hangars and allow the museum to show them off. The owners are obviously allowed to fly these planes if the planes are in flying condition.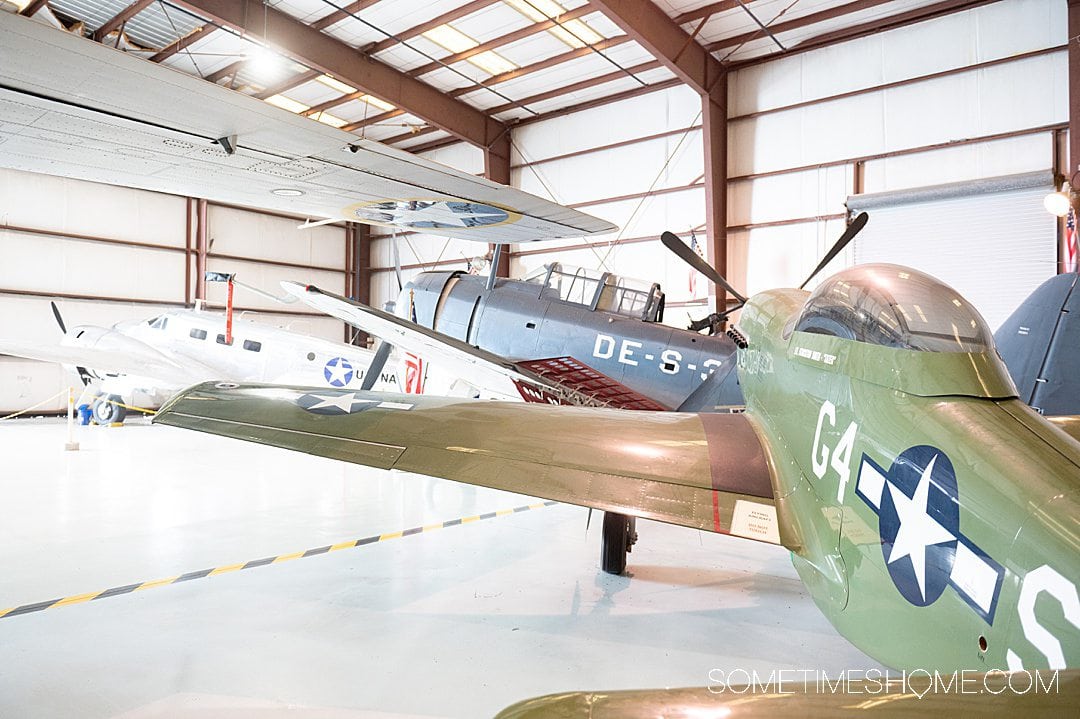 We've been to similar museums around the United States but didn't know several things that our guide, veteran Ron, informed us about. One such thing is that all planes for the Navy have wings that fold for storage purposes.
Another thing was that you can know the purpose of a plane from the letter before its numbers. For example, "F" is for a fighter plane, and "C" is for combat. You may even have a plane with "FA" meaning it's a dual-purpose Fighter/Attack plane.
There was a great tie into the space program at the Warbird Museum when we saw a shuttle chase plane on display.
More Unique Planes You'll See at the Warbird Museum
You'll see so many interesting airplanes at the museum, which span decades of history.
Some especially unique planes on display include:
C-47, which flew in Normandy and Berlin. It is still flown three times a month.
The only flyable P-82 in the world. Only two were ever built and they have one of them! This incredibly rare "Twin Mustang" plane from 1949 is one of the most unique airplanes we've ever seen. It's also for sale if you have $12M to spend on it!
Nose cone of a B-52 that you're allowed to go in with a museum guide.
Set aside at least an hour and a half for the museum.
What's Unique about the Valiant Air Command Warbird Museum in Titusville
Not only can you see the planes here, but you can also touch them. No stanchions are partitioning off the planes from a visitor's touch.
It was cool to be able to feel the cloth around cloth-clad planes, for example, to understand what our guide told us about how bullet holes don't affect them during combat because of the material. If you're a tactile person like me, this is a valuable part of the experience.
Another unique thing about the museum is that you can watch the planes being restored and repaired. One of the three hangars is dedicated to this purpose. If you're lucky, you may even get to see a plane take off or land on the runways in front of the hangars behind the buildings.
We noticed that there was a disco ball hanging from the ceiling in one of the three hangars; we learned that you can rent space here for events. They've hosted everything from graduations to weddings!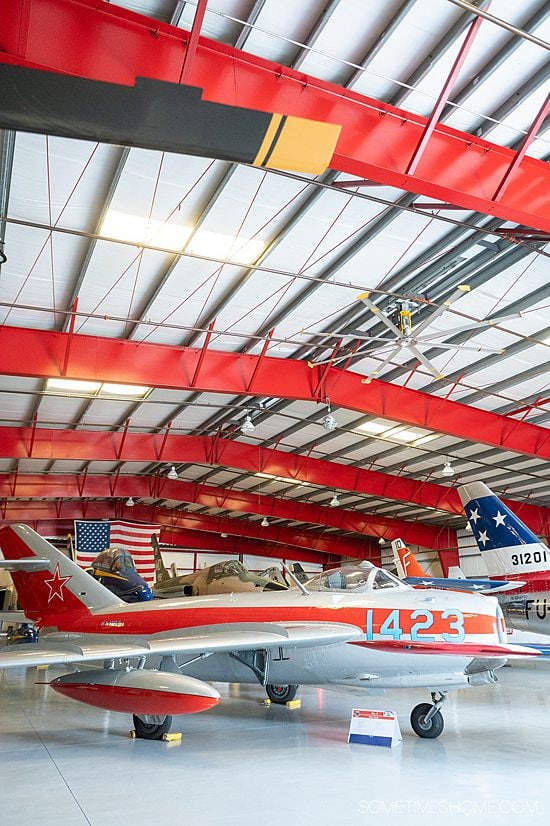 ➜ 5. Watch a Space Launch
If you are on the Space Coast, it's worth looking to see if there's a space launch while you're there. There are many areas where you can easily see across the river toward Merritt Island, where Kennedy Space Center launches take place.
We first saw the launch schedule when we checked into our awesome space hotel, the Courtyard Marriott in Titusville. Then the bartender clued us into a very useful free app that shares space launch information called "Next Spaceflight." The app has a website too.
You'd be surprised by how many mini launches surround the "bigger" ones that are more likely to make the news.
Here are three great places to watch space launches along the Space Coast:
The Space Bar
This is the best place to watch a launch if you ask us. It's located on the top floor of the Courtyard Marriott in Titusville, which is also the best place to stay on the Space Coast.
You'll be close to the comforts of things like a bar with food (including appetizers, entrees, and desserts), near bathrooms, enjoy free parking, and not have to wrestle with crowds. It's also inland, so you won't have to deal with driving over bridges and such to get there and subsequent traffic to leave the island after the launch.
What's more, is the cool space-themed cocktails they have at The Space Bar!
If you stop by the front desk, you'll be able to pick up a complimentary diagram that shows you the location of various launch pads in the distance, including who they belong to (like if it's one of NASA's versus SpaceX).
➜ Book at Stay at the Courtyard Marriott in Titusville, a Tastefully Themed Space Hotel ✨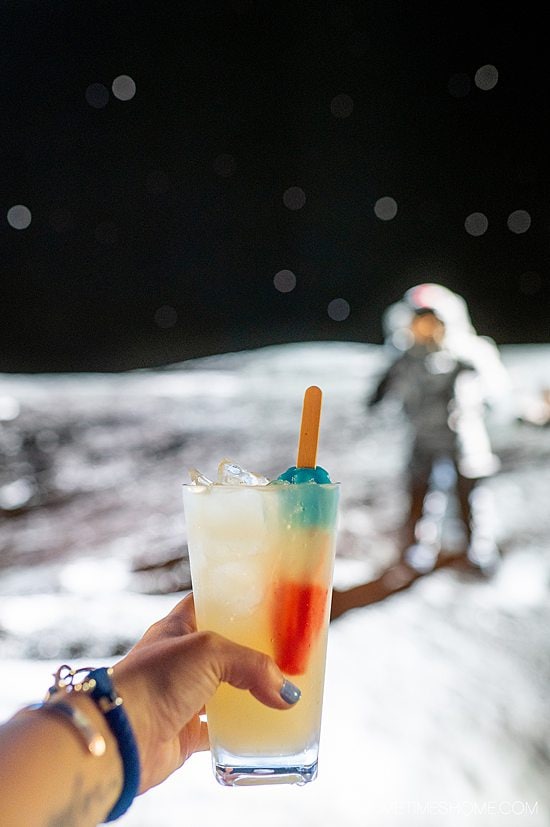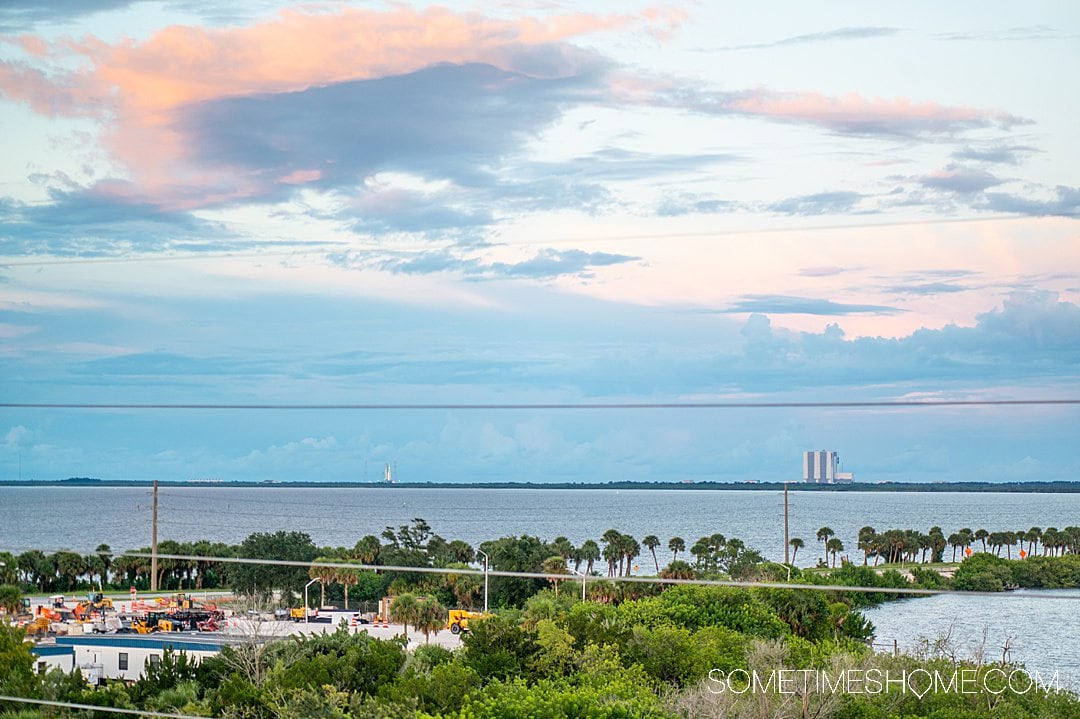 Veterans Memorial Park
Another great place to watch shuttle launches with free parking is Veterans Memorial Park. This is where the monuments to space missions are located in Titusville, which we mentioned above.
Here, at the waterfront park, you'll see clear views across the river towards Merritt Island, where the launches take place.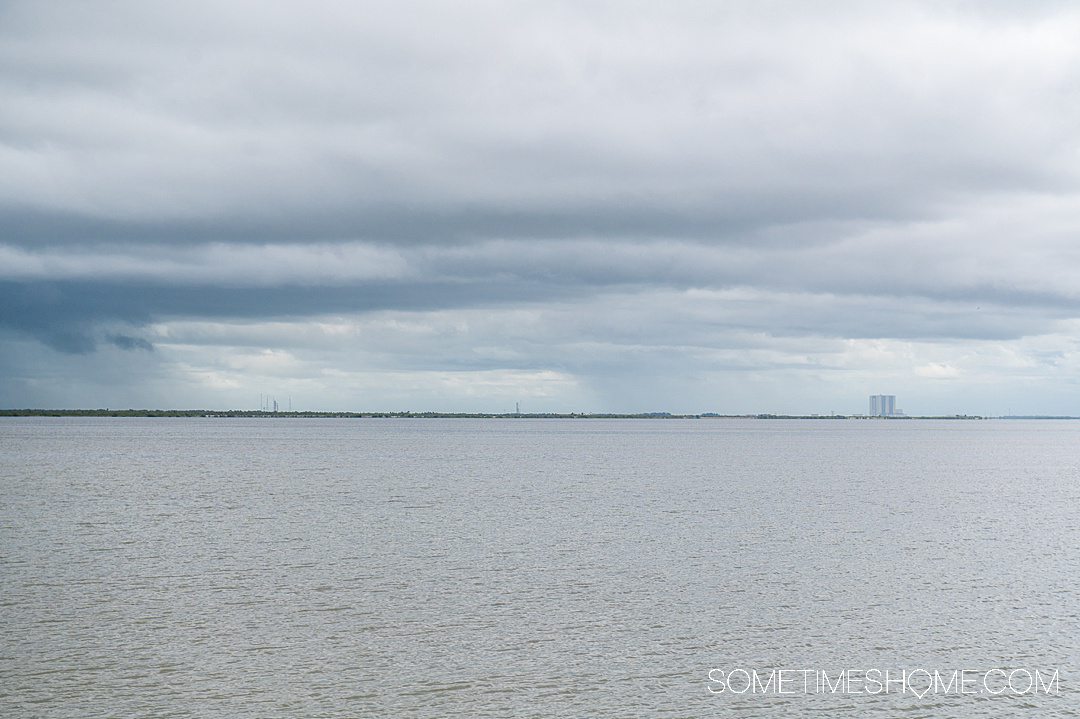 Cocoa Beach
When we walked onto the sand by downtown Cocoa Beach, we noticed that it's an excellent place to watch a space launch! There is a clear view across the shore, over the water towards Kennedy Space Center's launch pads.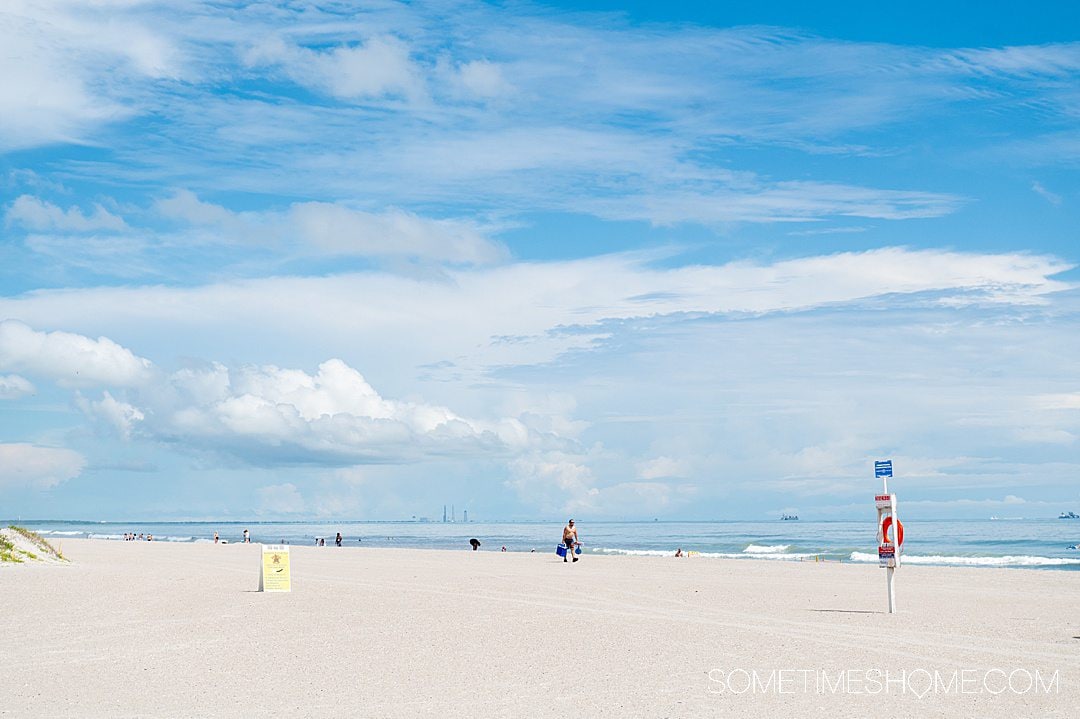 Kennedy Space Center
If you can get tickets to a launch event at Kennedy Space Center, it's sure to be amazing. Sometimes they specially sell tickets to launches, like for Artemis I, and have different tiers of tickets to purchase.
The tiers vary based on the viewing location (the closer it is to the launch pad, the more expensive the tickets are) and includes things like a commentary on what's happening during the launch prep and liftoff.
You might also get lucky with a daytime launch that you can see from within the complex, which is already included in Kennedy Space Center tickets.
While seeing a launch from Kennedy Space Center will get you closest to the launch site, if many people are expected to drive there to see the same launch, you'll want to consider traffic into/out of the island depending on your schedule.
If you don't want to deal with traffic, we recommend one of the other three launch viewing areas, listed above.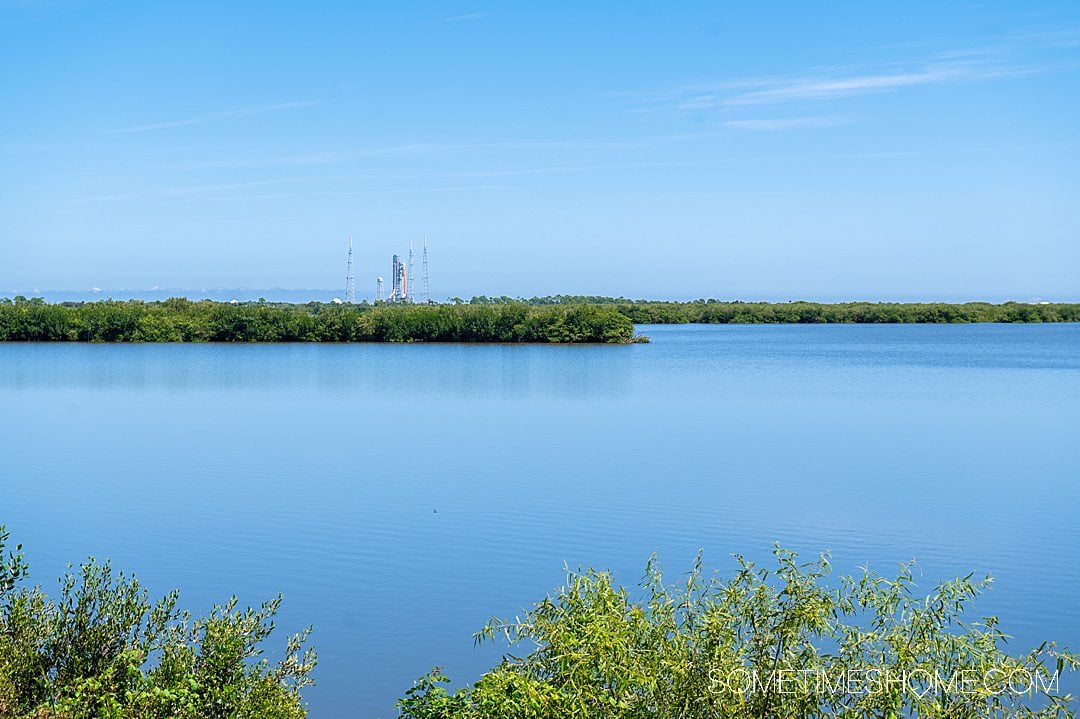 Unique Waterfront and Ocean Things to Do Near Cape Canaveral
➜ 6. Watch the Cruise Ships Sail Away as you Dine at Port Canaveral Restaurants
We happened to have gone to Rising Tide Tap & Table at around 5:15pm in Port Canaveral. Not only was it happy hour time (who doesn't love happy hour?), but it was the perfect time to hear the horn of a nearby cruise ship blow before it slowly sailed away a few minutes later.
We were so glad we were sitting on the restaurant's outside deck, where we had a perfect view of MSC Divina as she sailed out from Port Canaveral.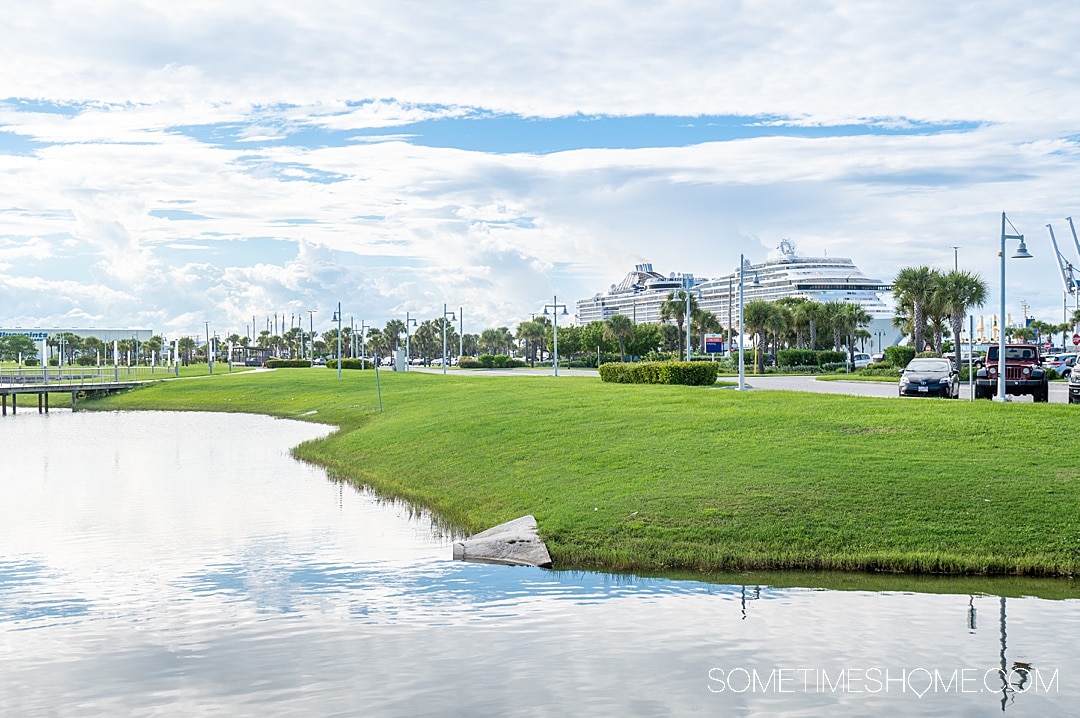 The food, beer selection, and drinks are great at Rising Tide. Expect to spend about $20 to $30 per entree, depending on your order. They have large portions, so if you're game to split one dish between two people, you may want to consider doing so.
We very much liked what we got: the Ahi tuna entree and their version of fish and chips. Try the local beer on draft too; it's especially refreshing on a hot Florida day.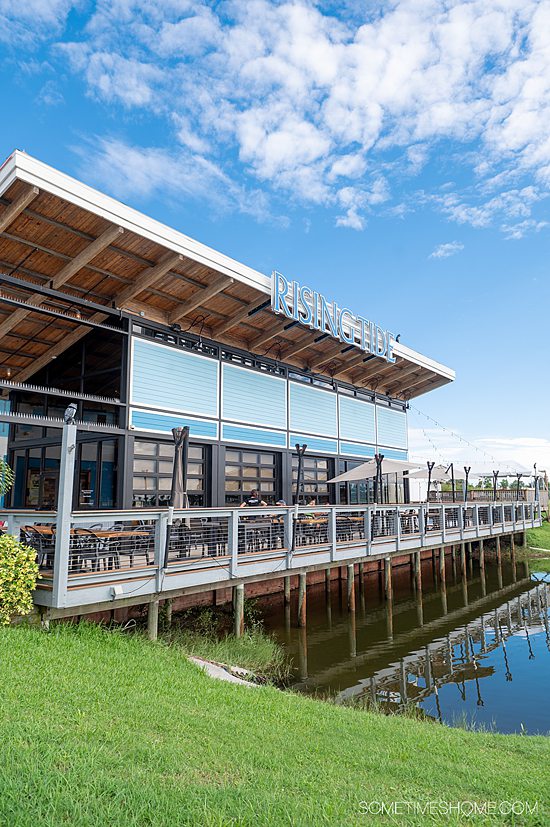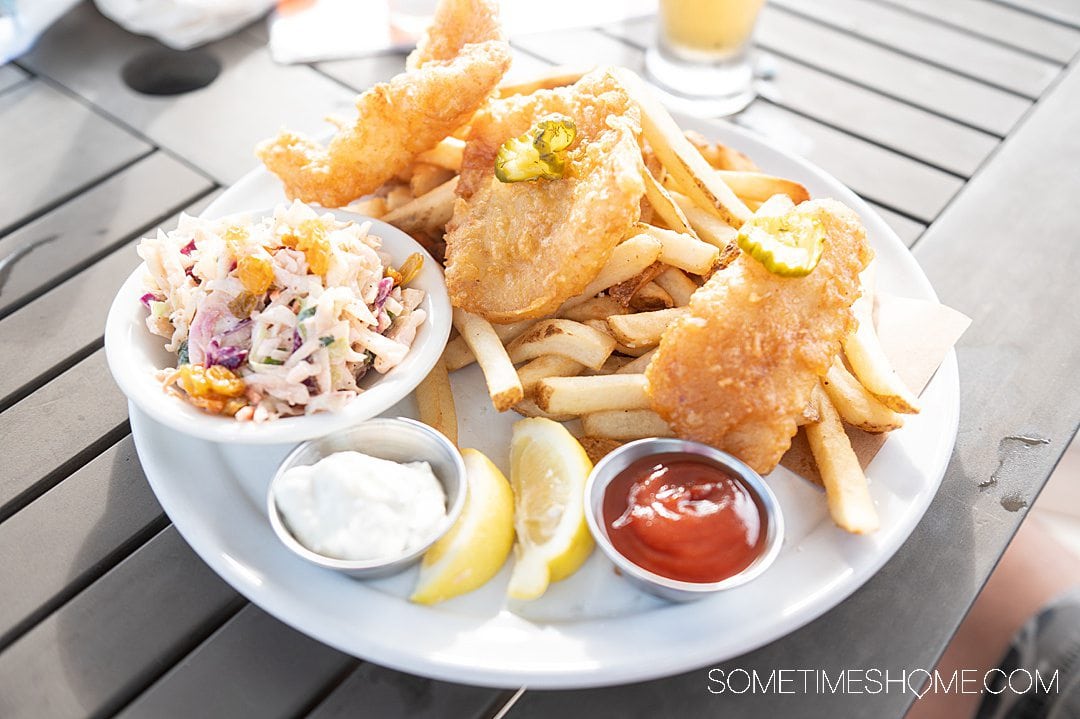 ➜ 7. Go Deep Sea Fishing
If you like to be on the water on a small boat that you can fish from, not just on the shore looking at the ocean, then signing up for a deep sea fishing experience is a must on the Space Coast.
➜ 8. Go Kayaking by Day to See Marinelife
If kayaking is more your style than a motorized boat ride out to sea, and you want a chance to see more dolphins and manatees than search for fish, sign up for a guided kayaking tour.
By day, you can paddle out to see the manatees and dolphins that live in Florida's warm waters, depending on the season. These two-hour afternoon tours leave from just north of Kennedy Space Center.
➜ 9. Kayak by Night to See the Water Glow
You'll get a totally different kayaking experience at night if you sign up for a bioluminescence kayaking tour, one of the most unique things to do in Cape Canaveral.
If you've never done this before, you'll be in awe of the glowing water as you paddle and "excite" the microbes that illuminate the water in the dark. It's really fascinating!
The tour leaves from Banana River Park and lasts approximately two hours, beginning around 8:00 pm.
🐠 Book Cocoa Beach Experiences Here 🐬
➜ Head to Cocoa Beach
There are several things to do and see near Cape Canaveral in Cocoa Beach, a well-known area of Florida's Space Coast.
➜ 10. See the Impressive Murals in Downtown Cocoa Beach
We recommend getting breakfast or lunch downtown and walking around before or after seeing the colorful, huge murals in downtown Cocoa Beach. It's fun to do any time, including before sunset at the end of the day.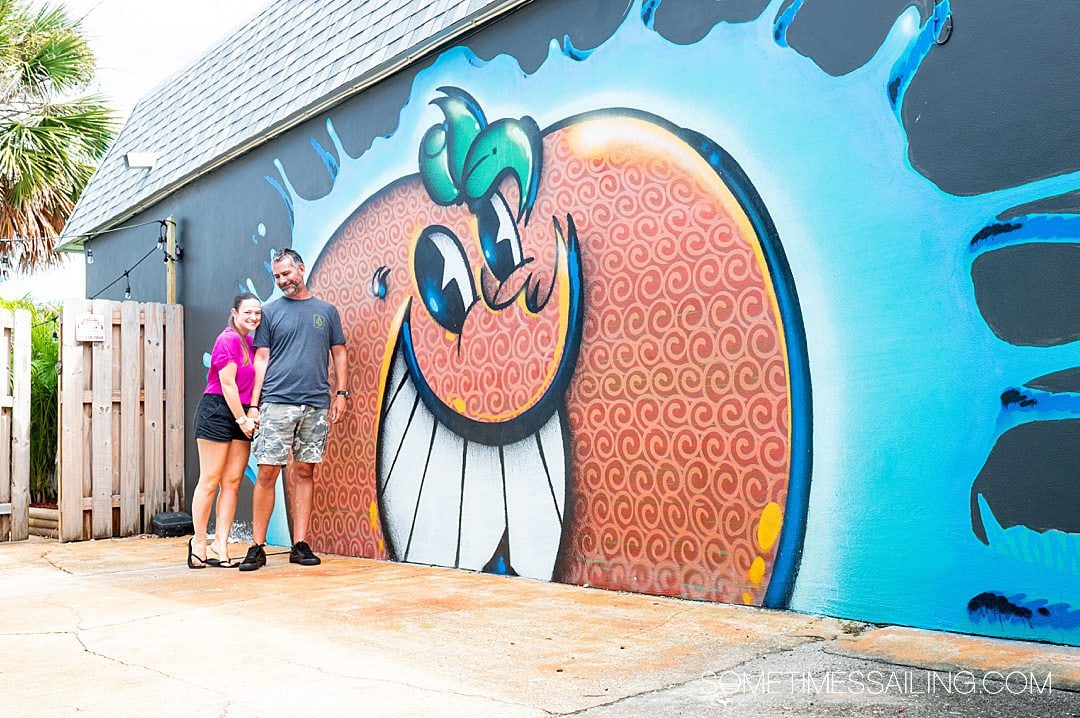 If you want to grab breakfast in the area, we recommend Cafe Surfinista or Java 'N Juice Cafe.
Walk around to see the murals near Minutemen Causeway (the main street downtown), many of which are painted during the annual Space Coast Mural Festival.
Afterward, grab a drink and some food at one of the local establishments, like The Tiny Turtle, or nearby Long Doggers, just a short drive away.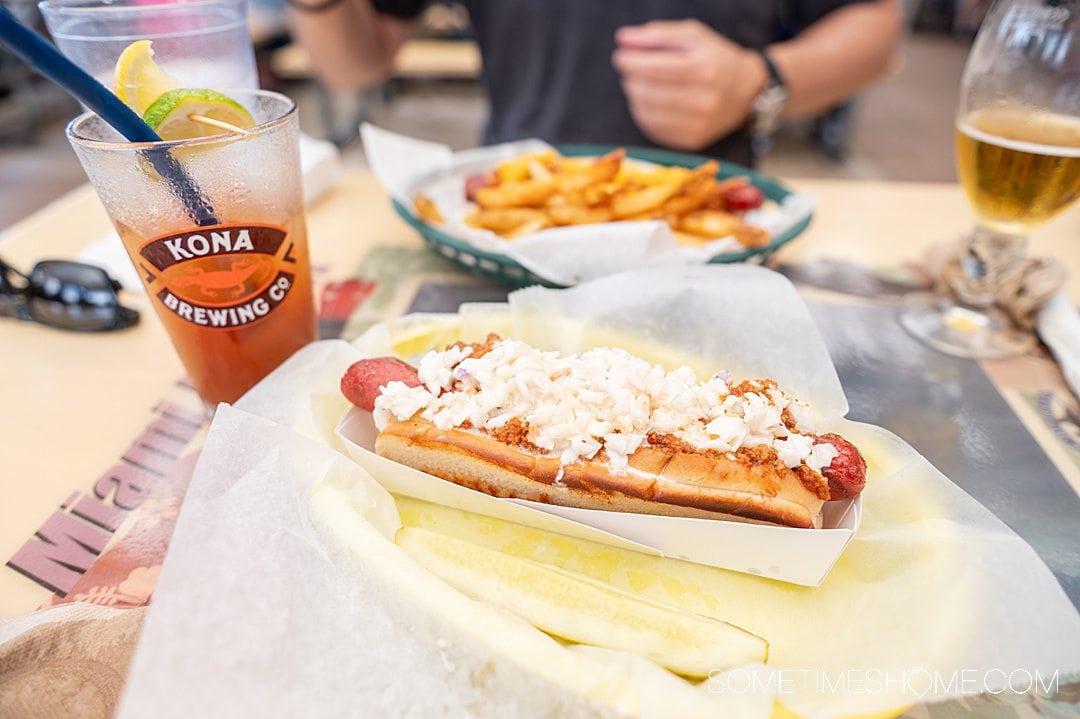 There is also easy beach access by Coconuts on the Beach in downtown Cocoa Beach if you want to put your toes in the sand or the ocean.
Downtown Cocoa Beach has limited street parking without meters and additional street parking with meters.
➜ 11. Visit Cocoa Beach Pier
Another fun area in Cocoa Beach is its pier. It's currently owned by Westgate Resorts and has a long history dating back to the 1960s.
The pier opens at 11:00 am every day. You can have a drink at one of the bars here, shop at the little gift shops, and head to the end of the pier for a view above the ocean. There's a cute little bar at the end of the pier too.
Parking is either $15 cash at a monitored lot, or you can find metered parking on either side of that lot for $3.50 an hour. With some patience, we were able to grab a spot there.
You don't have to visit the pier to sit on the public beach, though walking on the pier is fun thing to do in the Cape Canaveral area. It's an entertaining spot to people-watch and enjoy a sunny day on the Space Coast. (Don't forget your reef-safe sunscreen!)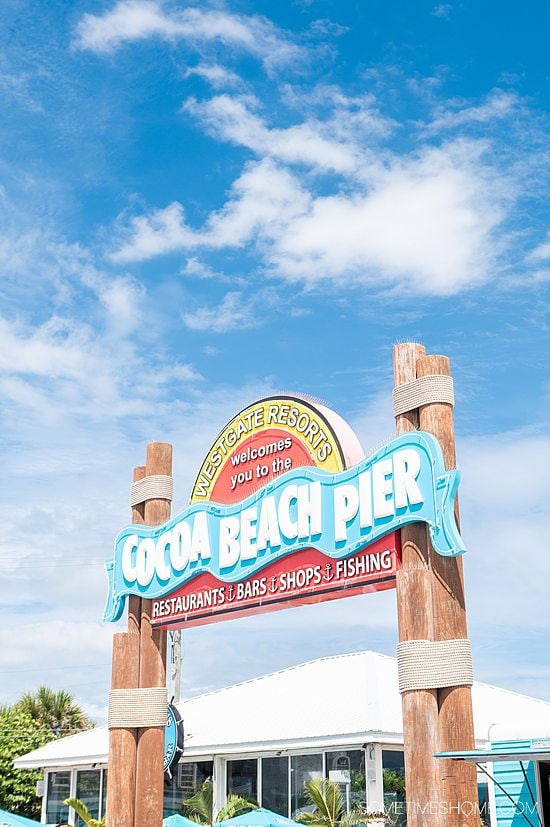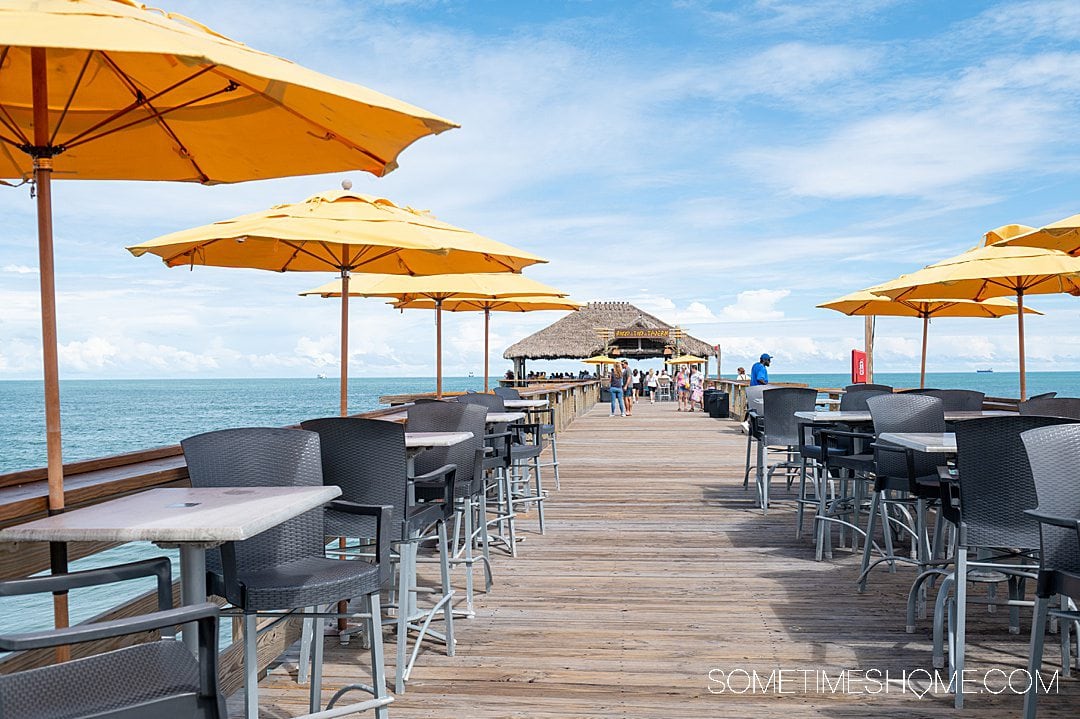 ➜ 12. Take a Surf Lesson
A cool thing to sign up for in Cocoa Beach is a one-hour surf lesson if you're feeling sporty.
Dip into the Atlantic ocean with a pro who can teach you how to duck dive, surf the waves, and simply enjoy being one with the ocean for a little while.
➜ 13. See the Space Coast from Up Above on a Helicopter Tour
If you want to view the area from above, looking down, book a helicopter tour with Cocoa Beach Helicopters. The reviews are great, and pricing starts at just $19.99, with optional upgrades.
➜ 14. Learn About Surfing History at the Florida Surf Museum
If you want to learn a little about how the area, including Cocoa Beach and Sebastian Inlet, tie into the history of Florida's Space Coast, head to the Florida Surf Musem. You'll find it inside the rental building of Ron Jon Surf Shop. The small museum is free and explains a little bit about the area's surf culture.
It can't be more than 1,000 square feet, but various photos and news clippings are displayed. You'll certainly learn a thing or two.
You can even see Kelly Slater's first big paycheck from a competition in Treatles, CA, in September of 1990. The oversized check, which was likely used for a photo opp, was for $39,600 and "signed" by Body Glove.
Slater's first big win trophy, which was awarded at Pipeline, is also on display. It's a large clay vessel that was glued back together after it broke during shipping and was thrown to the curb for trash. Slater's neighbor, Sean O'Hare, put it back together. He also founded the museum.
We learned that the Space Coast used to be known as the "Platinum Coast," thanks to an enlarged hand-drawn map that ran in Surfing Illustrated magazine that is on display. It's dated 1965.
The Florida Surf Museum is free to enter when the building is open from 9:00 am to 8:00 pm, every day.
Set aside around twenty to thirty minutes to go through the small museum. There are restrooms inside the building.
➜ 15. Shop at the Space Coast's Most Famous Surf Shops
If you like to shop, you're a surfer, or someone who likes water sports, you must stop by two famous shops in Cocoa Beach: Ron Jon Surf Shop and Cocoa Beach Surf Company.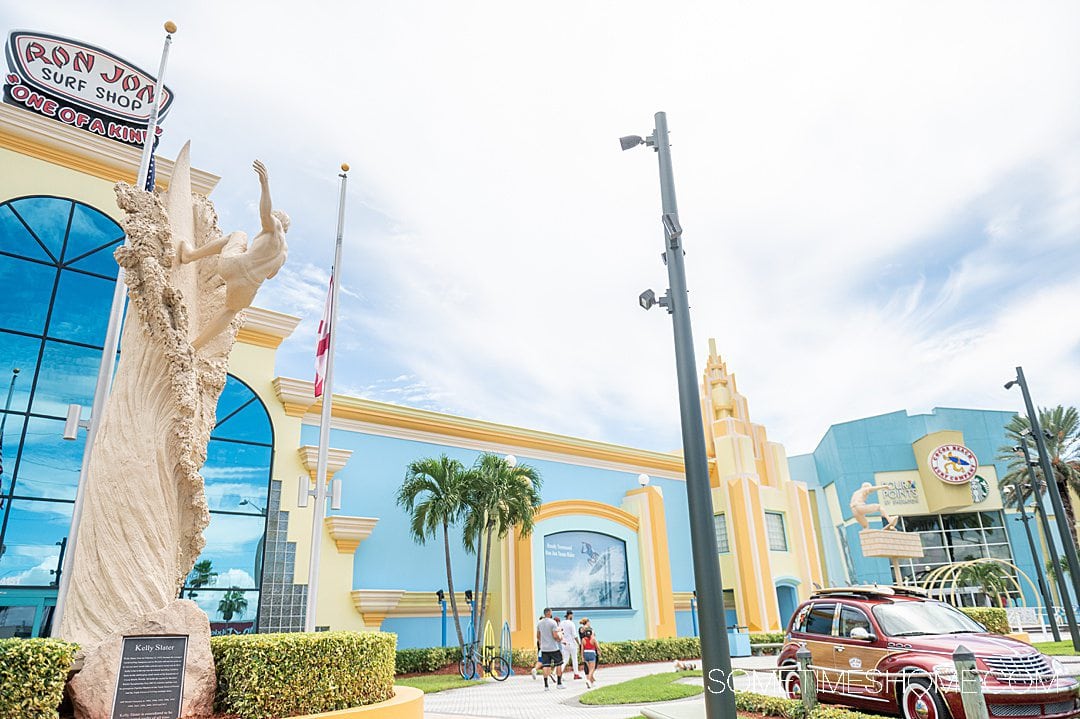 Ron Jon Surf Shop: The Largest Surf Shop in the World
Ron Jon is currently the largest surf store in the world; it's 52,000 square feet. Here, you'll find anything you can imagine for surfing. We also saw the biggest and best selection of sandals we've ever seen from brands like Havaianas, Reef, Van, BillaBong, Toms, Teva, Under Armour, Rainbow, and more.
They also have a ton of sunblock (including a whole "Baby Bum" section for baby suncare), boogie boards, and surfboards. They have an entire section for children's apparel and kids' sunglasses, areas for adult shopping, and towels. You will even find a limited amount of NASA-themed space gifts.
We loved seeing some of our favorite ocean items that give back:
4ocean bracelets, made from recycled plastic
Pura Vida bracelets, founded in Costa Rica with proceeds benefitting various charities around the world
There is a restroom on the second floor of the shop.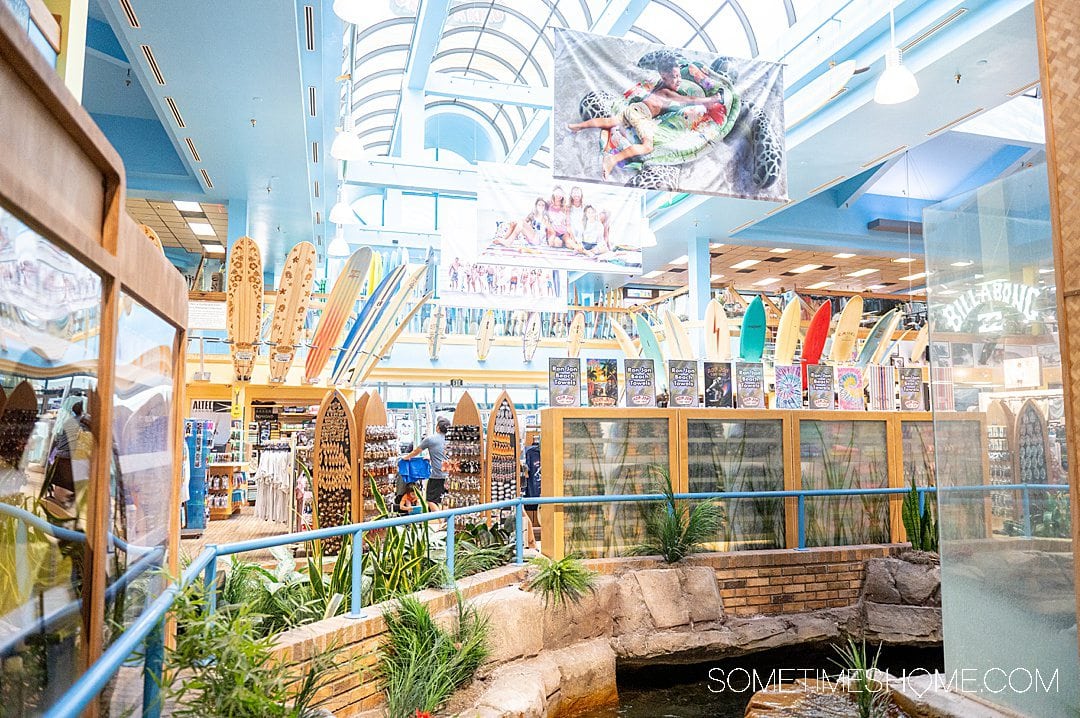 Cocoa Beach Surf Shop
This store is next to Ron Jon Surf Shop. The two share a free parking garage behind the shops.
Cocoa Beach Surf Shop has some of what Ron Jon carries (not all of it – the store isn't as big even though it's has two levels) but we noticed they also have a lot of Cocoa Beach-themed gifts, like what you might find in boardwalk souvenir shops.
Additionally, perhaps because Four Points Sheraton Hotel is connected to the shop, there is a bar inside with food and drinks happy hour specials from 4:00 pm to 6:00 pm.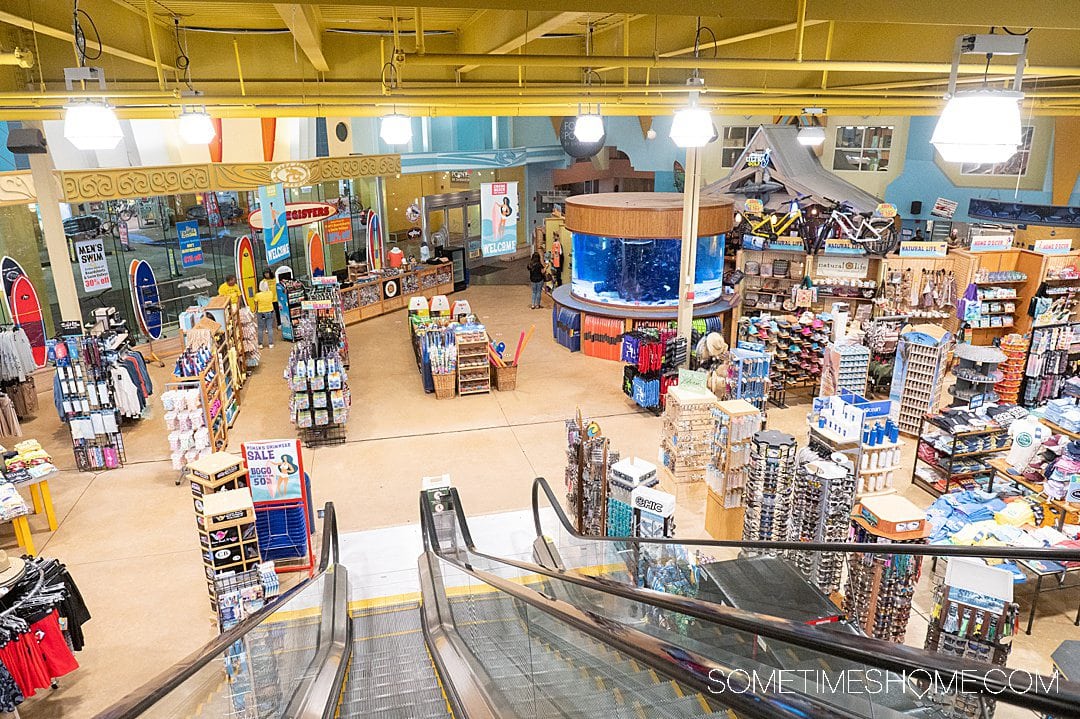 Other Unique Things to Do On Near Cape Canaveral on the Space Coast
➜ 16. Visit the Wizard of Oz Museum
A somewhat unassuming museum stands out in green paint with a blue roof and a yellow-painted, glittery "brick road" leading to its entrance. If you blink, you may miss it. But you'll surely see it if you are looking for it while driving along N. Atlantic Avenue.
Once you're inside, you'll realize there is more to The Wizard of Oz than you ever knew (unless you're an uber fan, of course). You may not know all the treasures inside the museum firsthand, but you will certainly understand them more by the time you leave.
One of the goals of the museum, as described to us by the founder and owner, Fred, is to educate people about The Wizard Oz beyond the movies.
You can even sign up for a personal tour with Fred, which we highly recommend. (Our visit was definitely enhanced with Fred as our tour guide.)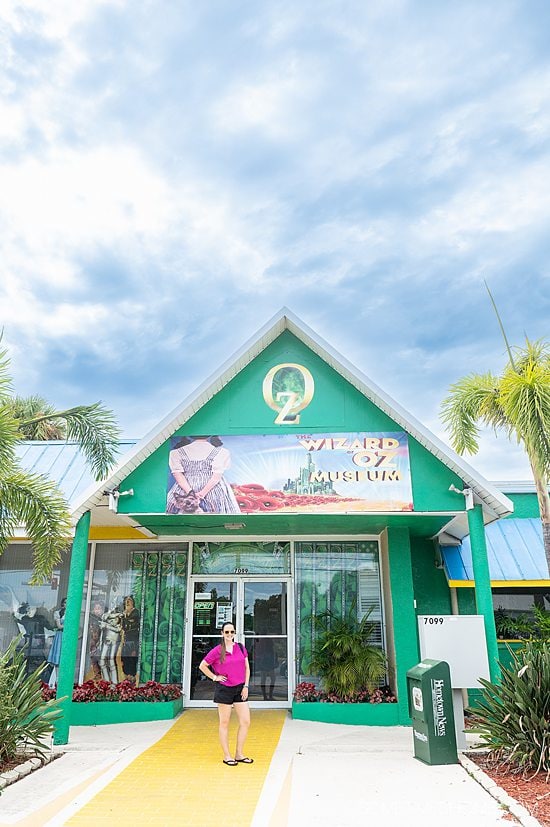 We didn't realize there are approximately 40 books about the Wizard of Oz until we visited the museum! And the memorabilia inside supports the books, including first edition prints, signed copies on display from the original author, Frank L. Baum, and things like Wizard of Oz puppets and figurines.
Be sure to take a photo with the famous flying monkeys and the Wicked Witch, like Dan did!
There is also a Wizard of Oz immersive experience inside and an artist experience (currently Van Gogh) that will bring you into scenes from the books, like when the Tin Man proposed to the Munchkin girl. (Again, this is a story from one of the 40 books of the Wizard of Oz, not necessarily the movie from 1939 though you'll recognize the famous characters.)
This is an especially wonderful thing to do on a rainy day in Cape Canaveral, Titusville, or Cocoa Beach.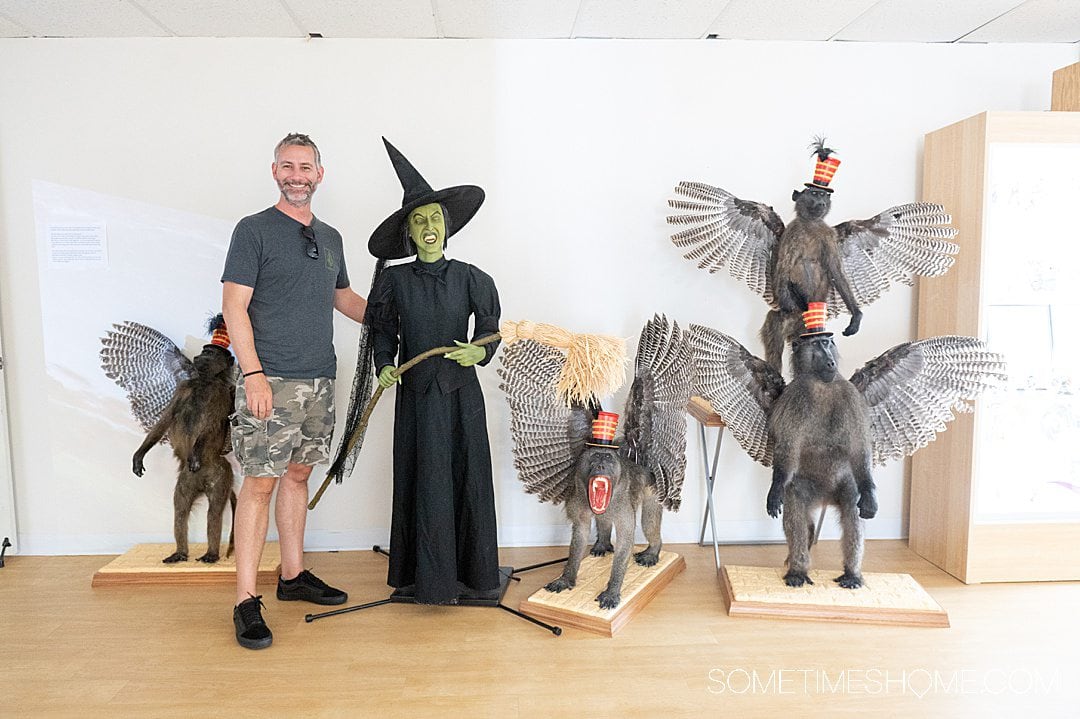 ➜ 17. See the Kelly Slater Statue, an Homage to the Greatest Surfer of All Time
Did you know Kelly Slater is from Cocoa Beach on Florida's Space Coast? He is heralded as the greatest surfer of all time.
There is a bronze statue of him on a surfboard when you first enter Cocoa Beach, welcoming you into town just after you officially drive in.
From the plaque in front of the monument, we learned that as of 2010, Slater was the youngest and oldest person ever to win world titles in 1992 and 2010 at ages 20 and 38.
Though not impossible, getting to the monument by foot is a little difficult if you want to stop and get out of your vehicle. We parked nearby at the Chevron gas station, filled our car, played the Florida lottery, got some cold drinks, and walked the few steps from the gas station to the brick area where the statue is to see it up close.
➜ 18. Go On a Cruise
While you're planning your trip, why not book a cruise from Port Canaveral? You can book a cruise on various cruise lines, from MSC to Royal Caribbean, Disney to Norwegian. Choose from cruises anywhere from three days to more than 8 days.
Conclusion for Unique Things to Do Near Cape Canaveral on Florida's Space Coast
We hope this article expands your knowledge of unique things to do near Cape Canaveral. Florida's Space Coast, as it's called, encompasses Titusville, Port Canaveral, Merritt Island, and Cocoa Beach as well. And there's so much to see and do there!
Plan to stay a while, book a space-themed hotel, look up the launch schedule and enjoy the area's extensive options, day and night.
Don't forget to sign up for our free printable download so you can easily check off these cool things to do when you're on the Space Coast (it's helpful for your vacation planning too).
Read this next: