Two Days in Maribor Slovenia: Simple Yet Fantastic Itinerary
One of the things we so loved about Maribor was there was plenty of things to do and see, yet not to an overwhelming point. We only had a week in the country so we decided to spend two days in Maribor. One day was to see the countryside and taste some great wine and the other to explore the city center. Our two days in Maribor recommended itinerary is simple yet fantastic. You'll see a lot without feeling exhausted and get a feel for the city's mix of history, culture (past and present) and the beautiful landscape.
Stay in the City Center
We recommend staying near the city center for two days in Maribor. This will enable you to get a feel for the old part of Maribor.
No cars are allowed in the very center of the city, so staying nearby will allow you to rent a car for your second day touring the area and countryside yet still have your car nearby.
Day One in Maribor
There's lots to do and see in the city center and the reason we suggest doing your tour of Maribor's urban center first is to gain an understanding of its history and viticulture.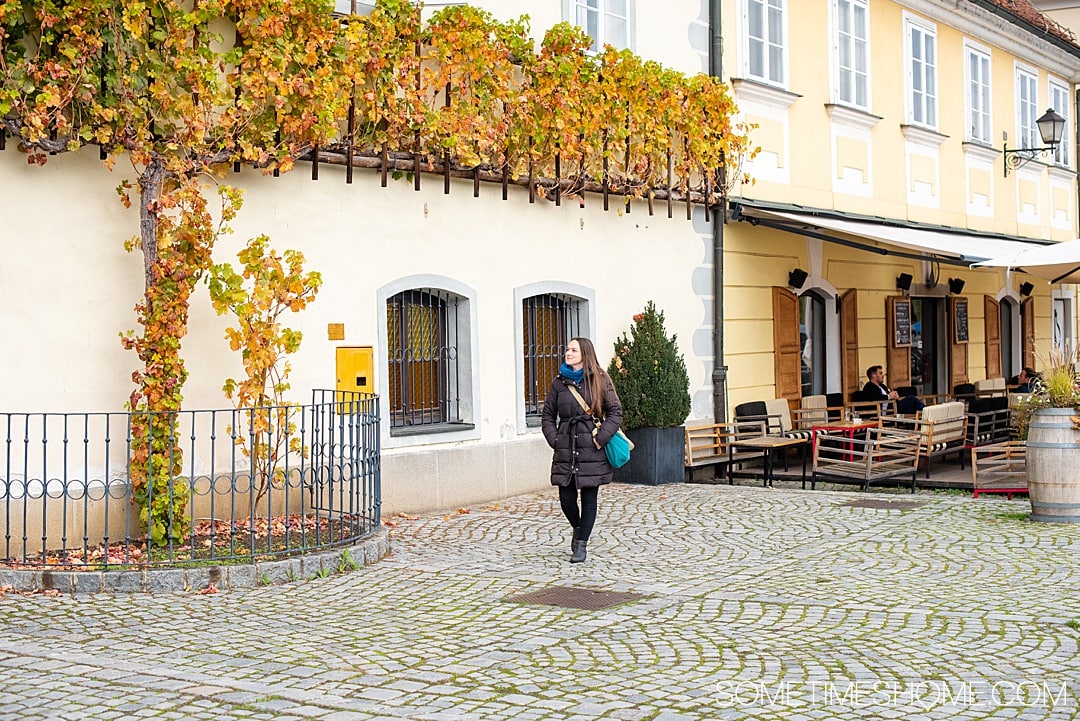 We cover what to in Maribor's city center on the first day of your visit in an additional thorough post, but we want to mention the outline of the day here:
Understand Maribor Wine, by seeing the Oldest Vine, touring the Old Vine House and having a wine tasting there.
Take a Tour of the Old City.
Have dinner at Restaurant MaK.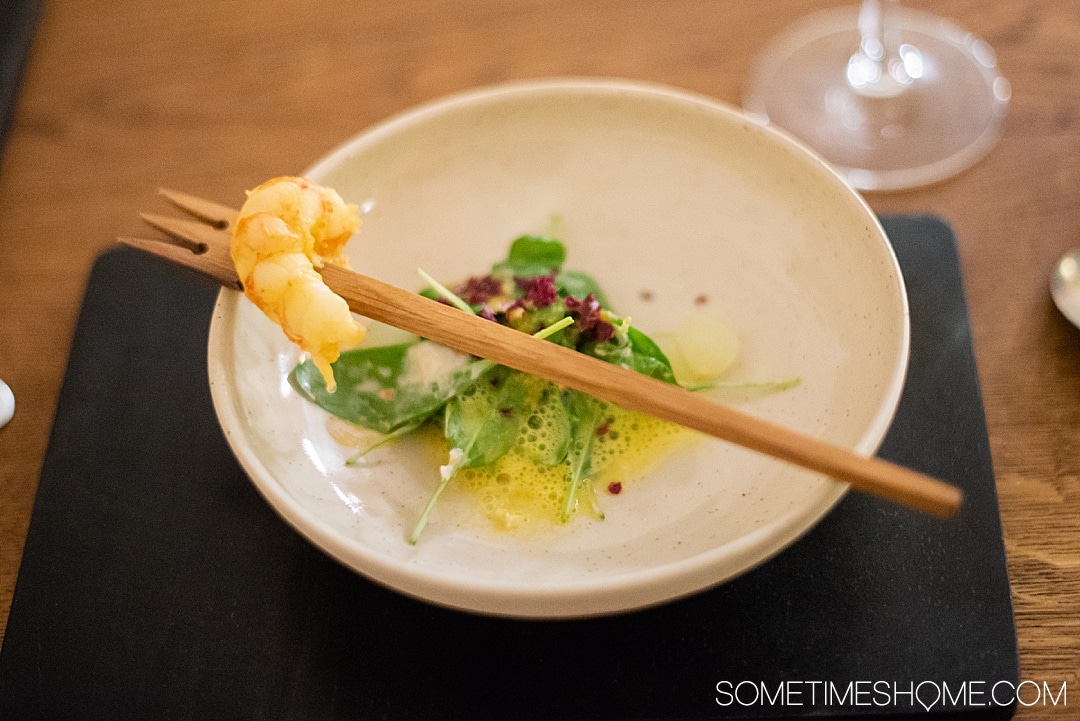 Day Two in Maribor
The next of our two days in Maribor itinerary is reserved for exploring the Maribor region, which includes great wineries, vineyards and of course a scenic drive to go along with it. You've already learned about wine on Day One so Day Two is perfect to expand your knowledge, first hand with a little day trip.
Here is where we stopped that we would recommend. But of course we suggest making the day yours by stopping as you see fit and altering the schedule as needed.
Driving in Slovenia is very simple, which we discussed a bit in another article about things to know before you go to Slovenia. They drive on the right side of the road like in the United States and you're able to rent an automatic car if you're like us and cannot drive stick shift! (If you can drive stick shift you'll save some money on a rental.)
Renting a car enables you to drive through the region surrounding Maribor, with truly picturesque rolling hills and vineyards.
You'll need a full day for driving around the area so reserve it all for hitting the road!
Stop 1: Ptuj
Our goal for the day was to see wineries in the area. But a local (who was also our food tour guide in Ljubljana) suggested stopping in Ptuj because it is just thirty minutes away from Maribor. It also happens to be on the way to Jeruzalem.
We left Maribor around 8:30am and arrived in Ptuj at 9:00am. We stopped at a really cute cafe in the city to have breakfast, called muziKafe. They had limited breakfast items but we found a sandwich and granola we enjoyed with good coffee. We loved the ambiance there and walking around to see some art and photos in the cafe. They also have accommodations if you wish to book an overnight stay there for this or a future trip!
Ptuj is the oldest city in Slovenia, dating back to the Stone Age. It developed from a Roman fort, first mentioned in recorded history in 69 AD. (WOW!)
Be sure to see (and photograph!):
Kurentovanje costumes inside the Ptuj tourism office (from the annual festival held there)
Prešernova ulica (street) that leads up to Slovenski trg (Slovenia Square)
Orpheus Monument, right by St. George's Church in Slovenski trg
The red clock tower in Slovenski trg, in front of St. George's Church (very iconic and photo worthy!)
The pink and white Dominican Monastery
Ptuj Castle (be sure to look for a graft of the Oldest Vine there!)
Overlook view from Ptuj Castle
If you're quick about it you can do all that in two hours! The town is smaller than a map make it appear. We walked in the town to see numbers one through four, then drove to the castle and stopped at the Dominican Monastery on the way. (If you're driving from town and Prešernova ulica or Slovenski trg, the monastery will be on your left.)
When you reach the castle you park in a lot at the base of the hill then "hike" up to the castle. It's a small castle and though it's surely uphill calling it a hike is a bit extreme! Just leave yourself fifteen to twenty minutes to casually walk uphill and enjoy the views once you reach the top!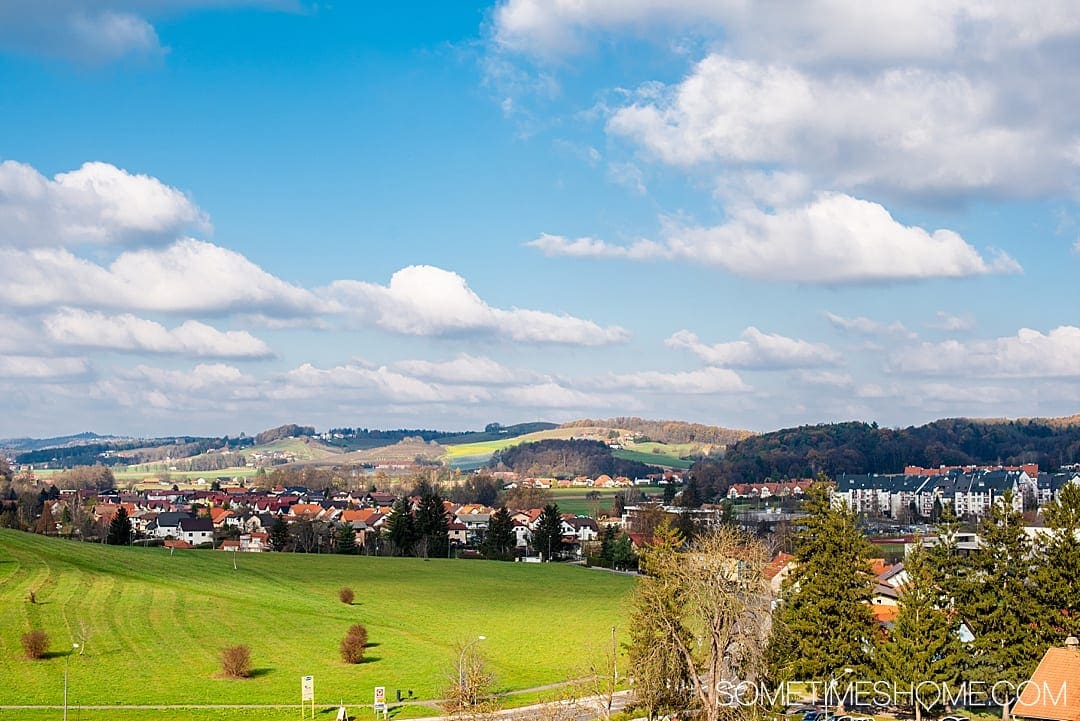 Stop 2: Jeruzalem
Just thirty minutes further east of Ptuj is Jeruzalem. It's said to be the "Second Tuscany" and its rolling hills and abundance of vineyards explain why.
We visited Slovenia just after one of the most important festivals of wine in Slovenia (particularly Maribor) called St. Martin's Day. Note many wineries close after this festival for a week (and sometimes the season) so the families and workers who own the wineries and vineyards can rest after a long season and celebration.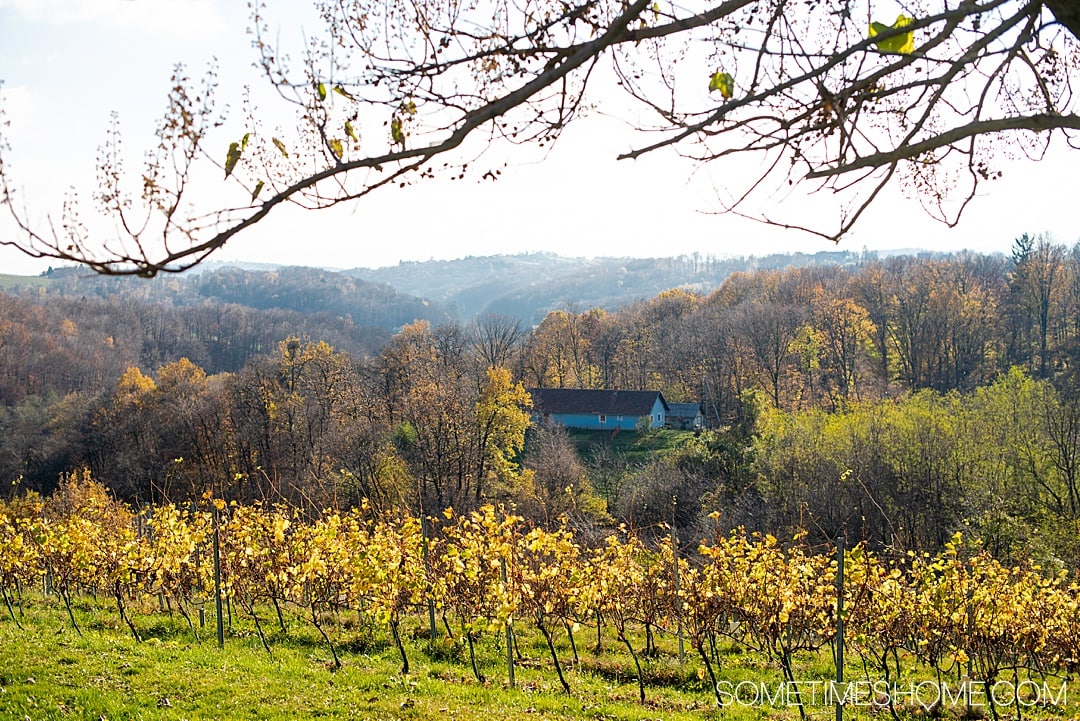 Luckily we found two great wineries during our drive where we could do tastings.
The first place we did so in Jeruzalem was Zidanica Malek (Malek Vineyard). They are open March to May if the weather is nice, and May through November until the festival. We lucked out because they were awaiting the arrival of a group tour when we knocked on the door asking to come in to taste wines!
Malek Vineyard has over 1,600 acres (650 hectres) of vines and their tasting room in Jeruzalem is where the old historic wine press is located. It was a bit chilly outside when we were there the second week of November (luckily though the sun was shining and here were blue skies!) so we did our tasting inside. We loved sipping wine and looking at the huge, wooden wine press. Their wine is produced in Ormaz, 6.2 miles (10 km) away.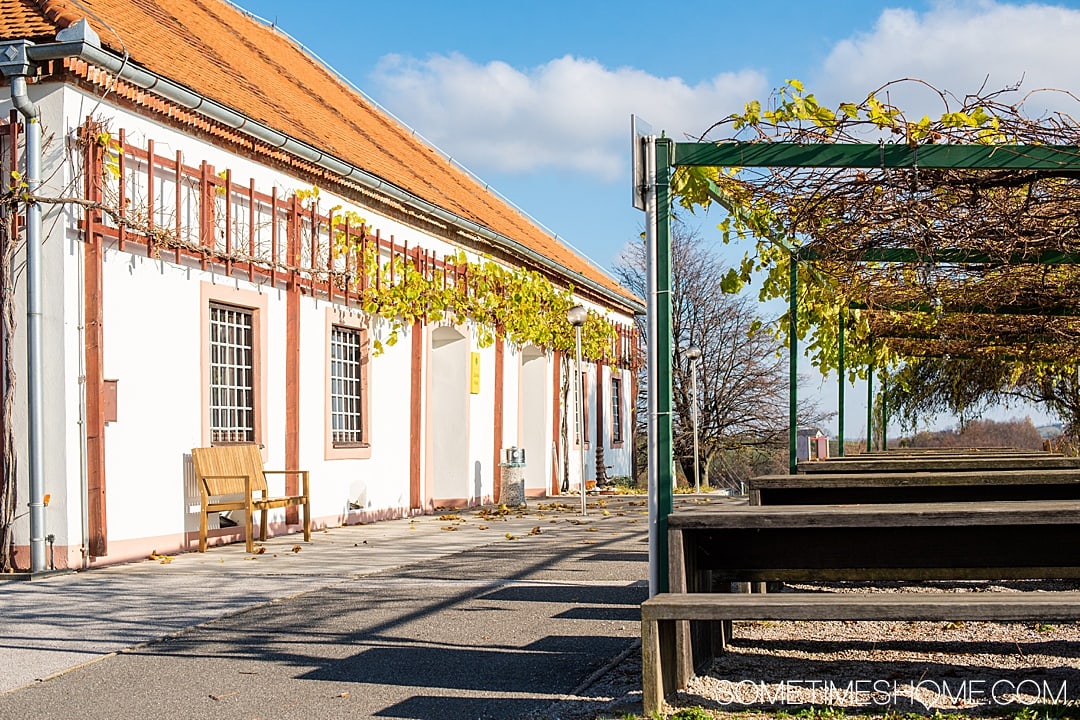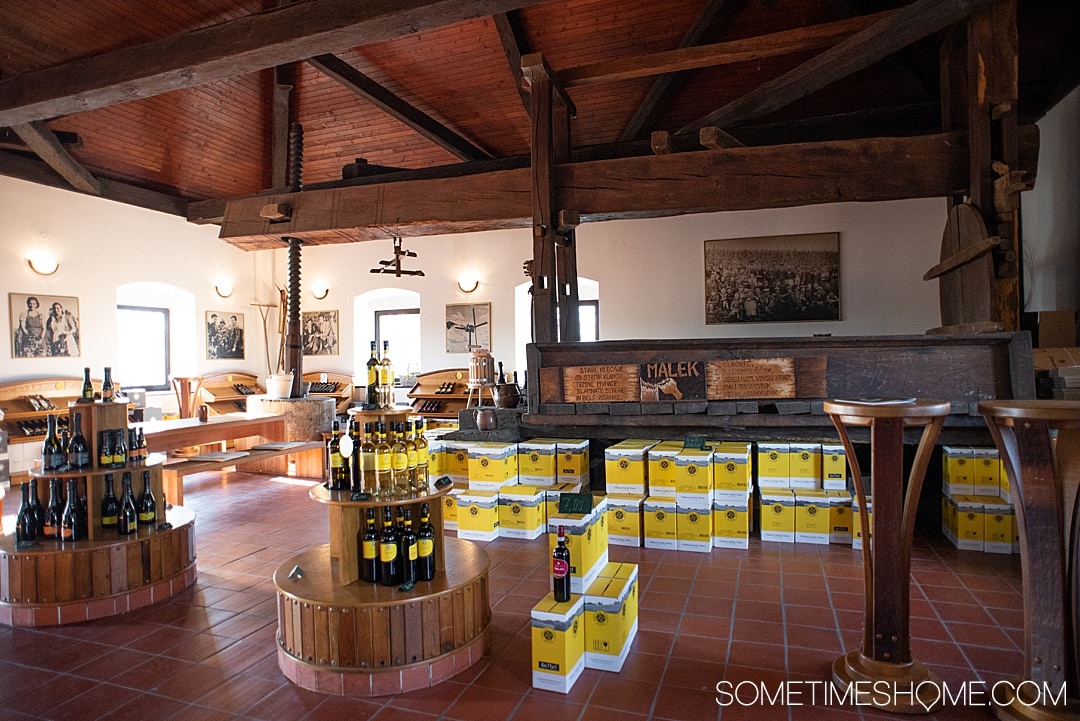 The five wines we tasted were:
Pinot Gris
Sĭpon – Furmint grapes are special in Slovenia and is made into a white wine called, "Sipon". It was delicious!
Chardonnay
Riesling
Treminotz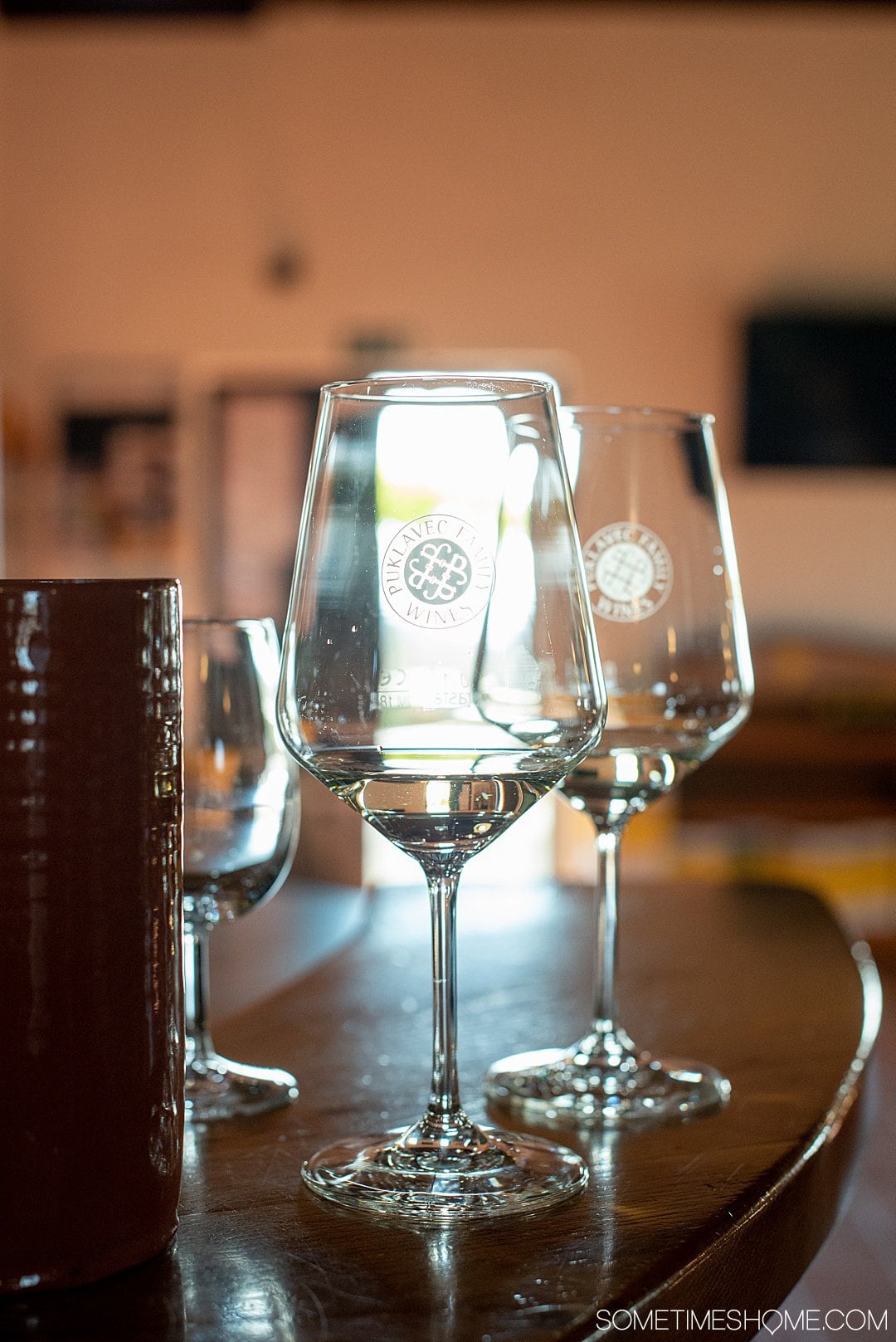 Afterwards we went to Taverna Kupljen Jeruzalem for a bite to eat. It's just down the road from Malek Vineyard, and is SO charming! It's like a little chalet in the middle of wine country! There was even a fire going in the fireplace when we ate there. We had Slovenian cheese and mushroom soup…and of course wine before hitting the road again. The views from Taverna Kupljen are just breathtaking!
Address: Svetinje 21, 2259 Ivanjkovci, Slovenia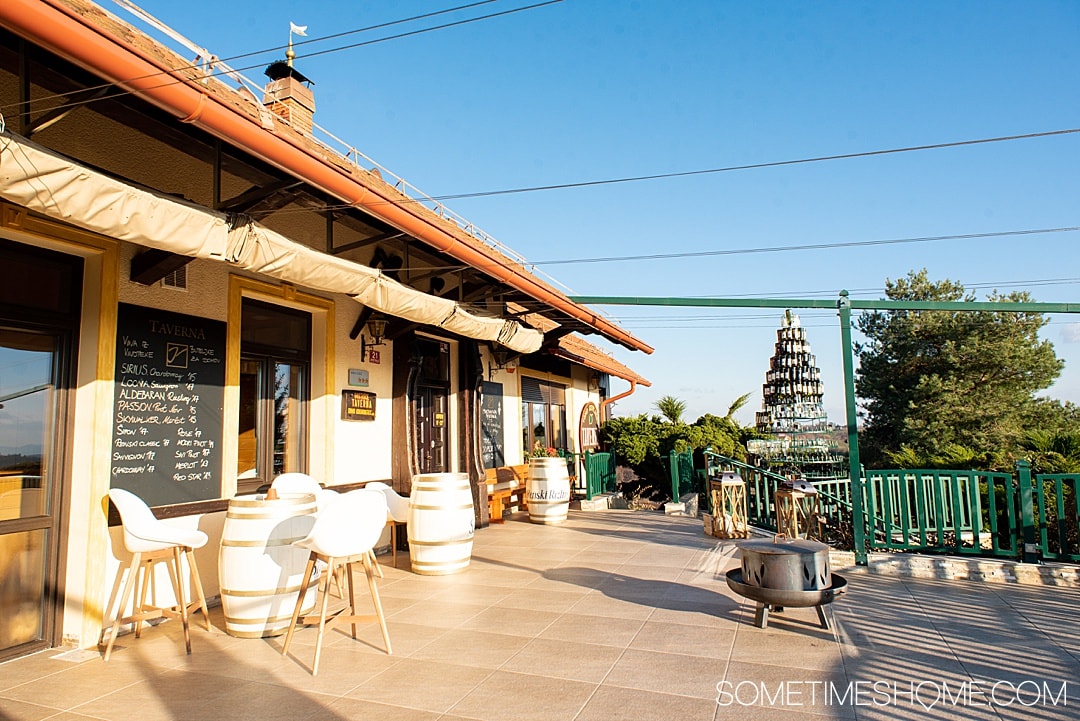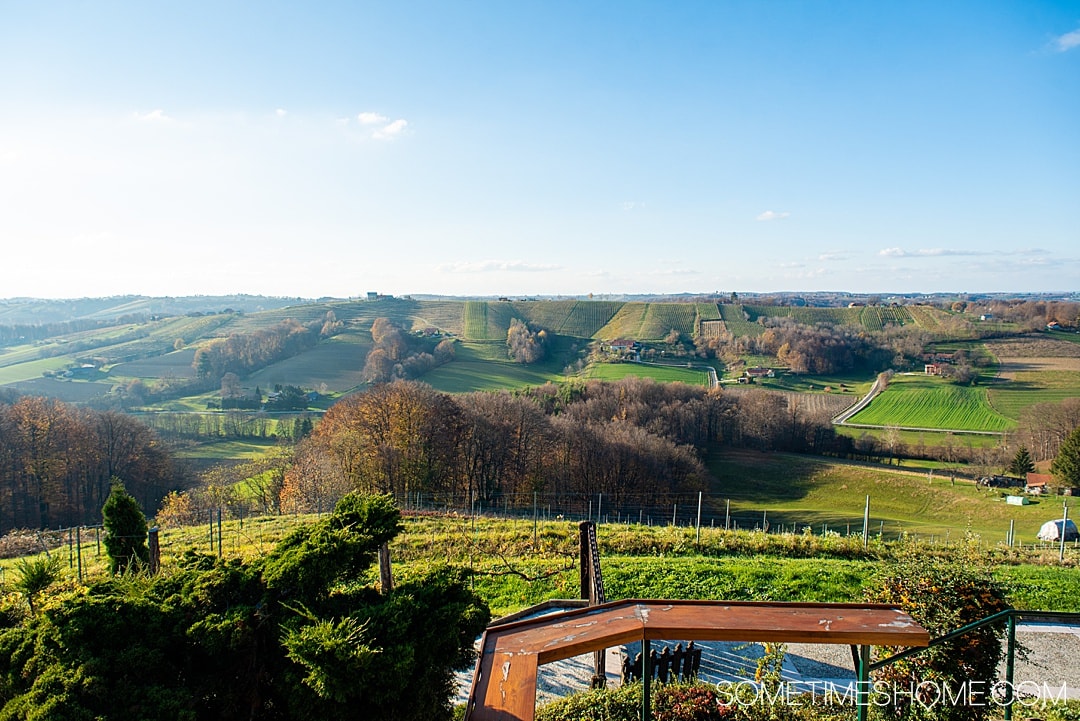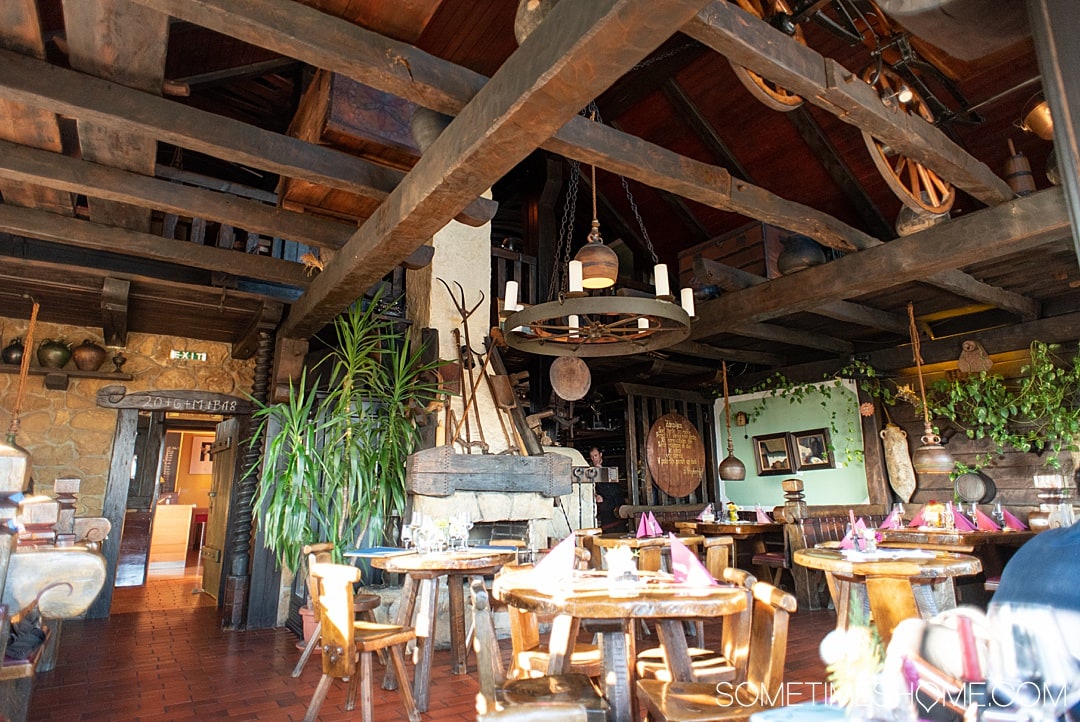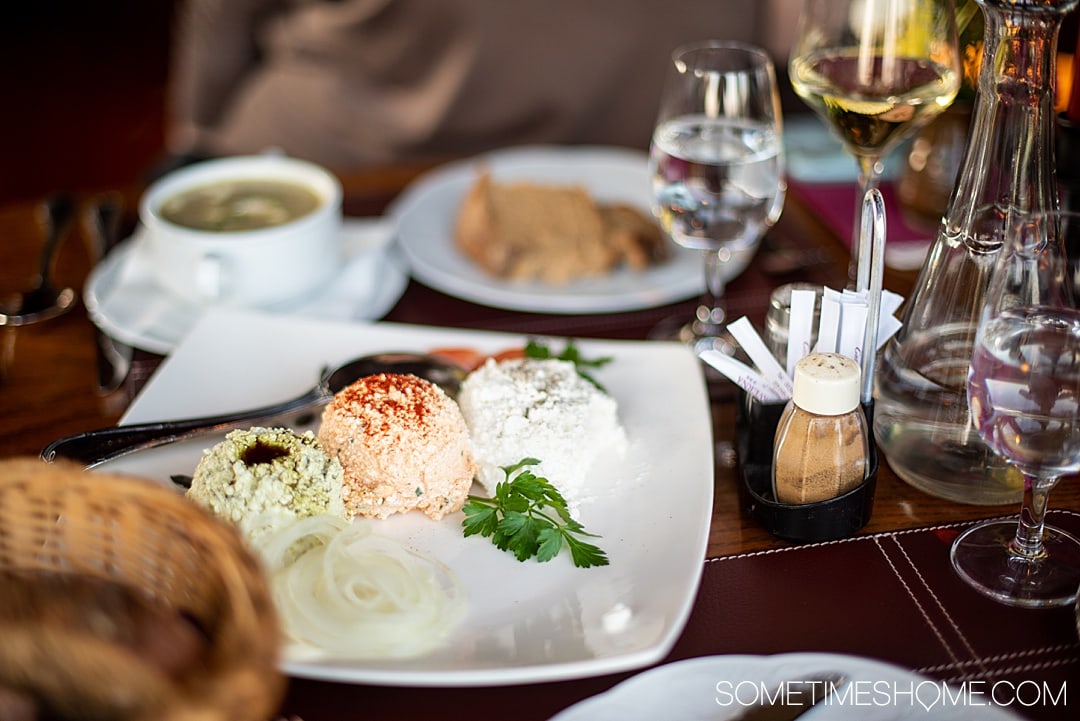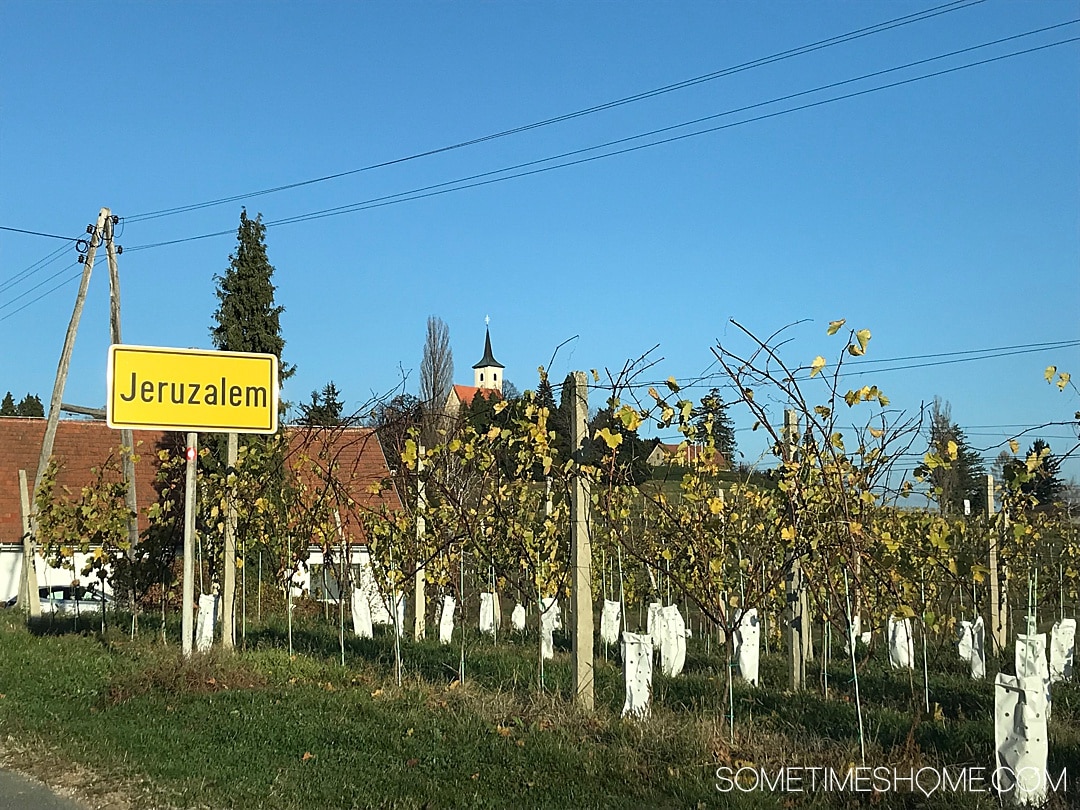 Stop 3: The Famous Heart-Shaped Road in Špičnik
We knew we had to make a stop at this must-do, bucketlist destination during our two days in Maribor as soon as we found out about it! There's a road within the Špičnik area of Slovenia, just bordering Austria, that looks like a heart when you view it from above. The roads that wind through the hilly area accommodate the terrain. And whether it was a happy accident or not we love the heart-shaped road.
We even loved the pop of yellow the fall vines provided for our photos. The sun sets early in the fall so if you're there in November like we were, not only do you want to arrive with enough daylight to see the view but you also want to leave some daylight to get back down the winding road. We felt that even with car headlights it felt a little unsafe if you don't know the roads. They're not really wide enough for two cars to pass one another.
Sunset on November 14 in Maribor, for example, is at 4:25pm!
The good news is seeing the heart-road in Slovenia at this time allows you to make one more stop to another winery afterwards!
So how do you get there? You can literally type "Heart Shaped Road" into Google Maps and it will show up! The address on Google is: Špičnik 19, 2201 Zgornja Kungota, Slovenia
We also recommend stopping at Vina Šerbinek if they're open when you visit. They were closed when we visited in mid-November but we would have gone in to have some wine if it was an option!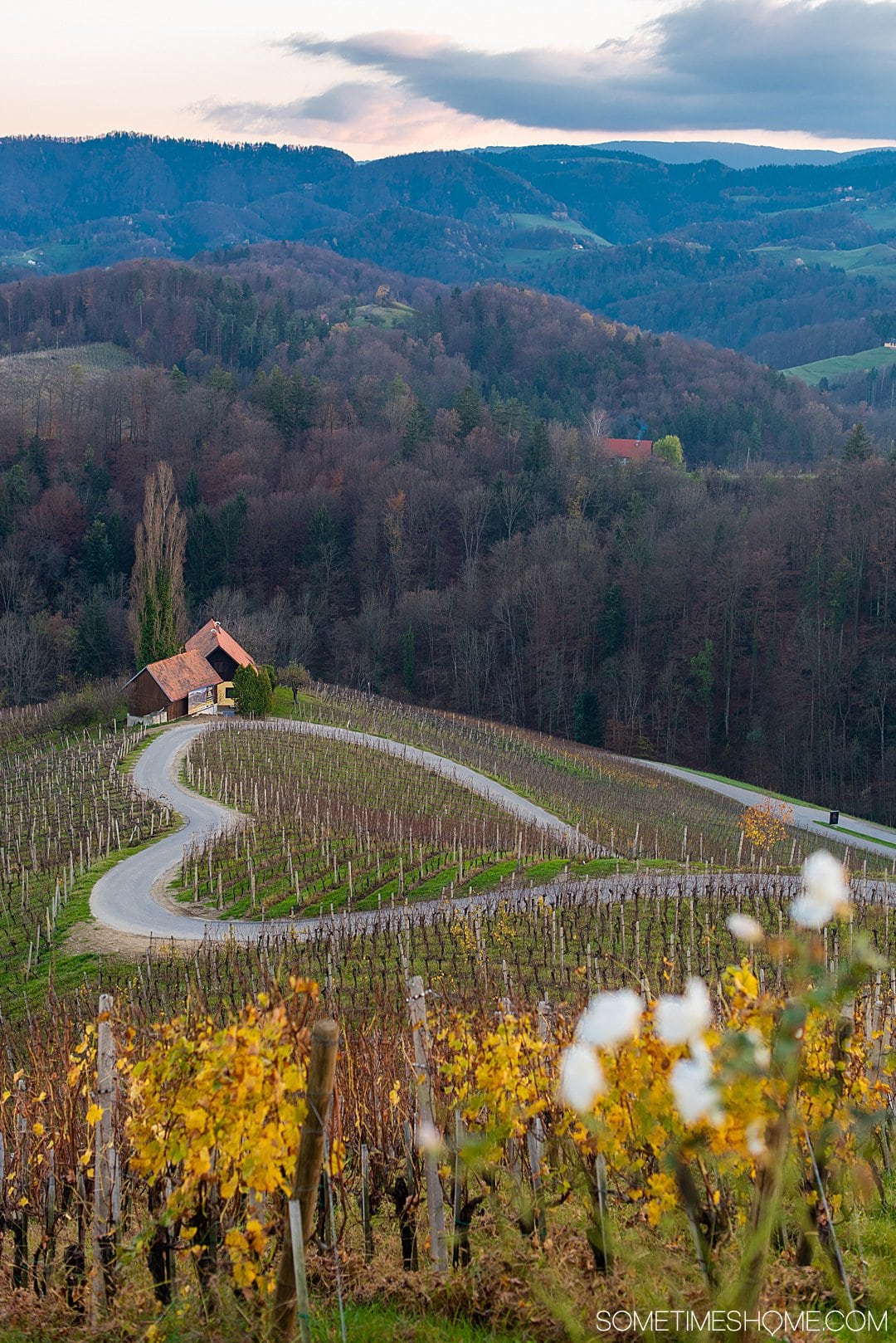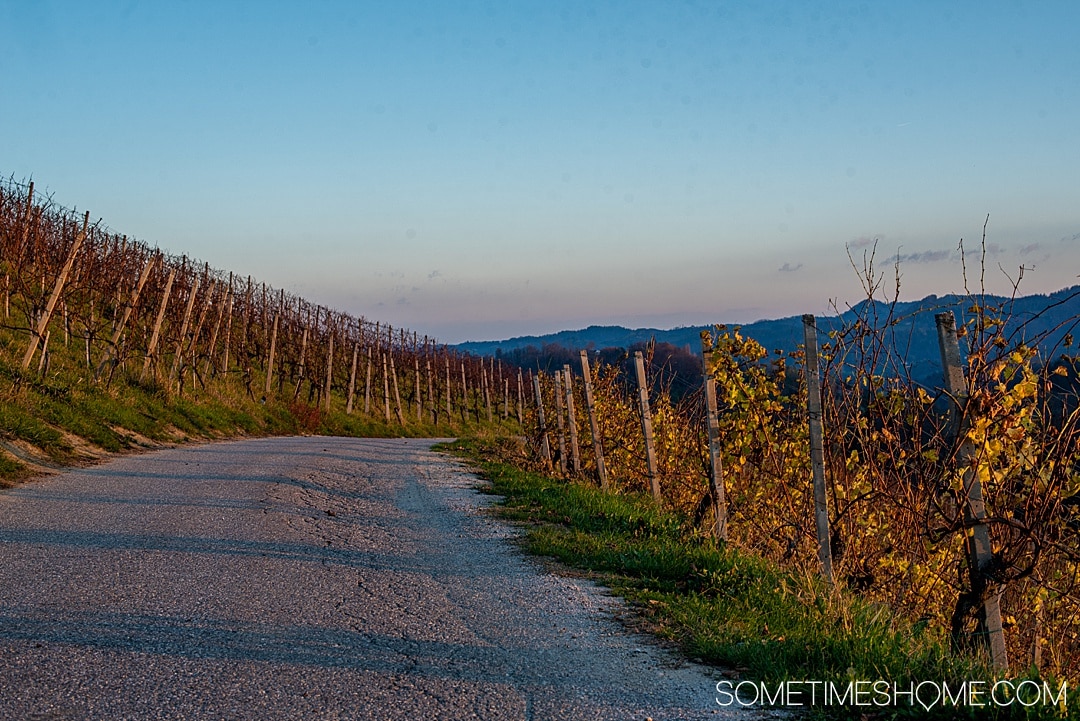 Stop 4: Doppler Winery and Restaurant
Doppler Winery is beautiful. I'm grateful we got to see it just before the sun sank below the horizon and shortly after, with stars twinkling in the night sky as dusk gave way to twilight. The cork table and chairs they have near the bar were wonderful! As I'm in the wedding industry I kept thinking what a great place it would be to rent out for a wedding or similar celebration. If they're open that evening for dinner…stay a while!
Address: Kozjak nad Pesnico 79, Zgornja Kungota 2201, Slovenia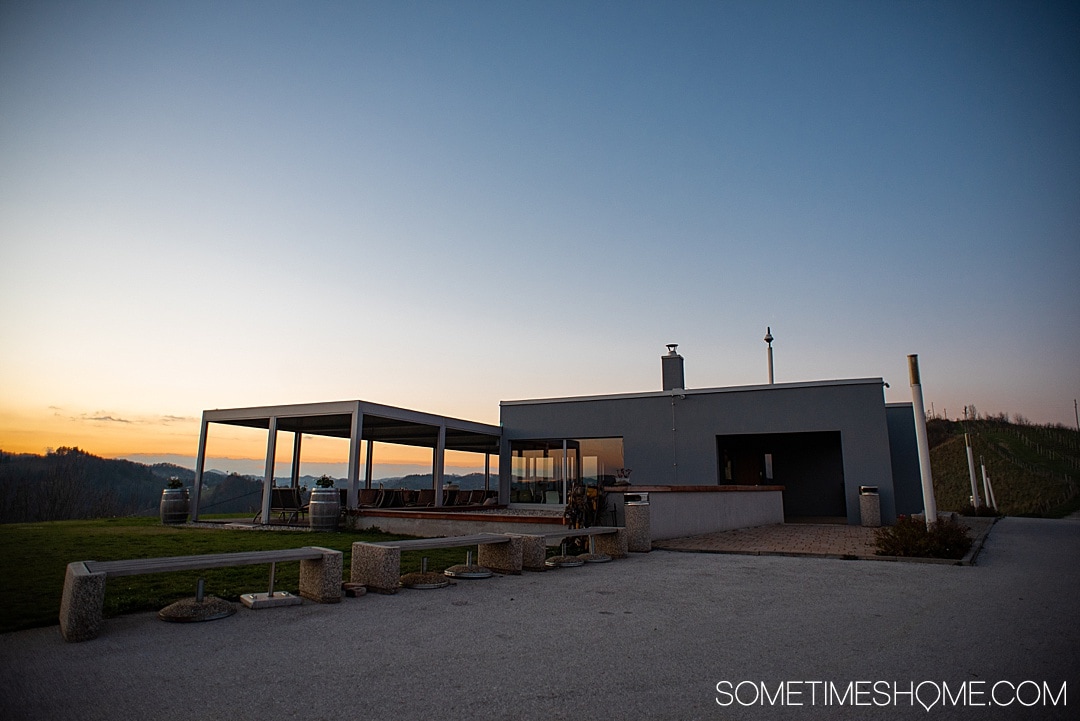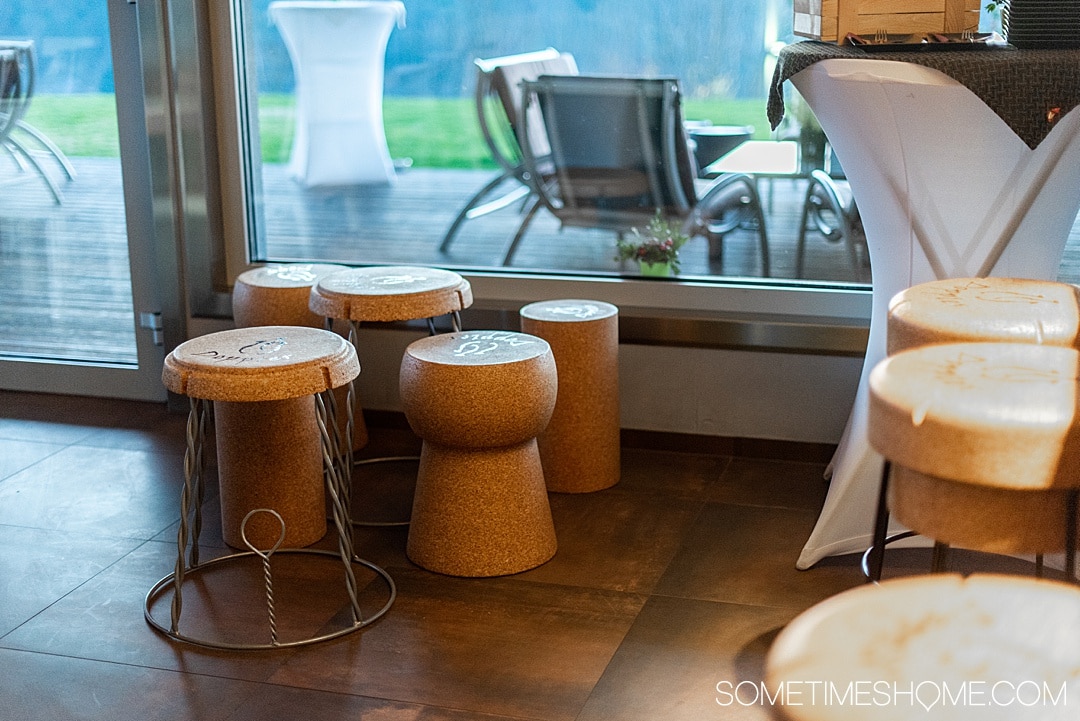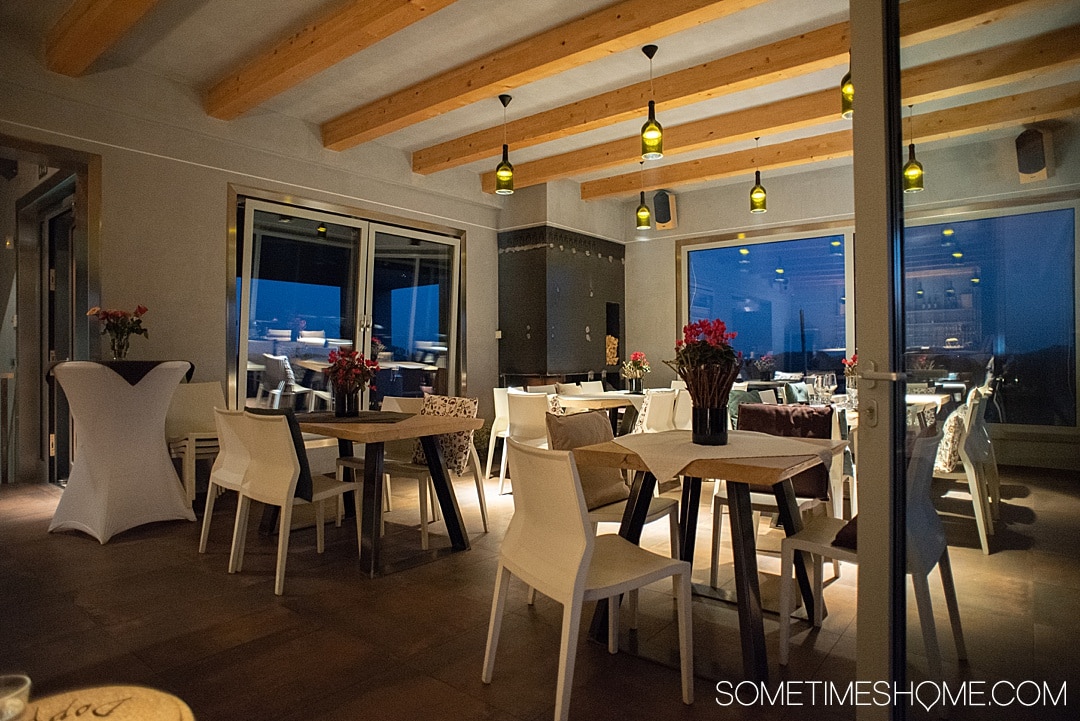 Please note: we thank Visit Maribor for generously hosting our walking tour and Old Vine House tasting. We also may make a small commission from affiliate links in this post but all opinions are ours and we bring you genuine content with real facts, photos, thoughts and recommendations. Always.
Heading to Slovenia? Also check out:
Would you plan a two day trip in Maribor as we've recommended?