If you're looking for where to stay in San Ignacio Belize, I have the perfect location for you: Table Rock Jungle Lodge. When we decided to travel to Central America we quickly knew we wanted a bit of the jungle and a bit of the beach; I feverishly began searching on TripAdvisor for hotels that would fit our needs in two cities on opposite sides of the country. Here's Where to Stay in San Ignacio Belize.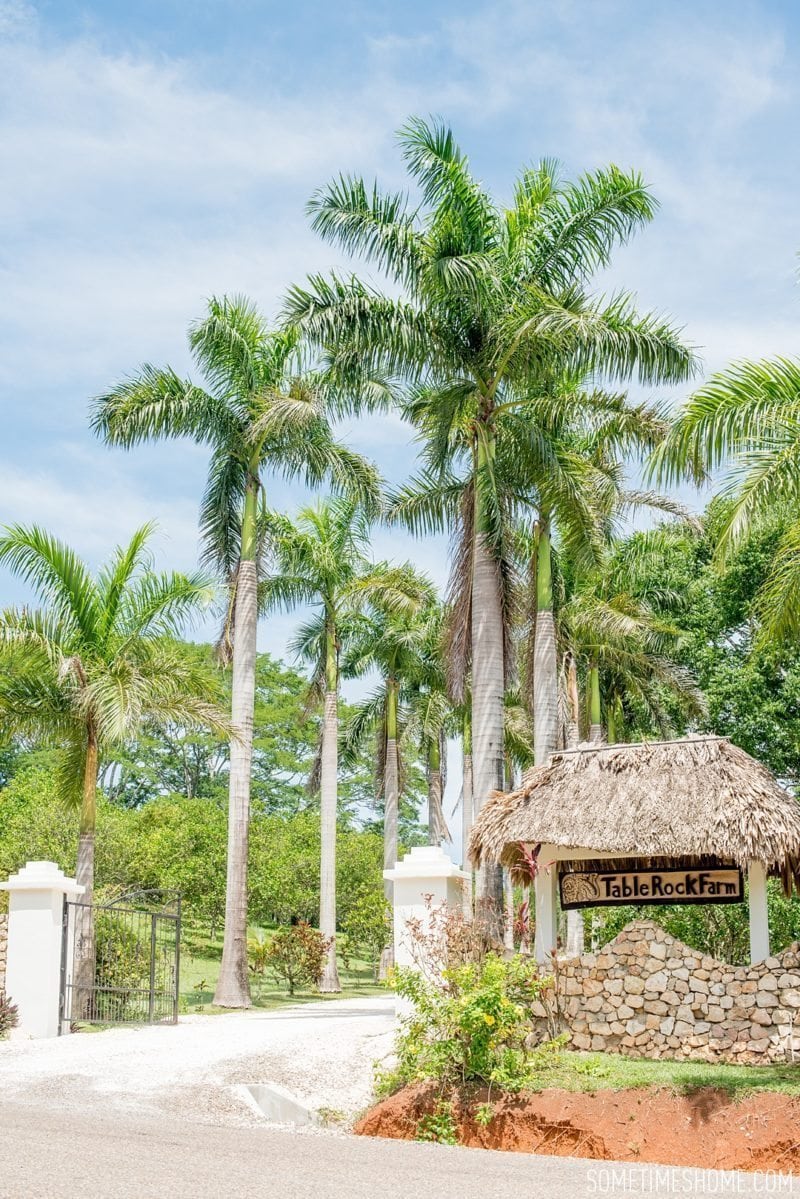 Criteria
My criteria wasn't too demanding. We were interested in:
good location
moderate rates
jungle vibe
Table Rock Jungle Lodge met all of the above in our search of San Ignacio Belize hotels. We booked four nights, four and a half days in August.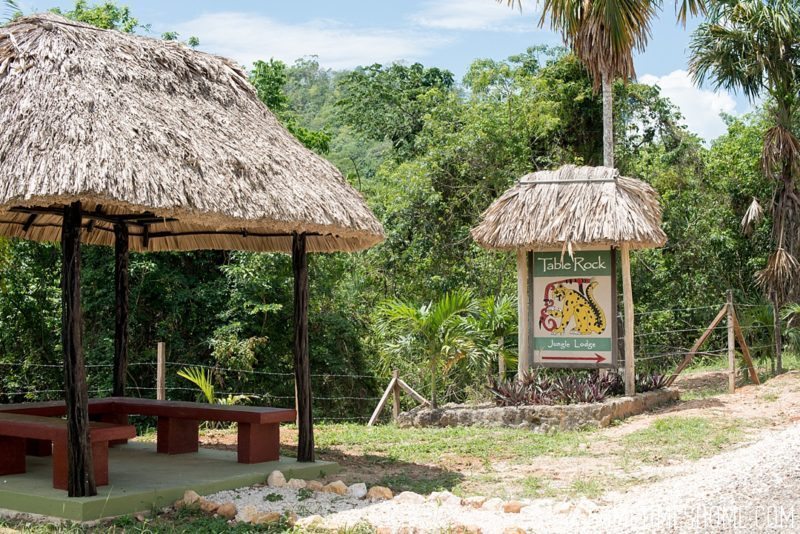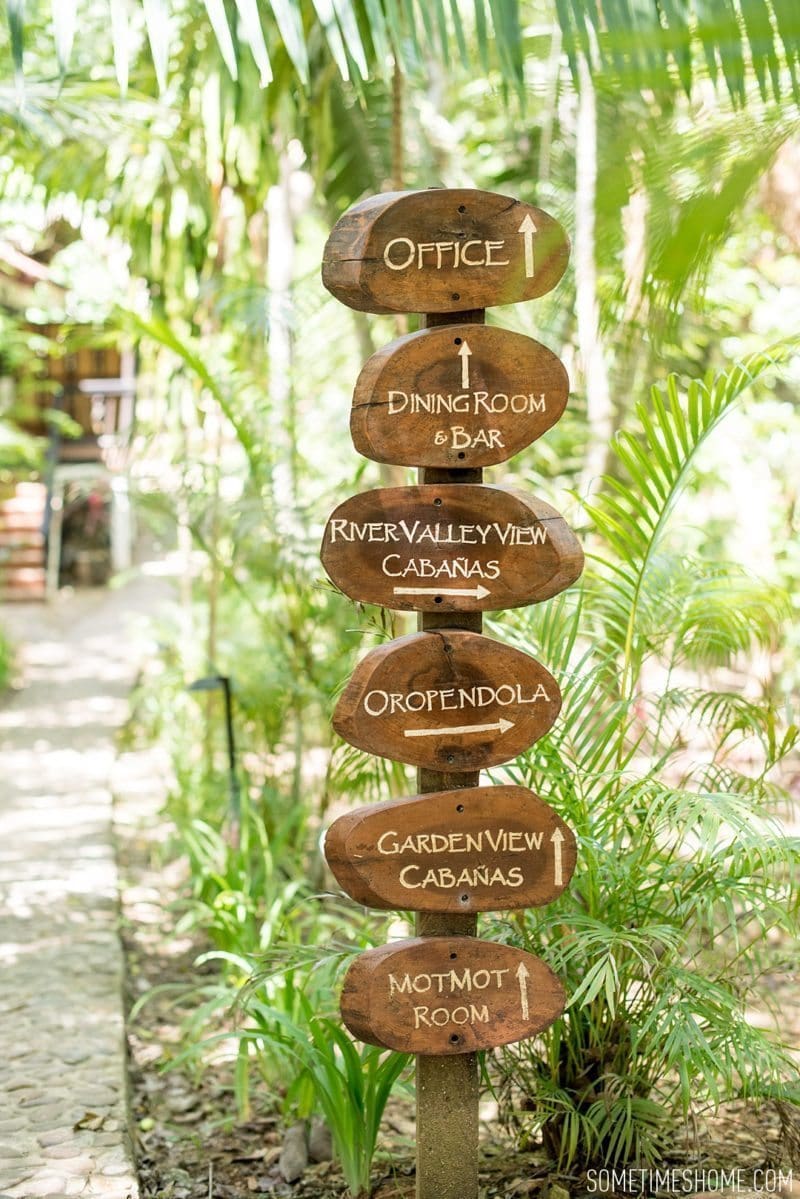 What We Loved About the Resort
Beautiful Grounds
The resort was incredibly well kept and manicured, even though they had just survived Hurricane Earl about a week before our arrival (which is now in the distant past). Alan, the owner, apologized for the "mess" and, though we appreciated his sentiment, we had no idea what he was talking about!
Sustainability
The best example of sustainability at the resort was only having USB ports in the rooms to charge devices, not full-fledged electrical outlets. Otherwise if you were hoping to blow dry your hair, for instance, you had to do so in a common area (pictured below). It was complete with comfortable hammocks and games and located near the dining area. This truly made it more pleasant for us! I felt safe and secure in leaving things to charge there, like my camera battery that needed a full fledged outlet/plug.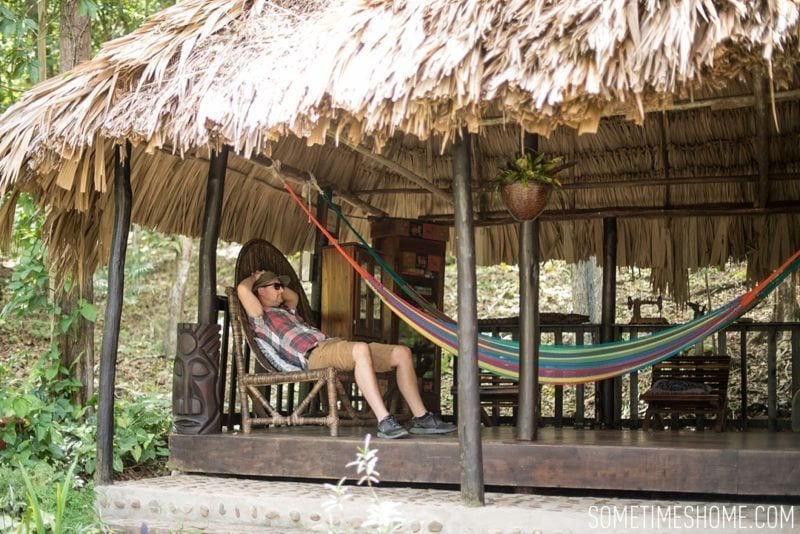 Resort Size
Table Rock Jungle Lodge is not a huge resort. Yet it's sizable enough that it would take you about an hour to walk its trails and enjoy the river view, excluding the farm. The limited number of villas and rooms makes you feel like it's an exclusive place to be.
Food
Their food was delicious. The food was some of the best we had in Belize. It's a little pricier for a meal there compared to in town but that's to be expected at a great resort. A true sign of the ingredient freshness is that you have to let the resort know you'll be attending meals ahead of time. It's all freshly crafted to accommodate the needs of guests. Colleen, the resort's co-owner, sent me a Google form to fill out before our trip regarding dietary requests and needs. The photo below is of the open-air dining space at Table Rock Jungle Lodge (so serene!). Our delicious breakfast we had the day we departed to drive east to the beach is also pictured.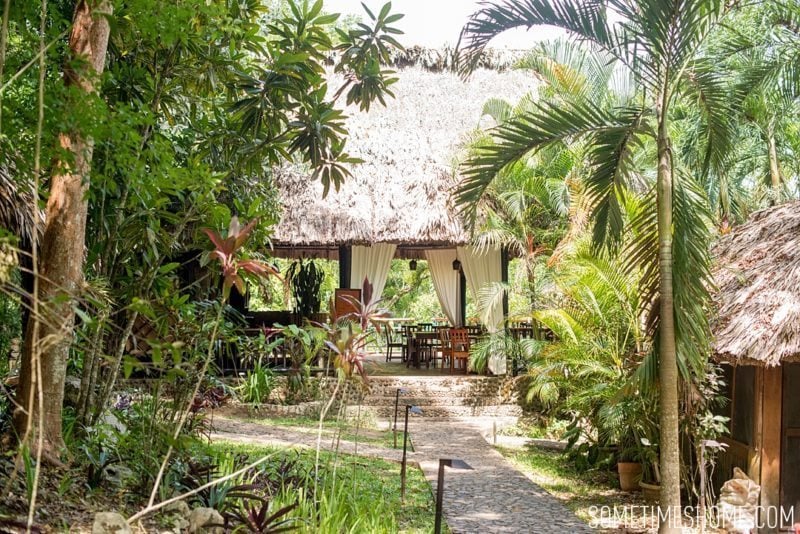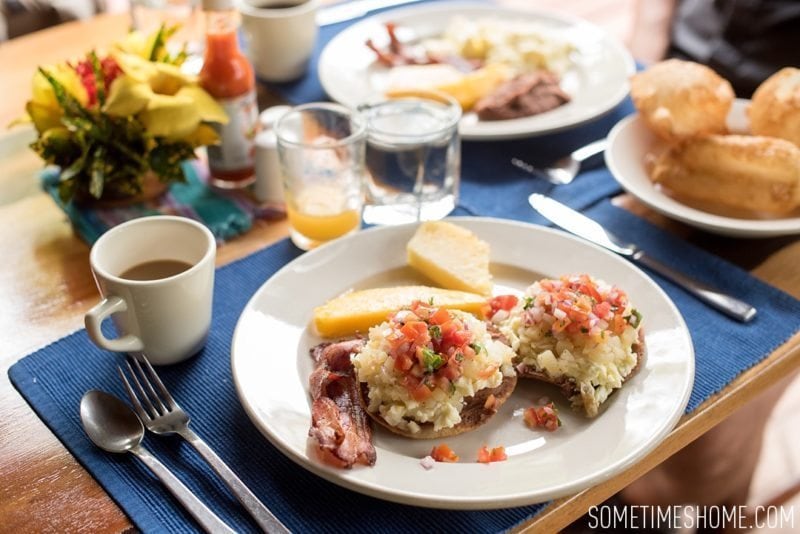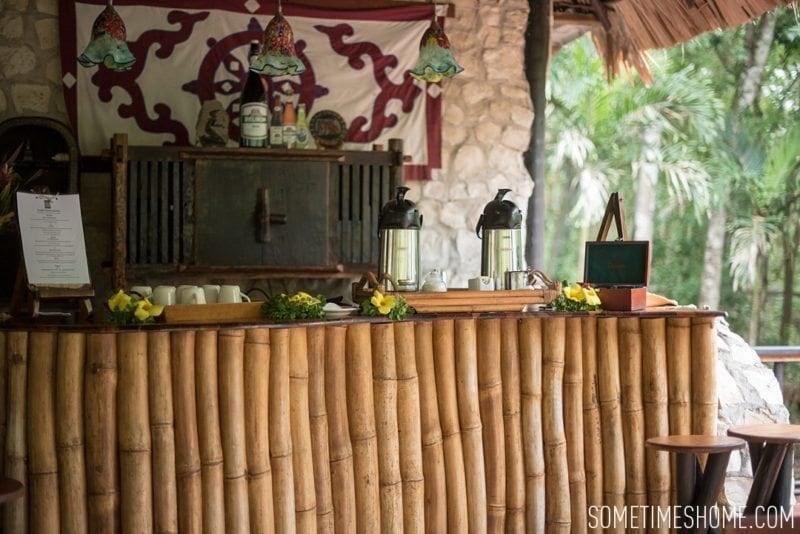 Owners and Staff
Table Rock Jungle Lodge owners, Colleen and Alan, were super friendly and visible around the resort. (We met Colleen and her son while exploring the farm the day we arrived, where they generously handed us a fresh mango to enjoy.) It was great to be able to interact with them in the evenings when they hung around the bar during dinner. They are truly kind-hearted and caring as is the entire staff; it felt like we were a little part of their family during our stay.
Wifi
It's a RELIEF to have limited wifi available. Wifi was strong enough for us to do some necessary email corresponding for my business (check out Mikkel Paige Photography!), but weak enough not to tempt us to constantly be connected.
Location
We really craved a jungle environment and we got that! Table Rock Jungle Lodge is located in the Cayo district of Belize, which is basically San Ignacio! It's inland and is in the jungle area, unlike Caye Caulker or Hopkins which is certainly the beach.
We spent our entire first full day in Belize at the lodge to simply unwind at our cabana and enjoy the grounds. San Ignacio's simply a 10 to 15 minute drive from the lodge, though. It's nice to have the option to go there to walk around or grab a bite to eat. (It's also the area you'll need to go to for many excursion departures, including ATM cave tours and the Tikal ruins adventure.)
Accommodations
Table Rock Jungle Lodge has five cabin/cabana options to choose from on their website with 2018 prices ranging from $175/night to $305/night, depending on type and season. (Types include: garden, jungle view, river valley and rainforest.) If you're a party of six or more you can rent their vacation home, Shamrock Bluff, for about $340-$460 per night depending on whether it is high or low season.
We opted for something befitting our budget (as Belize was supposed to be our more affordable trip of the year) and went for a Queen Jungle View. Features of our cabana, called Mot Mot, included: private cabana, second walkway directly from the parking lot the cabana, open-air screened in top wall around the perimeter of the cabana (bats became our friends, not enemies – and no, thank goodness bats never entered our cabana interior!), private swings on our front porch, private hammock for our use, beautiful "natural" feeling shower lined with polished stones, two ceiling fans (which certainly come in handy when coping with the summer heat), couch and coffee table.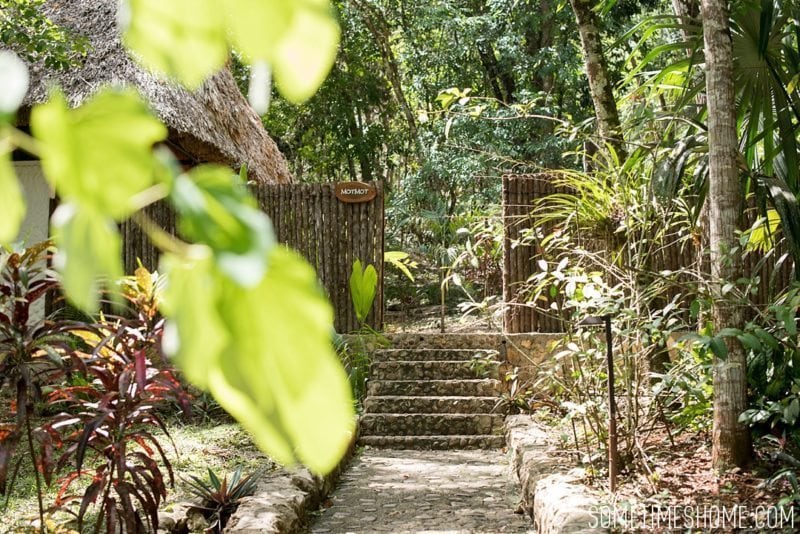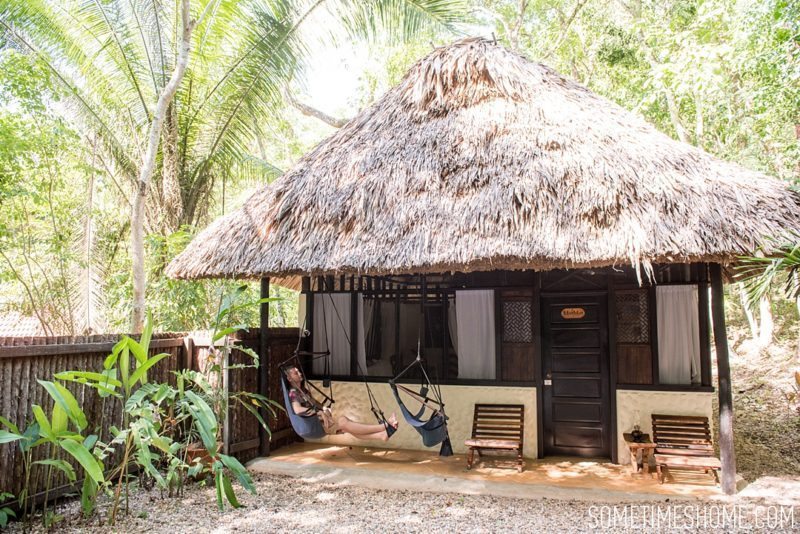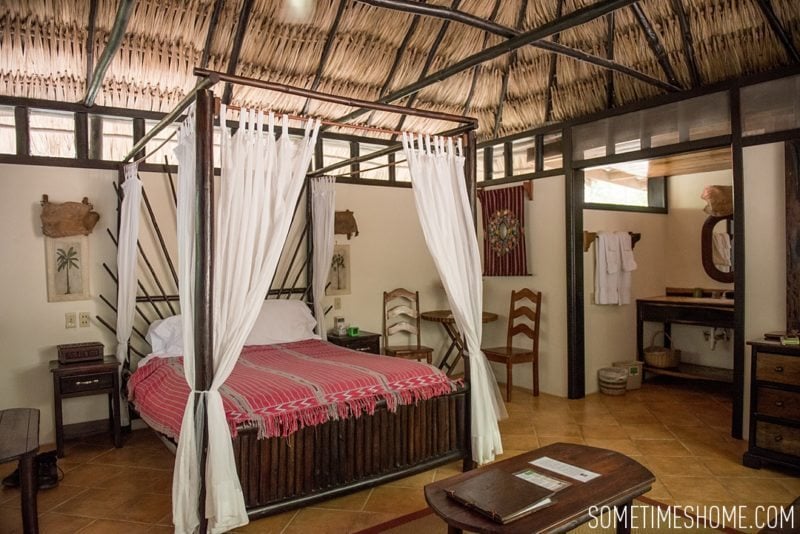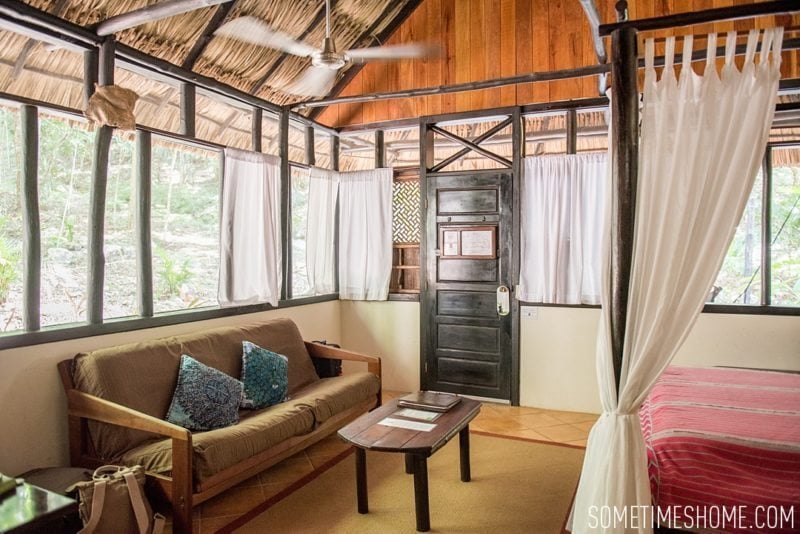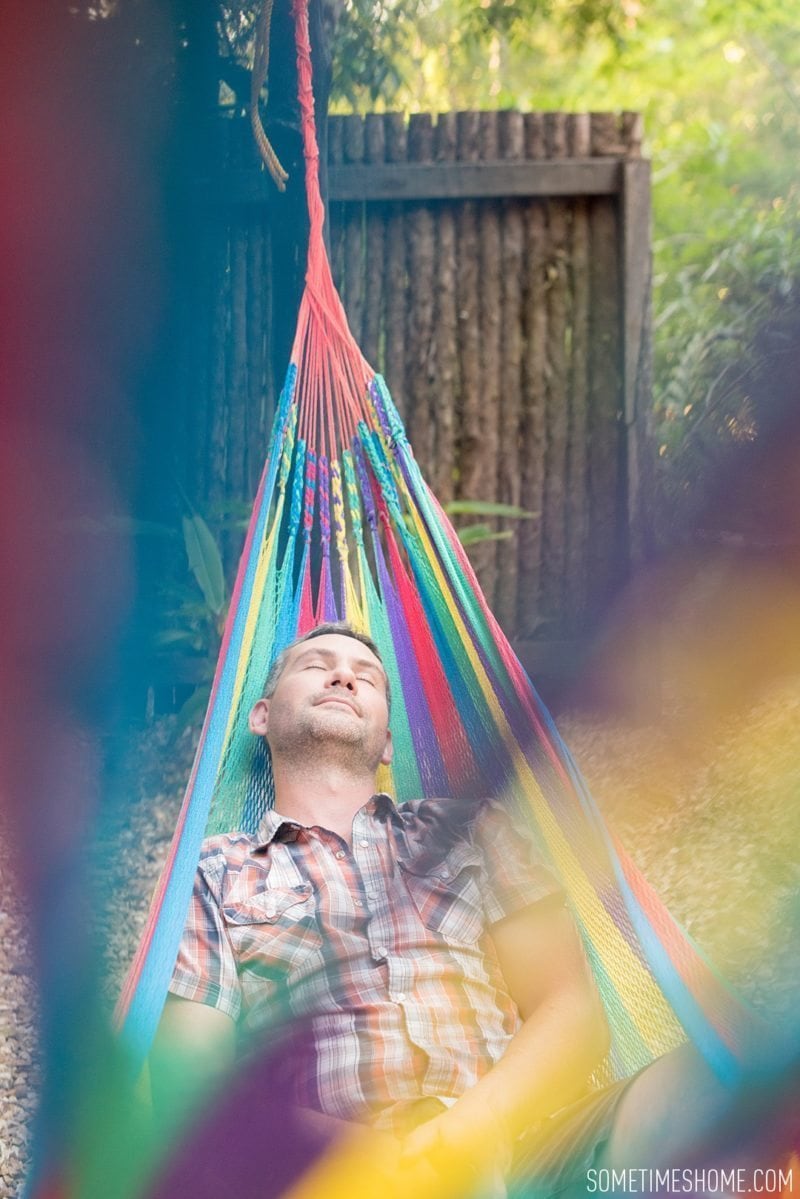 Parking
We rented a car from the airport for the duration of our stay in Belize. It was easy to drive to and park at Table Rock Jungle Lodge, where it is complimentary. We never had trouble finding a parking spot in their small, accessible lot. (The drive from the main entry road into the resort to our cabana was about five minutes.)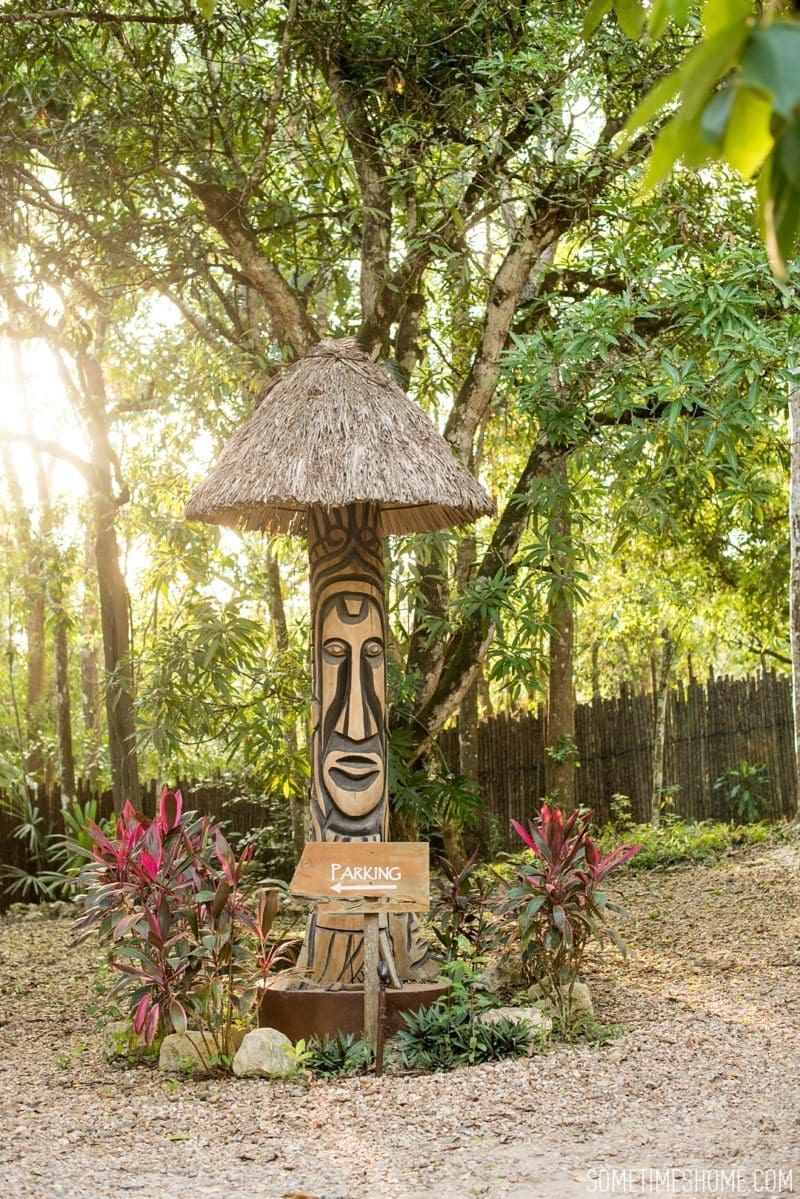 Table Rock Farm
This was certainly a highlight. I love fresh fruit and vegetables and they have a working farm on their property. Guests are free to pick Valencia oranges, avocados, limes and mangos, to name a few. (You drive past the farm when you enter the property to get to the main area of the resort.) Understandably, they simply ask to only pick what you're going to eat.
Even MORE? There was a knife and cutting board in our room. We happily enjoyed wine and fresh fruit in our front garden space one evening before dinner. The kitchen was able to provide us with a container for our uneaten mango so we could save for the next day. They labeled it with our room info and refrigerated it for us as well. It's special touches like this that made our stay truly unique and thoughtful.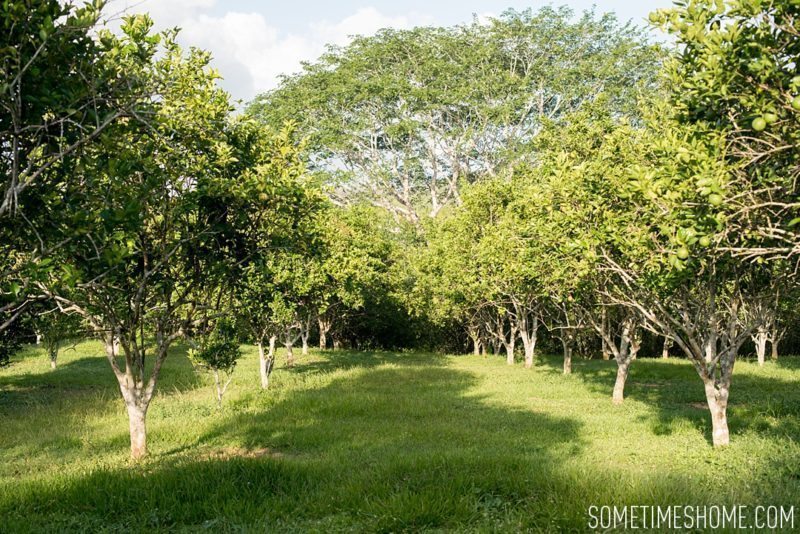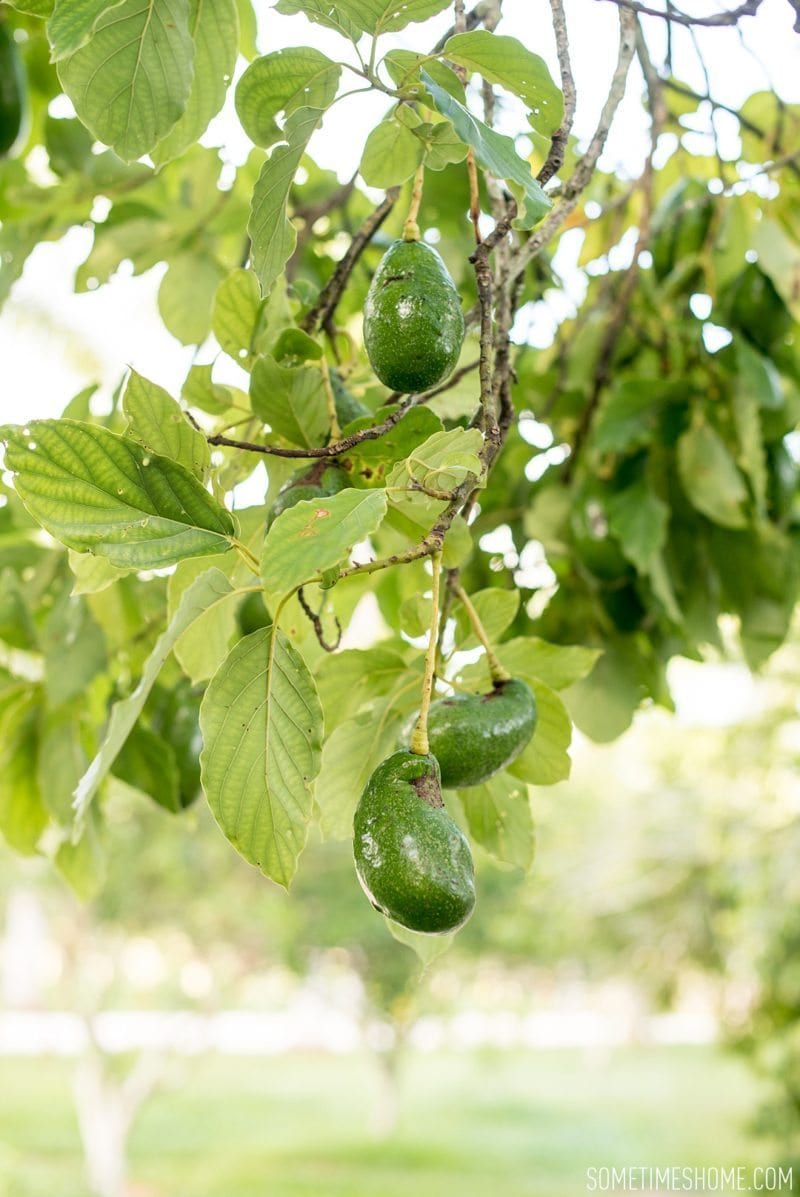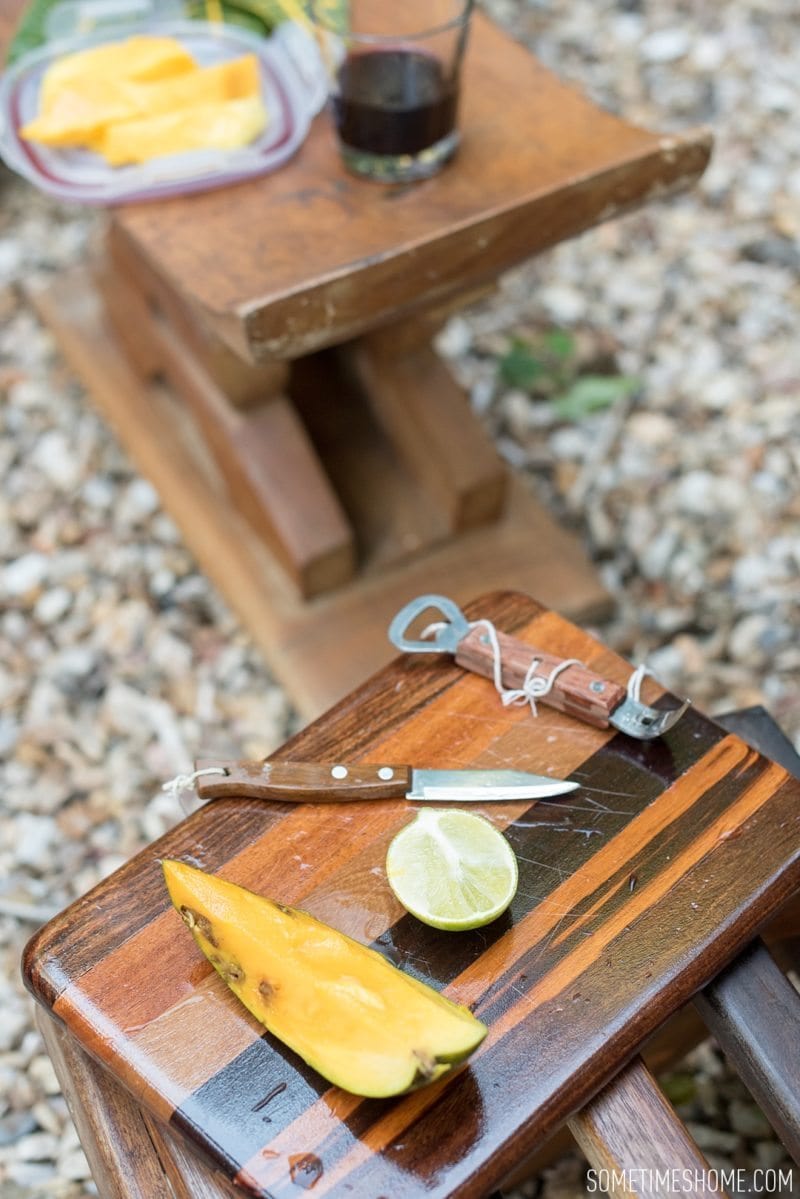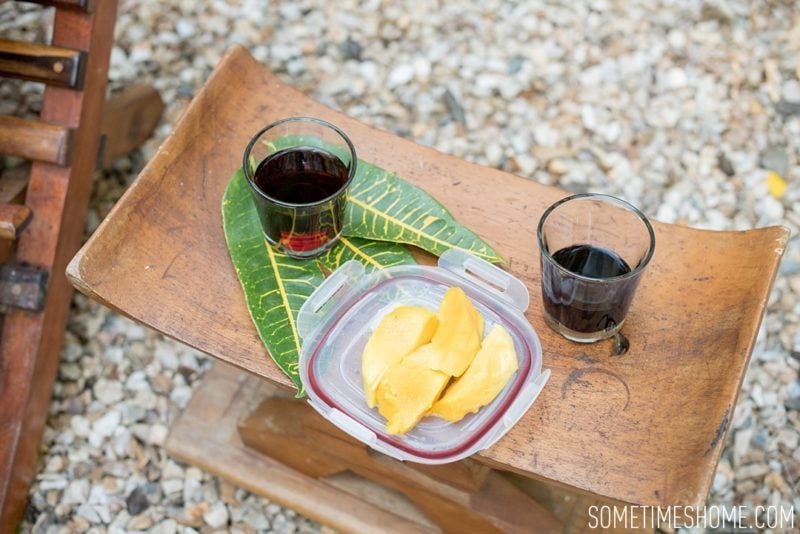 Playful Resort Friends
Did you know donkeys are friendly, docile creatures? We do…because they have a bunch of donkeys on their property you're welcome to interact with! The kitchen staff is happy to provide scraps of food to feed them if you ask.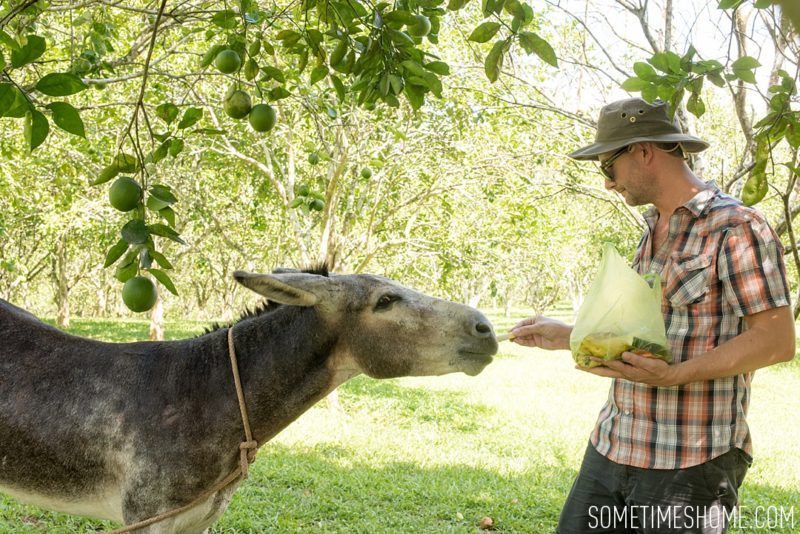 Water Fun
The only drawback we felt the effect of was unfortunately not being able to cool off in the very nearby river, which was incredibly murky/muddy due to the recent hurricane. However, this is uncommon and when the river is clean, safe and guest-ready, so to speak, canoes are available to rent. They even have a thorough guide in rooms noting where to canoe to for lunch.
The great news is they completely crush the competition within San Ignacio Belize hotels because they built a pool since we visited!
We were sad to go but grateful for the stay and experience, which can be yours too.
Disclaimer: we may earn a small commission if you book a stay at Table Rock through our link. However would you know about all its awesomeness, in entirety, if not for the post? We cannot recommend it enough and do not endorse anything we don't love and we appreciate you, our readers!
For more information on Belize check out:
Would you prefer to stay in the jungle….or directly in town? Comment and let us know!