5 Great Things to Do in Rosarito Mexico
I went into Rosarito blindly because I knew nothing about this beach city in Baja California, Mexico. I certainly didn't know about all the great things to do in Rosarito, including its great photo locations, resorts, and beaches. Sometimes that's the best thing though – to be surprised about a destination, without any pre-conceived opinions or thoughts on it, just a clean slate.
It wowed me and the abundance of things to do in Rosarito Beach quickly had me falling in love with the essence of the area.
We recommend a visit if you are in southern California since it's just a short drive across the border!
Disclosure: There are affiliate links in this post, which means we may earn a small commission if you click the link and proceed with a purchase, at no cost to you. We also thank the Rosarito Hotel for generously hosting our stay. We truly only recommend hotels, products, and services we personally use. As Amazon Associates, we earn from qualifying purchases.
Stay at Rosarito Beach Hotel
We stayed overnight at this oceanfront property when we visited. Rosarito Beach Hotel was built in the mid-1920's and has a lot of wonderful features. From its picturesque infinity pool to walkways lined by banana leaves, to its original mansion I found photo inspiration at every turn. They even have a spa if you want to allot some extra time for self-care and pampering!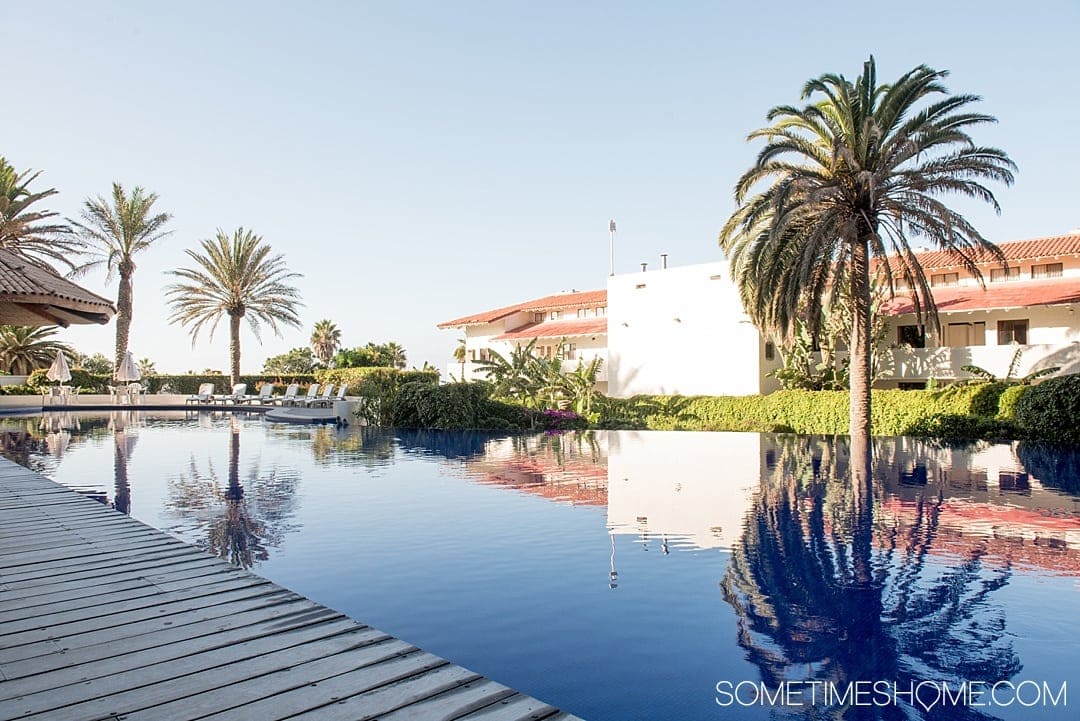 Enjoy Rosarito Beach Hotel's amenities
From the spa to the restaurant, drinks, and pool there's so much to do at this stunning hotel. Schedule a massage at Casa Playa Spa, have margaritas in the gorgeous hotel lobby or dine on ceviche and tacos at Azteca, the hotel restaurant.
Visit Festival Plaza
We loved this abandoned, colorful plaza.
Most of it is gated but there's no need to try to trespass because its exterior was the highlight. With an upside-down jester, red and white diamond paint job, wave pattern walkways, and gorgeous palm trees we were happy visitors.
Soak up the Sun and Sand on Rosarito Beach
It'd be criminal to go to a beach town and not walk on its sand or hear the waves crashing to the shore. One of the "must" things to do in Rosarito Mexico is visiting the beach!
I walked along a very small area of the sandy coastline and found so much to love about Rosarito Beach.
Beach necessities
Don't forget to pack these beach essentials to protect yourself from the sun and stay hydrated! (It never hurts to look fashionable too.)
Stay safe in the sand and sun
no products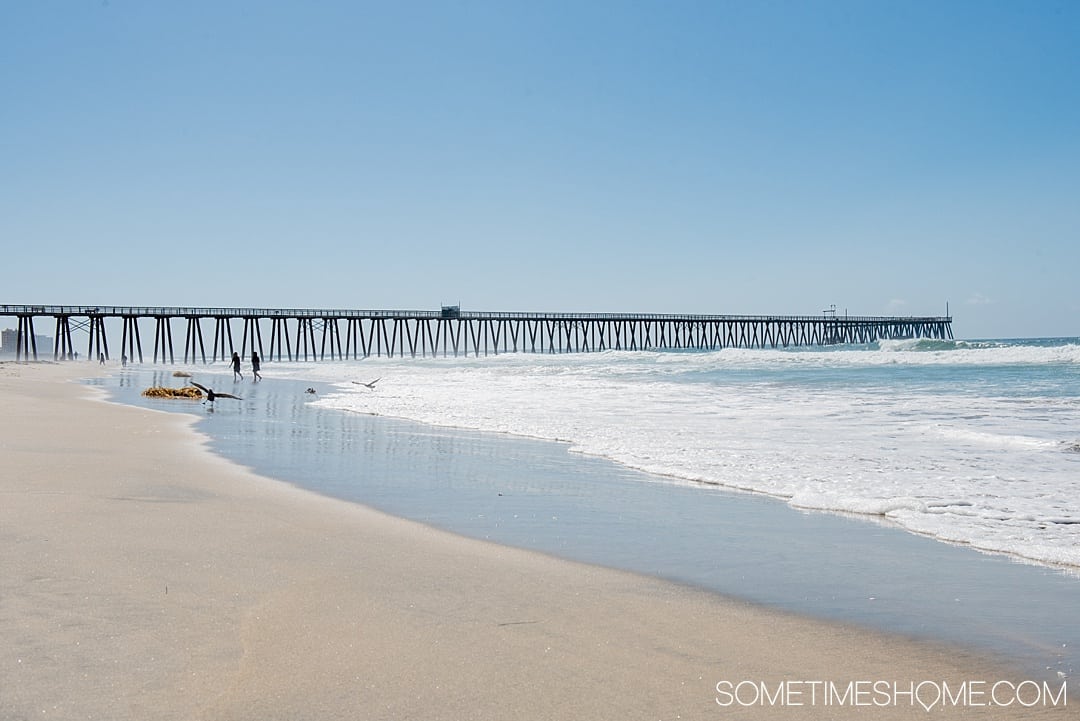 If you're on the beach, know there are plenty of things to do in Rosarito Mexico beyond simply laying in the sand or swimming in the ocean.
Go Horseback Riding on Rosarito Beach
If you're looking to do something romantic or an activity, rent a horse for a little while. We saw them leashed to posts in a couple spots, with their owners nearby if you wanted to go riding. (It's one of the great things to do in Rosarito, actually!)
Go Surfing
Whether you're a surfing novice or seasoned pro, rent a surfboard and catch a wave.
Walk the Dock at Rosarito Beach
If you're looking for something a little more low-key, you can always walk the dock that goes far out above the ocean. It's also a great photo location.
Check out the Assorted Murals Around the Area in Rosarito Mexico
Street art is a funny thing so I hesitate to recommend any one piece, in particular, because it's ever-changing (as evidenced by street art anywhere, from Zaragoza, Spain, to Tampa, Florida).
But it was abundantly apparent that street art in Rosarito won't be going away any time soon – there was plenty of it! If you walk north from Rosarito Beach Hotel, past Festival Plaza, and go west towards the water you'll see a good amount of attractive art as you meander through the neighborhood. It's great for Instagram-worthy photos or TikToks, and it's certainly a colorful area that will brighten anyone's day.
Eat at a Fabulous Rosarito Beach Restaurant
There are a lot of good eats in Rosarito Mexico. Here are two places within walking distance of Rosarito Beach Hotel for you to try.
El Nido
I walked past this restaurant thinking I was in the wild west or suddenly at a ranch. What was this place, sided with zig-zagging wooden boards and wagon wheels? I quickly learned it was El Nido, a popular restaurant in the area.
It has a beautiful interior courtyard, oozing with greenery and beauty. They serve breakfast, lunch and dinner and are vegetarian friendly.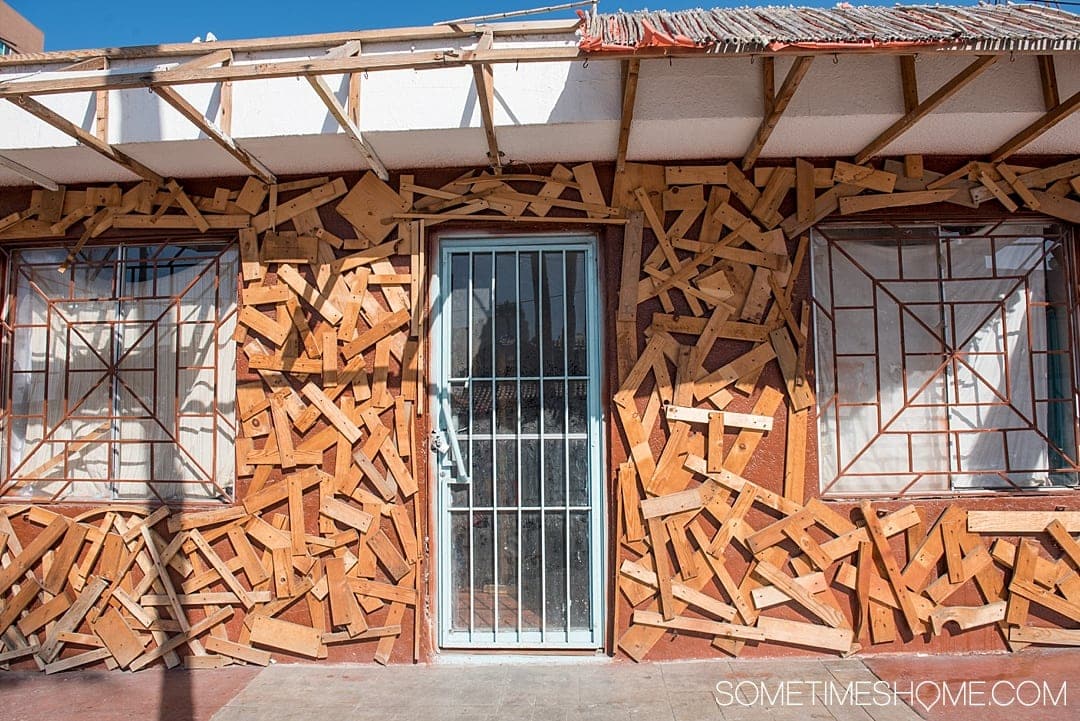 Susanna's
An American ex-pat, named Susanne Stehr, loved Rosarito Beach so much, she moved there and opened her own restaurant! Susanna's is just around the corner from El Nido. She brought California cuisine down to Rosarito Mexico. Though it wasn't far, her influence was welcomed; the restaurant has been a mainstay in the area for many years.
This American restaurant has Mexican influences in its flavors and is vegan and vegetarian friendly. They serve wines from the Baja California area of Mexico, where Rosarito Beach is located. (Think local! Save the planet!)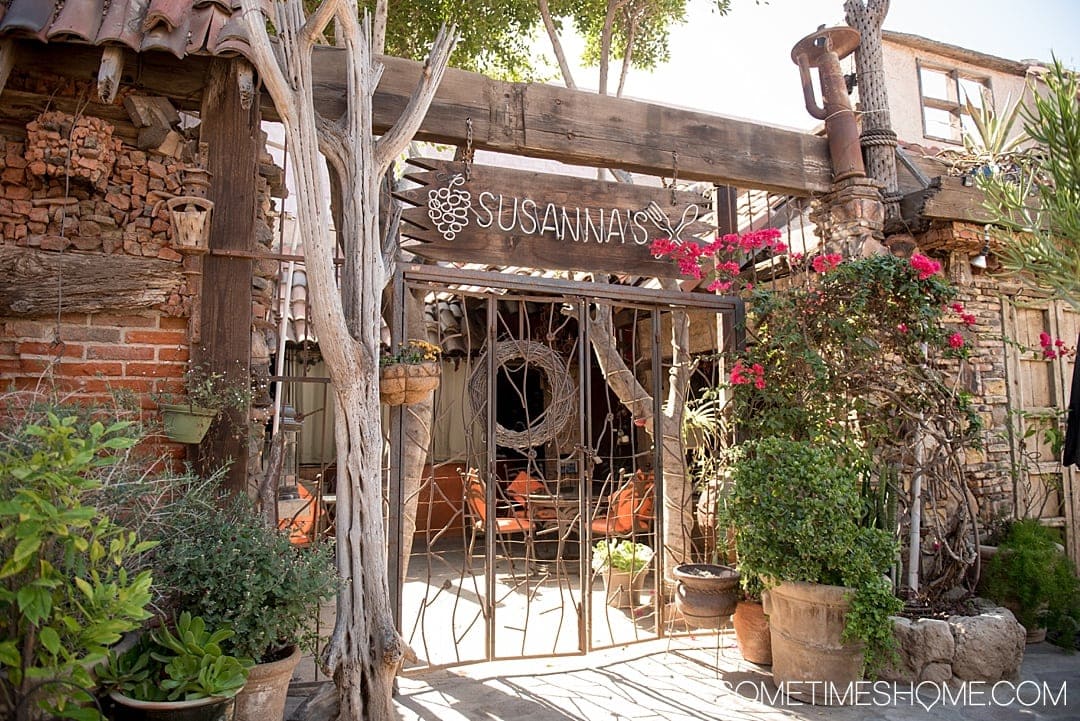 For more info on the Baja California Peninsula check out: