Take Advantage of the NC Scenery: Best Lake Norman Waterfront Restaurants
Why not find Lake Norman waterfront restaurants that allowed us to doing something we adore (eat!) while enjoying the great views? It was a win-win when we traveled to Lake Norman for a weekend getaway.
North Carolina views are plentiful and gorgeous and lakefront views at Lake Norman are no exception. It's just north of Charlotte and easy to get to.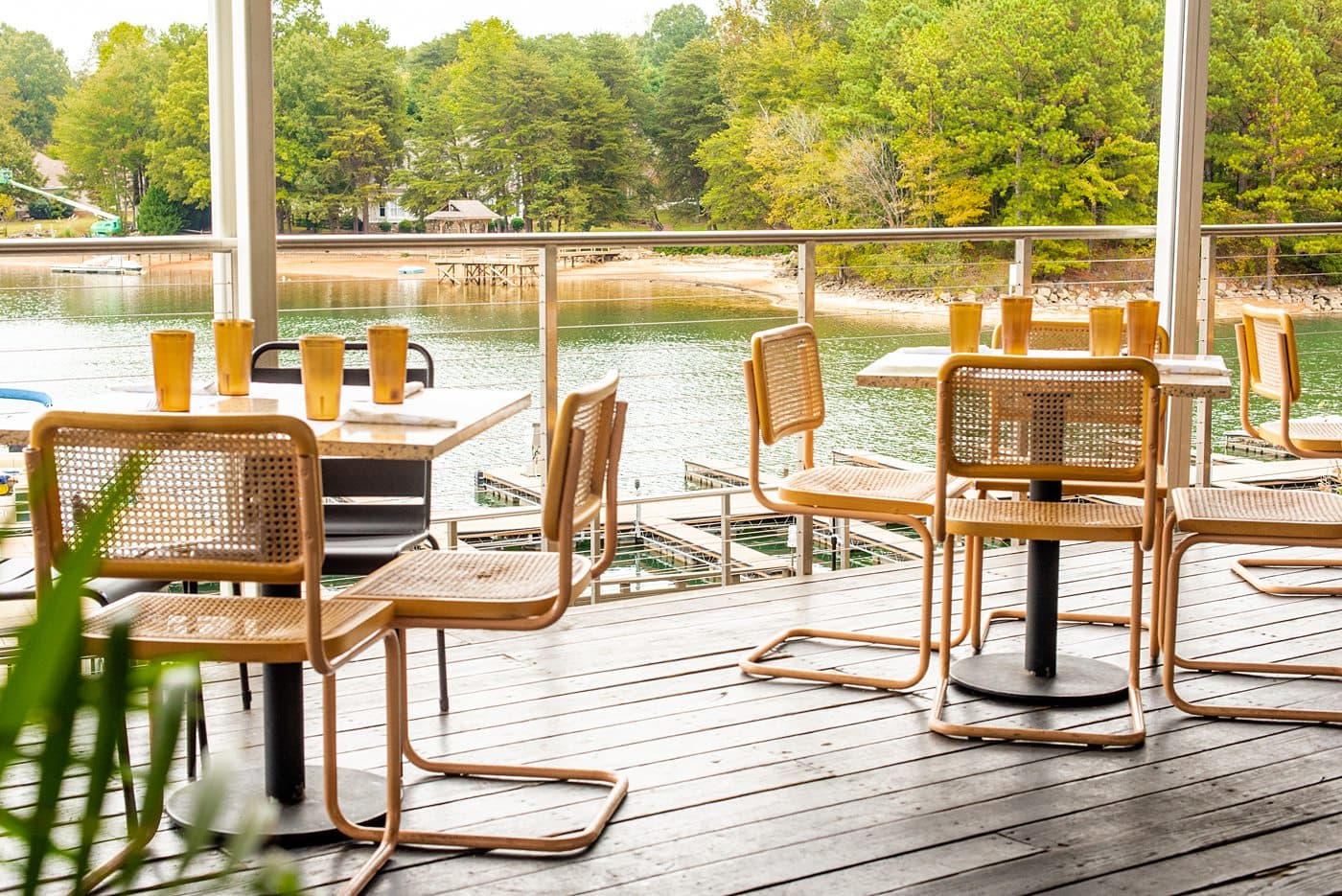 You will love the food and the scenery at these three Lake Norman Waterfront Restaurants:
1. Hello, Sailor
2. Port City Club
3. North Harbor Club
There are other restaurants to grab food with a waterfront view physically on the "coast" of Lake Norman, but these are the three best ranking for views, food, decor and drink options. They're also restaurants where customers can arrive in their boats and dock in a boat slip as they eat. What a way to arrive in style!
Hello, Sailor
No, that's not a typo. "Hello, Sailor" actually has correct punctuation in its name! (Thank you, grammar gods!) This is the c-u-t-e-s-t restaurant on the shore. The photo opportunities are endless. But what's more is the food is great and the cocktails creative and delicious.
You drive up to a restaurant in Cornelius, NC with the cutest Mid-Centruy Modern facade and plenty of parking in the lot out front. As soon as you walk in the door a velvet yellow couch beckons you for photos. (We obliged.) Macrame wall decorations, framed prints and bohemian mirrors surround you.
Don't get too distracted by the awesome plant wall by the hostess stand as he or she shows you to your table! You can always go back to the front of the restaurant later, as we did.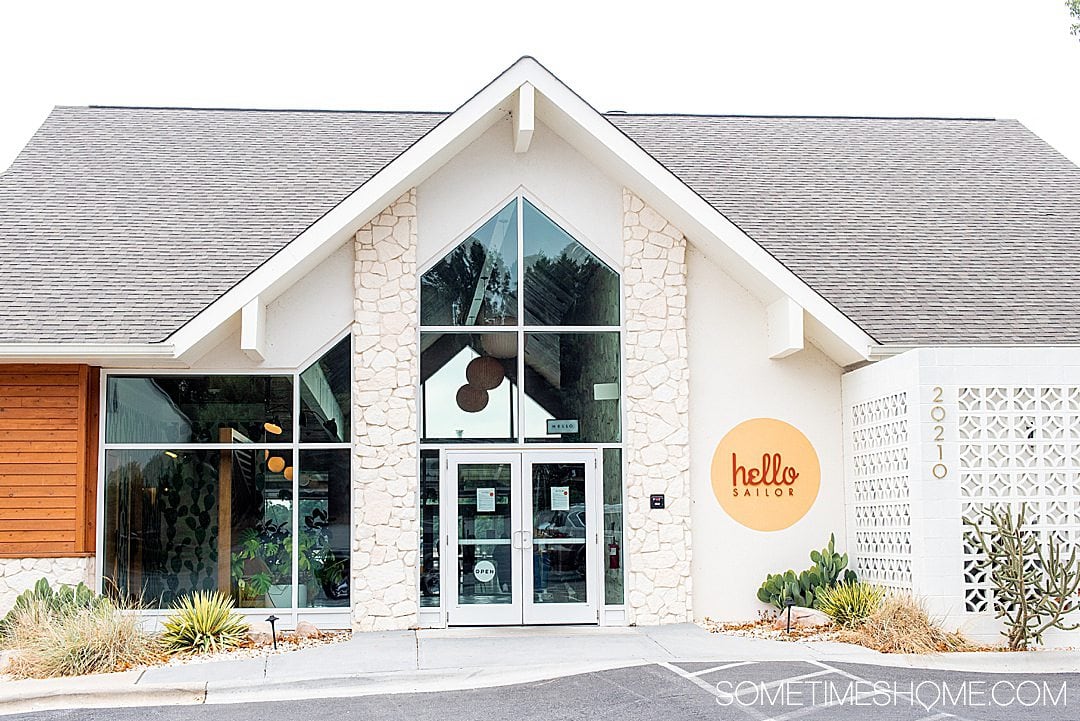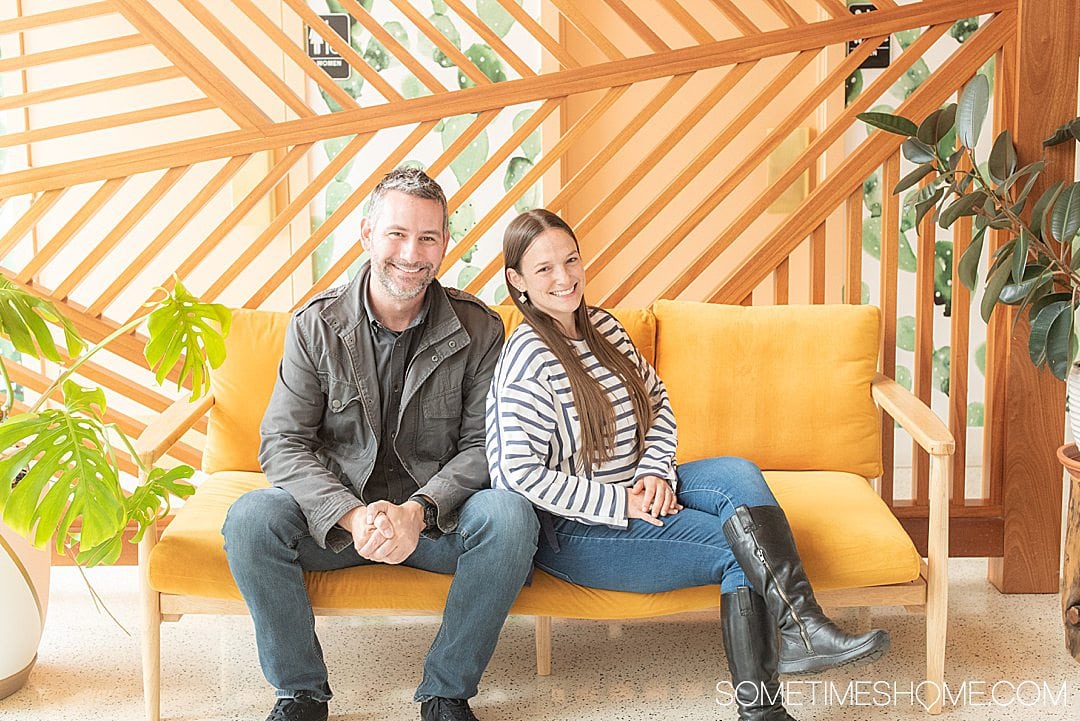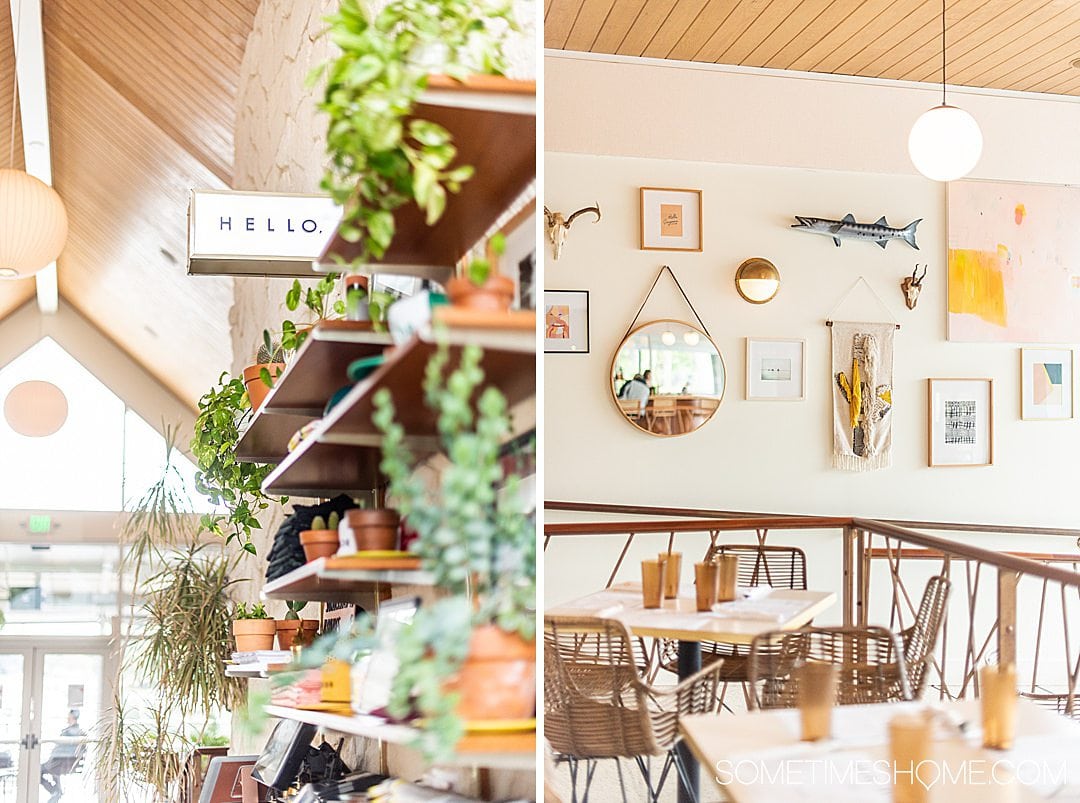 The bar was very tempting – we love sitting in front of a bartender, crafting cocktails – and the yellow fireplace nearby seemed cozy with the fall breeze. However, they have heaters on the outside patio and we couldn't resist the Lake Norman waterfront restaurant views.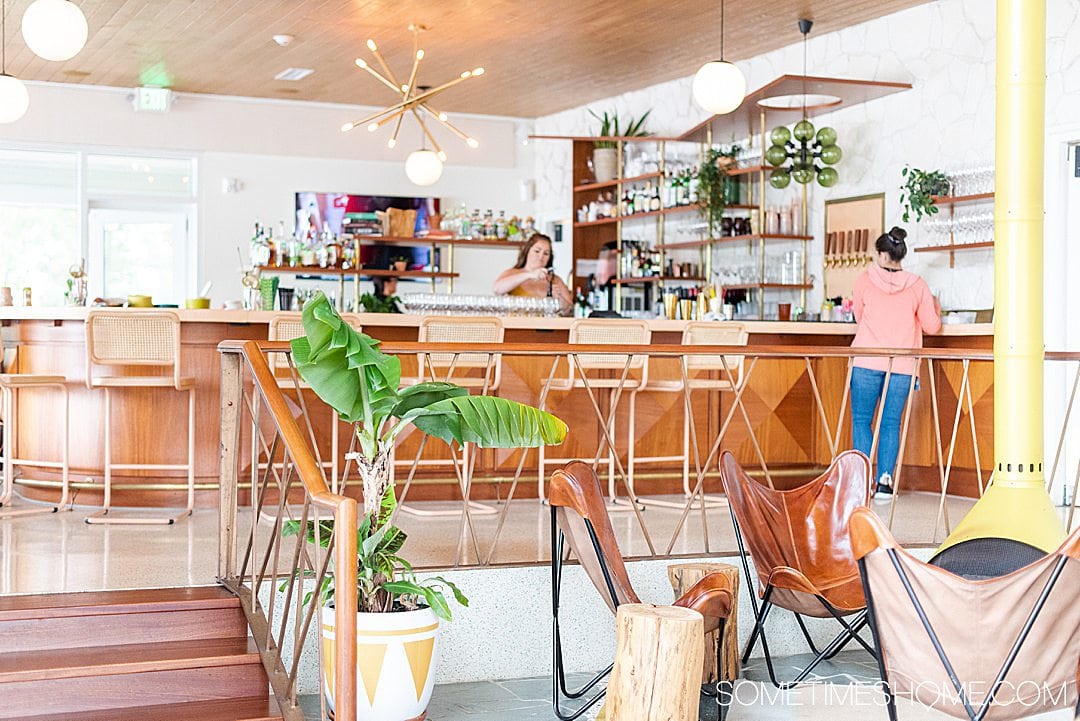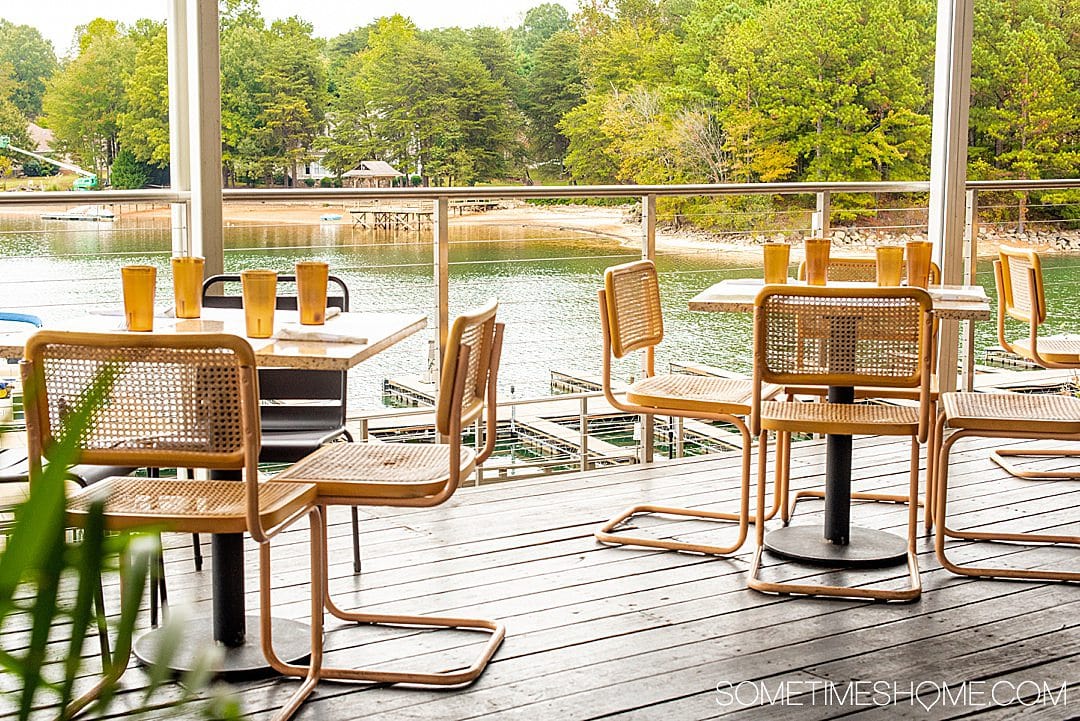 The chairs were almost identical to the ones I grew up with before age six, when we moved from Queens to Long Island, New York. They brought me back to the 1980s in the best way! I loved the terrazzo tables and graphics that were a nod to decades past.
We ordered cocktails and they couldn't have been any prettier. And dangerous, since they made me want to order more and more to see what additional presentation we'd be offered. Alas, it was the middle of the day and even on the best night I can only drink two so we moved onto appetizers.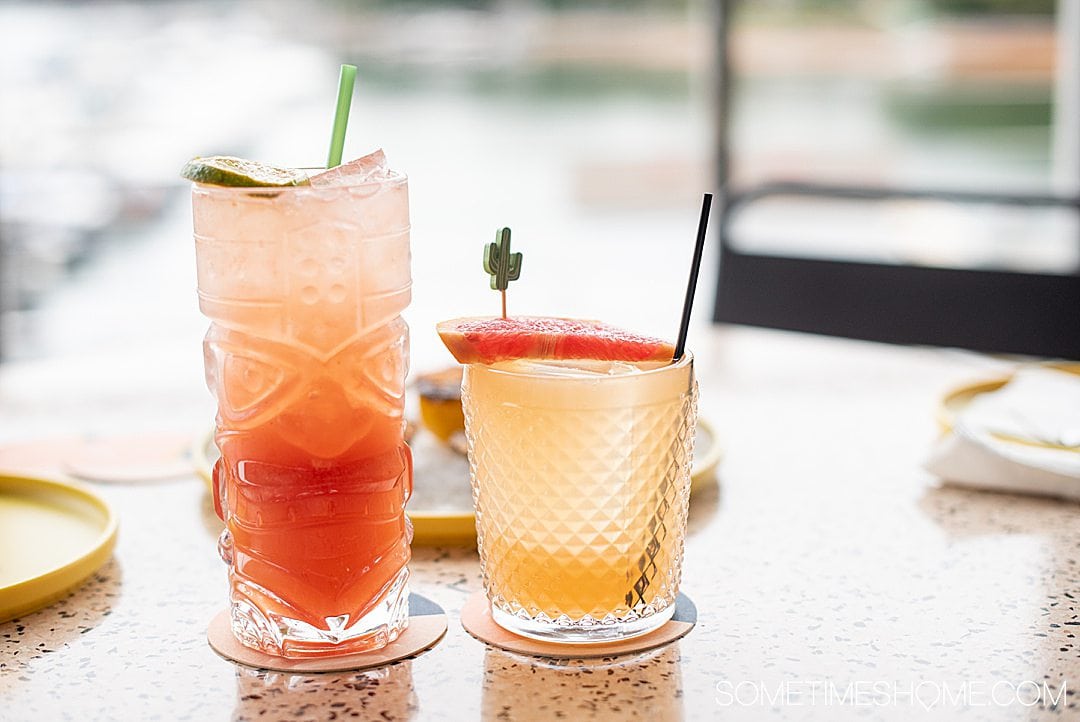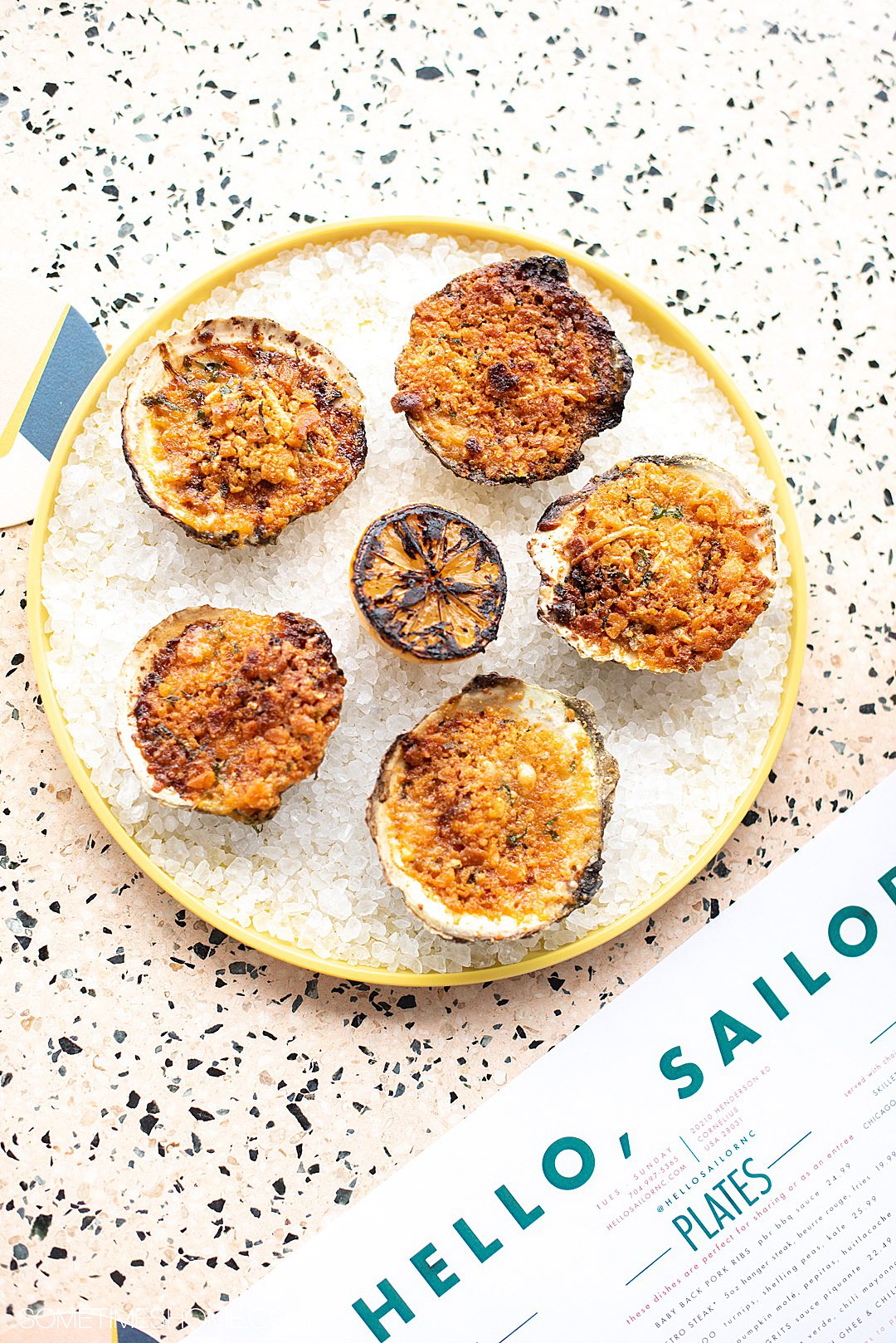 The baked oysters were a must for us; we're suckers for any sort of oysters, raw or baked. Since we went with baked, however, we went for the raw hamachi (yellowtail) appetizer. This was a standout hit for us! The flavors were balanced, fish fresh and there was an ingredient that provided a little bit of crunch we loved.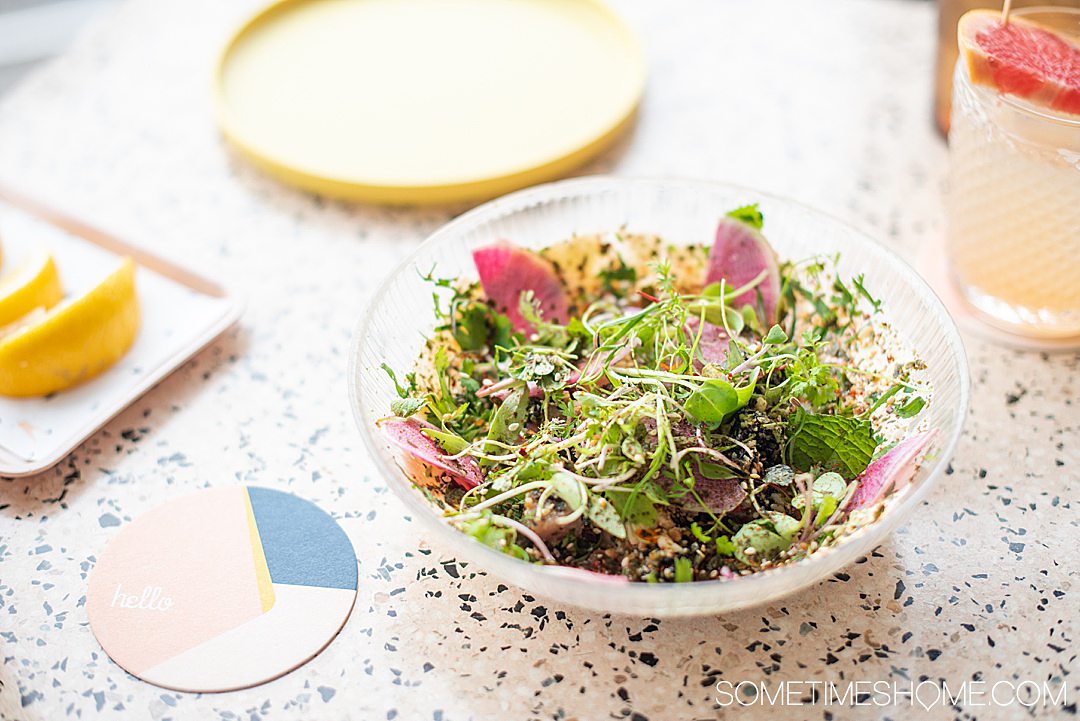 Between the appetizers and drinks (and waiter suggesting to leave room for dessert) we opted to go local and share the Crispy Cod and Carolina Shrimp Calabash dish, complete with French fries cooked in beef fat. (How could you go wrong?) They make their own tartar sauce which we were all over!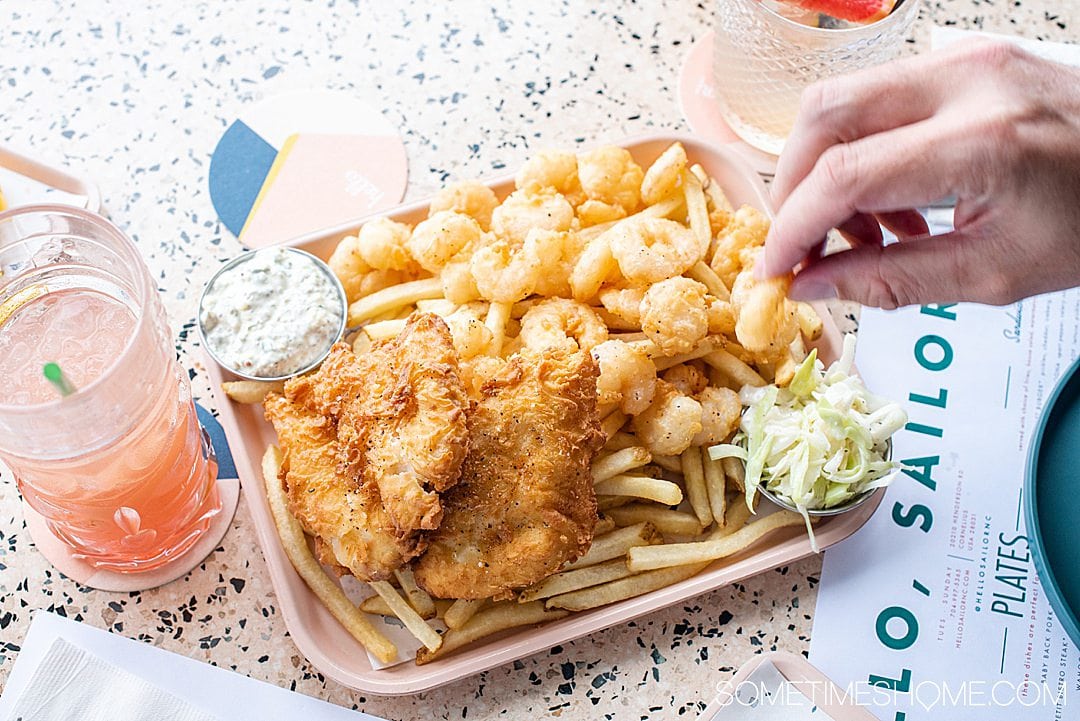 Time was on our side as we casually ate, talked and enjoyed the waterfront view of Lake Norman. We took a break before dessert to walk around the restaurant and capture more photos. I lured Dan into the photo booth for some printed pictures of us. It was a great way to commemorate a fun meal and weekend getaway. The photo booth takes credit card so don't worry if you don't have cash!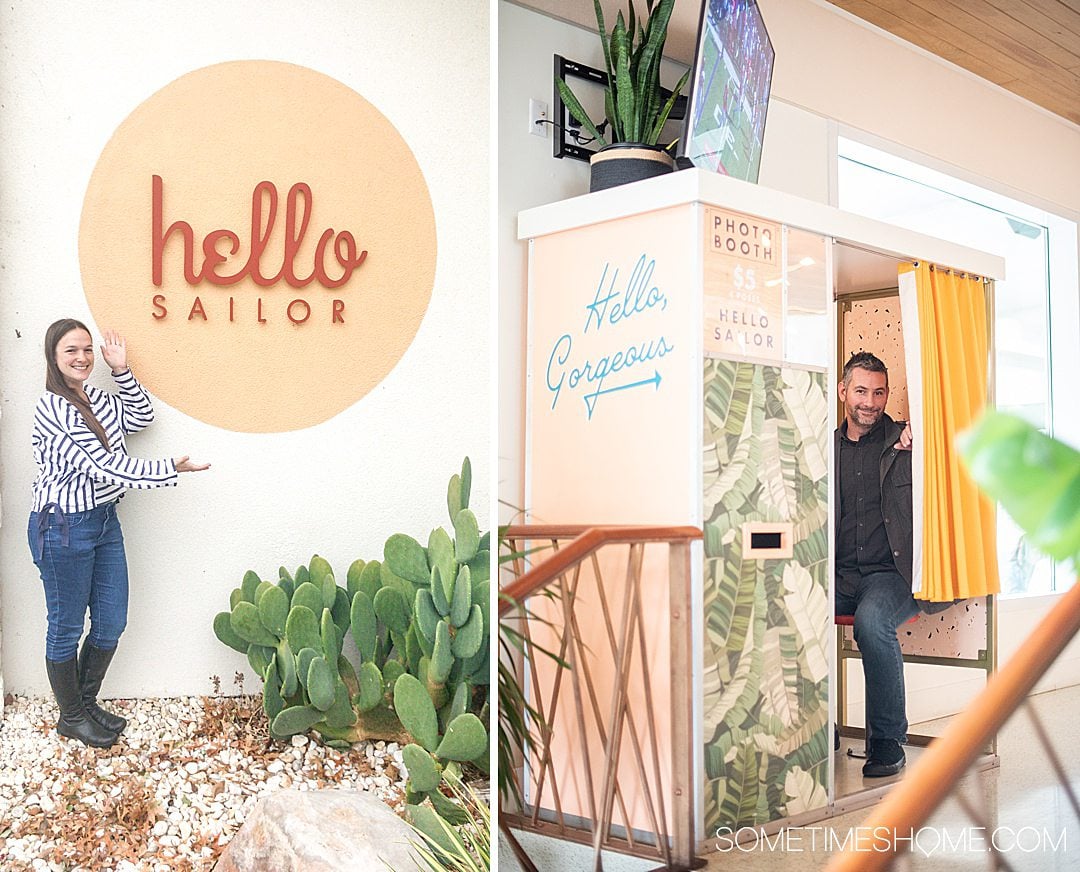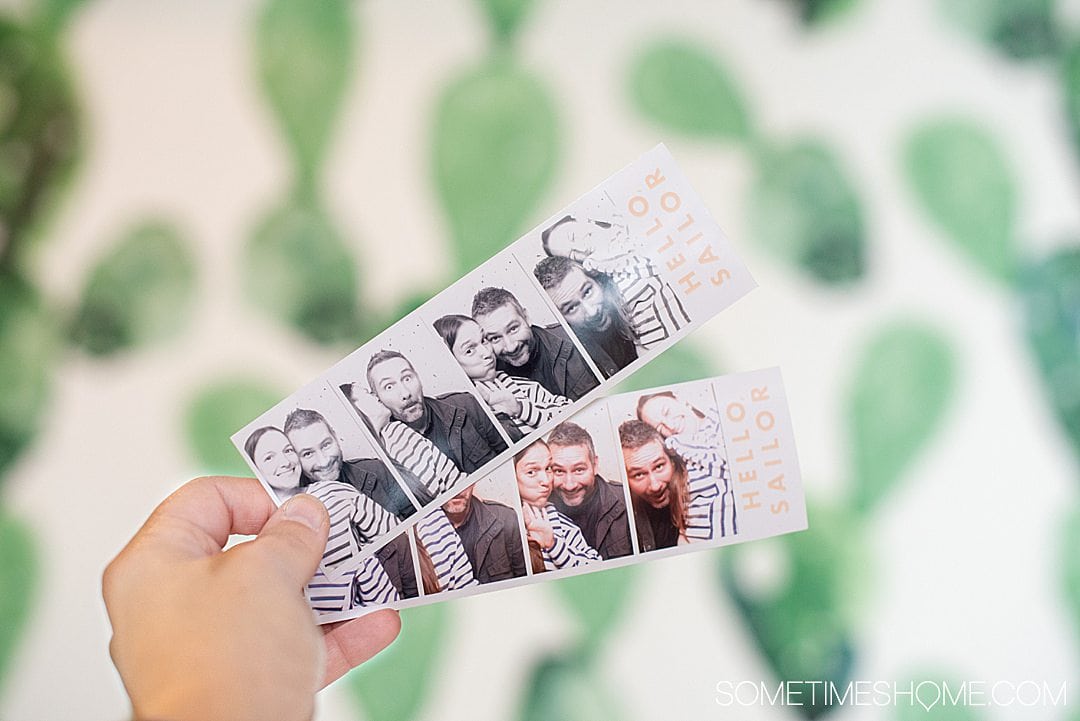 We finished up our meal with some of their homemade soft serve ice cream (the perfect sized serving) and chocolate chip and vanilla ice cream sandwiches.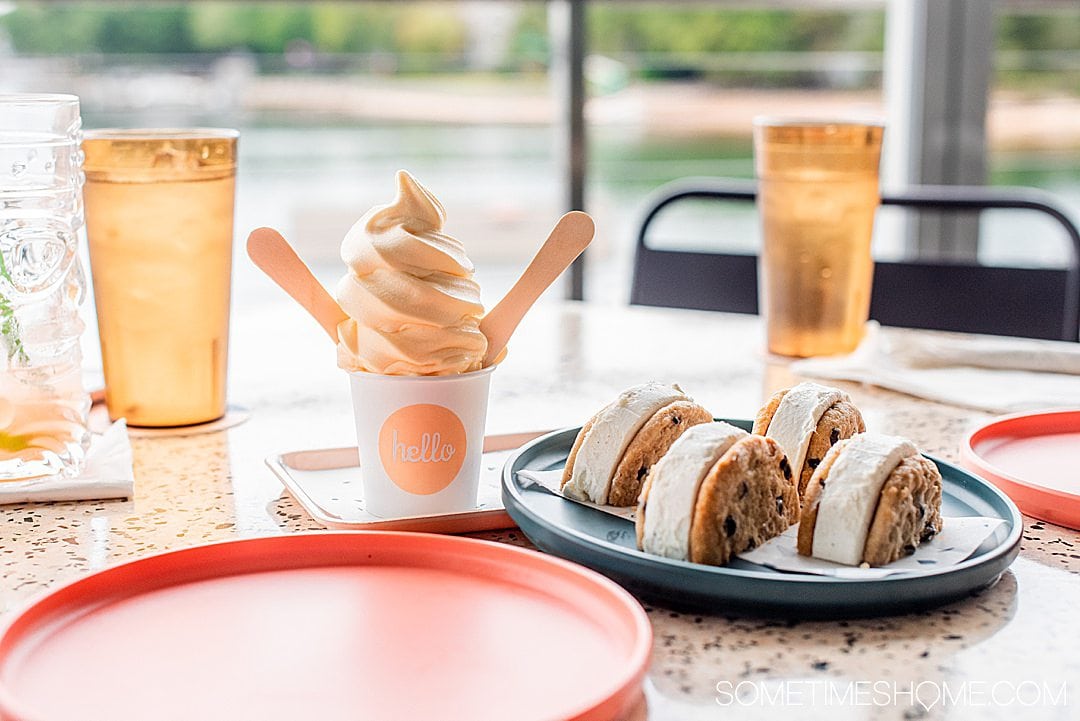 Hello, Sailor is located at: 20210 Henderson Rd, Cornelius, NC 28031
Closed Mondays, open Tuesday through Sunday 11:00am to close.
Port City Club
We enjoyed a romantic sunset dinner at Port City Club. We had a long day at the Carolina Renaissance Festival and, having been the year before, knew we would want to enjoy a seated dinner after a long day. The best solution was to head to Port City Club just in time to get situated before the sun started to sink down on the horizon.
It was a little too chilly for us to sit outside as the temperatures continued to fall as the sun set. Luckily all are welcome outside for photos and there are plenty of places in the restaurant to sit comfortably in warmth and enjoy the waterfront view of the lake.
There are more options for seating during warmer months, including the beach and the outside patio. The colder months are best for the covered porch, which still has a great view, or indoors. If you sit indoors request a seat by the windows.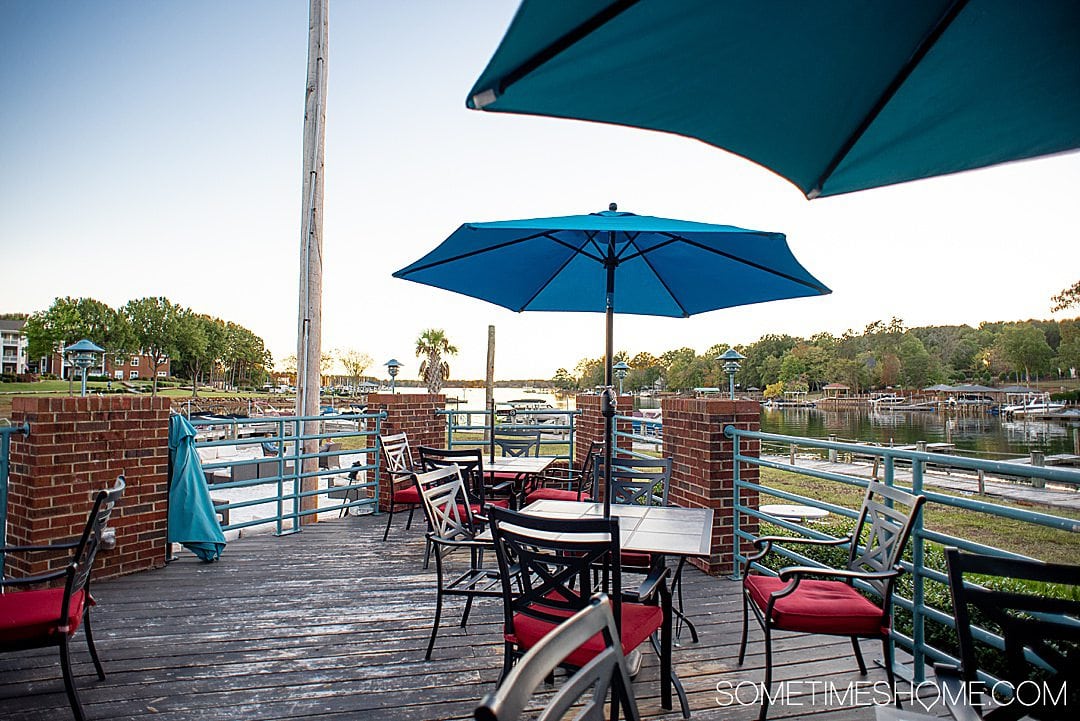 I snapped pictures as we arrived then took some more as colors moved from lighter blues to navy and orange tones. We enjoyed a lump Crab Toast appetizer on garlic buttered, toasted baguettes and some cocktails in between.
I had the French Pear Martini (Grey Goose La Poire, St. Germain liqueur, and lemon juice) and Dan enjoyed the Basil Kentucky Mule (Bulleit Bourbon, Stoli ginger beer, and a little basil simple syrup).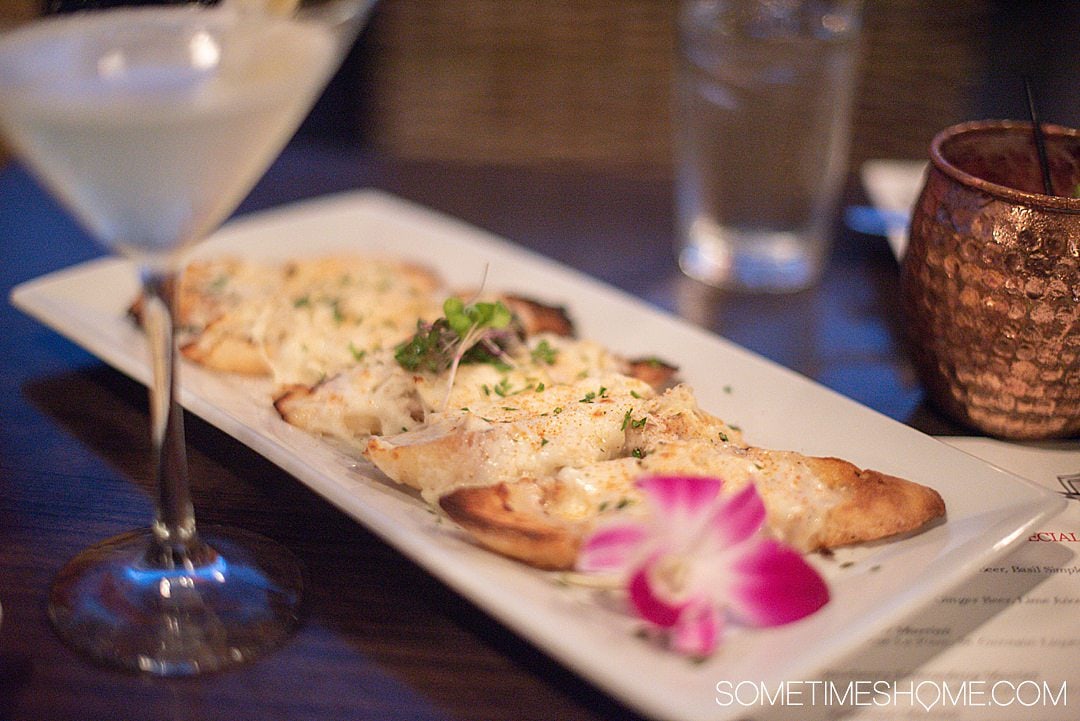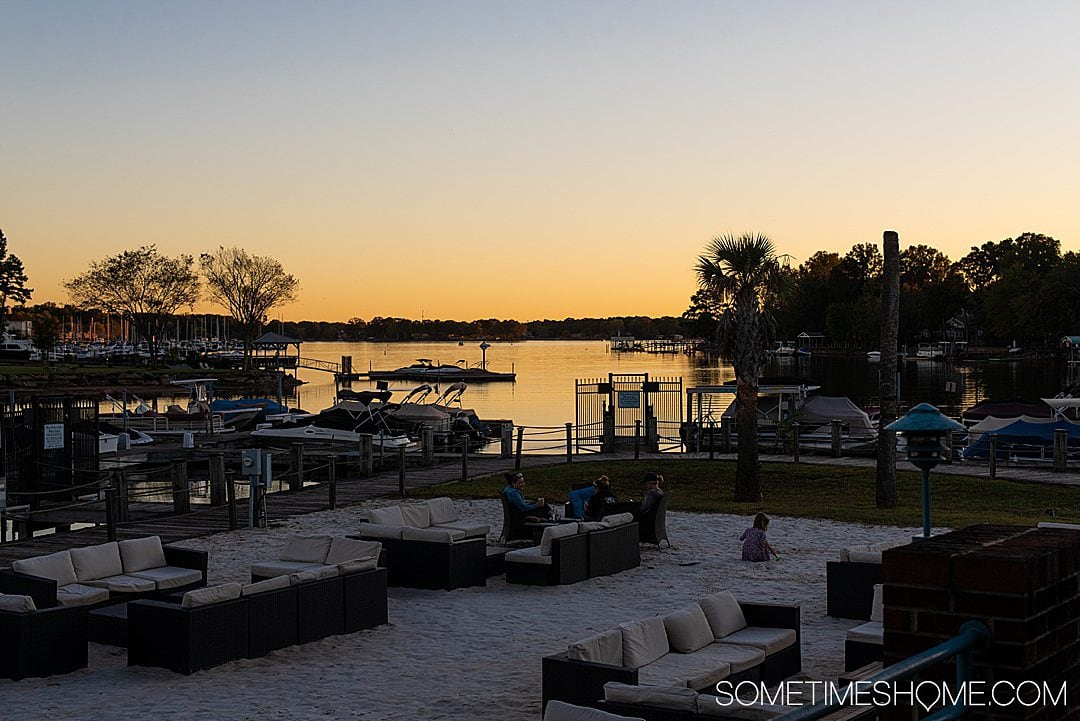 We finished a shared Caesar salad and our entrees arrived as the stars began to appear outside. They have an extensive menu with fresh pastas, sandwiches, burgers and flatbreads but ultimately we decided to try the Rack of Lamb and Yellowfin Tuna Steak.
The lamb was of particular interest because the owner of Port City Club is Greek and we knew it'd be a specialty, marinated in lemon, garlic and rosemary, and fire grilled. (It didn't disappoint!) My yellowfin tuna had a black sesame crust and was served with daikon slaw and a Siracha remoulade.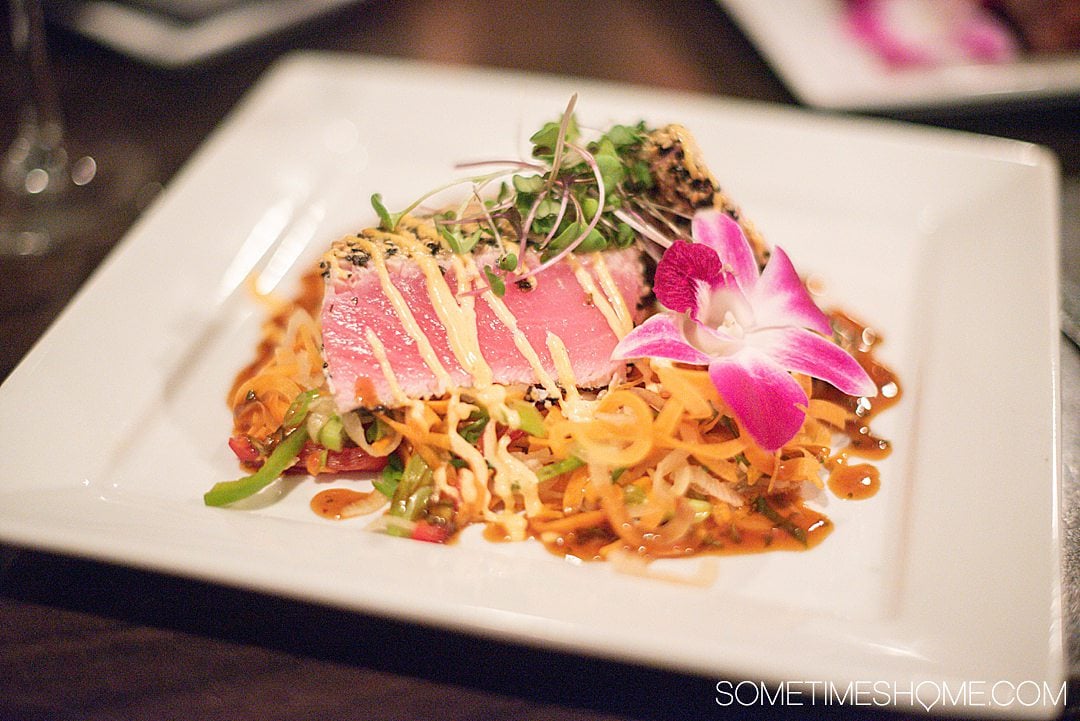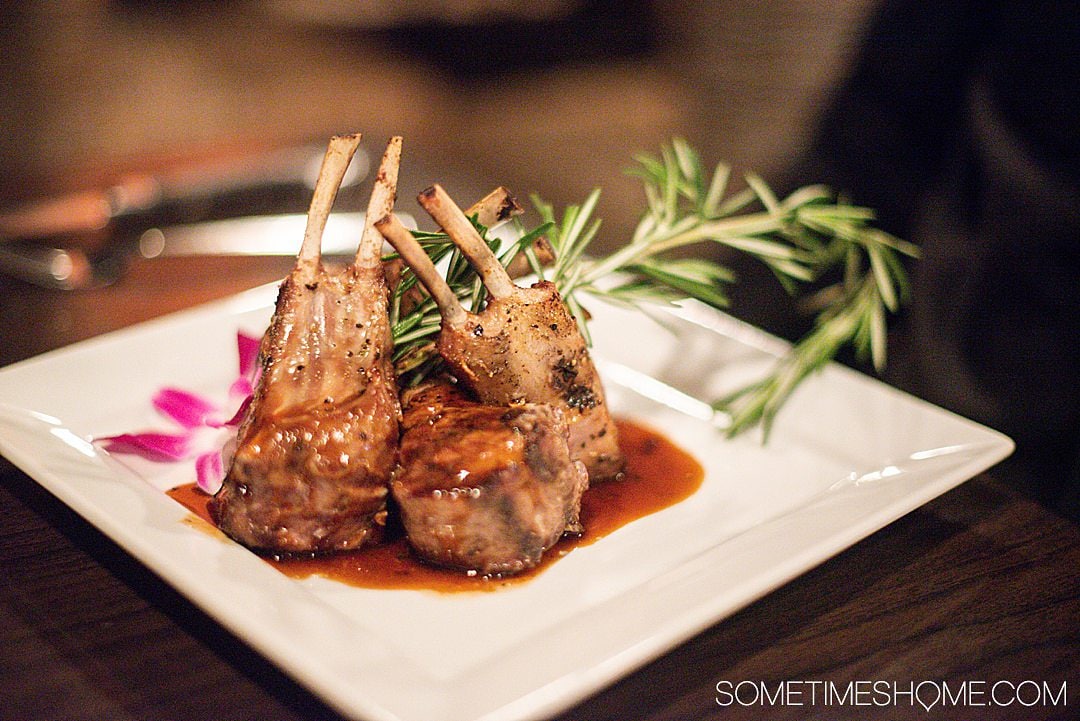 Of course most of the people at the restaurant that Sunday evening happily enjoyed the view from the covered patio, so we were able to snap this photo of the inside of the restaurant on our way out, free of guests.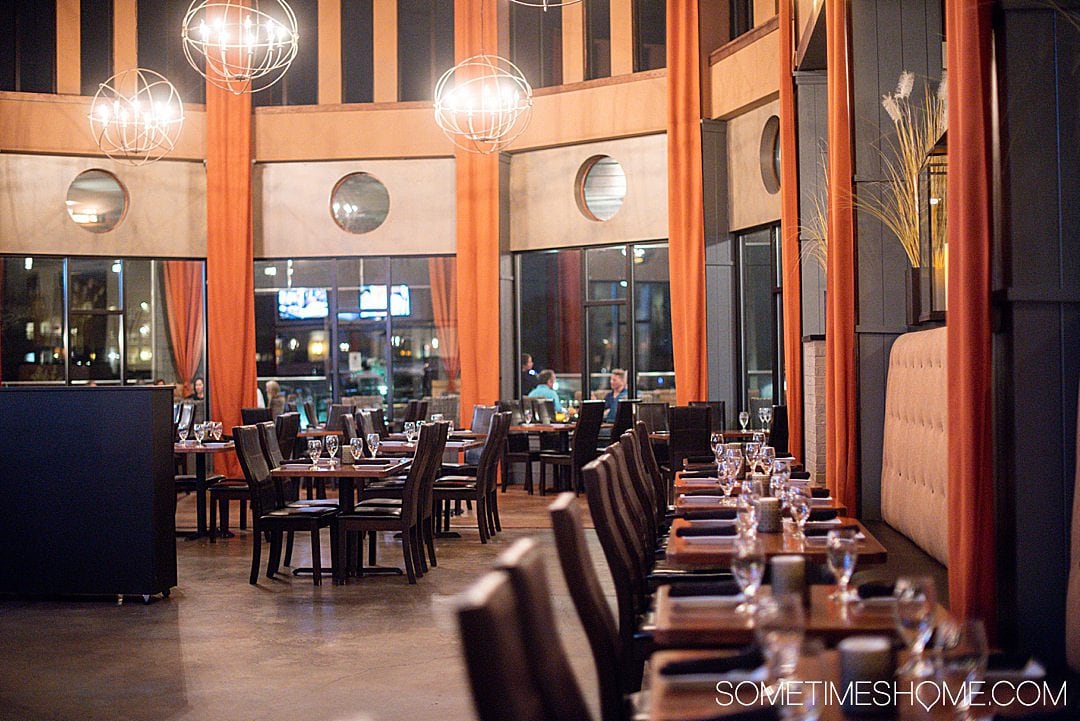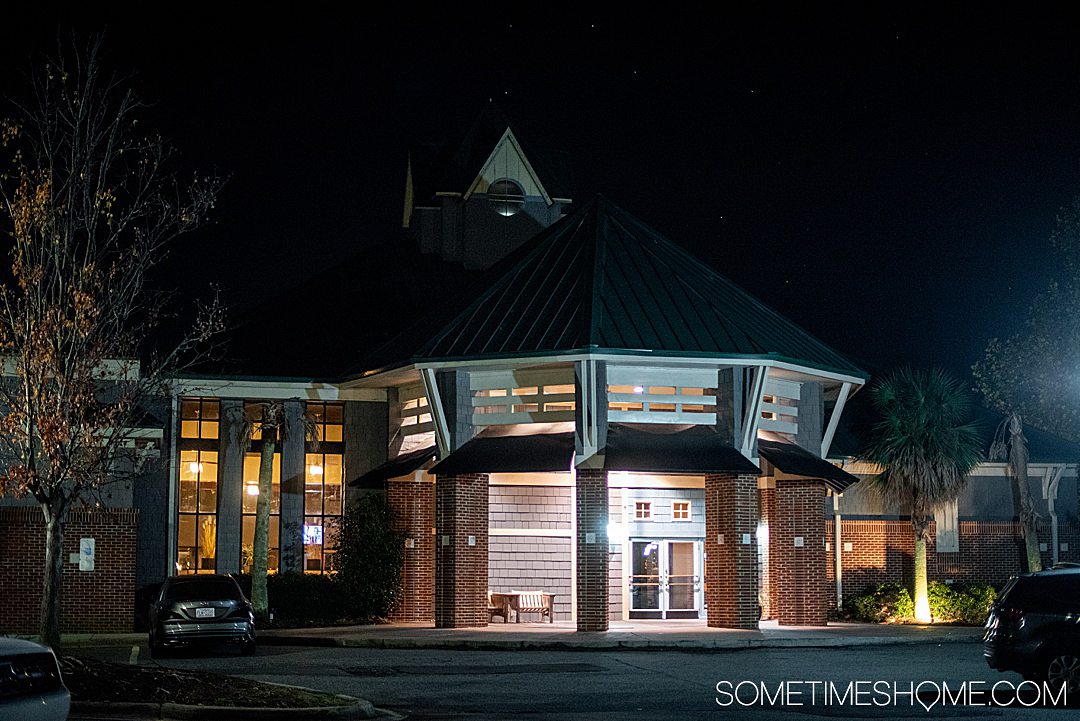 Port City Club is located at 18665 Harborside Drive, Cornelius, NC 28031
They are open daily from 11:30am.
North Harbor Club
This lakefront restaurant destination makes you feel like you're part of an exclusive club or heading to a friend's lake house for a meal. Yet anyone is welcome to dine in their "regatta" inspired space with indoor and outdoor seating.
Its design reminds me of a Cape Cod style home in neutral tones with pops of yellow dotting the shoreline when their umbrellas are fanned out, protecting guests from the sun.
They are open for lunch and dinner, daily. For a real treat, however, go for weekend brunch (a personal favorite) on Saturday or Sunday. And if you can't get there on a weekend but still want a southern favorite try their Shrimp 'n Grits or Fried Green Tomato BLT.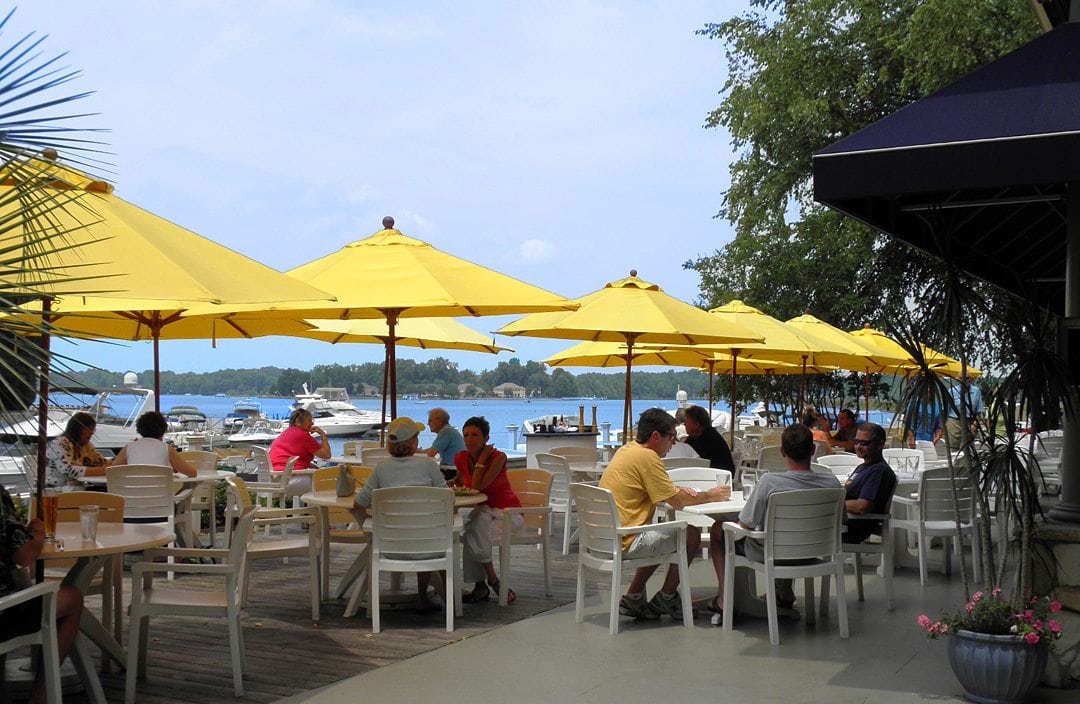 North Harbor Club is located at 100 N Harbor Pl, Davidson, NC 28036
They are open daily, from 11:00am.
Please note: we thank Visit Lake Norman for generously hosting us. We also may make a small commission from affiliate links in this post but all opinions are ours and we bring you genuine content with real facts, photos, thoughts and recommendations. Always.
Heading to the Lake Norman area? Also check out:
Which of these three Lake Norman Waterfront restaurants would you head to first? Let us know in the comment below!