Why a Trip to Buffalo Had Me in Disbelief
A trip to Buffalo had me in disbelief, crushing all my preconceived notions about the area.
Snowy. Isolated. Cold. These three words easily came to mind when I used to think of Buffalo, New York. This city in western New York, near Lake Eerie and southeast of Toronto, Canada, is infamous for its cold temperatures and abundance of snow.
On my first date with Dan, I asked, "Where are you from?" He replied, "Buffalo." And my immediate reaction was, "Buffalo wings and snow," though I dare not say it, knowing that was perhaps a naive reaction.
Last summer we traveled north for a few days and I had a wonderful time. Can you believe it? It's a delightful place to visit that has SO MUCH MORE to offer than it's stereotypical reputation leads one to believe.

East Aurora, a Fantastic Suburb of Buffalo
We stayed in the charming town of East Aurora. It's an easy drive, 20 miles from the city center of Buffalo. The city is incredibly charming; it's where the Arts and Crafts movement first began flourishing in North America. We booked an Air BnB for a few nights so our stay hit our desired budget. (Also, admittedly, our decision was made easier because the NHL draft was taking place in Buffalo that week and all the hotels were sold out.)
There's a good amount to do and see in this town. It is centered around their "Main Street," like any good 'ole American city. We tapped our feet to live music and sipped cocktails one Friday night at the Roycroft Inn. It was a highlight for me.
Don't miss a stop in Muse Jar art store, where I took this fun photo with a mural of birch trees. They also have fantastic art classes throughout the year.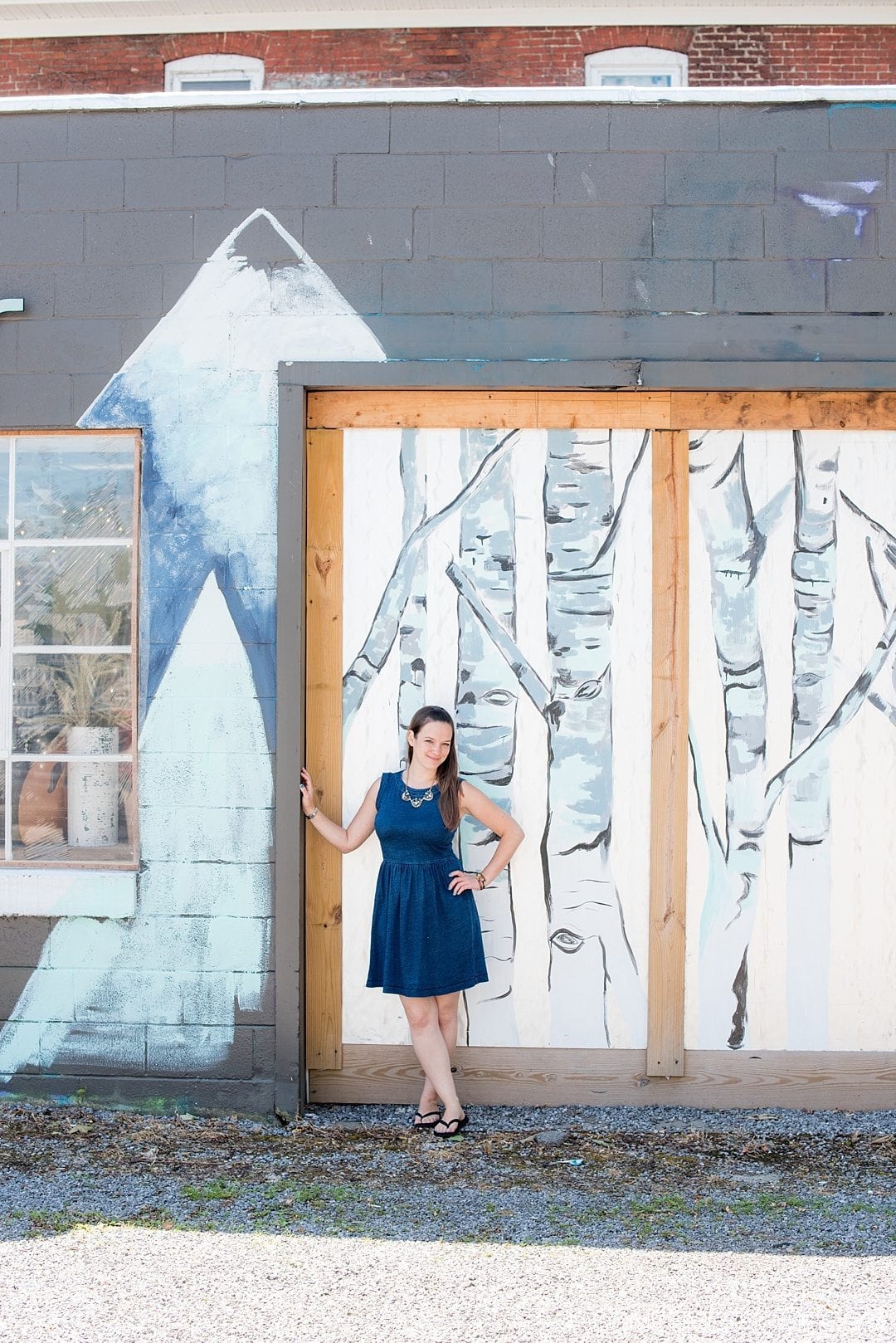 We had breakfast at Taste and lunch with a charming porch view at Rick's on Main. Vidler's 5 & 10 took us back to yesteryear; it's a classic shop in a small town, with one-stop-shopping for anything from children's' toys to gardening tools, to candy and clothing. For other entertaining shopping check out Four Bees Honey Cottage. (It's so cute!)
Don't Miss Bar Bill in East Aurora
Craving wings? Anchor Bar may be famous for inventing them but Bar Bill Tavern has been voted Buffalo's favorite wings several years in a row. Another food classic from Buffalo is called "Beef on Weck." You must try it if you eat meat! It is a roast beef sandwich served on a kaiser roll dotted with rye seeds and salt. Horseradish is optional but it's not quite the same sandwich without it.
Note: Bar Bill does not accept credit cards so ensure you have cash to pay for your check.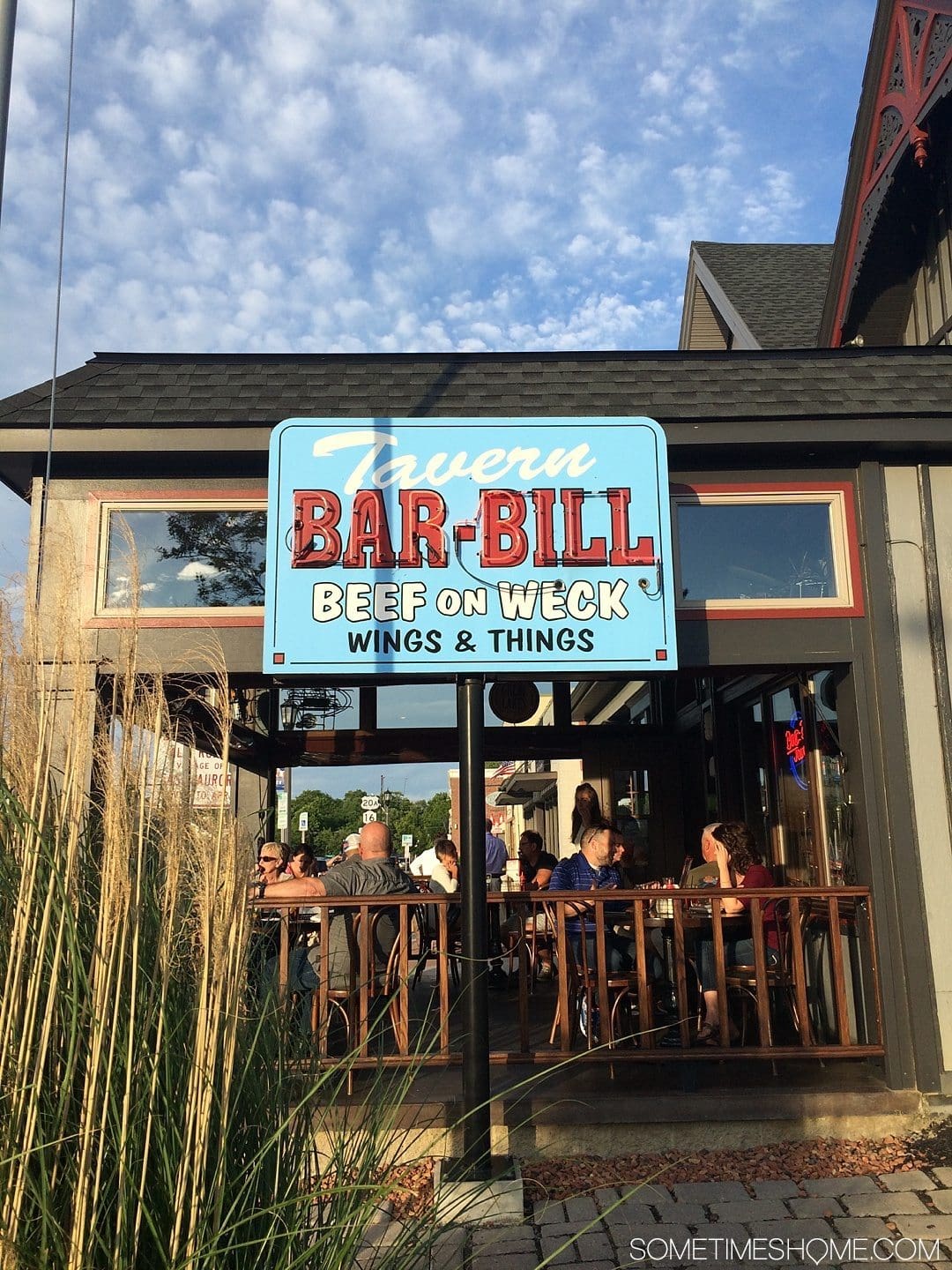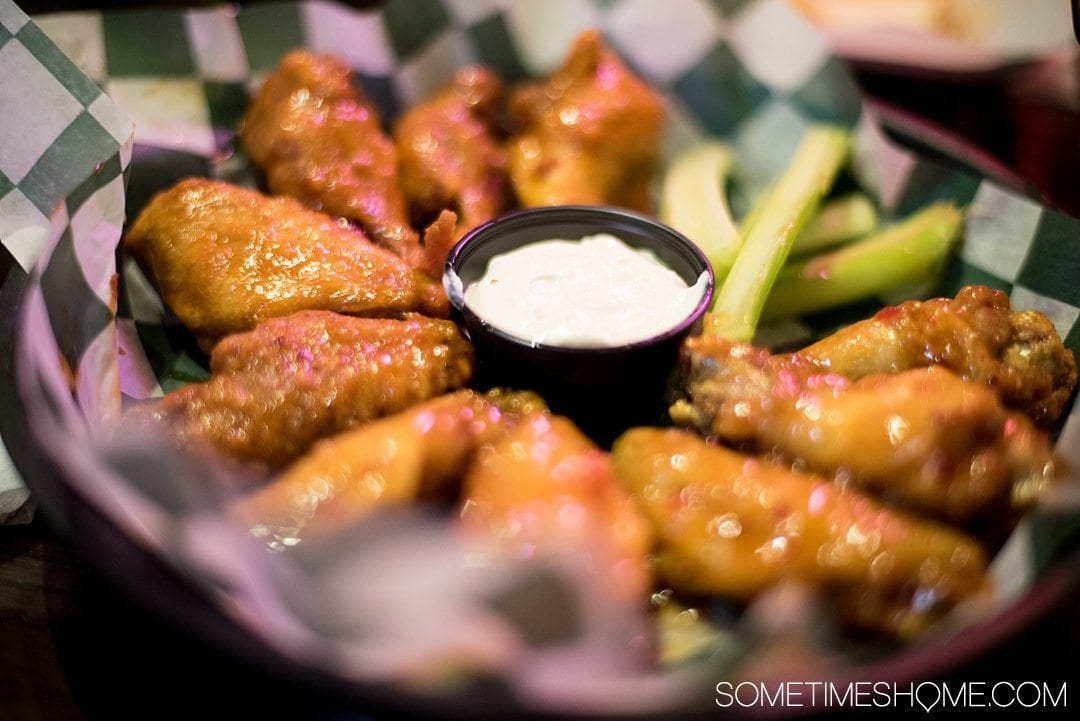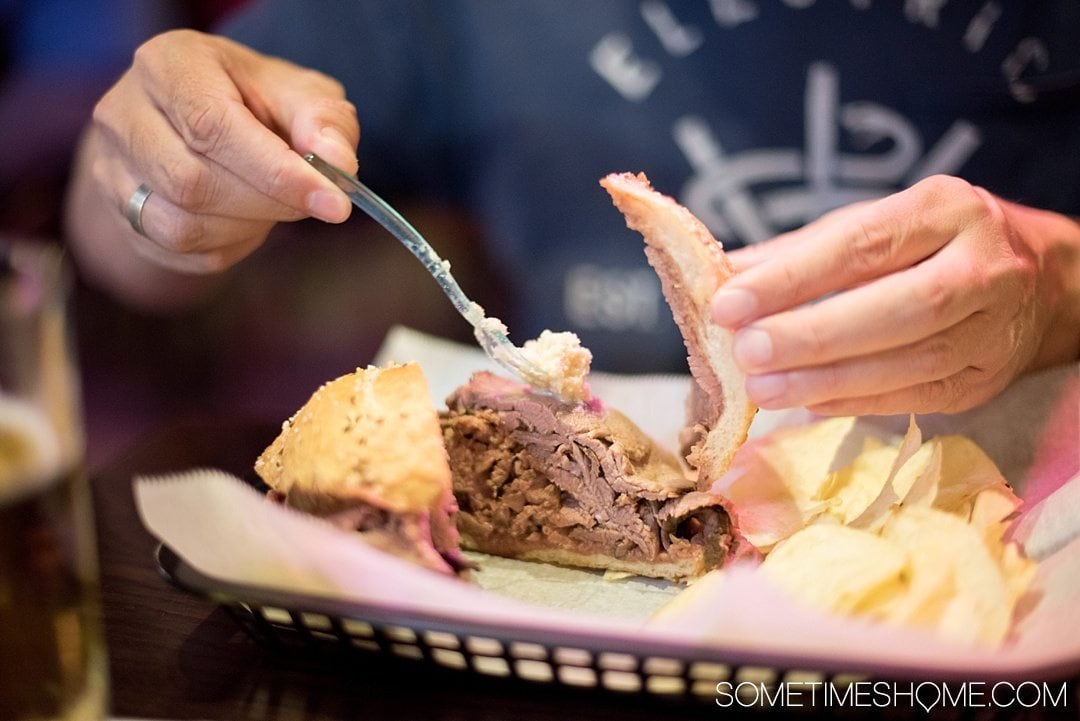 Letchworth State Park
We had a lovely afternoon journeying through this behemoth of a park, located between Buffalo and Rochester. It's considered the "Grand Canyon of the East." It was easy to see why it's been given such a complimentary nickname: the Genesee River runs through it creating waterfalls to behold and hiking trails to enjoy (66 miles of them to be exact).
Pack a picnic, come equipped with plenty of water and enjoy a picturesque morning or afternoon here.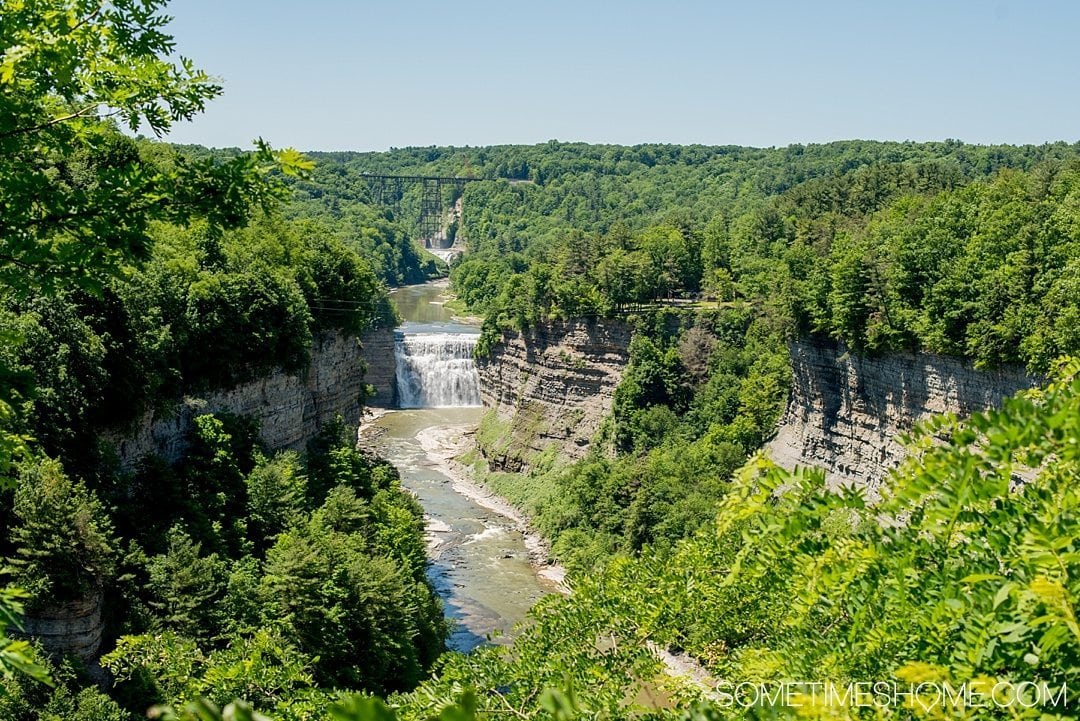 Downtown Buffalo
I couldn't leave the area without finding a BUFFALO. Would you be surprised to learn actual buffalos aren't roaming free in the region? I have to say I was a bit disappointed I didn't see a single one…until we visited the downtown area! There we were, walking near the waterfront and BAM – Buffalooooo! Okay fine, it was fake. But hey, it was magic to me! Be sure to walk along the waterfront and see if any events are happening at Canalside while you're there.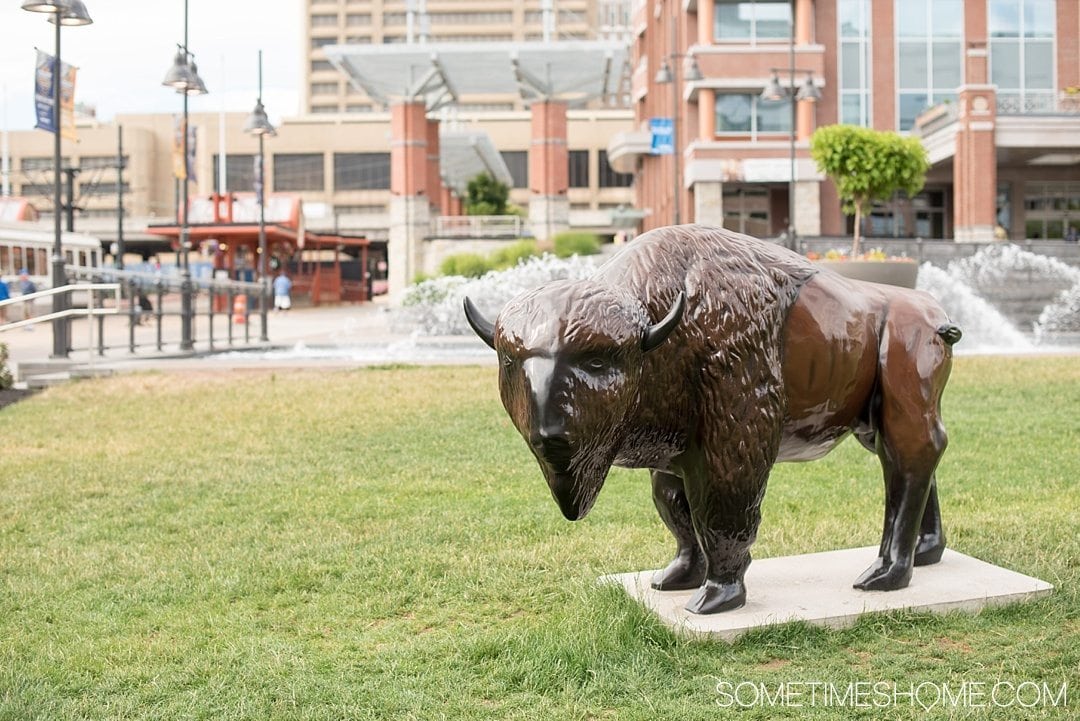 We're always on the hunt for awesome street art in any area so the downtown neighborhood of Allentown was one I was looking forward to spending time in.
It has an all-around boho vibe with colorful houses, fascinating murals and great eateries.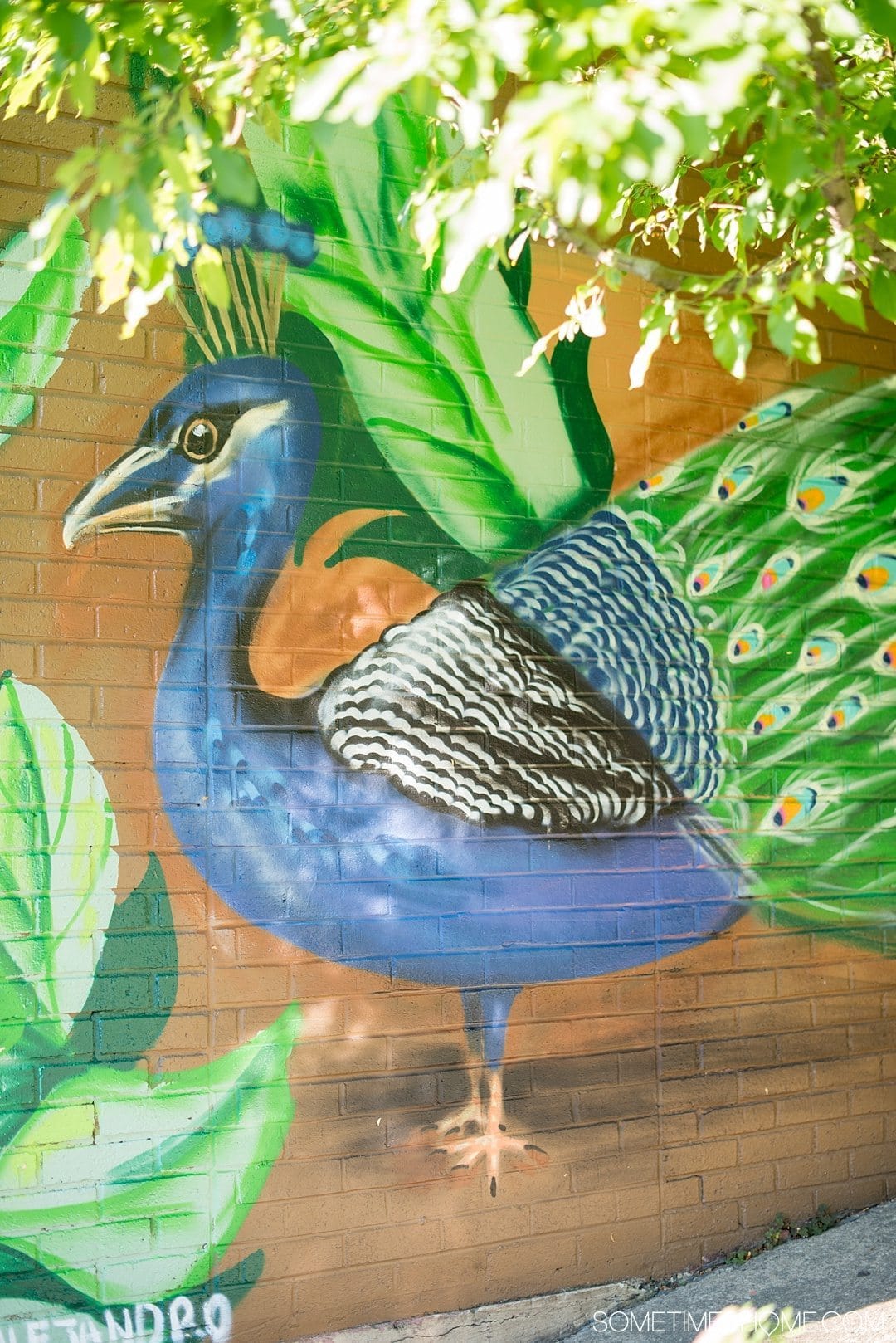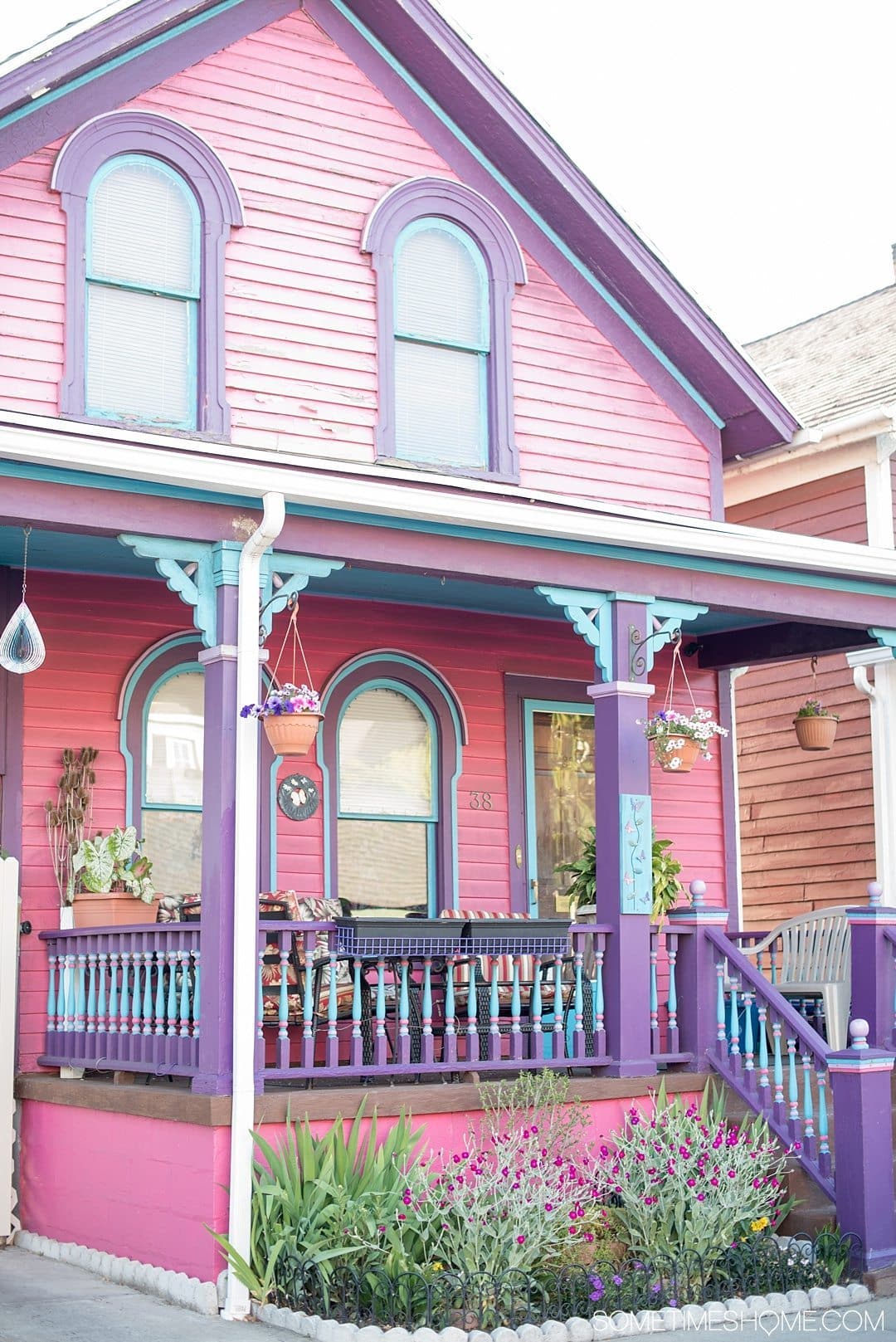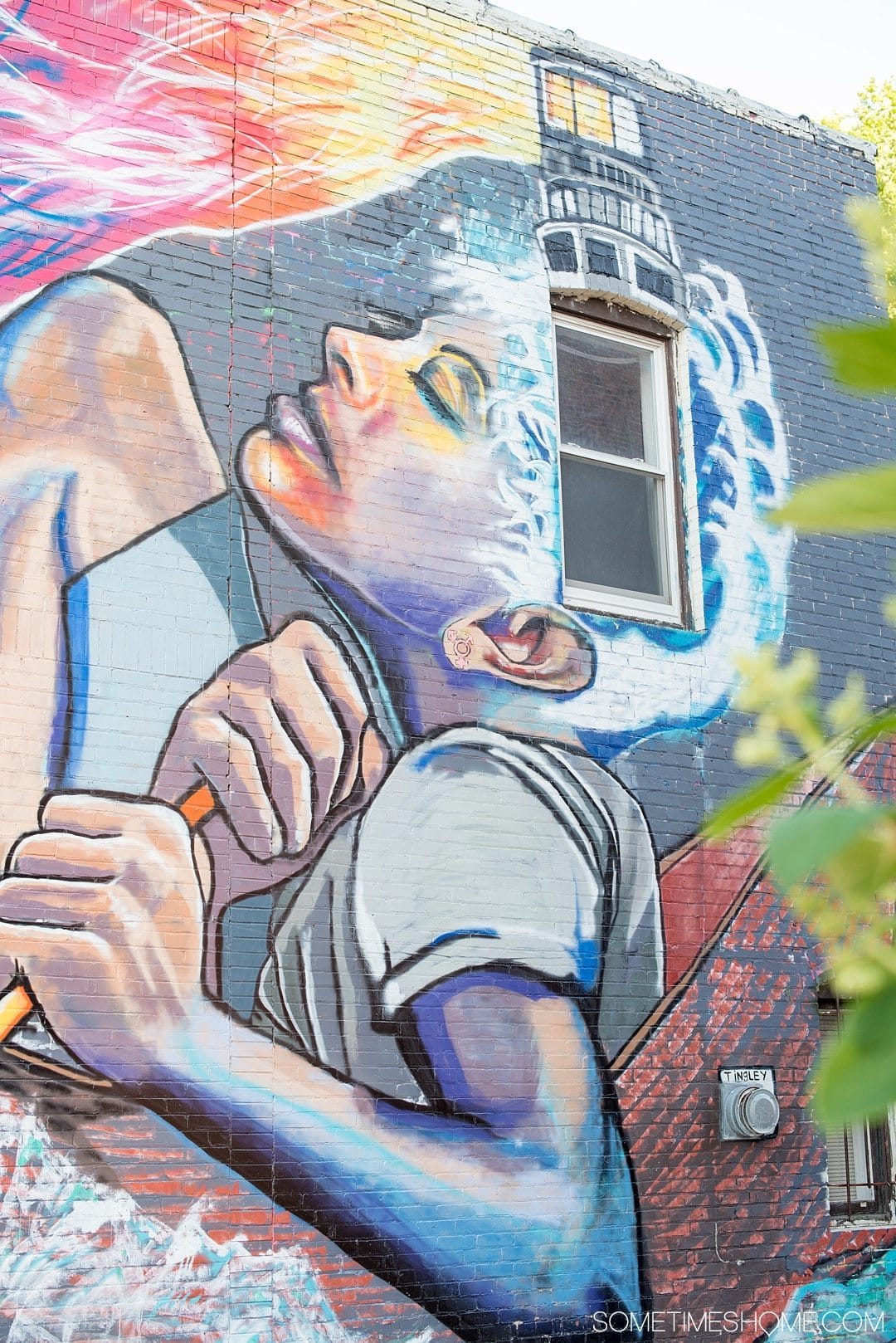 Buffalo State Area
We took a short drive north of downtown to explore the Buffalo State area. I adored taking photos in front of the Albright Knox Art Gallery and Delaware Park across the street.
Be sure to access their free self-guided audio tour. Their rose garden's a beautiful place to take in spring or summer and rest your feet if it's the right time of year. We also enjoyed driving south along Elmwood Avenue for a little people watching and viewing of posh restaurants and shopping. Next time we'll definitely have a meal here.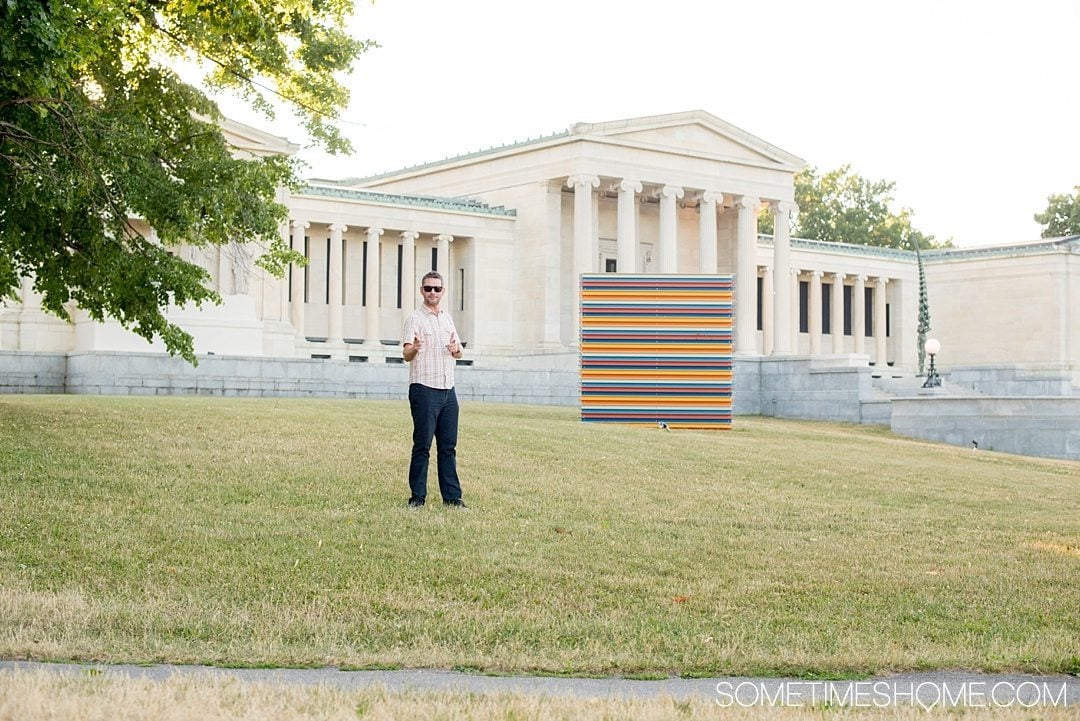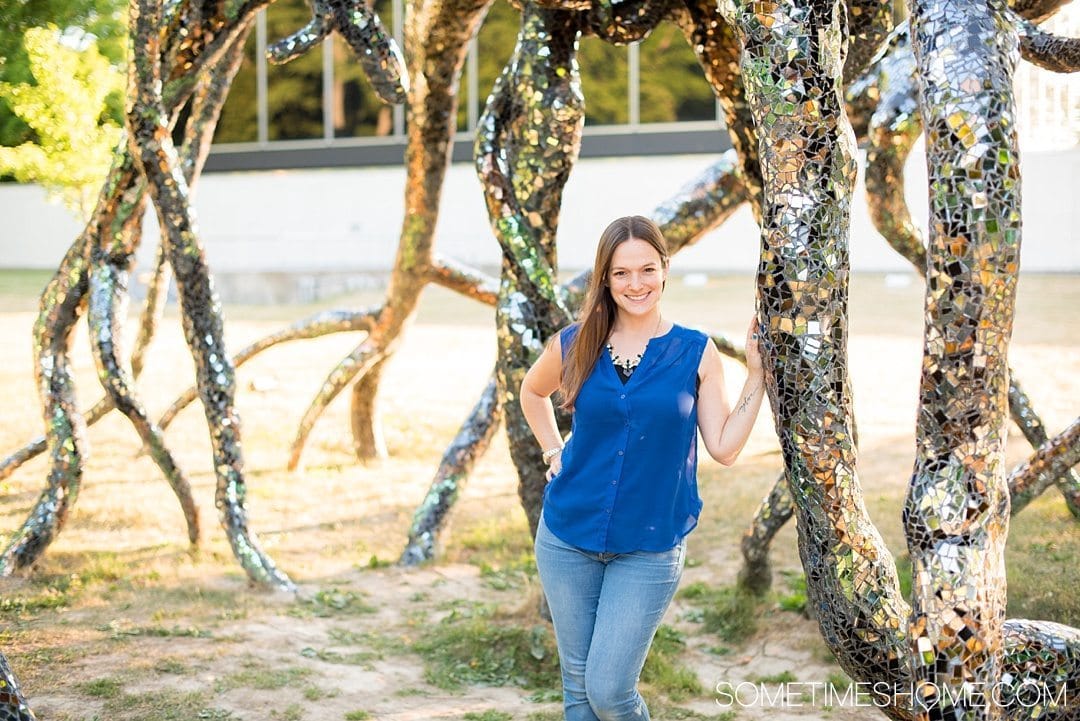 Darwin Martin House
We wanted to move into the Darwin House immediately after seeing it – unfortunately it wasn't for sale! I fell fast and hard for this historic home in Buffalo, designed by Frank Lloyd Wright. Dan loves his architecture too. It's really worth touring.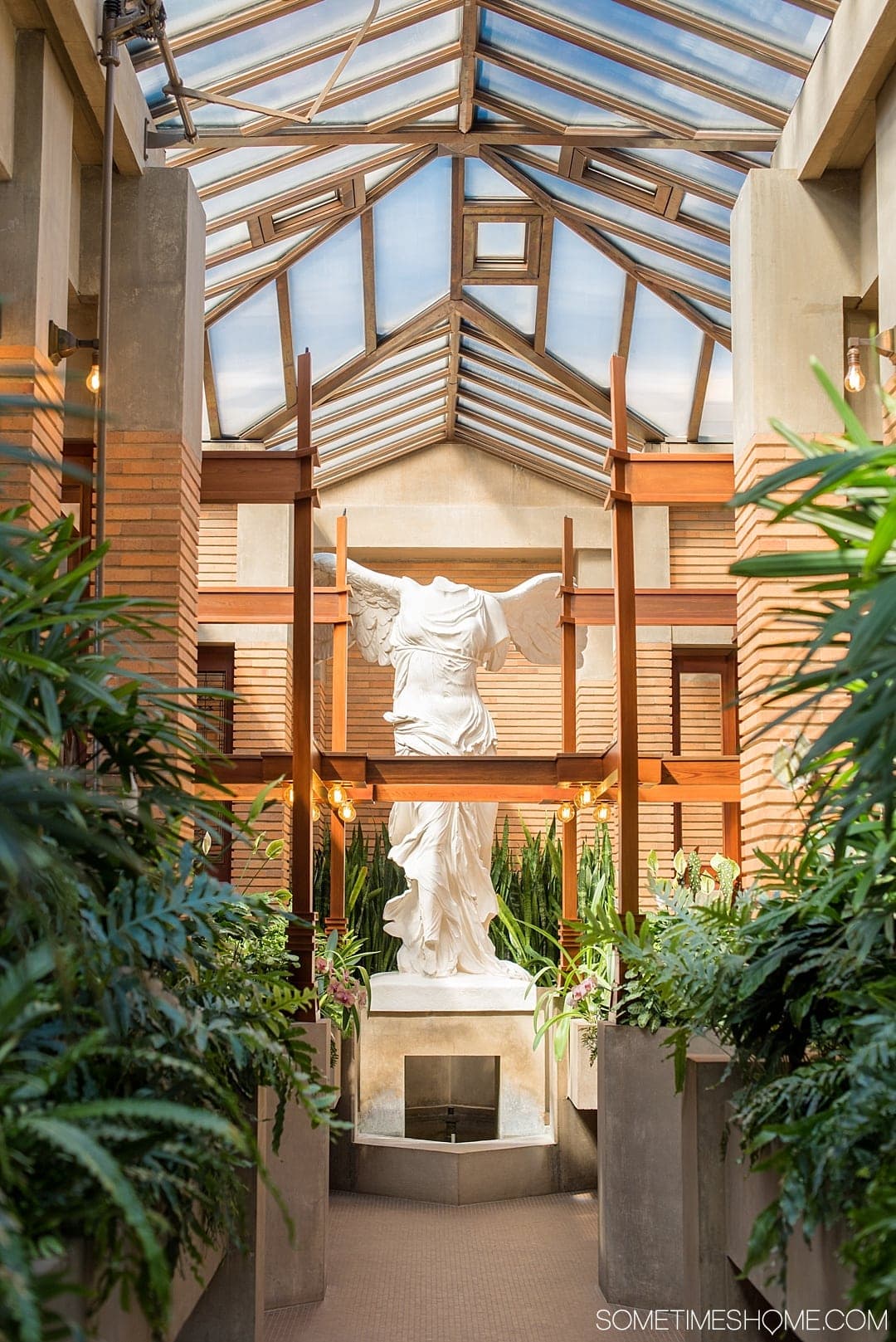 Niagara Falls
A trip to this region isn't complete without a day or half-day trip to Niagara Falls. You can't quite comprehend how majestic natural falls like this are until you see them in person. (And if you're going to make a day of it we highly recommend bringing your passport to cross over into Canada. The Canadian side is a bit prettier and there are fantastic hiking trails in the Niagara Falls region!)
I loved feeling the mist of the falls splashing on my face and hearing the power of their velocity hit the lake below. Note you may want to bring a rain poncho for this one! Getting close to the falls at all means you will get a bit wet.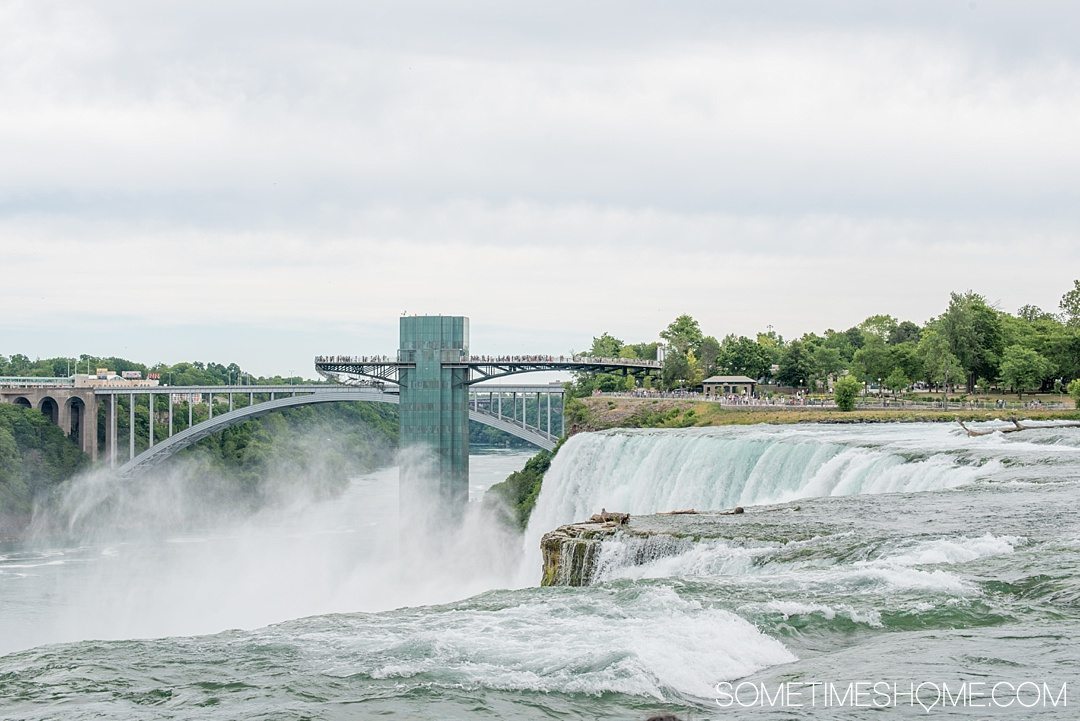 Buffalo is Worth Visiting Again and Again
This trip completely changed my mind about the region. There's so much to do and see there. We've been back several times since, of course, since his family lives there. And each time we seek out new experiences and adventures. There's always something different to enjoy, whether it's warm indoor activities in Buffalo during the winter or a stay in downtown Buffalo at the Curtiss Hotel during Spring. And each time I look forward to the next time.
For other great things to do in New York check out:
Would you like to visit Buffalo, New York?