6 Special Date Ideas in Fayetteville, North Carolina
There are so many great date ideas in Fayetteville, NC, we felt like our weekend there was a perpetual date. Spending dedicated time together in this area just about an hour south of Raleigh was wonderful.
We tried the best restaurants in town, saw the best sites, and even engaged in a little adventure for our adults-only date days and nights.
Disclosure: We may make a small commission from affiliate links in this post, but all opinions are ours. We bring you content with genuine facts, photos, thoughts, and recommendations. Always. As Amazon Associates, we earn from qualifying purchases. This helps keep our content free and accessible to our readers.
Be Adventurous Together at ZipQuest
If you're a thrill-seeking couple (or one of you is and you're trying to get your partner to warm up to such activities) try ziplining in Fayetteville.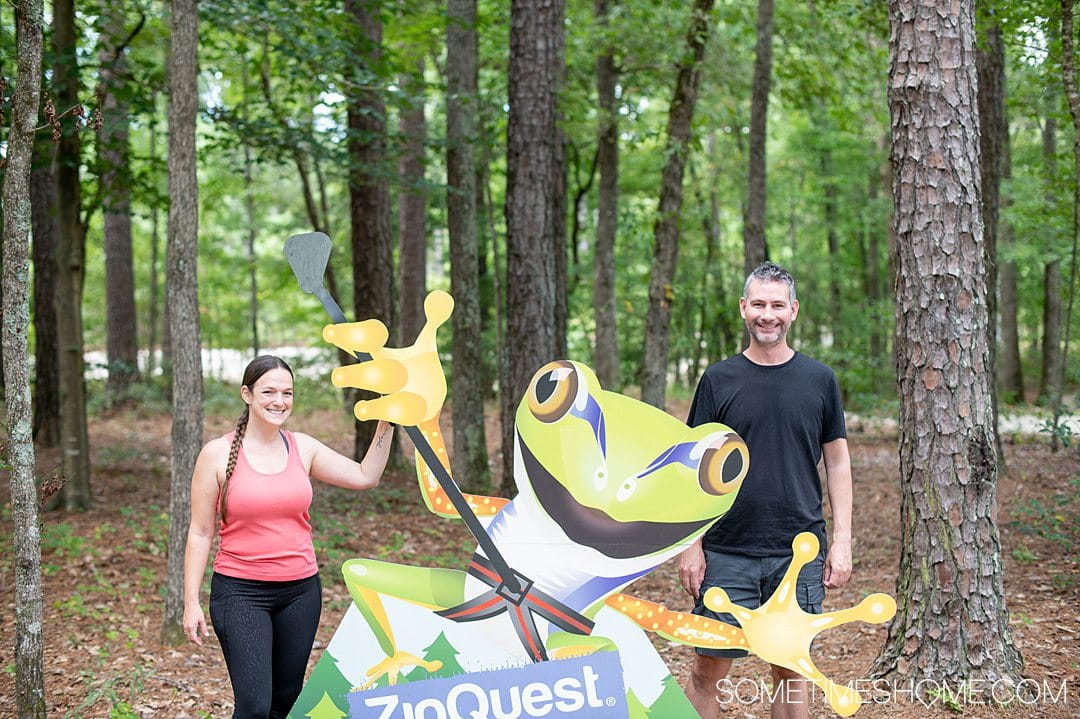 ZipQuest is open daily from 9:00am to 5:00pm. They have select evening adventures too, that they call "Nightquest," which allow people to zip under the stars.
Zip lines range from just over 100 feet to one of the longest at 800 feet. You'll swoosh along the lines within the trees or above Carver's Creek and Carver's Falls if you do the waterfall course.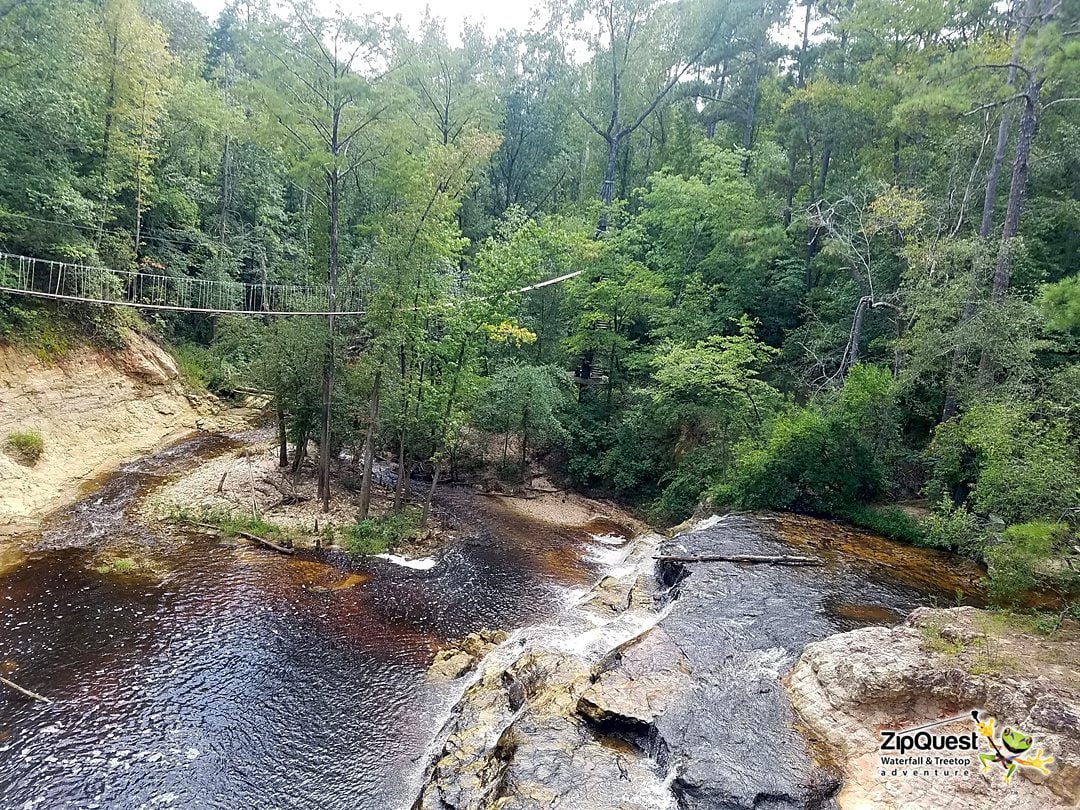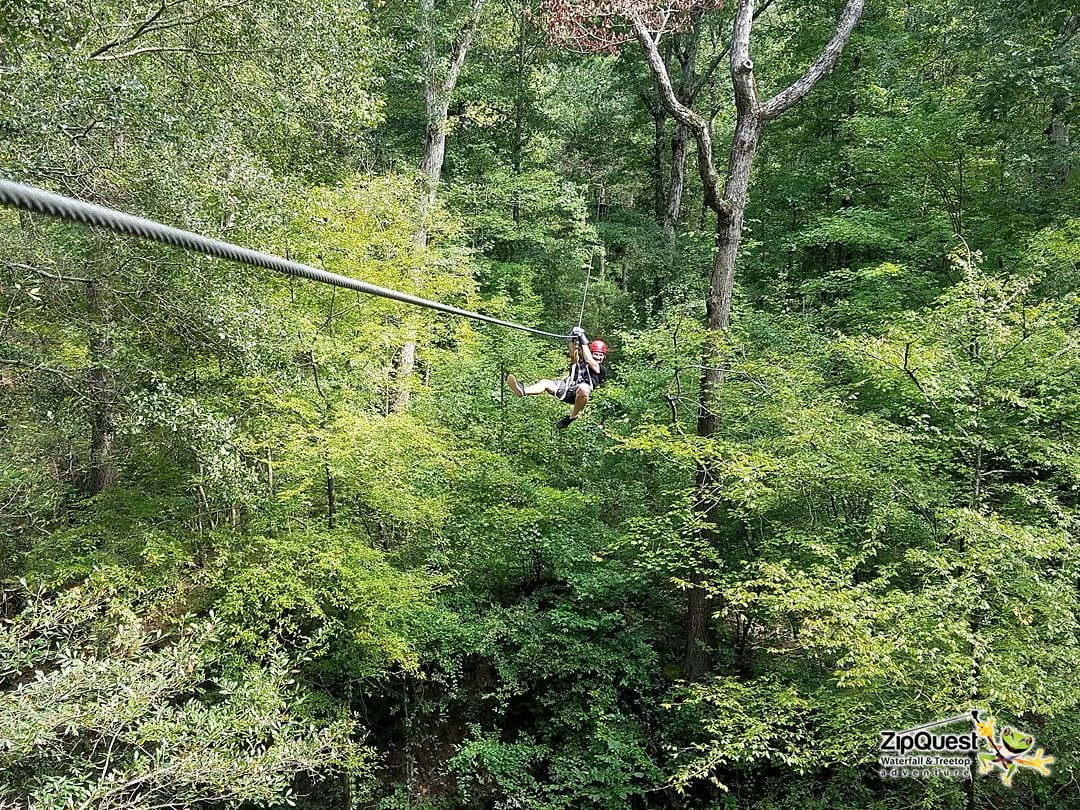 This activity is $85 per adult and totally worth it. The staff is great and we adored our guide, Ben. How many times can you say you've gone ziplining? (For us, just a few times. And it's a blast….every time.)
We opted to buy the photo package of the memories – it was a no-brainer for a total less than $20. Your guides simply capture images throughout your ziplining tour from an iPhone. They instantly transfer to the main office so you can view them at the end of the tour. And to not risk your camera or mobile phone being along for the ride and breaking is priceless!
(If this activity is inspiring, check out this Ziprider at Icy Strait Point in Hoonah, Alaska, to plan your next date in a faraway land!)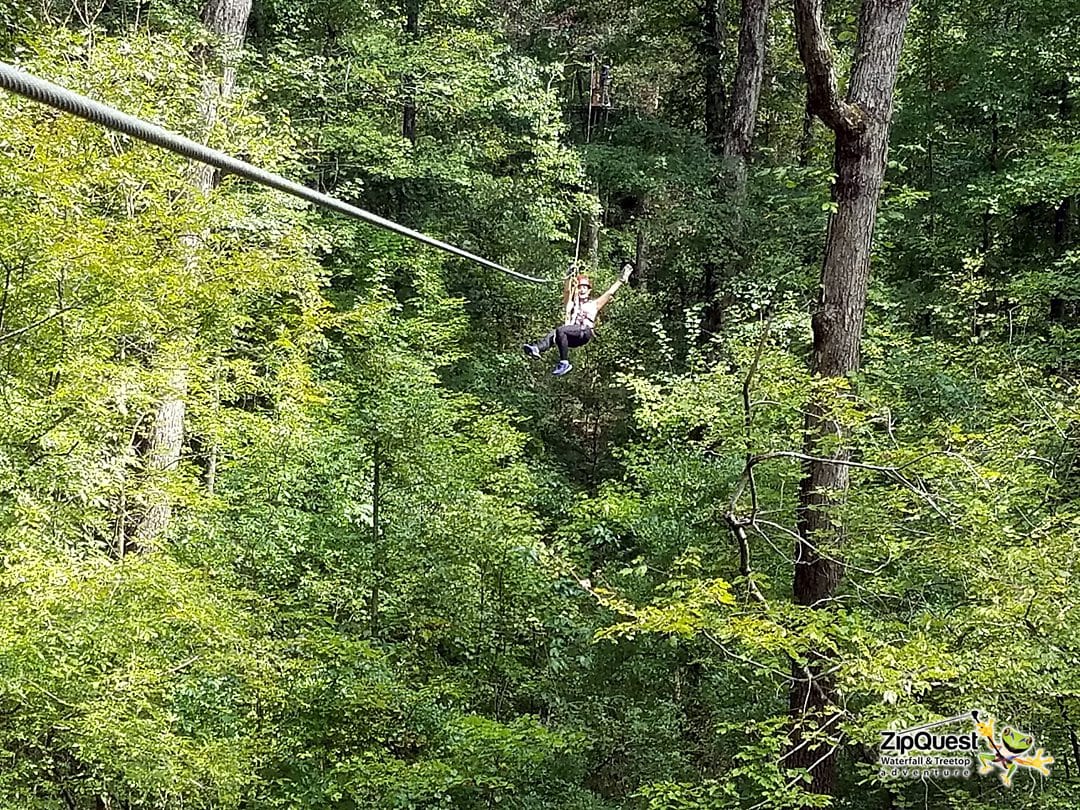 Picnic in a Park (or Gardens) Date Ideas in Fayetteville
Carvers Creek State Park (Free)
We parked our car in the Carvers Creek State Park and walked along a sandy path towards the Rockefeller House. You currently cannot go inside – the historic home is being remodeled. But it was fun to get some exercise and see the sandy path that let us from Point A to Point B there.
We had just come from Pinehurst where we learned a bit about the ecosystem in the area, including sandy soil and Longleaf Pines at Sandhills Horticultural Gardens. So it was extra cool to be experiencing that natural ecosystem in Fayetteville.
We went to the park during the day and enjoyed Carolina blue skies and sunshine. Be sure to bring sunglasses and sunscreen if you do that same. And if you're packing a picnic, bring some bug spray to keep those pesky bugs away from your romantic lunch (or dinner) for this date idea in Fayetteville.
Must-have Mosquito Remedy:
The only thing we have tried that gets rid of bug bites from your skin is The Bug Bite Thing. This item is a MUST pack when we travel. We always pack one in our backpack/day bag and another in our luggage. Don't travel without it!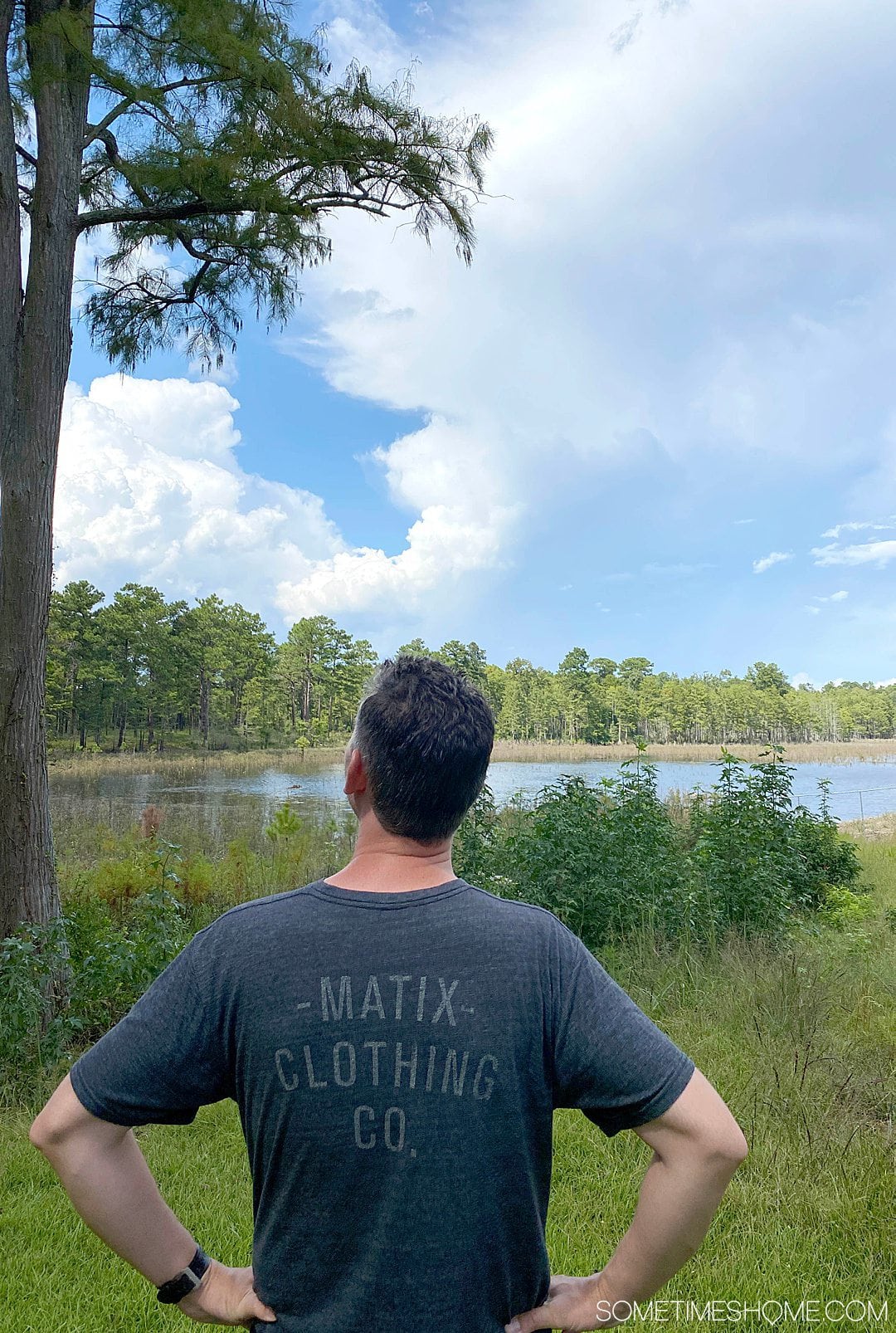 Cross Creek Park (Free – and Different from the Park, Above)
There's a lovely park in Downtown Fayetteville called Cross Creek Park. (It's actually stop seven on part of a greater Cross Creek Park trail.)
There's a beautiful fountain there and a small bridge that leads to a statue of Marquis de Lafayette. (You may know his name from Hamilton, the musical. But he's in the Tony-award-winning show because this French man is a significant historical figure in American history.)
It's a gorgeous small park, no matter what you do here. But we suggest picnicking! Don't miss reading the plaque in front of the statue of Lafayette – it explains why Fayetteville was named after him.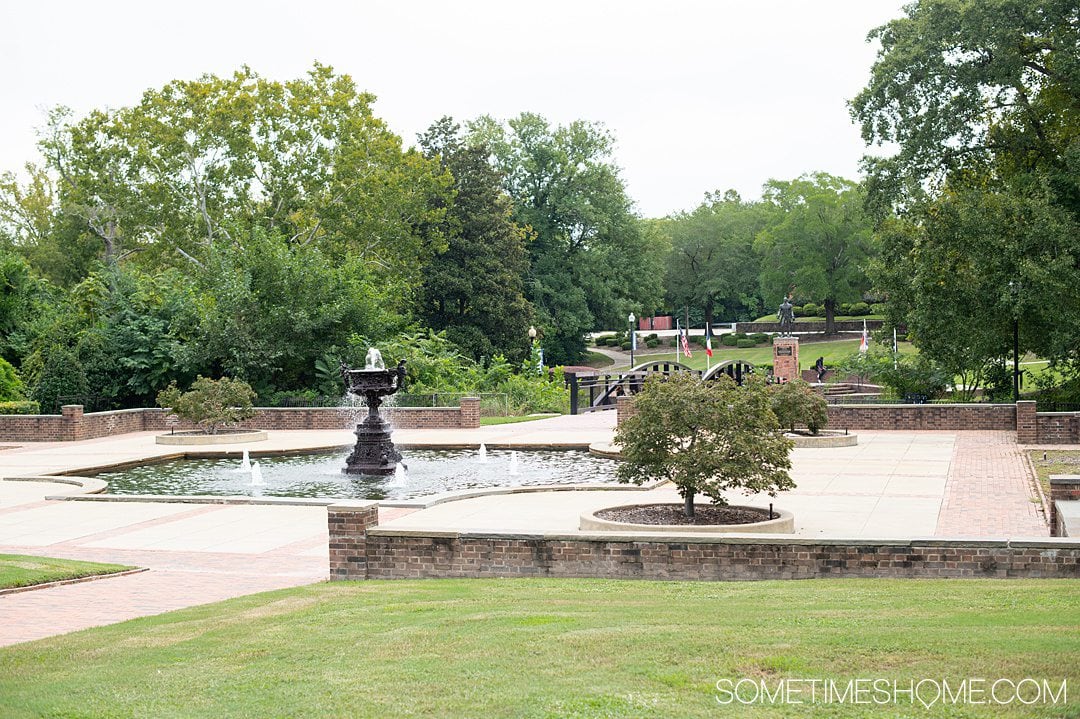 Cape Fear Botanical Garden (Entry Fee Required)
Cape Fear Botanical Garden is a beautiful attraction that was founded in 1989. Walking around the acres of landscapes takes about an hour and a half to two hours, depending on if you cover all the ground there, how slowly you walk through, and how busy it is.
(Though we will say the online map of Cape Fear Botanical Garden makes it appear much larger and intimidating than it actually is.)
But it's mostly just beautiful gardens for a couple to stroll through and enjoy as one of the date ideas in Fayetteville.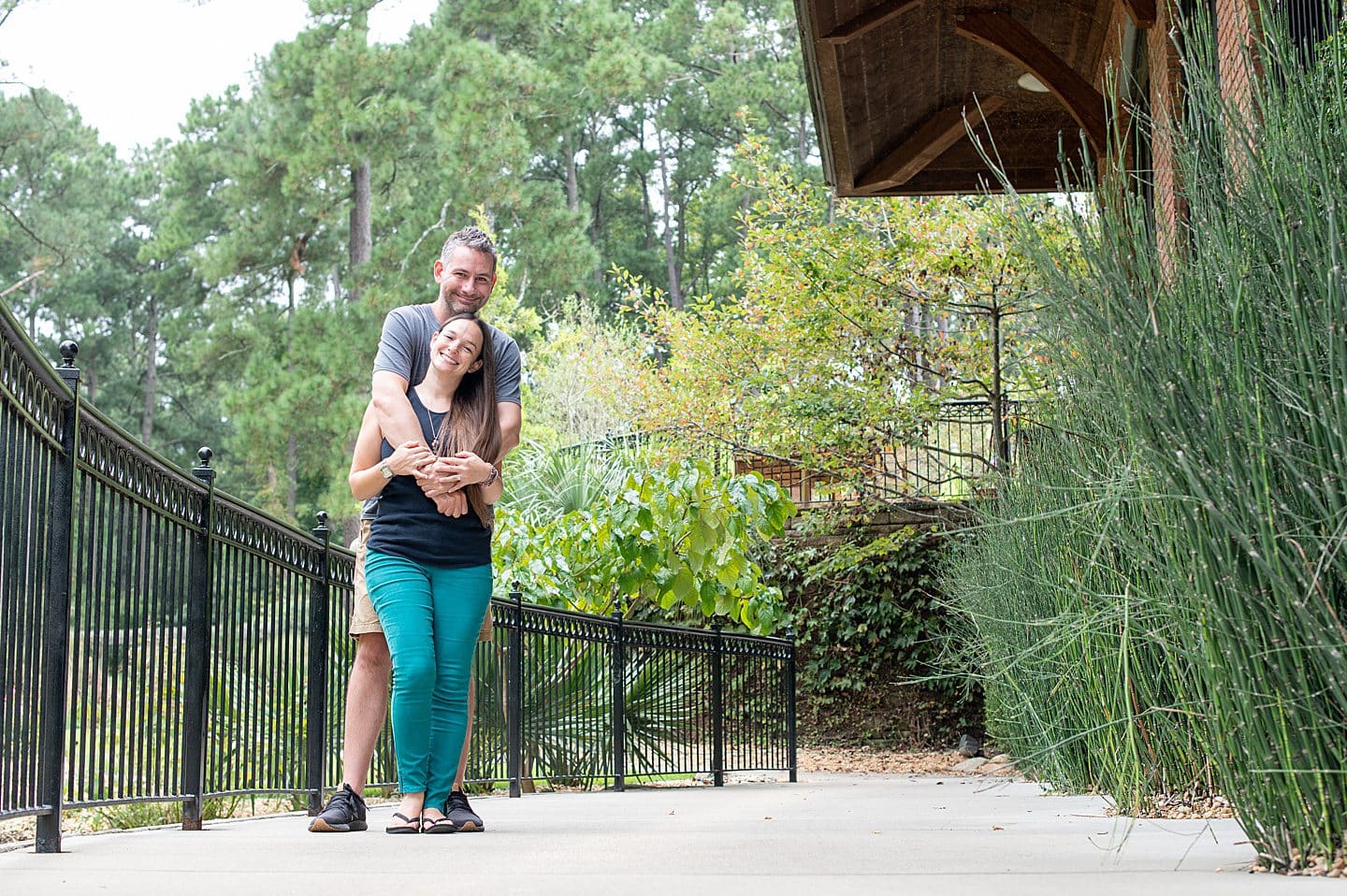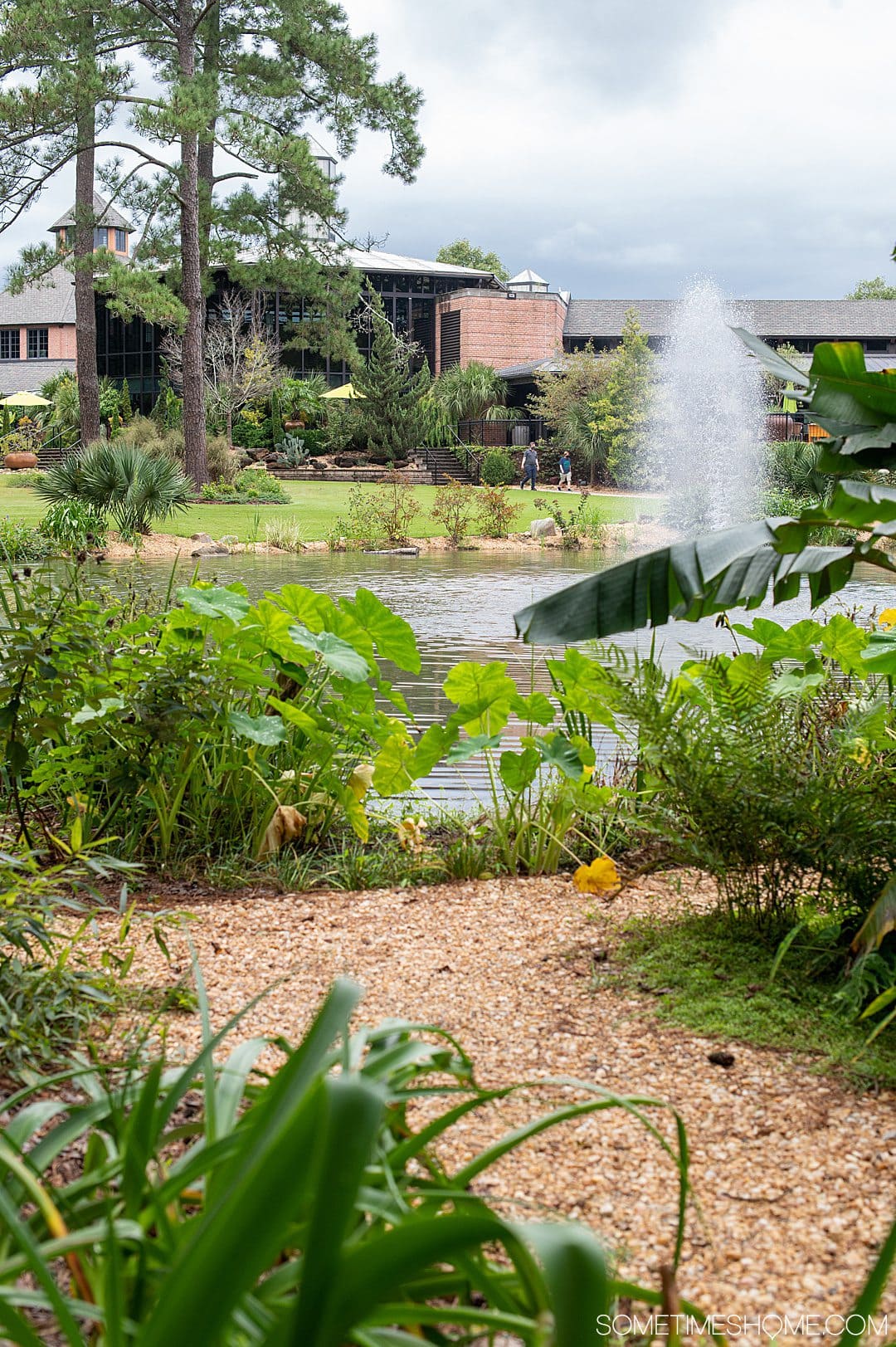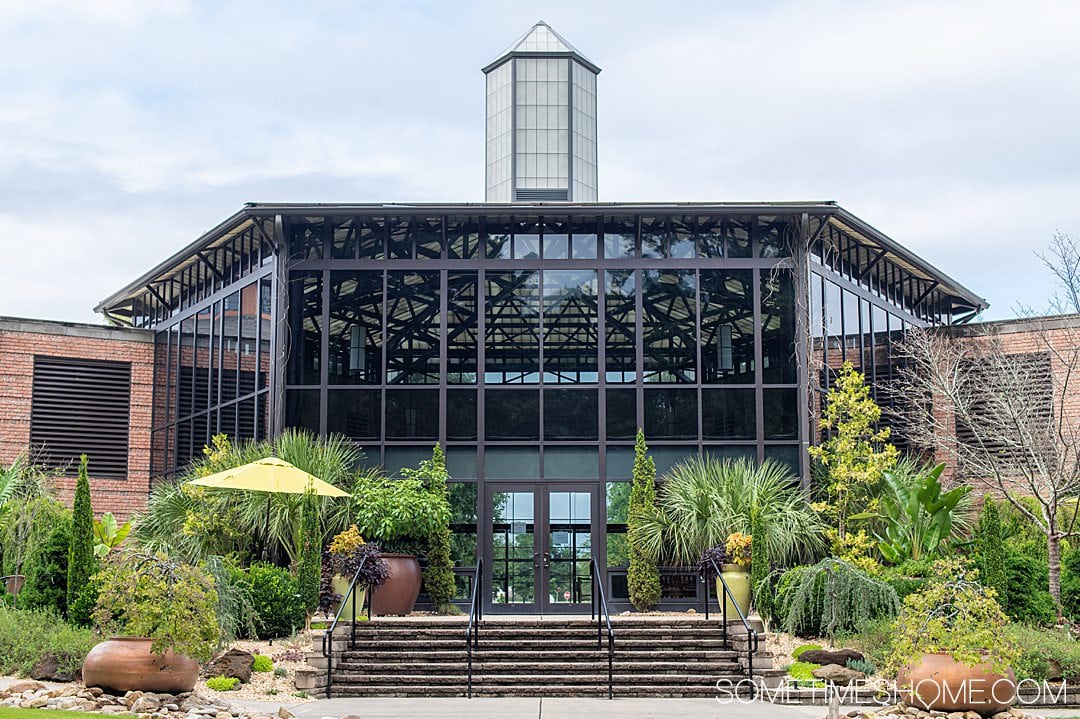 Best Dinner Dining Date Ideas in Fayetteville
There are several options all over the city for dinner date ideas in Fayetteville. Here are three different price points for every budget.
Luigi's: A Little Fancier, Sit-Down Service
We had a lovely dinner at Luigi's Italian restaurant. We admit the inside wasn't for us – because the noise level was high. But we thoroughly enjoyed their lovely outdoor patio. And the table service was great.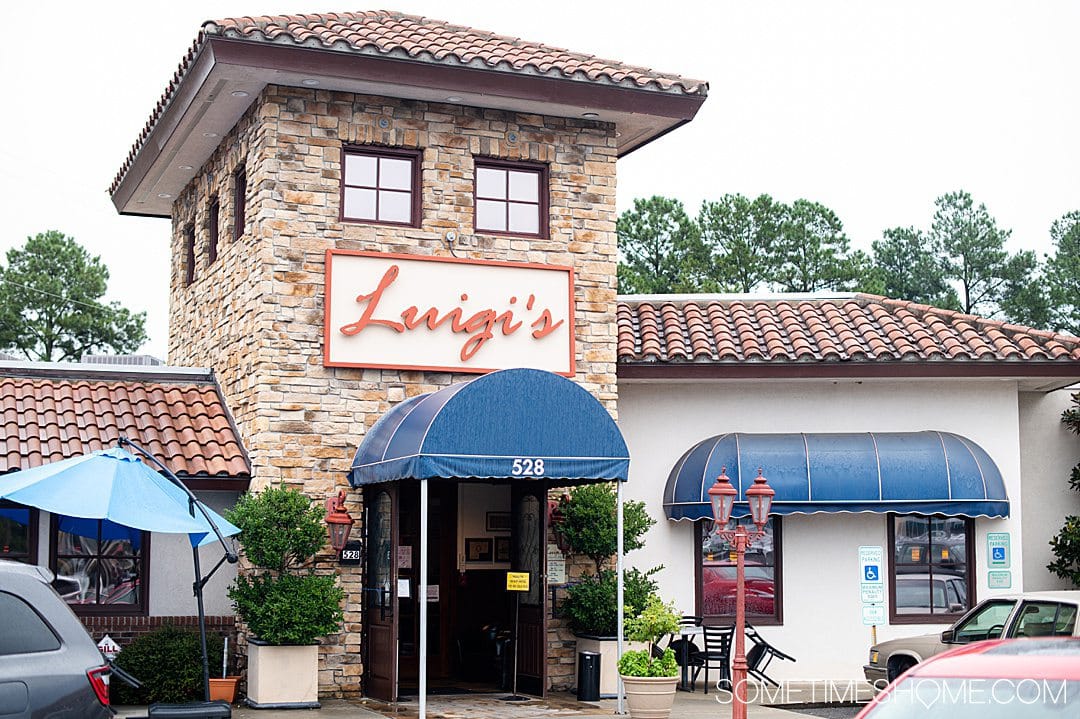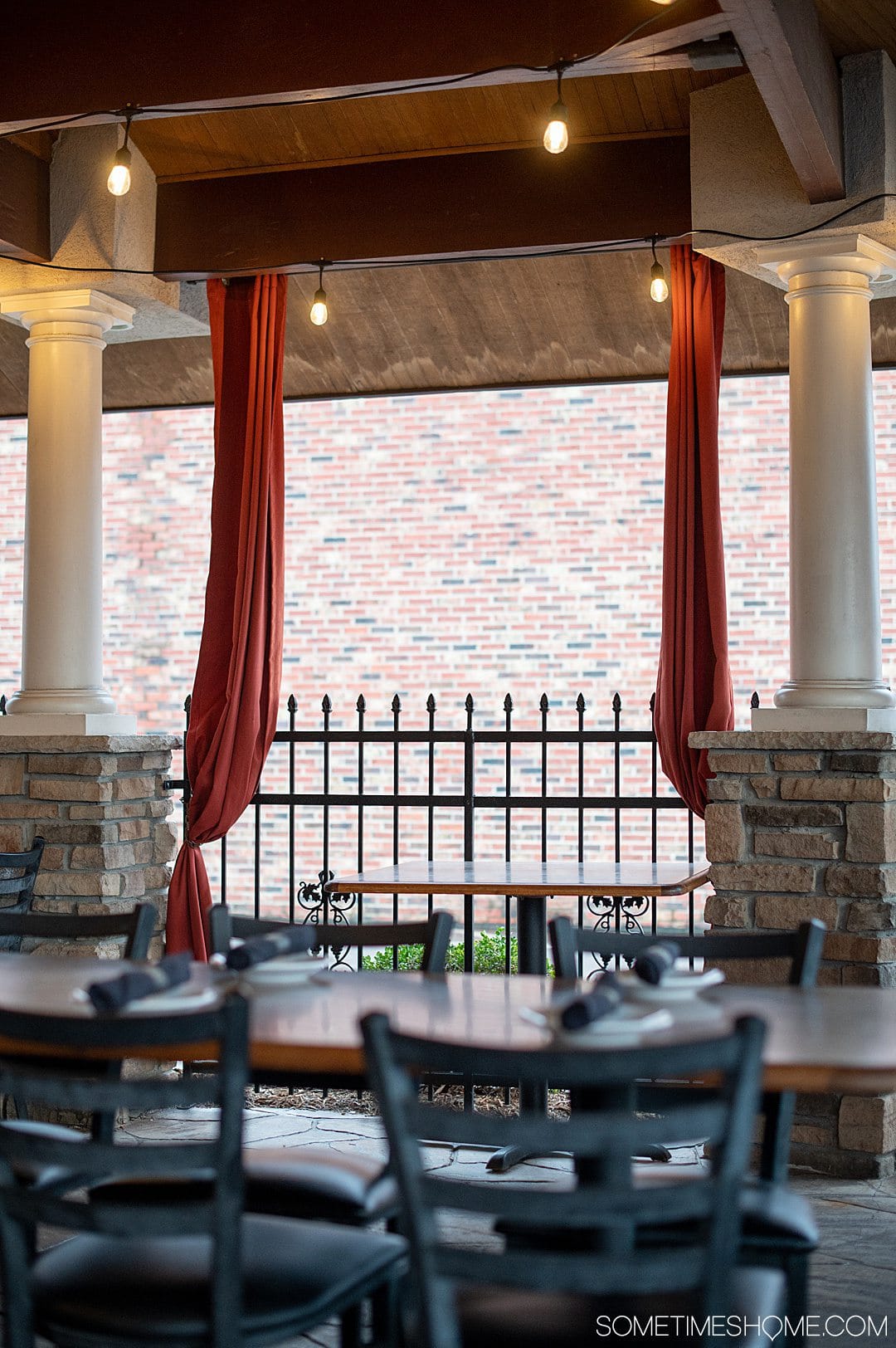 Fayetteville Pie Company: Comfort and Counter service
If you're desiring comfort food, look no further than the award-winning Fayetteville Pie Company. We each ordered a lunch combo from their counter: a savory pie and a mini sweet pie.
Dan got the Chicken Cordon Bleu with a molten chocolate pie, and I had the Shepherd's Pie with an apple pake (pie + cake). We preferred Dan's order but both were very yummy! We each only had half of our savory and sweet pies, so we had enough left over for another meal.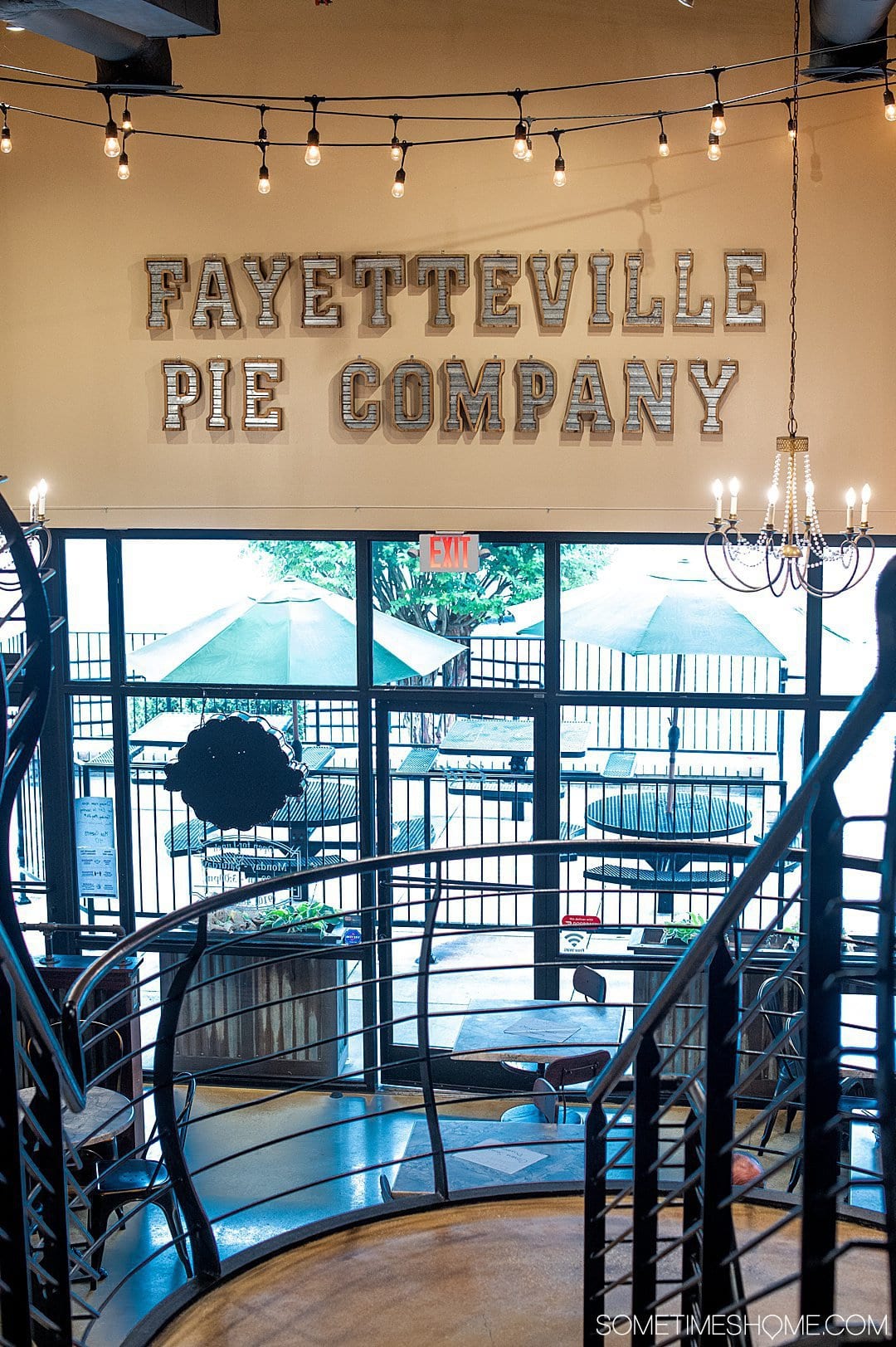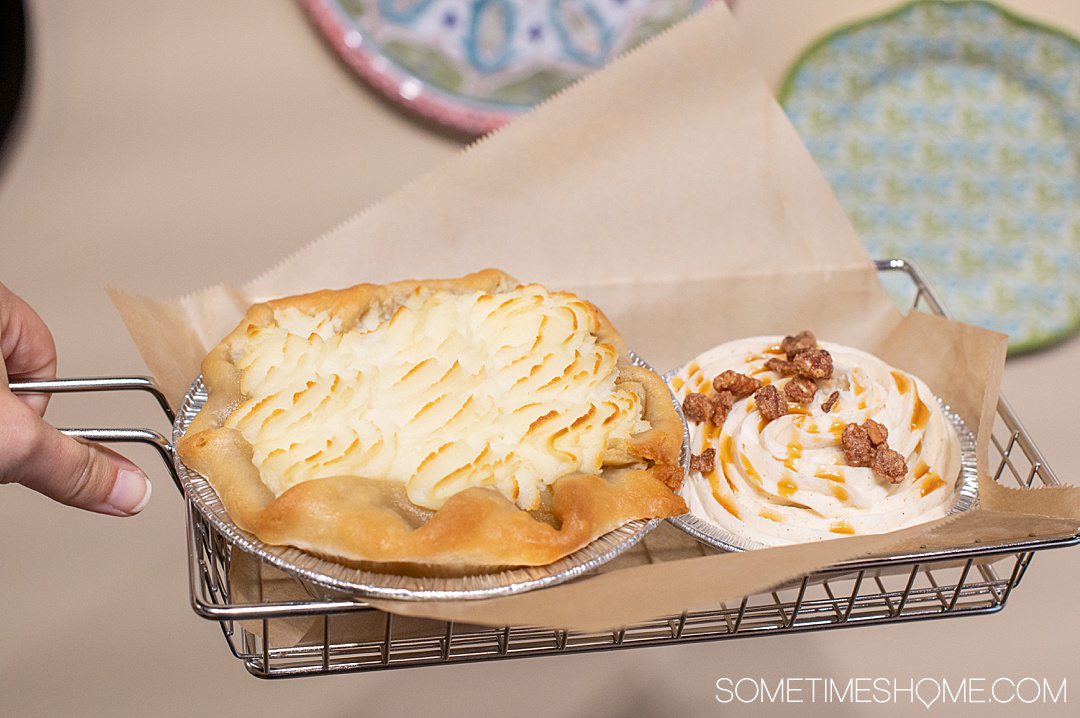 Leslie Pearson's family-owned pie shop is beloved by the community. The pies made there are a testament to her grandmother's love, which she communicated to her family through her cooking. And after all, what's a date without some love?
Don't miss the framed recipes and family photos by the restroom at Fayetteville Pie Company. It was fun to look at them and see her grandmother's pretty script handwriting.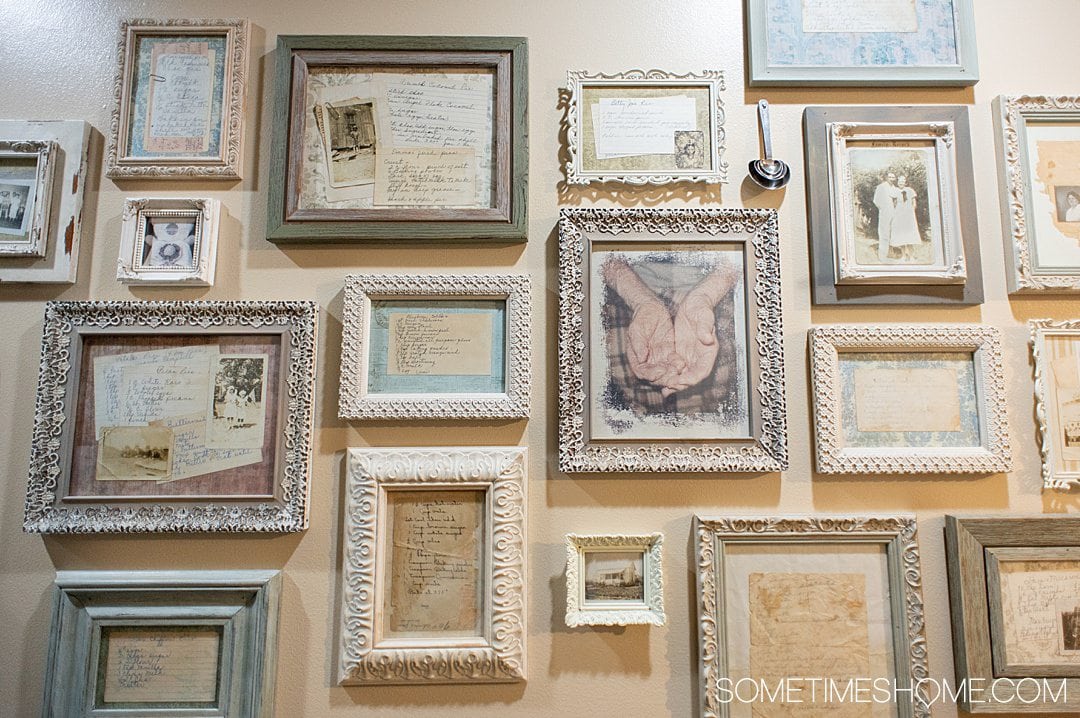 Mash House or Grilled Ginger: Casual Table Service
If you're looking for something a bit more casual and low cost for your dinner date ideas in Fayetteville, we have wonderful options that are very different.
Mash House: This Fayetteville restaurant is its own brewery as well. We gobbled up our shared French Fries and poutine (it hit the spot!) and enjoyed beer and date-night conversation.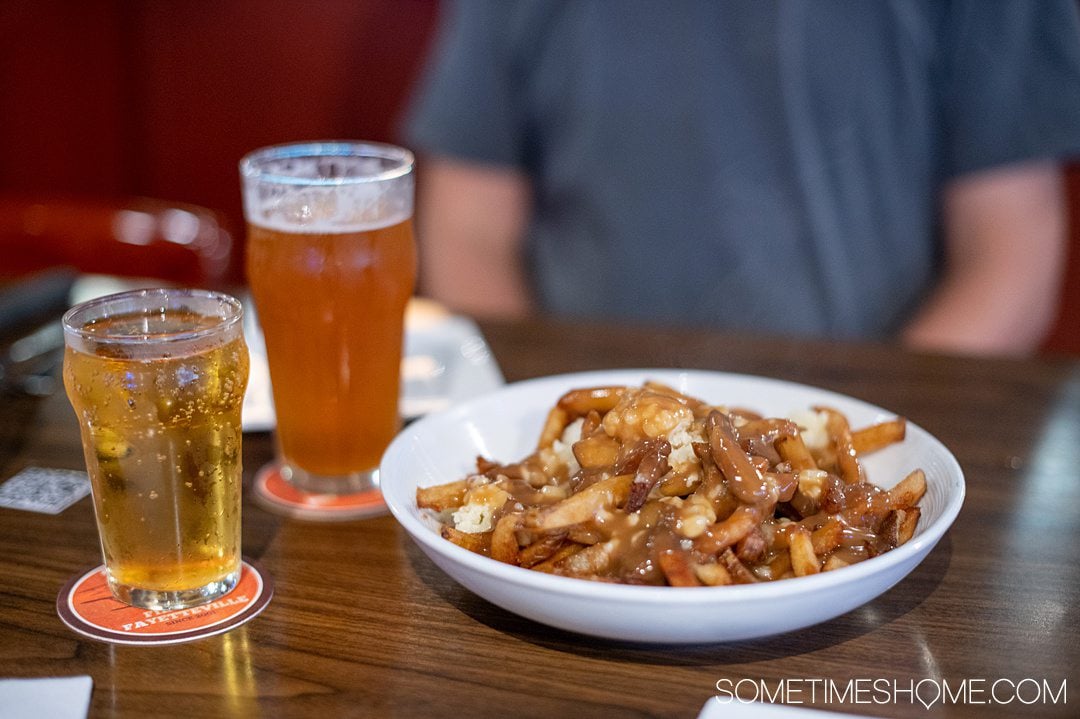 Grilled Ginger: We love any type of Asian cuisine. And Grilled Ginger Vietnamese restaurant was a place we adored! The service was efficient and their menu of Vietnamese and assorted Asian-inspired dishes plentiful.
We're purists at Vietnamese restaurants, though; we always get the beef pho. and it was VERY good here! (We admit we love hot soups no matter the season.)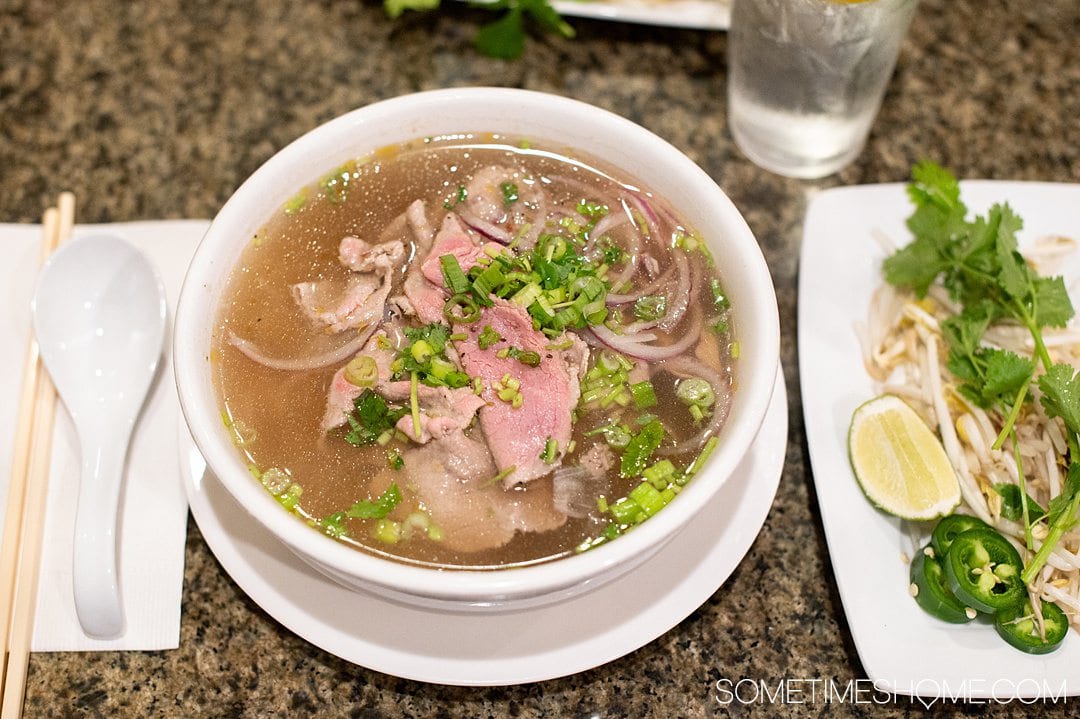 Explore Downtown Fayetteville
One of the best date ideas in Fayetteville is to visit downtown. Walk hand in hand as you stroll down main street, called Hay Street.
Stop to admire the sculptures and facades along the avenue. Sit down for drinks at Gaston Brewing Company. It's great for people-watching too!
(They have a food menu too, but in full disclosure we didn't have any of the food here.)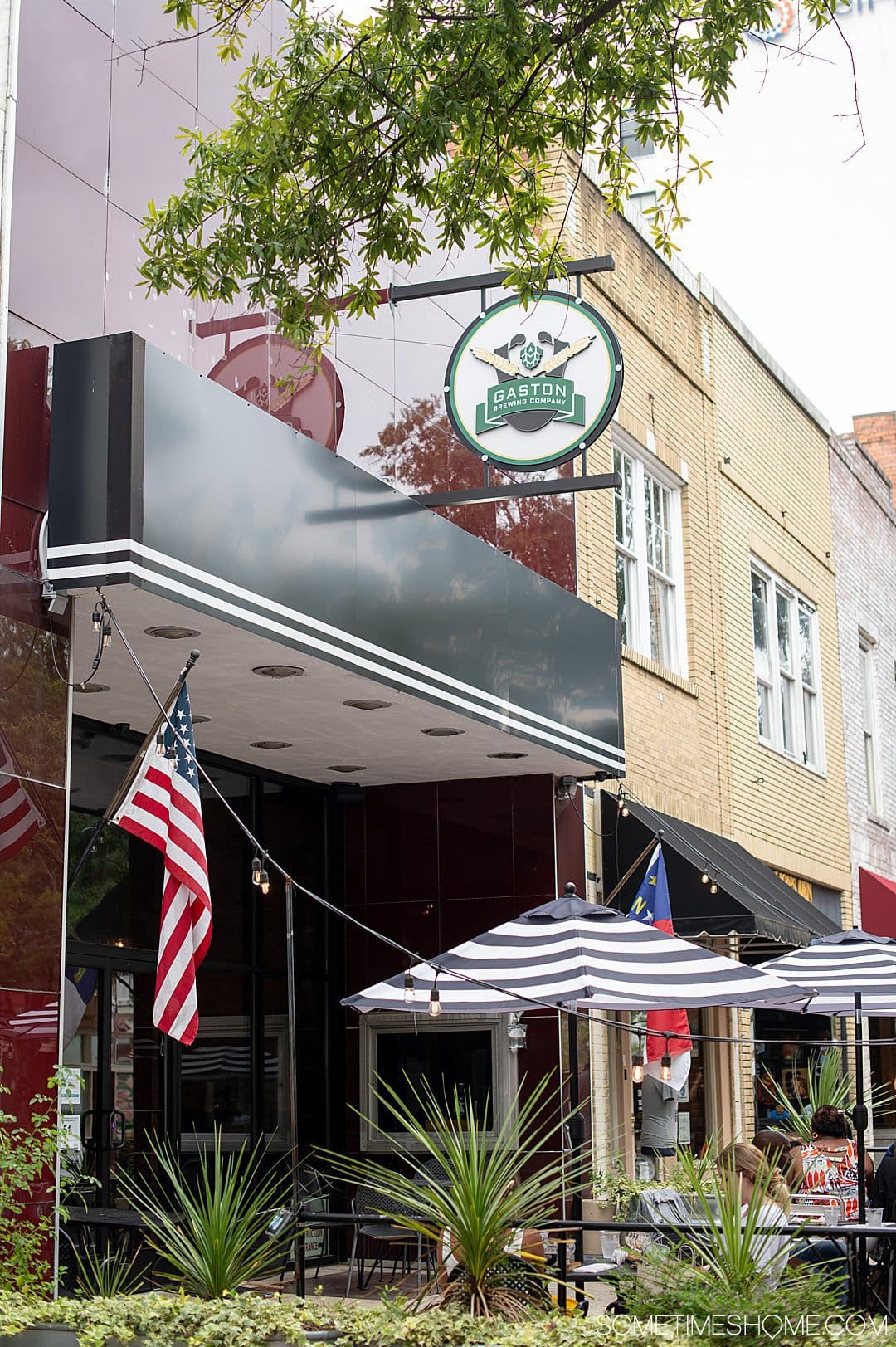 There are also some fun shops along the street. We enjoyed browsing the items at PressedNC, owned by a military spouse. I couldn't resist buying some gemstones there. (Naturally.) A Bit of Carolina also has some super cute items.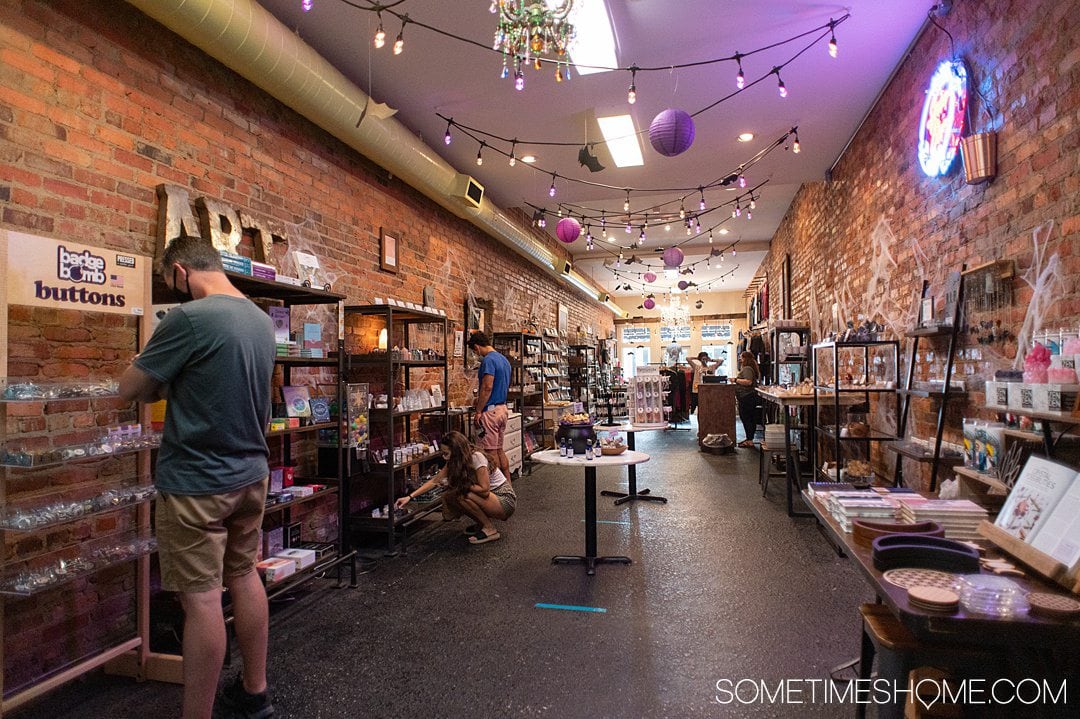 No time at night? Have a Morning Date and Get Coffee or Brunch
Have a Romantic Date in the Courtyard Garden of Rude Awakening
One of the cutest hidden gems for a little day date idea in Fayetteville, NC is the courtyard garden of Rude Awakening coffee shop in downtown Fayetteville. It's owned by Molly and Bruce Arnold, who were inspired to restore a once run-down space and help uplift the downtown community.
If Rude Awakening's back courtyard is full, there's front sidewalk seating too. It's the purple-framed shop in the image below with the French flag out front.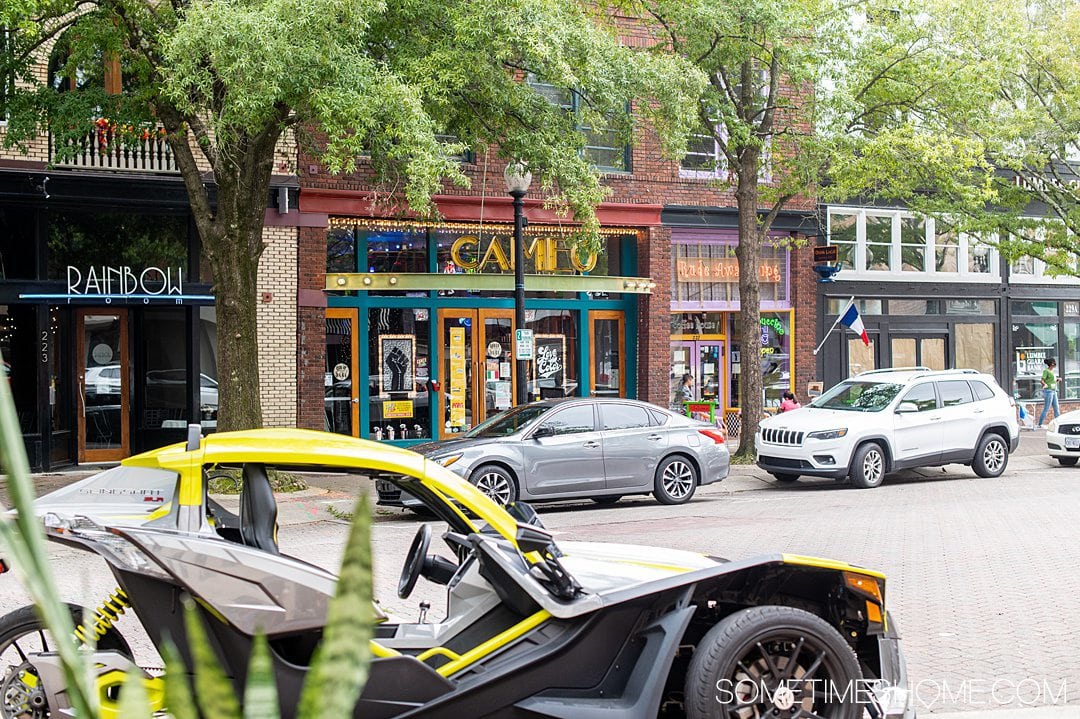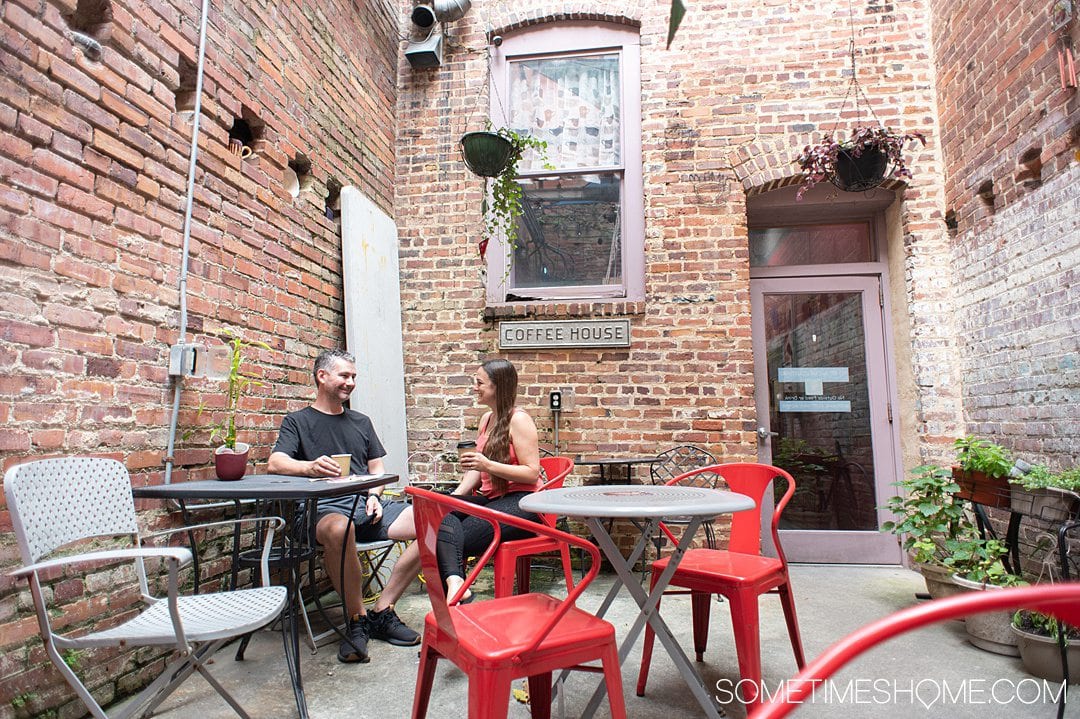 Brunch Date at Circa 1800
There's a lovely restaurant called Circa 1800 in downtown Fayetteville, NC. We didn't eat there but we enjoyed walking past the diners on the street of their al fresco, sidewalk dining.
Wouldn't eating brunch here be an ideal date idea in Fayetteville? Especially if the weather is great!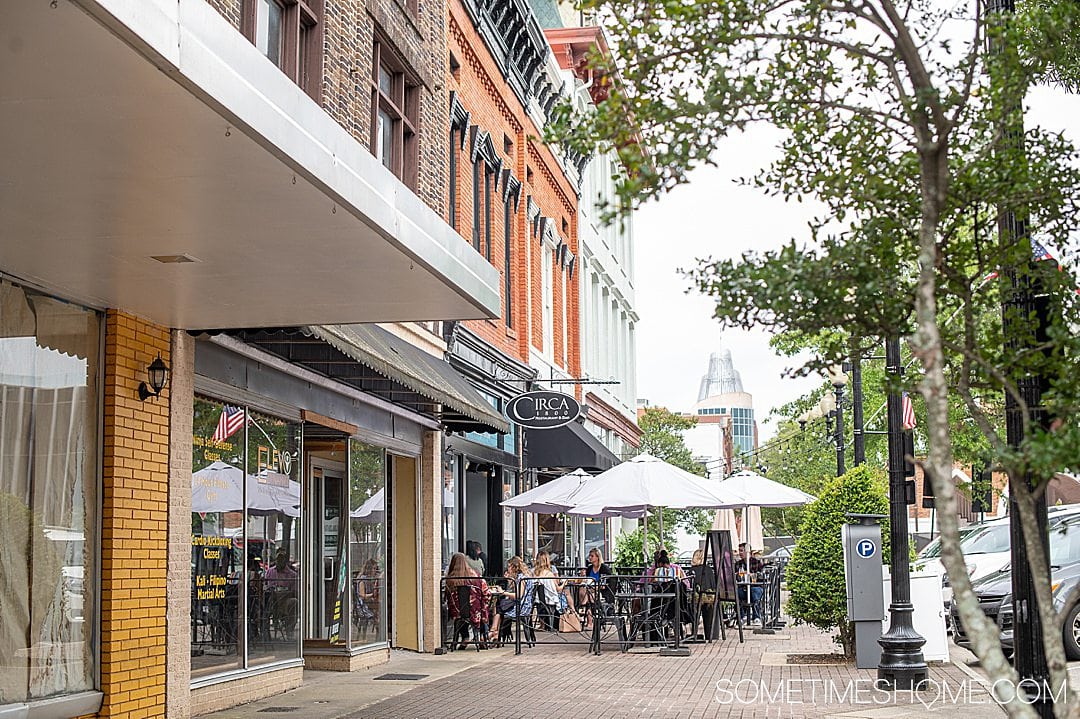 Check Out The Coffee Scene
If you're not near downtown Fayetteville (or simply want a more casual location that has a drive-through and/or plenty of parking lot space) try The Coffee Scene. It feels a but like Central Perk inside from the sitcom Friends.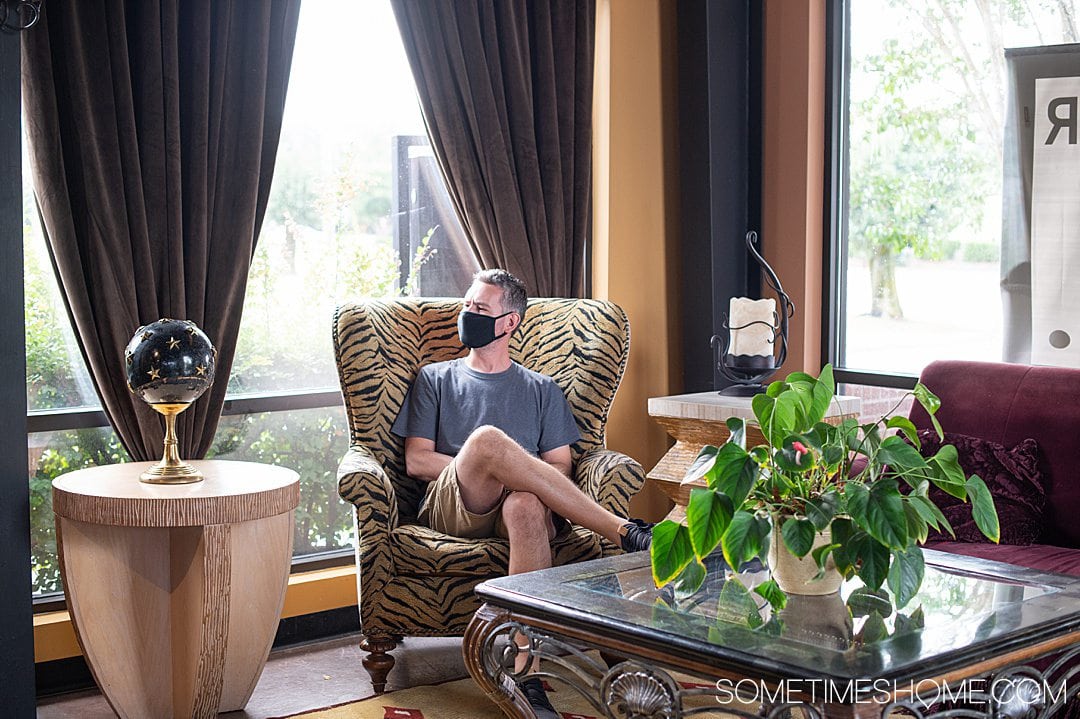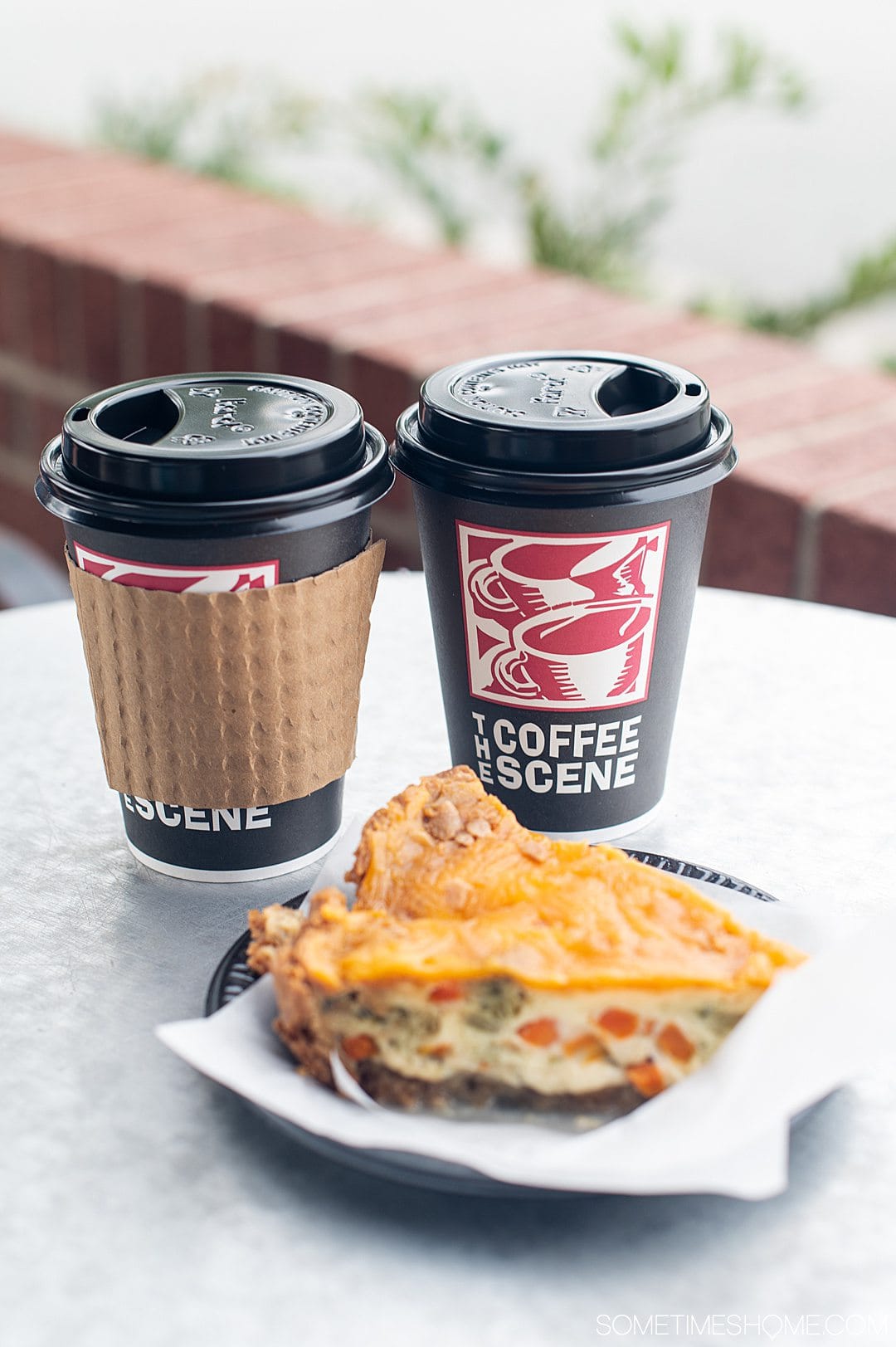 Enjoy Coffee and Unique Shopping at LeClair's
We loved Leclair's General Store in Fayetteville. It's a perfect date idea spot there. You'd never know what was inside by looking at its unassuming facade from the road.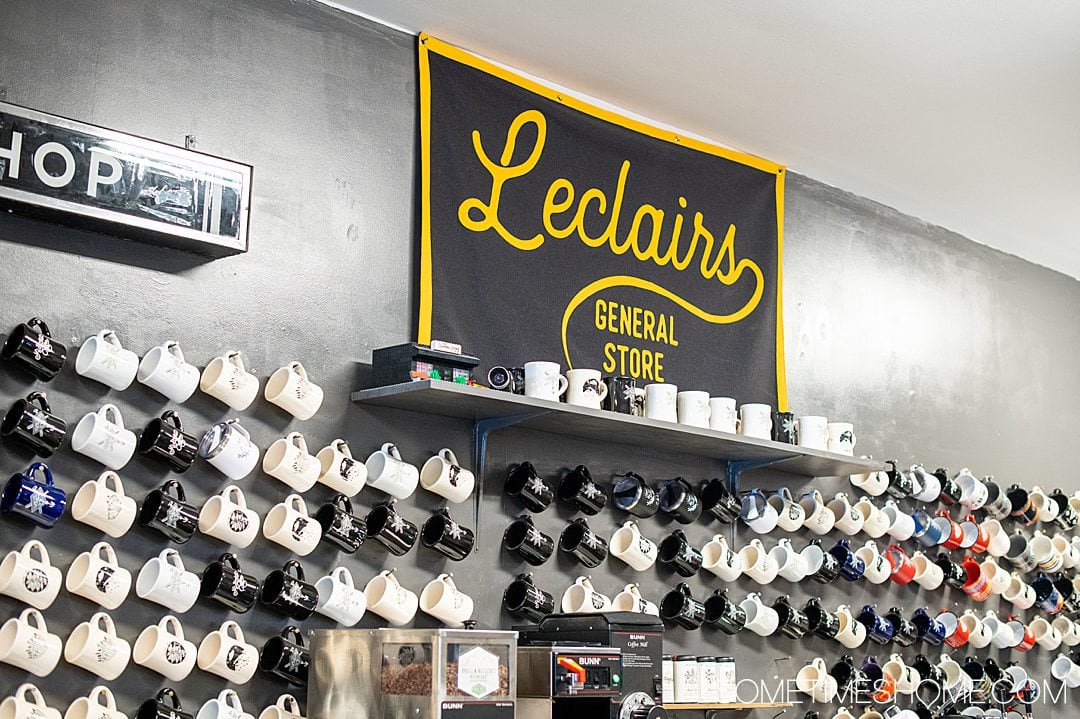 Not only do they have well curated, awesome shopping, but they have a little coffee area too. Their wall of coffee mugs ensures a sense of community from their regulars.
The owner of Leclair's, Patrick Leclair, moved to Fayetteville from NYC where he was a visual merchandiser for a very large well known brand. His experience and expertise shows in the way he's designed his store and highlights the items for sale.
During non-COVID times they even have live music some nights and a little comfy-cozy "jazz" nook in the back complete with a grand piano.
Be sure to get wine for home while you're there – they have a great selection.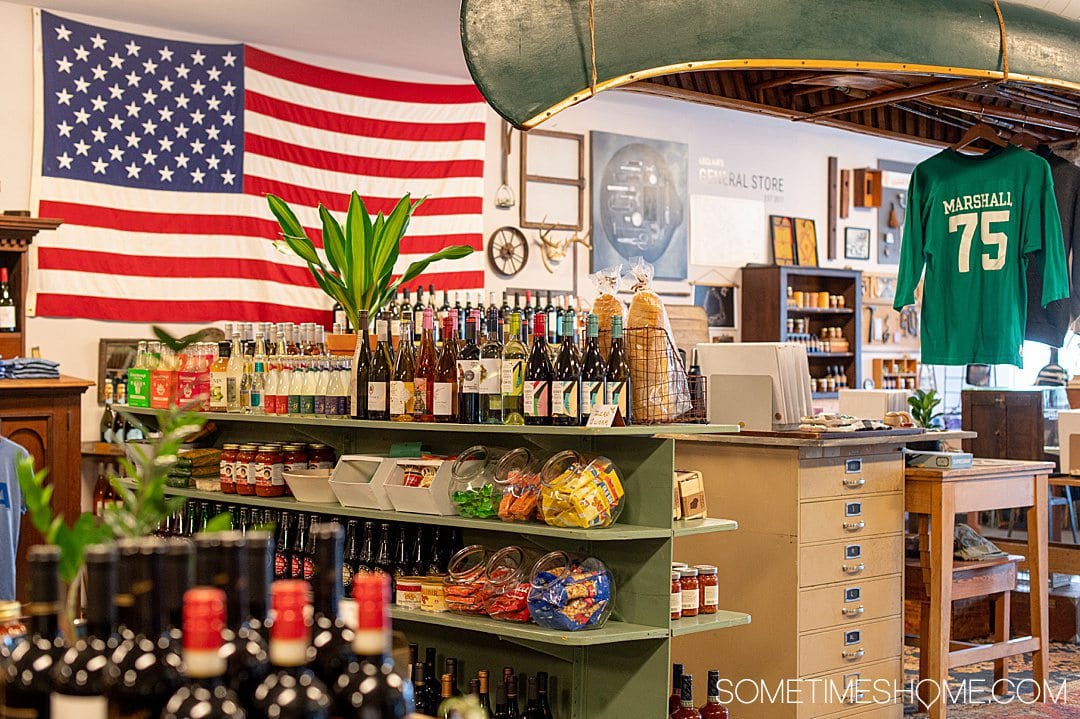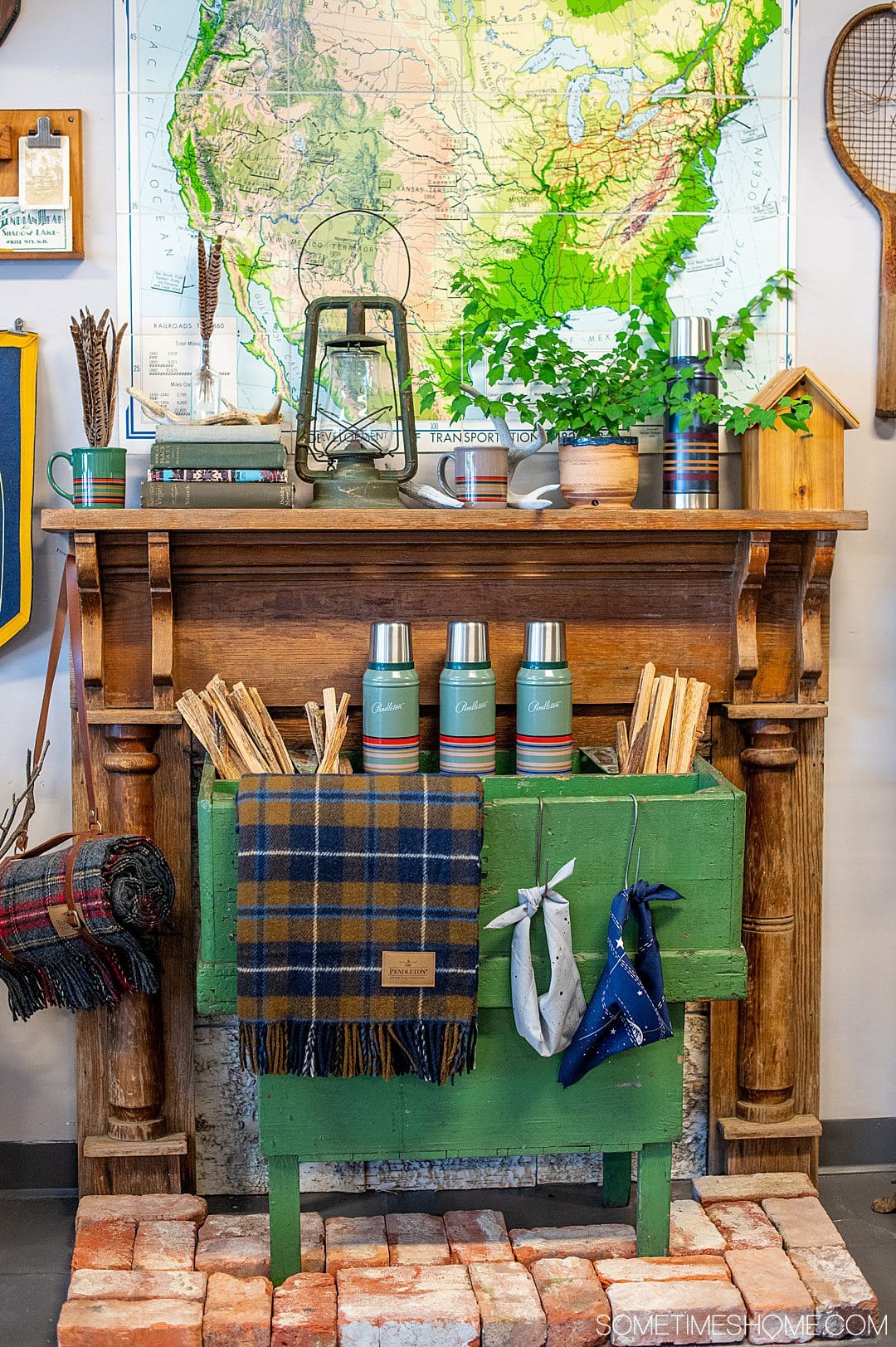 Share a Date Day or Evening at Dirtbag Ales
Dirtbag Ales is a brewery about 15 minutes from downtown Fayetteville.
They have a large selection of beers in a warehouse-type space with tall ceilings and plenty of land surrounding the structure. (They have a huge, very popular Farmer's Market here on weekends.)
If you love beer consider some time here having a pint or a flight for one of your date ideas in Fayetteville. (We very much enjoy beer and look for it wherever we go, from breweries in Winston-Salem and San Diego)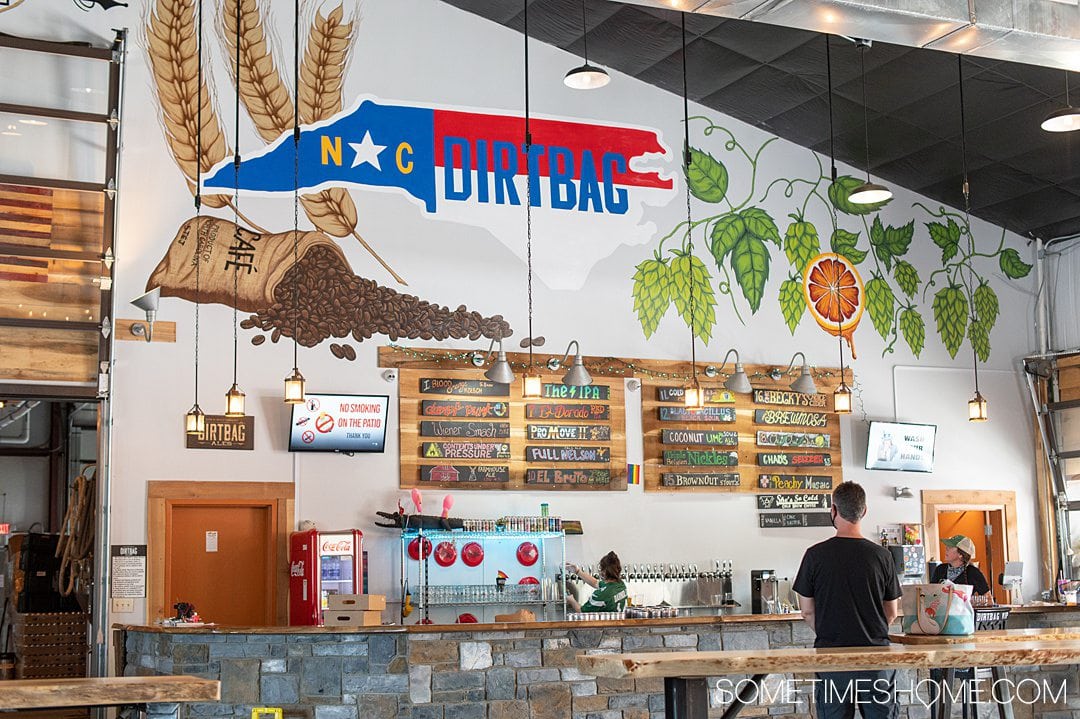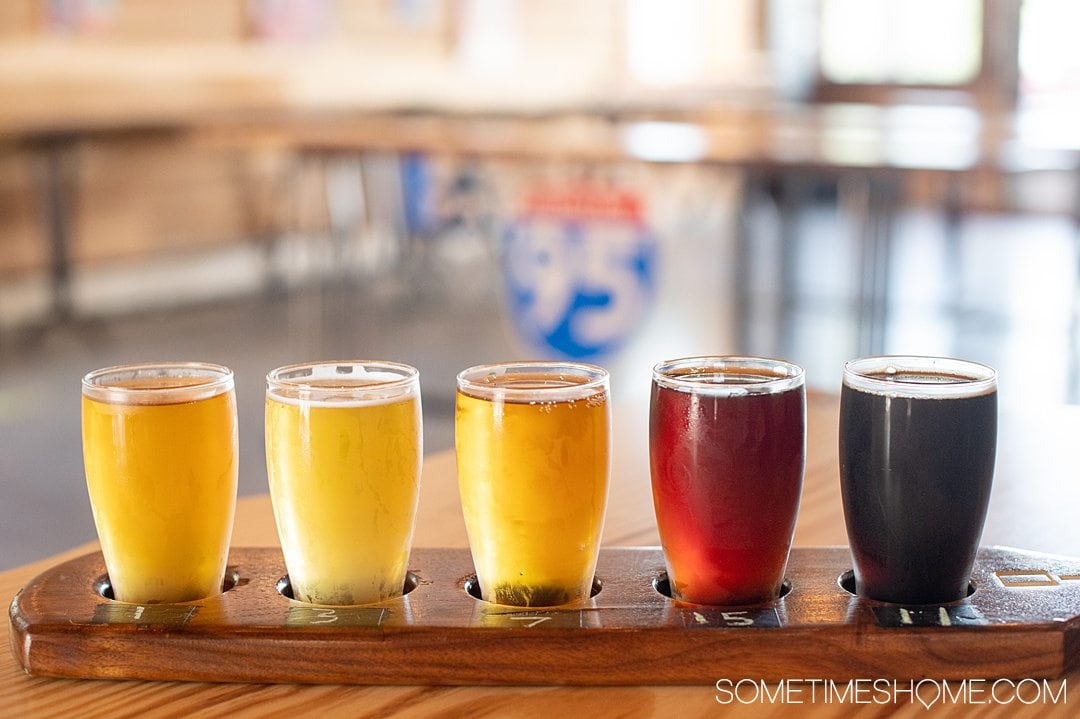 Have you been to Fayetteville, North Carolina?