Stress Free 2 Day York Itinerary in Pennsylvania
A road trip to Pennsylvania was just what we needed. We love a weekend getaway and a stress-free 2 day York itinerary was a welcomed escape.
We found that two days there was just enough to dip our toes in and get to know the lay of the land in York, Pennsylvania, eat fabulous food and see some great sites. Our trip started on Friday morning as we drove north for six hours from Raleigh, NC. We stayed until Sunday afternoon, looking forward to returning in the near future.
Friday

:
12:30pm or 2:00pm: Early arrival for Harley Davidson Factory Tour
This is an optional addition to your itinerary. It's a little hard to arrive in time for the last tour of the day at 2:00pm if you're driving from several hours away (especially if you have to work that day). However, tours are not given on weekends or holidays so a weekday is your only option.
I admit this isn't something we were able to do because they were closed due to COVID precautions during the time we visited. But it's definitely something on our list for our next visit!
Purchase tickets ahead of time online for your day/time in advance. Tickets are $10 per person. Tours last one hour.
Address: 1425 Eden Road, York, PA 17402
3:00pm-4:00pm: Check into York's Heritage Hills Resort
We arrived at 3:00pm from a six-hour drive from Raleigh; it was just in time to check into the hotel, Heritage Hills Resort. This is one of the nicest options of accommodations in the York area and we opened the door to a spacious room on the fourth floor of a five-story building.
There's so much to explore at the hotel but we left it for Sunday morning because of our 2 Day York Itinerary plans.
Address: 2700 Mt. Rose Avenue, York, PA 17402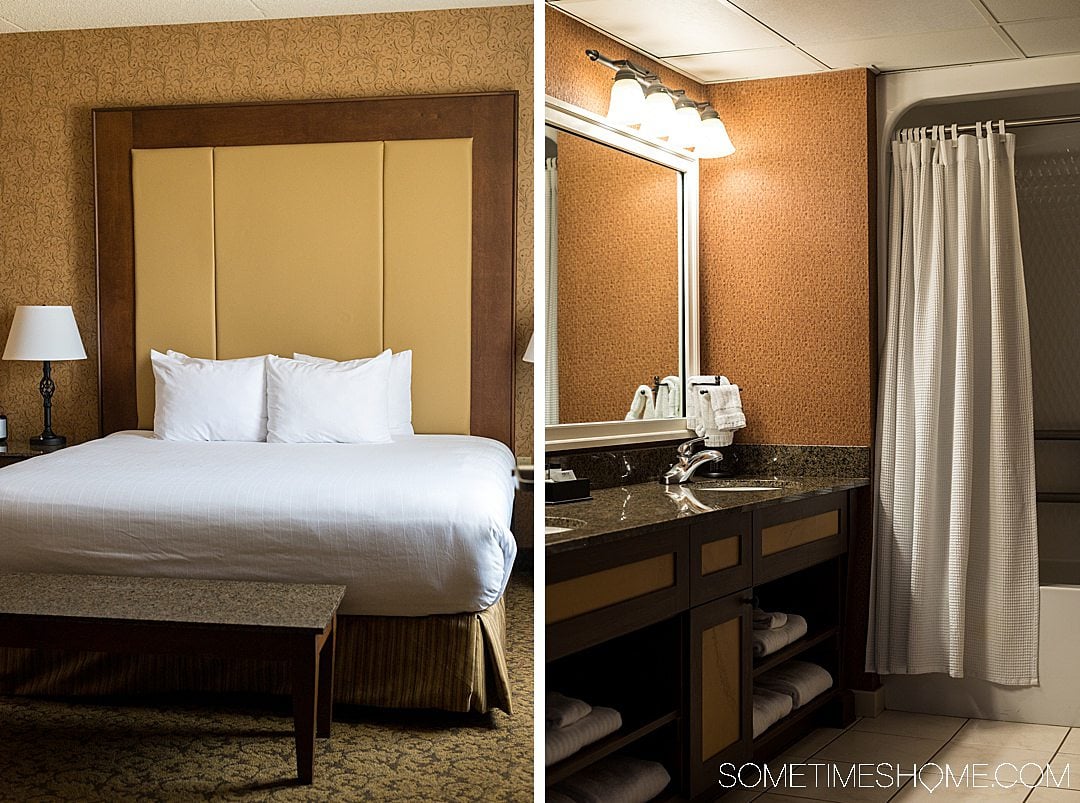 🌴Florida Packing List
The Florida sun is HOT and STRONG! Don't forget to pack outdoor essentials like reef-safe sunscreen and a reusable water bottle to protect yourself from the Florida sun!
It's also a good idea to pack an umbrella or poncho (you never know when it will rain) and a cooling towel – because even if it rains, it can still be well over 90 degrees!
4:15pm-5:40pm: Drive to York's Royal Square District
We drove about 10 minutes to the Royal Square District. It's appropriately named for its royal grid of street names, which includes King, Princess and Duke.
We loved this area! It felt like we found our place in York, mostly because it's a very art-forward area. Street art and murals abound here.
Our favorite part of the small area was where a cluster of fun shops is on E. King Street. The back of the shops have a fabulous courtyard with Adirondack chairs, picnic tables and a few gorgeous murals. All the stores on the front side of the street have back entrances here, too.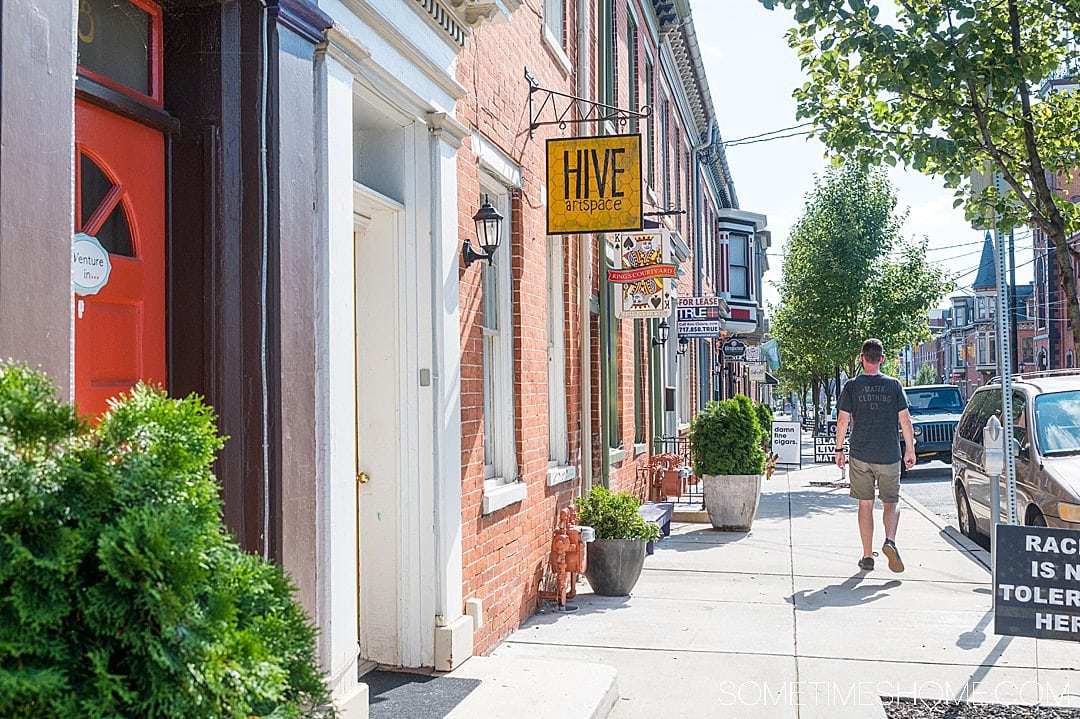 We meandered through the streets to see all the colorful artwork in the area. It took about 45 minutes to stop and admire each one, snapping photos at each location.
We ended up having about 30 minutes to kill before our dinner reservation. It was the perfect area to do so because we saw so a few appealing bars there. We decided the courtyard was so much to our liking, and so beautiful in July, it was the perfect place to beat the heat with an ice-cold beer.
Dan and I sat at a picnic table that belonged to The Cantina, and scanned a touchless QR code with our phones to order two 12 oz. beers. They were promptly delivered to our table minutes later. It was such a refreshing thing to do on a hot day during our stress-free weekend in York. (And let's face it – a cold beer is refreshing any time. Even if it was winter we'd have simply sat indoors and enjoyed the interior atmosphere at The Cantina!)
We went back to the car after enjoying our small cold draft beers and drove the very short distance to George Street in downtown York. This where our dinner reservation was.
Address: please see our York murals post for the locations of the murals. We dish all the details!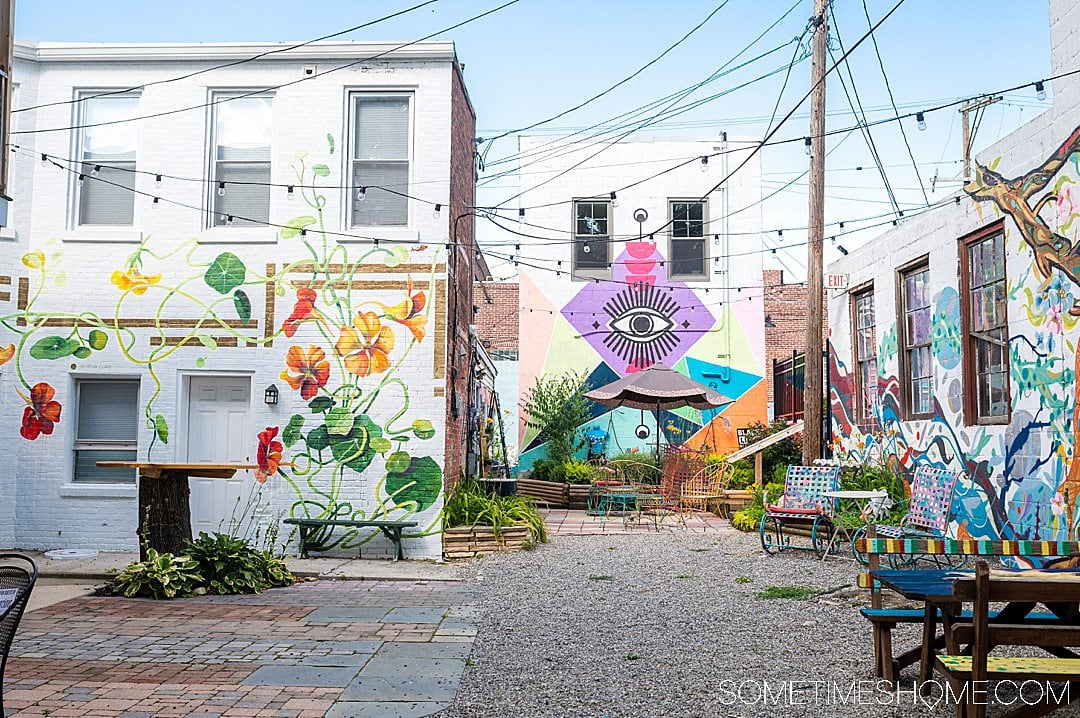 6:00pm-6:30pm: Walk Around Downtown York
We took a few minutes to walk around downtown York before dinner. It was a perfect time of day – the sun was just starting to set. We explored Cherry Lane and walked through to Central Market, which was closed at night but we admired the architecture nonetheless. (Plus we planned to stop there for breakfast another day.) We enjoyed reading some of the historic plaques around downtown to deepen our understanding of York's history.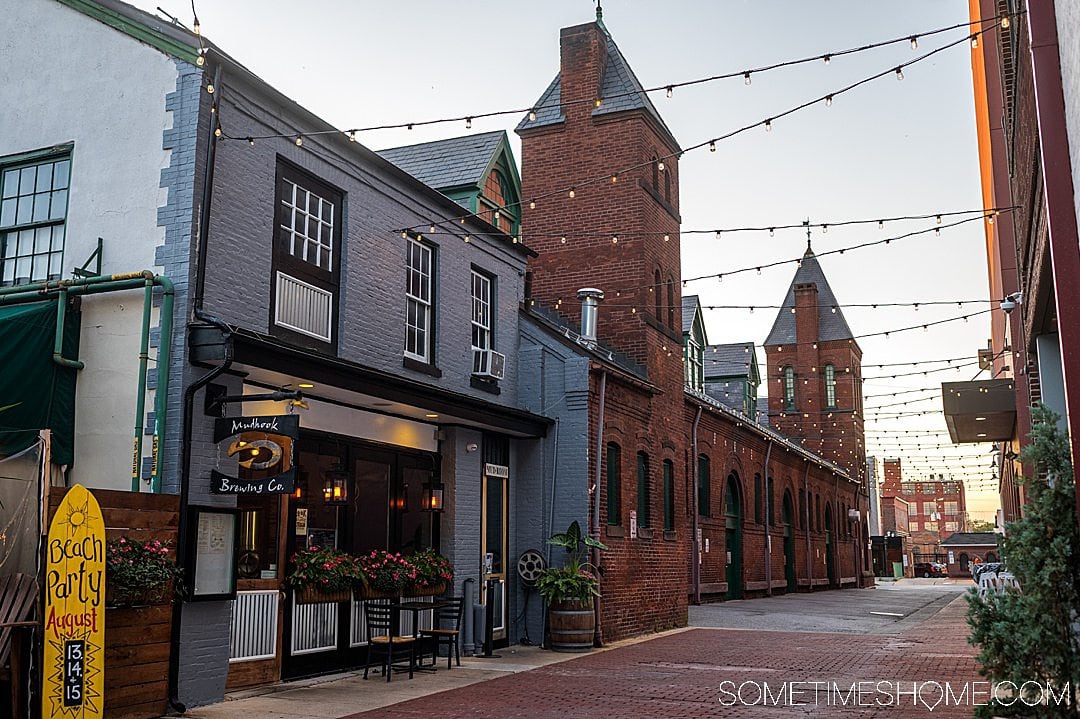 6:30-8:30pm: Dinner at The Handsome Cab
We enjoyed our dinner at The Handsome Cab immensely. We cannot recommend it enough! (Reservations are recommended.)
The building is the only original structure on the block from the 1880's. It was restored to glory after sitting vacant for 12 years. Not only is it a restaurant but also a piano bar and art gallery.
It's a three floor building and The Handsome Cab occupies the first floor for dining and music, and the second floor for its own gallery and one art studio they rent out. The third floor is another art studio they rent, which you're welcome to visit when the artist is there.
Address: 106 N. George Street, York, PA 17401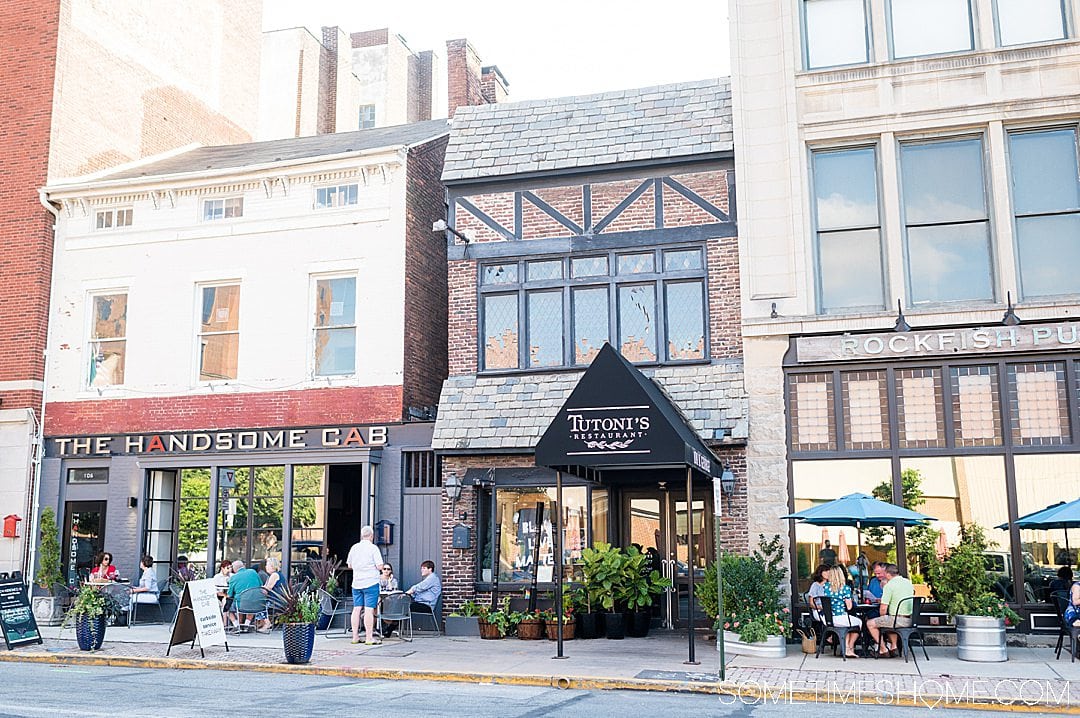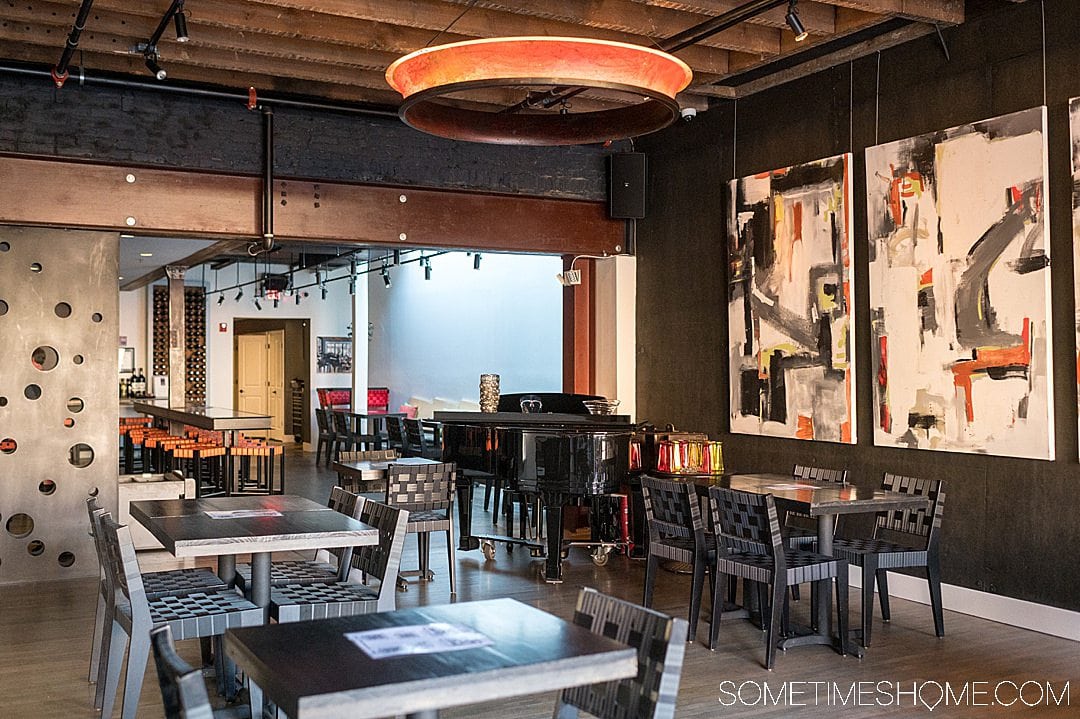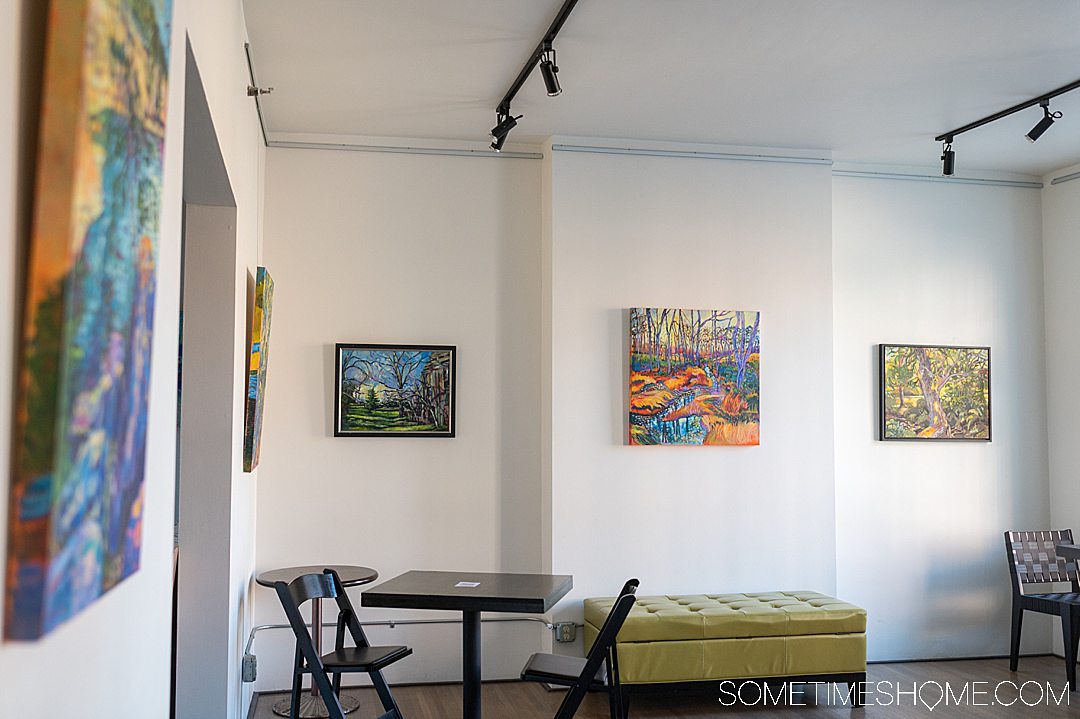 Here's what we ordered (glasses of wine excluded):
DragonStone cocktail and a glass of wine
Cup of crab soup
Caesar Salad
Smoky Scallops
Ahi Tuna
Flourless Chocolate Cake
Yes, we would recommend this exact order if your palate craves the same savory flavors we adore!
The crab soup was tomato-forward with a little hint of spice and chunks of crab. Very good. The scallops were amazing. A-maze-zing. And the tuna was light and refreshing on a summer day. The flourless chocolate cake, contrary to what you might think from its rich color in the photo below, was surprisingly light and the perfect ending to a wonderful meal.
Read much more about our meal and The Handsome Cab in a dedicated post we have on our dinners in York from this trip.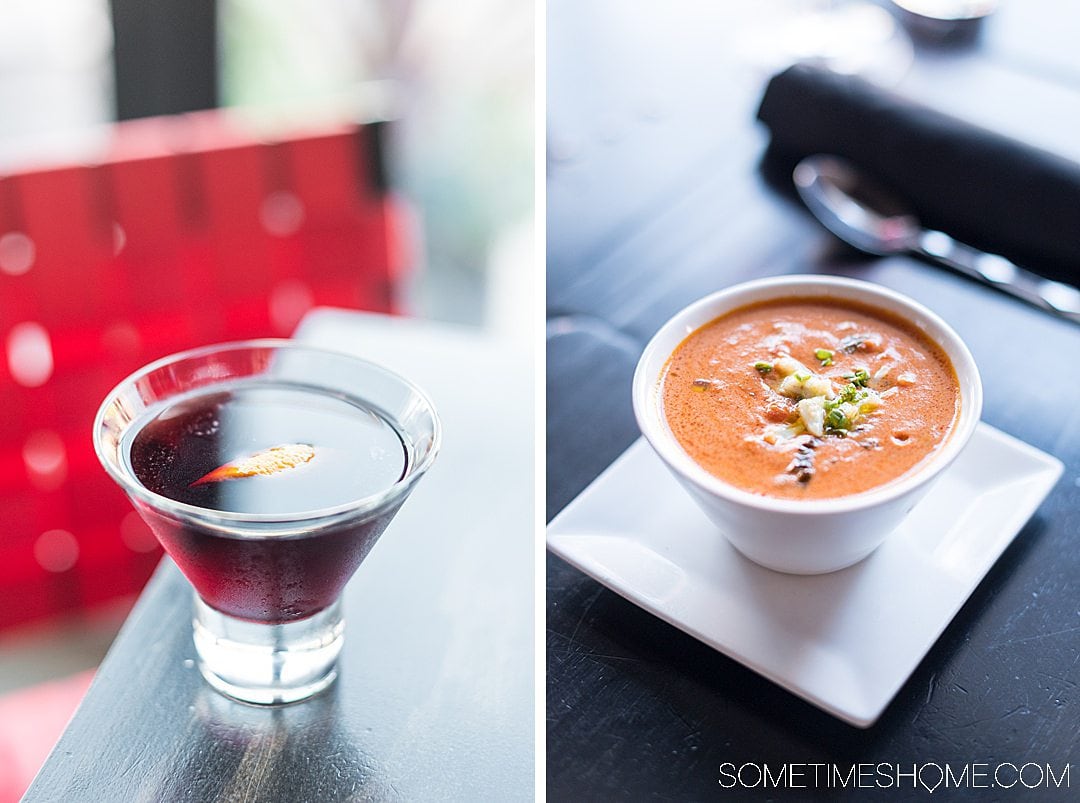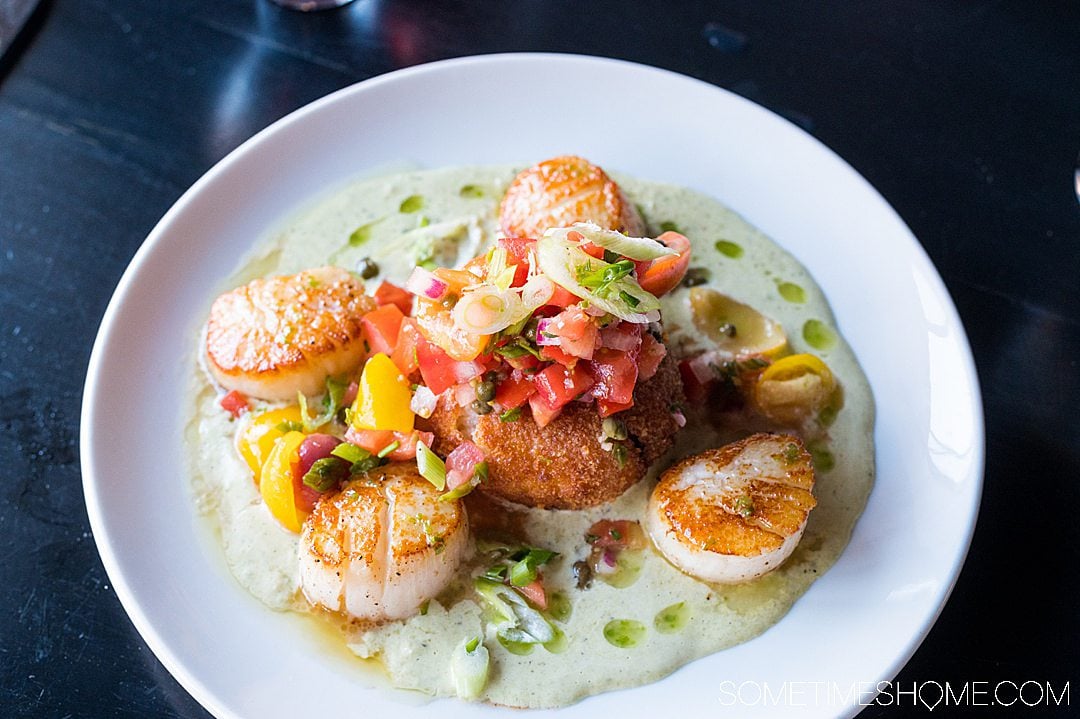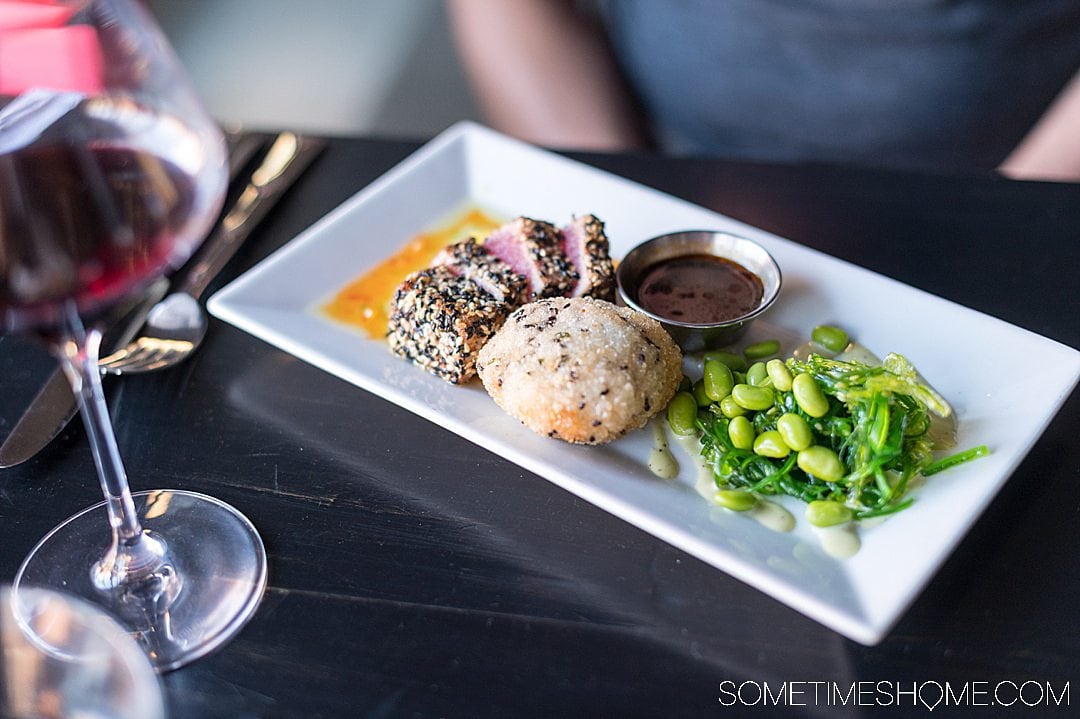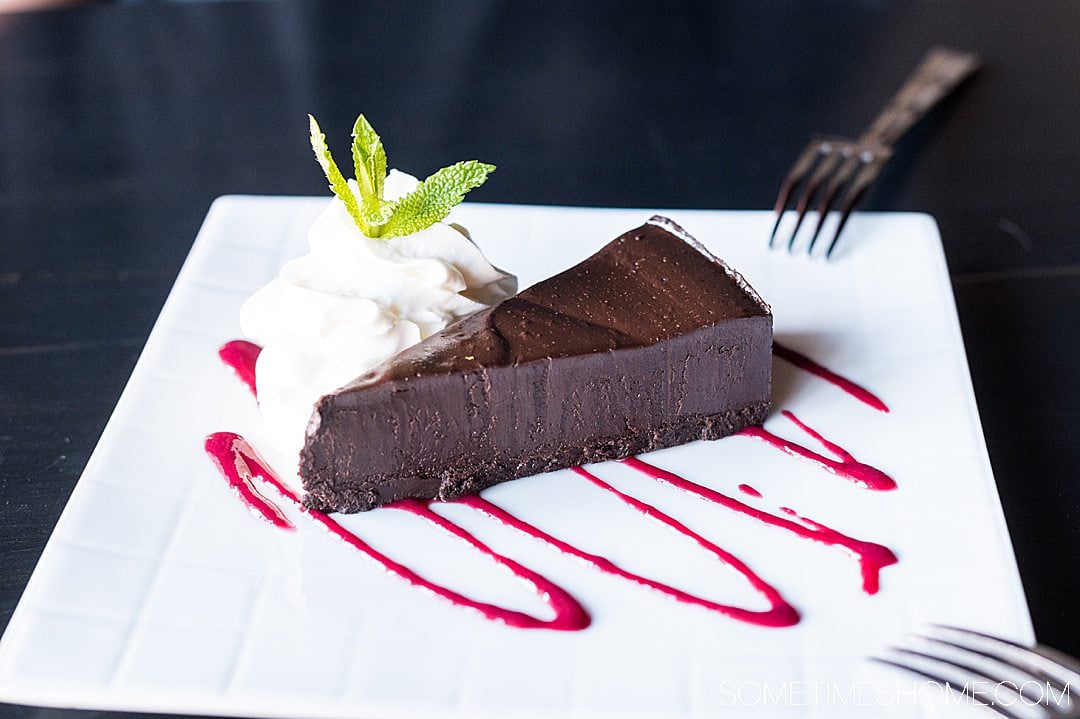 8:00pm: Back to Heritage Hills Hotel
Call us lame, but we're early birds and love being back at our hotel on the early side at night! We like to relax, shower, get ready for the next day and perhaps enjoy a glass of wine or beer together to unwind before bed.
Saturday

:
9:15am: Breakfast at Central Market (a 2 Day York Itinerary Must!)
York's Central Market is over 130 years old. It's a wonderful place filled with dozens of local vendors from food options like Italian food or French crepes, to offering coffee and candy, to beauty products, and fun gifts.
We indulged in some breakfast omelettes and sat in mezzanine seating overlooking the market floor. It was a great way to energize for the day ahead.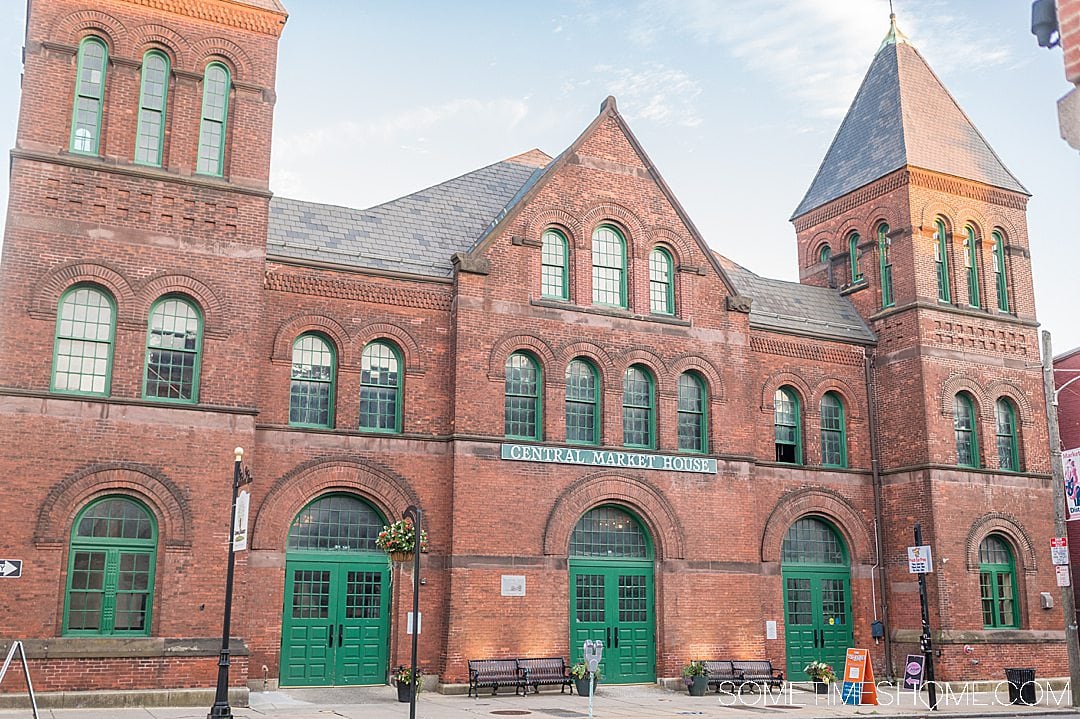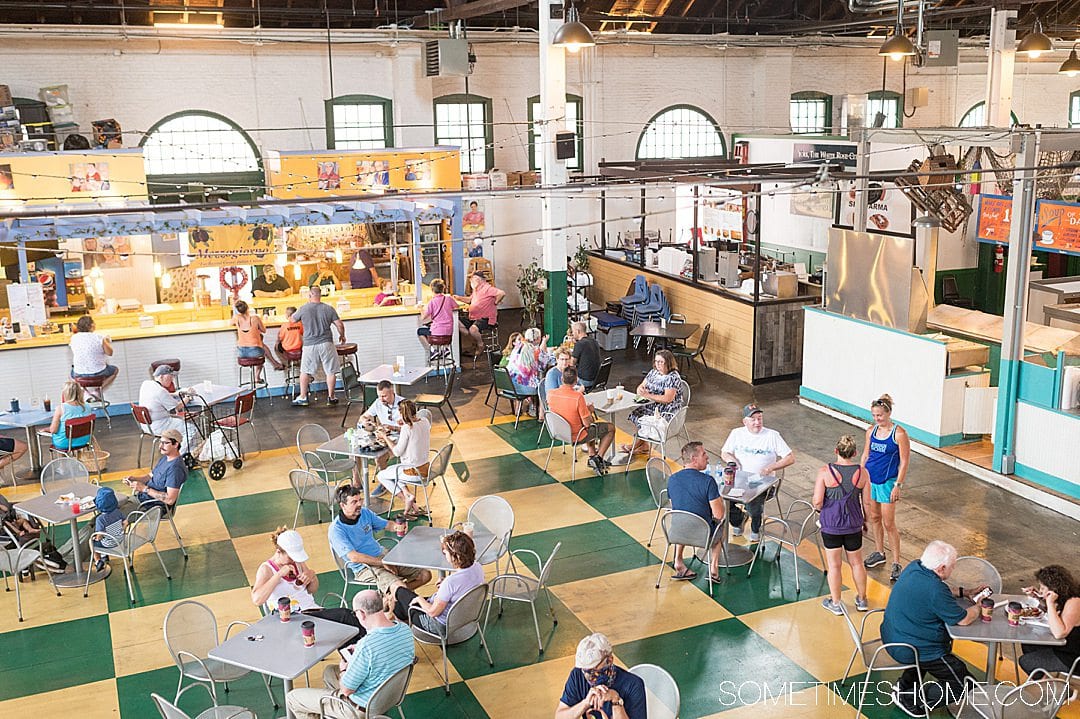 9:45am: Drive to the Agricultural and Industrial Museum
10:00-11:15am: Tour the Agricultural and Industrial Museum
York has such a rich history in agriculture and industry. There have been dozens and dozens of factories that once called York their home throughout history. Things like wallpaper, dumbbells, caskets, safes, pottery and more were produced in York.
Going through this museum really gave us a good idea of what manufacturing and farming the people of York did for their livelihood.
Note: it's very hot inside the museum during summer. There's only air conditioning in the central building, not in the side buildings where the exhibits are. (They have standing fans in some areas of the exhibits but it's not enough to cool the entire building.) We mention this in case you have respiratory problems or easily get overheated. If that's the case, we may suggest visiting when the weather is cooler.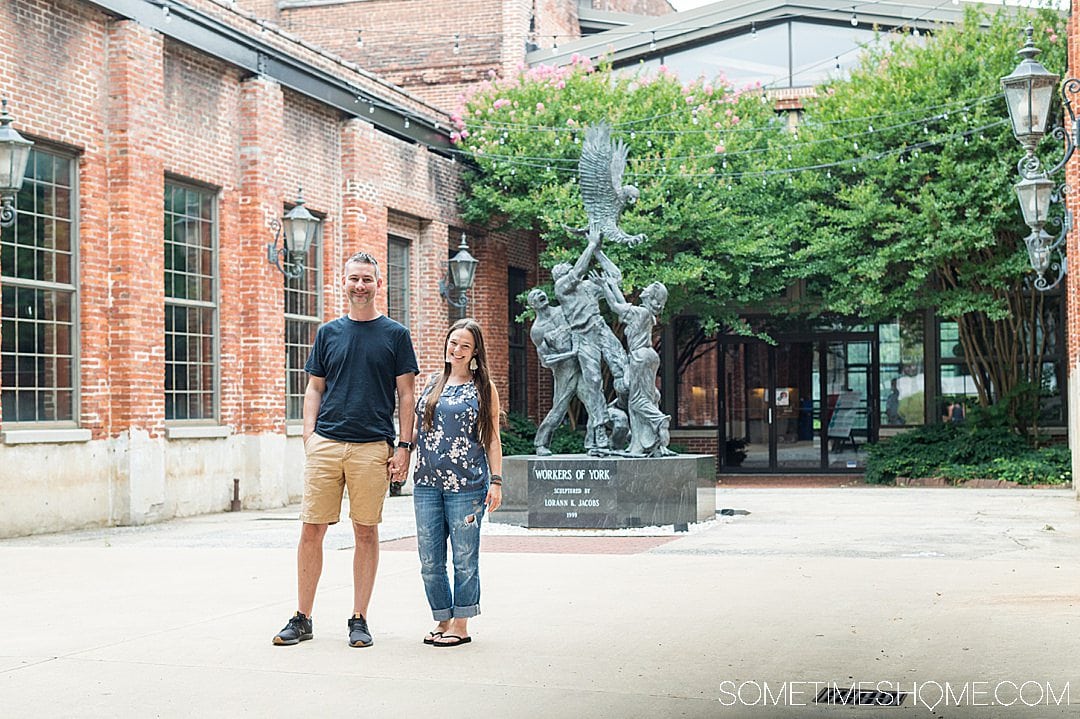 We toured the various areas of the old "warehouse turned museum" and were even given working demonstrations of some of the machines that remained operational. One of the favorite things we learned was how the factories quickly pivoted during WWII to making products that would help Americans with the war effort. This was called "The York Project," nationwide. There's a display in the museum narrating how factories pivoted.
(Ever since we toured Normandy, France together in 2016, rich with WWII history, we appreciate learning more and more about that time period whenever we can.)
Another favorite area was a cigar manufacturing exhibit. Did you know that York was a huge producer of cigars decades ago? Major production began in the 19th century and MILLIONS of cigars were shipped out from the area in the early 20th century. MILLIONS. We never would have known that without the museum! And we love a good cigar now and then.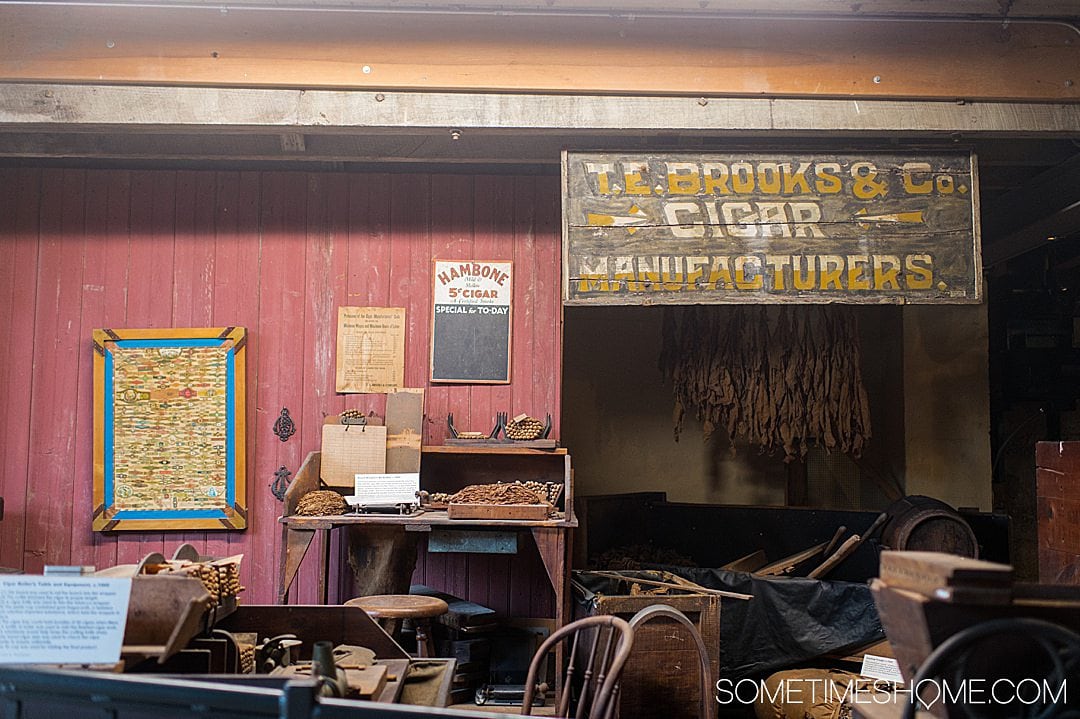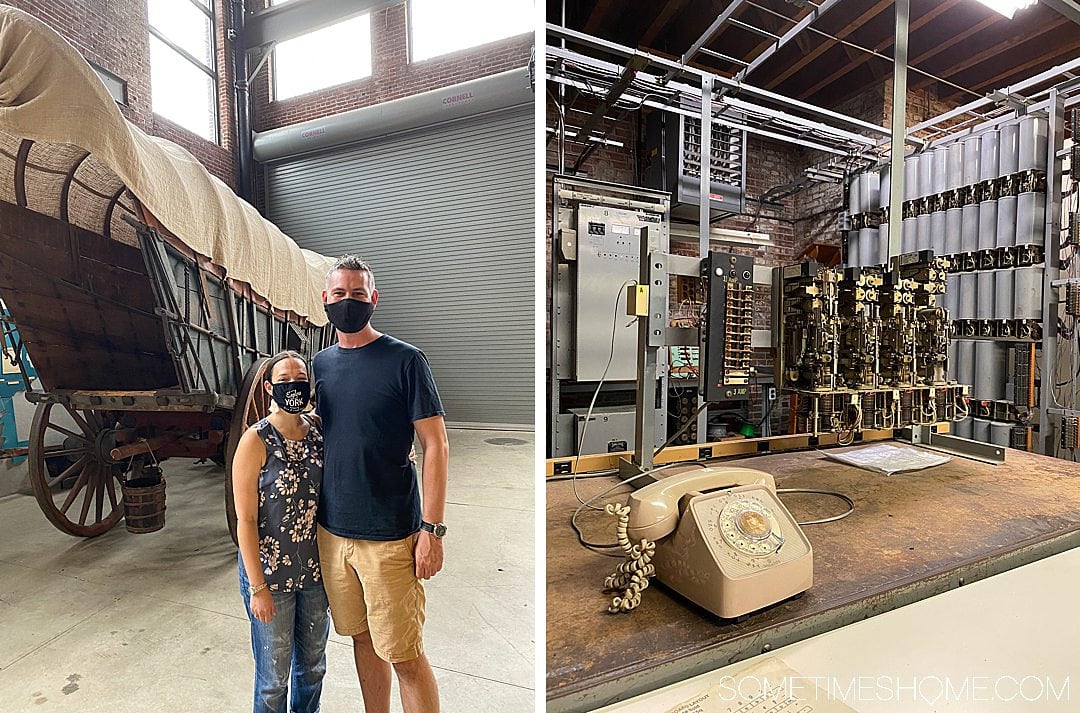 11:45-12:30pm: Lunch at the New Freedom Rail Trail Cafe
We worked up an appetite walking around the museum and we were ready for lunch afterwards. We headed to a cute cafe near our afternoon leisure train ride.
The Rail Trail Cafe is in a restored building right alongside train tracks (they're minor tracks yet active, so beware). They serve a small menu of mostly sandwiches (and one salad option), breakfast items and non-alcoholic beverages. They're focused on business during daylight hours; they close at 3:00pm.
The pressed Cuban panini sandwich we had was delicious, as was my unsweet brewed iced tea I'd been craving for days. I opted for a side of popcorn with my panini – they pop it fresh and use their own smoky paprika seasoning on it that I was loving. Dan had a turkey cold cut wrap with a side of chips.
We then drove the two minutes from the cafe to the Northern Railway boarding station.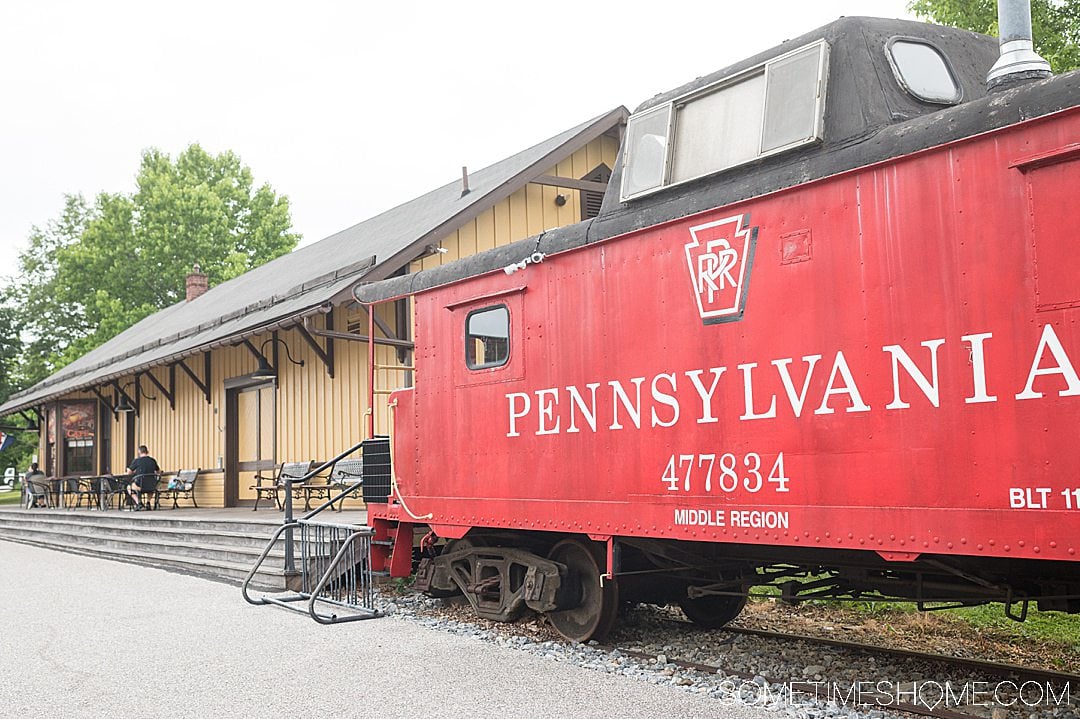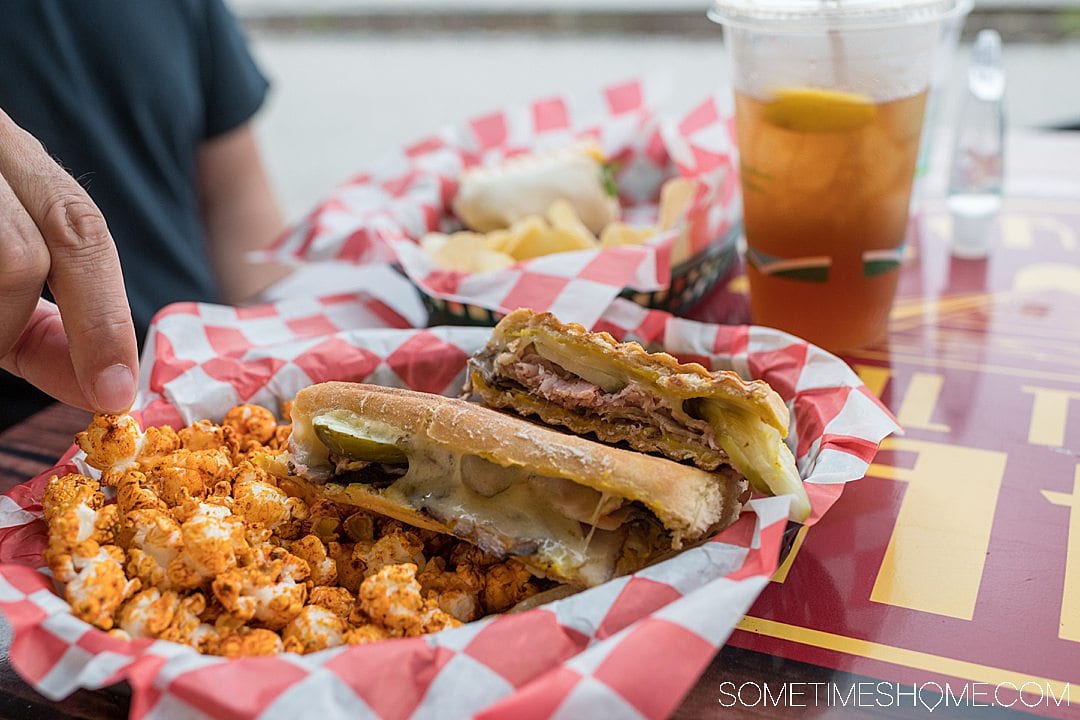 12:35pm-2:00pm: Northern Railway
After our yummy lunch we [made sure to use the restroom before leaving the restaurant] and headed less than a quarter of a mile – or a one-minute drive down the block – to the Northern Railway. You can walk the short distance but we opted to drive because it was raining.
Abraham Lincoln traveled on this historic train line from Washington, DC to Gettysburg, for his famous speech. How iconic is that? Because of this, one of the Northern Railway cars is named Abraham Lincoln.
We recommend setting aside 20 to 30 minutes total before your scheduled train ride departure to park, find the entrance to the Northern Railway's main building, buy tickets, and get back around the building to board the train a little early. They're prompt so you don't want to miss your train at 1:00pm.
We enjoyed a leisurely and scenic ride about twenty minutes one way and twenty minutes back to where we started. The three cars on the track offered different seating in each one – the inside of the car we had tickets for was beautifully finished just like it was in the mid 1860s. The chairs had mint green velvet upholstery and pretty fabric curtains with a wavy edge adorned the windows. One of the other cars was totally open-air with a long seat that ran parallel to the length of the train car. The third car looks a bit like ours without the nice upholstery and curtains.
If you're curious about the facilities on the train, there is a bathroom on board. But it's a bit liken to a latrine like we encountered at Yellowstone. They even had to make sure there was water onboard to make the "bathroom" work!
Afterward, we checked out a little park next to the railway station, named Freedom Garden. There's a train mural on the wall that faces the park that could be great for photo opportunities.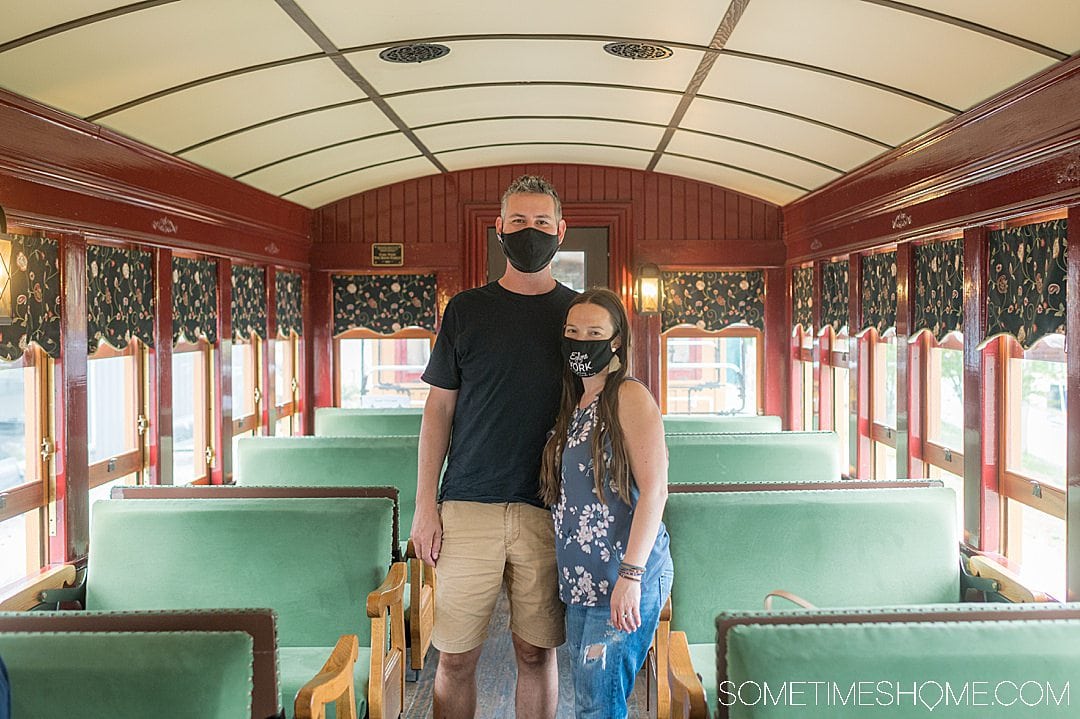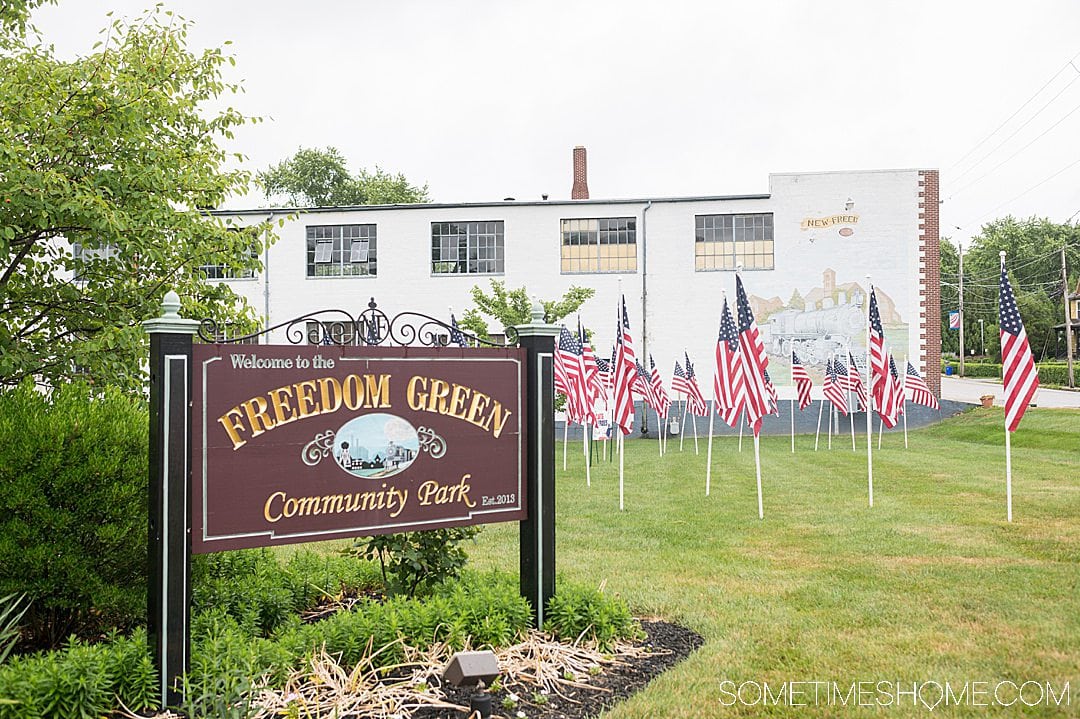 2:00-2:30pm: Drive to Allegro Winery
Put this address into the GPS (don't make the mistake we did by picking from a list of "Allegro Winery" locations that pops up in a GPS app when you type in the words…you'll want to enter this exact address in Brogue, PA):
3475 Sechrist Road, Brogue, PA 17309
Note that it's a little hard to find the winery – we used the app Waze to get there (once we put the correct address in!) and it took us to an incorrect destination not far from the actual location. Once you're on Sechrist Road you have to drive past an area where it says the road is closed – but there's a sign indicating the winery is past that area so proceed as the sign indicates and keep your eyes peeled for the warnings.
2:30-3:30pm: Allegro Winery Tasting
Allegro Winery is owned by winemaker, Carl Helrich, and his family. He purchased it from its original owners after realizing he wanted to own his own business. The two brothers he purchased it from were musicians who founded the winery in the 1970s. Hence, the name "Allegro," indicates an upbeat tempo in music lingo.
It was lovely to sit underneath the shelter of a covered patio at their property in Brogue and listen to rainfall around us as we tasted red and white wines. We opted for a white Viognier and red Cadenza, which is one of their reserve wines.
An interesting fact about Allegro Winery's location is it's located in a dry county. Yup. You read that correctly: a dry county. So why are they allowed to serve alcohol? Because growing grapes mean they're a farm as well. (Eureka!) Carl shared that a lot of their visitors aren't local, though. They're mostly visiting from various parts of Maryland, nearby Lancaster, and Philadelphia, Pennsylvania.
We stayed about an hour then safely closed our delicious bottles of wine to transport them back to our hotel. It was such a treat to enjoy the wine again later that evening.
Address: 3475 Sechrist Road, Brogue, PA 17309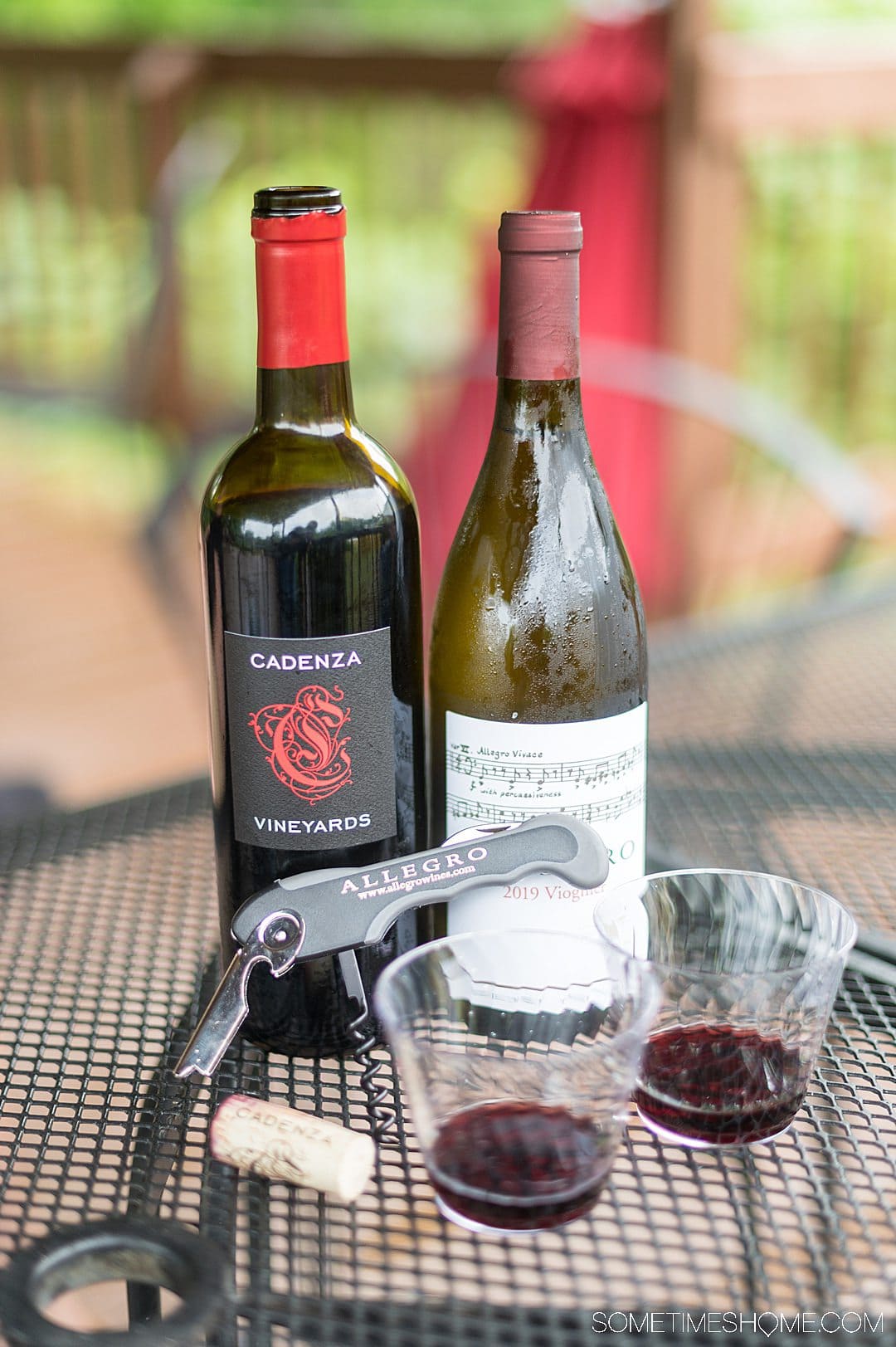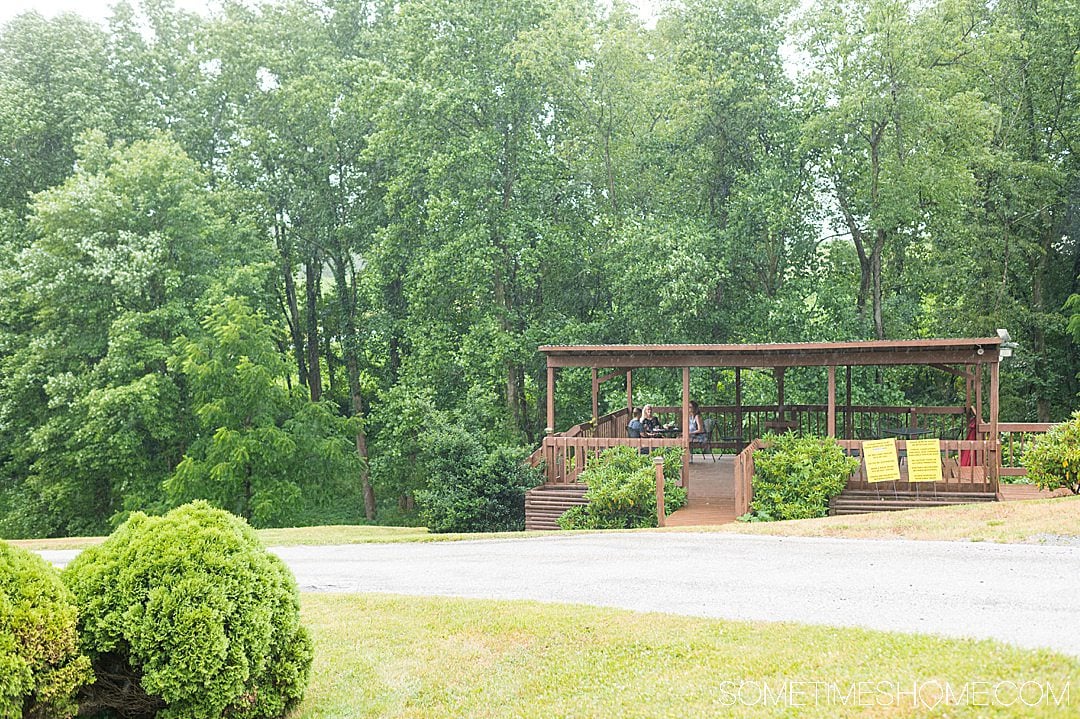 3:30-4:00pm: Drive to Heritage Hills Resort
4:00-5:00pm: Miniature Golf at Heritage Hills
You can play miniature golf in daylight, dusk or dark depending on the time of year between 4:00pm and 5:00pm at Heritage Hills. They have lights on the course which allows visitors to enjoy it all day, from 11:00am to 8:00pm.
If mini golf isn't your thing, they have an 18-hole golf course and driving range on-site as well. And the views are spectacular!
After miniature golf head back to the room to refresh for dinner.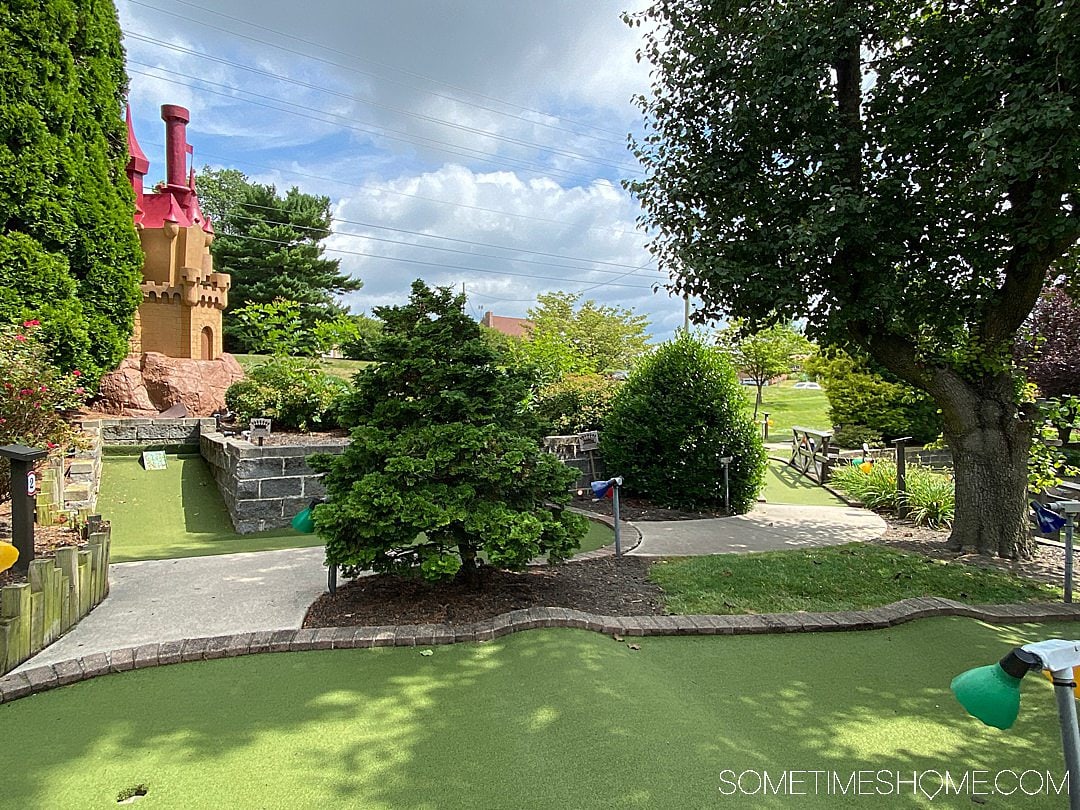 6:00pm-7:30pm: Dinner at The First Post
The restaurant is a quick 10-minute drive from the hotel so leave 15 minutes ahead of your reservation to give yourself time to park and walk inside. The parking lot is big and it does take a couple of minutes to walk from there to the front door.
Reservations at The First Post are recommended though not required. Yet as we approached the restaurant and saw how busy it was we were glad we had one.
We had oysters, great drinks, and two incredible entrees. (Please read more about exactly what we ate that was so damn good.) We don't take food flavors lightly and we were truly impressed by their food. So much so, I've tried to imagine how we can weave in a stop at York's The First Post on every road trip north.
Needless to say, it's a not-to-miss for your 2 day York itinerary.
Address: 3691 E. Market Street, York, PA 17402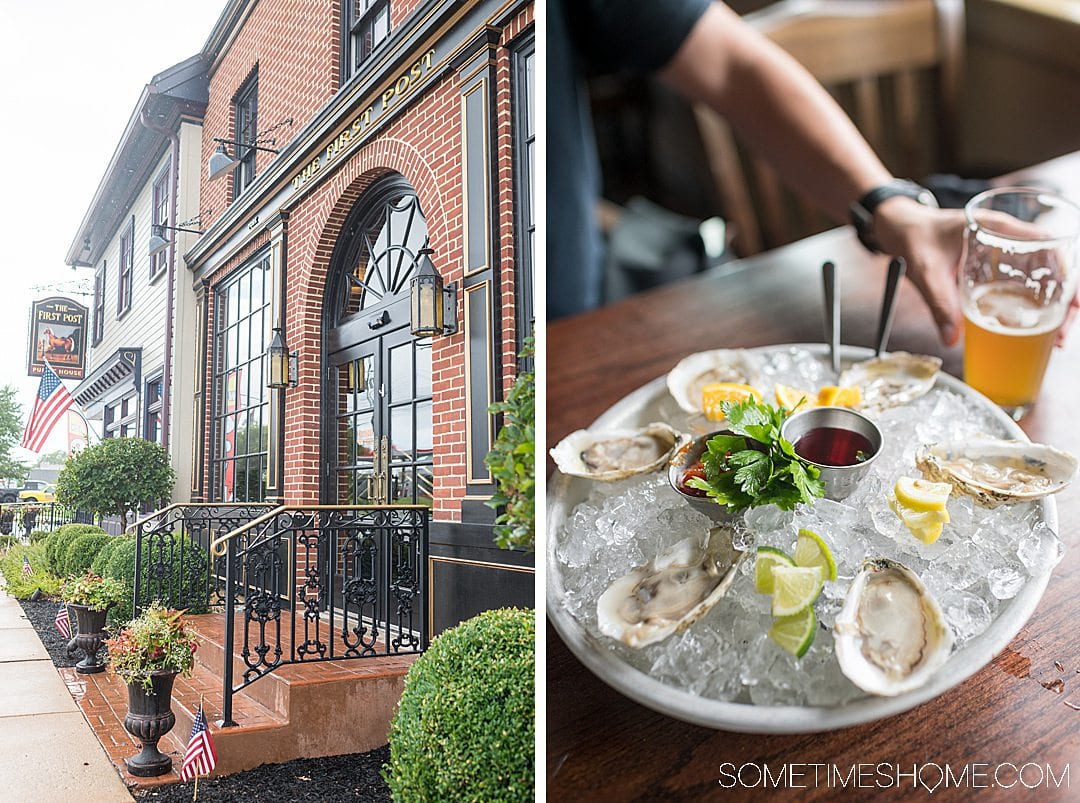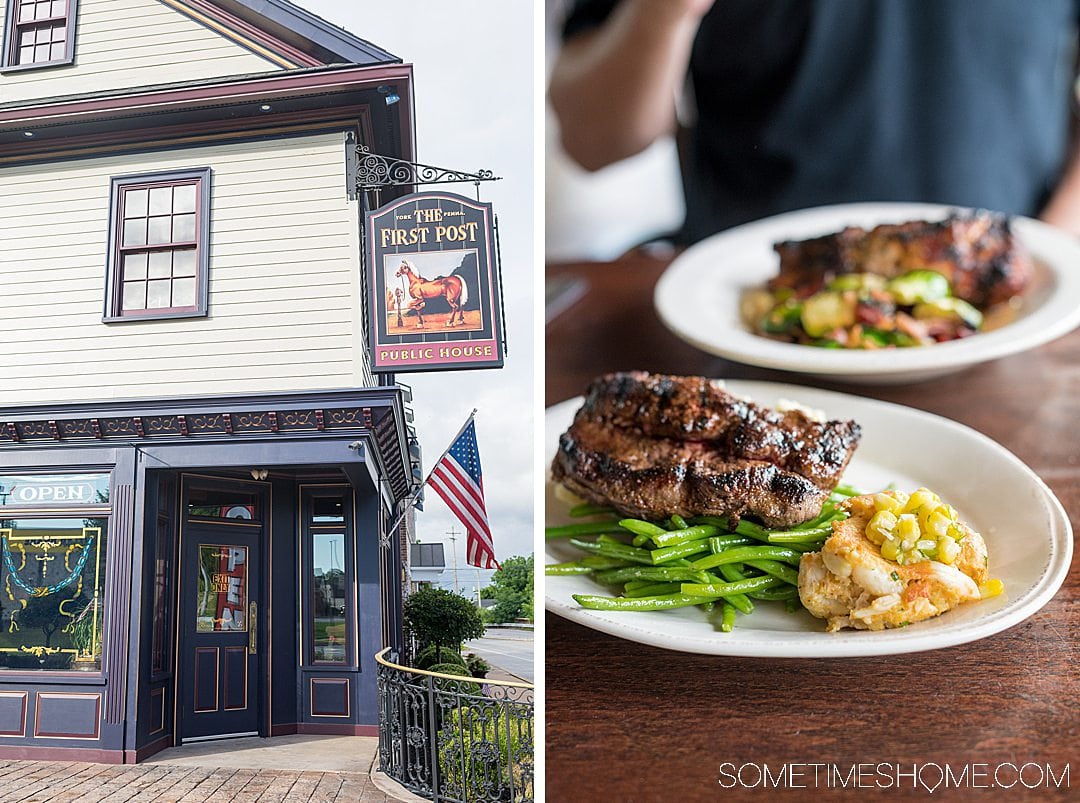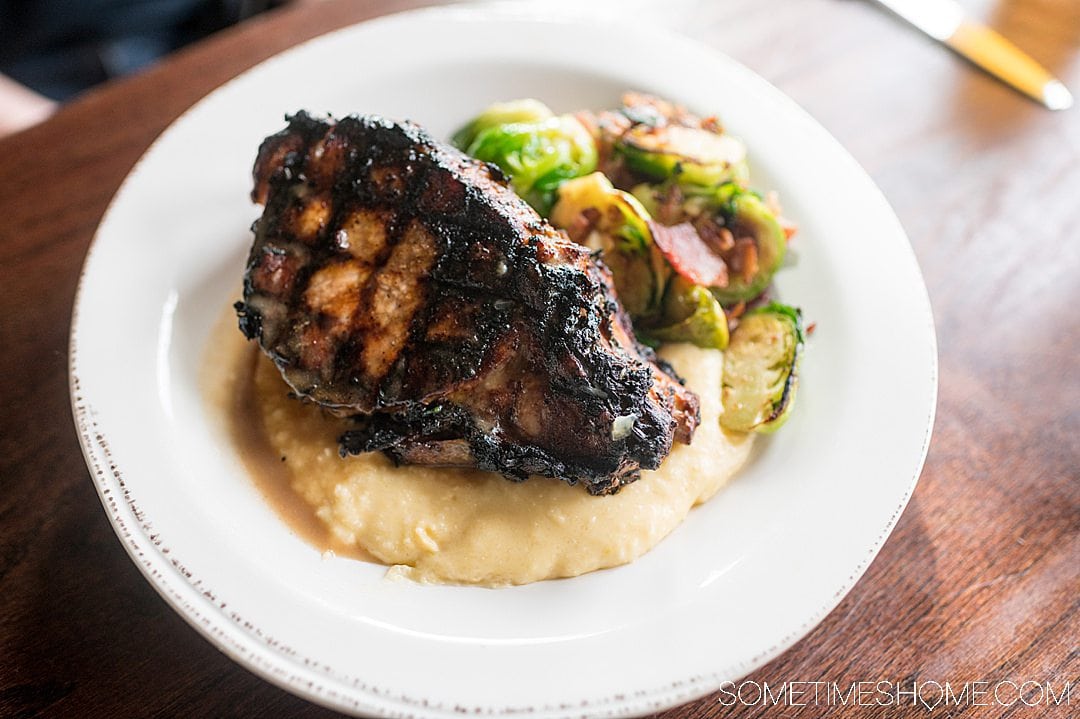 Sunday

:
9:00am: Hotel Checkout
Checking out of the hotel in the morning means that you won't have to come back and waste time on it later. You'll want to explore York more before heading home so this will help maximize your time in town while allowing you to hit the road at a reasonable hour.
9:15am-10:00am: Breakfast at The Copper Crust
We left Heritage Hills Hotel at 9:00am to arrive at The Copper Crust 15 minutes later.
It doesn't matter if you're craving something sweet or savory for breakfast – they have both. We were in awe of the cakes and desserts there. And though the croissants, in particular, were tempting we opted for breakfast egg sandwiches with coffee.
They are a quick-service restaurant where you order at the counter and your food is delivered to your table. They have limited indoor and outdoor seating. Our food only took about five minutes to appear in front of us and we gobbled it right up!
We regret not getting a small pie to go. Learn from our mistake: get something sweet to go from The Copper Crust to enjoy later. Especially if you have a long drive ahead in the afternoon and like to snack as I do in the car! (Dan can go an entire road trip eating nothing. I'm the complete opposite.)
Address: 996 S. George Street, York, PA 17402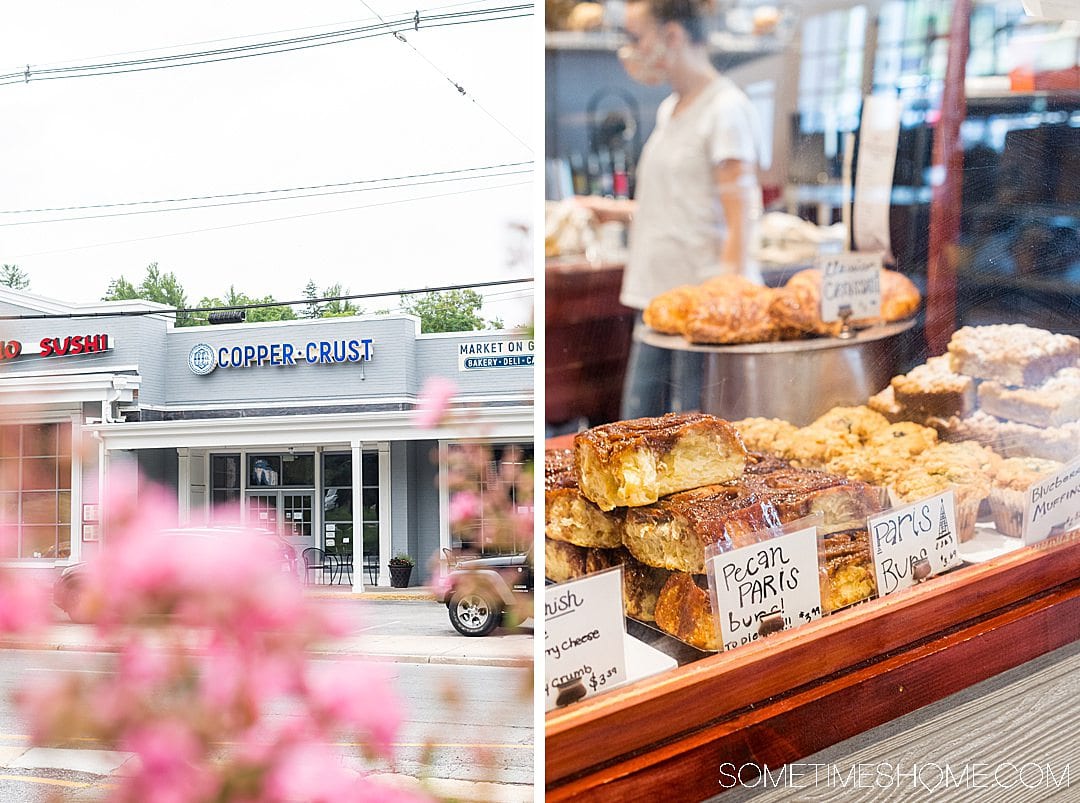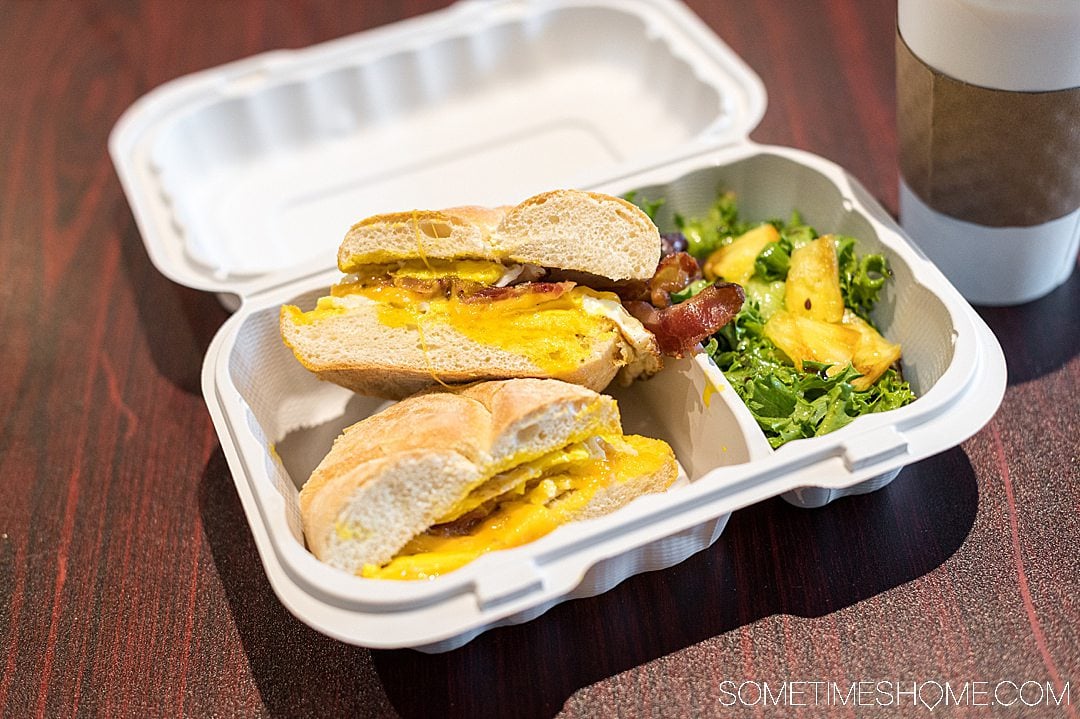 10:15am-11:30am: Discover the Photorealistic Murals in Downtown York
There are all sorts of murals around the world from commissioned to illegal, graffiti, and murals. York has two distinct types of commissioned murals in their city: 1) Photorealistic ones that are on a "murals trail". This helps to tell the story of the city's history. 2) Trendier more modern street art, like we mentioned for Friday's itinerary upon arrival, can be found in the Royal Square District.
The York County History Center has an online digital murals guide that visitors can follow of nearly 30 photorealistic murals.
Not only is it interesting to learn about the city this way (and as part of our two-day York itinerary, of course) but by nature of exploration you end up discovering more of the city too.

11:30-11:45am: Pass by York's Colonial Complex
We loved passing by some colonial buildings and finding a sculpture of Marquis de Lafayette on the sidewalk. (Well, hello, sir!) If he sounds familiar it's probably because his popularity was resurrected thanks to the broadway show, Hamilton.
The complex brings visitors back to the 18th century when York was briefly the capital of the United States for ten months, from September 1777 to June 1778. The small complex includes a home, a tavern, a beautiful seasonal garden out back and a courthouse.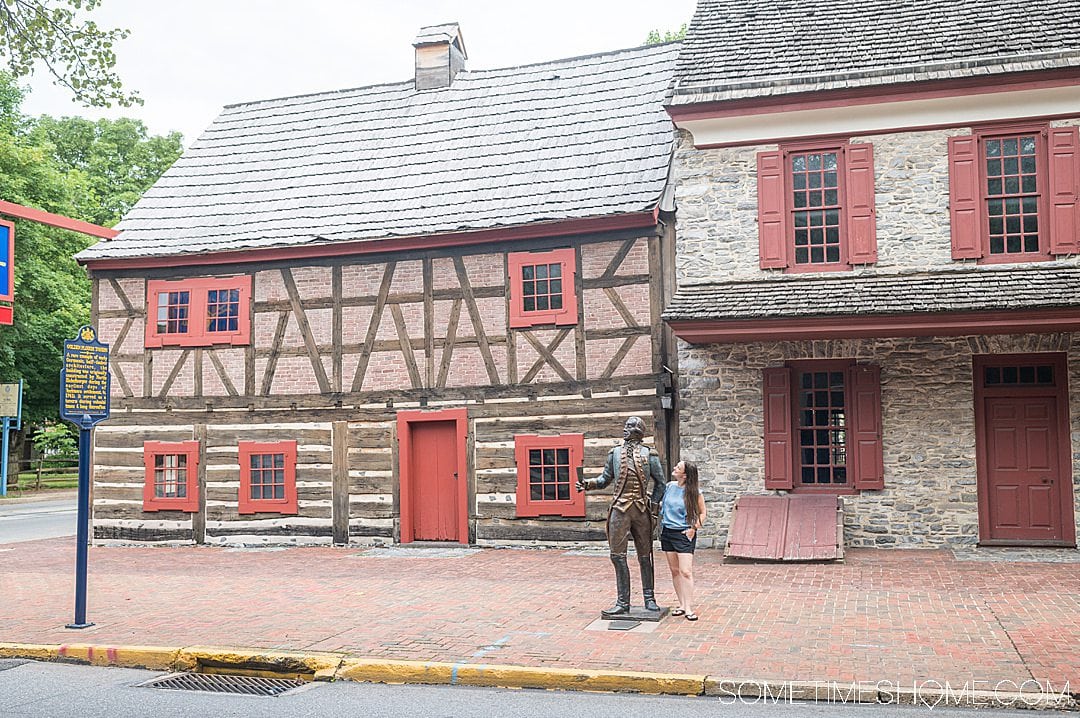 The complex is only open for tours Tuesday through Saturday, at 11:00am, 1:00pm and 3:00pm. We have this on a 2 Day York itinerary on Sunday, however, because we felt like we've seen a few colonial villages throughout our time and there are so many great things to do in York you can't do it all in two full days.
(It actually brought us back to memories of visiting Williamsburg, Virginia, and Old Salem in Winston-Salem.)
Seeing the exterior of the complex was enough for us. The good news is York has many historic markers and plaques around their downtown area, which aid in an abridged self-guided tour of a location like York's colonial complex.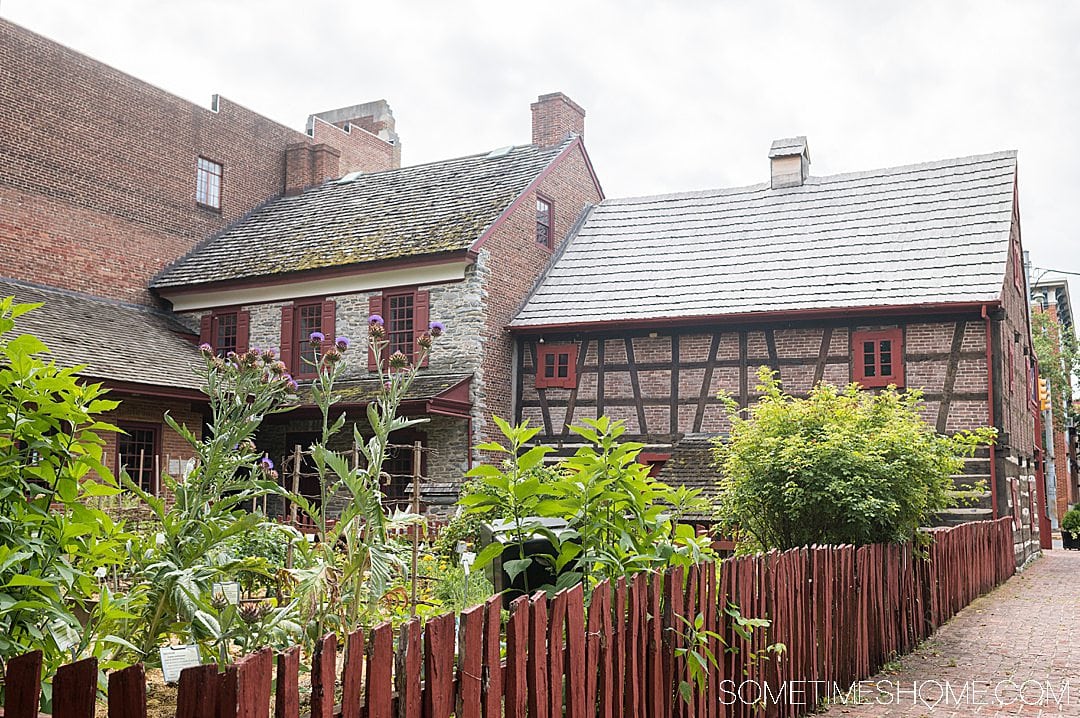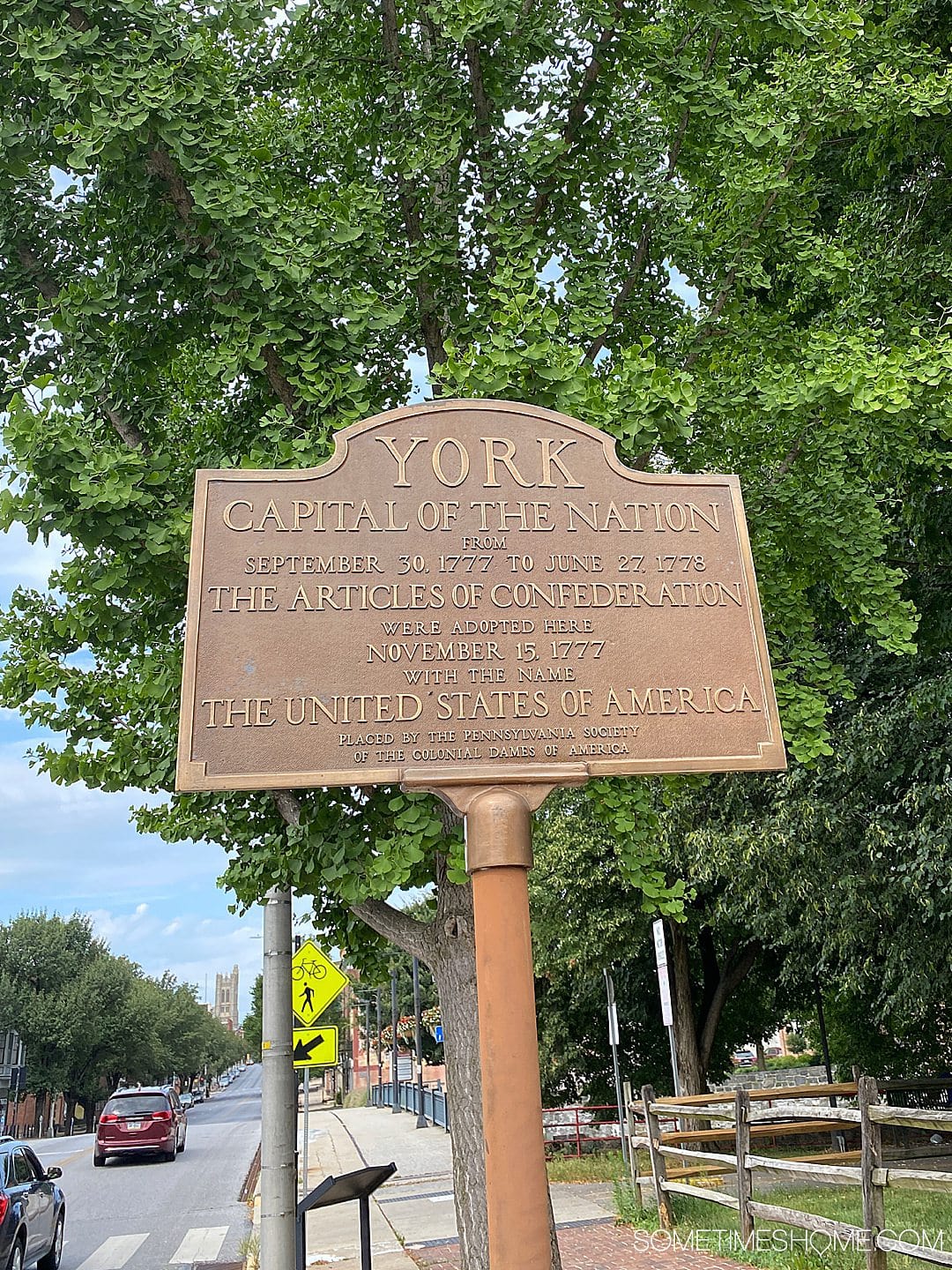 12:00-12:45pm: Lunch at Roost in Downtown York
We don't enjoy traveling on empty stomachs! And we much prefer eating before we hit the road, when possible, rather than stop along the way. Plus, it gave us another opportunity to support a local business before leaving our full two days in York.
Roost Uncommon Kitchen was appealing because of the attractive outdoor seating area they have. And when you want to socially distance it's best to eat outside. That's also why everything was served in disposable containers.
Their menu is great for a weekend afternoon if you like the "breakfast all day," kind of thing. But it's otherwise a minimal menu in terms of lunch offerings; the majority of what they have is biscuit sandwiches and omelettes. (Even though there are some outliers, like French Toast or a Breakfast Burrito.)
We opted for two of the three lunch sandwiches they serve: a chicken sandwich and falafel sandwich, which were good but not amazing. BUT the curly fries were stars! And let's be honest: we've never met a curly fry we didn't like.
Roost Uncommon Kitchen is open from 8:00am to 2:00pm on weekends.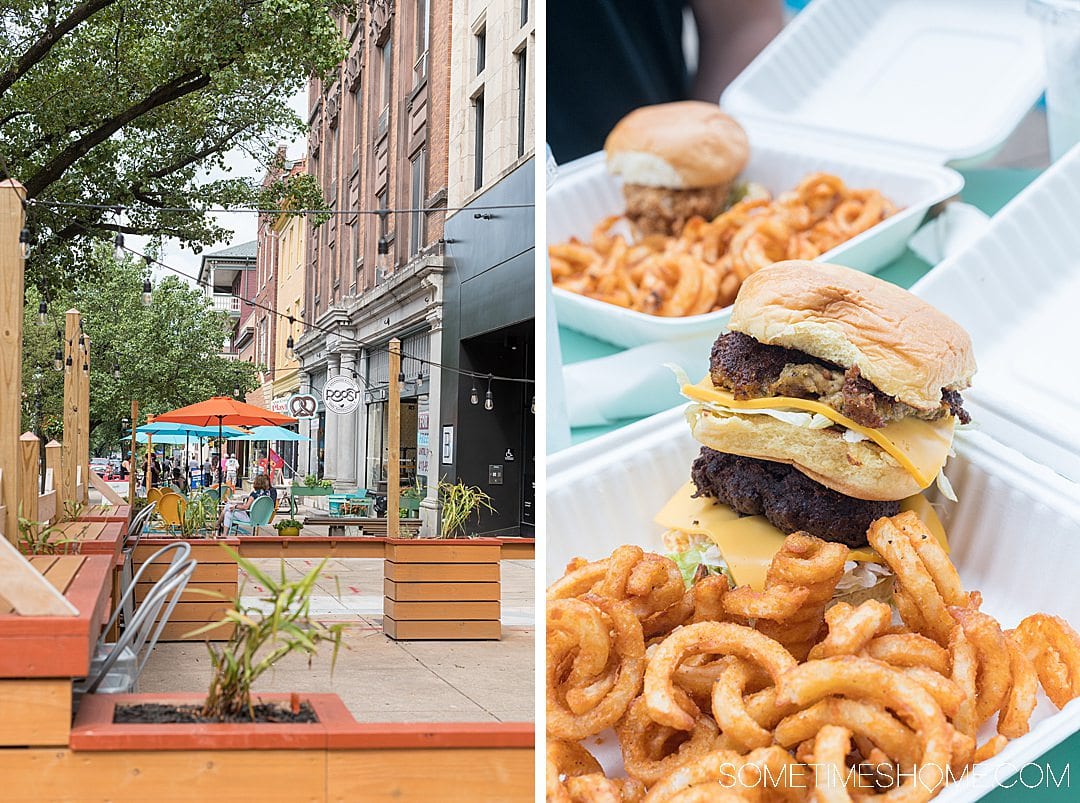 This 2 day York itinerary is truly perfect for a little east coast getaway. A full 48 hours, from Friday afternoon to Sunday afternoon, is a perfect refresher you probably need to recharge for when you get back home.
Please note: we thank Explore York for generously hosting us. We also may make a small commission from affiliate links in this post but all opinions are ours and we bring you genuine content with real facts, photos, thoughts and recommendations. Always.
Heading to York on a road trip? Also check out: