8 Best Soups to Beat the Cold in Raleigh and Durham North Carolina
As the weather temperatures drop with the changing of the seasons, I immediately begin to think about which of the best soups in Raleigh I'm going to order. Indulging in delicious dishes that warm me up are vital during cold months.
I am such a warm weather girl that any reports of temperatures below 60 degrees (about 15 degrees Celsius) have me yearning for warmth. What better meal to warm up your insides than soup?
1. Tonkatsu Ramen from Noodle Boulevard
It's been hard to find good ramen in the Triangle. They have leaders in so many different types of cuisine but TRUE good ramen is hard to find. The best we've found is listed in this post and one of the places is at Noodle Boulevard.
They're located in Cary, right near Cary Crossroads. So if you're shopping nearby (like at Home Goods, Target, or Michaels) and have a craving for great soup stop by Noodle Blvd. We did takeout and it was great.
They have very limited indoor seating during COVID but takeout is a great option.
They're open Tuesday through Sunday from 11:00am to 2:00pm, and 5:00pm to 9:00pm. Closed Mondays.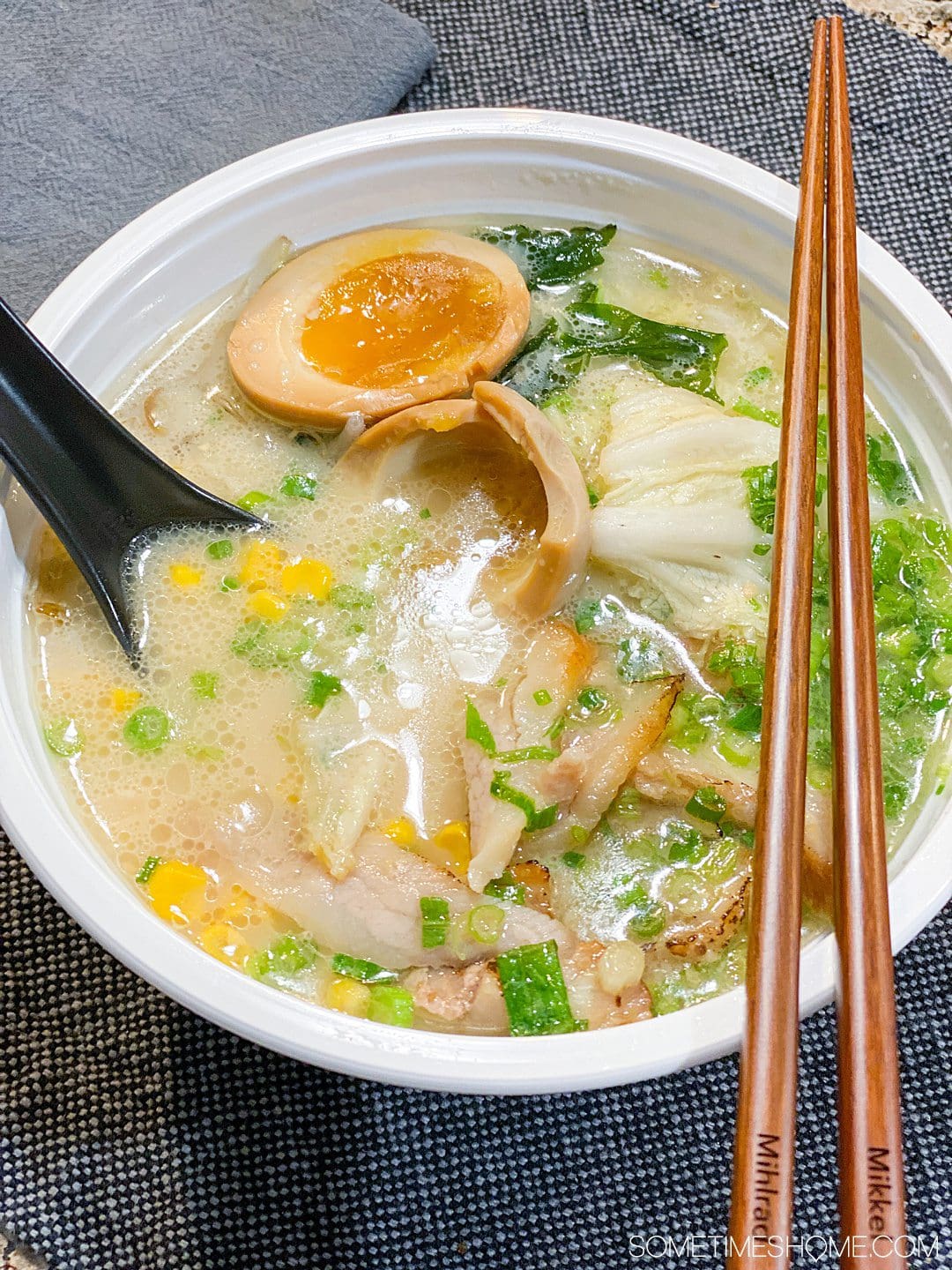 2. Pho from Pho Super 9
We love pho. Pho has a light, transparent broth (usually beef broth) so it's a little less heavy than an opaque curry soup. (But don't let that fool you – the noodles and protein in the huge portions of pho are very filling.)
We've been to a lot of Vietnamese pho restaurants in the triangle and Pho Super 9 is the best we've had. They make a delicious bowl of pho. We both always order the Rare Beef pho. Sometimes we get an XL order and split it for lunch.
They're open with limited indoor seating during COVID and for takeout as well.
Pho Super 9 is closed Wednesdays. They're open every other day from 11:00am to 3:00pm, and 5:00pm to 9:00pm. They are located right across Capital Blvd (or Route 1) from the Triangle Town Center mall, near 540.
3. Zanyu Noodles
This restaurant quickly became a personal favorite for some of the best food in Raleigh as soon as I had my first bite of soup from Zanyu. Then I learned Michael, the owner and head chef, had culinary experience in Japan and it all made sense!
Their ramen, especially, is one of the most authentic I've had in the area.
It's hard to select a favorite from their menu of warm soups though. So instead of choosing just one I'm writing Zanyu Noodles, overall as one of the top 5 soups in the area. If you go or you've been let us know your favorite in the comments below.
Zanyu is in the Lafayette Village shopping center off Honeycutt Road, and offer patio seating available during COVID, and takeout.
They're open Tuesday through Saturday, 11:30am to 8:00pm and Sunday from 11:30am to 7:00pm. They're closed Mondays.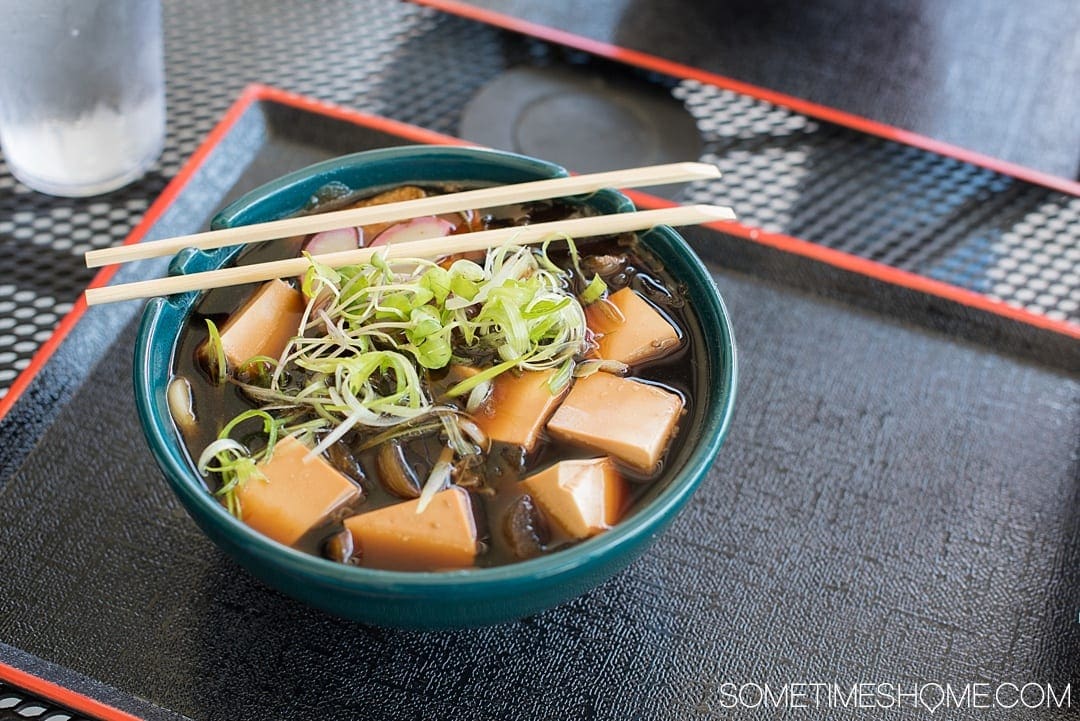 4. Malaysian Curry Soup from David's Dumpling and Noodle Bar
There's a phenomenal Asian soup I love at a restaurant called Raku, in Washington, DC. It has a curry based broth, noodles and veggies. I never thought I'd find anything close to it in the Raleigh-Durham area. Yet one evening at David's Dumpling and Noodle Bar changed that. (And subsequently at YinDee months later, #8 in this post.)
The Malaysian Curry Soup at David's Dumpling and Noodle Bar, right by NC State's campus in Raleigh, has a rich curry broth, chewy egg noodles, tofu and a few small dumplings. It's very hearty and packs a lot of yummy flavor.
Note: it's only available on their dinner menu, but they're currently only open from 5:00pm to 8:00pm during COVID. You can opt for takeout and deliver via DoorDash, GrubHub, UberEats and Postmates.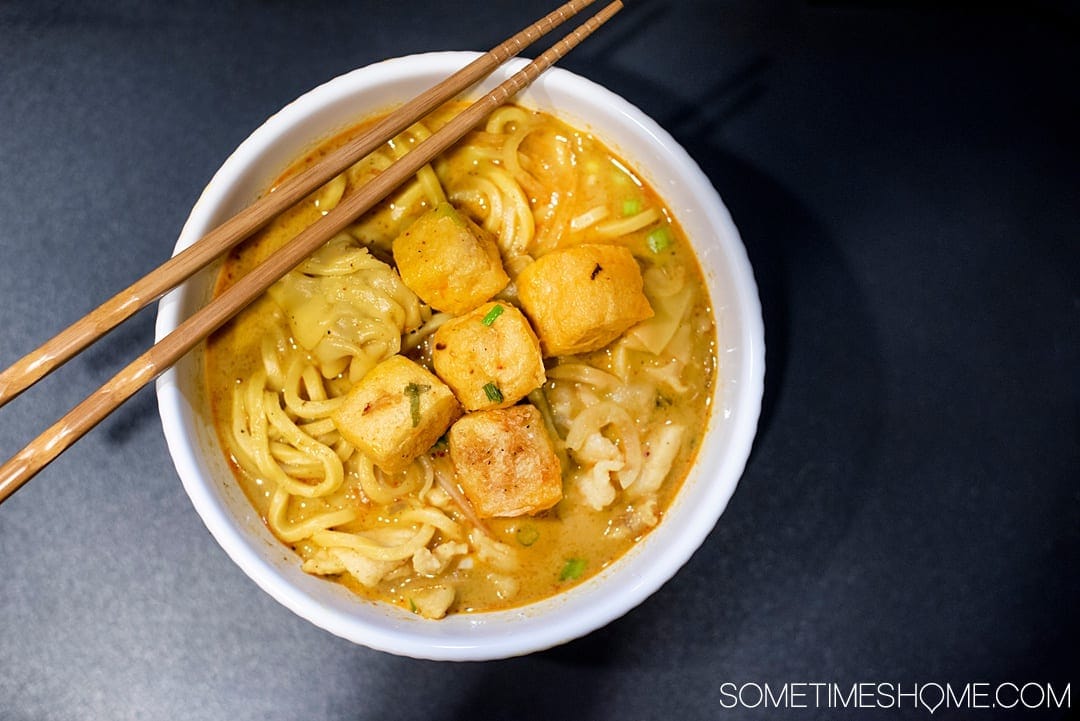 5. Crispy Pork Belly Soup from Bida Manda
This Raleigh soup packs a punch of flavor. The coconut curry broth at this Laotian restaurant is loaded with rice noodles, carrots, peanuts, cilantro and, of course, crispy pork belly. It's incredibly delicious and filling.
The restaurant is kind enough to split one big bowl into two smaller ones if you're sharing it. (We love to share it with each other or a friend when we visit, then get an additional dish to share.)
During "normal" times, it's hard to get a reservation here last minute if a craving strikes. But if you go at non-peak times you might luck out and get a table or, my favorite, enjoy sitting at the bar.
There's always take out too – they separate noodles from the broth so nothing gets soggy before you're ready to eat.
Their dining room has been closed during COVID but they're open for curbside takeout, from 4:00pm to 7:15pm. (Note that this soup is nearly $22.)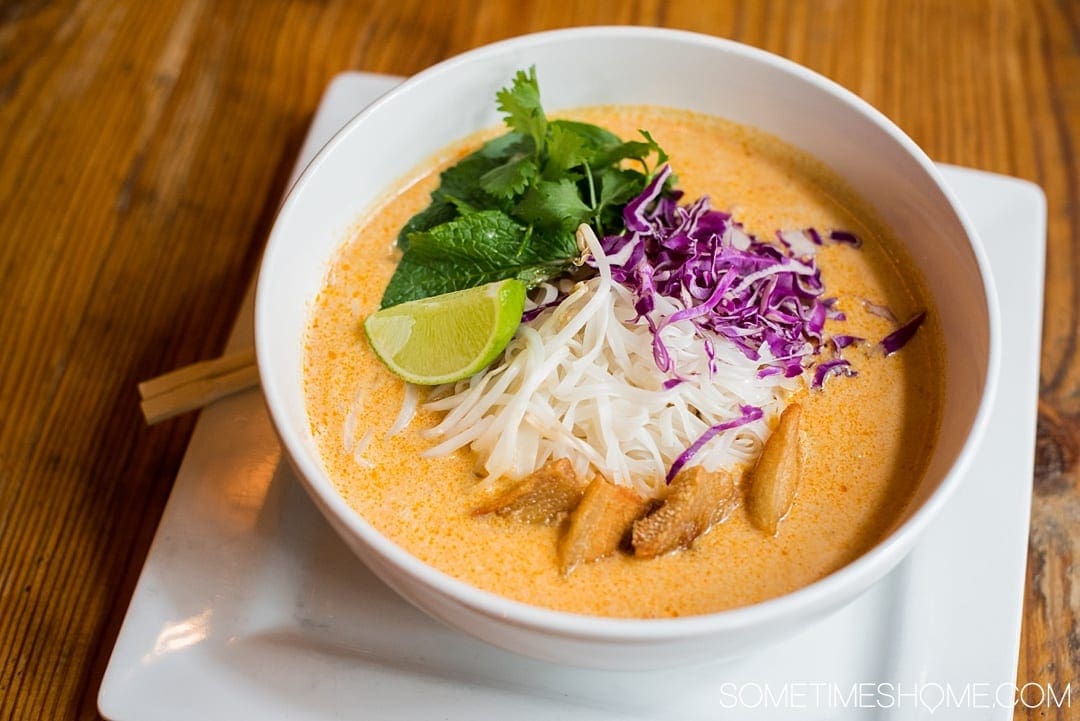 6. Duck Noodle Soup from H Mart
This soup is in southwest Cary, close to Apex. But it's worth the short trip for great soup. H Mart is a chain Asian supermarket in the United States. And if you adore Japan, Korea, Thailand (or any other Asian nations and their cuisine) you'll adore this place.
They have a food court with great options from bibambap bowls to delicious noodle dishes like Pad Thai, or curry meals.
A favorite is the Duck Noodle Soup. (I have to thank Linda, of Girl Eats World, for turning me onto it.) The beef broth has yummy pieces of duck in it, bean sprouts add the best crunch, and it hits the spot no matter the weather.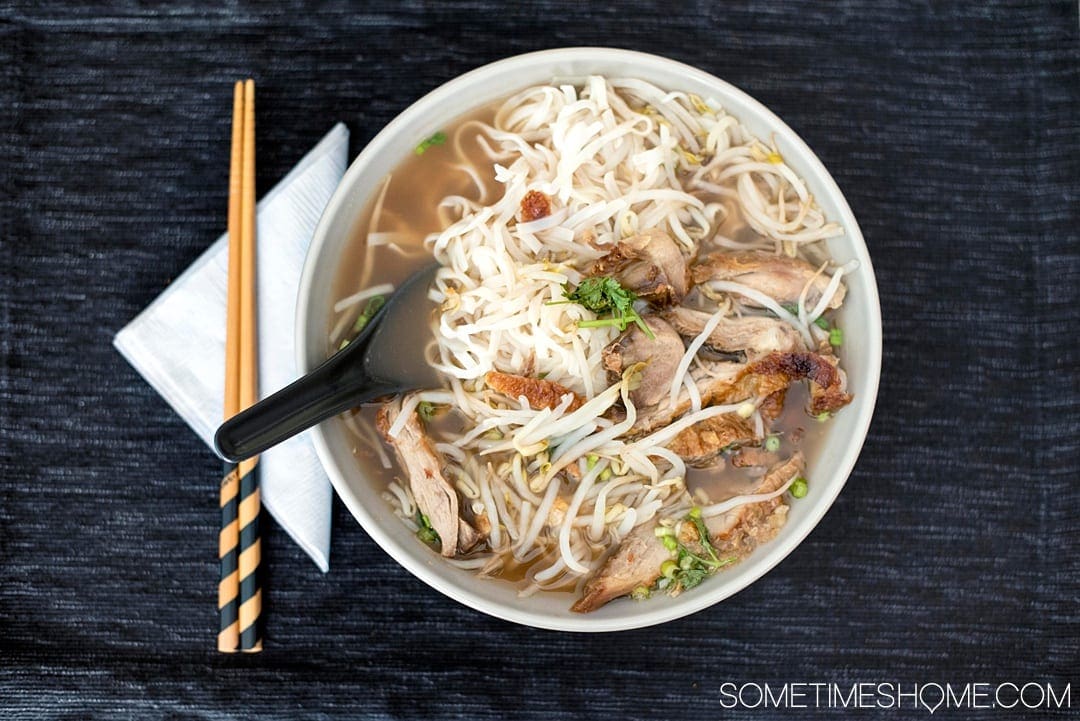 7. Ramen from M Kokko
I'm a tough critic when it comes to ramen. (Visiting Japan twice will do that to you.) The best ramen I've found in the area aside from Zanyu Noodles, is at M Sushi's "sister" restaurant, right behind the main entrance to M Sushi, called M Kokko.
It's a hidden gem of sorts because the entrance and small restaurant are literally hidden behind M Sushi. But once you know it's there and you taste their delicious soups you'll never forget it. I always get the classic Tonkatsu Ramen.
I've also had the udon curry soup, which is also very hearty and yummy. (It's so big you'll get two meals out of it, but eat the tempura on top first because it won't reheat as well as the udon noodles in the curry broth.)
Make it an overnight date with a friend or loved one with a Durham Staycation and stay at one of the best three downtown Durham hotels we recommend.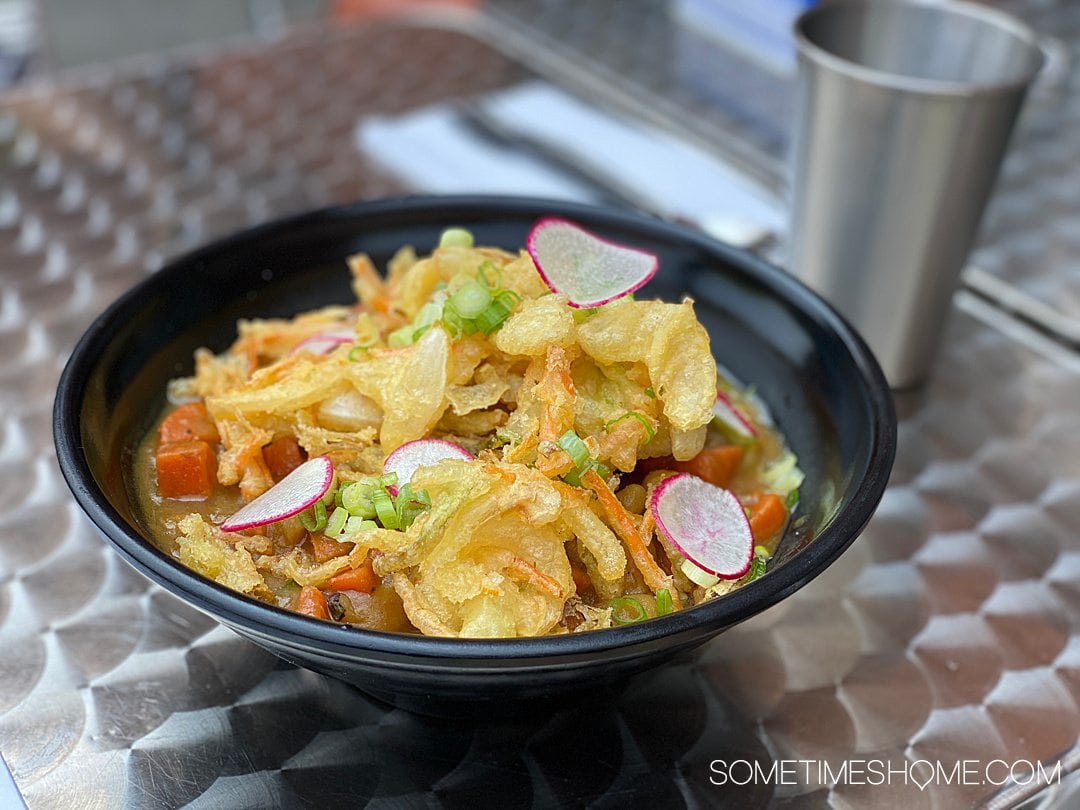 8. Red Curry Noodle Bowl from Yin Dee
I love a good curry. Do you? And I found a great one as I hunted and hunted for the best soups in Raleigh…Cary, Durham and beyond. And I found it!
Yin Dee is female-owned and operated. It's a little store in a shopping center in Morrisville, near the airport. And their Asian soups are yummy
I get the Red Curry noodle bowl with a zero-level spice (out of 0 to 5) because I'm a spice wuss most of the time. (And you can always add head but can't take it away.)
They're open Monday through Friday, 11:00am to 8:00pm. They're currently only open for takeout during COVID.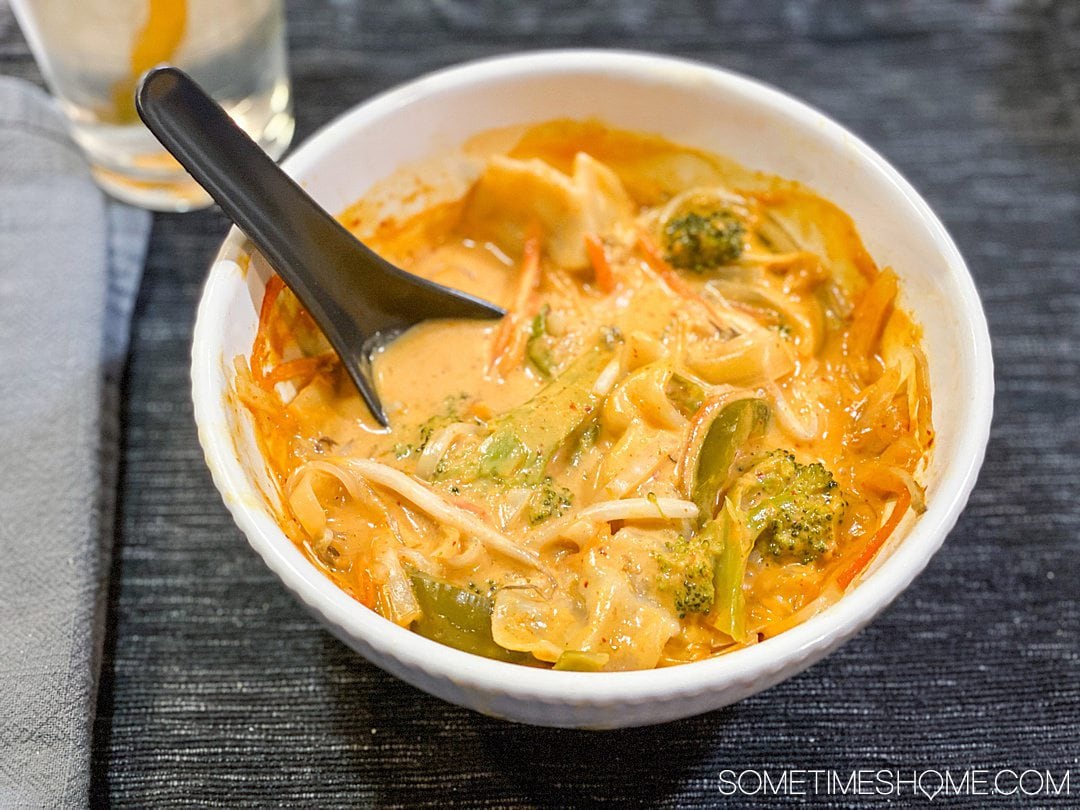 Heading to Raleigh and need a place to stay?
Check out our Air BnB recommendations and The Longleaf Hotel.
Disclosure: There are affiliate links in this post, which means we may earn a small commission if you click the link and proceed with a purchase. We only recommend products or services we personally use and recommend.
Heading to Raleigh and Durham? Also check out:
What's your favorite soup in the Raleigh Durham area?