Disney Springs Happy Hour Stops: How to Maximize Your Time and Money
We set out to master Disney Springs happy hour one Friday afternoon. It was during the thick of the pandemic when we wanted to go there instead of the parks since we let our annual passes go for the year and there were too many hurdles to jump through to get to the Kingdom. Luckily, Disney Springs exists for a little needed Disney fix when in Orlando.
Because I love happy hours I was suddenly obsessed with coordinating times for restaurants and bars at Disney Springs. I figured out where, what, and when each destination that had a promotion was open and started and ended their daily offerings.
The list I created then is one we are sharing with you now, so you can master it too. It's organized by time, so you can maximize your "happy-hour-ness" by maximizing how many places you visit during Disney Springs happy hours.
There are many ways to do happy hour at Disney Springs – and many combinations of what places to pair and in what order – but we're sharing what we did in hopes it helps you decide on your choices for your visit.
Don't forget to check out our post on what to pack if you're going to Walt Disney World and Universal, by the way, because some of the items are great to have for Disney Springs.
Disclosure: There are affiliate links in this post, which means we may earn a small commission if you click the link and proceed with a purchase, at no cost to you. We truly only recommend hotels, products, and services we personally use. As Amazon Associates, we earn from qualifying purchases.
Could Disney Springs Happy Hour be the Best Spot for Happy Hour in Orlando?
Perhaps! Simply because:
You can easily take an Uber, Lyft or taxi there and safely experience happy hour, see a movie and sober up! (Seriously – don't get sloshed. It's not pretty! Drink responsibly.) Or Disney transportation if you're staying on property, of course, including Marriott Hotels like the Swan Reserve (an Epcot resort).
There are so many options for happy hours at Disney Springs in such a small area. And the specials extend well beyond an hour or two! Not just one to three hours. Many hours!
(Before you get all technical on us, we know that Walt Disney World is in Lake Buena Vista, Florida, not Orlando. I used to live in Orlando and I proudly still have a 407 area code. But since most people group WDW with Orlando, we're doing it for purposes of this point too: Disney Springs Happy Hour is potentially the best spot for happy hours in Orlando.)
Our Afternoon Schedule of Disney Springs Happy Hours
Our schedule was logical and geographically sound. We maximized both our time and money. We didn't zig-zag from one end of Disney Springs to the other, desperate for drinks. No! We methodically started at one end and went to the other as adults out for a romantic thing to do at Disney World, sunshine-filled Florida afternoon, responsibly and joyfully enjoying drinks, appetizers, and each other's company.
We were keeping our day stress-free, sanity intact, and wallets sound. (And our skin sunscreened up, and eyes protected with stylish sunglasses, thanks to the Disney World and Universal Packing List we always refer to. Plus, it's almost always sunny in Florida.)
So while there may be a Disney Springs happy hour you come across to insert into our schedule below, keep in mind it may be to the other end of the area from where we were. Which is likely a 10-15 minute walk if you walk from one side of Disney Springs to the other.
This isn't too bad – but when there are neighboring options with a happy hour clock ticking, taking a 10-15 minute walk is illogical.
(We've mentioned some existing Disney Spring happy hours here, not everyone. You cannot hit up every happy hour in one afternoon – you'd be rushing around, not fully enjoying each stop, and also very intoxicated. Note there isn't happy hour at every restaurant at Disney Springs, just a few. So if you happen upon one that we haven't included it may be new! If that's the case, add a comment and we'll update the post.)
A Note on Mask-Wearing During COVID-19
As of late spring 2022, you do not need to wear a mask at Disney Springs.
2:00pm-3:00pm: Disney Springs Happy Hour at Jock Lindsey's Hangar Bar
We arrived at Disney Springs at 2:00pm thirsty and hungry! The first place to hit up was Jock Lindsey's Hangar Bar. Because their happy hour ends the earliest.
Their happy hour runs from 12:00pm to 3:00pm, Monday through Friday. They offer $6 to $7 wines and well drinks, and $6 to $7 draft beers, as well as a $12 cocktail of the week.
We put our names down when we approached the hostess (with our masks covering our noses and mouths). She asked for our names to add us to the list and I wondered why the list? So I asked if there was a wait. She said about 5-10 minutes (it looked pretty empty inside). I was confused but she was so rude and mean I didn't ask questions; I didn't want her to ruin our afternoon of happy Disney Springs happy hours!
Luckily she wasn't our waitress. And the wait was less than 5 minutes.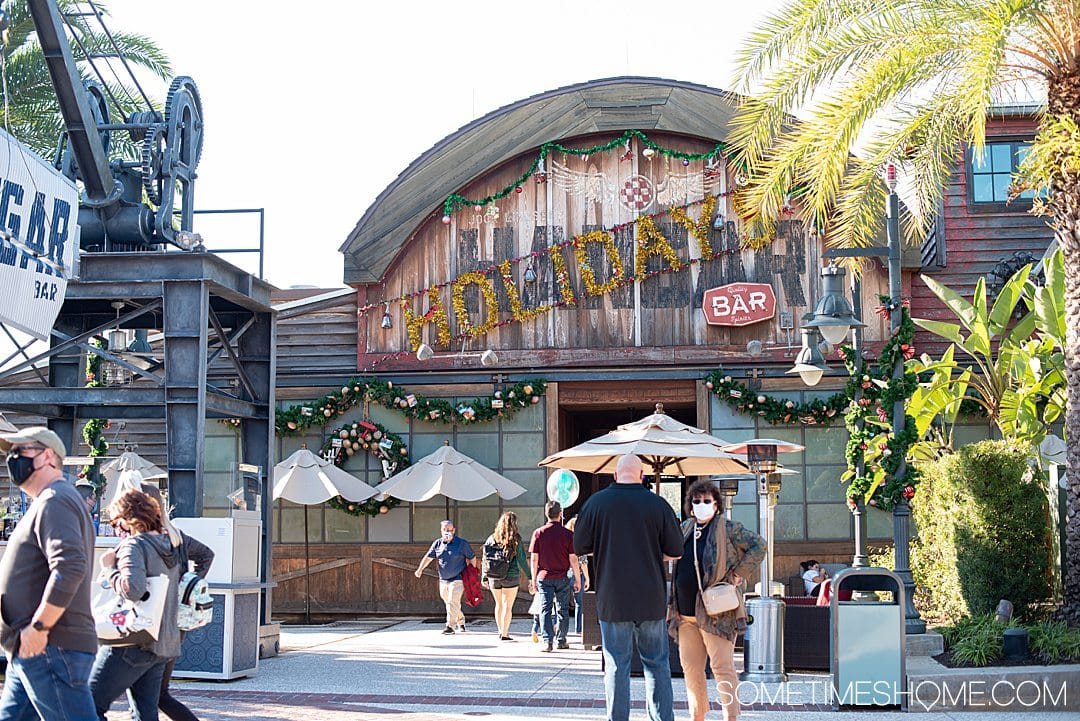 The service here wasn't great but we still enjoyed ourselves. And the ICE COLD beer made up for it.
We enjoyed one draft beer each, the waterside view from their really cute outdoor patio area, and chips and queso for $8 (called Doctor Astorga's Queso Dip), which was a happy hour special. (They have a menu of three $8 and under happy hour food options.)
After about an hour (which would have been less if not for the sloth's-pace service – but luckily the weather was great and it was a gorgeous day) we paid our bill and hopped on towards another Disney Springs happy hour.
Needless to say, this wasn't our favorite stop on during our afternoon however a lot of that was because of the service and people we encountered who worked there. Hopefully, it has improved! The food and drinks were worth it.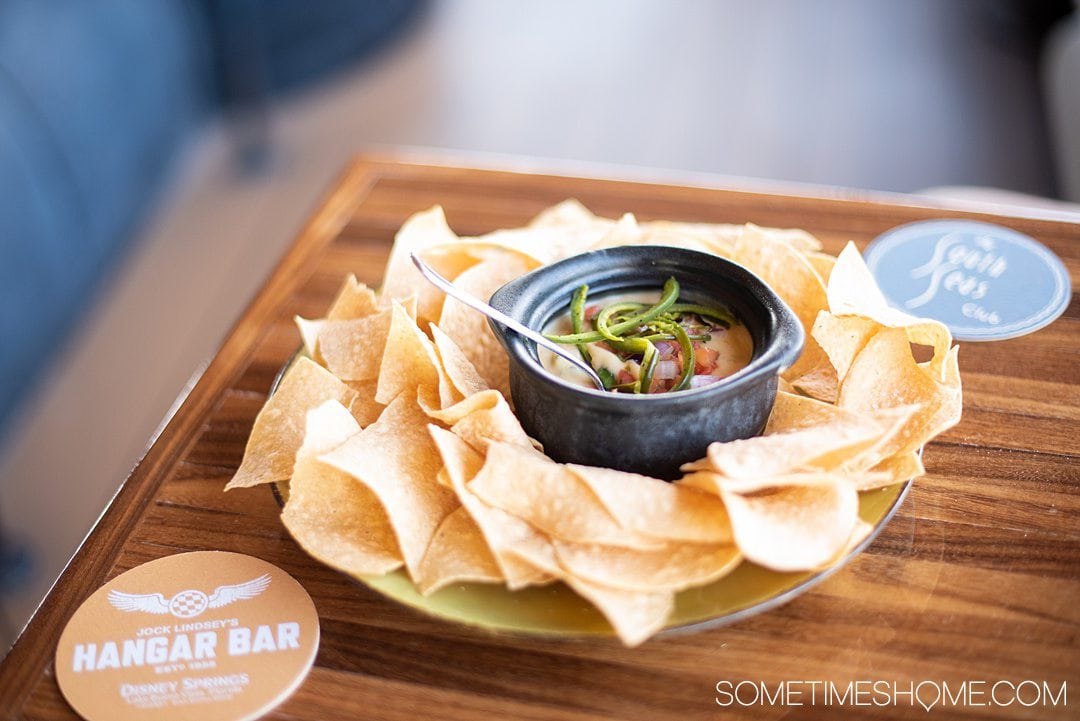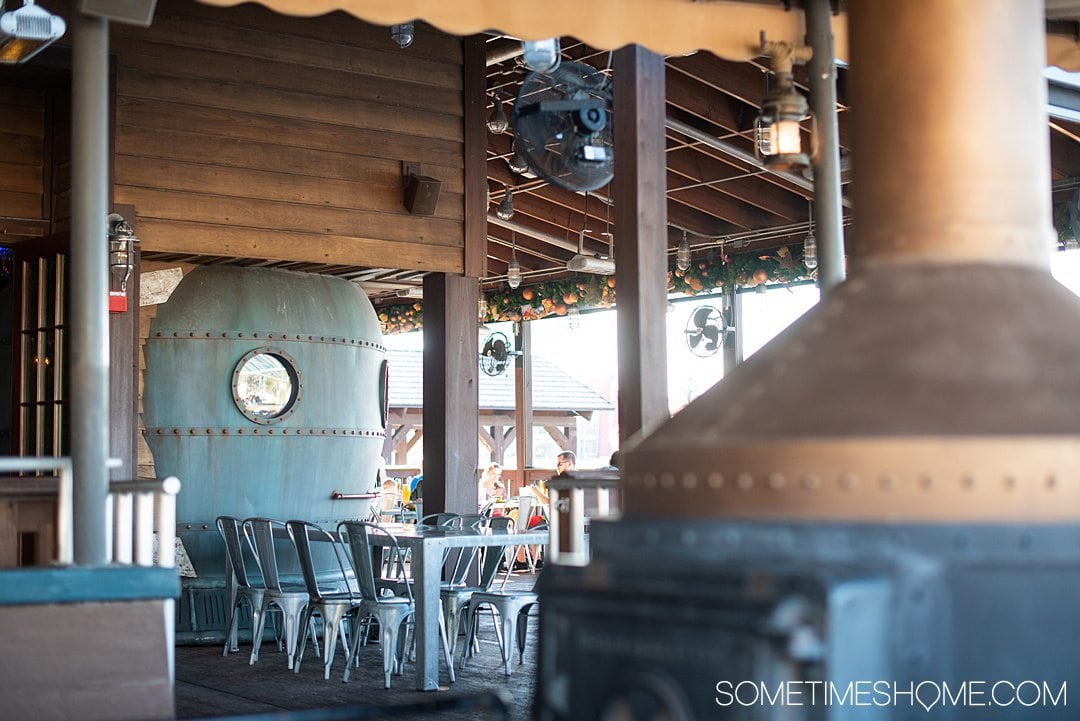 3:00pm-4:00pm: Happy Hour at STK Orlando
I admit, I was a little confused about how STK fits into the landscape of Disney Springs. It's a swanky NYC restaurant that sells sexy cocktails and steak to go with. But hey, they had happy hour so we were game.
Their happy hour (which they call their "Social Hour") runs from 3:00pm to 6:00pm, Monday through Friday. (Their website says 6:30pm in one place and then Disney's says 6:00pm. So let's go with 6:00pm because there are other places to hit up after STK anyway.)
We went to the hostess (who was much nicer than the one at Jock Lindsey's, thankfully) and said, "Do you have happy hour?" And she said yes.
We were seated at a table outside (as we requested) with their normal menu and she told us she'd be back with a happy hour menu. And that's when we realized no one else seated outside seemed to have the happy hour menu.
If you go to STK for happy hour at Disney Springs: ASK FOR THE HAPPY HOUR MENU. They may be hiding it!
What do they have for happy hour at STK?
They had half-off specialty cocktails and limited wine specials for a glass of Cabernet or Rose (that were still $10 a glass so not great for happy hour elsewhere but pretty good for STK at Disney World). Dan and I both opted for cocktails.
By the way their specialty cocktails are normally NYC prices at about $20 a drink. So 1/2 off makes it about what we're used to paying in North Carolina. We'll take it. 50% off is 50% off!
They advertise their food specials as being "$2, $5, $7, $8". Here's what the STK happy hour menu offers:
$2: oysters
$5 items: a TINY burger (their "lil' brg) & truffle fries; tater tots; olive tapenade & hummus
$7 options: beef tartare; jalapeño cheddar grit croquettes; grilled chimi filet (which we didn't order but imagine is tiny as well)
$8 choices: tuna tartare taco (again, imagine….intsy weensy); crispy calamari; jalapeño pickled shrimp cocktail
We selected the beef tartare, which was okay. It wasn't very seasoned and it's never good when you want to ask for salt and pepper. We refrained from asking for these spices, however, and simply agreed we'd get something more indulgent next time, like the jalapeño cheddar grit coquettes.
The drinks were really good. I ordered the Strawberry Cobbler and made sure to ask the waiter if it was sweet ahead of time. (I wanted to make sure they didn't add sugar.) But he assured me it wasn't sweet. He was on the money with his description! It was great – very delicious, not sugary. I wish all fruit cocktails were this good. (I prefer to have my sugar in dessert, not my drinks.)
The Strawberry Cobbler martini is simply Belvedere vodka, with muddled strawberries and a graham cracker crust around the rim of the glass.
Dan had the "Not Your Daddy's Old Fashioned." He's a purist and enjoys an Old Fashioned, never mind the cocktail's more creative name.
The bill came and we were able to pay digitally!
We've seen this at a few restaurants and love it every time. As long as you have your cell phone and you can connect to the internet, you can pay online without handing over a credit card. The fewer touchpoints, the better.
4:00pm-4:45pm: Feelin' Irish at Raglan Road
Anyone who has been to Downtown Disney knows about the famed Irish restaurant and pub, Raglan Road.
When Downtown Disney was converted to Disney Springs, and places like the comedy venue and Mannequins dance club of Pleasure Island went out – Raglan Road stayed and became a part of The Landing area. She's like an old friend: reliable and true. And she offers happy hour discounts on beer and liquor.
We grabbed a pint at the outside area – but it was very hard to find a spot there for a few reasons:
It's a very small area. They have two outside bars but only one of them participates in happy hour.
When we were there, due to COVID, you could not get a drink at the bar and stand in the bar area.
There are only a handful of socially-distanced tables there.
If you get lucky, however, and see an open seat: grab it! We ordered two pints and closed out the bill immediately. We drank them over the course of 30-45 minutes and carried on with our Disney Springs happy hour mastery.
Their happy hour is Monday through Friday, from 12:00pm to 6:00pm, and they offer $5 draft beers and $5 premium well liquors.
4:45pm-6:00pm: Outside Bar at Terralina Crafted Italian
The Terralina bar had a lovely bartender and great Italian beers. I had wine, however, and Dan had a pint or two.
Their happy hour is from 4:00pm to 6:00pm, every day, and they offer $5 select beers and half off glasses of wine. If you can't find a seat at the bar…they have a "to go" bar line!
We were lucky to find seats and the bartender made sure we were wanting for nothing during our stay. We watched the afternoon turn to night from our barstools at Terralina; it was winter and sunset was early.
If you know the Italian restaurant at Disney Springs that's next to Paddlefish (the restaurant in the big riverboat replica) that's the one you're looking for: Terralina. Head to the outside bar that's to the left of the restaurant entrance.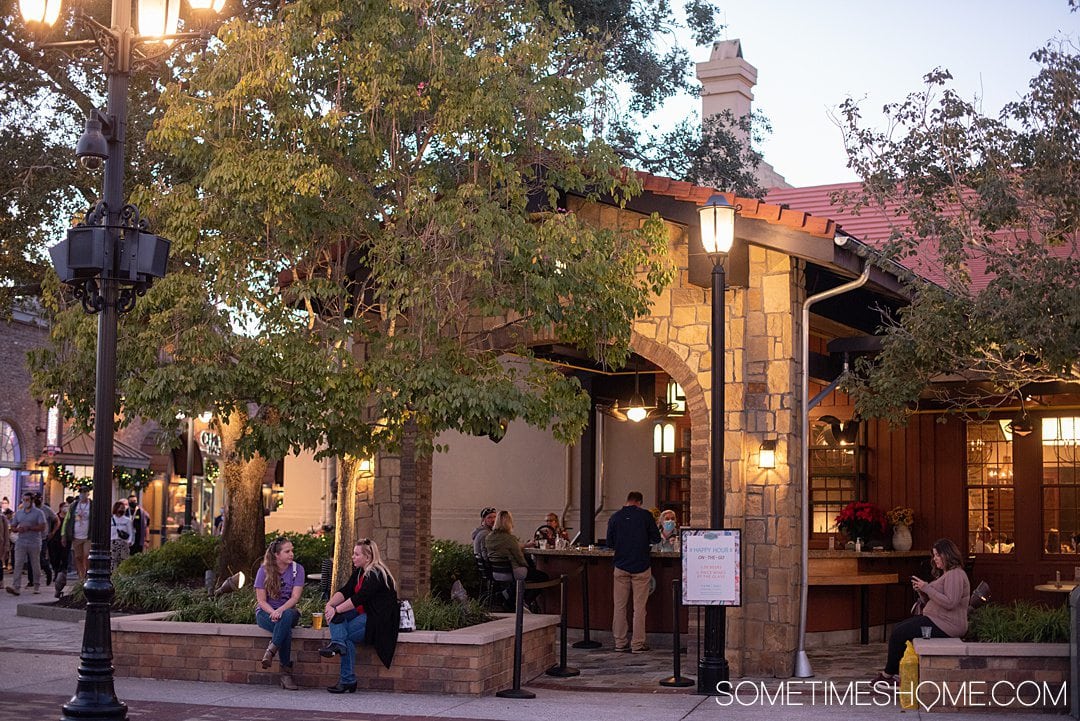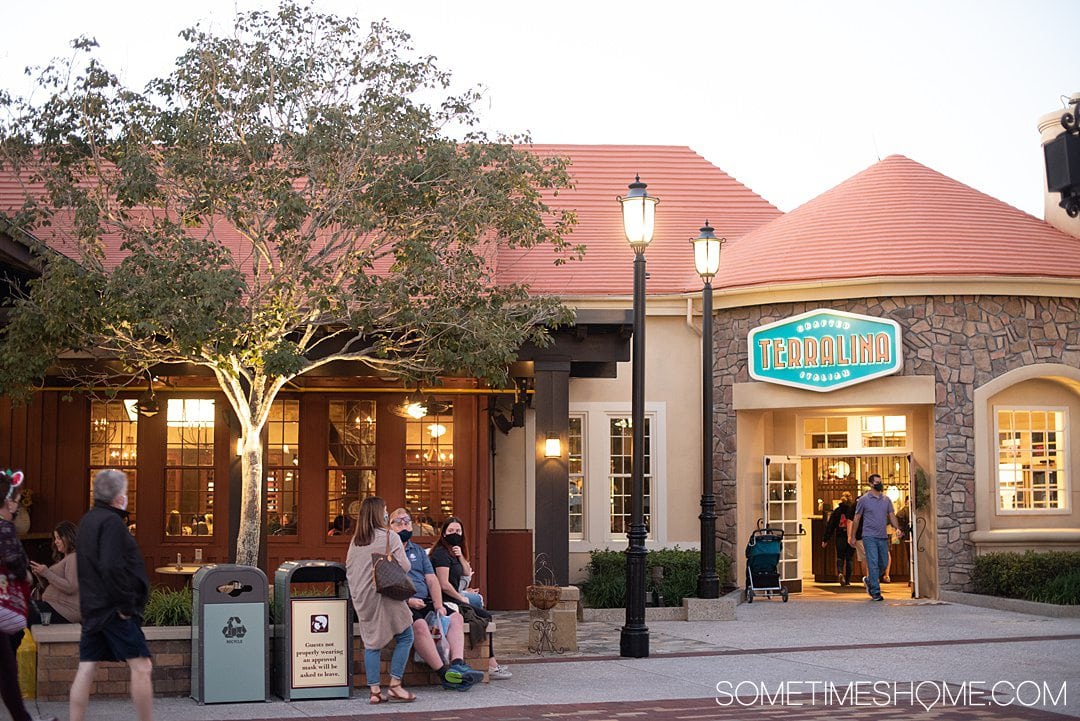 6:00pm-6:30pm: Paradiso 37, Taste of the Americas
Time does not matter when you go to Paradiso 37 because they have happy hour all day, every day at Disney Springs.
They have $5 house margaritas and $5 Coors Lite or Tecates at their outdoor bar.
Dan got a Tecate because he loves them. I opted to have water because I was driving home. Plus, we wanted to do some shopping around Disney Springs afterward and I didn't want to feel too dehydrated.
Years ago, I invested in this flat Memo Bottle so I can carry it wherever I go to stay hydrated. This has been an especially wise investment for Walt Disney World. It nicely fits into a purse and I love that I can keep it refilled.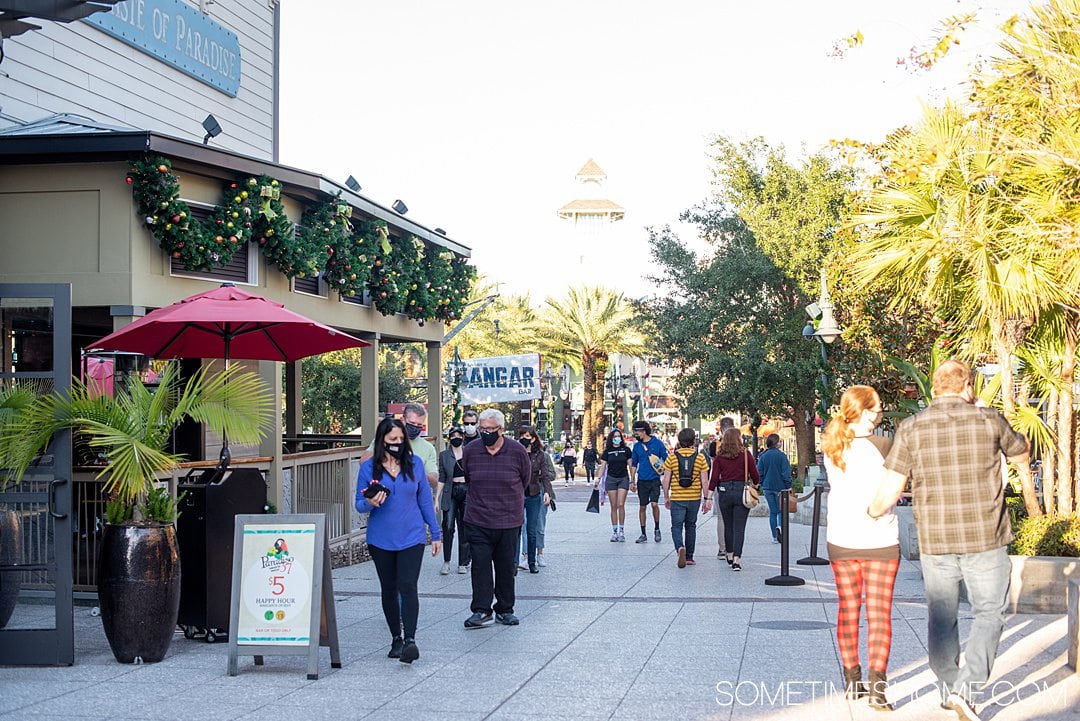 Happy Hours We Didn't Go to But Will Next Time
We stayed central to The Landing area of Disney Spring for our happy hour afternoon. That's simply because there's a higher concentration of options there.
We could have jumped ship to go to the West Side of Disney Springs, where House of Blues and Cirque du Soleil are. But we would have missed the City Works happy hour regardless since they don't offer it on Fridays and we were at Disney Springs on a Friday.
Here is some additional information about Disney Springs Happy Hour spots, though, if you are ambitious and start earlier than we were able to…or if you are there during a weekday other than Friday.
Disney Spring Happy Hour at Jaleo by José Andrés
Jaleo has what they call "Sangria Hour," every day. It's at the bar from 4:00pm to 6:00pm. Beer and a glass of red or white wine are $6, and a glass of sangria – frozen or not – is $7.
A limited bar menu of tapas (small Spanish-inspired plates) has five options to choose from including two of our favorites from Spain: pan y tomate, and croquettes!
House of Blues Restaurant & Bar Happy Hour
What do we love most about the House of Blues happy hours? Live music in the courtyard.
Their daily happy hour is from opening until 5:00pm and features:
$2 off all bottled and canned beer
$5 house wine and well liquor
$6 margaritas and Long Island Iced Teas
They also have select happy hour food specials at the bar, only. Which is probably why we've never had food there. (We get our drinks at a walk-up window and just sit in the courtyard. Easy peasy.)
Here is their opening hours schedule (happy hour ends at 5:00pm every day) and live entertainment schedule:
Sunday: opens at 10:00am, with Live Music in the Courtyard at 12:00pm.
Monday through Thursday: opens at 4:00pm, with Music in the Courtyard at 5:00pm.
Friday: They open at noon but live music starts in the courtyard at 6:00pm.
Saturday: 10:00am open, with live Music in the Courtyard at 1:00pm.
Top Your Disney Springs Happy Hour Afternoon Off with Dinner and Dessert
What pairs well with an afternoon of happy hours at Disney Springs? Dinner and dessert. Or skip the dinner and go straight to dessert – you've been noshing on appetizers at this point all afternoon anyway.
Heading to Walt Disney World? Also check out: