Best Quick Service Desserts at Disney Springs (by Location)
Are you like us and need something to satisfy your sweet tooth once in a while? Well, when you're at Walt Disney World desserts at Disney Springs options are plentiful. And these are ones that you can get quick service from, meaning you can order and pay at a counter and leave, as opposed to the many restaurant options at Disney Springs where you have to have a waiter or waitress bring you a treat to your table.
Recently, the refreshing sorbet was the perfect thing to cool me down in the Florida sunshine as I set out to sacrifice my waistline to find the best Disney Springs Desserts. (Needless to say, the line for Gideon's bakeshop looked like it was way too long for my liking, so we opted for something cool and delicious around the corner.)
I admit I had it in between a taste of rich chocolate ganache and before a pistachio parfait. But could you blame me? There are so many great options to satisfy your sweet tooth at this Florida destination and we're dishin' the details…
Disclosure: There are affiliate links in this post, which means we may earn a small commission if you click the link and proceed with a purchase, at no cost to you. We truly only recommend hotels, products, and services we personally use. As Amazon Associates, we earn from qualifying purchases.
Don't forget to bring your reusable and refillable water bottle for your personal sweet-tooth tour, which is a recommendation from our Disney World and Universal Packing List. You'll be grateful you did!
Best Dessert in Disney Springs at The Landing, Town Center, Marketplace, and West Side
For ease of location, we've broken the post down by area of Disney Springs. This includes the three areas as follows:
The Landing: by restauarants like Raglan Road and The Boathouse, where the cool cars that go into the water and are suddenly boats is located (which is a great thing to do besides the parks if you're looking for non-park entertainment one day)
Marketplace: this is closest to areas like the Lego store, and World of Disney Shop.
Town Center: most of the newest shops in Disney Springs are here, like Zara, Uniqlo, Lululemon and Volcom. (We recommend Lululemon's belt bag in our WDW packing list, by the way. It's fab!)
West Side: near House of Blues, Splitsville, and the Cirque du Soleil theater.
The Landing Quick Service Desserts at Disney Springs
Gluttonous Cookies and Cakes at Gideon's Bakeshop
This small business's original shop was in downtown Orlando. It's still there however they expanded to Disney Springs in 2021.
Gideon's Bakeshop was written up in papers and online articles for having some of the best, toppings-packed cookies in the area and beyond. Thanks to their success, they were able to open a second location at Disney Springs.
There is very often a line for these little cookies that pack a lot of sugar and punch. They're approximately three to four inches in diameter but can weigh far more than meets the eye. The cookie has a partially raw cookie dough taste, which many sweets fans adore.
I had one at their downtown location and divided the cookie into 9 pieces and shared it with friends we were staying with over the course of several days. It was too much for me in one or two sittings! But it's good if you love sweets and you truly want to stay on top of the latest and greatest best Disney Springs desserts the area offers. The cookies are more than $6 each so being able to divide the goods across a few days makes it last longer.
We hear their cakes are great too. You'll find Gideon's diagonally across from Wine Bar George at The Landing.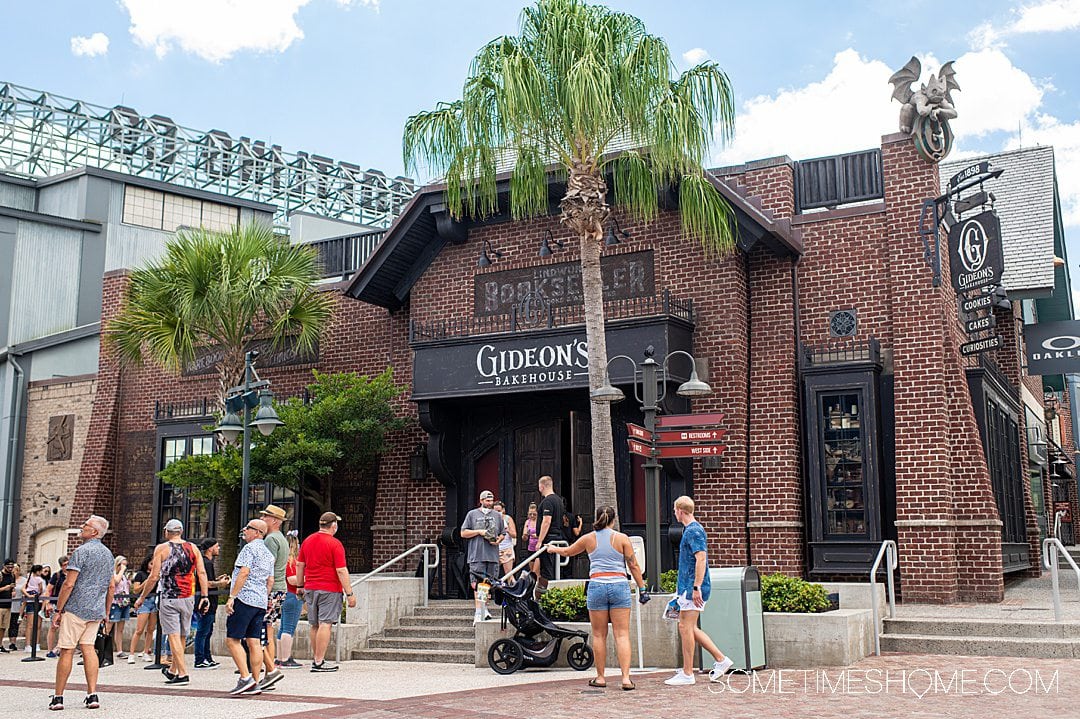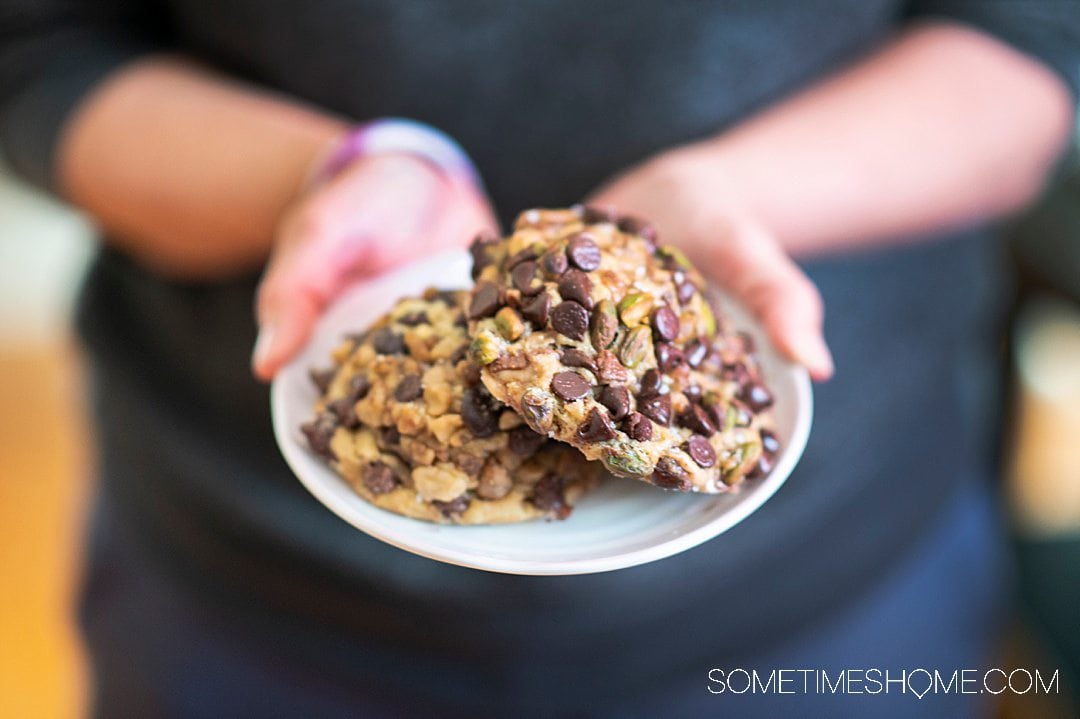 Cupcakes, Cakes, Brownies and More at Erin McKenna's Bakery
This sweet little bakery (with a heart doubling as the "B" in the bakery signage at Disney Springs) gained fame when it opened as BabyCakes in Manhattan, years ago. Then it was a vegan bakery. But now, they have a store on both coasts (LA and NY) and in Florida at Disney Springs and have expanded to many more desserts.
They serve cupcakes, cookies, brownies, donuts, cake slices, and more at The Landing area of Disney Springs. The menu has gluten-free options as well.
It's located on the walkway between The Boathouse and Paddlefish restaurant (the one on the huge boat). It's a little hard to miss if you're not looking for it. If you're walking from the Boathouse to Paddlefish it's on the right. If you're walking in the opposite direction it's on your left.
Cold and Refreshing Ice Cream and Sorbet at Italy's Vivoli Il Gelato
I know it seems counterintuitive, but whether you get gelato or sorbet it's certain you'll be getting an Italian fresh recipe at Vivoli Il Gelato. Why? Because their original location is in Italy! If you're craving something more savory try a cappuccino.
Or if you want to drink your ice cream try a float or shake! Vivoli Il Gelato originated as a family business "en Italia" in the 1920s. Its main location is in Florence – but lucky for you, if you're at the Landing area of Disney Springs you can try it in America.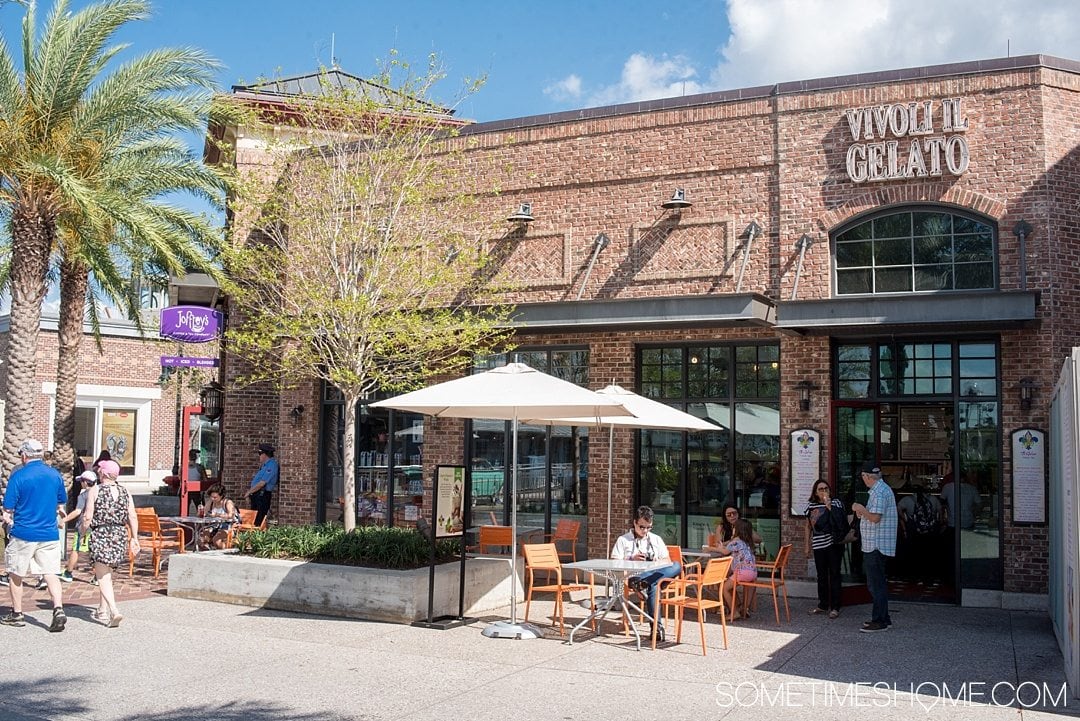 I had a classic mix and tried coconut and strawberry. It was delightful! If you're up late, even after the parks close, and you're craving gelato at 1:00am you're in luck – they're open until 2:00am Thursday through Sunday.
If you're closer to Marketplace and you're desiring ice cream, try Ghirardelli. It's yummy too!
Disney Springs Italian Treats at Pizza Ponte
Pizza Ponte is the place to go if you're in search of the best Disney Springs desserts, Italian style and you want something besides gelato. I had a single serving of their Pistachio and Mascarpone Parfait with a hint of strawberries. We definitely want to try their cannolis too.
This quick-service Italian eatery is to the left of, and connected to, Maria and Enzo's Ristorante and right across from STK restaurant, which is a great destination for Disney Springs Happy Hour.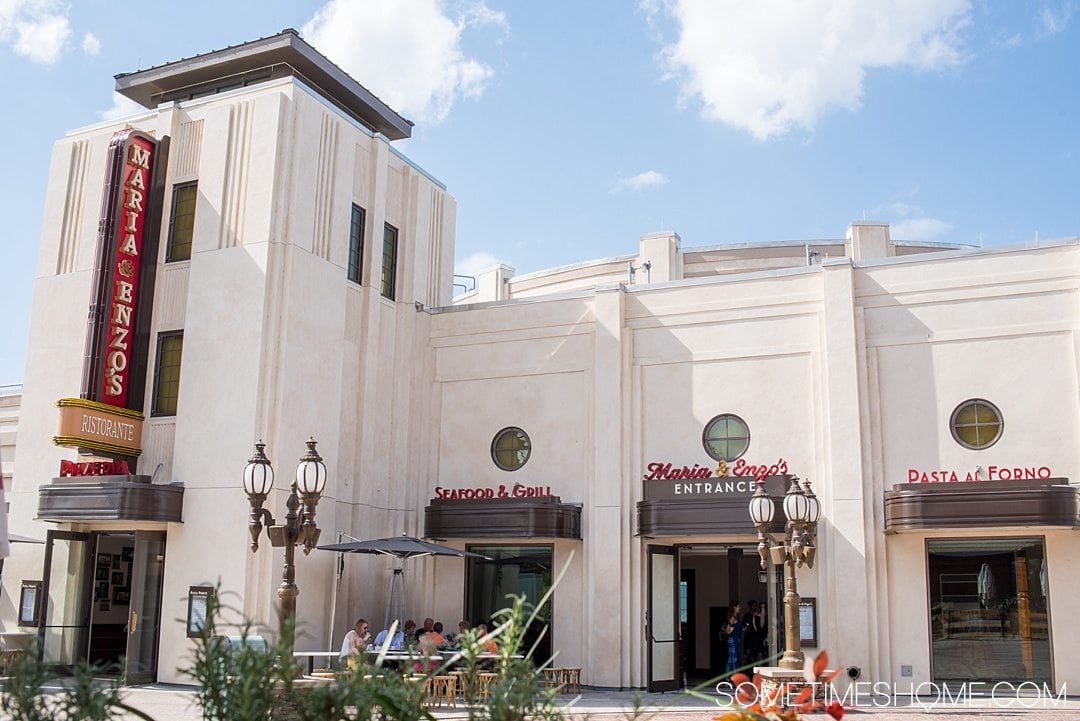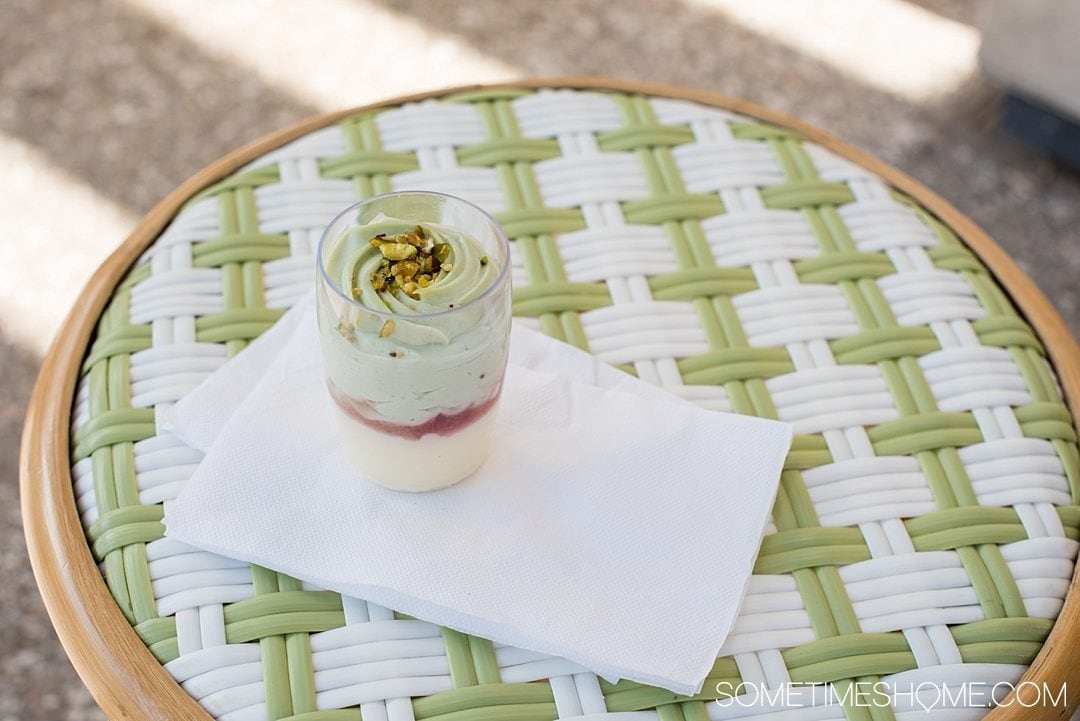 Get the Perfect Bite of Chocolate at The Ganachery
If you're the type of person that craves just a tad of rich chocolate after a meal this is the place for you. The Ganachery makes the perfect piece of chocolate and ranks high on our list of best Disney Springs desserts. And, yes, it's pure ganache.
(Hopefully, you know that creamy chocolatey goodness I'm talking about! But if you don't you must stop by. They often give out free samples.)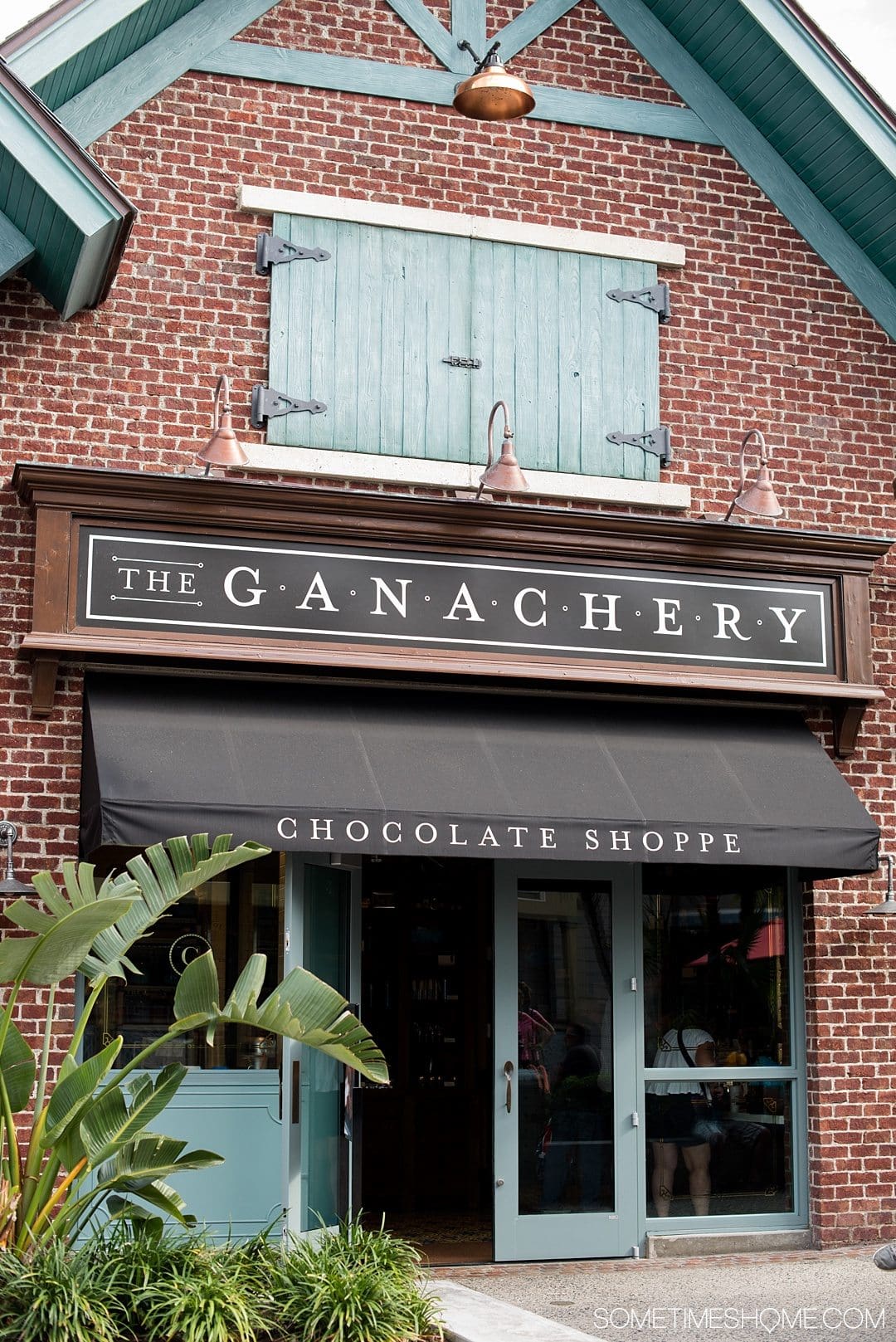 If you are there at the right time you'll catch a glimpse of a chocolatier creating fresh confections. They also have really cute sophisticated Disney-themed ganache sticks.
If you're not ready to buy chocolate and walk around in the Florida heat there's good news: they will hold your purchase until you're ready to pick it up before leaving. (They are open until 11:00pm.) Also, if you spend $50 or more you get a complimentary insulated bag for your treats.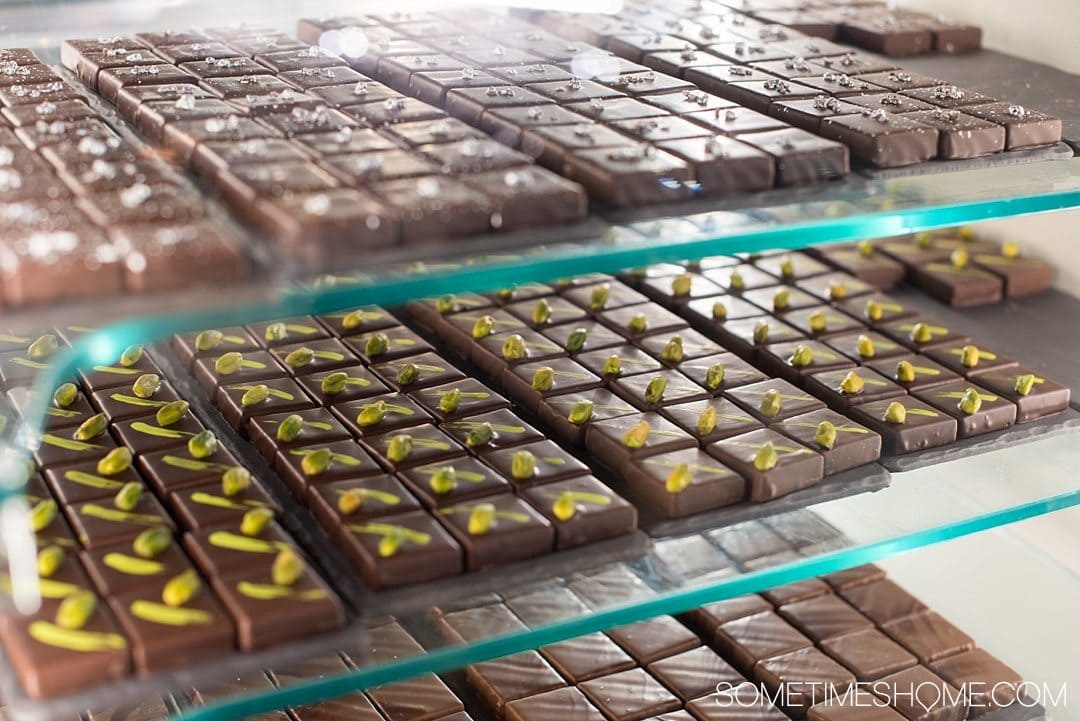 Marketplace Disney Springs Desserts
Trendy Bubble Crepes at AristoCrêpes
Have you seen the bubble crepes that made their way around the world? The popularized Japanese dessert made its way to Disney Springs at AristoCrêpes.
The traditionally flat crepe pancake has an updated twist with little bubble pockets. They're then filled with your choice of toppings and made into a portable cone. Get it filled with things like whipped cream and caramel, banana and Nutella, or ice cream and fruit. They are priced between $8 to $10.
This kiosk is slightly out of the way unless you're searching for it. It's in a gazebo on the water at Disney Springs Marketplace, on the walkway that connects Rainforest Cafe with the Paddlefish restaurant. Both landmarks are easy to identify from the volcano icon at Rainforest Cafe, and the big boat that Paddlefish restaurant is in.
Sweets at Goofy's Candy Company
If you're in need of some Mickey, Minnie, or specialty character desserts there is always something great to get here. This candy store has been at Disney Springs for decades, including when it was Downtown Disney. It is a personal favorite if I want some chocolate-dipped marshmallows, Rice Krispy treats, and candy apples.
It's also a great place to go to get some treats to accompany your travel games for the car or plane ride home. You'll find Goofy's Candy Co. located across from Rainforest Cafe.
Dole Whips at the Marketplace Snacks Kiosk
Did you know you don't have to be at the Magic Kingdom to get a Dole Whip? You can get them at the Polynesian hotel too, but why go through the trouble when you can get this world-renowned, favorite Disney World dessert at Disney Springs too?
For something different, try the Dole Whip Nachos. That's right: Dole Whip NACHOS! The base is waffle cone chips that are topped with the Dole Whip ice cream treat. Then on top of that is mango boba pearls, strawberry sauce, pineapple, whipped cream, and sprinkles. Whoa!
Find this kiosk in front of Dockside Margaritas and across from Marketplace Co-Op.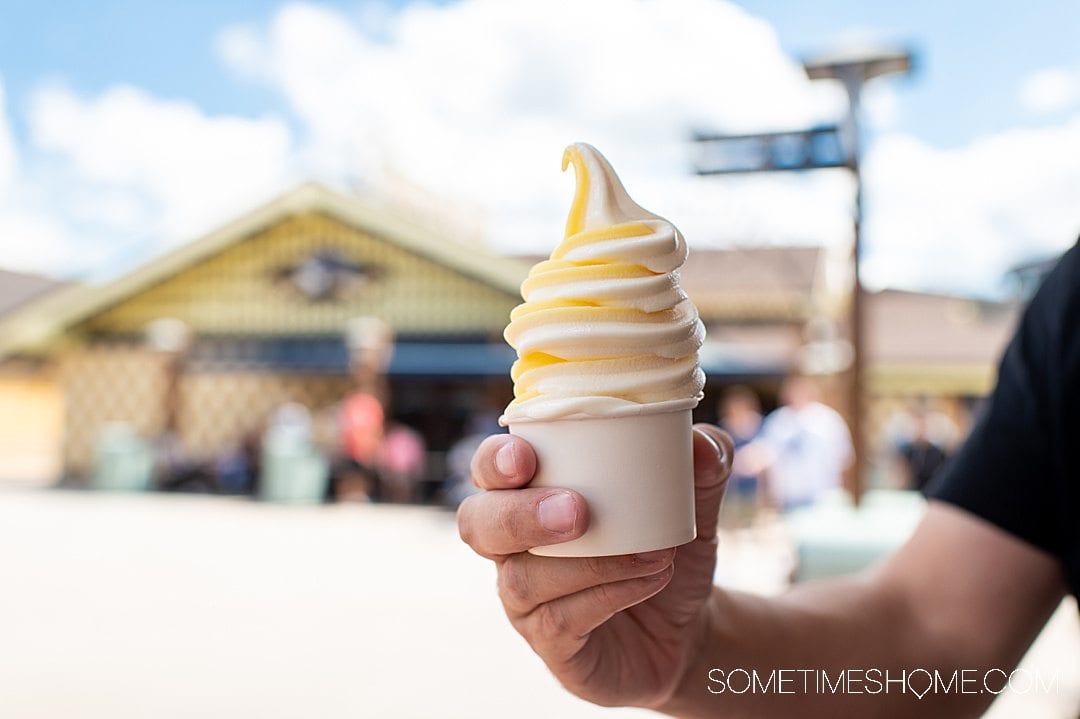 Sundaes, Shakes, and Chocolatey Goodness at Ghirardelli Soda Fountain & Chocolate Shoppe
Ghirardelli is a super successful shop that's been a destination for the best Disney Springs desserts for decades.
It's located right by the World of Disney store, which is also a popular destination at Disney Springs. Stop at Ghirardelli for a ton of ice cream and sundae options, and seating to boot. (You order at the register and they bring it to your table.)
The sundaes are about $16 each but they're definitely big enough to split. Shakes run about $10 each (and are easy to split too). They have great blended coffee dessert drinks as well as hot chocolate if you are visiting during a cold day or night.
Classy Cakes at Amorette's Patisserie
We guess you can say that Amorette's is one of the "upscale" places to get desserts at Disney Springs if you ask us. This French bakery reminds us of trips to the native country and all the goodness you expect in France.
The menu has things like French macarons, petite cakes, traditional French crêpes, Mickey Mousse, and Key Lime Tarts (a Florida classic). The best part is you can get a glass of champagne here too, to wash it all down!
This is also a great place to purchase a larger celebration cake, like if you're a group of people celebrating a birthday.
Amorette's Patisserie is slightly hidden – it is located by World of Disney and the Lego Store, on the parking lot side of the pedestrian area.
Town Center Disney Springs Desserts
If you're craving dessert in Disney Springs and you're in the middle of some afternoon shopping, these are places that are likely nearby the shops you'll be at if you're at Town Center. Some of our favorite shopping destinations are here, including stores like Ever After Jewelry Co. & Accessories, Pandora, Sugarboo & Co, Anthropologie, Uniqlo, and Alex and Ani.
Amorette's Patisserie: because we're suckers for expertly hand-crafted pastries! Find it in Disney Springs Town Center area.
Sprinkles: we've had the New York City original so we skipped it this trip but our friend, Julie, from The Little Kitchen told us they have Sprinkles Sundaes. We can't wait to try their ice cream topped with a cupcake! Be sure to check out their cupcake ATM outside too. (It's where the white arrows are in the pink area to the right of the image below.)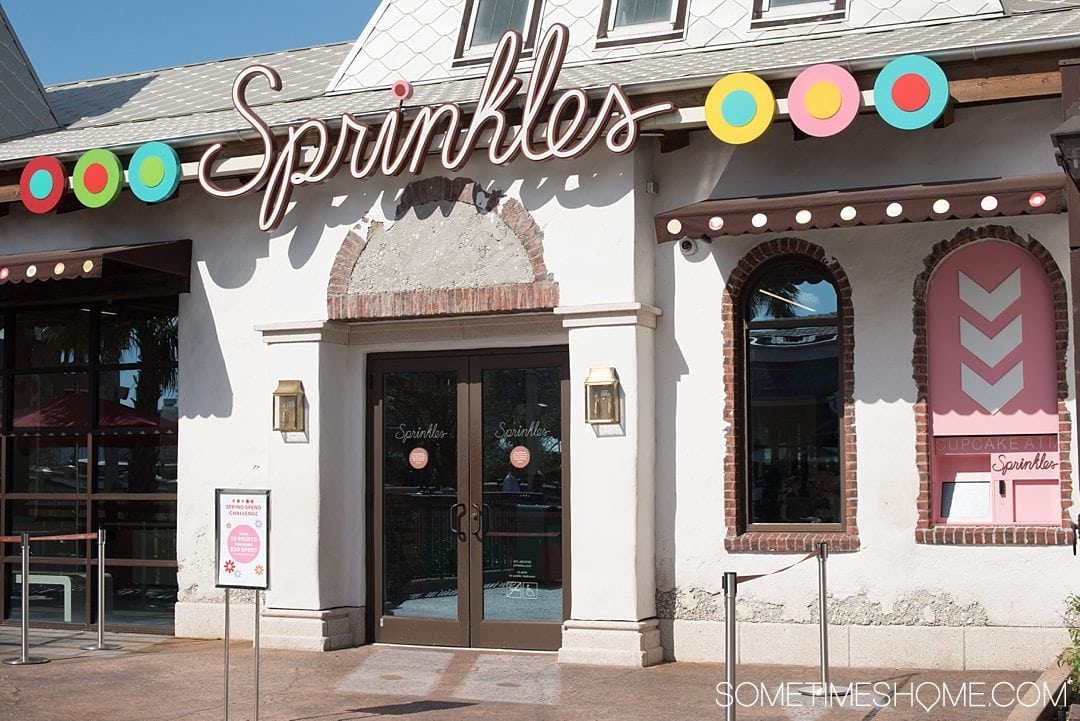 West Side Desserts at Disney Springs
Everglazed Donuts and Cold Brew
Donuts are all the rage and this shop does not disappoint! You can even get a hamburger sandwich with a donut as the "bread" if you truly want an Instagram or TikTok worthy post.
They have classic donuts, like strawberry or vanilla iced with sprinkles. But they also have some funky options, like Maple Double Bacon and Nutella Boston Creme. The donuts are a little pricy – they're around $5 and up. But if you consider that they're practically a meal at Disney Springs (as well as dessert) it makes sense.
It's right next to Splitsville. If you're a long-time Disney Springs goer, back when it was Downtown Disney, you'll recognize it's in the location where the old Pop Art gallery was for many years.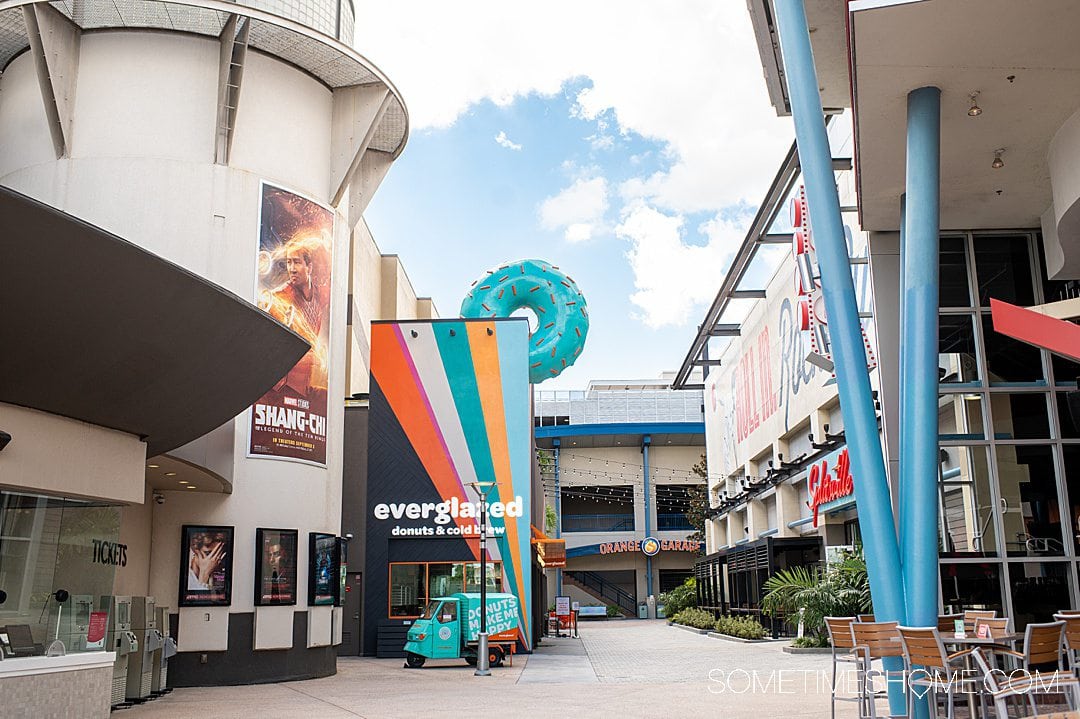 Wetzels Pretzels
This is a great treat if you can't decide between savory or sweet for a little snack! They have a lot of savory options but some sweet ones too, including Sinful Cinnamon and Almond Crunch. You can get a traditional soft pretzel or little pretzel bites.
Cold Ice Cream and Shakes at Häagen-Dasz Kiosk
Right next to the pretzels is Häagen-Dasz. This is a great place to get ice cream sundaes if you're on the West Side of Disney Springs and don't necessarily want the hassle of Ghiradelli, which is usually really busy. It's a great place to get ice cream shakes too!
Both kiosks are right by Planet Hollywood.
Disney's Candy Cauldron
I've been a long-time fan of chocolate-dipped marshmallows. And for many, many years I had a tradition that I'd get one on every trip to Walt Disney World. This was one of the places I'd get them.
They have a lot of Disney-themed desserts (of course) from packaged gummies, to themed candy apples. You'll find this Disney Springs dessert stop near Starbucks and across from the permanent food trucks area of The West Side.
Map of Disney Springs
Need a map of the area? We've got you covered!
Year-Round Printable Packing List for Walt Disney World
If you're heading to Orlando, it's likely you're going to have to pack for the trip. And no matter if you're at Disney Springs, in the parks, or hanging at your hotel, we have the list of all the items that are vital to pack (like sunscreen and sunglasses) and then recommended items you may not have thought to pack (like The Bug Bite Thing, Mickey Mouse Band-Aids and cooling fans).
Check out our WDW and Universal Packing List.
Heading to Walt Disney World? Also check out: