Refreshing sorbet was the perfect thing to cool me down in the Florida sunshine as I set out to sacrifice my waistline to find the best Disney Springs Desserts.
I admit I had it in between a taste of rich chocolate ganache and before a pistachio parfait. But could you blame me? There are so many great options to satisfy your sweet tooth at this Florida destination and we're dishin' the details…
Italy's Vivoli Il Gelato in Florida
I know it seems counterintuitive, but whether you get gelato or sorbet it's certain you'll be getting an Italian fresh recipe at Vivoli Il Gelato. Why? Because their original location is in Italy! If you're craving something more savory try a cappuccino.
Or if you want to drink your ice cream try a float or shake! Vivoli Il Gelato originated as a family business "en Italia" in the 1920s. Its main location is in Florence – but lucky for you, if you're at the Landing area of Disney Springs you can try it in America.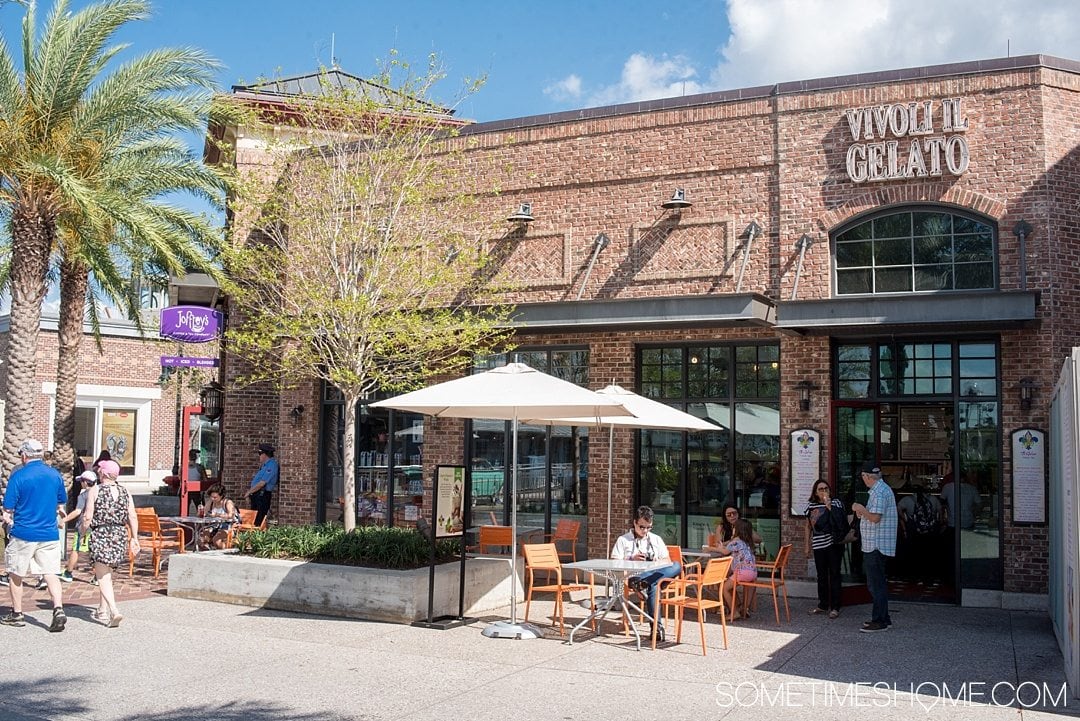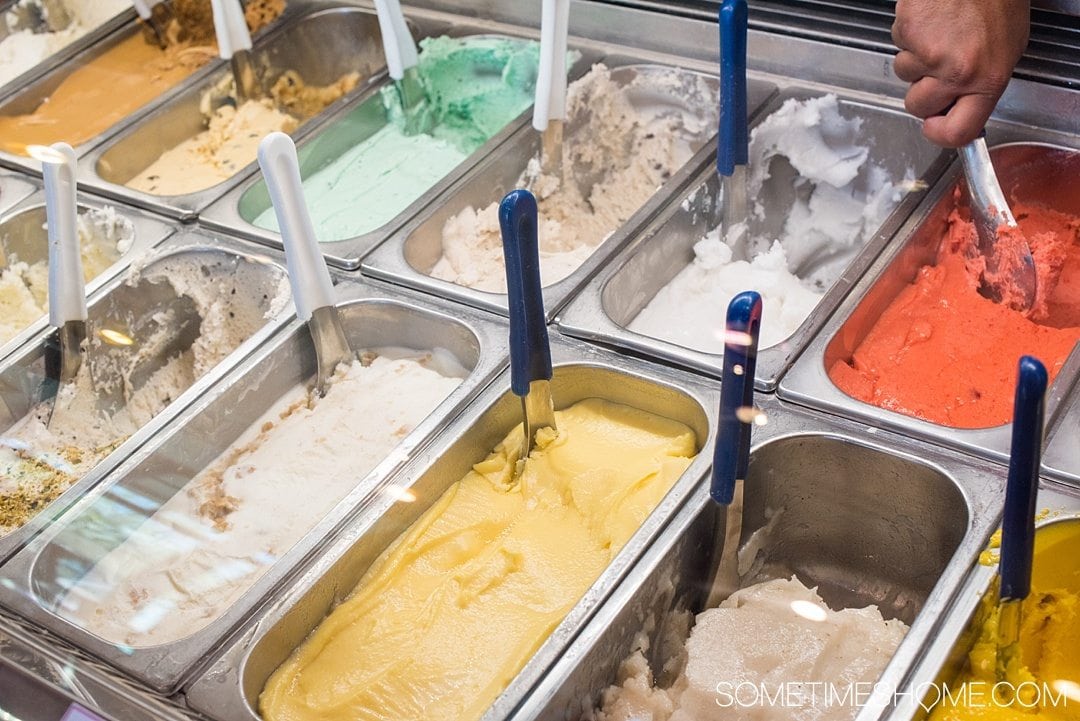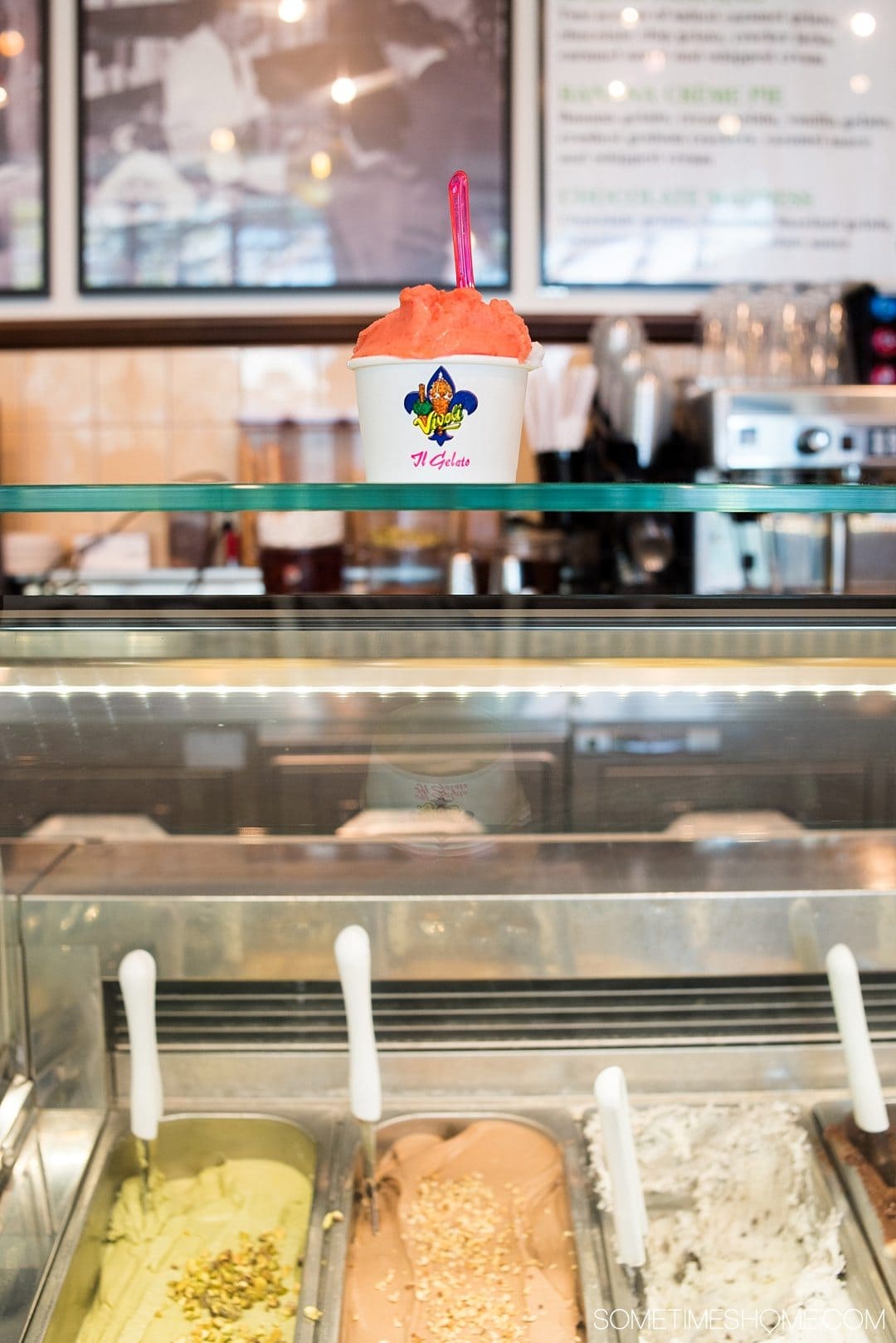 I had a classic mix and tried coconut and strawberry. It was delightful! If you're up late, even after the parks close, and you're craving gelato at 1:00am you're in luck – they're open until 2:00am Thursday through Sunday.
If you're closer to the Marketplace and are desiring ice cream, try Ghiradelli. It's yummy too!
Pizza Ponte at Disney Springs
Pizza Ponte is the place to go if you're near The Landing area in search of the best Disney Springs desserts, Italian style. I had a single serving of their Pistachio and Mascarpone Parfait with a hint of strawberries. Next time I go back I'm looking forward to trying their cannolis.
This quick service Italian eatery is to the left of, and connected to, Maria and Enzo's Ristorante.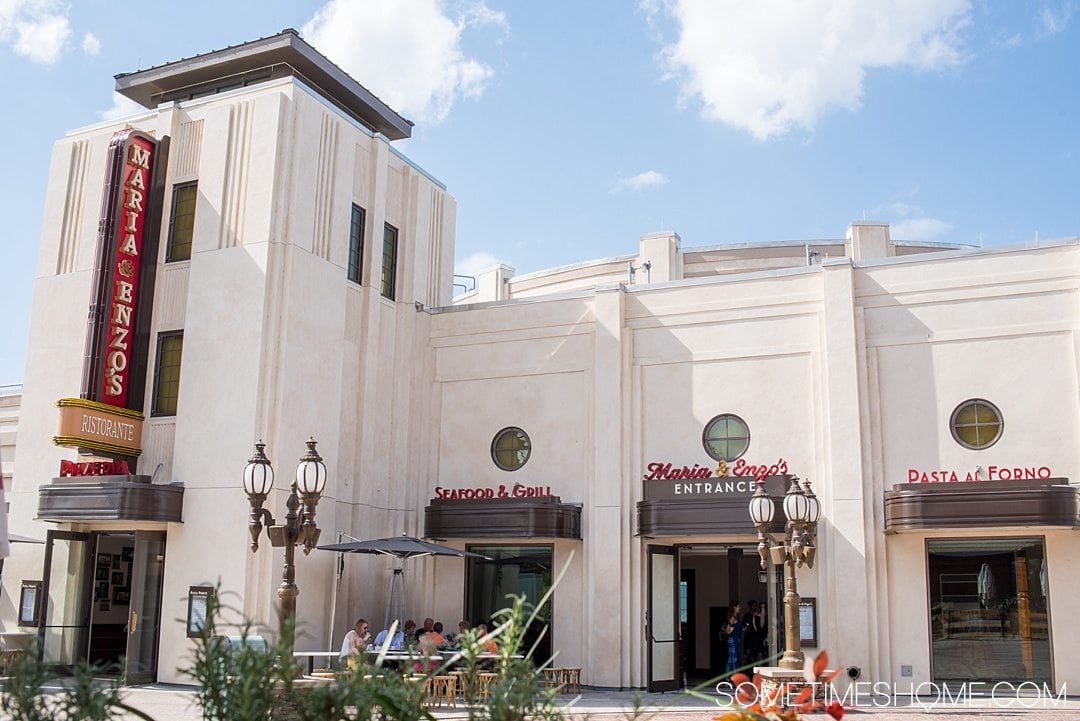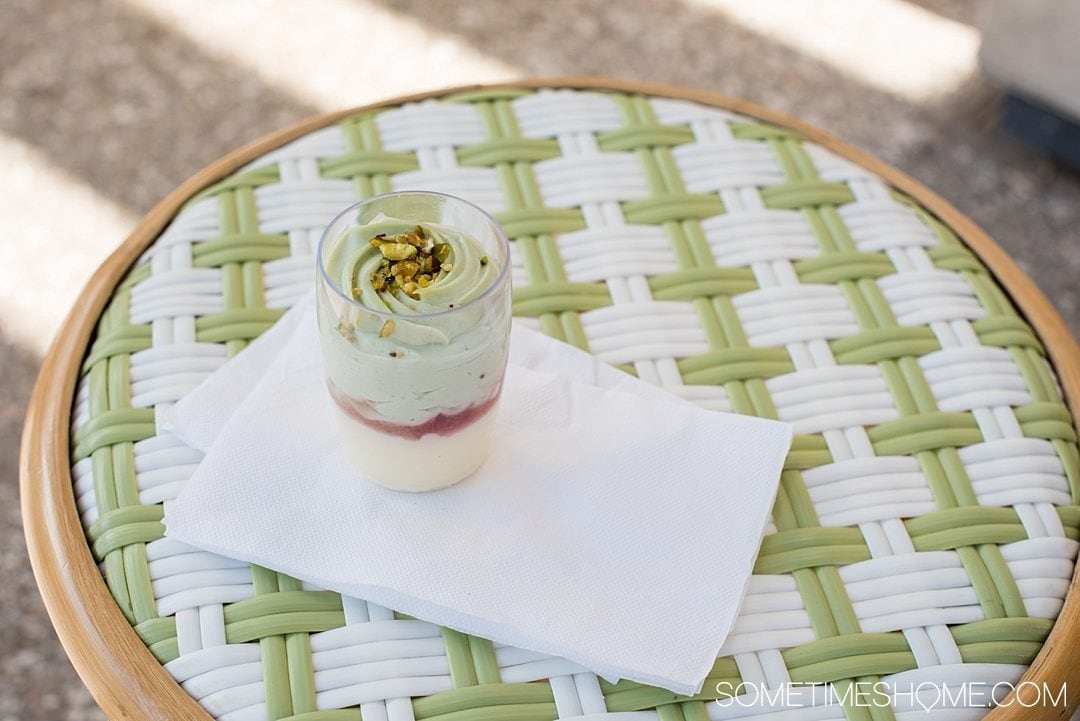 The Ganachery (and the Perfect Bite of Chocolate)
If you're the type of person that craves just a tad of rich chocolate after a meal this is the place for you. The Ganachery makes the perfect piece of chocolate and ranks high on our list of best Disney Springs desserts. And, yes, it's pure ganache.
(Hopefully you know that creamy chocolatey goodness I'm talking about! But if you don't you must stop by. They often give out free samples.)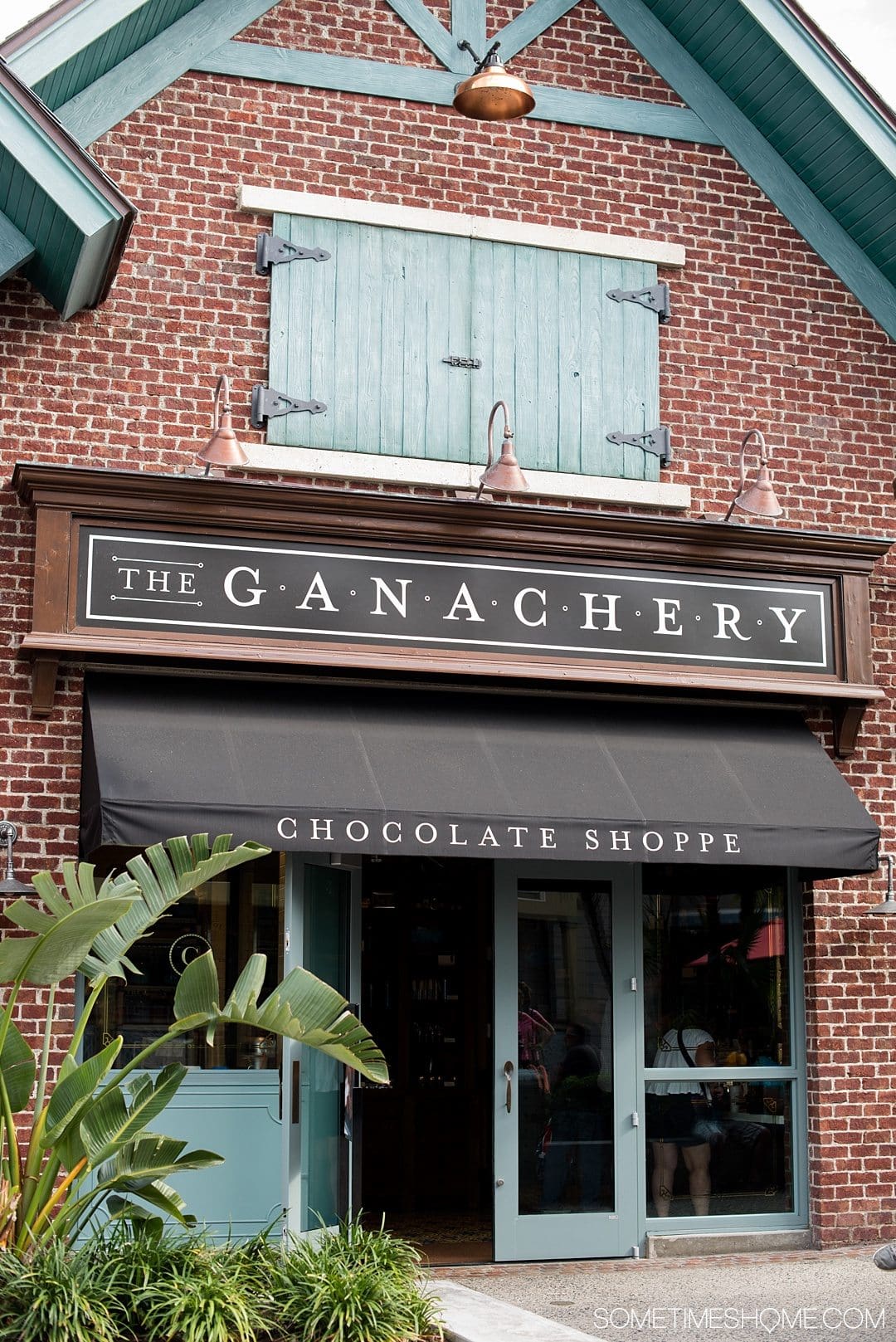 If you are there at the right time you'll catch a glimpse of a chocolatier creating fresh confections. They also have really cute sophisticated Disney themed ganache sticks.
If you're not ready to buy chocolate and walk around in the Florida heat there's good news: they will hold your purchase until you're ready to pick it up before leaving. (They are open until 11:00pm.) Also, if you spend $50 or more you get a complimentary insulated bag for your treats.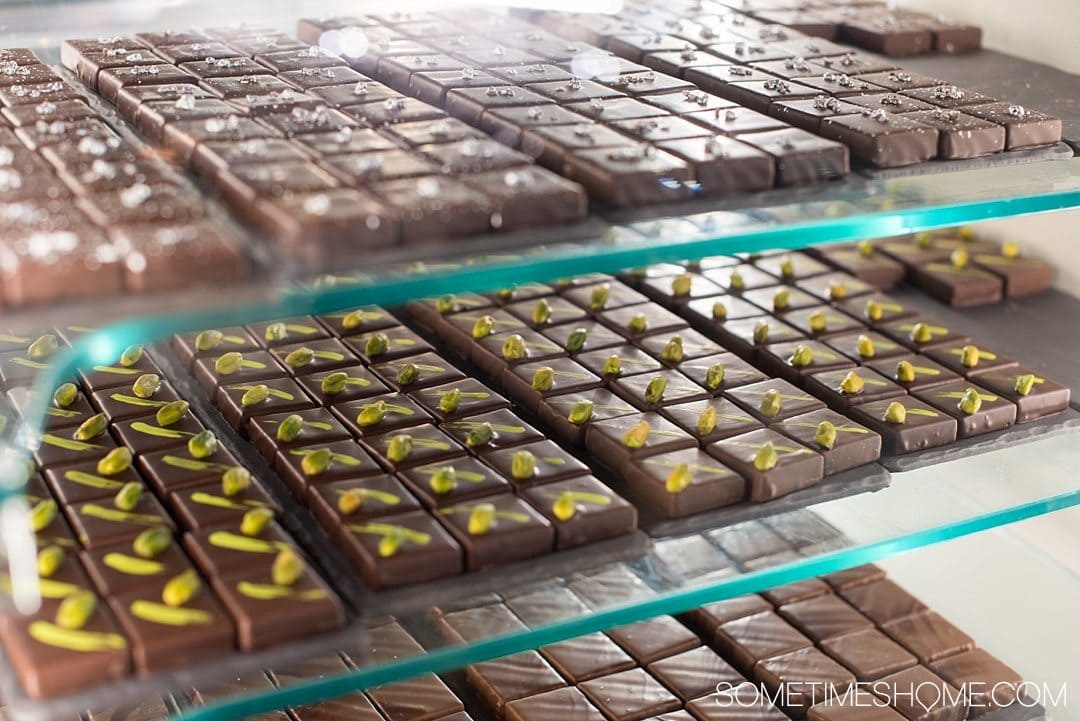 We're Always Looking for Updates for the Best Disney Springs Desserts
The menus are always evolving and changing so we always keep our eyes out for new sweet and treats when we visit Disney Springs.
Here's some other places we can't wait to try when we go back:
Erin McKenna's Bakery: serving cupcakes, cookies, brownies, donuts and more at The Landing area of Disney Springs
Amorette's Patisserie: because we're suckers for expertly hand crafted pastries! Find it at Disney Springs' Town Center area.
Sprinkles: we've had the New York City original so we skipped it this trip but our friend, Julie, from The Little Kitchen told us they have Sprinkles Sundaes. We can't wait to try their ice cream topped with a cupcake! Be sure to check out their cupcake ATM outside too. (It's where the white arrows are in the pink area to the right of the image below.)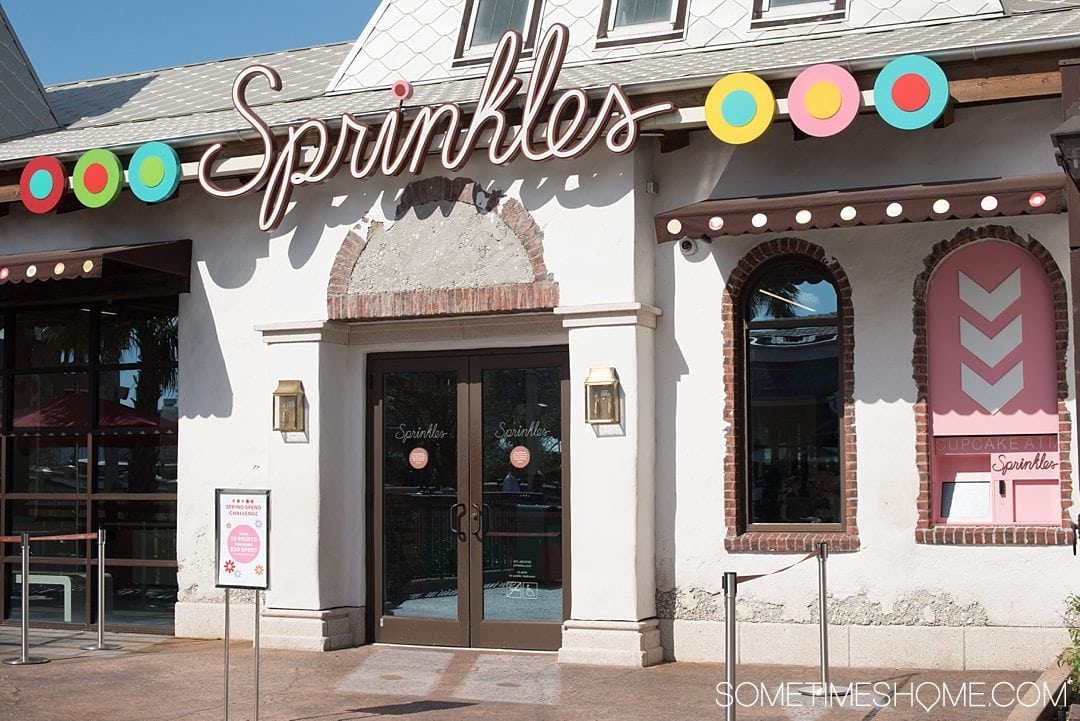 Heading to Walt Disney World? Also check out:
What kind of sweets do you reach for when you have a craving?