Our First Time in Old 96 District South Carolina and Things to Do in Greenwood
We hit the road to reach the Old 96 District in South Carolina. It's a great area to visit that isn't crowded by any over-tourism, whatsoever, and there's cute towns, great places to eat and fantastic nature to enjoy.
We were scheduled to stay in Greenwood's Uptown area and explore two towns, in particular, during our low-key, four day trip to Old Ninety Six.
What is, and Where is, Old Ninety Six?
The Old Ninety Six district of South Carolina is an area that encompasses five counties in the northwestern part of the state. It's just south of Charlotte, past the southern North Carolina border.
It took us about five and a half hours to get there from downtown Raleigh, with a couple stops for restrooms and such.
Old Ninety Six is a historic area most well known for its role in the American Revolutionary War in the 18th century.
The counties that Old 96 District in South Carolina encompass are:
Abbeville
Edgefield
Greenwood
Laurens
McCormick
We visited Abbeville and Greenwood our first trip to Old 96 district South Carolina. We stayed in Greenwood and the drive to Abbeville was only about 25 minutes.
Why is it Called, "Ninety Six"?
It's not quite known why the area was named "Ninety Six," as we learned during our visit to Ninety Six National Historic Site. But the name stuck!
What is known is that its location between several major routes of the state's interior and backcountry made it a strategic post during the American Revolution.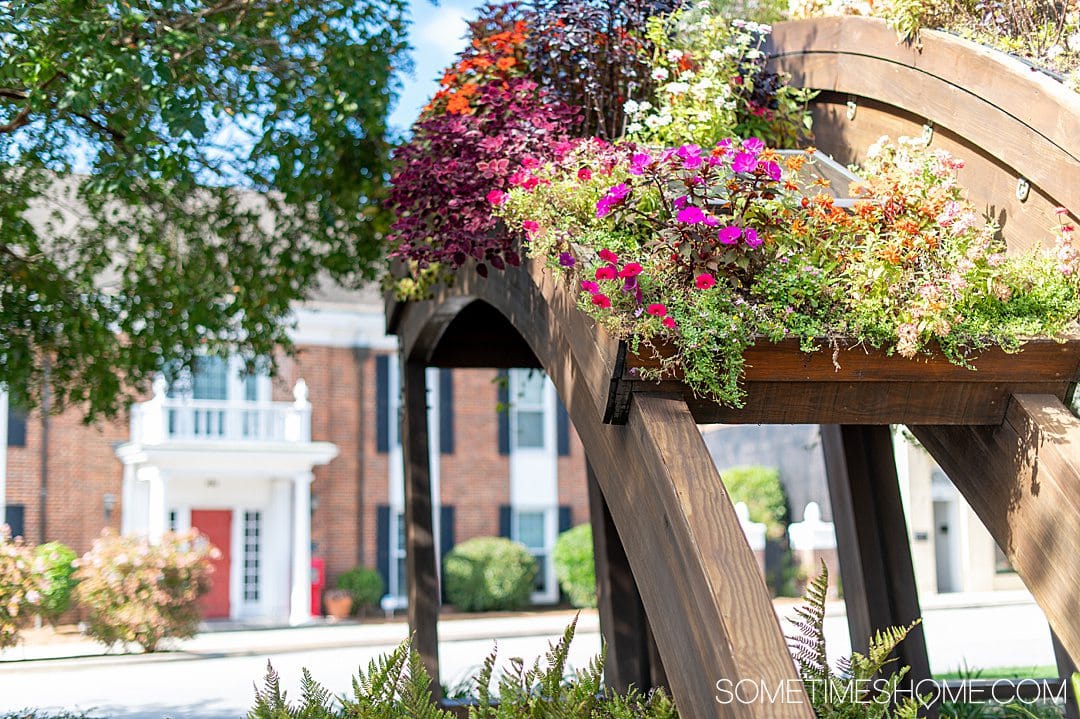 Where to Stay in Old 96 SC
Inn on the Square in Greenwood, SC
We loved staying at Inn on the Square in Greenwood. It's located in Greenwood's "Uptown" area, which is very walkable. We liked that we could park our car and walk to several restaurants and shops nearby to get exercise and see things from a pedestrian perspective.
The hotel has gone through a few iterations since it was first built in the 1900s, including life as a college dormitory in 2009. But the present hotel has existed since 2014.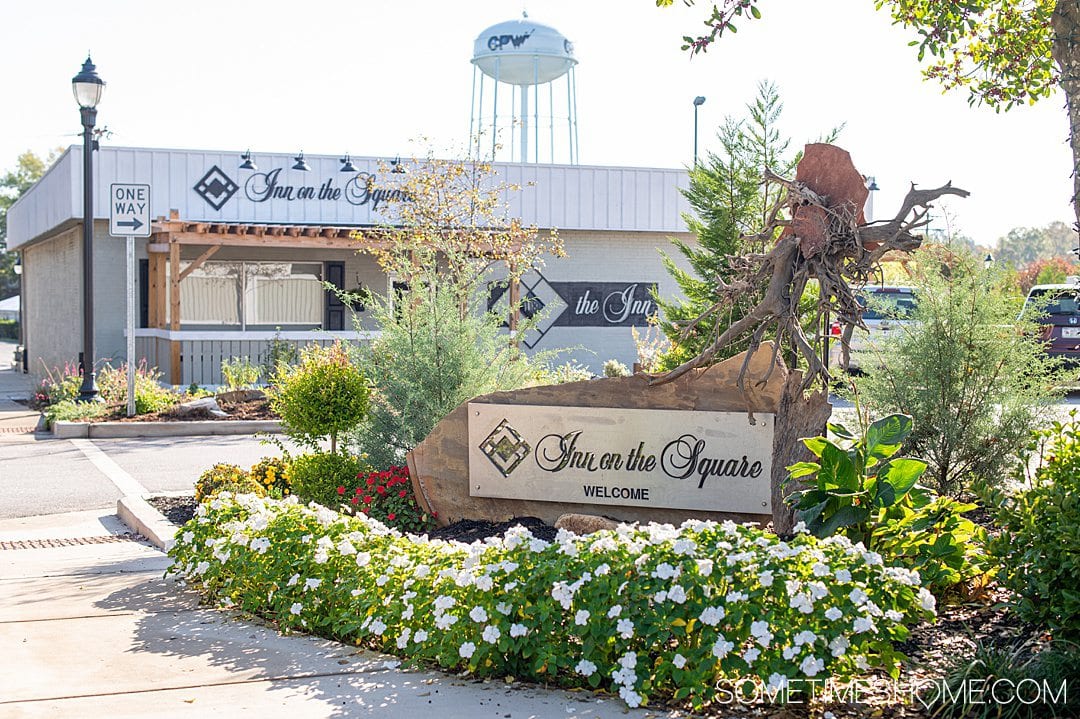 Historically speaking, the current lobby area was previously an alley and the structures that stand on either side used to be shops. There's even a whole subfloor that reveal part of the property's history, yet it's empty and not open to the public..
The main building has three floors of hotel rooms, and there's also three studios/villas adjacent to the building. The villas building used to be an old laundromat that the hotel owners purchased from a female business owner. They kept the copper pipes from the laundromat's plumbing when they remodeled it; those pipes were repurposed to create the art piece that stands in the center of the hotel lobby's interior courtyard.
There's a bar and restaurant within the Inn on the Square, an event venue and a delicious breakfast included in your hotel stay for the morning. (We loved their thick-cut Brioche bread their pastry chef, Olivia Taylor, makes from scratch. It's used as the French toast base….yum.) They weren't having their "famous" Sunday Brunch when we visited because of COVID but we trust they'll start it back up one day.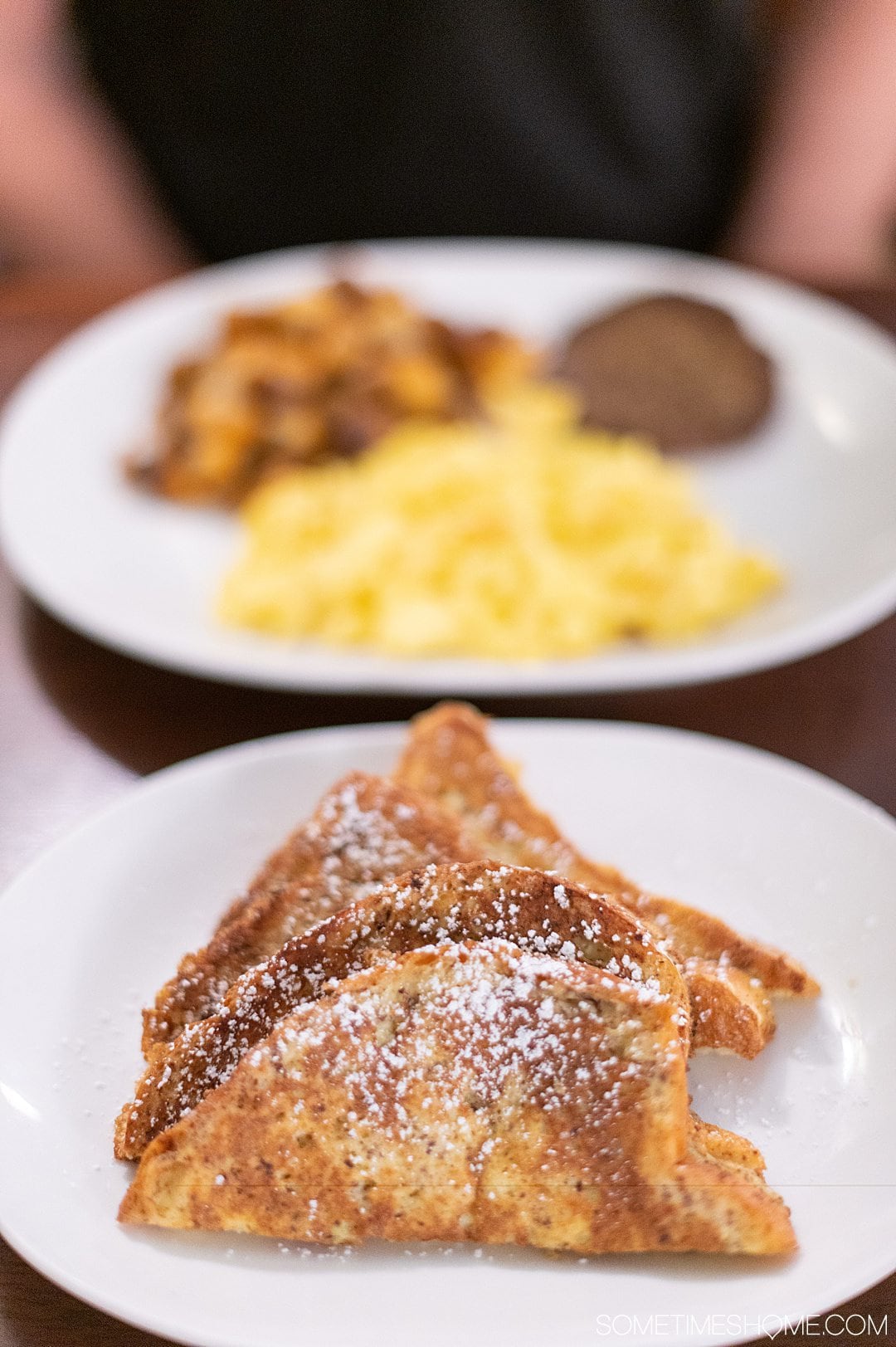 Rates range from just over $100 to just under $150 a night depending on the time of year you visit. We had a lovely corner king-bed suite on the third floor.
Walk Around Uptown Greenwood
When we stepped outside our hotel we were across the street from the main area of Uptown Greenwood, where there are some cute shops and restaurants. Here are some of our favorites…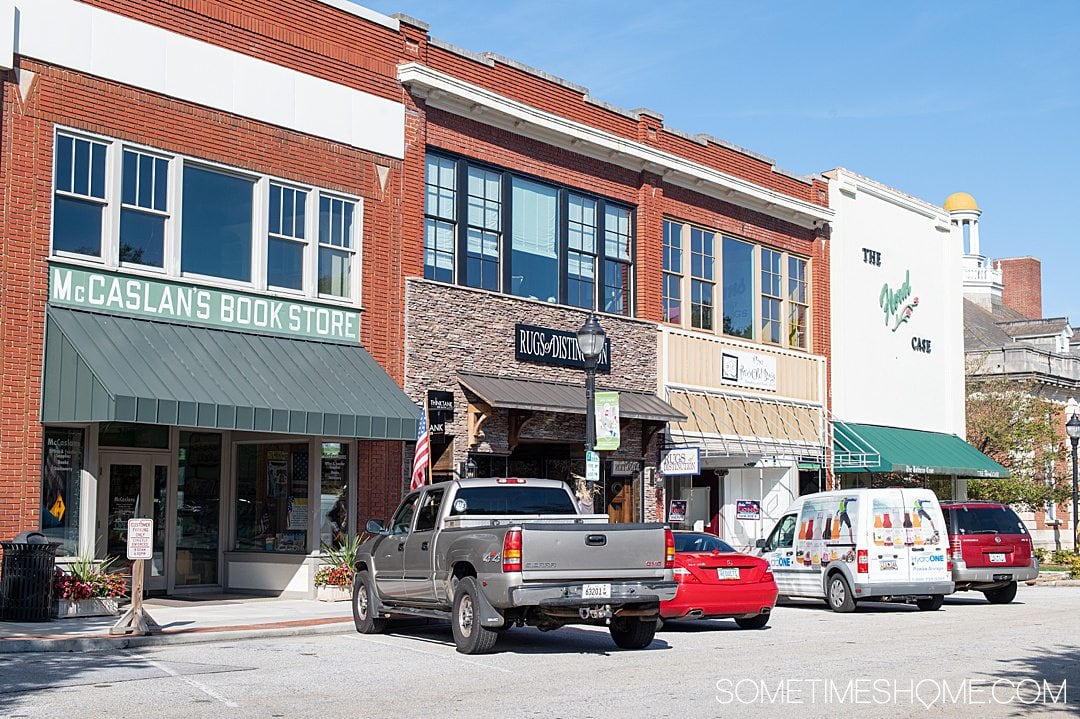 Fig
We love how bright and colorful Fig shop is. They sell gifts and cool accessories, some apparel, luggage and personalized gifts. There's also a few home items inside like cute cocktail napkins and serving trays. They sell fine invitations too, though we don't imagine you'll be ordering stationery there if you're only popping by for a visit during your weekend trip to Greenwood, SC.
It's a bright and airy shop that will surely bring a smile to your face as soon as you step inside.
They are open from 10:00am to 6:00pm on Mondays, Tuesdays, Thursdays and Fridays, and from 10:00am to 4:00pm Wednesdays and Saturdays. Closed Sundays.
Address: 104 Maxwell Avenue, Greenwood, SC 29646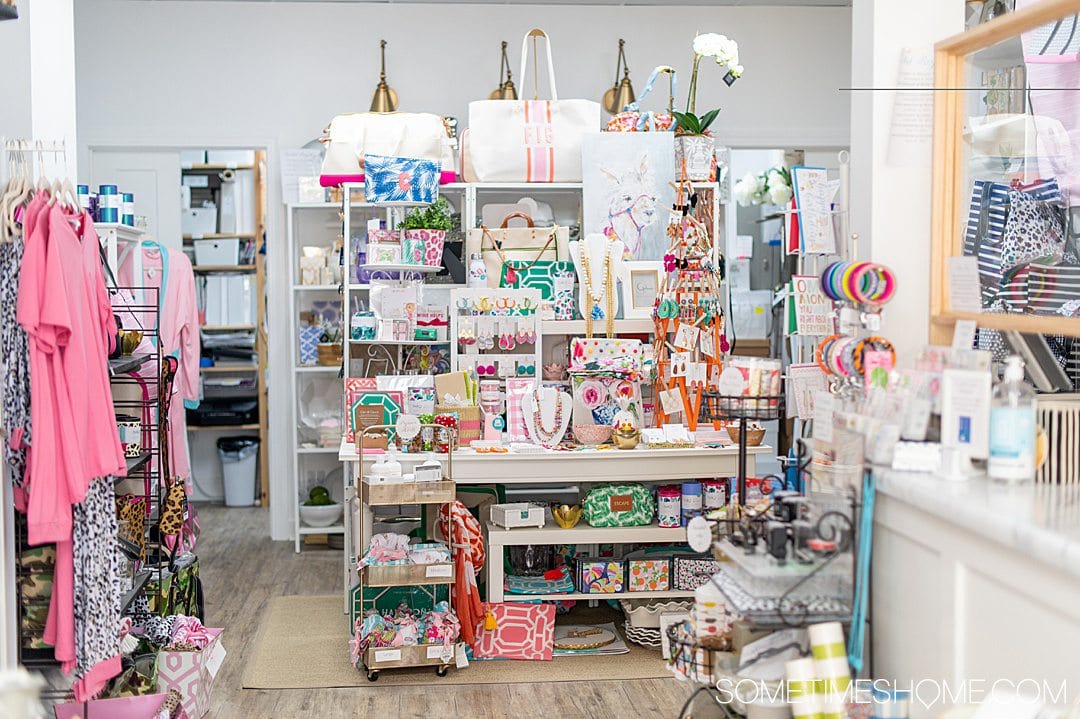 Main and Maxwell
This shop is literally on the corner of Main and Maxwell streets in Uptown Greenwood. Hence, its name.
They have a great collection of art inside including pottery, beaded jewelry, paintings and stained glass pieces. And of course, they have a variety of cute face masks for sale.
Don't miss their Instagram-worthy balloons on the side of the building, on Maxwell Avenue.
They're open Monday through Saturday, 10:00am to 6:00pm. Closed Sundays.
Address: 210 Main Street, Greenwood SC 29646
Flynn's on Maxwell, Wine Store and Craft Beer Shop
We had a great time drinking wine and beer and sorting through a "Chat Pack" of conversation starters at Flynn's on Maxwell. It's about a 10 minute walk from the Inn on the Square and is on Maxwell Avenue, just a couple doors down from Fig. (Which is just steps away from Main and Maxwell.)
They have the best selections of craft beer and wine in Uptown Greenwood and it's owned by Dan and Debbie Flynn, local residents who established the business in 2013.
It's a great place to meet friends or go on a little date with your partner.
They're open Tuesday through Friday from noon to 8:00pm, and Saturday from 11:00am to 8:00pm. Closed Sundays and Mondays.
Address: 120 Maxwell Avenue, Greenwood SC 29646
Check out Ninety Six National Historic Site
We lucked out with the rain letting up on a Sunday afternoon after a gloomy morning. We'd been in our hotel room most of the day enjoying our accommodations as the rain fell outside. But we were aching to go outdoors after doing a bit of work inside.
We headed to Ninety Six National Historic Site about two hours before it closed, hoping for the best with the weather. And we lucked out!
We ended up having the entire park to ourselves, practically, though we presume it's usually not too crowded here.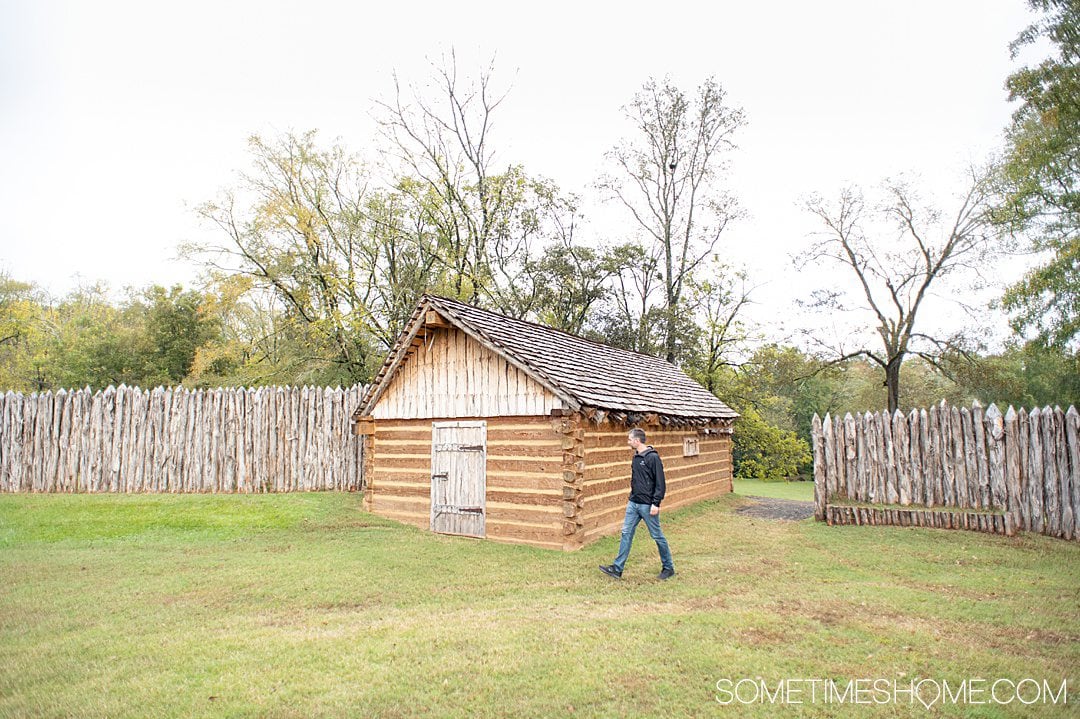 What's at Ninety Six National Park and Historic Site?
You can easily spend two hours at Ninety Six National Park, if not the better part of a day if you venture off on several hiking trails that connect to the main park loop.
The site is famous for its role in the American Revolutionary War in the 1700s. It was interesting to read the plaques with historical information on them about the site as we moved about the loop. (The park loop is mostly paved with some gravel; its walking level is easy.)
We saw the remains of the "star" fort on site and the recreation, of the Stockade Fort, pictured above.
Ninety Six National Historic Site has a free parking lot, a Visitors Center (currently not open full time because of COVID) and bathrooms open during park hours. We appreciated that they had a water bottle filling station onsite too.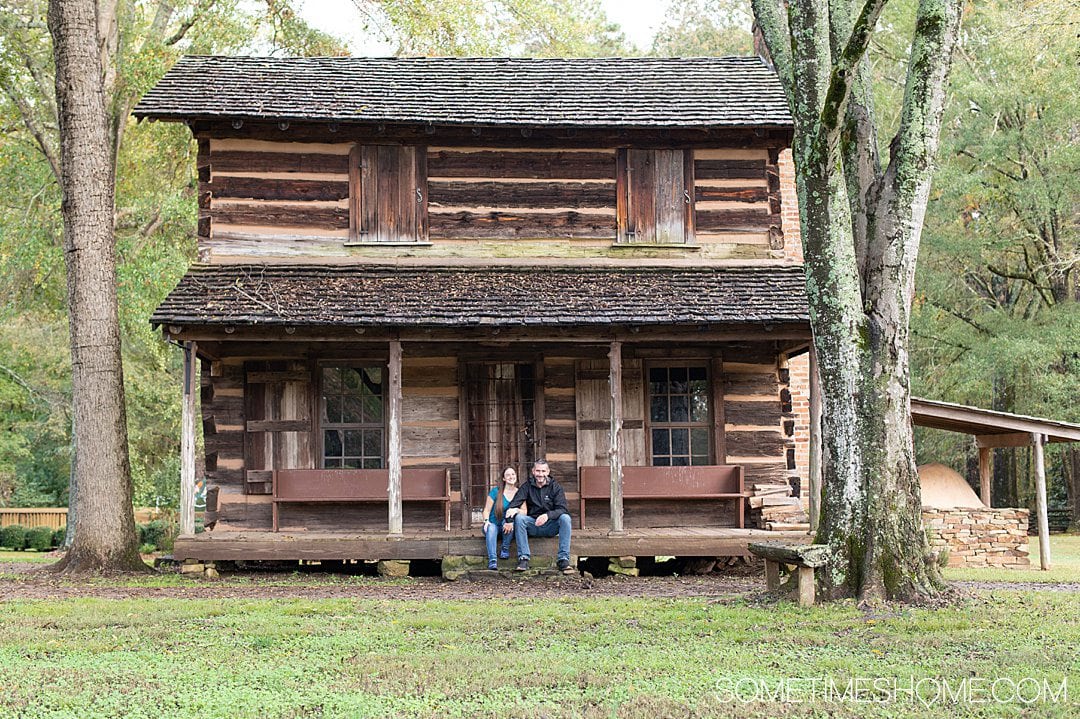 When the Visitors Center is open it has a small bookstore inside, a 20 minute film entitled, "Ninety Six: Crossroads of a Revolution," and a one-room museum.
We only did the self-guided battlefield tour since the Visitors Center was closed when we went there. It was a lovely time of day to take a walk and we thoroughly enjoyed our visit.
We were there just over an hour and a half once we arrived.
Enjoy a Movie at the Greenwood Drive-In
We were excited when we learned there was a drive-in movie theater in Greenwood. And we instantly knew what our Saturday evening activity would be the weekend of our visit. Our plan was to be there around 6:30pm, when the gates opened.
The 25 Drive In Movie Theater is a short drive from the Inn on the Square. Its owned and operated by a lovely couple who purchased it from its previous owners in 2008. (It's been around since 1945 and has changed hands a few times.)
Going to the Drive-In movie theater makes us think of when Sandy and Danny went on a date in the movie, Grease. Complete with their sodas and French fries, and 1950's outfits. We happily treated it as a special date night, just like we did dating around Fayetteville, NC.
Dinner and a Film at the 25 Drive-In Movie Theater
We paid our $20 to get into the drive-in. We then parked our car at the first screen according to the evening movies we wanted to see. (They have three screens that play different movies.)
It was Halloween time and they were playing The Nightmare Before Christmas, followed by Hocus Pocus. They always play a double feature that guests are welcome to stay for.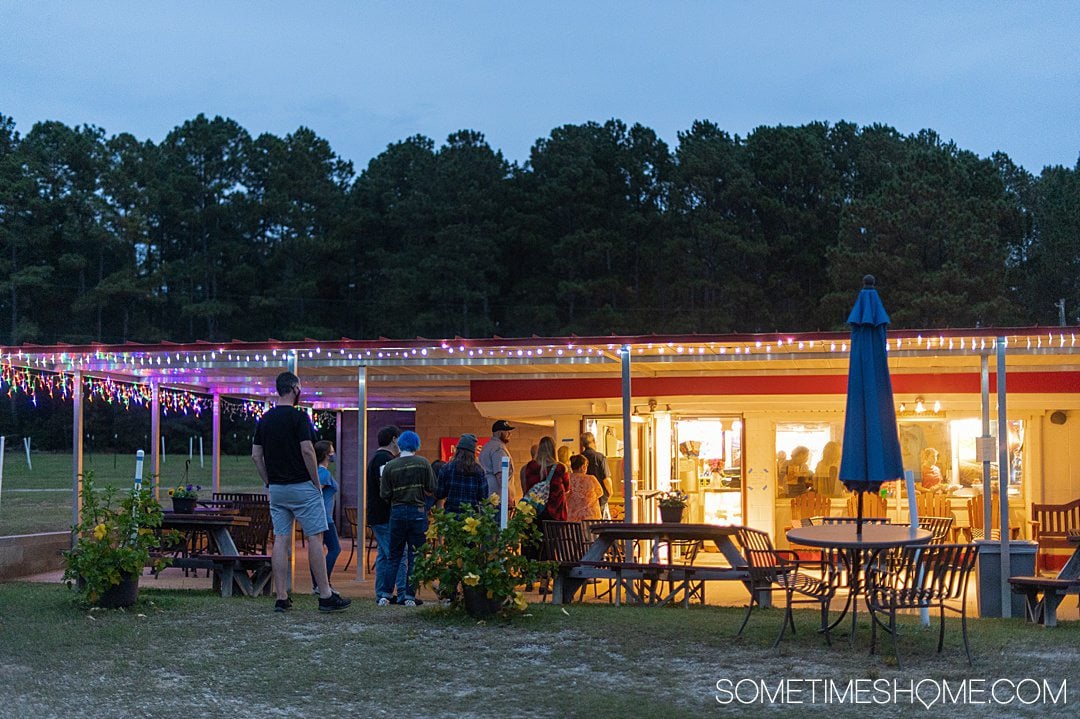 The current owners, Carolyn and Tommy were previously in the restaurant industry so they know a thing or two about running one. The food was really good and super affordable.
We opted for the evening special for dinner, which was a cheeseburger with bacon and chili cheese fries. All for just $12.99. Their drink options are limited to $4 for a styrofoam cup to fill with your choice of water or soda. Since we always keep water in the car in a reusable water bottle, we opted to go that route.
We didn't originally plan on staying for a double feature but we so enjoyed the first movie we watched the second one.
The drive-in theater is open Fridays and Saturday, regardless of the weather.
Address: 3109 Highway 25 South, Greenwood, South Carolina 29646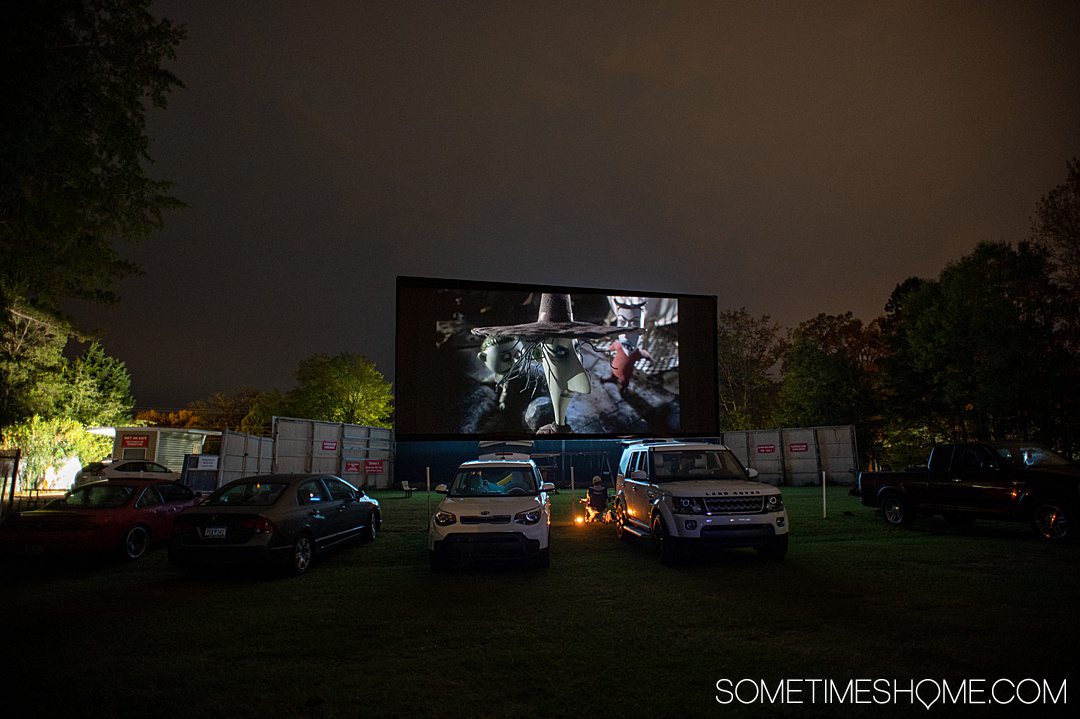 Have a Great Meal in Greenwood
Our favorite restaurants of our days in Old 96 SC included:
The Mill House (including Good Times Brewing beers)
Pascal's Cafe and Grille
Fusion Japanese and Thai
The Mill House, Uptown Greenwood SC
We had a late lunch here as soon as we arrived. Their specialty is personal sized wood-fired pizzas – and we adore good pizza.
We ordered two: their Fungus Among Us and a plain cheese pie. We loved the white-base mushroom pizza, Fungus Among Us!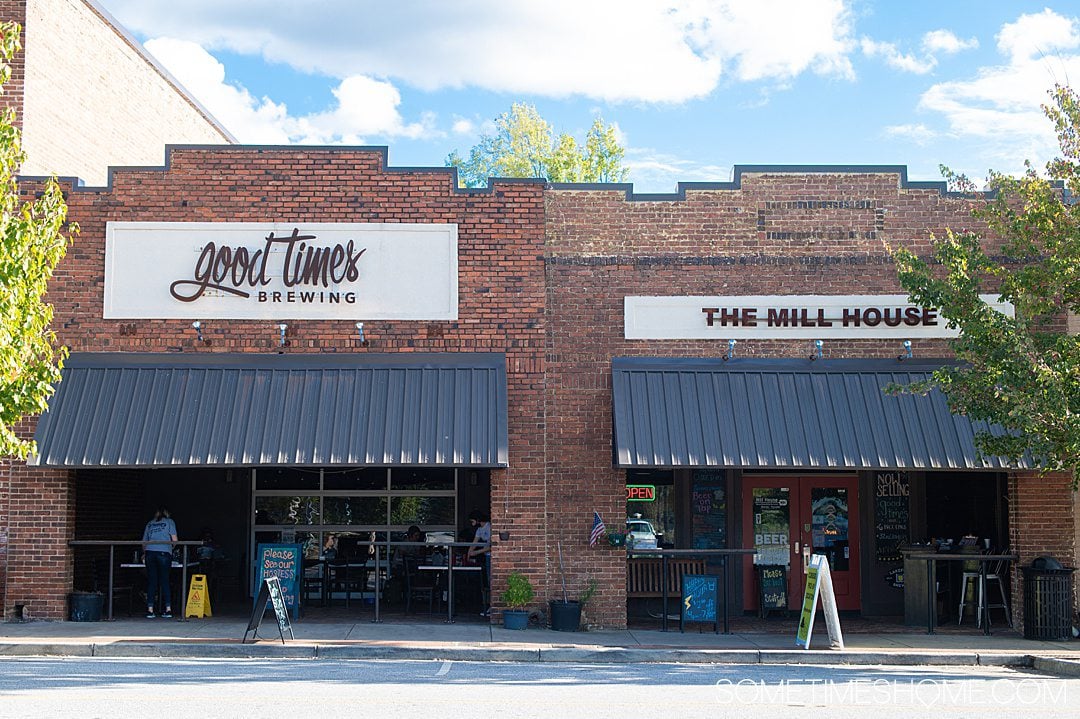 The beer from neighboring Good Times Brewing was also really good. We wanted to go back to eat there again so we went back on Sunday night to split another pizza and get beers. (We were already repeat customers in the four days we stayed in the area.)
Though we didn't end up going to Good Times Brewing next door to eat, we'd definitely want to try it next time. (We considered going on Sunday, but they're closed Sundays.) We heard their tacos and small bites are really good.
The Mill House is only a ten minute walk from the Inn on the Square. They're open Monday through Thursday 11:00am to 10:00pm, Friday and Saturday 11:00am to 11:00pm, and Sunday from 11:00am to 10:00pm.
Address: 237 Maxwell Ave, Greenwood, SC 29646
Pascal's Cafe and Grille in Greenwood, South Carolina
We treated ourselves to a nice dinner on Friday night. We drove just five minutes down the road from the Inn on the Square to a lovely stand-alone restaurant with a wrap-around porch.
Pascal's was most appealing to us because of it's French-inspired menu and outdoor seating.
We arrived during twilight to a beautiful scene of lights twinkling on the porch and candlelight illuminating the tables. Dan ordered a dish with lobster claw meat served in a puff pastry that was really delicious. It was also such a generous portion.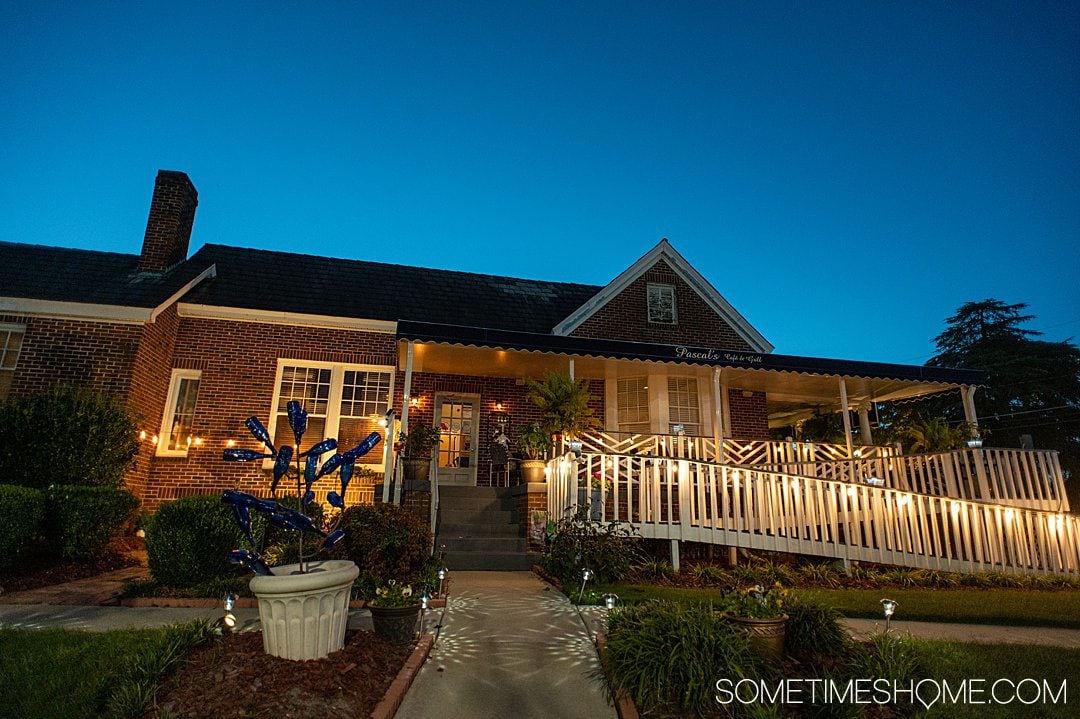 I had an equally generous portion on my plate with a Shrimp 'n Grits dish I ordered. (It's a personal southern classic favorite of mine.) My entree was very much on the sweet side; it wasn't my favorite because I prefer savory entrees. But it was good and we had a wonderful night at Pascal's.
They're open Tuesday through Friday from 5:30pm to 10:00pm. Reservations are not required but we recommend it, especially if you want to sit on the porch.
Address: 307 W Cambridge Ave, Greenwood, SC 29646
Fusion Japanese and Thai
The gloomy weather most of our Sunday in town called for some comforting Asian food. We looked up restaurants in the area and saw Fusion Japanese and Thai got great reviews.
We arrived around 12:30pm and it was very busy, which we took as a great sign that it had good food, as reviewers agreed. Service was great and prices were very affordable (especially with their lunch specials).
Dan got a fried rice dish and I had a green curry dish. The portions were huge and we ended up taking leftovers home. We had two more meals from it!
They're open daily.
Address: 529 SC-72, Greenwood, SC 29649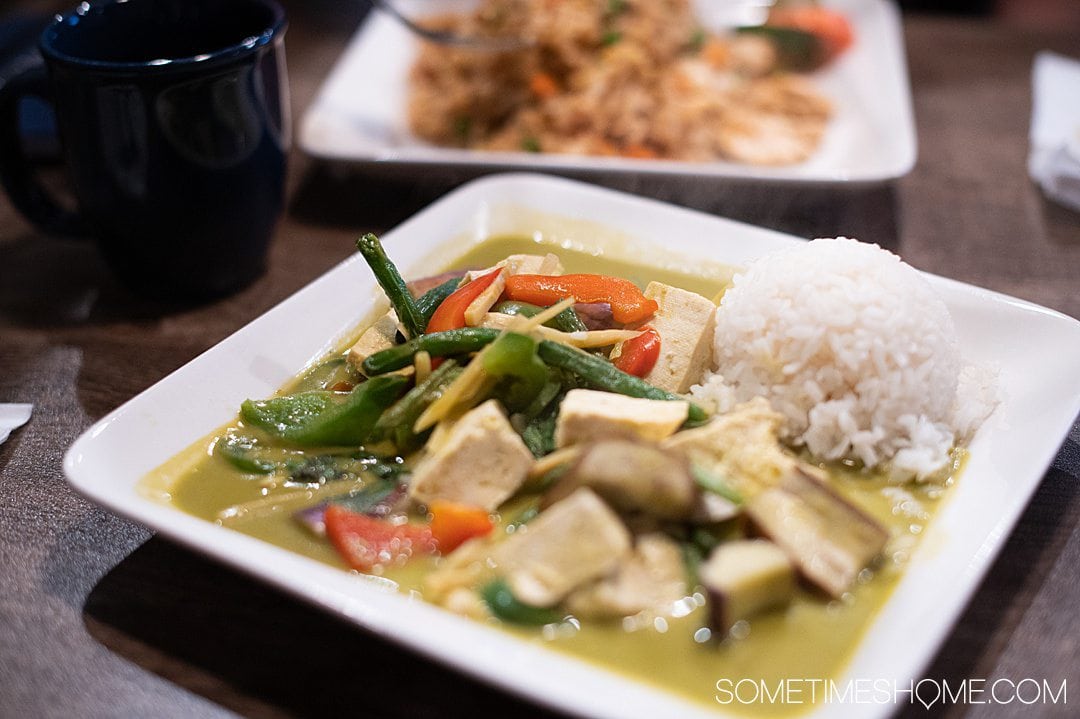 Visit the Railroad Historical Center
This Greenwood, SC attraction in the Old 96 district of South Carolina is open seasonally, so unfortunately we missed visiting. But if you're there when it's open and like transportation history you'll likely enjoy the Railroad Historical Center.
It's walking distance from the Inn on the Square and they have several restored train cars from various decades to tour, including a locomotive.
They're open May through September, Saturdays only, from 10:00am to 4:00pm. Otherwise you can call the number on their website to arrange a private tour if you're a party of four or more.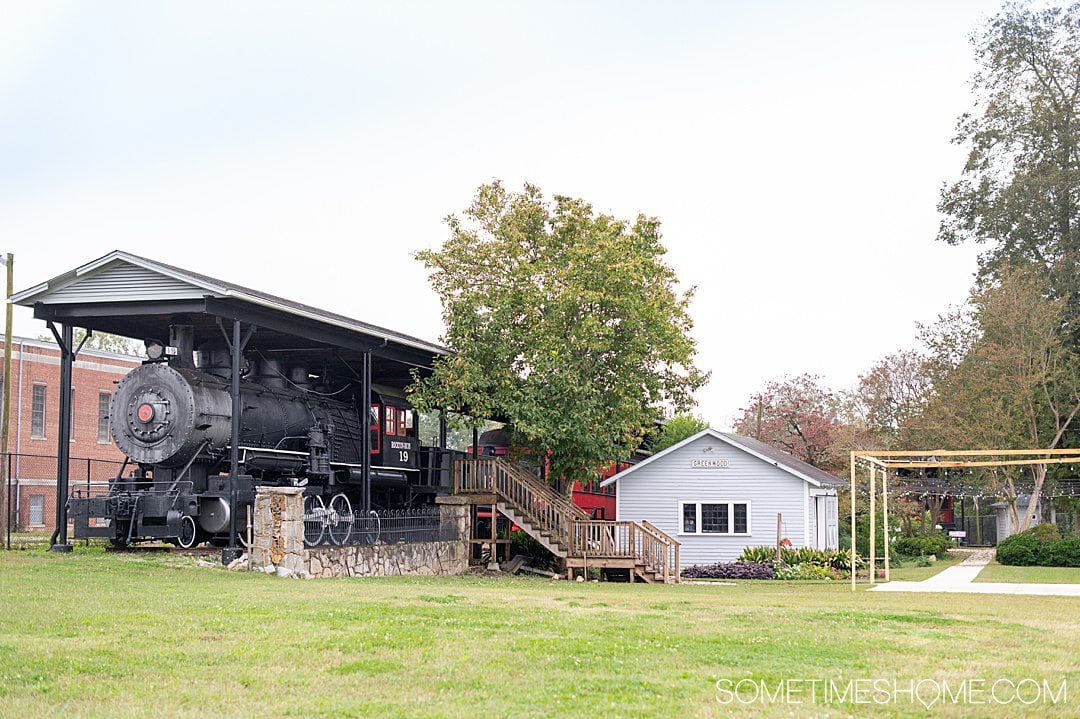 Visiting Nearby Abbeville
We thoroughly enjoyed visiting nearby Abbeville one afternoon. There's such a cute, quaint downtown area of Abbeville that very much reminded us of Europe. We can't recommend it enough.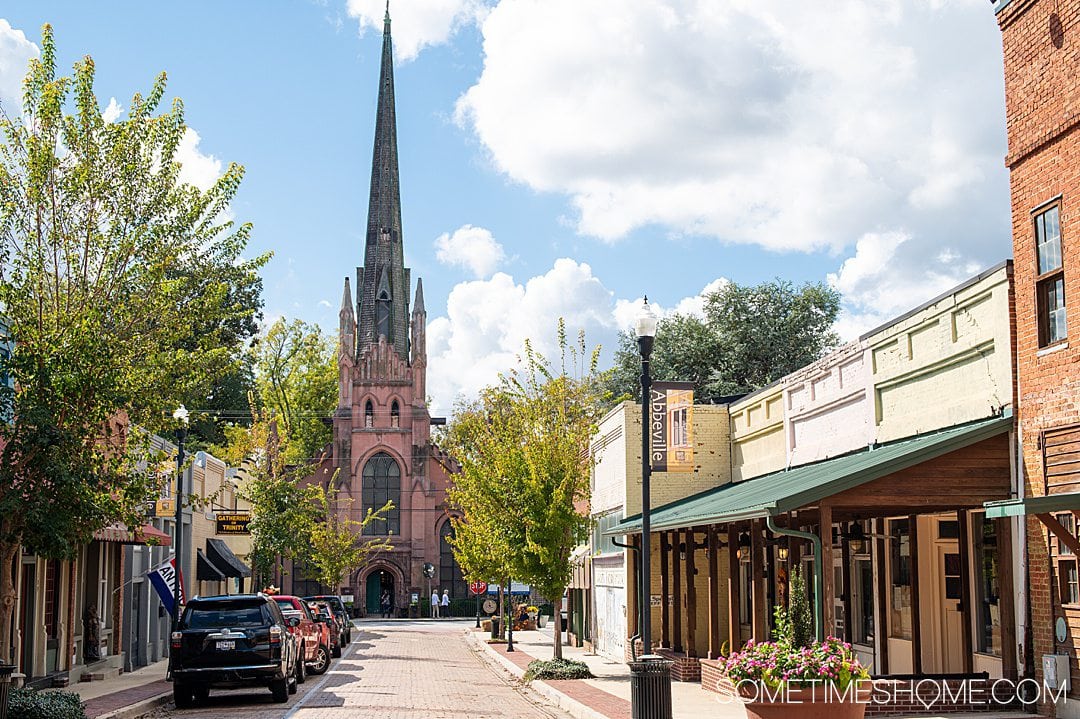 Lessons Learned Visiting Old 96 District in South Carolina for the First Time
We visited Greenwood and Abbeville in the Old 96 area from a Friday to Monday. If we went back for a three night stay we'd visit on a Thursday to Sunday. We realized a lot of shops and restaurants are closed Sundays and Mondays so this is our advice and revelation only in hindsight.
All in all we had a lovely time, it was very relaxing and we enjoyed exploring the area during our first visit.
Please note: We thank Old 96 District Tourism for generously hosting our tasting. We also may make a small commission from affiliate links in this post but all opinions are ours and we bring you genuine content with real facts, photos, thoughts and recommendations. Always.
Heading to the south? Also check out:
Have you heard of the Old 96 District in South Carolina?