ICON Park Orlando: Complete Guide for Things to Do & More
ICON Park Orlando is a vast 20-acre open-air entertainment complex in the heart of Orlando. We always have fun when we go there because there are plenty of things to do in ICON Park. It is filled with more than 30 major attractions, shopping destinations, and a diverse mix of restaurants and bars.
It's the perfect destination along International Drive (I-Drive) to visit during your Central Florida vacation. Whether you're a thrill seeker, sightseer, or looking for an alternative to Walt Disney World or Universal, ICON Park is well worth a go.
Disclosure: We may make a small commission from affiliate links in this post, but all opinions are ours. We bring you content with genuine facts, photos, thoughts, and recommendations. Always. As Amazon Associates, we earn from qualifying purchases. This helps keep our content free and accessible to our readers.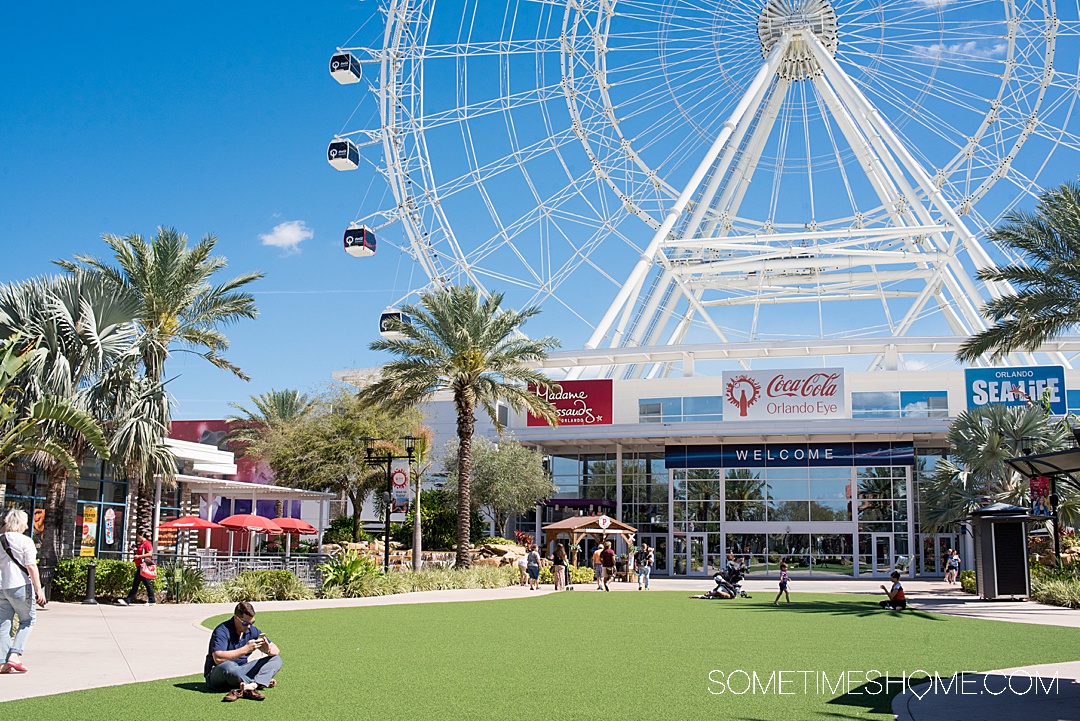 🕐 Short on time? No Problem!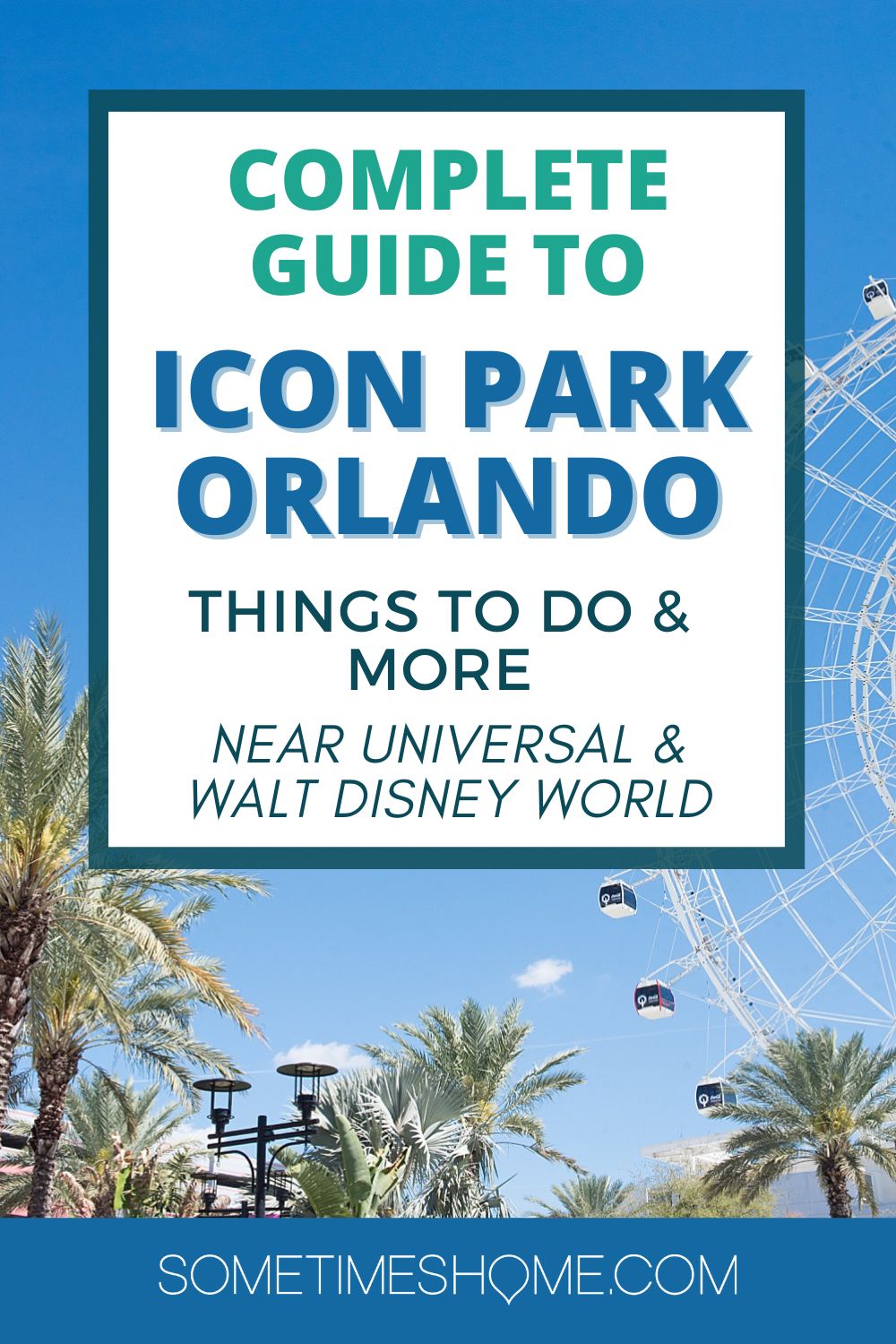 ICON Park at a Glance
A map of ICON Park will come in handy as you navigate the area. Every time we've been there, we reference a map to see where we want to go so we're efficient during our visit.
Here's an overview of things to do in ICON Park Orlando, including entertainment and attractions, restaurants, and shopping:
Entertainment and Attractions
The Wheel at ICON Park – a famous Ferris wheel that towers over the city.
Madame Tussauds – the world-famous wax museum.
SEA LIFE Orlando Aquarium – an indoor aquarium great for kids and marine-animal-loving adults.
Museum of Illusions Orlando – ideal for photo opportunities, especially if you love optical illusions.
The Great Florida Road Trip – learn about Florida's history in a fun way as you take a trip down memory lane.
Max Action Arena – enjoy arcade games and axe throwing.
Carousel on the Promenade – a beautiful carousel fun for children of all ages.
The Pearl Express – a small train best suited for children.
In The Game – an arcade and home to 7D Dark Ride Adventure, an interactive ride.
Shopping
There is some shopping at ICON Park, including Build-A-Bear Workshop, Sugar Factory, Calenoi Sunglasses, ICON Park Gifts, and the Wheelhouse Gift Shop. It's not a destination for shopping by any means like the Orlando Outlets and Malls, but there are options if you're looking for local souvenirs.
Restaurants
Over 15 venues are located at ICON Park for you to dine, sugar up, and dive into unique experiences like an oxygen bar. You can opt for quick-service dining or a seated meal with table service.
Some of the most notable restaurants are:
Tin Roof: A Live Music Joint
Blake Shelton's Ole Red Orlando
Gordon Ramsay's Fish & Chips
Uncle Julio's Mexican Restaurant
Outback Steakhouse
iCafe de Paris
Brother Jimmy's BBQ
Gordon Ramsay's Fish & Chips
Sloppy Joe's Orlando
Shake Shack
ICON Park has a current full list of restaurants and food shops online. Many of the restaurants offer a discount with the ICON Park Play Pass, which offers great value.
We don't put too much pressure on ourselves to select a particular restaurant whenever we go. This is because the menus are very similar at most of them. The majority of them serve things like burgers, BBQ, and salads. The outliers are places like iCafe de Paris, which serves coffee or tea drinks and crepes, or Tapa Toro Modern Riviera, which serves Spanish food.
Entertainment and Attractions at Icon Park Orlando in Depth
Experience Orlando's Skyline in Style: The Wheel at ICON Park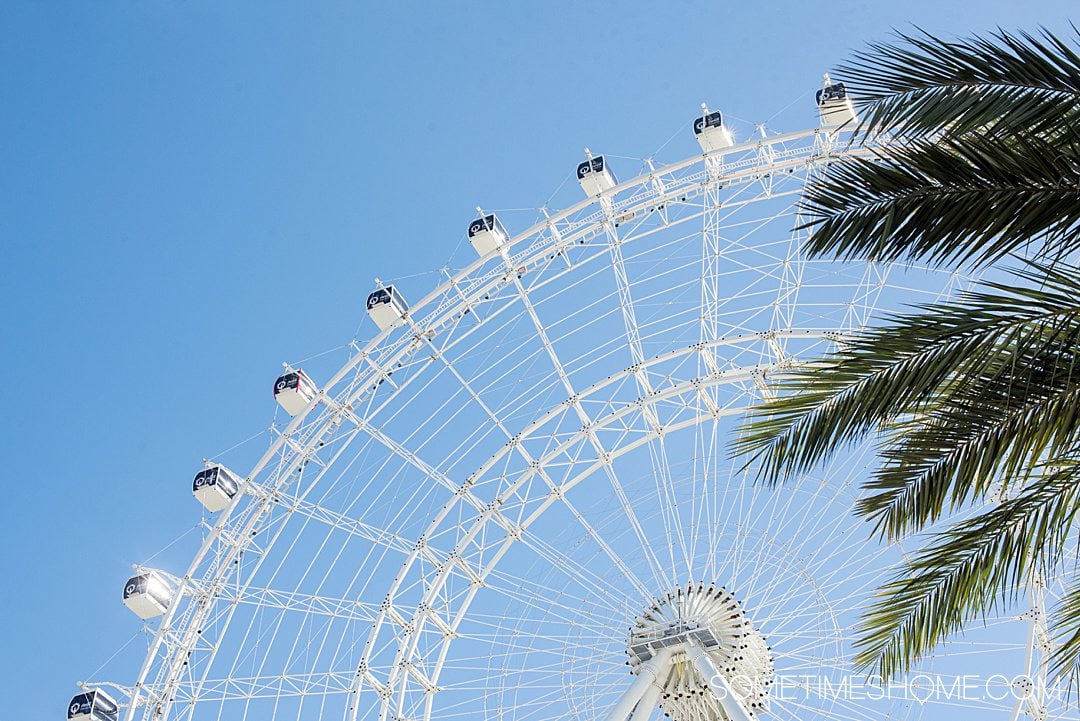 Orlando's famous 400-foot landmark provides amazing 360-degree views of the city. It's the most iconic of the things to do in ICON Park and perhaps the most singular bird's eye view of the city.
On a clear day, you can see a distance of 57 miles from the jaw-dropping observation wheel. It's an experience that guests of all ages will love.
Should You Go on The Wheel if You are Claustrophobic
If you're claustrophobic, the decision to ride The Wheel depends on your level of claustrophobia. It's really up to you because you know yourself best.
I experience mild claustrophobia sometimes and I thought long and hard if I wanted to go on The Wheel. Ultimately, we decided to try it and I'm glad we did. Things that helped make it a smooth ride were that we were able to stand and move about the capsule we were in, which was quite spacious, and we were the only two people in it.
It's very likely your party will be the only one in your capsule too. It was great to be able to move around and take photos as needed.
There is also a touchpad screen in each vehicle that you can select what soundtrack plays. We choose the "Wheel Wonders" soundtrack. This was a woman narrating the ride with fun facts about The Wheel. Between listening to the fun facts and taking photos I hardly had time to worry about being claustrophobic!
Buy Tickets to The Wheel in advance on Viators &…
Note that some reviews say that The Wheel was closed, but it re-opened after updates in Feb. 2023.
If you plan on purchasing tickets for more than The Wheel at ICON Park, consider multi-attraction tickets.
Each capsule can accommodate up to 10-15 people and has air conditioning, making it comfortable even on very hot summer days. The ride on The Wheel takes around twenty minutes as you complete one full rotation and is perfect to do day or night. It's also the perfect Orlando date night idea for adults.
And, albeit a long shot, if you travel at the appropriate time and happen to be on The Wheel in your private capsule at the exact right moment, you may be able to see a rocket launch from the Kennedy Space Center. That would be pretty cool!
The Great Florida Road Trip
The Great Florida Road Trip will transport you back to Florida's midcentury past. This experience, which combines gaming with teaching, highlights Florida's historical sites that have drawn tourists for many years.
To play The Great Florida Road Trip, you must purchase a VIP Wheel ticket or a Play Pass.
How does The Great Florida Road Trip work?
The experience takes place as you ride The Wheel. You will be given a special camera-like gadget so you can take pictures of specific locations and earn points while enjoying the ride. A $5 gift card will be awarded to the winner of each capsule, which can be used at the "In the Game" arcade.
Unleash Your Inner Thrill-Seeker On The Orlando Starflyer
Calling all adrenaline junkies! At 450 feet high, the Orlando Starflyer is the world's tallest swing ride, offering 360-degree vistas of Orlando as you spin at up to 60 mph speeds. You'll be able to see your favorite locations from above and the stunning Orlando skyline.
This attraction has a minimum height requirement of 44 inches. For those who prefer to watch rather than ride, The Star Bar is right next door, providing perfect views from its patio.
Step Into a World of Wonder at the Museum of Illusions
Discover more than 50 mind-bending exhibitions that may seriously alter your perception of time and space…or, at the very least, force you to consider both at the Museum of Illusions Orlando.
Your senses will be challenged in surprising ways as you stroll through an upside-down living room or a swirling vortex tunnel, leaving you wondering which way is up. Keep your phone handy to take some amazing photos at this trippiest of the things to do at ICON Park.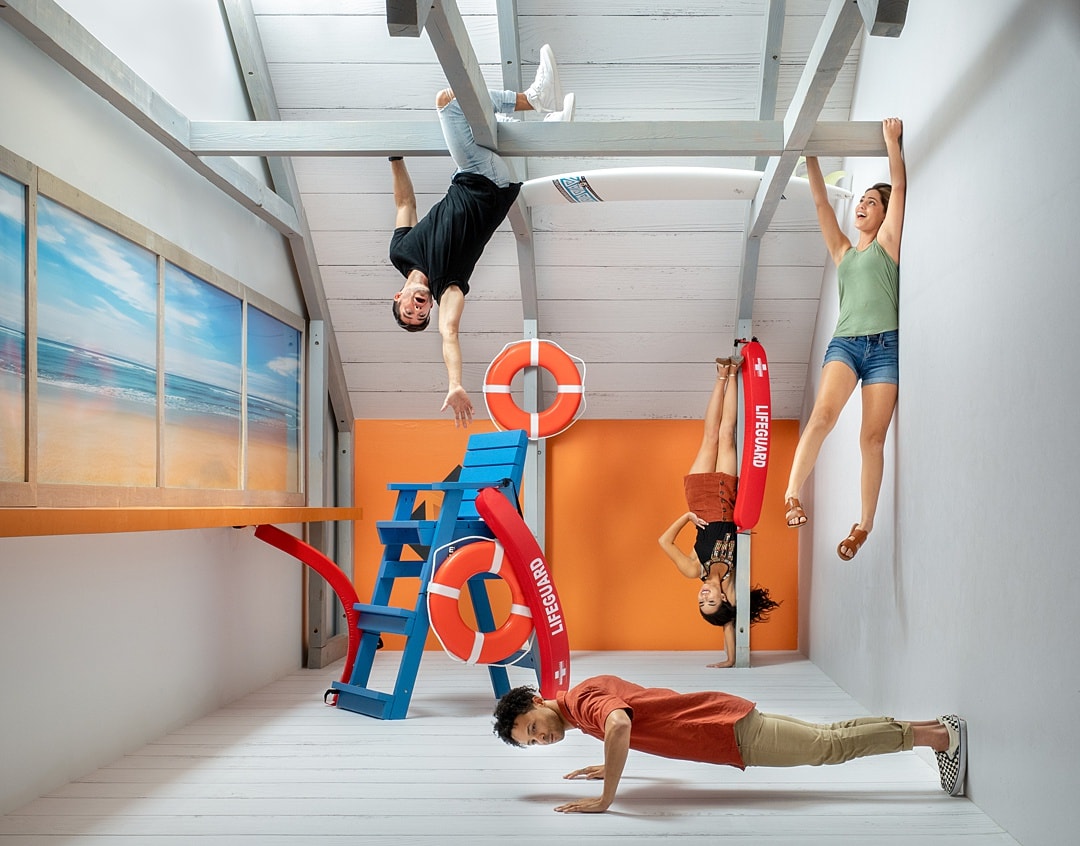 Madame Tussauds Orlando
Welcome to Madame Tussauds Orlando, a wax museum filled with historical figures and the hottest celebrities, ideal for selfies. You can shoot hoops with basketball legend Shaq (which Dan was happy to do – Shaq is SO tall!), party with music icon Maluma, or "Shake it Off" with Taylor Swift.
The thrill of encountering legendary figures and A-list celebrities offers you unforgettable enjoyment.
We enjoyed sending friends and family photos of us with celebrities after our visit because they really thought we met the person! That's how real they look.
I particularly enjoyed seeing how tall all these notable famous people are. But even if the person was formed in wax sitting down, it's fun to see their faces and get up close and personal; something you could never do in real life!
Wax Figures at Orlando's Madame Tussauds
The wax museum is grouped into several sections but the flow keeps guests seemlesly moving through it all.
As this museum is in Florida, you start with a wax figure of Ponce de Leon, a Spanish explorer who came to Florida in the 16th century looking for the Fountain of Youth for the king.
You then see the nation's founders, including George Washington and Abraham Lincoln, before other icons in history appear, like astronaut Neil Armstrong (which we thought was particularly fitting in Florida, because we love space and Orlando is near the Space Coast), and art legend Andy Warhol.
We also got to "meet" two of our favorite heroes: Dan met Steve Jobs and of course showed him his iPhone updates and I got to take photos sitting with Walt Disney!
Then we moved onto areas meeting Madame Tussaud — which was an unexpected yet cool wax figure to see there — and then sports legends, like Dan Marino and Serena Williams. We liked a fun interactive game by Evander Holyfield, and got a kick out of meeting Beyonce, Taylor Swift, Ariana Grande, Bad Bunny and more.
After meeting more celebrities from movies like Grease, Breakfast at Tiffany's, and the Hunger Games, the museum ends with an A-listers visit with famous actors like Tom Hanks, Brad Pitt, Angelina Jolie, Emma Watson, Zac Efron, and more.
And this is just SOME of the wax people we saw there!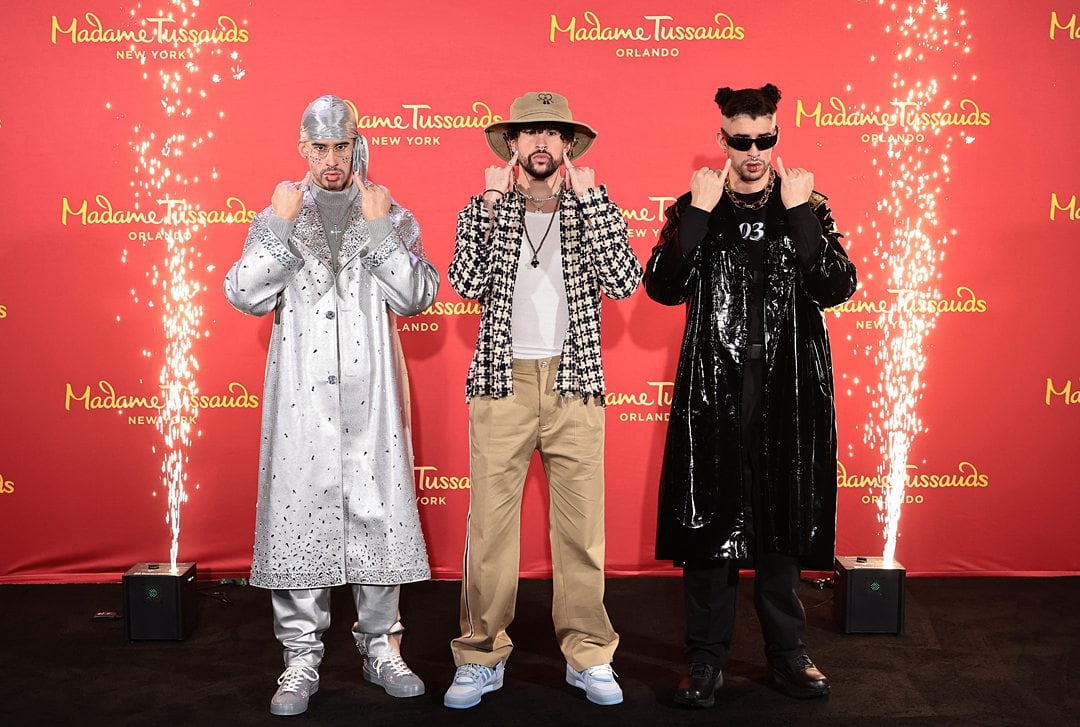 SEA LIFE Orlando Aquarium
A realm of shimmering scales awaits! The aquarium is a cute indoor destination. It's nothing like the huge aquariums we've been to in Chatanooga or Baltimore, but it's a solid place to visit for some underwater insight.
Visit SEA LIFE Orlando Aquarium to go beneath the waters and enjoy a 180-degree underwater tunnel. When you visit, be on the lookout for special events and more family-friendly fun. For example, there was a playful holiday overlay during one Christmastime visit.
A highlight for us is always the touch tank! Their touch tank is filled with Pacific Northwest marine life, including starfish and anemones. It reminded us of our time snorkeling in Alaska because it's the same sea life.
In addition to plenty of usual finned fish, we enjoyed the resident octopus, huge eels (the biggest eels we've ever seen), a sea turtle, sting rays, some small sharks like zebra sharks, and some amphibians at SEA LIFE Orlando Aquarium.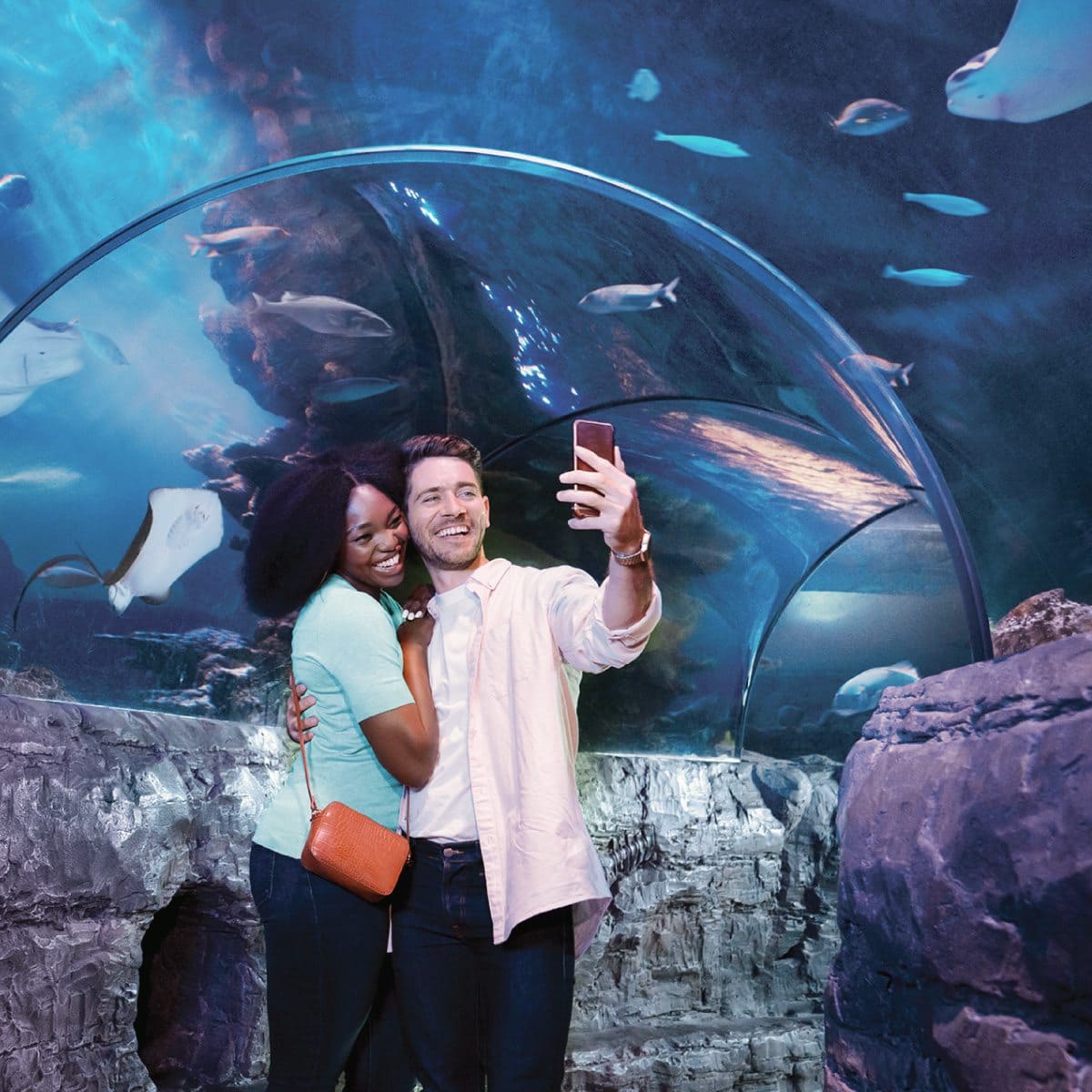 Experience The World's Tallest Slingshot Ride
A great place for thrill seekers, this ride slingshots you up to 450 feet in the air at speeds of up to 100 mph right out of an exploding volcano. It is the tallest slingshot ride in the world. You must be at least 50 inches tall to ride and be able to fit properly into the harness.
Note that the FreeFall ride was torn down in 2022.
In the Game — Your Ultimate Arcade Adventure at ICON Park
Are you competitive at heart? In the Game is the perfect large arcade to play with family or friends. There are countless possibilities to laugh and compete with loved ones here, such as in the Mirror Maze, a 7-D Dark Ride, VR experiences, and fun timeless arcade games. It's located in the Wheelhouse of ICON Park.
Fun tip: If you buy a Play Pass for ICON Park, you can enter other onsite attractions like the 7D Motion Theater, where you will receive a $5 Play Card to In the Game.
Step into the Action at the 7D Motion Theater
The 7D theater, which is accessible as a stand-alone ticket or as a perk with your Play Pass, offers a special movie experience. You actively participate as you feel motion, encounter temperature changes and wind, sense light exposure, and Surround Sound effects.
Find Adult Thrills at Max Action
Adult-friendly, high-action, fun can be found at Max Action Arena. In addition to a range of activities, the 8,000-square-foot entertainment center offers a selection of wine and beer.
The main draws include an axe-throwing room where adult beverages like beer are available. There are also five different escape rooms, a zero-latency virtual reality experience, and themed adult adventure rooms. It's an especially fun place to go on a rainy day in Orlando, but it's also a great destination to escape the Central Florida heat.
The Pearl Express Train Tour at ICON Park Orlando
The tiddler-sized Pearl Express Train transports you throughout ICON Park to take in the sights and sounds of the complex. The miniature steam train leaves from in front of The Wheelhouse and is entertaining for people of all ages…but mostly young children since it's so small!
Shop 'Til You Drop at ICON Park in Orlando
ICON Park is a good place to shop for Orlando vacation souvenirs. Pick up a memento of your trip at the Wheelhouse Gift Shop or ICON Park Gifts. Bring the little ones to Orlando's Build-a-Bear Workshop. Alternatively, indulge in your sweets hunger at Sugar Factory's candy section, which has over 300 mouthwatering candies. 
If you're looking for a day of shopping, check out our guide for adult things to do in Orlando, which mentions some premium shopping outlets and malls in the city.
Restaurants and Bars at ICON Park Orlando
There are endless dining options at ICON Park Orlando. Try modern Spanish cuisine, taste over 130 draft beers at the Yard House, enjoy live music at the Tin Roof, or try tasty Mexican food. There are also plenty of delicious sugar-coated treats at Sugar Factory and milkshakes at Shake Shack.
Try a sit-down restaurant if you have at least an hour or more. Quick service may be the way to go if you have less time. ICON Park has both options.
We enjoyed the quick service restaurant Gordon Ramsey Fish & Chips for dinner and even got a few dollars off by showing our Play Pass. We choose to sit at their outdoor tables to listen to the live music on the lawn.
Happy Hour at ICON Park
We love a good happy hour in Orlando, whether at ICON Park, any of the wonderful restaurants around the city, or Happy Hour at Disney Springs. A few restaurants have happy hour here that you should take advantage of, including:
Brother Jimmy's
Tin Roof
Tapa Toro Modern Riviera
Live Music at ICON Park
One of our favorite things about ICON Park is the various opportunities for live music. On any given evening there is live music outside on the lawn and indoors at Tin Roof. Blake Shelton's Ole Red has a calender of events so you know what artist is playing when.
Free Parking at ICON Park
Lots of parking is available at ICON Park. There is free and paid options. You will find valet parking on the first floor and paid parking on the second and third levels.
For free parking, head to decks four through seven. We always park there and the elevator easily gets us down to level one to walk to the attractions.  
ICON Park Tickets
Walking around ICON Park is free, but all attractions require tickets. Purchasing tickets in advance is advantageous to avoid lines. You may also get a better deal if you buy tickets in advance.
Single Attractions Tickets
You can purchase single-attraction tickets, but it's unlikely you'll go to ICON Park just to experience one thing. However, it is an option if you only have time for something like The Wheel or just some time to see the Museum of Illusions.
Combination Tickets for Multiple Attractions at ICON Park
You will save money if you bundle attractions. For example, the Play Pass includes entrance to 10 ICON Park attractions, while the Combo Pass is good for two or three experiences, depending on the ticket you purchase.
Two of ICON Park's most popular things to do are visiting Madame Tussauds and SEA LIFE Orlando Aquarium, which is why it's easy to purchase a combo ticket for these two attractions online.
Buy Tickets on Viator
When we're buying tickets for multiple attractions in a destination like Orlando and want to keep track of it in one app, we use Viator. They have multiple ICON Park attractions on their site in addition to other popular Orlando attractions like Wonder Works, the Crayola Experience, and a highly-rated 90-minute comedy and magic dinner show.
ICON Park FAQs
How long is each ticket good for?
If you buy directly through ICON Park, tickets for The Wheel, for example, are valid for 365 days after purchase. Other tickets, such as the Play Pass tickets, are valid for 30 days. If you buy tickets on Viator, a perk is that they're refundable if you cancel 24 hours in advance.
Are combo tickets only valid for one day?
ICON Park combo and Play Pass tickets are valid for 30 days from purchase. This means you can visit as often as you want within that timeframe until you've used up all your attraction combo tickets.
When is the best day of the week and time of day to go to ICON Park?
Weekday mornings are best to avoid large crowds. Remember that school holidays like Spring Break and other national holiday times will be busy no matter the day of the week.
What else is near ICON Park?
Located on International Drive, plenty of other attractions near ICON Park exist. Attractions just a short drive away include Ripley's Believe It Or Not, The Mall at Millenia, and Universal Orlando.
Disney theme parks are a little further away, within 30-40 minutes, depending on traffic and which park you're going to. LEGOLAND Florida isn't too far, but it's the furthest attraction we've listed here from ICON Park; it will take you approximately an hour and fifteen minutes to travel between LEGOLAND and ICON Park, but if you're driving from LEGOLAND towards I-4 East or I-95 North, ICON Park is on the way.
Is ICON Park free?
Entrance is completely free. All attractions require paid entrance, but if you want to go and walk around, enjoy a meal there, and the bars, you pay for your check at the end of your visit regardless.
Is ICON Park worth it?
Yes! It's a fun thing to do in Orlando besides the theme parks. In our opinion, the best part about a visit to ICON Park is that you can choose from a lot of things to do and select the amount you do according to the time you have. Since parking is free and it's easy to get to, you don't have a lot to loose.
It's also an especially great place to go for indoor things to do in Orlando on a rainy day or extremely hot day.
Is it still worth it to visit ICON Park if it rains?
We think ICON Park is one of the best places to go for indoor attractions in Orlando if it rains. There's a lot to do inside.
ICON Park has an inclement weather policy, meaning if it rains and there is lightning, all outdoor attractions must close for a set period of time for safety. Thankfully, there are plenty of indoor activities to enjoy, and it's a great place to visit on a rainy day in Orlando.
Indoor attractions include SEA LIFE Orlando Aquarium, Madame Tussauds, Museum of Illusions Orlando, In the Game, and indoor seating at various restaurants and indoor shopping. If it's raining, you can also go on The Wheel. They will close the attraction if there is lightning nearby but the Ferris wheel was built with rain in mind because Orlando has a tropical climate.
Going to Central Florida? Check out: