Outstanding Orlando Boat Tours (2023)
Orlando boat tours are a fantastic activity in Central Florida, no matter the type of boating adventure you choose.
Some of the suggestions below are full-day tours, and others take mere hours. But all are a great way to spend your time in order to enjoy the Sunshine State's beautiful scenery. And that could mean a wild ride in the Everglades or sailing sunset cruises on one of the Orlando area's attractive lakes.
We are sharing the best Orlando boat tours – private and group options – including scenic pontoon boat tours, airboat rides, kayaking, canoeing, sunset sails, and even boat rentals at Walt Disney World.
Disclosure: This post has affiliate links, meaning we may earn a small commission if you click the link and proceed with a purchase at no cost to you. We recommend experiences, hotels, products, and services we use and support. As Amazon Associates, we earn from qualifying purchases.
🕐 Short on time? No Problem!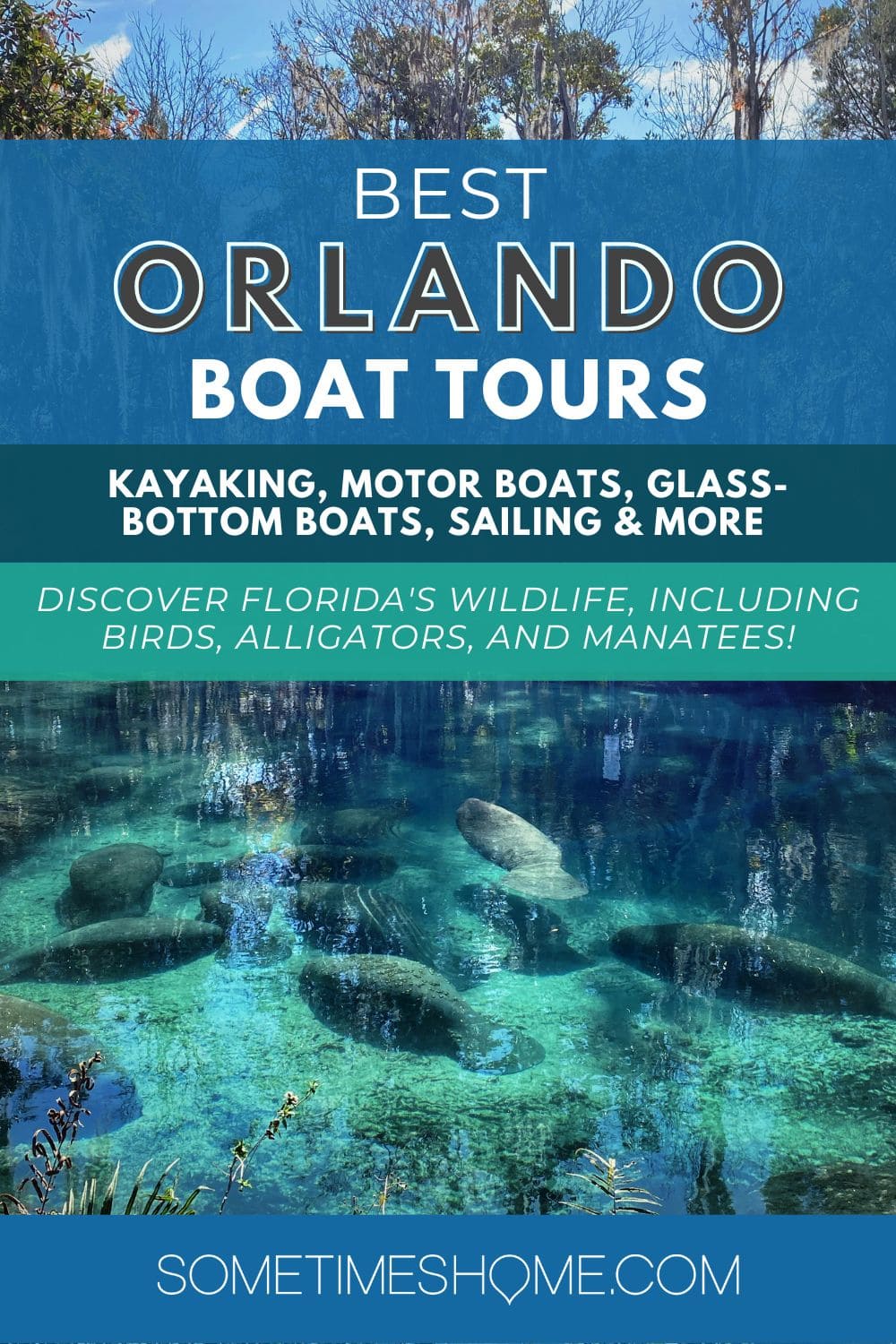 Orlando Airboat Rides
One of the things Florida is most known for is its famous airboat tours. Sign up for this fun adventure whether you're in Fort Lauderdale or Miami, within Everglades National Park, or Orlando on Shingle Creek, on the headwaters of the Florida Everglades.
You won't soon forget an exciting airboat ride when you visit the Orlando area, with a chance to see Bald Eagles and other endemic tropical birds, alligators, and crocodiles (maybe even a baby alligator).
Airboat rides are particularly popular amongst nature lovers. These special boats allow you to glide on the unique marshes and swampland of the Central Florida area. We thoroughly enjoyed our Florida airboat experience.
Sign up for a 90-minute fun and educational Orlando airboat tour to encounter the real Florida with experienced captains. Alternatively, secure your spot for a 1-hour sunset airboat tour and hope for one of Florida's famous colorful sunsets.
Most airboat tours take place rain or shine. Just in case, we recommend traveling to Florida with a poncho or thin raincoat of some sort. Be sure to check in for your tour at least 30 minutes before the experience.
Orlando Boat Tour on an Airboat with Transportation
This tour includes pick up and drop off in Central Florida (including designated Disney World and Universal hotels), a BBQ lunch, a printed photo, and admission to their animal rescue Wildlife Park, where you can see birds, big cats, and reptiles.
The entire experience – from transportation to the boat ride – lasts around 7 hours, including the drive to and from the Everglades area. The Florida Everglades are approximately 45 minutes to an hour's drive each way from Orlando. Choose from a 30-minute or 60-minute airboat ride when you book your experience.
Orlando Sailing Tours
How about enjoying Orlando's lakes with wind power? Sailing tours are the perfect way to glide on the water. And a sunset sail is incredibly romantic, to boot!
Private Morning Sail
Set sail on a 2-hour private sailing tour, starting at 10:00 am. Adventure awaits on Lake Fairview for up to four guests.
This area is just north of College Park near downtown Orlando and 15 minutes from Orlando's Lieu Gardens. Don't forget to bring towels if you want, though water is provided (and lakes are calm anyway, so you shouldn't really get wet!).
Advanced reservations are required.
Private Lake Sunset Sail
Sail on Lake Fairview, approximately 10 minutes from downtown Orlando, 30-35 minutes from the Disney theme parks (including the Disney Springs area), and 25 minutes from Universal.
This 2-hour private Orlando boat tour can fit up to four people, and they allow you to bring your own snacks and beverages onboard. We recommend bringing a bottle of wine or champagne!
We recommend bringing along a wine tumbler set for your sailboat adventure!
Kayaking Tours
Connect with nature from the comfort of a kayak and get in some exercise too. Orlando boat tour options for kayaking are plentiful.
Kayak with Manatees
Head 45 minutes north of Orlando for your chance to kayak with manatees! These cute and friendly mammals are famous in the Sunshine State, where they come to enjoy the warm water for the winter.
Whether you're a novice kayaking trying it for the first time, or an experienced pro, this tour is for you if you want to see a plethora of wildlife.
⭐️⭐️⭐️⭐️⭐️ Check out this popular tour with 5-star reviews
Glass Bottom Boat Kayak Tours
If you want to see the fish below the water's surface without snorkeling, sign up for a glass-bottom kayak tour. See through the bottom of the boat on this Orlando boat tour and have the chance to view the colorful fish and marine plant life beneath you.
Try a Rock Springs guided kayak eco-tour as you glide on the crystal-clear water for two hours. You'll learn about the local ecosystem, stop for photos, and have the opportunity to swim in the springs. Opt to jump into the water from a rope swing for a thrill during this adventure.
You can also opt for a sunset tour in a glass-bottom kayak. Paddle through the Winter Park Chain of Lakes and canals in a peaceful setting. Your knowledgeable guide will point out interesting nature homes along the way and share some history of the area. You'll also be able to stop for photos where you like!
This tour is likely to sell out: Reserve Now
Winter Park Evening Clear Kayak Glow in the Dark Tour
If you want to add a fun element to your kayaking adventure, sign up for a Winter Park kayak tour at night with a glow-in-the-dark kayak. The boats are illuminated with nighttime lighting!
They will surely be a good photo opp and fun outing as the lights make the water beneath you glow.
Another great option is this Neon Night Glow Paddleboard or Clear Kayak experience on Lake Ivanhoe.
This unique boat tour allows you to see Orlando's skyline at night as you paddle along with the help of your guides, the moonlight, and the colorful lights beneath your kayak or paddleboard.
Winter Park Scenic Boat Tour
One of our favorite Orlando boat tours is in Winter Park. It was established in the 1930s, decades before Walt Disney World opened in Lake Buena Vista.
This pontoon boat tour starts near the well-known Park Avenue area. Set out on your scenic cruise from Lake Osceola to the Winter Park Chain of Lakes as your guide takes you through the manmade canals.
Sail past stunning homes in Winter Park, where you will have breathtaking views of the opulent private homes in the area (which is one of the reasons we enjoy the boat tour).
You will have a chance to see wonderful some of Florida's beautiful birds, like Blue Herons and large cranes, as you travel on several lakes.
Each boat holds a maximum of 18 passengers. Be sure to bring cash or a check to buy your tickets because credit cards are not accepted. We advise purchasing tickets in the morning on weekends, even if you plan on going later in the day. It's a very popular tour, and tickets often sell out quickly.
Winter Park Scenic Boat Tour is closed on Christmas Day. Otherwise, tours leave daily on the hour, starting at 10:00 am. The last tour is at 4:00 pm.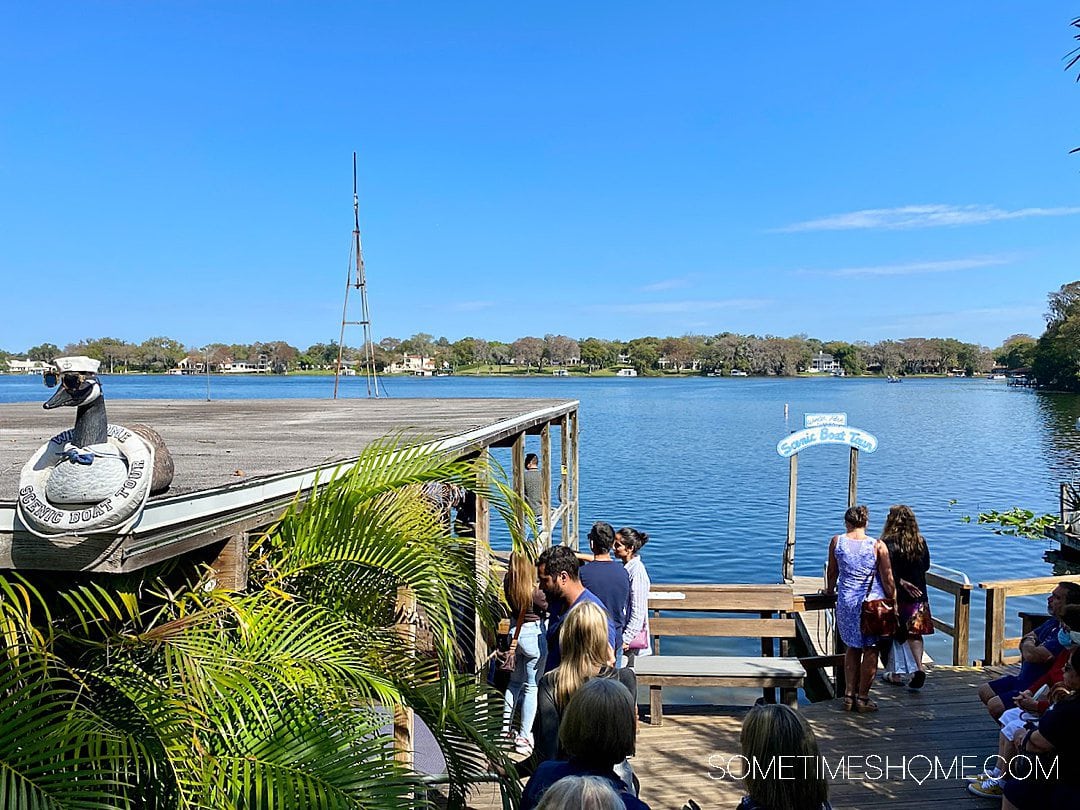 Day Trip Boat Tours from Orlando
While the Orlando boat tours listed above are within 30 minutes, on average, from Orlando, it's worth mentioning there are more boat tour options nearby within a 2-hour drive. Here are some additional Central Florida boat tour options.
Mount Dora Lake Tours
One of our favorite destinations from Central Florida is 45 minutes north: the quaint town of Mount Dora. There's so much to see and do there in the afternoon or morning; a boat tour is the best way to extend your trip to a whole day.
Take a 2-hour pontoon boat tour with a departure point at the historic hotel, the Lakeside Inn. Enjoy your leisurely cruise around Lake Dora and The Harris Chain of Lakes, including the famed Dora Canal.
The all-weather 25' boats can cruise rain or shine thanks to their retractable clear covers for the sides of the boat. Choose from one of two daytime tours, or their third option to cruise during sunset.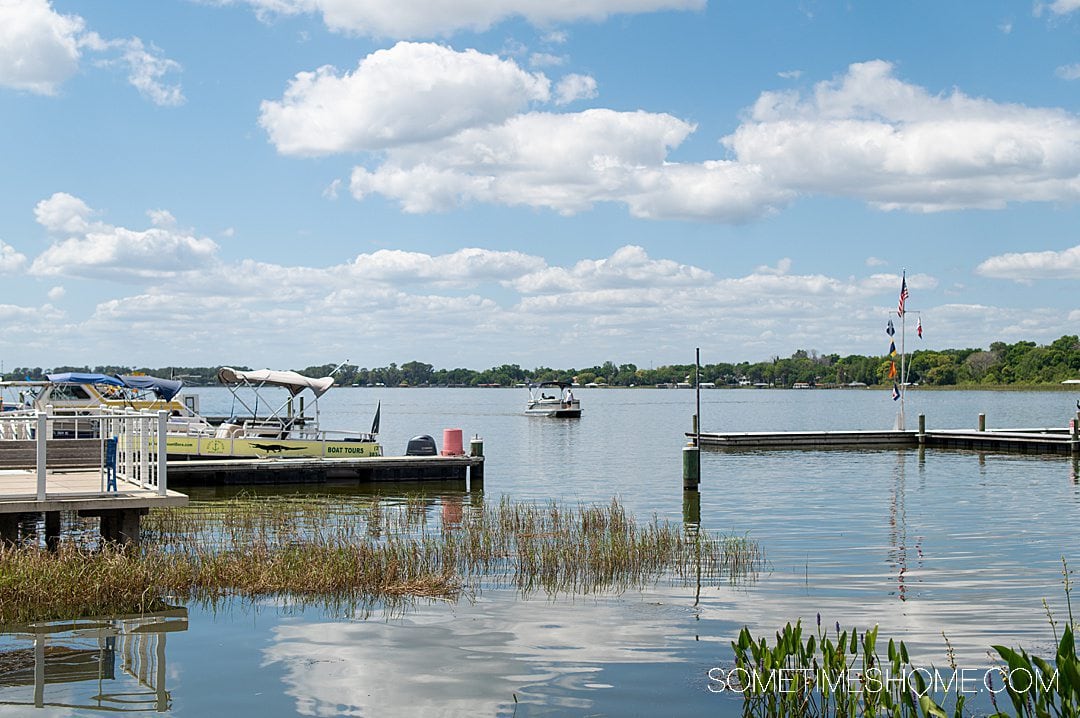 Clearwater Beach with Dolphin Encounter Cruise
This 12-hour full-day tour begins with pick-up at 7:30 am. You'll head west of Orlando to the popular Florida destination (Clearwater Beach), where you will take a cruise to encounter bottlenose dolphins in their natural habitat.
While this means that you aren't guaranteed to spot dolphins, your tour guide will do his or her very best to find them. You may see these beautiful mammals up close by the boat or further in the distance if they appear in the ocean. Part of the fun is the anticipation.
A one-hour dolphin tour boat ride is sandwiched between hours of free time on a Gulf Coast beach. For only $10 more, you can purchase a wristband for the boat ride that allows you to have unlimited beer, wine, and vodka punch.
Pickup and drop off are included at one of three major locations of your choice (Disney areas included). This means that all you have to do is sign up for the tour and be at that location for pick-up time.
Choose from the three pick-up locations listed below:
Walt Disney World area, on Epcot Resorts Blvd. (northern area of the parks)
Walt Disney World area, at Maingate Lakeside Resort in Kissimmee (area of the Disney World theme parks that is further south)
International Drive (close to Universal) at Senor Frogs
Clear Canoe Boat Tour Near Orlando at Silver Springs
This clear canoe boat tour is approximately halfway between Orlando and Gainesville at Silver Springs. The drive is approximately an hour and 45 minutes from downtown Orlando.
You'll do a self-guided tour after the kayak company representative meets you and gives you a laminated map and some brief instructions. Paddle near Cypress Trees and see turtles, ducks, birds, and a chance to see manatees during the winter season, when they swim to Florida's warm waters.
Dan and I often like to explore an area freely, on our own. Maybe you're the same way! If so, this is a great tour for you in the Orlando area, as long as you can rent a car to get to the meeting point or take a taxi/Uber or Lyft there.
Orlando Boat Tours at Walt Disney World
Did you know that you can rent motorized boats at Disney World? It's one of the best things to do at Walt Disney World, besides the parks.
Rent a Sun Tracker® Pontoon boat by the half-hour for up to 10 people. You can also opt to kayak or canoe from Fort Wilderness by the hour.
One of the most singular boat tours in Orlando, or perhaps anywhere, is an Amphicar boat tour. Be a passenger and the envy of all onlookers in a cool convertible car that drives right into the water. This experience is available at Disney Springs restaurant, The Boathouse.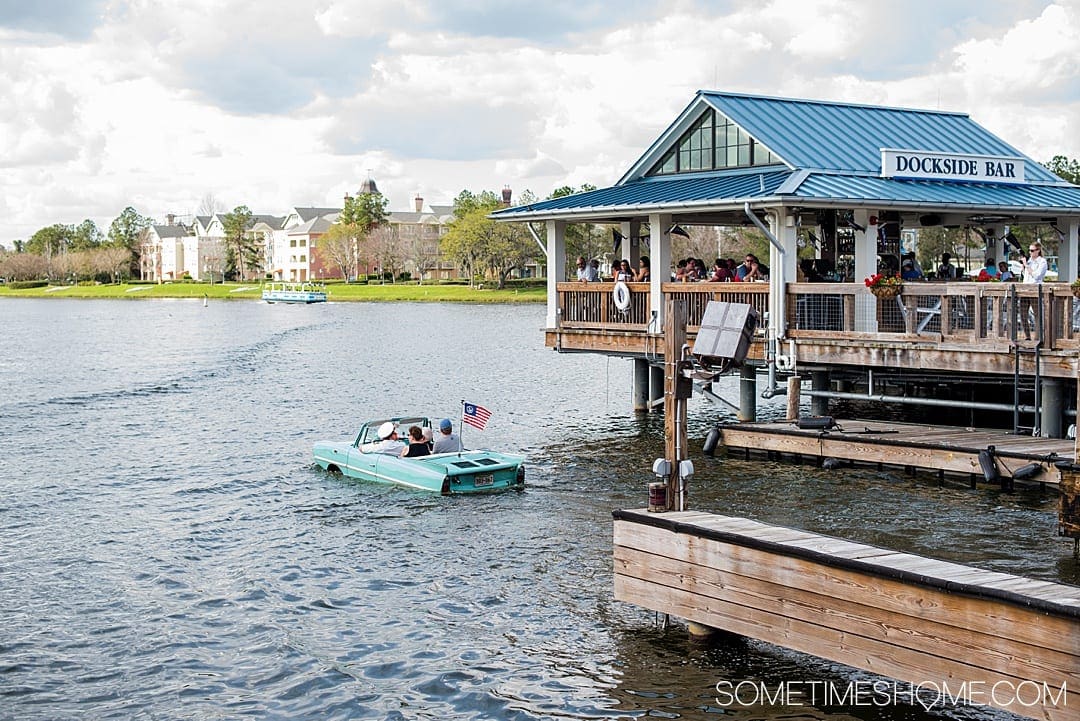 Lastly, you can book a specialty cruise to see the fireworks. You don't even have to be a hotel guest to do so! Snacks and soft drinks are included in a memorable cruise on a 25' boat.
You can also request ​​for a festive banner and/or balloons to be set up on the boat, which is included in the cost (request at the time of booking). It's a great thing to do for you and your partner or up to 10 guests total, whether a proposal, anniversary treat, or family reunion.
What to Bring for Orlando Boat Tours
Florida's heat can be brutal, depending on the time of year. No matter the month, you definitely need to protect your skin from the sun. The sun in FL is strong, year-round.
Be sure to pack the following if you'll be on the water in sunny Florida:
Refillable water bottle (the ice will stay intact for hours in the MiiR bottle, our favorite insulated wide-mouth bottle)
Reef-safe sunscreen
SPF lip balm
Hair ties
Sunglasses
Hat
Sunscreen
Eco-friendly bathing suit
Rash guard
Conclusion for Best Orlando Boat Tours
Whether you want to captain a boat yourself, row your way through Florida's waters in a kayak, see gators on an educational airboat ride, or go on a romantic sailboat cruise around one of Central Florida's lakes, an Orlando boat is a wonderful Florida activity.
It will connect you with nature, get you out in fresh air, and allow your body to absorb vitamin D in the Florida sunshine. Sign up for an Orlando boat tour and explore this southern state in a unique and adventurous way.
Read this next: