20 Vacation Cities Near the Beach in South Carolina
South Carolina offers miles of coastline with warm waters, white sand, quaint coastal towns, and abundant wildlife. As such, there are plenty of cities near the beach in South Carolina for your next vacation.
Experience the bustling boardwalks of Myrtle Beach, where there is plenty of fun and games to be had. Relax on the secluded stretches of Hilton Head, where you can enjoy a swim, fish, or chill at some of the best east coast beaches.
The region is also steeped in history, offering quaint and luxurious accommodations and numerous championship golf courses. Delight in Southern hospitality! Awaken your senses on your trip through SC's miles of coastline by visiting incredible restaurants with Low Country cuisine.
Let's investigate the best beach destinations in and near South Carolina and some of the best things to do there.
Disclosure: We may make a small commission from affiliate links in this post, but all opinions are ours. We bring you content with genuine facts, photos, thoughts, and recommendations. Always. As Amazon Associates, we earn from qualifying purchases. This helps keep our content free and accessible to our readers.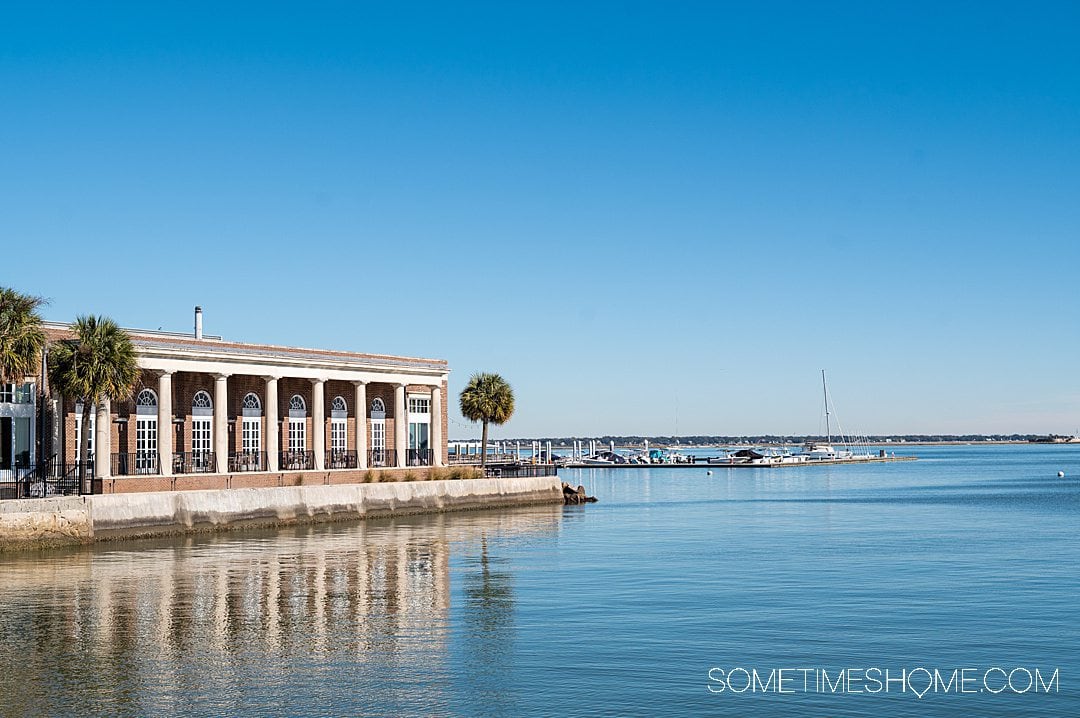 🕐 Short on time? No Problem!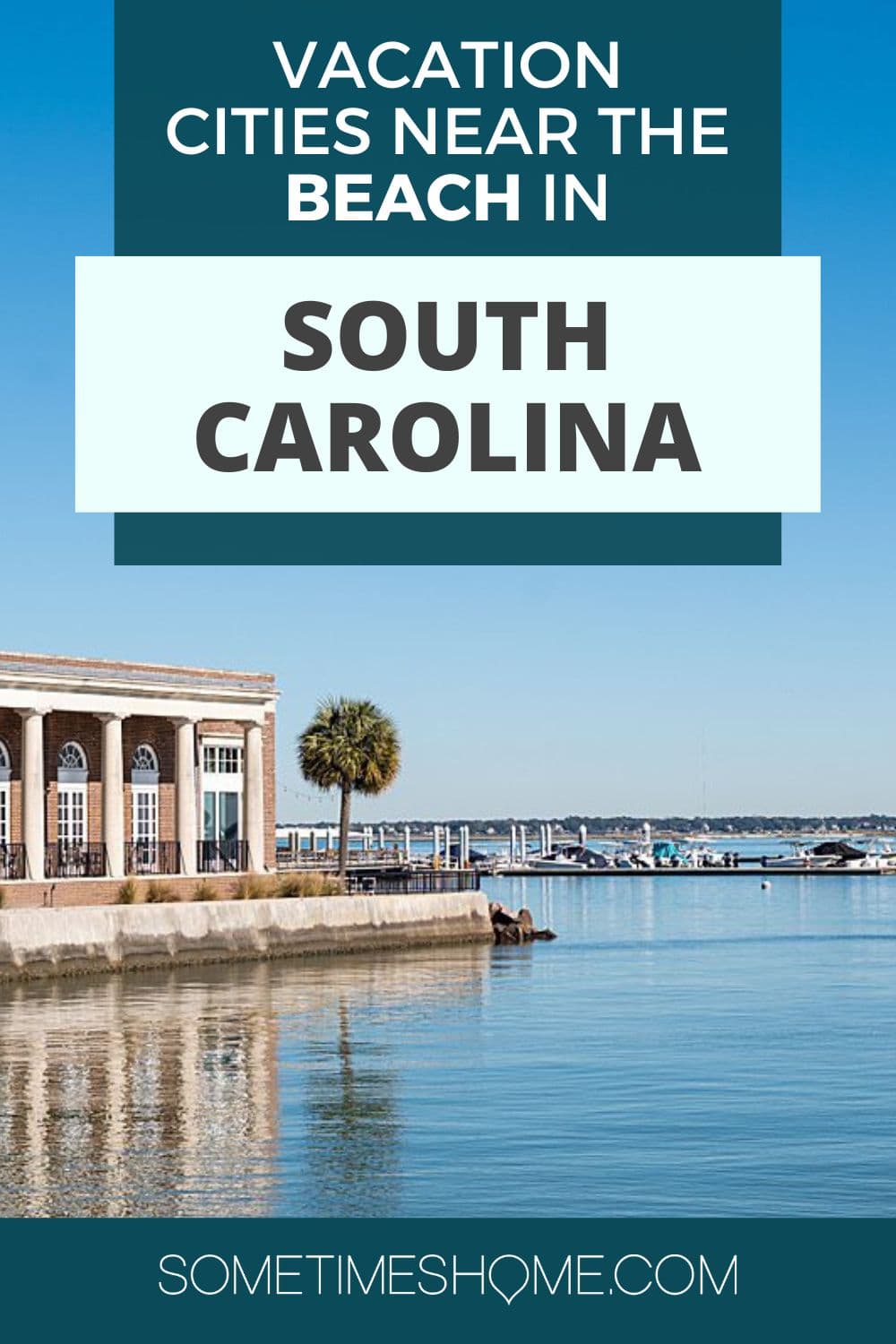 South Carolina Beach Cities to Visit: Northern Coast
Myrtle Beach
Enjoy miles of pristine beaches, delicious seafood, exciting attractions, and a vibrant nightlife scene. Some popular things to do in Myrtle Beach include walking the boardwalk, visiting Ripley's Aquarium, or taking a thrilling ride on the SkyWheel. You'll discover all sorts of fun rides you'd find at amusement parks here.
You can also play a round of golf at one of the many championship courses, such as Myrtle Beach National.
The best areas to stay in Myrtle Beach include the lively oceanfront, North Myrtle Beach, or Surfside Beach, which offers a more laid-back atmosphere. You can also pitch a tent or park your RV at the Myrtle Beach State Park Campground for a forested beachfront experience.
Overall, you're destined for a fun-filled vacation.
➡︎ Secure your space on these great tours and attractions in Myrtle Beach
Little River
Tucked away in the northernmost part of South Carolina, Little River is known for its picturesque waterfront views, fresh seafood, and recreational pleasures.
Golfers will enjoy the Eagle Nest Golf Club, while others may enjoy a stroll through the Vereen Memorial Gardens. It is a vast wonderland of a park! The beach is also accessible nearby at North Myrtle Beach or Cherry Grove Beach.
Arcadian Shores
Are you looking to relax and unwind in a beautiful seaside setting? Arcadian Shores is an excellent destination within Myrtle Beach, with access to beautiful beaches, the Arcadian Shores Golf Club, and luxurious experiences, like the Atlantis Spa, to pamper yourself.
Escape into nature at the nearby Myrtle Beach State Park and Huntington Beach State Park, offering opportunities to hike, bike, and view wildlife.
When choosing the best places to stay in Arcadian Shores, consider the Sands Beach Club, Club Wyndham SeaWatch Resort, or The Hilton Myrtle Beach.
Don't forget to Pack these Beach Vacation Items!
Surfside Beach
In the heart of Grand Strand, you'll find Surfside Beach. It's known for its friendly atmosphere, wide sandy beaches, and the opportunity to see dolphins. How could you pass that up?
There are also fishing charters and exploring the nearby Brookgreen Gardens, a National Historic Landmark, or take in a round at the Tupelo Bay Golf Center.
The Myrtle Beach Boardwalk and Skywheel are a short distance away, and you could take a day trip out to Congaree National Park, home to one of the most extensive old-growth hardwood forests in the United States.
Murrell's Inlet
This quaint fishing village just south of Myrtle Beach offers stunning inlet views. Nearby you'll find Huntington Beach State Park, which has what some say is the best South Carolina beach area.
If you're up for an adventure, take a day trip to Francis Marion National Forest, which offers miles of hiking and biking trails through some of South Carolina's most pristine natural areas. There are also Brookgreen Gardens, with sculptures and exhibits showcasing the history of the Lowcountry.
While you'll undoubtedly find great places to stay in Murrell's Inlet, nearby Litchfield Beach or Pawleys Island offers a quieter atmosphere and a wider range of accommodations.
Pawley's Island
Pawleys Island is in Georgetown County, where the beaches are full of soft, white sand, and the water is clear and warm. Saltwater creeks and tidal marshes make it a great place for birdwatching, fishing, or kayaking. For golfers, this is a paradise with five golf courses within a 10-minute drive.
The island offers a peek into the 1700s through the Pawleys Island Chapel and the historic homes that line the streets.
In addition, you can stay in converted bed-and-breakfast homes. Some well-known accommodations are The Pelican Inn, Litchfield Beach and Golf Resort, and The Oceanfront Litchfield Inn.
South Carolina Beach Cities to Visit: Charleston Area
Charleston
Open your heart to Charleston, a fascinating historic city in the Lowcountry. Rich in culture, stunning architecture, and world-renowned cuisine, you'll never want for anything.
Famous downtown Charleston landmarks are Rainbow Row, Fort Sumter, the Charleston Battery, the Magnolia Plantation and Gardens, and the Aiken-Rhett House.
The historic district is the most popular area, offering easy access to the city's many attractions, from the downtown Charleston market to antebellum mansions. However, consider staying in Mount Pleasant or the nearby beaches of Folly Beach or Isle of Palms as well.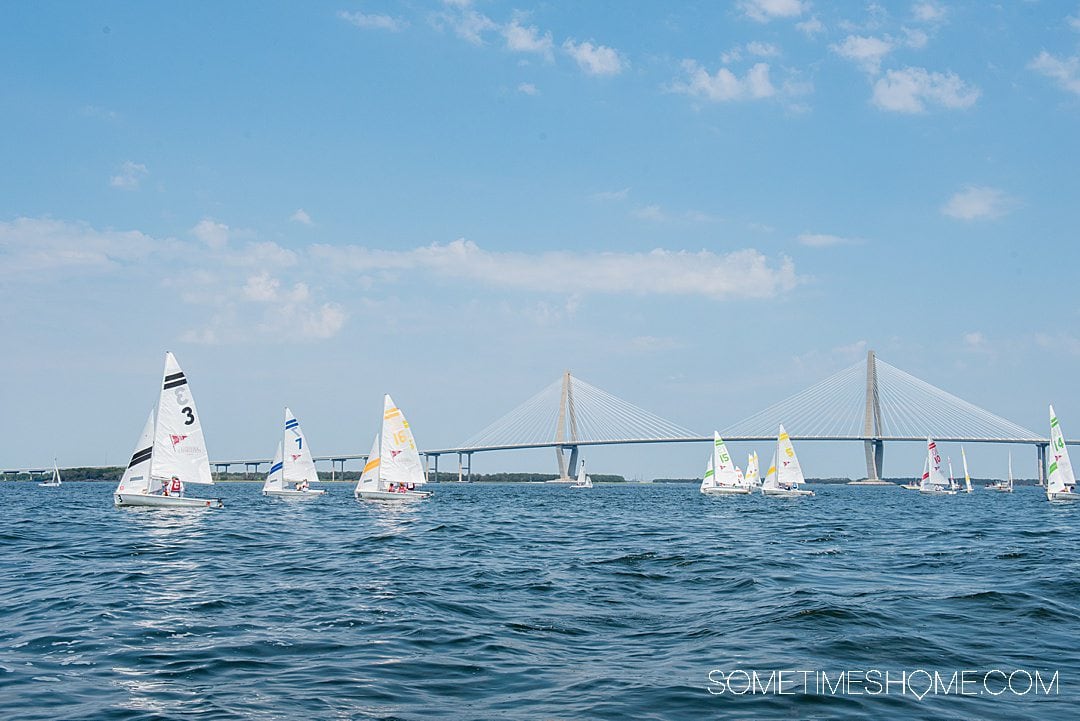 ➡︎ Charleston vacations are VERY popular! Don't miss out on your first choice of Charleston Tours – book now…
Folly Beach
Just south of Charleston is Folly Beach, where you can visit a lesser-known Civil War battlefield, the Secessionville Historic District, and be close to other landmarks.
After relaxing on the white sands that seem to go on forever, consider taking a day trip to the Fort Moultrie National Monument, which played a crucial role in defending Charleston Harbor during the Revolutionary War and Civil War. Or, visit the famous Angel Oak Tree, a southern live oak tree estimated to be over 400 years old.
Head to East Ashley Avenue after a relaxing day on the beach to find great restaurants and live music.
Kiawah Island
Kiawah Island has pristine beaches, five world-class golf courses, and stunning natural beauty.
You can take a day trip to Fort Sumter National Monument from Kiawah Island. It is an incredibly significant location in the story of the Civil War. Or go to the ACE Basin National Wildlife Refuge, which offers a variety of outdoor activities.
From beachfront hotels to vacation rentals, there's also the nearby Bohicket Marina or Seabrook Island for accommodations. Finally, treat yourself to The Sanctuary at Kiawah Island Golf Resort and Spa for luxury during your South Carolina beach vacation.
Sullivan's Island
Sullivan's Island is known for its quiet beaches, historic landmarks, and laid-back atmosphere. It's home to Fort Moultrie National Historical Park and Sullivan's Island Lighthouse. While the area and beach are open to the public, the lighthouse has been fenced off.
You can enjoy the sunset or a sun tan at Station 18 beach, but be aware there are no bathrooms here nor on Sullivan's Island Beach.
Mount Pleasant
Mount Pleasant is one of our favorite cities near the beach in South Carolina due to its proximity to Charleston, national parks, and landmarks.
Some incredible places to see are Fort Sumter National Monument, Boone Hall Plantation, one of the oldest working plantations in America, and the Patriots Point Naval & Maritime Museum. Here you can see a Cold War submarine, the USS Yorktown aircraft carrier, and a destroyer.
You can stay in the heart of Mount Pleasant, near the harbor, or on nearby Sullivan's Island with easy access to local attractions.
Isle of Palms
Right beside Sullivan's Island is the Isle of Palms which offers upscale resorts like the Wild Dunes Resort. The beaches along the coast are pristine, with world-class dunes. You can even surf here from September to October and enjoy fishing all year round.
Seabrook Island
Offering private beaches, Seabrook Island is a peaceful getaway spot. Spend the day at one of the three nearby golf courses and then relax with your feet in the sand.
When it comes to accommodations, there are plenty of options to choose from, including private beachfront villas and cozy cottages. However, keep in mind that Seabrook Island is more secluded, so for a more lively scene, consider staying in nearby Kiawah Island or Folly Beach.
Edisto Beach
Edisto Beach is a hidden gem. Located about an hour south of Charleston, the beach is wide and uncrowded. There are great spots for fishing, kayaking, and paddleboarding, and you can even rent bikes to explore the island's many trails. For golfers, play a round at The Plantation Course at Edisto.
Edisto has great accommodation options, including beachfront cottages and vacation rentals or stay in the Wyndham Ocean Ridge. The town is small and charming, with some great restaurants and shops to explore. Edisto Beach is the perfect spot if you're looking for a quiet, laid-back beach vacation.
South Carolina Beach Cities to Visit: South Coast
Hilton Head
Hilton Head Island is one of the most popular beach destinations in South Carolina. Remember that it can get crowded during peak season, but no matter when you visit, you're sure to have a great time on this beautiful island.
The beaches on Hilton Head are some of the best in the country, with soft white sand and clear blue water, and if you're into golf, you'll want to check out some of the island's five golf courses. There's miniature golf too!
Popular areas to stay are near the Palmetto Dunes, Hilton Head Beach, and South Beach, where you can find plenty of luxury resorts, vacation rentals, and cozy bed and breakfasts.
➡︎ Book an adventurous Hilton Head or Daufuskie Island area tour!
Daufuskie Island
This secluded island is only accessible by ferry, and once you're there, you'll feel like you're a world away from everyday life. Stay in one of the charming bed and breakfasts or cozy vacation rentals.
Daufuskie Island is known for its unspoiled beaches and natural beauty, where you can explore its rich history. Be sure to visit historic sites like the First African Baptist Church and the Mary Fields School.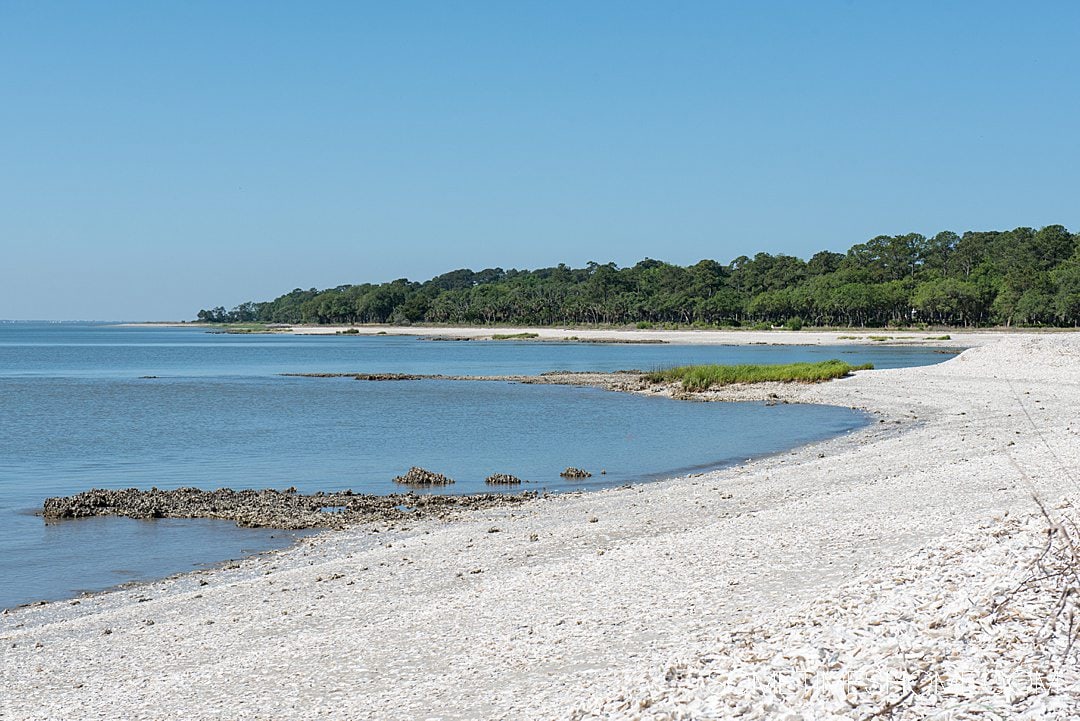 Beaufort
Beaufort is a great place to visit if you're looking for a laid-back beach vacation with plenty of Southern charm.
One of the highlights of Beaufort is the historic downtown area, home to dozens of beautiful antebellum homes, charming shops, and delicious restaurants. It's the perfect part of town to stay in.
Bluffton
Bluffton is a picturesque town just a short drive from the beaches of Hilton Head Island. One of the highlights of Bluffton is the historic district, which is home to dozens of beautiful antebellum homes and charming shops.
The area has several parks and nature preserves, like Victoria Bluff Heritage Preserve, where you can go hiking, biking, or kayaking. Hilton Head Island, South Carolina beaches are just a short drive away, where you can soak up the sun.
Beach Towns right Over the Georgia Border
Savannah
Savannah is rich in culture, with the historic district being a must-see. Many people enjoy walking or horse-drawn carriage tours to explore the city's beautiful antebellum homes, tree-lined streets, and charming shops and restaurants. Take advantage of the gorgeous Forsyth Park or the Bonaventure Cemetery.
The city is full of museums too, such as The Savannah History Museum, Andrew Low House, and the Georgia State Railroad Museum.
Also, the beach is always close. Tybee Island is just a short drive, where you can soak up the sun.
➡︎ Maximize your vacation fun with these Savannah tours!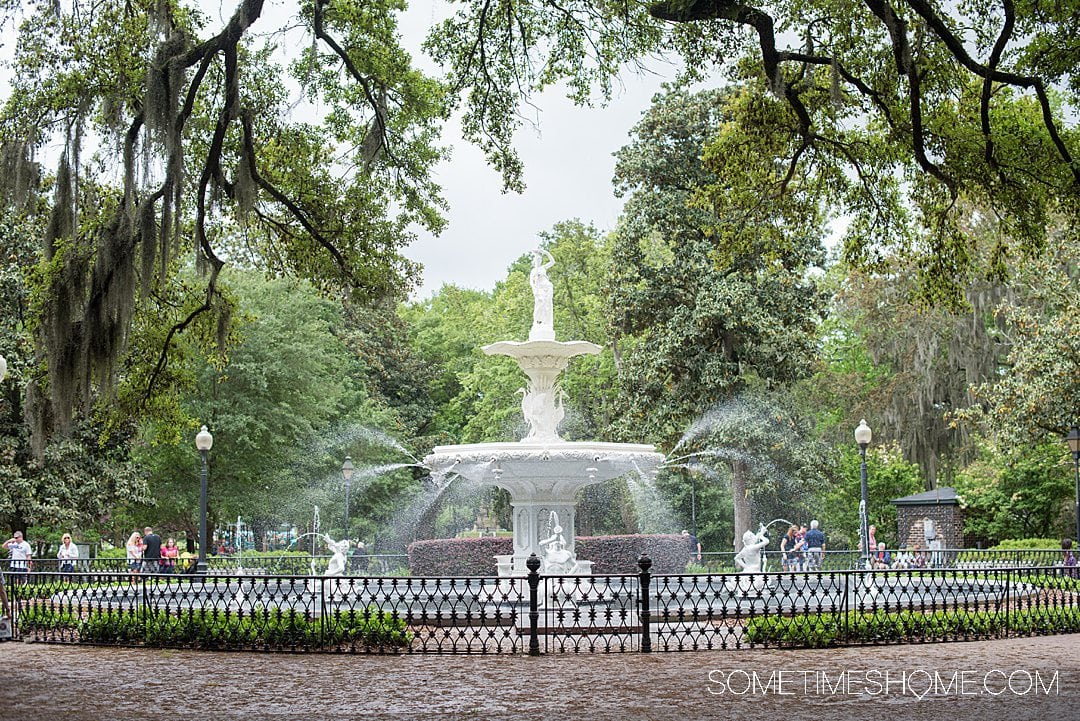 Tybee Island
This beautiful coastal town is just a short drive from Savannah. This island has a laid-back atmosphere steeped in nearby history and boasts dolphin adventures. You can climb up the Tybee Island Light Station & Museum for fantastic views when you visit North Tybee Beach or head further south to Mid Beach.
Nearby is Cockspur Island to see the Fort Pulaski National Monument and Battery Hambright.
Beach Cities to Visit Over the North Carolina Border
Oak Island
The beautiful beaches here stretch for miles along the Atlantic Ocean. The water here is perfect for swimming, sunbathing, fishing, and surfing. You can also go kayaking or paddle boarding and then enjoy the sunset at Oak Island Pier.
Climb the Oak Island Lighthouse for a panoramic view or bike through the island's scenic streets. You can even go dolphin watching on a guided tour. Also nearby are Caswell Beach and Fort Caswell, which requires advance notice to enter.
Bald Head Island
Are you looking for a beautiful and secluded island off the coast of North Carolina? Accessible by ferry or private boat, Bald Head Island is well-worth visiting – not just for its stunning beaches!
One of the most famous landmarks on Bald Head Island is the Old Baldy Lighthouse, which is the oldest lighthouse still standing in North Carolina. Climb to the top for stunning views of the island and ocean.
Bald Head Island Conservancy offers guided nature walks, turtle walks, bird-watching tours, and more. While for those interested in history, the Smith Island Museum of History provides a fascinating look at the island's past in the 1800s.
Ocean Isle Beach
Ocean Isle Beach is home to a variety of wildlife, including sea turtles, dolphins, and shorebirds. You can take a nature walk or a kayak tour to explore the local habitats and see these animals up close.
Stay right along the beach at private vacation rentals or The Winds Resort Beach Club and enjoy a quieter vibe while being close to all the amenities of the mainland.
Wrapping Up cities near the beach in South Carolina
If you're someone who loves the beach and can't wait to get in the sand and salt water for a little rest and relaxation, there are plenty of cities near the beach in South Carolina that provide a variety of activities and enjoyment. You're sure to find the right fit with our many suggestions!
Heading to the south? Check out: