Top Spots to Indulge in Asheville's Brews and Art Views
We had two priorities for our trip out west in NC: find great beer and and art in Asheville. There is no shortage of either in this city.
We wanted our decision of where to indulge in a few delicious extra calories via a liquid diet, of sorts, to include their art scene. It was extra important to us to support art in all its forms there, from craft cocktails, to beer brewing to good 'ole paint and canvas, handmade glass…and then some…because we're both artists too.
Here's our picks for the best places to sip some of the finest adult beverages and view pieces from talented artists in Asheville, NC.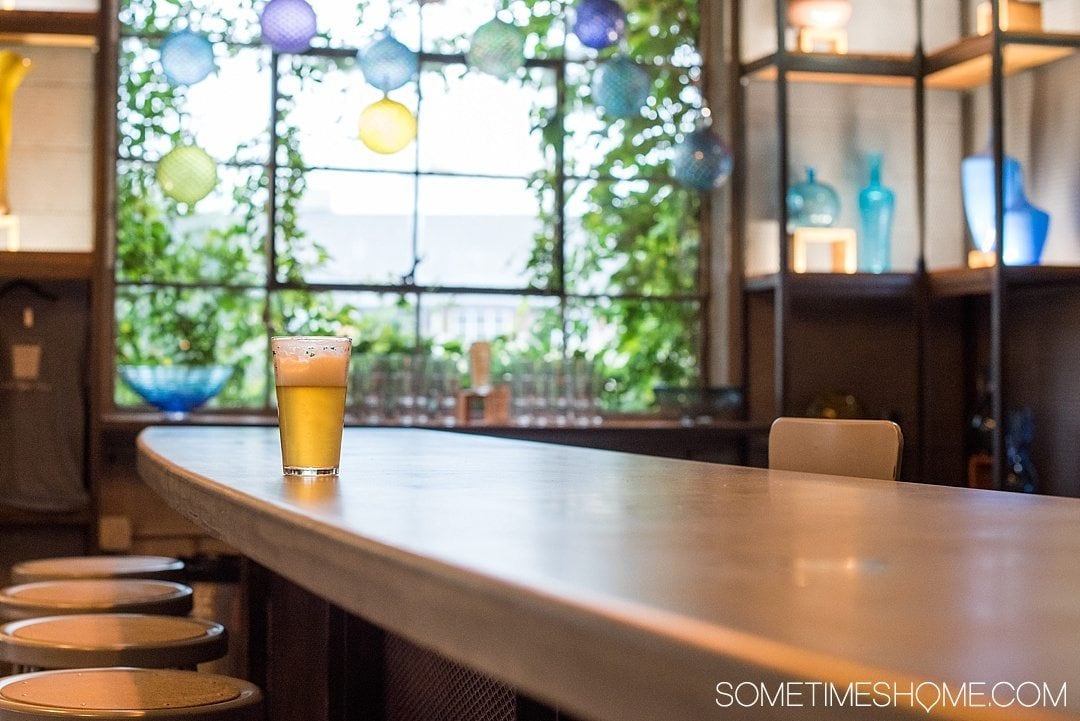 Wedge Brewing Co. Foundation
The River Arts district in Asheville, North Carolina is quickly becoming the "it" spot. Wedge Brewing Co. decided to open their second location here, simply down the block from their first smaller one. (It's named "Wedge" because of the shape of that first location's building. The "wedge" faces upstream so if there was a flood from the water, nearby, the shape could cut the current.)
The history of the building is a story of leather craftsmen – it used to be an industrial tannery. The building's close proximity to the train station made it ideal for deliveries. Even today it embraces the arts.
We love street art and it's a hot spot for such artists, both local and internationally acclaimed, to come together to show off their skills. Wedge not only embraces it but, along with local residents and government institutions, are part of a group of pioneers in the area that support the arts. You'll find colorfully created murals both inside and outside their building on the 14 acres of land where Wedge is situated. You'll also find studio spaces artists rent out.
The exterior of their building, with its angels and prayer hands, was painted by local artists Ian Wilkinson and Gus Cutty. They also decorated the indoor event space, which often has art installations on its wall.
Inside you'll find a brightly and humorously painted bar, Julie Armbruster. The painting it's created from, titled "Sun Showers," hangs on a nearby wall. She is, of course, also a bar patron!
Be sure to spend some time walking around the property. It's all photo-worthy and the colorful murals are sure to brighten your day.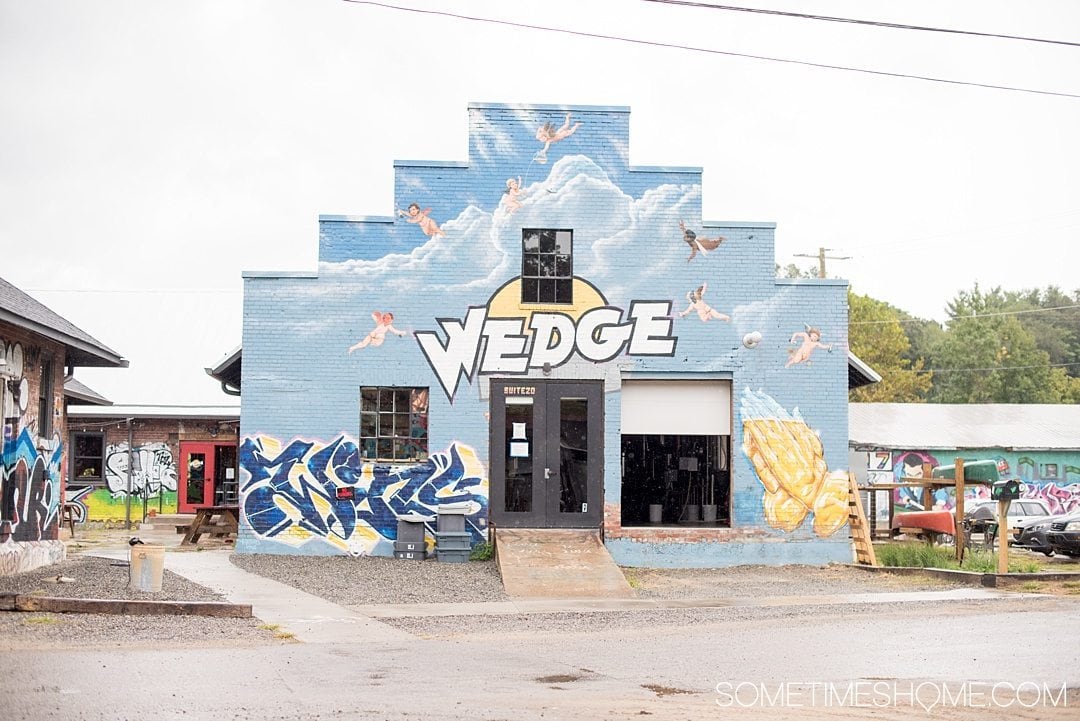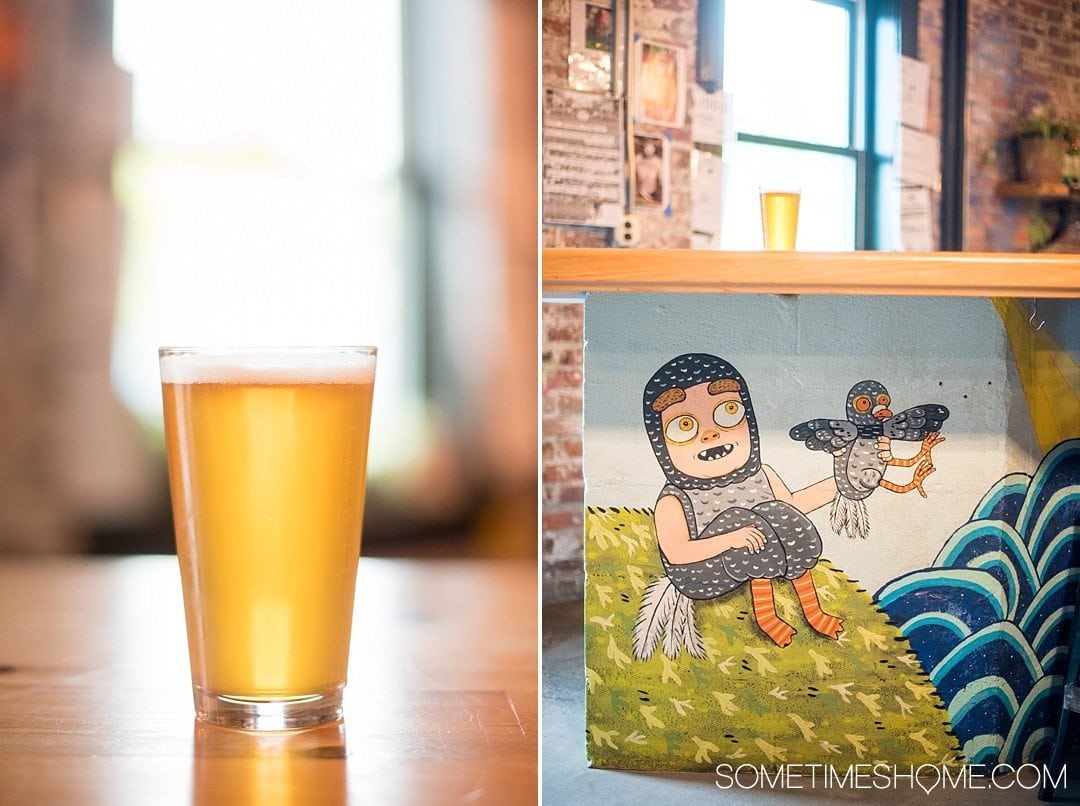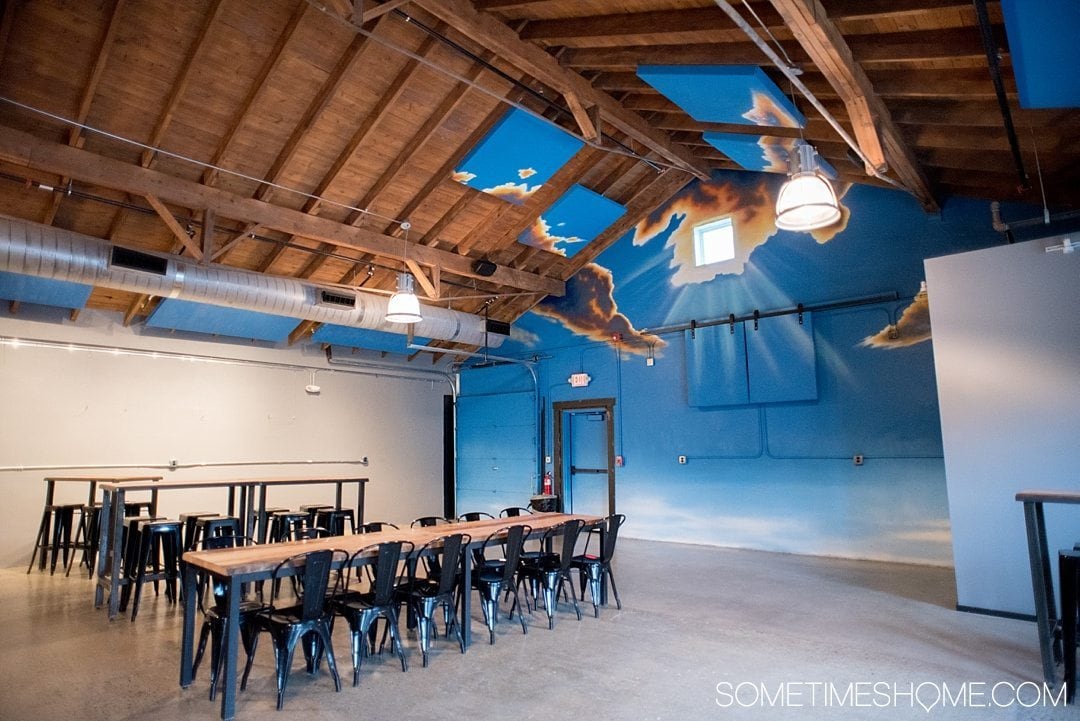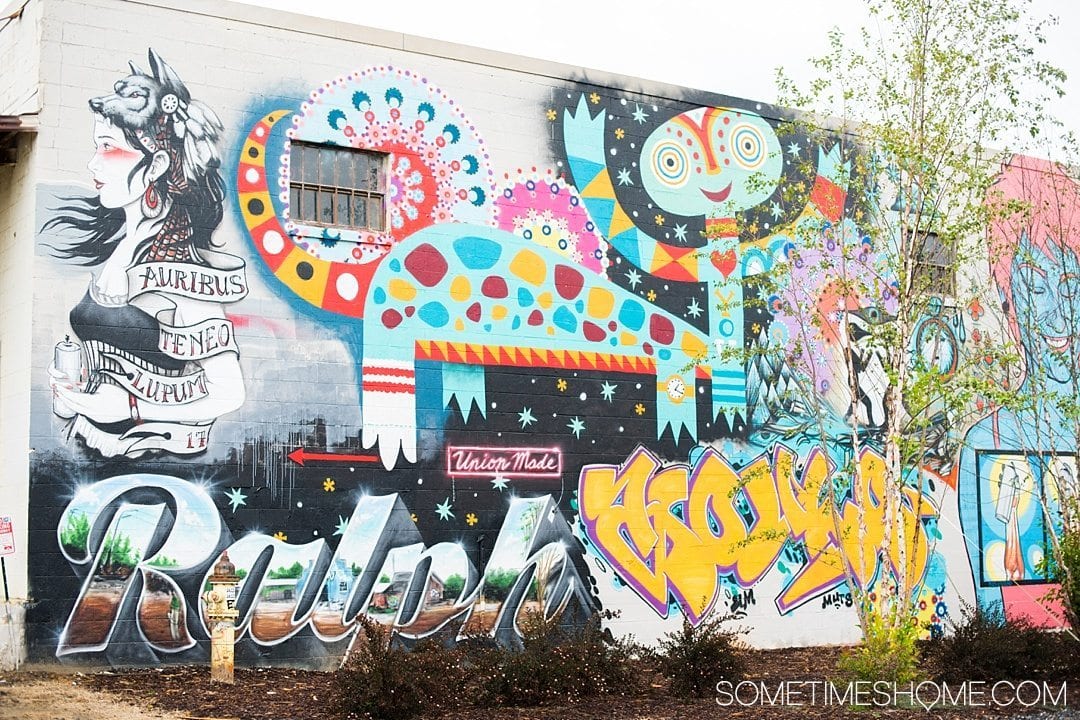 Address: 5 Foundry Street, Asheville NC 28801
Lexington Glassworks
When I read Lexington Glassworks has a bar open on weekends and they do live glass blowing demonstrations I knew we had to visit. What's better than sipping on a cold beer while mesmerized by the show before you?
It is not, however, simply a demonstration spot: it's a working studio where full time glass blowers create beautiful light fixtures, bowls, vases, ornaments and jewelry available for purchase. If you see something you like, grab it; many creations are one-of-a-kind and only sold at Lexington Glassworks. They are also able to accommodate custom work orders and collaborations.
The owners, Jeff and Billy, strongly believe in supporting the arts, whether the artist's medium is glass, hops or a musical instruments. That includes preserving the area's rich history. The space is an old auto body shop and the current desk is a repurposed car lift from that time. The gallery floor is where the grease pit used to be. After its auto body shop days it was an artist studio. Today it remains so, with glass artists filling the work space and their creations decorating it's gallery area.
It sits at the top of South Slope in downtown Asheville, a gateway to an area filled with up-and-coming breweries and additional art studios. You can also enjoy a beer on site at their beautiful bar, which serves local craft beers. (I love the current light fixture above the bar, which is for sale.) I have to add a bit of personal life info here too: their bar stools are the same ones that were in my art class in high school! It made me feel both extra artsy and nostalgic.
*Note there is no glass blowing on Tuesdays and the bar is only open on weekends, Friday to Sunday from 2:00-6:00pm, and for special events, including First Fridays.*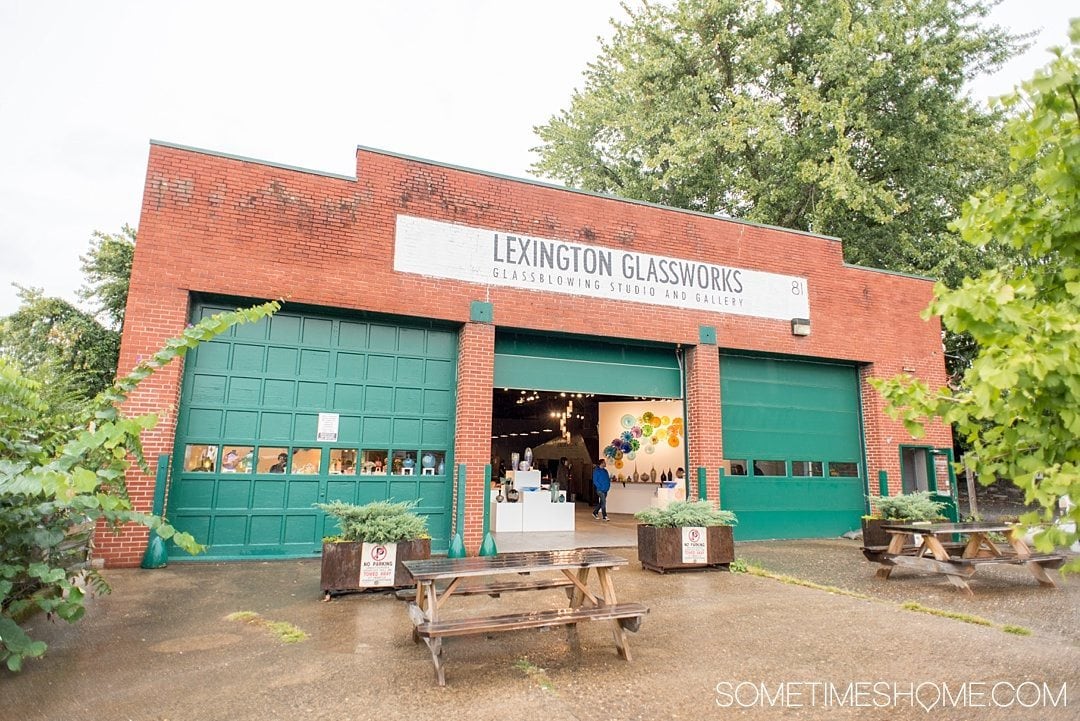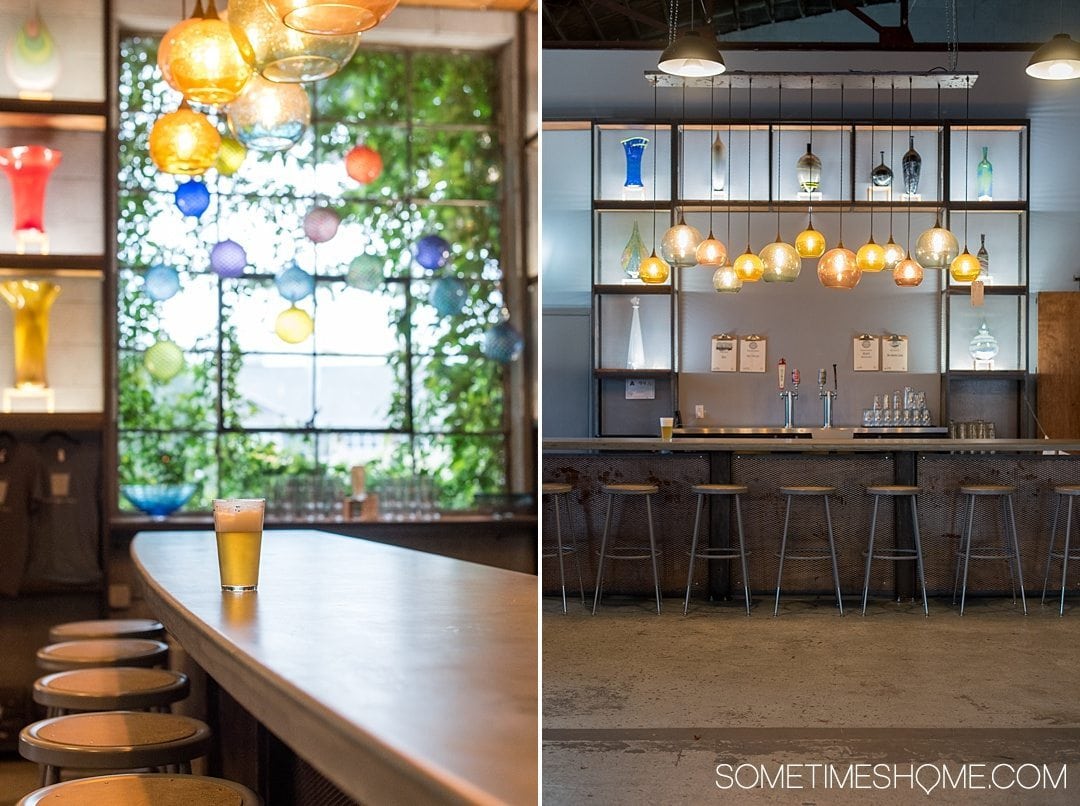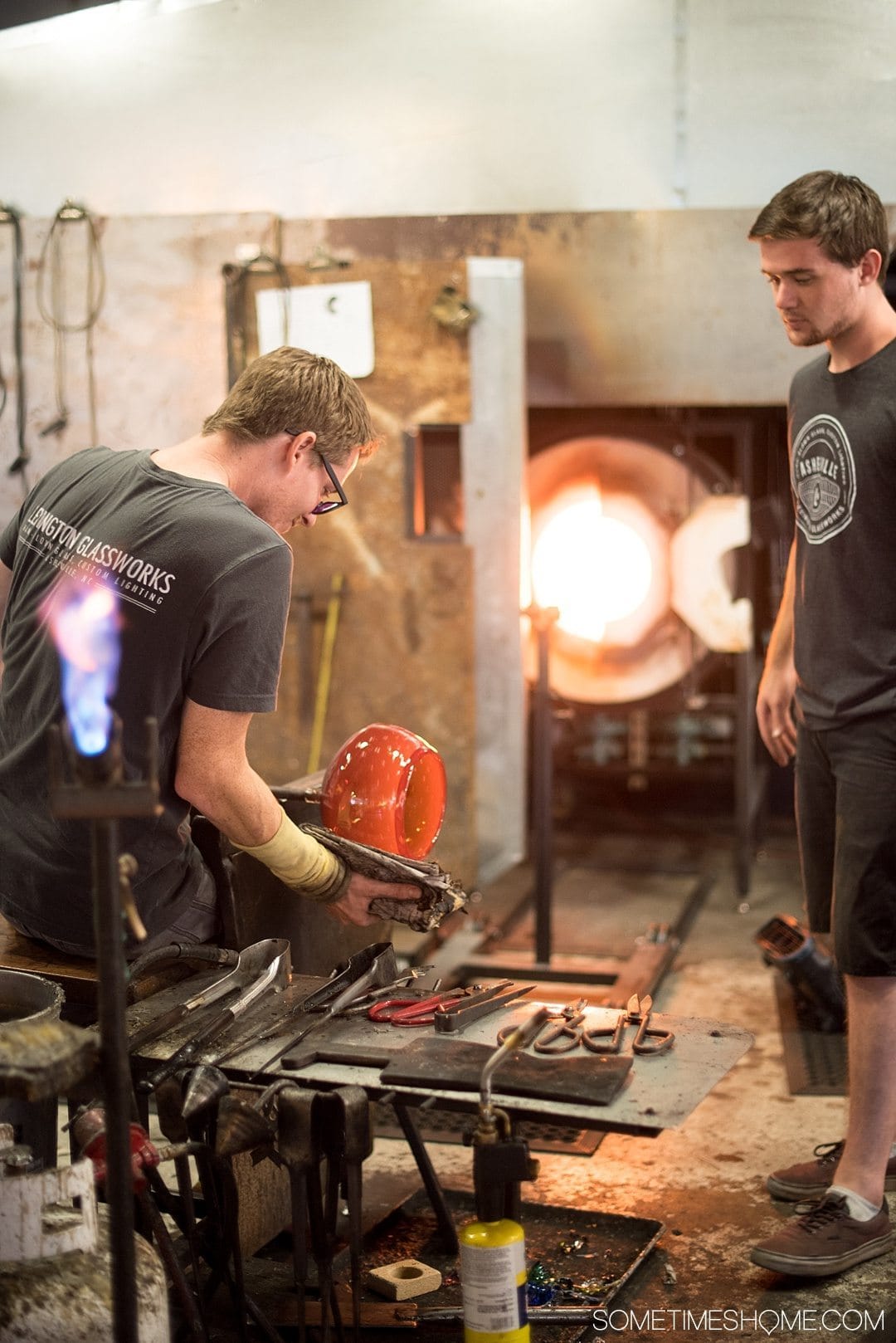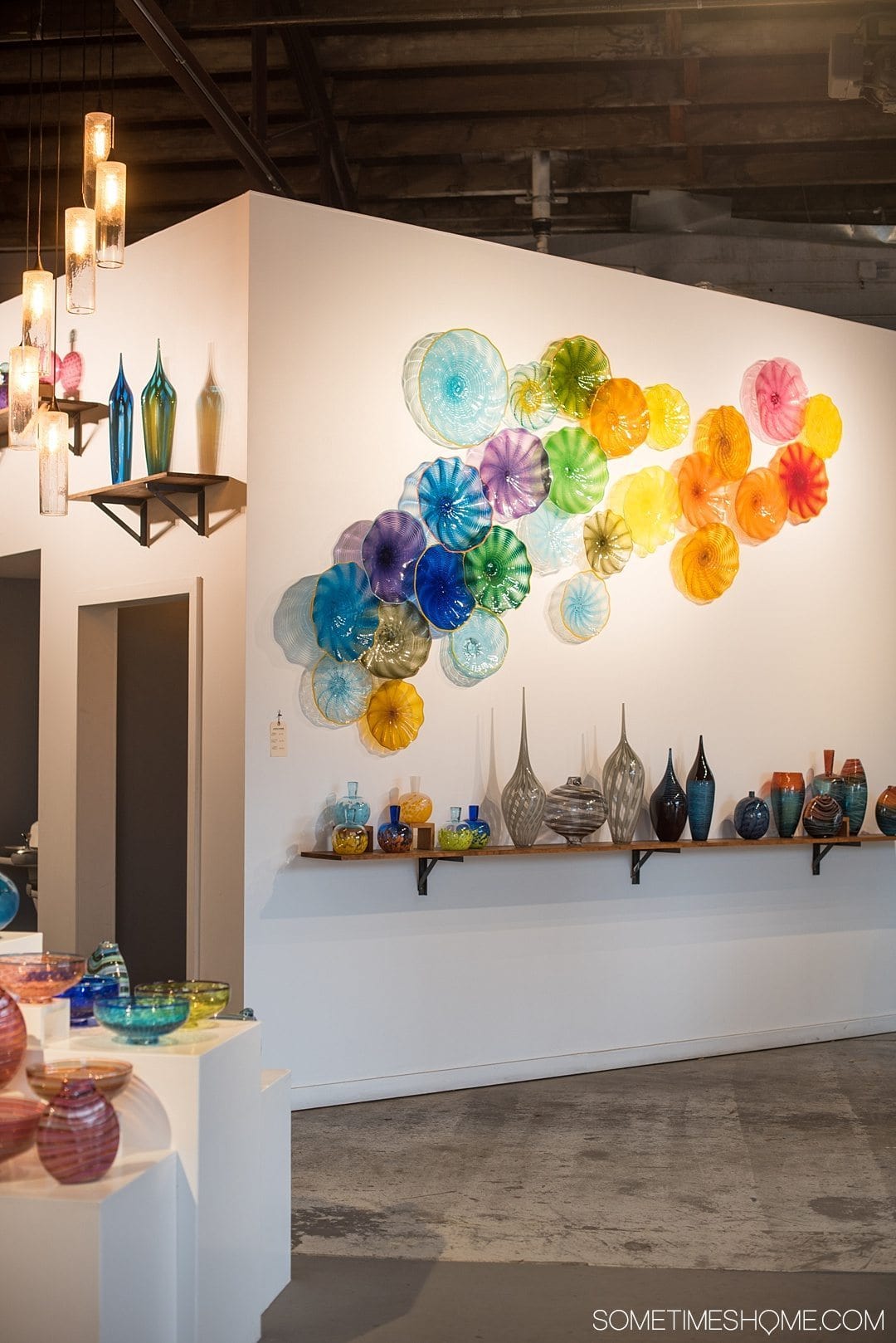 Address: 81 S. Lexington Avenue, Asheville NC 28801
The Omni Grove Park Inn
This hotel's wonderful reputation precedes it. I was not disappointed with my first visit there! My initial interest was its connection to the famed writer, F. Scott Fitzgerald. But there's also a beautiful silent story here in support of the Arts and Crafts movement, which is honored in so many details – large and small – in the hotel's interior design. (It reminded me of our time in Buffalo, NY, where the movement started.) From the lobby's light fixtures, to furniture in the hallway to the painted motifs in its courtyards, a nod to yesteryear is echoed through its beautiful spaces. (It's also listed on the National Register of Historic Places.)
F. Scott Fitzgerald, Henry Ford, Harvey Firestone and Thomas Edison were all frequent guests here. They were surely inspired by the beautiful Blue Ridge Mountains and surrounding nature. It's also said the resort has been known, in its history, to have a healing powers due to its abundance of quartz in its local stone, which is visible in the exterior's rock materials. Fitzgerald was such a frequent visitor he had two rooms – 441 and 443. One was used for writing, the other sleeping.
The hotel architects were especially successful in making the outdoor space a focal point. Guests can enjoy a meal on the back patio or indulge in food and beverages at Edison Craft Ales + Kitchen. It's a modern yet cozy restaurant and bar, named after their hotel guest, Thomas Edison, that serves local beer and craft cocktails.(If Fitzgerald were alive today he'd surely enjoy this spot as he was known for liking the bottle, and had a "beer cure" of drinking about 50 pony beers a day.) We were lucky enough to try a delicious hand crafted cocktail, complete with edible marigolds from their on-site garden and an orange twist.
They have so many wonderful special and events throughout the year, and Edison Craft Ales + Kitchen is simply one of many on-site dining options. I cannot wait to go back here to experience even more!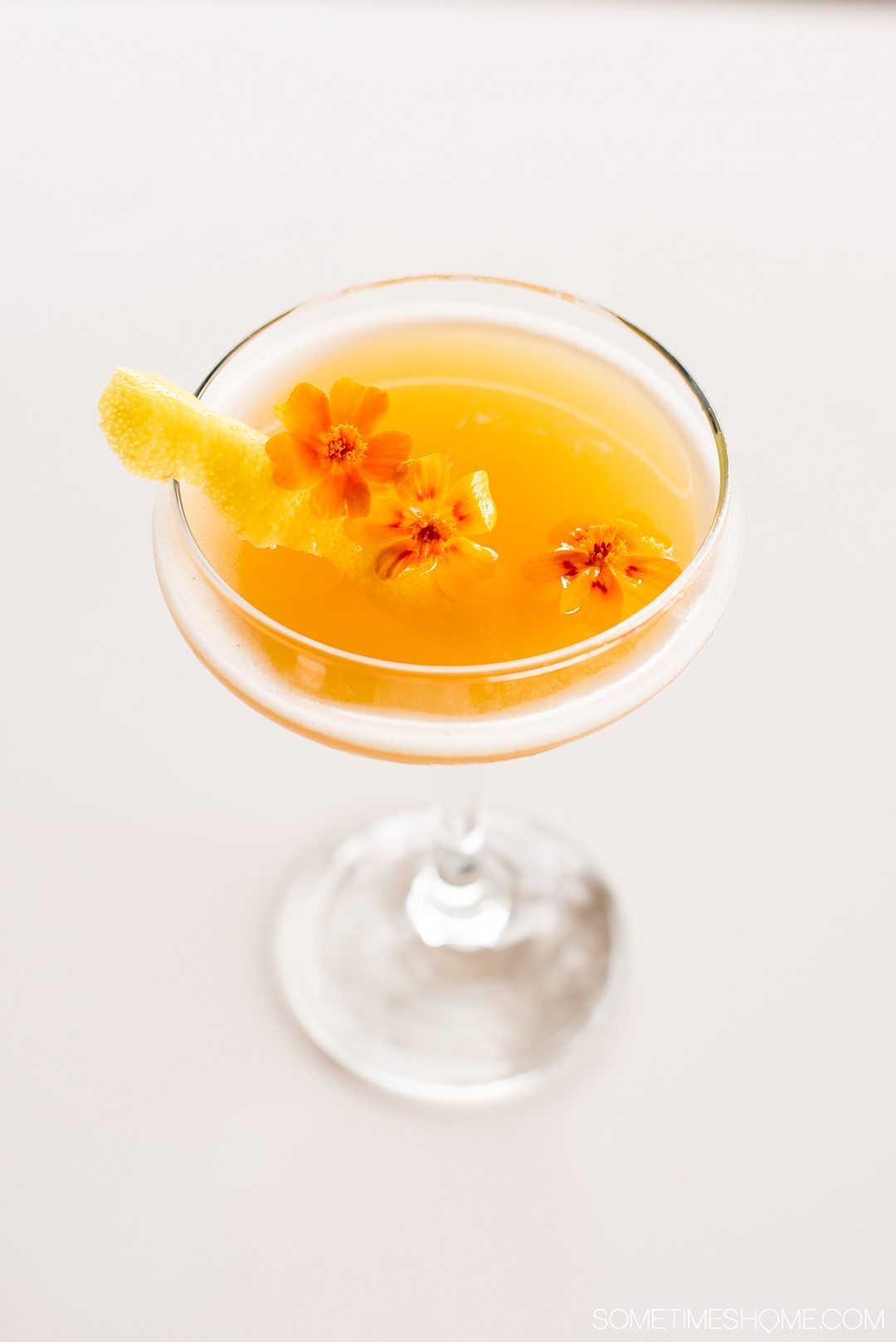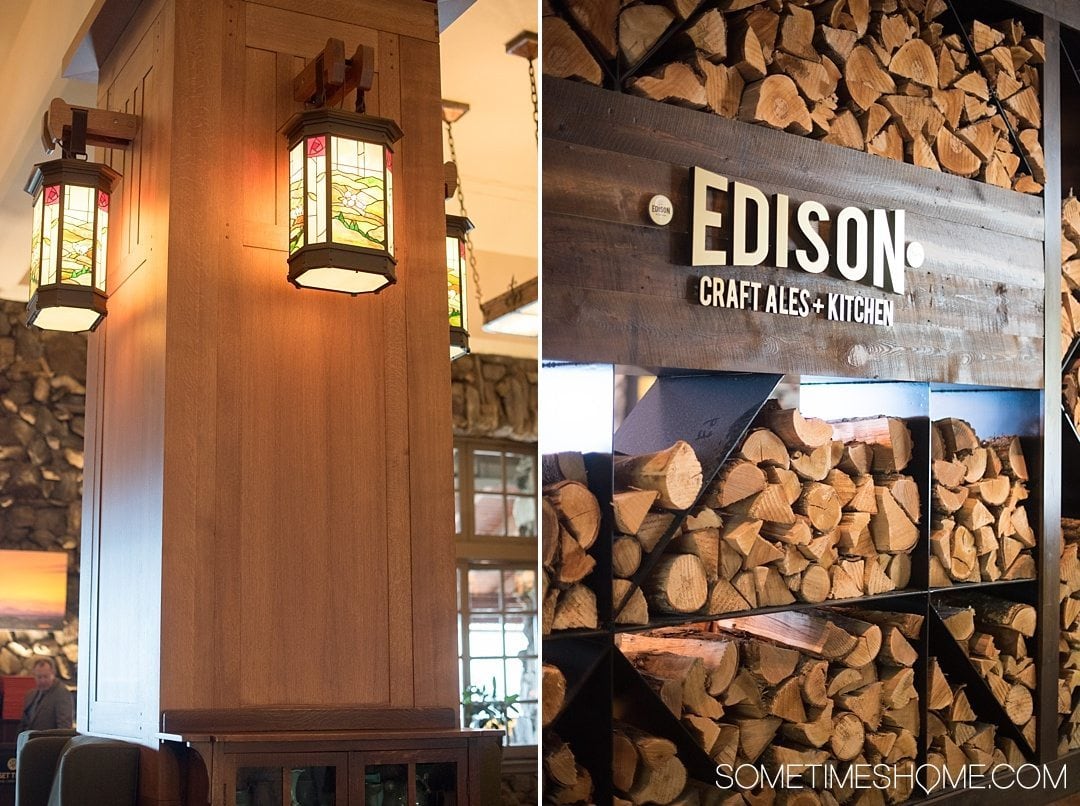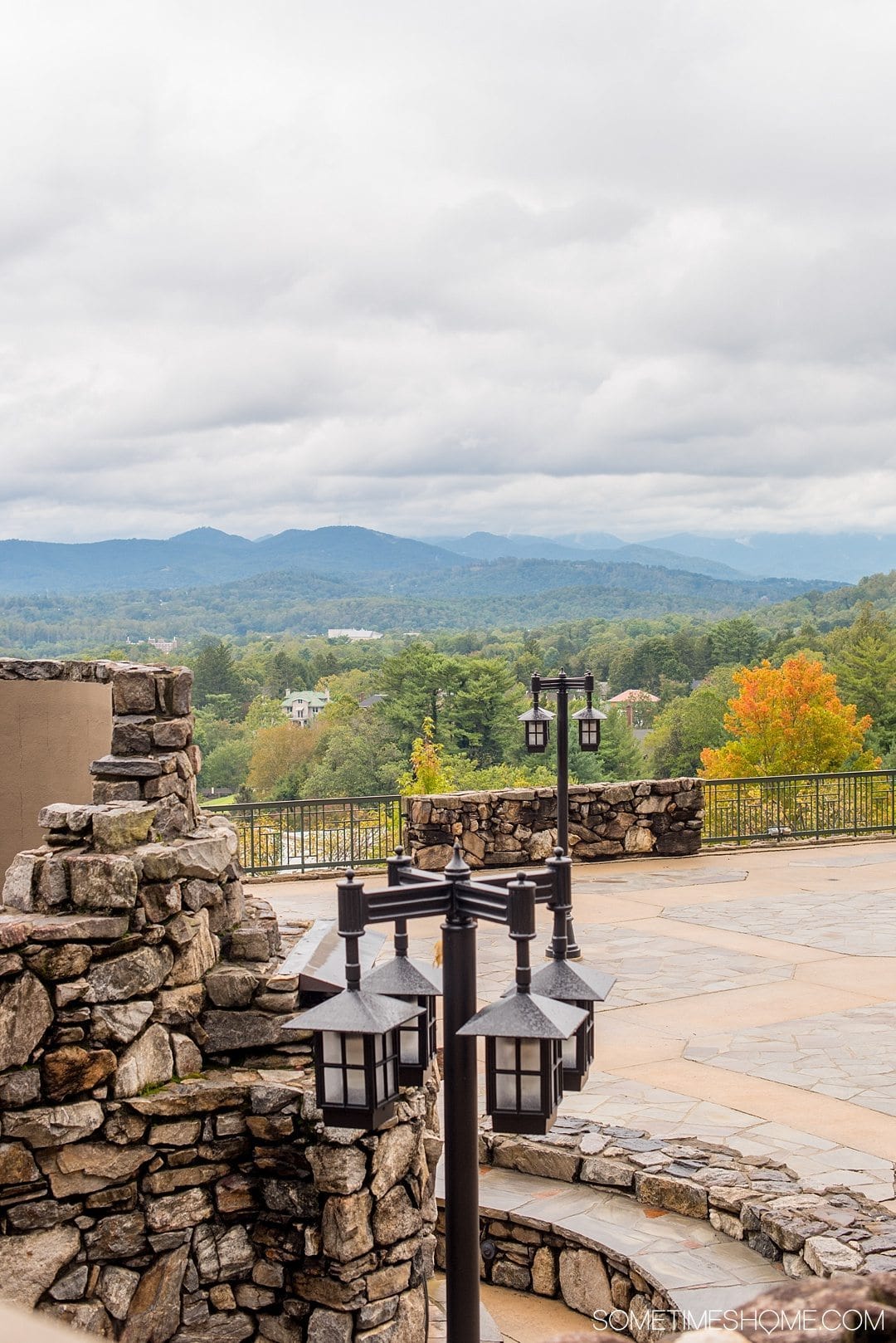 Address: 290 Macon Avenue, Asheville NC 28804
Beer and Art in Asheville at Bhramari Brewing Company
Bhramari is full of unique creations, starting with its name: the original Sanskrit word for "black bees." This brewery is supporting artists at every turn. Its owners, Josh and Gary, had their logo designed by Leif Erik Johansen, whose paintings also adorn some of the wall space in the restaurant area. (Johansen's paintings, coincidentally, are also some of my all-time favorite art pieces, that I discovered years ago in North Carolina.)
You can't help but be struck by the natural materials and colors in the restaurant's main brewery space upon entry. (There is parking in the back, by the way.) Gary created the cross-cut tree trunk wall and asked a close friend to create a centerpiece for it. That friend, Michael James Fortune, came up with a befitting wire and gemstone tree. It's been so well received that it's been purchased and subsequently replaced with a new tree! (So if you're interested in buying it, don't be scared to inquire.)
Beer and art in Asheville extends from the cold brew in your hand to the light fixtures here too. They reminded us of the pattern a swarm of bees may create. They were sculpted by David Earl, a metal worker who also crafted their restaurant and brewery signs. And of course, their beer labels are custom as well! Friend of the brewmasters and local tattoo artist, Greu, creates them.
I love that they have a beer list you certainly won't find elsewhere. They use all sorts of interesting ingredients, from mushrooms to pecans, to spruce needles and lychee. Where else can you have a Smoked Oyster Gose? Be sure to check their small batch menu for a current list of offerings. DEFINITELY make a point to view the paintings on the walls there, most of which are available for purchase.
Oh, and one more thing: if you like pickles, you must try the Picked Egg dish off their "Bites" menu. It pretty much knocked my socks off so much so I had to post images of it here. Like the beers, it's unlike anything I've ever tasted. And it was incredible.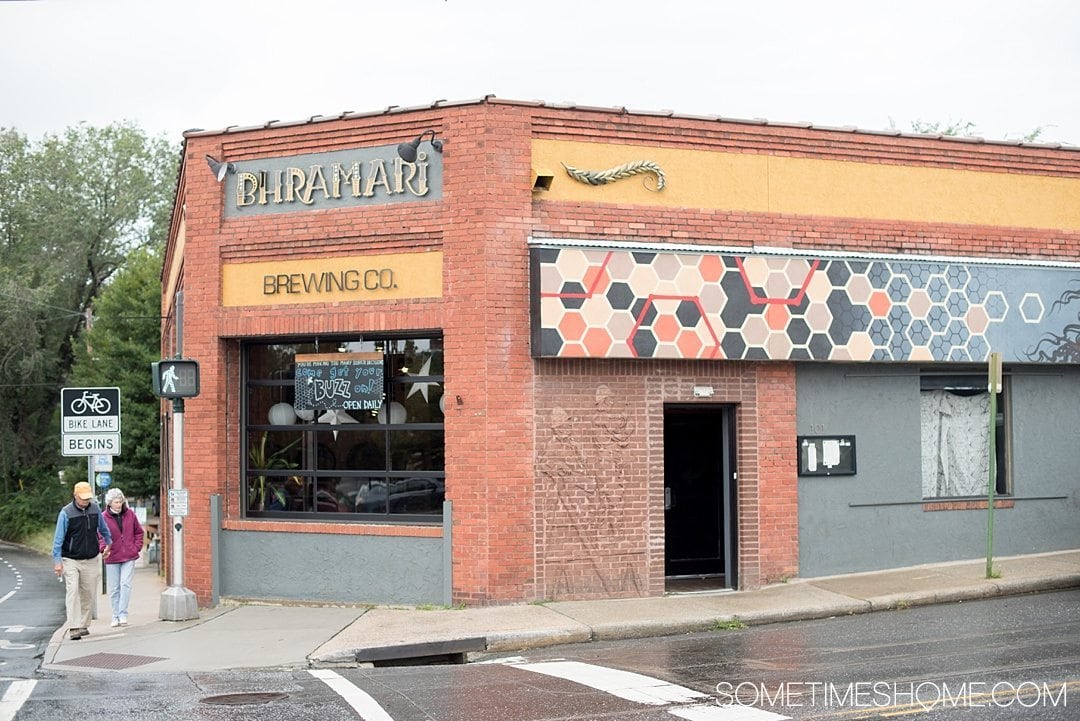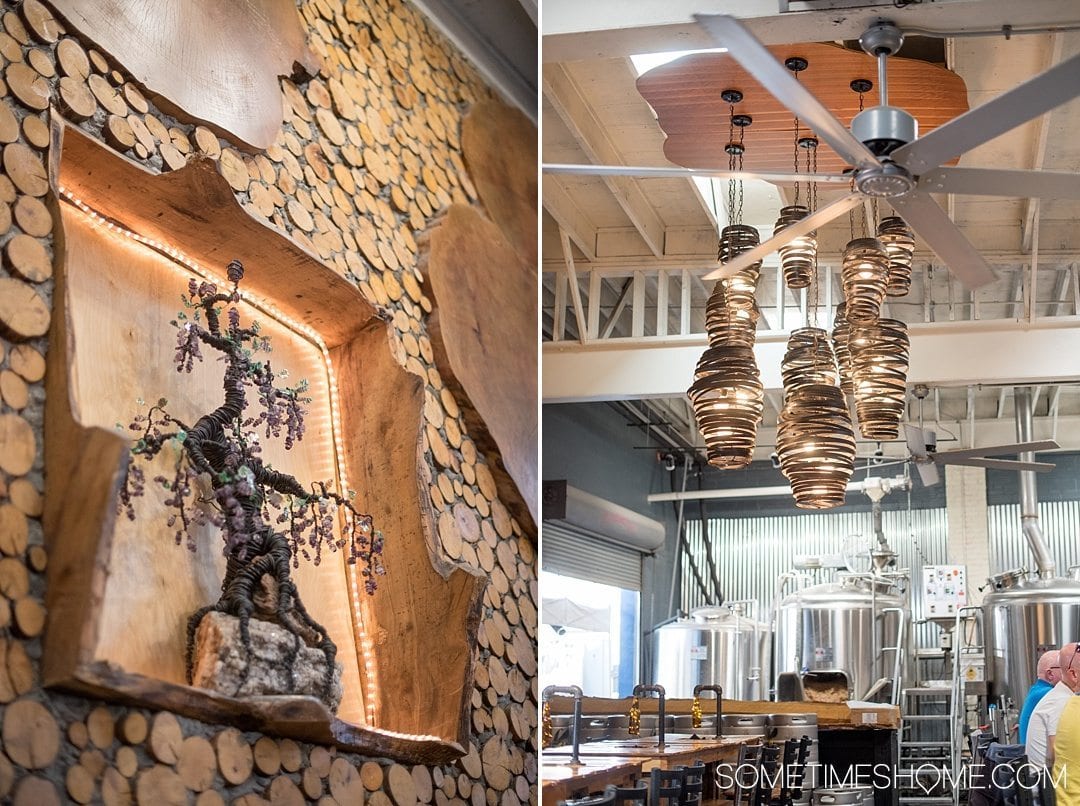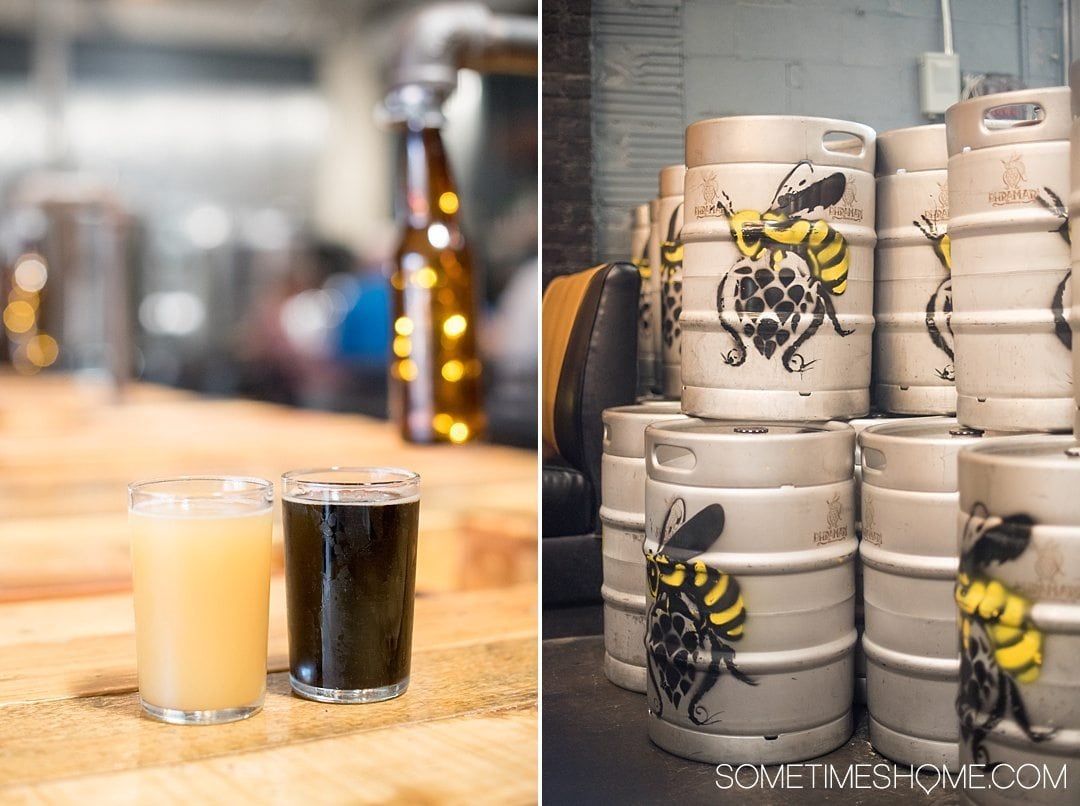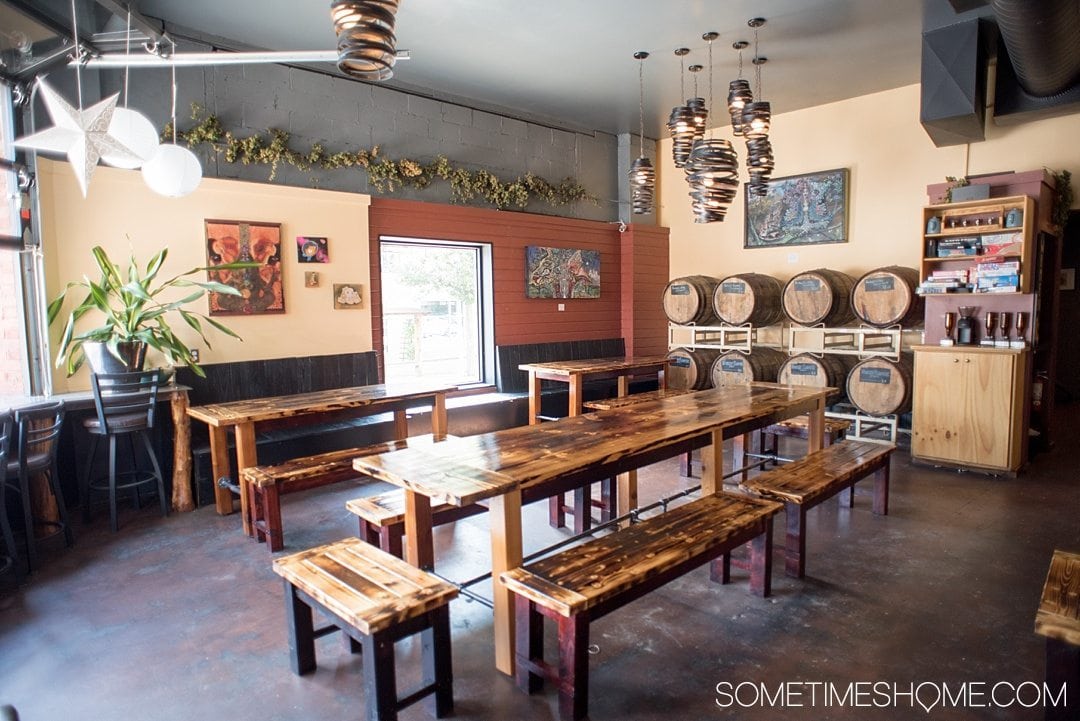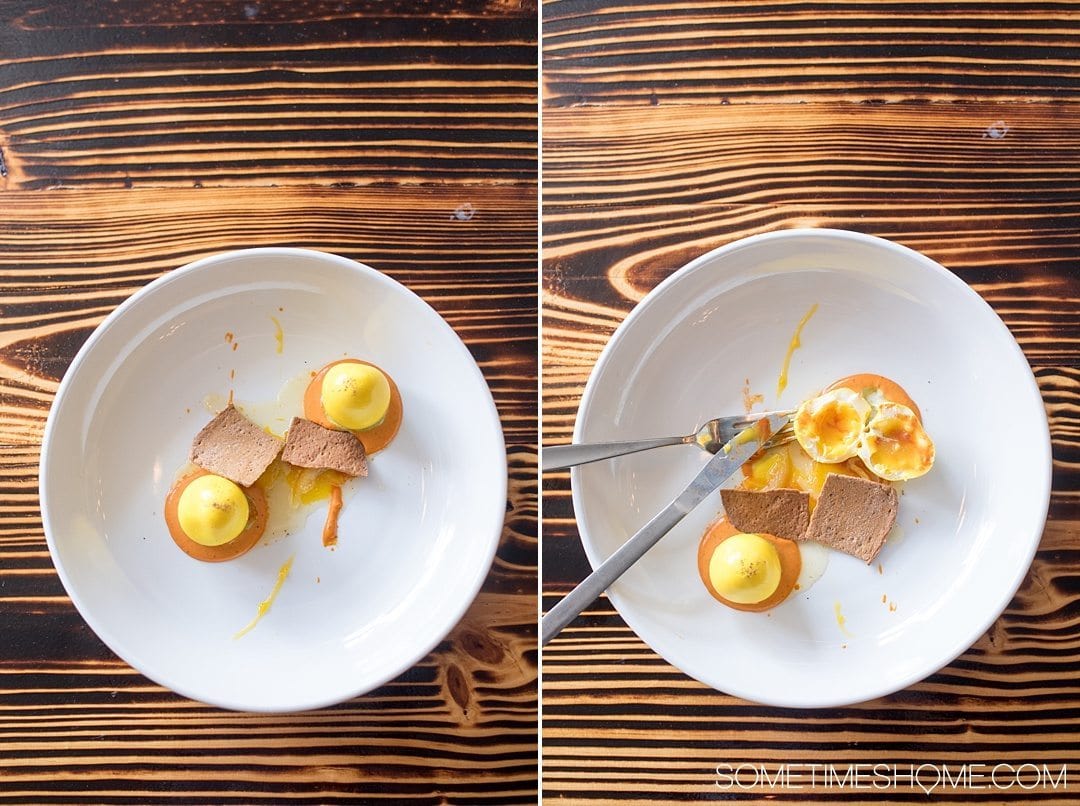 Address: 101 S. Lexington Avenue, Asheville NC 28801
Please note: we thank Visit Asheville for generously hosting us. All the opinions in the post are ours and we bring you genuine content with real facts, photos and thoughts. Always.
Looking for more in the Blue Ridge Mountains area? Check out:
Would you choose a beer location or cocktail libation to experience with your art?