North Carolina Renaissance Festival: Visitor Info and Behind the Scenes Q&A
North Carolina Renaissance Festival is a wonderful annual event held near Charlotte, NC, each year. This year's festival is from October through November, 2022.
We're incredibly interested in storytelling, and North Carolina Renaissance Festival tells the story of another world in a special way.
Dan's being Creative Director, and Mikkel having previously worked for Disney and Universal's creative departments in themed entertainment, means attending Carolina Ren Fen is a no-brainer!
Disclosure: There are affiliate links in this post, which means we may earn a small commission if you click the link and proceed with a purchase, at no cost to you. We were hosted by North Carolina Renaissance Festival; we truly only recommend events, hotels, products, and services we personally use. As Amazon Associates, we earn from qualifying purchases.
North Carolina Renaissance Festival Annual Dates
The Carolina Renaissance Festival event is always in the fall, somewhere between September and November, depending on the year.
The event is from October 1st weekend through November 20, 2022, Saturdays and Sundays, rain or shine, from 9:30am to 5:30pm. Parking is free, thanks to Harris Teeter, NC's popular grocery store chain.
We drive to NC Ren Fest from Raleigh to Huntersville in the Cabarrus County area, just about thirty minutes from Charlotte, North Carolina, to have a fun-filled weekend that starts with a bang: at the Renaissance Festival. It's in the Lake Norman region there.
What to Wear to "NC Ren Fest"
You don't have to wear ribbons or elf ears to have a fabulous time at the North Carolina Renaissance Festival. Of course, you can if you want, but people from all walks enjoy attending this entertaining NC festival every year.
We wore everyday clothes to NC Ren Fen and ended up a little jealous of those who got more into the attire! But whether you go full throttle on "Renaissance Regalia," or walk around in everyday clothes, or somewhere in between, you can't help but get into the spirit of the Festival! We certainly did!
There are employees who walk around selling ribbons crowns and fake flower crowns and you can buy that and more there to dress up.
➜ Alternatively, you can look for Renaissance Festival attire on Etsy (and support artists!) or Amazon.
A Peek Behind the Curtain at North Carolina Renaissance Festival
We met with a few key people at the fair who help ensure the event runs smoothly. Their Marketing Administrator, Kaila, and Director of Marketing and Entertainment, Matt, provided us with rare insight during our Q&A session.
We peek behind the curtain was interesting and eye-opening. Let's dive right into our interview…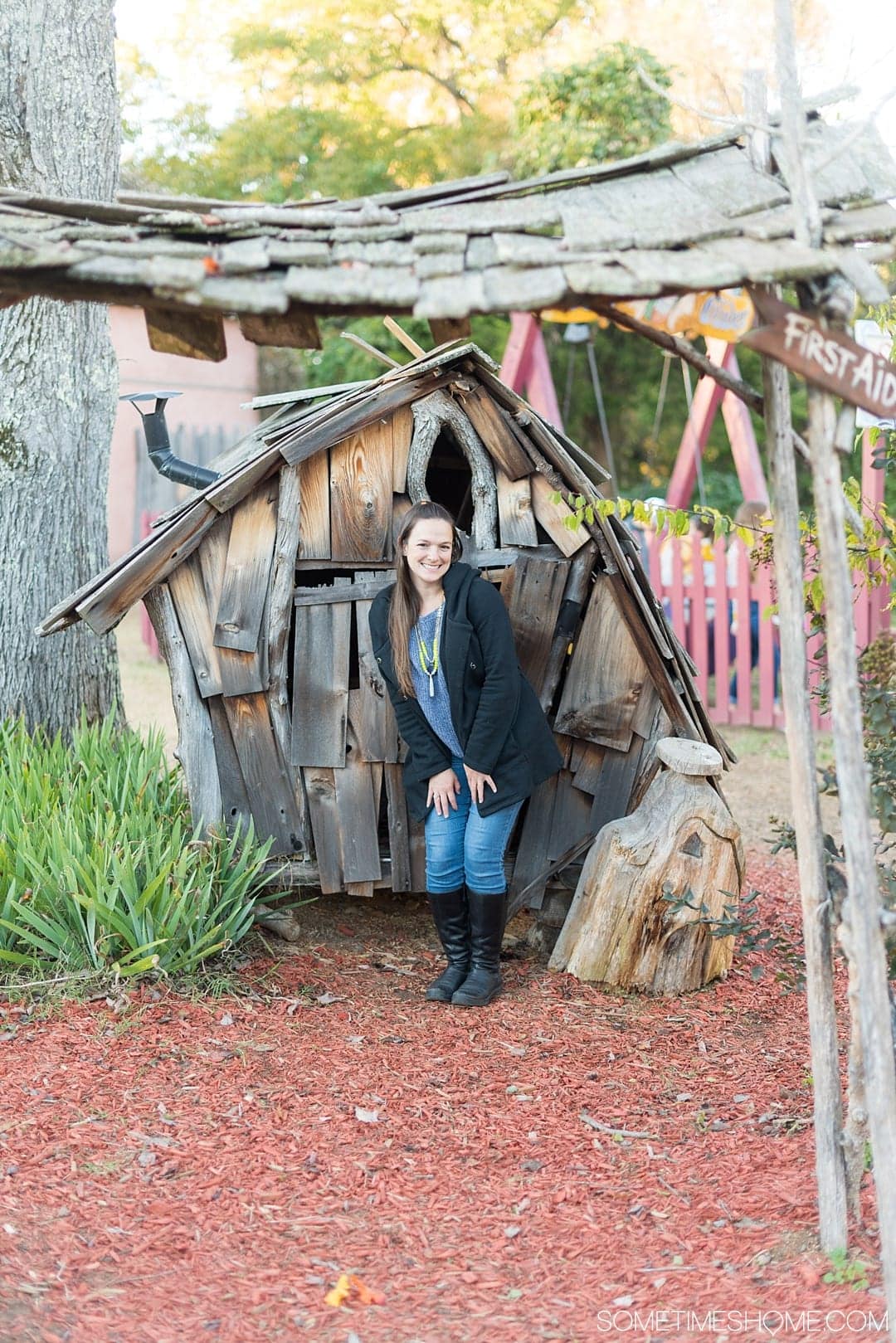 Festival History
What year did the Renaissance Festival in North Carolina?
It started in 1994 after the Festival Producer successfully started a Renaissance Festival in Arizona. Two performers in his Arizona Festival were residents of Charlotte, North Carolina. They kept pressing him to consider the area. His consideration was affected by the following favorable criteria:
Fall weather
Proximity to metro-area
Proximity to highways
Lack of outdoor Festival events (at the time)
The area ended up ticking all the boxes for what he was looking for! The festival is about 30 minutes north of Charlotte.
What other festivals it is related to?
The North Carolina Renaissance Festival's sister event is in Arizona. Our producer first started out as a performer at the Minnesota Renaissance Festival. He worked his way up into management, then decided to start his own festivals.

Is there any one, specific area of Europe the Renaissance Festival is most modeled after?
It draws inspiration from the following influences, though it isn't modeled after one place in particular:
European Renaissance, over a 300-year period
A touch of the Italian Renaissance, more specifically
A touch of Sherwood Forest
Food and Beverages at North Carolina Renaissance Festival
We arrived hungry and excited to dive right into lunch! Meeting with Chef Eli, head chef for the entire festival, was a great first impression. He was enthusiastic about having us there and happy to answer our questions.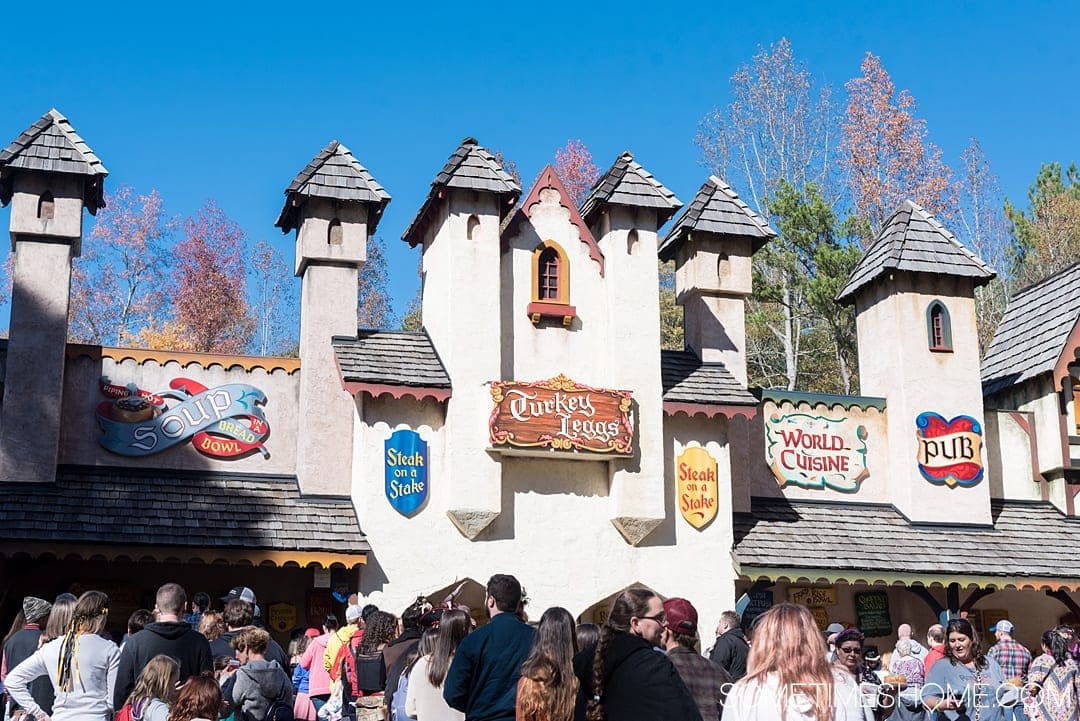 Where do ingredients used in Festival foods come from? Are they locally sourced or from a place you can get large quantities from for the population demand?
Most are provided to us via local suppliers and distributors. For example, all our bread products are baked locally and provided to us fresh on Friday before the weekend.
Do different weekends (like Pirate weekend) have any menu changes?
Unfortunately, no – it's simply too difficult to change the menu for special events, logistically speaking. Therefore there are no menu changes for themed weekends. The menu remains the same all season long once it is determined before opening. We do work to add new items annually, like the gluten-free pizza you're trying!
We saw a variety of soft drinks and two specific beers walking around the festival. How do you decide on beverages?
We have long-standing relationships with area distributors and beverage partners.
We had to try a beer, or two, of course. They were delicious and hit the spot! We were delighted to participate in the comedic pub crawl in 2019. It was humorous and tasty.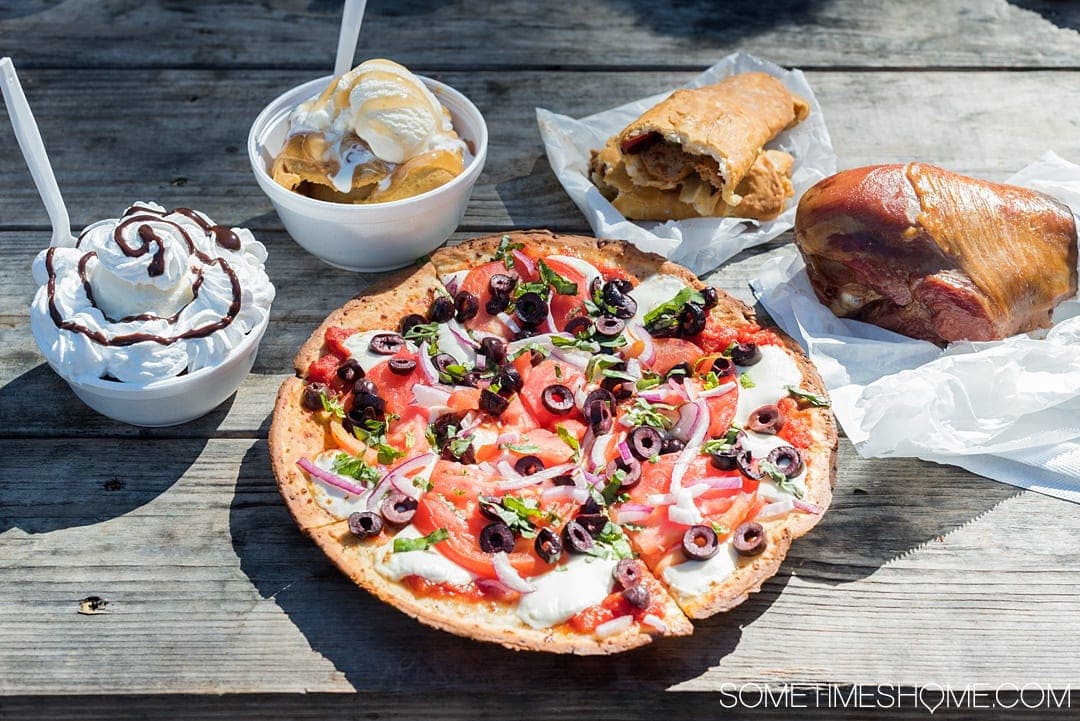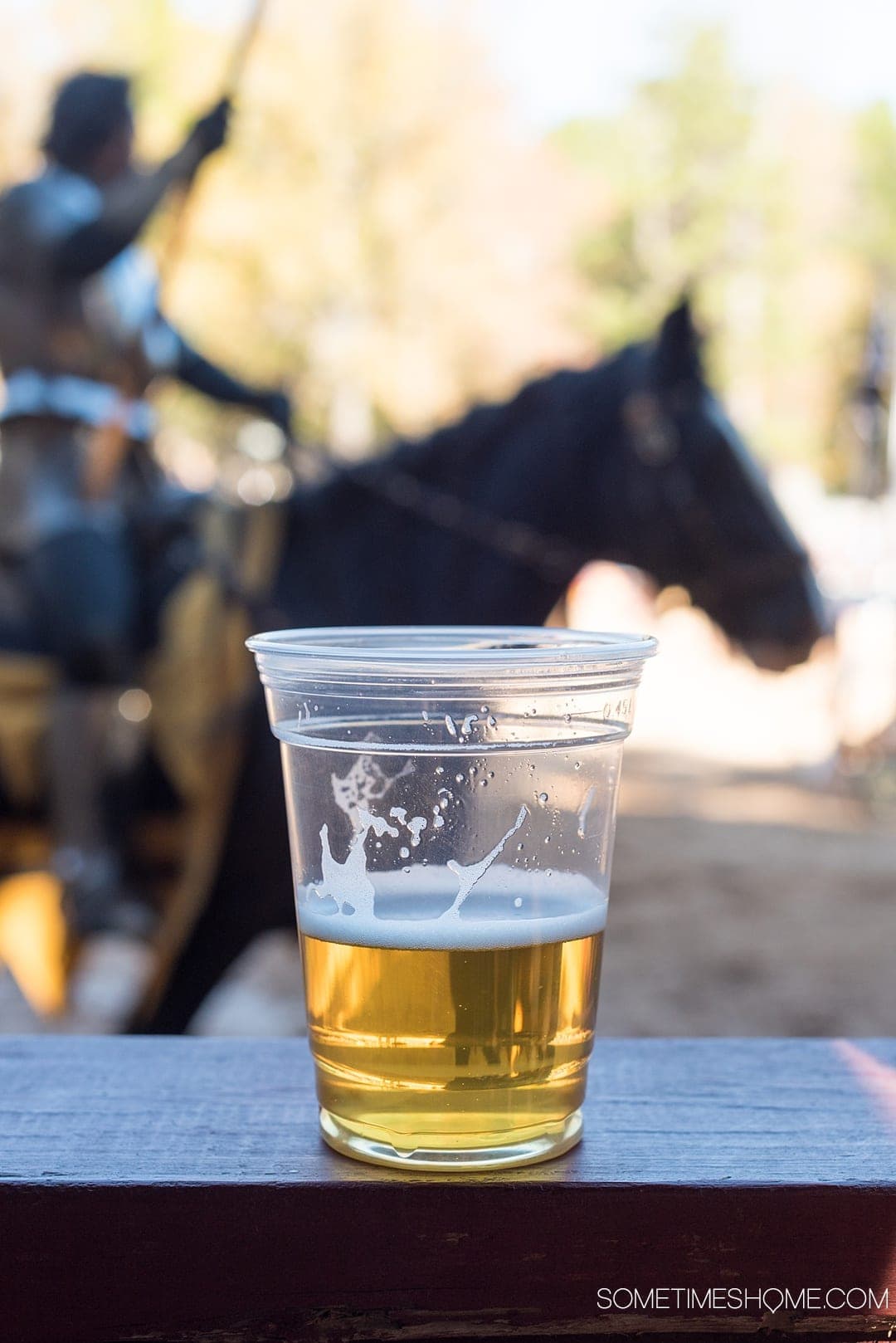 Actors and Artisans
There are so many shows going on during the festival! We saw a comedy duo, jousting, falconry, and musical acts. We had to inquire further about where they find their talented entertainers.
How many actors and artisans work with the fair? Has this number changed at all over time?
We have over 300 participants working as entertainers, with a total of 1,200 participants working at the Festival on any given day. This number has increased over time as the Festival's popularity has grown.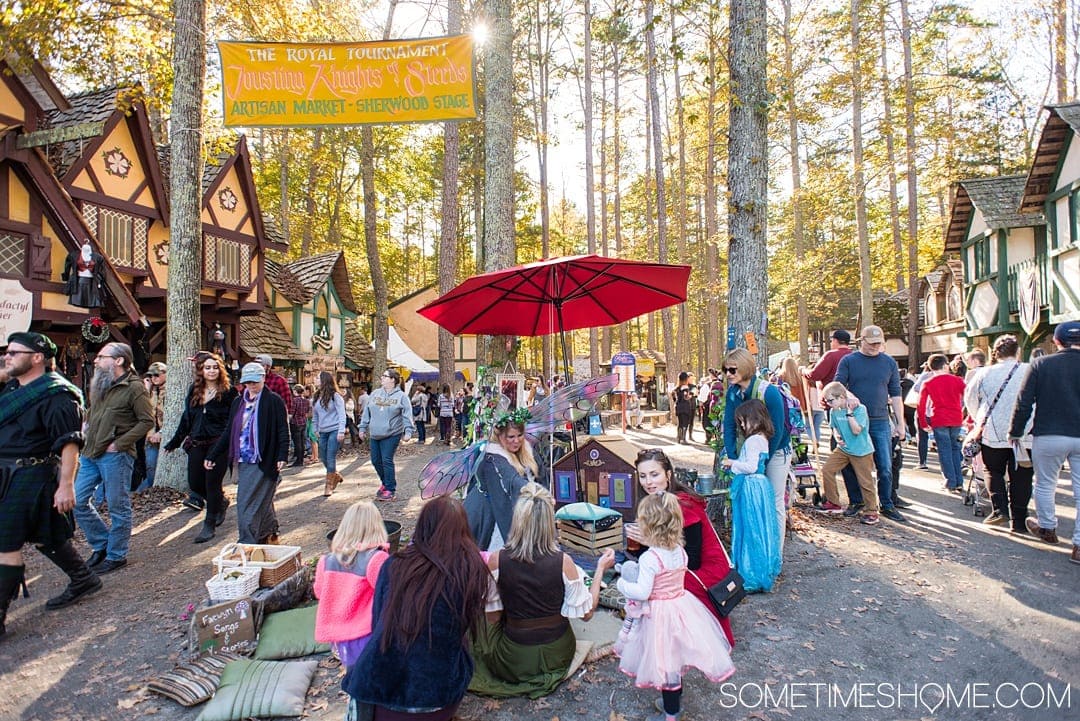 What's the age of the youngest actor or artisan and the oldest?
As of 2018, Grant Bergerman was our youngest actor at age 13. He participated in a teen performance troupe entitled: The Underdonne Players. Our oldest participant was Judith Hutchinson, at 79 years old in 2018. She played Mother Nature and handed out event programs and maps at the entrance.
What are the backgrounds of some of the most interesting actors, performers, and artisans?
It varies significantly. There are folks with nine-to-five jobs, such as Craig Tucker, an IT Engineer at Wells Fargo. He hand-crafted a mobile printing press and performs as our Village Printer.
Then you have folks like our Jouster, Jackson Cowan. He was born and raised on the road with his parents – also equestrian performers – and is now carrying on in their footsteps (as are several of our joust troupe members).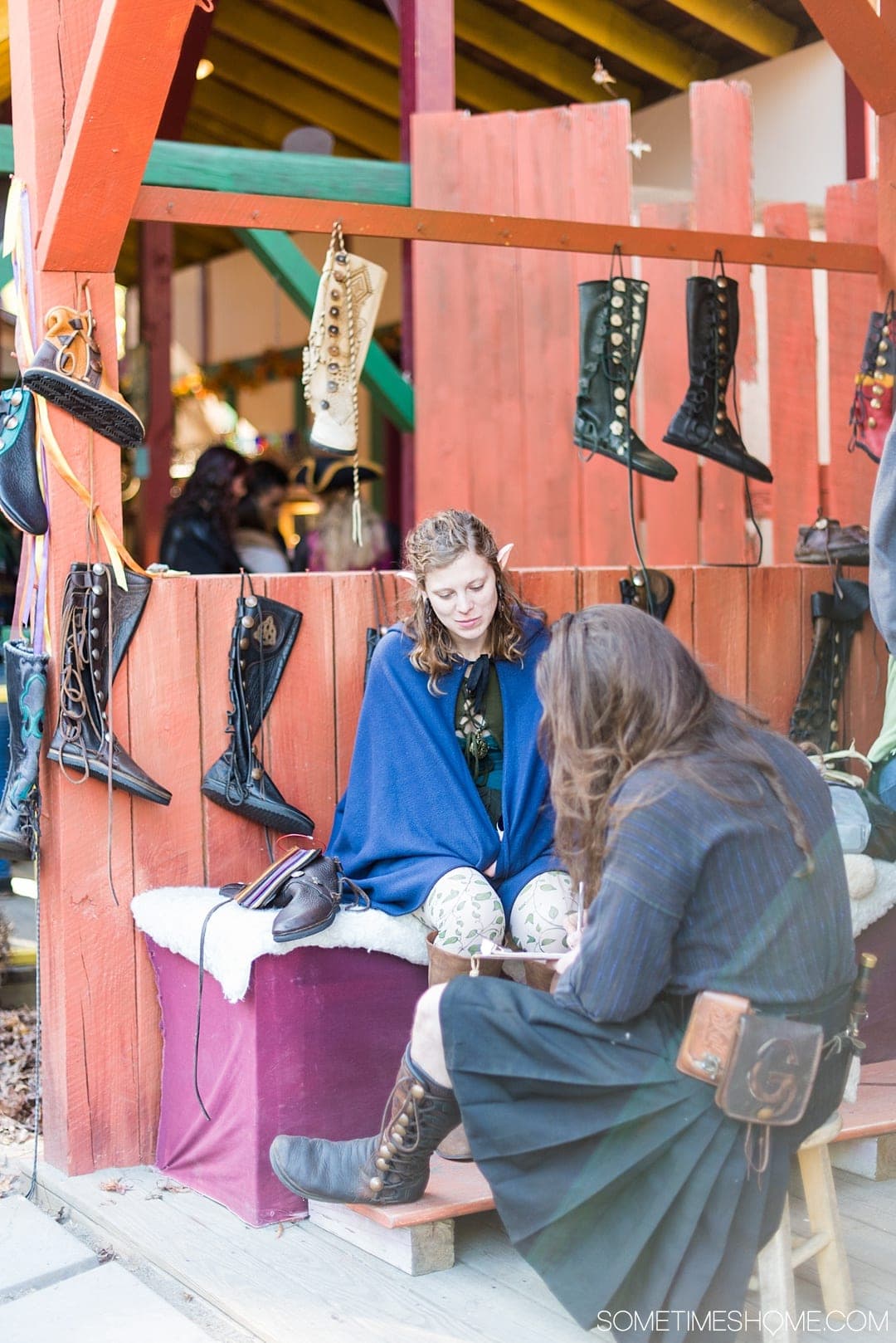 Do the actors, performers, and artisans travel with the show, or they are dedicated to the NC Renaissance Festival?
Half of our 300 performers are professionals who tour the country and globe up to eleven months a year. The other half is "local" in the sense they are near or in the region (southeastern United States). Some locals are also professionals, but most are semi-professionals and amateurs.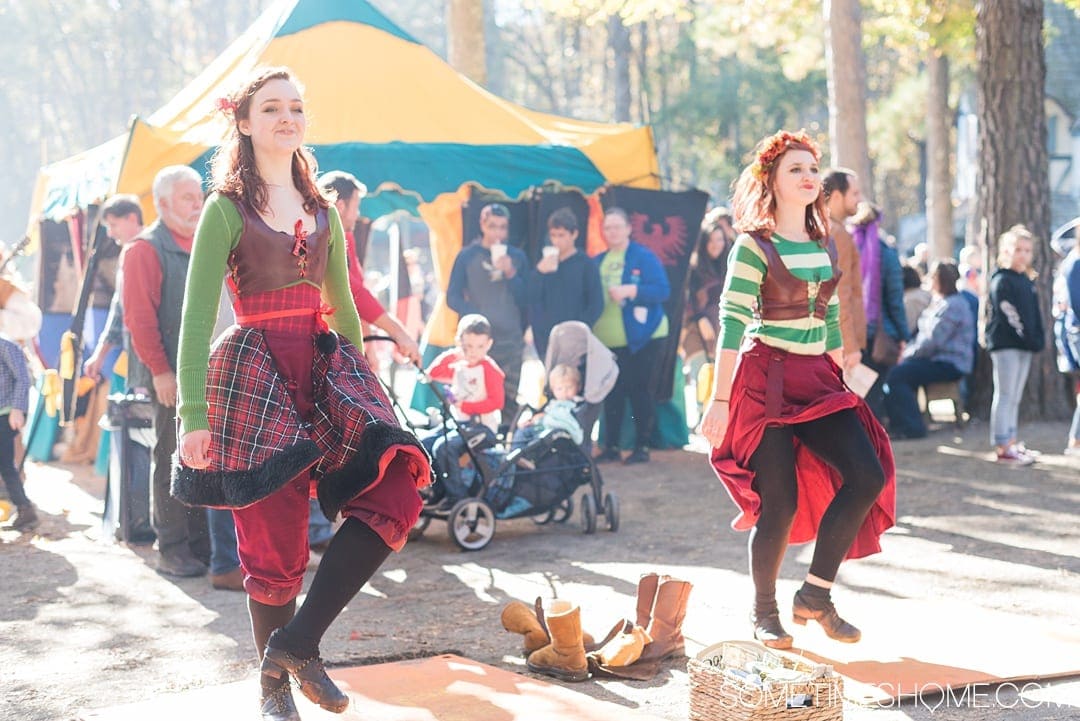 Are the actors trained in special areas, like jousting? Do they audition for the Festival with prior skills and knowledge or are they trained after they audition?
The professionals are trained in a variety of skill sets. I scout them for their specific skills. I also receive proposals everyday from acts that want to be part of the Festival.
Most locals have some level of performance art training but not at the professional level for an outdoor-themed event. So we hold auditions, workshops, and rehearsals for those folks. Auditions happen in June. Workshops and rehearsals run from August up to the day we open.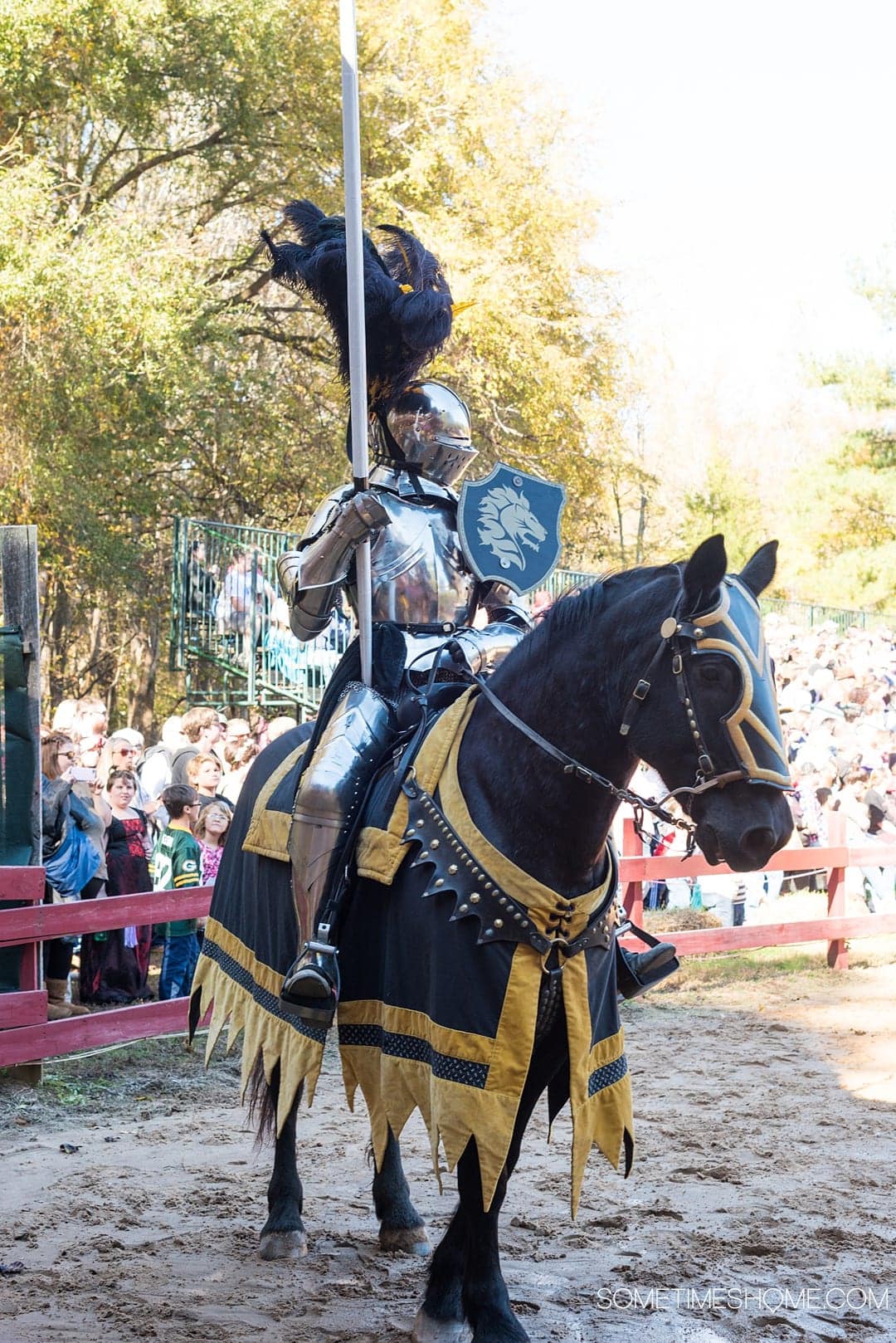 Do the team members stay in "character"?
Vendors, merchants, ride operators, concessionaires, etc. are not held to the same costume and character standards as the performing cast.
Animals and Falconry at NC Renaissance Festival
Fair animal treatment is important to us, so we had to ask about the following:
Where are the animals kept?
Who cares for them?
Were they rescued?
Horses are kept in stables located behind the Joust Arena on Saturdays and Sundays. They graze at our hobby farm located on the property Monday through Friday. They are owned and cared for by the Jousters.
Petting Farm animals, pony rides, and camel rides are provided by Rockin' A Ranch of Midland, North Carolina. The operator brings the animals on Friday afternoon and returns them to the ranch on Monday morning.
The birds are the property of Sky Kings, the non-profit organization that operates the birds of prey presentation. The royal falconer, Kevin Gaines, owns the organization. Most of his birds are rescued and stay onsite in muses located behind the stage.
Set Designs (Costumes, Paint, Etc.)
What are the disciplines/training of the designers who create the sets? Is it one team working on many Renaissance Festivals around the US or one dedicated to North Carolina?
Great question. We contract independent designers based on the idea or vision we have in mind. And yes, the folks we hire tend to work on other Renaissance Festivals around the country and theme parks in general. Typically they all have theatrical set design and/or art backgrounds.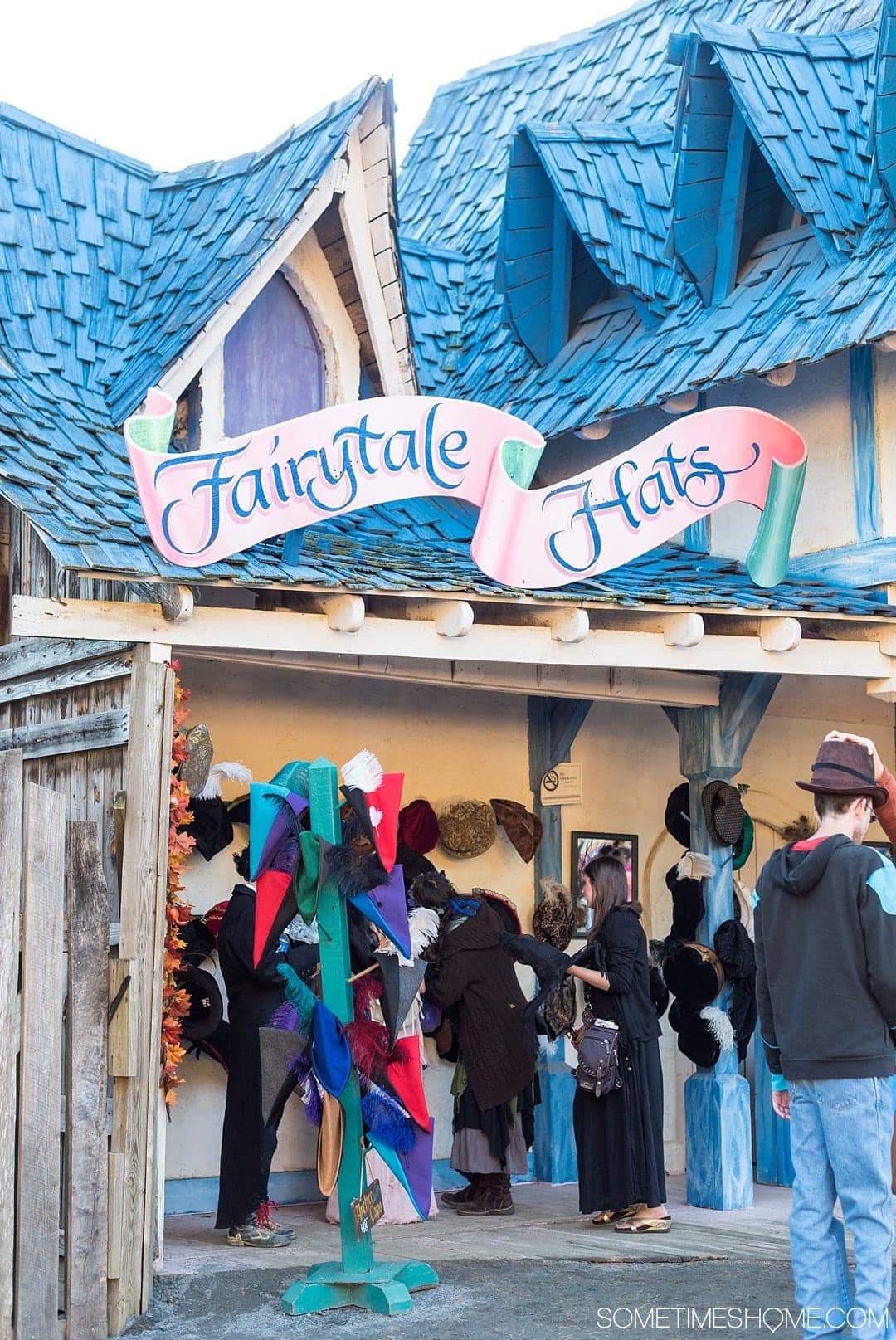 How long in advance do they start designing?
It depends on the project. Typically, for new construction, the design process begins a year or more out. Once a design is agreed upon, it is then presented to a local architect that can transfer the preliminary design to a buildable plan which meets local codes and requirements.
Are the facades, sets, and signs reused every year or are new ones created?
We use the same sets every year until wear and tear warrants a replacement.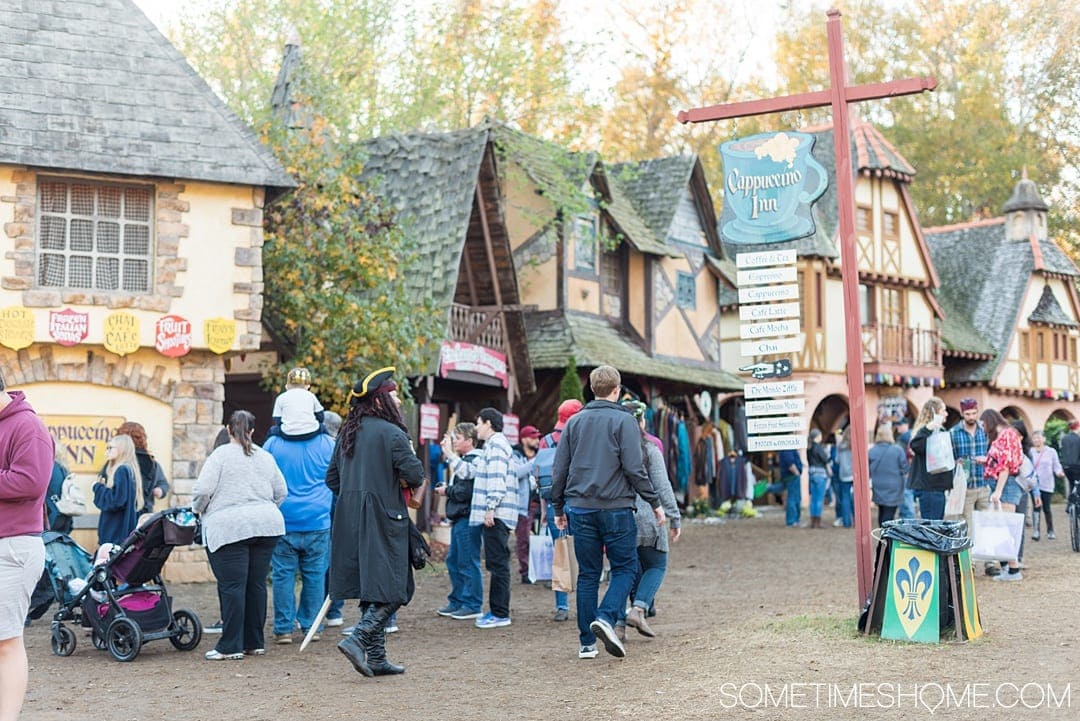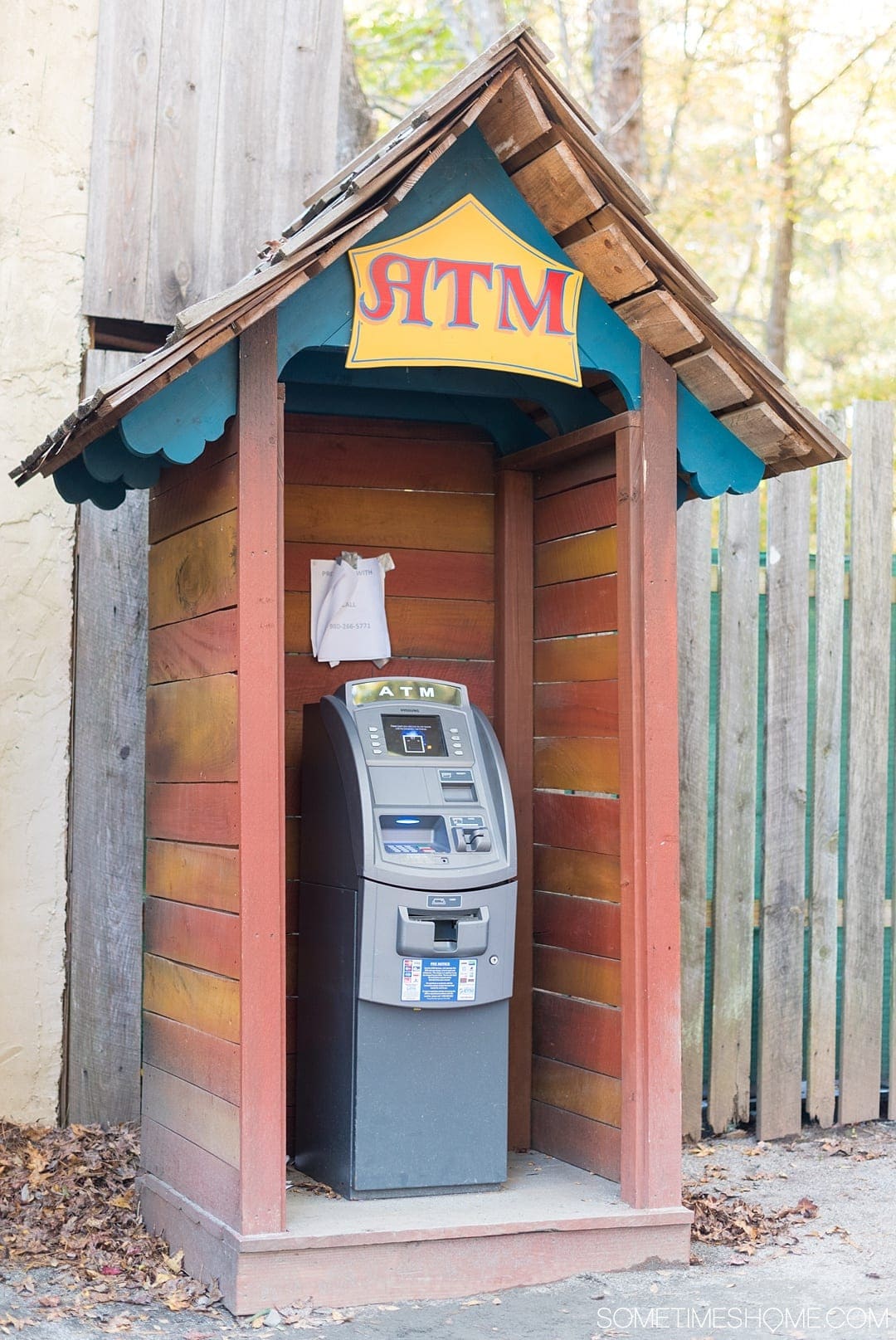 Costumes: are they custom designed to a specific period within the Renaissance?
Some Renaissance Festivals require the costumes to be specific to a time period down to every stitch and button.
Our events are not historical reenactments. We honor the history and strive for quality costuming of the 300-year renaissance period, but we also blend in theatre, circus, carnival, and a bit of Monty Python. Our characters can be historically accurate or theatrically fictional caricatures.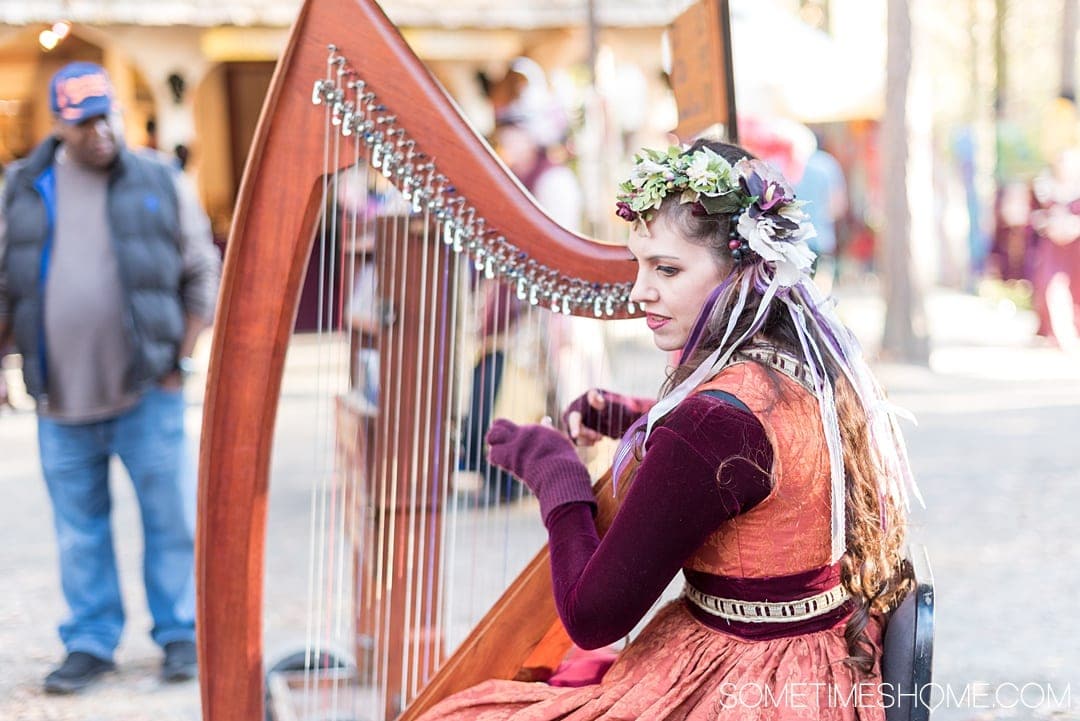 What else is themed/designed? (Maps, tickets, etc?) Is there a graphic designer or company that does it?
Yes, we have employed the same graphic designer for nearly 30 years. We also have employed for nearly 30 years the same artists to hand paint all our signs and most of the stage sets and buildings too.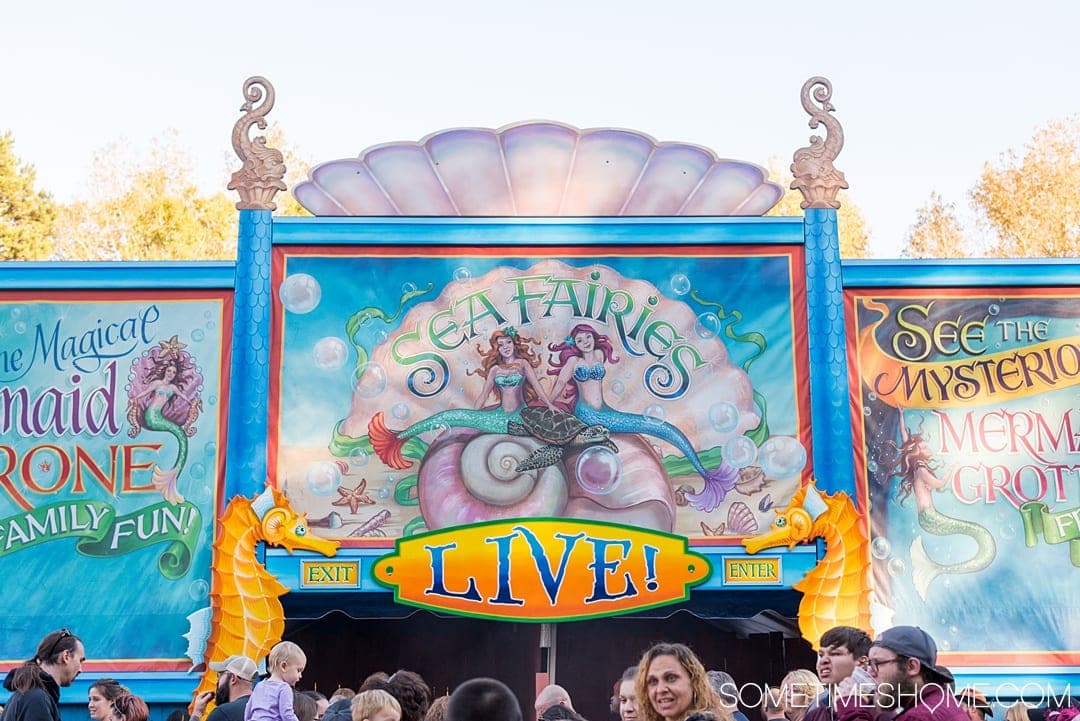 Wow, we learned so much about how the Festival works and operates. We thought there was so much skill, experience, and hard work that went on behind the scenes, year-round, but we know it for certain now!
The Carolina Renaissance Festival in Huntersville, North Carolina, is something we'll look forward to going to each year. Even though we are frequent travelers, there are eight weekends with plenty of Saturdays and Sundays to attend. So we know we'll be able to make one day work every time!
Practical Information
Parking: There is plenty of parking on-site, and it's free, courtesy of our regional grocery store, Harris Teeter. (We recommend getting there first thing in the morning because the traffic to get into the lot builds up quickly. We spent over an hour trying to go two miles to get into the lot.)
Ticket Prices for 2022: Adult tickets are $32, children ages 5-12 $20, under 4 free. (Prices include taxes and fees.) You can buy tickets in advance online and send them to your phone, print at home or buy them in person at Harris Teeter. You can also become a season pass holder, which may make a lot of sense if you plan on going to the Festival more than
PUB CRAWL: The Renaissance Festival Pub Crawl is back for 2022! It's an option for guests aged 21 and over. From the site, this tour is "…a comedic guided tour to 4 Festival pubs. Play games, toast your favorite Knight and enjoy fyne craft ale at each pub stop! Price includes admission, a souvenir pottery chalice, up close parking, reserved seats at the joust, four sample pours of craft ale and a toast by the Queen!" $60 per person, including entrance to the fair. Adults 21 and only.
What's the Carolina Renaissance Festival Address for GPS? 16445 Poplar Tent Rd, Huntersville, NC 28078
What happens if it rains? The Festival is every Saturday and Sunday during the eight weeks of operation, rain or shine.
Heading to the Renaissance Festival? Also check out:
Have you been to a Renaissance Festival? Let us know which one in the comments below!