16 Memorable Things to Do in Amsterdam
Amsterdam has stolen our hearts over multiple trips there over the past decade. With each trip we find more and more memorable things to do in Amsterdam with the list ever-growing. From food to museums, neighborhoods tours and canal walks, you'll never be bored or pressed for what to do.
Gone are the day the main reason to travel to Amsterdam was for the novelty of smoking pot, especially as the legalization of marijuana increases in the United States and the novelty wears off.
The main reason to visit Amsterdam, as it should be, is to visit an intriguing, attractive city with a rich history and lots to see and do. (And if you're asking, "Where the heck is Amsterdam?" see below – it's in The Netherlands just north of Belgium, and east of the UK.)
Note many of the memorable things to do on our list are included with the purchase of an I amsterdam City Card, which we also discuss in depth on our site and we have linked below.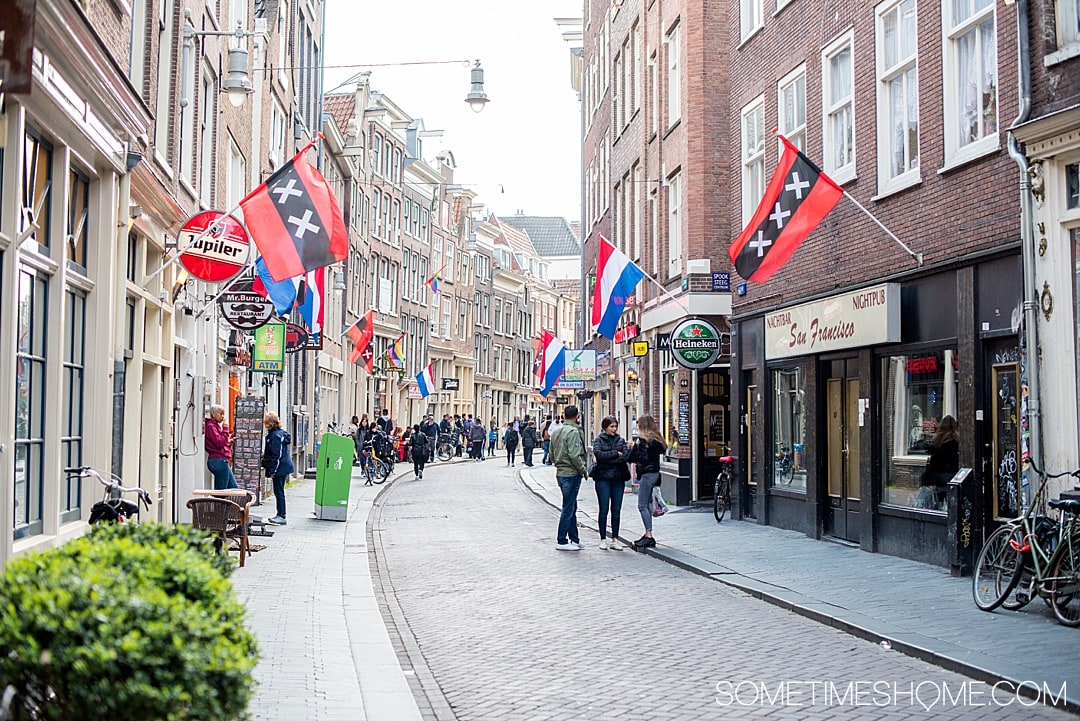 1. Walk Along the Canals (or Take a Walking Tour)
The geography of Amsterdam is very interesting and walking its manmade canals is a great way to orient yourself with the city. It's comprised of various concentric U-shaped canals (about 60 miles worth, most accessible by boat) if you look at the city plan. It was founded as a small fishing village in the late 12th century though its most famous four canals were developed in the early 17th century.
Three were mainly used for residential development and the fourth was for defense. Take some time to walk around the famous four, and enjoy not only their bordering rowhouses on "land" but the boathouses that line the canals too. (Which are SO cool!) One of my favorite things to do in any city is look up what walking tours are being offered.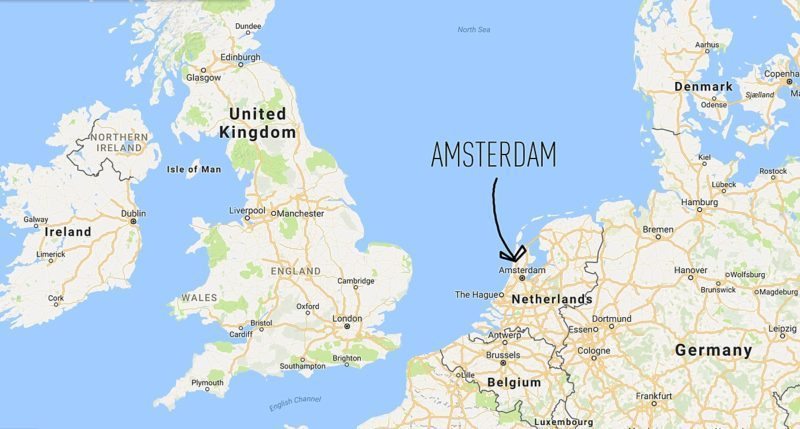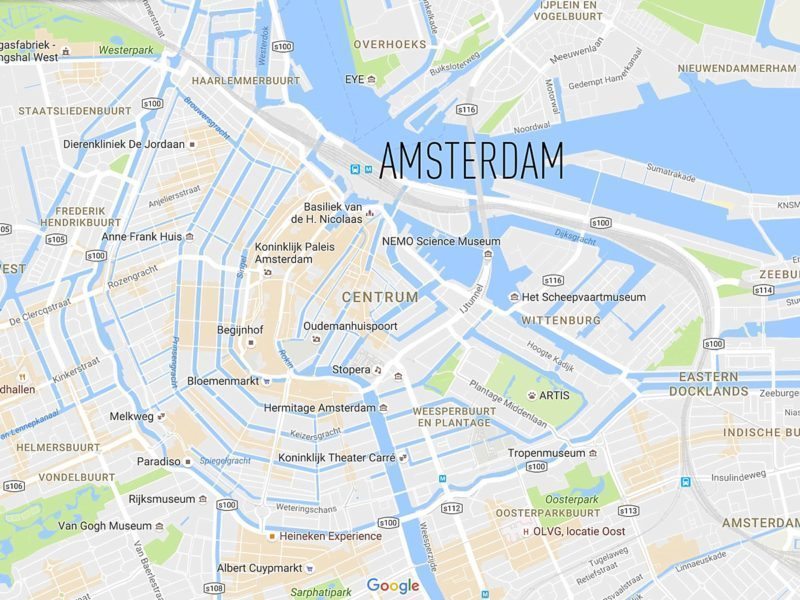 The four main canals (or grachts) are:
Singel
Herengracht
Keizersgracht
Prinsengract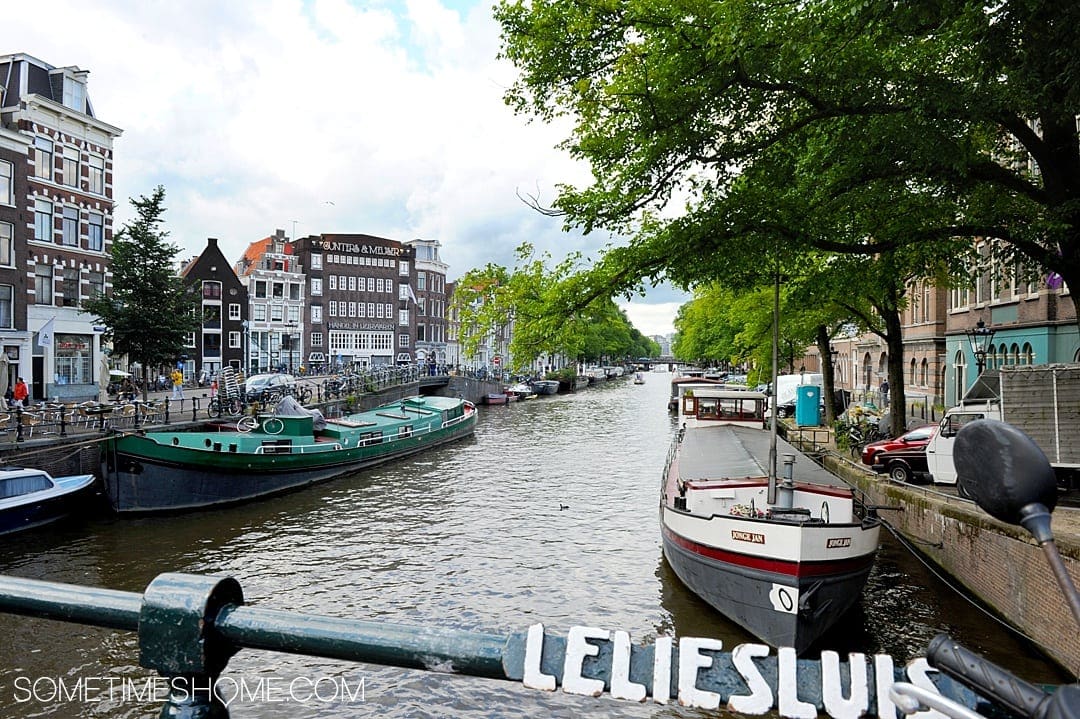 2. Take an Open Air Canal Boat Tour
This was one of my favorite things I did on my first visit – it's a must do in Amsterdam! (A canal cruise is included with an I amsterdam City Card!)
There are two options for a canal boat tour:
Closed boat tour
Open roof boat tour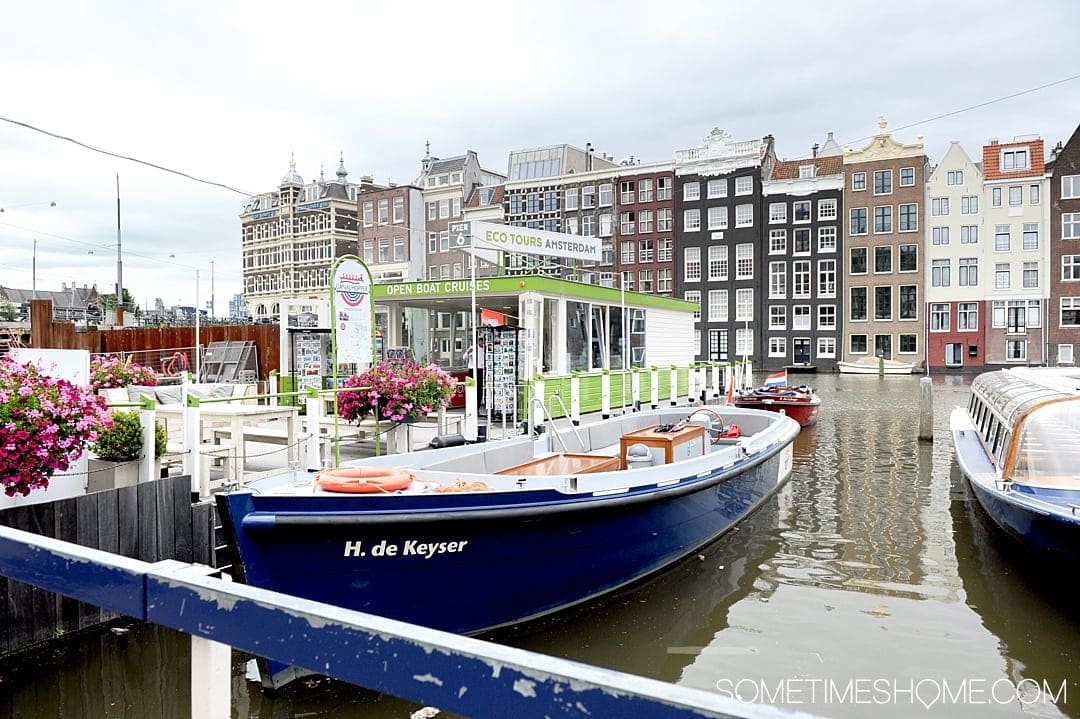 And there are various boat operators and tour companies. It was raining the day I went but I was not about to take a boat tour that would limit my capabilities as a photographer! It wasn't just a photo + lens issue, it was my senses. Being confined, even by a transparent roof, meant I wouldn't be able to feel the full effect of gliding under a low bridge. (And there are a couple you duck under as you glide through the canals.)
The bonus of the drizzling weather was simply that I had the boat and captain to myself. It was a personalized tour! If you plan on doing a lot of walking one morning it's a great activity to take a load off for an hour or so in the afternoon.
I've seen been back to Amsterdam from the original open air boat tour I took and I recommend Stromma. They have smaller open air boats that are well suited to the scale of the canals in Amsterdam. They also provide for a much more intimate experience whether you're solo, with your partner or a family or small group.
We've taken the closed roof boat too and they're both good. The closed roof experience had audio dialogue we could listen to on headsets, which is especially good if English isn't your first language since they program various language options into it. But I still prefer the open air boat.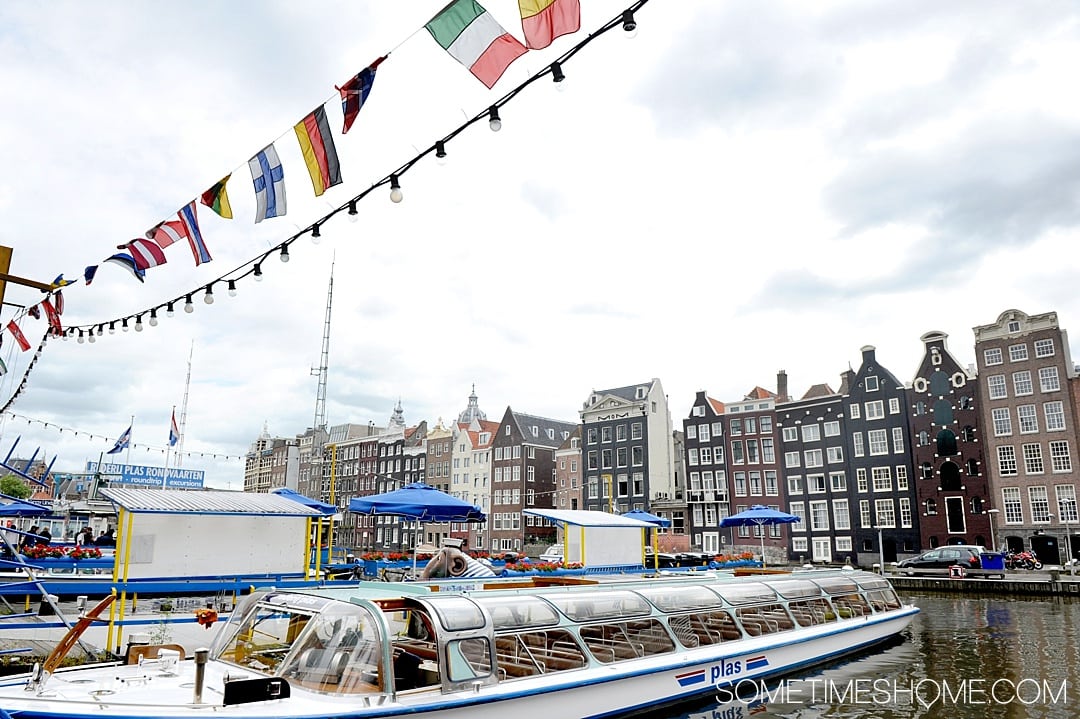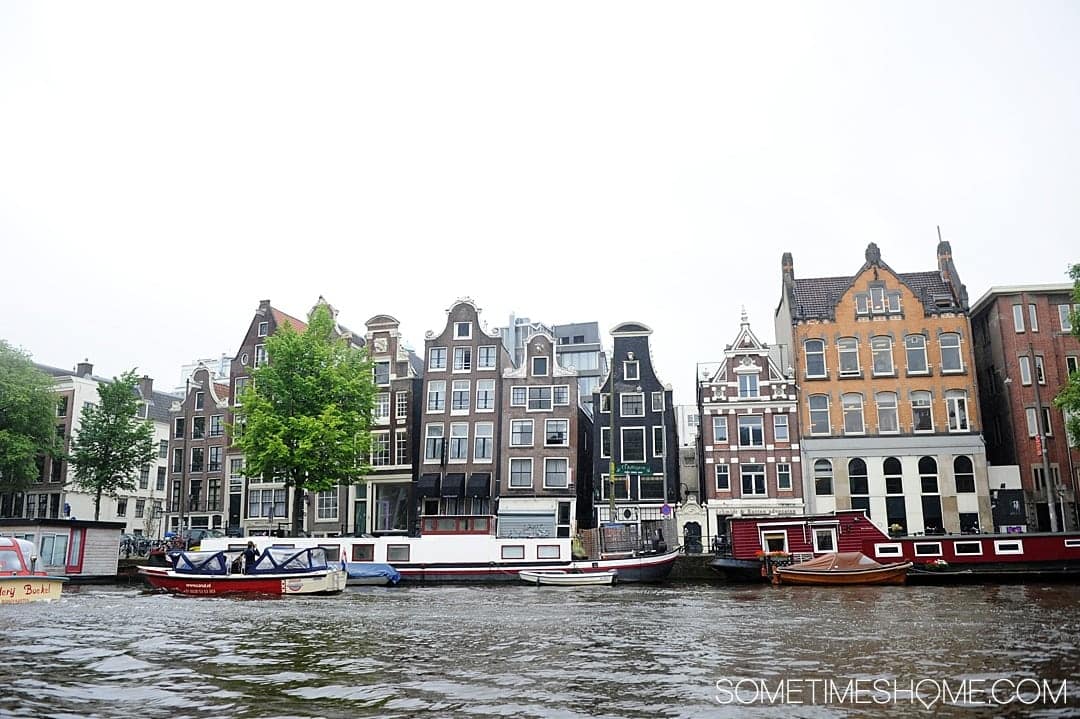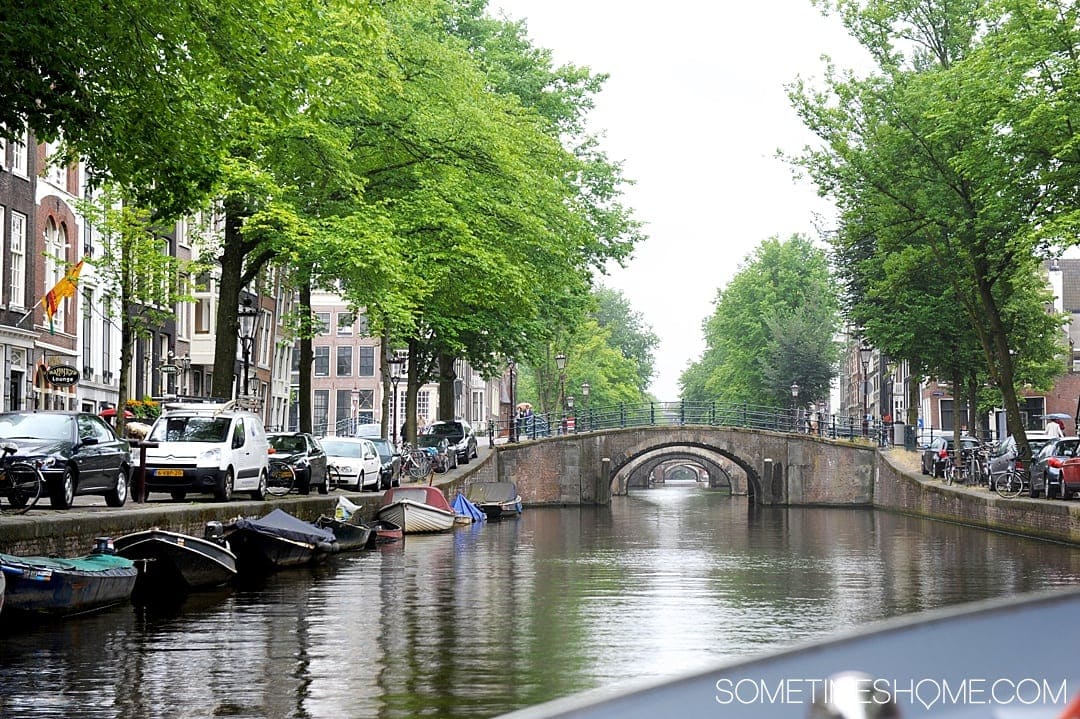 3. Rent a Bicycle and Tour Amsterdam on Wheels
One of the interesting things we learned on our canal tour was how many bicycles are removed from the bottom of the canals each year. Amsterdam is such a bicycle-friendly-city but many of the ones parked on the side of the waterways fall into the water (or get thrown in whether on purpose or accidentally) each year.
If you're brave enough try to rent a bike and ride through Amsterdam keeping these specific bicycle tips in mind. It's a fun way to see the city.
4. Walk Through Dam Square
Visit Dam Square after you've familiarized yourself with the canals. It has a solid historic foundation in the city….quite literally. This is named after the "dam" part of Amsterdam. It was the dam of the Amstel river built around 1270, which connected two settlements on either side. It grew so large as it was built up over time that it eventually became a plaza of sorts – a gathering place for the city developing around it. In the 19th century the mouth of the river was filled in, thus enclosing Dam Square in land on all sides.
I admit it was fairly littered and swarming with teenagers when I went so I wasn't looking to hang around long. I hope they've cleaned it up since! Even so, it only takes a few minutes to walk through it and you'll likely be on your way to your next destination. Demonstrations and events are held here often so don't be surprised if you see one on your visit.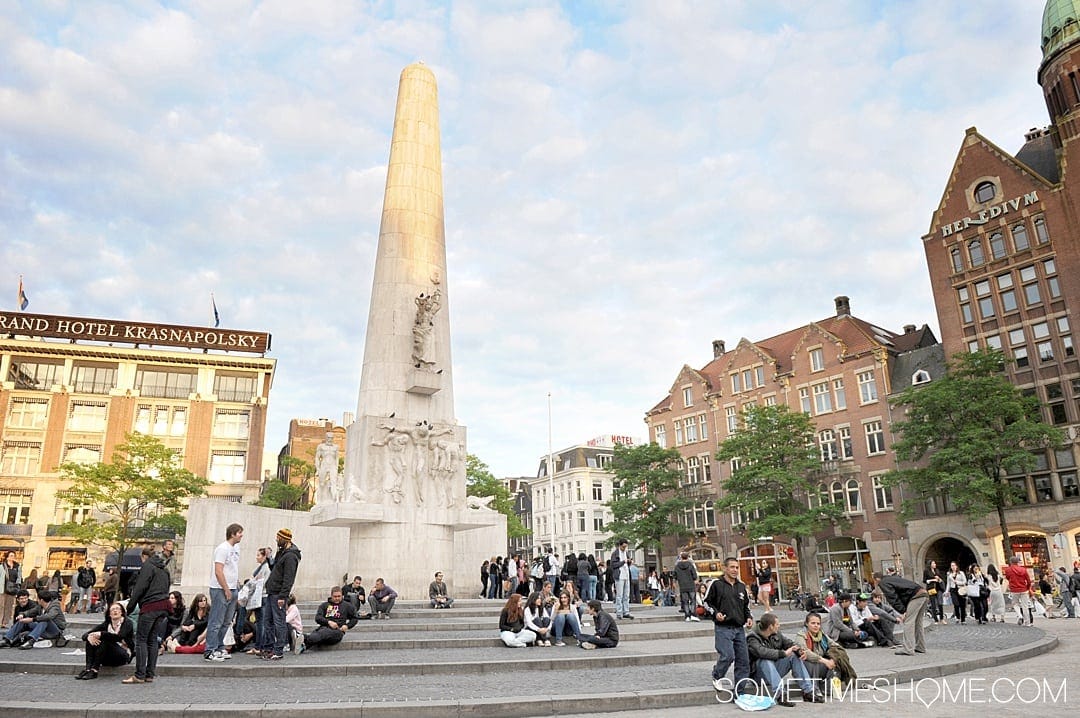 5. Visit De Nieuwe Kerk
I was looking for a quick activity to kill some time while I was in the Dam Square area. I passed "De Nieuwe Kerk," or "New Church," off Dam Square and went in for a minimal admission price. The name is misleading: it's a new(er) church than the smaller, older "Oude Kerk" it replaced from the 13th century.
But its "newness" dates back to the 15th century. It was rebuilt in its current gothic style after a fire in the 17th century. Its highlights are its impressive and intricate carved wood pulpit, stained glass windows and brass choir screen. It's open daily but operating hours vary based on time of year. Be sure to check out their website for more info.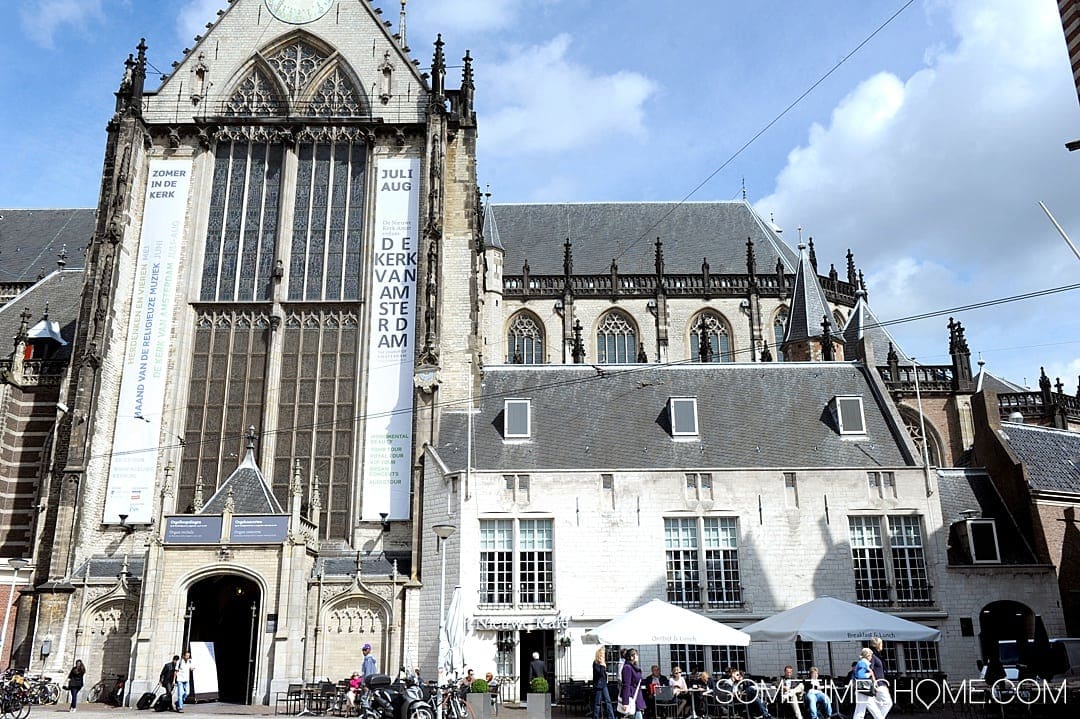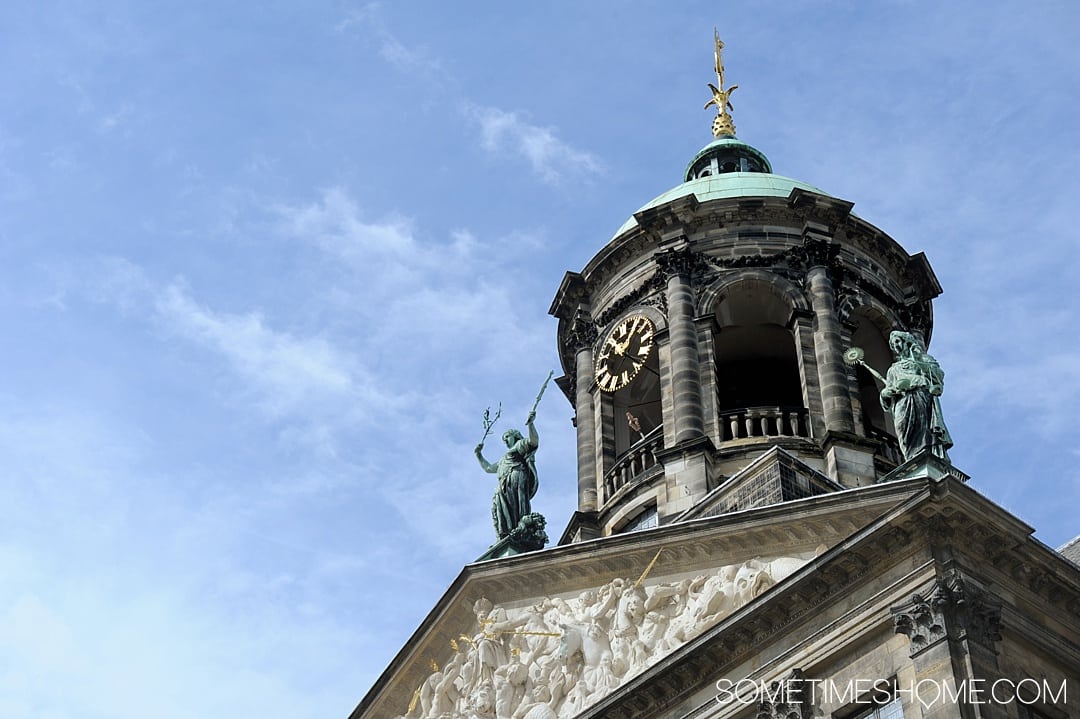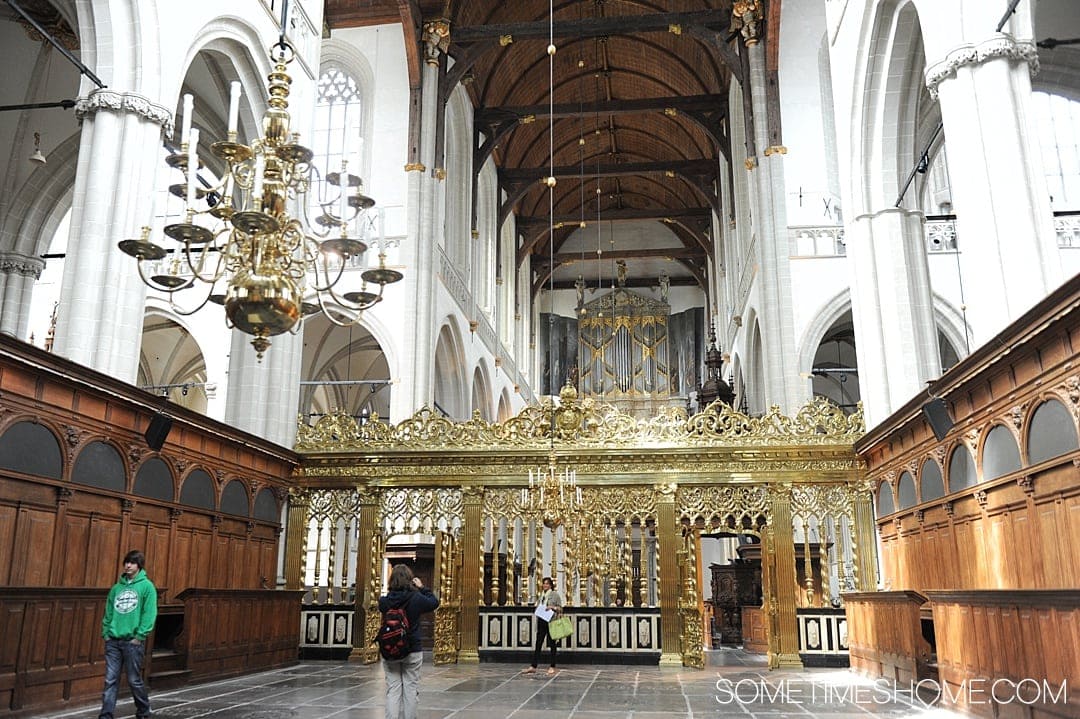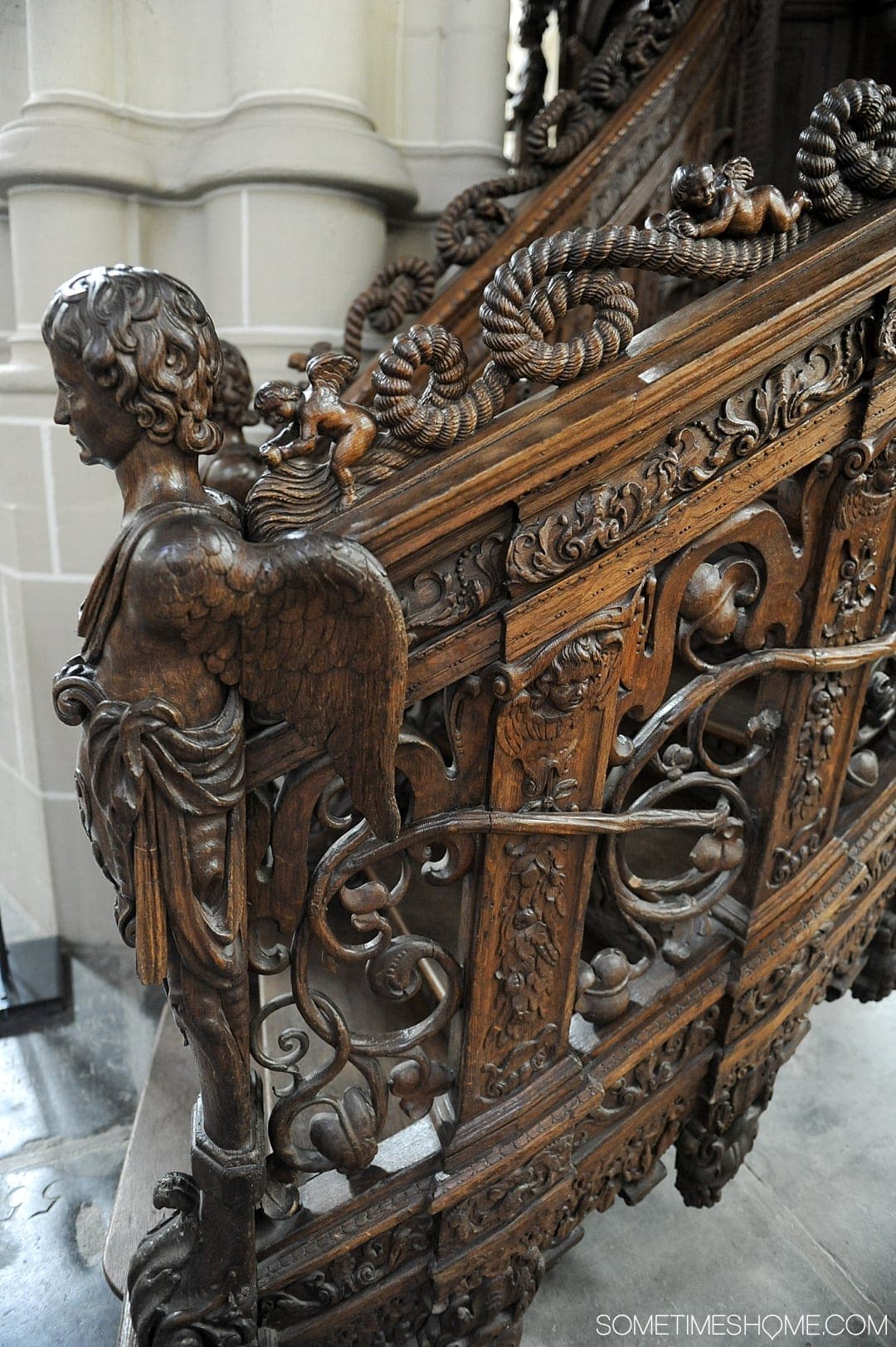 For point of reference, the Magna Plaza, a shopping center, is perpendicular to the church. So if you see the building below the church is on your right. (You can see the church spire peeking out from the right side of the photo.)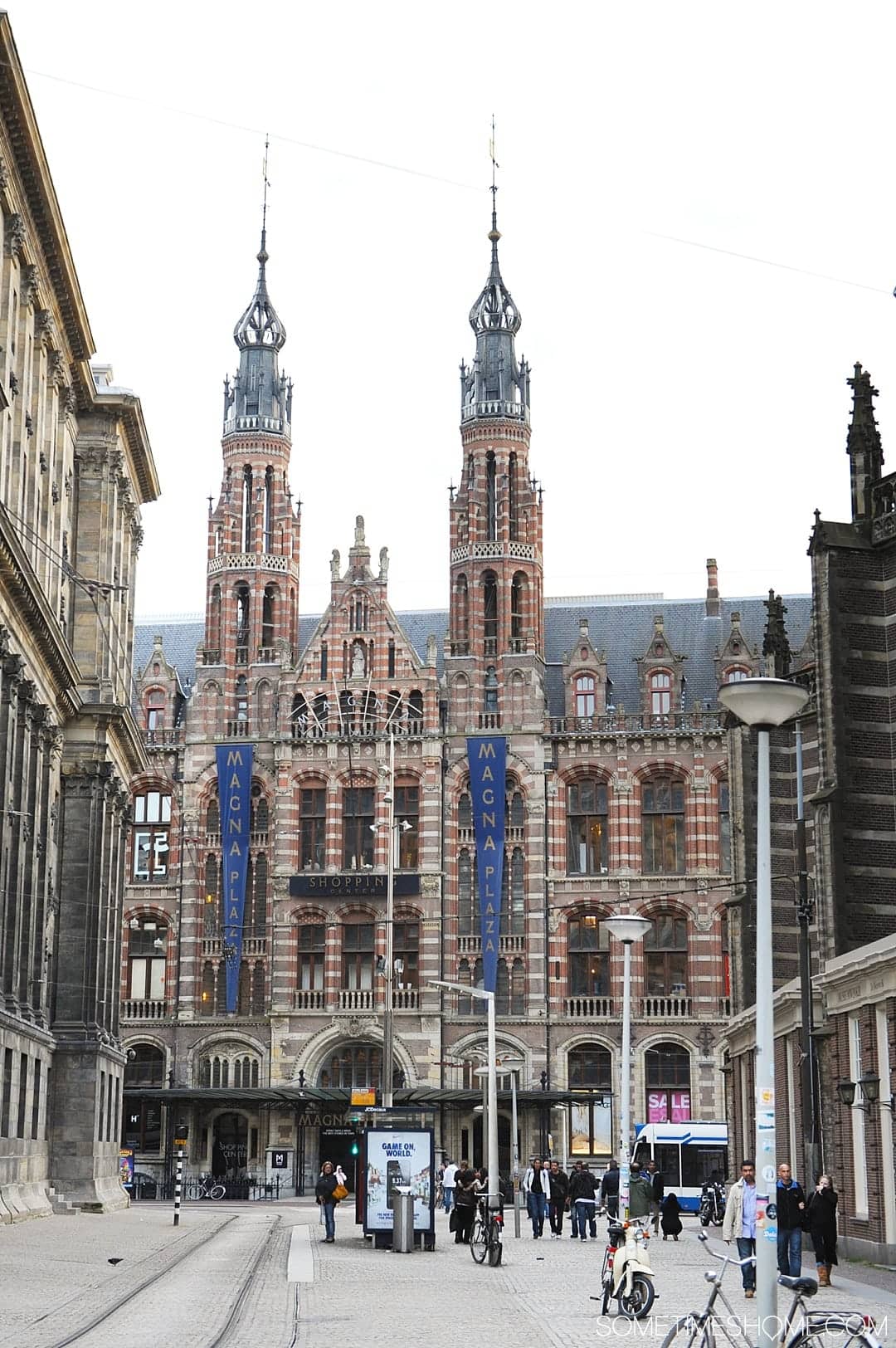 6. Visit Oude Kerk
The Old Church (Oude Kerk) is just a ten minute walk north (and a couple blocks east) from the New Church. It's Amsterdam's oldest building with its construction dating back to the early 13th century. Even its impressive exterior is worth a visit.
Both the Old and New Churches are on the I amsterdam City Card.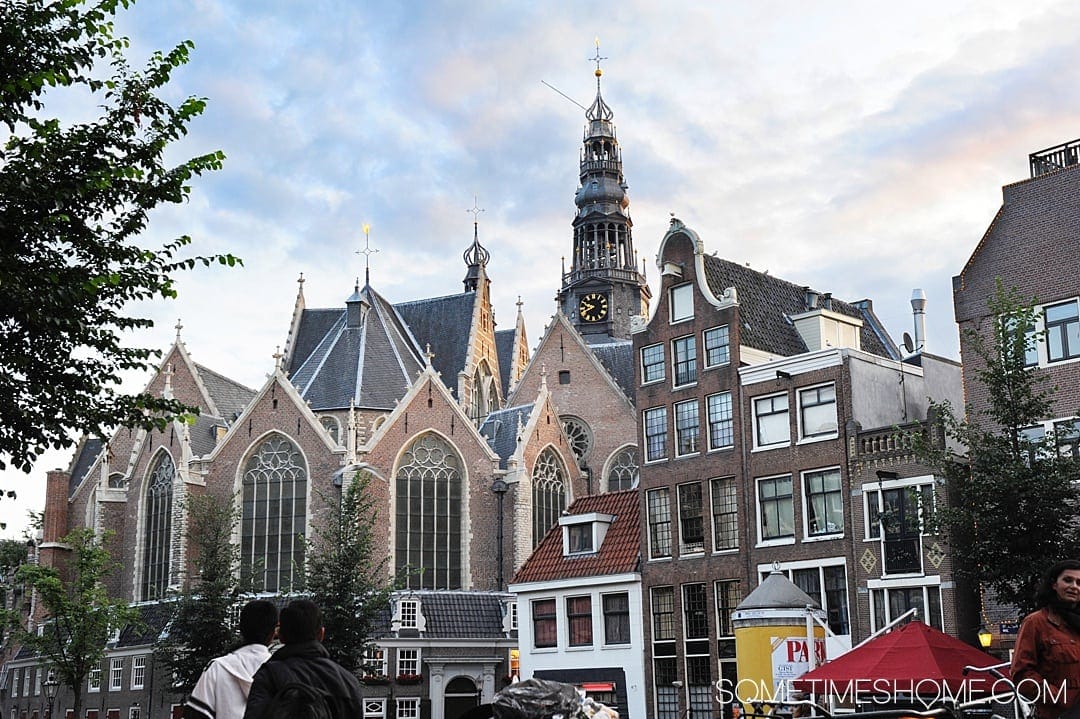 7. Get French Fries that are Worth the Calories
One of the most memorable things we've had in Amsterdam, each trip, is French Fries! They are unlike anywhere else there and you can get a condiment from loads of options. (This is usually the case no matter where you get them.)
I recommend a visit (or two) to everyone traveling to Amsterdam! Our favorite spot, Manneken Pis Amsterdam, usually has a long line but that's because they're phenomenal. (The line moves fast.) We loved the truffle mayo and spiced ketchup options. (There's plenty of great food to try in The Netherlands but this one is more easily found in Amsterdam's city center.)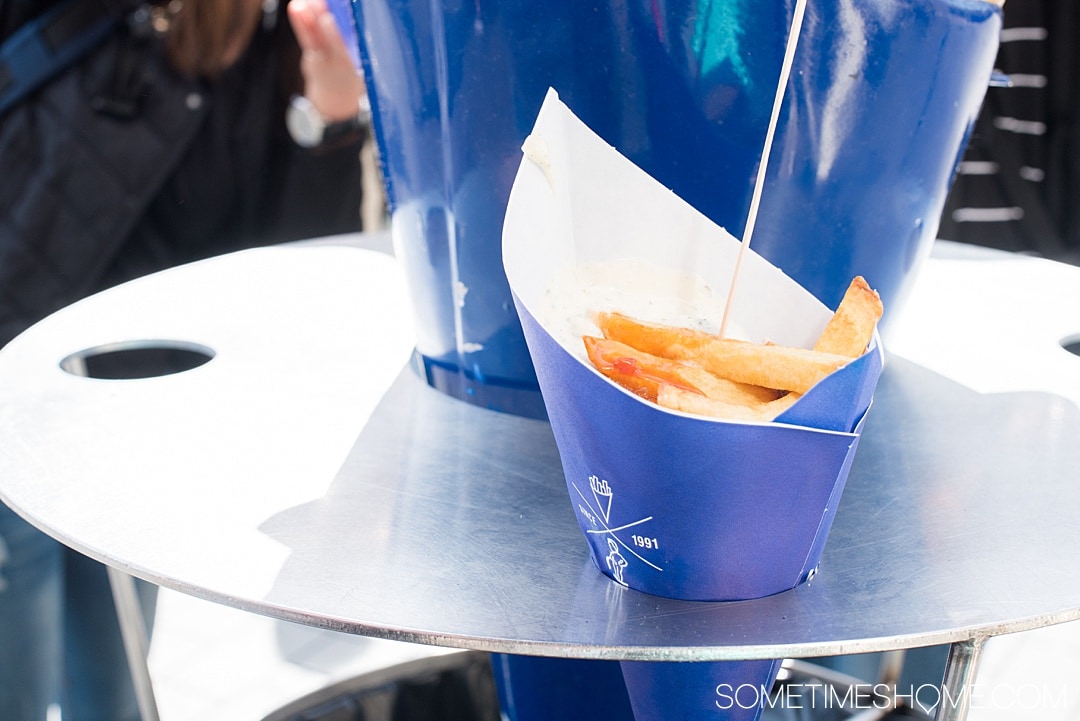 8. Browse the Flower Market
Amsterdam (and The Netherlands in general) is known for its tulips. Take advantage of the opportunity to browse the flower market instead. It's called Bloemenmarkt, and is located along one of the city's canals.
It's been around since the end of the 1800s and you can find all sorts of beautiful things like flowers, brightly colored miniature row-house souvenirs, ceramic clogs, and wooden tulip keepsakes.
They'll even ship tulip bulbs to your home if you want a fun living momentum from your trip. (This is especially good to know since you cannot go through international customs with live plants.)
How cool would it be to see tulips from Amsterdam bloom in your garden every spring? (It's worth noting there are some fun food shops on the opposite side of the street in this area too.)
If your'e really into flowers and you're in Amsterdam during spring you must take a trip from Amsterdam to Keukenhof Gardens. It will be the tulip garden of your dreams! It's pretty incredible.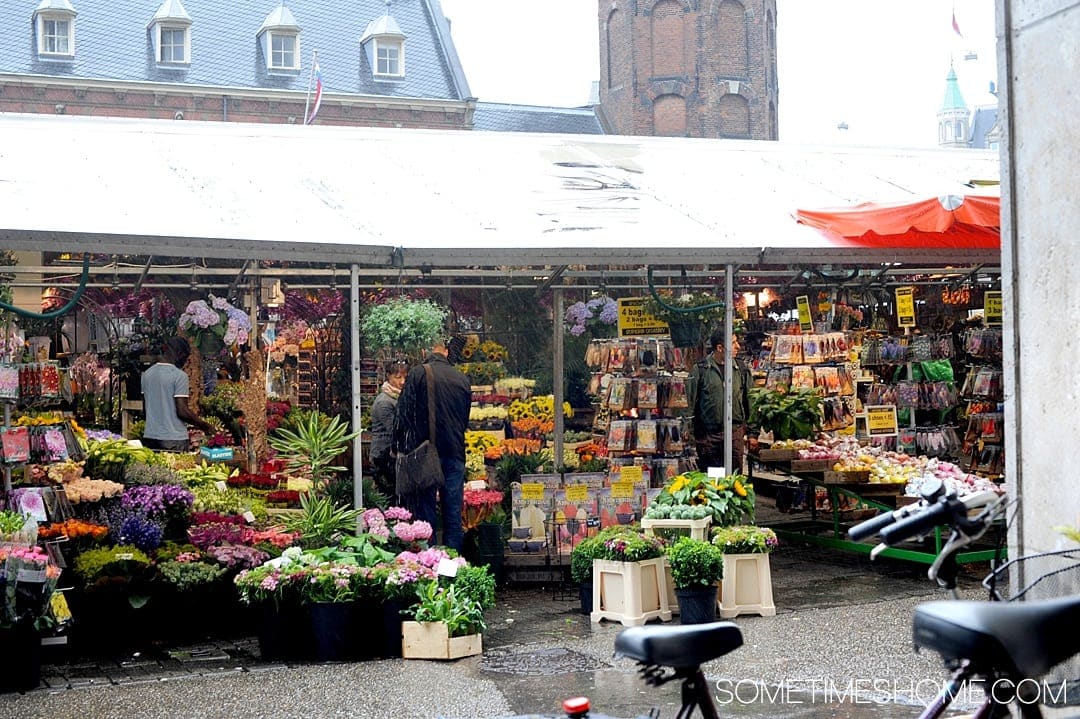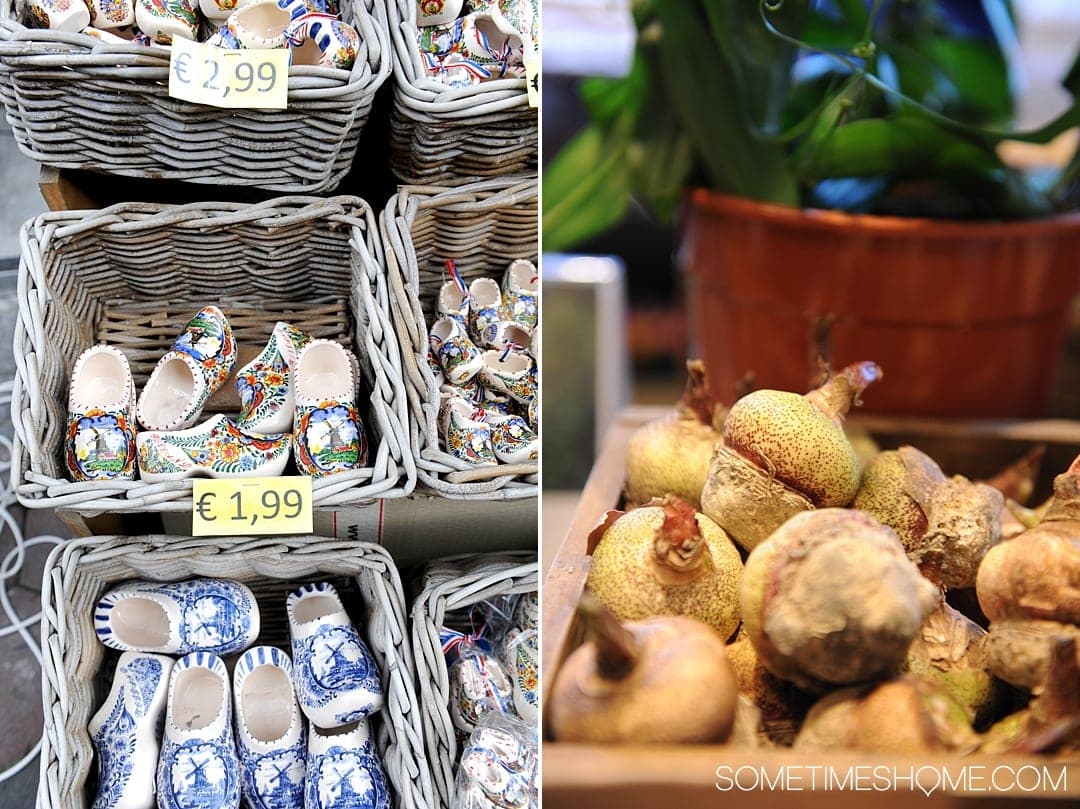 9. See the Anne Frank House
Anne Frank is well known for having kept a diary during WWII, journaling her adolescent life while hiding from the Nazis. It's very moving to walk through the home, now a museum, and learn about the history of the war in The Netherlands and Amsterdam. It's special to feel the energy of the home she lived in.
You need a reserved online ticket to enter the museum most of the day but they accept walk ins in the late afternoon. It's great they're open late too!
For current hours visit the museum website. Below are photos of what the exterior looks like (though there are usually crowds of people waiting to get in so its easy to spot). Museum address: Prinsengracht 263-267, 1016 GV Amsterdam, Nederland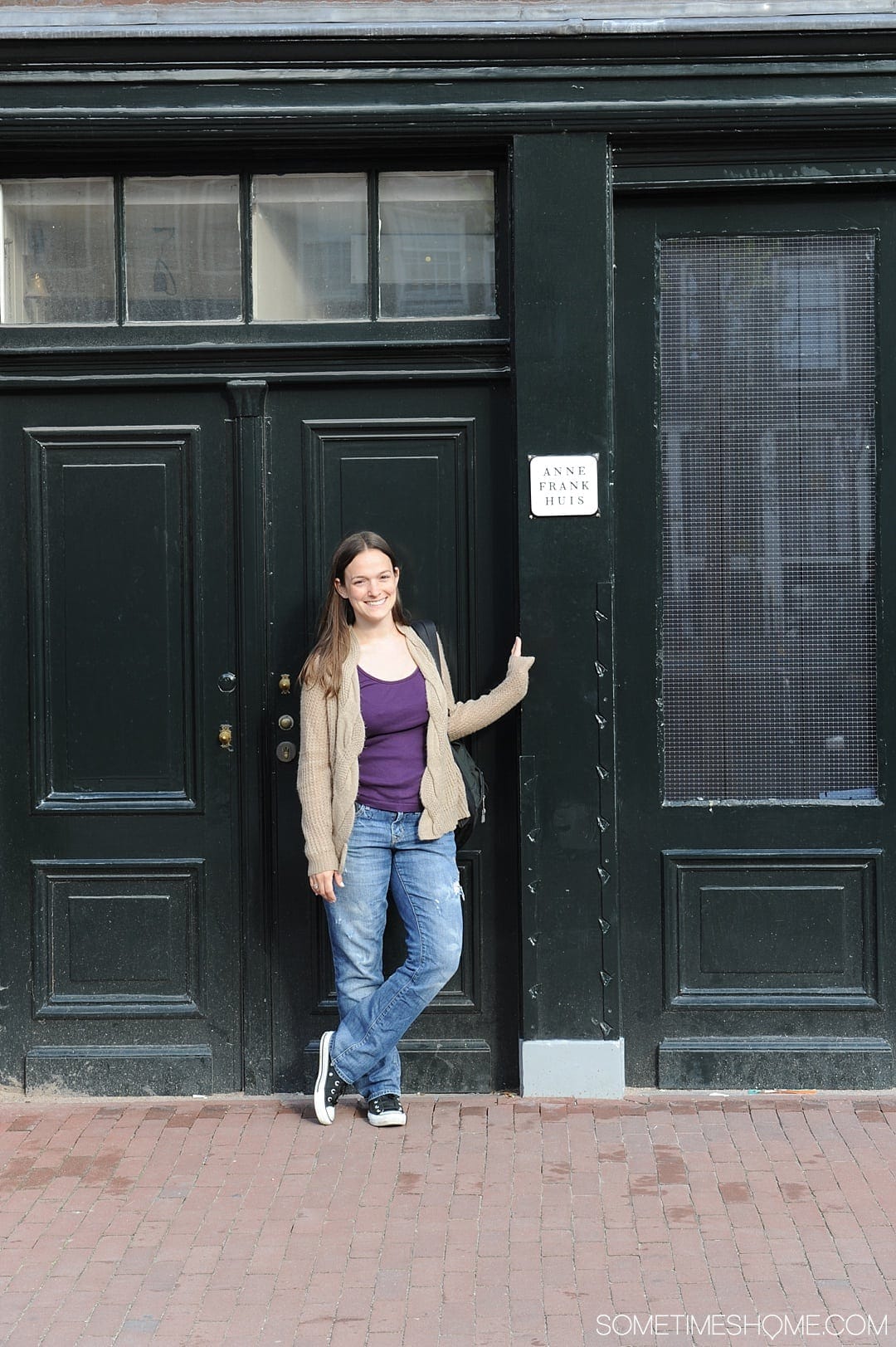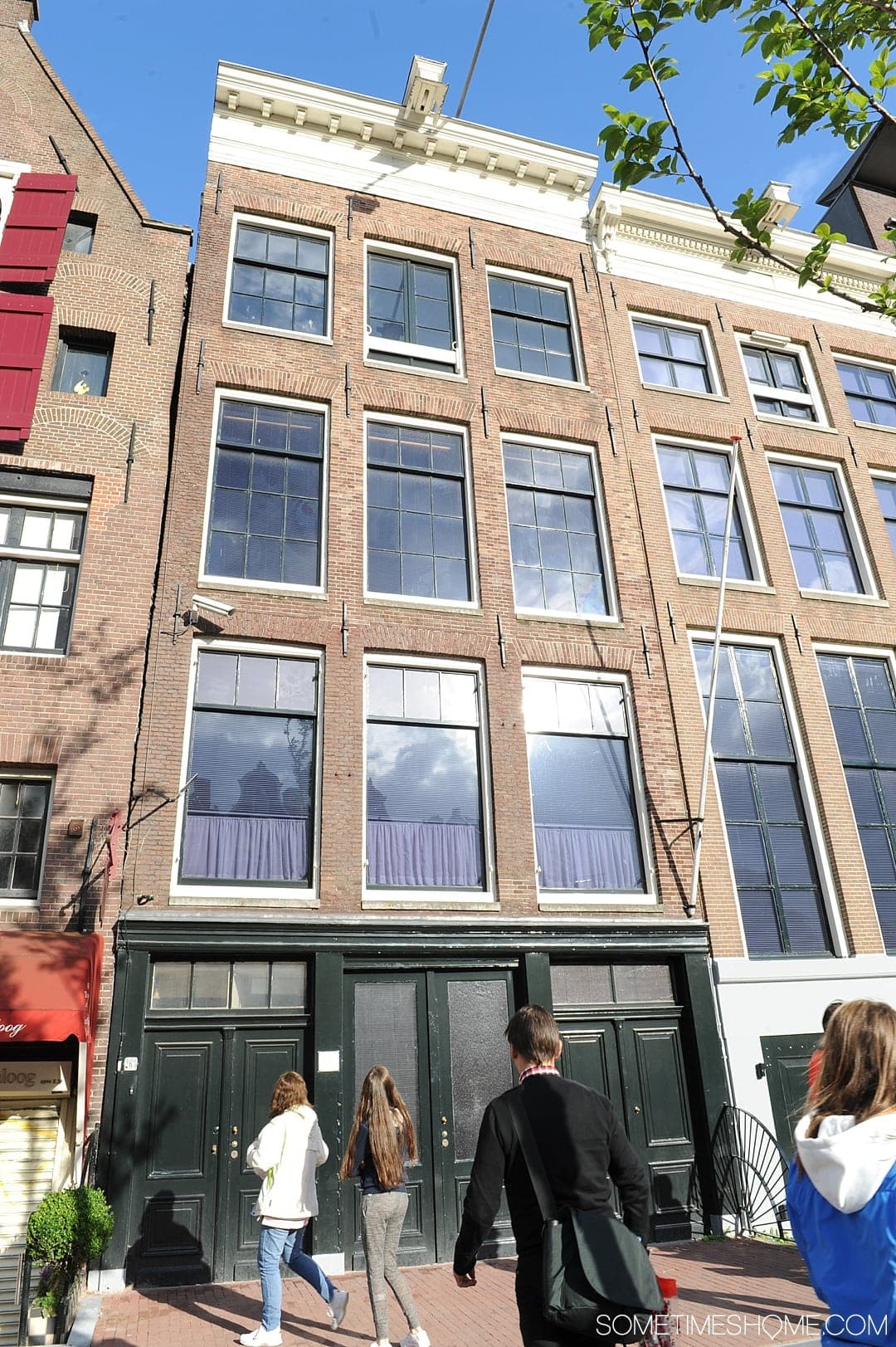 10. Enjoy the View from the Public Library
One of the best things to do in Amsterdam's city center is visit the public library. The most incredible thing about this attraction is the amazing view there. (Perhaps the best view in the city!) And the best part? It's free.
The view is worth traveling to experience no matter the weather – we've been rain and shine. It's an especially wonderful activity during a rainy day because you can stay covered inside and pop out for the view as you wish. When I visited the library I was cold and wet from the inclement weather; I was happy to get warm and cozy from inside the library's cafe and enjoy some tea and apple pie. 🙂 The modern interior of the library is photo-worthy too.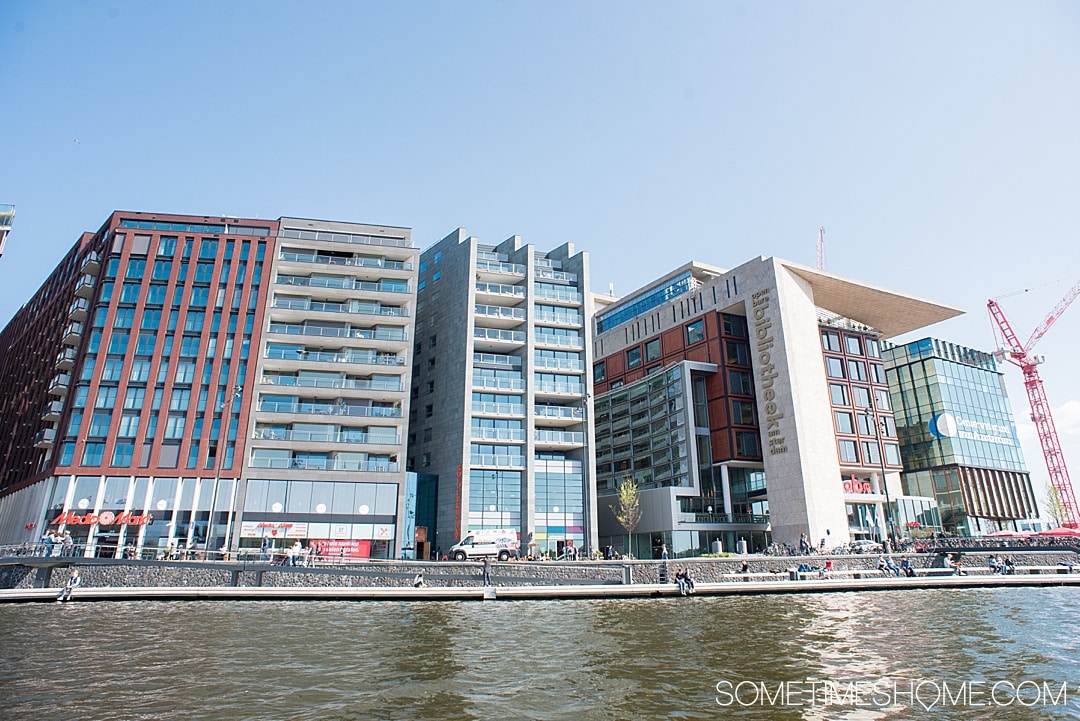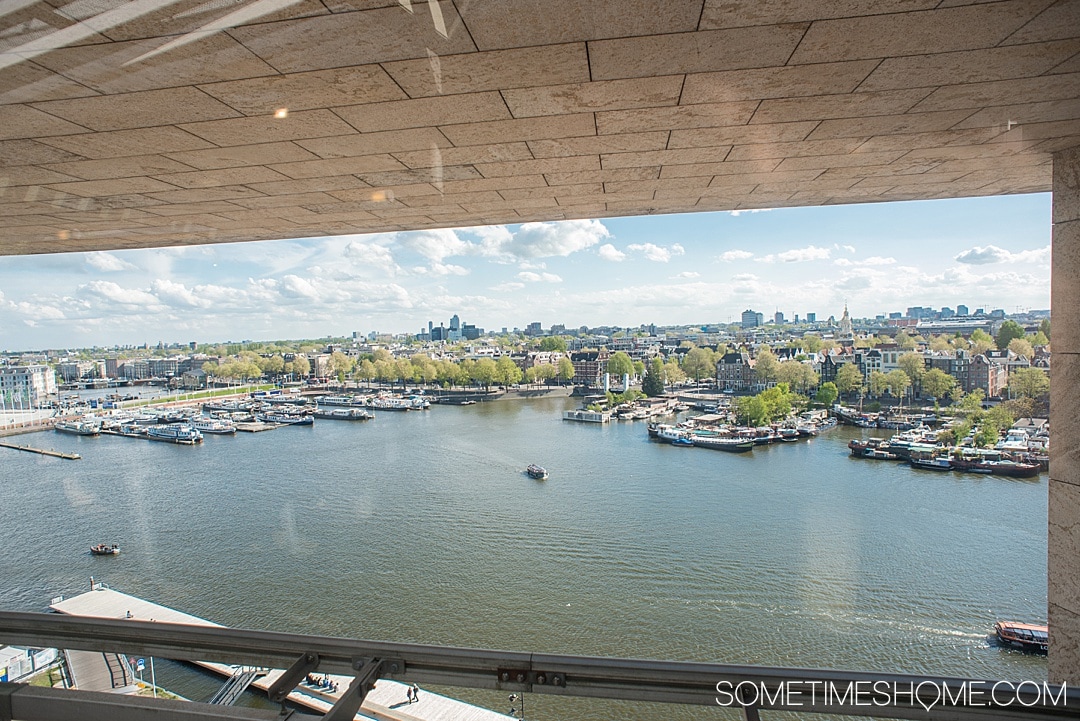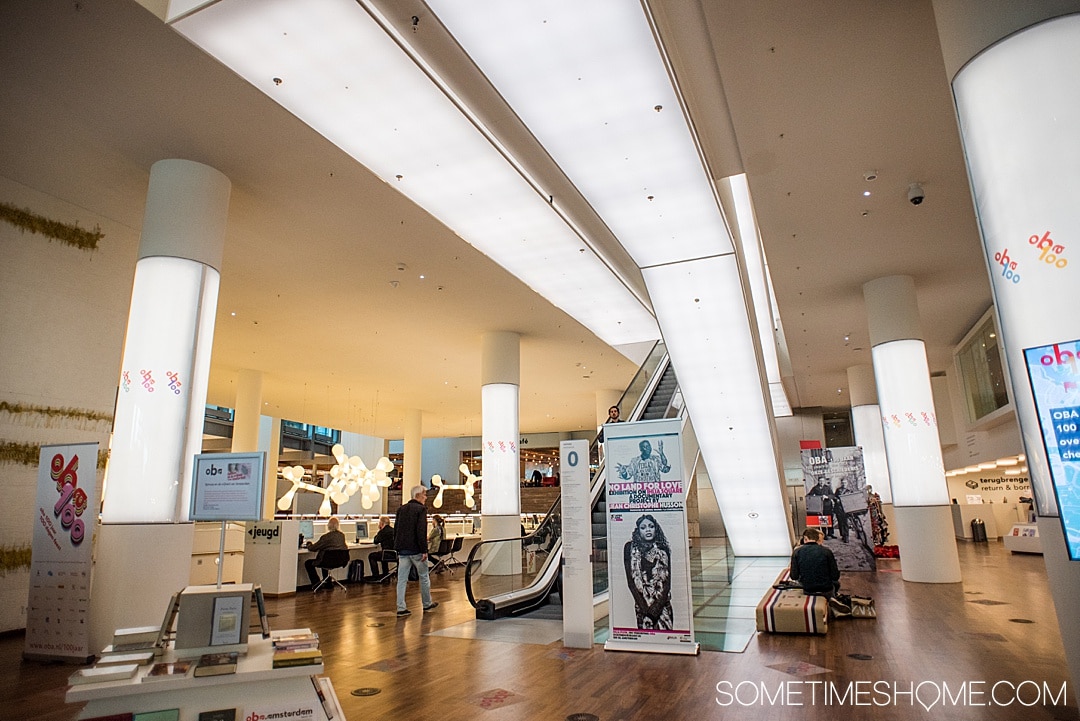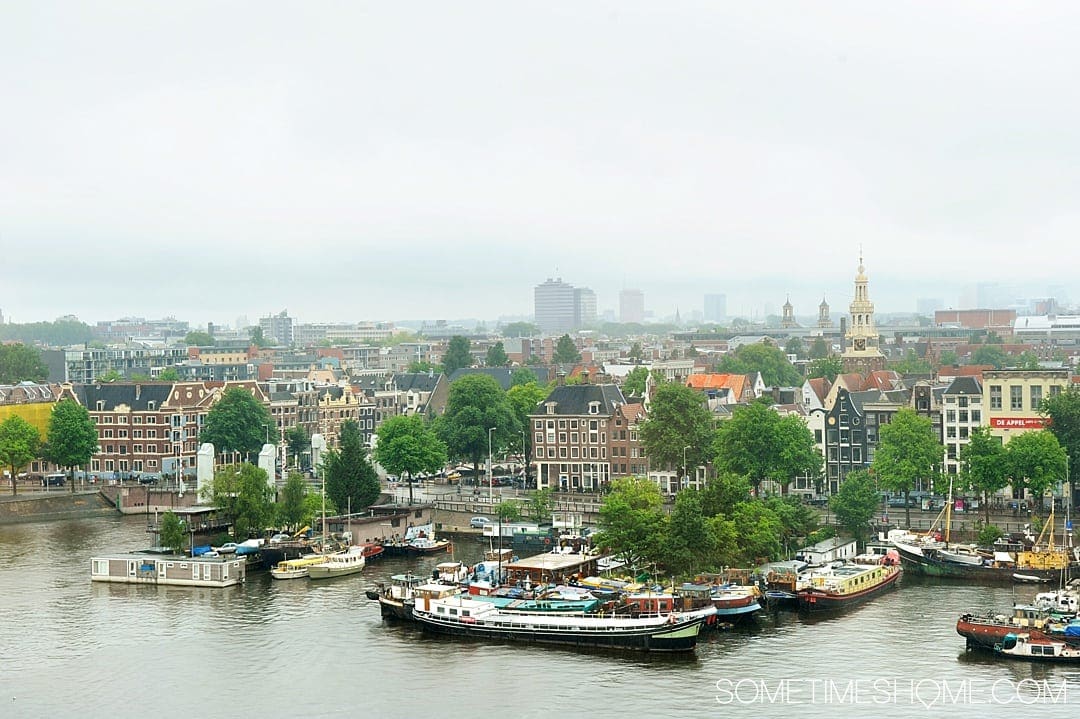 11. Visit the Red Light District in Amsterdam's City Center
Amsterdam is well known for its "Red Light District," which literally has red lights. If you see red lights in an neighborhood in Amsterdam you know you're in the right place. It's got lots of s-e-x: toys, shows, prostitution, and more. They have it all.
It's wild to stroll through the area in the evening and hear women "cat call" passersby to come inside their rooms. (I guess it's more like their "offices.") You can see women dancing on several levels of buildings in the area which reminded me of a Broadway show set!
There are an abundance of theater-style sex shows you can pay to view. I went with some fellow travelers to see one and then to a quick-pay peep show for the experience. (Think: Madonna in her video "Open Your Heart.") I have to say, I'm really glad we did it! It's interesting to see the orchestration of "performers" having sex on stage (albeit a bit weird, because it is incredibly choreographed) and it truly is a part of the city's liberal vibe.
Though I never felt unsafe there, if you're female and traveling solo perhaps go towards the beginning of the evening, maybe before dusk, so you feel super secure.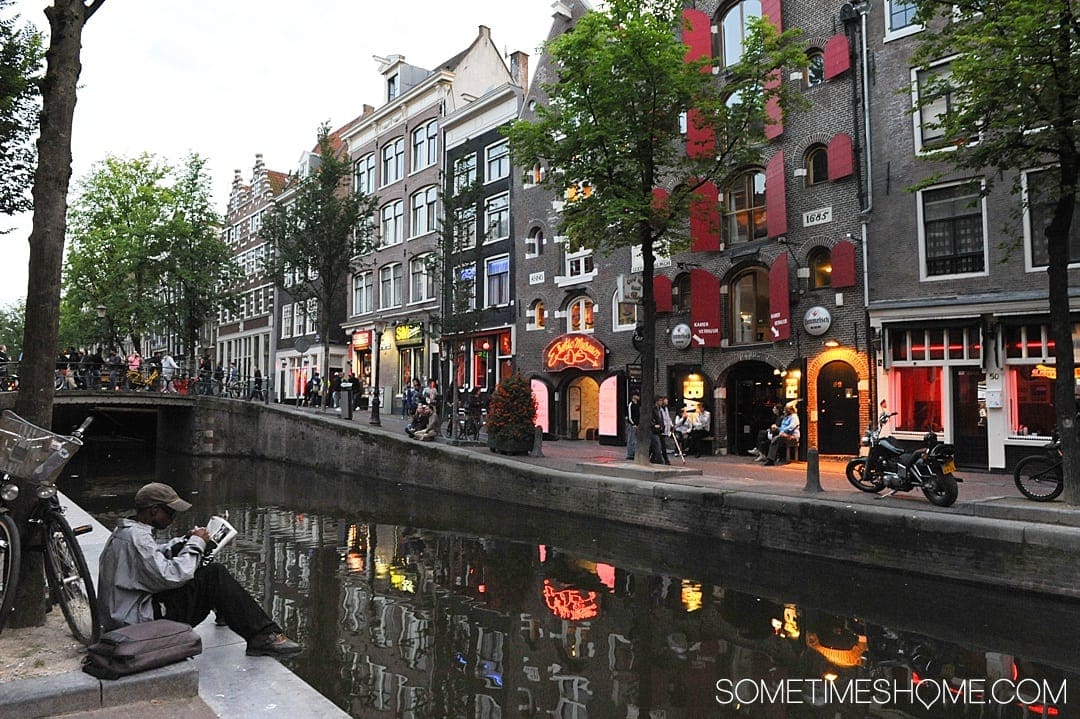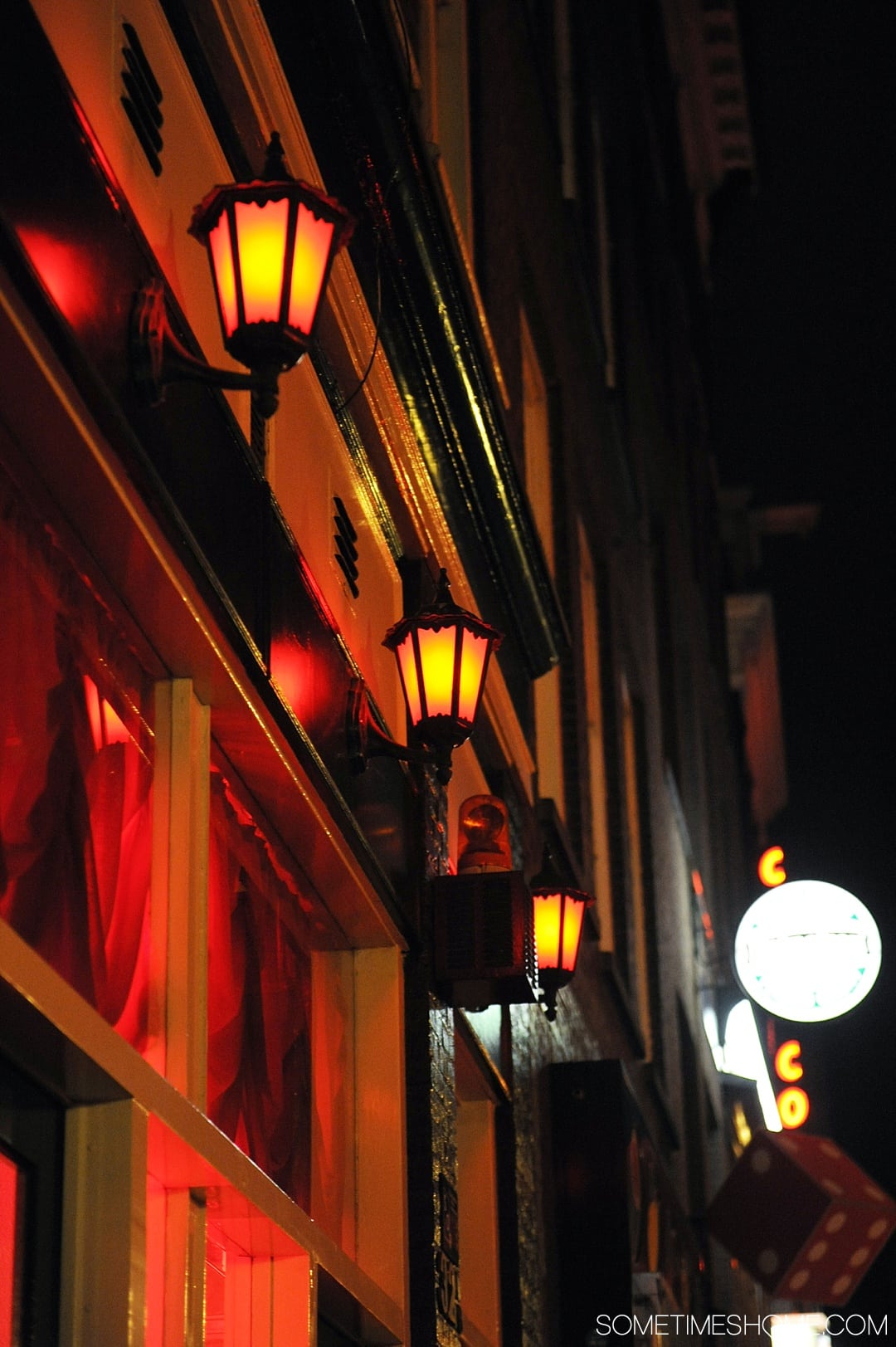 12. Find Street Art
There's an abundance of amazing street art in Amsterdam. This may be one of the more unusual things to do in Amsterdam, but I loved finding it here because it was like a little gift every time something new and colorful appeared from glass bottle sculptures, to Converse shoe planters to murals.
Keep your eyes peeled as you walk around town, whether for wall paintings, vibrant walkways or glass sculptures aboard boathouses.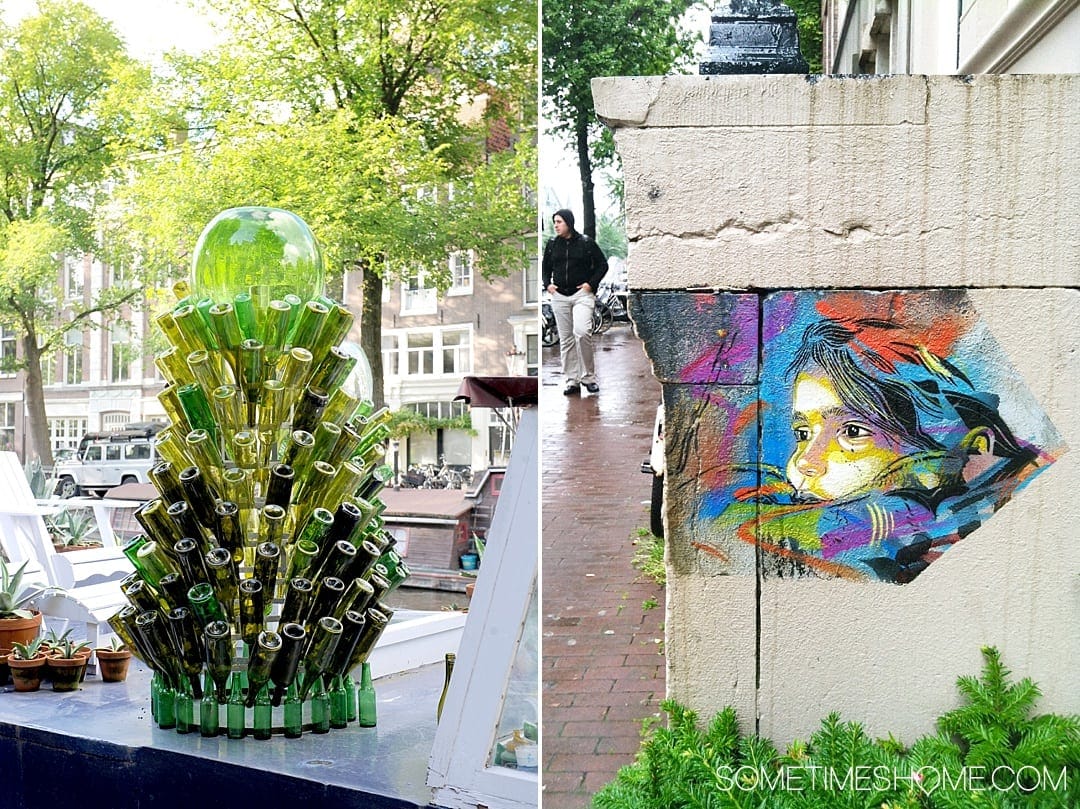 13. Grab a Beer and Learn about Heineken at the Heineken Museum
Definitely grab a beer if you're looking for things to do in Amsterdam but you're still in the mood to indulge in adult activities. (Did you know smoking pot/weed is actually illegal in Amsterdam?)
We also really enjoyed the Heineken Experience, which we were able to get a 25% discount on with our I amsterdam City Card.
The city's beer culture is strong. If you're not in the mood for a night club or the Red Light District, but want to go out visit one of the many bars in Amsterdam.
We enjoyed stopping at Brouwerij 't IJ to escape the rain after posing for photos with the bar's outdoor windmill. (And truly Dan and I are more so day drinkers or a cocktail before bed at 10:00pm kind of people!)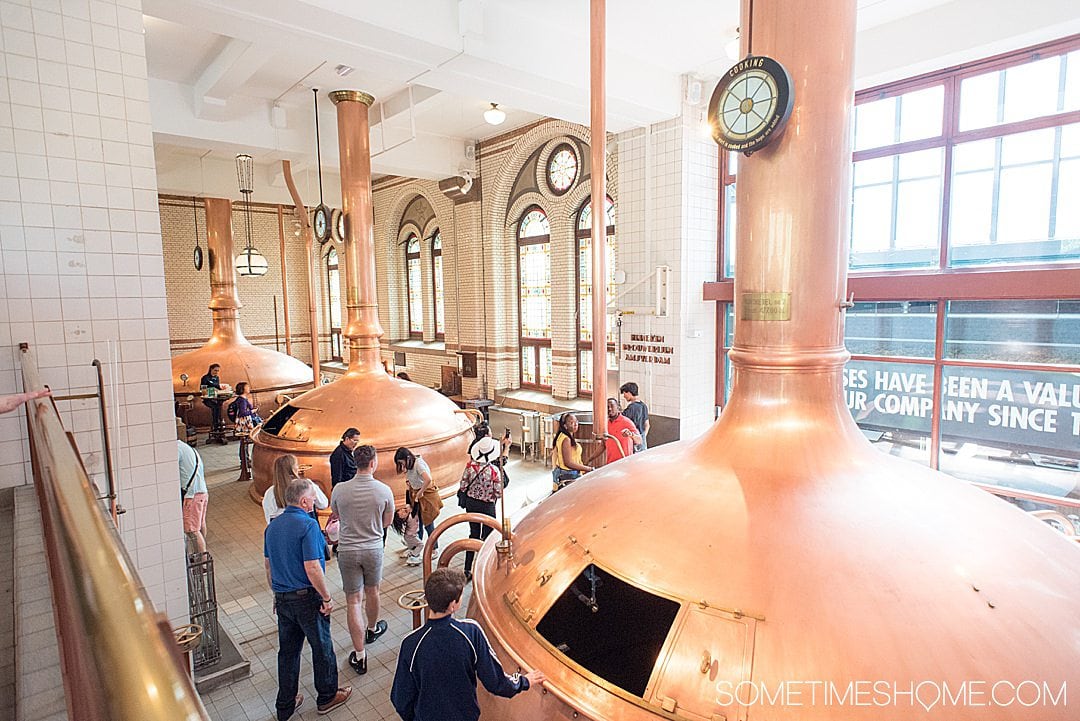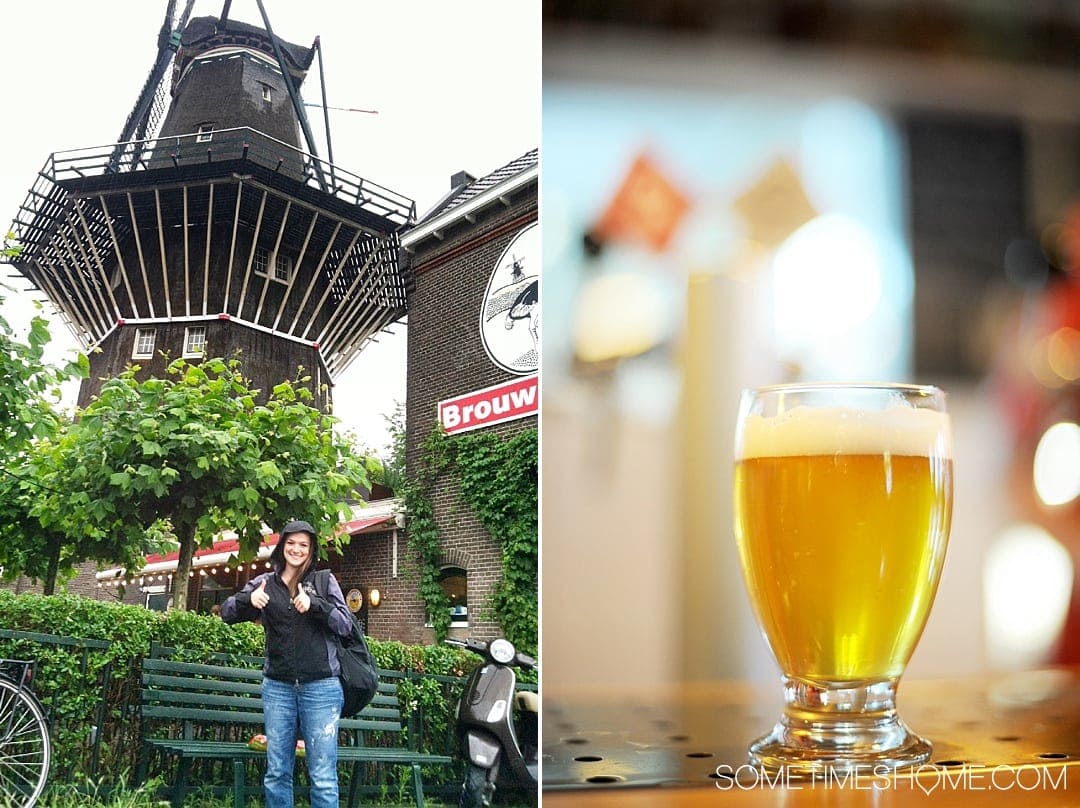 14. Visit World Renowned Museums 
Some of the best museums we've been to are in Amsterdam. Be sure to make your reservation for the Van Gogh Museum early because it gets booked up! (Great tip: use your I amsterdam City Card to nab a spot on their entry calendar!) And the Rijksmuseum (pronounced "rikes-museum) is gorgeous and definitely a museum we'll go to again and again.
(Both museums are a quick walk away from each other and on the I amsterdam City Card.)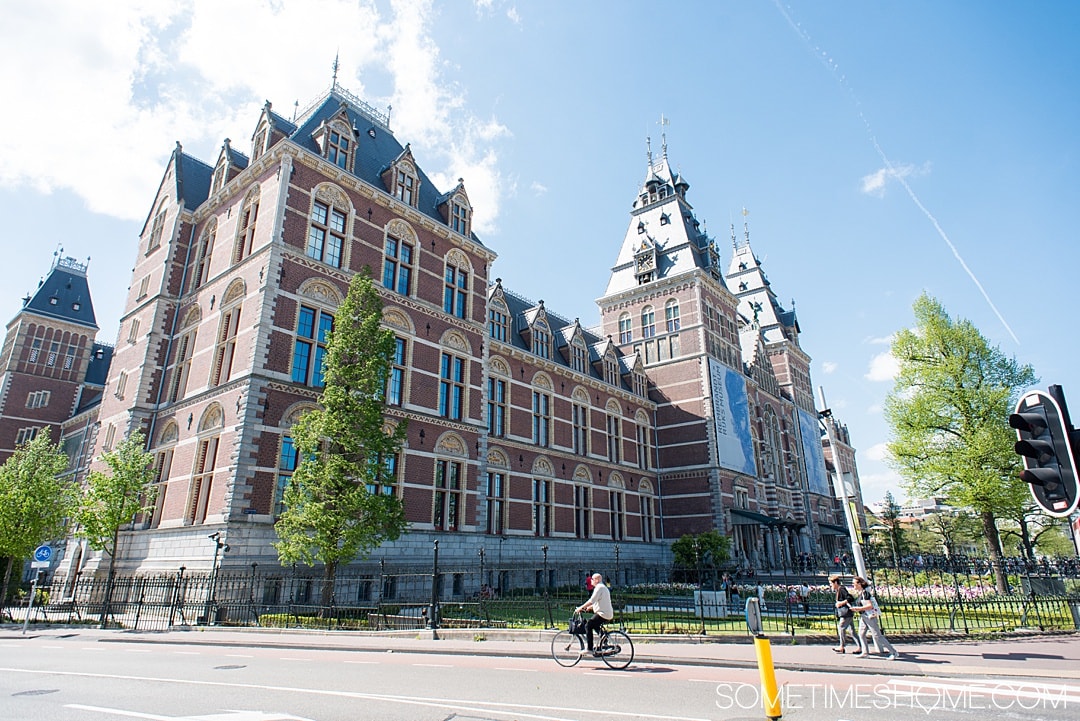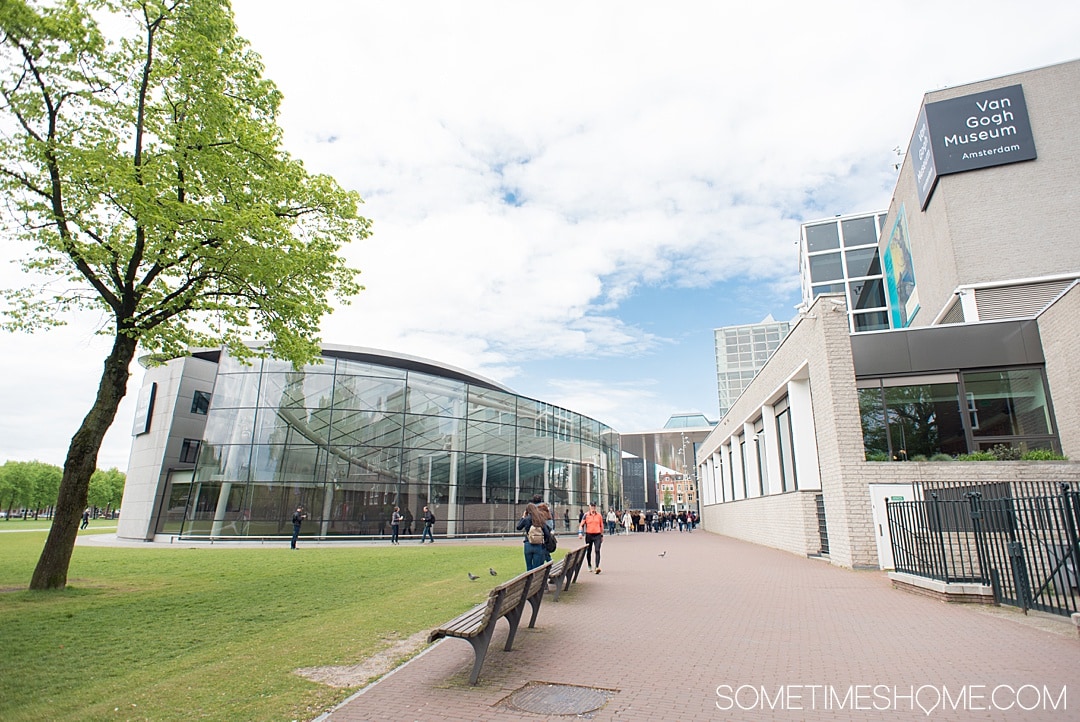 15. Take Photos with the "I amsterdam" Letters
The "I amsterdam" campaign with Amsterdam's tourism marketing office is one of the most successful we've ever seen. One of the most visible and successful pieces of evidence of this is the "I amsterdam" letters thousands of tourists take photos with everyday.
Our favorite ones are very easily accessible in Amsterdam's city center: it's just across the river from Amsterdam Central Station, accessible by a short, free 5 minute ferry ride to the other side of the water. It's right in front of the Eye Film Institute (also on the IAmsterdam card) and Sir Adam Hotel.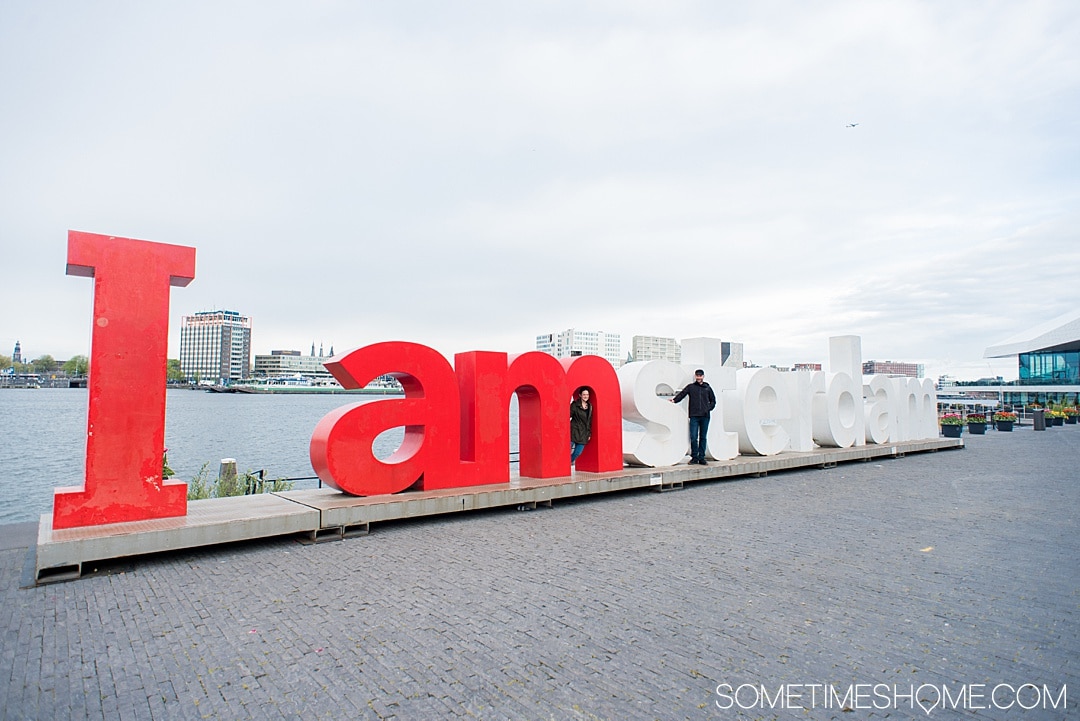 16. Take a Day Trip or Start a Cruise from Amsterdam
We know this technically takes you outside Amsterdam's city center. However, Amsterdam truly is a wonderful home base for day trips to nearby cities, accessible by bus or train, and the starting point to many great river cruises.
It's also a wonderfully easy place to take a day trip whether to Zaandam, or Edam, Leystad, Almere, Haarlem…the list goes on. You'll find information about all of those destinations on our site within our Easily Accessible Bus and Train Trips from Amsterdam article.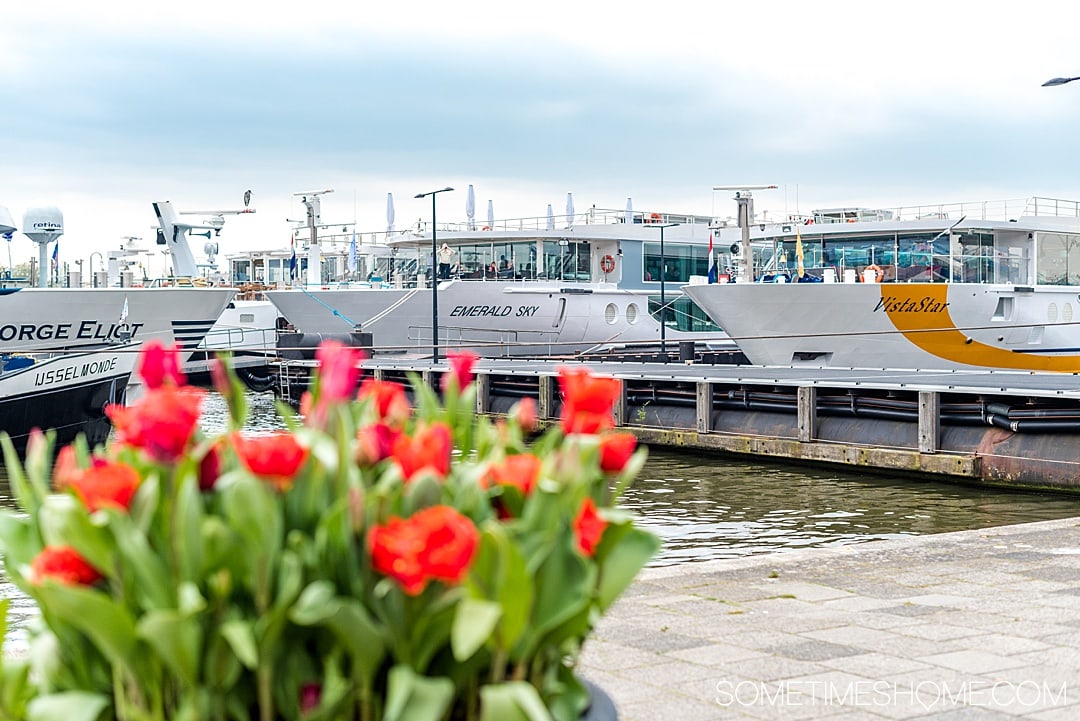 Disclosure: we thank IAmsterdam and Emerald Waterways for generously hosting us. We also may make a small commission from affiliate links in this post but all opinions are ours and we bring you genuine content with real facts, photos, thoughts and recommendations. Always.
Traveling to The Netherlands? Also check out:
What's the first thing you'd do in Amsterdam?