Most Inspiring and Photo-Worthy Spots in Staunton, Virginia
The first thing I learned about Staunton was how it's pronounced as if the "u" isn't there (Stan-ton). The second thing I learned was how photo-worthy spots in Staunton abound in this beautiful city of 24,000 residents. Particularly downtown.
It's an urban area in western Virginia in the Shenandoah Valley, which sprawls into the suburbs. And it's definitely worth a visit and stay.
Staunton is a Photo-Worthy City
I often tour an area and see the landscapes in front of me as if they were printed and framed, hanging on the wall. I suppose you can say it's usual I see a location first as if my eyes were a camera's viewfinder, scanning for snapshots. Call it Instagram-worthy, photo-worthy, film-worthy or frame-worthy. But no matter the phrase used, these stops in Staunton are prime for the capture.
Below, I share a bit of history behind our top picks downtown and where to find them.
This is also a wonderful activity if you want to engage in a socially distant adventure. Do a self-guided photo tour or simply go with family and take photos of each other. You'll be far apart from other people in just about all of my suggestions below and in fresh air!
Please keep in mind: always be as respectful as possible of any photography and video policies the city or private institutions may have if you're a commercial professional. If you're unsure of their regulations it never hurts to call to ask.
Staunton Train Station
The railroad came to Staunton pre-Civil War, in the 1850s. I wanted to start at the Staunton railroad station because trains are the reason the town grew in popularity from the beginning to mid-20th century. From 1900 to 1950, there were 30 trains a day that traveled to this city. It was a hub in the Shenandoah Valley for shipping and receiving goods.
After 1950, a change in the post-war economy (including the development of highways) transformed Staunton. People started to move away from the city centers into the expanding suburbs nearby.
The train station that stands today was designed by TJ Collins and Sons. The telegraph station is still there and you can see the Signal House from 1886.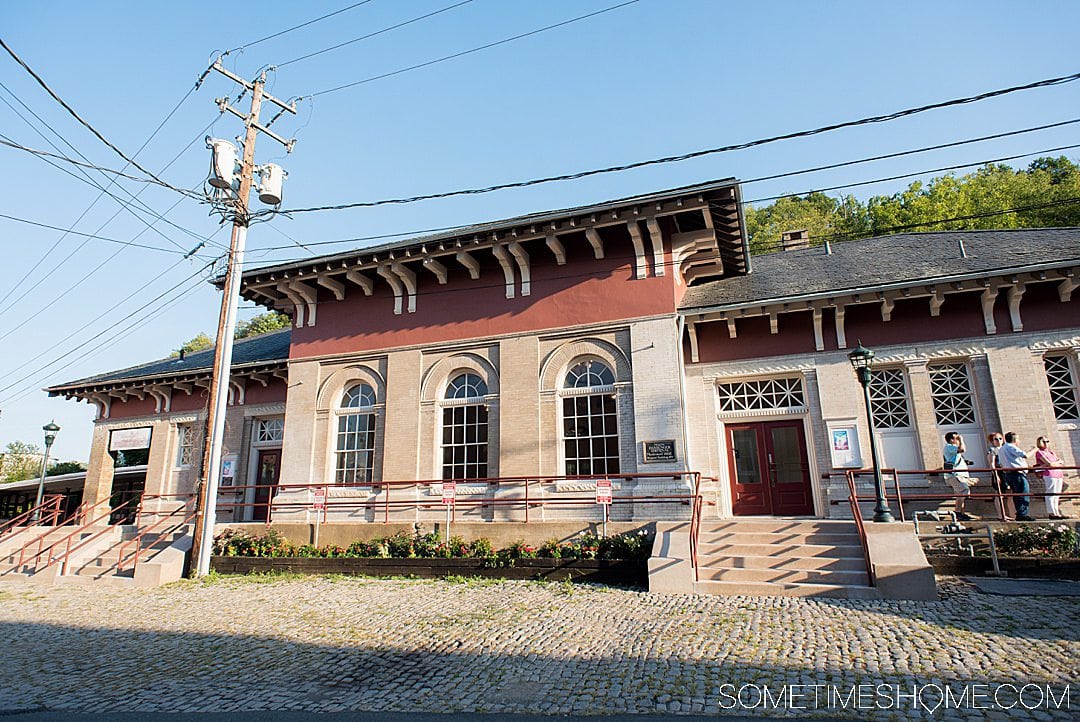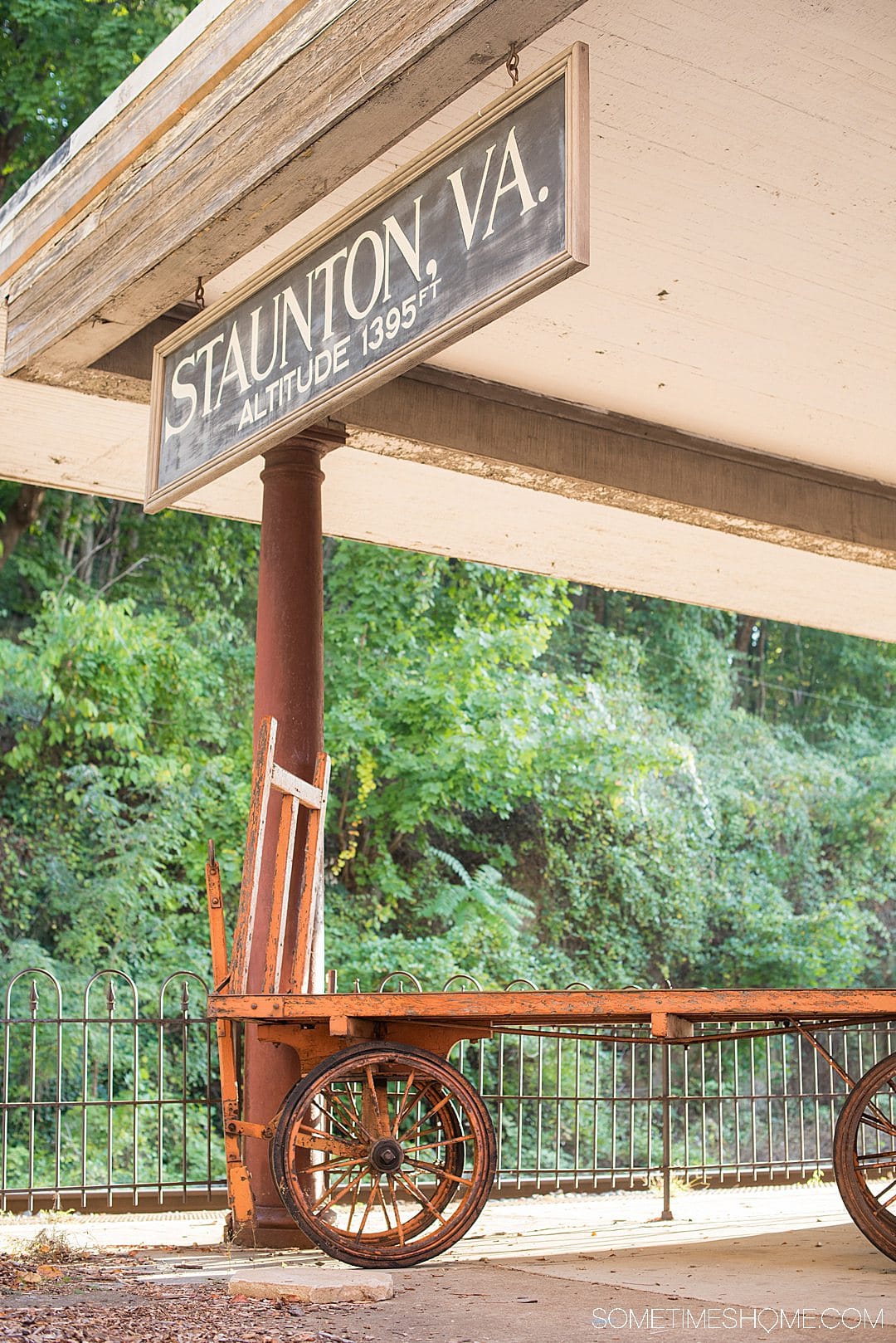 Woodrow Park (Sears Hill)
Did you know Woodrow Wilson, America's 28th President, was born in Staunton, Virginia? Woodrow Park, named after him, is just steps from the train station. The Woodrow Wilson Library and Museum is nearby as well; it's just a 15 minute walk between the two.
To get to Woodrow Park, also known as Sears Hill, simply walk the overpass over the train tracks from the train station.
The park overlooks the city. It's arguably the best elevated view the public can get above the treetops, overlooking the urban oasis. There's an easy-to-find historic district map always there for visitors, which identifies buildings being viewed in the distance.
Another fun fact about Woodrow Park is parts of the film Hearts of Atlantis, was filmed there, starring Anthony Hopkins.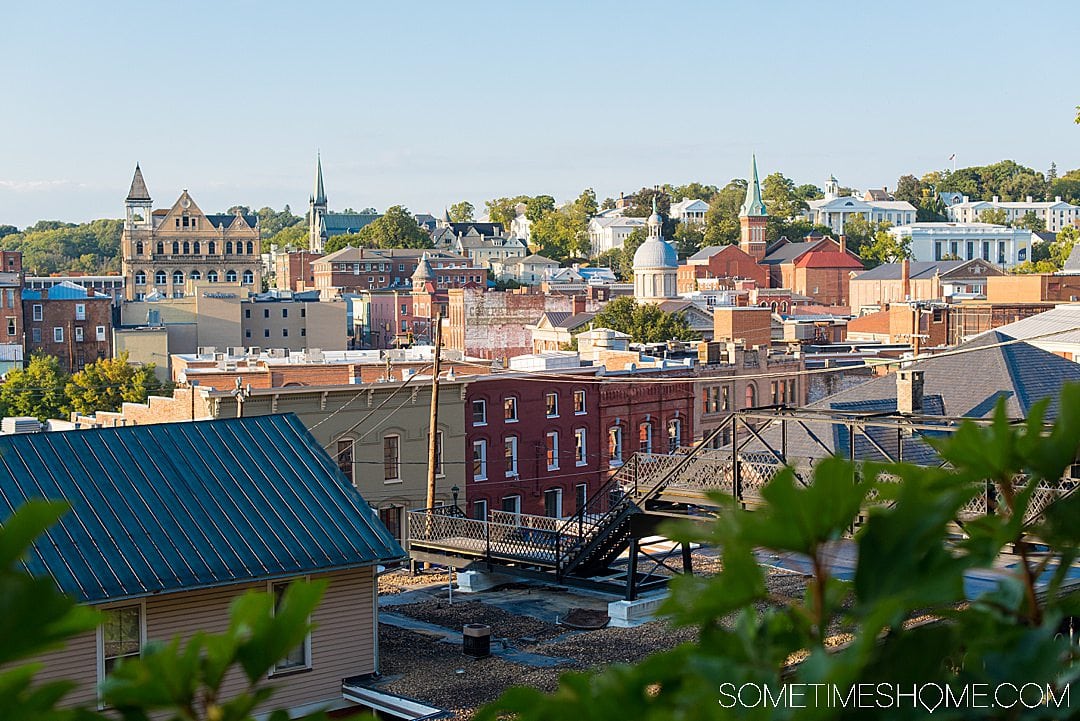 American Shakespeare Center's Blackfriars Playhouse
The Blackfriars Playhouse was built in 2001, with a modern red brick facade. But inside is a nod to centuries ago in a recreation of Shakespeare's theater from the late 16th/early 17th century in England.
It's not an accident if the interior of Blackfriars Playhouse in Staunton reminds you of the Globe Theatre in London. It was done very purposefully.
As their website states, "Former Shakespeare's Globe Director of Research Andrew Gurr and the late C. Walter Hodges, illustrator of the Globe, advised the work," in Staunton. It's the only recreation of Shakespeare's indoor theater.
The playhouse, located at 10 S. Market Street, is incredibly worthy of a stop, a few photos and seeing a play. Performances happen year round so consider supporting the arts while you're visiting.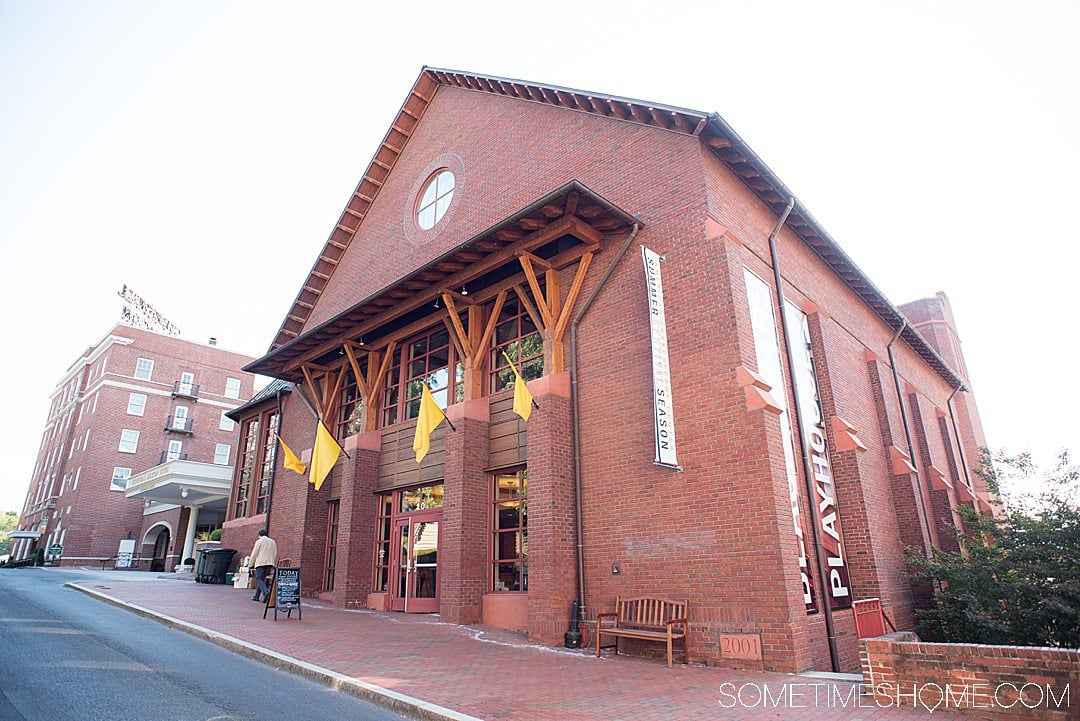 Hotel 24 South
Hotel 24 South (which was previously named The Stonewall Jackson Hotel) is a Historic Hotel of America located in the heart of downtown Staunton.
It first opened in 1924, built in a Colonial Revivalist Style. Then it went through two restorations: one in 2006 and another in 2018. And a rename in 2020 to be more inclusive in its name.
The inside is attractive but our favorite parts are actually outside, ripe for photography! Pretty white rocking chairs sit at the main entrance to the hotel. If you continue to walk south towards Kalorama Street, from 24 S. Market Street where the hotel's entrance is, you'll see a pretty garden on your right, pictured below.
Hydrangeas and roses add interest to the green and blue scenery during late spring, summer and early fall.
It's also a great place to stay: check room availability.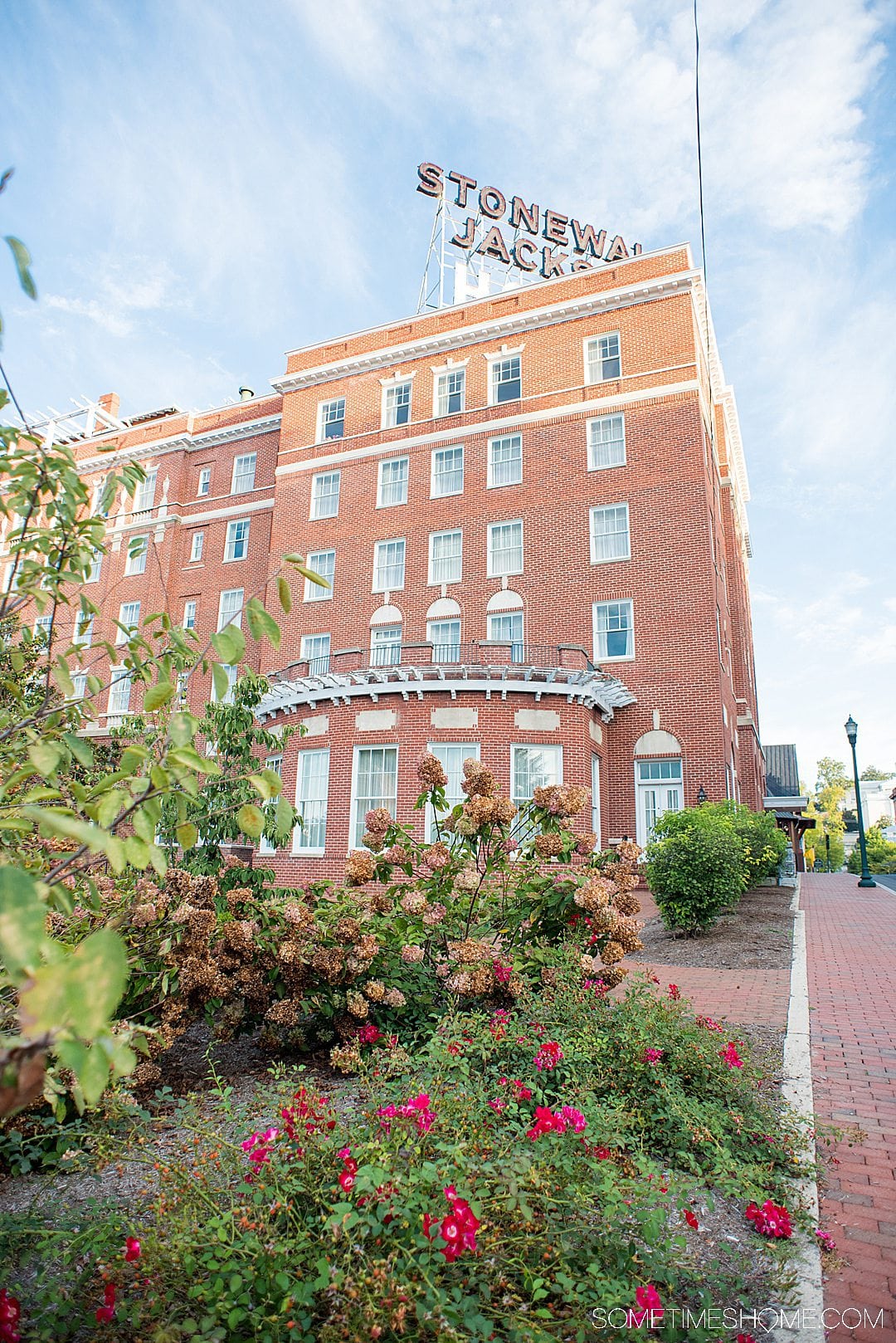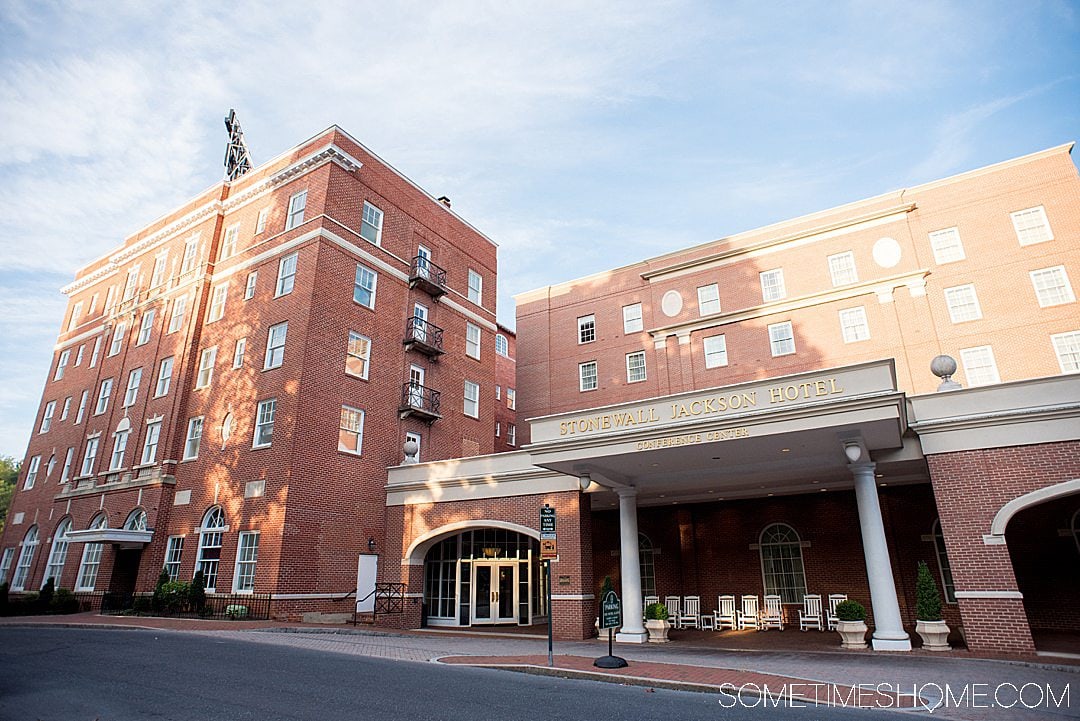 Parking Garage Near the Downtown Staunton Visitor Center
It's not every day that a parking garage makes a list of the most photo-worthy spots in a city. Yet, in Staunton, it's worth a few clicks of your camera and then some. The entrance is on Greenville Avenue, between Kalorama and S. Newt Street.
It's a great place to keep in mind if you need to park your car too, though street parking is available throughout the city. The garage is just next to the downtown Staunton Visitor Center and across the street from the R.R. Smith Center for History and Art, where a free Historic Architecture Tour begins on the weekend. (Keep reading below for more information on that tour.)
Fun tip: stop in the Staunton Visitor Center if they're open to see if they have any current discount offers for local attractions. It will give you discounts at several shops and restaurants.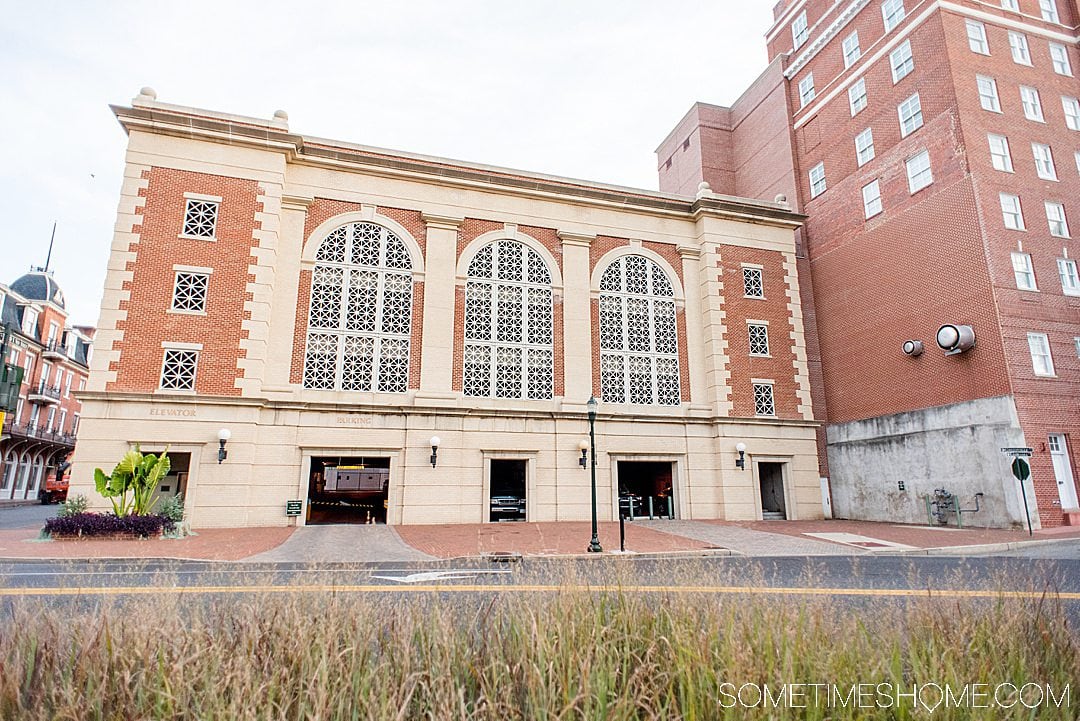 Periwinkle Exterior of Reunion French Bakery
If you park at the downtown parking garage and you are heading to the R.R. Smith Center for History and Art, you'll pass this uber-attractive cafe on your left-hand side. It's Reunion Bakery and Espresso, at 26 S. New Street, and it's super Instagrammable!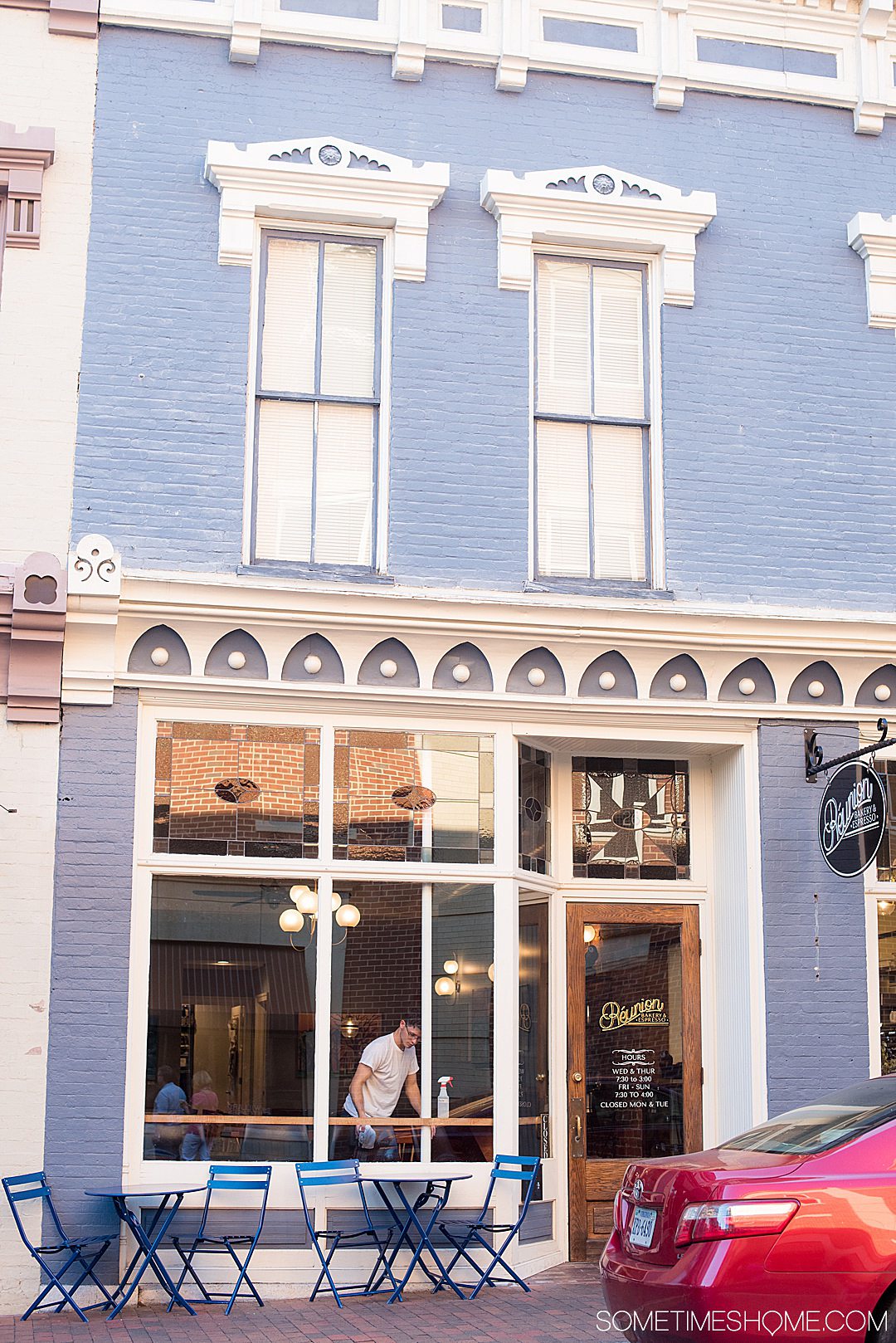 Bridge Over a Little Creek Across from Bruce Elder Antique and Classic Automobiles
One of my favorite places we passed in downtown Staunton, VA, was Bruce Elder Antique and Classic Automobiles. It used to be the famous Beverley Garage Building.
Visitors 16 years and older can take a tour of the classic cars there for just $5.00 per person Friday, Saturday or Sunday. We don't recommend using the "museum" of automobiles as a photo location. Besides, it's hard to photograph the cars through the glass if it's closed.
However, there is a fantastic photo-worthy spot in Staunton located just across the street. It provides a little serenity and a lot of nature amidst the urban area surrounding it.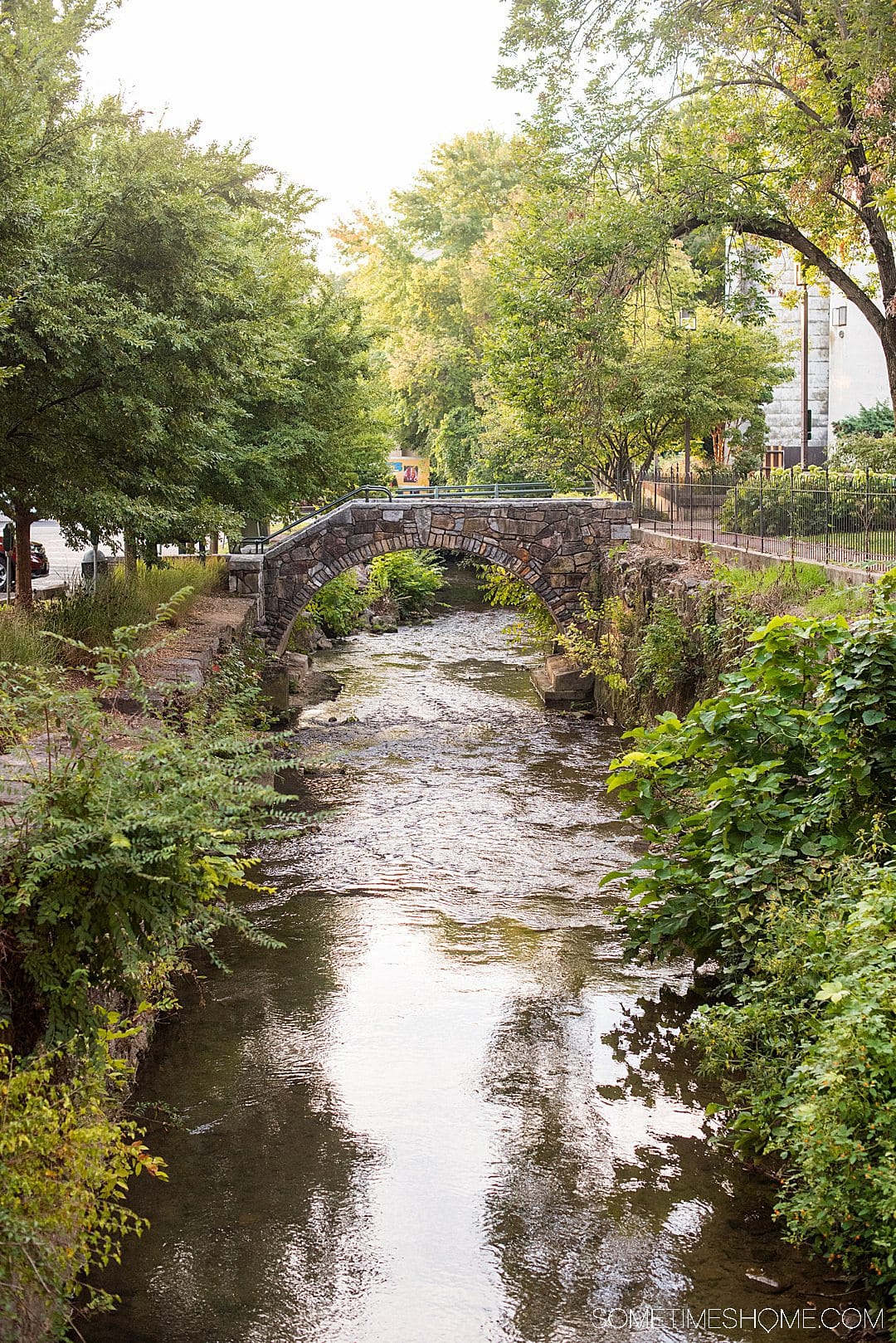 Blackburn Inn Facade and Spiral Staircase
The Blackburn Inn is a historic hotel. It was originally built as the main administration building for the Old Western State Hospital in the 19th century. It was strategically located in Staunton because it was easy to travel up and down the coast from here.
Notable Figures in History
Thomas Blackburn was chosen to complete the Western State Asylum in 1826. He strived to learn the latest techniques and innovations in building and worked on numerous homes in the area as well. Notably, he learned architecture skills as a carpenter helping to construct Thomas Jefferson's University of Virginia, not far away in Charlottesville.
A key matter of importance for the hospital at the time was its care for the mentally ill. Dorothea Dix would visit Old Western State Hospital to work closely with its Director, Dr. Francis T. Stribling in the 1800s. (The well-known park with June sunflowers each year in Raleigh, North Carolina, is named after her.) They joined forces to spread education about understanding mental health patients. They also advocated for humane treatment of them.
The Hospital Transforms
The hospital was transformed into a medium-security prison for a short time from 1981 to 2002. After that, the city of Staunton took over the property in the early 21st century after it was abandoned.
Finally, it was then purchased by Miller and Associates in 2006. (They are private developers who specialize in historic preservation and restoration.) Plans quickly began to take shape for an upscale community.
The Modern Day Blackburn Inn, Picturesque Hotel
The 80-acre property officially opened in 2018 as a luxury boutique hotel with modern rooms and amenities. And its crowning glory, besides its gorgeous front lawn, if you ask me? The impressive spiral staircase inside.
Though it is worth noting the circular driveway leading up to the hotel was designed by Thomas Blackburn, for whom the hotel is named.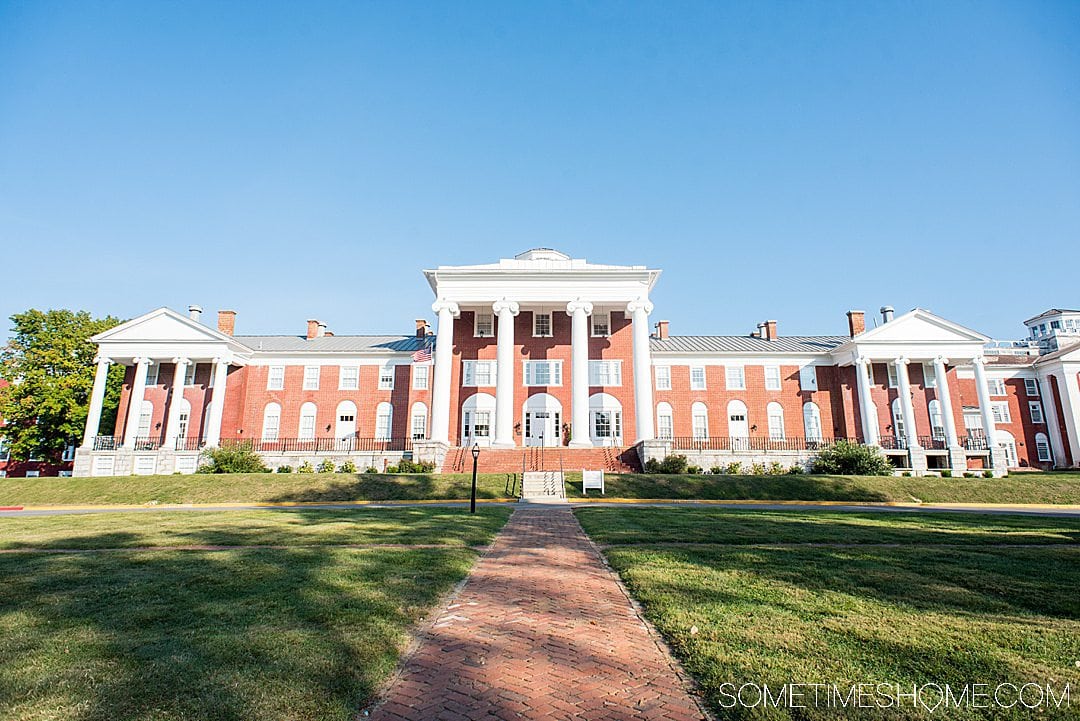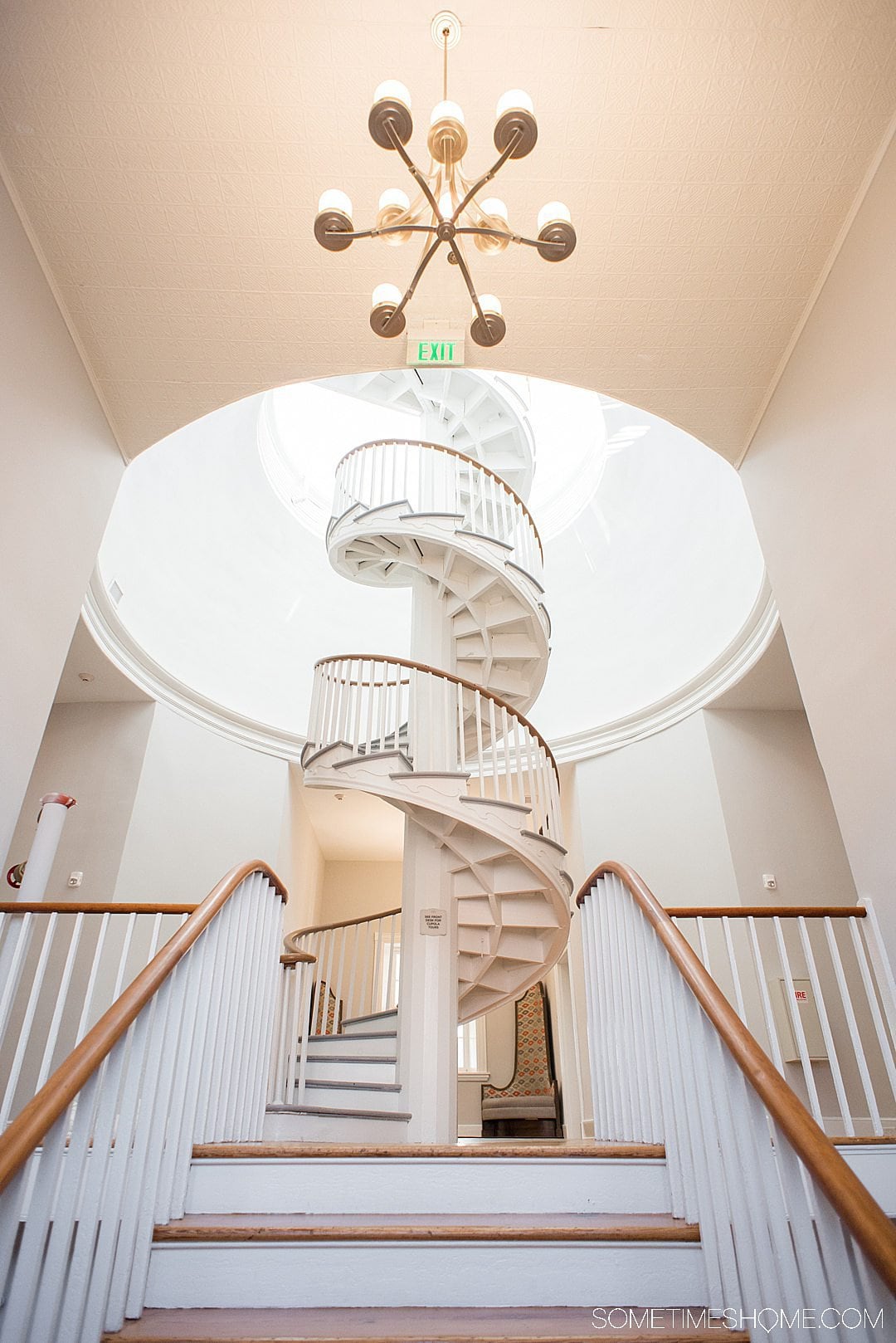 Charming and Historic Church Street Homes
Downtown Staunton has six contiguous registered historic districts. The Newton Historic District runs into Church Street, which was built at the turn of the Civil War. (Church Street reminds me of the Historic Oakwood neighborhood in Raleigh, North Carolina. However, if you've never been to either, know they're both very picturesque!)
You'll find "Historic Staunton Foundation" plaques on some houses along the street. Some homes were designed in typical Italianate style; this home plan populates the city more than any other kind.
A Downtown Architecture Tour in Staunton Worth Taking
We learned about the styles of architecture in Staunton during our Downtown Architecture Tour. It's a free two-hour tour offered from May to October every Saturday at 10:00am, rain or shine.*
The photo of me below is at the Stuart House on Church Street. You can see the home's plaque indicates it was built in 1791.
The home is in its sixth generation of family ownership. The original 18th-century owner, Archibald Stuart, was a friend of Thomas Jefferson, who wasn't too far in Virginia, perhaps at his Monticello home in Charlottesville, VA during that time. The Stuart House's plans were rumored to be handed to the original owner from Thomas Jefferson. It's also on the National Register of Historic places in the USA.
* The Historic Architecture Tour starts at the R.R. Smith Center for History and Art, at 20 S. New Street across from the Downtown Staunton Visitor Center. Reservations are not required.
We highly recommend the tour! Wear comfortable walking shoes and remember to tip your guide.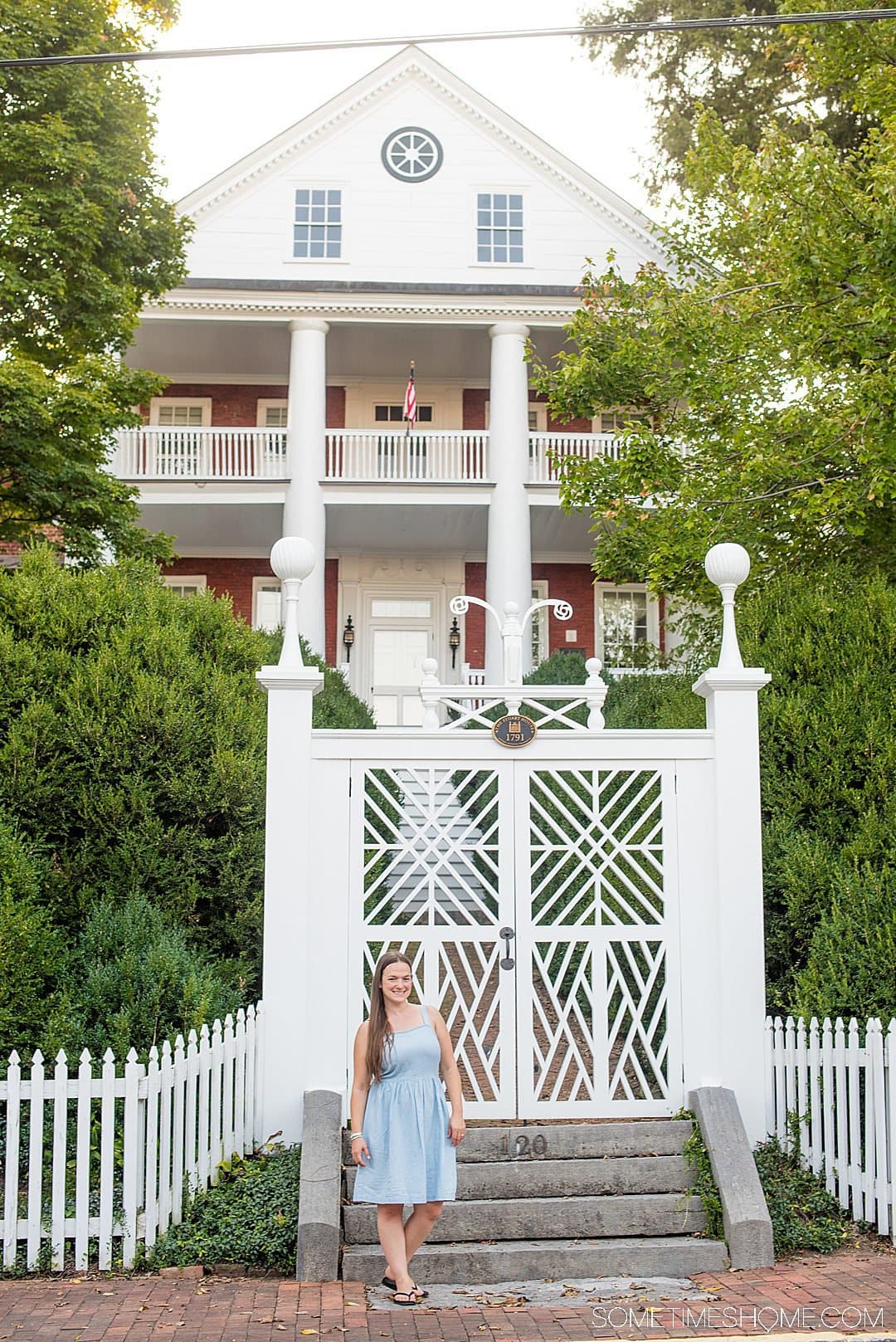 Abandoned Concrete Arch Supports
This location may be a little polarizing. But I love some urban grit in my photos and this spot is fantastic to me.
It's just across the street from Sunspots Studios glass blowing and adjacent to Wilderness Adventure and Ox-Eye Vineyards tasting room, in their parking lot. Go early in the morning before the businesses open or just before sunset during summer, when dusk begins a bit later after business hours, for a chance at a vehicle-free lot.
Fun tip: Sunspots Studios Glass Blowing gives daily demonstrations to the public at 4:00pm. Brings us back to our days at the Museum of Glass in Corning, New York!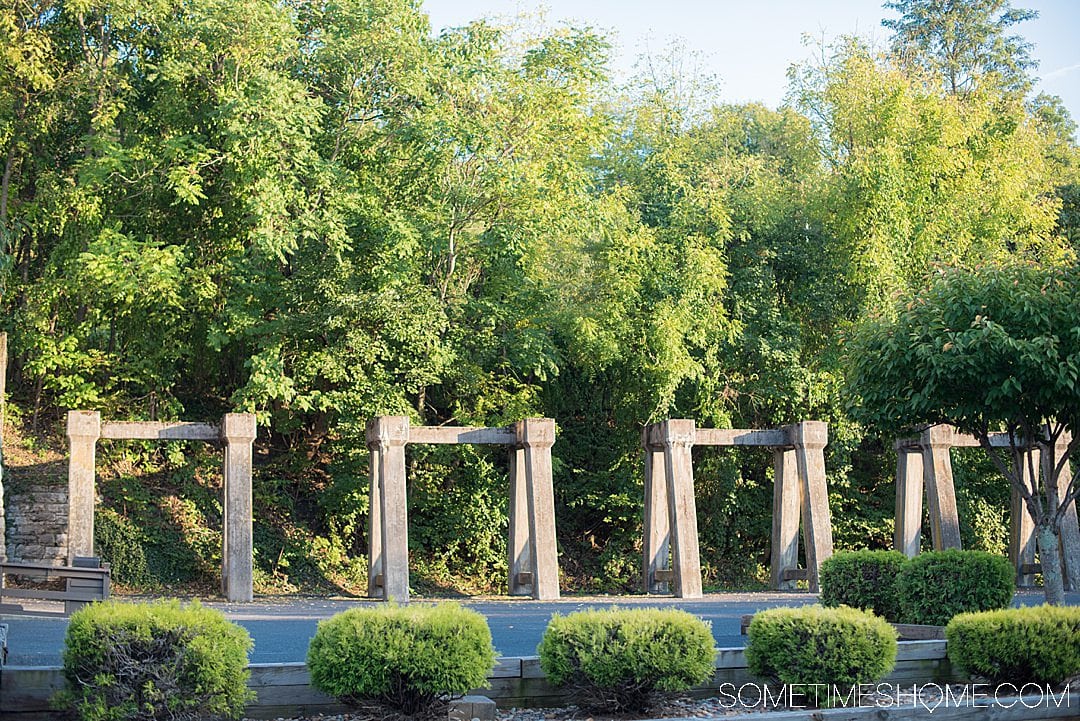 Redbeard Brewing's Pink and Blue Loading Dock
Just down the road from the concrete arches is Redbeard Brewing. It immediately caught my eye as we passed it on our Historic Architecture Tour. It made a lasting impression on me though it wasn't a place of mention on the tour.
I love the combination of its coral pink walls and dusty blue doors. Definitely a photo-worthy location in Staunton, Virginia, don't you think?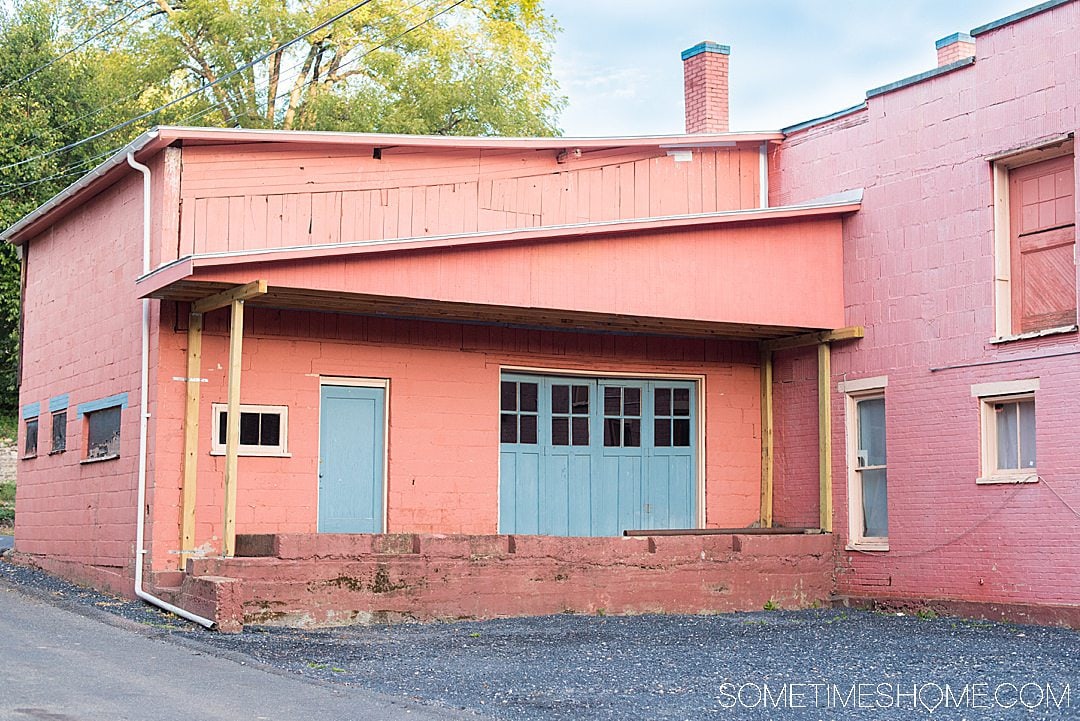 You Belong Here Mural
Right on N. Central Avenue off W. Beverley Street in downtown Staunton, is a huge mural proclaiming, "You Belong Here".
It's an initiative for the Virginia is for Lovers campaign, celebrating inclusivity, love, and positivity. The City of Staunton applied for a grant to create it and they were rewarded!
Isn't it an ideal location in downtown Staunton to get a perfect Instagram photo? Don't forget to use the hashtag #LOVEstaunton on your posts.
I caught a glimpse of it before it was finished in late summer 2019, but it was taking shape just enough to know it would be pure perfection upon its completion.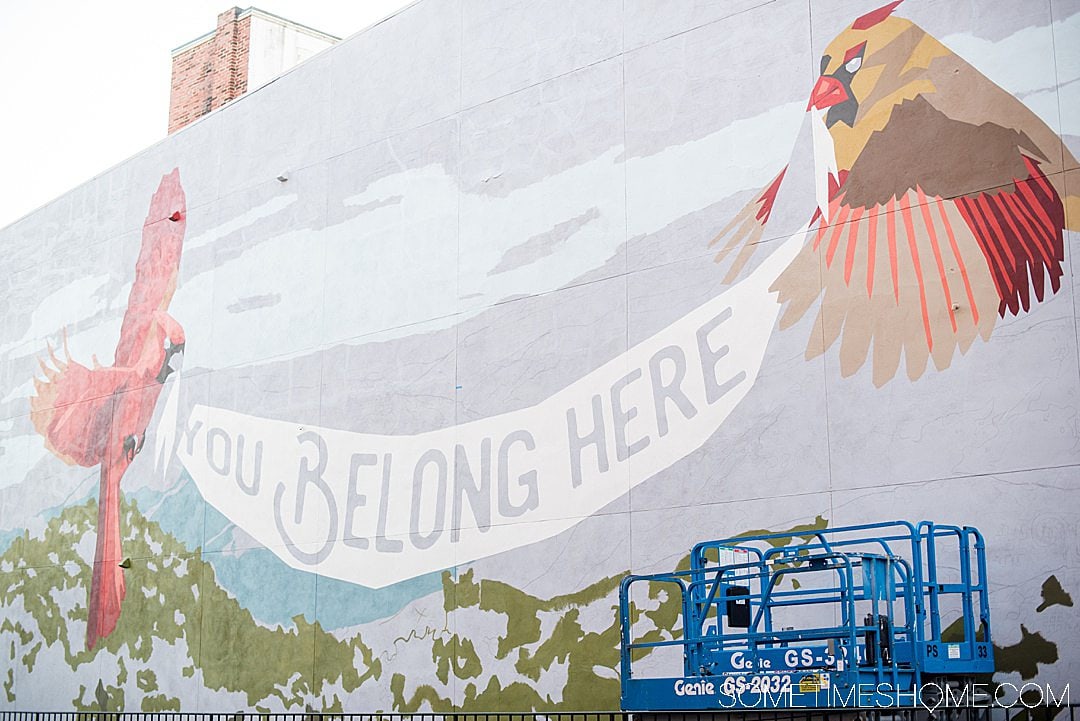 Beaux-Arts Bank
A seasoned visitor to Staunton, Virginia, was on our Historic Architecture Tour. She hit the nail on the head when she lovingly joked that the architecture in downtown Staunton feels as if a bit of every European city meshed into one area. Or even one street on West Beverley.
The Suntrust Bank building, formally National Valley Bank, stands out as a singular building among the rest. It was designed in the Beaux-Arts style and has a picturesque carved facade made of limestone.
Two dates reveal themselves in medallions between the left and right columns of the center door: one says 1865 and the other 1903. National Valley Bank was chartered immediately following the Civil War, which ended in April 1865. 1903 was the year the bank was constructed as per designs by T.J. Collins in 1903.
If you have a chance to peek inside the building it has an incredibly impressive stained glass ceiling. The creation measures 34 feet long and 10 feet wide, looking down on pedestrians below and up to the sky above.
Photos of the front of the building, alone, are worthy of a picture frame. But I can clearly envision photographing a person on the sidewalk in front of it, or even a couple in love.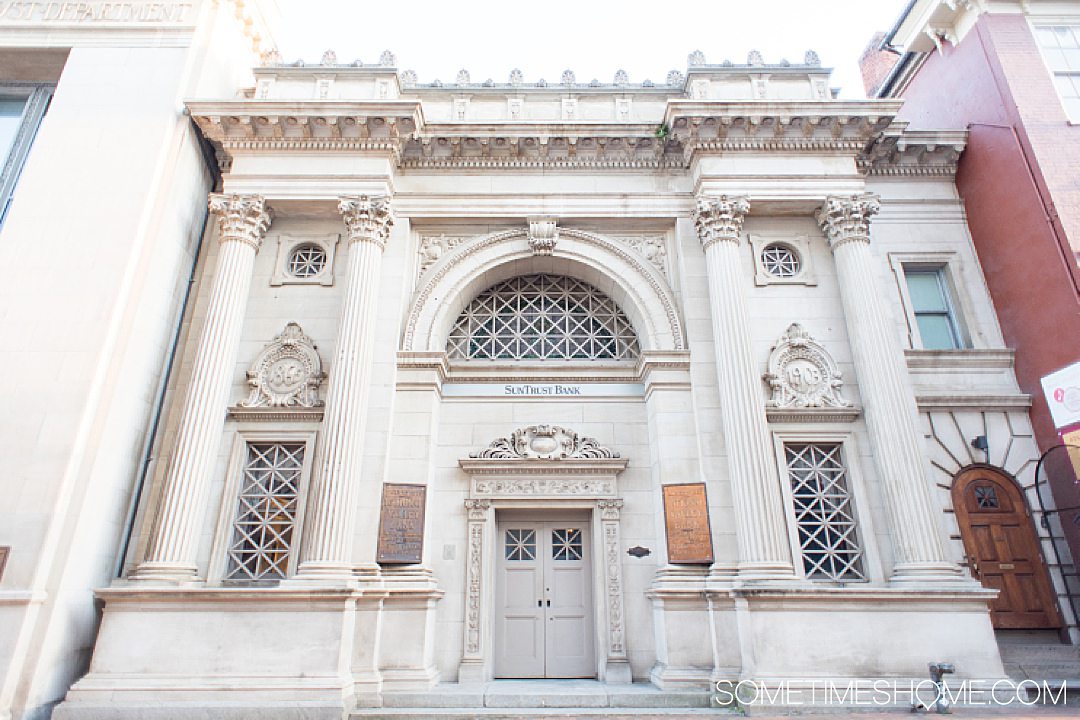 Quaint Pre-Civil War Facades
If you're looking to take pictures of a photo-worthy spot in Staunton, VA, that has withstood the test of time look no further than 26 E. Beverley Street. It's where the quaint coffee shop, "The Pampered Palate Cafe" currently is.
The tilt of the second floor alone is a dead giveaway of its years! If those walls could talk…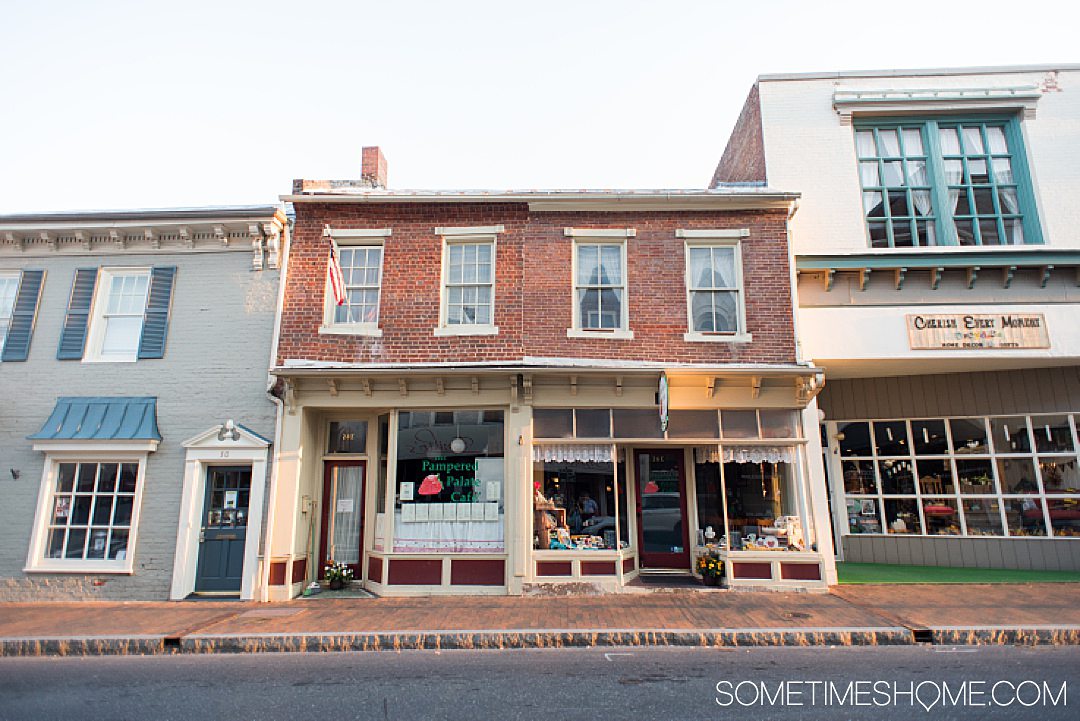 Sunflowers Mural and Steel Watering Can
Right across the street from a gas station near the Blackburn Inn, at the intersection of U.S. 250 and U.S. 11 (roads also named S. Coalter Street and Greenville Avenue), are two pretty locations to take photos: a watering can sculpture and flower mural.
Steel Watering Can Sculpture
The Steel Watering Can Sculpture, by Willy Ferguson, is a brown beauty. It's situated on the median just under the Greenville Avenue overpass. Keep safety in mind and always a priority.
I recommend taking photos of your subject near you on the sidewalk on the opposite side of the road, with the sculpture in the background. Or, alternatively, simply photograph the watering can in the distance. It's your best chance at capturing a wide view of it, complete with its beautiful landscaping, anyway.
The artist who created this was born in Scotland but moved to Staunton, VA with his parents at age 7. They raised him in this American city.
His father was a doctor at the historic Western State Hospital, which is now the Blackburn Inn. Willy Ferguson then raised his family there, living and working in the city until he died in 2016.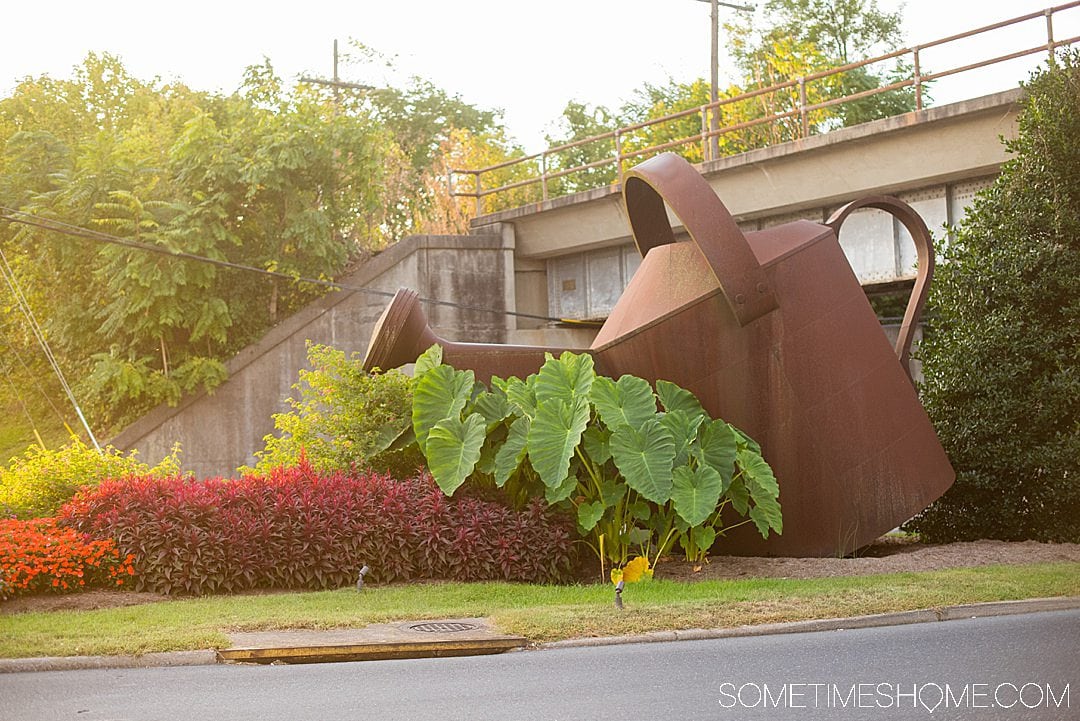 Sunflowers Mural
A sunflowers mural is directly across the street from the gas station on Greenville Avenue.
Sometimes street murals change often so we can't promise it will be there when you visit. However if you're heading to see the steel Watering Can sculpture you may as well look for it!
Unfortunately we're not sure who the artist is but it's another incredibly Instagram-worthy stop in Staunton.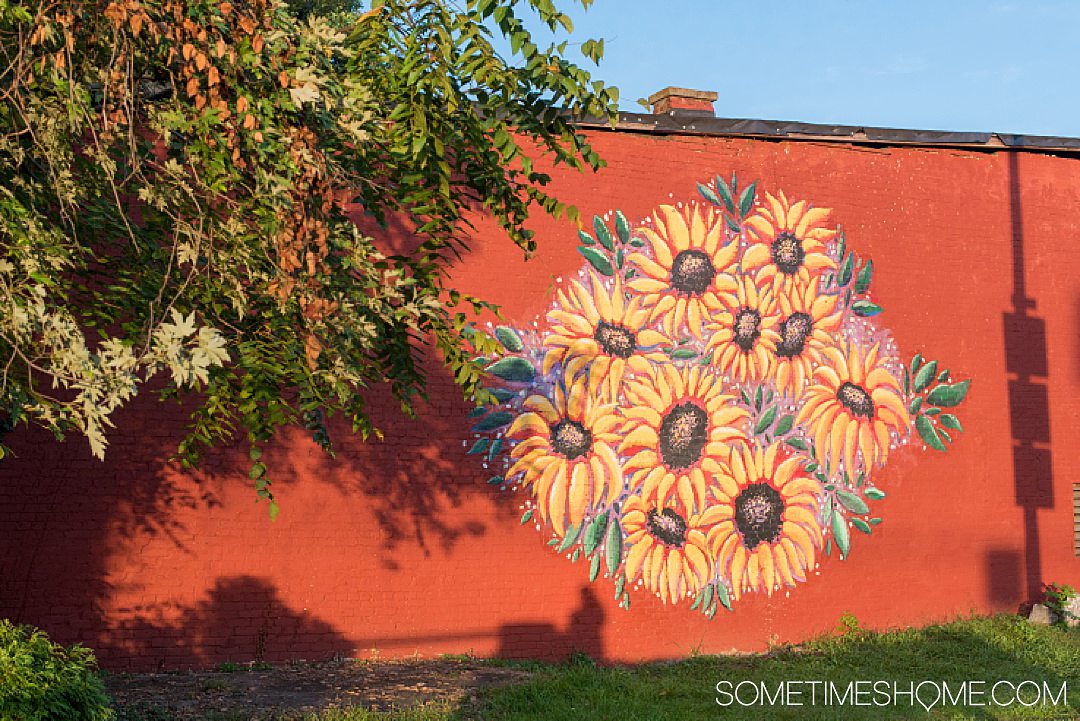 We could have posted so many more wonderful spots in this Shenandoah Valley city, but we prefer to leave the rest of the city to you for discovery!
Heading towards the Shenandoah Valley and Blue Ridge Parkway area? Also check out:
Disclaimer: W thank
Shenandoah

Valley

Travel Association for generously hosting us. We also may make a small commission from affiliate links in this post but all opinions are ours and we bring you genuine content with real facts, photos, thoughts and recommendations. Always.
Which of the photo-worthy spots in Staunton most appeal to you? Let us know your favorite in the comments below!