Mostly Outdoor winter events in North Carolina will allow you to celebrate the holidays, safely. We all want to celebrate the lights, warmth of the spirit of the holidays and enjoyment that comes with the season. But how do we do that during a pandemic?
The answer is in safe outdoor activities and events gone virtual. We're sharing the best events for you to participate in all the seasonal splendor, Christmas lights and activities, and holiday cheer, this year. Safely.
Please visit the individual website for any events we've linked below for the most up-to-date COVID safety information.
Overall, however, DON'T FORGET YOUR FACE MASKS! You'll be required to wear one while social distancing at most of the experiences that aren't drive through.
We've broken this post down into the three regions of the state for easy navigation:
Piedmont Region (including activities in Raleigh, Durham, Cary, Ramseur, Winston-Salem and Goldsboro)
Coastal Region (including activities in Wrightsville Beach and the Outer Banks)
Mountains Region (including activities in Asheville and Blowing Rock)
Winter Events in North Carolina's Piedmont Region
WRAL Night of Lights at Dorothea Dix Park
Location: Raleigh
Event dates for 2020: December 16 through 31, closed December 25. December 30 hours extend to 11:00pm, and December 31 until 12:30am (technically making the end time for the New Year's Eve event on January 1, 2021).
Tickets: Must be purchased in advance. Normal price $15, hours from 5:30pm to 10:00pm. Monday, December 28, and Tuesday, December 29 have discounted admission for $10. Pricing for December 30 and 31, the First Night Lights event, is $20 per vehicle.
Address: Enter the event at the park at 75 Hunt Drive, Raleigh, NC, 27603
About the Bright and Colorful Strictly Drive-Through Experience in Raleigh
As businesses pivot during a COVID year, we're happy to learn that a partnership with the City of Raleigh and Artsplosure has resulted in the first ever Night of Lights.
Drive along a 1.3 mile route (about a 15 minute drive) from the safety of your car. You'll enjoy over 400 displays and thousands of strands of lights in scenes including penguins and patriotism in this beautiful Raleigh park.
Don't miss your timed entry – you must enter before the end of your designated time so be sure to arrive promptly. Vehicles must be 10'5″ or shorter due to tunnel elements of the show.
We love Dorothea Dix's sunflowers in summertime and we hope they add this new holiday event, Night of Lights, to their annual celebrations. Portions of the proceeds will go to local non-profits and we hear there will be extra sparkle for New Year's Even on December 31st!
Historic Oakwood Candlelight Tour
Location: Oakwood, a historic neighborhood in downtown Raleigh
Event dates for 2020: December 12 through 27, 9:00am to 9:00pm
Tickets: None needed but a small $5 donation is appreciated for the non-profit to cover the costs of the tour + app this year.
Address: Starting address for the outdoor-only self-guided walking tour and app: The Tucker House, 418 N. Person Street, Raleigh, NC
About The Candlelight Tour in Oakwood this Year
While years past has brought visitors into the historic homes in Raleigh's Oakwood neighborhood, this year technology helps to safely take visitors inside. Guests are asked to download the Junket App to enjoy a self-guided tour through Historic Oakwood in Raleigh.
The tour is about 2.3 miles and will take between one to two hours depending on your speed. You can take it any time between operating hours (9:00am to 9:00pm) at your leisure.
Headphones are a fully charged phone are recommended as you follow along on the app. It's also suggested you walk the route for various reasons, not drive it. (If you're cold after the tour, head to one of our favorite places to get soup in the Raleigh area afterwards!)
Heart of the Holidays in Downtown Cary
Location: Downtown Cary
Event dates for 2020-2021: Tree lighting: December 5 (main event) at 6:00pm. Gifting Tree Event from December 5 to January 1, 2021.
Tickets: None needed.
Address: Park at Town Hall Campus, 121 Wilkinson Ave, Cary, NC 27513
Information Regarding the Tree Lighting in Cary
Head to downtown Cary for a festive evening of performances and merriment.
Several events are part of the Heart of the Holidays, with the main event – the tree lighting and performances – at 6:00pm on Saturday, December 5, 2020.
Though there won't be a gingerbread house competition this year, the Gifting Tree Project will take place. Over 70 Trees will line downtown Cary's S. Academy Street and Downtown Park.
They are being decorated by various local businesses, families and organizations. The public is invited to vote for their favorite online. The winner will receive a donation, provided by the Mayton Inn, to give to the charity of their choosing.
We also recommend going to Andia's Ice Cream before or after, just a two minute drive away! (Southeast Cary location: 1008 Ryan Rd,
Cary, NC 27511) It's THE BEST!
Christmas Lights on Holt Road
Location: Apex (about 20 minutes from downtown Cary, or 30 minutes from downtown Raleigh)
Event dates: Check their Facebook page as they have various different hours and are closed some days. The last day of the event is December 26, 2020.
Tickets: None, but expect the line of cars to be long – but it's worth the wait!
Address: 1012 Holt Road, Apex, NC 27523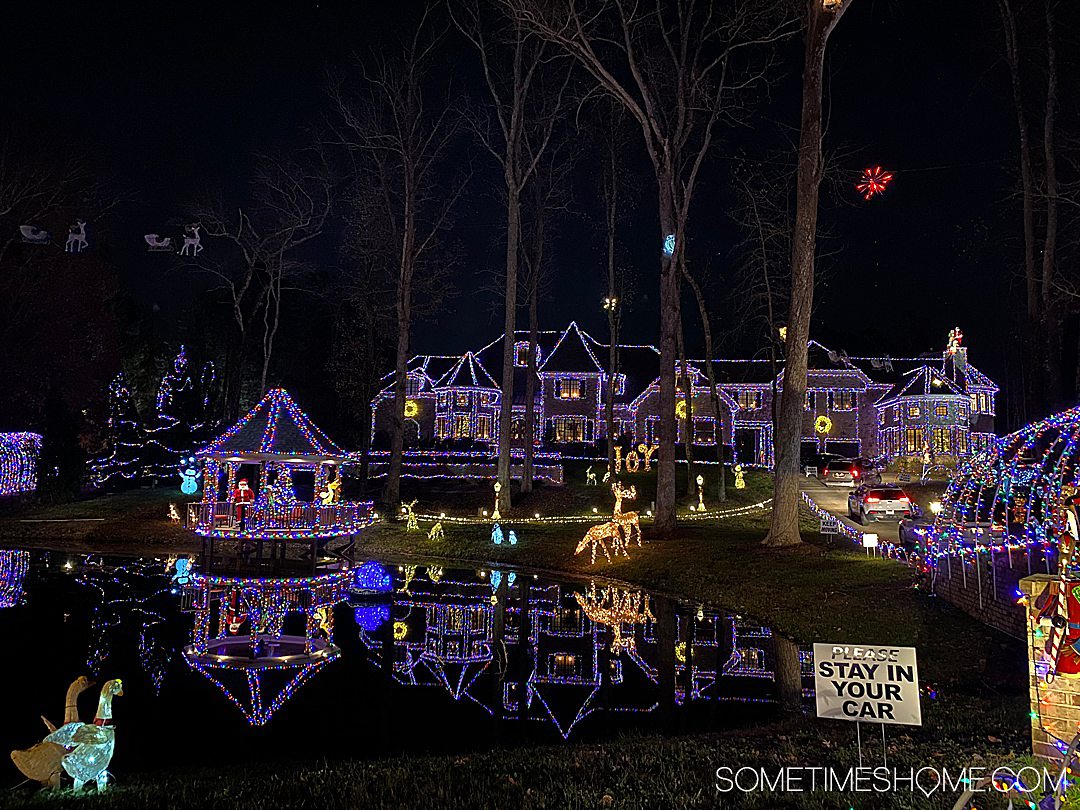 About the Lights at this Family Home
The light at Holt Road are incredible. We waited in line for about 30 minutes on December 5, 2020, which we now understand can be considered a short wait! We played holiday music in the car while we waited and joked we were waiting for Disneyland and also that there wasn't a bathroom nearby in case of emergency (which is true).
It did feel like Disneyland in the best way! We loved the lights and the generosity of the family who lives there and sets them up. They've been doing so since 2010.
They don't accept donations but they do have two charities posted this year – Western Wake Crisis Ministry and Saving Grace NC – that you can donate to. We were happy they had a QR code we scanned on the drive. We love pets so we donated to Saving Grace, a non-profit helping care for pets and help them get adopted.
Durham County Stadium Laser Light Show
Location: Durham County Stadium
Event date for 2020: Saturday, December 19 (rain date: Sunday, December 20).
Tickets: Reservations are required for one of three evening performances, but it's a free event. Times are: 5:30pm, 7:30pm or 9:30pm. (Registration opens on December 7.)
Address: Durham County Memorial Stadium, 750 Stadium Drive, Durham, NC 27704
About the Durham Laser Show
We think this is one of the coolest free winter events in North Carolina this season.
Enjoy a laser show inside the stadium, themed to holiday music in a drive-in style environment. And view it all from the comfort of your car!
Holidays in the Park at the Museum of Life and Science
Location: Durham
Event dates for 2020: December 2 to 6, 9 to 13, 16 to 20, and 26–27.
Tickets: $19 per person with the train ride, $16 without. Advanced reservations are recommend, as each has a timed entry.
Address: 433 W Murray Avenue, Durham, NC 27704
About the Holiday Event at the Museum in Durham
Walk through sparkling displays on the outdoor dinosaur trail, garden and Farmyard at the Museum of Life and Science's holiday event.
Enjoy the warmth of tropical temperatures inside the butterfly house, take a train ride on Ellerbe Creek Railway, and grab a snack at Sprout Cafe.
Built-Story Lights Tour around Durham
Location: South Durham
Event dates for 2020: Until December 29, 2020
Tickets: $10 (free for a limited time for users who are new to the Built Story app)
Address: The tour begins on Scholastic Circle, Durham, NC 27713
About the Holiday Lights Built Story App Tour in South Durham
A new app called Built Story is helping people take outdoor tours from the comfort of their own cars on their phones. (Or walk some of the locations in close proximity to one another on your feet – but make sure you have comfy travel shoes if you do! You will have to drive between some locations though.)
For $10 you can purchase access to 15 locations and the 9.9 mile self-guided tour of the best holiday decorations in the front yards of Durham residents. New users of the app can do the tour for free for a limited time.
Not sure you want to commit? They've listed three addresses on the tour for you to try out before you buy or sign up as a sneak peek.
The Santa Experience at Crabtree Valley Mall
Location: Raleigh
Event dates for 2020: November 21 to December 23: Mondays to Saturdays from 11:00am to 8:00pm, and Sundays from 11:00am to 7:00pm; Christmas Eve, December 24 from 10:00am to 6:00pm.
Tickets: Advanced reservations are required.
Address: 4325 Glenwood Avenue, Raleigh, NC 27612
About the Holiday Events at Crabtree Valley Mall in Raleigh, with Santa and a Sing Along
The Crabtree Valley Mall has been a staple in the Raleigh area since 1972. Families can visit Santa Claus at Crabtree Valley Mall in Promo Court, let him know your holiday wish list and pose for photos from a distance of 6 feet. (They're positioning the camera so it photographs well.)
Military and First Responders will receive a complimentary 5×7″ print with the purchase of any digital download with proof of ID. And $1 will be donated to Make-A-Wish® for every letter dropped in the red mailbox next to Santa, up to $1 million.
This is one of the few winter events in North Carolina that invites canines! Dogs are welcome on select days, with reservations on the followings dates: November 30, December 7 and 14.
Crabtree Valley Mall is also hosting a sing along in Center Court with Craig Woolard, the lead singer of The Ember's. This will take place on the following Saturdays from 11:30am to 2:00pm: November 28, December 5, 12 and 19.
Be sure to also visit one of the pop up holiday shops in the mall (like Hickory Farm and Sees Candies) and stop by the Salvation Army Angel Tree.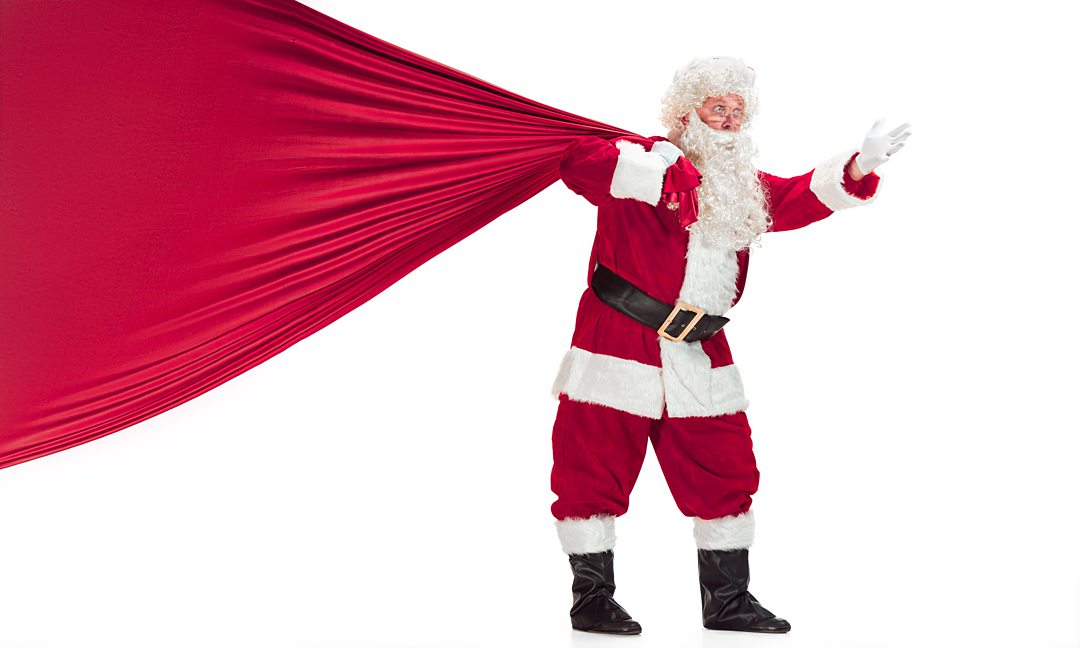 Jingle Express at Herman Park
Location: Goldsboro
Event date for 2020: December 4 and 5, 4:00pm to 8:00pm.
Tickets: Free event but pre-registration is required.
Address: 901 E. Ashe St., Goldsboro, NC 27534
About the Jingle Express Drive-Through Lights Event
Hop on the Jingle Express and drive through this a dazzling display of holiday lights. See Santa Claus (from a distance)! Kids even get a free goody bag.
We definitely recommend getting some Goldsboro BBQ afterwards. There are so many great options in the area.
Festival of Lights at Hill Ridge Farms
Location: Youngsville (about 30 minutes northeast of downtown Raleigh, just past Wake Forest)
Event dates for 2020: Thanksgiving night (November 26) through December 27, from 5:30pm to 10:00pm.
Tickets: $20 per car (consider cash for faster service, though debit and credit cards are accepted). Advance reservations are not available; first come first served basis.
Address: 703 Tarboro Road, Youngsville, NC 27596
About Hill Ridge Farms' Festival of Lights
If you love drive through winter events in North Carolina you'll enjoy this! Meander through over a mile of carefully created illuminated scenery throughout the farm from the comfort of your car. You can wear your Uggs and pajamas because no one will know!
The Festival of Lights at Hill Ridge Farms is drive-through only this year. Their Country Store, Park and Play and Grill will be closed. There is a max vehicle height of 10′ 6″ due to the holiday decorations.
Piper Lights Christmas Display
Location: Wake Forest
Event dates for 2020-2021: November 27, 2020 to January 1, 2021. Sunday to Thursday lights are on from 5:30pm to 9:00pm, Friday and Saturday from 5:30pm to 10:00pm. (Closed if it rains or snows.)
Tickets: None, but donations are appreciated to help pay for the cost of the family's electricity bill and light repairs.
Address: 5725 Fixit Shop Road in Wake Forest, NC
About the Lights Display in Wake Forest
The Piper family lights display will happen again this year but it's a drive-thru only experience. In previous years you were able to enjoy their onsite candy store and train, featuring Santa, but due to COVID they've changed things a bit to ensure safety.
The matriarch of the family started a holiday display with a tiny manger 30 years ago and it has grown into a 7 acre display of lights. It can get busy on weekends and peak night so be sure to exercise patience, or try to go during a weeknight that may not be as busy.
Pace Family Farm: (Holiday) Movie Nights, Holiday Craft Fair and Wreath Making Class
Location: Clayton (about 30 minutes southeast of Raleigh)
Event dates for 2020: December 11, 18 (movies) and 5 (craft fair), 19 (wreath making class)
Tickets: $15 per car "parking spot" for the movies – advanced reservations recommended since the December 11 movie sold out weeks in advance.
Address: Pace Family Farms, 12701 Buffalo Road Clayton, NC 27527
About the Holidays Events at Pace Family Farm
We discovered a renewed love of drive-in movies when we visited Old 96 this year during Halloween, and watched a double feature. We were delighted to learn there's a drive-in theater option just 20 minutes north of Raleigh, for Friday Farm Movie Nights.
The last month of the year features holiday films, of course, from 6:00pm to 10:00pm.
December 11: Elf (sold out)
December 18: Home Alone
They are also holding a craft fair on Saturday, December 5, 2020, and a wreath making class for $50 on Saturday, December 19.
Christmas with the Kringles at Millstone Creek Orchards
Location: Ramseur (about 45 minutes from Raleigh)
Event dates for 2020: November 27 and 28th, 4:00pm to 8:00pm; December 5 from 6:00pm to 9:00pm; December 11-13, 18-23 from 4:00pm to 8:00pm.
Reservations: You must reserve a space for the hayride experience at least 12 hours in advance; same day reservations will not be allowed. $15.95 per person (children under 2 are free). Outdoor movie viewing and picnic tables are free and don't require reservations.
About the Holiday Event at Millstone Creek Orchards
Christmas with the Kringles is a cute event that may be geared towards children, however kids at heart can have fun too.
They team at Millstone Creek Orchards have come up with a great solution to keep the event safe and fun. They're enforcing timed entry and pre-registration for this ticketed event in a continued effort to regulate crowd numbers.
Additionally, for instance, Santa and Mrs. Claus will be wearing masks. While no one is allowed to sit on their lap they'll have a special bench nearby where visitors can chat with the holiday icons.
You can also buy a s'mores kit or hot dog kit on site, and roast your own on the fire. We love this idea! (Check out these awesome personalized fire-roasting sticks! It's a great holiday gift idea and great house warming gift to give people too.)
If people aren't able to get a ticket to the event (just in case your desired date is sold out) guests are welcome to come enjoy the property for free, watch a holiday movie at 6:00pm, and a packed picnic. Their movie schedule is publicized on their website, as is additional information about Christmas with the Kringles.
Sweet Valley Ranch Holiday Lights Drive-Thru
Location: Fayetteville
Event dates for 2020: 6:30pm to 10:30pm: November 27 to 29, December 4 to 6, December 10 to 13, December 17 to 19, December 20 to 24, December 26 to 30.
Tickets: $7 per adult, or $25 per four adults ($5 off for Seniors, Military and First Responders)
Address: 2990 Sunnyside School Road, Fayetteville, NC 28312
About the Drive-Thru COVID-Safe Event at the Ranch
Visitors can drive through Sweet Valley Ranch in Fayetteville and expect to see thousands of lights, a nativity scene and animals. It's the ranch's inaugural year for this special holiday event even though the farm's been around and open to the public for a few years – and it's sure to be a delight!
Holiday Lights in the Garden, at Cape Fear Botanical Garden
Location: Fayetteville (about an hour south of Raleigh)
Event dates for 2020: Fridays to Sundays on the following weekend dates: December 4 to 6, 11 to 13, and December 18 to 23 from 5:30pm to 9:00pm.
Tickets: Pre-purchase tickets are required; walk up tickets are not available. Adults: $12 ($2 military discount); children: $7; seniors: $11
Address: 536 N. Eastern Blvd, Fayetteville, NC 28301
About the Event at Cape Fear Botanical Garden
This garden is a beautiful place to visit; we very much enjoyed our date in Fayetteville roaming around the property, seeing the lush landscapes and getting some exercise in.
The highlight of the garden is the central pond with a water feature and nearby patio to sit and enjoy the view, whether you visit outside of the holidays or during.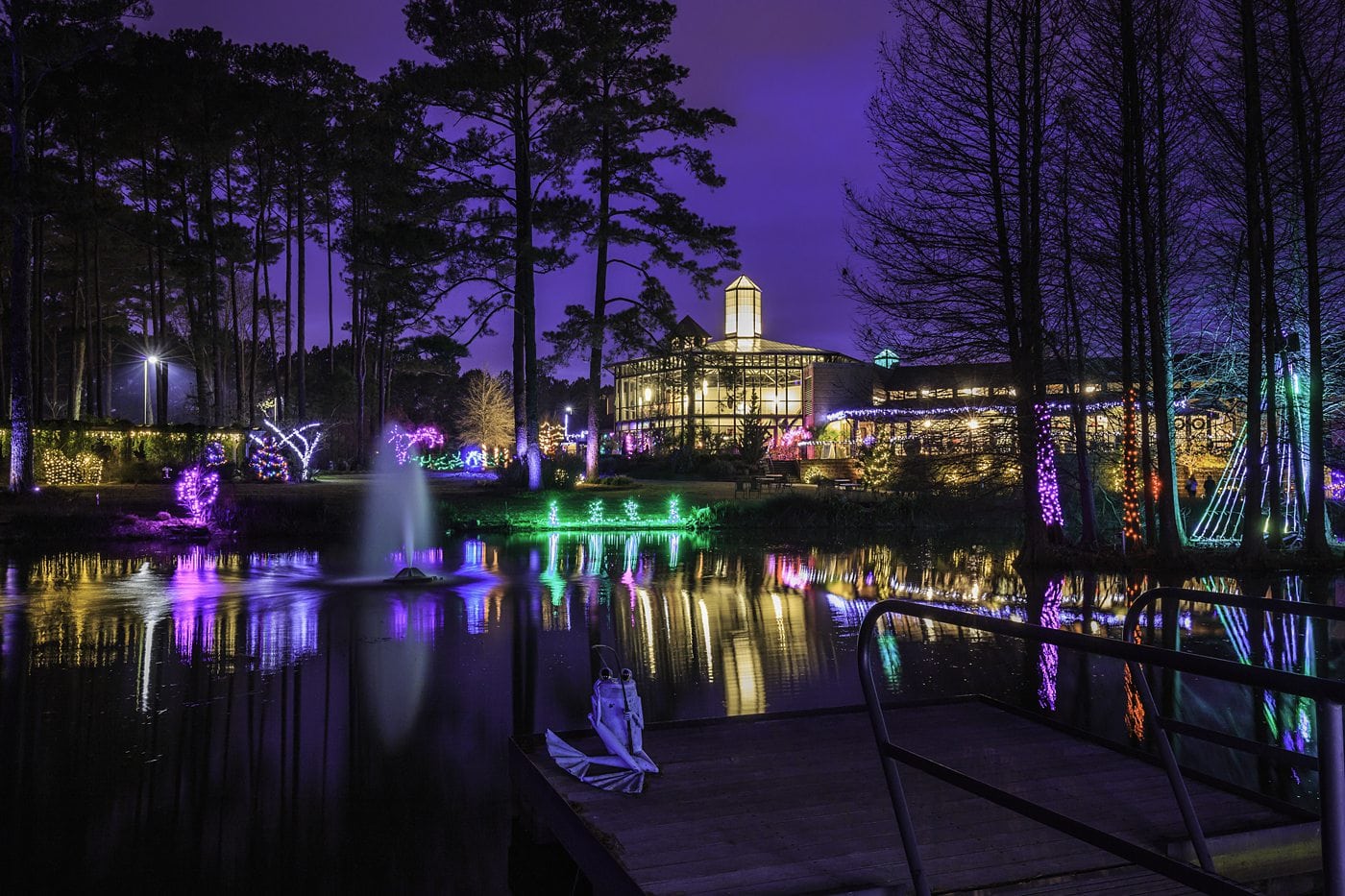 The event this year is a bit different than in previous years – tickets must be purchased in advance and meeting Santa Claus entails following safety guidelines. S'mores are available for purchase inside the garden.
Their Holiday Lights in the Garden enhances the garden's beauty and it's sure to be a beautiful sight.
Holidays at the Garden, at Daniel Stowe Botanical Garden
Location: Belmont (near Charlotte)
Event dates for 2020-2021: November 27, 2020 to January 3, 2021 from 5:00pm to 9:00pm
Tickets: Adult: $14.95; seniors: $12.95; children ages 2 to 12: $7.95; children under 2 are free
Address: 6500 South New Hope Road, Belmont, NC 28012
About the Daniel Stowe Botanical Garden Event
Guests can experience the beauty of the gardens at night as they stroll through the Botanical Garden adorned with holiday lights for 90 minutes. The event is held rain or shine, so be sure to check the forecast before you leave home to dress appropriately.
Hashtag #DSBGHolidays to share your photos on social media as you walk through the topiaries and sing along to holiday songs. For an additional treat, enjoy roasting marshmallows by the fire or grab a bite from an on-site food truck.
Holiday Tulip Light Display at Paul J. Ciener Botanical Gardens
Location: Kernersville, 20 minutes east of Winston-Salem
Event dates for 2020-2021: November 25, 2020, to January 6, 2021, from 5:30pm to 9:00pm. (Weather dependent.)
Tickets: Free admission, though as a non-profit organization donations are appreciated.
Address: 215 South Main Street, Kernersville, NC 27284
About the Holiday Tulip Light Display
This display is extra appealing to us because we're missing The Netherlands and travel abroad, when we saw the tulips at Keukenhof Gardens, not far from Amsterdam.
Paul J. Ciener Botanical Gardens isn't far from Winston-Salem (one of our favorite Raleigh weekend getaways), so make more than an evening trip and spend some time there. At night the garden transforms to a glowing spectacular display with twinkling wisteria, highlighted trees and of course, the tulips. (They said they've doubled the number of tulips this year, the second year of the event!)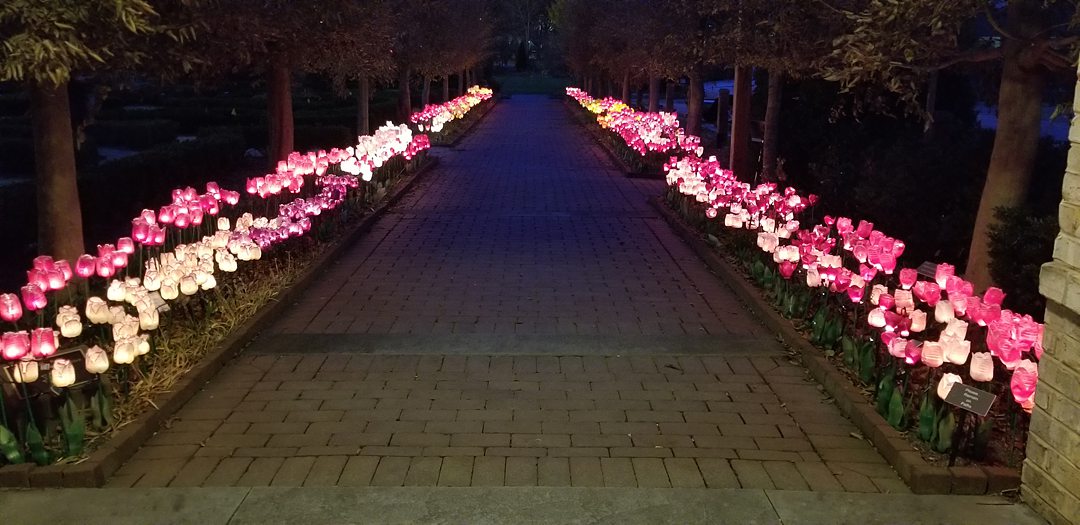 Christmas at Körner's Folly
Location: Kernersville, about 15 minutes east of Winston-Salem or about 30 minutes west of Greensobor
Event dates for 2020-2021: November 27, 2020 to January 2, 2021
Tickets: $10 for adults, $6 for children. Kids under 6 are free.
Address: 413 S. Main Street, Kernersville, NC 27284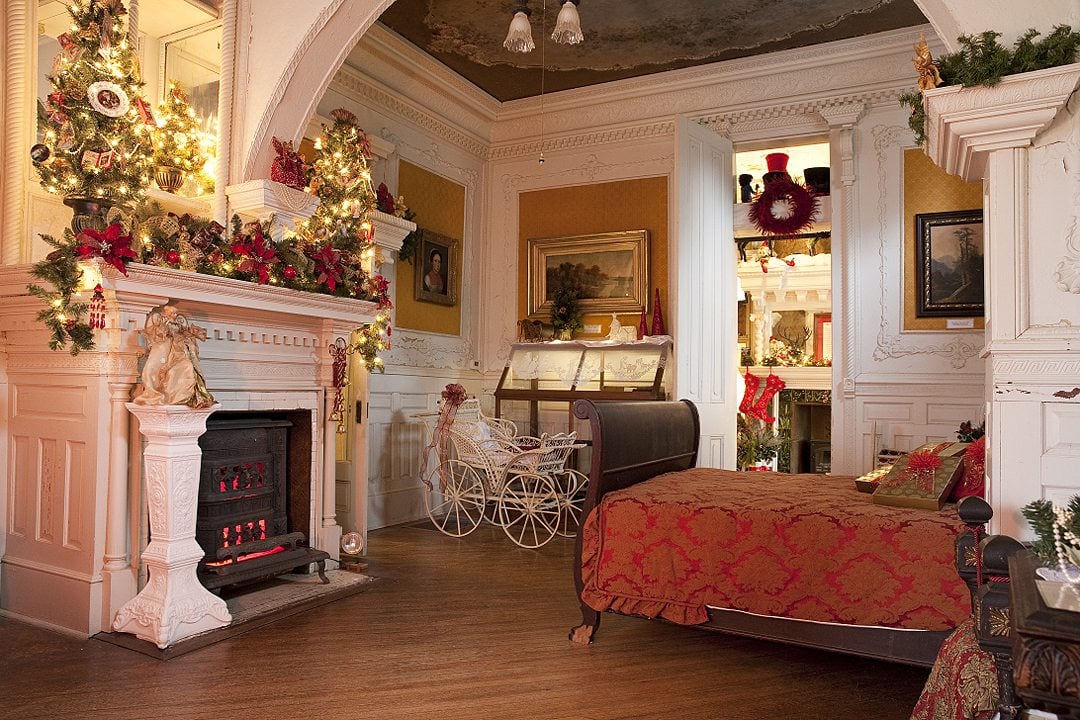 About the Holiday Decorations at Körner's Folly in Winston-Salem
This absolutely breathtaking historic Victorian home, with over 20 rooms and 15 fireplaces, is transformed for the holidays. Every room is decorated and available for guests to visit.
Guests are required to wear face masks this year. The self-guided tour lasts about an hour to an hour and a half. You can listen to holiday music available in each room through a QR code you can access with your phone.
There are still limited tickets available for the December 26 evening of Christmas by Candlelight in the home, a truly heart-warming holiday event.
Festival of Lights at Tanglewood Park
Location: Clemmons (about 15 minutes southwest of Winston-Salem)
Event dates for 2020-2021: November 13, 2020 through January 1, 2021 from 6:00pm to 11:00pm (last vehicle must be through the entrance by 11:00pm)
Tickets: $15 per personal vehicle, credit cards accepted. They have discount days on the following dates, when entrance is just $5: November 23, November 24
Address: 4061 Clemmons Road, Clemmons NC
Information about Tanglewood Park's Event
This is a great vehicle-only activity. For the event's 29th year, it will be a drive-through occasion.
Note that peak days are Thursdays through Sundays, when lines of cars waiting to get into the park can reach hours of waiting time. Try visiting during Monday, Tuesday or Wednesday, for the best experience with the shortest lines.
While we imagine this is one of the winter events in North Carolina where people look forward to visiting the gift shop and S'moresville, they will be closed at the Festival of Lights at Tanglewood Park this year. Santa won't be able to visit in 2020 either but will hopefully return next year.
The Nutcracker Ballet on Demand, from High Point
Location: Virtual
Event date: Friday, December 18, 2020
Ticket: $20 (plus convenience and handling fees – total: $25.35)
About the Nutcracker Ballet Holiday Performance this Year
If you're impartial to winter events in North Carolina that you can enjoy from your home, snuggled up on the couch, considering making an event of this live streamed performance.
This year's Nutcracker Performance by the High Point Ballet will be a bit different – because you can enjoy it from the comfort of your own home via Live Stream.
After you sign up in advance online, you'll receive an email with a link to the live stream on the day of the event.
Can't make it on December 18th but can within two weeks following? Everyone who signs up for a ticket will be able to access it on demand for 14 days following the performance.
We're already humming the tune of the Dance of the Sugar Plum Fairy in our heads! (Well, let's be honest – Mikkel is, at least!)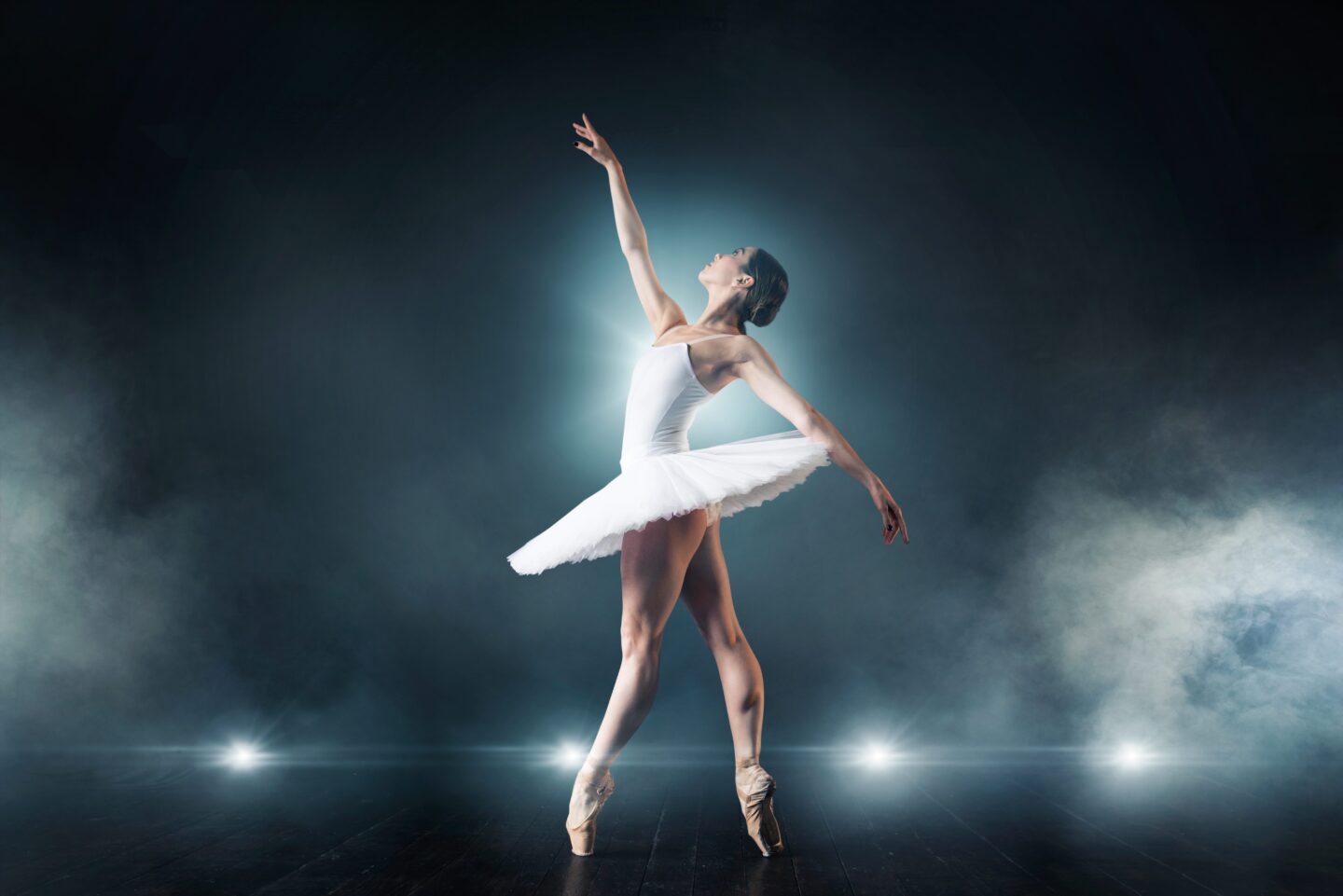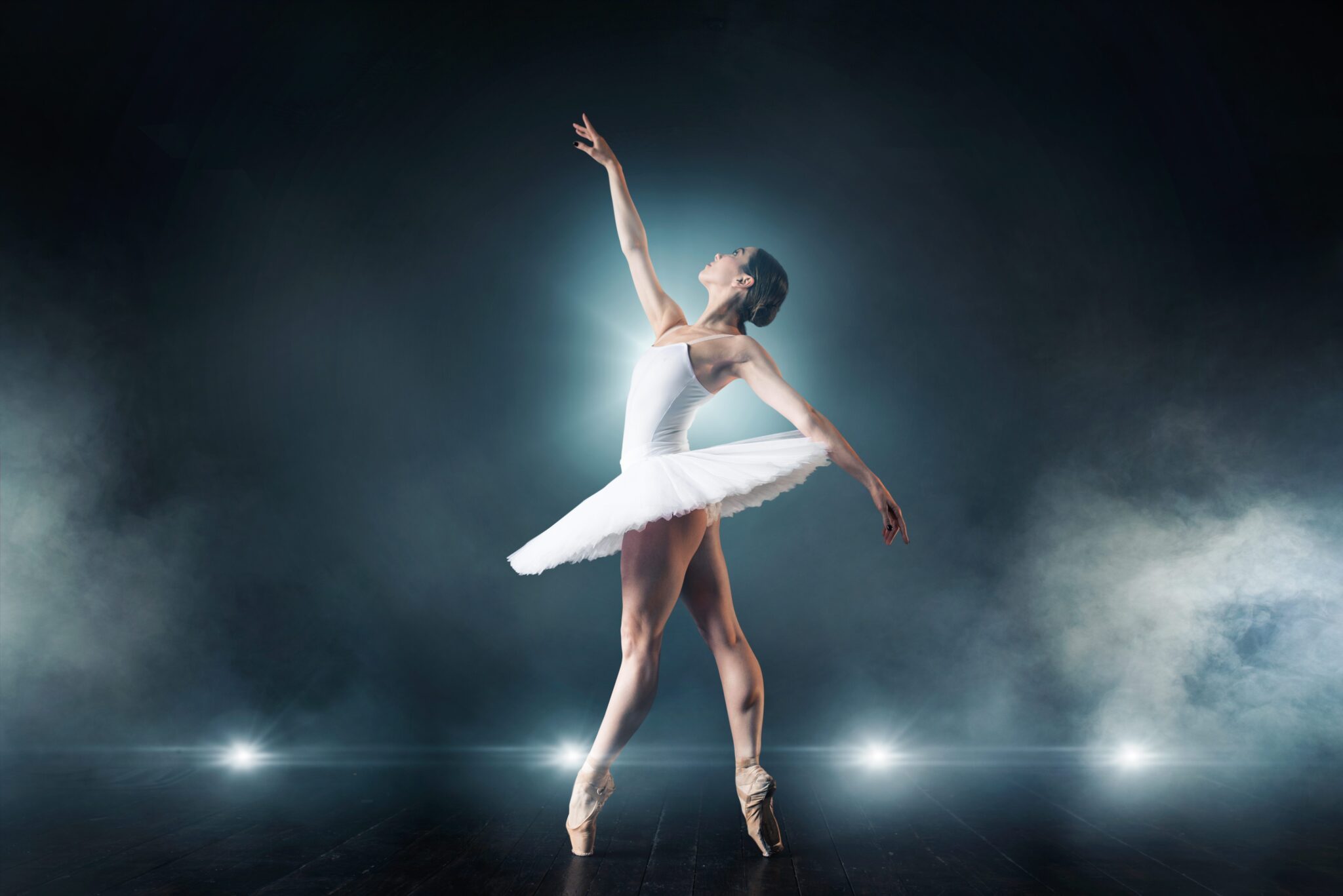 Winter Events in North Carolina's Mountains Region
Festival of Lights Chetola Resort
Location: Blowing Rock (western North Carolina)
Event dates for 2020-2021: Sunday, November 29, 2020 to January 31, 2021, from dusk to 10:00pm.
Tickets: None required.
Address: 185 Chetola Lake Drive, Blowing Rock, NC 28605
About the Holiday Event at Chetola Resort
Drive through the holiday lights at Chetola Resort free of charge and from the comfort of your own vehicle. What's safer than that?
On site lodging is available if you wish to stay overnight and/or eat a meal at Timberlake's Restaurant inside the resort, with socially distanced seating from 12:00pm to 9:00pm, daily. Reservations are strongly recommended for either.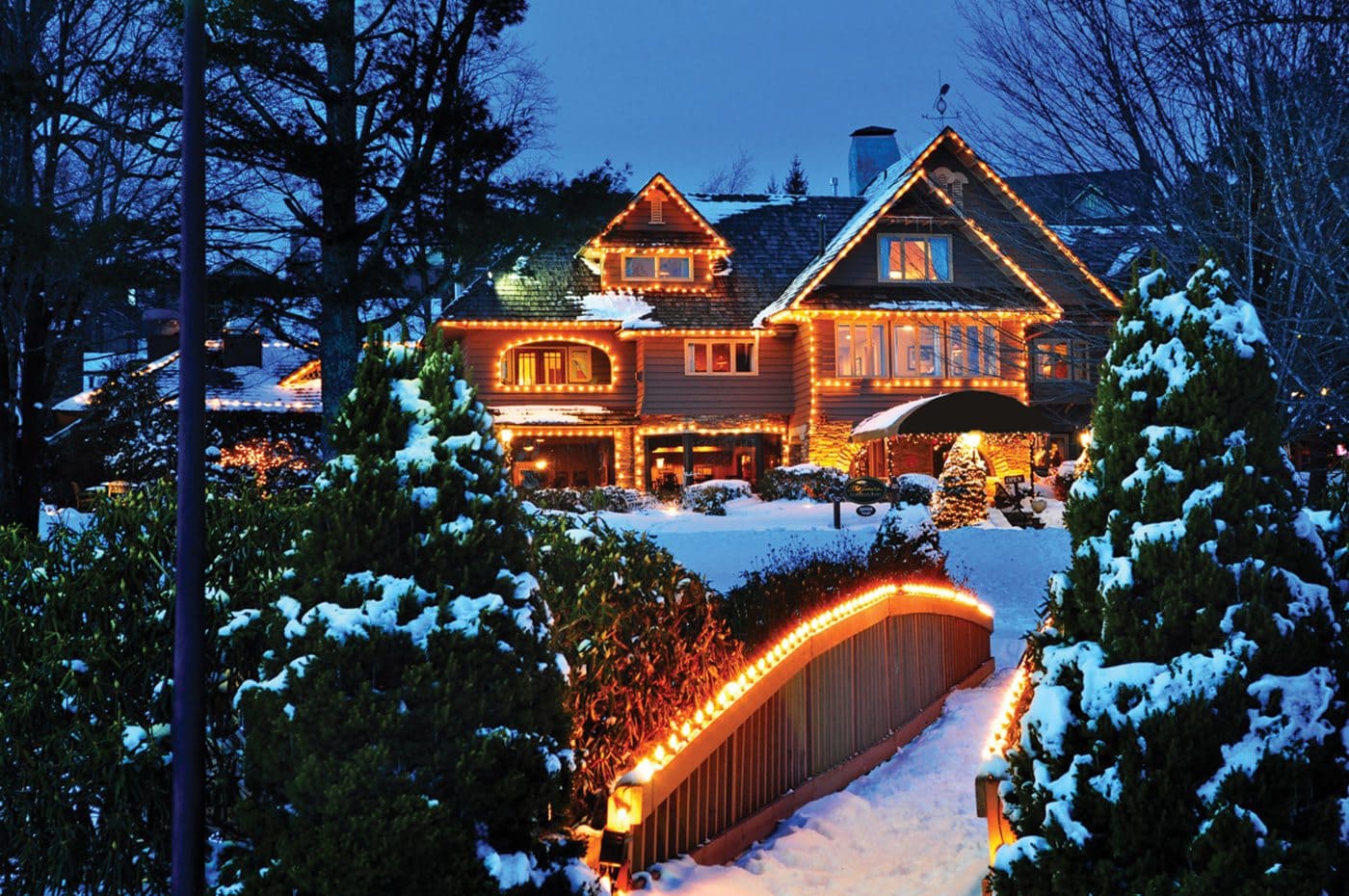 Roll down your windows and let the holiday music rush into your car and put you in a cheerful, joyous mood! (We can all use more cheer this year.)
You'll be able to stretch your legs if you wish to park your car and walk around the lake. Don't forget to bring your mask, though! Security will be doing temperature checks upon arrival.
Go to the Chetola Festival of Lights weeknights to avoid peak times.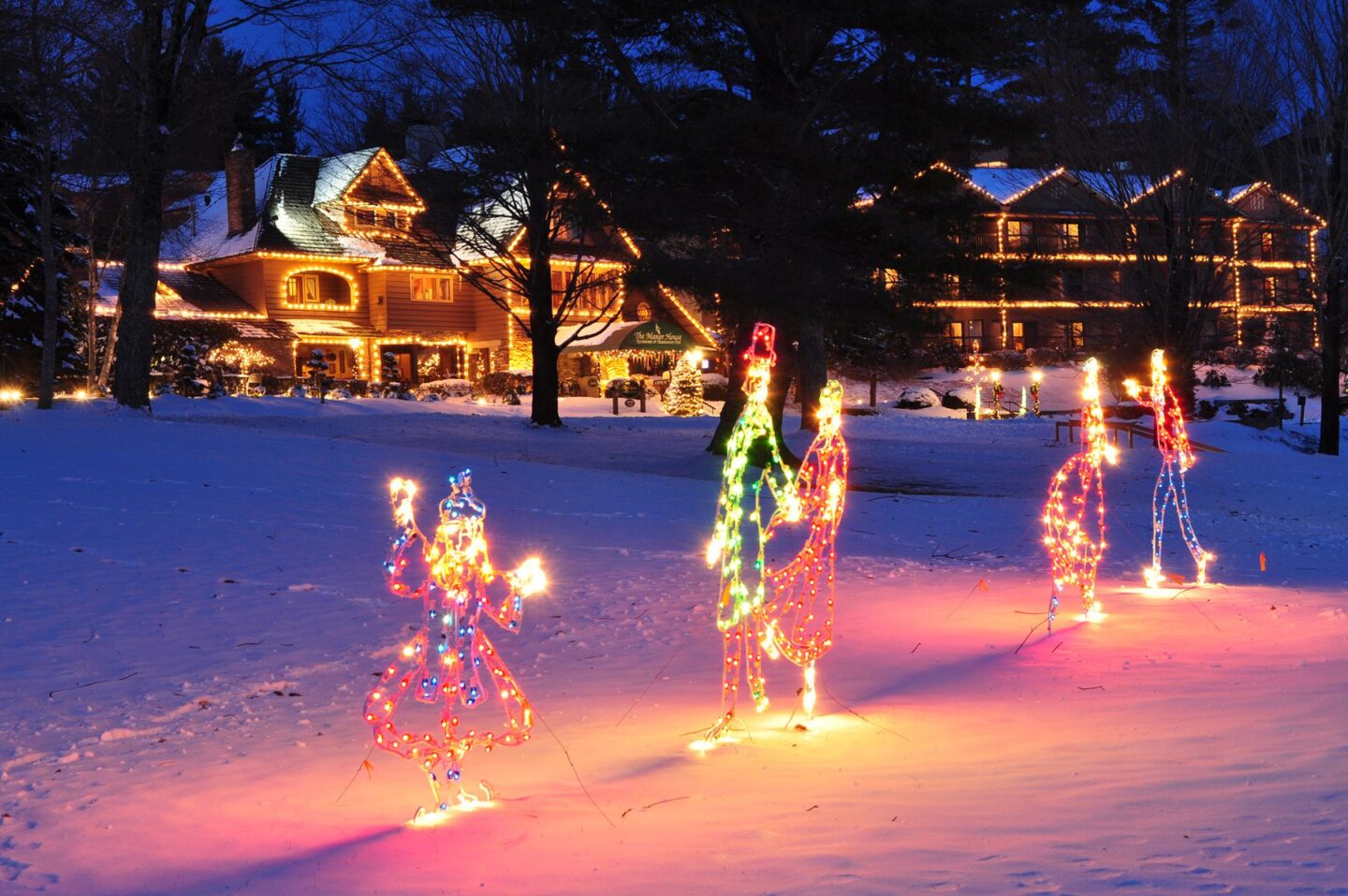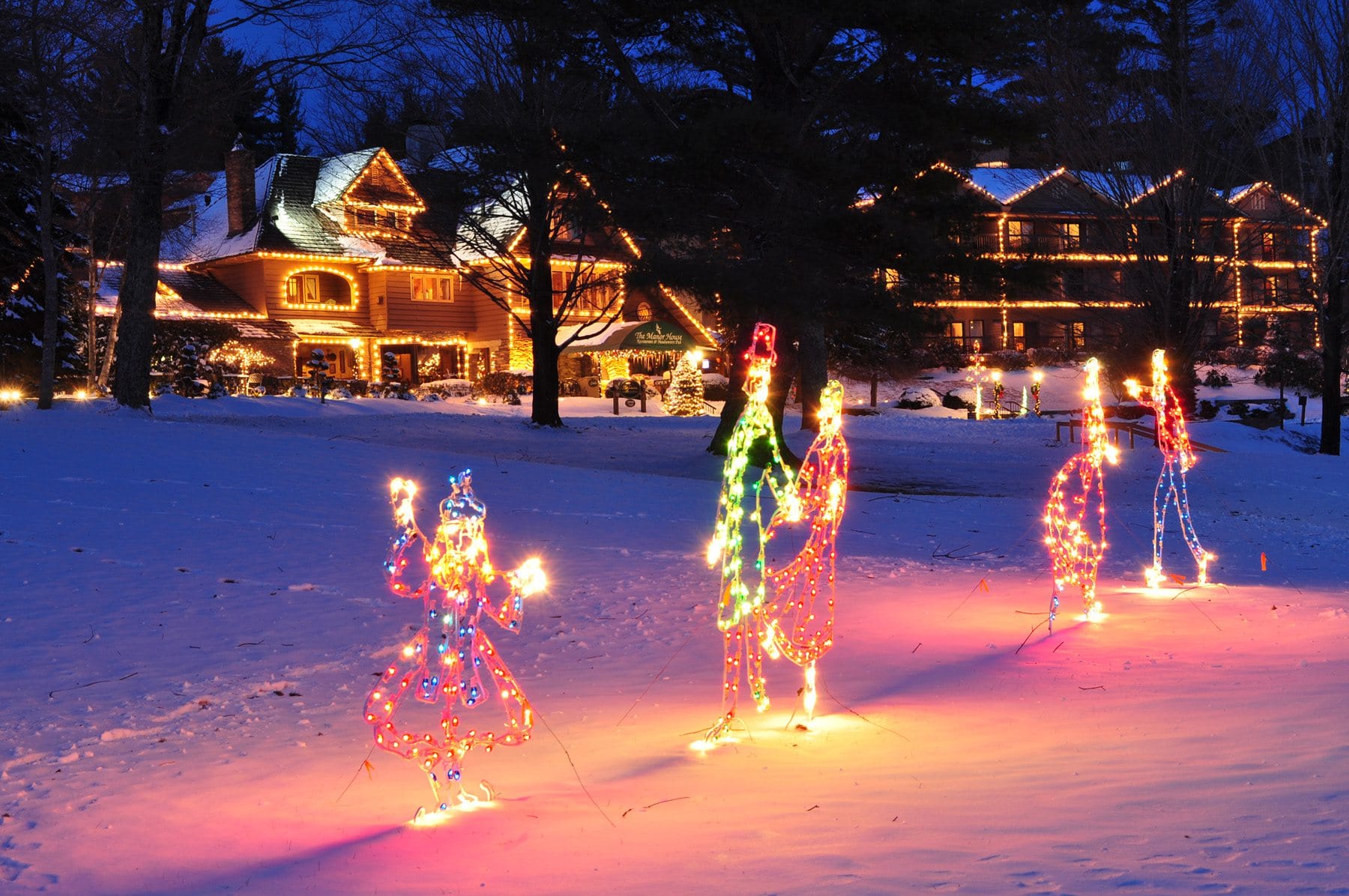 Christmas at the Biltmore
Location: Asheville
Event dates for 2020-2021: November 6, 2020 to January 9, 2021
Tickets: This is a higher ticket item, with starting prices ranging from $114 to $334 (per person, with children's tickets about half the price of an adult). It's strongly recommended you purchase tickets online as soon as possible – it sells out quickly and many dates are already booked.
Address: One Lodge Street, Asheville, NC 28803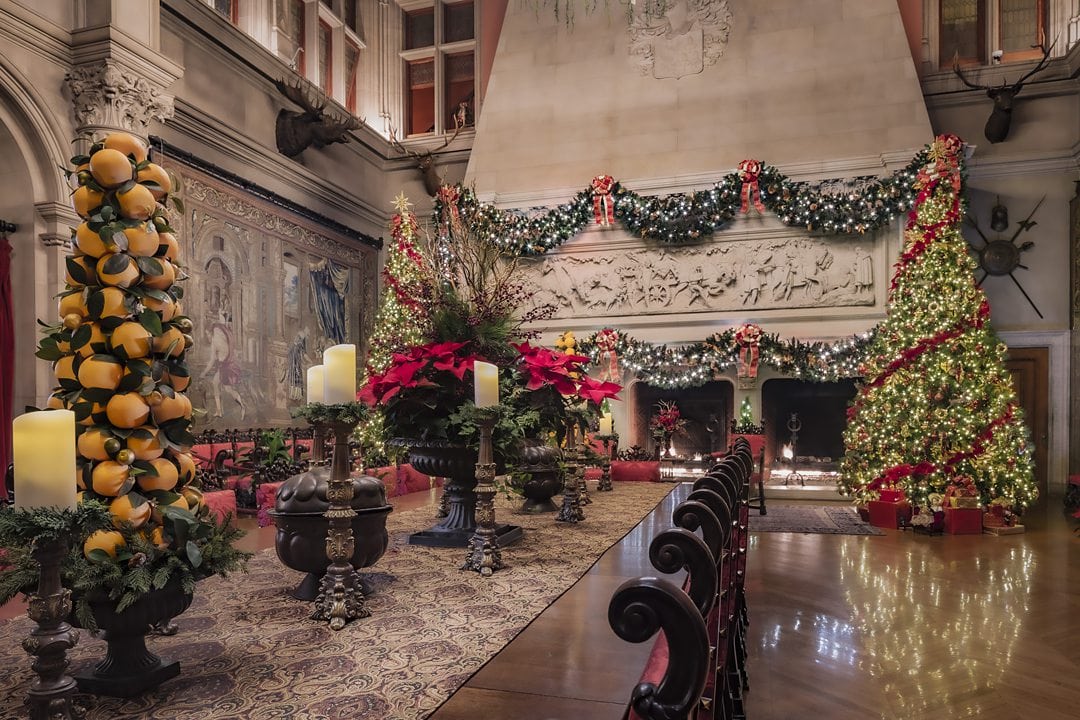 About the Biltmore's Christmas Events in 2020
Head to the historic Biltmore in the mountains of North Carolina to experience their Christmas Daytime or Candlelight Evenings events.
Christmas Daytime: Walk through the Biltmore during the day and enjoy holiday decorations like garlands, ribbons and decorated trees.
Candlelight Evenings: Experience the Biltmore at night, aglow with twinkling lights and candles.
Both experiences include evening access to the decorated Antler Village, wine tastings at the Biltmore winery, and daytime access to Antler Village, shops and restaurants.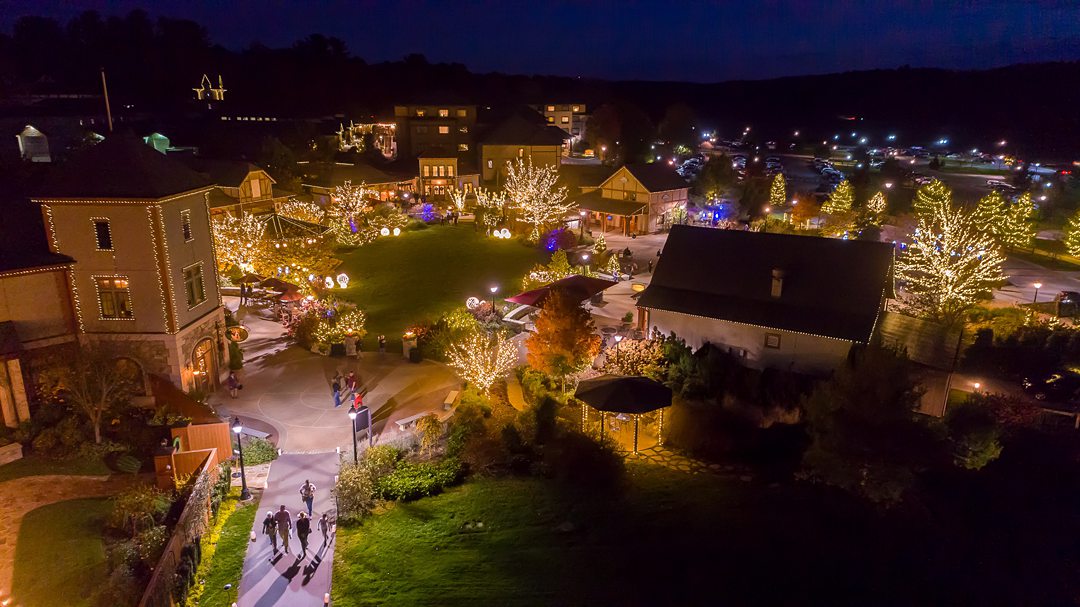 The North Carolina Arboretum Winter Lights
Location: Asheville
Event dates for 2020-2021: Nightly from 5:30pm to 10:30pm (gates close at 10:00pm), November 20, 2020 to January 10, 2021. They are open on Thanksgiving and Christmas.
Tickets: Advance tickets are recommended to reserve your spot for this popular event. There is a $5 savings if you book in advance online, though not required. Prices range from $20 to $30 per personal vehicle, depending on the night you select and if you purchase in advance.
Address: 100 Frederick Law Olmsted Way, Asheville, NC 28806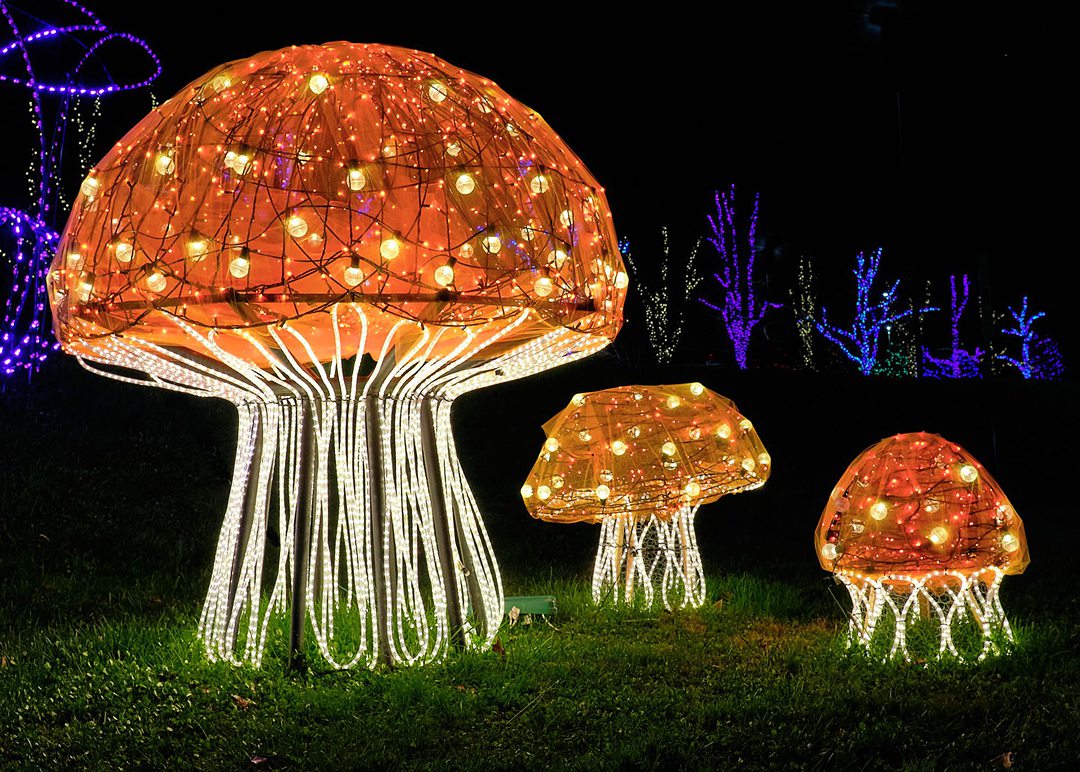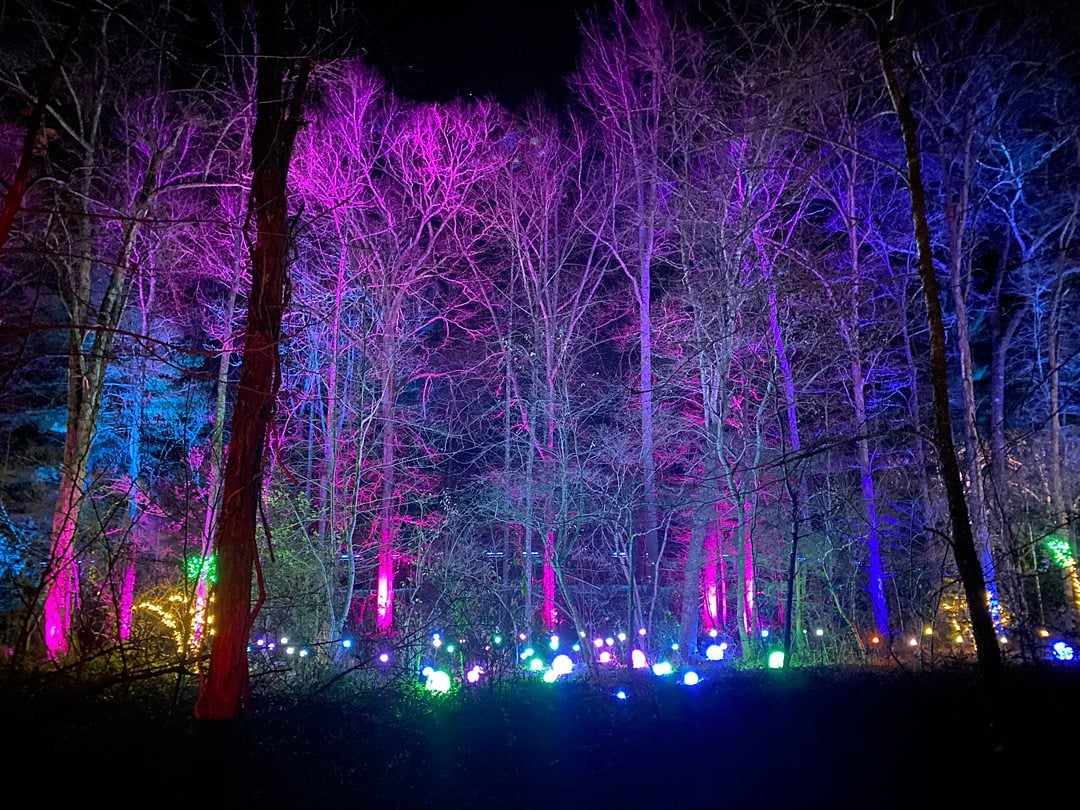 Additional Information about the Winter Lights Event at the Arboretum
This year the arboretum's holiday event has been converted to a drive-thru with COVID safety in mind.
Thousands of lights cover the one-mile drive through the arboretum campus. Nature-themed displays take center stage and visitors can expect to drive by illuminated butterflies, giant daisies and a special insect lantern exhibit.
Tune into the radio station they specify when you arrive to enhance your visit and add a holiday tunes soundtrack to your drive.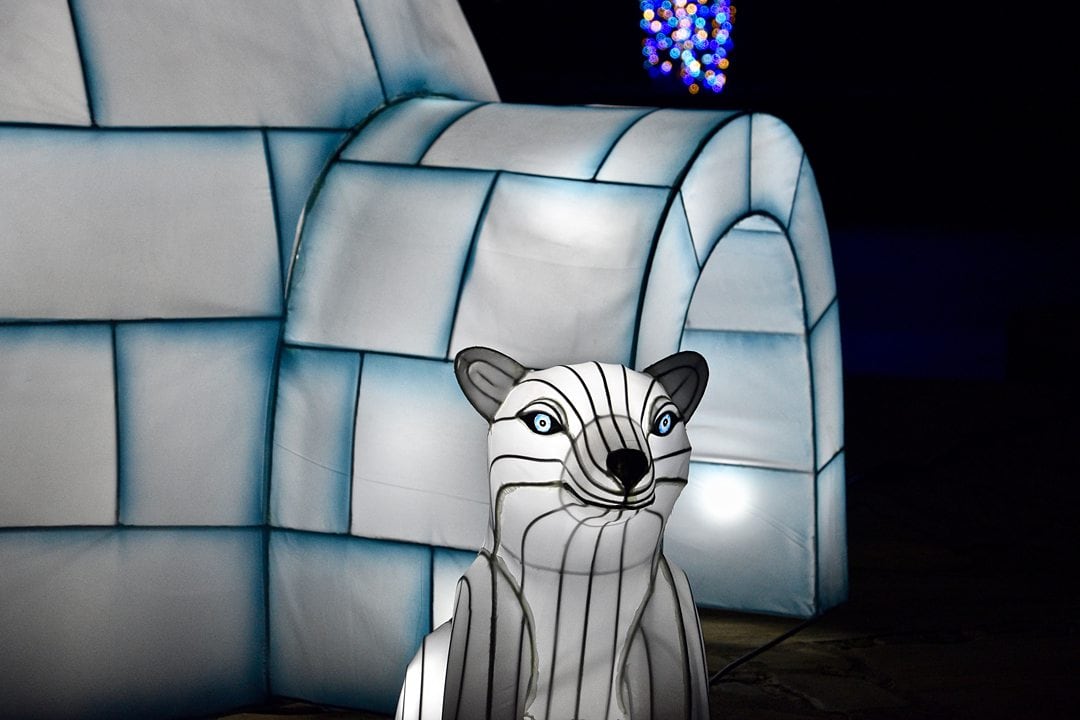 Tweetsie Christmas Train Rides and More
Location: Blowing Rock, NC (in the mountains)
Event dates for 2020-2021: Select evenings November 13 to December 31, starting at 5:00pm.
Tickets: Advanced reservations are strongly suggested since numbers are being regulated this year more than in the past. Tickets are inclusive of admission and a train ride, for the specified time and date.
Address: 300 Tweetsie Railroad Lane, Blowing Rock, NC 28605
About the Tweetsie Park Event
Ride in an open-air 20-minute train car ride decorated with dazzling lights, experience the Tweetsie holiday-exclusive Little Drummer Boy ride and warm up by a fire as you roast marshmallows and enjoy the sights and scents of the season.
Ride seats and capacity have been adjusted for 2020 due to COVID, and all maps and menus are available digitally, through QR codes.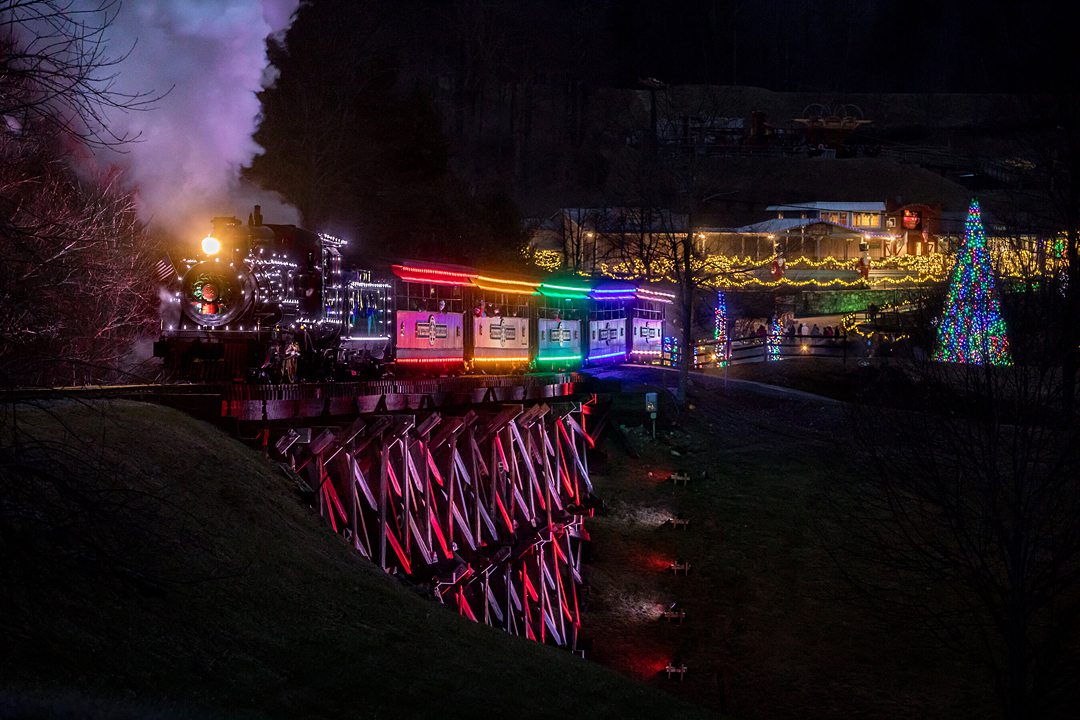 Winter Events in North Carolina's Coastal Region
Holiday Flotilla (Door to Dock Decoration Contest in 2020)
Location: Wrightsville Beach
Event dates for 2020: Judging on November 27 to 28, winner announced November 29.
Tickets: None needed.
Address: Open to all docks located on the Wrightsville Beach's traditional Flotilla route, from the drawbridge down Motts Channel, into Banks Channel and to the Coast Guard Station.
Wrightsville Flotilla Information for 2020
The traditional Wrightsville Beach Flotilla gets a twist this year! Boaters were invited to enter their boat and/or dock in a holiday decorating contest that takes place the weekend after Thanksgiving.
The event will be virtually streamed as well if you're unable to make it to Wrightsville Beach to see the entrants, but still want to vote (which is being done via text). Four categories and several thousands of dollars are at stake!
Elizabethan Gardens WinterLights and Holiday Classes in the Outer Banks
Location: Manteo, North Carolina on Roanoke Island in OBX
Event dates for 2020-2021: Tuesdays through Sundays from late November 2020 through January 2nd 2021, from 6:00pm to 9:00pm. Closed November 26, December 24, 25, and 31. December 2 is open for owners to bring their dogs. (Humans pay admission, dogs are free to enter.) $1 from each ticket sold for that day will be donated to the Outer Banks SPCA.
Tickets: Tickets are being sold exclusively online this year and they're required for the event.
About the Holiday Event at Elizabethan Gardens in OBX
Since this is one of the places in NC that's outside, year-round, it makes perfect sense it's one of the COVID safe and recommended winter events in North Carolina. WinterLights is especially perfect for 2020.
The Elizabeth Gardens was one of our favorite places to visit when we went to the Outer Banks in October. We can only imagine how majestic it is illuminated at night. It's the 10th anniversary of the WinterLights too!
The staff decorates the entire gardens property, from twinkle light tunnels, to toy soldiers standing tall, to garland around the fountains.
They also have some holiday classes that look appealing, with very limited space, including:
Christmas Centerpiece Workshop: November 24 and 25; December 17, 18 and 19.
Christmas Cactus Workshop: December 5.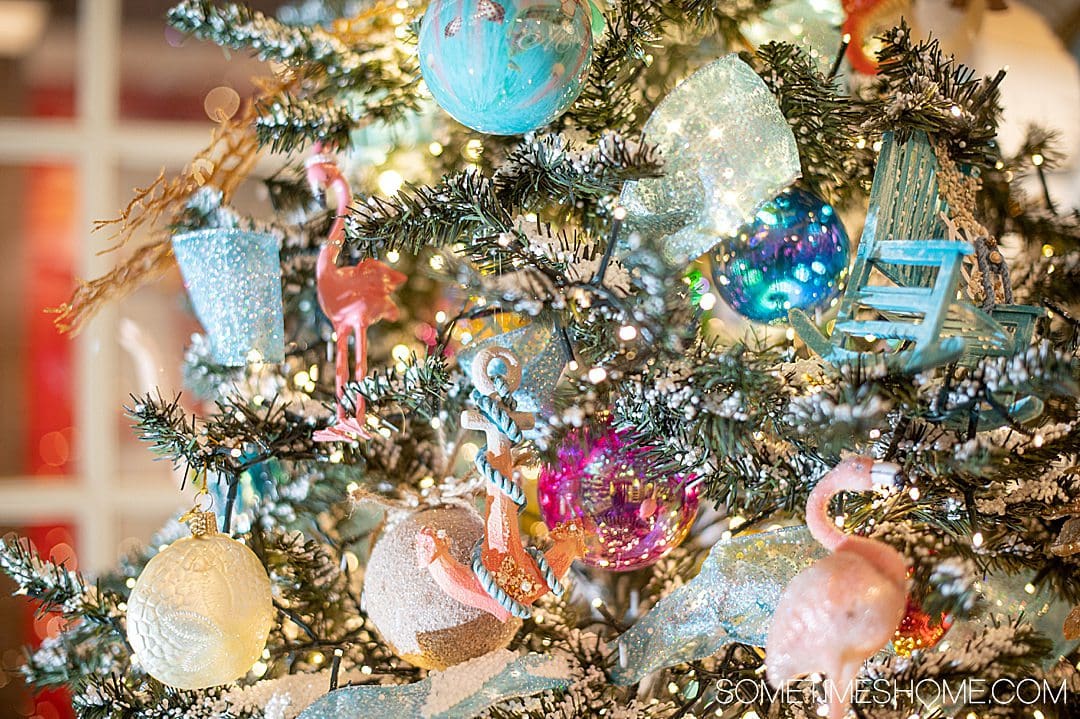 Kitty Hawk Kites Santa Meet and Greet
Location: Nags Head (about an hour south of Raleigh)
Event dates for 2020: November 27 to 28
Tickets: None needed.
Address: Kitty Hawk Kites at Jockey's Ridge Crossing: 3933 S. Croatan Hwy, MP 12.5, Nags Head, NC, 27959
Information for the Kitty Hawk Kites Celebration
We know that Kitty Hawk Kites is a great company from our experience hang gliding with them at Jockeys Ridge State Park.
They're solidifying our esteem as they open their doors for a meet and greet with Santa the last weekend in November. You can visit his elves on the second floor of Kitty Hawk Kites at Jockey's Ridge Crossing in Nags Head as well.
Wright Brothers Celebration in Kill Devil Hills and Virtually Online
Location: Kill Devil Hills
Event dates for 2020: December 17.
Tickets: Not needed.
Address: Virtual
About the Annual Wright Brothers Celebration for 2020
A celebration occurs each year to honor the first flight of the Wright Brothers in the Outer Banks, in Kill Devil Hills. (We personally enjoyed celebrating them when we visited the Outer Banks in October and walked through the National Park and memorial.)
This year's celebration will consist of a fireworks display from what we understand, and online event.
2020 marks the 117th anniversary of powered flight, thanks to the persistence and perseverance of the Wright Brothers. Even in a pandemic year when we haven't flown very much, we remain grateful for flight, which has allowed us to travel all over the world.
A virtual celebration will accompany the event so you can celebrate if you don't live on the coast of North Carolina to spot the fireworks lighting up the sky.
Celebrating the holidays and looking for awesome gifts? Here are our recommendations: