Working Remotely in Florida from Crane's Beach House Hotel in Delray
We were road tripping to Florida to stay for a month. It was an escape from North Carolina during winter – but we knew we'd want a change of scenery from where we'd be staying the whole time, with family, in Boynton Beach. In our search for "Delray Beach boutique hotels," Crane's Beach House hotel came up. It was perfect for working remotely and a little escape and we booked it.
How We Selected Crane's Beach House in Delray Beach
We didn't want to travel too far from family. This was because we wanted my parents to be able to meet us for dinner or happy hour on day. But we wanted to be on our own for a few days and also needed to work remotely everyday.
It was COVID and the desire to work at a huge hotel conglomerate wasn't really something we were too keen on. (Plus we prefer boutique hotels anyway.) We wanted to relax and get work done somewhere that wouldn't have too many people.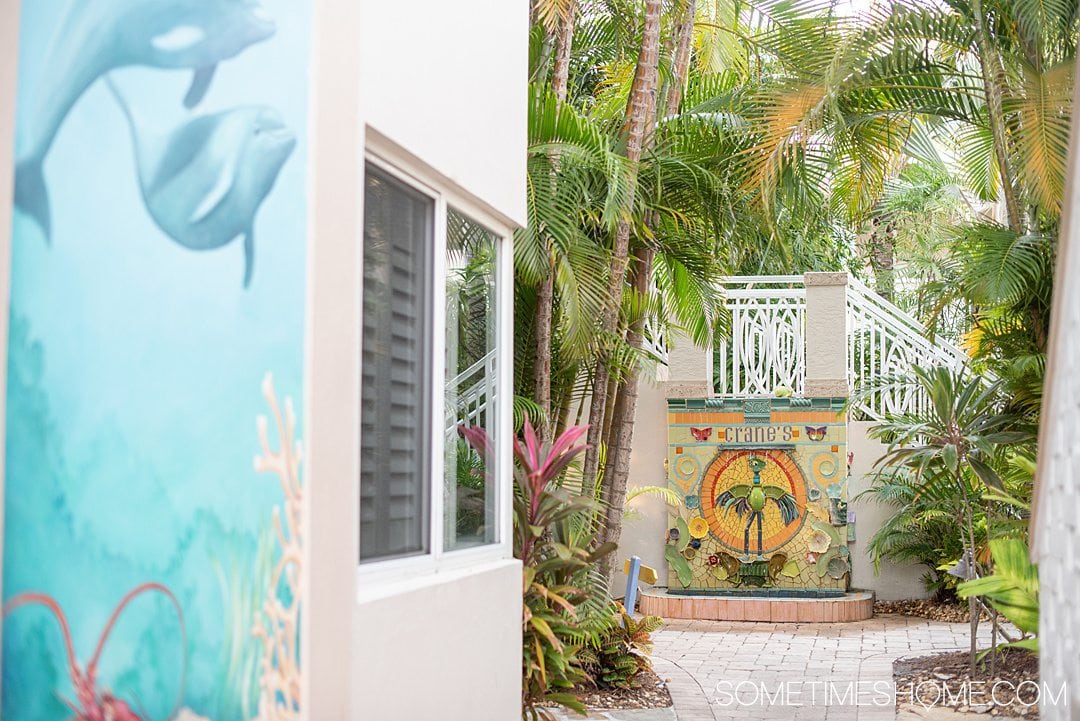 Here's a glance at our criteria for our search in Delray Beach, overall:
A boutique hotel so there wouldn't be a ton of guests (during COVID-19).
Great set up for us to work remotely, including Wifi and desks, and natural light for sanity since we'd be indoors a lot of the day. Gotta get the Vitamin D, regardless!
Some amenities and perks, like a pool. Bonus for being close to the beach and walkable to plenty of restaurants with outdoor seating.
Not too far from Boynton Beach, where my parents live, about 20 to 30 minutes away.
Kitchen, so we could make our own meals.
Hundreds of positive Crane's Beach House reviews came up, averaging to 4.5 stars out of 5. Whenever we see that kind of number we are impressed. It immediately grabbed our attention.
Crane's Beach House has boutique hotel rooms and villas. The villas were perfect for our above criteria, and we were thrilled to learn the health and safety of their guests was at the forefront of their minds. A banner at the top of their website, and more messaging about it in multiple places throughout, gave us peace of mind.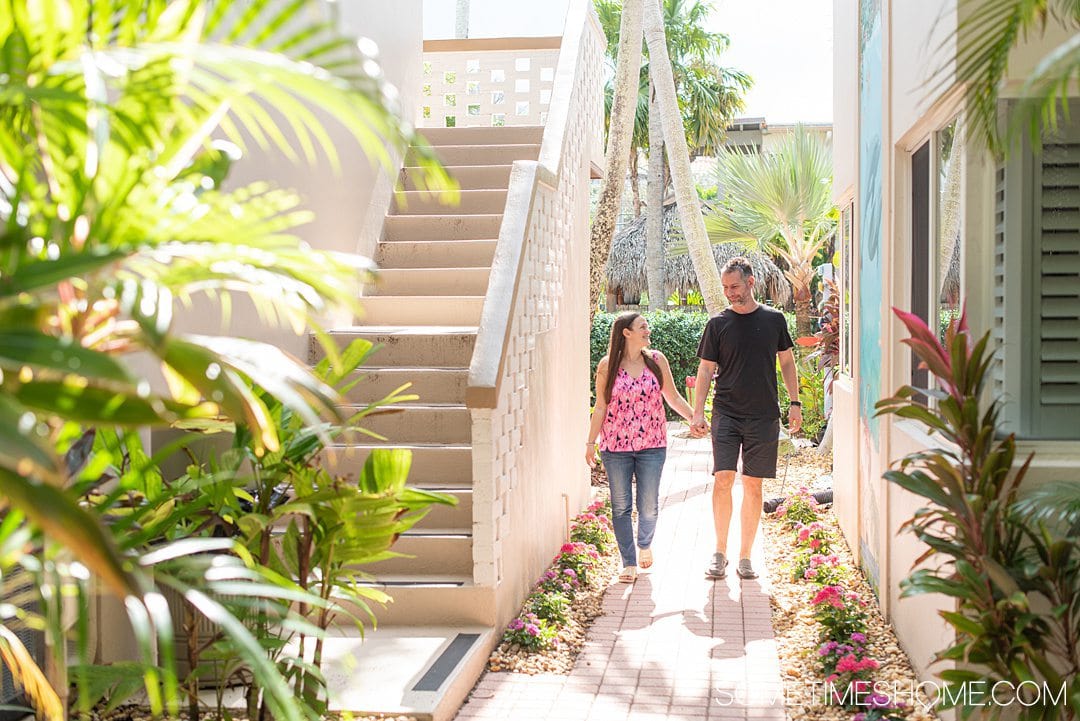 About the Crane's Beach House Hotel Property
This property is incredible. "Tropical oasis" are the words that come to mind when we think about it and look at our photos from our stay, recalling walking in and out of the property everyday. We were meandering through a lush tropical garden whether we were simply steps away to the pool or exiting the property to head out to Atlantic Avenue.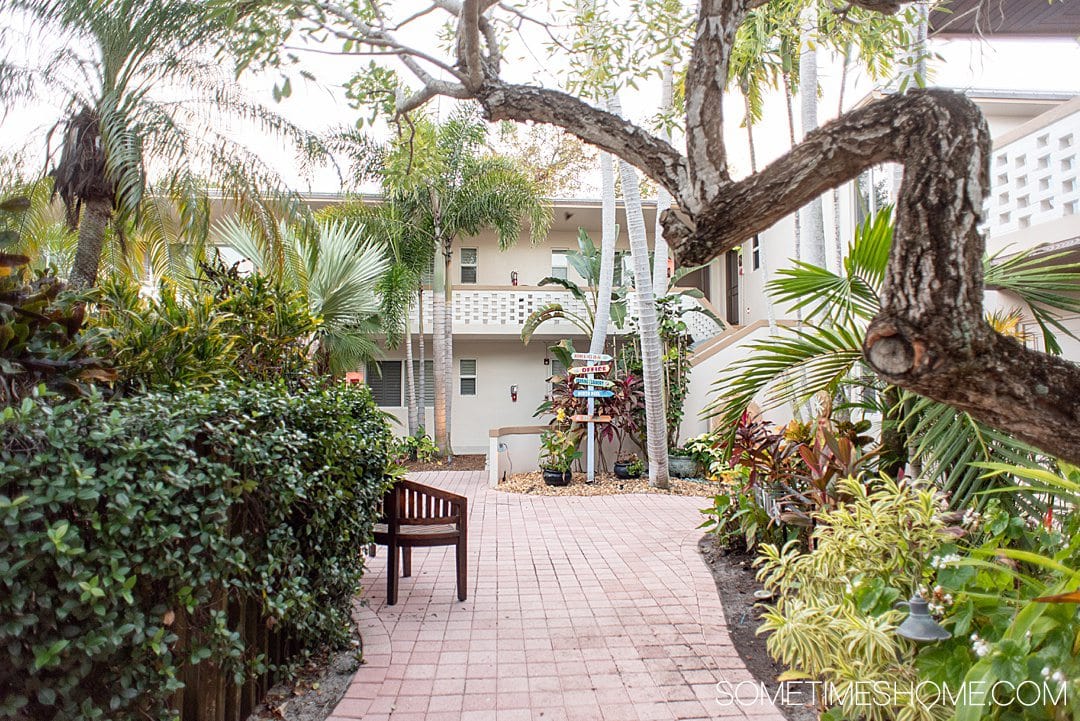 One of the things we loved was how cozy and intimate Crane's Beach House felt. We passed by so many huge resorts that made us appreciate the small size of Crane's.
It's intimate and boutique, as its longer named indicates ("Crane's Beach House Boutique Hotel and Luxury Villas"). The height of its buildings only reach two floors while surrounding hotels tower over the landscape. The trees can't even reach as high as the buildings in those cases.
But at Crane's, the trees grow around and over the hardscapes helping to create pleasant softscape scenery. A retreat.
This was especially important to us because we were there most of the day, working remotely. If we needed a quick break in between virtual meetings and writing, we could just walk outside or have a drink on the porch for a few minutes.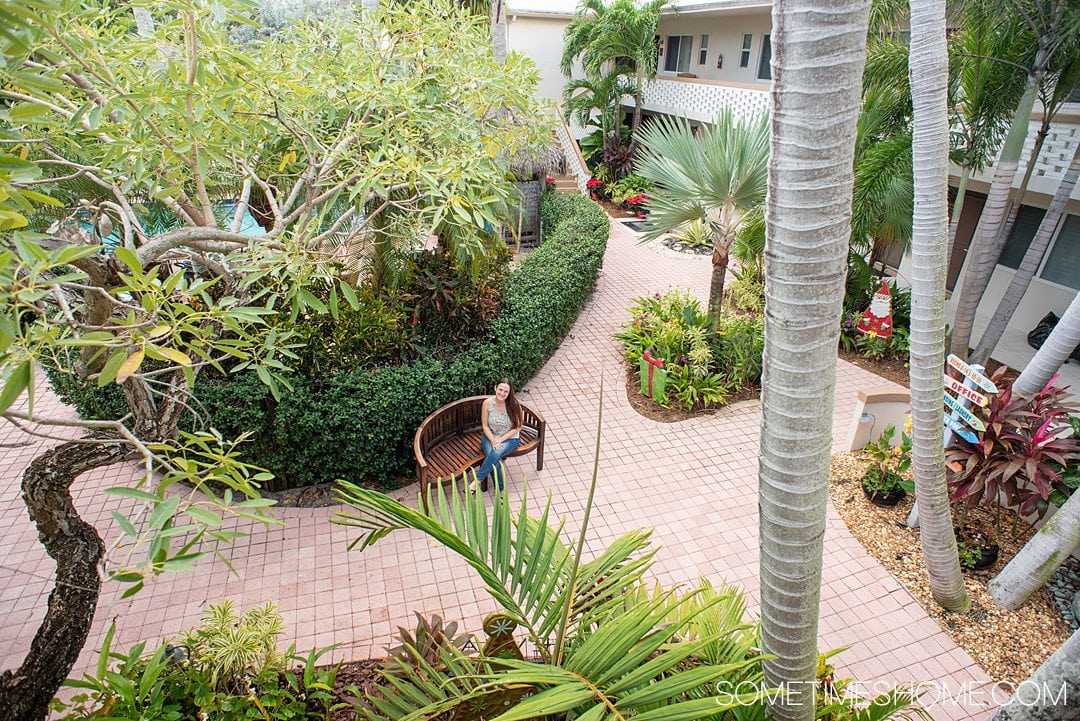 Amenities we Enjoyed During COVID: Pools, Tiki Bars, and Common Area Seating
Our favorite onsite amenity was the two Crane's Beach House saline pools. I expected them to be a little chilly in December but was thrilled to feel warm water when I dipped my toes in to gauge the temperature.
They're both shaded by palm trees so the Florida sun doesn't scorch your skin while you're swimming or wading in the water. (I have fair skin so this is always super important to me, though of course you must wear sunscreen in Florida, regardless.)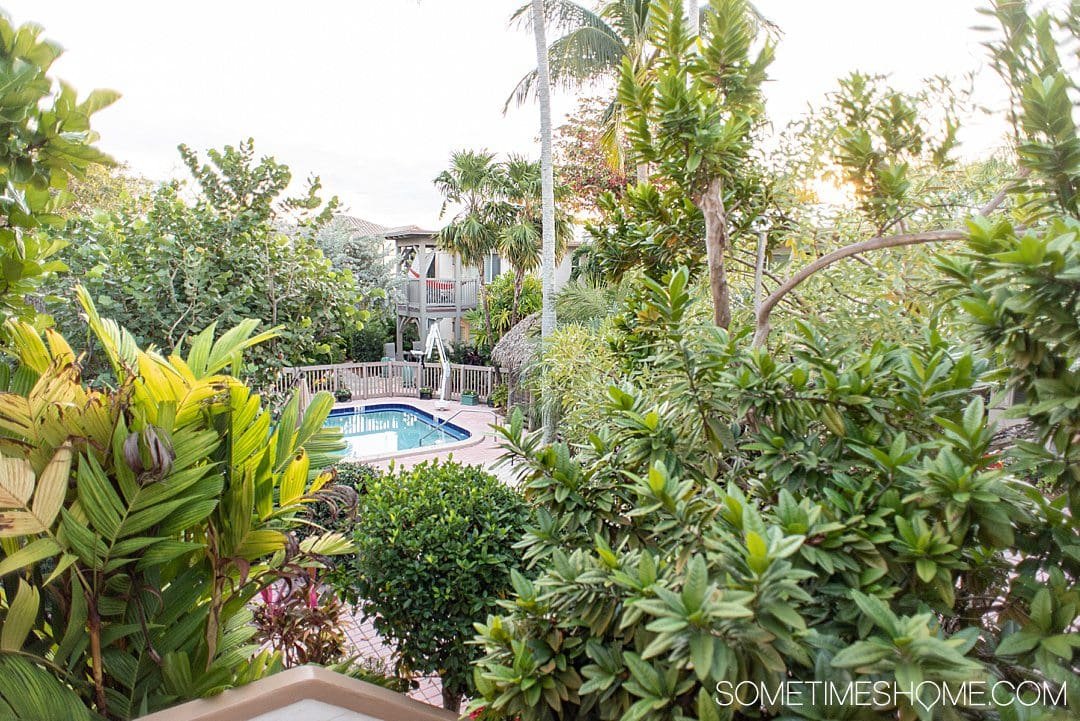 We went in a pool two out of the three mornings we had at Crane's and enjoyed about an hour break from work each time. It was DELIGHTFUL! The best part was going back to our room to shower after because the villa shower was AMAZING. Read on for more about that!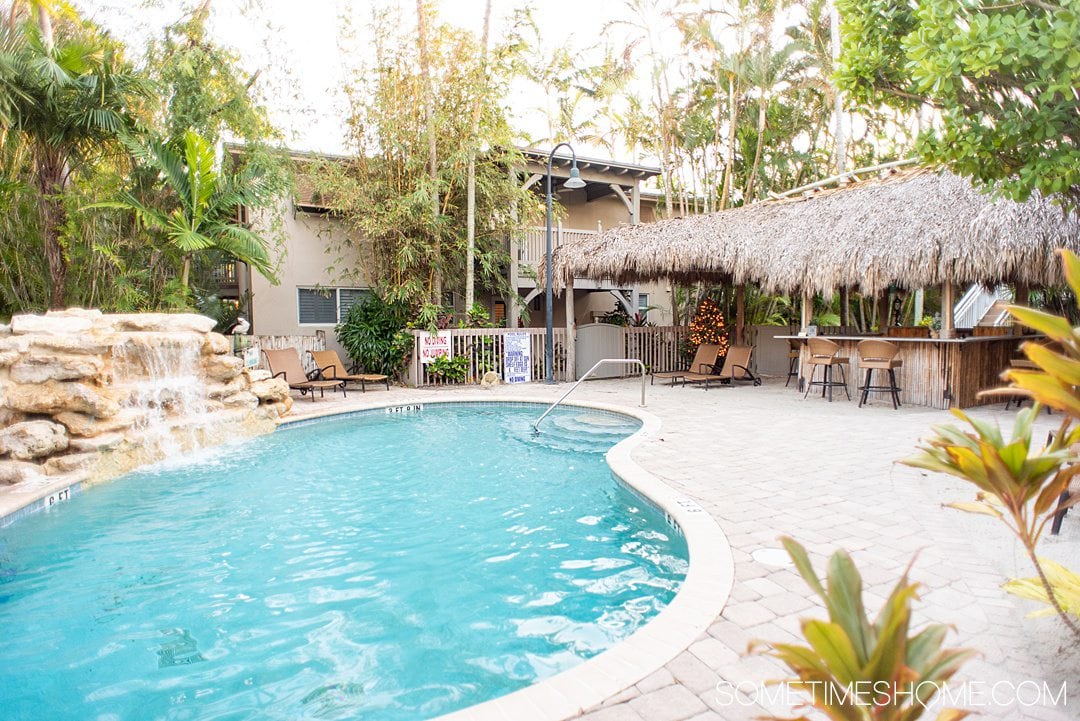 At the time we wrote this, during winter 2020 to 2021, Crane's temporarily closed their Tiki Bars and paused lived music, which formerly took place on Fridays and Saturdays. This is because of safety precautions implemented as a result of the pandemic. But one day they'll open again and welcome live music – and the tiki bars are super cute. It reminded us of our time in Belize at Table Rock Jungle Lodge.
Crane's also has additional public areas for guest enjoyment, like pockets of seating. It's nice to have another option to eat outdoors if you prepare something in your room or pick up food to-go on a walk and want to enjoy the Florida sunshine and tropical foliage while you eat somewhere other than your balcony. (And not every room has a balcony so it's great that Crane's offers this option for guests that don't have one.)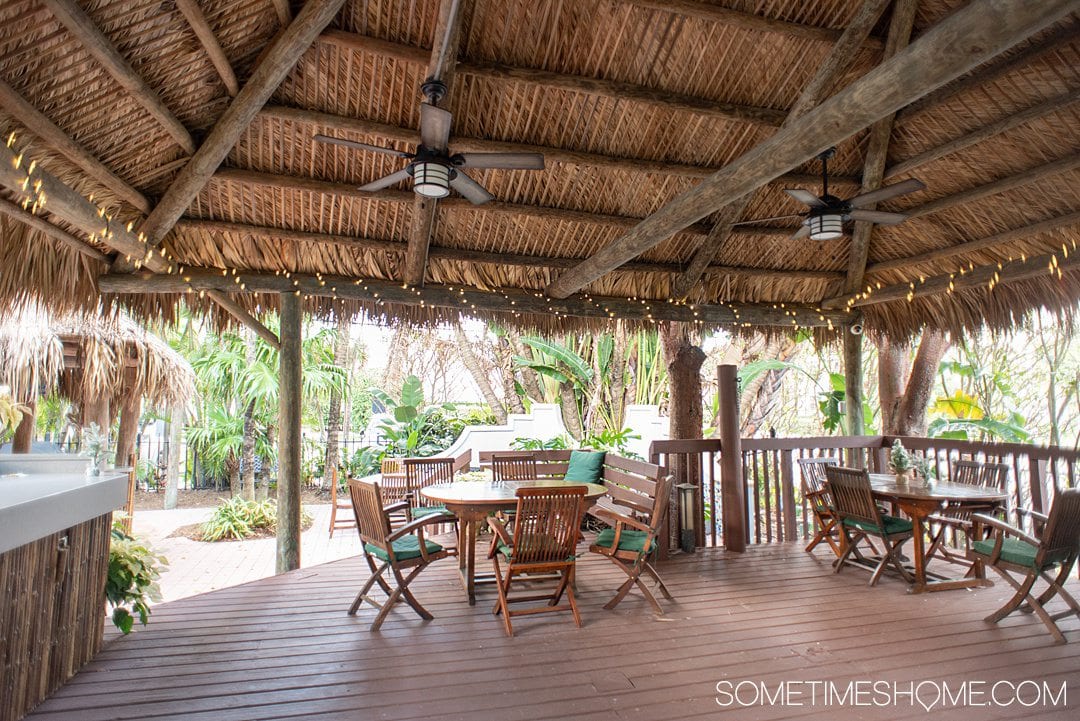 Weekly Events from "Today in Delray"
We appreciated the one sheet printed "Today in Delray" newsletter they gave us upon checkin, with events happening during the week, or month. This included things like where to eat, a sightseeing boat tour nearby, rental bikes info, nearby sites to visit and the like. It reminded us of a cruise navigator!
One of our favorite tips from Today in Delray was to download the Freebee App for a complimentary golf cart ride downtown. We admit we didn't use it because we love to walk everywhere, but it was a nice option to be aware of.
Parking at Crane's Beach House Hotel
Speaking of walking and leaving our car parked, Crane's Beach House hotel has complimentary parking, which is awesome (and often rare) for a resort so close to the beach.
Our Villa at Crane's (or "3 day, 3 night home away from home" as we liked to call it)
Our villa, #26, was perfect. Crane's Beach House has 28 doors, a combination of studios, one bedroom suites, deluxe one bedrooms and villas.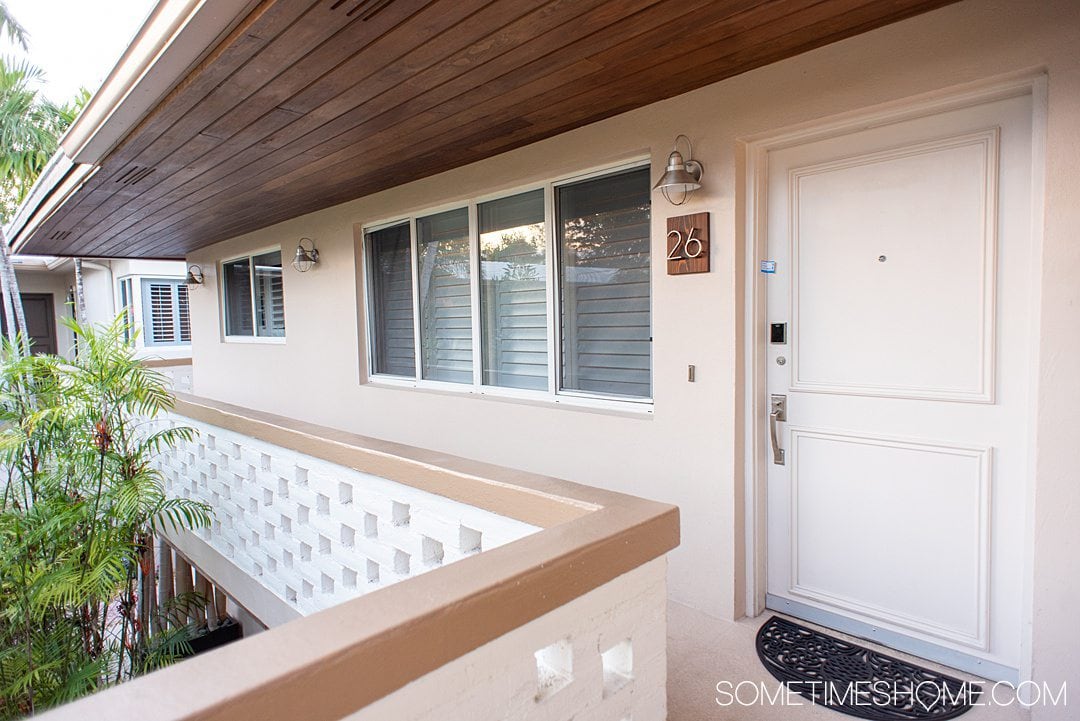 We loved that our villa had a living room, full kitchen, king size bed, a bathroom with a shower I wanted for our own home, and even a balcony.
It's very common for Florida homes to have bright and airy decor, like white walls and counter tops, and white shutters. And we loved all of it. It quickly brought us back to when we lived in Fort Lauderdale.
Our Crane's Beach House Villa Kitchen
The kitchen in our villa had a microwave, sink with a garbage disposal, small stovetop with two burners, an oven and refrigerator with a freezer. We loved that there was a recycling bin in the kitchen too. (Small things like recycling help save the planet!)
We were welcomed with two bottles of water, a bottle of wine and a small box of Kilwin's chocolates. (They were delicious. There's a Kilwin's on Atlantic Ave. not far from Crane's Beach House and we've had their ice cream but never their chocolates. It was fun to have one as a treat after dinner a few nights.)
There were doors to go outside to our balcony just next to the kitchen.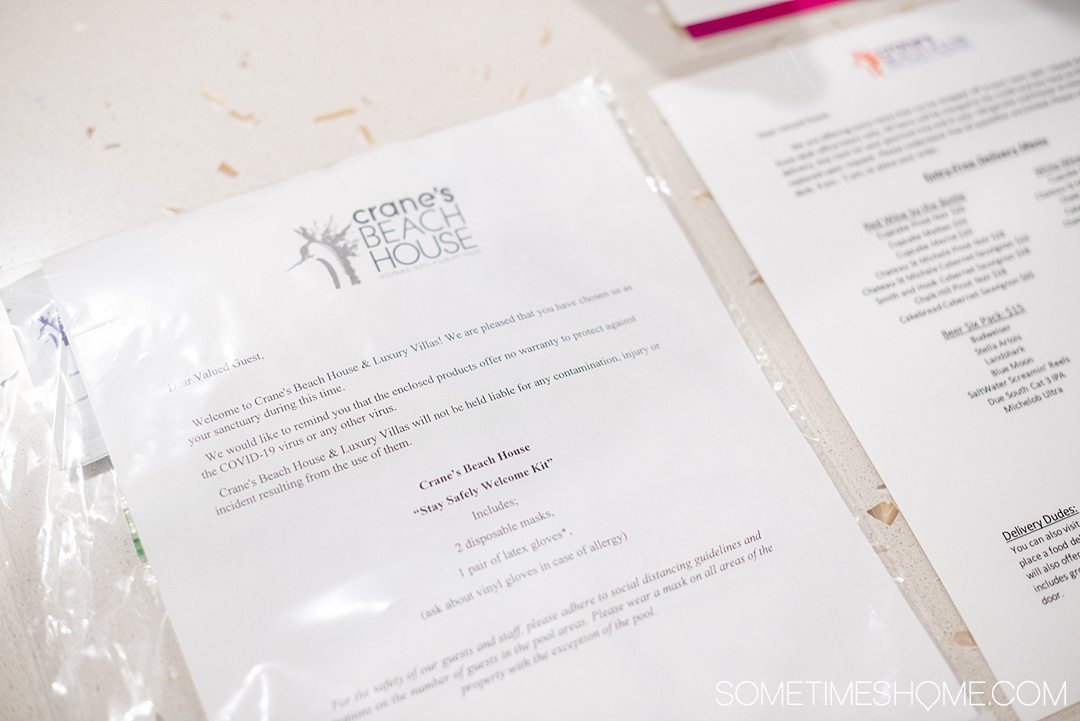 They also left us a little bag with PPE inside, including masks, a pair of gloves, and two sanitizing wipes. (They currently leave a kit in each room for guests at the start of their stay. All staff at Crane's Beach House is required to wear masks too, which was saw was a regulation they all followed whether it was a front desk employee to management, to housekeeping.)
Our Villa Living Room
We stayed in our villas at Crane's Beach House hotel from Monday afternoon at checkin to Thursday morning at checkout, which was at noon.
Our living room had a couch, coffee table and single seat in it. One of our favorite things about it were the shutters that fully opened to let even more light inside; it was a fabulous design detail.
There was also a large screen TV on the wall opposite the couch, perpendicular to the front door, but we only watched the TV in the bedroom. (TV in bed is a favorite treat of mine if we stay somewhere other than our home because we choose not to have one in our own bedroom. But it's nice to have a bedroom TV once in a while when we travel.)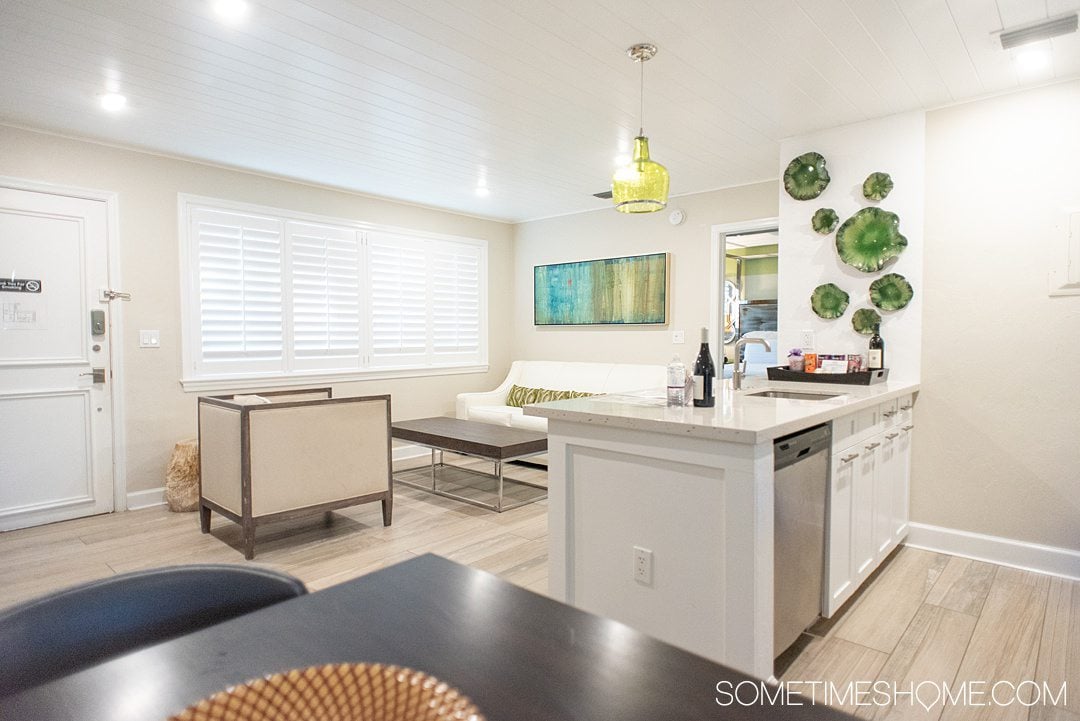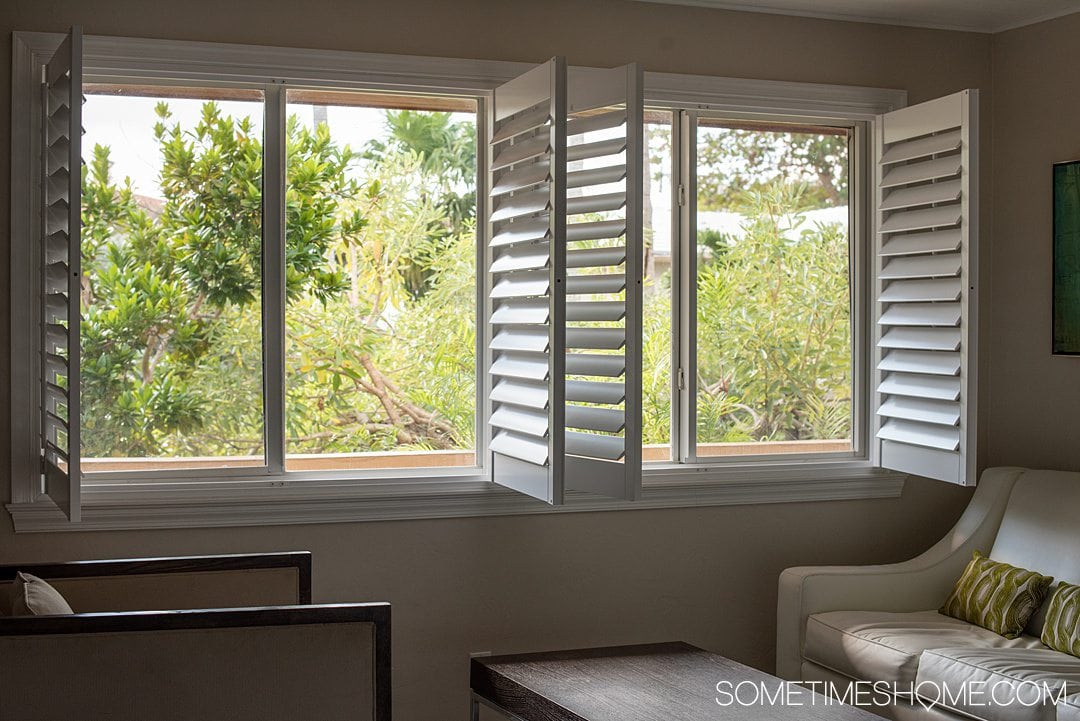 Our Villa Bedroom, Closet and Bathroom
The bedroom had a king size bed, two night stands with pretty lamps and a desk.
The king size bed was great because we were staying on a queen size bed the rest of our trip to Florida – but Dan's so tall a king size bed is more comfortable for him. So it was wonderful to have for a few days.
We were glad we had our nodpod weighted sleep masks with us because the sun does stream into the bedroom in the morning, even if the shutters are closed.
🌴Florida Packing List
The Florida sun is HOT and STRONG! Don't forget to pack outdoor essentials like reef-safe sunscreen and a reusable water bottle to protect yourself from the Florida sun!
It's also a good idea to pack an umbrella or poncho (you never know when it will rain) and a cooling towel – because even if it rains, it can still be well over 90 degrees!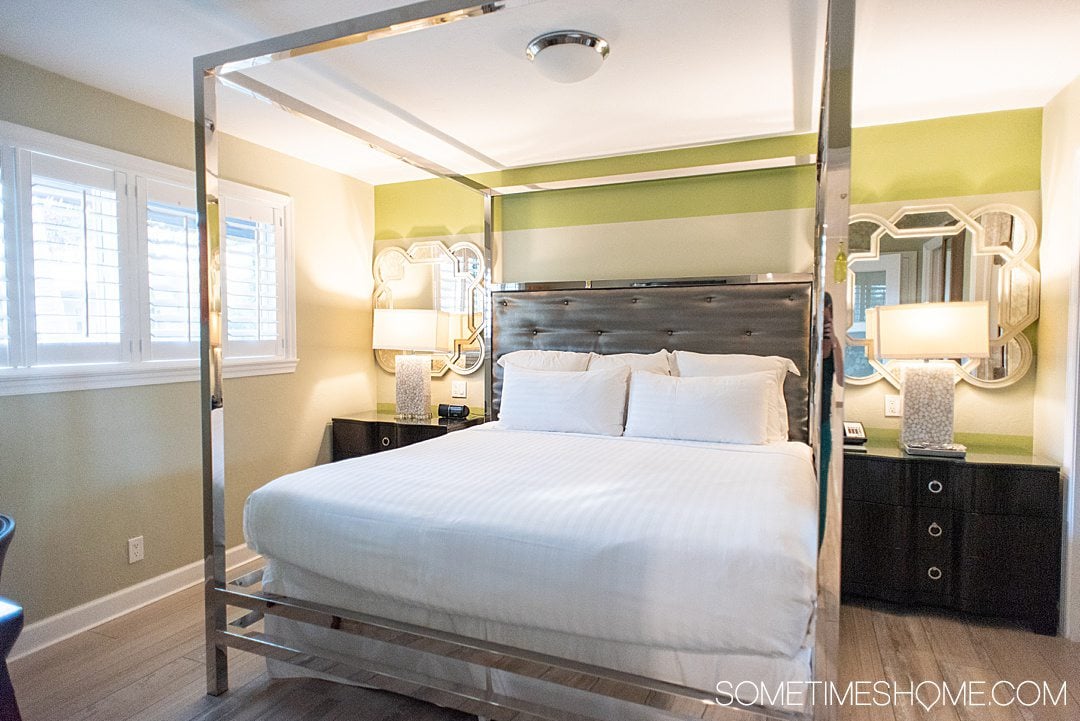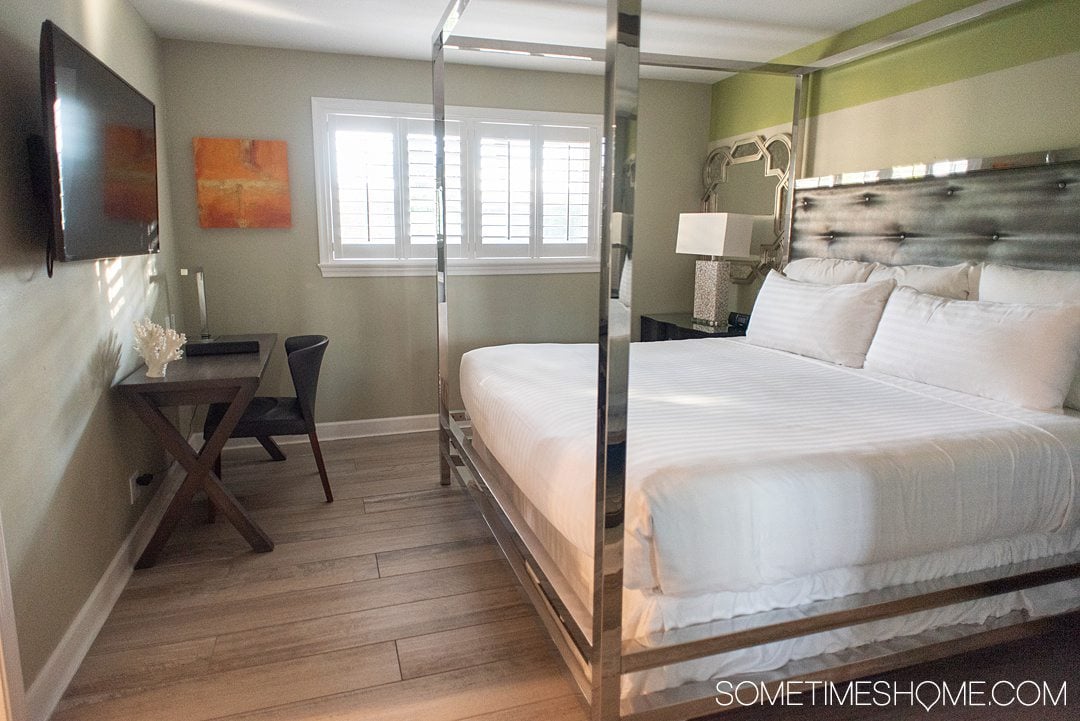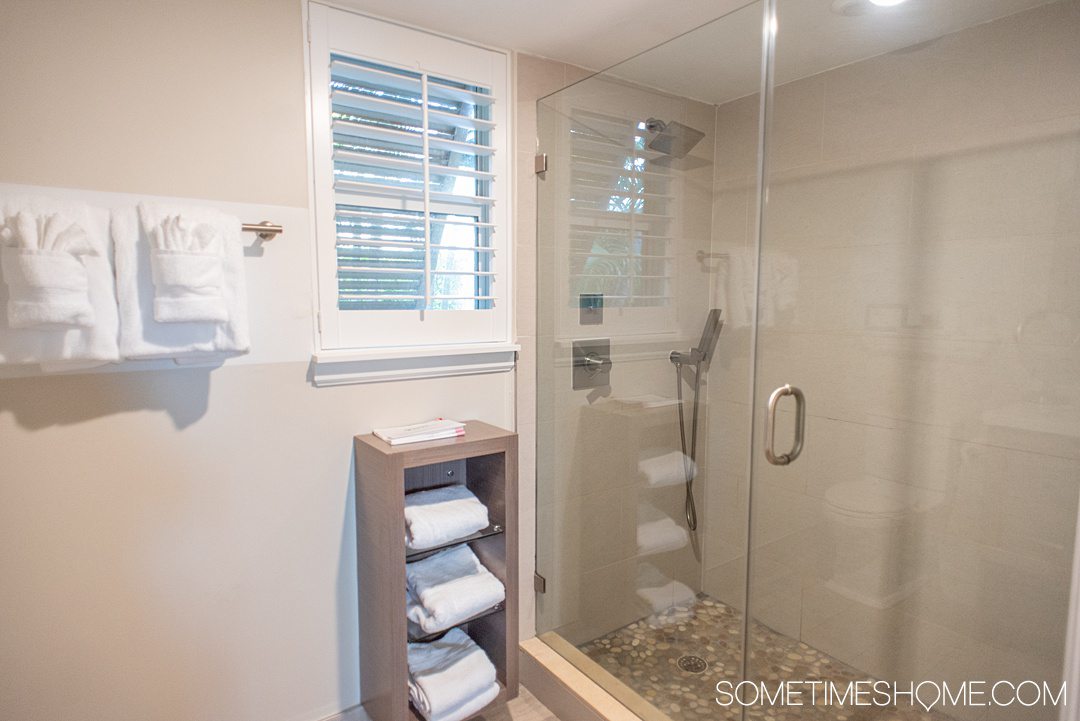 Just off the right side of the bed was a walk-in closet and bathroom. The bathroom shower was divine. There was a top shower rain head and a hand shower. The water from both was blazing hot if you wanted it to be, which we find is very relaxing. It felt like a spa every time we were in it.
Our closet was equipped with two beach chairs, beach and pool towels, yoga mats and a safe. We used all of it.
The yoga mats came very much in handy during our work remote situation. I had weights in the car (yes, I traveled to Florida with dumbbells so I didn't disrupt my workout routine) and the mats were the perfect compliment to use everyday.
Working Remotely from Crane's Beach House Hotel
We worked everyday we were at Crane's Beach House in Delray. We both run our own businesses in addition to our travel websites (Dan had a brand strategy company, Odin, and I have Mikkel Paige Photography).
This meant posting up at the kitchen table, the desk in the bedroom, or the coffee table in the living room area. We work from home in our apartment in North Carolina when we're there so our villa truly felt like our apartment for a few days, with plenty of natural light and Florida sunshine streaming inside to accompany strong Wifi. (There's Wifi throughout Crane's, including the common areas and balconies.)
We even brought a ring light for video calls to make sure any backlighting was taken care of. (The benefit of road tripping to Florida from NC was that we could pack whatever we wanted – no luggage limits. So yes, we packed a ring light.)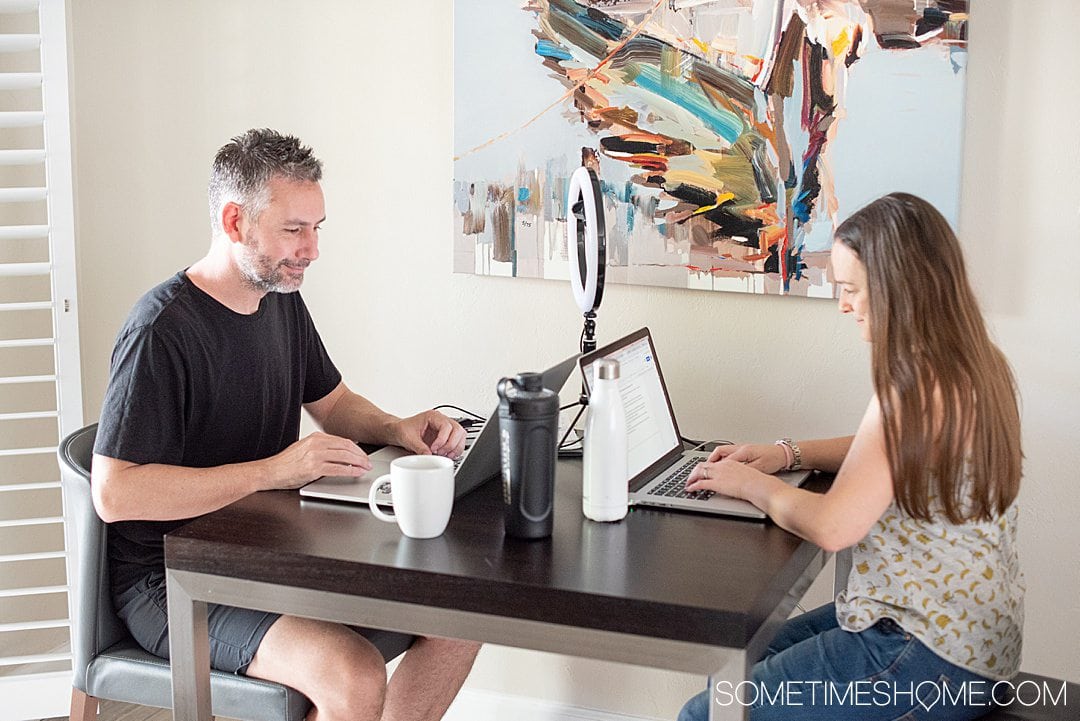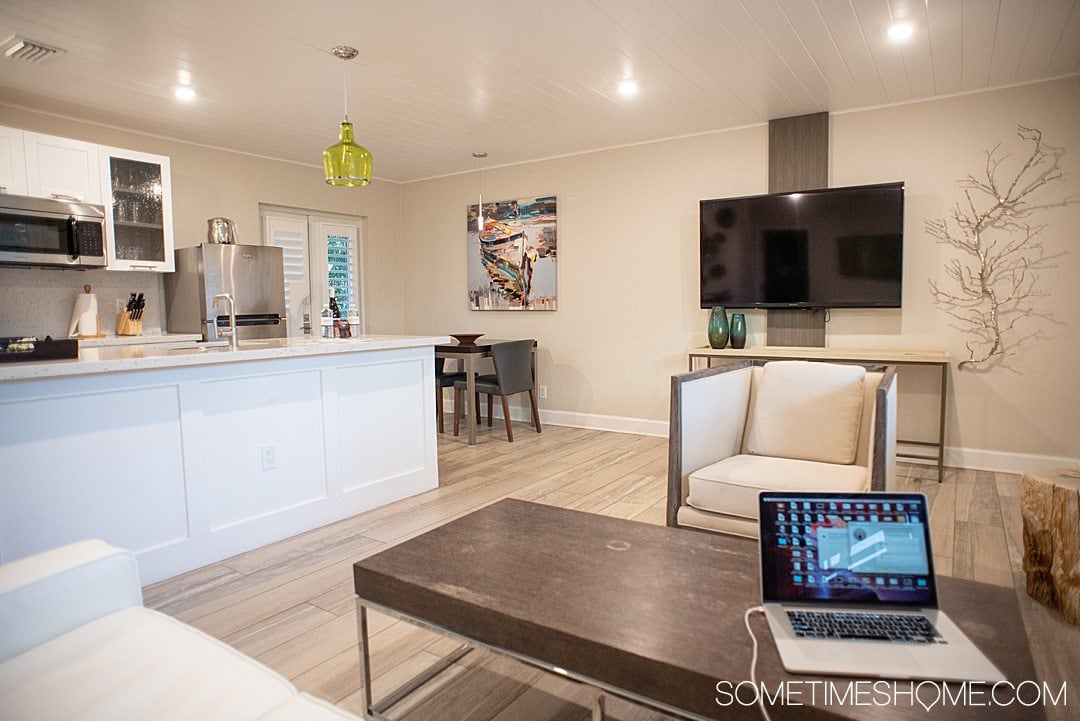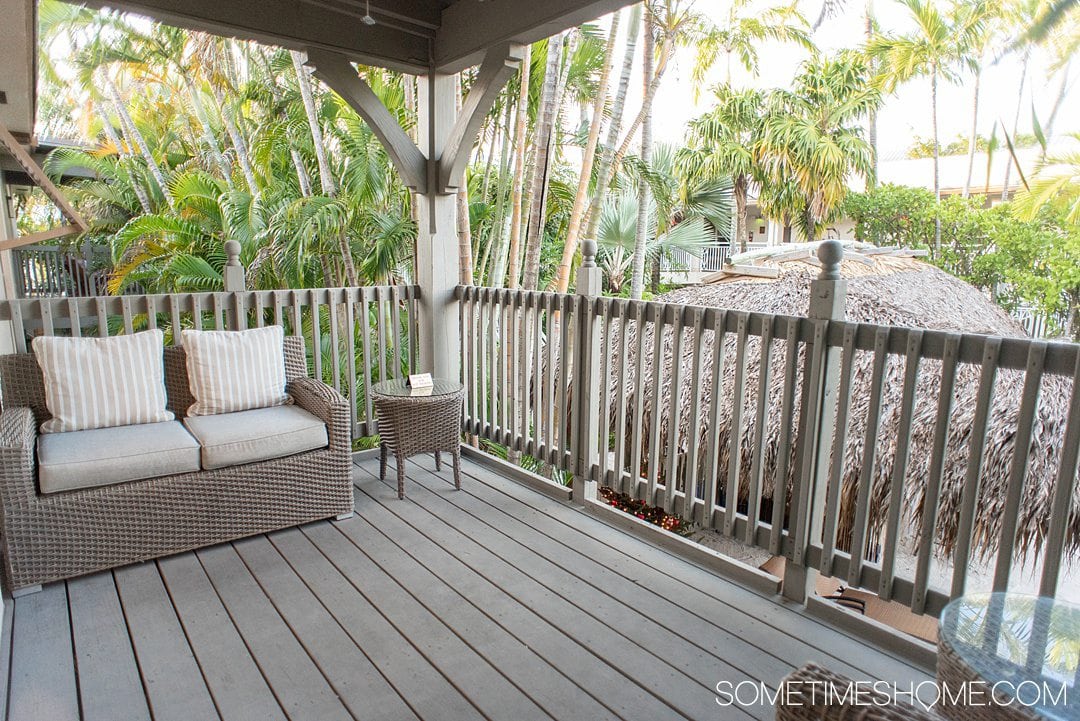 Food + Alcohol for Our Crane's Beach House Hotel Stay
We checked into the hotel just after 4:00pm. A stop at Trader Joe's was in order before we arrived, which is only 8 minutes away from Crane's Beach House if there's no traffic; we didn't want to waste precious time during our stay to go food shopping after we checked in.
We arrived to our villa at Crane's Beach House hotel fully stocked with items for breakfast, and meals for lunch or dinner. (It was inevitable we were going to hit up Atlantic Avenue for a few happy hours one or two nights, we just weren't sure which evenings. So we made sure the food we got was great for lunch or dinner.)
There was even a Keurig in the kitchen with coffee provided by Crane's Beach House, which we enjoyed using for morning coffee everyday. Additionally, the kitchen had a toaster oven, a blender, and plates, bowls and utensils.
Kitchen Tip if You Stay at Crane's Beach House…
One thing we didn't think about while we were grocery shopping was buying cooking essentials, like some olive oil or salt and pepper.
Unlike an Air BnB, perhaps (because we stayed at one the following week in Naples, FL that had these things and have stayed at many Air BnBs in the past), this kitchen has a lot of appliances but you're starting from scratch in terms of cooking ingredients, including spices.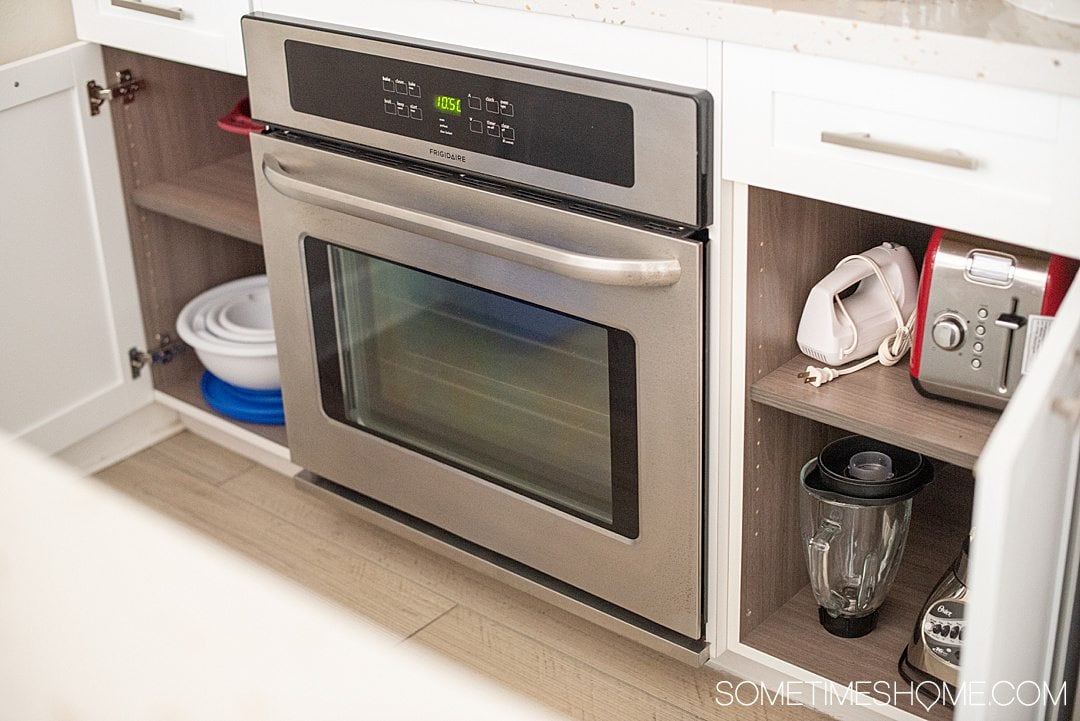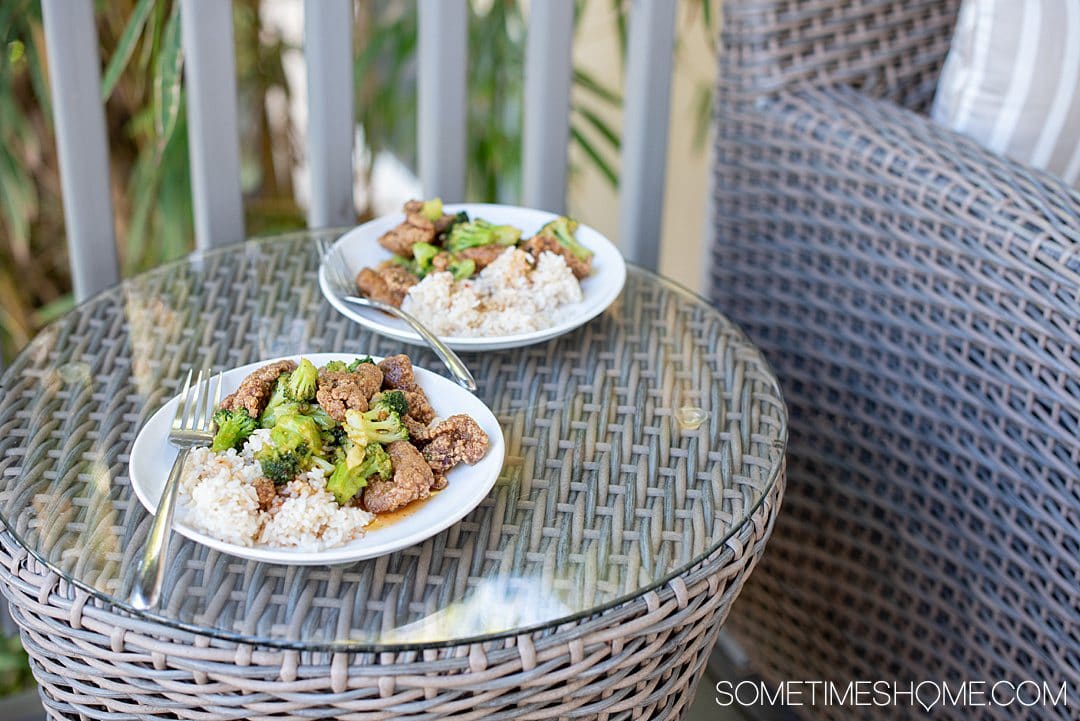 Nearby Wine Store and Restaurants in Delray
There's a wine store a couple blocks away that you can easily walk to called The Wine Wave if you like to support local, like us. (It is so close it'd be silly to drive there.)
There's plenty of restaurants nearby (truly, plenty) if you don't want to do a grocery store run. Delivery Dudes is also a popular Palm Beach area deliver service if you want to order in.
But if you are staying a few days and may want to have a meal here or there in your villa or suite then we recommend stopping before you arrive. (Even the studios have kitchenettes!) That way you can just leave your parked car where it is the entire time you're there. This is something we thoroughly enjoyed about staying at Crane's Beach House hotel.
Restaurant options in Delray Beach are east of Crane's, on the beach off A1A road, and all along (and off of) Atlantic Ave. There are more restaurants than you could ever eat at in a week, even if you ate at a new restaurant for breakfast, lunch and dinner.
Happy Hour Blocks Away on Atlantic Ave. in Delray Beach
One of the things we love about Florida when we're in the state is…Happy Hour! (North Carolina can't legally do happy hour specials so we crave them when we visit the Sunshine State. It's a fun perk.)
We were able to find some great happy hours just a walk away from Crane's Beach House with the help of a pdf entitled, "Downtown Delray's Happy Hour Hotspots" the hotel shared with us.
Our favorite restaurant offering Happy Hour was Salt 7. They had plenty of outdoor seating, service was great and we loved the options on their Happy Hour menu.
If you go, we recommend the filet sliders, macaroni and cheese with truffle oil, duck fat fries and oysters. We lucked out and ended up there on a Tuesday, which meant even more specials for "Taco Tuesday." They had beers and cocktails on special too. Clearly, we weren't on a diet!
The best part is they have happy hour six days a week from 3:00pm to 7:00pm. (Everyday except Sunday.) Four hours of happiness and gluttony! Their outdoor seating area is plentiful and beautifully landscaped as well.
It was a pleasurable 15 minute walk door-to-door from Crane's Beach House to Salt 7. If a shorter walk is more your style, or you want to dine with a view of the waterfront, try Deck 84. We've been there a few times before this trip so we opted to try new places. But it's just about a five minute walk from Crane's, over the intracoastal bridge.
We captured this gorgeous sunset one evening with colorful clouds above Deck 84 as we walked on Delray's Atlantic Avenue.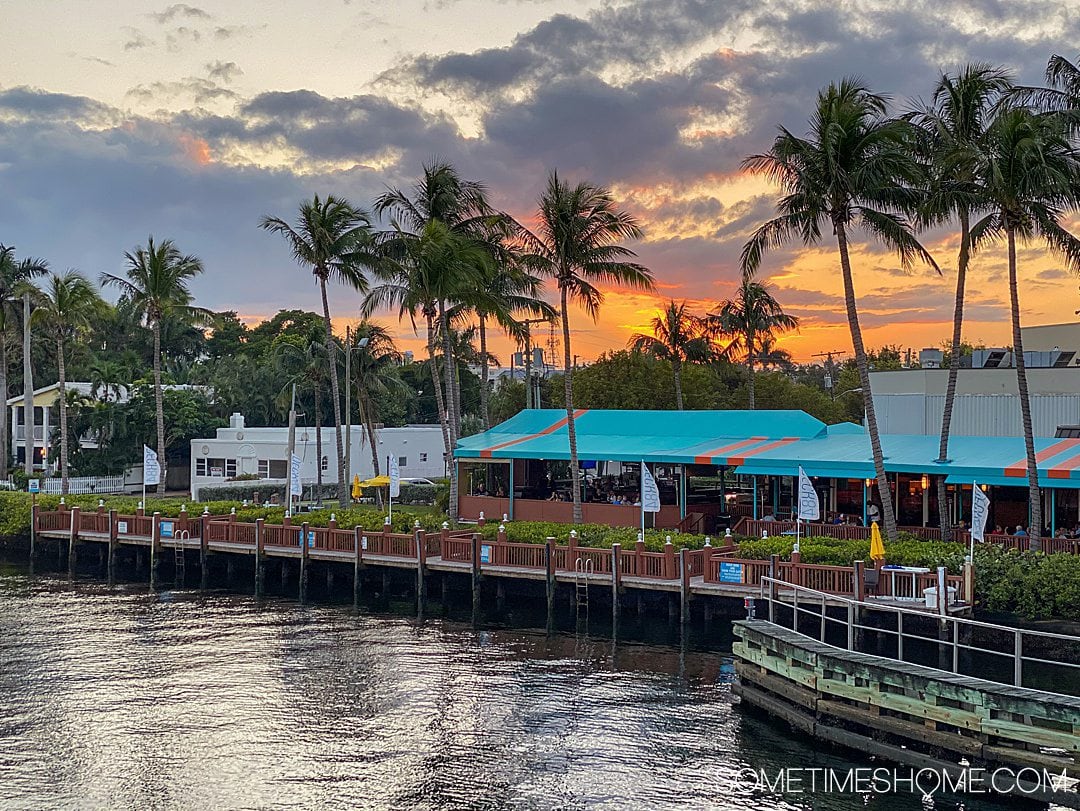 Other happy hours on Atlantic Avenue that grabbed our attention when we investigated their offerings and if they had outdoor seating were:
Note about the Small Bridge that Crosses over the Intracoastal on Atlantic Ave. in Delray
Supposedly the bridge just blocks from Crane's on Atlantic Ave., which crosses the intracoastal, opens on the quarter and three-quarter every hour. (In other words, at "15" and "45." You have to walk over the short, small bridge from Crane's to reach most of the restaurants on the avenue.)
But we saw it open at random times.
So, though there's a sign posted claiming such a schedule, we wouldn't necessarily plan your walks or drives around it. Yet we mention it per chance it sticks to said schedule while you're there. (It didn't when we visited.)
Delray Beach is Just Blocks Away from Crane's Beach House
We went to the beach twice during our work-remote getaway. Delray Beach was so close it was a no-brainer.
We're not the kind of people who can sit on the beach for hours. But we're certainly ocean lovers and really enjoy walking on the beach and sitting to watch the awe that is the ocean, waves and seashore for a while.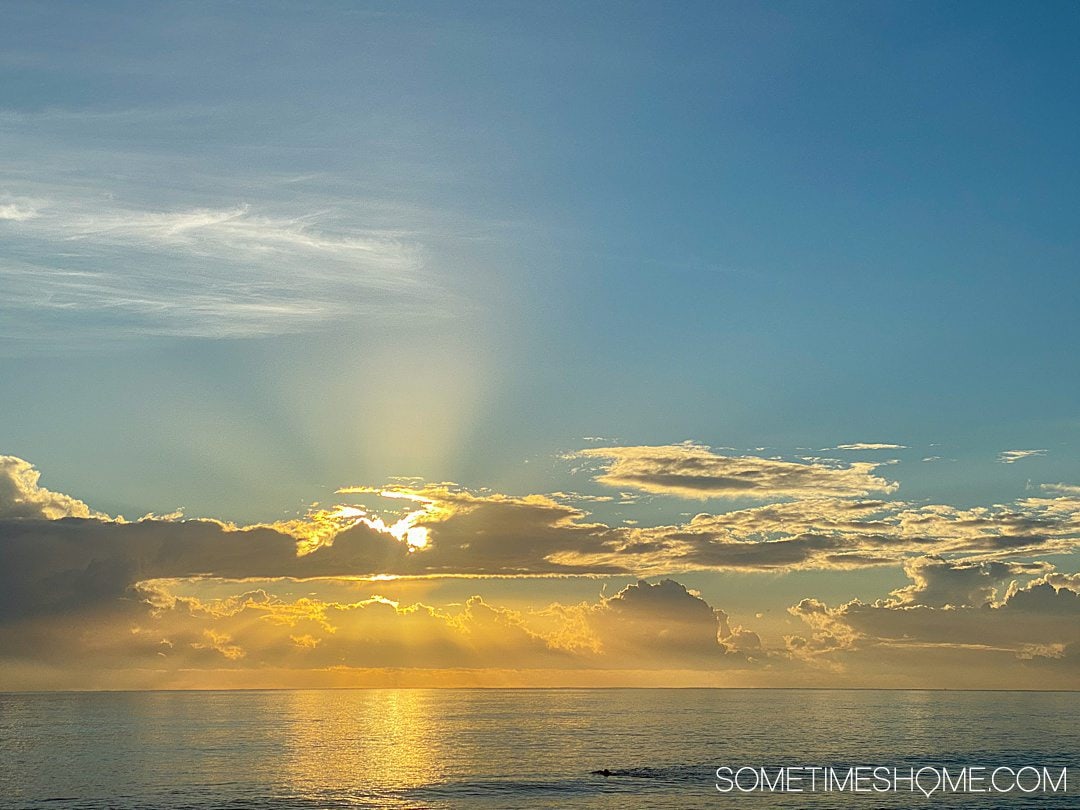 One morning we woke up early enough to catch the sunrise from 6:45am to 7:30am. Another day we walked over around 8:30am for some morning exercise.
It was great to be in Delray a week before the December holidays (and admittedly, an off year because of COVID) because it was less busy than usual.
If you want to enhance your visit to the beach during your stay at Crane's, consider adding a beach picnic that the hotel arranges for $50, including a bottle of wine, "…specialty bread bread, chicken salad, chips and cookies" in a basket. How cute, right?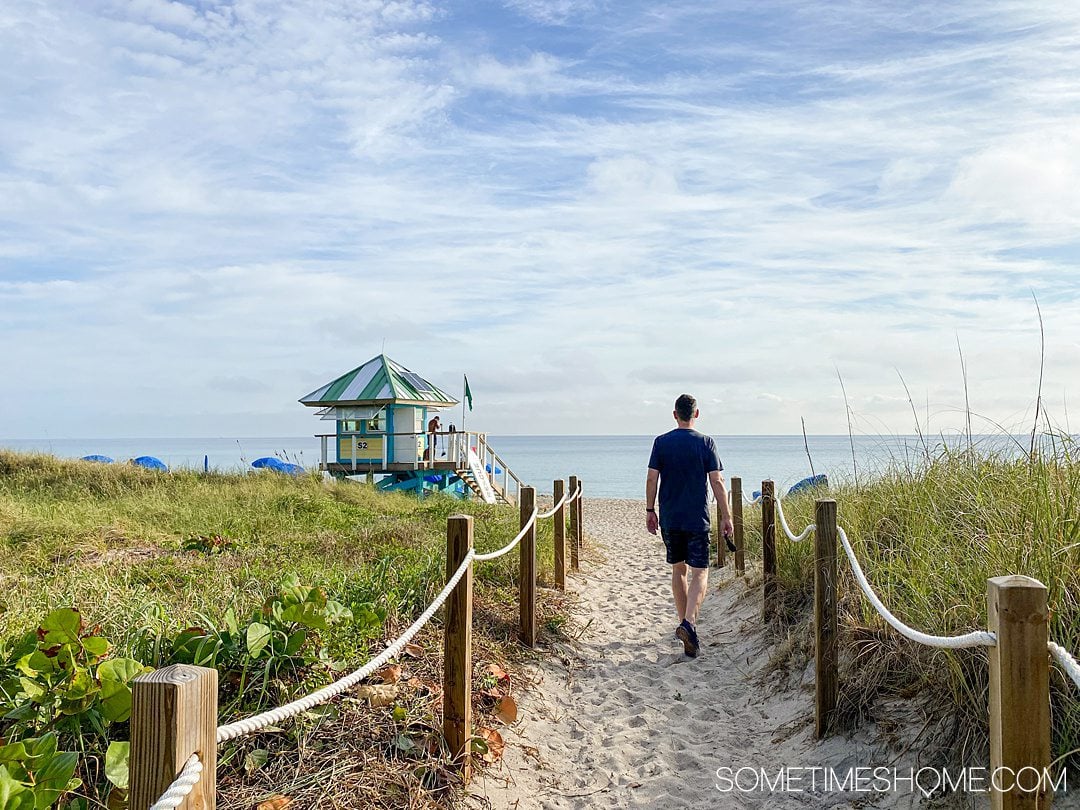 Booking a Stay at Crane's Beach House Boutique Hotel and Luxury Villas
This boutique hotel is popular and there are only 28 assorted rooms and accommodations. So we recommend securing a reservation as soon as you know you want to stay.
Their cancellation policy varies depending on the type of reservation, offer or room you book and for what dates. But we were so pleased to learn it is more flexible than ever as a result of the pandemic, allowing cancellations before your stay anywhere from three to 14 days in advanced. So don't let COVID deter you from booking a vacation (or staycation, or work remote booking like we did).
From our assessment, they usually run some sort of offer or promotion at any given time; there's a whole page on their site dedicated to it. So be sure to check for current ones (including Florida resident rates) or follow them on social media, where they also post about promotions. But no matter what you do book a stay and put Crane's Beach House on your bucket list of places to stay in the Palm Beaches are of Florida. You'll be glad you did!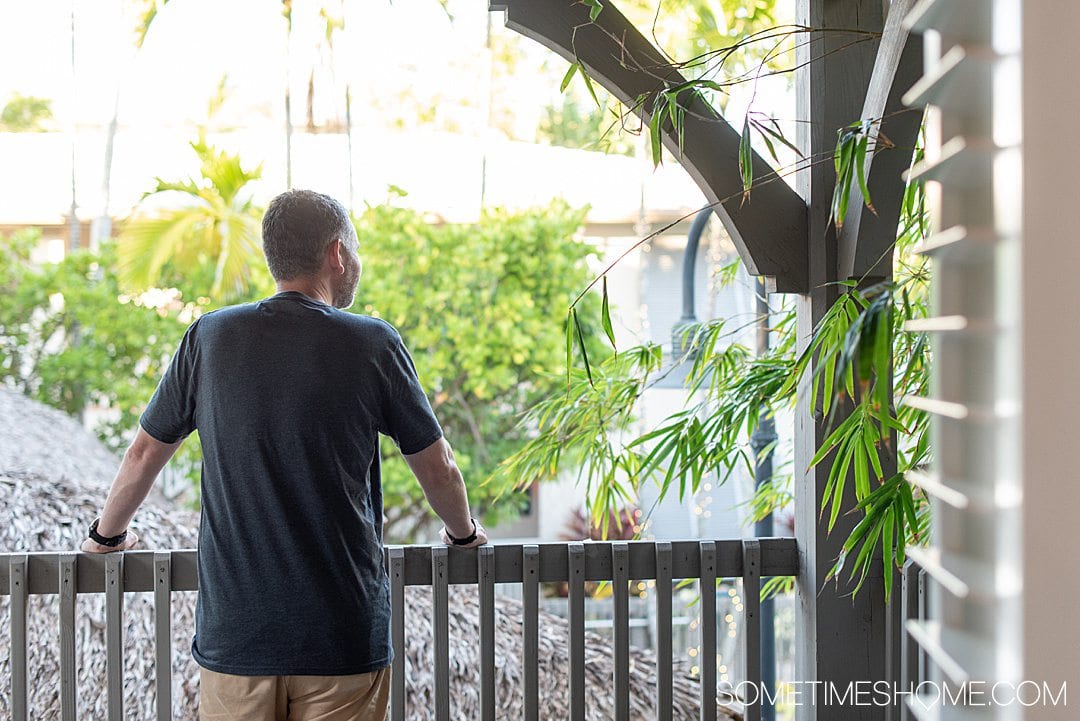 Please note: We thank Crane's Beach House for generously hosting us. We also may make a small commission from affiliate links in this post but all opinions are ours and we bring you genuine content with real facts, photos, thoughts and recommendations. Always.