12 Awesome Places to Take Pictures in Charleston SC's Downtown Area
My heart feels the warmth of southern hospitality, grace and sunshine as I write this and reminisce about the awesome places to take pictures in Charleston SC, in the city's downtown area. All the locations are within walking distance of each other.
Charleston, South Carolina, on the eastern coast of the United States, has long been a favorite city of ours. Dan and I go there to escape fast paced days at home. We love to enjoy the leisurely streets of this popular, historic place. (We also have very good friends who live 30 minutes from Charleston, near the Angel Oak on Johns Island. Thus, we're there often.)
One of our favorite things to do there is walk around downtown. And, naturally, I always grab my camera to take some photos of downtown Charleston. You can walk around one of the most charming cities in the south to take instagram-worthy pictures.
They're great locations to take photos for all: hobbyists, professional photographers, and anyone visiting the city.
Take Pictures at Charleston's "Pineapple" Fountain, Presenting a Warm Welcome to the City
Did you know a pineapple symbolizes hospitality? They're plentiful in Charleston, whether on store signs or bumper stickers on cars.
One of our favorite places to take pictures in Charleston SC is at one of the most well known spots downtown: at the pineapple sculpture in this charming city's Waterfront Park. It's also quite close to the port that cruise ships dock at when they arrive in Charleston, thus, it's incredibly befitting it's here to welcome passengers.
The pineapple fountain has been proudly standing at the park since its creation in 1990. It has been photographed by countless tourists. Some may say it's an icon of the city.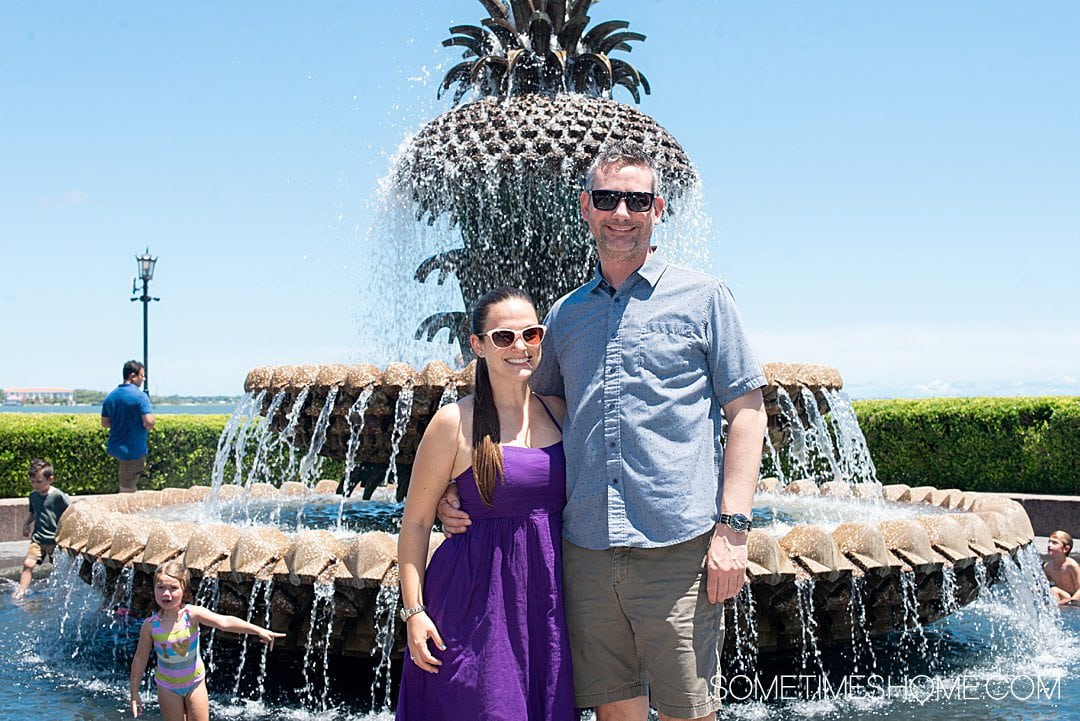 Playful Pedestrian Fountain at Waterfront Park
This downtown Charleston instagram-worthy fountain is also at Waterfront Park.
It always seems to have more tourists around it even though it's simply a five minute walk from the pineapple fountain. One of the reasons it's busy is that it's usually hot in Charleston and this fountain is easy for kids and adults, alike, to walk through to cool off. (Sometimes you get more wet than you planned, so proceed with caution!)
It's one of the places to take pictures in Charleston SC that is very popular for kids to splash around in it, finding relief from the heat.
This fountain sits at the north entrance of Waterfront Park. It is at an intersection of sorts for visitors coming off boat tours at the end of the dock and from busy Vendue Range street, nearby. We associate this fountain with a lot of energy and the sound of children's laughter.
If you're photographing it, remember that higher aperture numbers freeze movement and lover apertures allow movement so the water will be more "flowing." The image below froze the water because I set the camera on a higher aperture.
Take Photos in Charleston by Ravenal Bridge
The famous double-peaked Arthur Ravenel Jr. Bridge (or as people usually call it, simply "Ravenel Bridge") is in downtown Charleston. It's surely another downtown Charleston Instagram-worthy icon. It connects downtown Charleston with east Charleston, where Mt. Pleasant is.
This bridge, which spans the Cooper River, is two and a half miles. It was completed in 2001.
The view on the water from a Charleston Harbor boat tour is surely the prettiest vantage point to take stunning photos from. (And if you get lucky, like we did, there will be a ton of sailboats out that day.)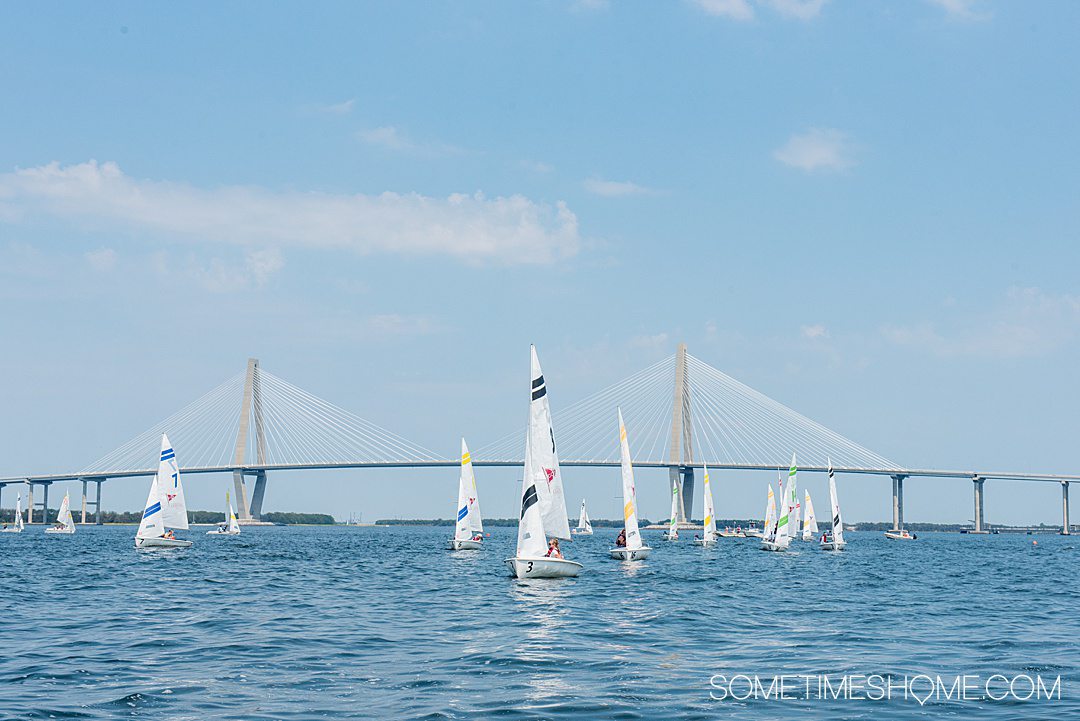 Another pretty vantage point of this place to take photos at in downtown Charleston is from the far south end of Waterfront Park, pictured below.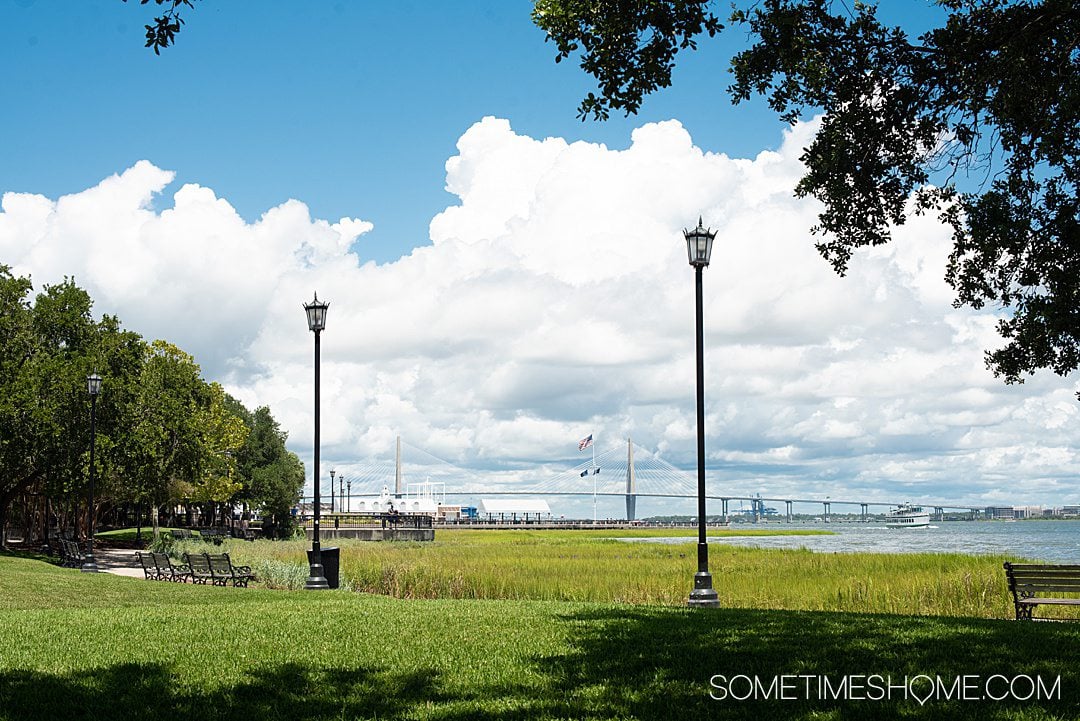 A Photo-Worthy Park with Southern Live Oaks in Downtown Charleston
One of the most visually stunning natural specimens of the southern United States is the southern live oak trees; when you see these trees you know you're in the south.
Their trunks are very hardy and most age to be 300 to 400 years old! Their branches extend in squiggly and far-reaching ways. We love the canopy they create and the placement they're often given in landscapes, lining walkways and streets.
Southern live oaks are also the trees that the famous 'Spanish moss' often hangs from, another iconic denotation of the south.
White Point Garden, pictured below, is one of the best places to take pictures in Charleston SC. Be sure to relax on a park bench for a little while to completely take in the beautiful surroundings.
Take Pictures at Charleston's "The Battery" during your Downtown Photo Tour
Historically, The Battery was a seawall, used as defense for the city. But today, it's a great place to walk and admire the mansions that are on one side of the street. (The other side of the street is the Charleston harbor waterfront.) The southern antebellum mansions here are beautiful and photo-worthy.
It's on our area bucket list take a downtown Charleston historic walking tour that specifically highlights the architecture and stories of these homes.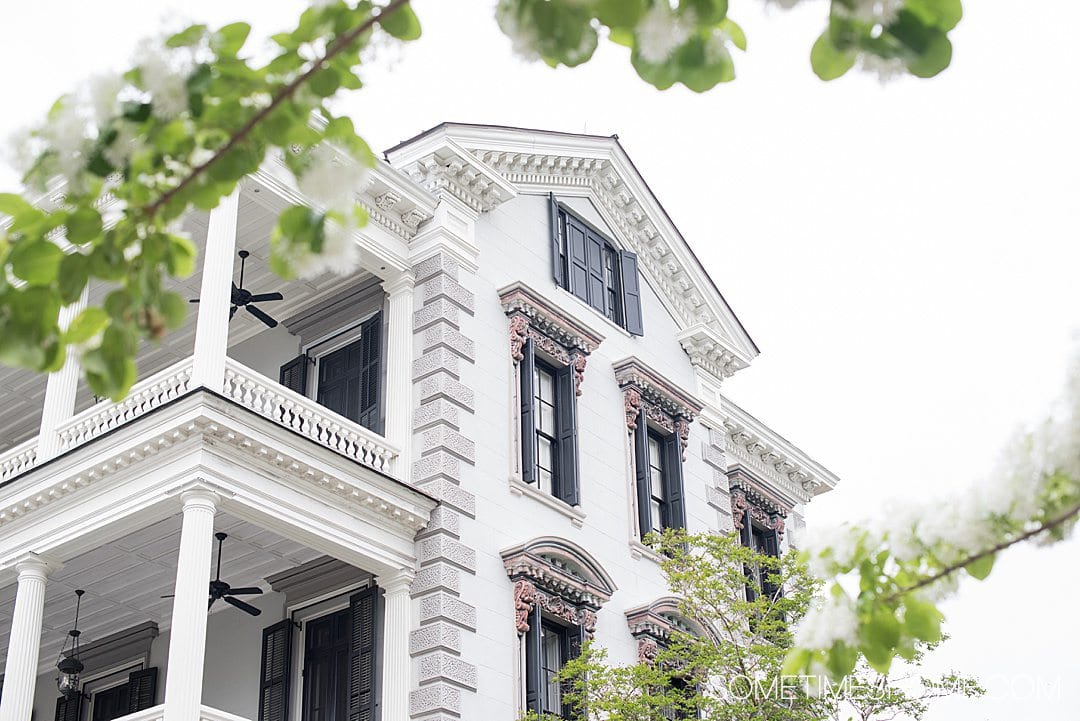 Downtown Charleston Carriage Delights
Don't be surprised if you see many horse-drawn carriage tours as you walk around downtown Charleston. I am sure to take a photo whenever they pass.
Better yet, if you sign up for a Daytime Horse-Drawn Carriage Sightseeing Tour of Historic Charleston you can be on the carriage. (If you're not into the thought of a group tour, book a private horse-drawn carriage tour.)
The carriages are a reminder of Charleston's centuries-old history. They always make us stop to think of the time when streets were not lined by cars.
We spotted this blue carriage on a downtown Charleston photography walk. We couldn't help but listen to the guide for a few minutes as he recited a bit of the history of the city. Charleston was founded in 1670, by the way!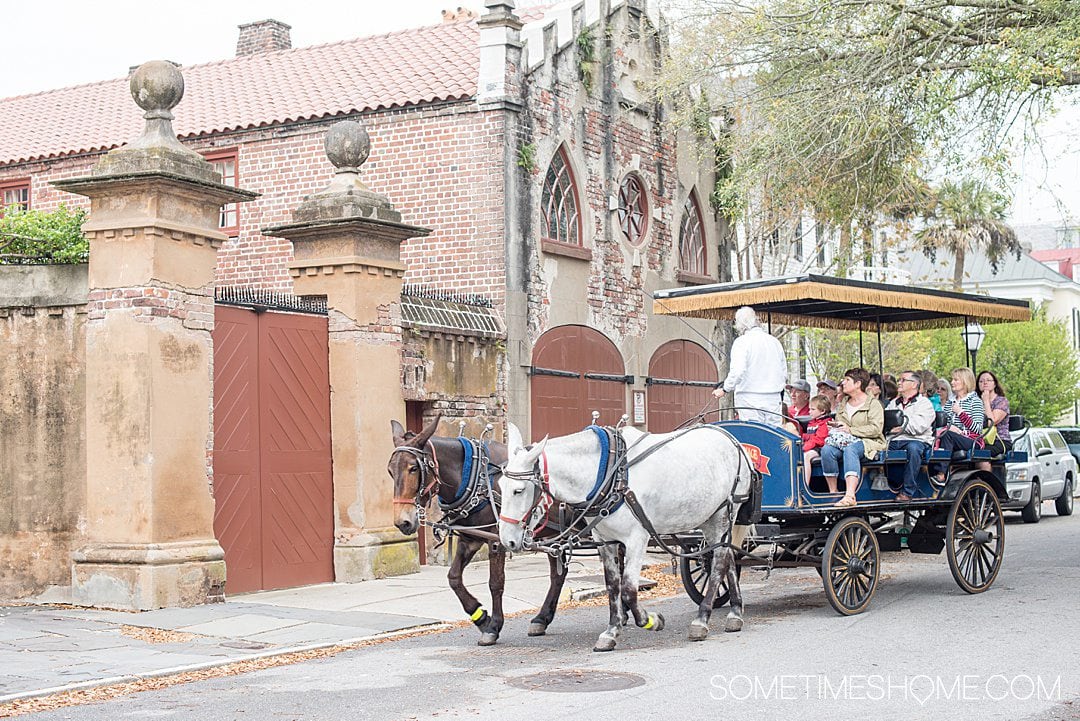 Famous "Rainbow Row" is a Must for Downtown Charleston Photos
The colorful facades of the row houses on East Bay Street earned the avenue the playful name: Rainbow Row.
Of all the places to take pictures in Charleston SC, this is the MOST famous.
Rainbow Row is a historic block of row houses in the United States. It is the longest intact grouping of Georgian row houses in the country. Any historic walking tour of downtown Charleston will stop here.
They've been around since the 1670s. They were restored in the 1930s and 1940s, when their pastel colors came to be. (It reminds us of some of the pretty colors of houses in Colmar, France.)
The Preservation Society of Charleston helps ensure they remain in great shape and are preserved as a piece of history.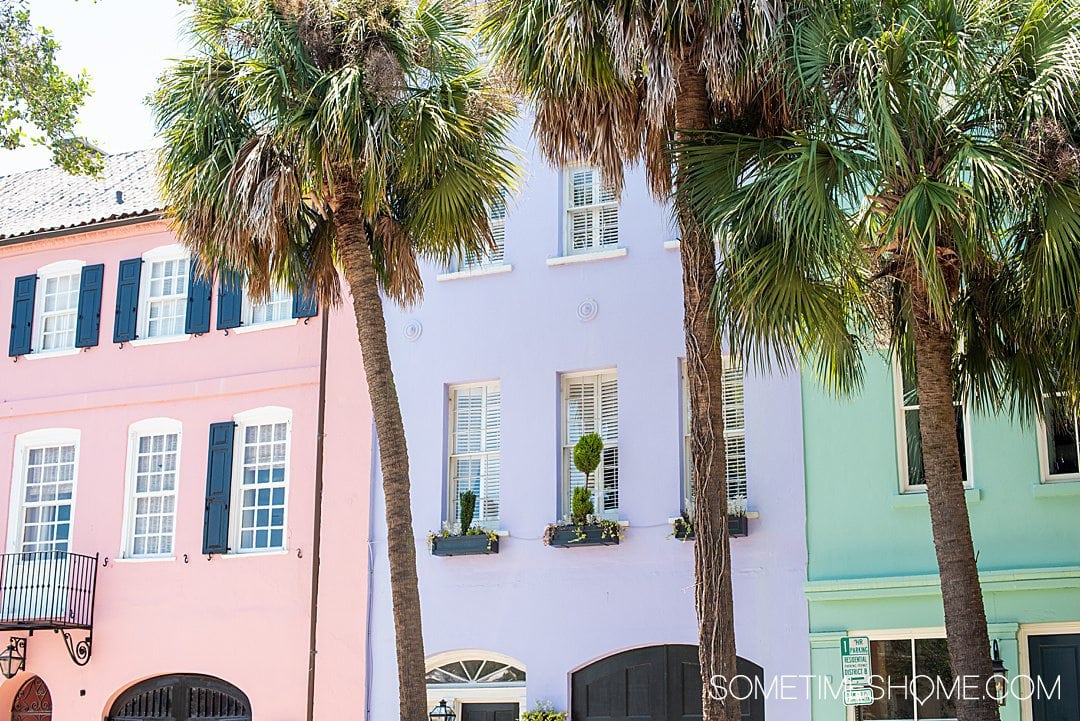 I love all the flower boxes downtown that homeowners keep in tip-top shape for pedestrians, like us, who visit. Who can resist taking photos to capture the beauty of it all?
Pro tip if this is the spot you want to snap some Instagram or TikTok worthy photos: the house facades will be in the shade later on in the day since they face east, which is great for photography, if that's your style. This is especially key to know if you don't want to photograph Rainbow Row in the glare of sunlight.
Shade helps beat that southern heat and makes a stroll down East Bay more enjoyable.
Pedestrian-Only "Philadelphia Alley" in Downtown Charleston is a Photoshoot Dream Location
A notable hidden alley, that is pedestrian-only, cuts connects Cumberland Street and Queen Street.
It's named Philadelphia Alley, and it's quite beautiful. It's also usually quiet and shaded, which is truly a photographer's dream. (Especially if you're taking photos with people in them.)
Some say it's a haunted alleyway because of duels that often took place here. (This is how arguments were settled hundreds of years ago, much like how the duel between Alexander Hamilton and Aaron Burr.)
You may even stop here on a Haunted Tour of Downtown Charleston. And you'll definitely stop here on an Alleys and Hidden Passageways tour.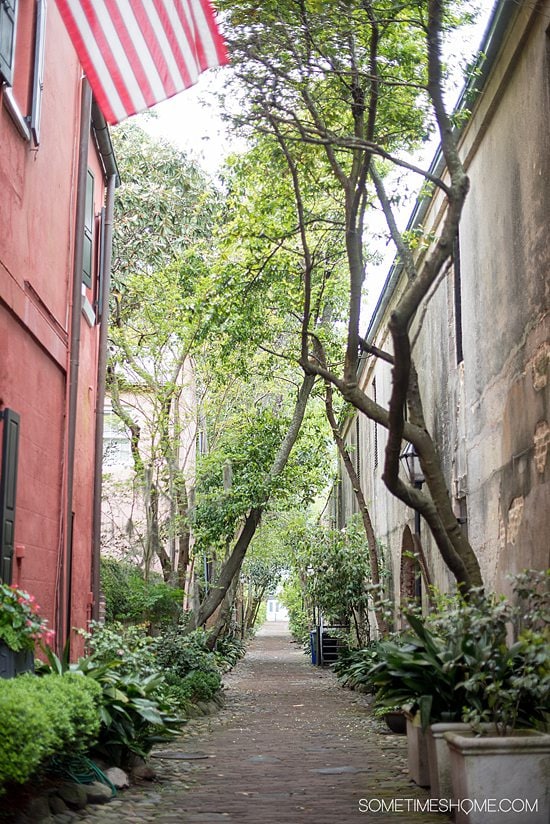 Take Pictures in Downtown Charleston of the Gorgeous Neighborhood Homes
If there's anything there is not a shortage of in downtown Charleston for places to take pictures, it's stunning southern homes.
Because the downtown area of Charleston is incredibly walkable, we love to get "lost" and meander through its residential neighborhoods. You'll find all sorts of interesting homes covered in the most gorgeous greenery and blossoming flowers.
Southern homes in Charleston often have a false front door, like the one below. It leads to a deck, not the actual house. (Though there is a door to the home off the deck.) This architectural design is meant to take advantage of the flow of breezes from the coast to the home. It helps people find relief from the relatively warm year-round temperatures.
We always imagine sipping yummy iced tea or a Moscow Mule on one of these porches!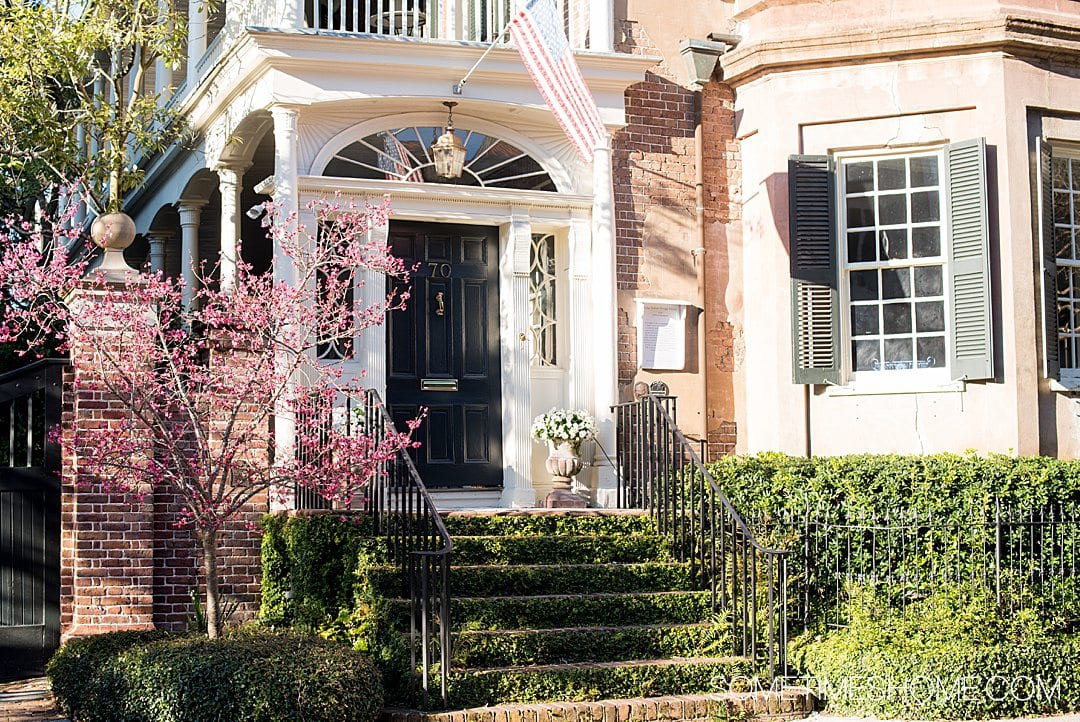 We also want to note the curb appeal of so many downtown Charleston neighborhood homes.
It was love at first sight when we encountered the peachy pink house, below.
It instantly caught our eyes as Dan and I wandered through the neighborhood. We have come across it on several walks during different visits to Charleston; each time I recall this photo and gush over the teal shutters and coral stucco. The pig in the window nearly mocks us as he brags he lives inside, not out.
These homeowners always keep their flower boxes full of vibrant greenery, which spills over the front of the containers. I could sit in front of the house for a long time, fantasizing about what kind of lovely people live beyond its windows.
And that's what is so appealing about Charleston as a whole – it is a charming city and the aesthetics support it.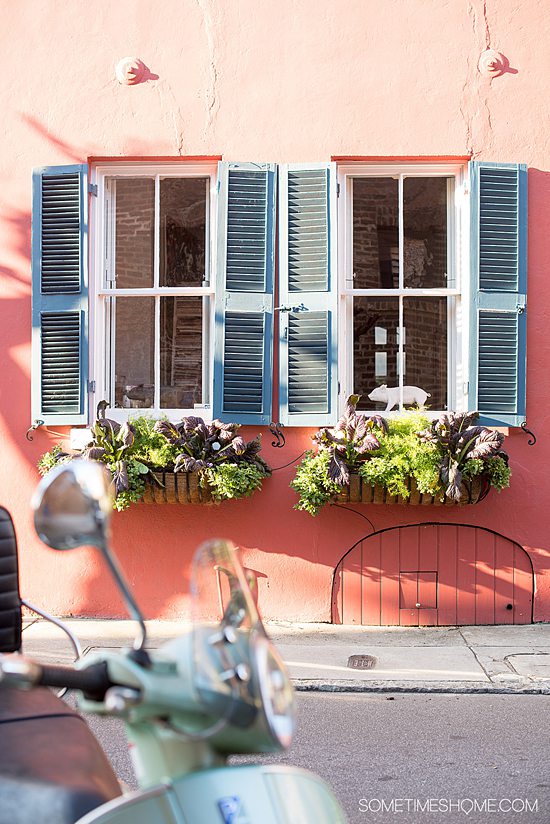 Find Beauty in the Luxury of Downtown Charleston During your Photo Tour
Dan and I play a game of 'I spy' when we walk around downtown Charleston and find additional places to photograph.
You may have already guessed that it's not exactly an inexpensive place to live! Walking around evokes feelings of Lifestyles of the Rich and Famous. The cars of Charleston residents sit in their driveways, in their awesome downtown homes, piquing our curiosities: What do all these people do for a living to afford such luxury? (We still can't tell you the answer!)
But it sure is fun to happen upon beauties like the vintage car in the gated driveway below…and photograph them.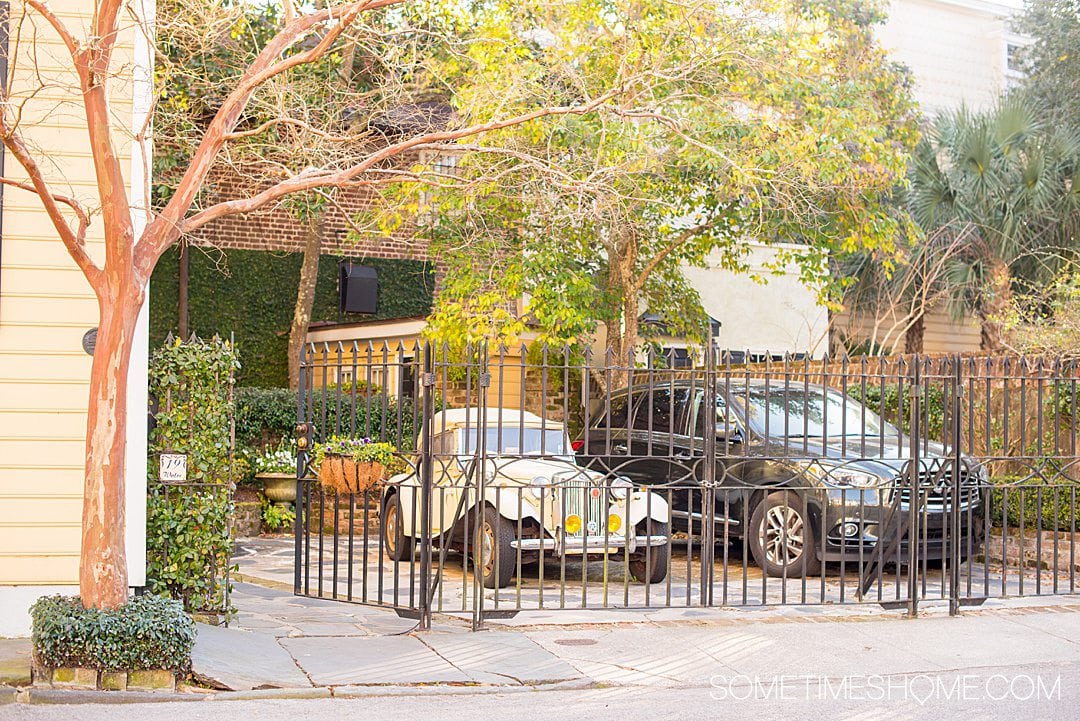 Disclosure: There are affiliate links in this post, which means we may earn a small commission if you click the link and proceed with a purchase, at no cost to you. We truly only recommend products or services we personally use.
Heading to South Carolina? Also check out: