The Finger Lakes is an area in northwestern New York, that is filled with beauty and many things to do during any season. But there are especially appealing must do activities in the Finger Lakes during spring, summer and fall.
The main lakes you'll hear discussed over and over again are Seneca, Keuka, and Cayuga and the popular towns include Corning, Watkins Glen, Elmira, Seneca Falls, Ithaca and Hammondsport.
Here are some ideas to spark motivation to travel there.
Visit the Corning Museum of Glass
One of the best museums we've ever been to is in Corning, New York. It's subject: Glass, including information and pieces to show how it has changed over thousands of years and how techniques and technology have changed over time.

It's astonishing to see the stunning pieces artists have created that are on display here. They also hold demonstrations throughout the day and you can sign up to make your own piece at the Corning Museum of Glass too.
Go on a Seaplane Adventure
When you're around many Finger Lakes, opportunities to go on water are plentiful. But have you thought about what it would be like to land on the water, from the air? Finger Lakes Seaplanes make it possible and it's one the most fun things to do in Hammondsport.
Sign up for a flight aboard a small seaplane, which seats about four to five people. Take a journey above Keuka Lake, then land on it! The aerial views will be amazing and the entire experience will last about an hour.
Stay at a Historic Hotel
The Park Inn has been around since the 1830s. It's in the center of Hammondsport and is a very charming and a great place to stay. Book one of the Inn's suites quickly because there are only a handful!
Picnic in the Park Inn, Hammondsport Square
If the weather is nice, pack a picnic or get take out from a nearby restaurant for a picnic in the park in Hammondsport, just in front of the Park Inn. This square patch of land with fluffy green grass displays beautiful Cherry Blossoms in the spring. Its central gazebo is great for taking photos.
Bring a blanket to sit on the grass or find a seat on a park bench to enjoy your lunch.
Go Fall Leaf Peeping
The Finger Lakes is a gorgeous area for fall Leaf Peeping, as it's called. Its cities are blanketed in attractive colors as the leaves change from green to oranges, reds and yellows during autumn.
Depending on the weather, peak season could occur during September or October.
Go on a Glider Plane
Unlike a motorized seaplane or airplane you'd fly on a commercial flight, a glider is a mode of flight without a motor. Instead, a lead plane flies the glider up in the air, attached to a cable. And then, at a certain height, the cable is freed from the glider. This allows the plane to silently fly through the sky.
One of the most exhilarating things to do in the Finger Lakes is take a ride in a glider at the National Soaring Museum in Chemung County, near Elmira.
Don't worry about learning how to fly because you don't pilot the plane! A member of the Harris Hill Soaring Corporation does that, while you ride behind the pilot in your own seat, enjoying it all.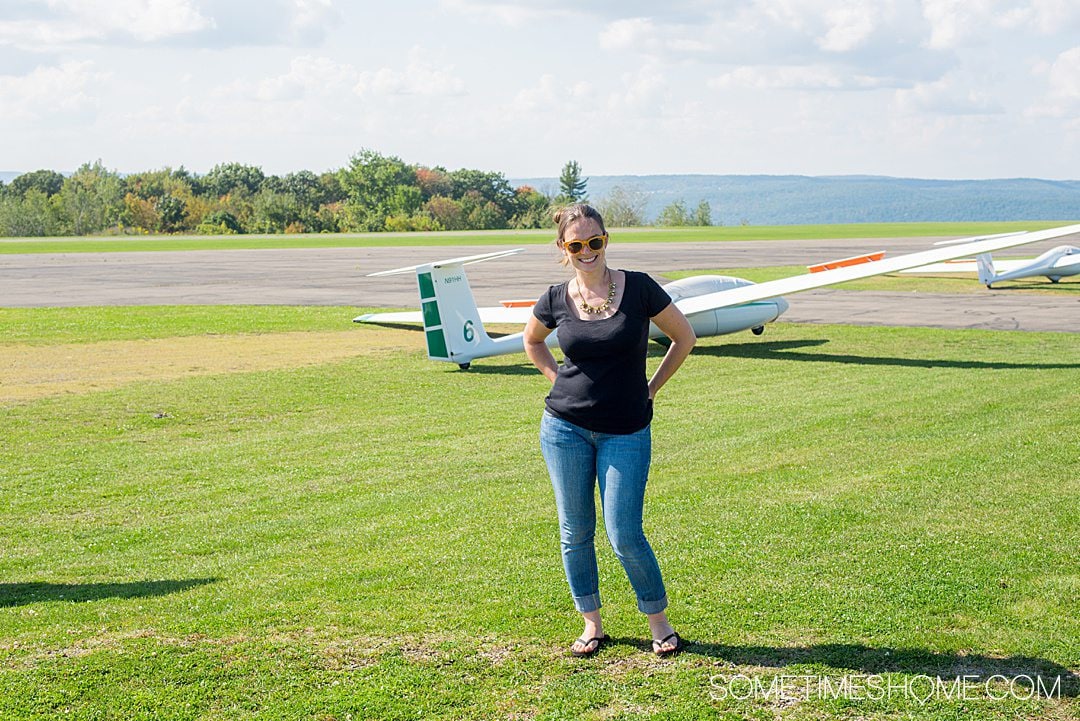 Stay at a Waterfront Hotel
The Harbor Hotel in Watkins Glen is a charming waterfront hotel that is the perfect location for a romantic getaway or family overnight.
Its harbor view is filled with boats of all kinds. Inside, you'll find spacious clean rooms, a cozy lounge near the lobby, and several restaurant and bar options.
Take a Sunset Sail
Consider a sunset sail aboard True Love on Seneca Lake, especially if you'll be at the Harbor Hotel in Watkins Glen. This historic sailboat accommodates multiple passengers.
Aboard you'll find they have beverages and snacks if you want to enhance your memorable sail around the lake during "golden hour" just before sunset, into dusk.
Walk Main Street in Corning
Corning's main avenue in their downtown area is a charming street to walk along. Grab ice cream or go antique shopping between grabbing drinks or great meals at one of Main Street's restaurants.
Spend Some Time at the Rockwell Museum
Corning's Rockwell Museum isn't named for the famous painter yet has plenty of famous art in it!
The Rockwell family started this museum in Corning's former city hall. It's where you'll find a lot of art pieces about the American experience, including fantastic paintings and sculptures highlighting Nativa Americans. You can easily spend an hour or two here.
Go Wine Tasting
The Finger Lakes is known for its wine! There even have three wine trails you can follow, to hit up a few spots along the Finger Lakes' great cities. There is something for every wine drinker, whether you like white, red or rose.
Finger Lakes Wine Trails are available to follow around Keuka Lake, Cayuga Lake and Seneca Lake.
Enjoy the Views at a Vineyard
Even if you don't enjoy wine, there are gorgeous views at many of the Finger Lakes wineries. This is especially true if it's summer or early fall, when vines are in bloom and grapes are growing in the vineyards.
Don't miss Heron Hill Winery, in Hammondsport for it's impressive building and the views.
Take a Vineyard Tour
If you're interested in gaining a deeper understanding of how wine is made, from grapes to glass, then look into a vineyard tour. Try Atwater Vineyards near Watkins Glen for both the view and their tours.
Visit a Distillery
If spirits are more of your thing, or enjoying seeing how spirits are made, consider visiting one of the Finger Lakes' distilleries. Sign up for a tour to see how spirits are made and then try some in a tasting room.
Craft Your Adventure with the Southern Finger Lakes Breweries App
Rounding out your adult-beverage options in the Finger Lakes, is beer! Be sure to check out the Craft Your Adventure breweries app to find breweries and cideries, from Corning to Watkins Glen, and beyond.
Go Kayaking on the Chemung River
You can get great exercise kayaking in the Finger Lakes. Paddle around one of the lakes in the early morning or before sunset to enjoy cooler temperatures (especially if you paddle out during summer). Don't forget your sunscreen and sunglasses!
See Waterfalls
There are loads of waterfalls to enjoy in the Finger Lakes! Some you need to hike to see and others are roadside. The best time to go isn't perhaps during heavy rain, but just afterwards when the water is gushing!
Visit Watkins Glen State Park
One of the most beautiful state parks we've ever been to is in the Finger Lakes. Their state park has waterfalls and rock formations and is an incredibly romantic destination in Watkins Glen. It's all simple to hike too, good for any easy-to-moderate hiker.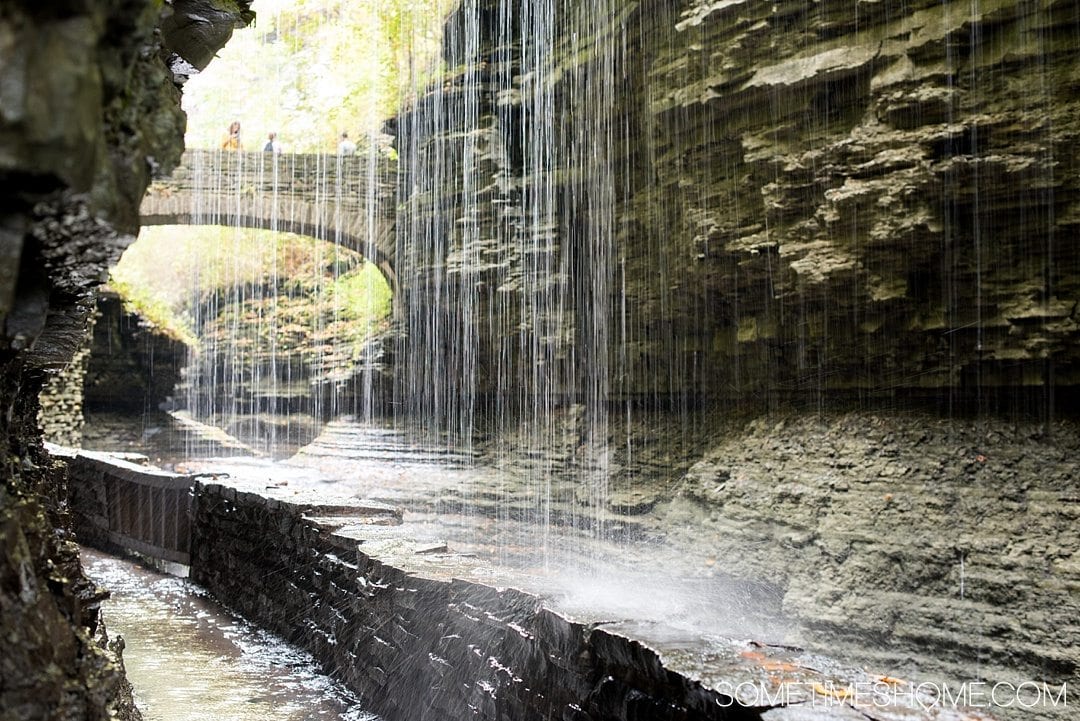 See a Nascar Race at Watkins Glen International
The history of racing in Watkins Glen dates back to the mid-20th century. It's still a happening activity there today, where there is a track that hosts Nascar races.
If a race isn't happening on the speedway when you're in town, consider signing up to drive the track yourself!
Visit the Glenn H. Curtiss Museum
Visiting the Glenn H. Curtiss Museum is certainly a must-do activity during a trip to Hammondsport in the Finger Lakes. We learned so much about the advancement of airplanes, especially, which directly ties into the Wright Brothers history in North Carolina.
Glenn H. Curtiss played a significant role in the advancement of transportation at the turn of the 19th century. He was an inventor, who enjoyed building different bicycles, motorized bicycles (aka: motorcycles) and also airplanes. Learn all about it in the museum named after him.
Flashback to the 1960s at Maybe Baby Burgers
If you love decades past, Maybe Baby Burgers will be a blast. Their black and white checked floor is the first thing you notice as you enter this unassuming roadside restaurant near the Curtiss Museum. Their menu is extensive and includes everything from burgers, to salads, chicken sandwiches, milkshakes and more.
The memorabilia inside is kitschy yet cute, with poodle skirts on the wall, Saddle Shoes on the ceiling and old movies playing on two screens. They have outdoor and indoor seating, where you can hear tunes from the era playing over the restaurant's speakers.
Get Ice Cream at a Traditional Ice Cream Parlor
You can still see the ice cream bar as soon as you walk into Crooked Lake Ice Cream Company.
It's a great place to get a cup or a cone of ice cream to enjoy inside or take on a walk through Hammondsport. They make all their ice cream in-house, and have creative flavors as well as classics.
They also have a full breakfast and lunch menu at Crooked Lake Ice Cream Company. So if you're hungry for more than ice cream, or you are craving something savory, this is the ideal spot to visit in Hammondsport, in the Finger Lakes.
Treat Yourself to a Nice Dinner
A must in any location for us is to treat ourselves to at least one "fancy" meal during our stay. That's why a must do in the Finger Lakes was an indulgent meal.
We headed to the Park Inn restaurant for craft cocktails and finger-licking food. If you stay at the Park Inn you will only have to travel downstairs for this memorable meal.
Listen to a Concert at Point of the Bluff
Point of the Bluff Vineyards is great for wine tastings (and local cheese to go with it if you're peckish) but it's also an event space.
The most popular events they hold are concerts. If you're looking for things to do in the Finger Lakes, consider looking into their concert schedule. It's a quick drive from the Park Inn.
Please note: We thank Corning, the Finger Lakes, Park Inn and Point of the Bluff for generously hosting us. We may make a small commission from affiliate links in this post if you click through and proceed with a purchase or action, and we thank you for supporting our small business, at no cost to you. All the opinions in this post are ours and we bring you genuine content with real facts, photos, thoughts and recommendations. Always.