Top-Rated Things to Do in Sarasota, Florida
We've got you covered if you're looking for what to do in Sarasota whether a long weekend or weekday stay. Look forward to things to do in Sarasota like the city's amazing Marie Selby Botanical Garden, to a great morning at The Ringling, and Mote Aquarium.
We thoroughly enjoyed a weekend in Sarasota, with many outdoor attractions, including the waterfront and ocean, and outdoor dining. It's a wonderful destination on the Gulf Coast (Florida's west coast) with plenty to do. We even recommend where to stay in Sarasota.
Please note: We thank Visit Sarasota for generously hosting us. We may make a small commission from affiliate links in this post if you click through and proceed with a purchase or action, and we thank you for supporting our small business, at no cost to you. All the opinions in this post are ours and we bring you genuine content with real facts, photos, thoughts and recommendations. Always. As Amazon Associates, we earn from qualifying purchases.
Things to do in Sarasota
Walk St. Armands Circle and Along Lido Beach
We parked our car on St. Armands Circle, paid the parking meter for 2 hours, and got a Starbucks to take on the go. (There's one just off the circle.)
We walked towards the beach with our coffees to enjoy the Florida coast and sunshine. The beautiful beaches of Sarasota County are truly special.
It was a sunny-with-blue-skies kind of day, and we practically had the white sand beach to ourselves on a winter-season weekday. We welcomed the sweet birds neatly lined up, seeing them in their natural habitat and enjoying the ebb and flow of the water from the Gulf of Mexico on Lido Beach.
(Did you know "lido" is derived from the Italian word "shore" or "bank"?)
The walk from the circle to the beach is really easy and lovely. There are a few statues you may pass on the way that decorate the landscape and very nice lush shrubs and trees in the area too. Lots of good photo opportunities in this most-perfect place.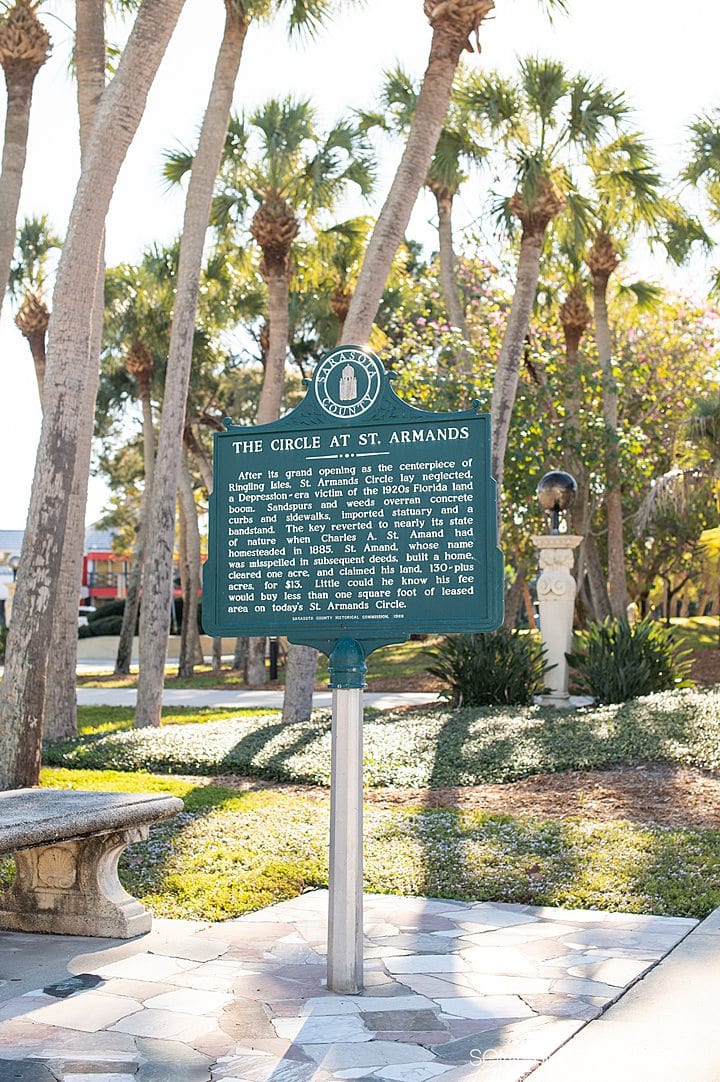 Visit Sarasota Bay
We supported Breaking Wave, a local coffee shop, one morning of our stay. Like we did at Lido Beach and St. Armands Circle, we ordered our coffees to go and headed to the water to enjoy a walk along the bay. Florida weather is too nice to stay inside! One of the best things to do in Sarasota is to walk the bay.
The coffee shop and Sarasota Bay were within a 5-minute walk from the Aloft hotel we stayed out.
We lucked out with fantastic weather; the warm coffee took the very slight winter chill from the air as we enjoyed the pedestrian pathways and parked on the waterfront. (And if it were summer, we'd simply get iced drinks instead of hot!)
Go Deep Sea Fishing
If you are craving some time out to sea during your Sarasota vacation so you can deep-sea fish, you must sign up for this tour.
Let a captain with a fishing license take you out on the Gulf, fishing for Snook, Redfish, Tarpon, and Trout. A private boat means a personalized experience with family, friends, or even solo with you and the captain.
All fishing bait and equipment are provided on this exclusive tour.
➜ Book an exclusive fishing tour
Enjoy the Shops and Restaurants on the Streets of Downtown Sarasota
Staying downtown meant we could walk to restaurants and shops on any number of streets nearby during our weekend in Sarasota. One of our favorite things to do in Sarasota quickly became walking Pineapple Avenue, Main Street, and Palm Avenue.
On Friday, we enjoyed walking to a nearby happy hour at El Marvin Cocina Mexicana restaurant. Their nachos and drinks were awesome, and the ambiance was perfect.
They have outdoor and indoor seating. The whole front wall of the restaurant opens to the sidewalk, welcoming fresh air in. And they have live music some nights too!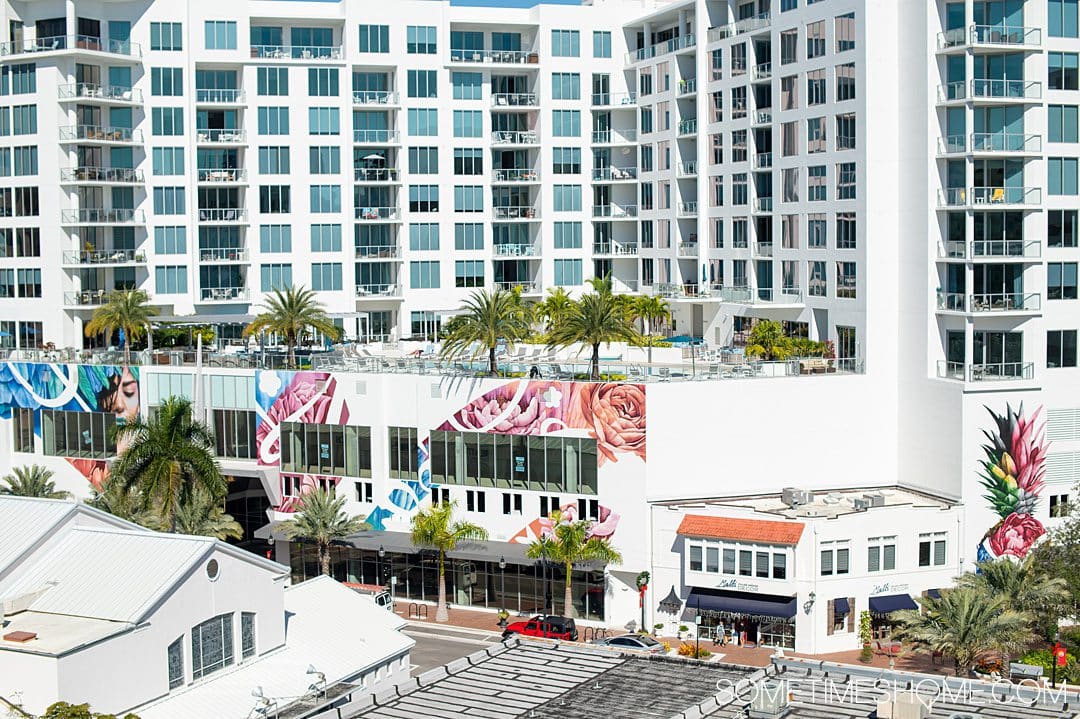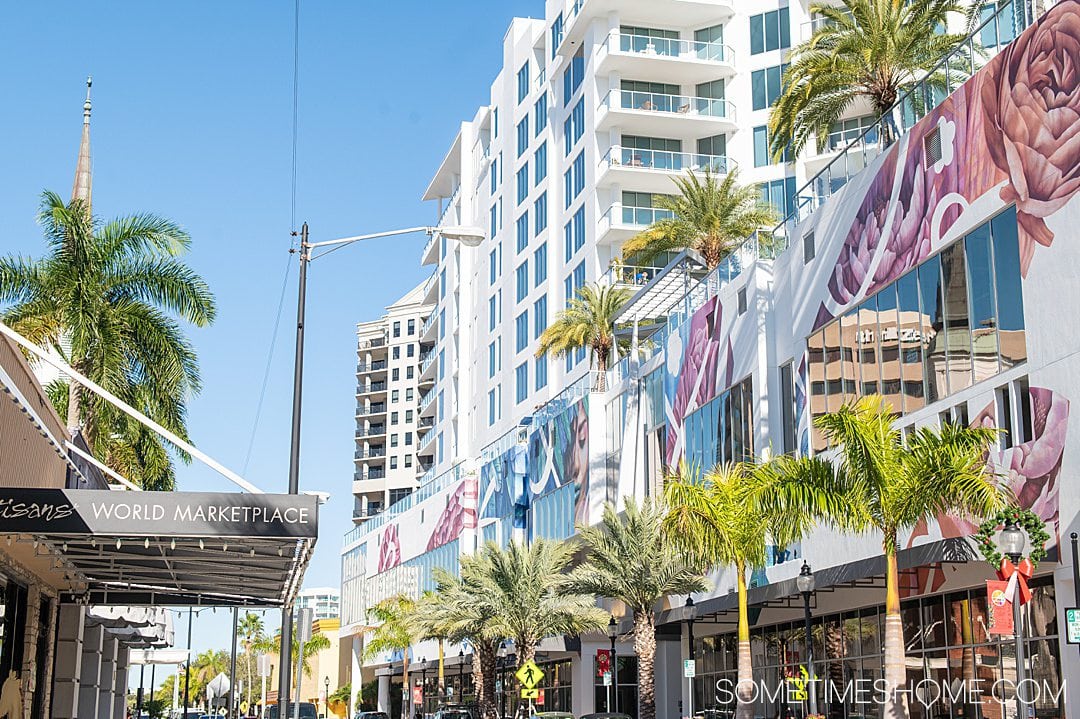 Take an E-Bike Food Tour of Sarasota
Want to get some exercise in as you taste your way through the city? Ride an electric bicycle on a guided tour of Sarasota.
During this four-hour tour that starts at 3:00 pm, you'll pass picturesque scenery and historical sites. You'll taste local fish, pizza, healthy juice, gourmet tacos, and creamy gelato.
➜ This tour is likely to sell out! Book your E-Bike food tour now.
Get Lunch to Go at Kürtős Chimney Cakes
One of the things we did was get sandwiches for an outdoor picnic lunch at The Ringling. I stopped at Kürtős, chimney cakes, and breads, owned by Aniko Goulash. She moved to the United States to pursue a career in hospitality, fell in love with Sarasota, and stayed.
We were immediately drawn to her shop and story. This is because her chimney cakes and bread brought us back to Europe. She makes them in all sorts of flavors and styles, both savory and sweet.
We ordered an Everything flavored chimney bread with cream cheese inside and a sandwich on cheese chimney bread. They were the perfect things to take to The Ringling on a Saturday afternoon, enjoying the property and the outdoors.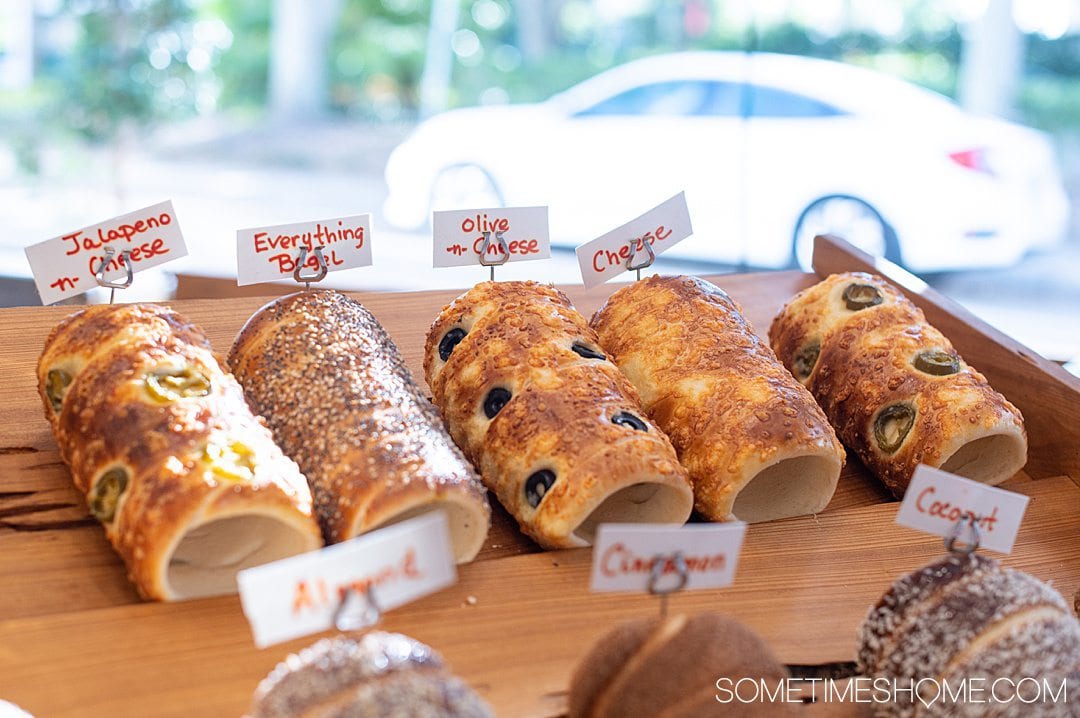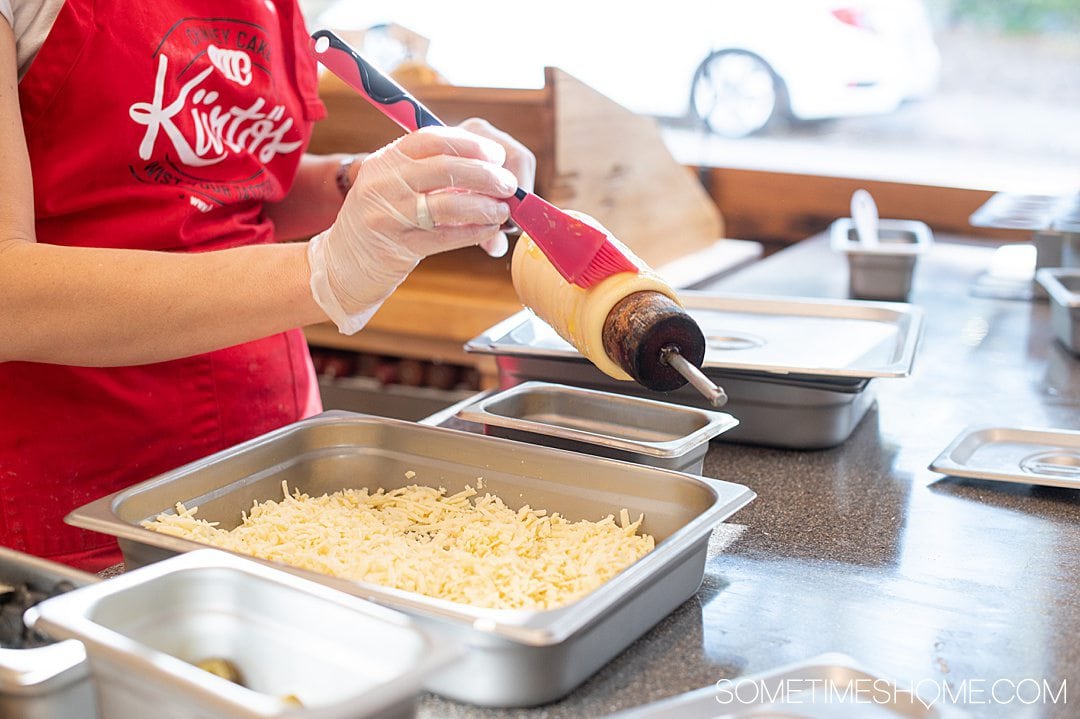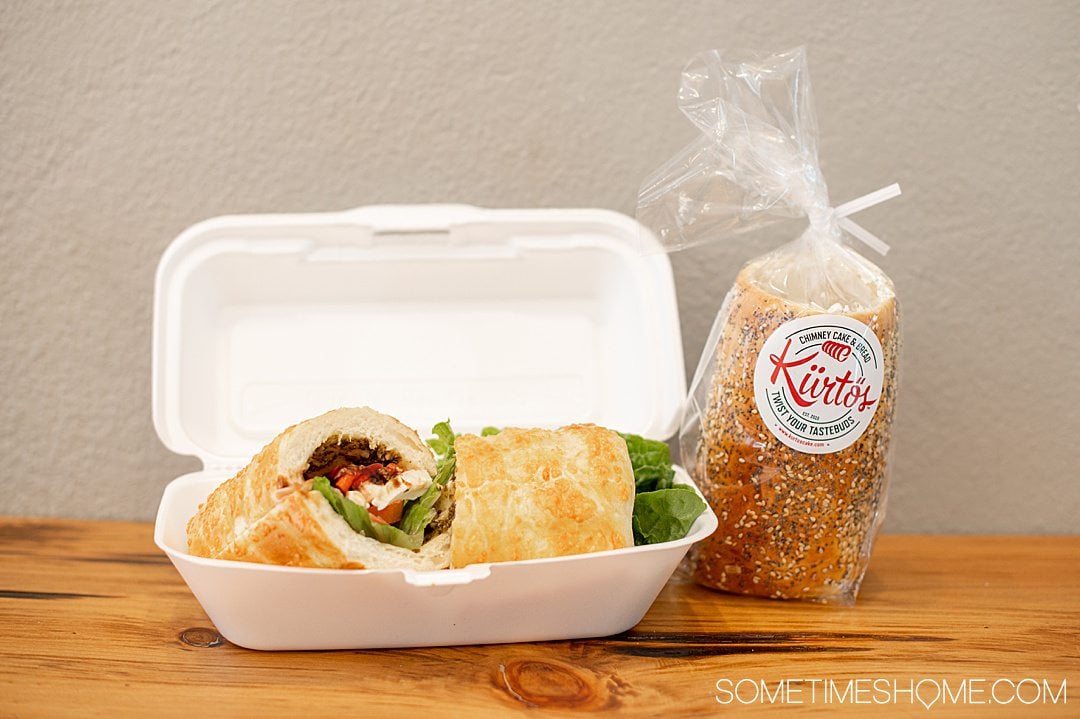 Spend the Afternoon at The Ringling During your Weekend in Sarasota
We brought our lunch from Kürtős to The Ringling. They have an onsite cafe if you don't have time to pick up a picnic lunch beforehand. But we were happy to see a picnic area with outdoor picnic tables for guests to enjoy. Our little lunch hit the spot before going into The Ringling's exhibits.
And it was important to us to be outside and enjoy the gardens even longer! So sitting outside to eat our sandwiches, which also supported another local business, was ideal.
There is SO MUCH to enjoy at The Ringling. Of all the things to do in Sarasota, dedicate a few hours to being there during your time in the city if not a half day.
It took us between three to four hours to tour the following:
Circus Museum, including the Circus Model on the ground level, second level area with circus history and building next door
Part of the Museum of Art
The grounds surrounding the Ca' d'Zan mansion
All the while, we walked through beautiful gardens on the property as we moved from one space to another. There was much more to see that we could have stayed for, including many more art exhibits.
But we started with the exhibits that most spoke to us and left when we still had energy for the rest of the evening. We wanted to enjoy downtown for dinner one more night during our 3-day weekend in Sarasota.
Circus Museum and Circus Model at The Ringling
After lunch, we moved on to the Circus Museum and Model for an understanding of the history of the circus worldwide. We were also anxious to see the scale model of the circus we had heard about before even arriving in Sarasota. If there's a main attraction at the Circus Museum, this is arguably it.
🎪 Love the circus and circus history? You must sign up for this unique Circus tour in Sarasota! 🎡
The Greatest Show on Earth Mural
As soon as we passed under the outdoor "To the Big Show Main Entrance" tent, we entered a hallway with a gorgeous mural by William Woodward. It takes up a huge portion of the wall it's on.
Its title is befitting: "The Greatest Show on Earth," was painted with oil on canvas in 1990, though it depicts the Ringling Bros. and Barnum & Bailey® circus from the 1970s and 80s. It towers above its pedestrian views at 22 feet by 42 feet.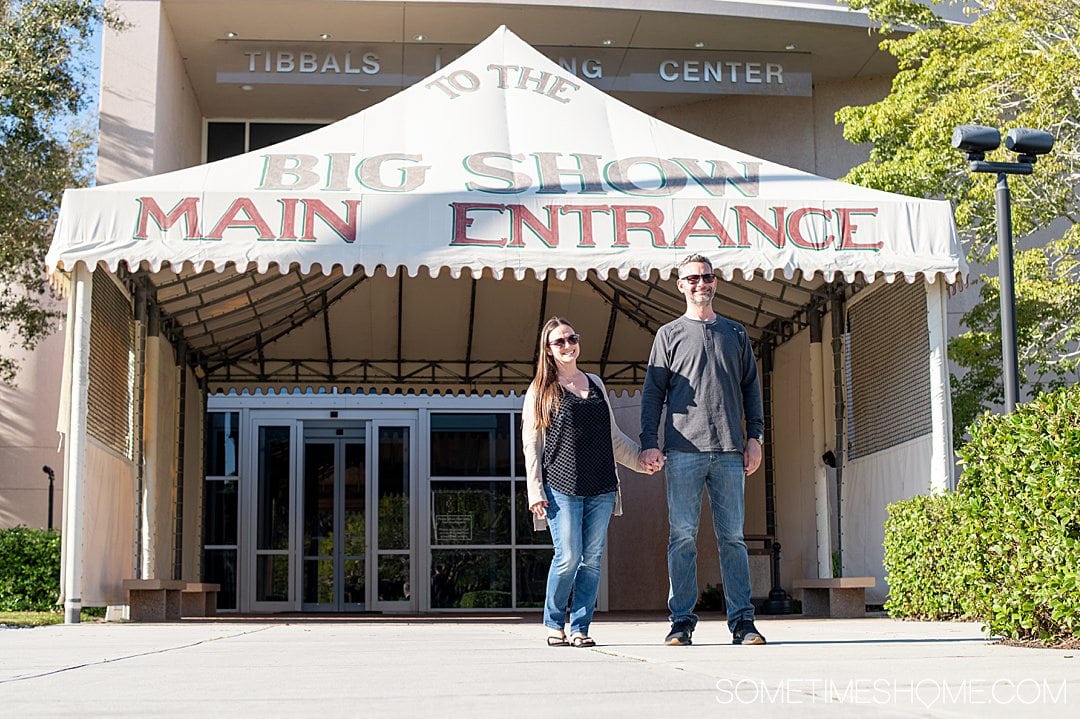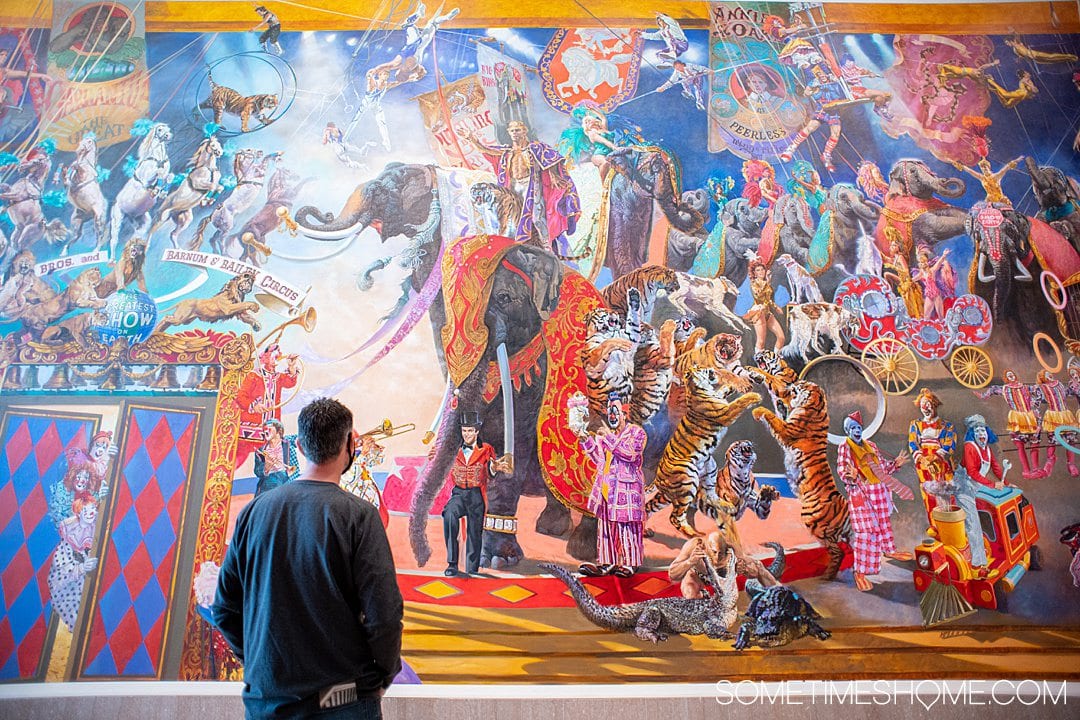 Model of When the Circus Comes to Town
From there, we headed to the scale model on the ground level of the building. We stood in AWE of the 44,000-piece "Howard Bros. Circus," created by Howard Tibbals. It covers 3,800 square feet of space. It's THAT big!
The model and all its pieces were created over many years by Tibbals, who immediately loved the circus from when he saw his first one that came to town in 1939. He was 3 years old.
We spent at least 45 minutes in this space, alone. There were so many incredible details to drool over that we couldn't stop staring.
It was clear hours of work were put into each piece, from the expressions on the people's faces to the incredible lighting that periodically changed to nighttime over the course of many minutes to so many moving parts under the "Big Tent." A favorite of mine was the ropes that spun to enliven the movements of the aerialists.
Several plaques around the model share information about what it was like when the circus came to town. Here's one of the pieces of information we learned as we moved around the model (which is behind glass to ensure its preservation):
"The circus traveled with over 1,300 workers and performers, 800 animals and all the equipment needed to put on a performance. In a season, the show could travel up to 15,000 miles and perform in 150 towns and cities across America. Fewer than 20 of these dates were for more than a single day."
Even the military went to see how the operation worked to learn from its buttoned-up processes and logistics!
Some communities doubled in size when the circus arrived, drawing crowds from neighboring towns. And in some instances, schools and factories would even close for the day to allow the students and workers to enjoy the circus.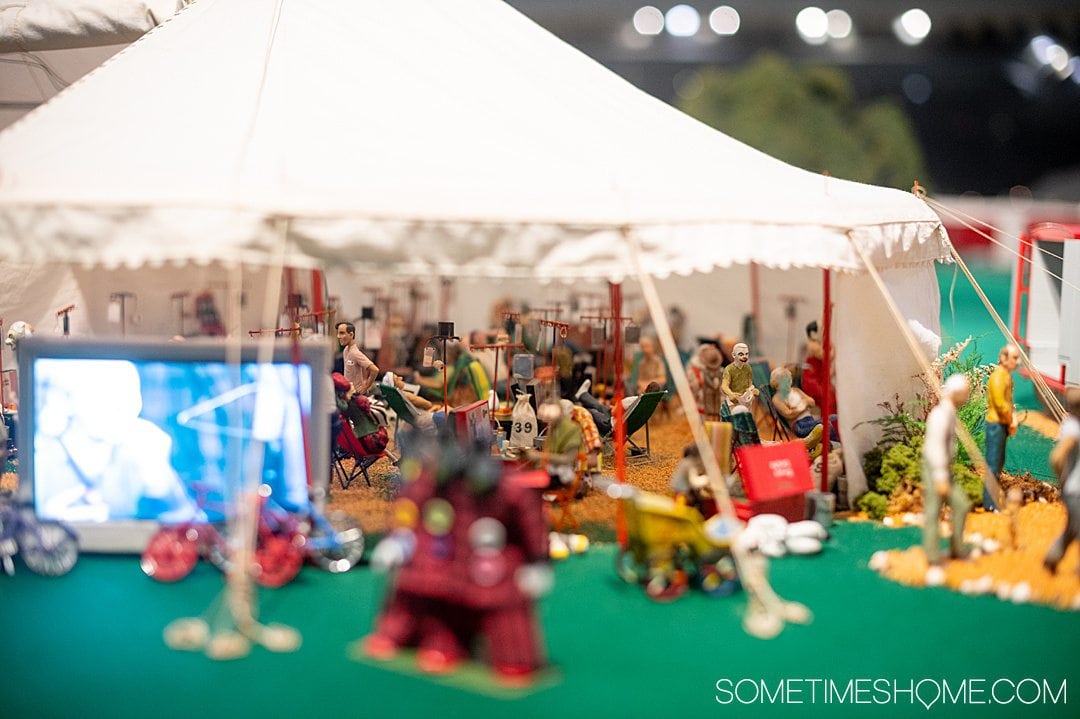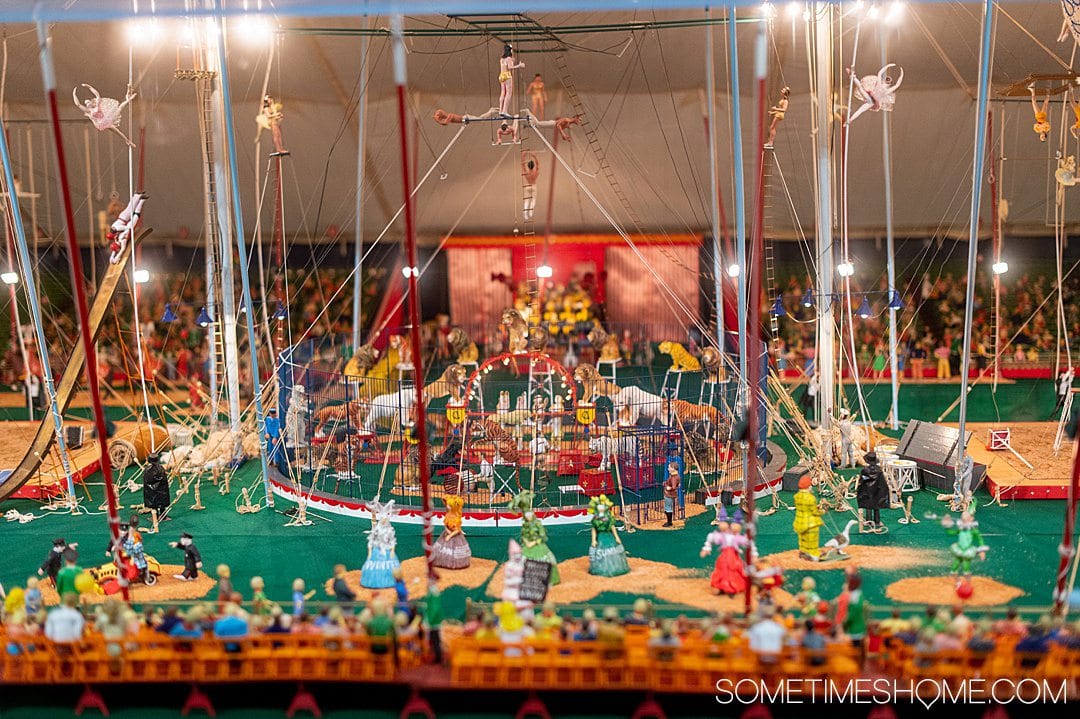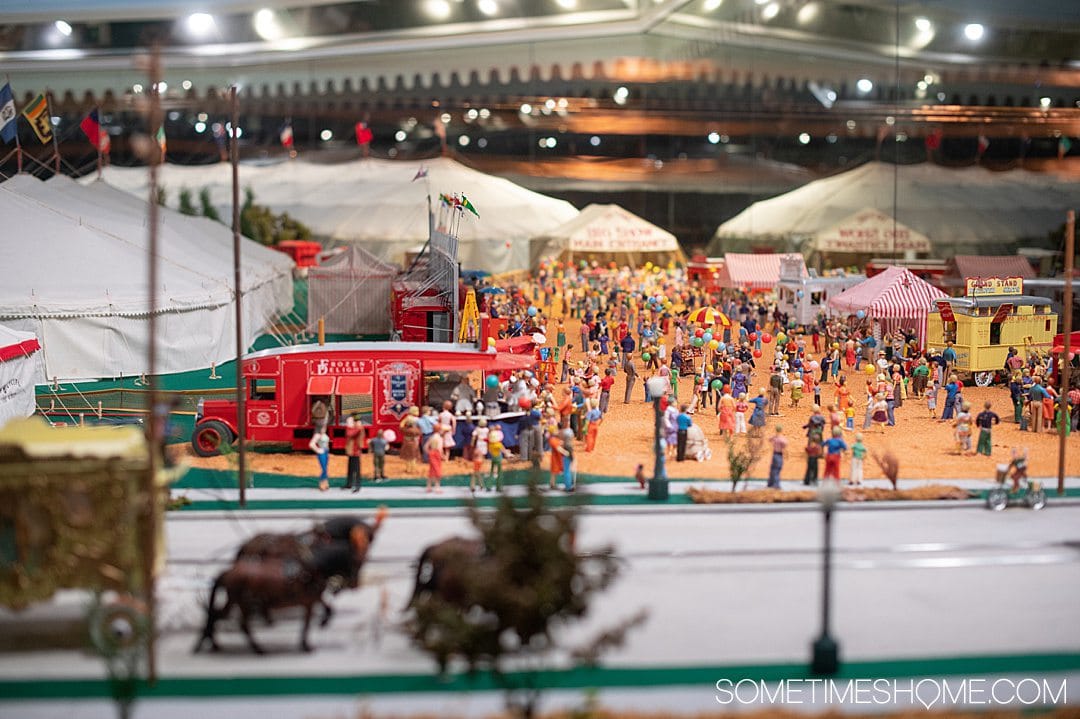 A History of the Circus
We headed upstairs to the second floor of the same building to learn about the history of the circus, which put so much in context for us. The circus may have been described as being as American as apple pie. However, it actually has deep roots overseas.
For instance, the word "circus" comes from the Latin word meaning ring or a circle, which comes from the Greek word kirko, meaning the same. During ancient Greek times, arenas and coliseums – and the "circus" ring – were where the masses gathered for entertainment to watch jugglers and acrobats.
The 16th century brought Italian Harlequins, who were comedy performers dressed in multicolor patchwork costumes. It was called, "Commedia dell'arte." They were hugely popular by the 18th century, and their influence is still seen in mimes and clowns.
We learned all this from The Ringling museum's extensive historical timeline, which I pretty much read every word of! I'm a huge fan of themed entertainment, whether at Walt Disney World, Universal, Busch Gardens, or elsewhere. And this falls right in line with that fascination.
The timeline also explains how Ringling and Barnum and Bailey merged and, ultimately, what happened to the circus in more recent times. It also goes into the history of why The Ringling was established in Sarasota, Florida, in the early 20th century.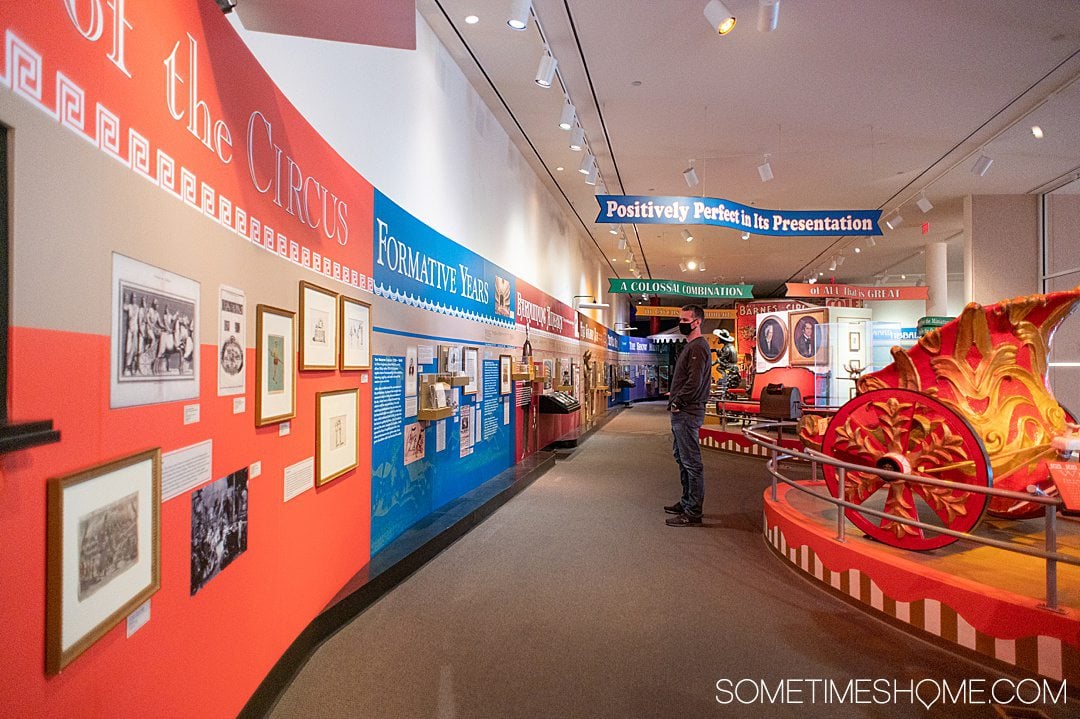 Circus Memorabilia and Artifacts
After learning about the history of the circus, we went to the neighboring building to explore more Circus Museum memorabilia on a larger scale. This included the restored "Wisconsin" train car and some vintage circus cars. They also had some circus artifacts here, including a unicycle, shoes used in the circus, and newspaper articles.
The Wisconsin is the train John and Mable Ringling used to travel around the country in search of circus acts that would keep their audiences coming back for more.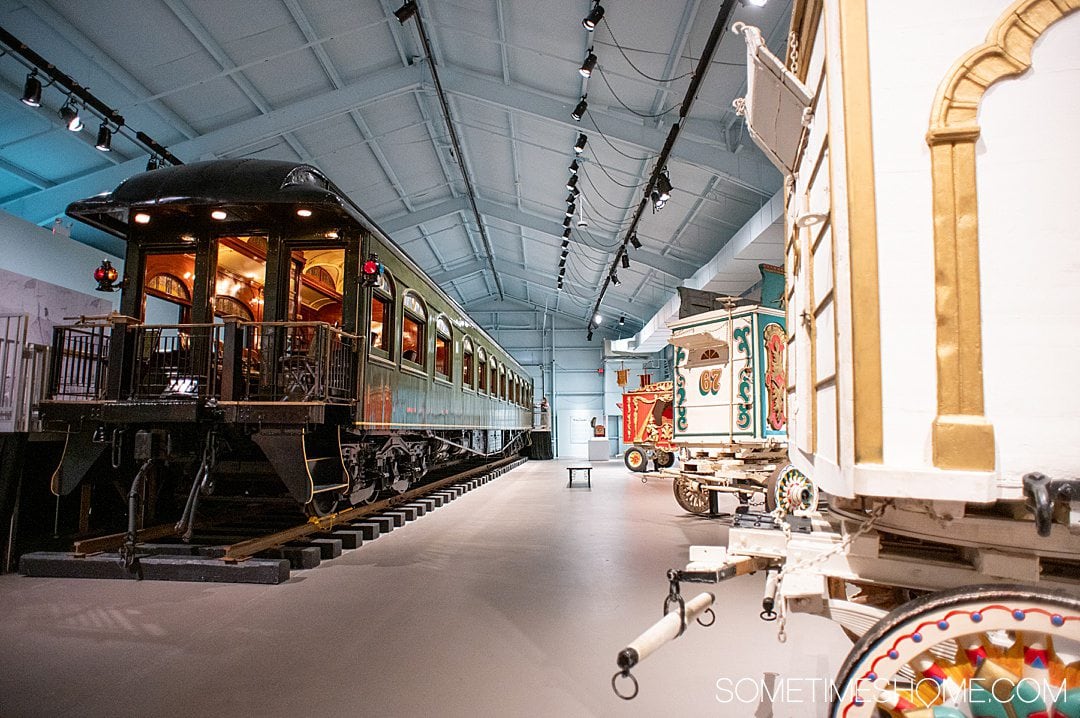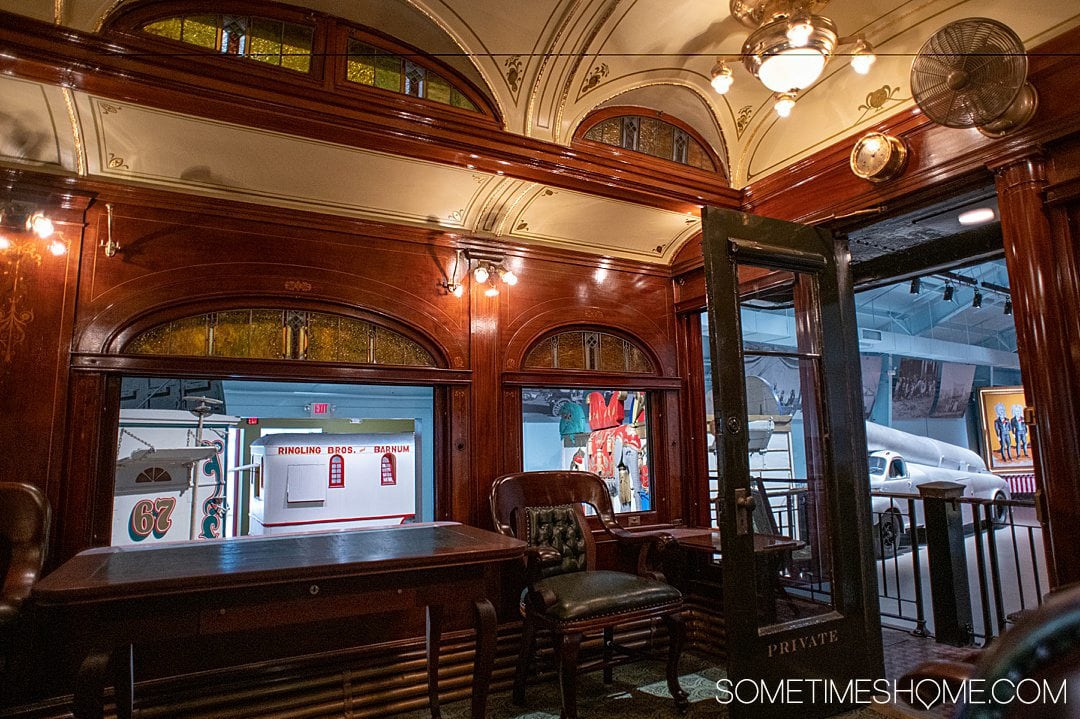 Mable Ringling Museum of Art
John Ringling established the art museum at The Ringling in 1925. He hired architect John H. Philips to design a building to house his growing art collection; he created the stunning pink, U-shaped building that stands today.
We particularly loved its interior courtyard and sculpture garden. We felt like we were in Italy or Paris! The building is divided into 21 galleries; we saw two or three of them walking around for an hour or so.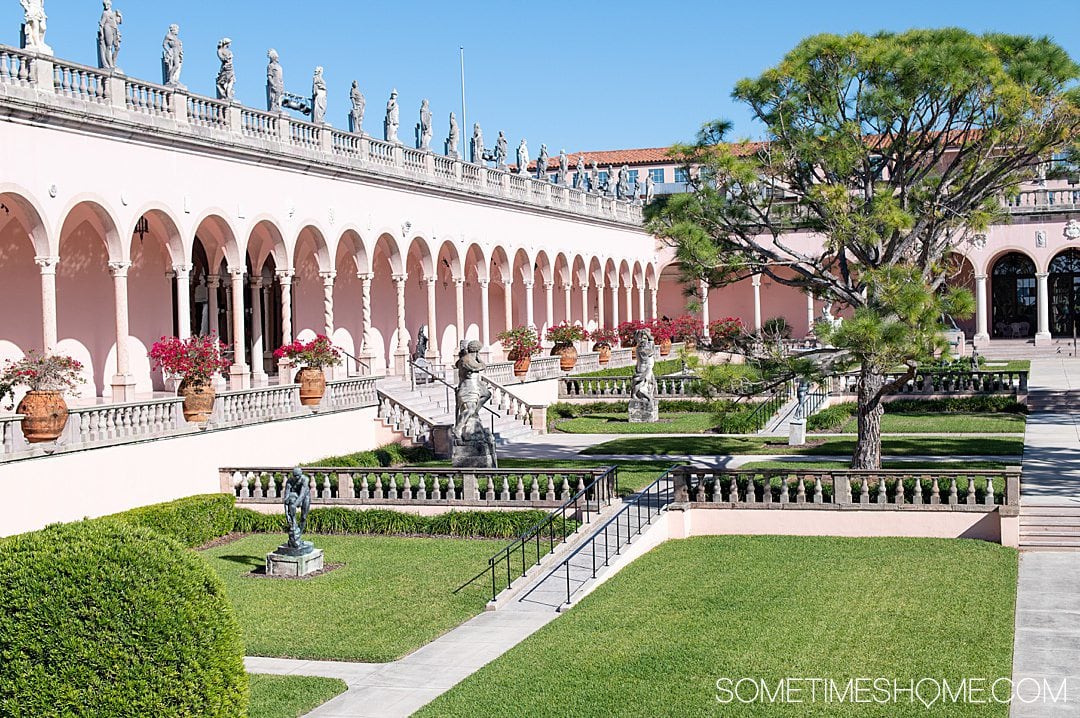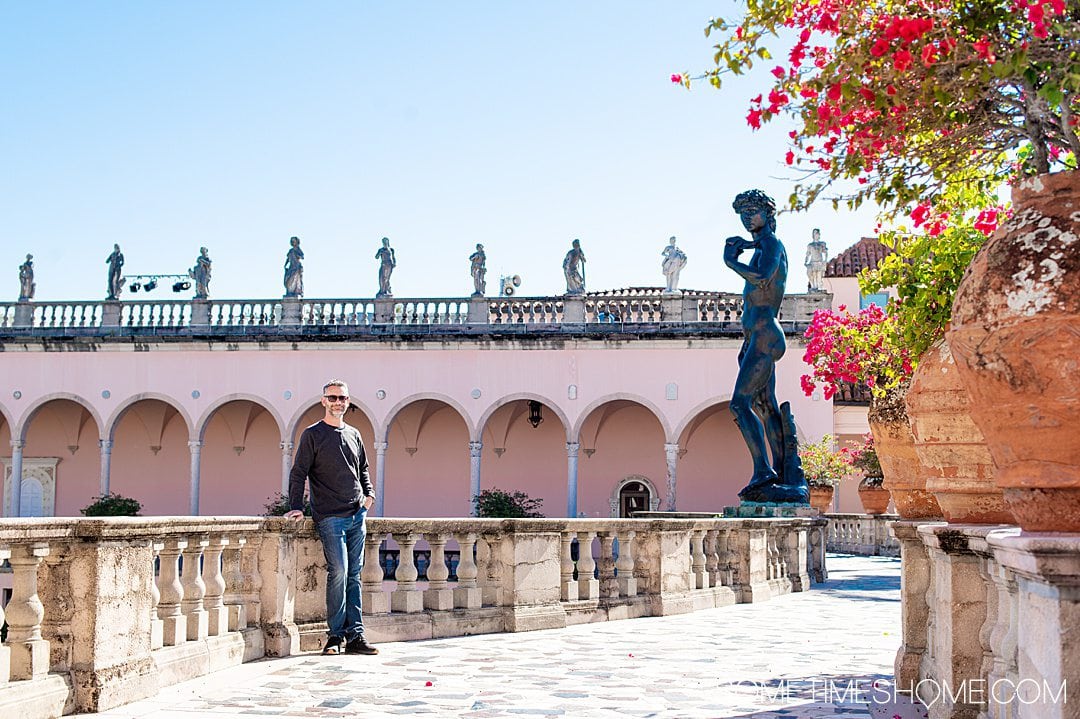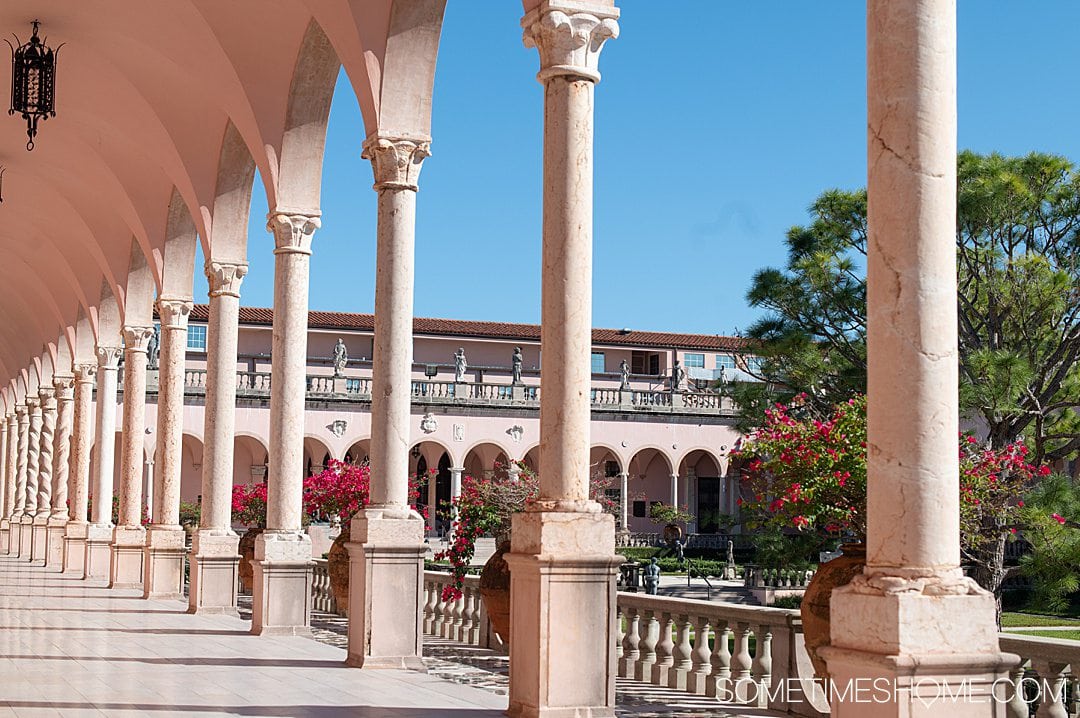 Ca d'Zan Mansion at The Ringling
Though we could have spent more hours at The Ringling, we made our last stop of the day the grandiose Ca' d'Zan home. This waterfront mansion overlooks Sarasota Bay.
It requires a separate ticket to go inside, and we opted not to because we wanted to leave it for our next visit.
Besides, you can walk around the exterior and enjoy the grounds and views with the general admission ticket to The Ringling. We sat on a bench for a few minutes to enjoy the view and breeze coming in towards the land from the water.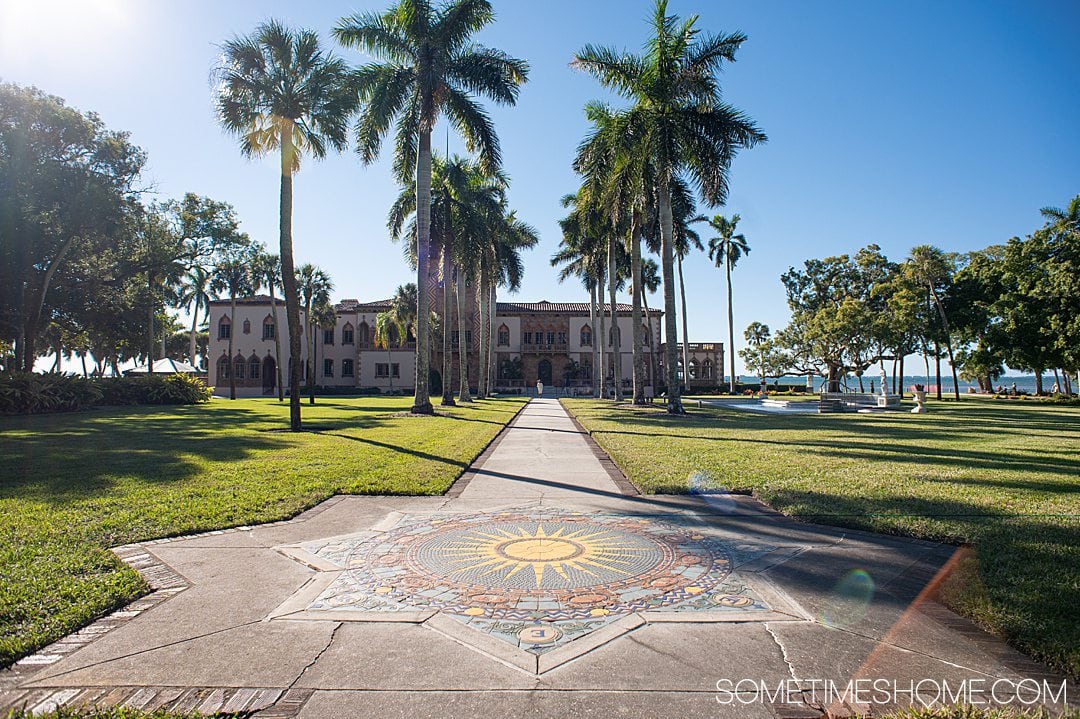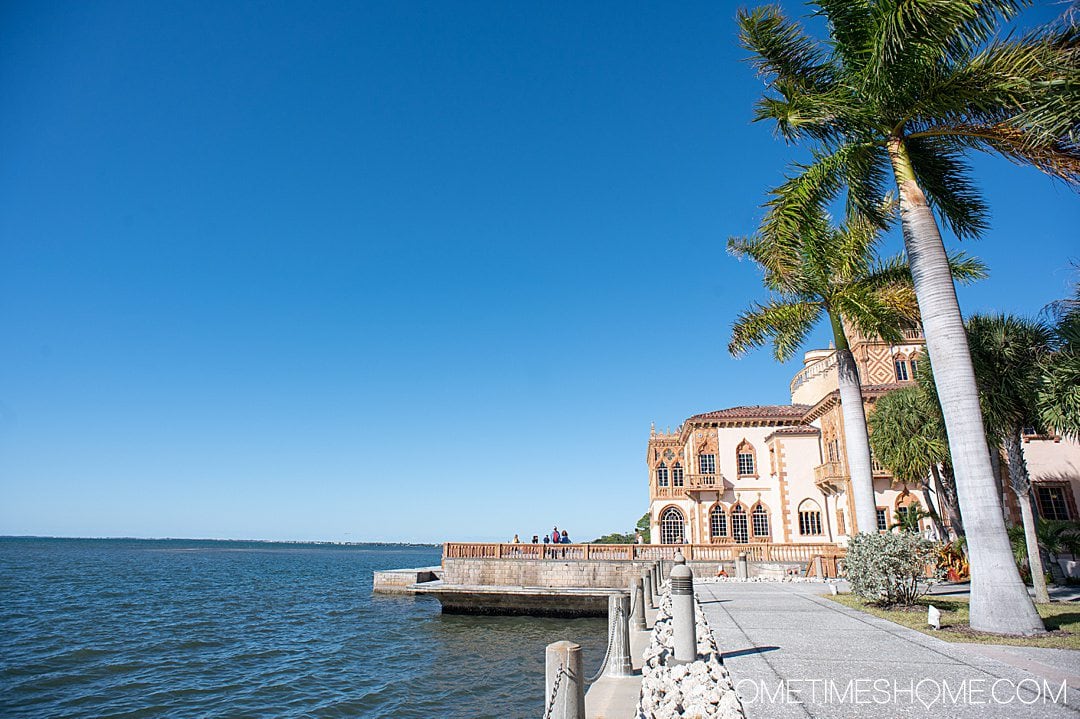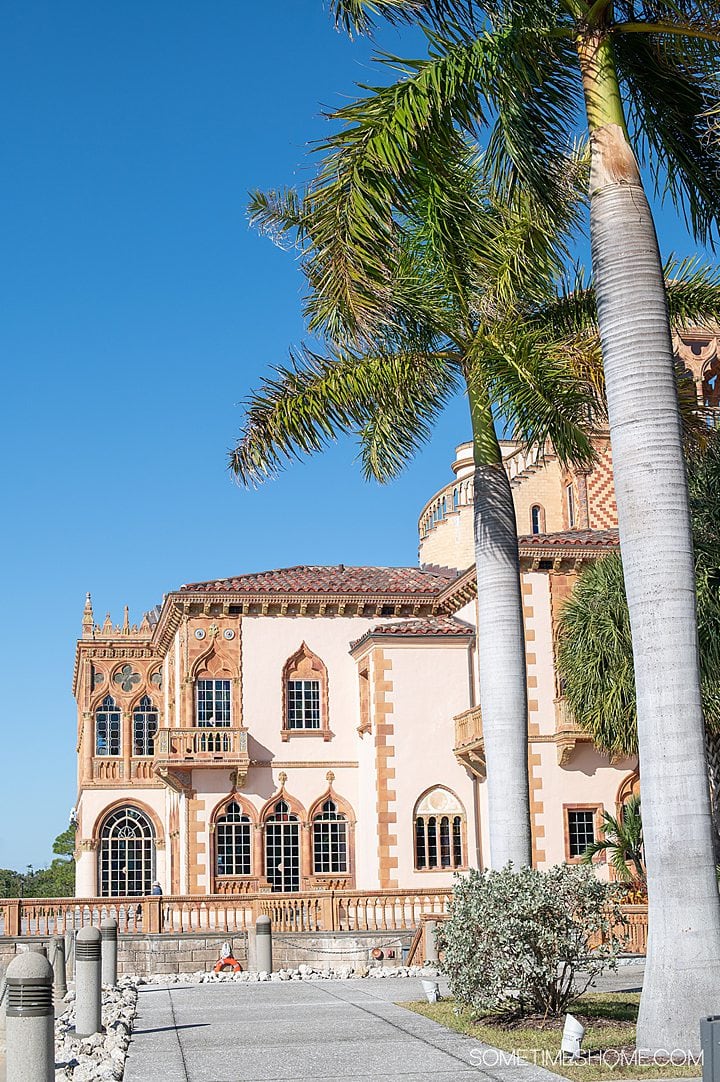 We enjoyed more of the Bayfront Gardens at The Ringling as we headed for the exit, including some impressive Banyan Trees.
Sarasota Classic Car Museum
One of the hidden gems we visited in Sarasota was an unassuming building nearby Ringling Museum. A small building housed dozens and dozens of classic cars.
It's a great indoor place to beat the heat and see some vintage cars – even some that Mr. Ringling owned. Historic cars span decades, from some of Ford's first models to 1950s convertibles to 1980s Mustangs.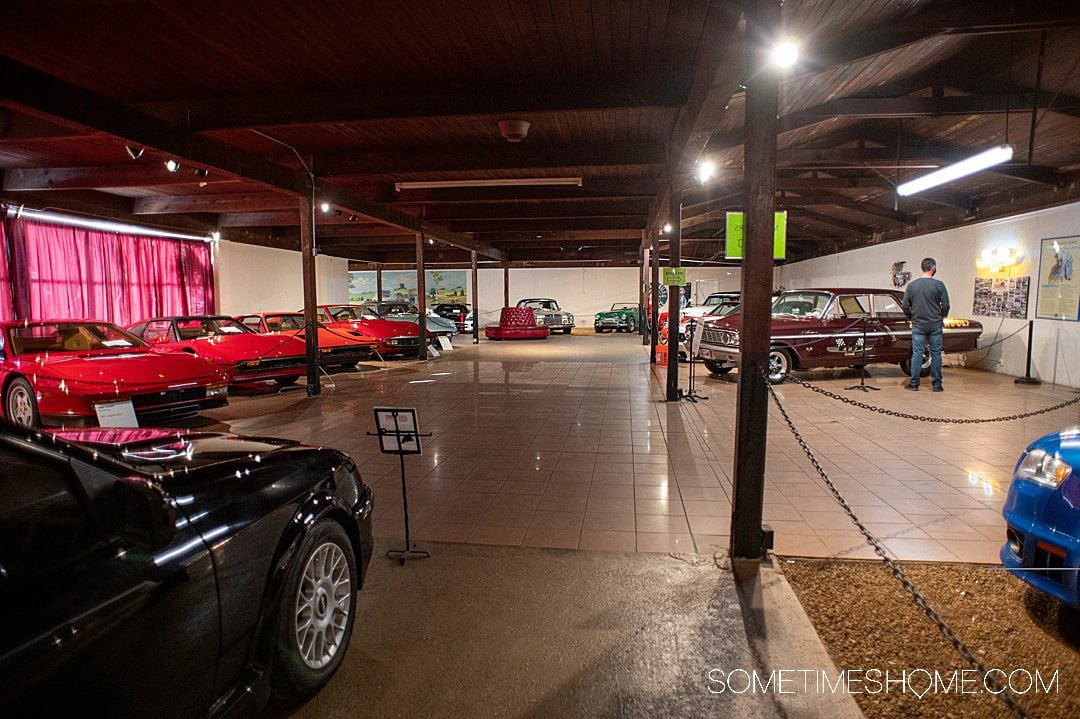 Enjoy the Flowers, Plants, and Waterfront Views at Marie Selby Botanical Gardens
Our weekend in Sarasota was made even lovelier with a Sunday morning visit to Marie Selby Gardens. We walked from the downtown Sarasota Aloft hotel to the gardens; it was a half-mile walk just a few blocks away. It took about 10 to 15 minutes to get there from our hotel.
You can either walk down S. Palm Avenue or take a slightly longer route on a pedestrian walkway along Bayfront Drive on the water.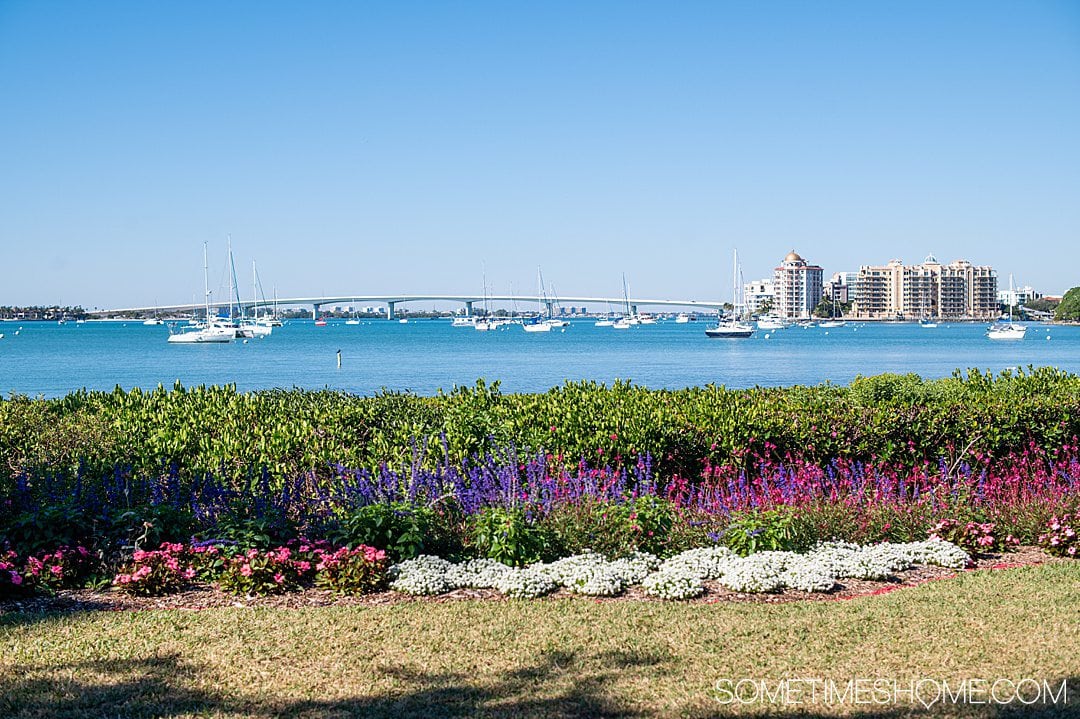 There are a few buildings on the 15-acre Selby Gardens property. This includes the main admission area and garden shop – but otherwise, it's mostly an outdoor property to explore.
You can spend hours here, especially on a nice day. We absolutely loved the property, with a view of Sarasota Bay from inside the gardens, its Tropical Conservatory, mangrove walkway, and even its Banyan Grove and Kids Corner.
Florida is known for views of the Gulf of Mexico like the ones you can see from this botanical garden!
(We snuck into the Kids Corner because luckily, it was empty when we visited and its treehouses were so much fun!)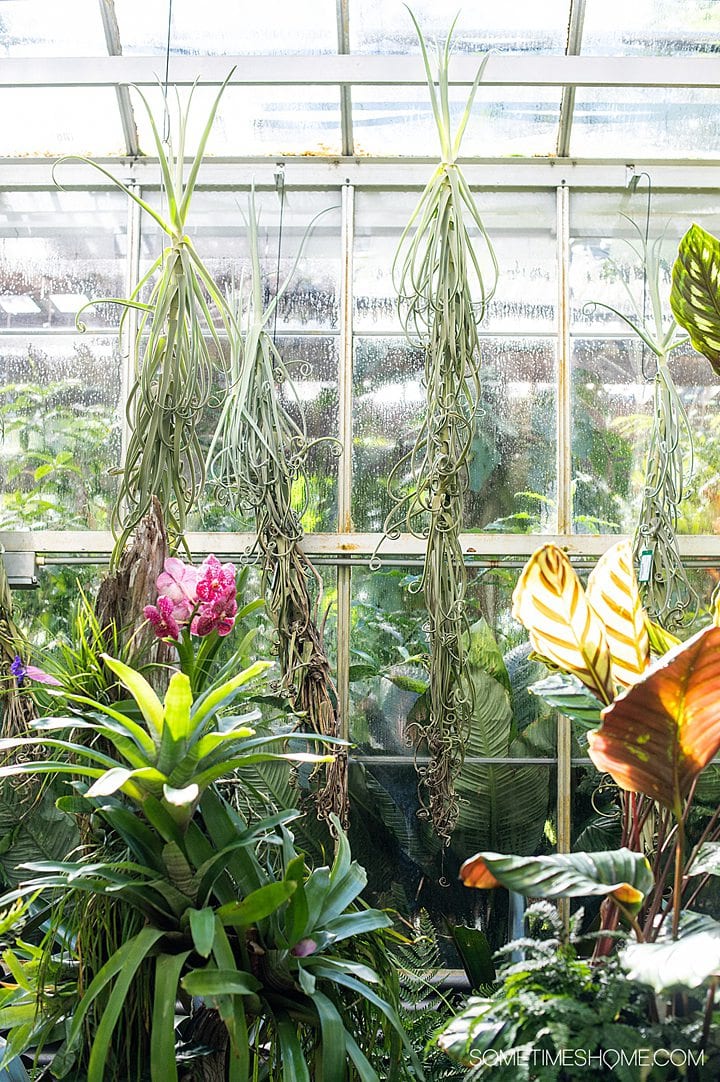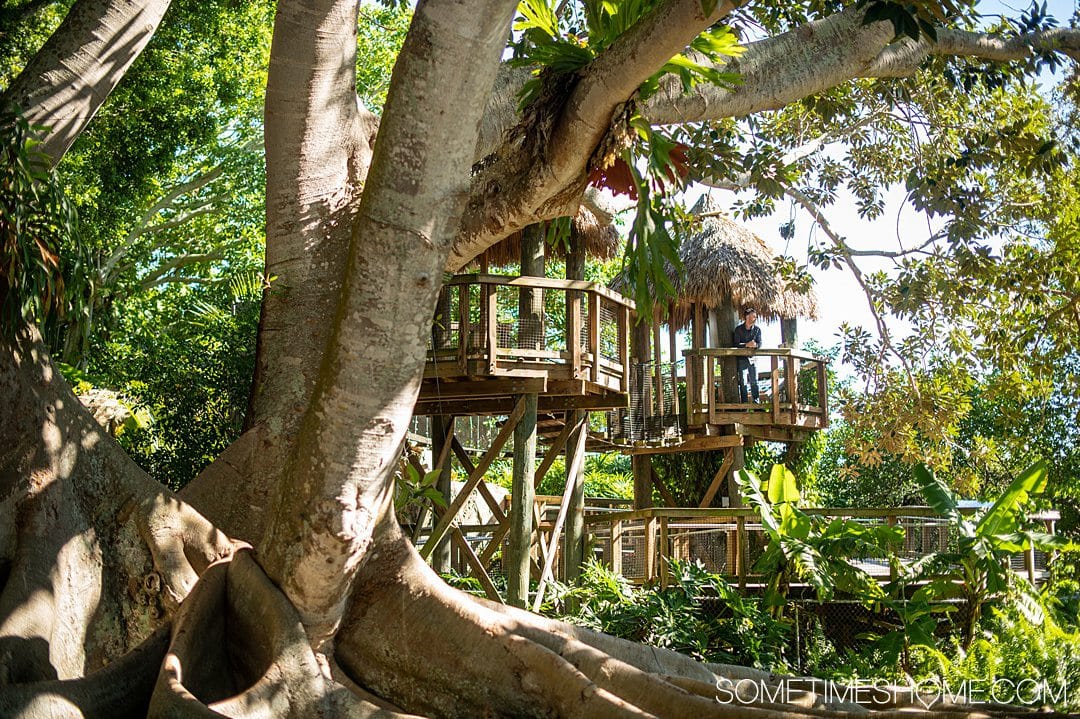 Visit the Mote Marine Laboratory & Aquarium of Sarasota
If you're the kind of person who learns through viewing and seeing things – animals included – then the Mote Marine Lab & Aquarium of Sarasota is the perfect stop during a weekend in Sarasota. And it's half outdoors too.
We admit there were a lot of kids there, and as an adult couple, it sometimes got to us. However, that can be expected of any aquarium. So we went with the flow to view the amazing marine life presented to us.
The aquarium was started in 1955 by Dr. Eugenie Clark. Its research was largely based on sharks, and to this day, Mote is the home of the Center of Shark Research. (There are over 1,000 species of elasmobranchs to research, which are sharks and their relatives, skates, and rays.)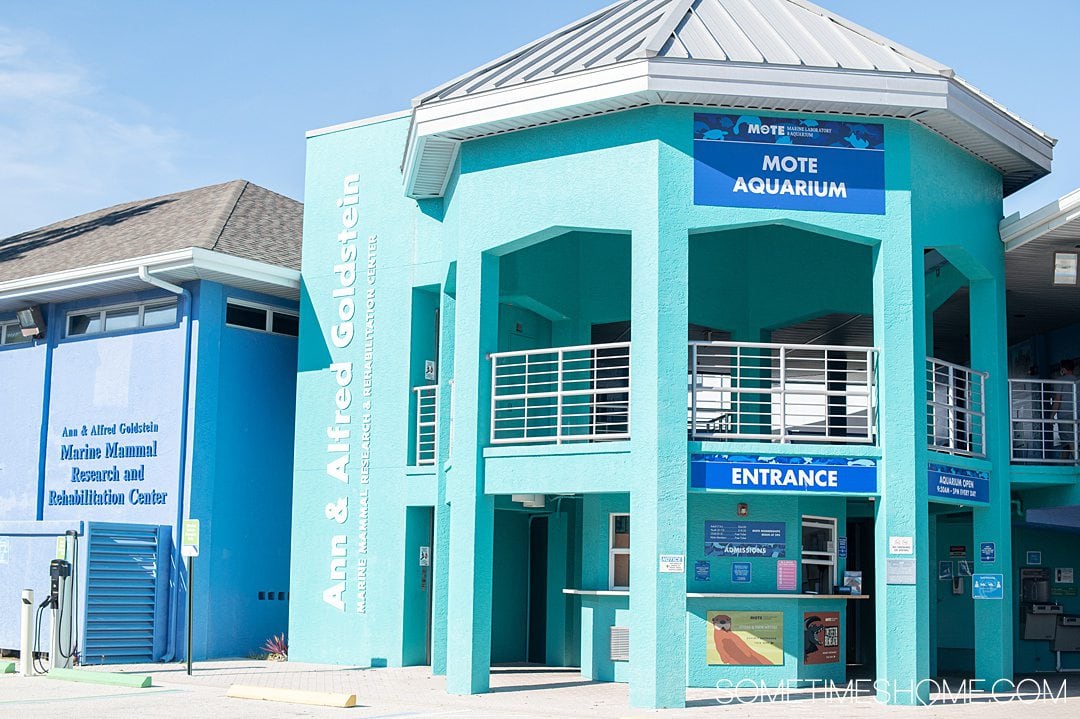 We know people have mixed feelings about putting animals in enclosed habitats. Yet aquariums do important research that helps the world's oceans and waterways. And that means the marine animals who live freely – not just ones inside tanks – benefit from the research.
For example, Mote scientists are working with the Florida Fish and Wildlife Conservation Commission to help research disease-resistant corals. This is to help restore coral reefs and propagate corals for future ocean restoration projects.
They also help research the Red Tide phenomena in Gulf Coast Florida. Red tides lead to marine species' deaths, including deaths of fish and mammals, and can cause respiratory issues in humans. Important places like Mote Aquarium exist to help aid in education and research about Red Tides.
They also offer wonderful programming and classes, including adult-only educational learning experiences.
There are two buildings that guests who visit the aquarium can visit. One has mostly tanks with things like fish, octopuses, and amphibians. The other has sharks, sea otters, crocodiles, and manatees.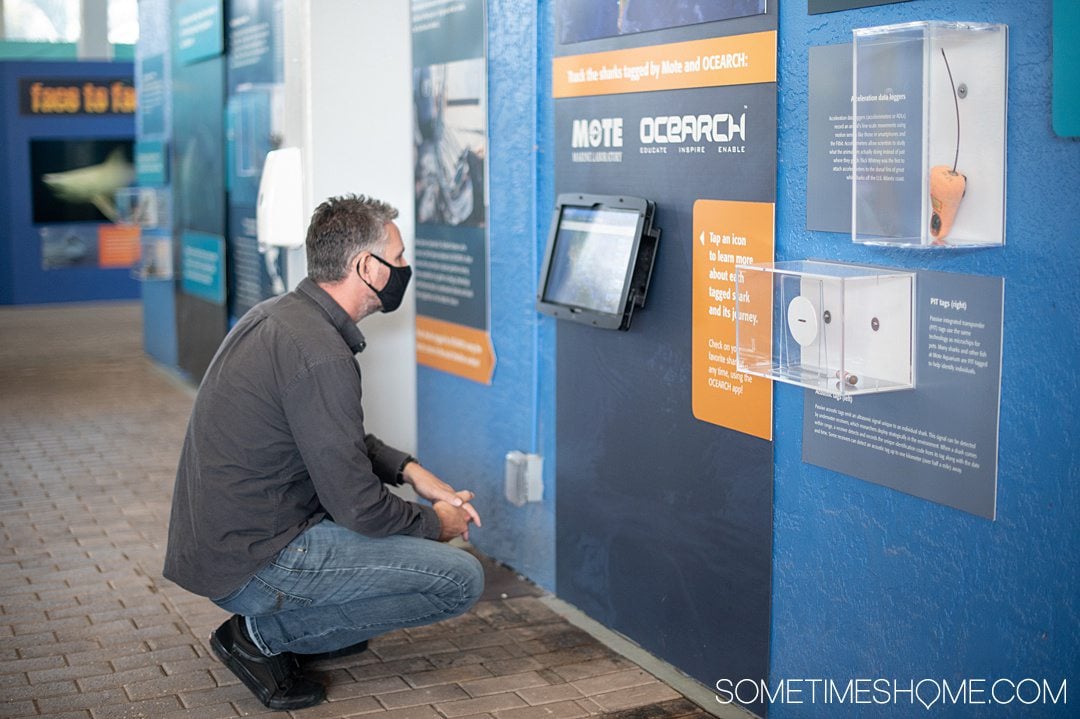 Sea Turtles Monitoring by Mote
Mote Lab and Aquarium monitors Sarasota's sea turtles' nesting season. They do research on the shores of Siesta Key Beach, which is one of the best places in Florida for these cute little hard shells to nest.
If you're amongst the nature lovers who wish to venture out to see the turtles on the white-sand beaches of Sarasota for what is an amazing season, be incredibly careful to respect nature and how vulnerable the sea turtles are to survive.
Never touch the adult sea turtles, their nests, eggs, or hatchlings. Do not disturb their habitat in any way. Don't shine lights (flashlights or cell phone lights) on the turtles, turtle eggs, or anywhere nearby. Remain quiet and keep your voice low. Watch respectfully from a safe distance.
If you happen to find hatchlings on the road, call the Wildlife Alert number to help save the turtles.
Head to the Sarasota Farmers Market
Every Saturday, year-round, from 7:00 am to 1:00 pm, the Sarasota Farmer's Market takes place on Lemon Avenue (how fitting?!) at the intersection of Main Street downtown. It's within walking distance from popular hotels, including Aloft, The Ritz Carlton, and The Westin.
There's more than just vegetables at the farmer's market in Sarasota. Local artisans have booths, there are plants for sale, food in addition to produce, and beverages. Check out the list of weekly vendors on their website.
See a Performance at the Sarasota Opera House
Conveniently located downtown, you'll find an events calendar of the Sarasota Opera House ticketed events online.
This is one of the best things to do in Sarasota at night if you love Opera performances and concert series. If you don't like opera but enjoy architecture, they offer an architectural tour on a weekday at sporadic times throughout the month.
Schedule of Top-Rated Things to Do over a Weekend in Sarasota Florida
If you're going to Sarasota from a Friday to Sunday, we have a general schedule for you of what to do during your weekend there day-by-day:
Friday
Afternoon: Arrive around 2:00pm to walk St. Armands Circle and Lido Beach.
Late afternoon: Check into the Aloft hotel, downtown, at 4:00pm.
Evening: Walk to dinner in downtown Sarasota (and took advantage of a weekday happy hour!)
Saturday
Morning: Grab coffee downtown and head to Sarasota Bay to enjoy a morning walk along the water.
Afternoon: Pick up a takeout lunch downtown (we suggest Kürtős chimney cakes and bread sandwiches, to go) and head to The Ringling.
Afternoon into the early evening: Spend time at The Ringling.
Evening: Go back to the hotel to refresh, then walk to dinner in downtown Sarasota.
Sunday
Morning: Enjoy brunch in downtown Sarasota. Walk to Marie Selby Gardens. Check out of the hotel.
Afternoon: Go to Mote Marine Lab & Aquarium of Sarasota.
Where to Stay in Sarasota
If you're visiting Sarasota for the top-rated things to do in the area, not just to lounge on the beach for a sandy vacation, then staying in the downtown Sarasota area is the most idea and will be the most interesting.
You'll have plenty to do and see downtown, all within walking distance.
Our Hotel in the Perfect Downtown Sarasota Location: Aloft Sarasota
We were glad we booked the Aloft Sarasota. Its location downtown allowed us to park our car and walk to various places we wanted to visit. Which was great because we were there for two nights and three days.
We book all of our Marriott hotel stays with our Marriott Bonvoy credit card rewards, which allow us to stay for free. (Yes, for FREE using points! That credit card is absolutely one of our favorite travel resources in life.)
➜ Reserve Your Stay at Aloft Sarasota Before it Sells Out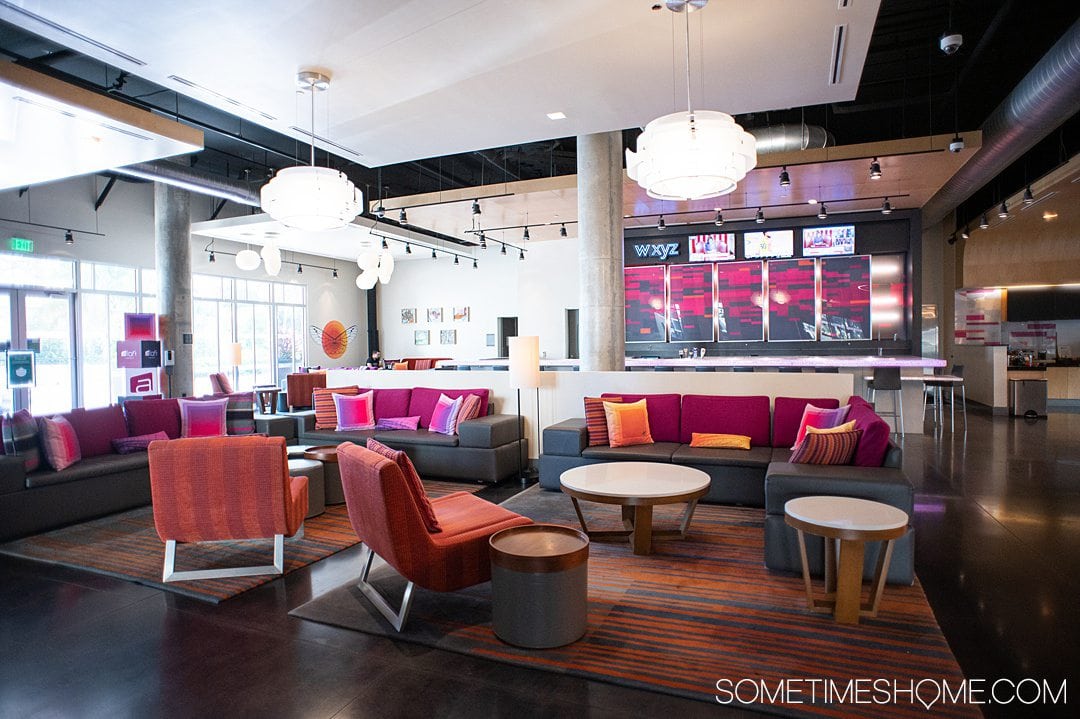 It was a little cold to swim in January, when we visited so we didn't bring swimsuits. But the Aloft Sarasota also has a rooftop pool and hot tub – two nice perks hotel guests can enjoy.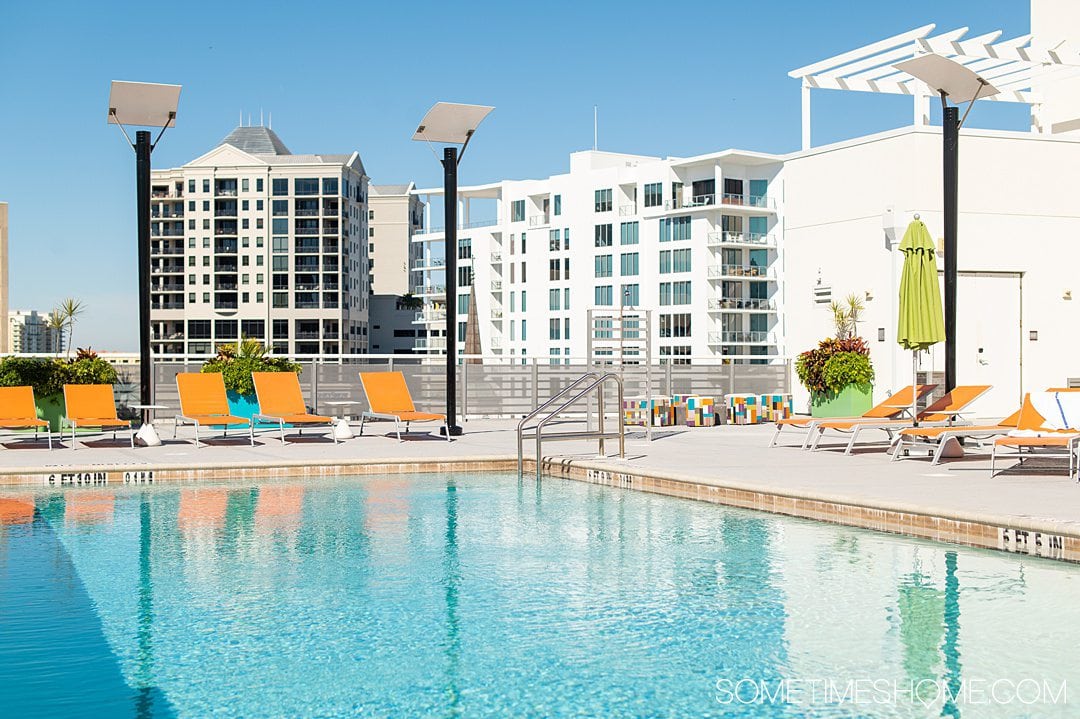 Conclusion of Top-Rated Things to Do in Sarasota
You'll love taking in the sights, sounds, and tastes of this gorgeous Gulf Coast city in south Florida. Whether you stay for the weekend or extend to a week, there's no shortage of amazing things to do in Sarasota.
---
Heading to Florida? Also check out: