Everything to Expect on a Catalina Express Ferry Boat to Catalina Island
The best way to get to Catalina Island is the Catalina Express ferry, which goes to Avalon and Two Harbors. This 22-mile island is just off the coast of mainland Southern California and Catalina Island's express ferry makes it super simple to get to and from this vacation destination.
Disclosure: There are affiliate links in this post, which means we may earn a small commission if you click the link and proceed with a purchase, at no cost to you. We truly only recommend hotels, products, and services we personally use. As Amazon Associates, we earn from qualifying purchases. We were hosted by Catalina Express, but all opinions in this post are ours. We present you with real thoughts and experiences. Always.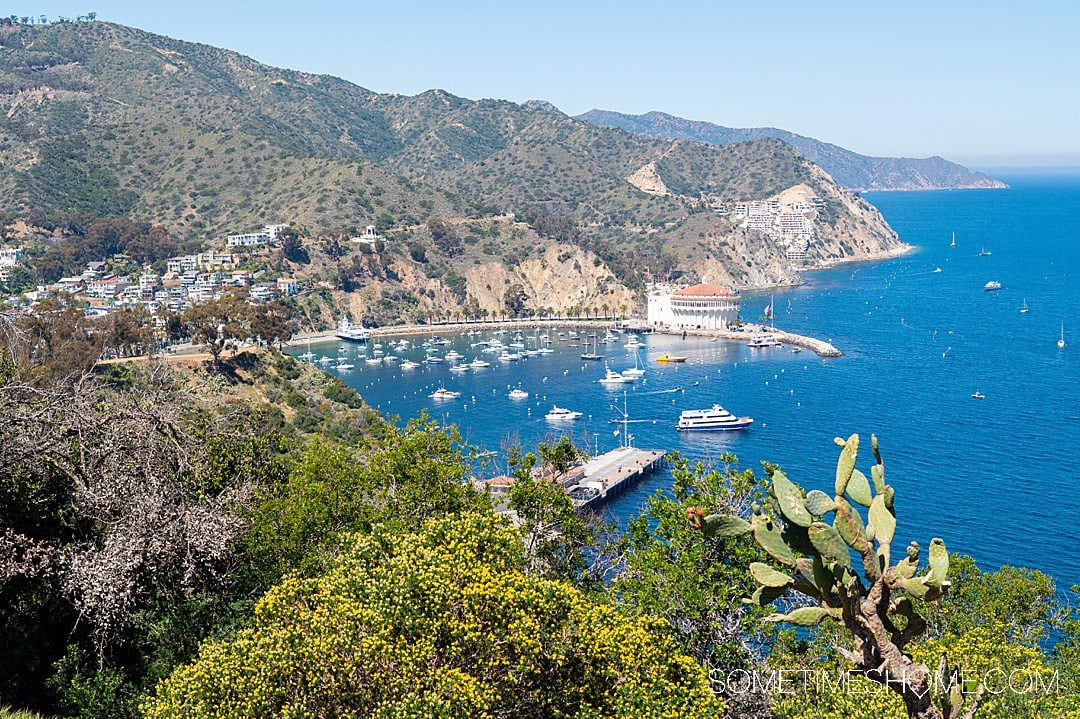 🕐 Short on time? No Problem!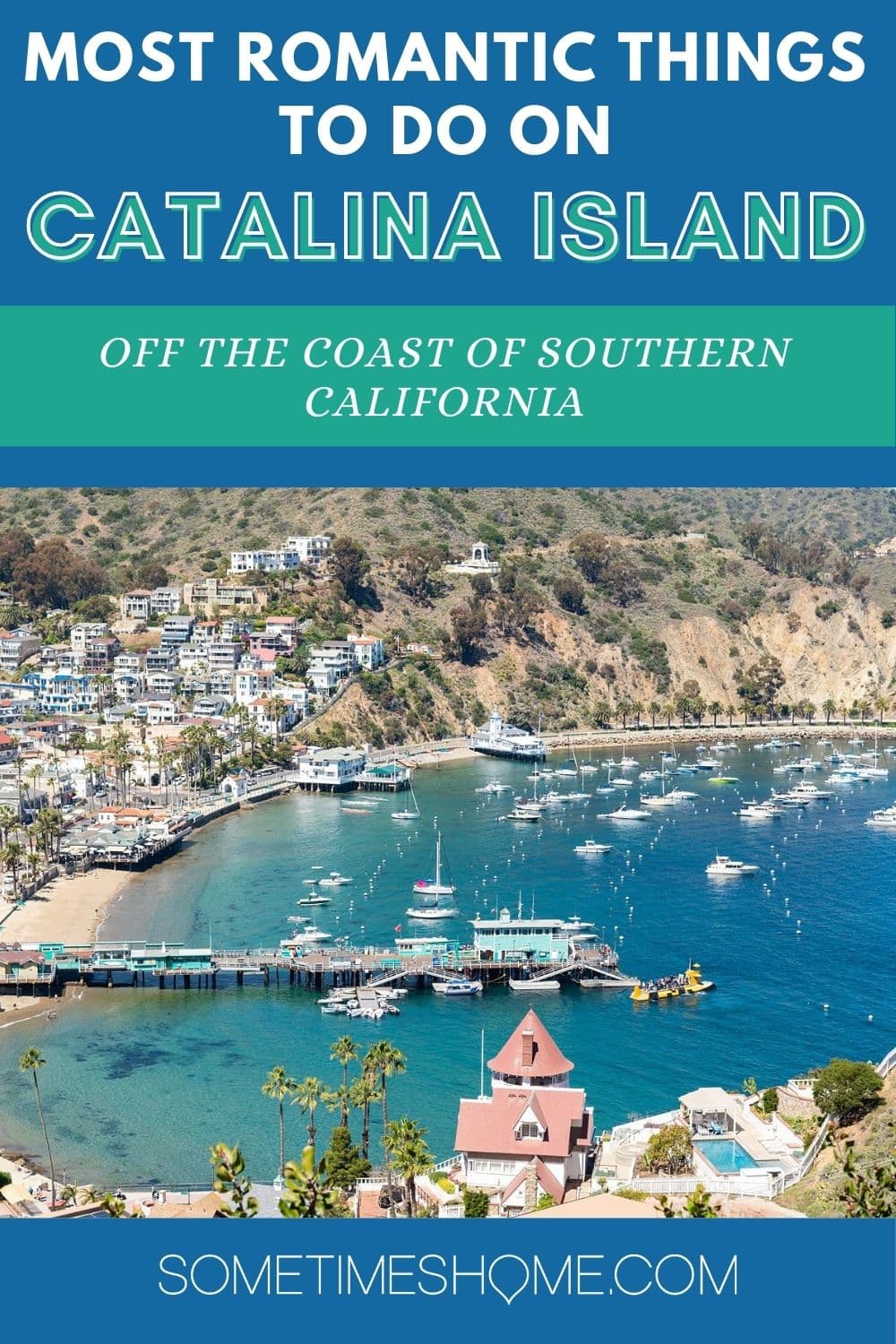 Traveling from Mainland California to Catalina Island by Boat with Catalina Express
Catalina Express travels to the island from three locations on mainland California.
The terminals are in the following locations:
Long Beach
San Pedro
Dana Point
We traveled to Catalina Island (which is also called "Santa Catalina Island," after Saint Catherine) from the Port of Long Beach. Our destination was Avalon, which is on the east end of the island. We returned to the mainland with the same route in the opposite direction.
You cannot drive to Catalina Island for this main reason: there is no bridge that connects the island to the mainland. The second reason is that you cannot bring a car to the island. (There is no way to bring your car to the island on Catalina Express, and cars are incredibly limited there. There are, however, golf carts available to rent on Catalina Island.)
Therefore, the ferry is the way to go! It's also a very relaxing and fun way to start your Catalina Island vacation.
Port of Long Beach Terminal to Avalon on Catalina Express
This seems to be the ferry's most popular route. Catalina Island Express times are plentiful, even in the off-season, and Avalon is the more popular destination of the two destinations on the island (the other being Two Harbors).
We sailed from Catalina Express's Long Beach Terminal instead of San Pedro because there were more ferry times from Long Beach when we traveled to Catalina Island in March.
If you want to book two different ports to get to and from the island (perhaps because certain times work best for you from two different terminals) then you're able to do so by booking two one-way tickets online. Alternatively, you can call Catalina Express reservation agents who can assist with your booking.
However, if you park at the terminal, you'll likely want to do a roundtrip ticket to and from the same port. If you plan on taking a car service, though, then you can go or arrive back at whichever port you like as long as you have the proper ferry tickets.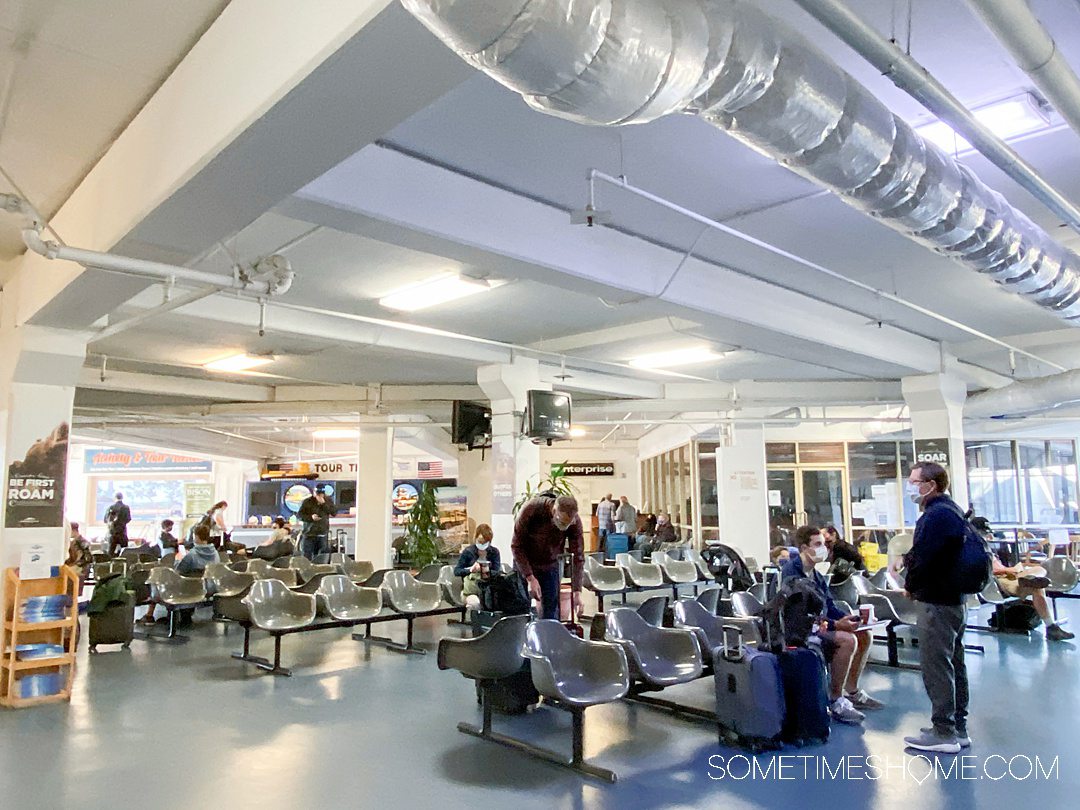 Catalina Island Express FAQs Answered
➜ Can You Park at the Catalina Express Terminal in Long Beach, California?
Yes, you can! Parking is $22 per day, and you pay when you depart the ferry terminal after your return trip from Catalina Island.
We Ubered to the ferry from Venice Beach, and it was very simple for our driver to pull up to the terminal and let us out curbside. We used the ramp to wheel our luggage up to the entrance.
Parking is available at all three Catalina Express terminals (San Pedro, Long Beach, and Dana Point). Catalina Express does not own or operate the lots – third parties do.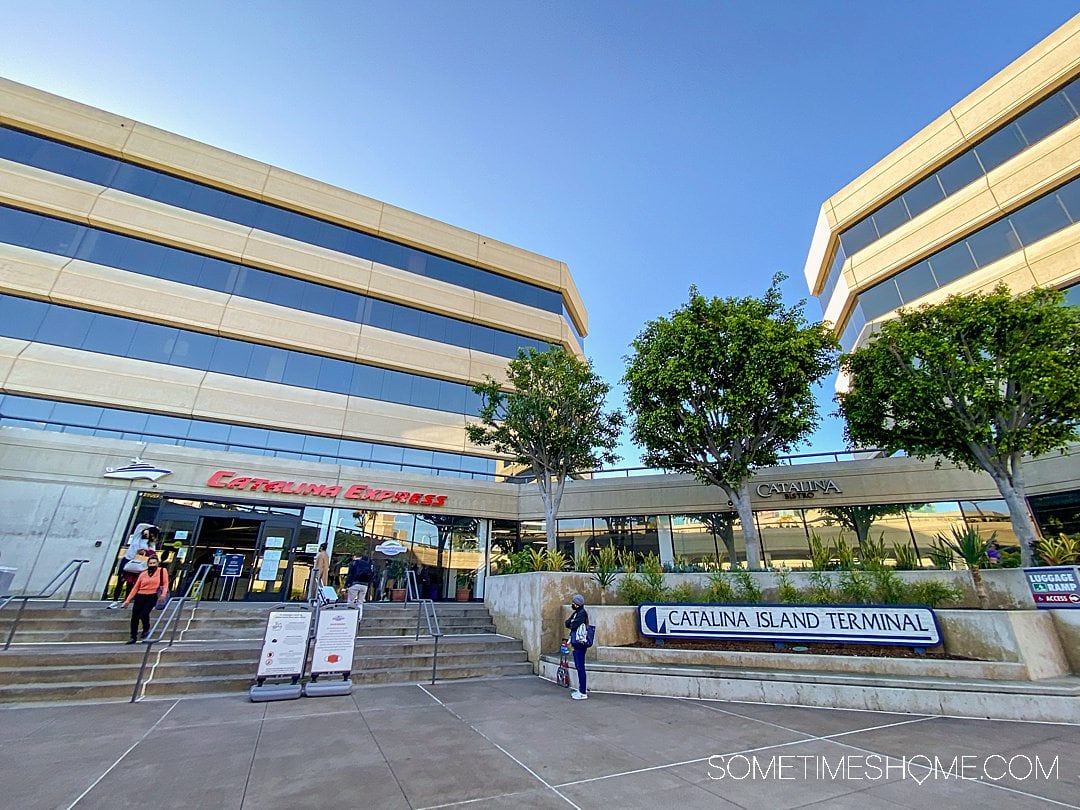 ➜ How Early Should You Arrive for the Catalina Express Ferry?
We arrived 50 minutes before the departure time on our tickets. We had made a reservation in advance, so upon arrival, we followed the signs to the check-in desk, which is right in front of you when you walk through the terminal doors.
It's easiest to have your reservation barcode ready to scan upon check-in, or they can look up your reservation by your last name. After we gave the check-in person our information, she printed tickets for our way to Catalina Island, along with our Commodore Lounge drink tickets and our return tickets for a few days later.
She informed us of the times the ship would load its passengers on our way to and from the island. We decided to sit for a little while, explore for a few minutes and use the restrooms before going outside to line up for the ferry.
We recommend arriving at the ferry between 45-60 minutes before your scheduled ferry time. There are a few things to do at the terminal, and if you don't like to rush, like us, you'll be glad you arrived with plenty of time to spare.
During peak season for Catalina Island vacations, which is April through September, we imagine that lines are longer (for check-in and the restrooms), so keep the time of year you visit Catalina Island in mind.
Catalina Express will hold your reservation for up to 15 minutes before departure.
➜ What is There to Do at the Catalina Express Ferry Terminal in Long Beach?
It was surprising that there was more to do at the terminal than we expected!
Here is what is at the Long Beach Catalina Express terminal:
Areas to Book Some Tours
There are some areas at the terminal where you can book limited tours on Catalina Island, kind of like tour desks at resorts.
Educational Exhibits
There is an ecological exhibit where you can see an overview of the geography and topography of the island on a small three-dimensional map, as well as look at some wildlife (floral and fauna) on the island.
Restrooms
We recommend using the restrooms while you're at the terminal. There are restrooms onboard, but it's much easier to use what's at the terminal because they are more spacious and plentiful!
Water Filling Station
There is a water-bottle filling station just outside of the bathrooms. (We used it! It's a great way to help save the earth.) The refilling station is a little hidden, but if you follow the signs to the bathroom, you'll find it. This was the perfect area to fill our reusable MiiR water bottle. (Use discount code "SOMETIMESHOME" for 15% off your order!
Terminal Art
There is an eagle painted with scenes from Catalina Island. Of course, I couldn't resist a photo with the eagle.
There is a bison you can take photos with too. Dan posed for a photo with him!
There's a fun mural next to a cafe in the Long Beach terminal. The cafe wasn't open when we were there in March, which was either because it was just before peak season or because of COVID.
Reading Material
There are guidebooks you can take and browse through, some additional informative tour brochures, and such. If you wanted to, you could plan your time on Catalina Island from the Catalina Express ferry terminal!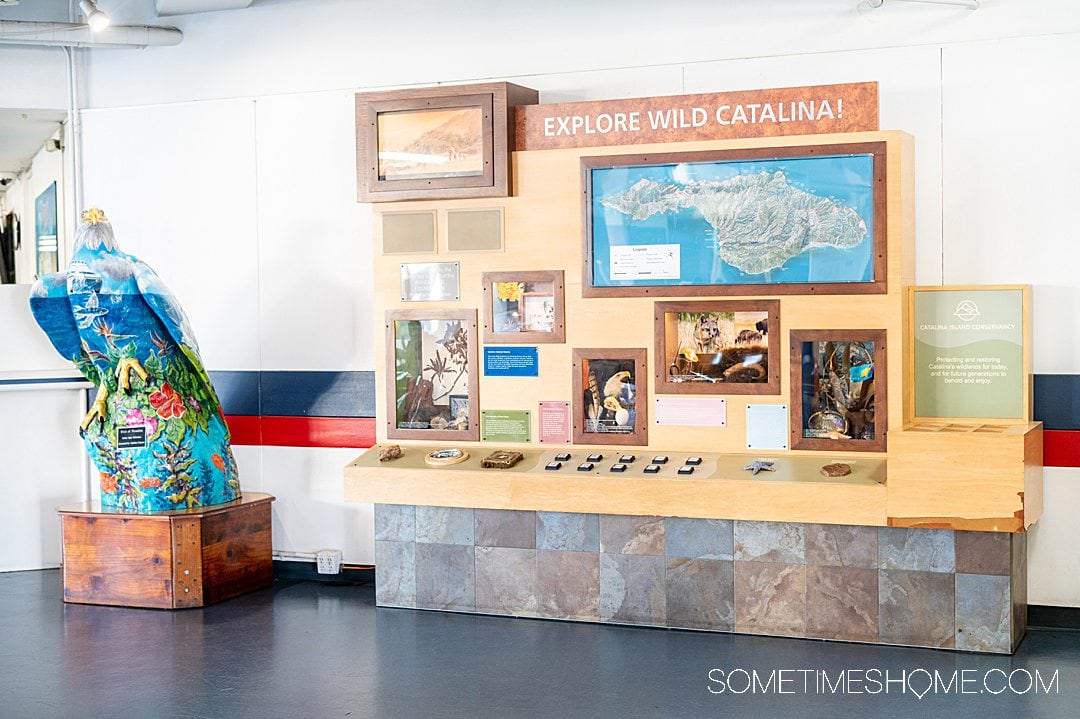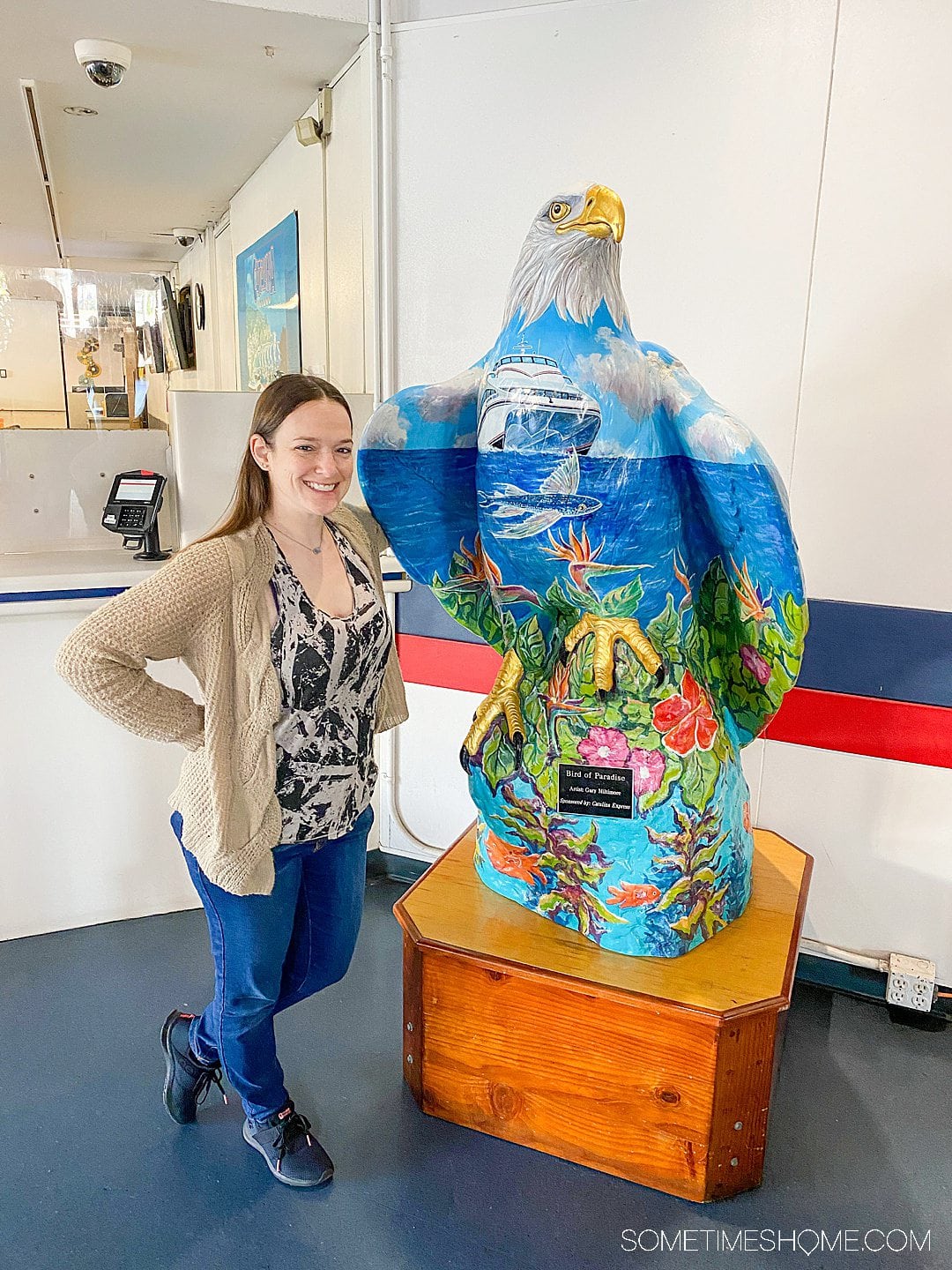 ➜ Is the Commodore Lounge Worth it on the Catalina Express?
For an additional fee, you can book the Commodore Lounge. This type of ticket gets you early boarding access, access to a special area of the boat, and a free drink (alcoholic or nonalcoholic).
They had a lovely drink menu, actually! You could order anything from a Bloody Mary (which I had at 9:50am, served before we even left the dock), to a tequila cocktail, beer, wine, or even a mimosa.
➜ What is the Captain's Lounge on the Catalina Express?
If you want an area of the ship that's even more exclusive than the Commodore Lounge, the Captain's Lounge may be for you. It can fit a maximum of 6 to 8 passengers (depending on the ports and itinerary).
You'll find upholstered bench seating and small tables inside this private area.
The cost for Captain's Lounge is as follows:
$60 per party, for up to 6 passengers above the normal ticket fee from San Pedro or Long Beach.
$80 per party, for up to 8 passengers above the normal Catalina Express fee from Dana Point.
Whereas the Commodore Lounge price includes one drink, the Captain's Lounge includes four. (We're not sure how someone could drink four beverages within the 70 minutes it takes to get from port to port, but we have faith it's possible if someone's determined to cash in on them!)
➜ What's the Difference Between Catalina Express and Catalina Flyer?
Catalina Flyer is a different company than Catalina Express. Catalina Flyer only travels between Newport Beach, CA, and Avalon.
➜ What are the Baggage Guidelines and Requirements or Restrictions for Catalina Express?
Their baggage/luggage guidelines exist so it's smooth sailing for everyone on board and in fairness to all guests. Each guest is allowed to bring two pieces of luggage on their trip, which is stowed in the onboard luggage area. Your bags cannot be larger than 23" x 23" x 37" each, and weigh no more than 50 pounds each.
We both carried a piece of luggage to the storage area, then had a personal bag each that we took to our seats. No one weighed the luggage (at the terminal or on the ship), but that could be because our bag was clearly lighter than 50 pounds.
There is an additional fee if you wish to bring a bicycle or surfboard onboard. (It's minimal at just $7 each, roundtrip, or $3.50 each way.) SCUBA divers, campers, and construction workers can find additional baggage guidelines on the Catalina Express website.
➜ How Long Does it Take to Get to Catalina Island?
The boat ride was 60-70 minutes from Long Beach to Catalina Island.
➜ Is There Wifi On Board the Catalina Express?
We did not have Wi-Fi onboard, but we could access Wi-Fi at the Long Beach ferry terminal for Catalina Express.
None of the Catalina Island Express boats have wifi, but the terminals have free open-access wifi.
(If you want wifi onboard, we suggest bringing a pocket wifi hotspot. Though we will say that cell service was limited as well and hotspots usually work off of cell phone towers. Reading is a great pastime on boat rides if you get bored! Be sure to pack your Kindle.)
We Always Travel with Our Solis Hotspot
▶︎ Use code "SOMETIMESHOME" for 15% off your purchase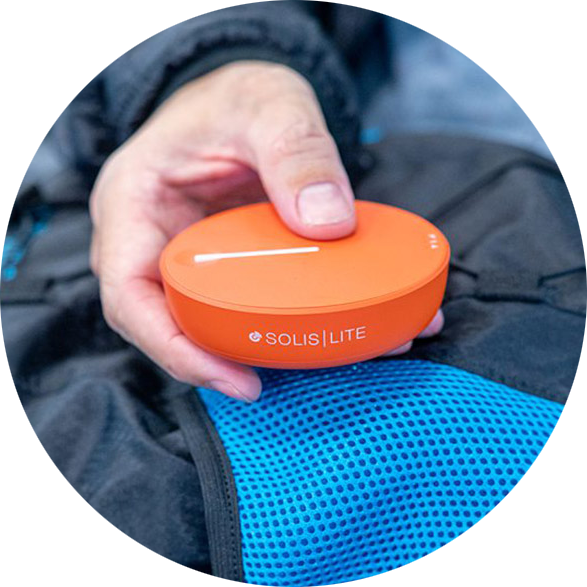 ➜ Can You Sit Inside or Outside on the Ferry?
Yes! The Commodore Lounge seats are inside and connect to an outside area for general seating. The outdoor seats were taken during our trip, but I walked outside from the Commodore Lounge anyway to snap a photo while standing in the aisle.
Be sure to put a few layers on if you plan to be outside. Even if it's an 80ºF sunny day, the wind on the water will give you a chill.
➜ Were There Outlets on the Ship?
Outlets were limited but there were some, and no one was really using them. There is no charge station at each seat like on planes these days, for instance.
There is some availability if you're in desperate need of an outlet to charge a dead phone or camera battery. (But just in case – don't count on it.)
➜ How Bad is the Motion of the Boat?
If you get seasick, we recommend bringing Dramamine, motion sickness patches, or Blisslets, which are fashionable anti-nausea wristbands.
The motion wasn't bad when we were on the boat, though we could definitely feel the movement. However, for example, we imagine if it's raining outside or stormy, the rocking of the boat could be more intense. It's better to be prepared, just in case.
We review the differences between all the sea sickness medications and remedies here.
Onboard the Catalina Express: Your Ride to Catalina Island
The vessel is lovely and comfy. The floors are carpeted and the seats are cushioned. The noise indoors is minimal and the air conditioning starts pumping through the indoor spaces once the ship's engines are turned on and it's ready to depart.
We sat on indoor seats in the Commodore Lounge, which were in the sun when we boarded. It was a little stuffy while we waited for the ship to leave – but afterward, it was delightful as the sun dissipated, air conditioning started to circulate, and we got to sailing.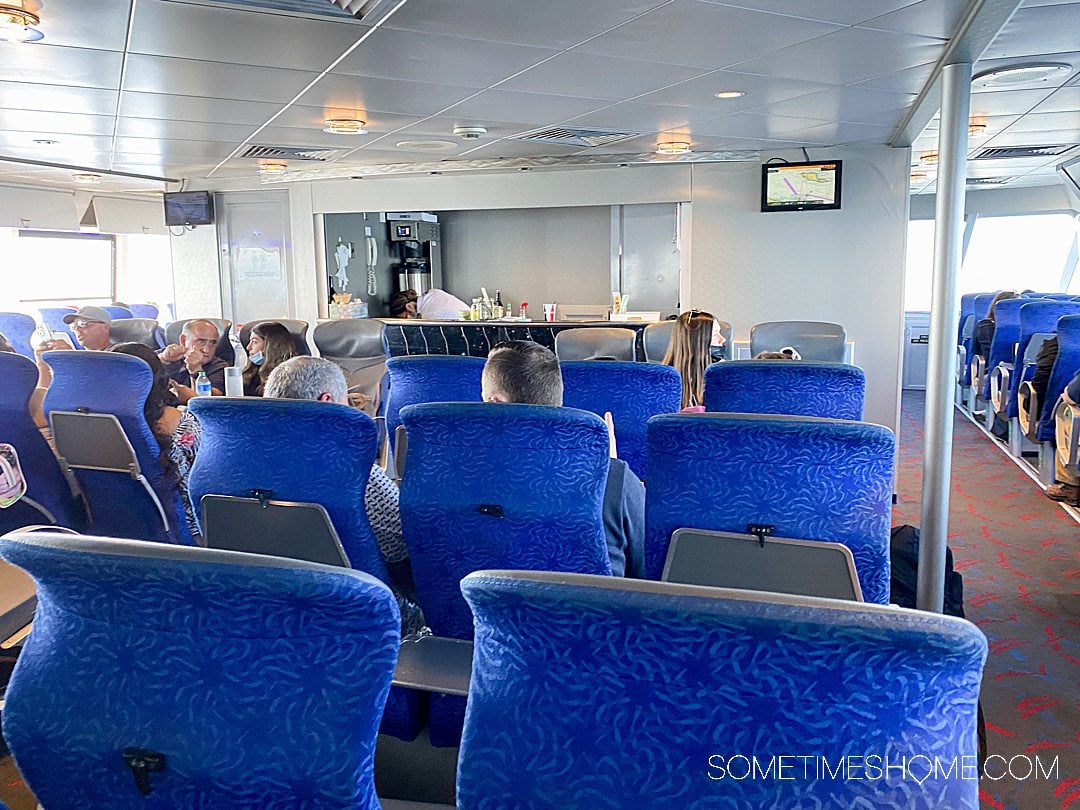 Snacks and Drinks On Board (and the Catalina Express Beverages and Snacks Menu)
Snacks – like chips and beef jerky – are available to purchase along with drinks. Guests can purchase non-alcoholic beverages and alcoholic beverages. If you're in the Commodore Lounge, the first drink is included and additional beverages can be purchased. If you're in the Captain's Lounge, four drinks are included.
I chose a Bloody Mary and Dan chose a Gin and Tonic. It may have been 10:00am but we let the vacation relaxation begin!
The drinks are served in a container with a lid and a paper straw (which is smart because the boat's motion was minimal…yet there).
They offer beer, wine, hard alcohol, soft drinks, hot chocolate, coffee, and tea on the ship. We were so happy to see a few California beers we love as options, like Ballast Point Sculpin IPA.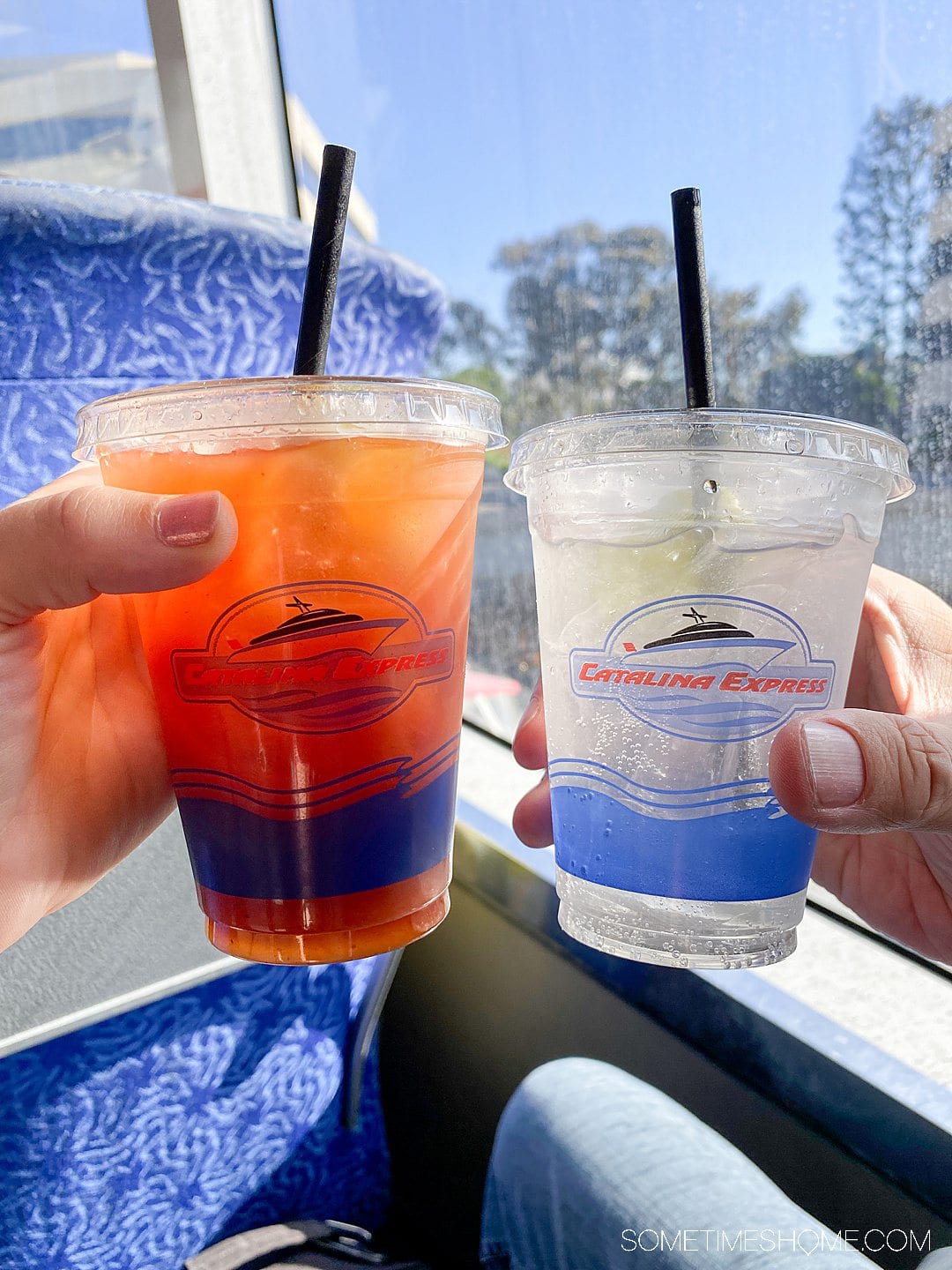 Restrooms On Board Catalina Express
I am always thinking about where the bathroom is, just in case! Luckily, Catalina Express had two on our ship.
There is a restroom for the Commodore Lounge (which is designated a "private area" onboard that you have to have tickets for) and there is another for the general boarding area.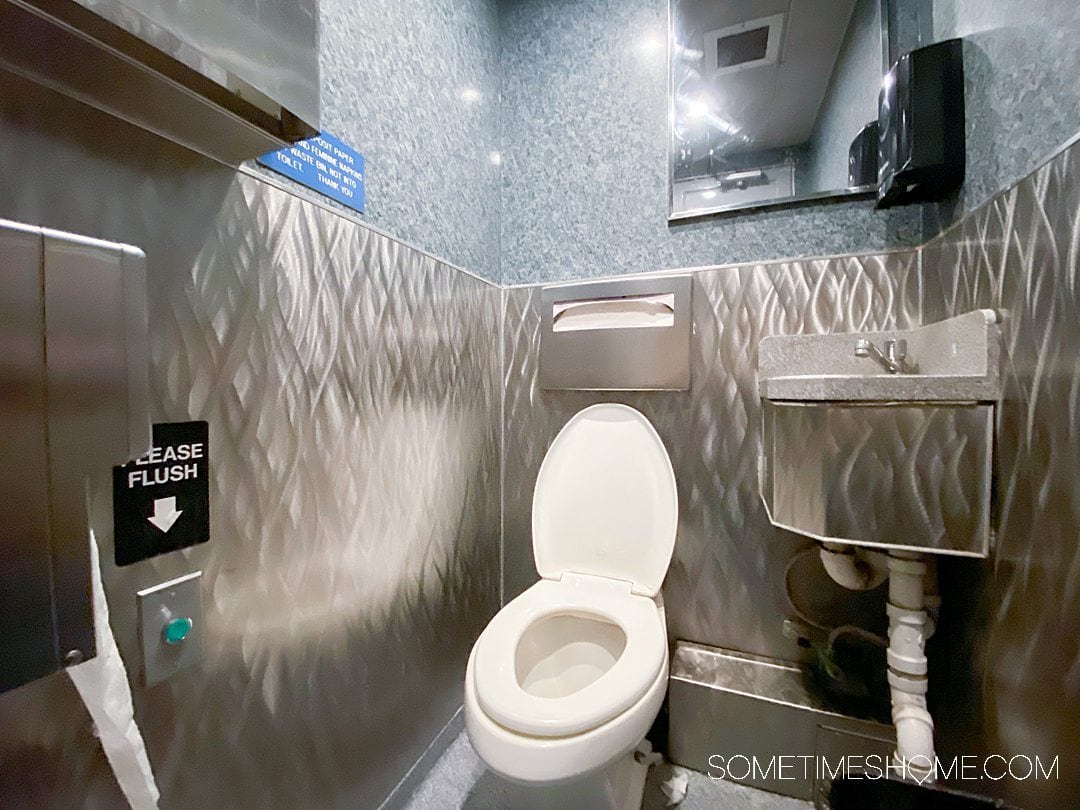 Boarding Catalina Express with Luggage
Boarding the Catalina Express is a well-oiled machine. We handed our tickets to a man who welcomed us and said good morning, then we walked down the ramp to get on the ship. Upon walking up the ramp to the boat, we handed our luggage to a man who swiftly added it to the racks of luggage onboard.
Then we headed upstairs to the Commodore Lounge area, where a woman collected half of our drink ticket, which is how we boarded the area. Shortly after we left the dock, another woman came around to take our drink order.
Seat Comfort
The seats are comfy! They reminded us of seats on a coach bus. The Commodore Lounge seats have pull-down trays on the back of them so you can use them as a table for your drink, Kindle, or whatever else.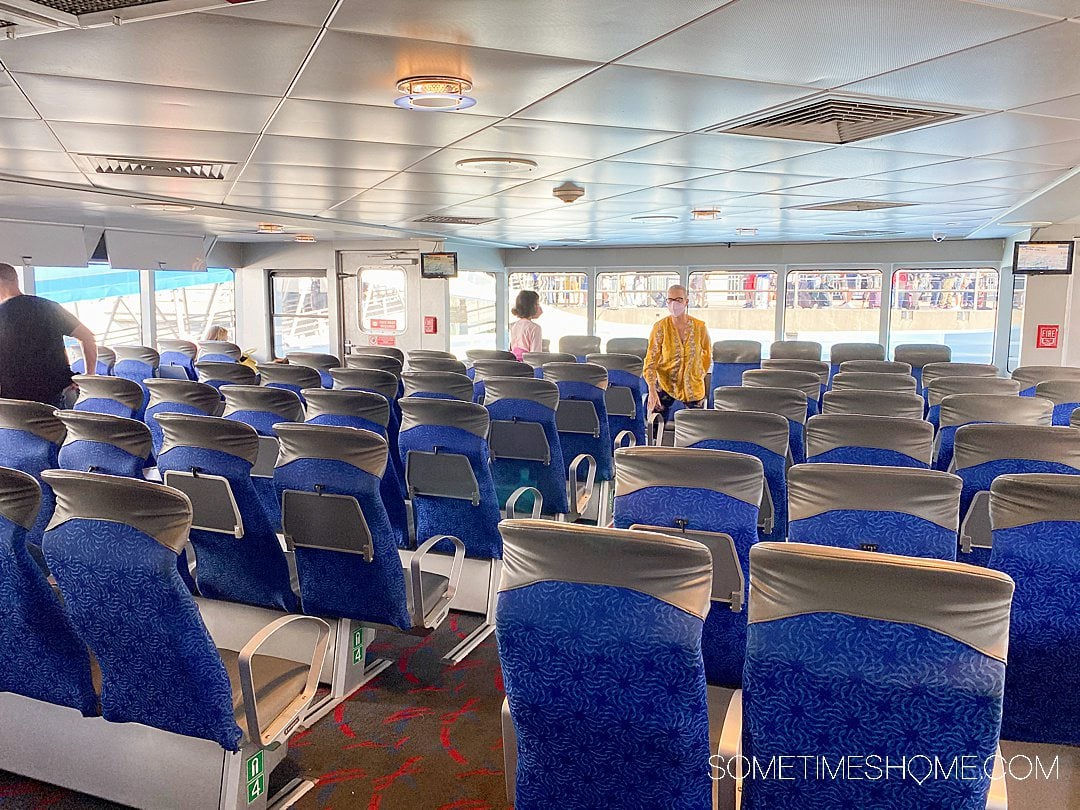 Arriving at Avalon on Catalina Island
The Long Beach ferry only travels between Long Beach and Avalon. When you travel to Avalon via the Catalina Express, you'll arrive at a stunning view similar to the photo below.
You'll see the round Casino building on the right and Avalon's harbor to the left as you approach the dock.
Disembarking Catalina Express
It takes a little while for the boat to empty out. The benefit of the Commodore Lounge is that you have a little exclusivity and early boarding (and a free beverage, to boot). But the downside is that the bottom of the ferry disembarks first, and you have to wait a bit longer for your turn to exit the ship.
With a little patience, you'll be on the dock within about ten to 15 minutes and well on your way to your Catalina Island vacation.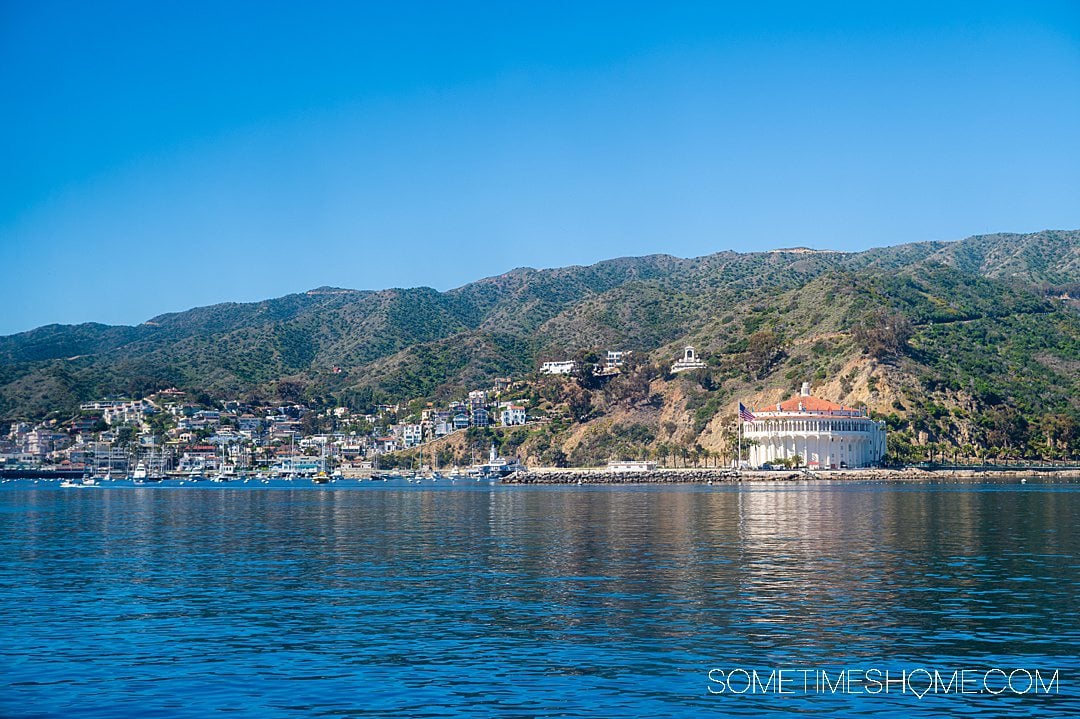 Other Routes that Catalina Express Travels
Catalina Express also travels to Two Harbors on Catalina Island. This area is most appealing to people who want to camp, though there are limited lodges on the west side of the island and a few restaurants.
It's definitely the more rustic destination of the two areas on Catalina Island. Some other things to do in Two Harbors include kayaking, biking, or SCUBA diving.
The ferry option to travel to Two Harbors from mainland southern California is from the San Pedro terminal, only.
Cost for Catalina Express
Tickets for our March trip were $38 per person for General Seating or $58 for the Commodore Lounge. (Captain's Lounge prices are mentioned above.)
The fares remain the same all year despite peak season, which is April through September.
Regardless, you'll want to reserve your tickets well in advance to ensure you have a space on the ship and for the route and time you want, especially during peak season.
Prices vary depending on your route, not the day of the week or time of year. This is due to differences in city wharfage fees as well as taxes.
Two one-way tickets are essentially the same as buying a roundtrip ticket for the same destination ports. Prices for adult tickets (one-way) are as follows – roundtrip tickets are simply double the price:
$38.50 between San Pedro and Long Beach, and to/from Avalon
$40.50 between Dana Point and Avalon
$38 between Two Harbors and San Pedro
Book your tickets on their website, by calling the reservation number listed online, or book on Viator, one of our favorite travel websites.
Buy Catalina Express tickets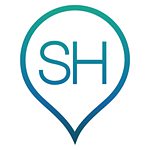 What to Pack in your Purse or "Carry-On" for Your Catalina Island Express Boat Ride
In addition to putting your luggage in the stow-away space when you board the ferry, you'll likely take a handbag or backpack, of some kind, to your seat.
We recommend packing sunscreen, sunglasses, hair ties, a reusable straw, and a Kindle. Of course, it's not absolutely vital; however, we suggest it for several reasons:
We also ALWAYS travel with a Bug Bite Thing. It's the only thing that consistently removes the itch when we get bitten! (It's truly amazing!)
Catalina Express and the Environment
We always consider sustainability when we travel. As such, we wondered about this aspect of their ships. We're happy to say that this company keeps it top-of-mind because they care about the environment too. They also surpass any emissions tests set by the state of California.
Over the years, they have worked with diesel providers, vessel engineers, and engine architects to reduce emissions and create fewer vibrations in the water so as not to disturb the ecosystems underneath the surface. This also provides a better experience for guests – you don't smell any fuel in the air and the ride is smoother.
Amanda Bombard, VP of Marketing and Administration for Catalina Express, shared the following with us:
"Each of the eight vessels has been re-engined to reduce nitrogen oxide emissions and updated to comply with the California Air Resources Board's Tier II or Tier III regulations for emissions levels.
The Catalina Express fleet has advanced over the years from Tier 0 with assistance from the Port of Los Angeles, Port of Long Beach and the Carl Moyer Emissions Funding Program.
The Port of Los Angeles has reported that Catalina Express has reduced 800 tons of nitrogen oxide emissions, 30 tons of particulate matter emissions and 10,000 tons of greenhouse gas emissions – the equivalent of 10,000 cars. Catalina Express works to stay up to date with all regulations and when possible, surpasses the requirements."
History of Catalina Express
In 1981, three men (who were residents of Catalina Island) saw the need for an efficient ferry system. What started with one boat 40 years ago has grown into a vast operation. They have eight ships and run several routes, year-round. Depending on the ship, they can carry 149 to 450 passengers.
Annually, Catalina Express helps one million passengers travel between mainland California and the island. They make approximately 30 roundtrips daily, from morning to night.
How Did Visitors Travel to Catalina Island Prior to Catalina Express?
In the early 1900s, well before Catalina Express existed, William Wrigley Jr. (who purchased the island in 1919) transported visitors in his SS Avalon.
This 1,500-passenger steamship was a 2,000-ton vessel that carried passengers between mainland California and Catalina Island. It was a two-hour journey that included an onboard band and dance floor, along with naturalists who could answer passenger questions about the island during the trip. All this was to keep guests entertained and busy!
Due to its popularity, Wrigley launched a second ship, SS Catalina, five years after the debut of SS Avalon. After 31 years and 50 years in operation, respectively, the two ships were retired in the mid-1960s.
There is a nearly-century-old history of passenger ships carrying vacationers, residents, and workers to the island, just as there is today.
We recommend visiting Catalina Museum in Avalon to learn more about the fascinating history of transportation to Catalina Island. The museum is an easy ten to 15-minute walk from where Catalina Express docks.
---
Heading to California? Read this next: