Space Hotel Near Cape Canaveral with Rocket Launch Pad Views
If you want your hotel stay along Florida's Space Coast to be out of this world, book a stay at the Space Hotel near Cape Canaveral. It overlooks Kennedy Space Center's Launch Sites and you'll LOVE the elegant, not too in-your-face space touches.
Disclosure: This post has affiliate links, meaning we may earn a small commission if you click the link and proceed with a purchase at no cost to you. We thank the Space Coast for hosting our visit. We truly only recommend experiences, hotels, products, and services we use and support. As Amazon Associates, we earn from qualifying purchases.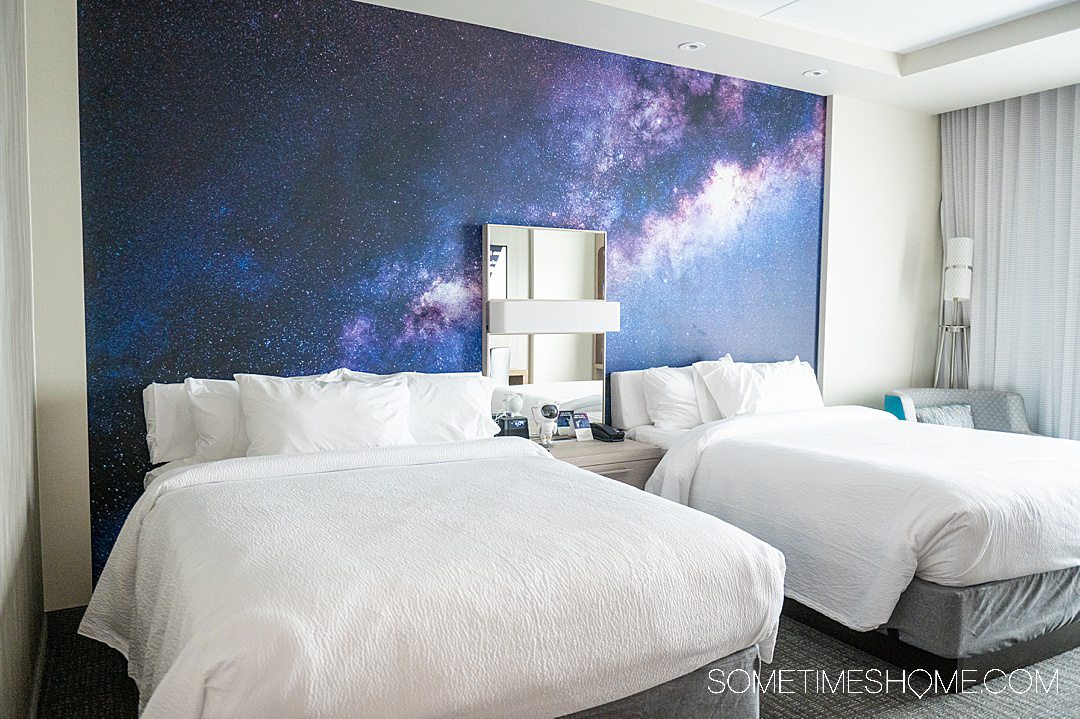 🕐 Short on time? No Problem!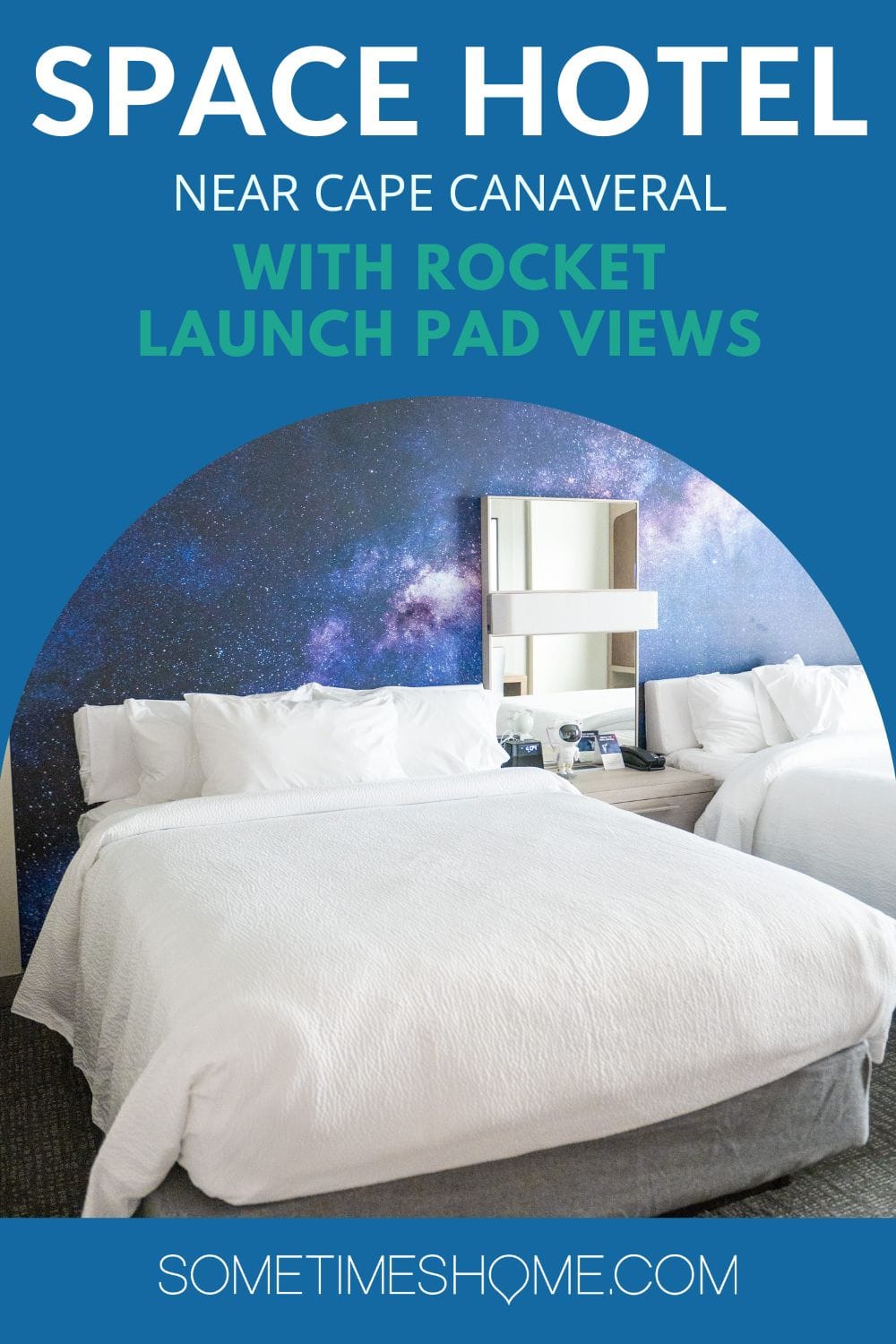 Courtyard Marriott in Titusville is the Space Hotel Near Cape Canaveral You've Been Searching For
When John F. Kennedy announced we would be going to the moon in his famous "We Choose to Go to the Moon" speech, the world entered an incredibly exciting space-race frenzy. Everyone was rooting for the astronauts and NASA's success in landing on the moon.
As such, the east coast of Florida, including Cocoa Beach, Titusville, and Melbourne, flourished. This included hotels opening with space themes.
However, when there was a lull in the space program for decades after we landed on the moon, those hotels closed.
But alas, there is a fantastic option that opened in spring 2022, that will delight you until your space-loving heart is content!
This is the COOLEST and best Courtyard Marriott we've ever stayed in (and we've stayed in our fair share as Marriott Bonvoy American Express credit card loyalists).
➜ Secure Your Dates Now! Book the Courtyard Marriott in Titusville ✨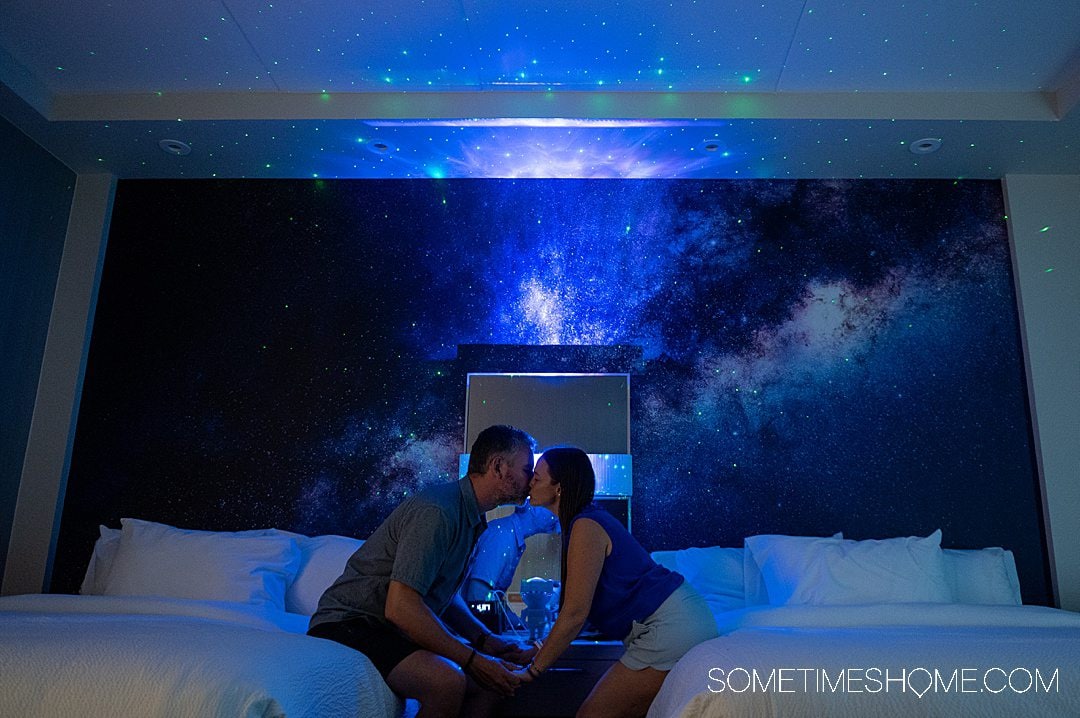 Time to Florida Space Coast Attractions from the Space Hotel in Titusville
We thoroughly explored the area during a wonderful weekend in Brevard County, the county where the hotel is located along with Kennedy Space Center, which is on Merritt Island. (It's also an attraction that Florida is most known for.)
Here are the travel times to some key attractions and dining experiences from the hotel:
2-minute walk to The Space Bar at the hotel.
4-minute walk to the American Police Hall of Fame and Museum.
5-minute drive to the Valiant Air Command Warbird Museum.
5-minute drive to Brix Project – Playalinda Brewing Co (great food and drinks).
10 minutes from Third Culture Kitchen restaurant (which is excellent).
15 minutes to Kennedy Space Center, which is approximately 7 miles away.
25 minutes from Cocoa Beach Pier.
25 minutes from Port Canaveral cruise terminals.
30 minutes from Downtown Cocoa Beach.
It's about an hour from Orlando, where Walt Disney World and Universal theme parks are located. And it's just about two hours north of Boynton Beach, Florida.
There are wonderful things to do on Florida's Space Coast; these are just some of the great things to do nearby! Whether you want to relax on the beach, go out for a fishing trip, kayak on the water, or shop at a surf store, you certainly won't be bored!
Check out more unique things to do in the area.
What Space Elements You Can Expect at the Hotel
The nice thing about the Courtyard Marriott in Titusville is that it's a space hotel without them cramming "SPACE!" down your throat.
It's very tastefully done. So whether or not you love space, you'll find it to be a fun reminder of how close you are to Kennedy Space Center, a reminder of the history of the area you're in, and a fun nod to the area's culture.
When you walk into the hotel, you'll see the elevator to The Space Bar on your right with a wall that's signed by astronauts. The elevator takes you directly to the rooftop bar, skipping any guest floors. Those elevators are located in a different area.
The elevator "launches" you up to the seventh-floor Space Bar, with a fun recording that will make you smile as you are propelled to space (so to speak).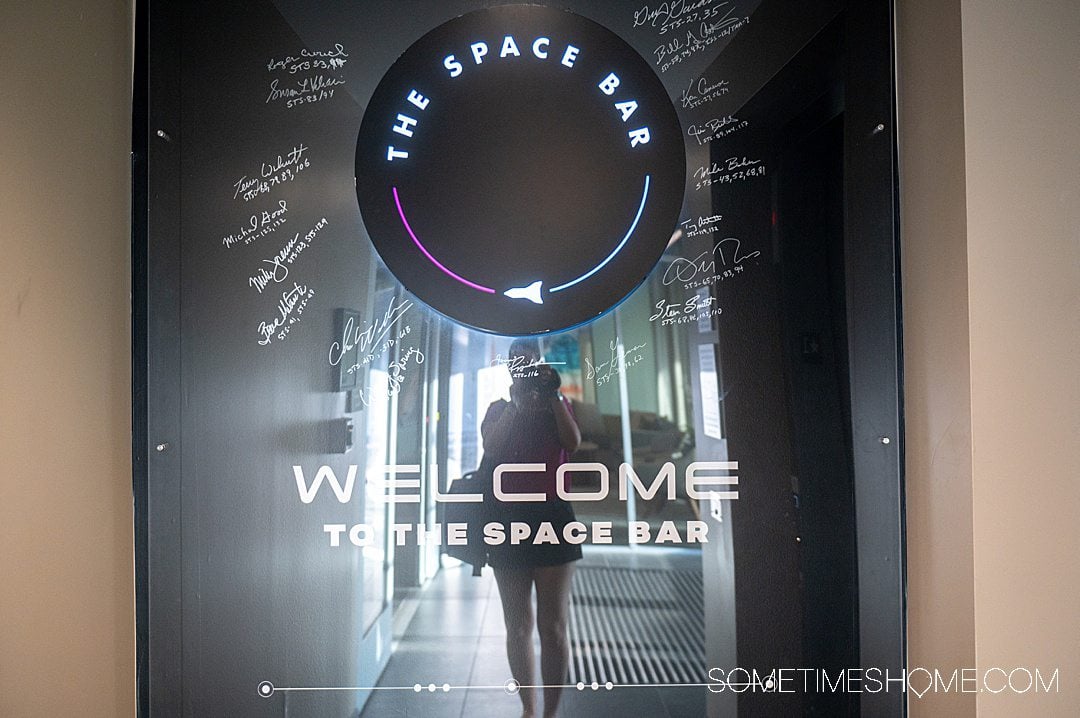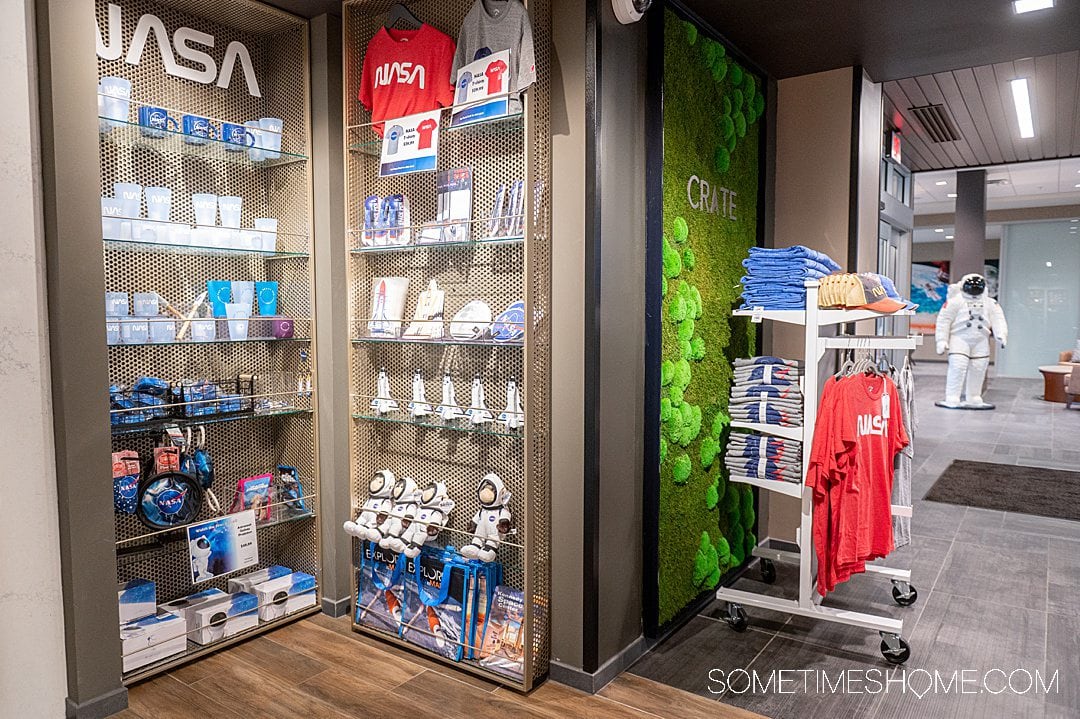 Inside, you'll see an astronaut and some art with space launches. You'll also find an area of the "gift shop" and conveniences for sale that is NASA-themed.
You'll see a vertical television screen past the check-in desk displaying upcoming launches. This is because you can see the launches from the hotel, a true perk of staying here if you're lucky enough that your timing aligns with the stars (pun intended!).
There are a few throw pillows on the chairs and such around the hotel that clearly have space in mind in with their fabric choices. The same is true of areas just outside the elevators. For example, our floor had an astronaut canvas and a little silver rocketship on the table.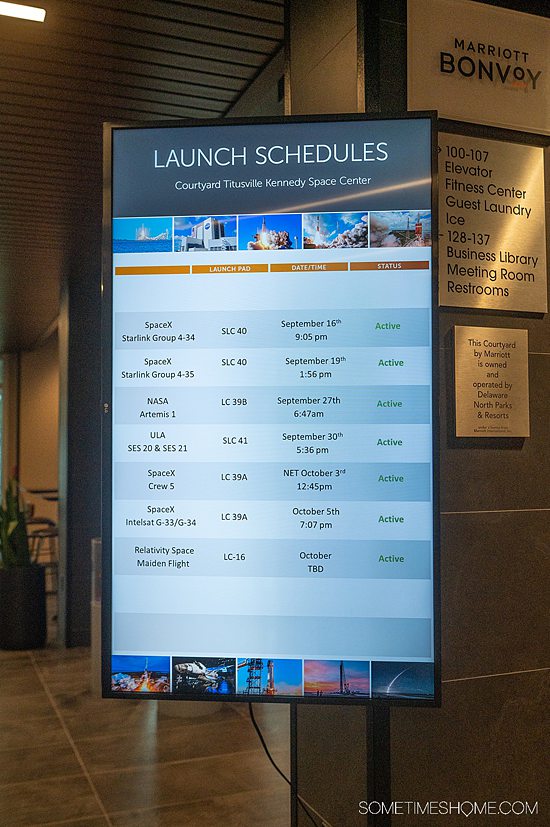 Space Elements in the Guest Rooms at the Courtyard Marriott
You'll immediately want to take photos with the wall behind your bed when you go to your room. The attractive purple and blue astrophotography is stunning.
We had a wonderful book about The Planets in our room that we enjoyed looking through and reading. This was next to a pair of binoculars provided to look across the water from our waterfront room at the launch pads on Merritt Island.
Last but certainly not least, was the little astronaut projector that was on the bedstand. We loved this little guy! You don't have to be a kid to appreciate a little toy that projects the stars and nebulas on the ceiling of your hotel room!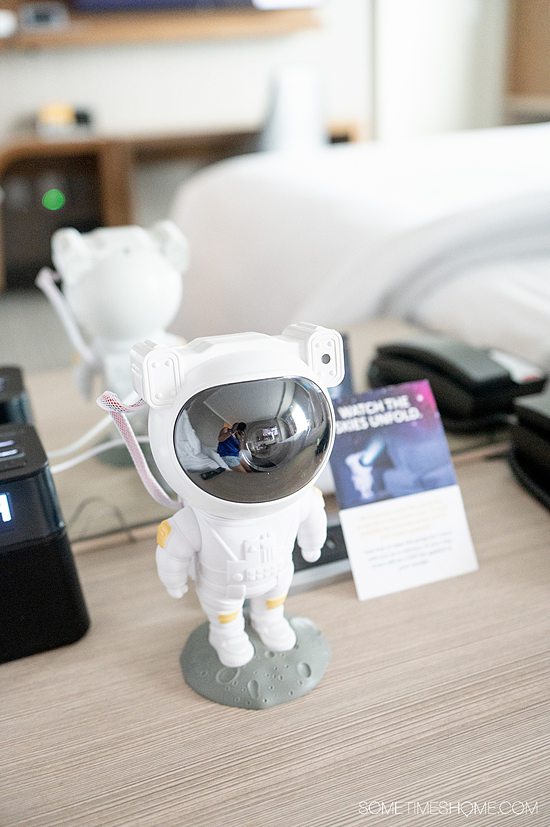 We lovingly named him Elton, after one of Dan's favorite songs by Elton John, "Rocketman." Every time we entered our hotel room we would turn Elton's projections on and admire the ceiling.
The projector, binoculars, and book are available for purchase at the hotel. You can also purchase The Planets book on Amazon and Astronaut projector on Amazon if you have remorse for not purchasing them while you're there.
➜ Don't Miss Out on Your Preferred Dates! Book a Room at the Titusville Space-Themed Courtyard Marriott Now! 🚀
The Space Bar
While there's a bar in the hotel lobby and at the pool area on weekends, the true star at the Courtyard Marriott in Titusville is The Space Bar. This bar is a destination in itself.
We wouldn't be surprised if it draws visitors from Lockheed Martin, next door, or the very nearby Boeing offices. Or simply visitors passing through the area on a drive along I-95.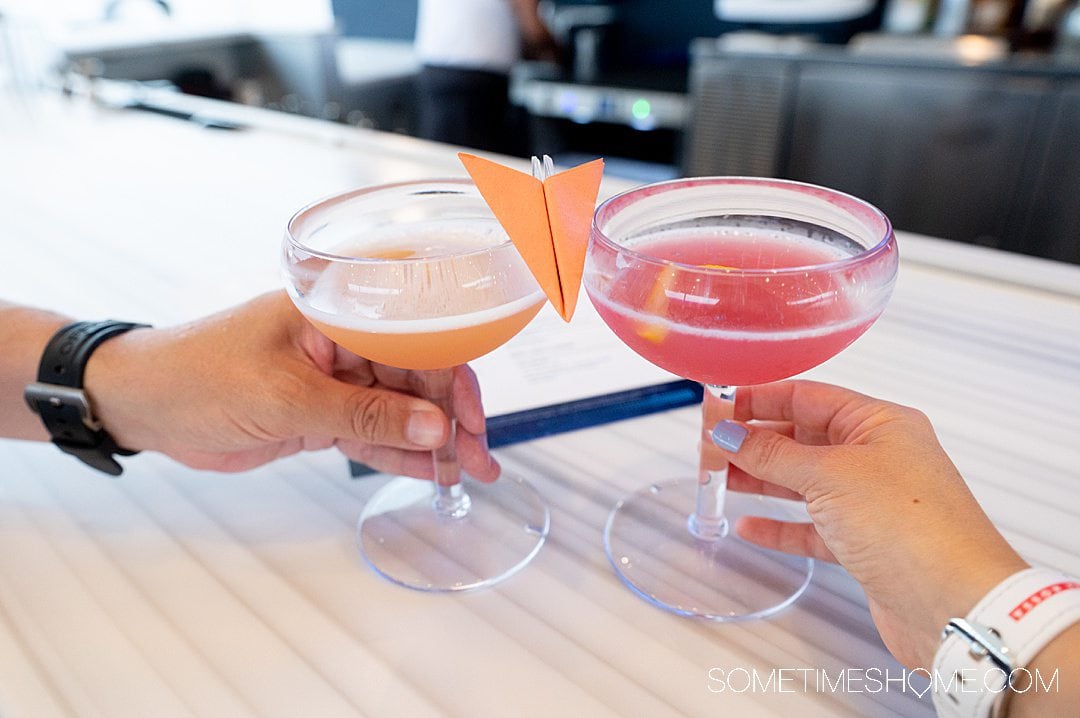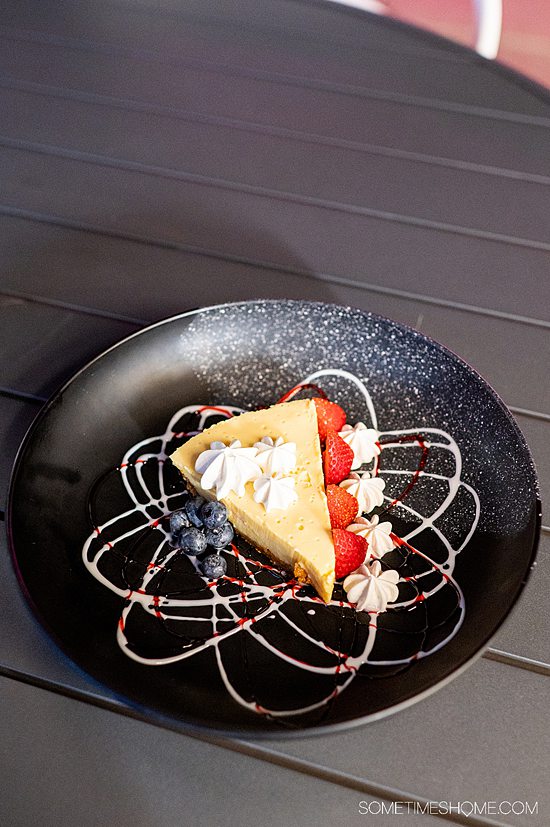 We were lucky that we were staying at the hotel and got to conveniently hand out there two nights. This was key because the scrubbed launch that was scheduled for the night before we arrived was rescheduled for the following evening, our first night there.
But the launch was scrubbed again within the hour before launch. We crossed our fingers that the launch would be a "go" the next day, our final evening at the hotel this visit.
And guess what? It was!
Food and Drinks at The Space Bar
The cocktails are great at The Space Bar. We tried the most photo-worthy ones, of course. Don't be thrown by the plastic "glasses" they serve the drinks in; this is because it can get windy and rainy up there (it's covered, but still in open-air) and broken glass isn't fun for anyone.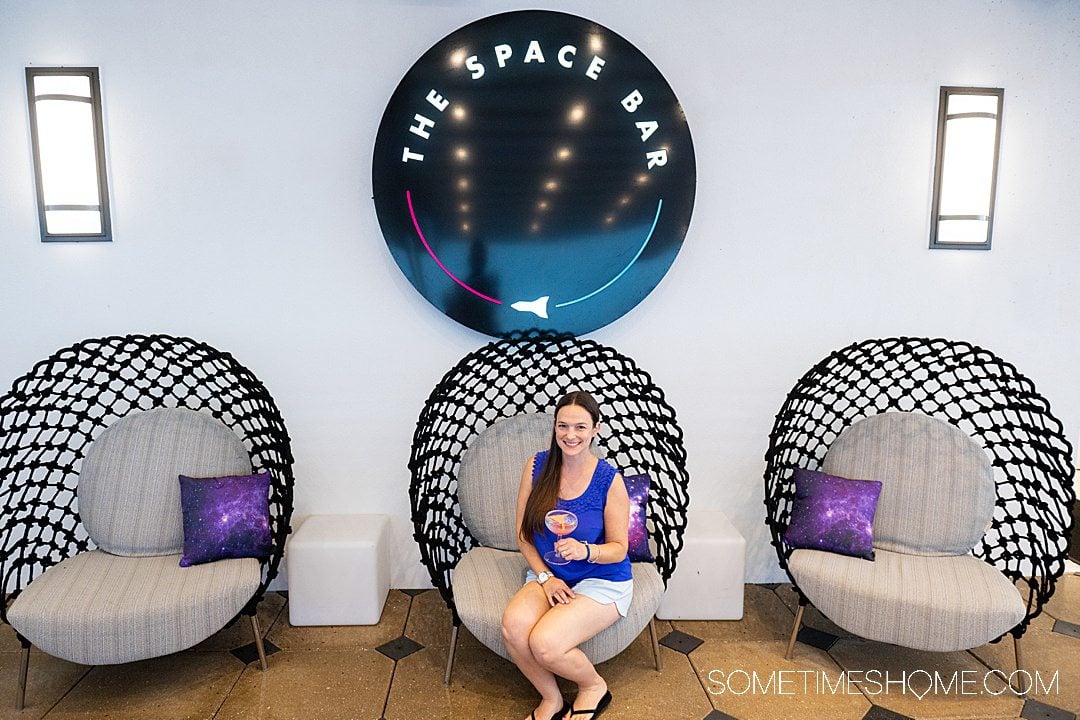 We tried the following:
SKYROCKETS IN FLIGHT: Herradura Silver Tequila | Triple Sec | Fresh Lime | White Peach – served with a Rocket Pop ice pop
THE SPACE SHUTTLE: Woodford Reserve Bourbon | Aperol | Amaro Nonino | Fresh Lemon Juice – this is served with an origami paper plane as the garnish
THE CAUSEWAY COSMO: Tito's Handmade Vodka | Fresh Lime | Cranberry Hibiscus – finished with edible glitter
Dan also tried the beer, which we appreciated was selected likely for its space name! It was the "Elysian Space Dust IPA" on draft.
Food-wise, we tried the Key Lime Pie (which we recommend) and the Soft Pretzel with Beer Cheese which was just okay (we wouldn't order it again).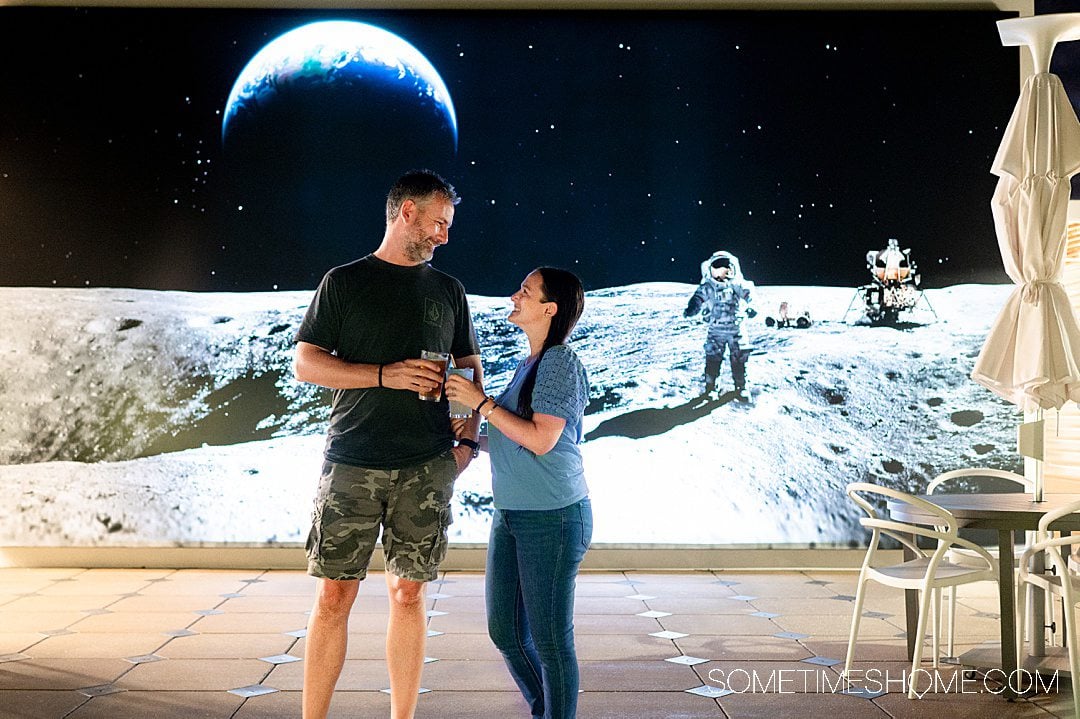 Watching a Space Launch from The Space Bar at the Courtyard Marriott on Florida's Space Coast
While there are many places you can watch a space launch on the east coast of Florida along the Space Coast, you'd be hard-pressed to find somewhere as awesome as the rooftop Space Bar.
The staff was friendly, the drinks were great, the moon landing wall was even more beautiful at night when it was lit up, and watching the launch with other visitors was like being a part of an unspoken fan club for space.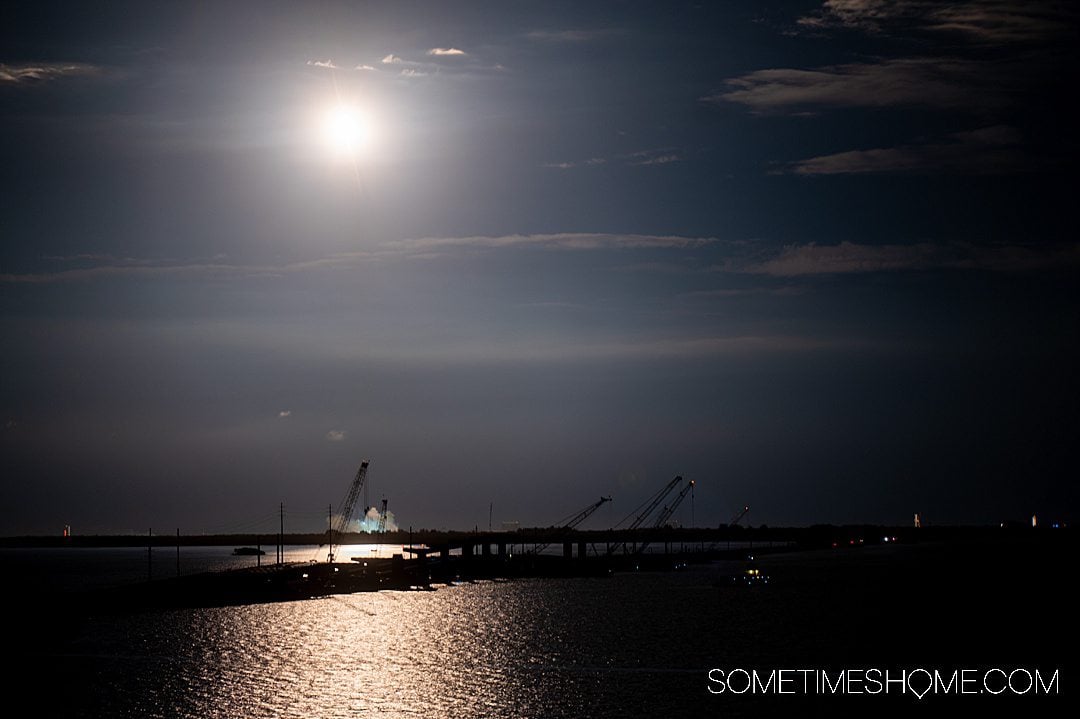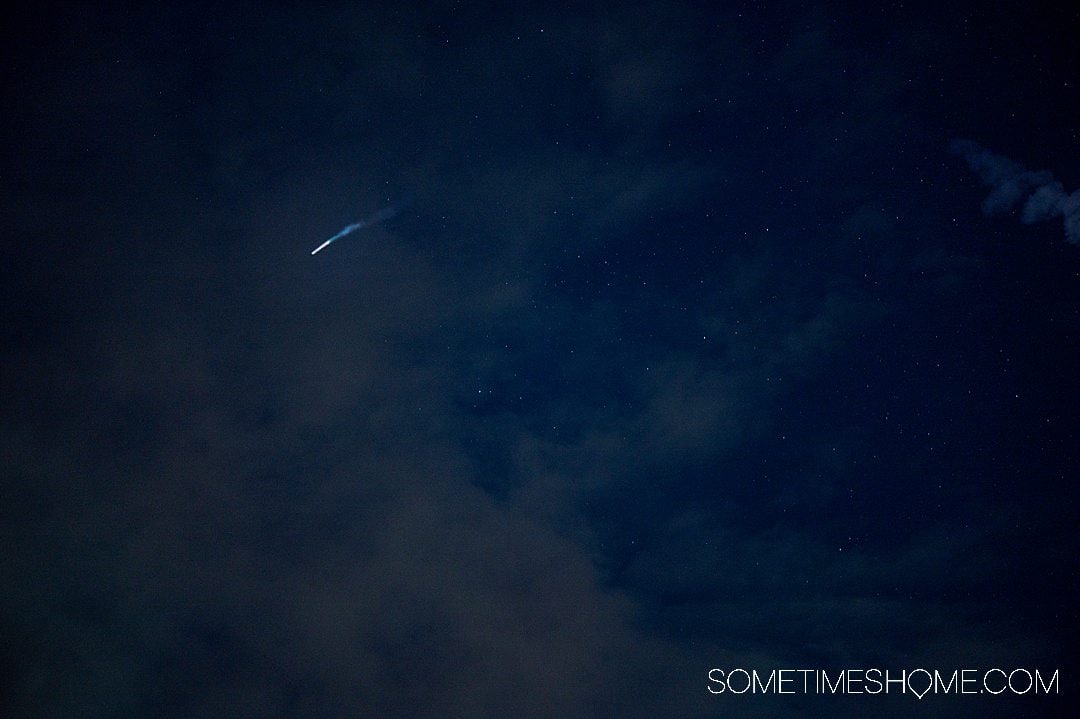 How to Get a Room Facing the Riverfront (and Space Launch Pads)
If you get a room that faces the riverfront, it also faces the rocket launch pads at Kennedy Space Center.
When you book, you want to book a "water view" room, specifically. There are other rooms with a view, but we were told that it needs to say "water view" to overlook the river.
Their standard room rate is not a water view. However, if you book on points, we were told that you'll likely get upgraded depending on your Marriott Bonvoy status.
There are rooms labeled as having a "view" or "inland." However, these are not water-facing rooms.
If you cannot secure a water view room, then you can always head to the outdoor areas that the hotel has to enjoy the riverfront. This includes the red Adirondack chairs and hammocks that line the waterfront (there are many) and the outdoor patio area, complete with electric firepits.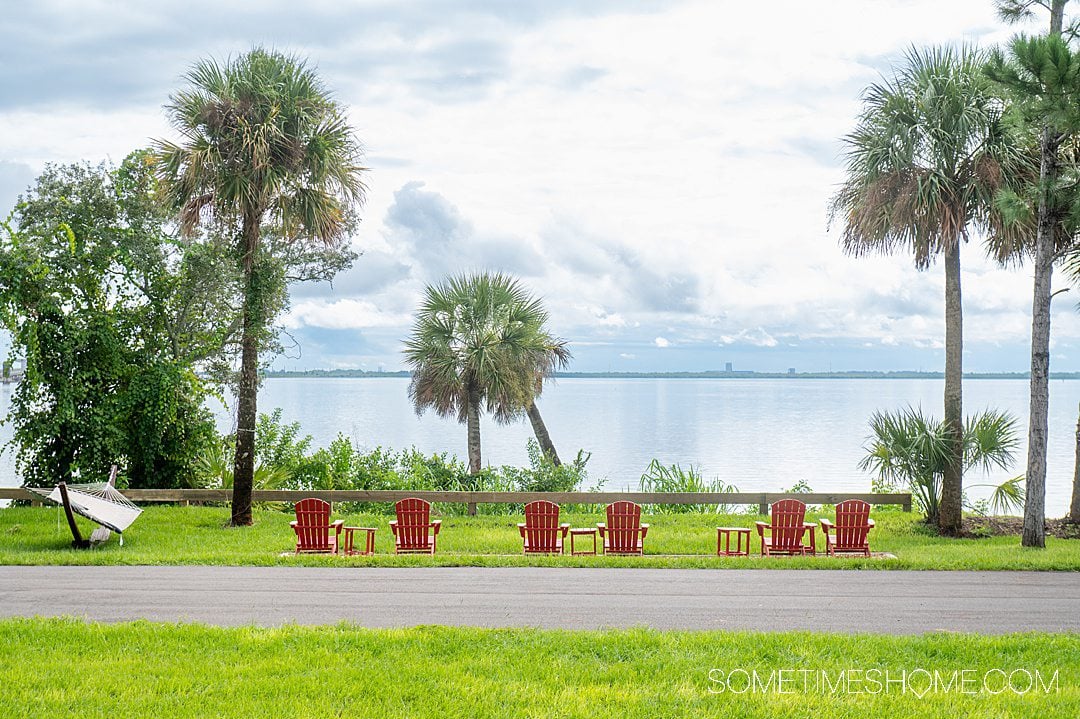 The Courtyard Marriott in Titusville also has a limited number of ground-floor rooms with glass doors leading to their own outdoor fire pits. There are four of these rooms on either side of the hotel – half face the parking lot, and half face the water.
It's important to note that if you face the water, you'll only have a clear view of the launch pads from high floors, like floors five and six. The Space Bar is on the hotel's 7th (or top) floor and has the best view of the launch pads across the river.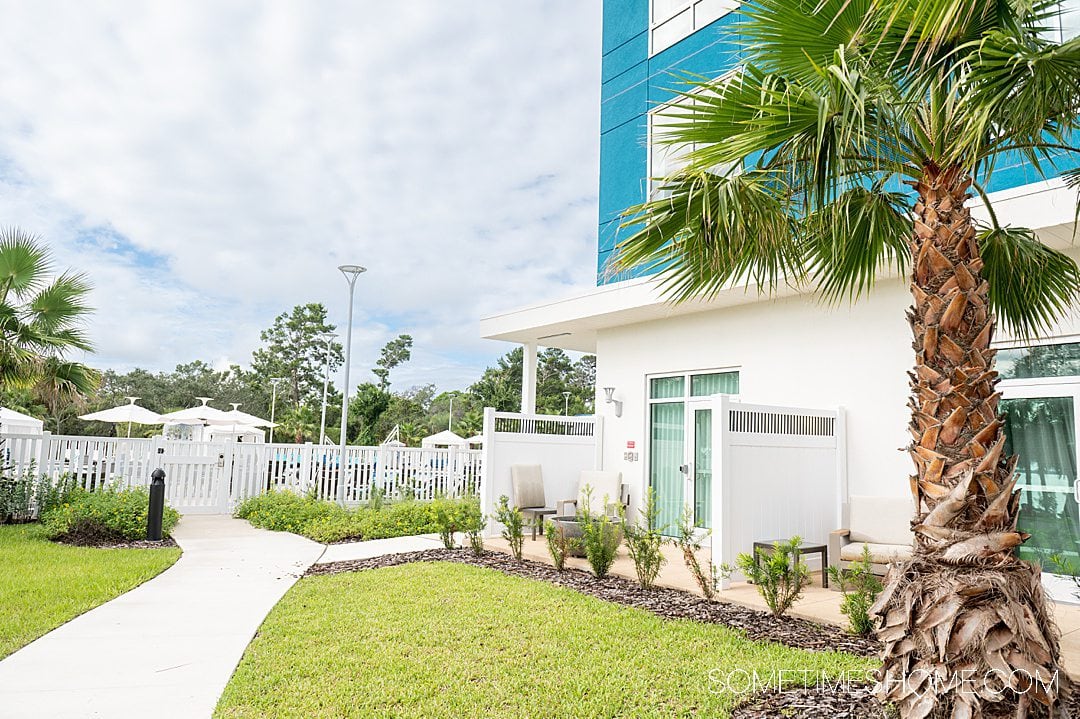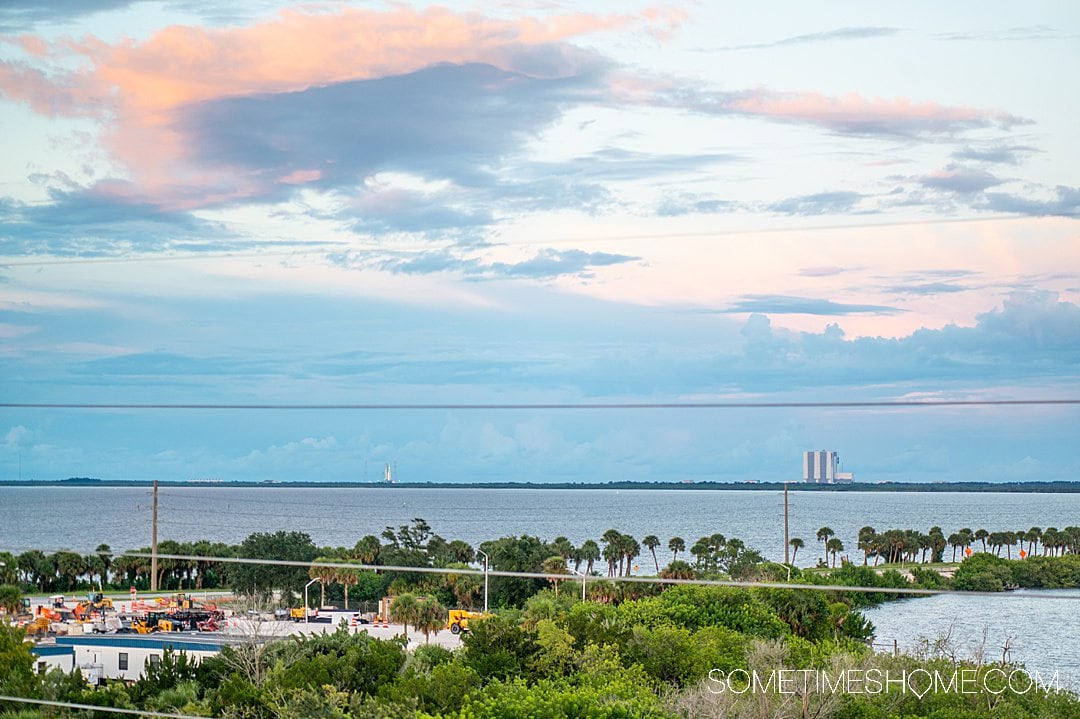 Courtyard Marriot Space Hotel Included Amenities: Pool, Whirlpool, and Fitness Center
We were delightfully shocked to discover a wonderful pool at the hotel. It's the caliber of a resort pool, yet the hotel isn't a resort. Beautiful lounge chairs and cabana-like shaded areas surround the pool and whirlpool.
One side of the pool has a zero-entry area, with two water guns and a fun water "umbrella" element for kids and adults.
On weekends, the hotel pool bar is open for guests to enjoy.
The hotel gym is pretty awesome too. Dan works out daily and was impressed with the great equipment and plentiful options inside. There's even a fun wallpapered wall in the fitness center with a space shuttle on it.
You can refill water bottles in the filling station inside the gym.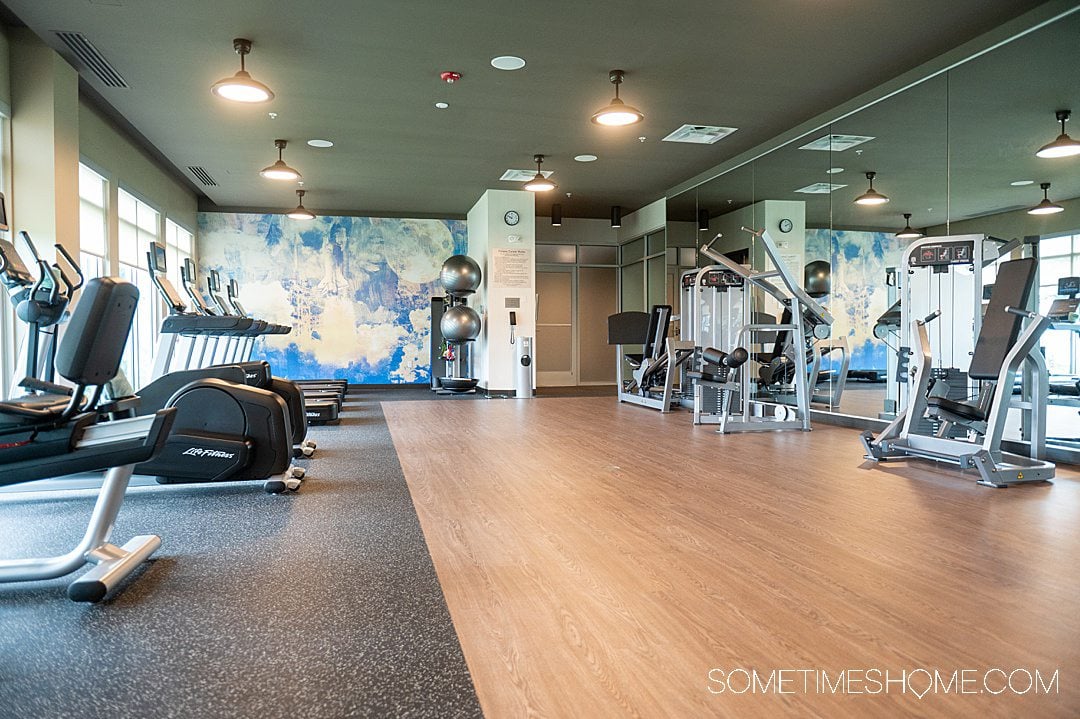 How to Stay at the Space-Themed Courtyard Marriott in Titusville Hotel for Free
Did you know you can stay at Marriott hotels on points completely free of charge? Thanks to one of our favorite travel things, we do it all the time: our Marriott Bonvoy American Express Card.
We've been using it for years (even back when it was Starwood before Marriott bought all Starwood hotels) and we can't say enough positive things about the card.
Apply for your own Marriott Bonvoy Amex here. Once you have Marriott points (and you can easily earn 75,000 points after you sign up after your first month), you simply book this hotel by redeeming your "points." A Courtyard Marriott is usually around 35,000 to 45,000 points per night, depending on its location and the time of year.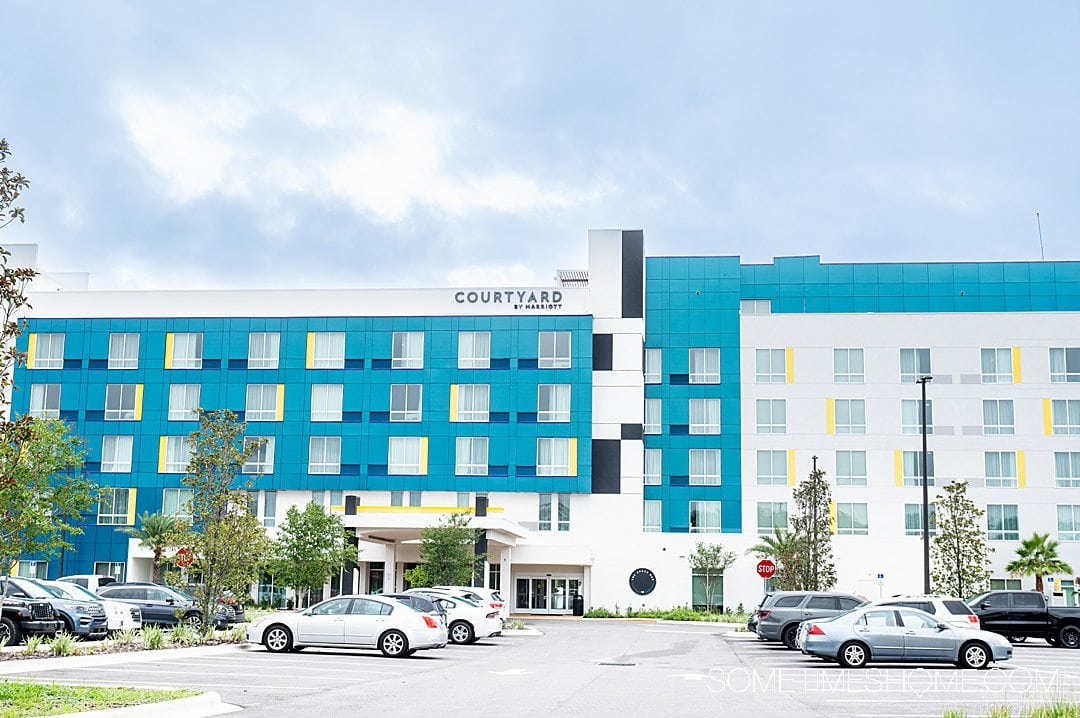 Hotel Parking
Parking at the hotel – for guests and visitors – is free!
Electric Vehicle Charging Stations
There are six charging stations in the hotel parking lot. They are located in the spots to the right of the hotel and closest to the building (if you're looking at the front of the hotel from the parking lot).
Book Your Preferred Dates at the Courtyard Marriott in Titusville
Don't let your preferred dates get away from you – of course, only half the hotel faces the water, so we recommend securing your room asap. Secure your reservations here.
Read this next: