Kennedy Space Center Tickets: Helpful Info for a Successful Visit
If space travel leaves you awe of the wonder beyond our little blue and green planet, Earth, then visiting Kennedy Space Center near Orlando, Florida, is a must. This incredible place is on Florida's beautiful Space Coast, and securing Kennedy Space Center tickets should be on your Florida bucket list.
Disclosure: This post has affiliate links, meaning we may earn a small commission if you click the link and proceed with a purchase at no cost to you. We thank Kennedy Space Center for hosting us; we truly only recommend experiences, hotels, products, and services we use. As Amazon Associates, we earn from qualifying purchases.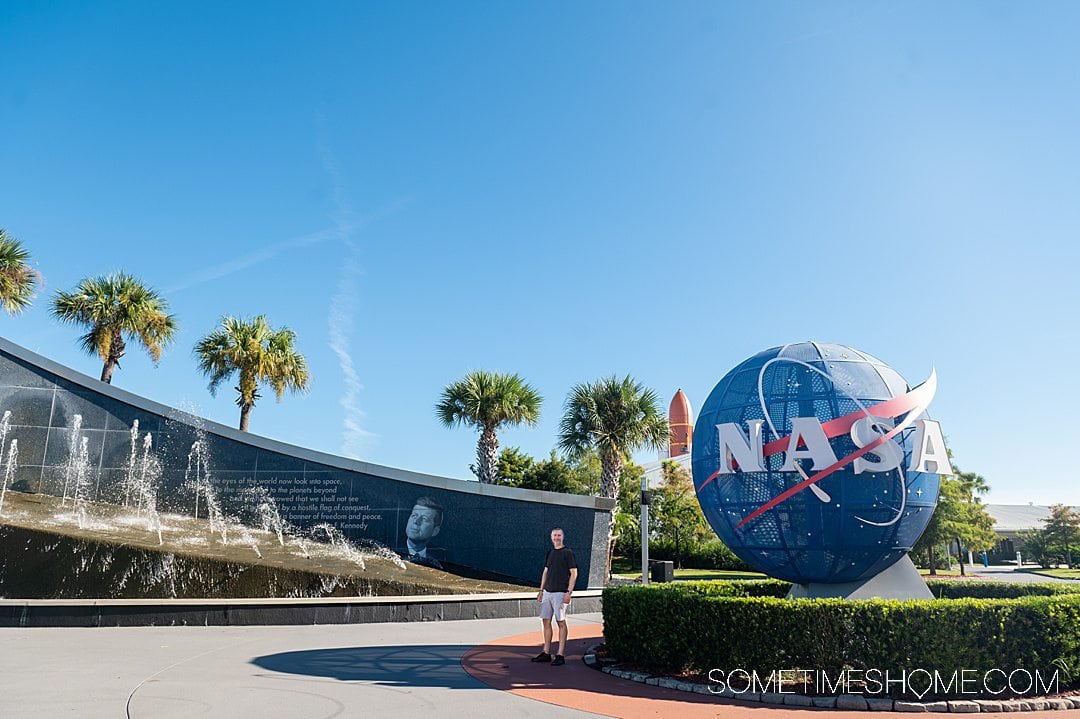 Kennedy Space Center Ticket Information
Tickets for guests ages 12+ are $75 for the day. A two-day pass is $89 (which we recommend because you won't be able to fit in everything there is to do there in one day).
Children's tickets, ages 3 to 11, are $65 for a one-day pass or $79 for two days.
Seniors get a bit of a discount, at $70 for a one-day ticket or $84 for two days.
Military tickets are priced at $70 for 12+ guests for the day or $84 for two-day tickets. Children of military families are $60 for the day or $74 for two days.
If you have a group or family of two adults and four children (blood-related or not), you may want to consider the "Cosmic Club Family Annual Pass."
This allows unlimited entry for two adults and four kids all year. The pass is $432.10 ("4, 3, 2, 1!" Humor is not lost on the Kennedy Space Center team!). If you priced two-day tickets out separately for two adults and four children between ages 3 to 11, the family pass saves you $61.90.
However, if a family of the same size is only going for one day, then buying the tickets separately is the better option at $410 total, for the same one day tickets.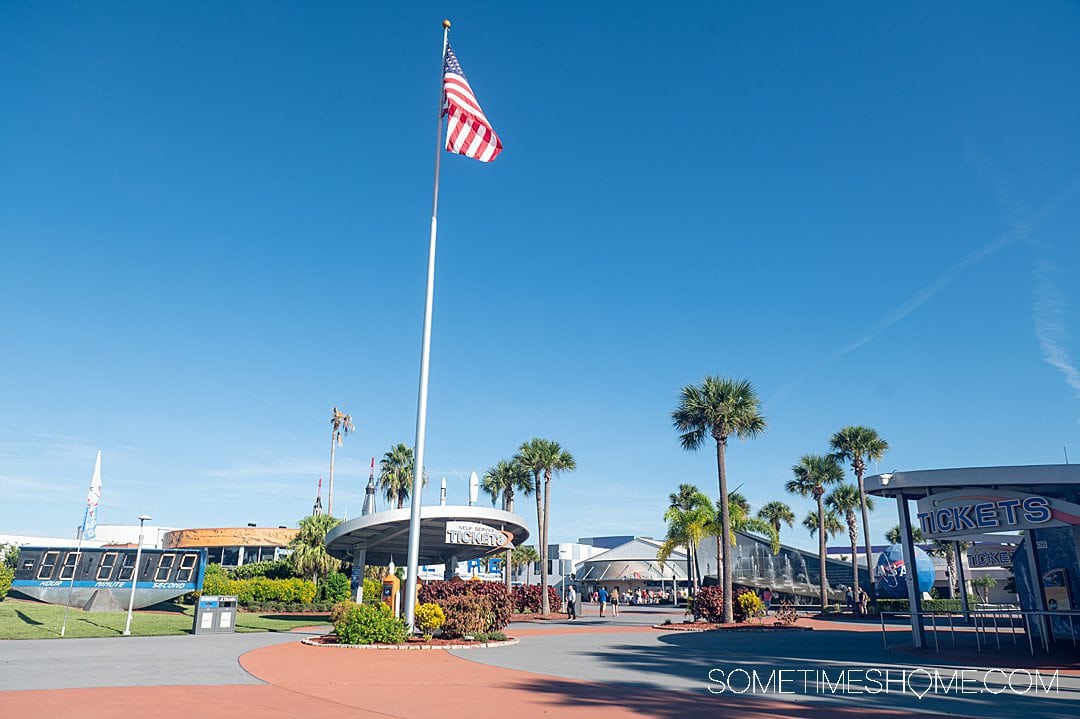 How to Get Discounted Tickets to Kennedy Space Center
There aren't many options for this however, there is one reputable discounted ticket source we can recommend: Undercover Tourist.
You can save up to $12 per adult ticket if you purchase tickets in advance on their website or save up to $24 for a combination pass that gives you access to Kennedy Space Center tickets as well as places like Legoland and The Wheel at ICON Park in Orlando (the big Ferris Wheel near Universal).
Tickets for KSC purchased on Undercover Tourist expire one year from the purchase date. The ticket isn't activated until the QR code is scanned at the KSC turnstile entrance, like any ticket you buy to visit.
Be sure to check Kennedy Space Center's online ticket information and offers before you purchase if you want to include kids' tickets. For example, for the month of September 2022, they ran a promotion that included free entrance for kids ages 3 to 11 with a paying adult.
🚀 Buy Discounted Kennedy Space Center Tickets in Advance and Head Right to the Gate!
Kennedy Space Center Visitor Complex Important Information
Hours of Operation
The information building outside of the complex opens at 8:30 am, 30 minutes before the rest of KSC opens. (The parking lot also opens at 8:30 am.)
If you're truly trying to make the most of the entire day there and your Kennedy Space Center tickets (which we recommend because there is SO MUCH to do) you should arrive early.
If you haven't already purchased your tickets online, get there between 8:30am and 8:45am. This will allow time to take photos in front of the KSC icons (like the huge NASA sphere that's a little like the Universal globe outside of Universal Studios in Orlando) and see the fountain where John F. Kennedy is etched into the stone.
Then you'll be able to get into KSC when it opens, promptly at 9:00 am.
Closing times for Kennedy Space Center vary depending on the season. Generally speaking, they're open until 5:00pm. During peak times, they're open until 6:00 pm, like during Spring Break, or 7:00 pm, for Christmas Break.
Though it's unlikely that you'll purchase a ticket and go into the complex later in the afternoon, it's important to note that entry closes 1 hour before KSC closes. Bus tours that take you towards the launch pad area and drop you off at the Apollo/Saturn V Center end 2.5 hours before closing. They are included in general admission tickets.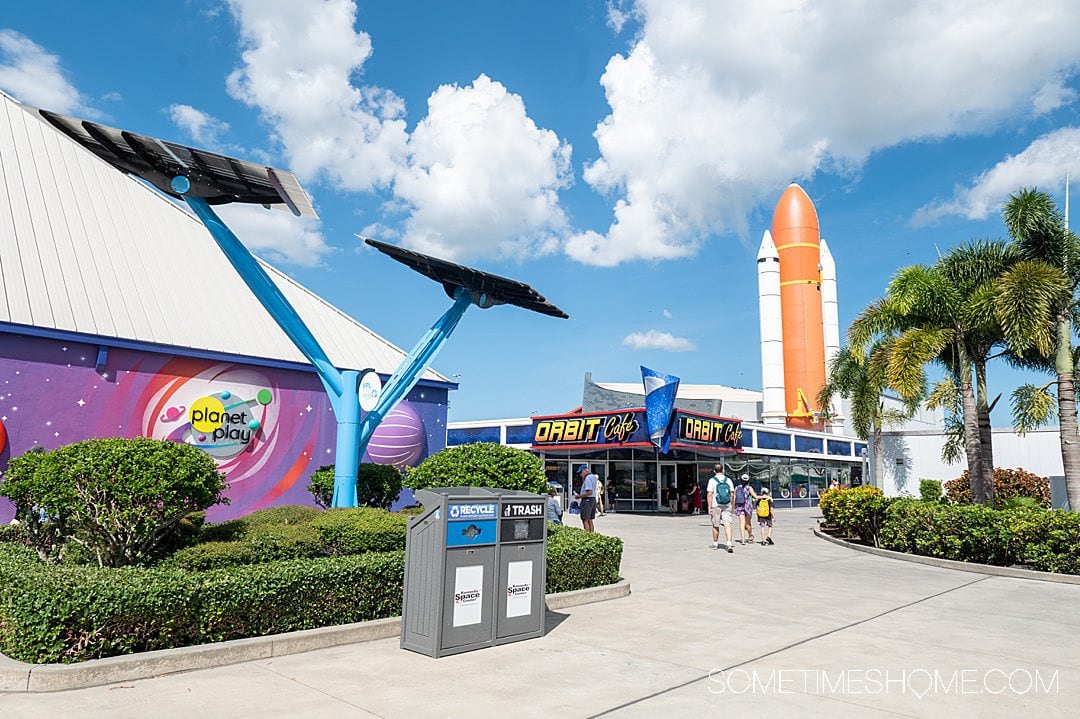 The Two Days a Year that Kennedy Space Center is Closed
KSC is closed on Thanksgiving Day (the third Thursday of each November) and Christmas Day, December 25. Otherwise, they are open daily.
Parking at Kennedy Space Center
If you're driving to KSC and need to park, the cost is $10 per vehicle for their lot. It's $15 for RV parking.
There is no shade in the parking lot – and we're talking about Florida sun, at KSC! So be sure that you don't leave anything in your car that will melt and not recover, like chocolate (including candy from Walt Disney World) or sunscreen.
You'll definitely want to bring your sunscreen into Kennedy Space Center with you anyway.
How to Get to Kennedy Space Center Without Your Own Car
Don't have your own vehicle? No worries! There are alternative transportation options to get to KSC. Don't let the lack of your own rental car discourage you from visiting this amazing place.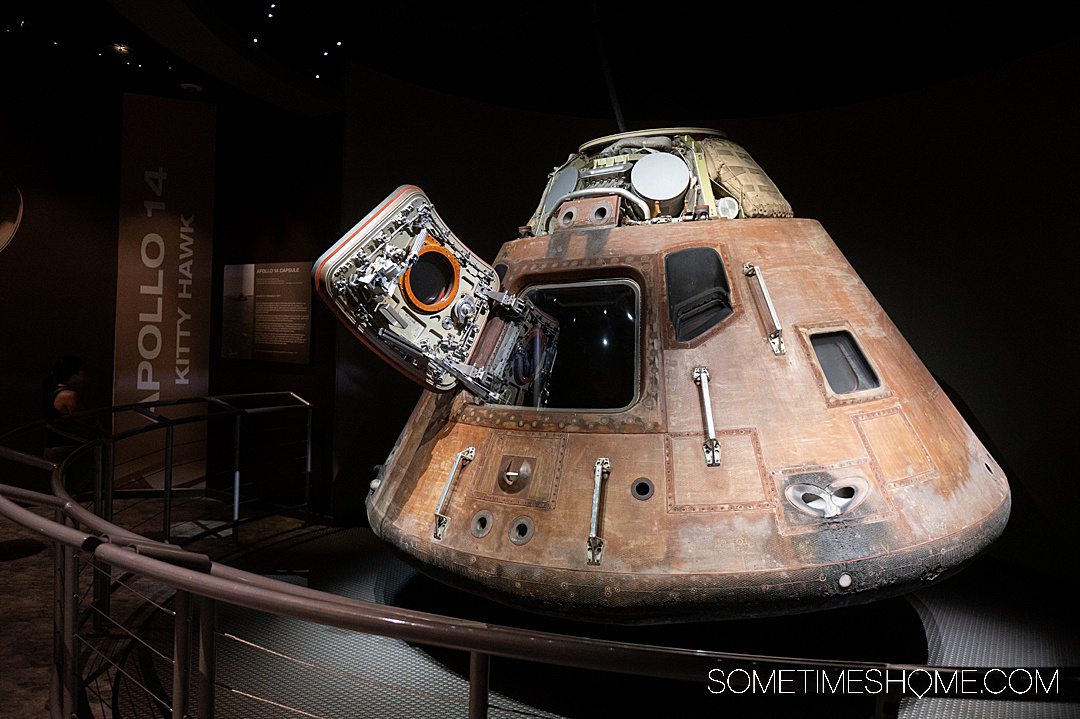 What Kennedy Space Center Is…In Case You Aren't Sure
If you love themed entertainment, you might consider this as such with an educational twist. It reminded us of Mission Space at Walt Disney World's Epcot theme park, but on steroids…in the best way possible.
Kennedy Space Center (KSC) is one of the main launch sites for NASA. It's also on a wildlife refuge on Merritt Island, just a few miles north of Cocoa Beach. KSC is open to the public and requires tickets to enter.
The complex does not pull from tax dollars; its funding is made possible by Kennedy Space Center tickets purchased by visitors.
What is There to Do at Kennedy Space Center?
There is SO much to do at KSC that we recommend staying in the area overnight (more on that below) and buying a 2-day pass.
You'll be able to learn about the first moon launch and subsequent moon landings, see rockets that started our exploration of space, ask guides questions about space exploration, see real space shuttles, ride space simulators, and much more.
We also very much enjoyed seeing a 3D IMAX film called Asteroid Hunters, which was included with the price of admission. (This was a huge perk and added value because we see IMAX films where we live in Raleigh, and it's at least $12 per ticket.)
Space Souvenirs and Gifts at Kennedy Space Center
There are great gifts and souvenirs throughout the complex. They sell everything from books for kids and adults to sweatshirts, t-shirts, backpacks, official Corkcicles with NASA missions branded on them, mugs, glasses, patches, stickers, and much more.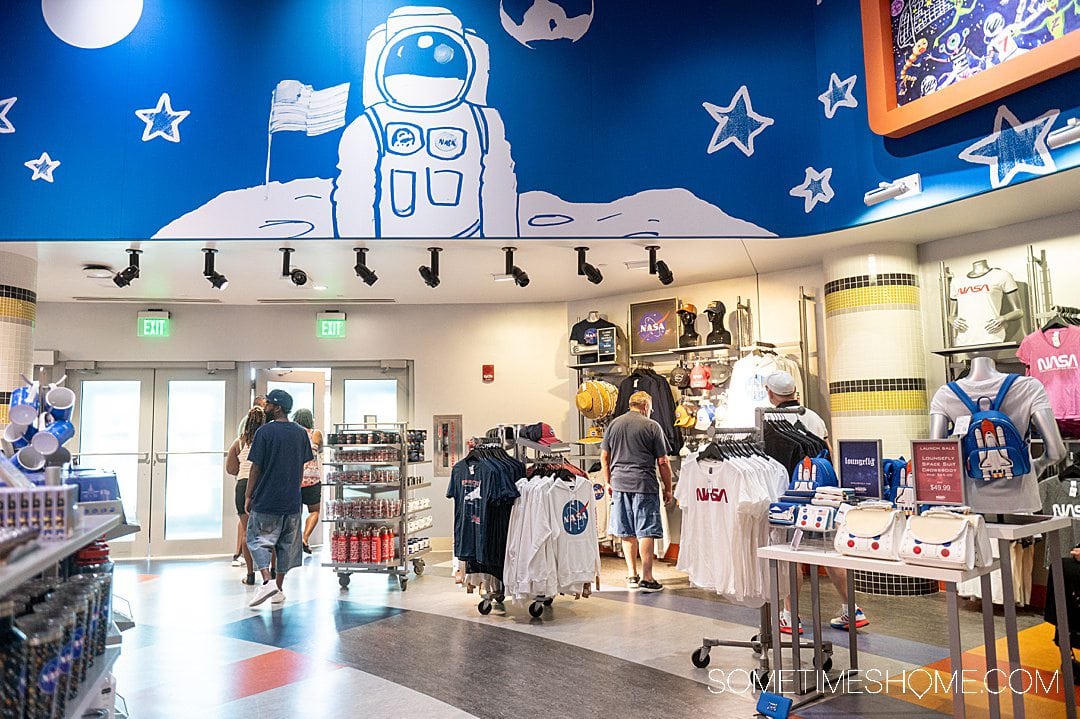 Is There Food at Kennedy Space Center?
Yes, there is! You can have lunch and dinner there and get snacks, like ice cream.
We had the Cuban Sandwich at the Moon Landing quick-service restaurant because we were at the Apollo/Saturn V Center during lunchtime. Our sandwich was panini-pressed to order and we have to say, it was really good!
Their chicken fingers and fries looked especially delicious, as did their salads.
There are four quick-service dining areas around Kennedy Space Center. There are also places to purchase snacks, like popcorn for IMAX films, coffee, and ice cream.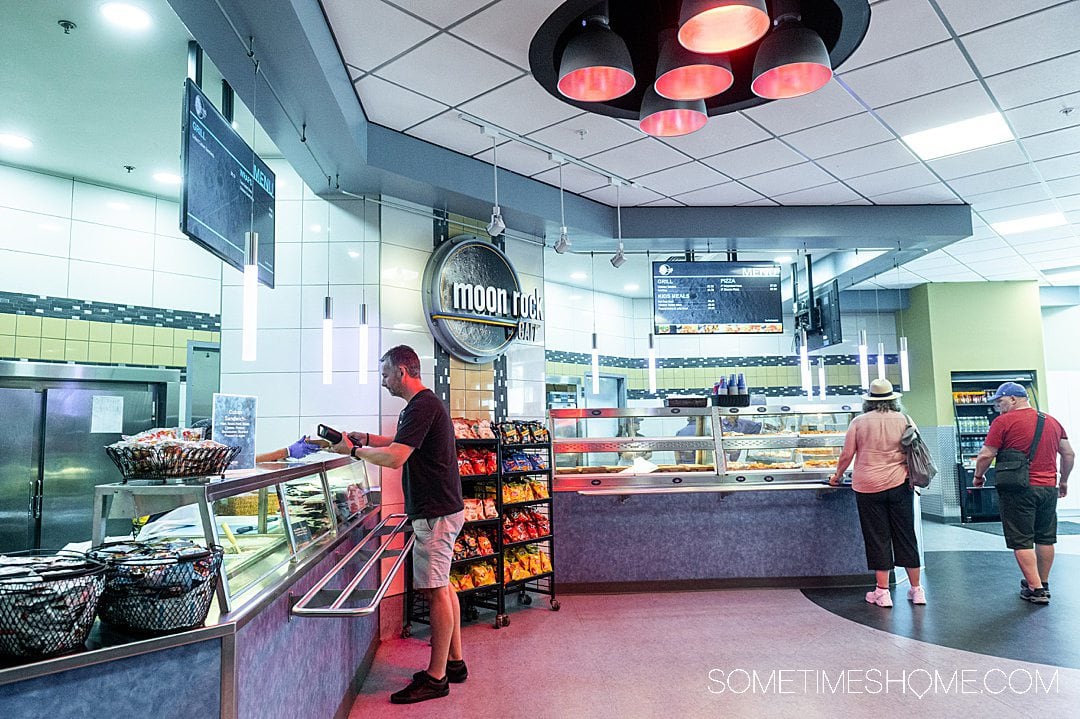 Snacks, Beer, and Wine at KSC
While we recommend eating lunch at the visitor complex, snacks are permitted. You can bring a soft-sided cooler as well if you like. You are not permitted to bring alcoholic beverages inside the complex. However, wine and beer are available to purchase around KSC.
Where is Kennedy Space Center?
Kennedy Space Center is located on Merritt Island. It's just north of Cocoa Beach on the east coast of Florida.
KSC is also very close to Port Canaveral, where many cruises embark, including Disney Cruise Line, Royal Caribbean, MSC Cruises, Norwegian Cruise Line and more.
How Far is Kennedy Space Center from Orlando?
It's approximately one to one and a half hours from Orlando, depending on where you're driving from and traffic, depending on the time of day. It's around 62 miles from Disney Springs and Epcot area hotels to the Kennedy Space Center Visitors Complex.
Restrooms on the Drive from Orlando to KSC
There aren't many places to stop for bathroom breaks between Orlando and KSC, so if you have to use a restroom look up the closest Mcdonald's or gas station.
Restrooms at KSC are plentiful, though!
A Note on GPS to Kennedy Space Center
If you are using GPS to get to Kennedy Space Center, be sure you enter "Kennedy Space Center Visitors Complex" into GPS, not simply "Kennedy Space Center." This will ensure you get to the right place to enter the complex, not where government employees enter KSC for work.
Kennedy Space Center Launch Schedule
If you are hoping to see a launch during your visit, you will want to refer to KSC's events page and filter by "Rocket Launches" on the black navigation bar, where you see the on/off toggle options.
You can also find current launches in the Next SpaceFlight App or website. (Just note that this particular app and website posts launches worldwide, not just in Florida on the Space Coast. So be sure to look at the location of the launch if you use Next SpaceFlight app or website.)
Not all launches require special tickets, and not all launches have viewing available.
If you cannot view a launch from Kennedy Space Center, check out our recommendations for nearby locations that are great for watching rocket launches along the Space Coast.
How Long Do You Need to Visit Kennedy Space Center
We recommend at least one full day. If you have the time, we highly recommend a two-day pass. There is simply so much to do and see there that you can't fit it all in with just a day.
Do You Need a Whole Day at Kennedy Space Center?
Our immediate response to that question is yes. However, if you only have half a day, you will want to weigh the cost-benefit of seeing one or two things there against the price of the tickets and what kind of a budget you're on.
We were truly shocked at how much there is to do and how quickly the day flew by when we were there. One day is ideal, two days is better.
Half a Day at Kennedy Space Center
It would be challenging to fit in a plethora of all that is offered there if you only have a half-day though you'd still see cool things. But we don't blame you for trying to make the most of a half-day there.
If you are spending half a day at KSC, we recommend taking five minutes to look at a map of the complex, either when you get there with their printed maps or on the Kennedy Space Center app, and prioritizing what you want to see.
For example, if going to the Apollo and Saturn V complex is most important to you, then you should head there first since the bus tours that take you there end 2.5 hours before the complex closes. Afterward, as another example, you can head back to the main complex to do the Atlantis building to see the Space Shuttle inside.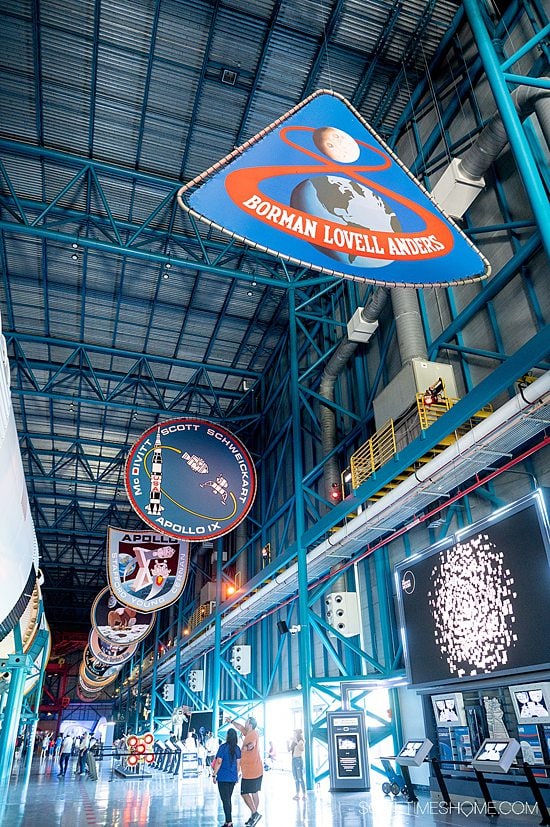 What to Bring With You to Kennedy Space Center
You'll be in the outdoors of sunny Florida, no matter how you slice it. The KSC complex is a series of buildings that you walk between outdoors, even though most of the exhibits and space vehicles on display are indoors.
As such, our "what to bring" list includes a lot of sun protection items:
Refillable water bottles to fill at the stations around KSC. The team at KSC told us a bottle can be plastic or metal. Read below to see the two water bottles we love and travel with. Our insulated recommendation of the two, a MiiR bottle, is especially fantastic in the Florida heat.
Sunscreen
Sunglasses
Handheld fan (we bring it with us everywhere in hot destinations – buy one and bring it…you'll thank us later)
Snacks (we recommend bringing snacks for kids in Stasher bags – for adults, there are plenty of reasonably priced food options at KSC, and we recommend purchasing meals there)
Here are the reusable water bottles we swear by:
Memo bottle: We love it because it's flat, so it fits in a pocket, on the side of a backpack, in a purse, etc. very easily and comfortably.
MiiR bottles: They're insulated and keep the liquid at the temperature you added it to the bottle in for HOURS and hours. They rock. We also love that the wide-mouthed bottles are easy to get ice cubes into. Use code "SOMETIMESHOME" for 15% off your order.
Other Practical Information for Kennedy Space Center
We have two additional pieces of advice and FYis for Kennedy Space Center:
We recommend downloading the Kennedy Space Center official guide app! It was really helpful when we were navigating the huge complex, and it was better than wasting a paper map or attempting to find the paper map somewhere in my purse when we wanted it.
There is free wifi throughout KSC.
KSC is located on federal property. Be careful to observe the speed limit if you're driving there and especially respect the wildlife. Remember, it's located on Merritt Island Wildlife Refuge.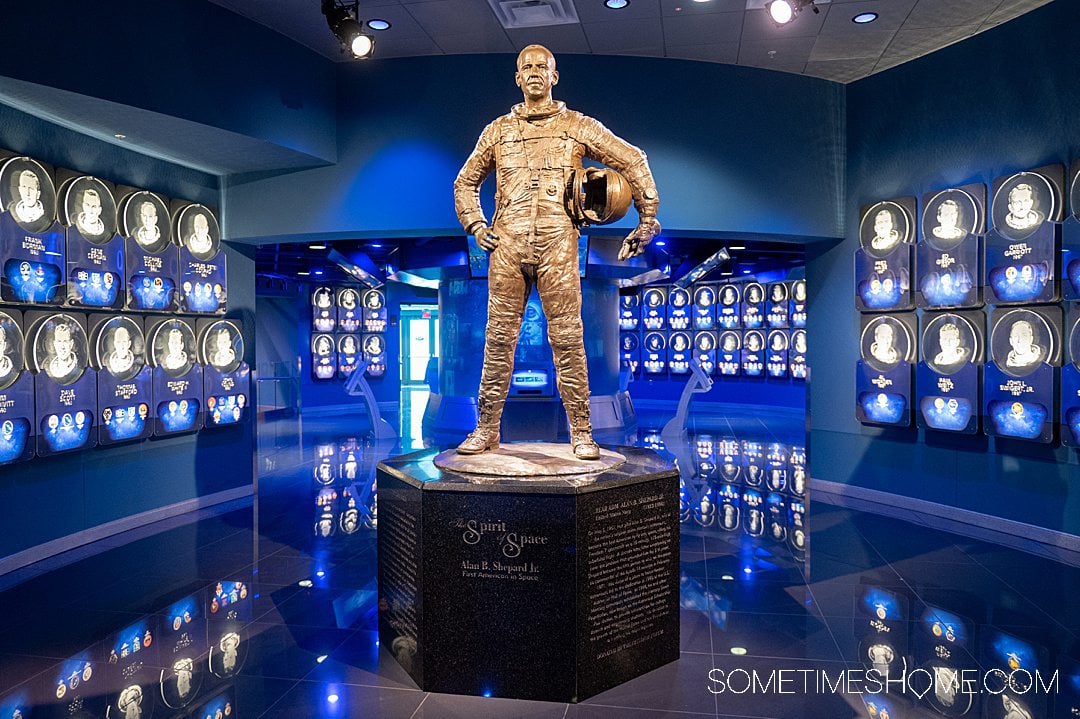 Where to Stay Near Kennedy Space Center
We have the BEST recommendation for space lovers: a SPACE-themed hotel! Don't worry if you're an adult who doesn't want space in your face all the time. The space theme is very tastefully done.
This awesome space hotel is the Courtyard Marriott in Titusville. It is less than 7 miles away from Kennedy Space Center. It's also very close to Port Canaveral if you arrive in the area after a cruise or want to explore the Space Coast before a cruise.
We loved it so much that we dedicated an entire post to this space hotel.
In case you're in a time crunch and can't read our post about the hotel, know that the hotel overlooks the launch pads at KSC from a safe distance, across the river.
The hotel has space elements in the rooms, including space projectors and outer space wallpaper. It also has an awesome rooftop bar, called "The Space Bar," with photo-worthy drinks and other photo opportunities!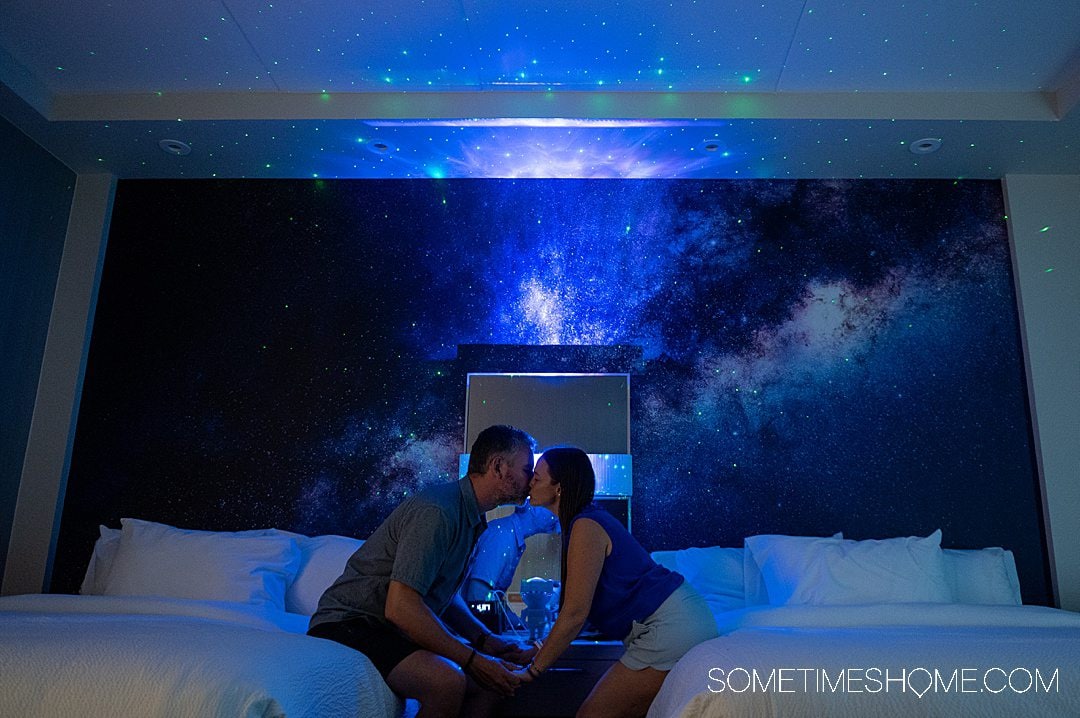 What Else Is There to Do Near Kennedy Space Center?
There is so much to do in the area surrounding KSC, which is called the Space Coast.
It's a great area, and if you can, you should stay overnight. Ideally, two nights in the area are better than one. Three is better than two!
We loved our time on Florida's Space Coast. You can visit Cocoa Beach (the downtown area and the actual beach), eat at great restaurants, enjoy breweries, watch the cruise ships as you dine along the Port Canaveral waterfront, find unique gems like the Valiant Air Command Warbird Museum or Wizard of Oz Museum, and more.
Check out our recommendations for unique things to do on Florida's Space Coast.
Conclusion for Kennedy Space Center
Kennedy Space Center tickets won't simply get you access to the complex. A visit to KSC will provide lifelong memories for you and your travel companions that won't fade into space. Instead, you'll be in awe of space exploration, from the past to the present.
While we understand if you only have a day to visit, we cannot recommend staying in the Space Coast area for more time there enough. That way, you can enjoy all this Florida area offers from Kennedy Space Center, and beyond!
Heading to Florida? Check out: