40 Awesome Things Florida is Known For
Florida is the sunshine state, the land of Walt Disney World, and home to the famous and singular Everglades National Park. But the things Florida is known for are far more reaching than these more known items and more detailed too.
From parks to well-known beachfront cities, and famous Florida foods, we share detailed information about the sunshine state information you'll enjoy learning about.
It'll be especially helpful if you're still in the midst of trip planning, and deciding where to go. Or if you have started solidifying where you're going but wondering what to see, do and taste, once you're there.
Disclosure: This post has affiliate links, meaning we may earn a small commission if you click the link and proceed with a purchase at no cost to you. We recommend experiences, hotels, products, and services we use and support. As Amazon Associates, we earn from qualifying purchases.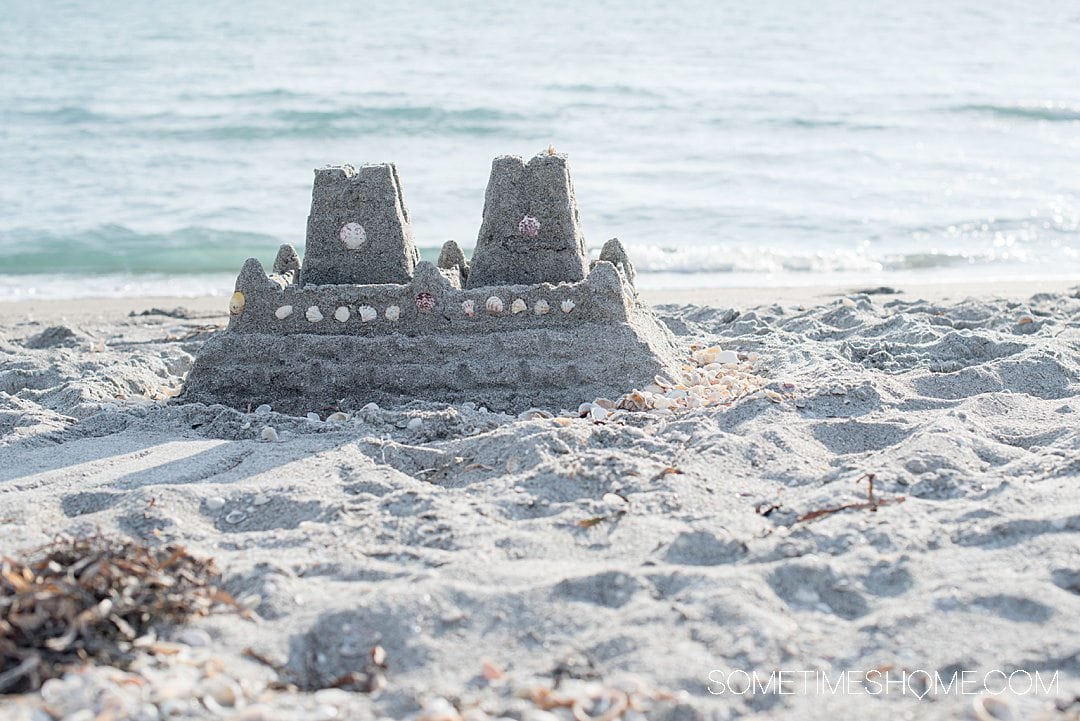 🌴 Florida is Known for the Best Theme Parks in the World
From Disney World to Universal, Legoland to SeaWorld, Florida has some of the best theme parks in the world. You can spend two weeks in Orlando and not repeats a theme parks and resort experience in Florida.
It's also known for amusement parks like Busch Gardens.
☀️ Walt Disney World Theme Parks
Arguably one of Florida's most famous attractions, anywhere, is Walt Disney World (WDW).
And with good reason, because within WDW is four theme parks, two water parks, a shopping and entertainment district and some of the best places stay near Orlando. (Many people say WDW is in Orlando, but it's actually in a city called Lake Buena Vista.)
➜ 1. Magic Kingdom
The first park to open at Walt Disney World was the Magic Kingdom, filled with lands like Fantasyland, Adventureland, and Tomorrowland, and anchored by its magical, sky-high Cinderella's Castle.
Once you enter the park, Main Street, lined with shops for merchandise from apparel to confectionaries, directs your view and direction toward the castle. From here, the park allows you to explore in multiple directions as you enjoy a day filled with rides, shows, and food, ending with evening fireworks.
➜ 2. Epcot
The second park built at Walt Disney World, in the 1980s, was Epcot. (It's also sometimes called EPCOT, previously an acronym for the Experimental Prototype Community of Tomorrow.) Though Walt Disney wouldn't live to see the park, he spoke of its concept during his World of Color television show.
The Imagineers carried out plans to design and build this magical park. Two lands by the front entrance focus on the future, our present-day planet, and outer space.
The World Showcase is a collection of pavilions for multiple countries — from Mexico to Japan, Norway, the United States of America, France, and Canada, to name a few — showcasing their cultures, architecture, and landscapes.
➜ 3. Hollywood Studios
Next up in Walt Disney World's parks is Hollywood Studios, formerly MGM Studios.
This Hollywood-focused park is filled with attractions based on famous Disney movies, like Indiana Jones, Star Wars, and even some of Disney's animated films.
Its famous Rock 'n Roller Coaster uses Aerosmith's tunes as its soundtrack. The Tower of Terror takes you into a haunted Hollywood hotel from the early 1920s. Some attractions at Hollywood Studios immerse guests in other cool Hollywood experiences, like the backstage tour where guests can see how movie sets look and how special effects are created.
To close out your day at this theme park Florida is known for, you'll bop along to Disney music during a fantastic nighttime show.
Must-have item for your Florida vacation:
The only thing we have tried that gets rid of bug bites from your skin is The Bug Bite Thing. This item is a MUST pack when we travel. We always pack one in our backpack/day bag and another in our luggage. Don't travel without it – it really works!
➜ 4. Animal Kingdom
The lushest and most expansive park at WDW by acreage (both guest-facing and backstage) is Animal Kingdom, anchored by a huge "Tree of Life" as its central park icon.
If Florida is known for its animals like crocodiles and herons, this theme park takes guests beyond the borders of the state and the USA, into areas like Asia and Africa.
There are various rides and stage shows at Animal Kingdom. Amongst its popular attractions is The Lion King stage show, A Bug's Life 3D movie, Expedition Everest, and Avator's Pandora.
The park is just as beautiful during the day as at night.
Disney World Waterparks
Disney has two great water parks that are open to guests seasonally. It's a great way to enjoy something other than the 4 major theme parks at Disney World, and keep cool from the Florida heat during summer.
When both parks are open, you can purchase a waterpark hopper that permits entrance to both parks in one day. The waterpark hopper ticket includes rounds of miniature golf at Disney World too, one of the best things to do on Disney property besides the parks.
➜ 5. Blizzard Beach Waterpark
Escape the Florida heat with a visit to one of Walt Disney World's two water parks: Blizzard Beach and Typhoon Lagoon.
Theming at Blizzard Beach is a ski resort, which is wonderfully ironic! Plummet down from the summit of "Mount Gushmore" and sleigh down the water of Toboggan Racers. When you're hungry, eat at Lottawatta Lodge.
➜ 6. Typhoon Lagoon Waterpark
At Typhoon Lagoon, enjoy a water-filled park whose "remnants" reveal the end result of a legendary typhoon that caused well-designed wrecks created by Walt Disney Imagineers. This includes attractions like Castaway Creek (perhaps the name predecessor to Disney's Castaway Cay Island in the Bahamas), and Mount Mayday, a body slide that propels guests at a 60-degree angle.
➜ 7. Disney Springs
One of our favorite things Florida is known for amongst options at WDW is Disney Springs. Formerly known as and called Downtown Disney, this area is filled with plentiful shopping, eateries, adult bars, and daytime and evening entertainment.
It's a free area to go to, where parking is complimentary, and you don't need any tickets to access their stores and restaurants. We recommend making the most of Disney Springs Happy Hour!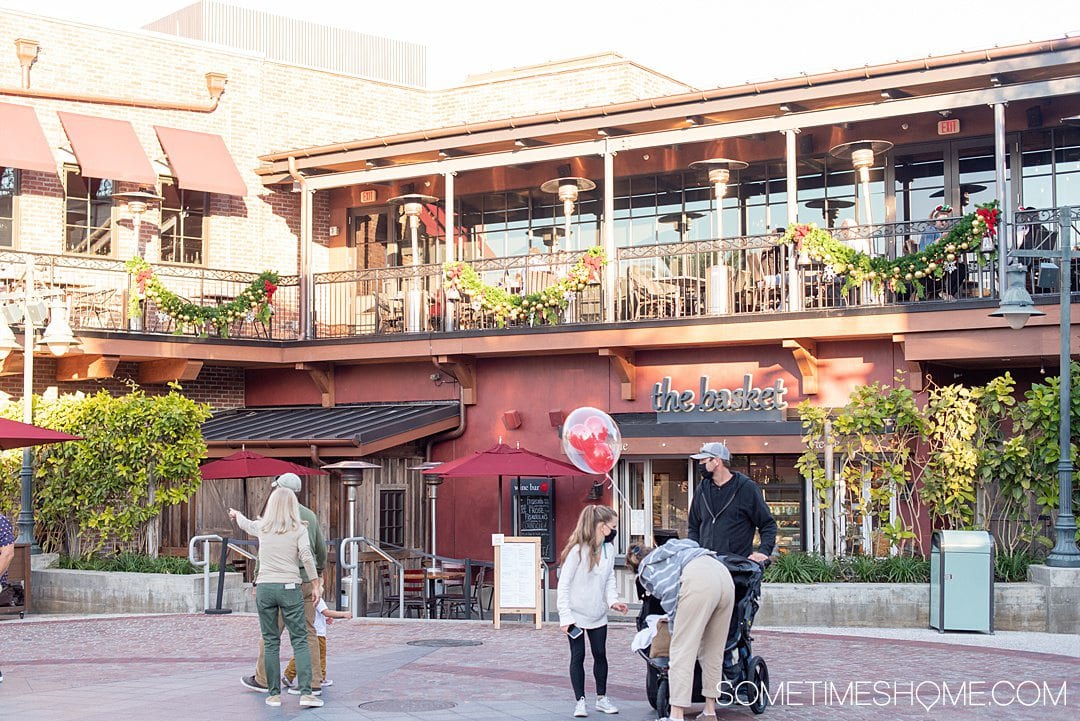 If you want to see a live show there, seek out music at venues like House of Blues or an incredible performance of acrobatics at Cirque du Soleil's Drawn to Life show.
Disney Springs is broken into two parts: the West Side and Marketplace. Be sure to know what side you want to start and end on when you go to park your car, and what lot you parked in as well.
Alternatively, you can take Disney's buses to this area, or the bus from any nearby hotel you may be staying at, like the Swan Reserve.
➜ 8. Disney's BoardWalk
Though this is one of the lesser-known things at WDW, it's a hidden gem we couldn't help mentioning. Disney's BoardWalk is one of the best places to enjoy a leisurely afternoon or evening on WDW property.
It's filled with romantic things to do, like take a boardwalk stroll or go on a date to Jellyrolls dueling pianos bar. It's great for kids and adults.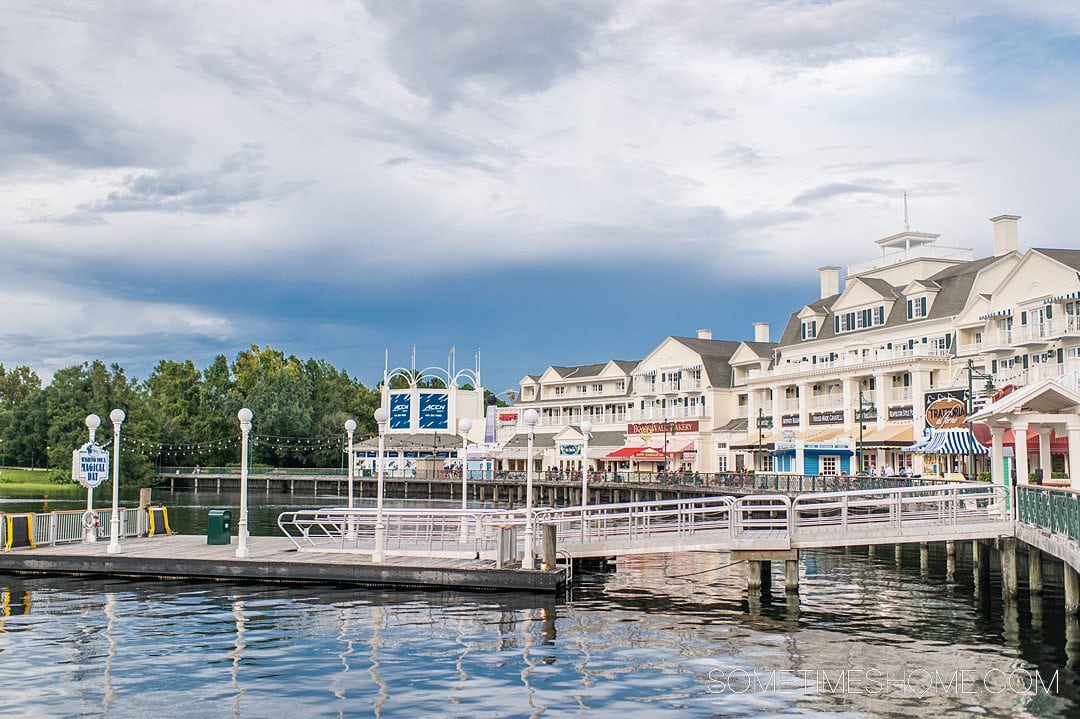 ☀️ Universal Theme Parks
Universal theme parks are where you'll experience the Wizarding World of Harry Potter, the Simpsons, Spider-Man, and more.
Many familiar characters will greet you at this well-known Florida theme park destination. This includes Popeye, dinosaurs from Jurassic Park, Shrek, and the Men in Black.
➜ 9. Universal Studios
The original park of the two, Universal Studios, is home to Hollywood-themed experiences.
Whether riding Hagrid's motorcycle at the Wizarding World of Harry Potter, called Hagrid's Magical Creatures Motorbike Adventure in Diagon Alley, or boarding a vehicle to meet King Kong in Skull Island: Reign of Kong, you'll love Universal Studios.
➜ 10. Islands of Adventure
Island hop to hang out with Dr. Seuss characters, wizards, and cartoon characters at Islands of Adventure (IOA).
The Wizarding World of Harry Potter's first land, Hogsmeade Village, is here, where you can eat at Three Broomsticks, learn how to handle a wand at Ollivander's, and buy a (fake) owl at the Owlry gift shop.
Don't miss Forbidden Journey, inside Hogwarts Castle. Missing it would certainly be a mistake you want to avoid at the Wizarding World of Harry Potter!
➜ 11. Universal's CityWalk
Universal's version of Disney Springs is CityWalk. You'll find plenty of bars and restaurants here as well as Hollywood Drive-In Golf.
Personal favorites at CityWalk are Voodoo Donuts and CityWalk's Rising Star karaoke experience.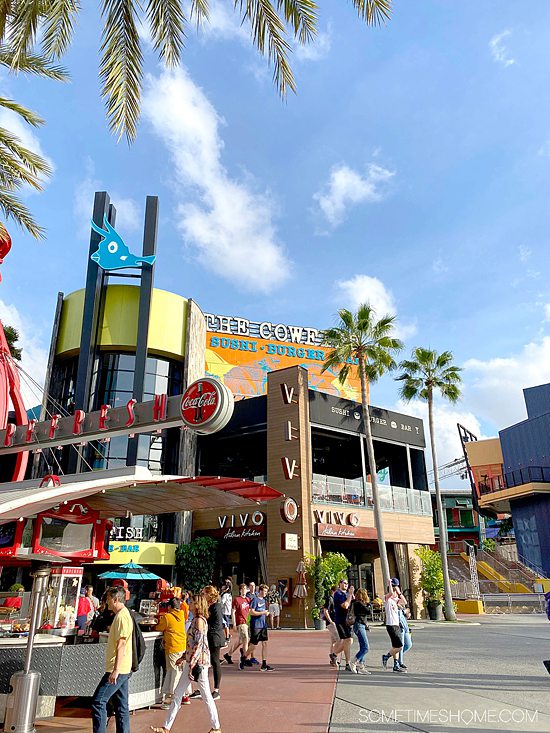 ➜ 12. Volcano Bay Waterpark
This is a tropical-themed waterpark where guests can cool down during hot Florida days. Central to Volcano Bay waterpark is a volcano surrounded by a labyrinth of slides, a lazy river, and additional water-centric attractions.
If you stay at Universal's nearby Cabana Bay hotel and you're lucky enough to get a room with a view, you may overlook Volcano Bay!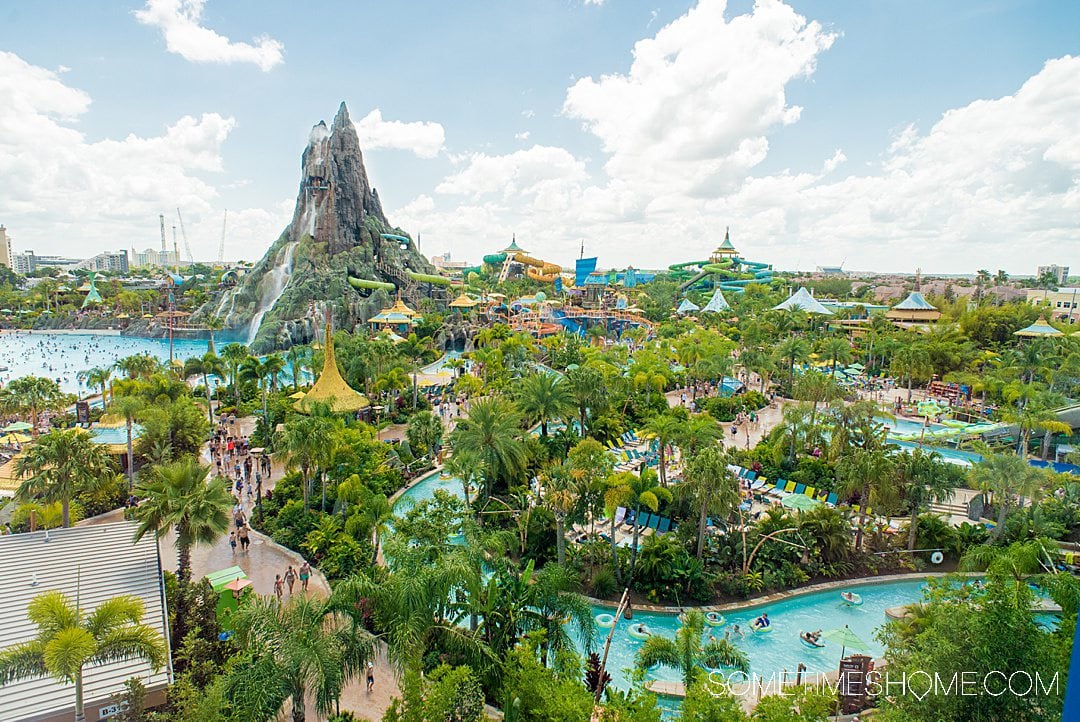 ☀️ 13. LEGOLAND
About 45 minutes from Orlando is Winter Haven, FL where LEGOLAND theme park is located.
Bricks, mini-figs, and Cypress Trees abound at Legoland, formerly Cypress Gardens park. If Florida is known for its parks and kids' entertainment, LEGOLAND is certainly at the top of the charts for both.
☀️ 14. SeaWorld Orlando
If you love marine life, consider Central Florida's SeaWorld park. It's filled with aquariums and shows, from dolphin performances to displays with fish and polar bears.
Perhaps controversial, SeaWorld has been historically recognizable from its logo with an Orca Whale, also known as Killer Whales. This is because of documentaries that have shed light on whales in captivity, rather than seeing them in nature like during a whale watching tour in Maine, for example.
Controversy withstanding, SeaWorld is a famous theme park in Orlando, Florida.
➜ 15. Discovery Cove
If you want to spend some additional funds beyond admission to SeaWorld, sign up for Discovery Cove.
This all-inclusive SeaWorld park is where to go for exclusive interactions with dolphins. You can also snorkel with tropical fish and enjoy the 85-degree water temperature of Serenity Bay. All food and beverages is included with the price of admission here too.
➜ 16. Aquatica Waterpark
SeaWorld's waterpark is called Aquatica, and it's filled with all sorts of unique water rides. Amongst its unique adventures are water racers, quadruple water slides with various speeds, and Reef Plunge where guests body slide down 330 feet. The slide ends in a pool filled with marine life.
☀️ 17. Busch Gardens
Florida is known for Busch Gardens in Tampa. One of the park's most popular events is Fright Fest, which draws particularly large crowds each fall. This Halloween event has been popular for decades and starts in September.
Ride various roller coasters, see stage shows and performances, and get up close with animals at their 65-acre Serengeti Safari.
🌴 Bucket List Destinations Florida is Known For
From coast to coast, Florida has dozens of cities to visit that offer visitors the beauty of a tropical state. Whether you're looking for a beachfront area, excellent seafood, or a vibrant arts community, you'll find it in Florida.
Many of these cities appear on the bucket lists of wanderlust travelers around the world. We break them down into three areas:
Central Florida
East Coast destinations
West/Gulf Coast destinations
Florida Keys and Key West
☀️ Central Florida
➜ 18. Orlando
Orlando has a special place in our hearts because I used to live there, and we visit often. When we visit, we often go to Universal or Disney World (in next door Lake Buena Vista), or the I-Drive corridor, like the museums and attractions at ICON Park. but we mostly hang around downtown.
We love downtown Orlando and areas nearby, like Winter Park (including its pedestrian-friendly Park Avenue), College Park, and Winter Garden with its awesome downtown area. These areas are also some of the best places to stay in Orlando.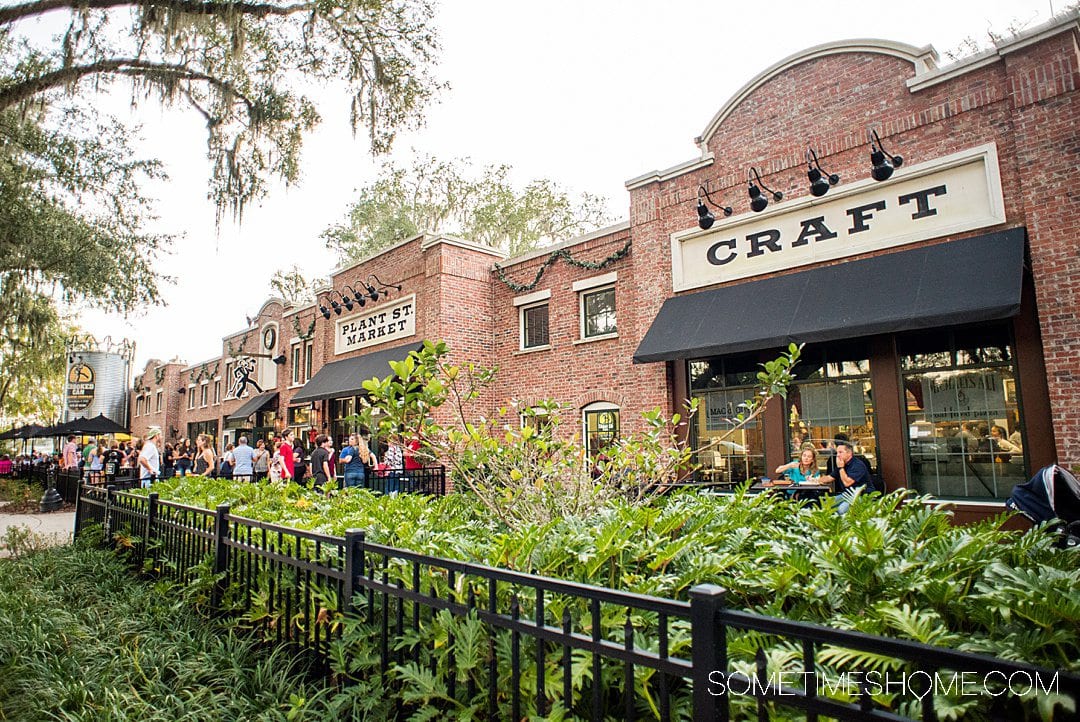 ➜ 19. Lake Buena Vista
This may be the most famous city in Florida that you've never heard of. That's because Walt Disney World is technically located in Lake Buena Vista, not in Orlando, which is its neighbor.
Some of the best things to do in Lake Buena Vista, besides visiting Walt Disney World, is shopping at the outlets right by Disney World. The "LBV Outlets" as they're called by locals, is off of S. Apopka Vineland Road not far from WDW.
➜ 20. Mount Dora
One of the cutest towns in Central Florida is Mount Dora. It's about an hour's drive northwest of Orlando, and a wonderful place to spend the day.
Walk around its sidestreets and downtown area to find quaint shops and great restaurants. If it's a pretty day, spend some time sitting on the chairs by the water and signing up for a boat tour.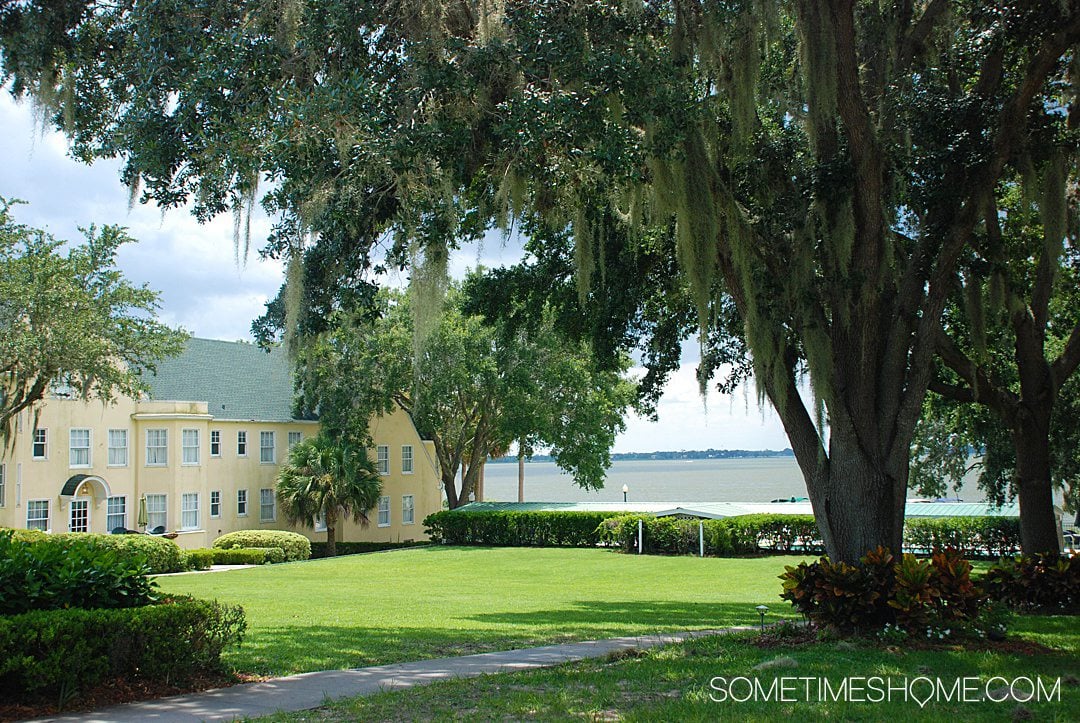 ➜ 21. Lakes Whales, Winter Haven, Lakeland, and Haines City
This collection of cities in Central Florida is home to places like Bok Tower Gardens and LEGOLAND. The area harkens back to "Old Florida," with down-home restaurants and attractions.
Did you know the largest collection of buildings designed by the famous architect, Frank Lloyd Wright, is here? It's located at Florida Southern College.
In addition to visiting the college campus and Bok Tower Gardens, head to Polk Museum of Art and Hollis Garden.
The garden is a beautifully manicured public garden complimentary for visitors. You can even take a pontoon tour of Winter Haven's Chain of Lakes!
☀️ East Coast Destinations in Florida
➜ 22. St. Augustine
Welcome to sun, fun, mystery, and history. Did you know St. Augustine is the oldest city in America?
Known as The Ancient City, the area boasts a rich cultural heritage. It's located on the east coast, or Atlantic coast side, of the state, just over the Florida-Georgia state border. Stroll down the cobblestone streets to visit museums, landmarks, and monuments of this popular destination.
From the Castillo de San Marcos, a 17th-century fort, to the Saint Augustine Lighthouse & Maritime Museum, you'll be immersed in the city's fascinating past. And if you want some modern-day fun and good photo ops, head to Potter's Wax Museum!
In addition to its rich culture, St Augustine has beautiful beaches, vibrant nightlife, and delicious cuisine; gator tail, anyone? This historic Florida city has something for everyone. It's an ideal locale for fun and adventure.
➜ Reserve St. Augustine Tours, from Ghost Tours, to Boating Adventures
➜ 23. Daytona Beach
Daytona Beach is an easy-to-get-to destination right off I-95.
It's best known for two things: Bike Week and Daytona International Speedway. Secondly is its coastline on the Atlantic Ocean, of course.
➜ 24. Space Coast
This area of Florida is on the east coast and includes the cities of Cape Canaveral, Merritt Island, Titusville, and Cocoa Beach, all fall under the marketing name, the "Space Coast." There are so many things to do on the Space Coast.
It's the perfect place for space explorers and enthusiasts and cheerleaders for the Space Program to flock! SpaceX, Blue Origin, and of course, NASA have offices here.
Head to Kennedy Space Center for a full day of fun, including astronaut experiences, learning about the missions to the moon, Space Shuttle Atlantis, and tons more out-of-this-world education.
Port Canaveral is nearby, the port of embarkation and debarkation of many cruises, including Disney Cruise Line, Norwegian Cruise Line, Royal Caribbean, and more.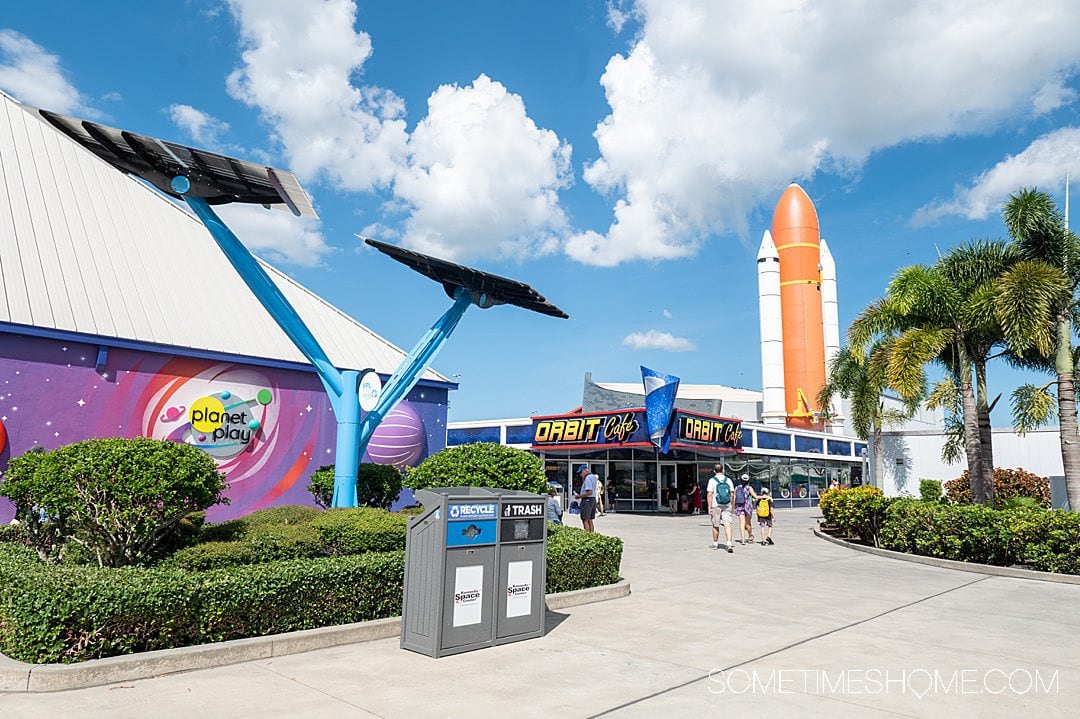 ➜ 25. Palm Beaches
The Palm Beaches is a stunning stretch of coastline that boasts some of the state's most beautiful sun-kissed beaches. This area spans over 47 miles, with over 30 different towns and cities to visit, each offering its own unique blend of natural beauty.
Some well-known cities that are part of the Palm Beaches include:
Jupiter
West Palm Beach
Lake Worth
Wellington
Boca Raton
Boynton Beach
Delray Beach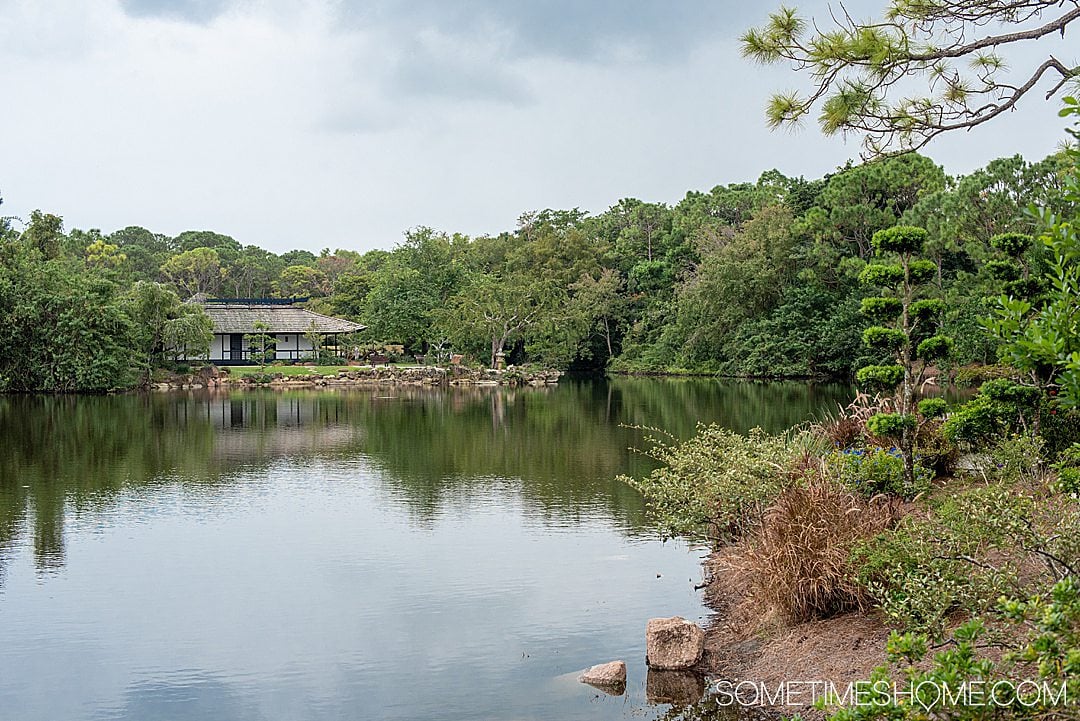 Enjoy seafood, fresh salads, sandwiches, and awesome cocktails at one of the countless area restaurants. Take a stroll along one of the scenic nature trails, or relax on the pristine beaches surrounded by lush, tropical scenery.
We visit the Palm Beaches at least once a year, as we have a lot of family that lives there. Some of our favorite places to visit and activities include: 
There are a lot of options for waterfront hotels here and ones within walking distance of the beaches. For example, we loved our stay at Crane's Beach House in Delray Beach, where we worked remotely for a few days.
From world-class golf courses and luxury shopping to outdoor adventure and historic landmarks, the Palm Beaches will keep everyone entertained.
➜ Book a West Palm Beach Food Tour or Historical Sightseeing Catamaran Cruise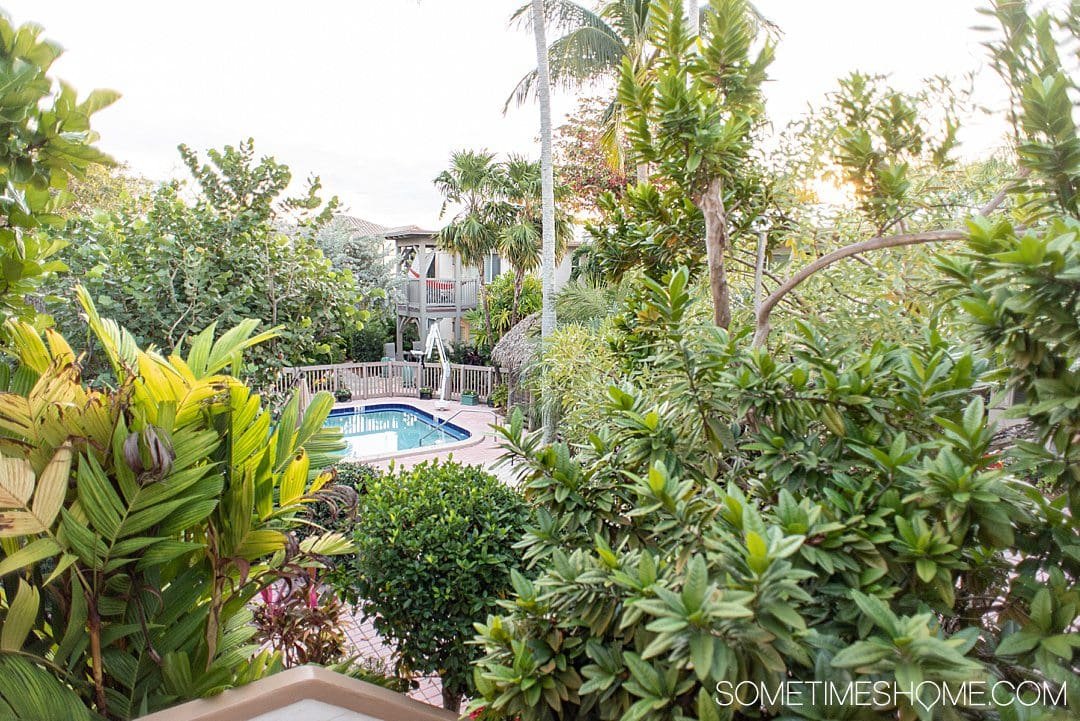 ➜ 26. Miami (and Miami Beach)
Miami is a popular tourist destination for beach-loving vacationers. Sunbathe, seek its vibrant night scene, book a Miami boat tour, or simply delight in a culturally rich area with a lot of Cuban-inspired cuisine.
Several notable areas are popular amongst tourists, including South Beach (part of Miami Beach), Wynwood, and Little Havanna. It's also home to one of the most popular cruise ports in the United States.
Miami's Wynwood neighborhood is the most colorful and one of the most fun areas in South Florida. This incredibly fun and vibrant area is a hotspot in Miami that's exploded in popularity over the past couple of years.
It's covered in murals from world-renowned artists, art galleries, trendy food spots, and Instagram-worthy bars. There is a ton of things to do in Wynwood.
➜ Secure Your Choice Miami Tour, whether a Guided Wynwood Mural Tour, Food Tour of Little Havana or a Boating Adventure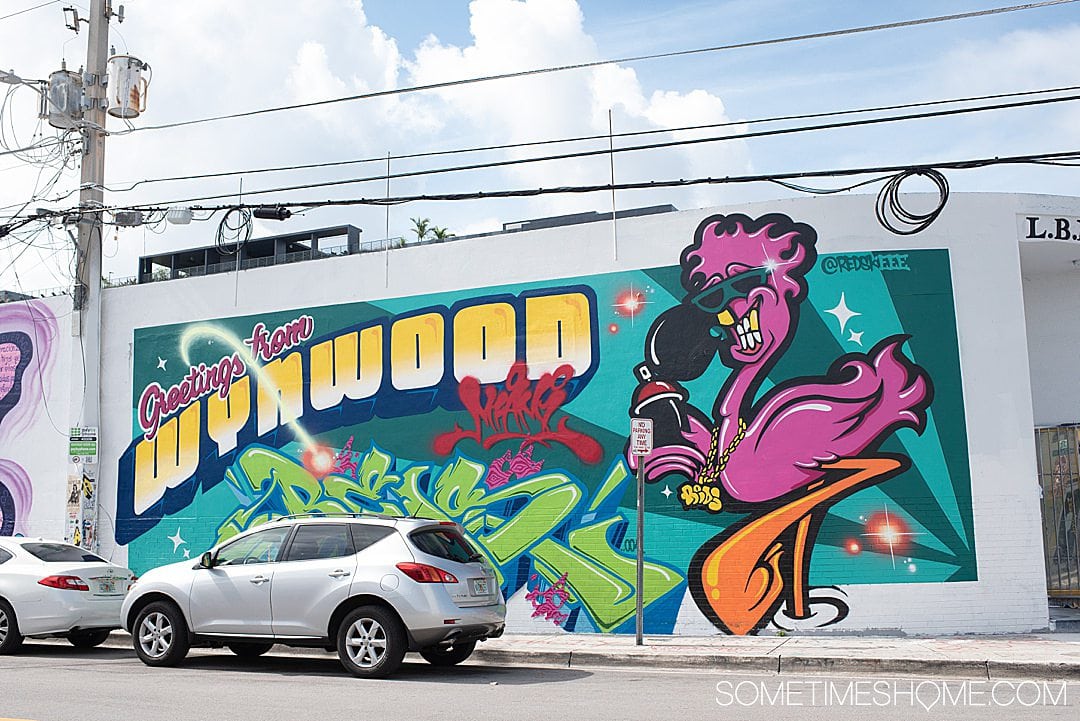 Another fun area of Miami is Little Havana. It celebrates and honors the culture of so many Cuban immigrants who have moved to Miami over the decades. See live music there, try Cuban food and drinks, and watch elders play dominos in Domino Park in Miami's Little Havana.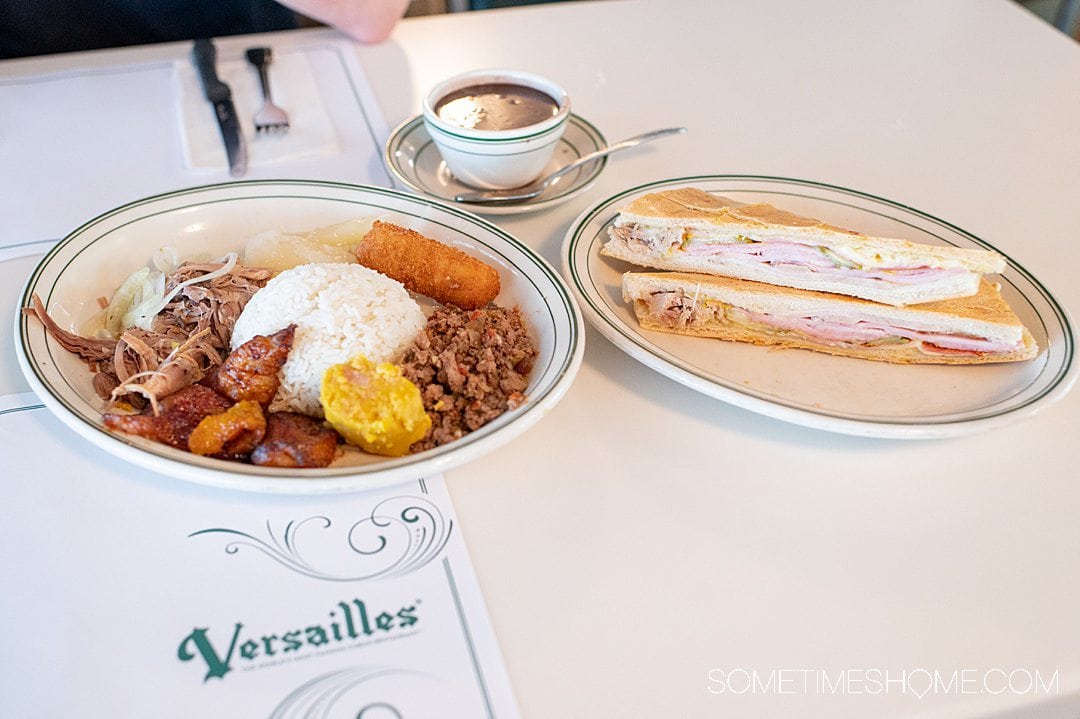 ➜ 27. Fort Lauderdale
This metropolitan city is a great destination if you want beautiful beaches, nightlife, breweries, daytime shopping, and access to an international airport. If want to go scuba diving, making Fort Lauderdale your home base is a logical choice.
It's also home to the third-largest cruise port in the world, Port Everglades.
➜ Indulge in a Champagne Sunset Cruise, Charter a Sailboat, or Take a Guided Snorkel Tour in Fort Lauderdal
☀️ West/Gulf Coast Florida Destinations
Beautiful Gulf coast destinations on the west coast of Florida are renowned for beaches. This is also why there are various professional sand castle competitions there throughout the year.
➜ 28. Sarasota
Warm water in the Gulf of Mexico can't be beaten. See sea turtles nest during spring on the white sand beaches of Sarasota. Year-round, visit its gorgeous Marie Selby Botanical Garden.
There is plenty to do and see in Sarasota.
➜ Enjoy a Trolley Tour, Rent Electric Bikes or Take a Popular Food Tour of Sarasota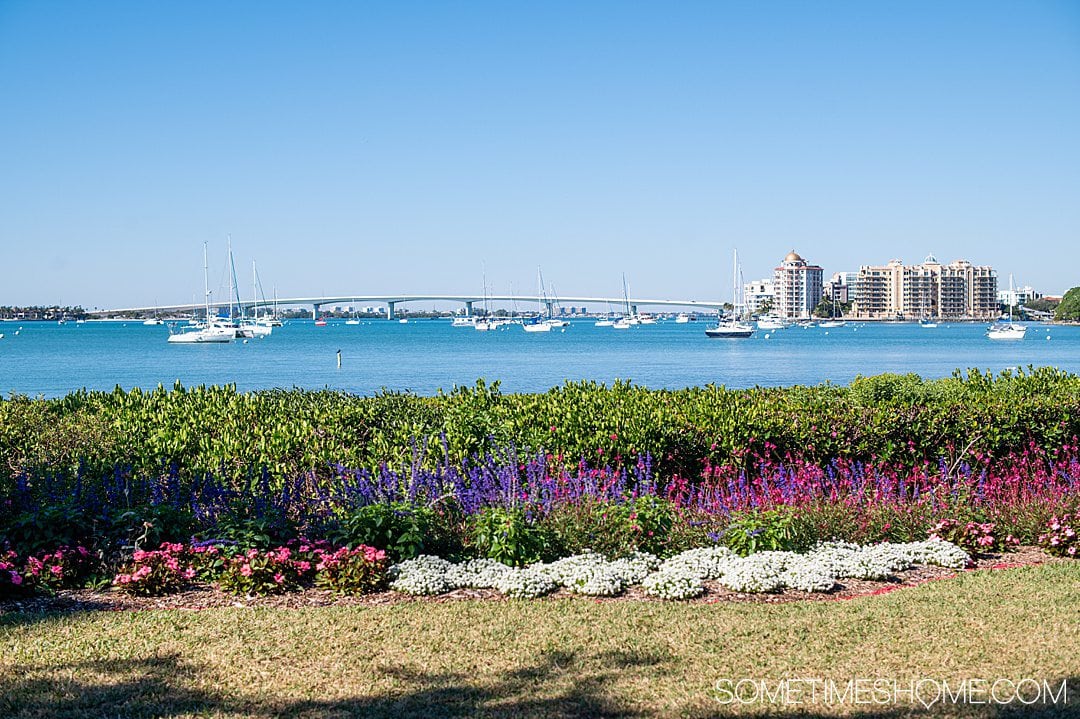 ➜ 29. Tampa
Tampa is a vibrant city on the Gulf of Mexico that offers a unique blend of history, culture, and outdoor fun. The city is home to landmarks such as Ybor City, the Tampa Bay History Center, and The Florida Aquarium.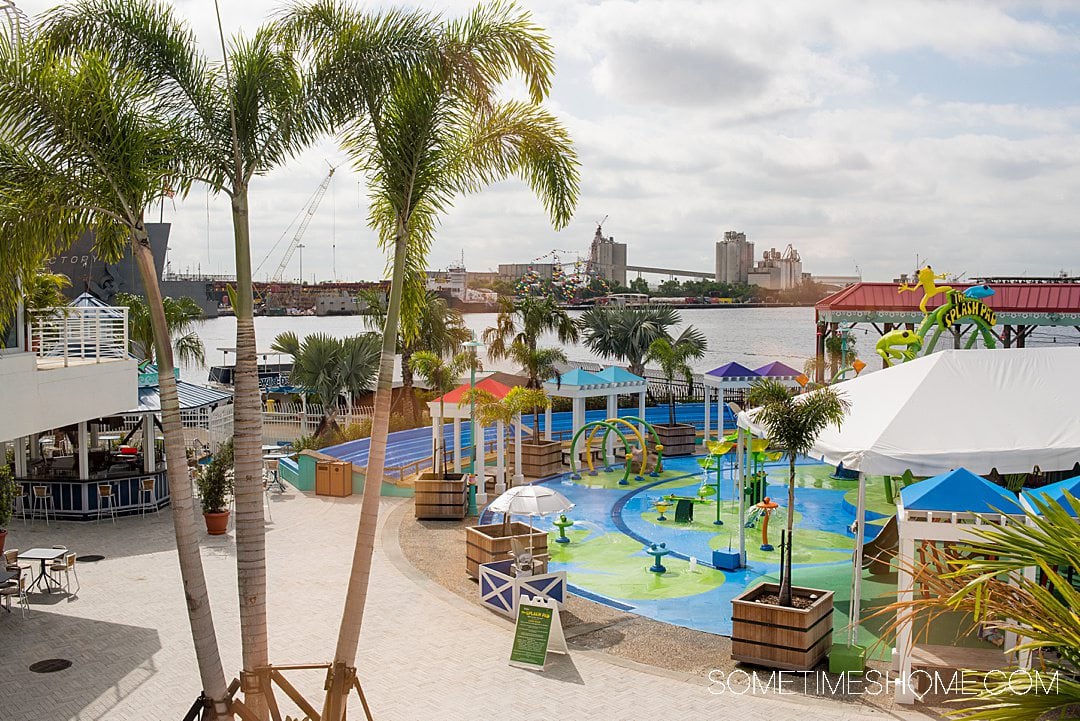 A favorite thing to do there is to visit the various areas to eat in downtown Tampa. Visit Oxford Exchange, Armature Works, and Sparkman Wharf. Don't miss the dozens of murals in downtown Tampa.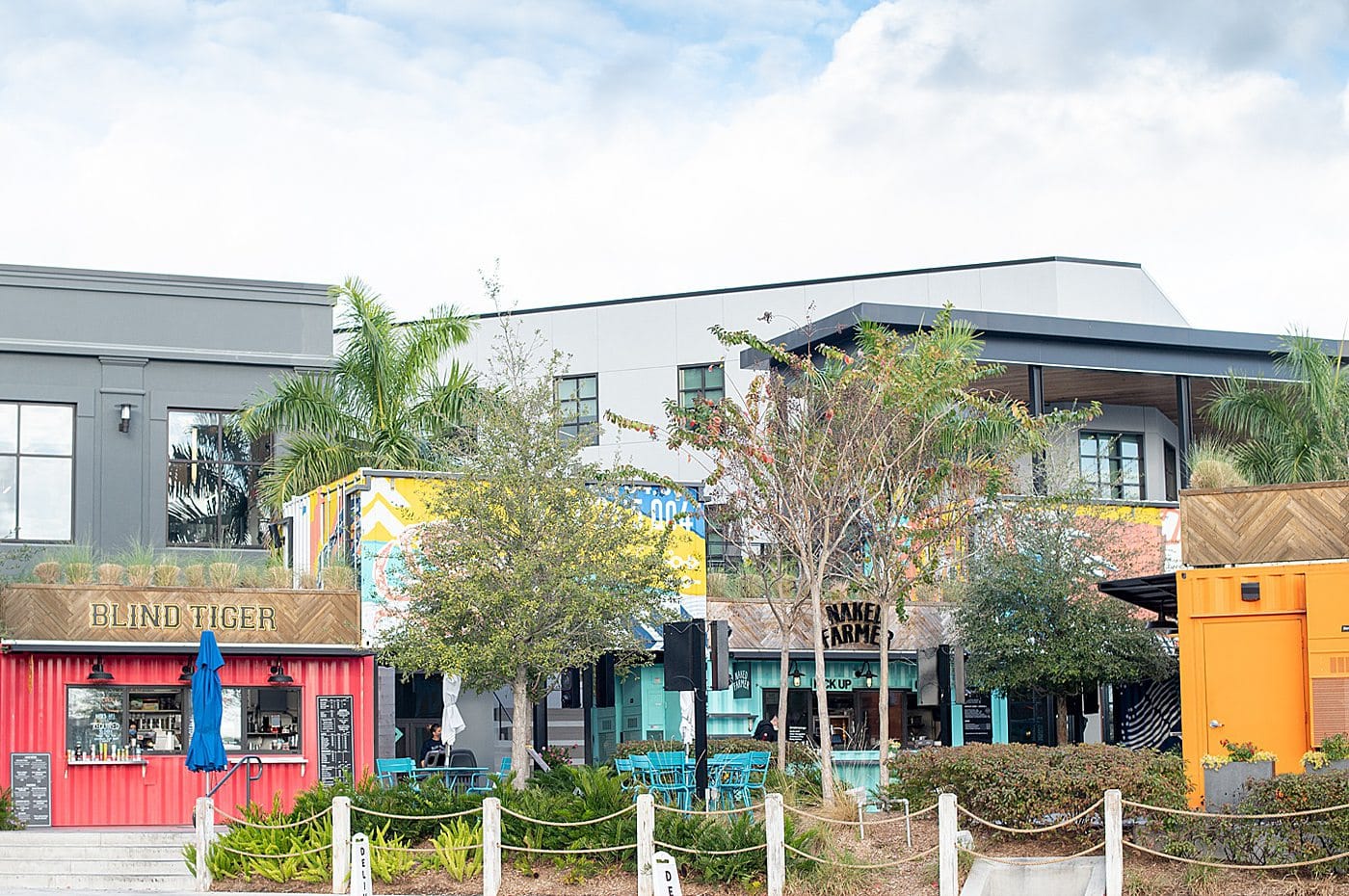 Other outdoor activities include boating and fishing in the Gulf, and hiking and cycling in the lush, scenic parks. It's a family-friendly destination with museums, a theme park (Busch Gardens), an aquarium, and zipline adventures. Beaches are only a short drive away.
No matter what you're looking for – rich history, sun and sand, or delicious food – you'll love Tampa.
➜ Secure Your Spot Now for a BYOB Tiki Water Tour in Tampa, Sign up for a Ybor City Food Tour, or Take a Fun Golf Cart Tour of the City
➜ 30. St. Petersburg and Clearwater
St. Pete and Clearwater are often coupled together as well-known destinations because they're right next to each other on the west coast of Florida. They are located on the Gulf Coast and offer a wealth of recreational opportunities and stunning natural beauty.
St. Petersburg's known for its thriving arts scene and rich history. You'll find a TON of murals and street art there. It's home to a number of museums and galleries, as well as the iconic Salvador Dali Museum. We also loved having drinks at the Don CeSar hotel, famous for its pink color.
Nearby Clearwater is renowned for its pristine beaches, with miles of white sand and crystal-clear waters. Enjoy many outdoor activities, including boating and fishing, or relax and soak up the sun. There's also a vibrant nightlife scene here.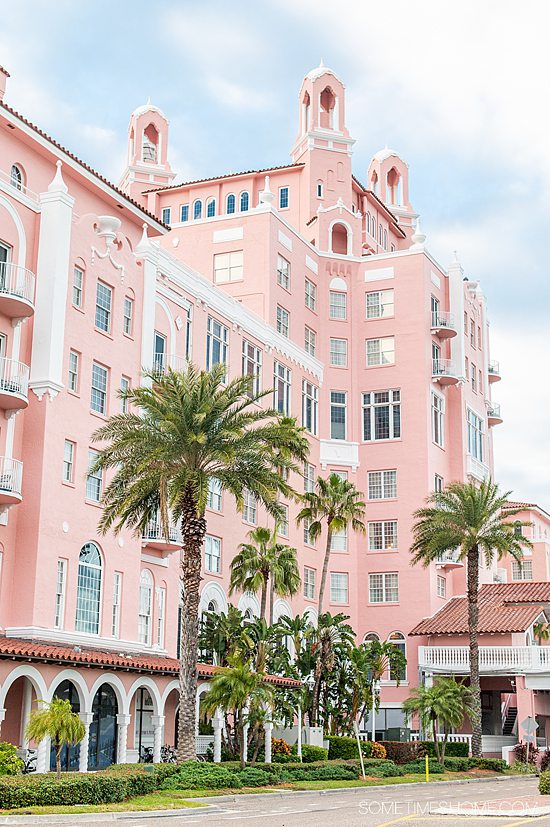 ➜ St. Petersburg Dolphin Tours May Sell Out. Book now.
➜ 31. Fort Myers, Sanibel, and Captiva Island
This beach area is known for its gorgeous emerald green and blue water. A fuss-free destination, people here want to enjoy the sun and sand, and maybe even admire some of the area's famous seashells too.
You can enjoy Sanibel's botanical gardens, take a manatee marine tour, or dine at a waterfront restaurant during your Florida vacation.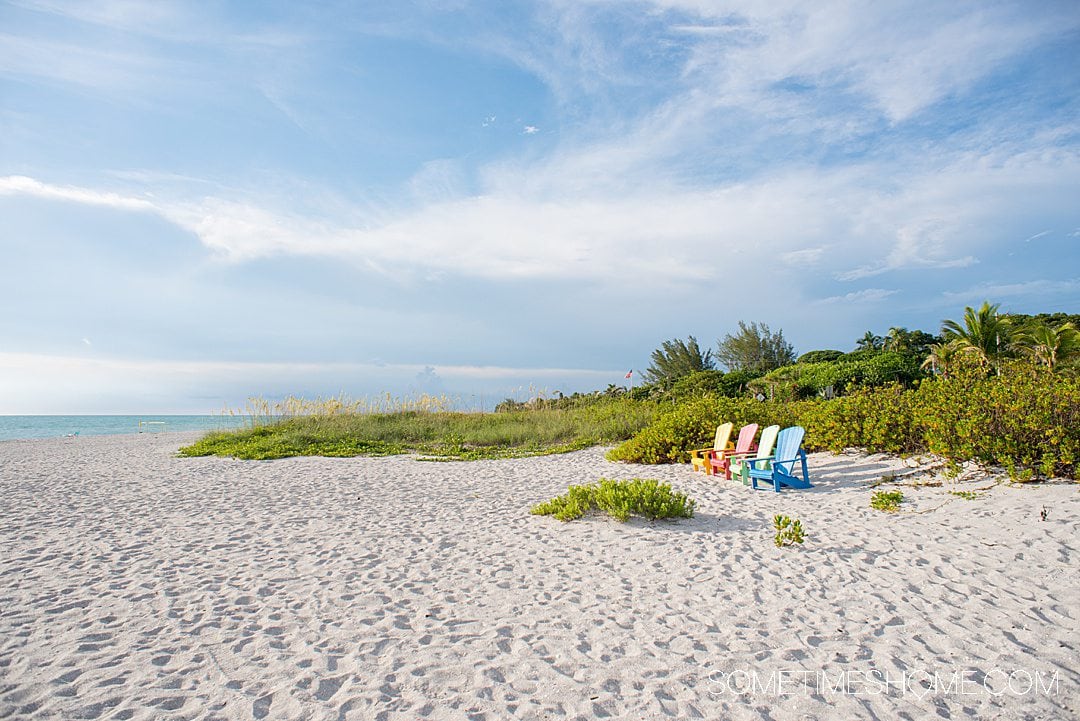 ➜ 32. Naples
This fabulous city is a fun beach destination where you can relax on the sand or eat your way through the city's restaurants. We particularly love Fifth Avenue with its blocks of great eateries and bars, and Tin City for its fun shops and food vendors.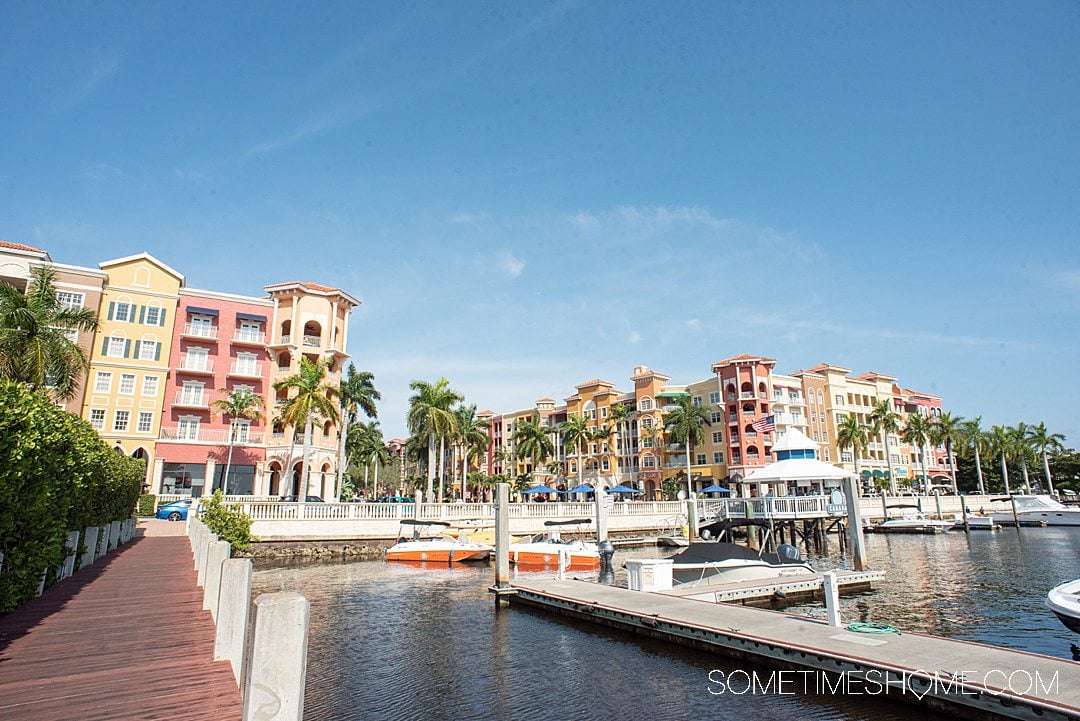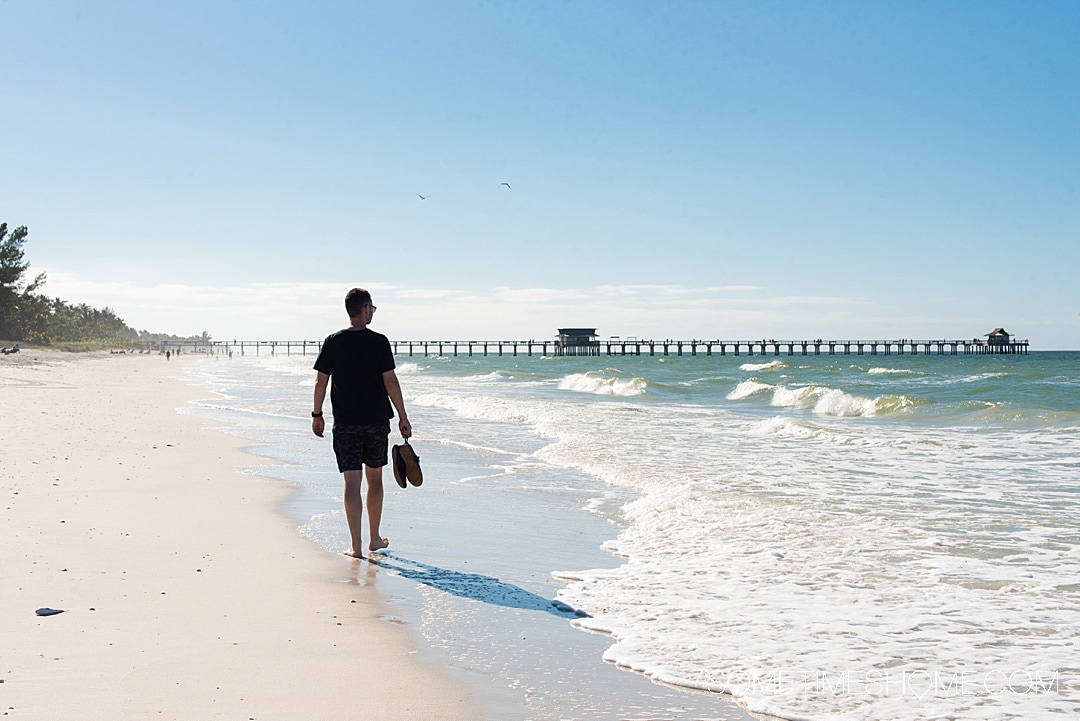 ☀️ 33. Florida Keys and Key West
Drive past Miami and keep heading south if you want to reach the Florida Keys. As you go further and further south on Florida's peninsula, then over the bridge and onto its islands, you'll quickly reach the Florida Keys. Now, you're on Florida's island territory!
The key closest to Miami is Key Biscayne, on Biscayne Bay. The next key you'll hit is Key Largo. This is an awesome destination if you want to go to the Florida Keys but don't want to venture too far from Miami. It's only a two-hour drive south of Miami.
A few days in Key Largo, whether in the middle of the week or over a weekend, is a wonderful weekend trip. If you have more time, continue all the way to Key West, arguably the southernmost point of the United States (details dependent, since the Hawaiian islands are considered further south).
If you go to any Florida key, be sure to get some Key Lime Pie! It was invented there.
➜ This Key West Snorkel Tour is Likely to Sell Out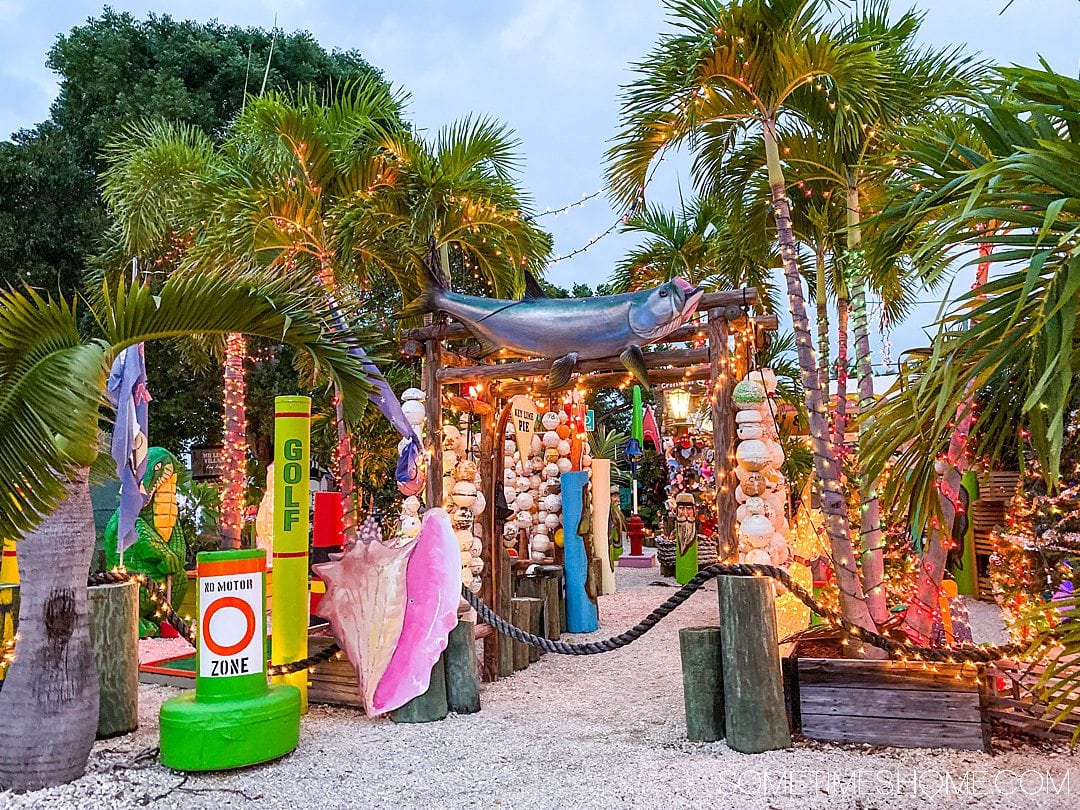 🌴 Florida is Known for Amazing Nature
Alligators, sandy beaches on Miami beach and the Gulf Coast shores of Sarasota, Coral Reefs off the Fort Lauderdale coast, and its lush and plentiful palm trees!
Florida is one of the best places to explore state parks filled with birds, alligators, and reptiles. It's also a great place to explore National Parks, from Dry Tortugas to the Everglades, Biscayne Bay, and more.
✻ Done-For-You Florida National Parks Itinerary ✻
One-week Florida National Park itinerary that covers a full 7-day trip to Florida's 3 National Parks. The itinerary includes five full days of adventure and two adventure/travel days. Each day is outlined, including how long to spend in the location.

Less than $5 digital and less than $10 printed via Amazon, with a 15-page itinerary on seeing Florida's three National Parks and one preserve in one trip.
➜ 34. Animals Florida is Known For
So many interesting critters and creatures, from land to marine and sky. These include:
Florida Panther
Egrets
Iguanas in South Florida
Manatees (like in Crystal River on Florida's West Coast)
Alligators
Crocodiles
☀️ 35. Florida Everglades
This is a unique park not just in North America but worldwide. That's because it's one of the only places where alligators and crocodiles co-habitat.
Everglades National Park extends from near Fort Lauderdale all the way south to Miami.
➜ Reserve Your Everglades National Park Tour Now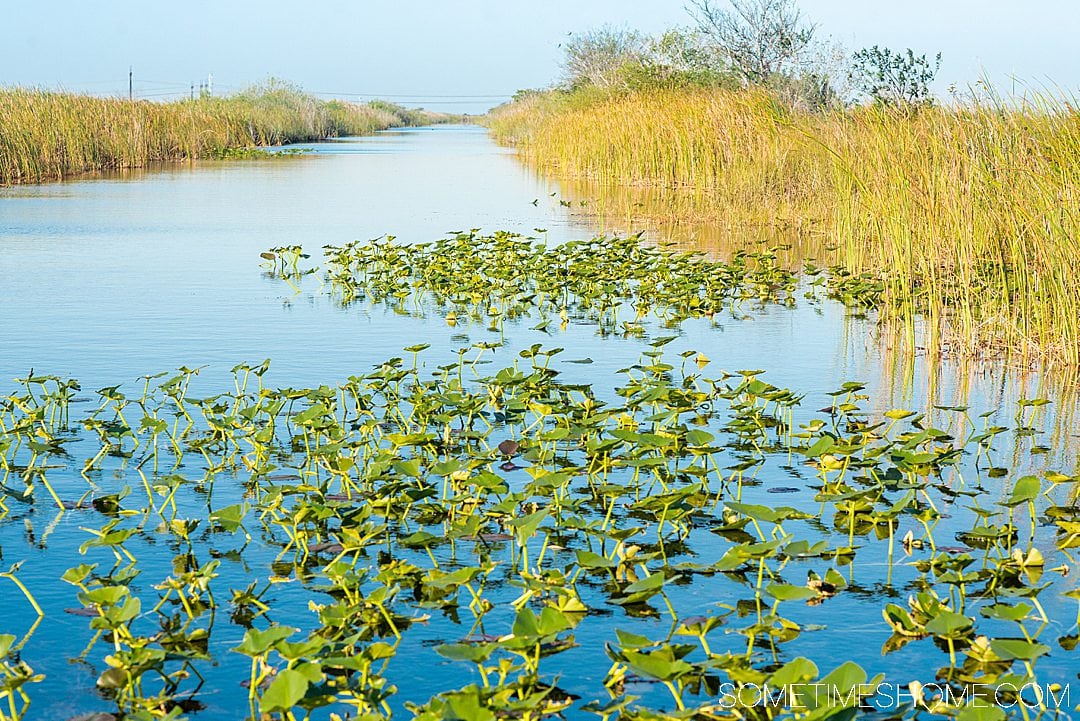 ☀️ 37. Dry Tortugas National Park
Surrounded by turquoise waters on a remote and pristine archipelago of seven islands, Dry Tortugas National Park is a wonder and national treasure. The park is home to Fort Jefferson, which served as a prison during the Civil War; it's a perfect destination for history buffs.
This unique National Park is 70 miles west of Key West and is only accessible by boat or seaplane. But it's worth going to and on the bucket list of many avid National Parks enthusiasts.
Nature and adventure lovers can snorkel and scuba dive in the blue waters of the Florida Keys, birdwatch for various tropical birds on the park's lush islands or pitch a tent on one of the secluded beaches. The park also offers some of the best deep-sea fishing in the region.
With its immaculate natural beauty and cultural heritage, Dry Tortugas National Park is a must-visit for anyone looking to experience the true wilderness of Florida.
☀️ 38. Biscayne Bay National Park
This park is practically steps from Miami. The mangroves, waterways, and underwater adventures that await draw people to this special United States National Park.
There's evidence of an ancient civilization here, the Tequesta people, and modern day Boca Chita Key Lighthouse from the 1930s.
People flock here to snorkel and scuba dive to see coral reefs, turtles and tropical fish. Boating is popular here as well, from motorized boating to kayaking.
🌴 Food Florida is Known For
The state of Florida has a lot of farming! While Florida farms aren't the first thing that comes to mind when you think of things Florida is known for, the farms' products result in foods Florida is known for.
➜ 38. Key Lime Pie
You can't think about Florida without thinking of Key Lime Pie. It's a classic dessert that is deeply ingrained in the culture of Florida. The dish is believed to have originated in Key West; its popularity has spread throughout America and beyond.
Made with tart, juicy Key limes, sweet condensed milk, and a crumbly graham cracker crust, Key Lime Pie is a tangy and sweet must-have treat. It can be found in bakeries, restaurants, and cafes all over the state (especially in the Florida Keys, from Key Largo to Key West), so you'll have no excuse not to try it!
➜ 39. Oranges (Florida Oranges)
Florida oranges are known for their sweet, juicy flavor and bright color. A staple of the state's agricultural industry, Florida oranges are prized worldwide.
The state is one of the largest producers of oranges in the world. Its warm, sunny climate is ideal for growing the fruit.
Some different orange types to try are Temple oranges, tangerines, and tangelos. You can even visit a farm and take unique tours to pick your own citrus.
You'll learn about the history of oranges and their origin, feed some farm animals, pick oranges, and go on a monster truck ride if you go near Orlando (which let's face it, children of all ages – adults included – will Love).
➜ 40. Sugar Cane
Like oranges, sugar cane is a staple crop in the Sunshine State. It has played an important role in Florida's agriculture for centuries. While it can grow throughout the state, it's mostly grown in South Florida near the southern tip of Lake Okeechobee.
Did you know you can drink sugar cane juice freshly squeezed from the stalks? It's refreshingly delicious! (It's actually something we tried while we were in Costa Rica, where they grow sugar cane as well.)
Sugar cane is harvested by hand and processed in local mills to extract the sweet juice, which is then purified and crystallized to create sugar.
While in southern Florida, you should consider enjoying a tour of a sugar cane farm and production facility. You can also visit a sugar cane museum which showcases the significance of this incredible plant.
🌴 Rent a Car to Explore Florida
The best way to travel throughout Florida, a very long and expansive state from north to south and east to west coast-to-coast, is with a car. You can drive your own car to the state or if you're flying in, rent a car.
We recommend Discover Cars for the best prices and options in a user-friendly platform with great customer service.
Don't Postone Renting a Car!
🌴 Best Time to Visit Florida
We love Florida so much that we think the Sunshine State is a great place to visit any month! But jokes aside, the summer heat can be too much to bear for some people.
That's why we recommend considering off-season like during May or October when it's still hot but not brutal.
Winter is peak season in Florida as "snowbirds" travel south from their northern homes to enjoy palm trees, golf courses, and sunny days unavailable to them in their northern cities like New York City, Chicago, or Minneapolis.
Another peak time to avoid is spring break, which is always near Easter and Passover holidays on the calendar. This isn't as much of a time to be aware of unless you're going to popular spring break hotspots, like theme parks in Central Florida, Miami Beach, Fort Lauderdale, or Daytona Beach.
🌴 What to Pack for a Florida Vacation
Florida is warm most of the year, but it's really hot during summer (whose temperatures can last from early June through October) and it can get a little cold in January and February too (by Floridian standards).
Aside from packing layers for the winter and changes of clothes for summer, if you sweat through your outfit by 11:00 am, there are some key items we recommend packing for a tropical vacation:
Shop Our Amazon Store
Our travel and home recommendations from our Amazon Shop, as well as additional helpful ideas for your upcoming Florida trip.
Check it out >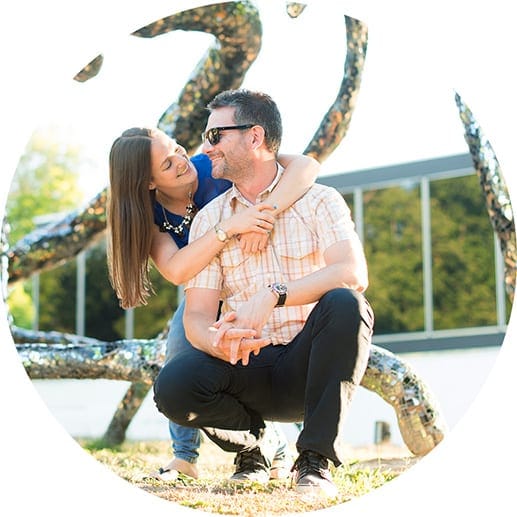 🌴 Conclusion for Things Florida is Known For
Florida is a great place to be to soak up the sun along one of the longest coastlines in the United States, spot interesting wildlife, and (one of the best things to do in the state) walk along the beach or ride thrilling attractions, whether you're in north, south or central Florida.
From the tourist attractions of Orlando to the sweetness of the Florida Keys, it's the perfect place to get away for a weekend, weeks at a time, or even for months.
The Vitamin D you get from all the sunshine will warm your soul and mind, and your trip to Florida will energize you!
Read this next: