Where to Stay in Orlando in 2023: Luxury, Moderate, + More
If you're traveling to Orlando – for work or pleasure – you will surely need to know where to stay in Orlando that best suits your trip needs.
Having lived and worked in Orlando – and also a frequent visitor since moving away – we know the best spots for hotels and home rentals depending on why you're going, which largely dictates the area you'll be staying in.
From Walt Disney World to Universal, to Orlando's vibrant downtown, to Kissimmee, Celebration, and Winter Park and Winter Garden, we have you covered! We even suggest places to stay near the airport for your convenience.
Disclosure: There are affiliate links in this post, which means we may earn a small commission if you click the link and proceed with a purchase, at no cost to you. We truly only recommend hotels, products and services we personally use.
Where to Stay in Orlando in 2022
1. Where to Stay in Orlando: Lake Buena Vista (Home to Walt Disney World)
The #1 attraction in the Orlando area is Walt Disney World. From its four theme parks to Disney Springs, its water parks, convention centers, and BoardWalk, there's truly a form of entertainment for everyone at WDW.
It's very popular to stay at any of the on-property resorts, including Disney's BoardWalk Inn, Grand Floridian, and Polynesian, to name a few. The monorail resorts are the priciest and have easy access to the classic transportation system at Disney World.
There are also great hotels that are accessible from transportation like Disney's Skyliner, including Disney's Pop Century (value resort), and Disney's Yacht and Beach Club resorts.
We want to share, however, our favorite resort at Walt Disney World: The Swan Reserve. You cannot beat the location and you get all the perks of a Disney property hotel, but get the perks of a Marriott Bonvoy membership (our favorite).
If you want to stay at Walt Disney World but want some more hotel chain options, then Hotel Plaza Boulevard (and the streets nearby) is where you want to stay. It's right next to Disney Springs, on WDW property.
Alternatively, there are a lot of home rentals very, very close to Disney property. They even tote how close they are in their title sometimes, such as, "House 6 minutes from Disney!"
Where to STAY IN Lake Buena Vista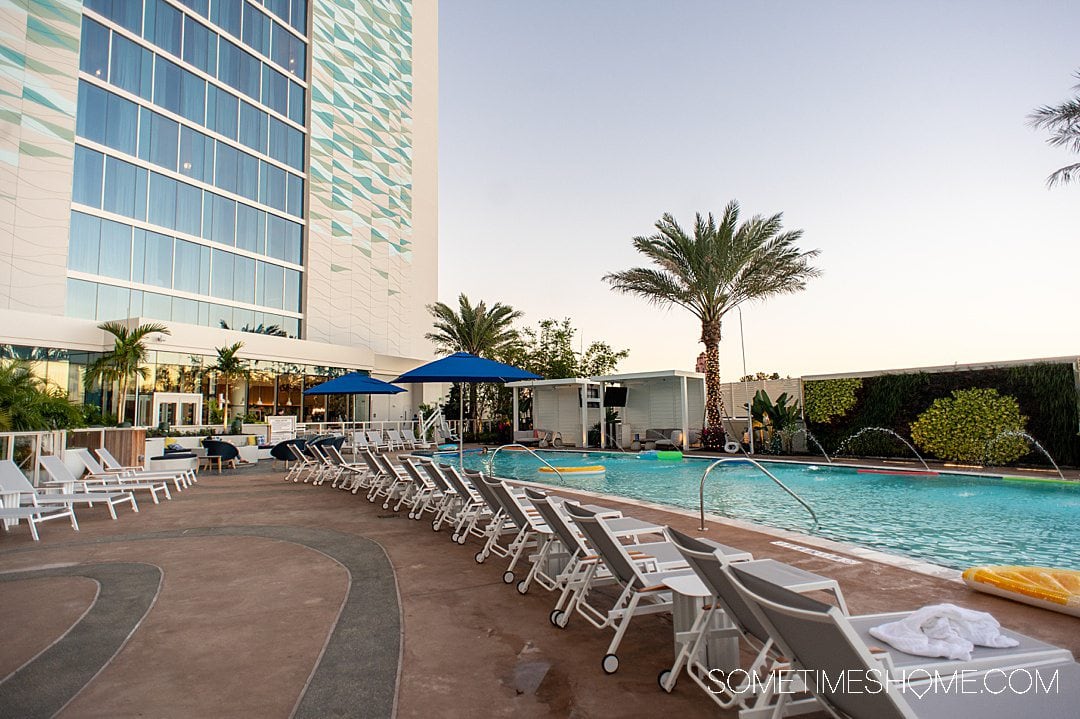 2. Where to Stay in Orlando: Kissimmee, Florida
The name may be humourous but the location is great within Central Florida. It's close to Walt Disney World, not far from Universal and Sea World, and there are a lot of outdoor and indoor activities you'll discover when you experience Kissimmee.
One of the coolest things is its Old Town, where you can attend a weekly Saturday Classic Car starting at 1:00pm. The show has been going on for 30 years! If cars aren't your thing, check out the Great Magic Hall for a magic show or classes. (Who doesn't love magic?)
For those wanting rental homes close to Disney, this is an ideal location. Marriott Homes and Villas has a lot of properties to choose from. Additionally, we love the Gaylord Palms Resort, which has an incredible indoor atrium (with a fun Southern-themed restaurant inside) and an awesome waterpark on the property.
Where to stay in Kissimmee
3. Where to Stay in Orlando: Universal
Hotels on Universal Property
Staying on Universal Property will give you the best access to the parks. Universal Studios and Islands of Adventure are their two main properties (where the Wizarding World of Harry Potter is). Universal CityWalk is a really fun "downtown" type of area that has a ton of restaurants and shops to enjoy at all times of the day.
We loved staying at Portofino Bay Hotel, modeled after the town of the same name in Italy. We had great pizza there at the end of the day after going to the Universal parks. We've also stayed at Cabana Bay, which has a little lower price point. If you're lucky, you can get a room overlooking Volcano Bay, Universal's waterpark.
Where to stay AT UNIVERSAL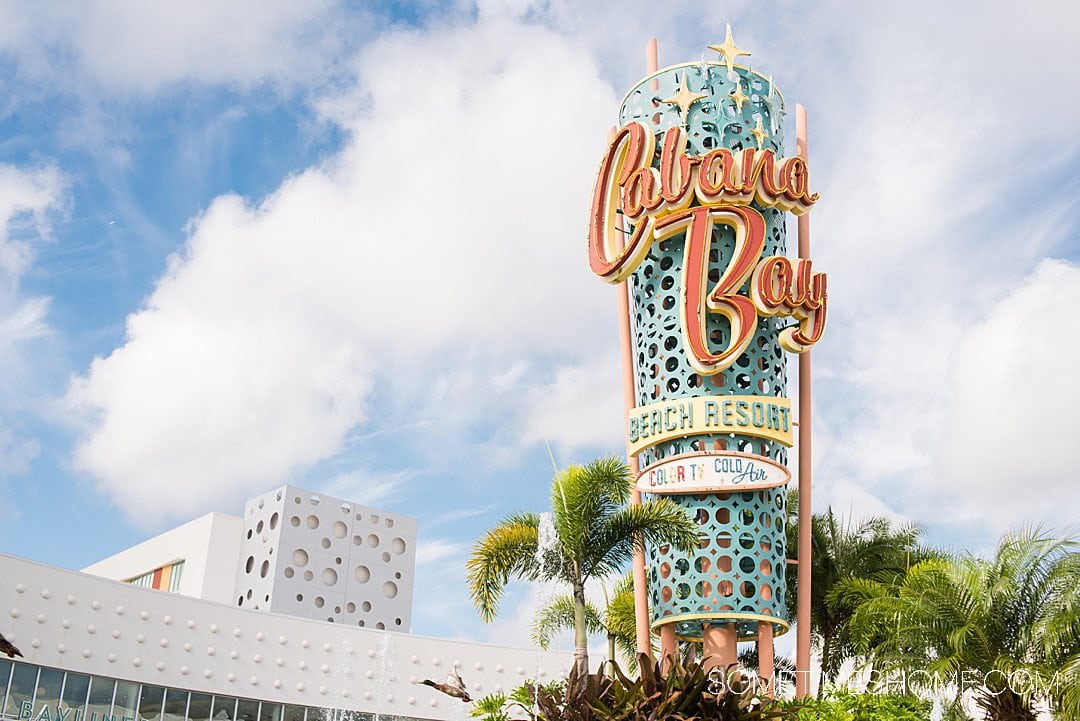 4. Where to Stay in Orlando: Near Universal Property
There are a few hotels near Universal, though not on-property, that are worth exploring. They are within 10 minutes of driving time, depending on the time of day and traffic.
Some Universal area hotels are off of International Drive (or I-Drive as locals call it) and are in a great location for things like ICON Park, with Orlando's famous Ferris wheel and attractions like the Museum of Illusions.
For instance, the Ritz-Carlton Grand Lakes is a wonderful option with an awesome pool and luxurious rooms. They have several restaurants and bars on their property that are great for dining with your family or a business meeting morning, afternoon, or night. There is also an on-property spa.
Where to Stay Near Universal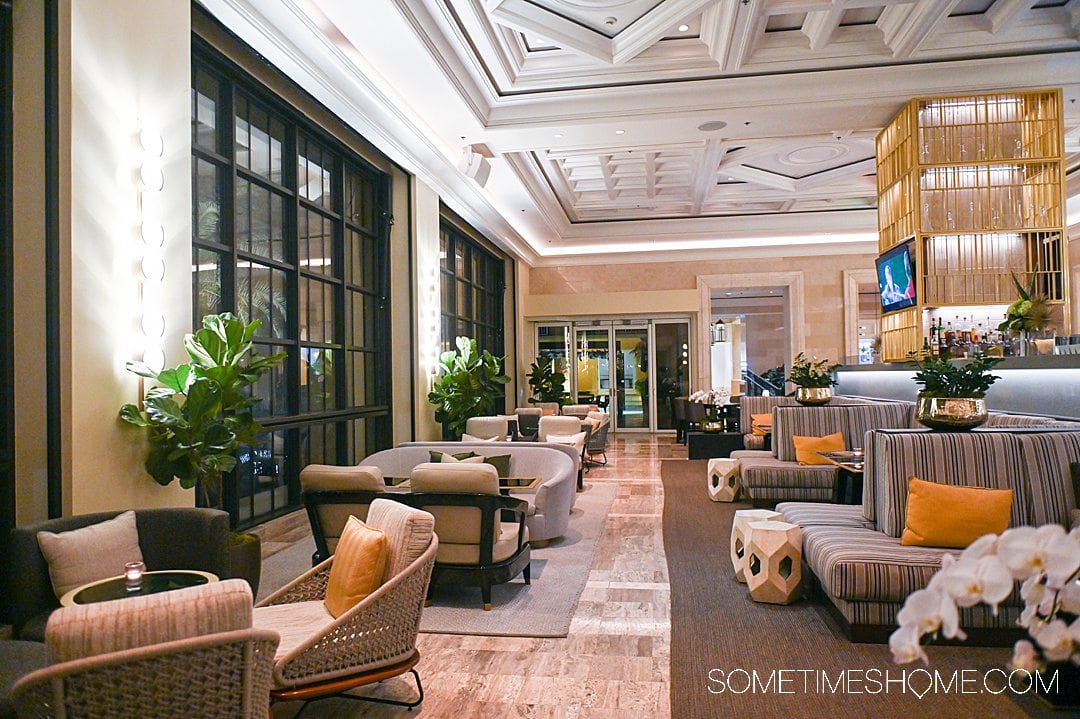 5. Where to Stay in Orlando: Celebration, Florida
Celebration is a lovely little town. Dubbed the "Town that Disney Built" back when it was developed in 1996, it's a town filled with gorgeous homes and landscaping and a cute little town center.
You'll find restaurants there, a weekend farmer's market, and trails for walks or runs. It's a great place to visit as vacationing adults in Orlando, or as a vacationing family.
If you want to stay in a suburban neighborhood with white picket fences that is truly a slice of Americana, stay here. Be sure to send a letter to friends and family from their post office, so the stamp says, "Celebration, Florida"!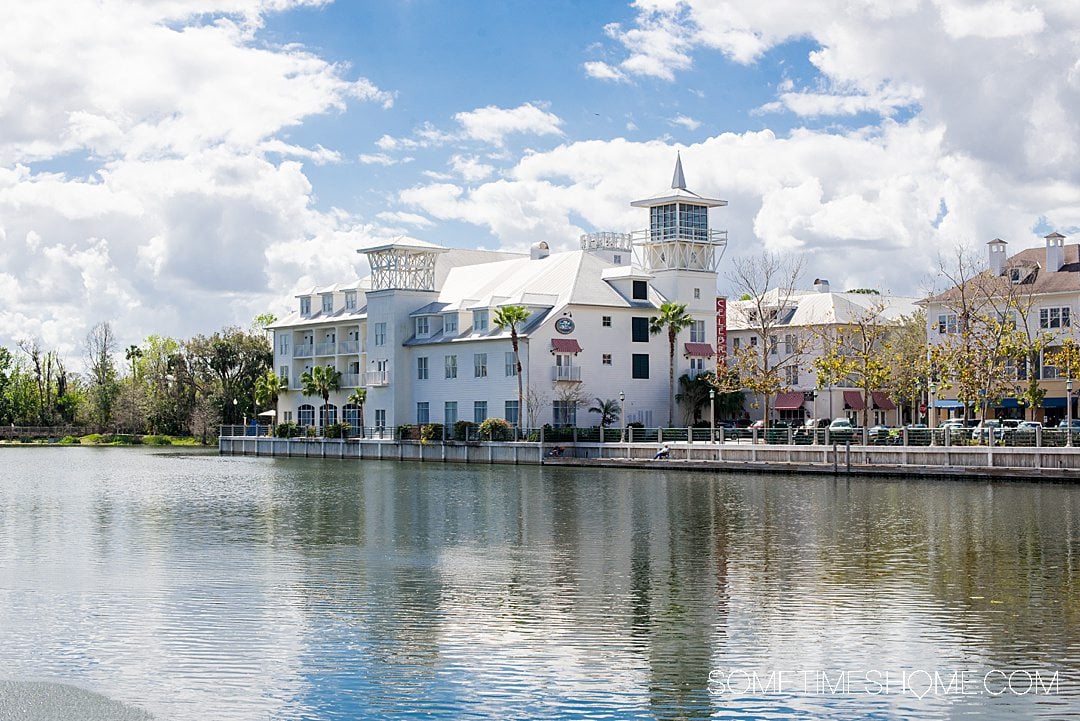 The number one hotel recommendation here is the Bohemian Hotel Celebration, part of Marriott's Autograph Collection of hotels.
It's a boutique hotel that is in the heart of downtown Celebration, where they regularly have events (like "snow" falling during the holidays), and you'll get a "small town" feel just minutes from Disney World.
Please note that when you search for Celebration, FL hotels, a few hotels come up that are near Celebration but not truly inside the Celebration "gates," so to speak. The hotels we suggest below are inside the area that is truly Celebration.
where to Stay in Celebration
6. Where to Stay in Orlando: Lake Nona, Florida
Lake Nona has really exploded in the past decade. It's an area in southeast Orlando, just by the Orlando International Airport.
This is an ideal location if you're heading from Orlando to points east during your trip, like to Port Canaveral for a Disney Cruise or to Kennedy Space Center.
It's also a wonderful area if you want access to a beautiful planned shopping and restaurant area. The planned urban community of Lake Nona has a vibrant area at its epicenter, called Lake Nona Town Center. for visitors and residents to enjoy.
where to stay in Lake Nona
7. Where to Stay in Orlando: LEGOLAND in Winter Haven, Florida
Legoland is very popular with young kids. Though we don't recommend it for an adults-only trip (unless you're VERY into Lego and the Lego Store at Disney Springs isn't enough to satisfy your Lego-hunger!) it's great for a family destination.
We suggest staying near Legoland if you're going to Legoland park because it's a nice area away from the craze of Orlando and it's a one-hour drive from the Magic Kingdom, for example.
where to stay in Winter Haven
8. Where to Stay in Orlando: Downtown Orlando
Visitors to Orlando often don't realize that when you refer to the city of Orlando, there's a whole huge downtown area. Disney World is technically not even in Orlando – it's Lake Buena Vista. But there is so much to do downtown, from cool restaurants and bars to breweries, theaters, art galleries, concert venues, and more.
Where to Stay in the Heart of Downtown Orlando (Business District – sometimes called "SoDo" Orlando)
If you're a city person who wants to stay near clubs, bars and restaurants (but also near the business district of Orlando), then consider Downtown Orlando. This is also close to the Dr. Philips Center for the Performing Arts and Amway Arena, where the Orlando Magic play.
where to stay in South Downtown Orlando
9. Where to Stay in Orlando: Downtown, Near Lake Eola
Another one of our favorite places to stay outside of the Walt Disney World area is downtown Orlando, near Lake Eola, just west of the Milk District. It's also close to where Little Vietnam is (which means a lot of amazing Asian food options, from pho soup to bubble teas, mochi donuts, and more).
This is also close to Orlando Executive Airport, which is not to be confused with the major international airport in Orlando, MCO. The Orlando Executive Airport is a small airport that does flights like private/charter flights.
The downtown Orlando area by Lake Eola is also close to where the concert venue "Plaza Live" is and where Lew Gardens is.
where to stay in Northern Downtown Orlando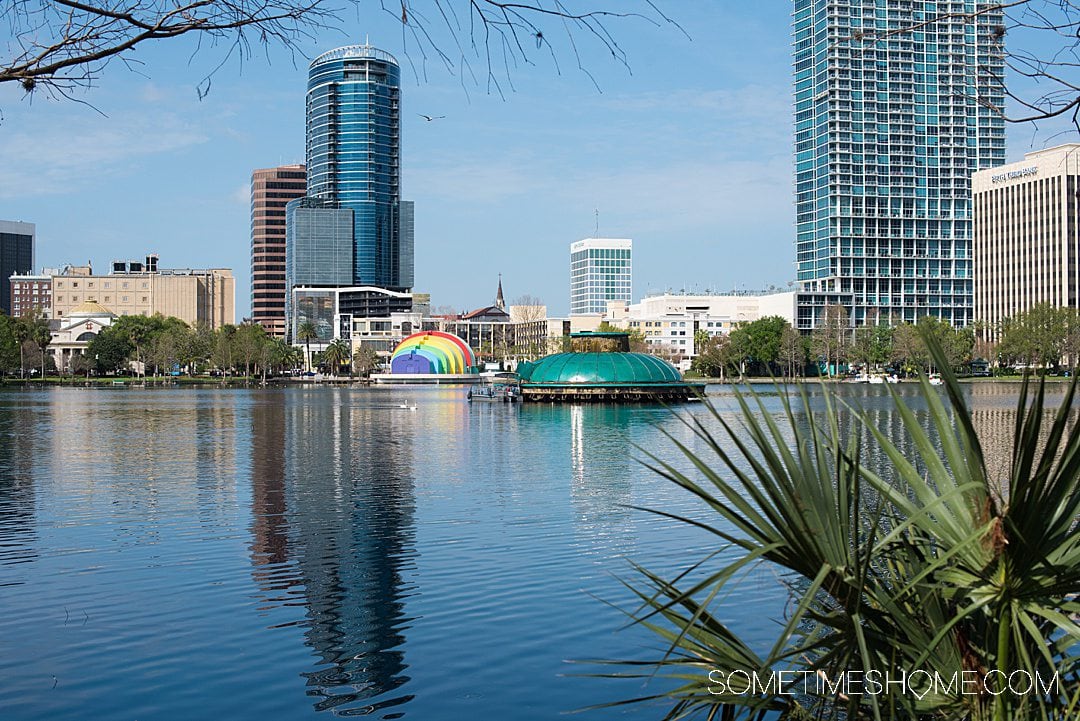 10. Where to Stay in Orlando: Winter Park, Florida
We love going to Winter Park to walk along Park Avenue. If you arrive in the Orlando area via Amtrak, it stops in Winter Park, Florida, right off Park Avenue.
Rollins College is in Winter Park, and you can venture out to Kraft Azalea Gardens, Rollins Museum of Art, Albin Polasek Museum & Sculpture Gardens, or Mead Botanical Garden.
You can even do a scenic boat tour of Lake Osceola in Winter Garden.
Maitland is a very popular city that neighbors Winter Park.
where to Stay in Winter Park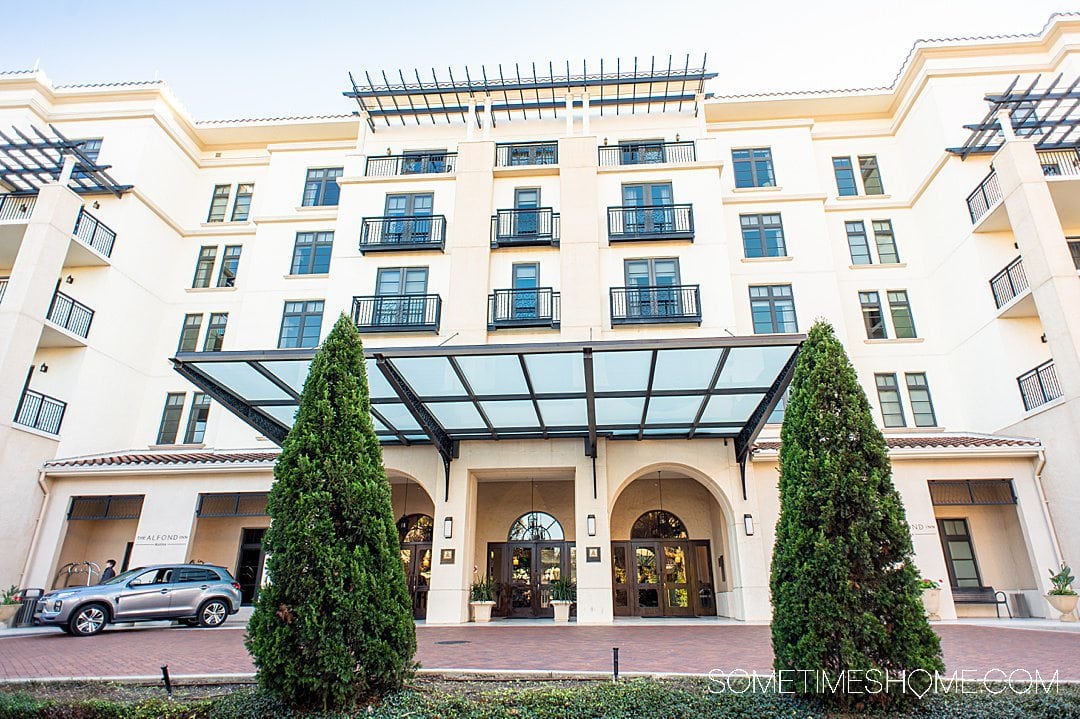 11. Where to Stay in Orlando: Winter Garden, Florida
We love meeting friends in Winter Garden, and we've even looked into moving there recently. Their downtown area is historic and fun, and they have a lot of seasonal events throughout the year (including a great farmers market).
Don't miss the Central Florida Railroad Museum there and the pizza and beer at Plant St. Market!
Where TO STAY IN WINTER Garden
12. Where to Stay Next to Orlando International Airport (MCO)
Lastly, if you want to stay near the airport – perhaps because you have an early flight or arrived later on your first day in Orlando and don't see having the energy to go to further-flung places in Orlando until the next day, we have suggestions for you.
Staying right by the airport may not be that sexy, but you do have the coolness factor of watching planes take off and land, which is always an amazing feat of science, is it not?
where TO STAY Near MCO Airport
Where to Stay in Orlando Summary
Orlando is a fantastic city, and it's a much larger metropolitan area than most people realize. We hope that we've covered all areas in Orlando though, so no matter where you're staying in this Central Florida city, you'll have great options.
Going to Florida? Read this next: