Best Restaurants in Rock Hill and Fort Mill, SC
We packed the car and got ready for a late morning drive to reach an area just past Charlotte, North Carolina. We crossed the border into South Carolina, on our way to eat our way through York County, via Fort Mill and Rock Hill restaurants. It was two and a half days of delicious food, fun and relaxation.
Overview of our tasteful weekend and the York Co., Fort Mill and Rock Hill restaurants we visited
Friday
Afternoon snack at Legal Remedy Brewing Co.
Dinner at Kounter
After Dinner Drinks at 354 SkyBar
Saturday
Breakfast at Amelie's
Lunch at Pump House
Pick me up (caffeine!) at Olive's Mud Puddle and a stop at Puckerbutt hot sauce company
Pre-dinner rooftop drinks and appetizer at Spice Asian Kitchen
Dinner at Napa at Kingsley
After dinner drinks at Corkscrew
Sunday
Brunch at Fish Market
Snack at Cupcrazed Cakery
Rock Hill Restaurants
Legal Remedy Brewing Co.
We started our weekend in York County the best way we know how: with ice cold beer on a hot day, and one of my personal favorite guilty-pleasure foods: fried pickles! (Dan partakes, but I devour them!)
One of the greatest things about the area of Rock Hill that we were staying in, at the Cambria hotel, was how walkable the area was. This meant we parked our car at the hotel when we checked in and walked to our destinations that Friday night. Legal Remedy Brewing Co. was the first destination!
Their brewpub is housed in an old car dealership that they converted into a craft brewery and restaurant. "Justice is served," here as their their website states. We can only guess they mean one pour at a time!
Legal references are warranted here because the company was started by five men, one of which is a lawyer. The other players that round out the founding team include two bankers, a computer guy, and a landscape architect. (Fun fact: my degree is in landscape architecture! So I couldn't help but love learning this.)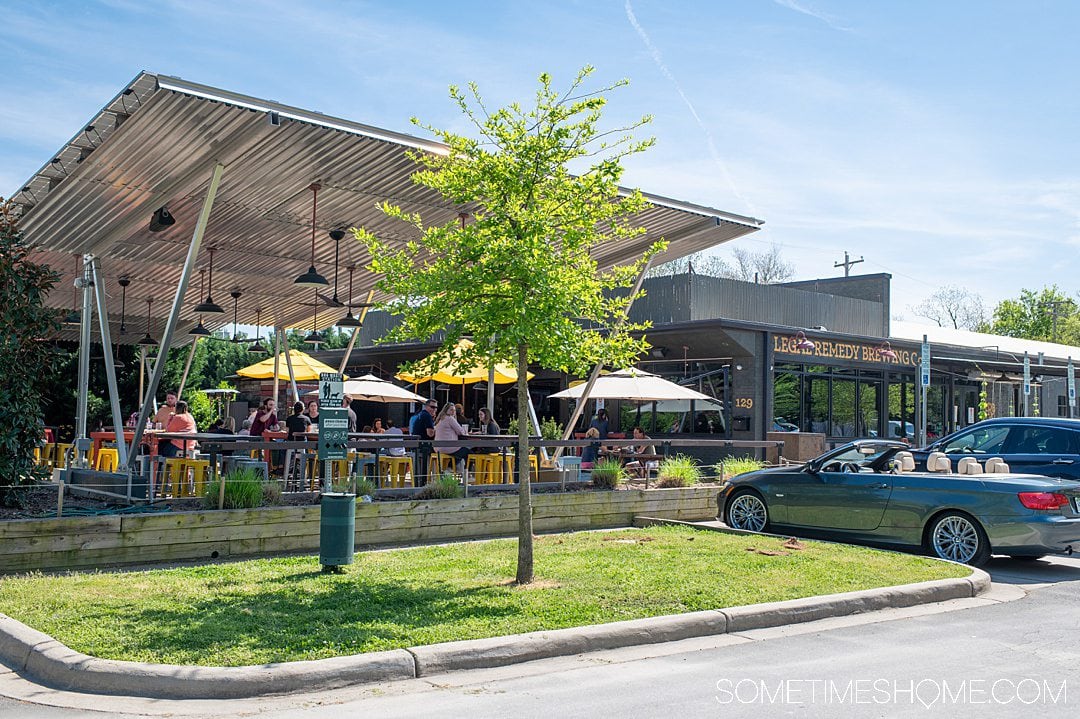 Beer and Food at Legal Remedy Brewing Co.
One of the things we enjoyed learning while we were there was that they create a Pink Boots Brew: a citrusy pale ale with a cause. This beer is crafted with a Pink Boots Society hops blend, an organization that supports females in the fermentable beverage industry. Each pint of Pink Boots Brew sold means another donation to the organization.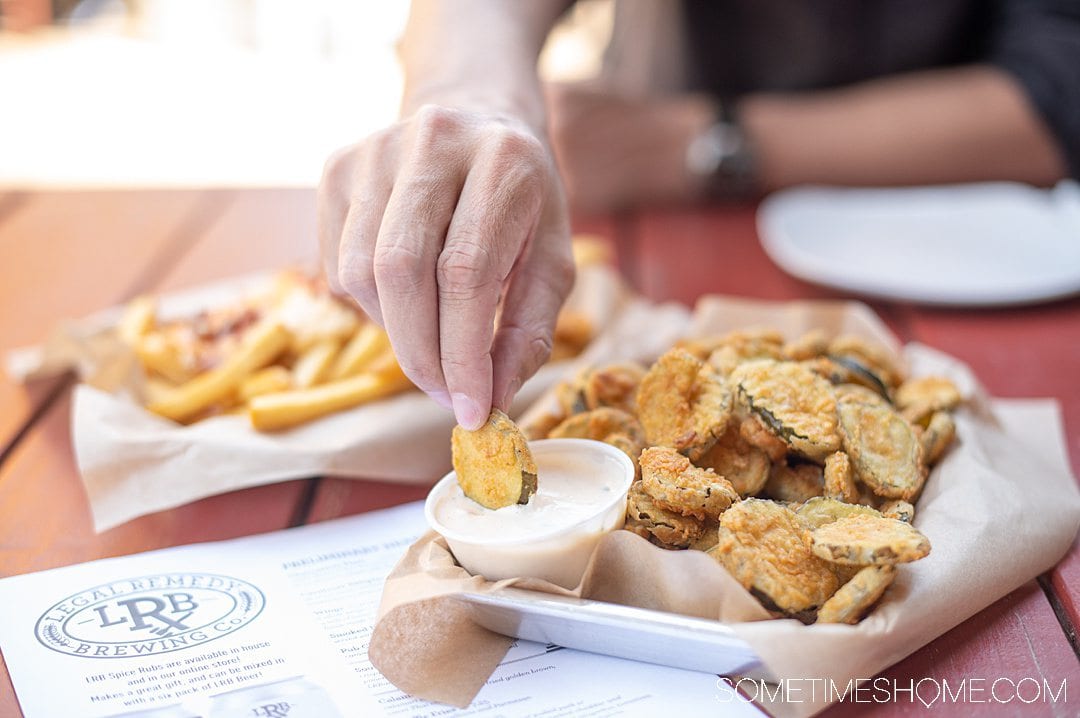 They have 24 beers on tap so there's something for every type of beer drinks. For me, it's blondes and stouts, for Dan it's IPAs all the way. Naturally, I got a flight to taste four beers, and Dan committed to an IPA pint straight away. (We're so like ourselves.)
Their menu is truly that of a good restaurant, not just a "pub." They serve everything from wings, to smoked fish dip, to meatloaf, shrimp 'n grits, to a steak salad, pulled pork sandwich, and much more.
Rock Hill's Legal Remedy Brewing Co. is part of York County's beer trail, or as they call it, the YoCo Brew Trail. #yocobrewtrail
Legal Remedy Brewing Co. is closed Monday and Tuesdays.
Address: 129 Oakland Avenue, Rock Hill, SC 29730
Dinner at Kounter
Dinner that evening was at Rock Hill's most talked about new downtown restaurant: Kounter. We happily walked from our hotel to the restaurant for our evening reservation.
History of the Restaurant Space that is Now "Kounter," in Rock Hill, SC
This restaurant's new name revealed itself to its owner, Chef Rob Masone, after he met with one of the "Friendship 9," David Williamson, following his purchase of the space.
The former restaurant was named McCrory's Five & Dime. It became a historic landmark when ten black men sat at the lunch counter in 1961, and were denied service. It was an unfortunate time in history, when segregation denied them the right to eat in a "white" establishment. Their sit-in was a peaceful protest against segregation.
When they were arrested, nine of the ten men refused to pay bail. This was a purposeful decision to communicate a message of social injustice in the 60s and standing up for what was fair and just. Their "Jail, no Bail" tactic garnered the attention of people across the Southeast. These men became known as the Friendship 9, because they were freshmen at Rock Hill's Friendship College at the time.
Reformation and New Life at Kounter
Chef Rob uncovered the old restaurant's countertop when he began renovations. A pink Formica counter, complete with coffee stains and screw holes from McCrory's, was revealed. It spoke to him, nearly asking to be restored. For history to be honored and remembered.
Driving this point home, was a meeting between Chef Rob and David Williamson, one of the Friendship 9. He noticed that Williamson kept rubbing his hand on the counter.
Rob told us, "That is when my restaurant concept changed." He knew he had to honor the history of the counter and the Friendship 9. Hence, the name, Kounter.
Now, even the restored bar stools remain at the counter. A place where people of all races are welcomed.
Freedom Walkway, Next to Kounter
Just next to the building, in a cut-through between Main Street and the Caldwell Street parking lot behind it, is a meaningful art installation.
Leave time to stop here before or after your reservation to learn more about the project, the Friendship 9 and Civil Rights Movement in the area. And check out the racial equality mural on Caldwell Street, on the road, too.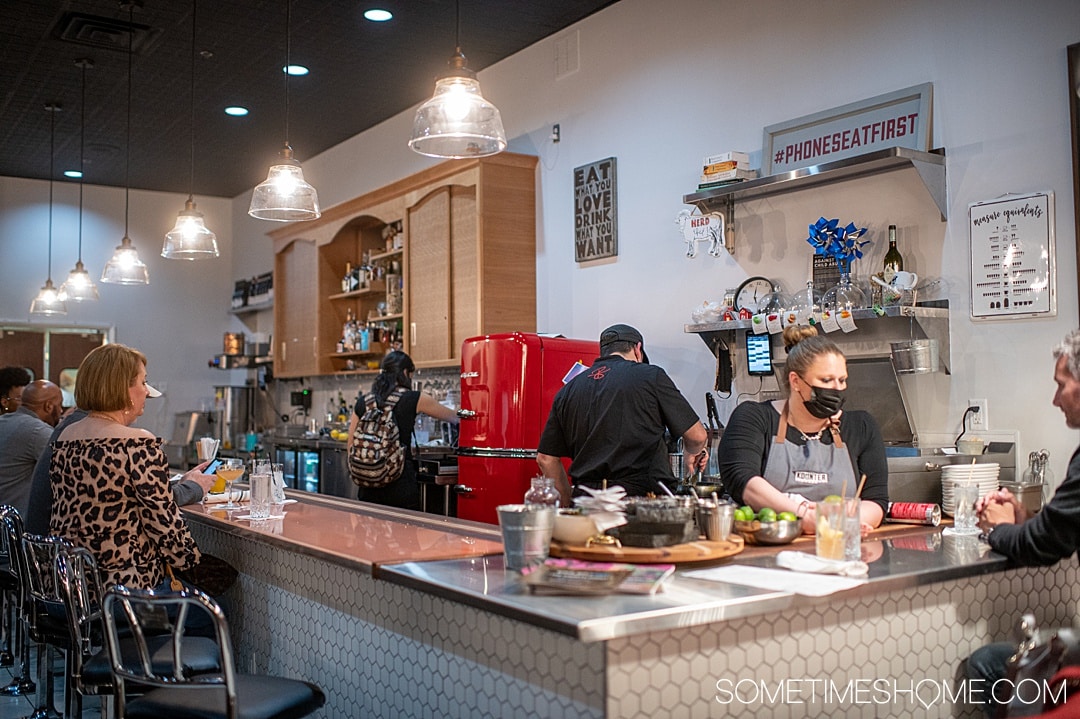 Dinner at Kounter
Chef Rob honors the counter at his downtown Rock Hill restaurant in its design and name, but otherwise, it's very much a destination in the 21st century. He loves to be part of the front-of-house, while still very much overseeing entrenched in the creation of each appetizer.
We had the best seat in the house: two bar stools at the end of the counter, closest to the front of the restaurant. From here, you can watch Chef Rob masterfully craft appetizers and desserts, like a culinary magician.
We started with drinks: an Old Fashioned for Dan and a well-balanced mixed drink for me with a hint of fruit served with a gummy strawberry and an eco-friendly hay straw. (I'm a sucker for both gummies and an eco-friendly touch.) We appreciated the conscious decision for them not to use plastic straws. (Save the earth in simple ways!)
Our favorite dishes ended up being a raw tuna appetizer and the scallops dish they are known for.
The Smoking Tuna Poke appetizer is a dish that delivers theater and taste. Chef Rob places a glass dome on top of a fresh salad of Napa cabbage, sweety pearl peppers, and yellowfin tuna that's lightly tossed with a ponzu sauce and a hint of wasabi aioli. Then he connects a tube to the glass dome and infuses the dish with orange wood smoke.
Once delivered to the table, and when everyone is ready with their cell phones in hand to record the drama, the dome is removed. The delectable aroma of the smoked wood fills the table and what's left is an attractive salad to devour. It's light, fresh and the perfect starter.
We tried the Baked Feta appetizer as well, but admit it wasn't a favorite like the tuna appetizer was. The presentation was beautiful though.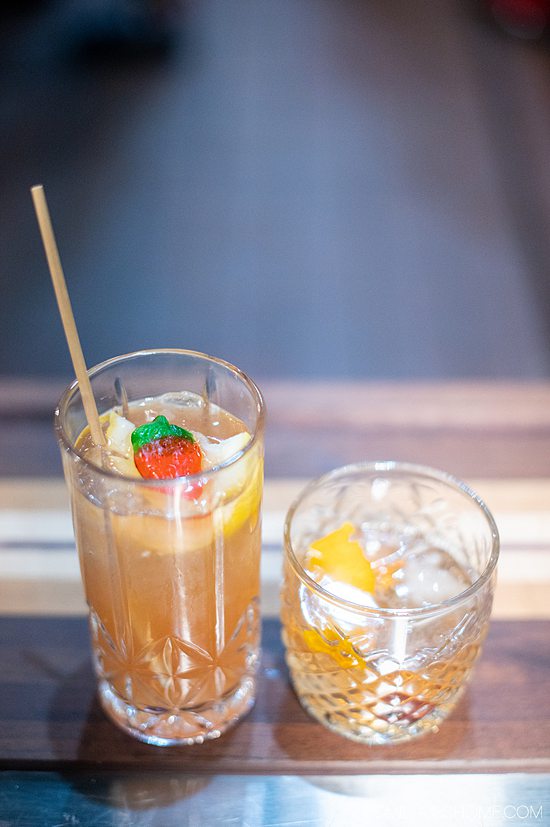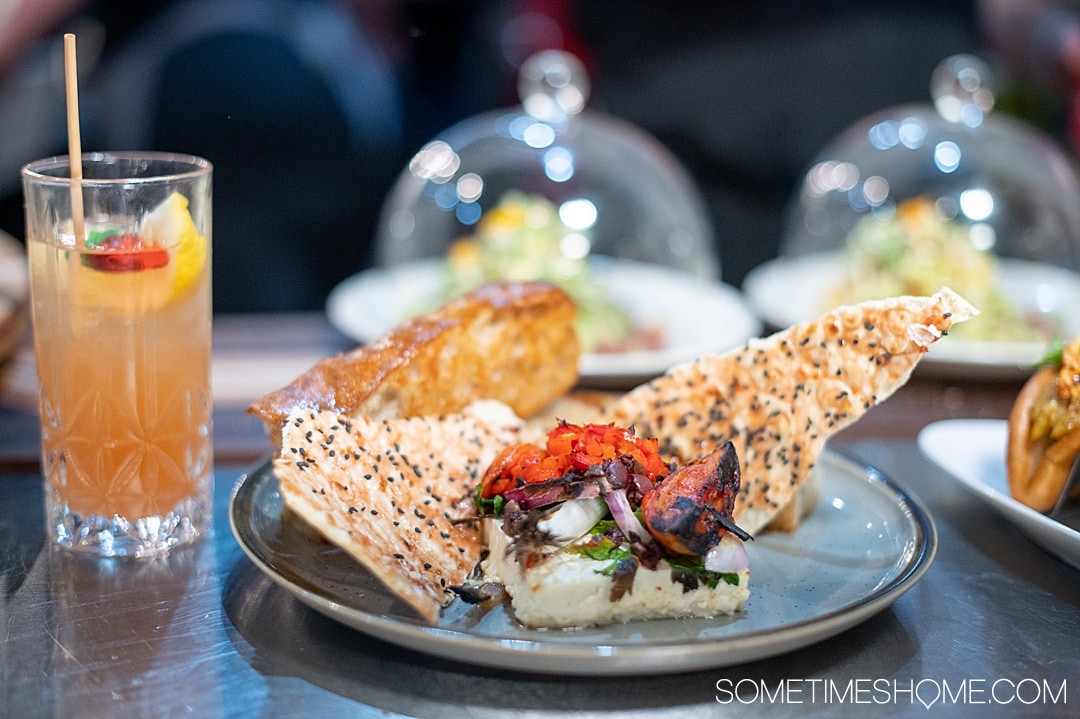 The three large scallops were sliced in half, horizontally, and candied bacon jam was placed inside. Each scallop was then placed on a pimento-cheese-topped cheddar grit "crouton." The final topper was a dollop of toasted tomato and basil vinaigrette. It was delicious.
We tried the "Whipped Key Lime" dessert from their Something Sweet menu. We watched Chef Rob spin over towards his lime and sugar station throughout the evening, where he brûlées sugar on top of a lime.
This infuses the melted sugar with just enough flavor to complement the Key Lime Pie dessert. He sprinkles graham cracker pieces on top as the finishing touch, as Salt Bae would add a final touch before presenting a dish to diners.
Be sure to make reservations for lunch or dinner during the week or weekend, or Sunday brunch. They're closed Mondays.
Address: 135 E. Main Street, Rock Hill, SC 29730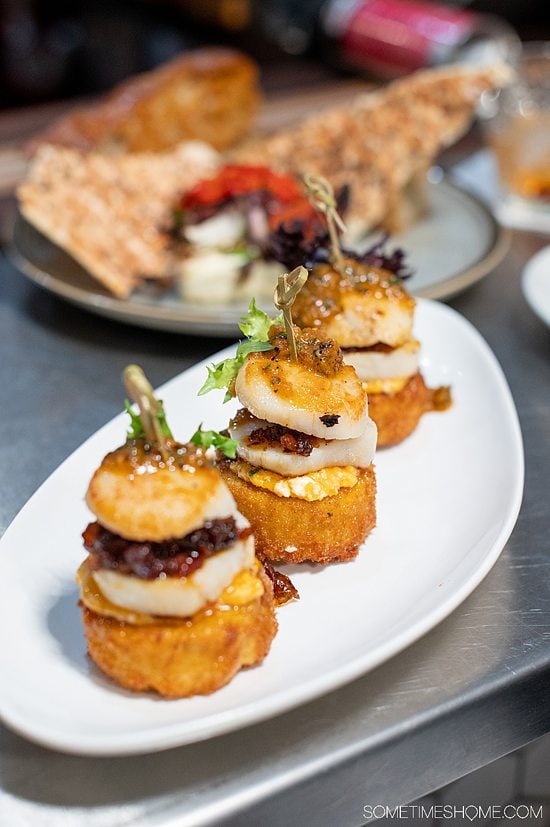 354 SkyBar, Rooftop Bar
Not wanting the evening to end, we walked back to our hotel from Kounter and headed upstairs to the Cambria hotel's rooftop SkyBar. (We admit we went twice that day, it was so lovely!) They have a full menu of mixed drinks, beer and wine. I had a type of Bees Knees drink with gin and Dan got a local beer.
The area is fairly open to the elements and at the mercy of the weather in half of the rooftop, so dress accordingly. There is an electric firepit though to cozy up to if it's chilly, which was great to sit near as we finished our drinks and discussed our perfect Friday in York County.
They are open daily from 5:00pm to 11:00pm.
Address: Cambria Hotel Rock Hill, 354 Technology Way, Rock Hill, SC 29730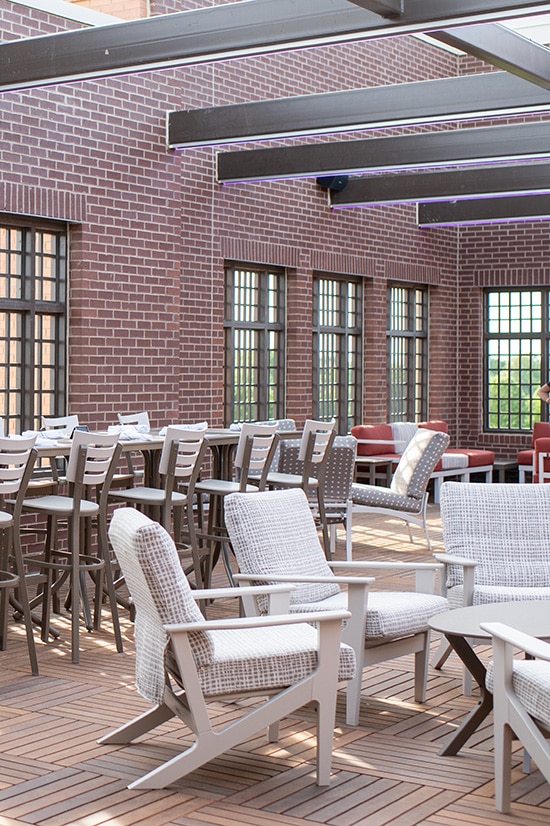 Pump House
If it's a nice day, we can't recommend a stop at the Pump House enough. This waterside, four-story restaurant butts up against the Catawba River and has indoor and outdoor seating. If there is a wait for an outside table, we recommend waiting for one if it's still daytime outside and the sun is shining. We recommend making a reservation in advance if you can, sitting outside (which is under an awning for sun-shielding, thankfully) and keep an eye out for the kayakers passing by.
We ordered the tomato bisque to start, which they generously split for sharing. It was delicious and a favorite of the weekend! For entrees, we enjoyed a Caesar salad and an ahi tuna dish on top of a bed of risotto.
This former Catawba River pump house, as the name implies, is part of the Riverwalk shopping area, which is quite lovely to walk around. We were there during spring and loved admiring the newly sprouted leaves on trees and budding petals on flowers in the landscaping.
Pump House is closed on Mondays.
Address: 575 Herrons Ferry Rd, Rock Hill 29730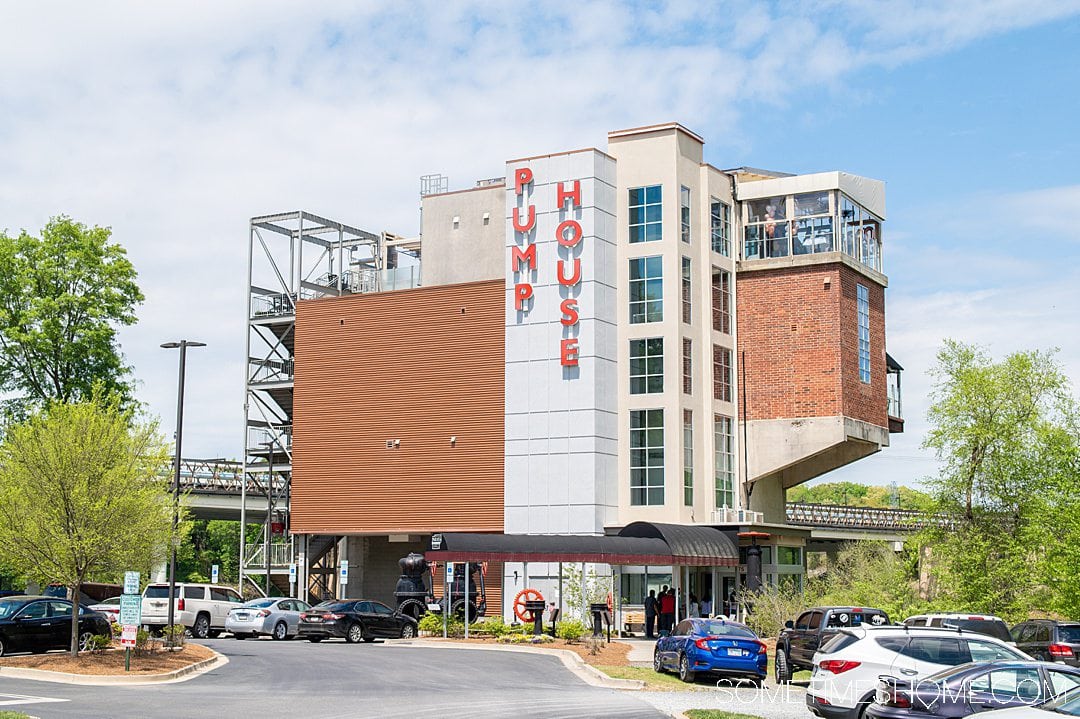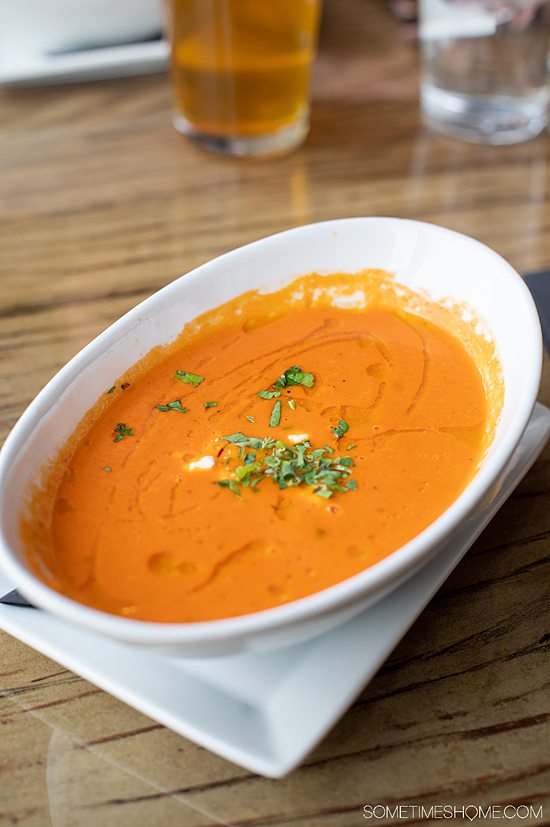 Leave time to walk around Riverwalk afterward and work off some calories. We were glad we did; it's a beautiful area.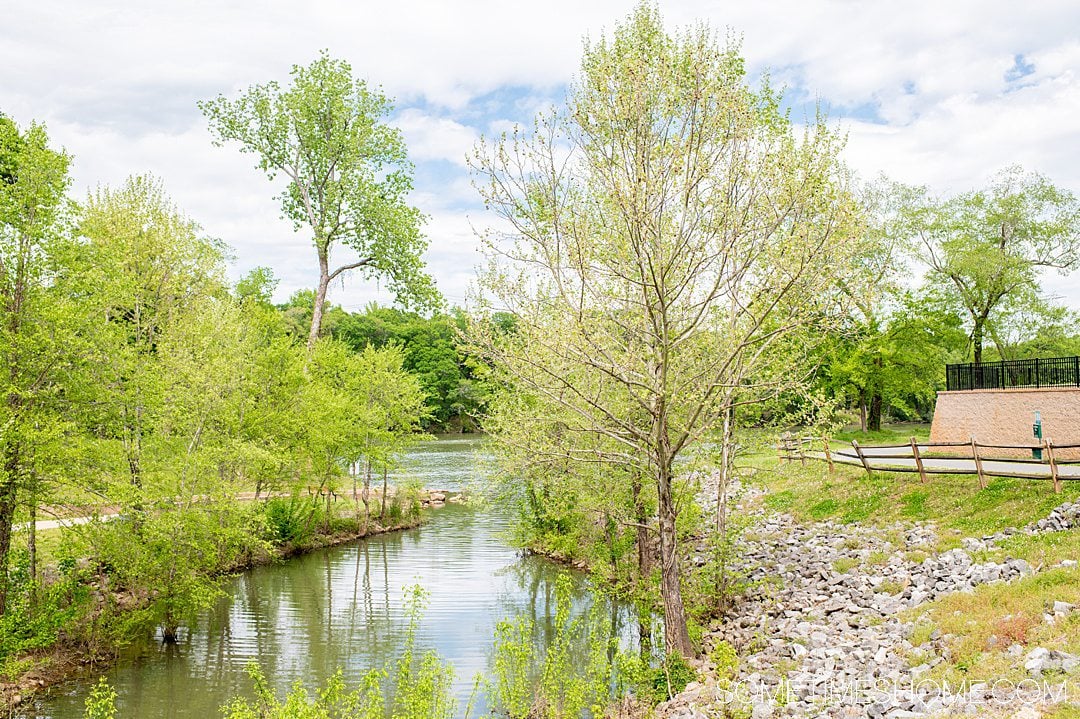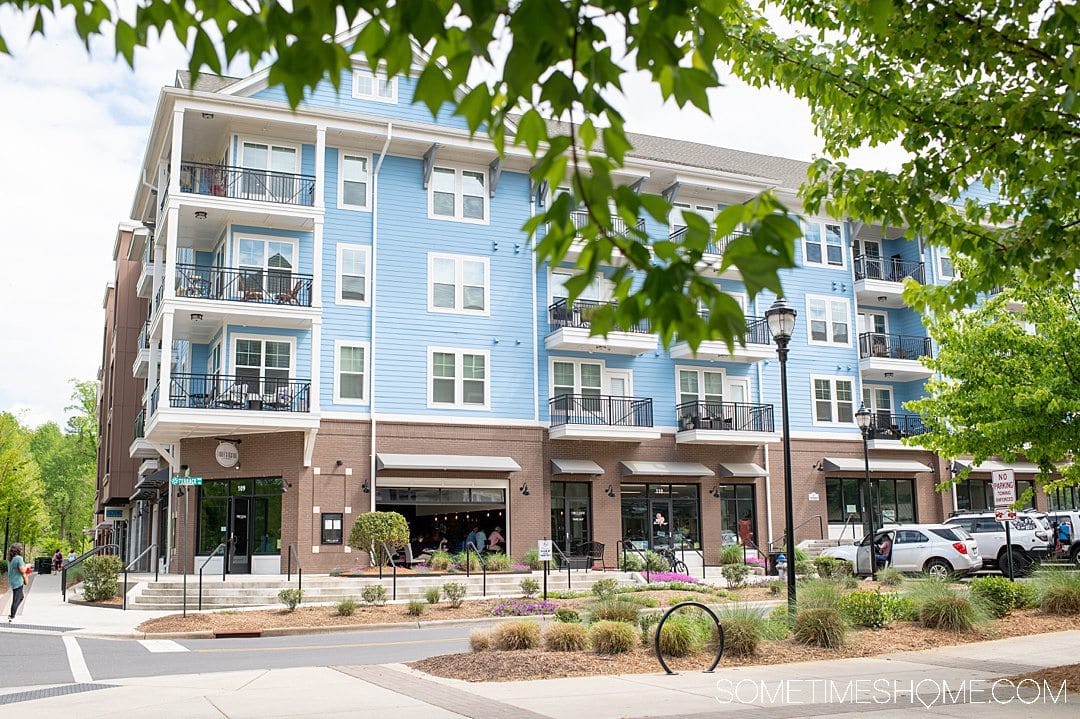 Breakfast at Amelie's, a French Bakery Cafe
The next morning we walked over to Amelie's bakery to have a lovely meal to start our day on Main Street. We ordered inside and sat at a table on the sidewalk to enjoy our granola, yogurt and berries, a ham and gruyere tartine (which was awesome) and coffee.
It was, of course, necessary to try a little fruit tartlet for dessert. (We had to try their sweets – they offer so many pastries and cakes it was hard to resist.)
We highly recommend at top Amelie's if you're looking for one of the best Rock Hill restaurants for breakfast that delivers on great food in a casual yet fun setting. They are open daily.
Address: 57 E Main Street, Rock Hill, SC 29730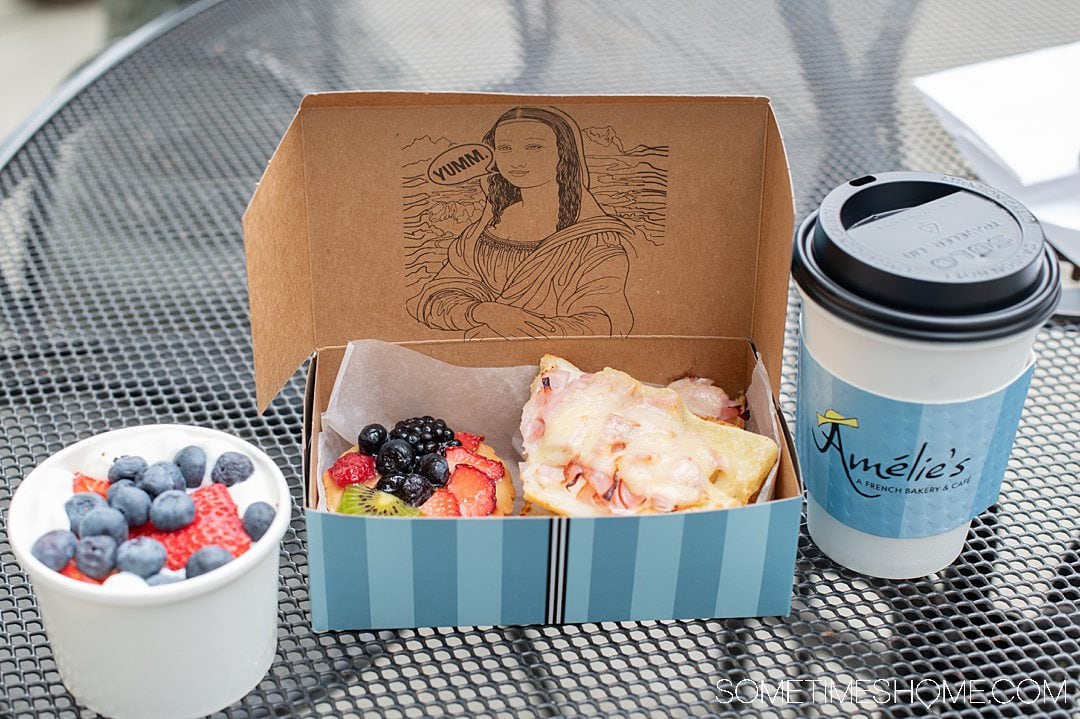 Fort Mill Restaurants
From Rock Hill, we drove about 20 minutes from our Cambria hotel over to Fort Mill. We stopped on the way to see a famous hot sauce store and pick up some iced coffee to refuel for our afternoon and evening.
Afterward, we headed to the Courtyard Marriott at Kingsley for the rest of our weekend. We parked the car and walked to the wonderful restaurants from there, all steps away from our evening accommodations.
A Stop at Fort Mills' Main Street
This charming small Main Street is worth a stop if you have some time to support local businesses and get to know another area of Fort Mill.
PuckerButt Pepper Company
This small but mighty shop packs a lot of heat. Literally. Ed Currie, the famous inventor of the Carolina Reaper® hot pepper, owns this store that offers customers an array of hot sauces on all levels of the Scoville scale.
They are happy to offer small tastes of hot sauce before you buy; trying them is part of the fun. I admit I have a sensitive stomach so I opted out but Dan was brave and tried some.
Not only is "Smokin' Ed" Currie famous in the pepper industry, but he has a well known YouTube channel as well. He gained more notoriety when he hosted the Inaugural International Chile (Eating) Contest in Fort Mill, South Carolina, in 2019. The event was featured on Netflix's, We Are the Champions; we have no idea how several brave souls endured eating insanely hot peppers for several rounds of the competition. We were sweating watching them! (It's Episode 2, and is about 30 minutes long.)
We recommend watching this before visiting the store. It will help you have a better understand and respect for the pepper world.
If you can't to their store in person (which is open daily), you can shop the store online.
Address: 237 Main St, Fort Mill, SC 29715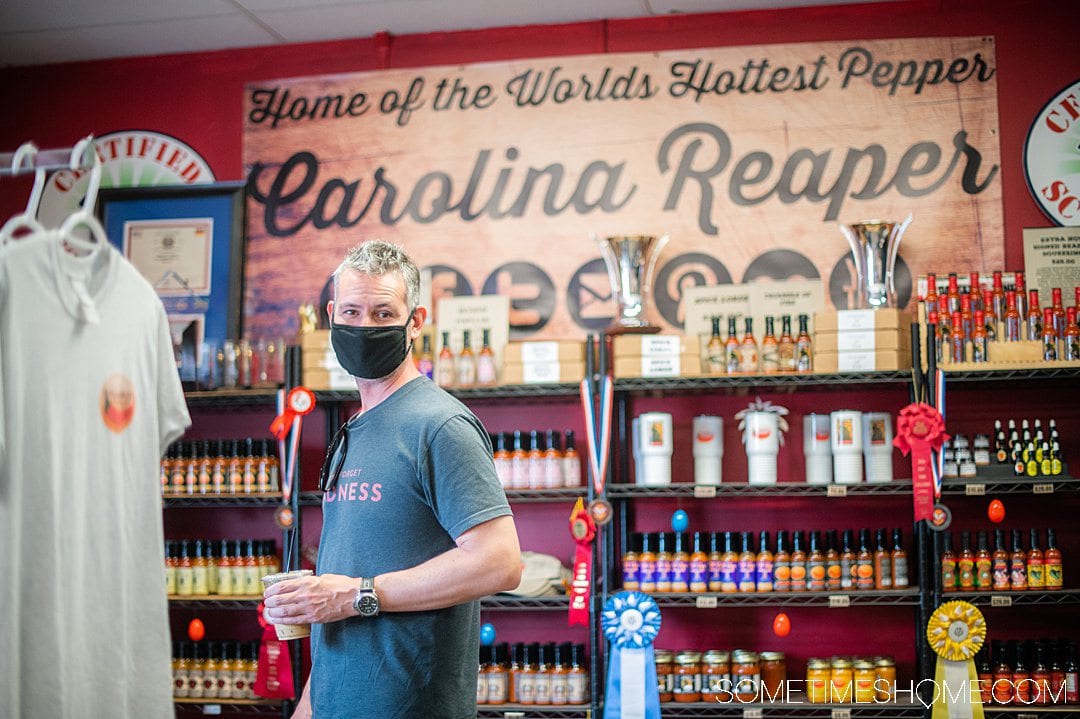 Olive's Mud Puddle
The cutest coffee shop and pottery center can be found just a couple storefronts down from PuckerButt Pepper Company: Olive's Mud Puddle.
Debbie Whitsett opened Olive's Mud Puddle on Main Street in 2012, when she, an artist herself, wanted to share her love for creativity with Fort Mill. The store is named after her beloved duck, Olive, and the "mud" used to make pottery and of course, muddy coffee!
They had to find a new home for Olive when Debbie and her family moved from Charlotte to South Carolina. Olive lives on in the Mud Puddle name, even though livestock is not allowed at home in the state. The double entendre in the store's name – for pottery and coffee – worked out perfectly.
Be sure to check their website for the most up-to-date information on their current events (including the occasional Trivia Night and art sale) and art class schedule.
They are closed on Mondays.
Address: 229 Main St, Fort Mill, SC 29715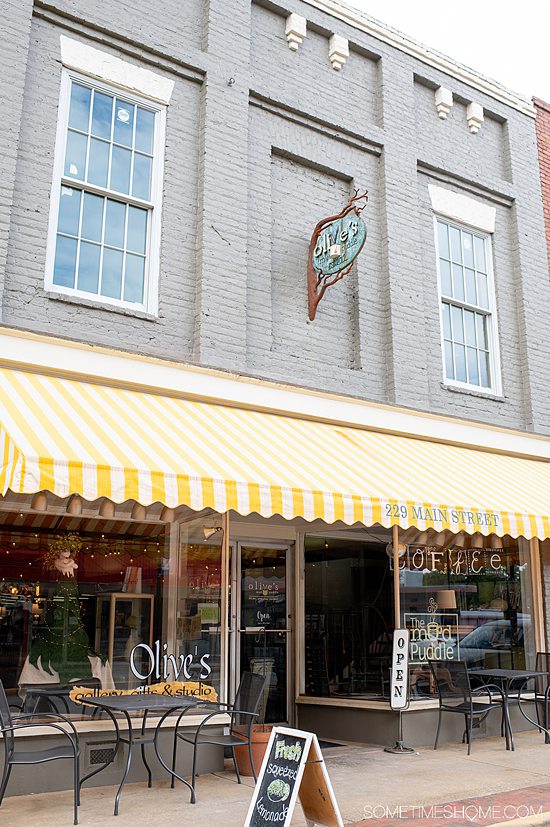 Spice Asian Kitchen
We decided to take advantage of our location and maximize our evening's restaurant stops in Fort Mill. After all, our evening room was merely steps away from so many great restaurant options at Kingsley town center.
For us, this meant a stop at Spice Asian Kitchen to get rooftop drinks and a little nosh before our dinner reservation. And man, was it a great decision.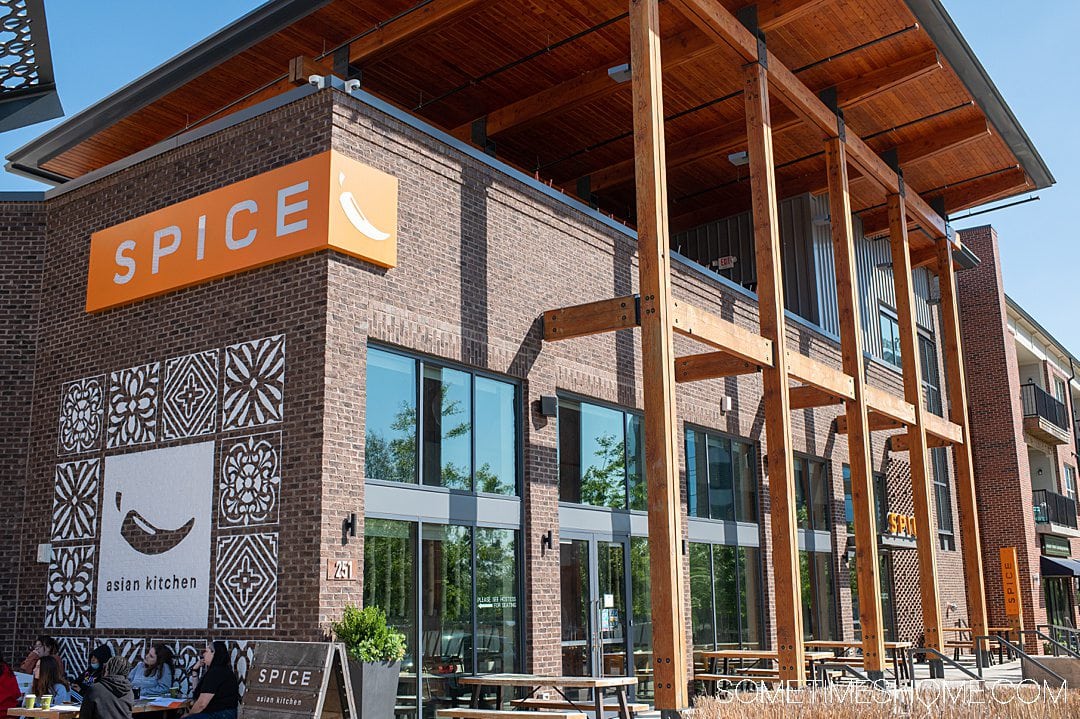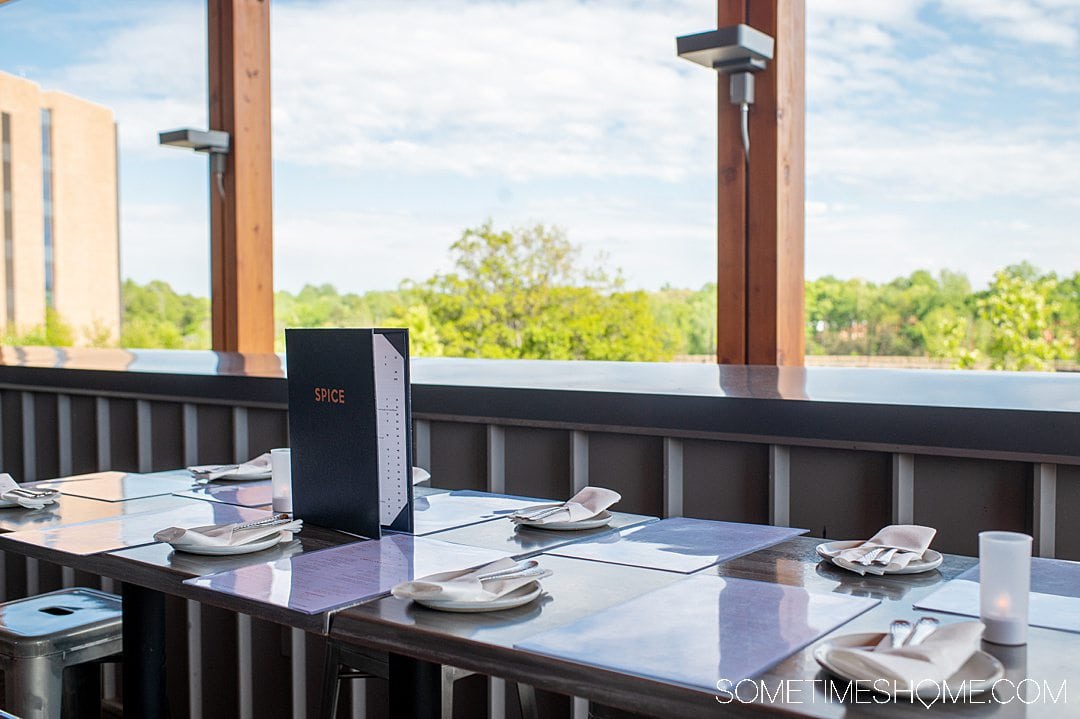 Their rooftop bar has a few tables up there as well, and the view overlooks Kingsley town center. You can gaze out across the pond over to some restaurants in the distance.
Dan ordered local draft beer (are you noticing a weekend beer theme for him yet?) and I opted for a couple fruity cocktails. I don't usually gravitate towards sweet drinks but the waitress assured me my choices were well-balanced…and they were!
I had a "Breakfast at Tiffany's" to start, which I couldn't help but order after seeing a restaurant patron sipping her own as we headed up to the rooftop bar. (The blue liquid in a glass brought me back to memories of the Blue Milk at the Cantina at Star Wars: Galaxy's Edge, actually.
That went down smoothly and quickly, so the restaurant owner recommended I try a popular, photo-worthy drink: the Coconut Margarita, served in a coconut. It was delicious, as expected, yet a warning: it's stronger than you think! Luckily also ordered their incredible Sashimi Tuna Nachos from their menu to absorb that liquid!
The tuna nachos were elegant and flavorful. The crisp wonton-like chip was thankfully lighter than expected for a dish labeled "nachos," and it was the perfect appetizer to start the evening.
Good news: they have happy hour Monday through Friday from 4:30pm to 6:30pm! They are open daily for lunch and dinner.
Address: 251 Textile Way, Fort Mill, SC 29708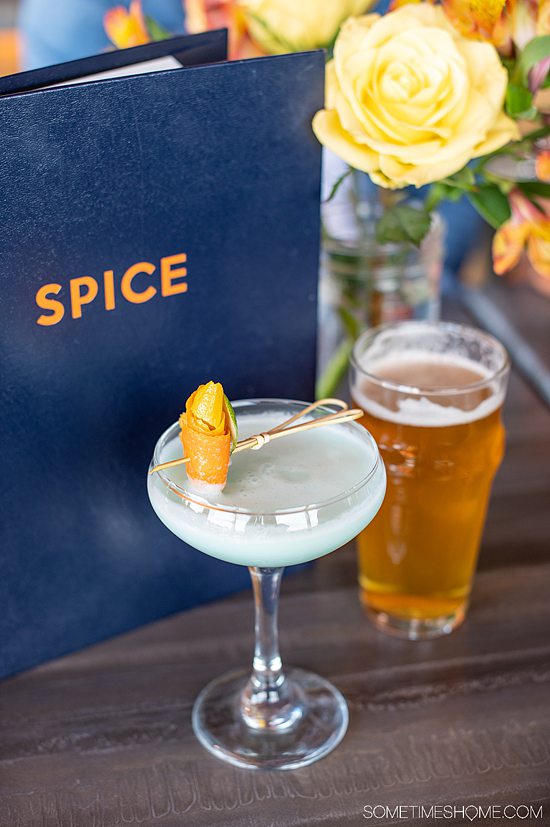 Napa at Kingsley
We walked just a few hundred feet away to Napa at Kingsley. Coincidentally, Pump House and Napa are owned by the same company.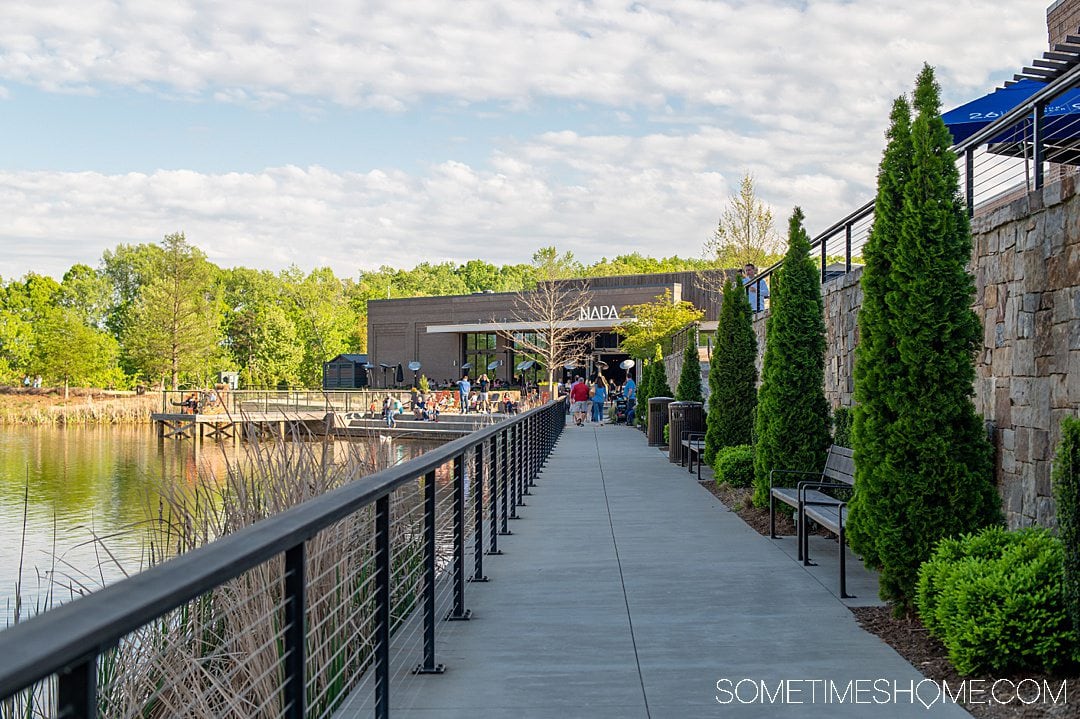 The side of the restaurant that faces the pond opens up to let the fresh air and attractive view in. We had the perfect table just inside next to the retracting glass wall. It allowed us to sit just inside but still enjoy the weather and breeze, particularly lovely on a spring night.
We started with some wine and the beef carpaccio, topped with caper berries and arugula. Our favorite entree of the night was Dan's ribeye steak, which they paired served with a blueberry demi glacé, smashed garlic potatoes and broccolini.
We didn't stand a chance against ordering creme brûlée for dessert when our wonderful waitress mentioned it. I had a latte to end the meal and Dan enjoyed an after-dinner drink.
Address: 1310 Broadcloth St, Suite 101, Fort Mill, SC 29715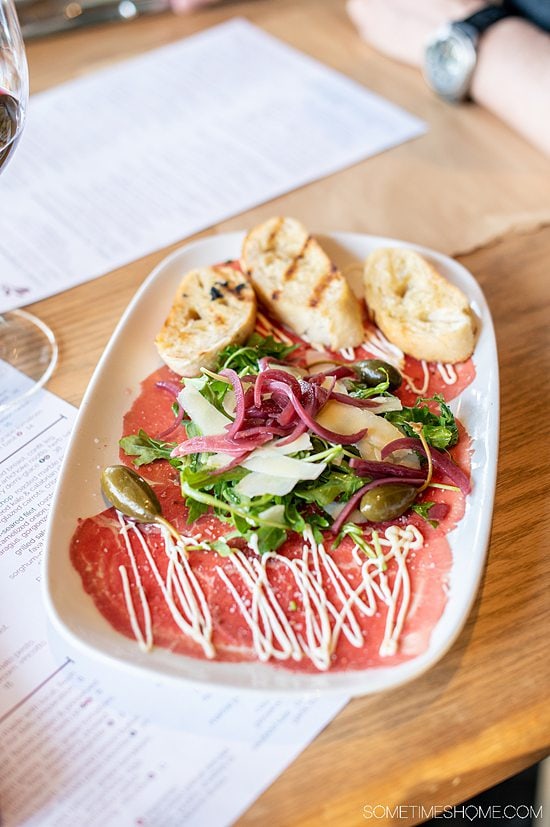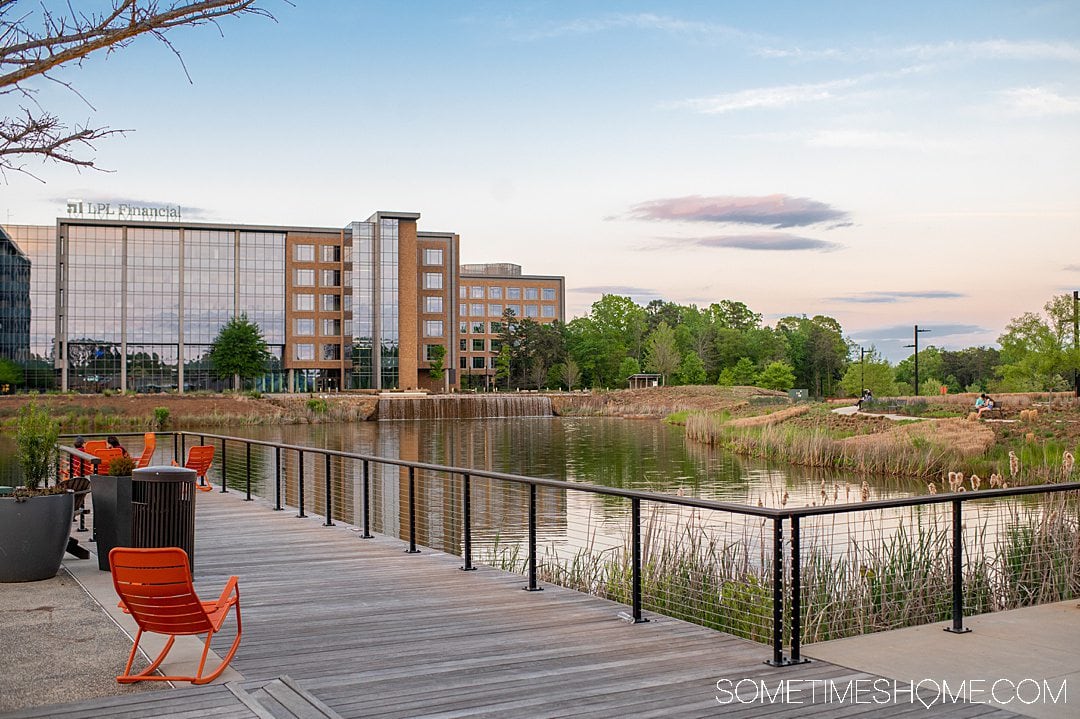 Corkscrew: Wine and Cocktail Bar
Never ones to pass up live music, we noticed two musicians in the window of Corkscrew walking from Napa back to our hotel at the other end of Kingsley town center. We walked in and were fortunate to get two seats at the bar on a busy Saturday night.
We ordered glasses of wine and two chocolate truffles and happily listened to the talented musicians. (They were the perfect bite of sweetness at only $1.50 each.)
We learned they have live music Tuesdays and Saturdays. They have indoor and outdoor seating, but you can only hear the musicians inside. Corkscrew Wine and Cocktail Bar also has a small plates menu (including charcuterie and cheese plates, a personal favorite date night item of ours) and they serve beer available as well.
Music was by Acoustic Soul the evening we were there, the two gentlemen pictured below.
They are open daily, starting at lunchtime and extending into the evening.
Address: 1365 Broadcloth Street, Suite 102, Fort Mill, SC 29715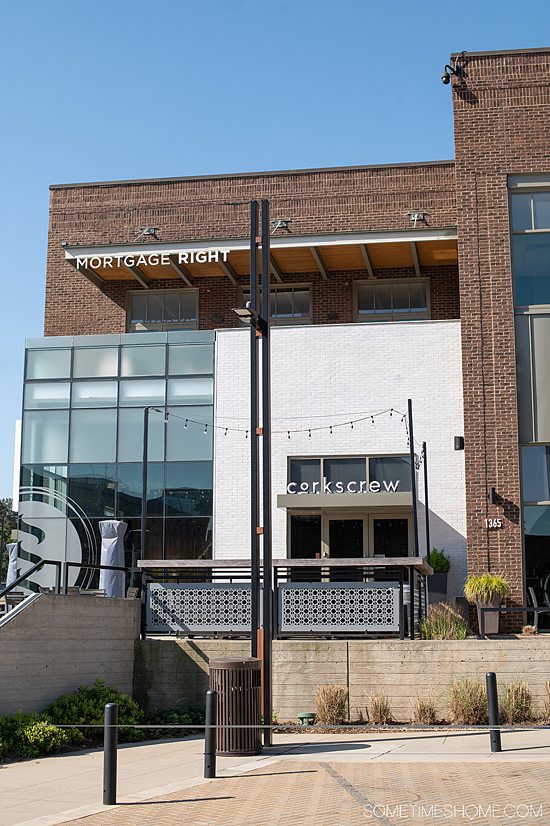 Fish Market, Fort Mill Restaurant in Baxter Village
We were in spring season heaven as we approached Fish Market at Baxter Village in Fort Mill, on Sunday morning. Gorgeous yellow flowers framed the entryway to the restaurant as blue skies were overhead.
We sat outside at a table for two; the patio was the popular choice on such a beautiful morning. There were so many great dishes to choose from on their menu. Since we so loved our tomato bisque at Pump House the day before, we ordered the She Crab soup to start. It was a wise choice because it was incredibly flavorful and warm as the spring breezes brushed our shoulders that day.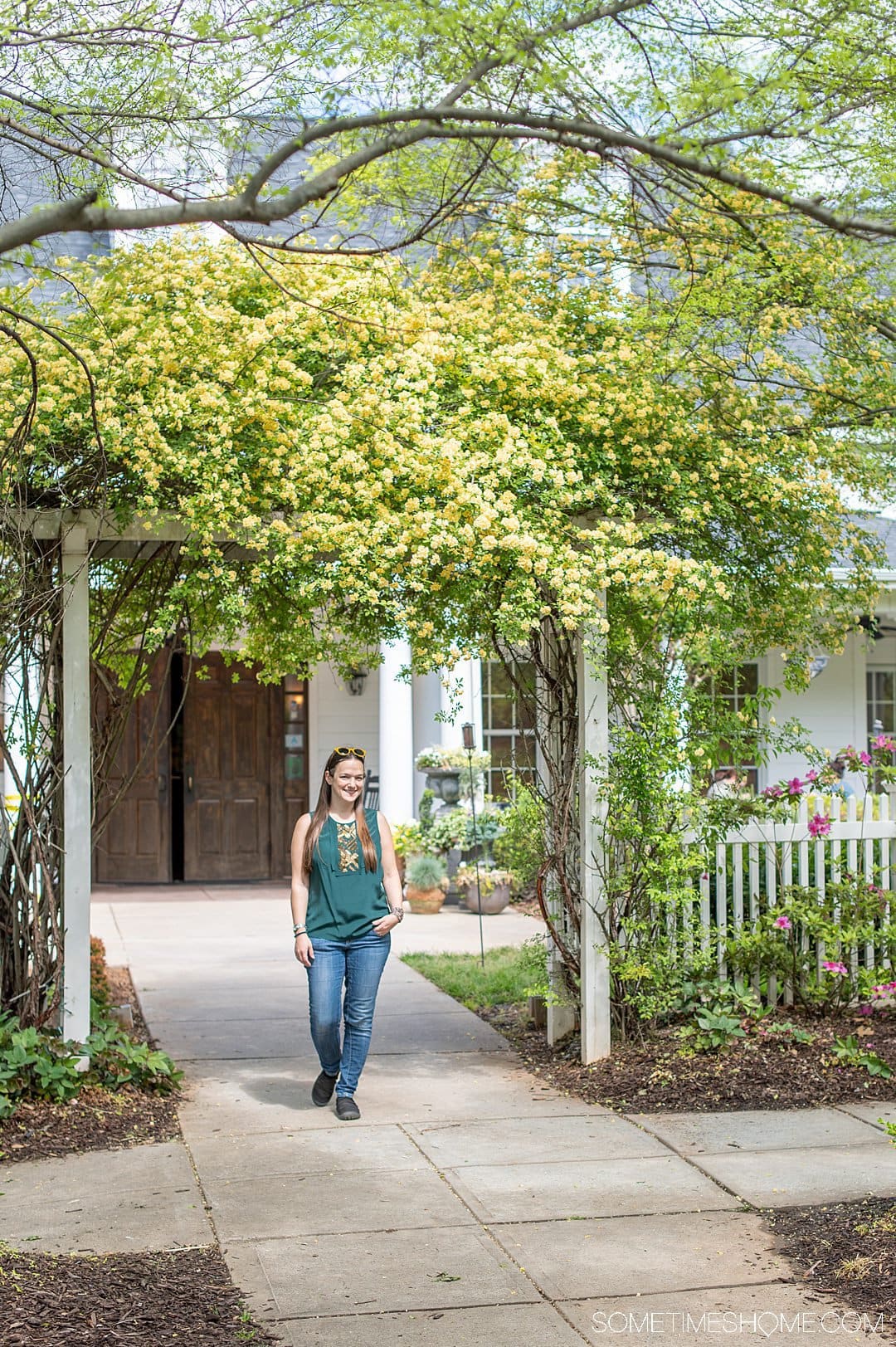 Dan and I opted for Chicken and Waffles and a Lobster Wrap. The seasoned fried chicken on Dan's plate were layered between pecan buttermilk waffle triangles, set atop bourbon maple syrup.
My wrap was fresh and colorful, with chunks of chilled Maine Lobster, mixed greens, fresh in-season asparagus, goat cheese and lemon-tarragon aioli. I opted for the Mediterranean pasta salad for my choice of side.
Fish Market is open for lunch and dinner Monday through Saturday, and weekend brunch Saturday and Sunday.
Address: 990 Market Street, Fort Mill, SC 29708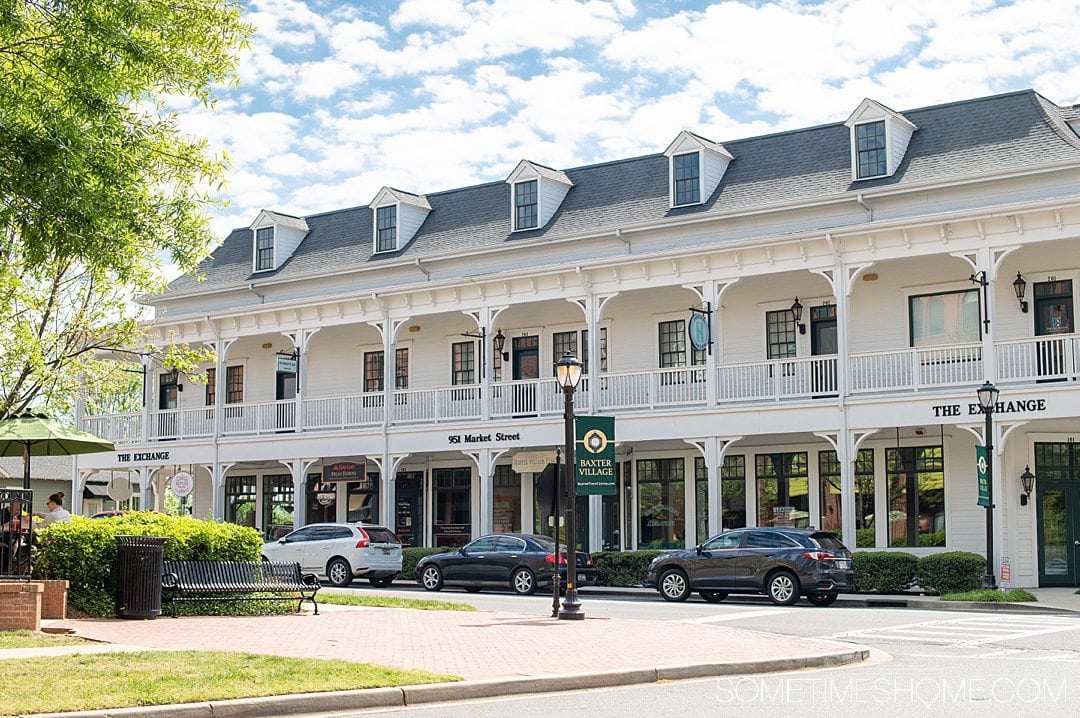 Cupcrazed Cakery, Our Weekend Finale
We stopped at the Cupcrazed Cakery, a short walk away from our Fish Market brunch, before we left York County for the weekend. Luckily they are open daily, so you can visit to get some sugar no matter what day of the week you're nearby. We also noticed they had one gluten-free cupcake flavor option for visitors with dietary restrictions.
I ordered a pink "unicorn" cupcake and Dan got his favorite cookie (classic "sugar"), just before we waved goodbye to a wonderful weekend experiencing Fort Mill and Rock Hill restaurants in York County, SC!
Address: 936 Market Street, Suite 103, Fort Mill, SC 29708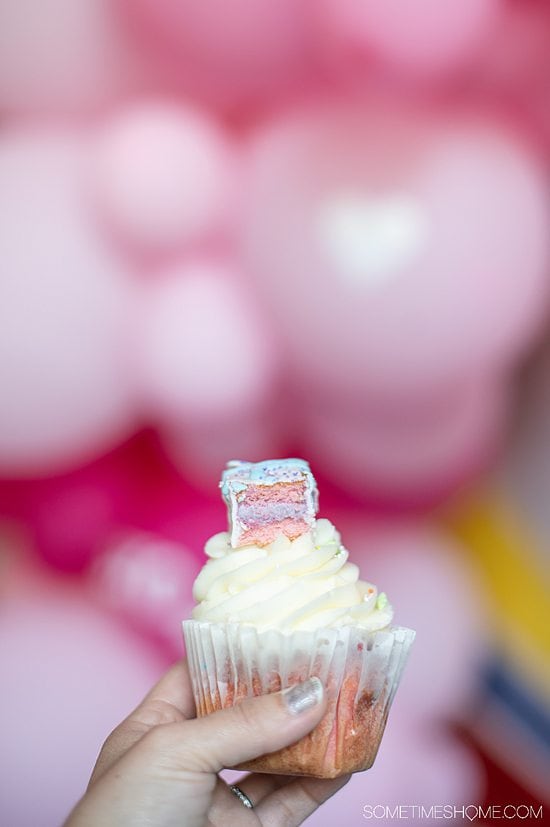 Please note: We thank Visit York County, South Carolina for generously hosting our tasting. We also may make a small commission from affiliate links in this post but all opinions are ours and we bring you genuine content with real facts, photos, thoughts and recommendations. Always.
Heading to the Carolinas? Also check out: