You Need to Read this Before Visiting Busch Gardens
It was nearly total darkness as the rollercoaster climbed towards the sky before an abrupt descent to the track's valley below. We had finally gotten on a thrill ride after an afternoon of walking around the park and were excited to feel the rush of exhilaration riding the coaster. Yet it was the only true thrill ride we were able to get on that day and we left with the knowledge of what we'd do differently next time to make our visit more enjoyable.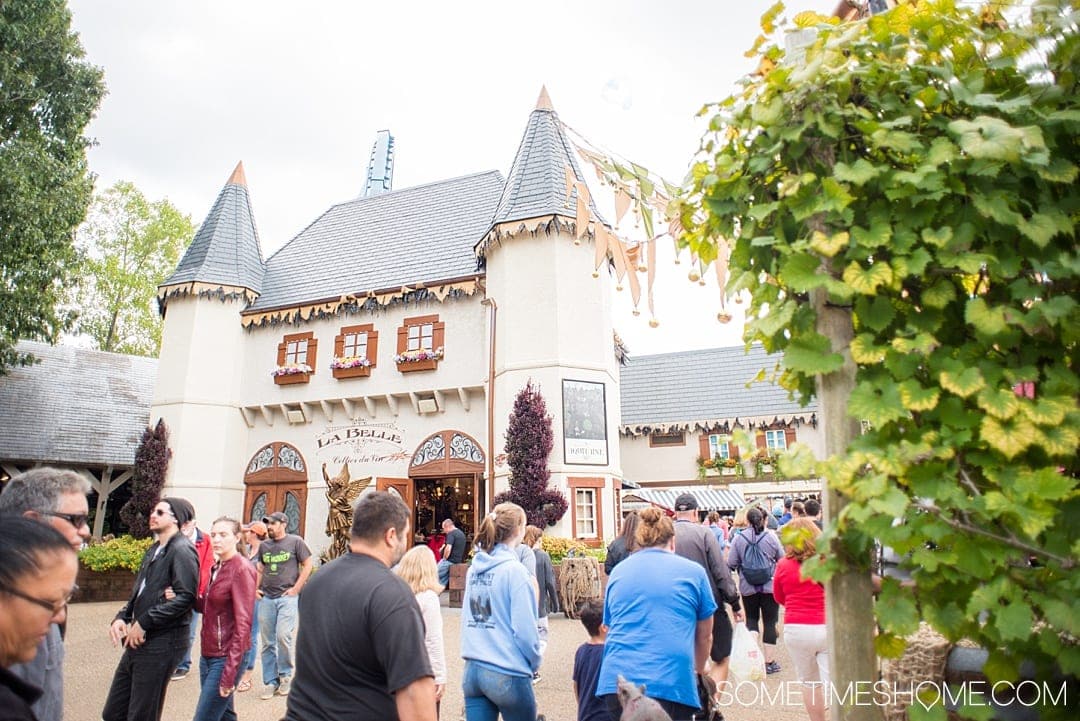 Here's our tips for Busch Gardens to make your visit as seamless as possible:
Day of the Week, Time of Day
We imagine it's much less busy during a weekday with the exception of summer time. Weekends are when many adults have off from work and kids have off from school. Like many visitors, we were only able to go on a weekend.
Weekends also bring special events, like Oktoberfest in September or Howl-O-Scream in October. This means even more people come to the park.
If you have to go on a Saturday or Sunday we recommend going in the late afternoon to closing time. Or, go first thing in the morning, take a break and experience more Williamsburg has to offer in the belly of the day, then go back later on in the afternoon into the evening. This means you'll hopefully skip the peak time there when lines are insanely long and you'll only experience one or two rides anyway.
Be sure to get your hand stamped on your way out of the park for re-entry later.
Consider buying a Quick Queue pass so you can get on more rides. It was typical to hear wait times for the roller coasters were between an hour and a half to two hours (yes, I'm serious!) the day we went. Prices for Quick Queue passes vary based on dates and can quickly add up. We mention this so you can budget ahead of time.
**It's important to note Busch Gardens Williamsburg is not open everyday. For example, the park's only open Thursday through Sunday during October and only a handful of days in January. It's of course open much more during summer! Check their website for current park hours.**
Special Events at Busch Gardens in Virginia
On the above note, it's nice you don't need a separate ticket to the park for special events. Whereas you need a dedicated ticket to see Mickey's Not So Scary Halloween Party at the Magic Kingdom, for example, a regular park ticket to Busch Gardens will gain you entry to Howl-O-Scream. Simply stay past 5:45pm when the park switches over to Halloween, fright-themed.
(Howl-O-Scream for 2019 is September 14 through October 27, Friday, Saturday and Sunday. On these days kids rides close at 5:00pm to prepare for the evening event.)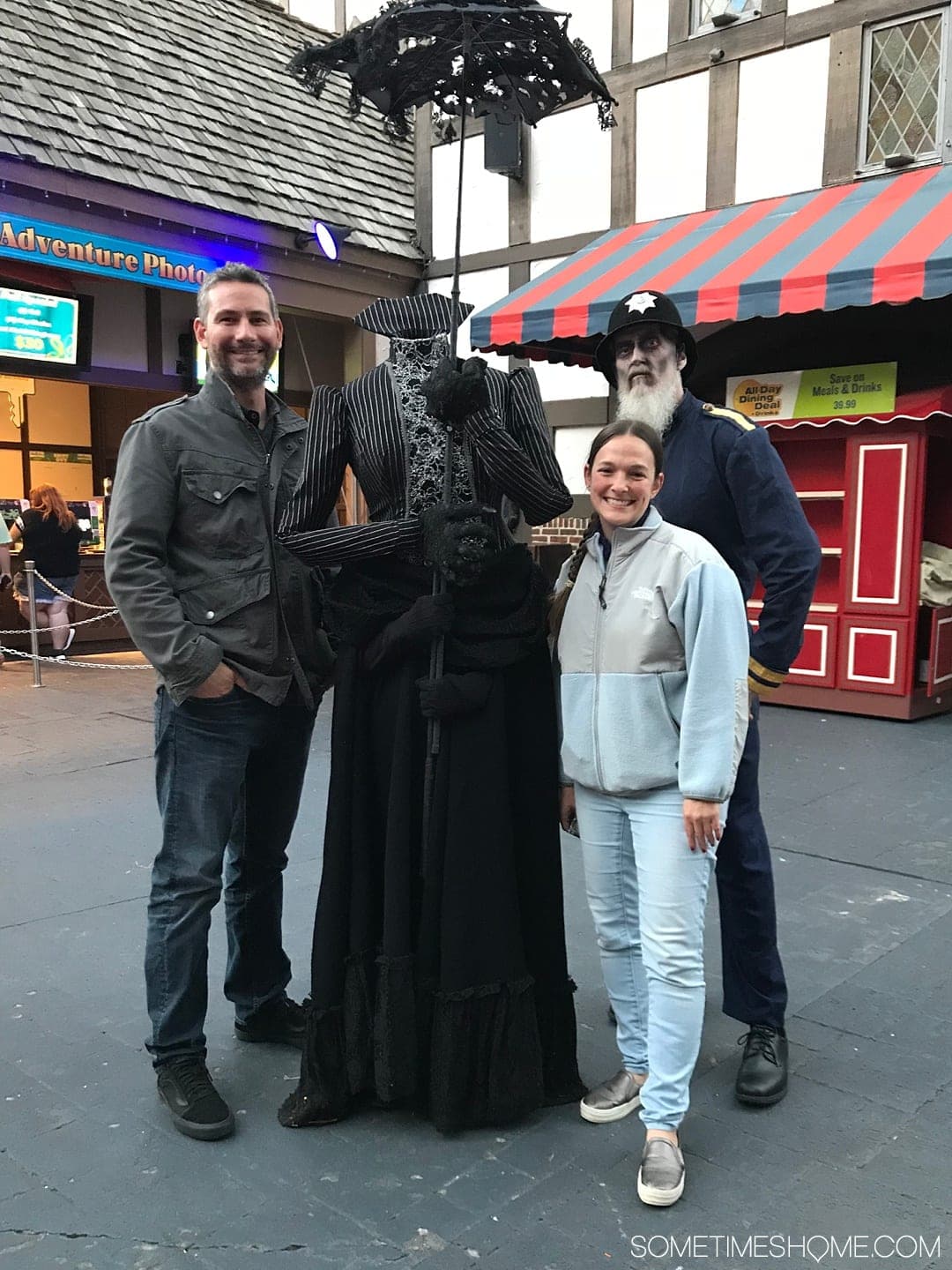 Parking: Where and How Much
It was a blessing we were able to purchase our parking online, ahead of time. We simply did this on our cell phones while in our hotel room the night before. It will save you a few dollars and expedite the exchange once you get to the parking gate in your car. (We purchased $20 parking for $18 online.) All they'll have to do is scan what you purchased and you'll be on your way.
There was no need to purchase priority parking. The shuttles to and from the further parking lots run continuously and we went back to our car once. With walking and the shuttle there and back to the park it didn't take more than ten to fifteen minutes.
Navigating the Park 
The park's a little hard to navigate – we found there was a lack of signage and posted maps did not have a "You are Here" sticker. Just be prepared for this, have a printed map in hand and don't be shy to ask a park employee where you are if you need assistance.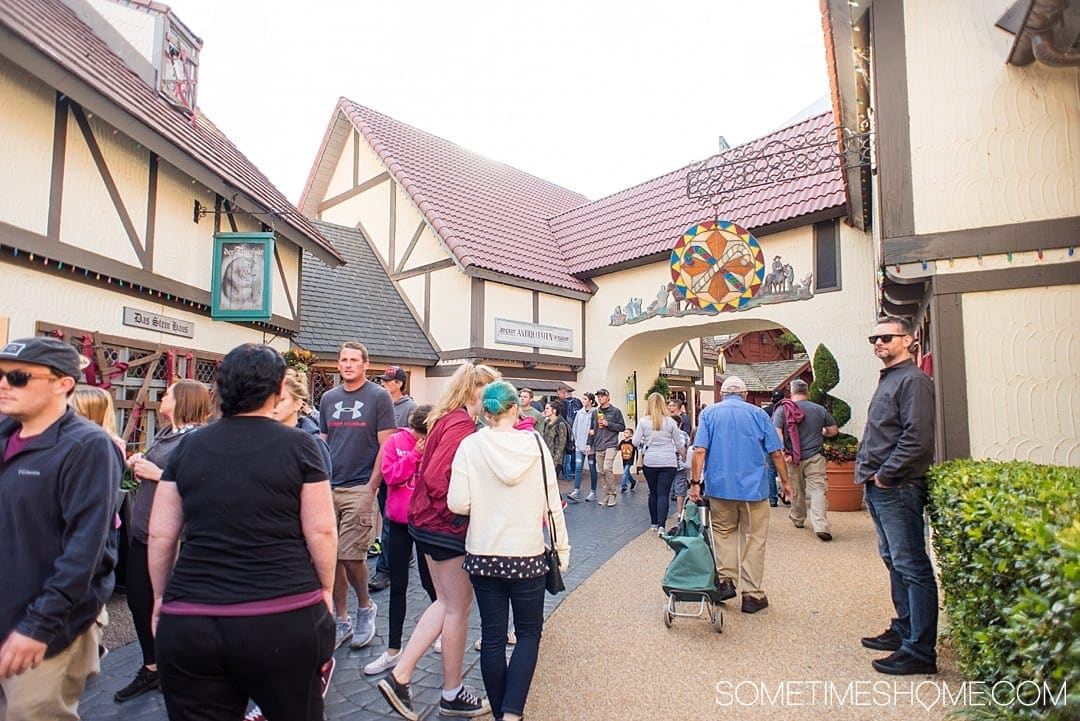 Don't Compare It to the Big Leagues 
We never made the mistake of comparing Busch Gardens to Walt Disney World, Disneyland or Universal. This is key in helping manage your expectation for the park.
We are willing to guess their budgets are nowhere near those of the major theme parks. Perhaps it's closer to that of Legoland, Kings Dominion, Cedar Point, Knott's Berry Farm, or Six Flags.
If you like themed entertainment, at all, you'll like it here. But don't expect attention to detail like at Disney's parks or the caliber of shows at Universal.
Come with Pocket-Sized Things, Only
The lockers here are not free at Busch Gardens, Williamsburg, even for the first hour (unlike those at Universal). We recommend leaving anything that doesn't fit in your pockets at your hotel or in the car if you plan on riding roller coasters. Or be smart and buy a pass for the lockers for the day or six hours, as opposed to the option they have for $2, for two hours. You'll be grateful!
Ride Wait Times
The mobile phone app is grossly inaccurate for wait times. The best thing to do is ask the employee at the front of the ride what he or she predicts the current wait time truly is.
It's wise to ask before you decide to put your things in a locker at that ride. This is because if you put your things in a locker then find out the wait time is two hours (which is likely) you'll be sorry you potentially wasted money on the locker.
Know that the wait times were so bad the day we were there we were able to get on two rides, see one stage show, and two Howl-O-Scream experiences in six or seven hours.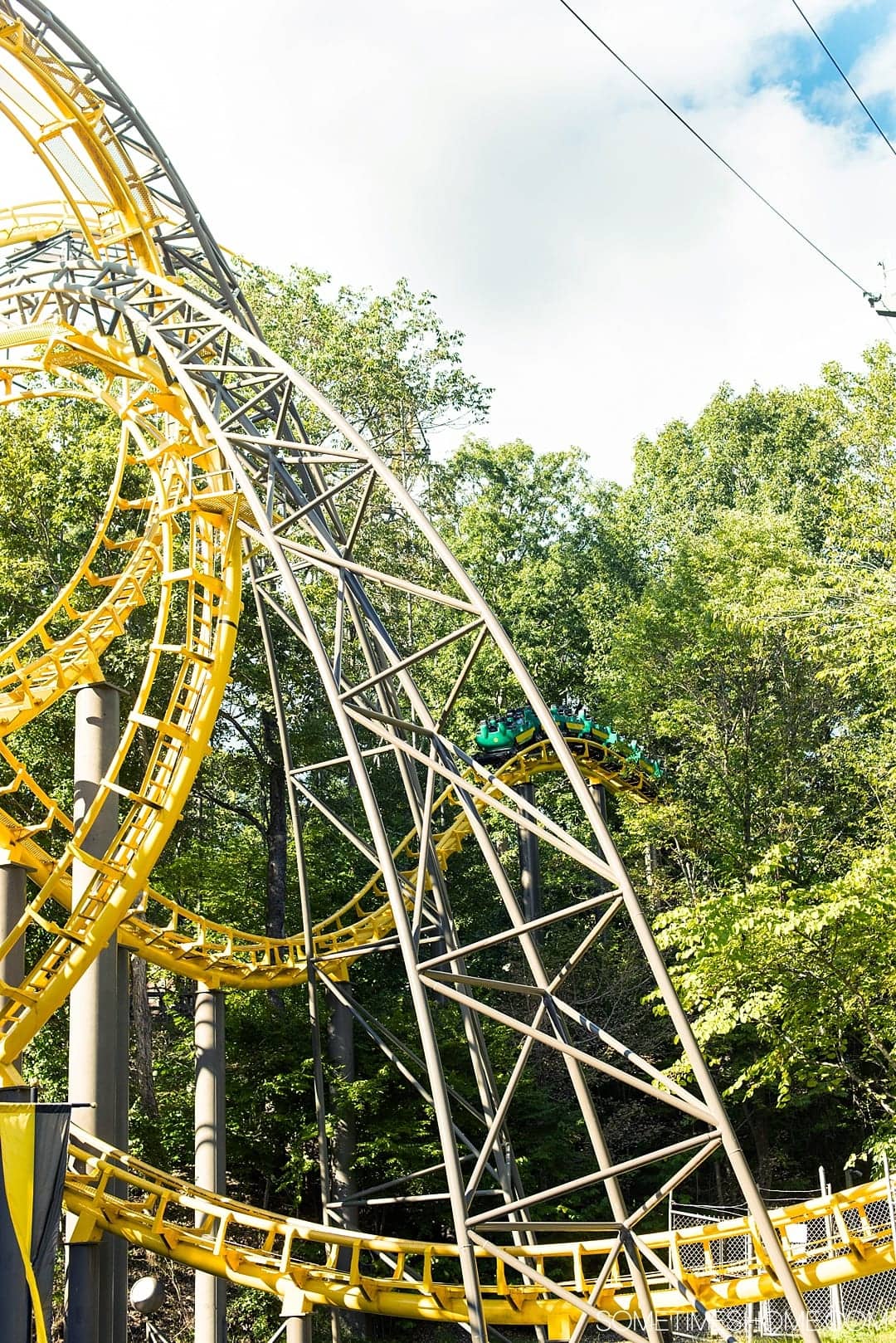 Fill Time with Stage Shows
Sometimes people forget that stage shows are a part of the entertainment at theme parks too! They're carefully produced
When we realized the lines were incredibly long at all the thrill rides we opted to see a stage show, knowing we'd make it into the large theater at the chosen show time. While it wasn't Broadway quality, we thought the stage show we saw at Busch Gardens was entertaining!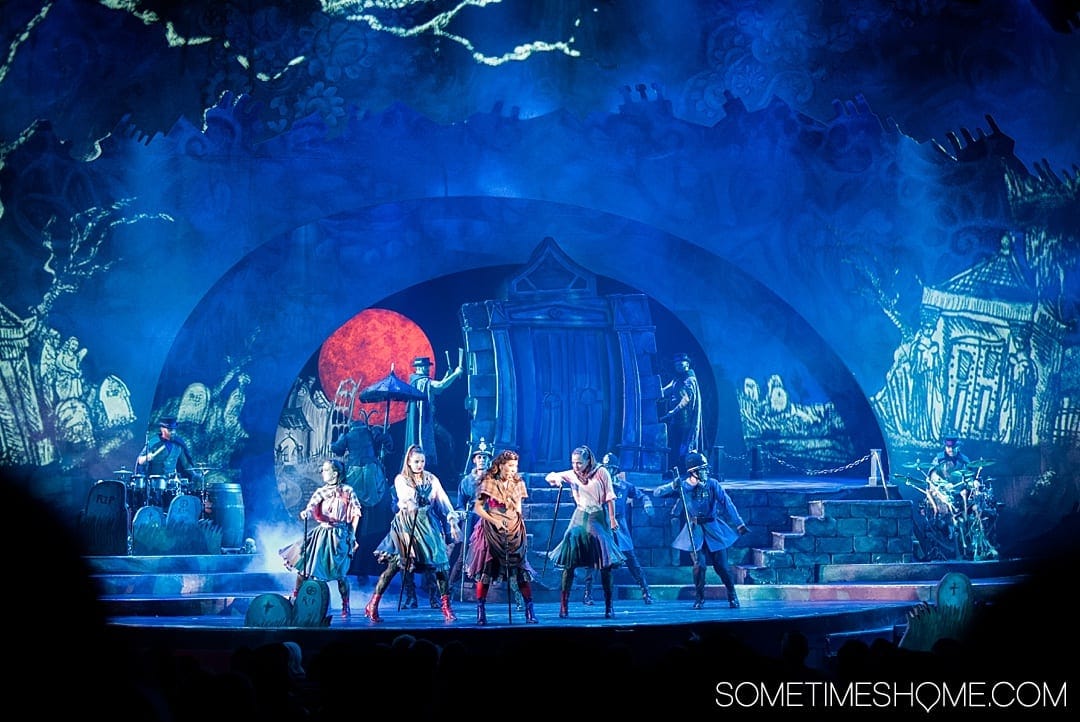 Food and Drink Options 
It was difficult to find healthy food options. We know – it's a theme park! Happily, though, many parks are finding ways to incorporate things like carrot sticks and apples into their snack stands. That being said we had to indulge in loaded French Fries at Les Frites in France, and wanted to have a pretzel in Germany but unfortunately we never made it over there.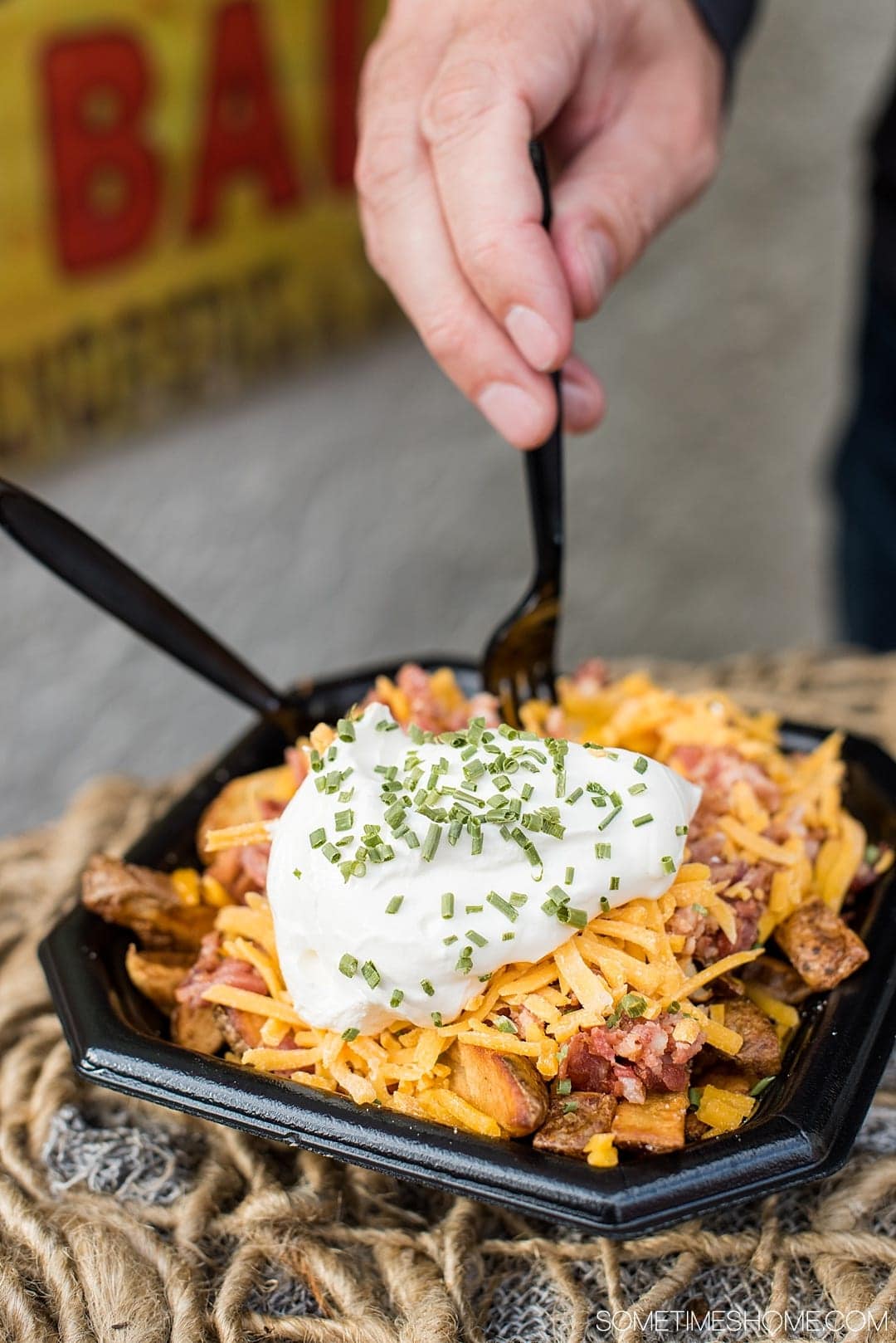 We recommend either bringing a snack (which yes, you can bring into the park) or simply getting a snack at Busch Gardens to hold you over until you can eat a late dinner after you leave for the night. Luckily, we knew Amber Ox's kitchen was open until 11:00pm so we at there two nights in a row! It's a quick ten-minute drive from the park.
Another good tip is to ask anywhere with a drink machine (including restaurants and food kiosks around the park) for a cup of water. Bottled water is expensive there (as expected) but cups of water are free. You'll need to hydrate during a day or afternoon walking around the park, potentially drinking alcohol (which they sell as well).
Please note: we thank Visit Williamsburg for generously hosting us. All the opinions in the post are ours and we bring you genuine content with real facts, photos and thoughts. Always.
Visiting Virginia? Also check out:
Let us know if you have any tips for Busch Gardens in the comments below!