York PA Restaurants that Blew Us Away (and Exactly What We Ordered)
We visited York, excited to see the area for a weekend getaway. Of course, we need food to sustain us, and we are impartial to eating three meals a day. But we never knew that two York, PA restaurants we would visit, in particular, would blow us away. They were SO good we need to tell you about our experience, in-depth, including exactly what we ate.
We were in town to enjoy a 2 Day York Itinerary, with meals being a usual highlight of our weekend getaways.
Reservations aren't required, but they are recommended at both restaurants.
Disclosure: There are affiliate links in this post, which means we may earn a small commission if you click the link and proceed with a purchase, at no cost to you. We truly only recommend hotels, products, and services we personally use. As Amazon Associates, we earn from qualifying purchases. We thank Explore York for generously hosting us. All the opinions are our own.
The Handsome Cab in Downtown York
This restaurant originally appealed to us because it's not just a place to get food and drinks. It's also a piano bar and art gallery.
The building The Handsome Cab occupies is the oldest on the block. It's from the 1880s and was restored by its owner, Robert Godfrey, and some helping hands. We loved learning about the restoration of the space and about the TLC that was poured into restoring its glory.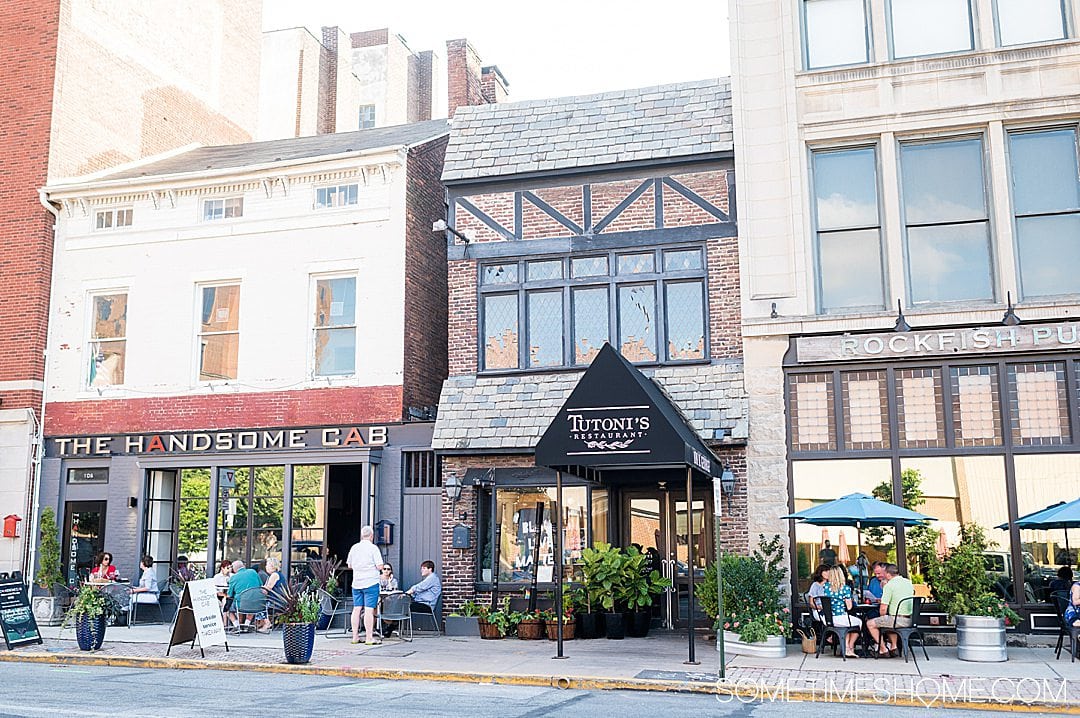 The Handsome Cab Restaurant Design
The interior design of The Handsome Cab is in part thanks to the coming together of some very talented local artists with national acclaim. The chairs were all handmade from handmade plywood and woven seat belt remnants by Peter Danko Designs. (Peter Danko is a York resident whose furniture pieces have made it into museums like the Smithsonian and Museum of Modern Art.) He also created the host stand and bench seating inside the restaurant.
Their chandelier was created by Patrick Sells, from Salvaging Creativity, who also made the light-up table in the back bar area surrounded by orange and black stools. Sells' designs can be seen in several restaurants and projects around York.
We loved how the orange color in the chandelier is echoed in the huge canvas paintings on the wall. We learned that Robert treated friends Peter Danko, Wendy Hostler, Janice Moore, Carol Oldenberg, and Rita Whitney to wine and a pasta dinner as they opened cans of leftover paint from the building's refurbishment and created the final pieces needed for the interior design: the canvas paintings on the wall.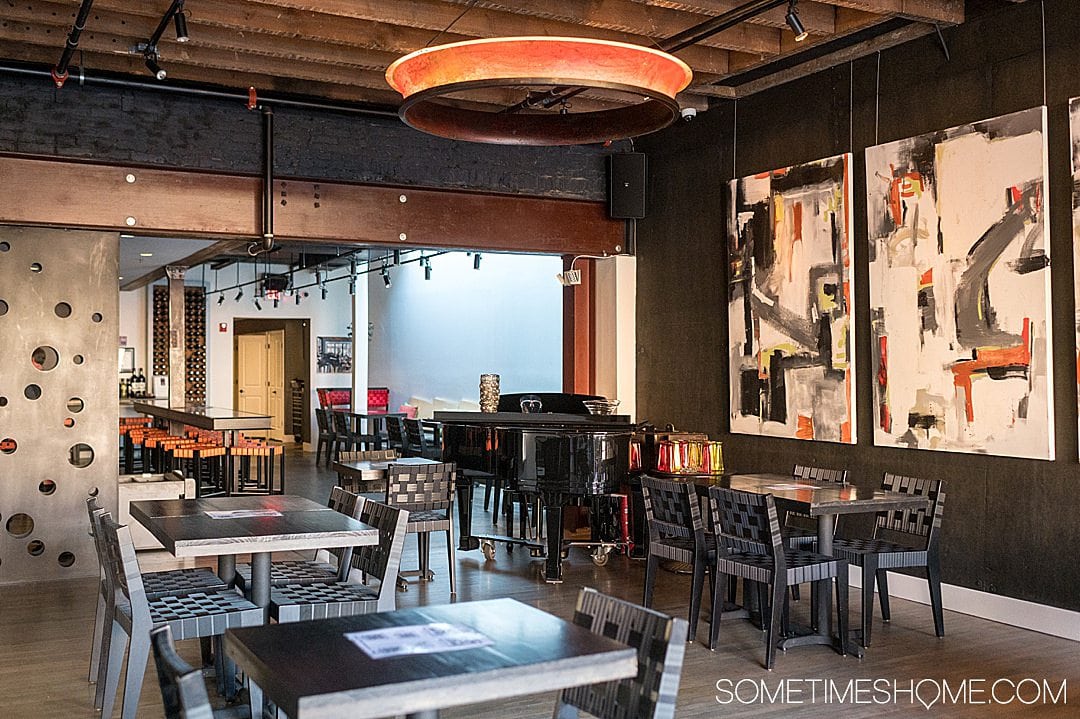 The front of the restaurant is panels of windows that can be opened. We were lucky enough to sit at a table just inside the restaurant by the windows and enjoy the fresh air. The weather was perfect on the evening we visited in July.
We checked out the upstairs art galleries after we ordered our drinks. There are two floors above the first floor on ground level. (Unlike in Paris, where the ground level is actually zero. Ha!)
The front of the second floor is The Handsome Cab's art gallery. Art on the walls is from featured artists and is available to purchase. Then the back of the second floor and the third floor are art studios they rent out. I had a lovely chat with the artist on the second floor, Brenda Wintermyer, or the Just Brenda Studio Gallery. Her colorful pieces caught my eye (just like the colorful murals in the Royal Square District did, earlier that day).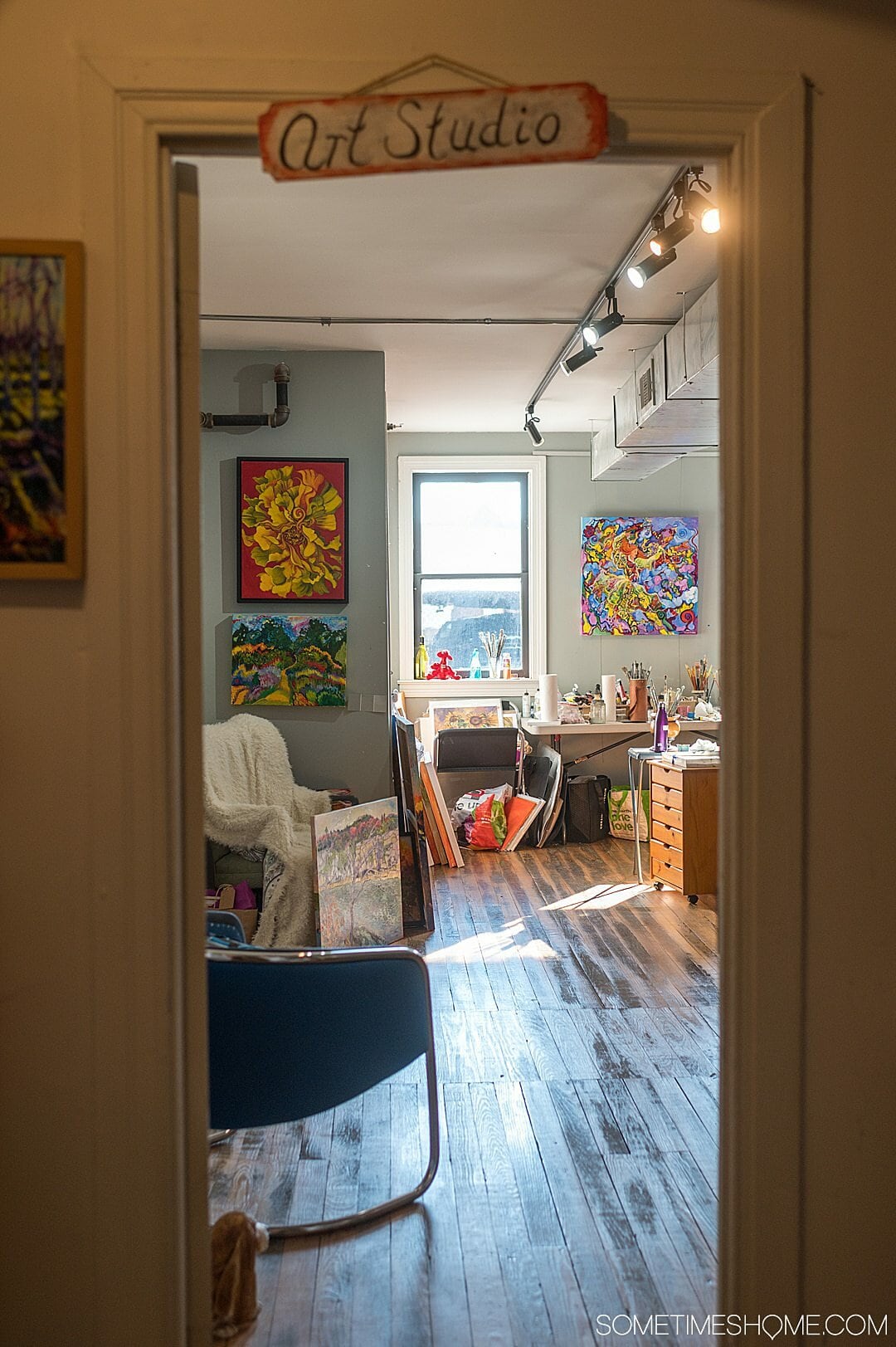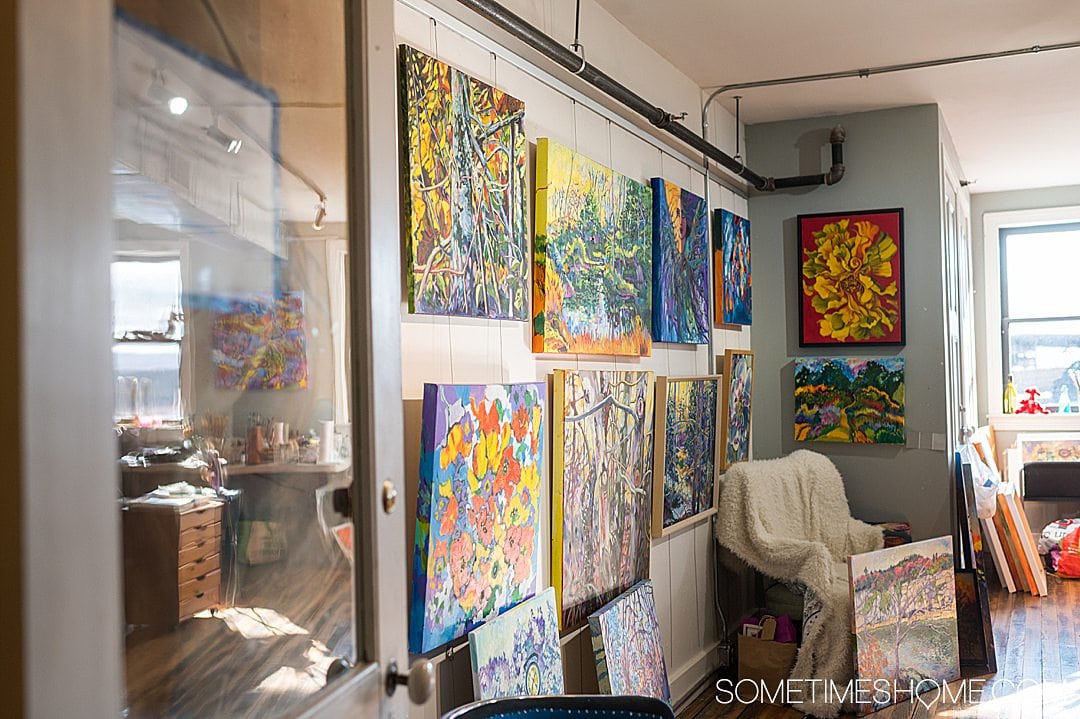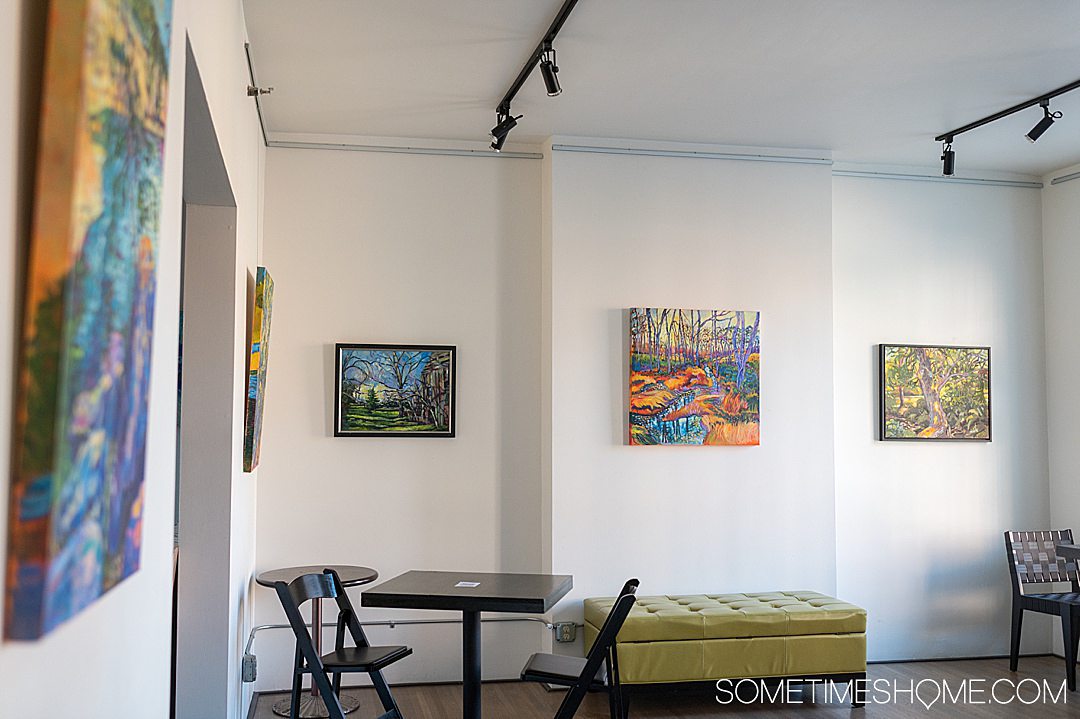 Our Delicious Meal Our First Night in York
We started off with drinks. I had never seen anything like the DragonStone on any menu before, so I had to have it. I rarely find a cocktail on a menu that piques my interest. As a mostly vodka and gin kind of girl, I don't gravitate toward bourbon, whiskey, or rum drinks. Which is what a cocktail menu features.
The DragonStone was very good! It's made with jalapeño-infused gin, elderflower liquor, crème de cassis (a liquor made from blackcurrants), and red wine. All flavors I enjoy, and I was happy to taste something out of the box. Dan opted for a glass of red wine from their extensive wine list.
I'd been on a recent Caesar salad kick, and Dan's always a fan, so we split a Classic Caesar Salad and a cup of their Crab soup for appetizers. The soup was more tomato-based than expected but still very good, with big chunks of crab meat in it.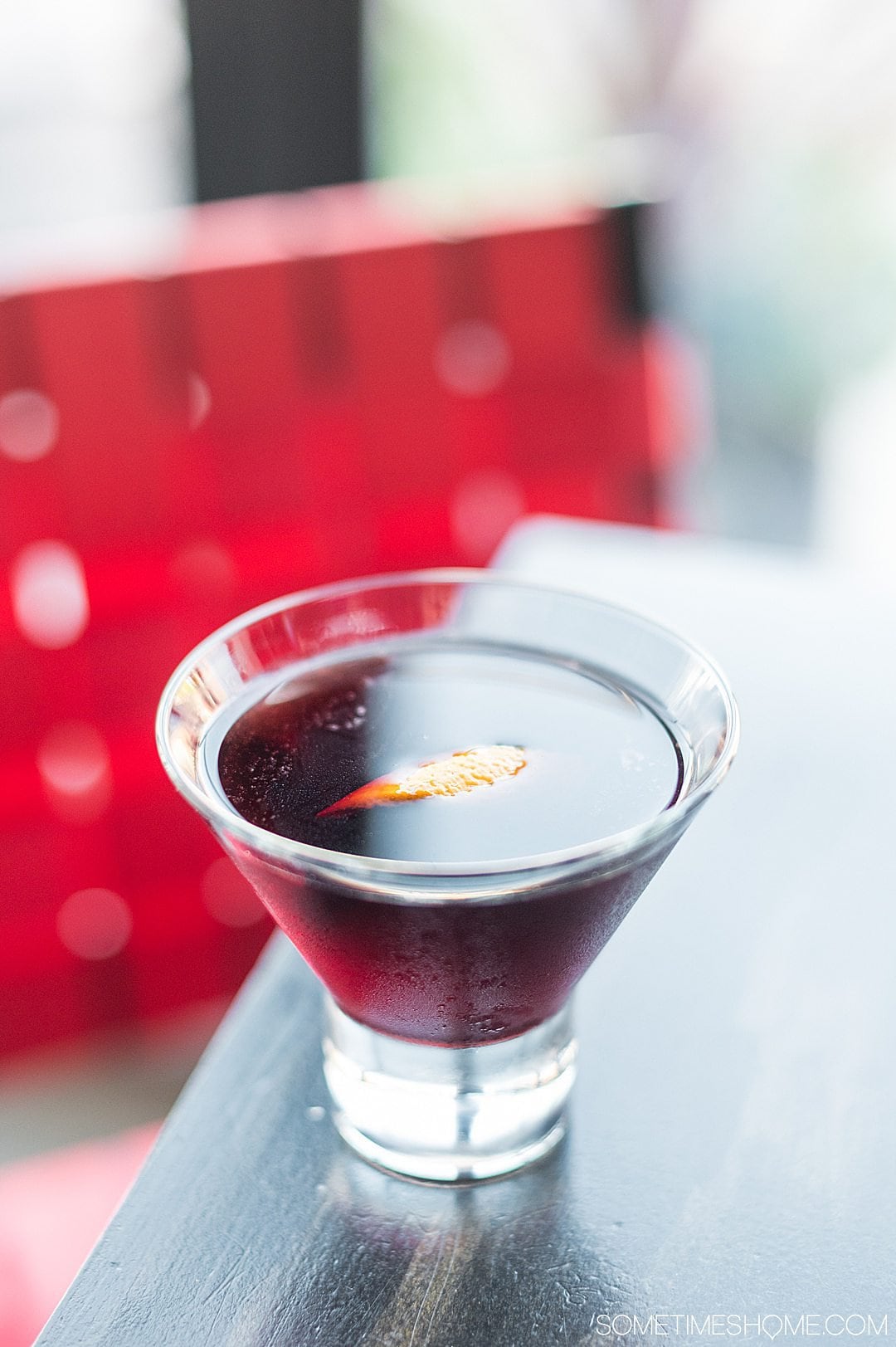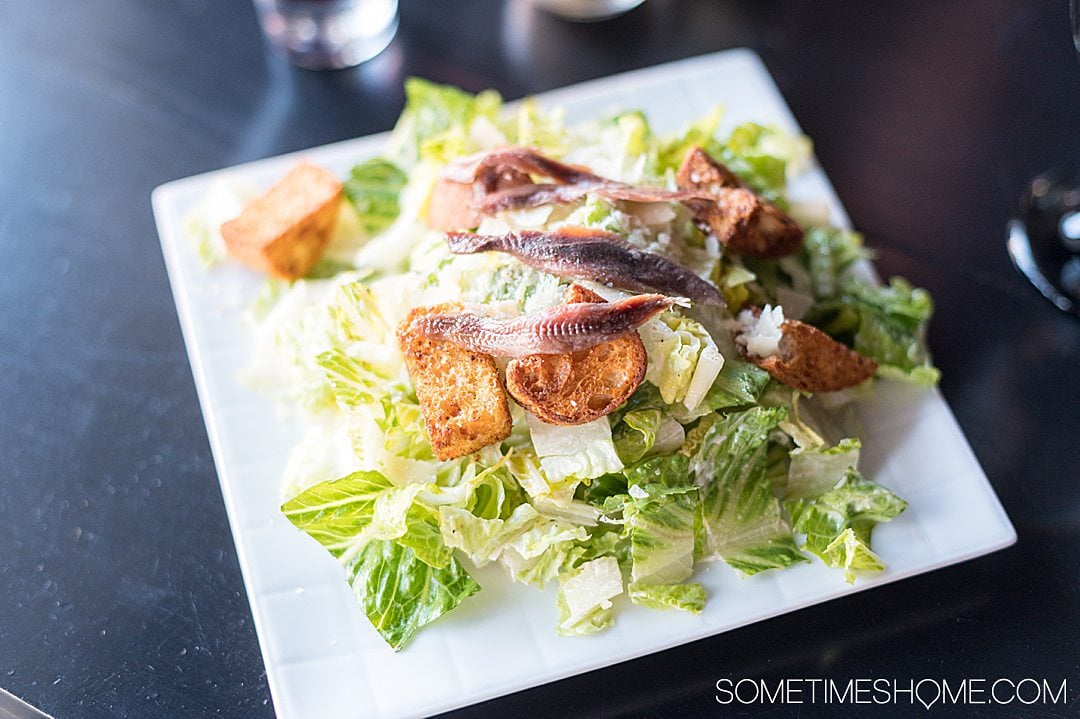 For the main course, we ordered Sesame Seared Ahi Tuna from the "shareables" section of their menu and the Smoke Seared Scallops from the "Large Plates" options. There were so many choices we debated getting like the Spicy Lamb Bolognese served with homemade pappardelle or the Seared Duck Breast, but we landed on two seafood dishes.
Here are the menu descriptions of our entrees:
Sesame Seared Ahi Tuna: sticky rice cake | wasabi aioli | seaweed salad | edamame | preserved orange chili sauce | sesame sauce
Smoked Seared Scallops: fried arancini | poblano parmesan cream | tomato caper relish
The tuna was really good. The sticky rice cake wasn't exactly what we were expecting (somehow, the starch made it a little gummier than traditional Japanese sticky rice by itself, and it wasn't quite the onigiri that I love from Japan even though it wasn't trying to be). But it was still yummy, and I've never met a seaweed salad I didn't like.
It was a great dish to enjoy during summer when something lighter is a good option and you want to feel healthier than during fall and winter. The sesame crust on the tuna was divine.
Now onto the WOW dish: the scallops…holy crap.
I couldn't believe how DELICIOUS this dish was. With every bite, I reiterated to Dan, "Wow, this is so good. This is so, so good…"
I enjoyed the pieces separately, from the perfectly cooked scallops to the tomato relish to the arancini rice cake in the middle of the plate. The poblano cream sauce was delectable. And I indulged with a little bit of all the components in a forkful…after forkful….and another. There's no wrong way to enjoy this dish. It was truly, truly fantastic.
Sometimes cream sauces don't agree with my stomach, but this sauce wasn't too heavy; both my palate and stomach enjoyed it immensely. There were additional sliced red and yellow cherry tomatoes on the plate we thoroughly enjoyed.
If you like scallops, you MUST order this dish when you visit The Handsome Cab!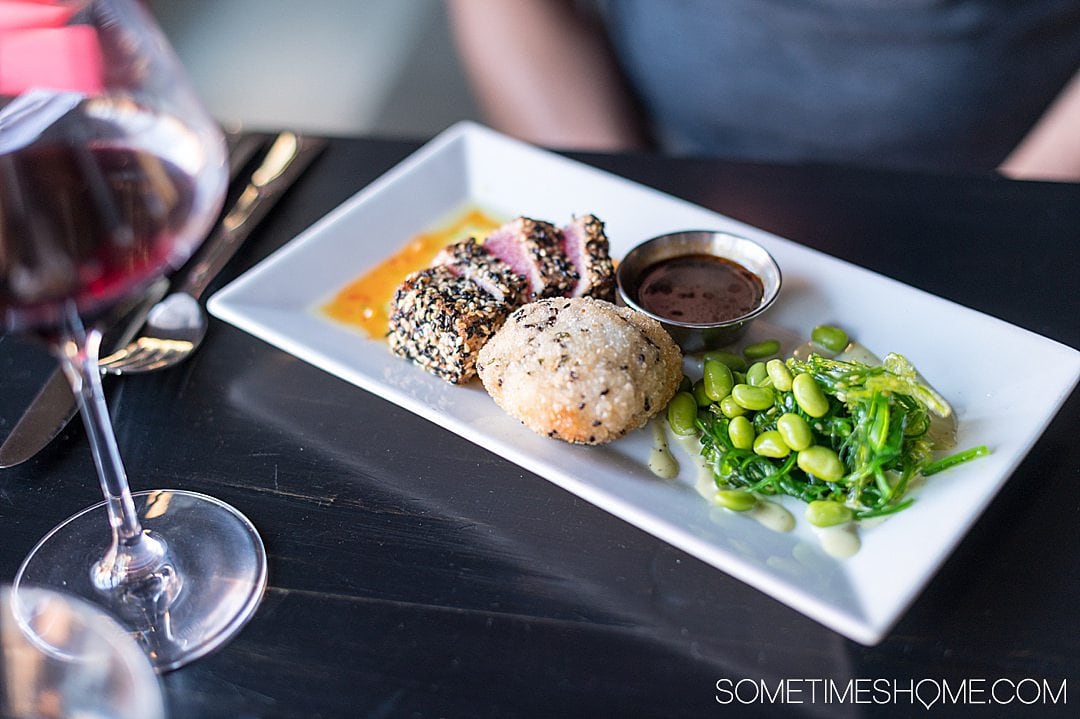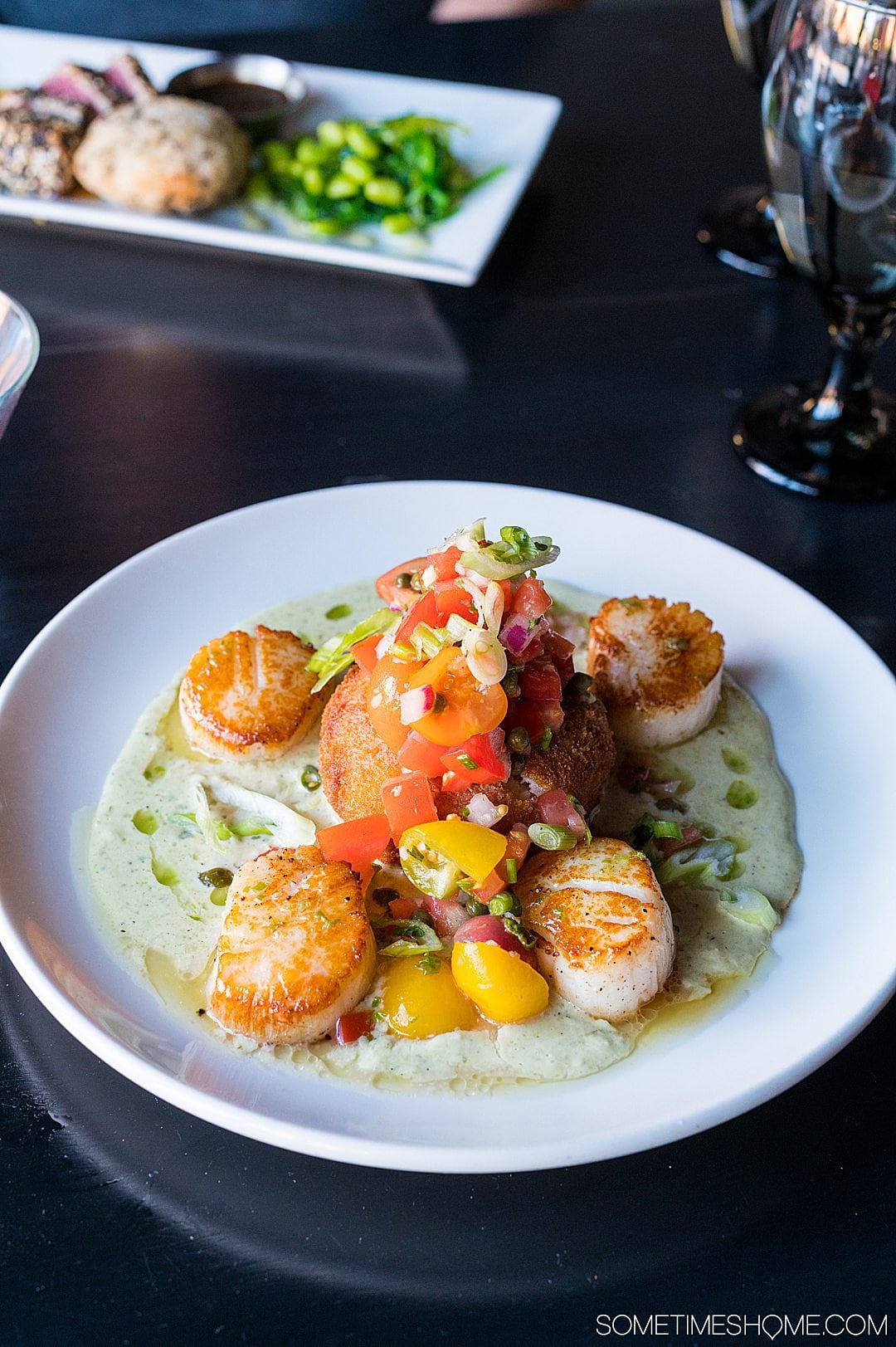 A Sweet Ending to a Wonderful Meal
We don't always order dessert but we were enjoying the weather and the meal so much we didn't want it to end.
When our server came over to take our entree plates away I made sure to ask her to thank the team in the kitchen for us. (I also may have shared we're tough food critics who eat at great restaurants all over the world, so being blown away by a dish doesn't often happen with us. And what we ate blew us away!) Then we ordered a piece of flourless chocolate cake.
The cake looks heavy, but looks can be deceiving. It was actually quite light. I know Dan really likes something if he continues eating it after I've stopped (I'm usually the one with the sweet tooth). And that's what happened with the cake. All in all a great ending to a great meal.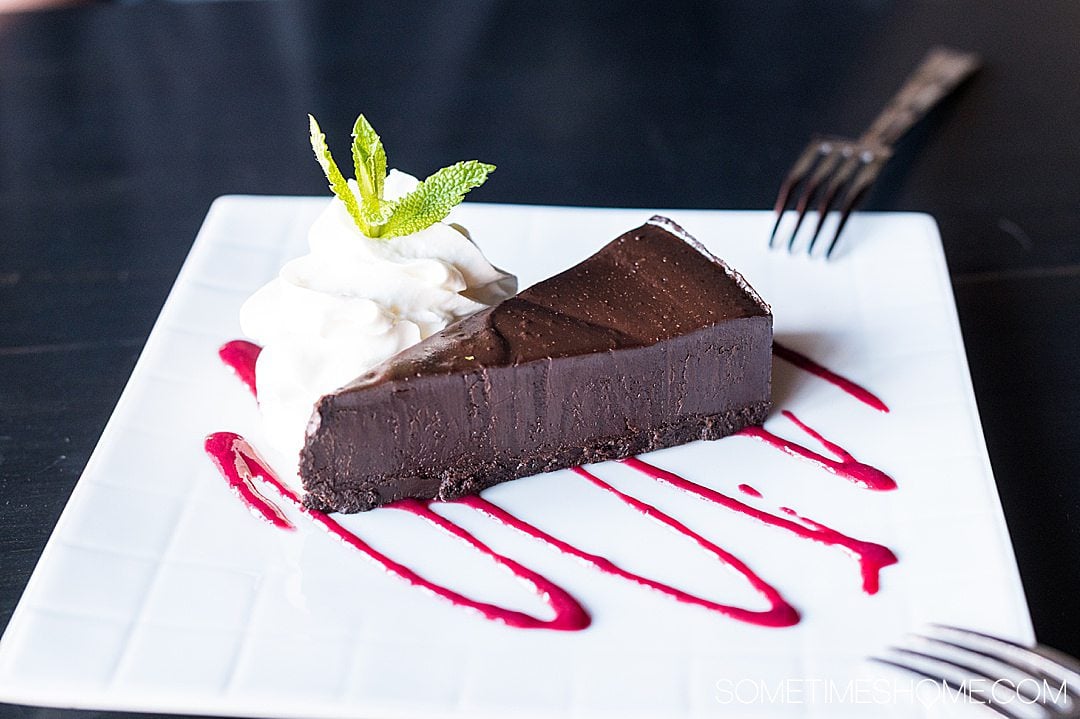 The First Post in the Suburbs of York, PA
We're not going to sugar coat this: when we pulled up to The First Post we didn't expect much yet we'd heard good things. It was just before 6:00pm and the place was already pretty busy with diners having full meals, not just taking advantage of their bar area happy hour menu.
We thought maybe an older crowd who enjoys early bird specials would account for this. But we soon learned it's simply a popular restaurant in York because the food, service, prices, and ambiance are all fantastic.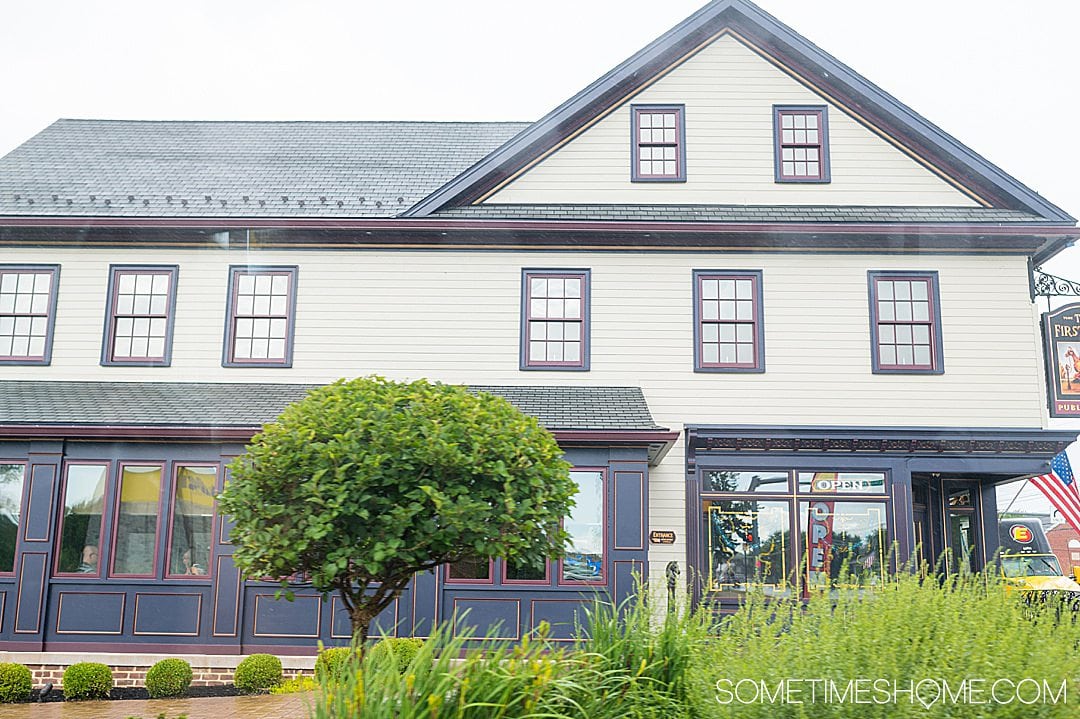 The First Post's Restaurant Design
The First Post Public House in York, Pennsylvania, is in a building that, like The Handsome Cab, is from the 19th century. The renovated building has had three lives: first as a single-family home, then a bed and breakfast, and finally as a restaurant that's been around since the 1980s.
The restaurant looks like it's three different distinct buildings from the front if you're viewing it from a distance on E. Market Street. (We don't have a photo of the full exterior, unfortunately, but the light yellow siding and purple painted corner below is the left-most building, where you enter the restaurant.) The three facades are all connected inside and reveal different parts of the restaurant.
Each of the three different areas has a different interior design. The section we sat in was full of light from an abundance of windows. I loved the purple paint on the woodwork and the ferns they had hanging from the ceiling.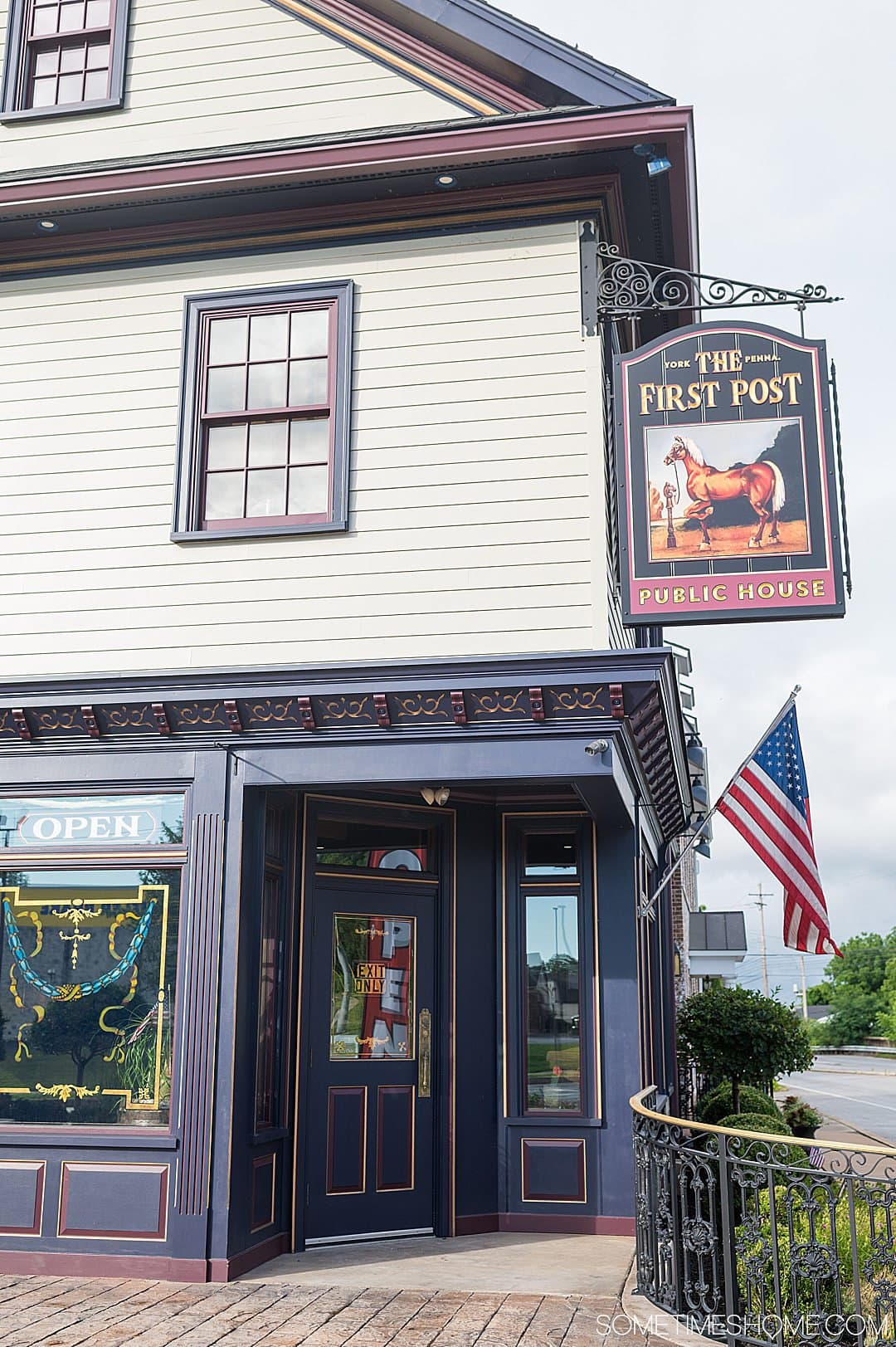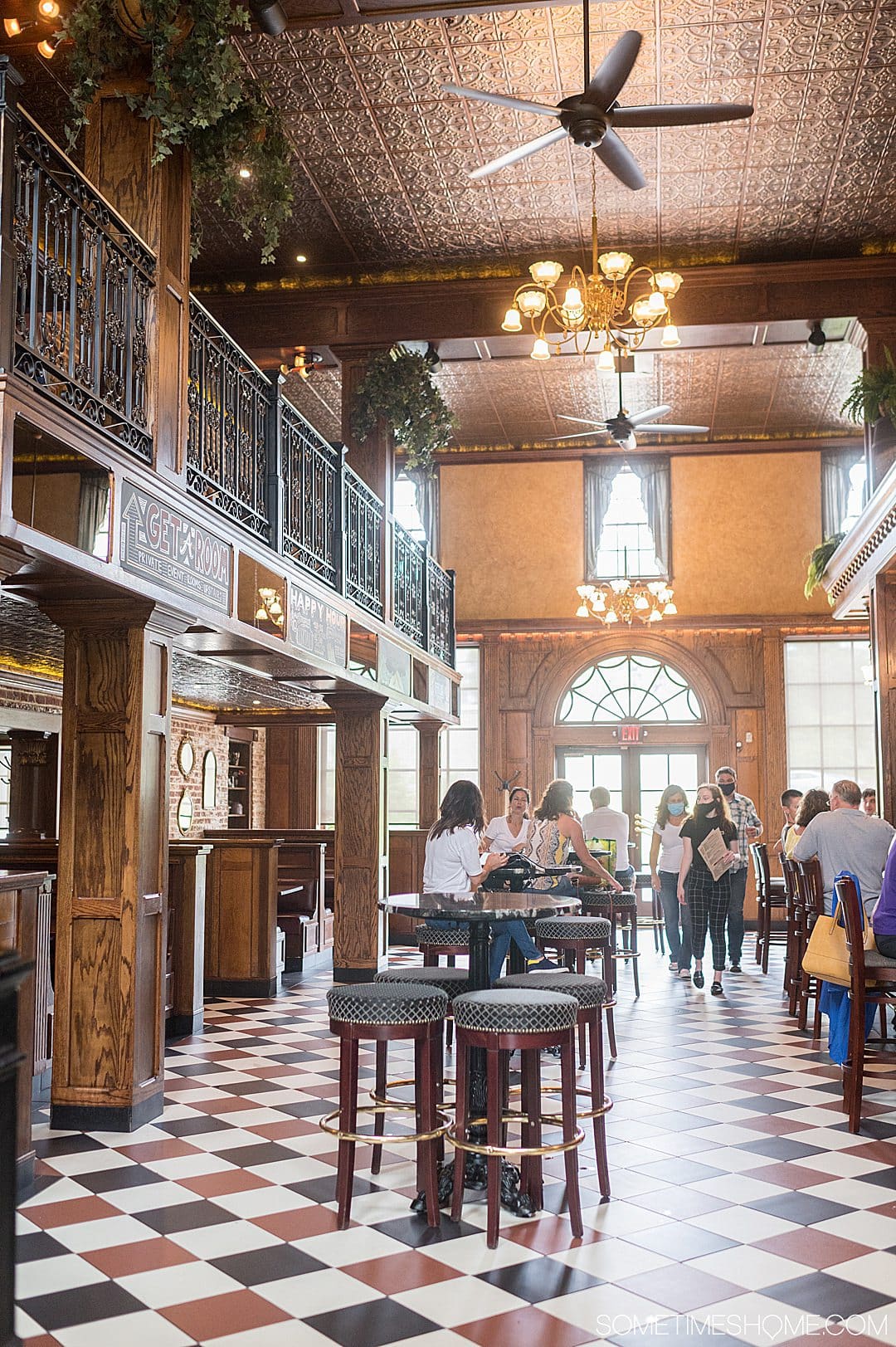 The second section feels more like a "saloon". Here, the bar is situated on the ground floor and event space and additional dining room seating are in a lofted area. The brick, dark wood and alternating ivory and brown floor tiles add to the warmth of the space.
Thirdly, is a seating area that connects to the kitchen and restrooms. It feels a bit cozier in this section, maybe perhaps the ceilings felt lower because of the dark color it was painted. (If memory serves me, it was black.) Just when I thought The First Post couldn't get any bigger, I discovered this third space had plenty more seating. This explains why their back parking lot is huge!
What We Ate at The First Post
Dan proclaimed it was the best pork chop he'd EVER had in 40+ years of life. Wow. Let's rewind to what we got before the entree finale, though.
We started with a draft beer and a vodka dirty martini to accompany our half dozen oysters and a side Caesar salad. (I'm telling you – I was on a Caesar salad kick at the time. I also often crave lettuce. I love a good salad.)
We selected one of three local Virginia oysters listed on the menu that were mild in flavor. We don't love overly salty oysters, and they were perfect. It was the first time we saw oysters served with orange and lime slices. We didn't use them but thought they added a nice pop of color to the tray. Horseradish wasn't automatically served with their oysters, but we asked for some, and it wasn't a problem. I'm sure it's a common request! We like a little punch with our oysters! They were really good.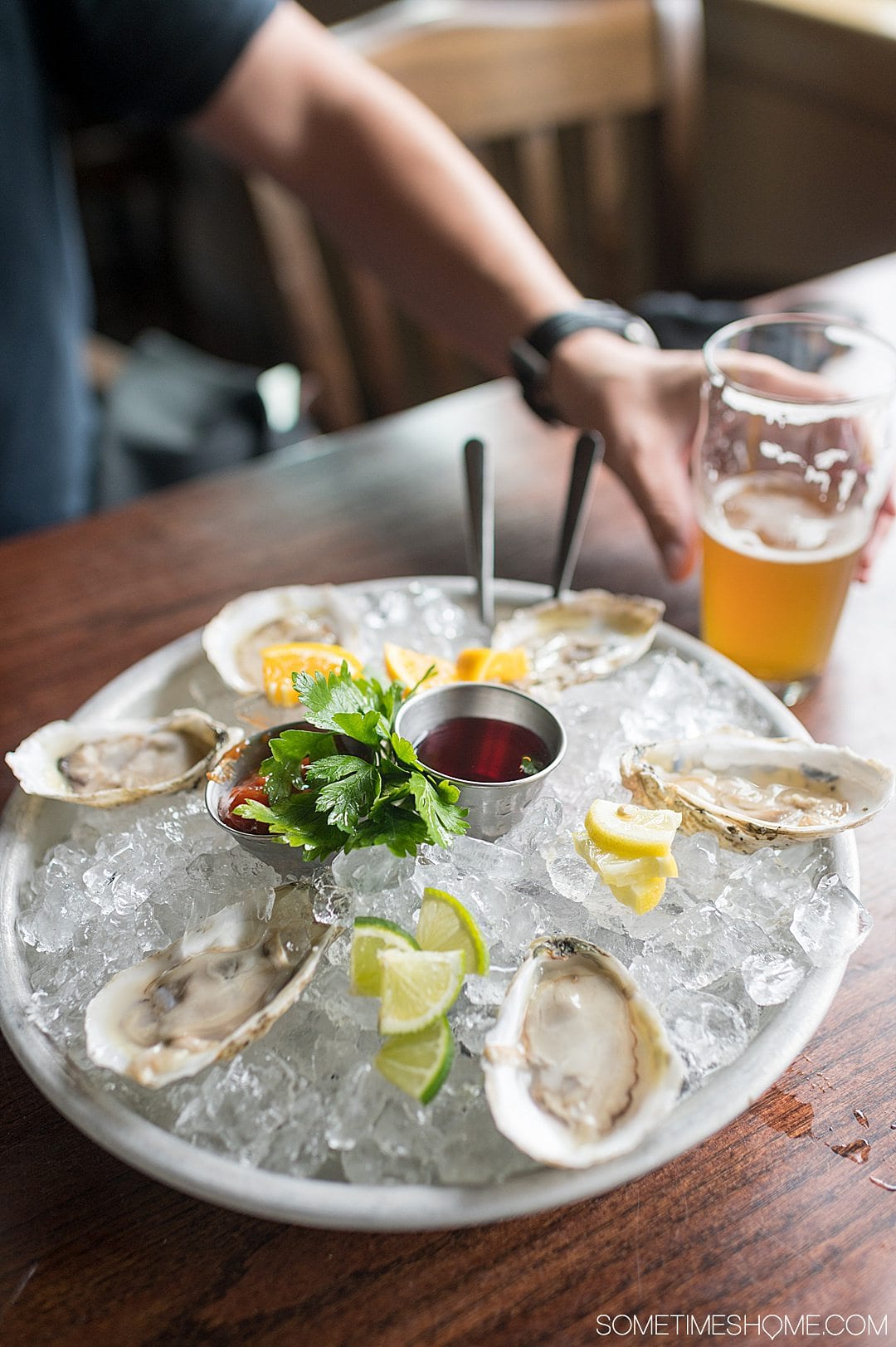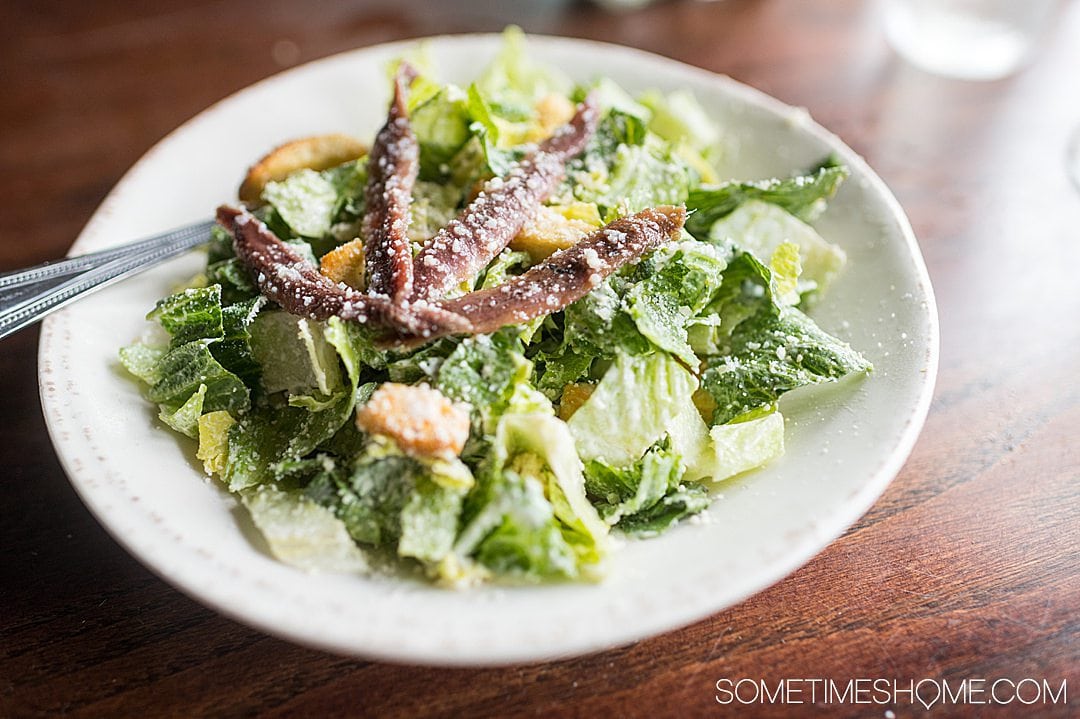 I kind of wish I didn't get the salad because I would have had more room for my incredible main dish! (Thank goodness we said, "no thank you," when our server asked if we would like bread. I'm so glad we saved that belly room for more of our main courses.) I ordered the Sirloin and Crab Cake, a little surf and turf yet they technically have another dish on the menu that's labeled as such. Dan ordered the Prime Pork Chop, to which our lovely server said he wouldn't be disappointed because it's her favorite thing on the menu.
Here are our main course descriptions:
Sirloin and Crab Cake: herb mashed potatoes, green beans, roasted red pepper cream, corn relish
Prime Pork Chop: slow-roasted and grilled, bacon brussels sprouts, cheddar grits, apple pork jus (and it was only $20!)
My dish was incredible. There was a char grill on my steak that was so delicious that even when I said, "I have to stop…I'm going to be over eating past this point," I kept going. It was just incredible. And the crab cake was pretty much 100% chunky crab with no filler. Wow. The green beans and mashed potatoes were just the icing on the cake, all cooked perfectly. The entire plate was done PER-FECT-LY. I've had dreams about this meal. Truly.
Dan's dish was equally unreal. He's still dreaming about his dish as well, and I thought it was amazing too. Not just the pork chop, but they did the southern grits justice with a cheesy twist, and the Brussels sprouts with bacon were SO well cooked I asked the server if she knew the kitchen's secret to how they cooked them so evenly to perfection.
We opted to end there because we had zero room for dessert. We left as two uber fans of The First Post, and we can't wait to go back one day, hopefully, sooner than later.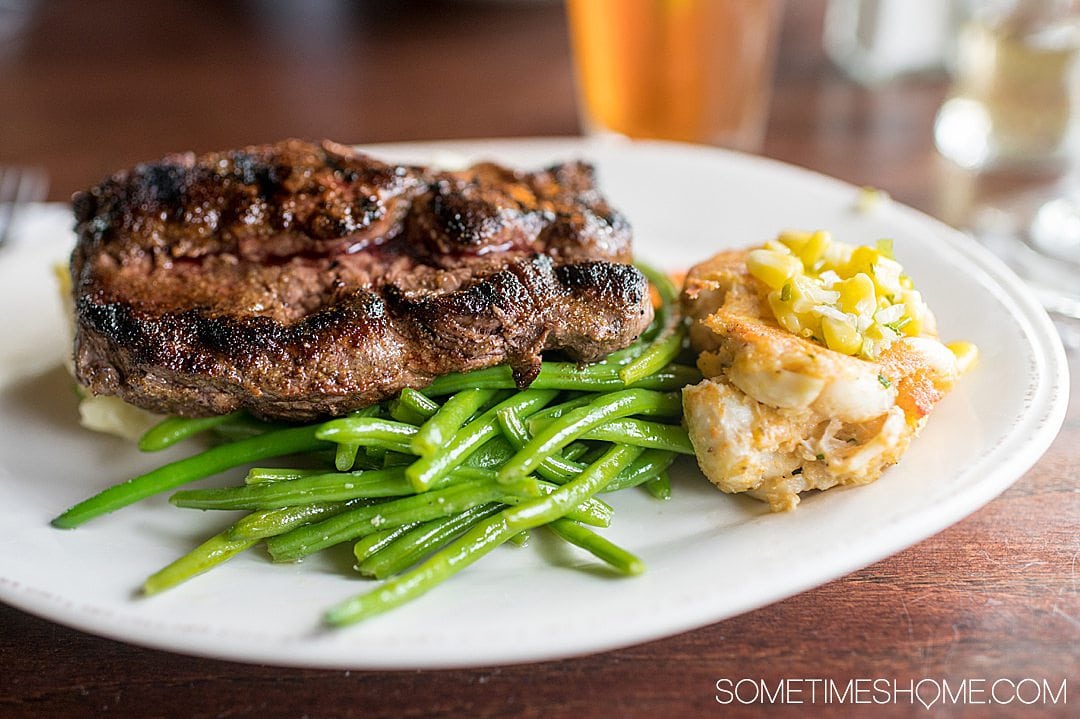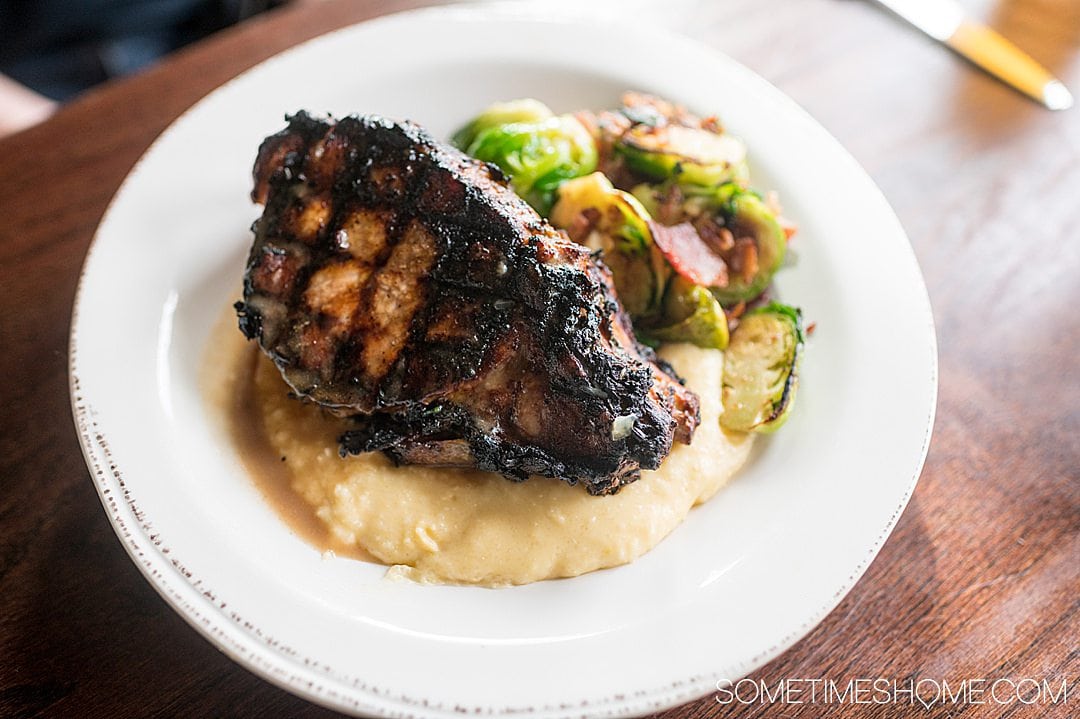 There is Much More to York, Pennsylvania, than Food
We would go back to York just for these dishes even though it's a great city with plenty more to do and see than just food. But if you went there just to eat at The Handsome Cab and The First Post, we wouldn't blame you.
106 N. George Street #1214, York, PA 17401 • 717-793-2413
3691 E. Market Street, York, PA 17402 • 717-430-8115
Heading to York? Also check out: