Downtown Raleigh is one of the best places to strike a pose. It has lush green parks, urban beauty, murals and city lights. As a full time professional photographer I'm constantly on the lookout for beautiful locations for Raleigh photography.
If you're a photographer, resident or tourist simply looking for things to do in Raleigh, I dish the perfect locations for your Instagram stories and camera with the best places to take pictures in Raleigh, NC. (A lot of them are great places to visit regardless of taking photos, too!)
1. HQ Raleigh Wall
What's a trip to Raleigh for some downtown photography without a photo with a colorful wall that actually says, "Raleigh"?! HQ Raleigh is in the Warehouse District of the downtown area. Strike a pose with friends and let the world know where you are! Don't forget to hashtag #SometimesHome and #HQRaleigh if that's how you found it!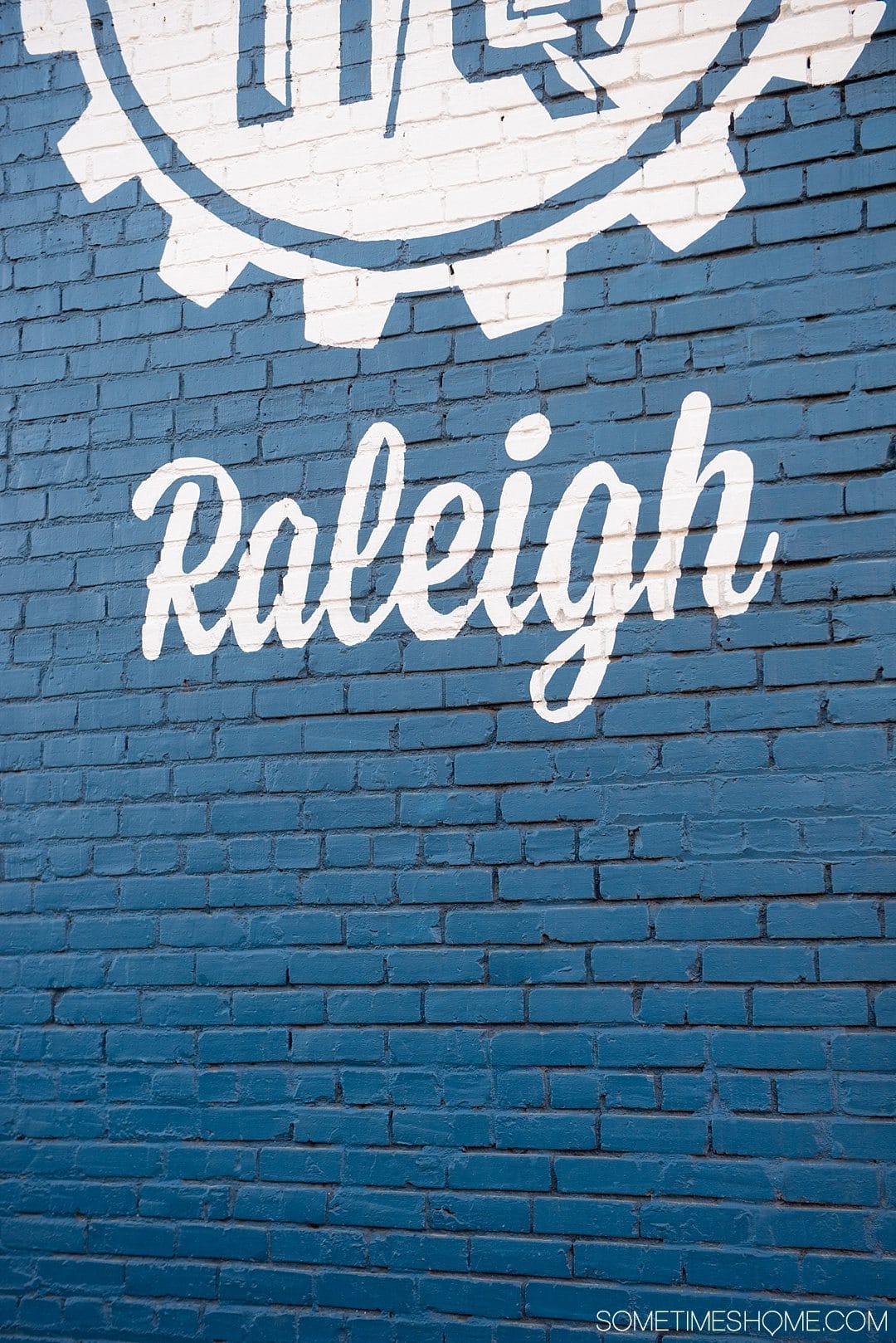 2. Downtown Raleigh Photography at CAM
CAM, or the Carolina Museum of Art, is next to HQ Raleigh in the Warehouse District. Its angular metal roof and bold yellow letters make it a point of interest and one of the key places to take pictures in Raleigh. They seasonally have food trucks and seating on the front gravel patio but with or without it it's certainly picturesque.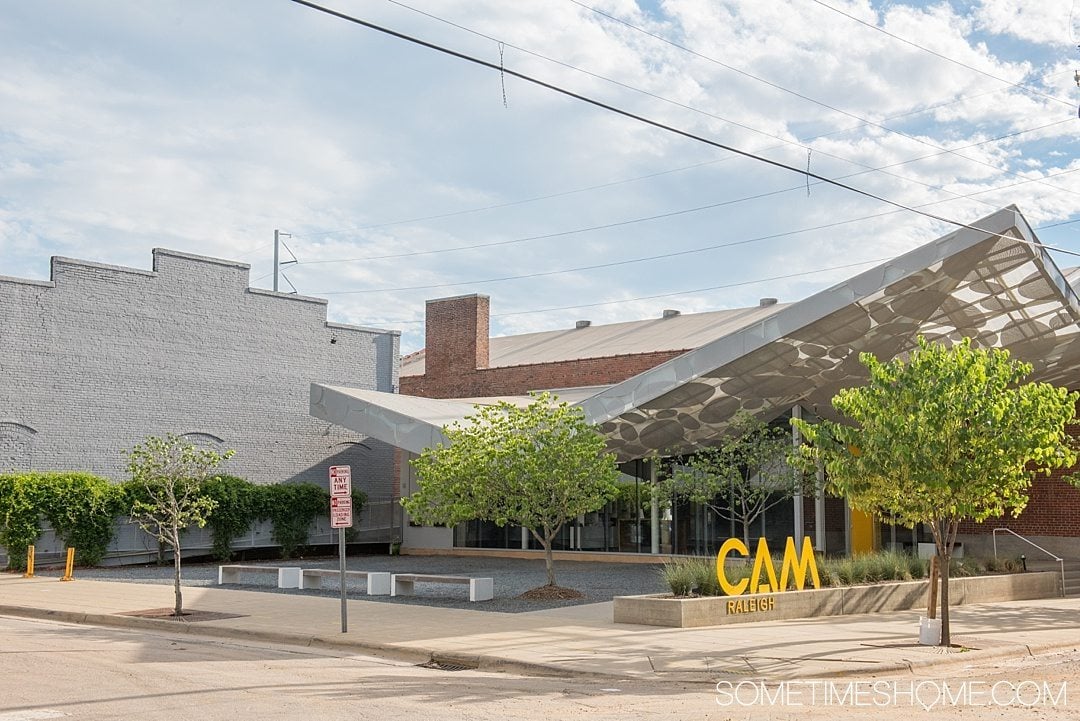 3. Fayetteville Street (Raleigh photographers Flock Here!)
This main avenue in the heart of downtown is one of the prettiest streets I've ever walked. It's so incredibly well kept and looked after; a Raleigh photography trip would be incomplete without stopping here. It has beautiful landscaping and flags that usually correspond to the month's holidays or festivals. It's not too heavily trafficked but be careful and look both ways if you stop in the center of the street to grab a downtown photo.
There's a lot of great bars and restaurants on Fayetteville (and the nearby area) if you're in the mood for some delicious food and cocktails. If you're standing on the street and look north you'll see the Capital Building and if you look south you'll see Duke Energy Center for the Performing Arts. They're both beautiful structures but don't overlook how photo-worthy the street itself is too.
It's very common to run into other photographers on Fayetteville street, capturing engagement session photos or wedding day pictures, especially for venues on Fayetteville Street, like The Stockroom.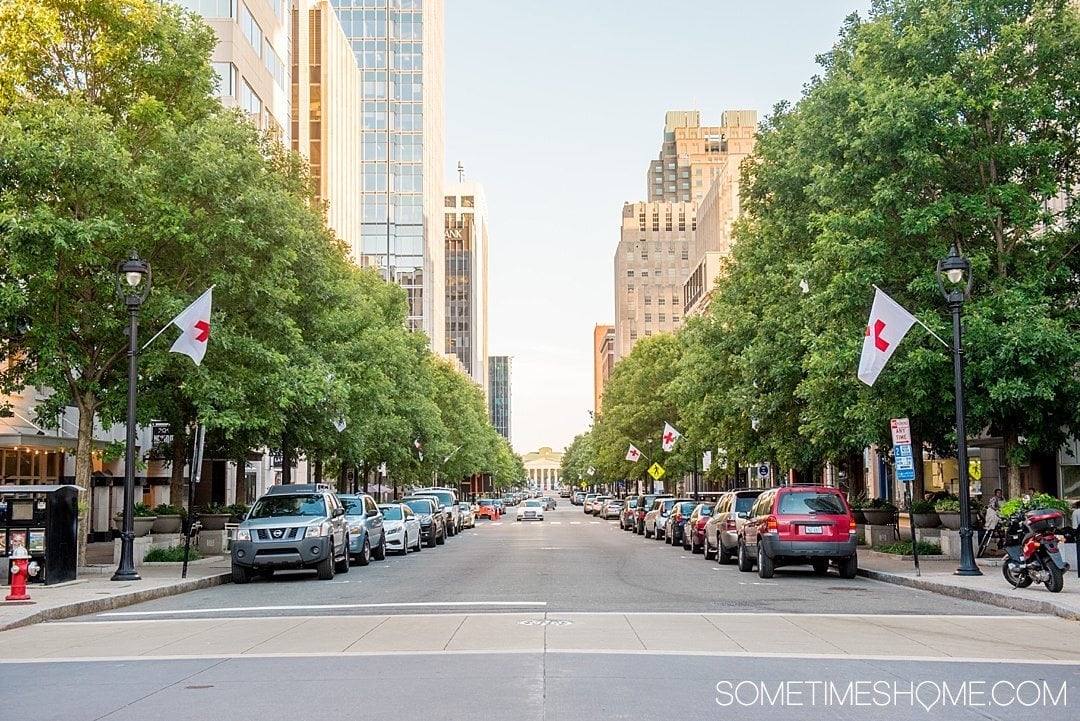 4. The Capital Building, near Great Hotels in Downtown Raleigh
Raleigh is the capital city of the state of North Carolina. Thus, there's a grandiose building in the city that pronounces its authority. The building has beautiful columns and green grass surrounding it. There's a few notable statues here as well. Walk around all four sides of it because there's something different to see from every angle. I snapped my downtown Raleigh photography image below during golden hour, right before sunset.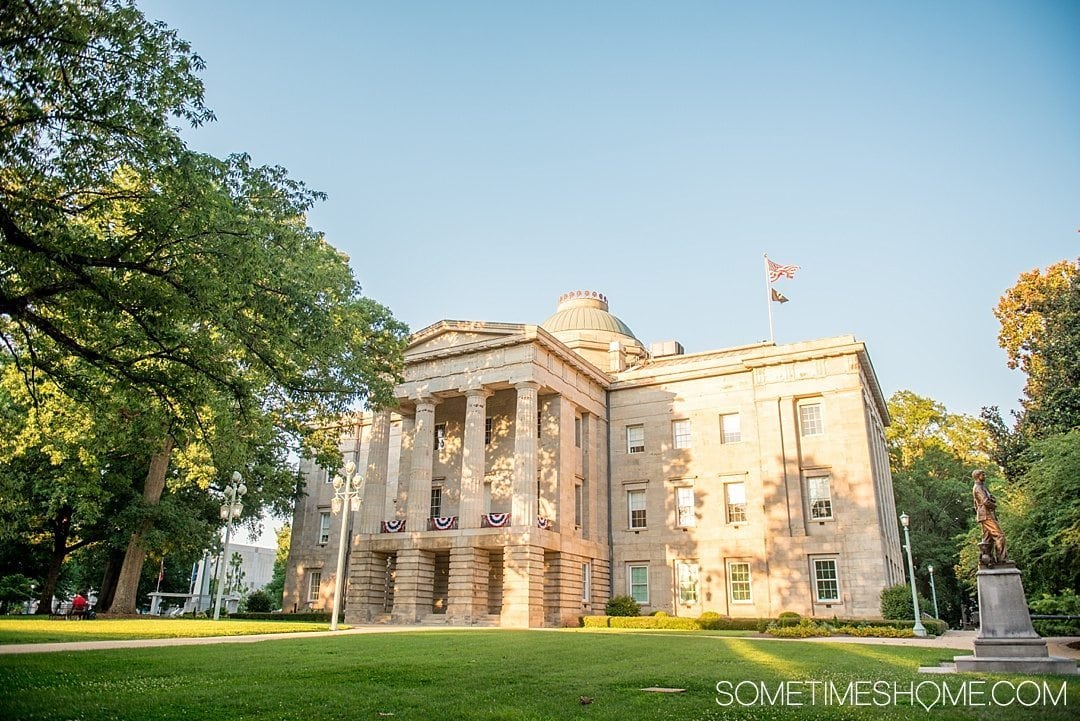 Wanting to stay on Fayetteville Street, blocks from the capital? We recommend the following hotels to be in the center of all the action, walking distance from all the spots in this post:
We also love Aloft Raleigh. It's not as much within walking distance but it still very nearby by NC State's campus.
5. City Market
This market was first built around 1914 to serve the city's residents with a place to buy local foods, including fruits, vegetables and baked goods. It's long standing history as an icon of the city is still present in its architecture and cobblestone streets.
My favorite part of City Market is the lights that are hung high above the street. It's a pretty scene during the day but it's even more stunning at night when they're illuminated. I photographed this wedding at a venue at City Market and loved the result when I photographed the bride and groom underneath the lights.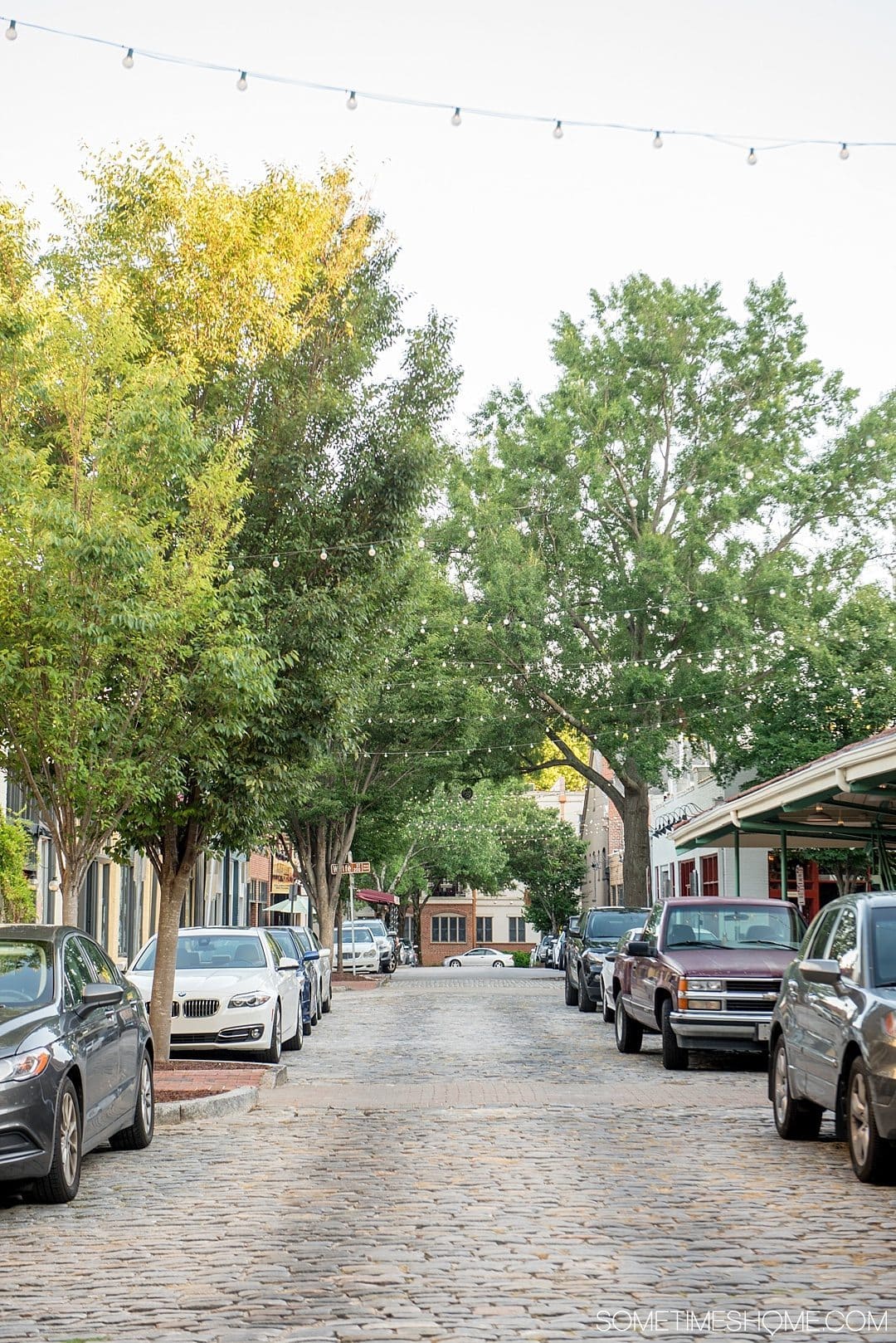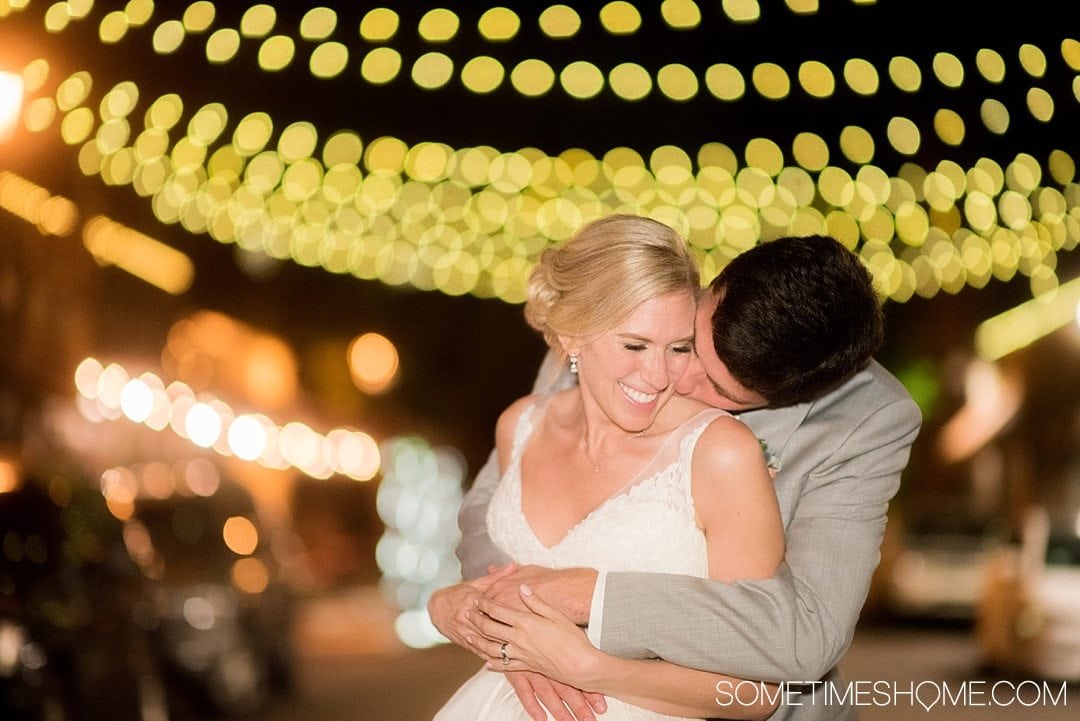 6. Globe at North Carolina Museum of Natural Sciences
You can literally put the whole world in your hands here! It'd be difficult to miss the large globe perched outside this museum at one of the best places to take pictures in Raleigh. This downtown Raleigh photography spot, which is on the sidewalk attached to the museum, reaches nearly three stories high. Where else can you take photos with the entire Earth?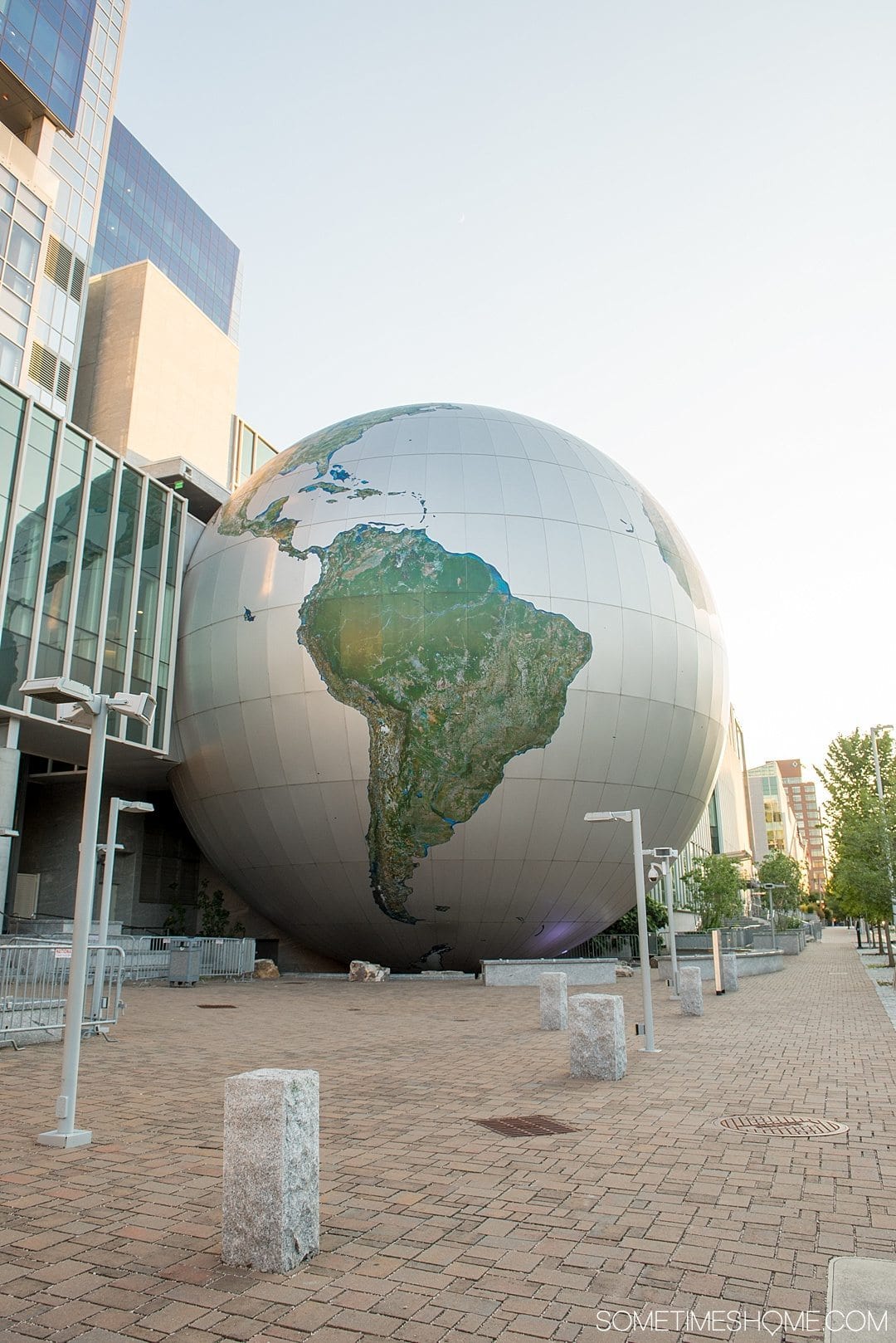 7. Boylan Bridge for a view of the Downtown Raleigh Skyline
The views of the city from Boylan Bridge are worth enjoying and it's one of my favorite places to take pictures near me (or our apartment, I should say). As the city expands the skyline is ever-changing; a downtown photo you take today may be vastly different from next year's view. The top photo was taken during dusk in 2018 and the bottom during an overcast day around 2016.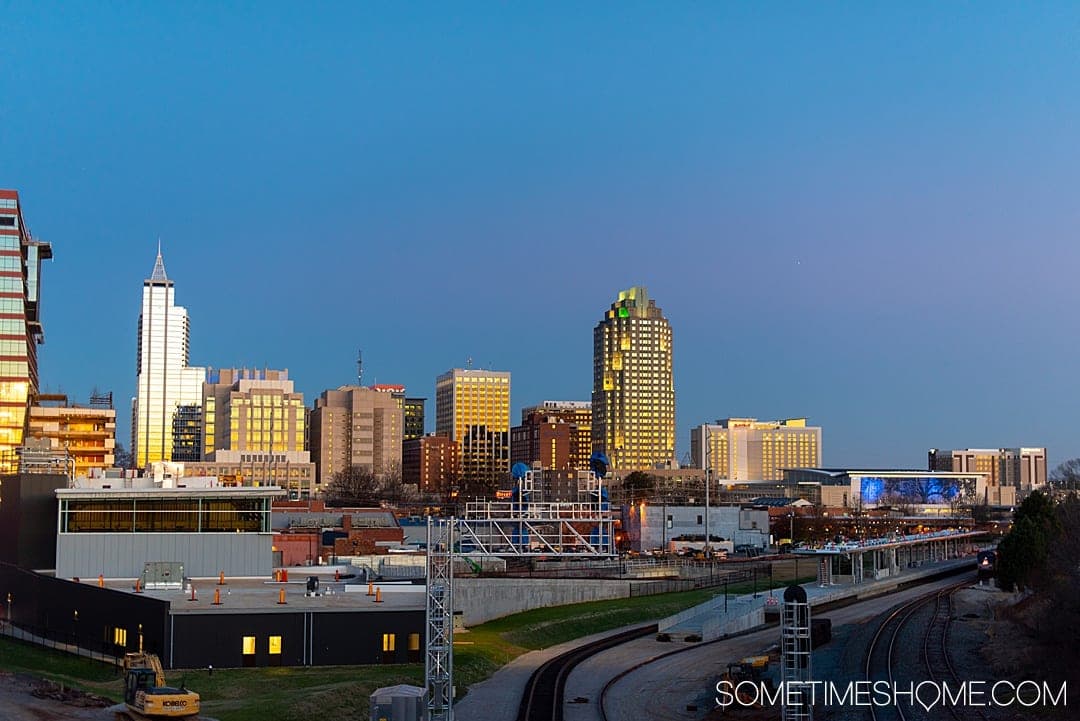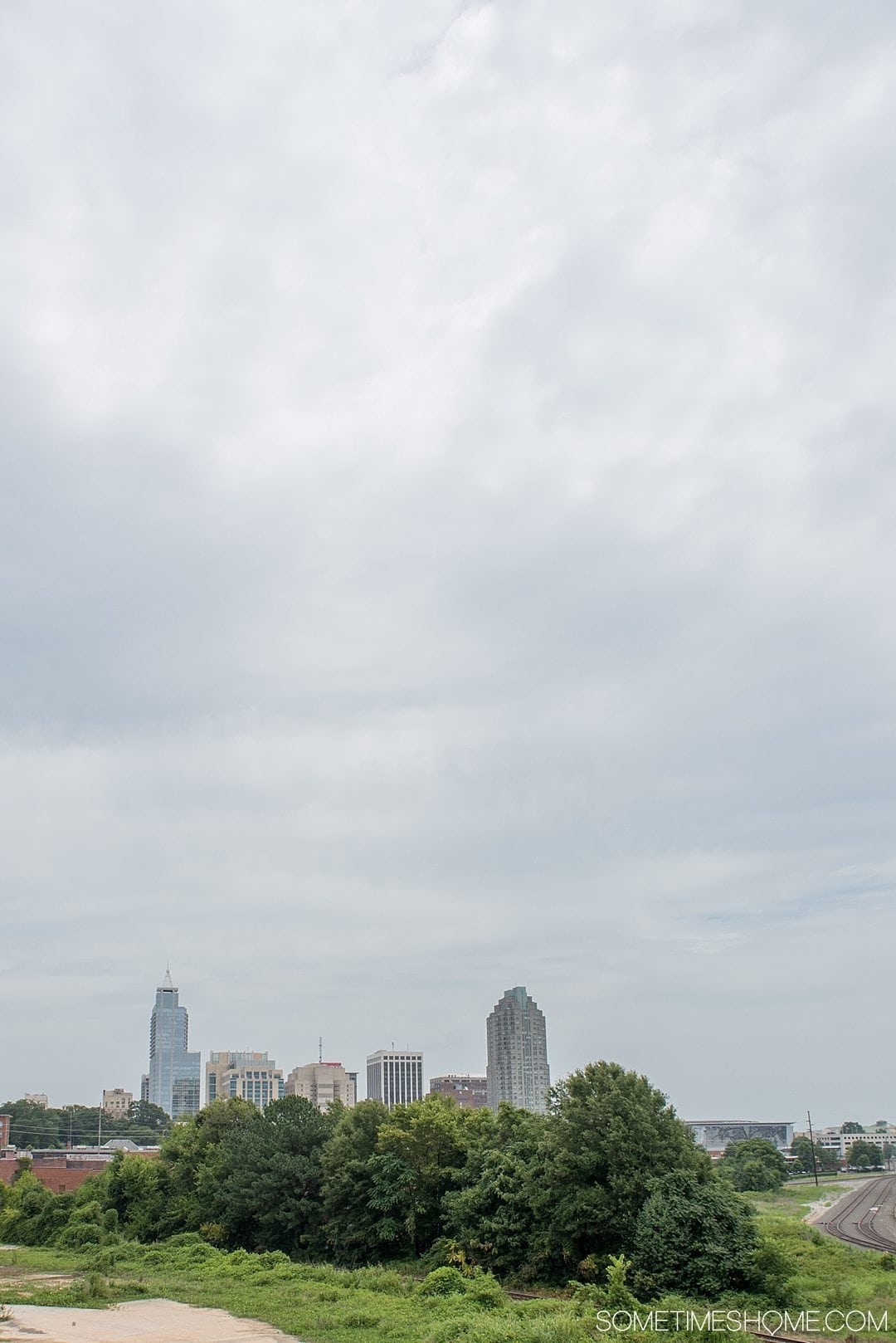 8. Monsters Wall near Trophy, a Downtown Raleigh Restaurant and Brewery
This is one of my favorite Raleigh murals and places to take pictures near me! The "monsters" wall, painted by Kevin Lyons, has such personality. It's located near Trophy Brewing and Pizza, on the east side of the building. Since it was fading fast from sun exposure they invested in having the artist come back out to Raleigh to redo the mural, in color, in May 2018. I loved photographing part of a couple's engagement session here when it was still black and white.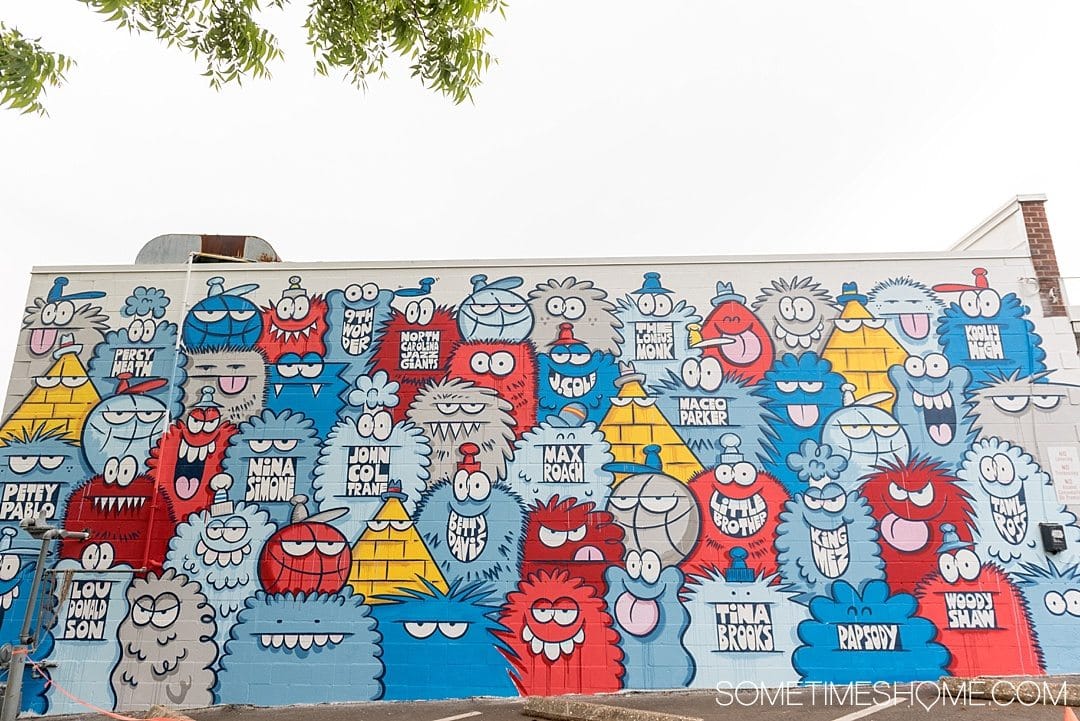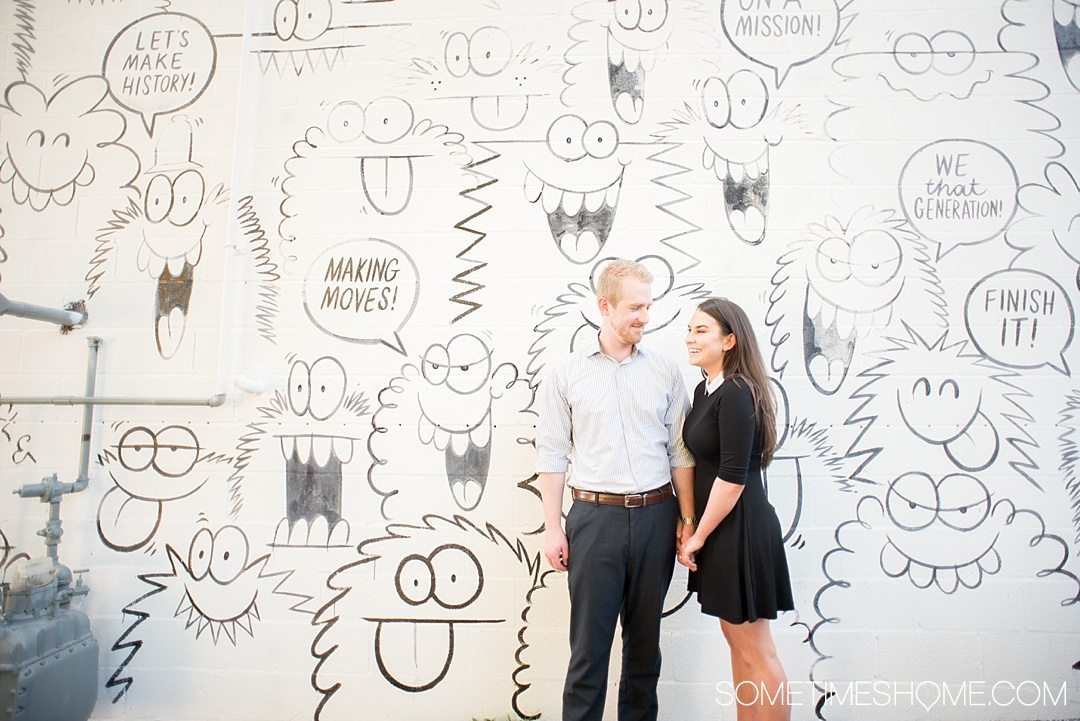 9. JC Raulston Arboretum
This arboretum is part of NC State college's property. They generously invite visitors free of charge to enjoy their beautifully landscaped gardens. (Donations are welcome.) They do not charge a photography fee (or require a photography permit) when pro photographers bring their clients here for sessions, thus Raleigh photographers flock to this beautiful arboretum.
Of course all hobbyist are always welcome too. They have a variety of photo-worthy spots from their Japanese Garden, to Elm Circle and Rose Garden. The image below was taken during this engagement session on the arboretum's perennial border walkway.
Technically it isn't downtown however it's right next to it; it's only about a 10 minute drive.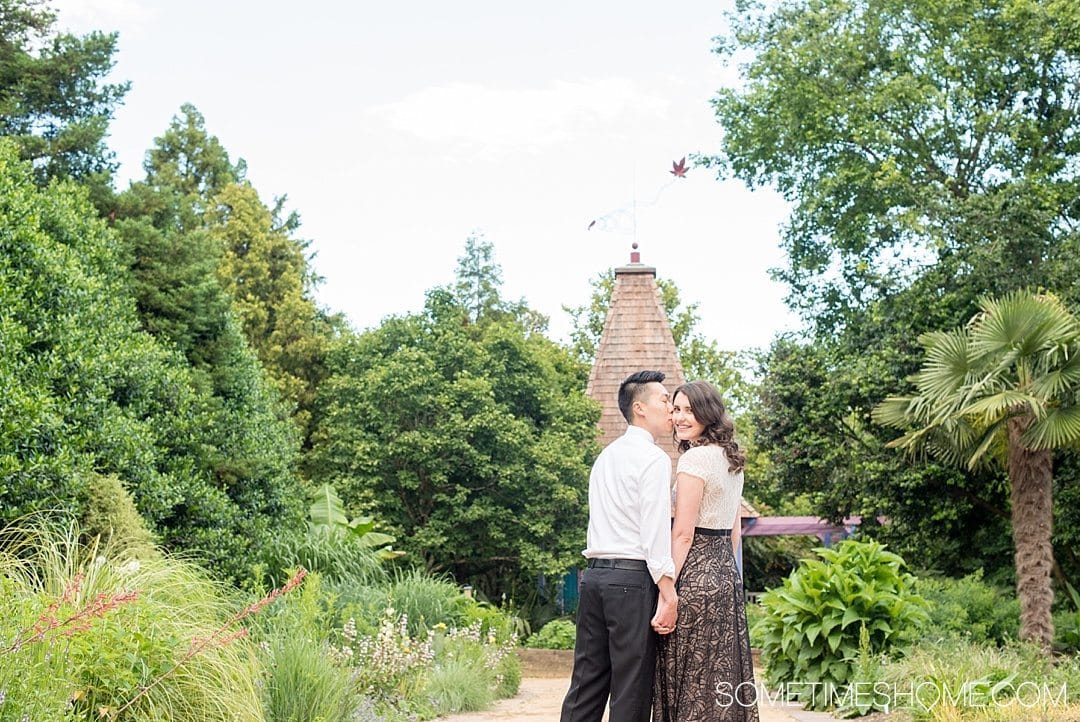 10. Geometric Mural Wall
Not too far from JC Raulston Arboretum is an unassuming mural wall. It's at the end of a shopping strip and I am certain while many people admire it as they drive by to the highway they don't stop to photograph it. But not me! It's right near a Whole Foods and Bruegger's Bagels off Wade Avenue. I love the geometric pattern the artist chose painted in hues of blue, red and black.
11. The Dillon Entrance and Wall
This is actually two spots in one. The Warehouse District is one of the latest to be redeveloped in downtown Raleigh. One of the most popular buildings that towers over the city now, especially in this neighborhood, is The Dillon building. There's a restaurant at the corner of W. Martin Street and S. West Street, that's part of The Dillon, where people love to take photos. And when you see it you know why.
The large steel-framed entry way, with the building's glass behind it and restaurant landscaping on the right, is so pretty. And just within that oversized entrance, to the left if you walk through the photo below, is an exterior wall they kept up from a previous building. The chipping white paint only adds more character to the three street-level "windows" that open to the sidewalk and Union Station across the street.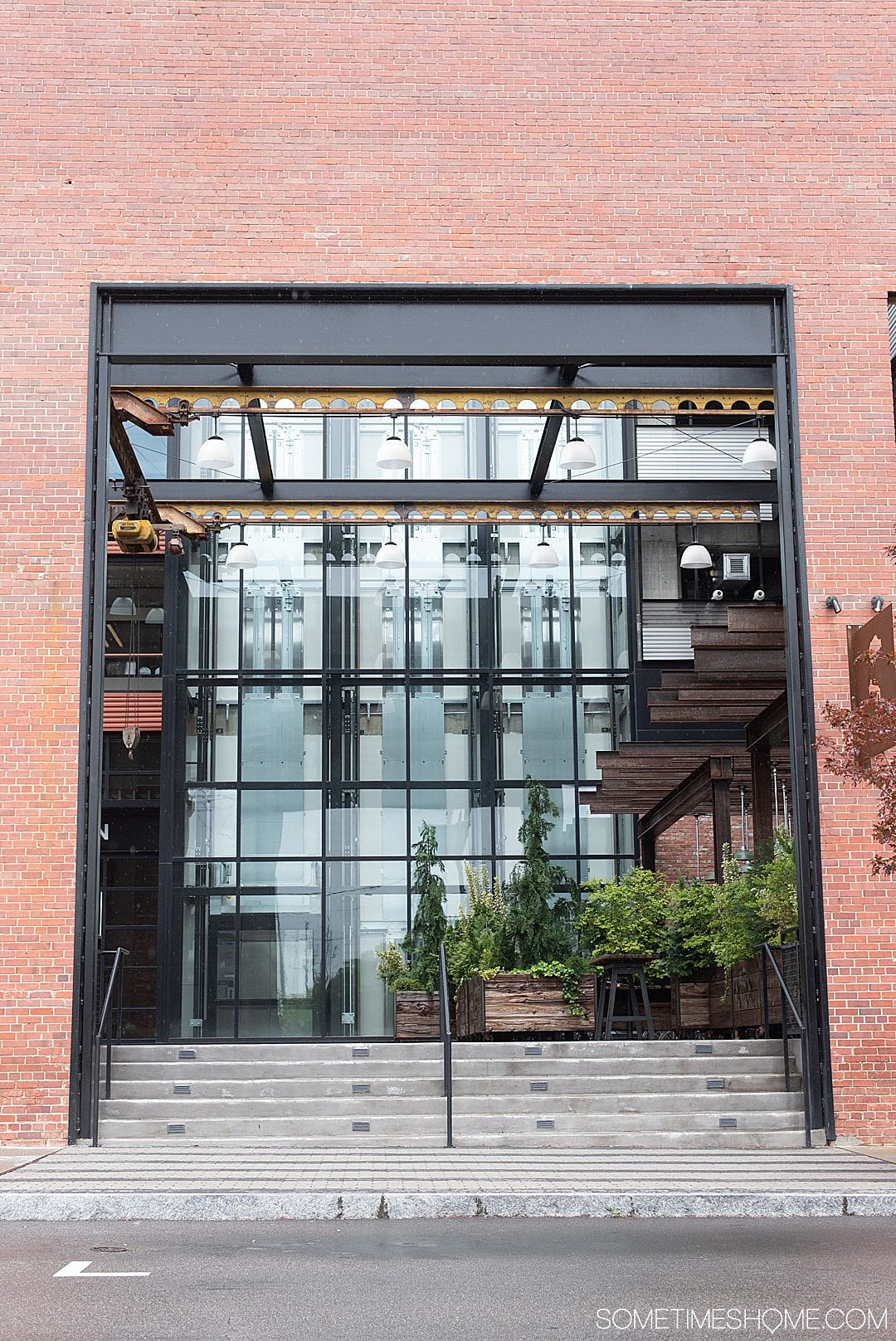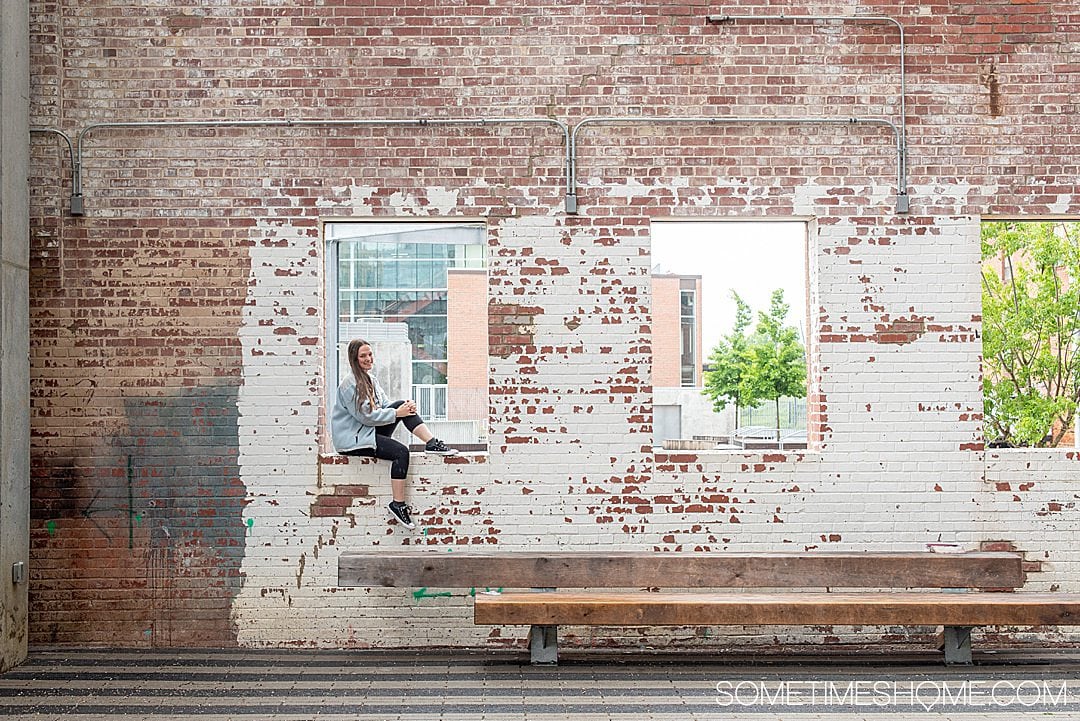 12. Downtown Raleigh Union Station
Just across the street from The Dillon is a place where Raleigh invested millions of dollars. The intent was to create a brand new train station in the heart of downtown. The new Union Station isn't only top of the line – it's an attractive urban playground for a photographer.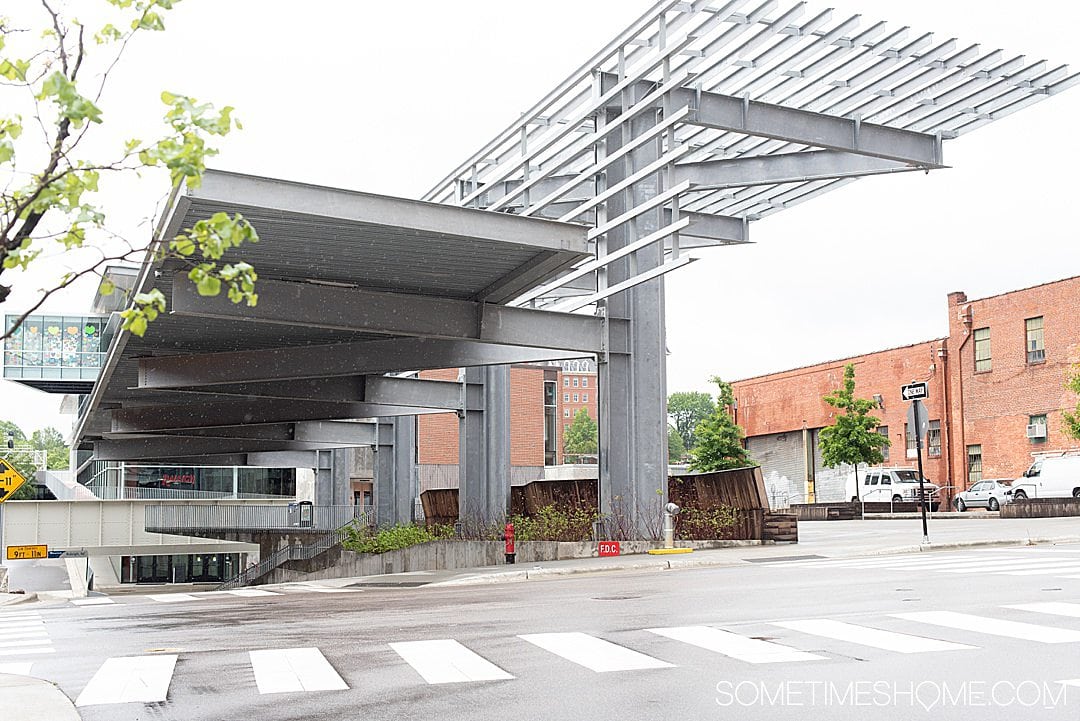 Note that while many of these are unlikely to change, some spots like Raleigh murals are subject to refreshing. Thus, if you show up and there's another painting over it simply go with the flow and find beauty in the location you're photographing and experiencing. And if you're looking for a photographer in Raleigh, NC feel free to contact me!
Regardless of which of these 12 spots you visit, if you're venturing out from home or downtown Raleigh hotel to partake in Raleigh photography, we know you'll get some great captures!
Disclosure: There are affiliate links in this post, which means we may earn a small commission if you click the link and proceed with a purchase. We only recommend products or services we personally use and recommend.
For more to do in North Carolina check out:
Which would be your first stop on the way to capture all 10?