18 Best Places to Take Pictures in Raleigh
Normally, a professional photographer would covet the best places to take pictures in Raleigh. However, we truly believe that sharing our city with the world is one of the best things we can do for the city we live in and love.
Raleigh is one of the best places to strike a pose and engaging in a little Downtown Raleigh photography is one of our favorite things to do in the city. There are lush green parks, urban beauty, murals, and city lights all within walking distance.
If you're a photographer, resident, or tourist arriving from RDU or driving to the area and are looking for things to do in Raleigh, we are dishing the perfect locations for your Instagram stories and your pro camera with the best places to take pictures in Raleigh, NC.
(A lot of them are great places to visit regardless of whether or not you're going to snap some nearby or downtown Raleigh photography pics!)
Disclosure: There are affiliate links in this post, which means we may earn a small commission if you click the link and proceed with a purchase, at no cost to you. We truly only recommend hotels, products, and services we personally use. As Amazon Associates, we earn from qualifying purchases.
Downtown Raleigh Photo Locations
All of the following locations are in downtown Raleigh and are within walking distance of each other. (As long as you have the time!)
Raleigh Founded Wall (Formerly Raleigh HQ)
What's a trip to Raleigh for some downtown photography without a photo with a colorful wall that actually says, "Raleigh"?! Raleigh Founded is in the Warehouse District of the downtown area.
Strike a pose with friends and let the world know where you are! Don't forget to hashtag #SometimesHome to support how you found it! Also be sure to tag the artist, Mayanthi Jayawardena of Serendib Creative.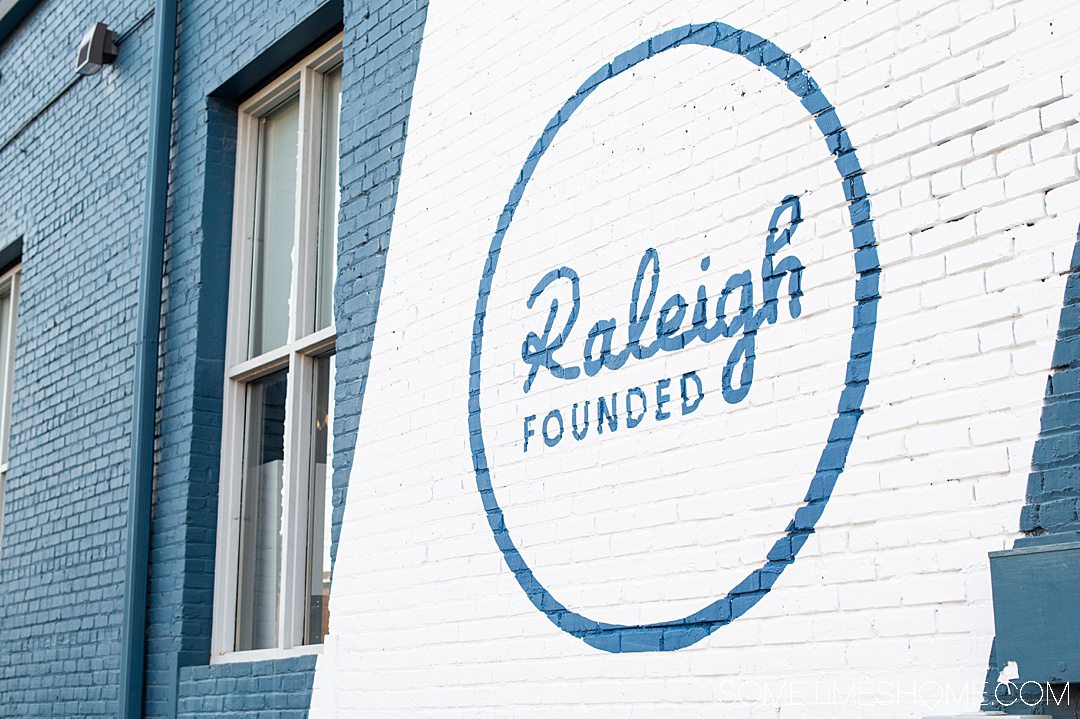 Note that it used to be called HQ Raleigh and the mural previously looked like this prior to summer 2020 (by Lisa Gaither Art):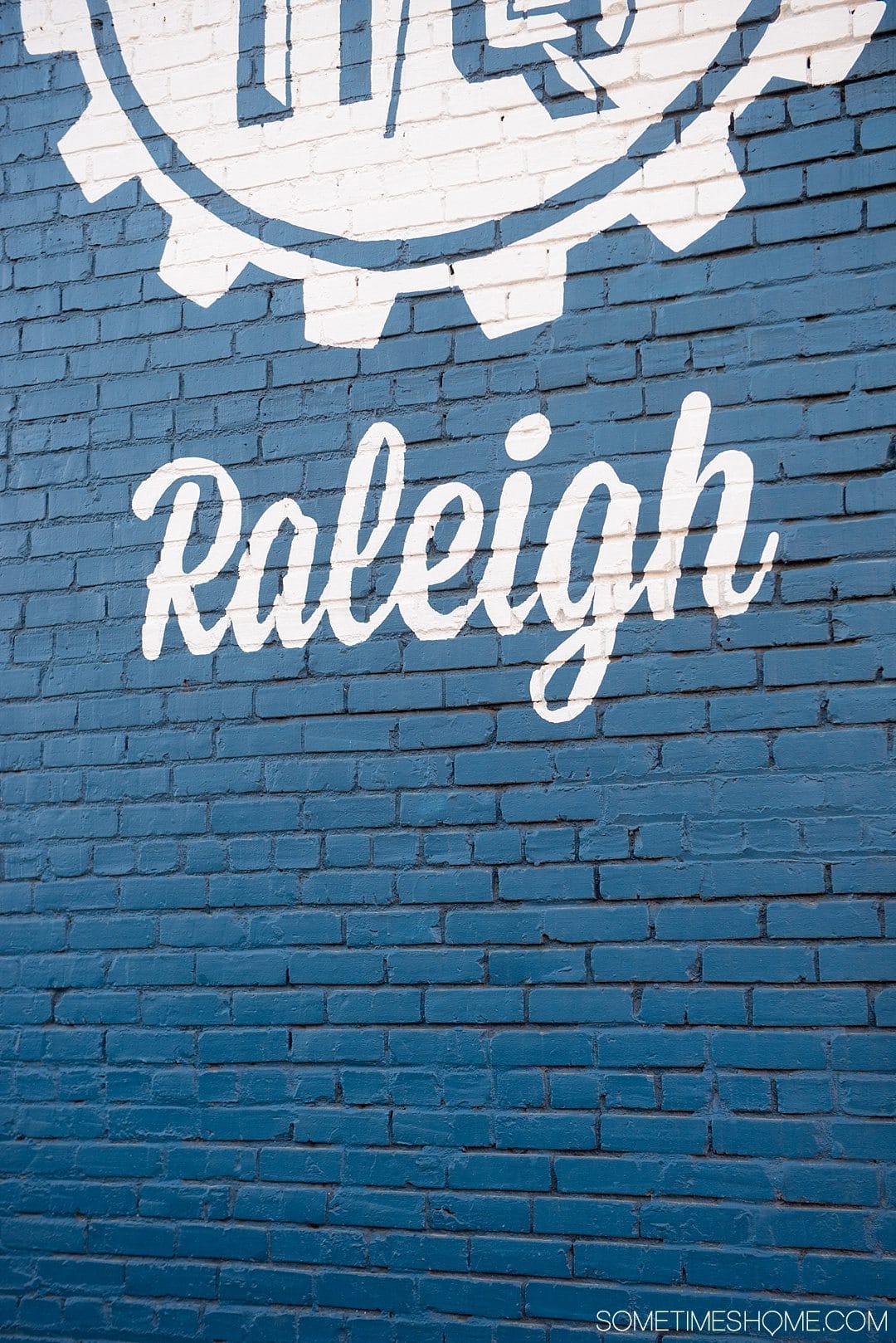 Downtown Raleigh Photography at CAM
CAM, or the Carolina Museum of Art, is next to Raleigh Founded in the Warehouse District. Its angular metal roof and bold yellow letters make it a point of interest and one of the key places to take pictures in Raleigh. They seasonally have food trucks and seating on the front gravel patio but with or without it it's certainly picturesque.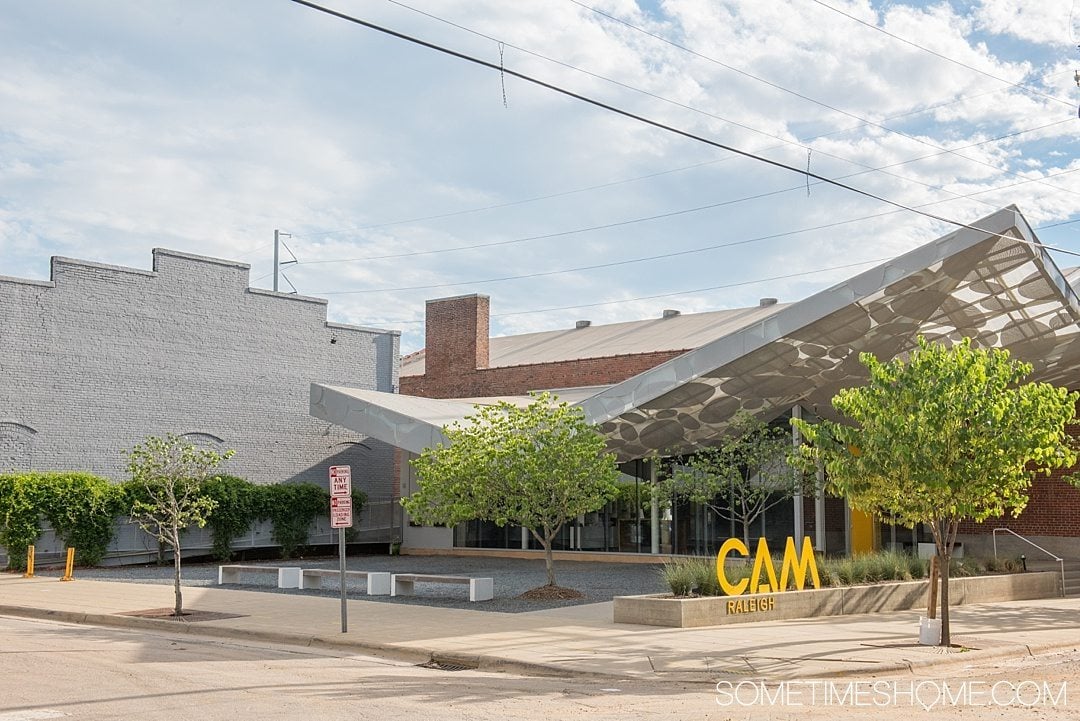 Looking for a photographer in Raleigh?
Downtown Raleigh's Union Station (Raleigh photographers Flock Here!)
Just across the street from The Dillon is a station Raleigh invested millions of dollars into. The intent was to create a brand new train station in the heart of downtown. The new Union Station isn't only top of the line – it's an attractive urban playground for a Raleigh photographer.
Don't be surprised if you run into a few photoshoots going on while you're here, especially if it's golden hour. (The hour before sunset.)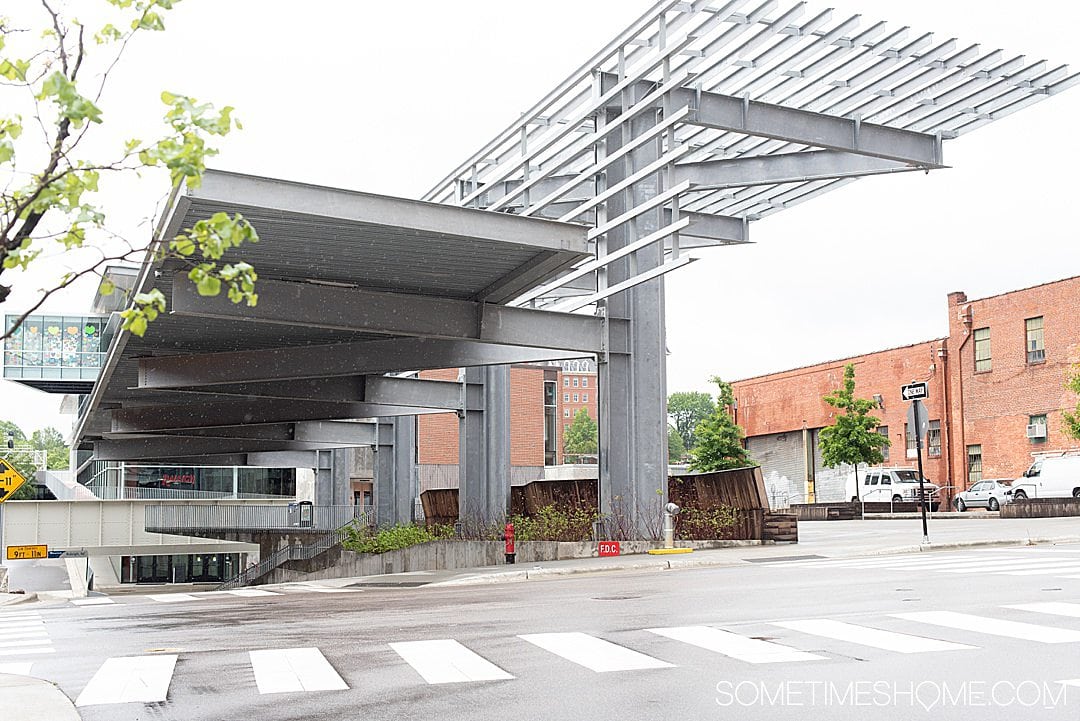 Downtown Raleigh "The Dillon" Entrance and Wall
This is actually two spots in one. The Warehouse District is one of the latest to be redeveloped in downtown Raleigh. One of the most popular buildings that towers over the city now, especially in this neighborhood, is The Dillon building.
There is a restaurant at the corner of W. Martin Street and S. West Street, that's part of The Dillon, where people love to take photos. And when you see it, you know why.
The large steel-framed entryway, with the building's glass behind it and restaurant landscaping on the right, is so pretty. And just within that oversized entrance, to the left, if you walk through the photo below, is an exterior wall they kept up from a previous building.
The chipped white paint only adds more character to the three street-level "windows" that open to the sidewalk and Union Station across the street.
*Note that the white brick wall within the building courtyard looking out to the street may be hard to capture during winter.
The adjacent restaurant, Barcelona Wine Bar, has an outdoor seating area with a temporary enclosure that's currently taking up the space, wall to wall. (Probably a result of COVID-19 and needing more outdoor seating space.)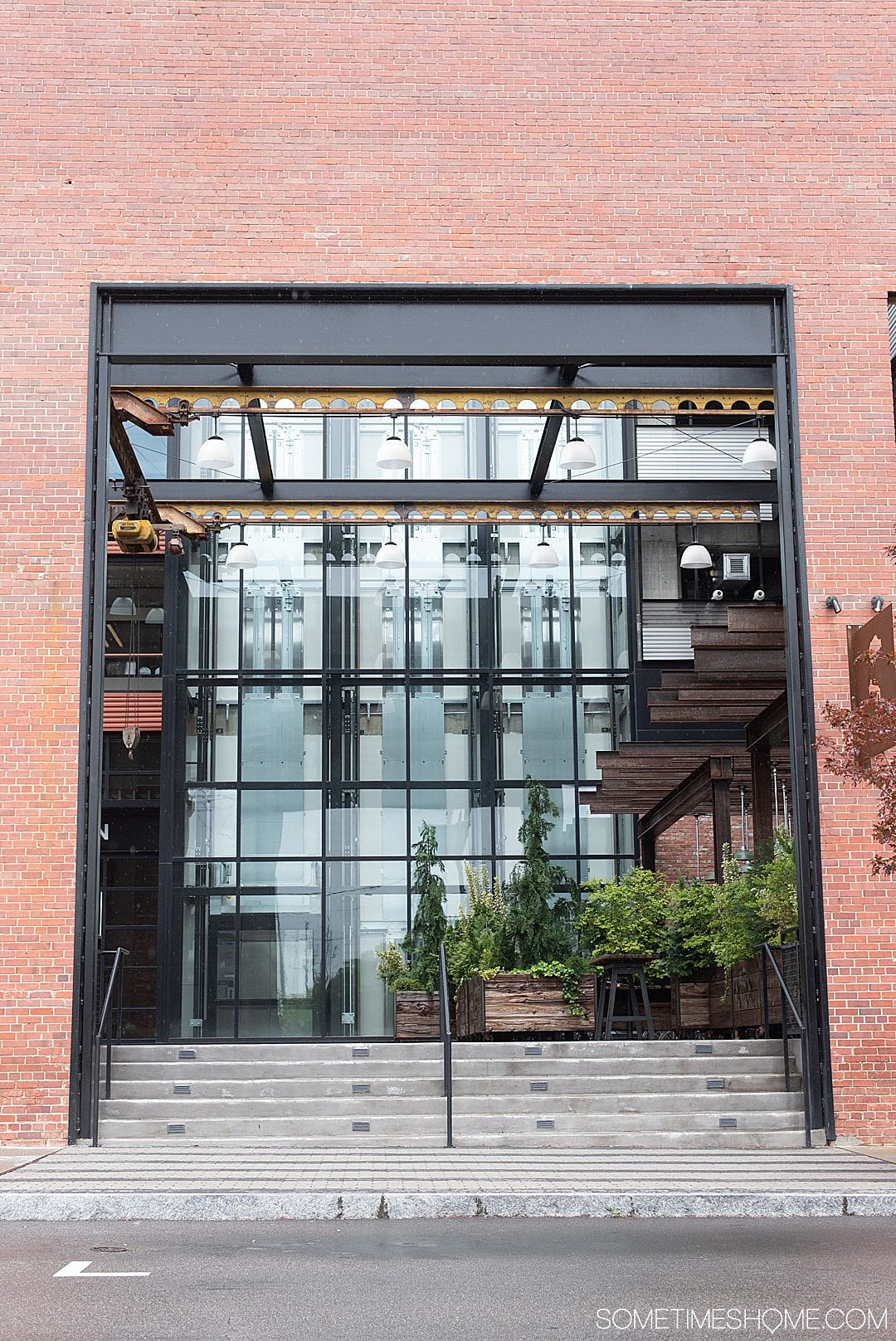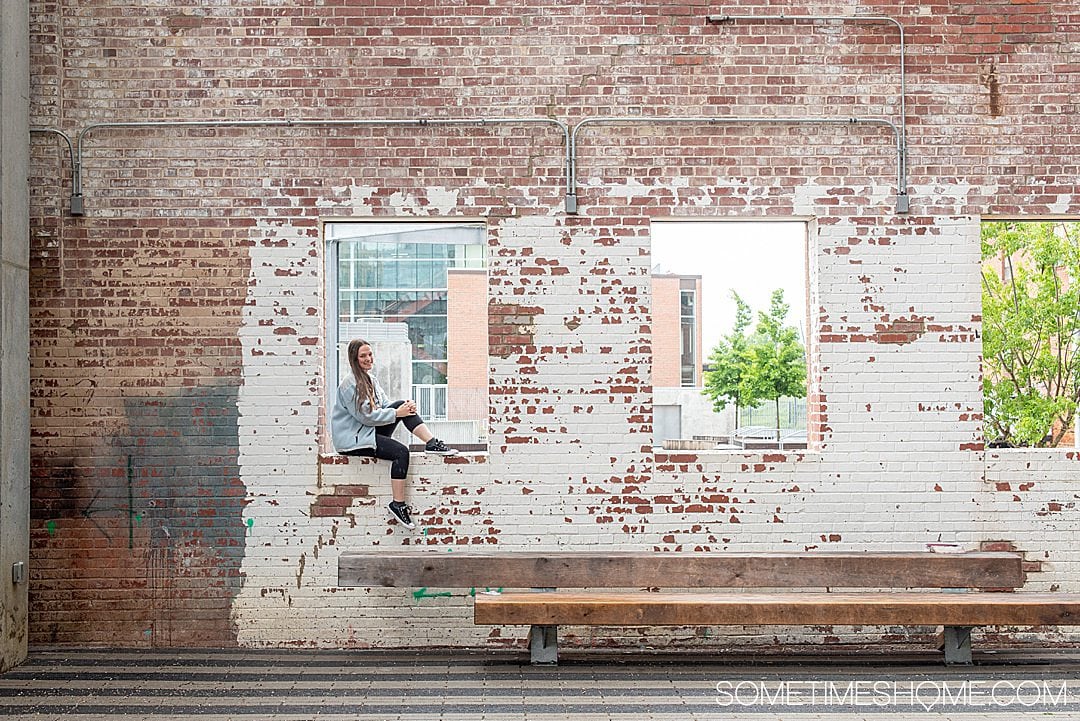 Nash Square Public Park in Downtown Raleigh for Lush Landscape
Nash Square is a beautiful little park! It's the size of one square block and is situated right near some great restaurants in the warehouse district (including places to get some of our southern favorites, like Shrimp 'n Grits) and Vita Vite wine bar.
We love that it's filled with tall Magnolia and Oak trees and even small Japanese Maples. It's such a favorite place for Downtown Raleigh photography in my eyes and we love it so much that Dan and I eloped and had our marriage ceremony almost where I'm standing in the photo below.

If you really want to make the colors of this public park POP, check out A Color Story. It's a user-friendly, non-intimidating app where you can edit your photos in seconds.
If you're a more advanced photographer, check out Adobe Lightroom for edits.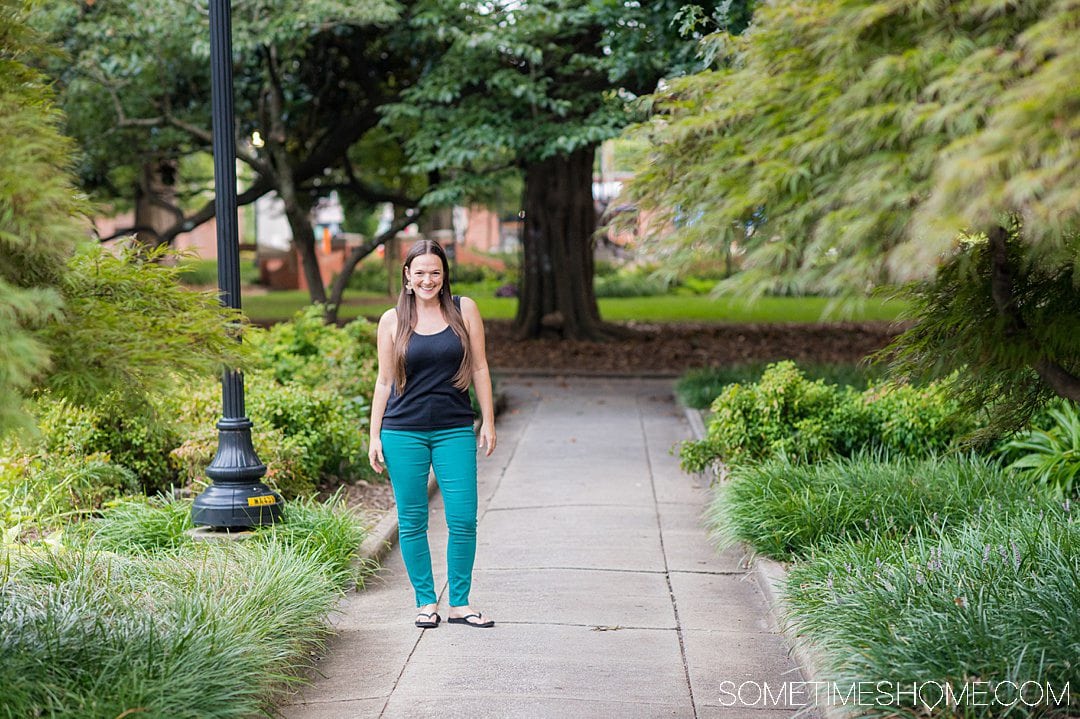 Fayetteville Street
This main avenue in the heart of downtown is one of the prettiest streets in North Carolina. It's so incredibly well-kept and looked after. A Raleigh photography trip would be incomplete without stopping here, and it's a must for downtown Raleigh Photography.
Beautiful landscaping and flags usually correspond to the month's holidays or festivals. It's not too heavily trafficked, but be careful and look both ways if you stop in the center of the street to grab a downtown photo.
There are a lot of great bars and restaurants on Fayetteville (and the nearby area) if you're in the mood for some delicious food and cocktails.
If you're standing on the street and look north, you'll see the Capitol Building, and if you look south, you'll see Duke Energy Center for the Performing Arts. They're both beautiful structures, but don't overlook how photo-worthy the street itself is too.
It's common to run into other photographers on Fayetteville Street, capturing engagement session or wedding day pictures, especially for venues on Fayetteville Street, like The Stockroom.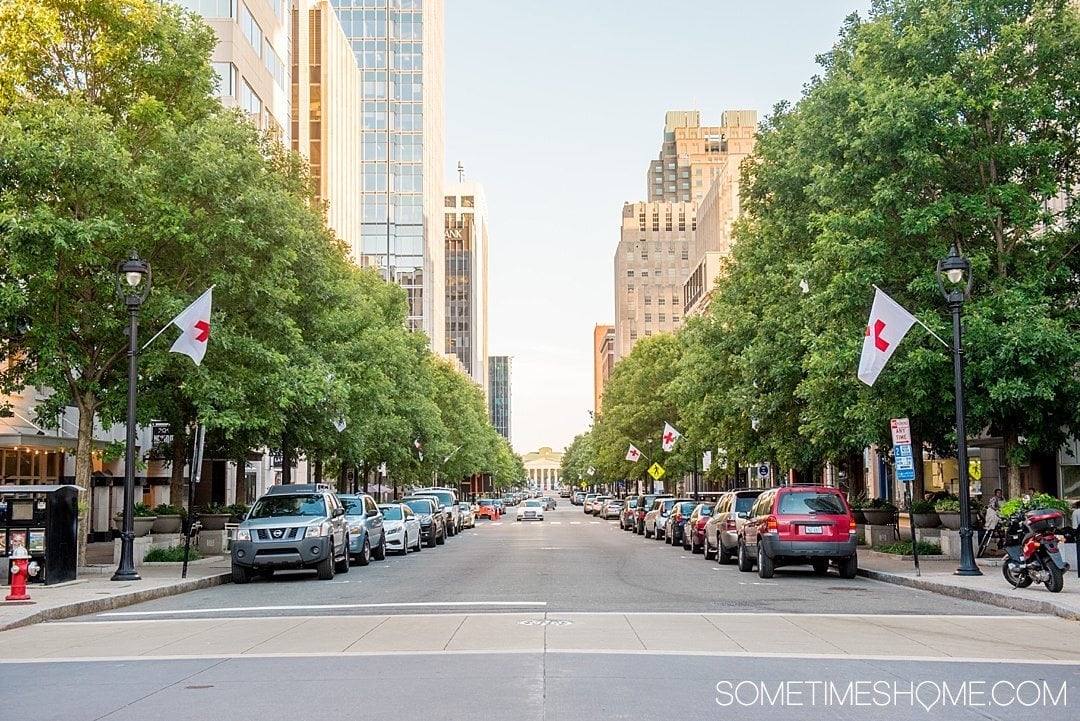 The Capital Building, near Great Hotels in Downtown Raleigh
Raleigh is the capital city of the state of North Carolina. Thus, a grandiose building in the city pronounces its authority. The building has beautiful columns and green grass surrounding it. There are a few notable statues here as well.
Walk around all four sides of it because there's something different to see from every angle. Right before sunset, I snapped my downtown Raleigh photography image below during golden hour.
Downtown Raleigh Hotel Recommendations:
Our number one independent hotel recommendation in downtown Raleigh is the Longleaf Hotel. Read our extensive review of the hotel and decide if it's right for you!
It's walking distance to everything and a little bit off the main street. So if there's a weekend festival, for instance, and you're desiring something just off the street that will have the most hustle and bustle, this could be a good fit.
We love how much the Longleaf Hotel supports local businesses in its design and offerings as well. It's also owned by North Carolina residents.
If you're wanting to stay on Fayetteville Street, blocks from the capital, we recommend the following hotels. They'll put you in the center of the action:
Another great recommendation in downtown Raleigh, an easy 15-minute walk from the capital, is the Origin Hotel. We have enjoyed a few drinks there and love that it's branded to the City of Oaks (the nickname for Raleigh, NC).
It's in a great location if you want to access the heart of downtown or Glenwood South, another popular area in Raleigh. There are plenty of restaurants and bars to walk to from the Origin Hotel.
Lastly, also enjoy Aloft Raleigh, if you're interested in Marriott Bonvoy rewards. It's not as much within walking distance but it is still very nearby by NC State's campus.
By the way, we never leave home without our nodpod black-out weighted sleep masks.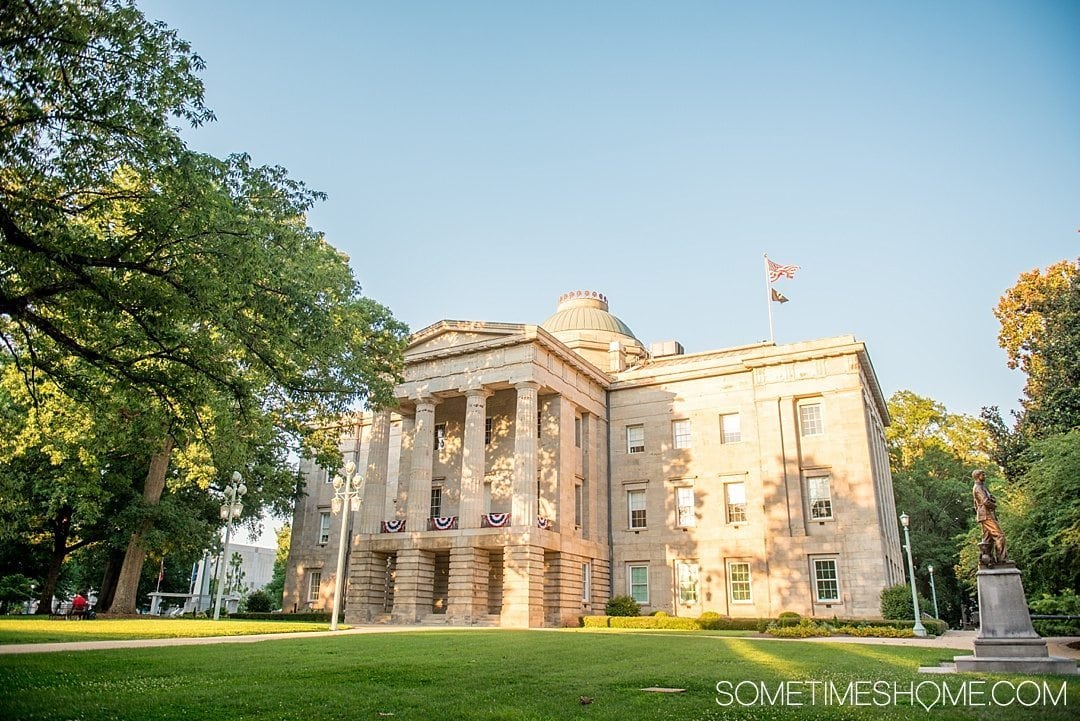 Exterior of Raleigh's Duke Energy Center for the Performing Arts
The other side of Fayetteville Street, opposite the capital, is capped by the Performing Arts Center.
We love the columns on the front of the building and the gorgeous landscaping all around. During summer, for instance, you can take photos downtown here with beautiful tropical plants behind you, as we did. You'd never know it was even Raleigh! It looks somewhere like Fort Lauderdale in South Florida.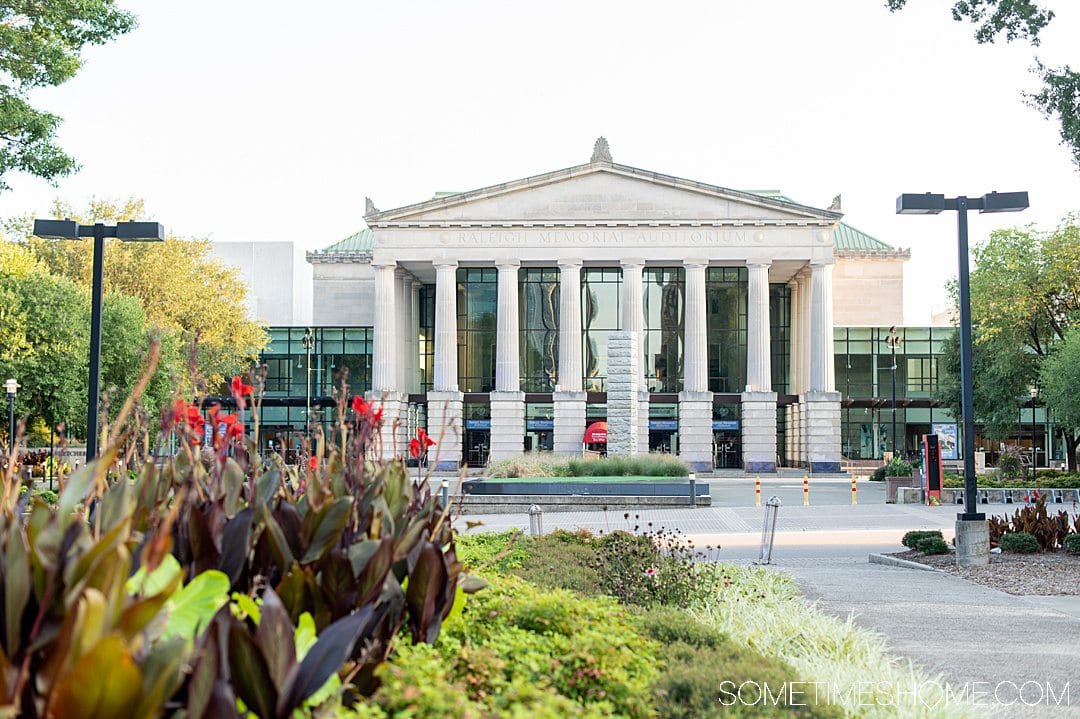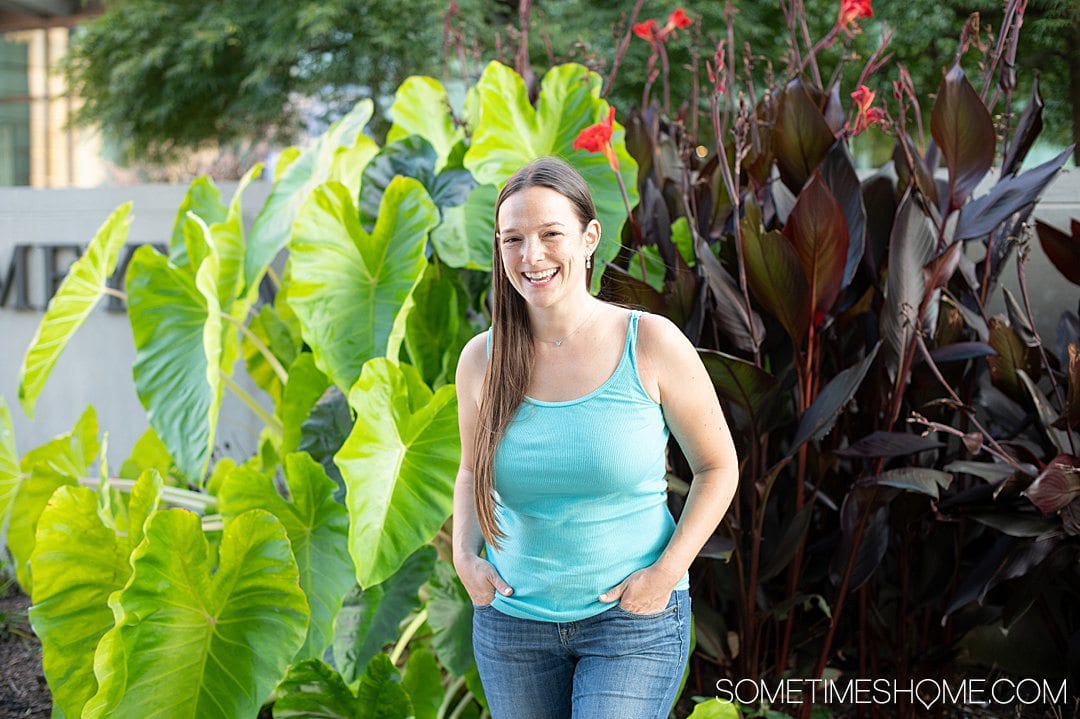 City Market Raleigh
This market was first built around 1914 to serve the city's residents with a place to buy local foods, including fruits, vegetables, and baked goods. Its long-standing history as an icon of the city is still present in its architecture and cobblestone streets.
My favorite part of City Market is the lights that are hung high above the street. It's a pretty scene during the day but it's even more stunning at night when they're illuminated. I photographed this wedding at a venue at City Market and loved the result when I photographed the bride and groom underneath the lights.
If you get hungry while you're there and it's lunch or dinner time, check to see if City Market Sushi is open. It's one of our Best of Raleigh favorite sushi spots.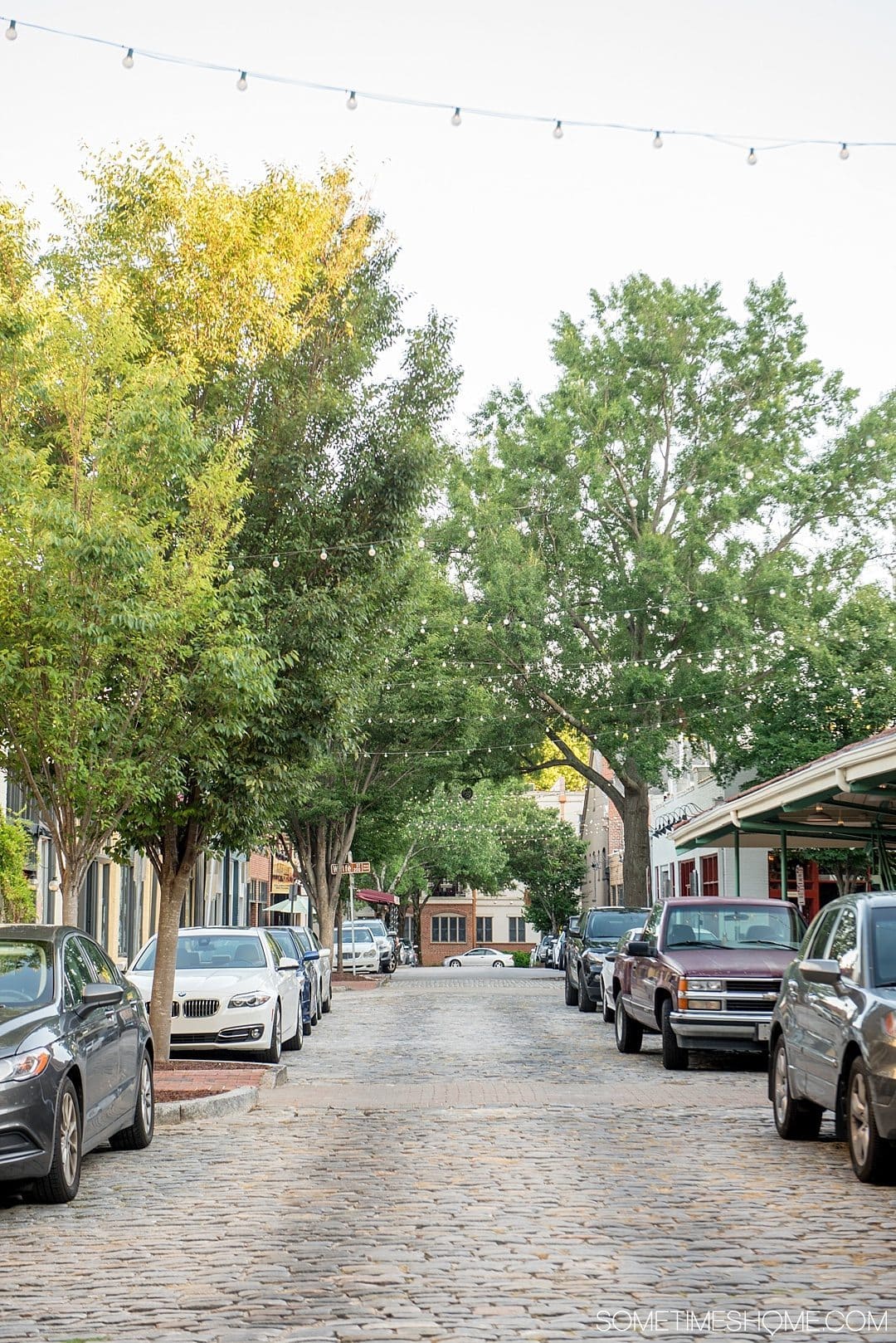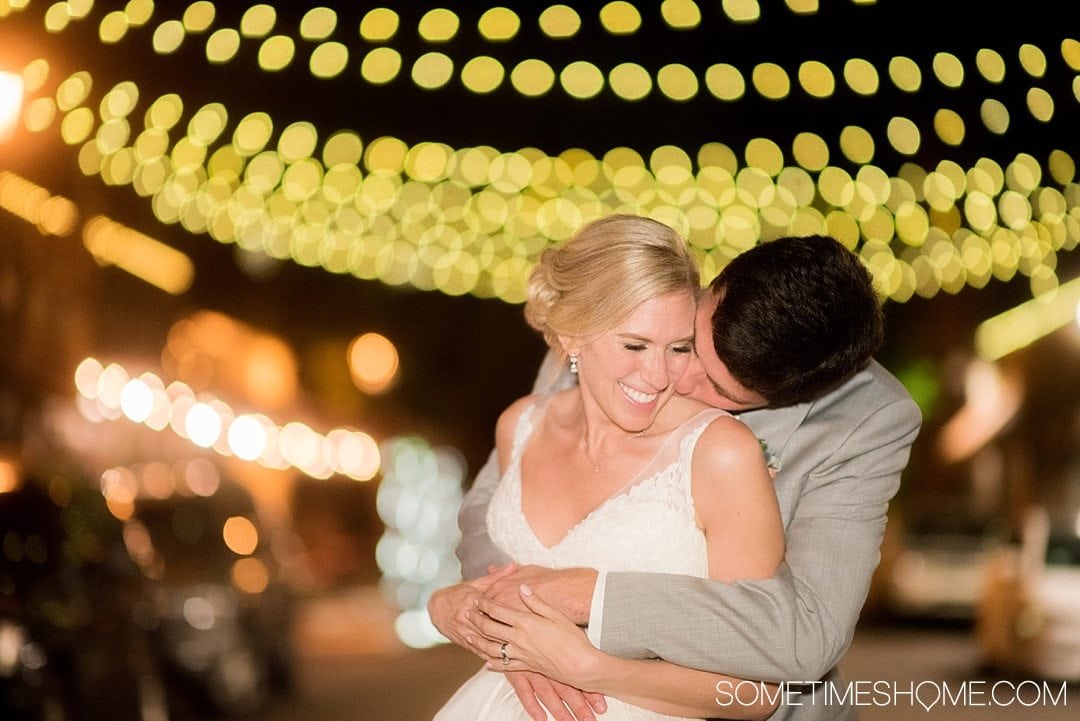 Bicentennial Plaza, Pedestrian Walkway
You'd walk this path if you were walking between visiting the North Carolina Museum of History and the North Carolina Museum of Natural Sciences.
But you wouldn't necessarily first think of it for photos until we bring it to your attention! Because it's beautiful. (Especially so just before sunset when the museums are usually closed if the season is right.)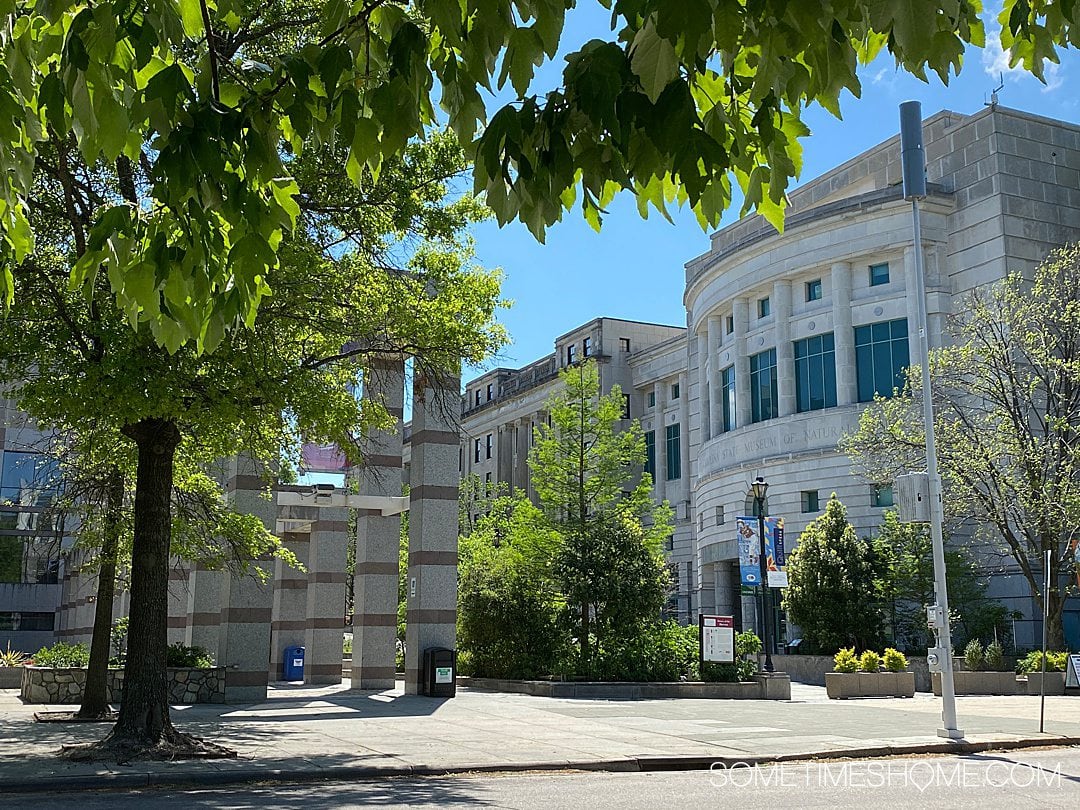 Globe at North Carolina Museum of Natural Sciences
You can literally put the whole world in your hands here! It'd be difficult to miss the large globe perched outside this museum at one of the best places to take pictures in Raleigh. This downtown Raleigh photography spot, which is on the sidewalk attached to the museum, reaches nearly three stories high. Where else can you take photos with the entire Earth?
You'll find this on W. Jones Street, near N. Salisbury Street.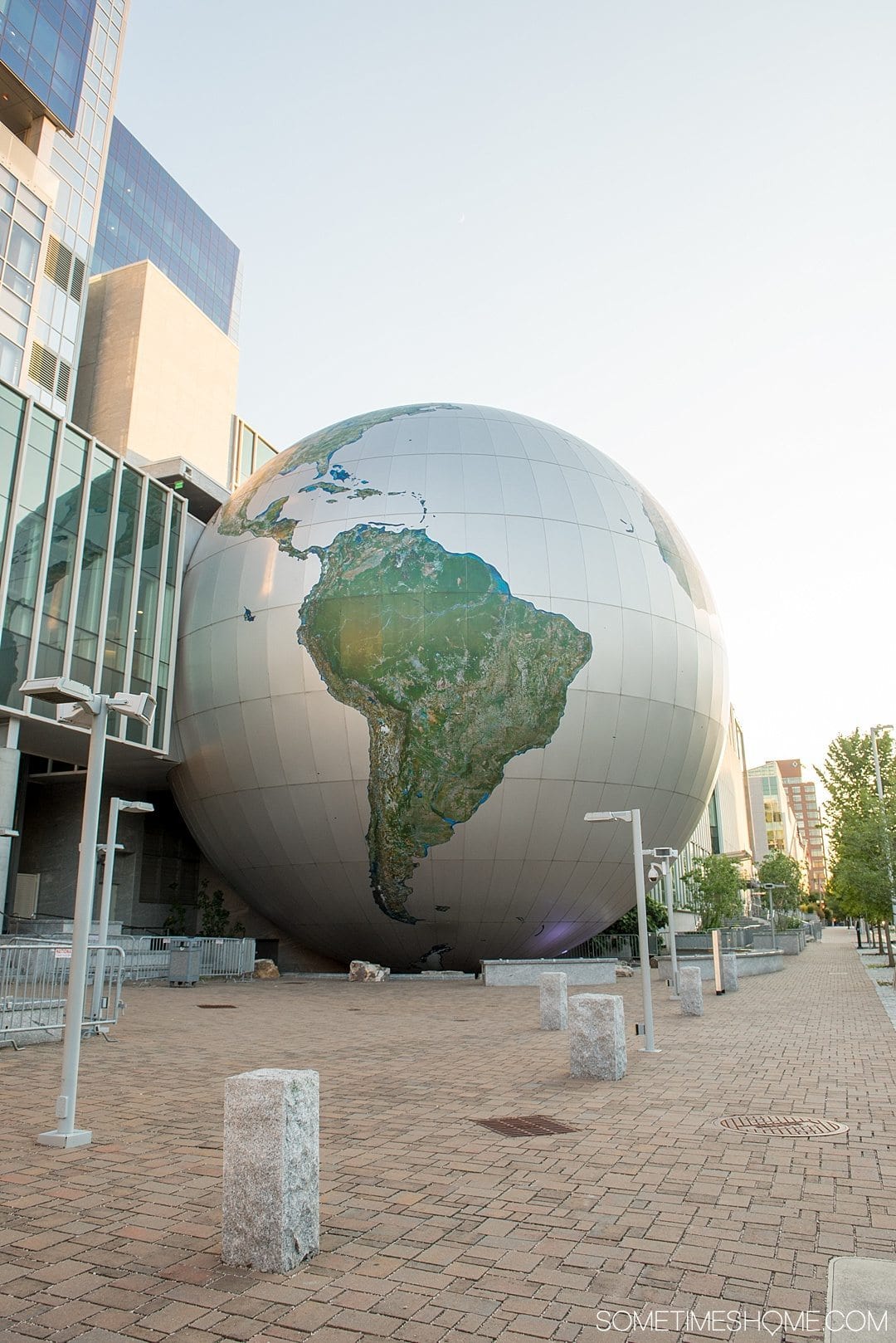 Take Pictures Downtown at the Marbles Kids Museum: Gates
You don't have to be a kid to go to the area across from Moore Square in downtown Raleigh. This is where the Marbles Kids Museum is. When the museum is closed, so are its gates. And they're really pretty!
The best time to take photos there would be before or after high sun thus, when the museum is probably closed anyway, depending on the season.
If it's museum hours and the gates are open, you can simply take some Instagram-worthy Raleigh pictures with the gates folded back. You can also enjoy the pretty courtyard in that case.
(It's open to the public when the gates are open and allows you to easily get from E. Hargett Street (the street the entrance to the museum faces) through to E. Morgan Street behind it, closer to the entrance to the IMAX theater.)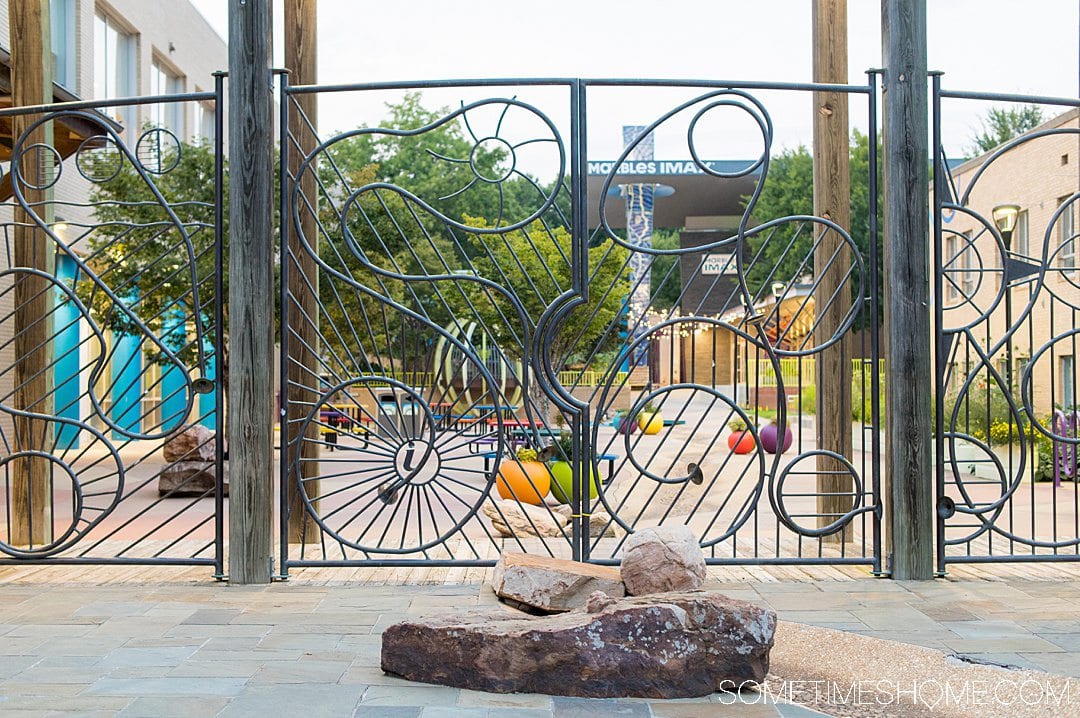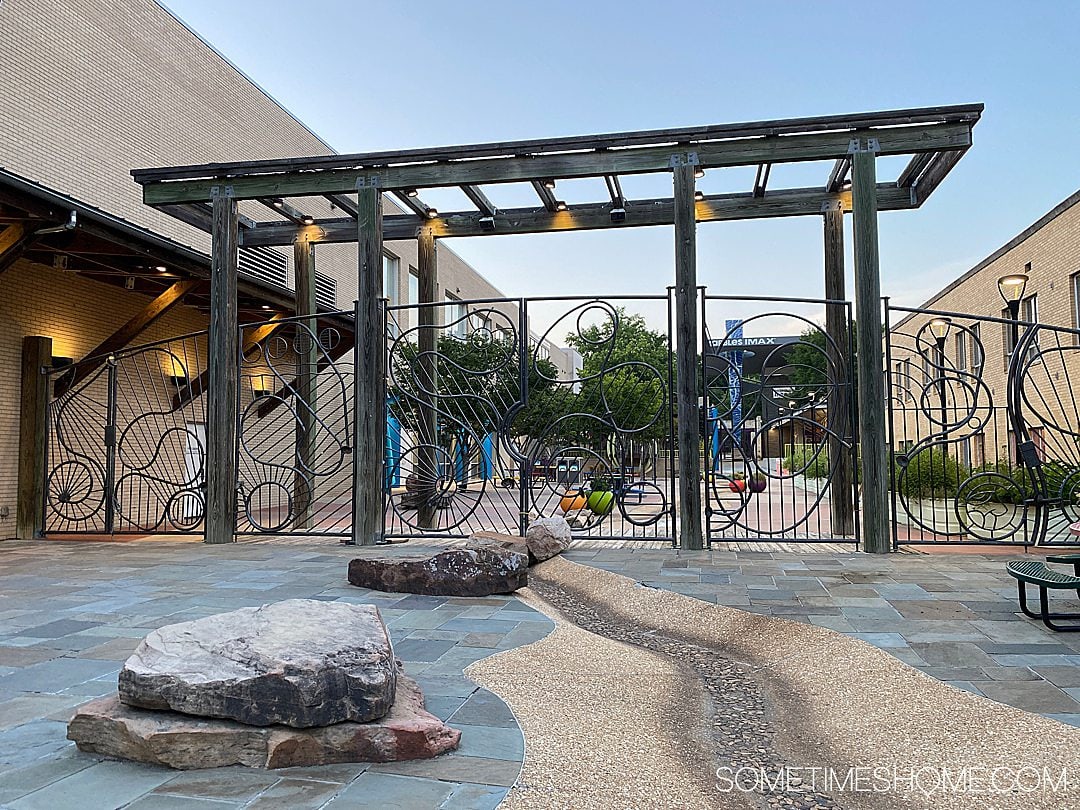 Take Pictures Downtown at the Color Pop Corner: the Marbles Museum Colorful Geometric Mural
One of the most attractive parts of Marbles is the beautiful mural Lisa Gaither painted.
It's the most colorful mural in Raleigh! They playfully named this square the "Color Pop Corner."
The geometric circles and lines are mimicked by colorfully painted solid concrete blocks and spheres in front of Lisa's creation.
It's on the corner of E. Morgan Street and S. Blount Street. Don't be surprised if you see people there snapping photos of one another when you go to this Raleigh photo spot, whether professionally or for Instagram.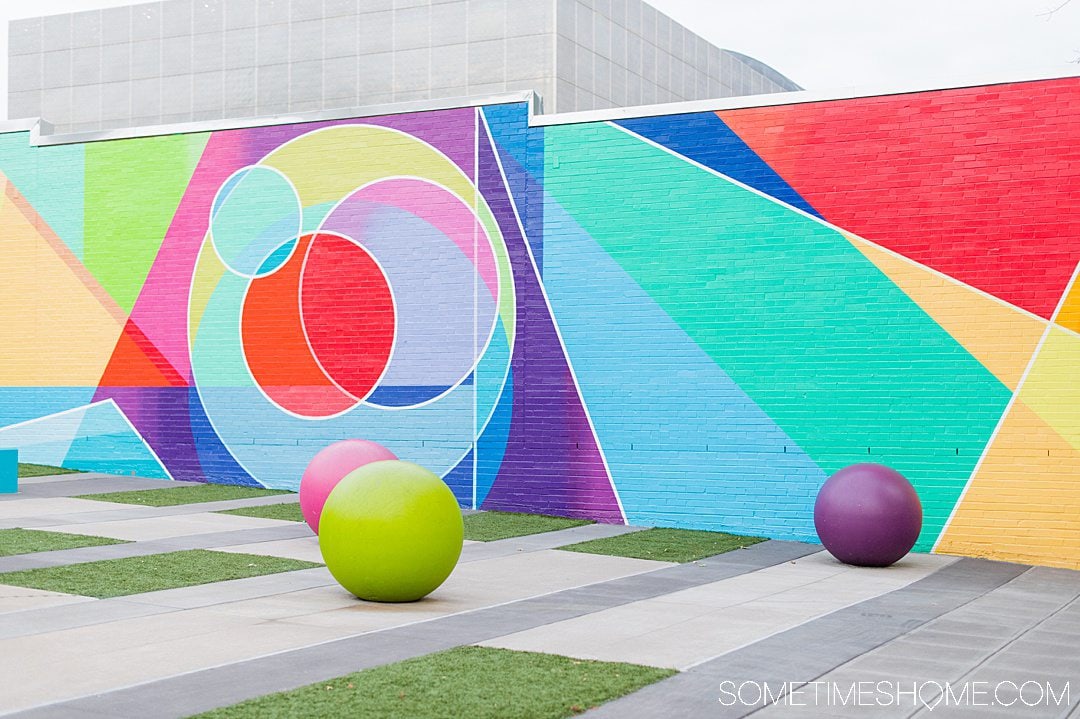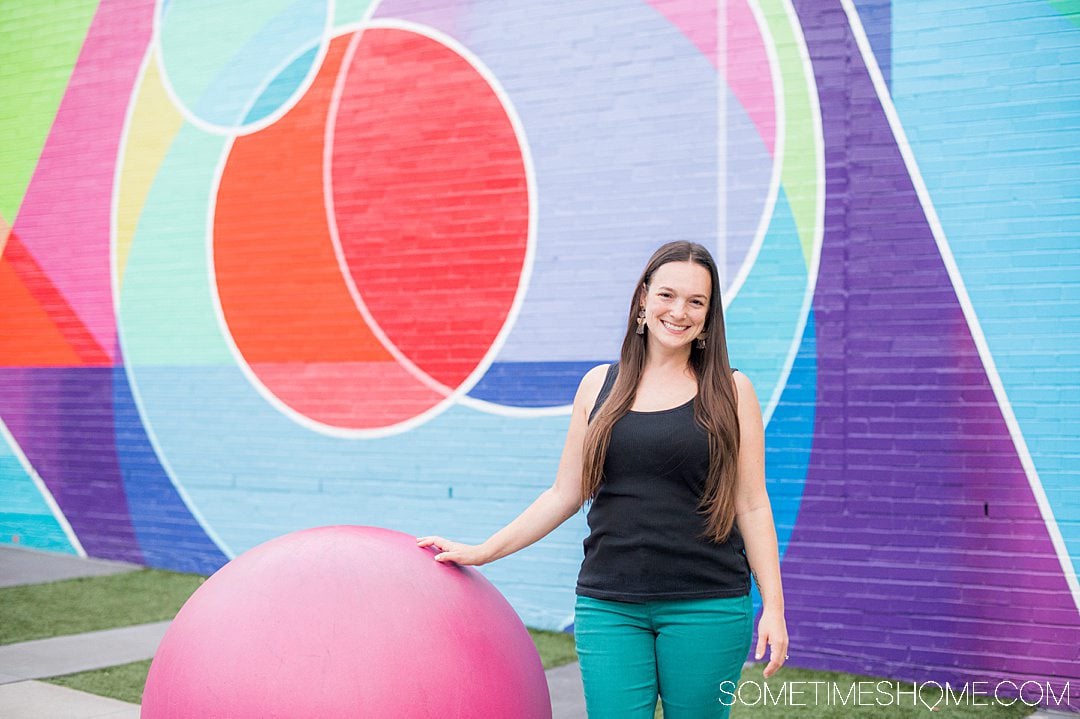 Boylan Bridge for a Downtown Raleigh Skyline View
The views of downtown Raleigh from Boylan Bridge are worth enjoying, and it's one of my favorite places to take pictures near me (or our apartment, I should say).
As the city expands, the skyline is ever-changing; a downtown photo you take today may be vastly different from next year's view. The top photo was taken during dusk in 2018 and the bottom during an overcast day around 2016. Even within two years, you can see several new buildings that popped up!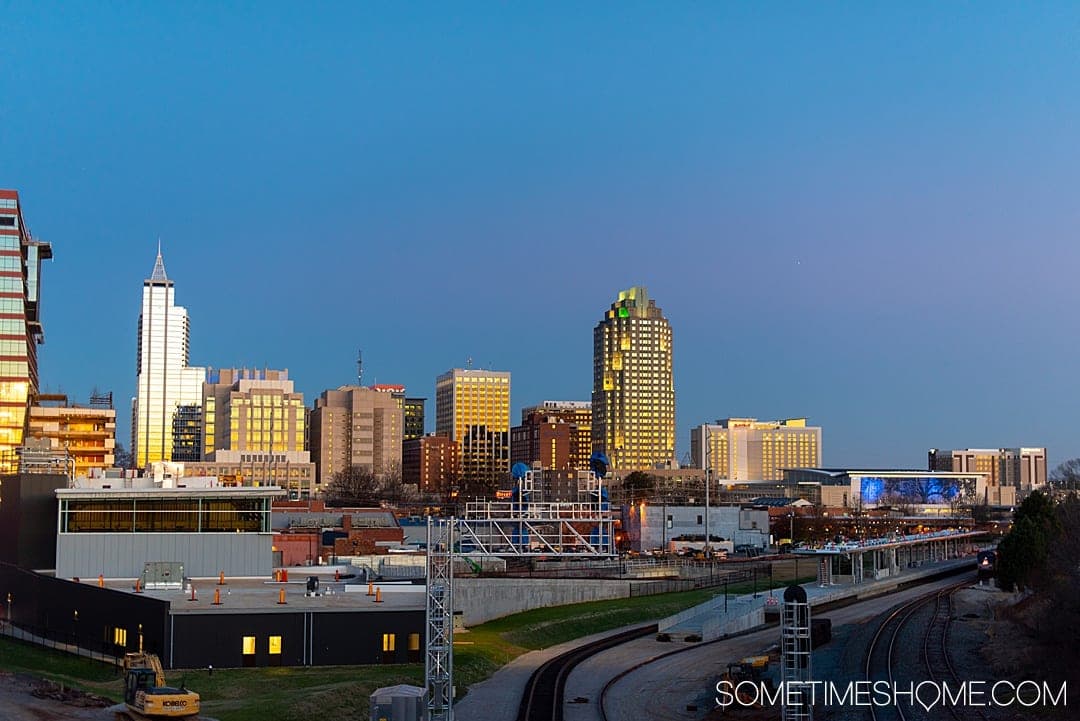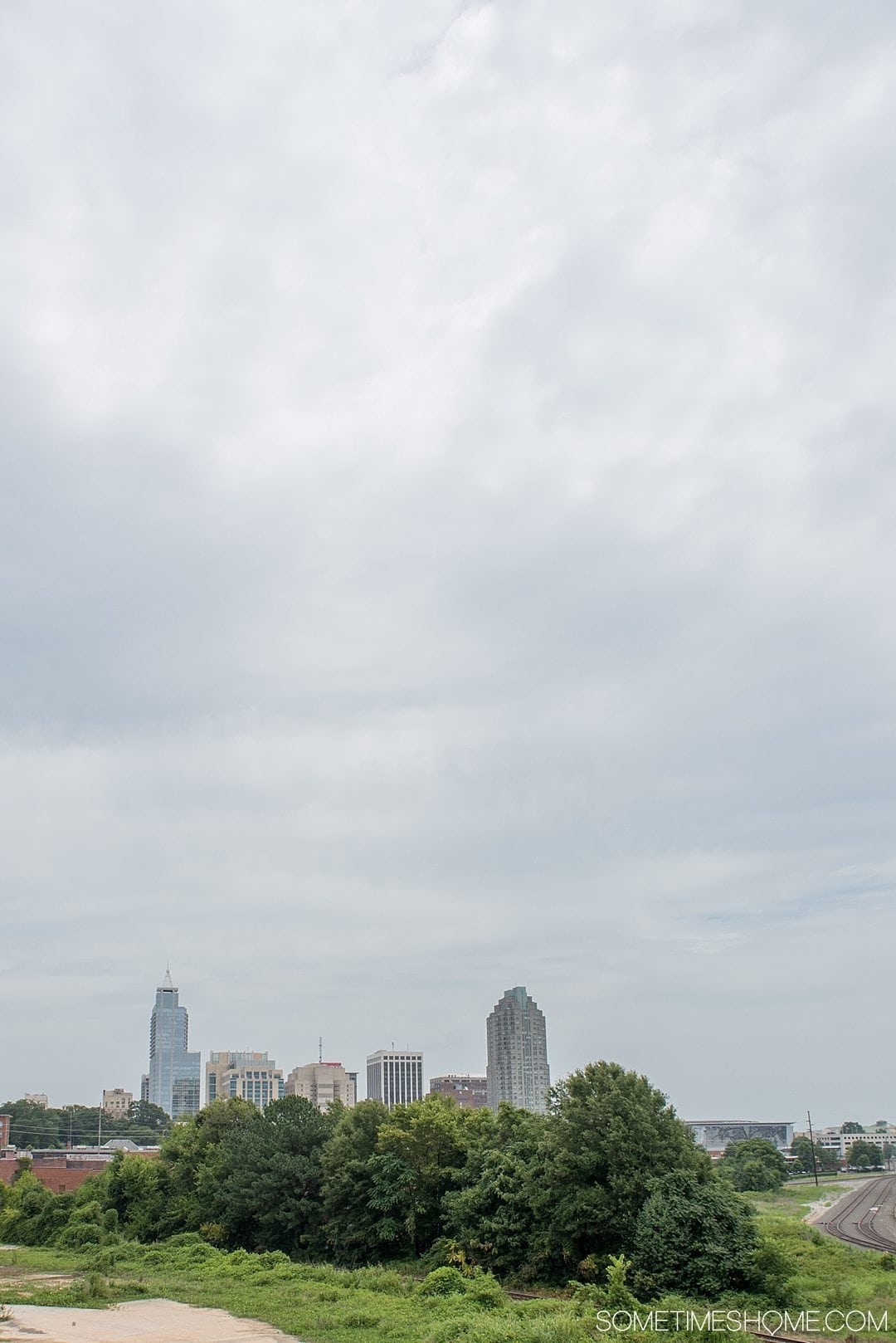 Raleigh Photo Locations just Outside Downtown (Short Driving Distance)
The following locations should only take a five to ten-minute drive from the heart of downtown Raleigh. And they're worth it…or they wouldn't be on our list of best places to take pictures in Raleigh!
Monsters Wall near Trophy Restaurant and Brewery (a Truly Cute Place to Take Pictures near Downtown Raleigh)
This is one of my favorite Raleigh murals and places to take pictures near me! The "monsters" wall, painted by Kevin Lyons, has such personality. It's located near Trophy Brewing and Pizza, on the east side of the building.
Since it was fading fast from sun exposure, they invested in having the artist come back out to Raleigh to redo the mural, in color, in May 2018. I loved photographing part of a couple's engagement session here when it was still black and white.
Note that unless you're at this mural very early in the morning during a weekday or early in the morning on a weekend, there are usually cars parked in front of it.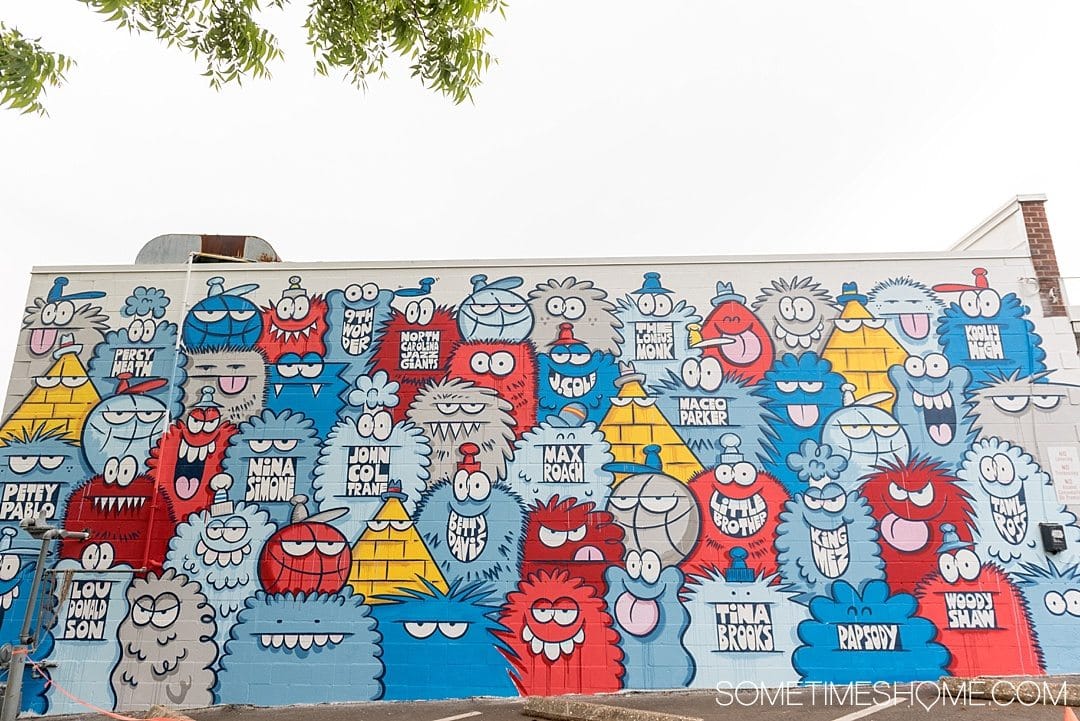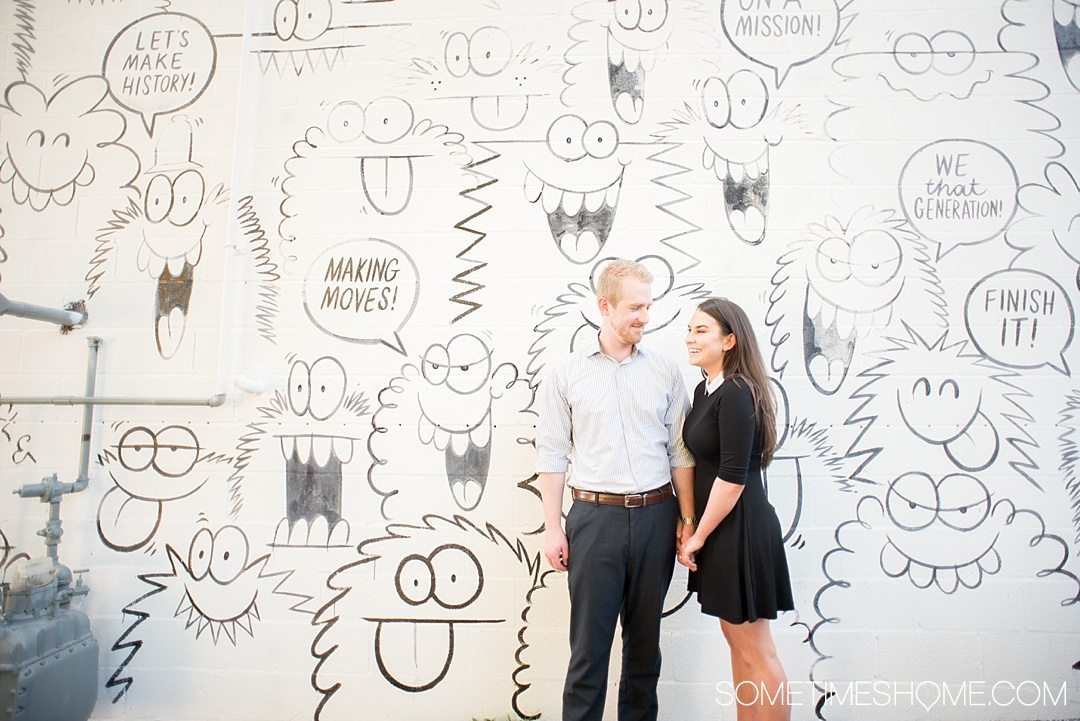 Fred Fletcher Park
When the pandemic hit, we expanded the parks we'd visit in Raleigh. And Fred Fletcher Park completely won us over. It's a park that's worth bringing a picnic blanket to and enjoying the flowers and expansive lawns they have there.
It's just about a 10-minute drive from downtown Raleigh or just over a 5-minute drive.
JC Raulston Arboretum
This arboretum is part of NC State college's property. They generously invite visitors free of charge to enjoy their beautifully landscaped gardens. (Donations are welcome.)
They do not charge a photography fee (or require a photography permit) when pro photographers bring their clients here for sessions, so Raleigh photographers flock to this beautiful arboretum.
Of course, all hobbyists are always welcome too. They have a variety of photo-worthy spots, from their Japanese Garden to Elm Circle and Rose Garden. The image below was taken during this engagement session on the arboretum's perennial border walkway.
Technically, it isn't downtown. However, it's right next to it; it's only about a 10-minute drive.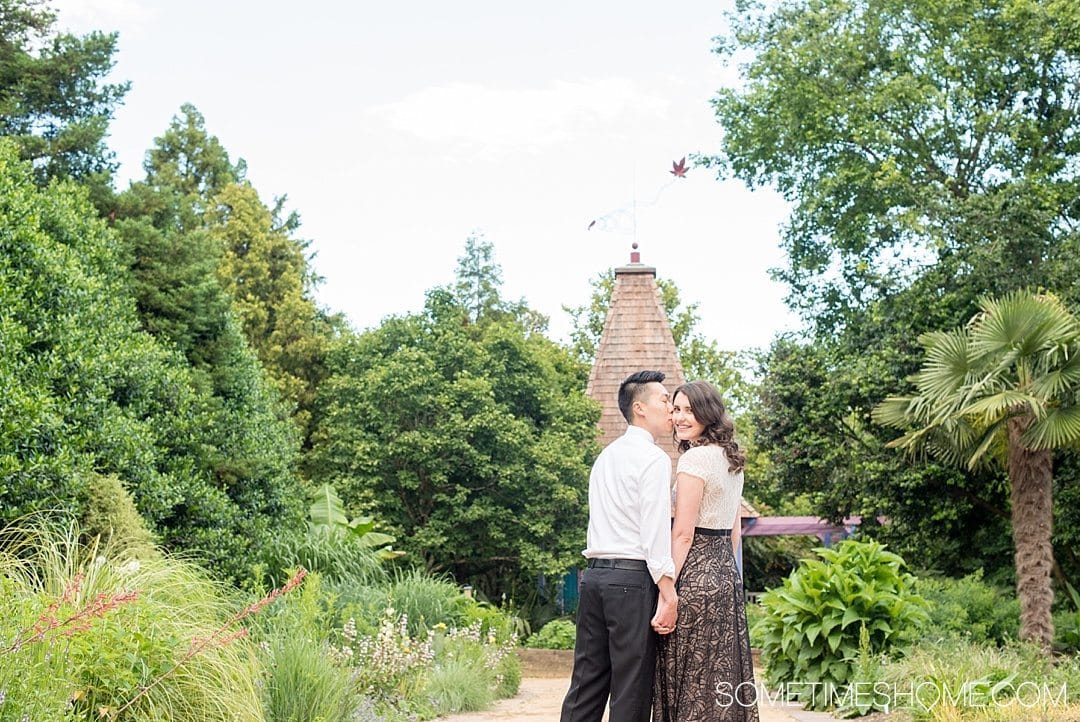 Raleigh Rose Garden
The Raleigh Rose Garden is near The Village if you're familiar with Raleigh. It's just about 10 minutes from downtown Raleigh.
There are sixty rose beds with gorgeous roses of all colors and sizes. It's one of three accredited rose gardens in the state. The roses bloom for an impressive length of time; there's only a handful of months when you won't see flowers during the winter.
Even then, however, beautiful trees and perennials provide constant beauty. There's also a long pergola feature and fountain.
The garden is part of the City of Raleigh. Professional photographers don't need a permit to shoot in the City of Raleigh, but commercial photographers and videographers do. Be cautious about events going on in the amphitheater, which is the Little Garden Theatre, even though it's in a different part of the garden.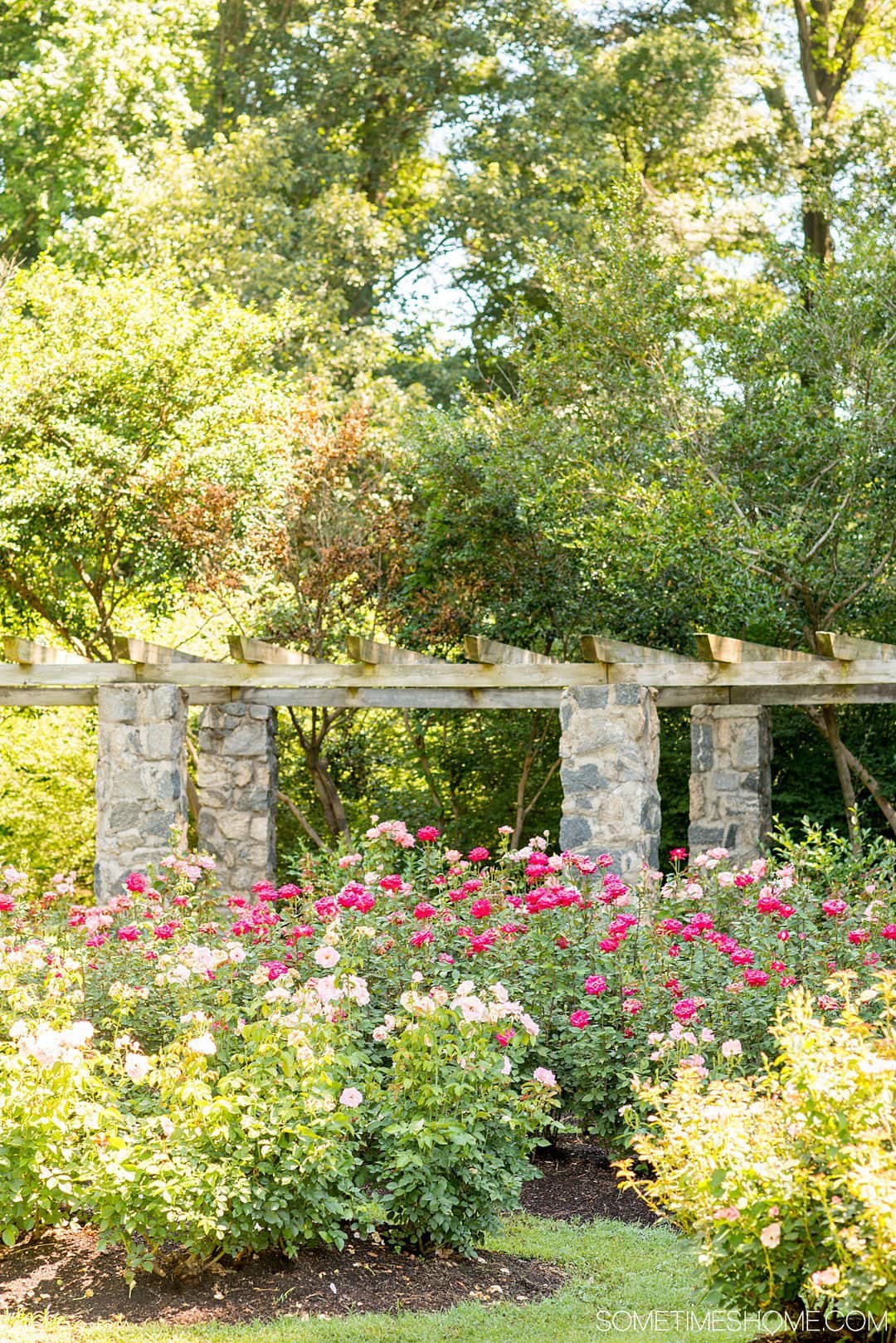 Best Raleigh Photography Spots in Review
Note that while many of these are unlikely to change, some spots, like Raleigh murals, are subject to refreshing. Thus, if you show up and there's another painting over it, simply go with the flow and find beauty in the location you're photographing and experiencing.
Regardless of which of these photography spots you visit, if you're venturing out from home or downtown Raleigh hotel to partake in Raleigh photography, we know you'll get some great captures!
For more to do in North Carolina, check out: