RDU Airport: Everything you Need to Know for Smooth Travel in Raleigh + Durham
We have you covered if you need RDU info in one place that's easy to understand. As a traveler arriving or departing from this airport, or dropping a friend off or picking him or her up from a flight, this will help you understand the times you need to arrive, the airport layout, parking, dining, and more.
Disclosure: We may make a small commission from affiliate links in this post, but all opinions are ours. We bring you content with genuine facts, photos, thoughts, and recommendations. Always. As Amazon Associates, we earn from qualifying purchases. This helps keep our content free and accessible to our readers.
🕐 Short on time? No Problem!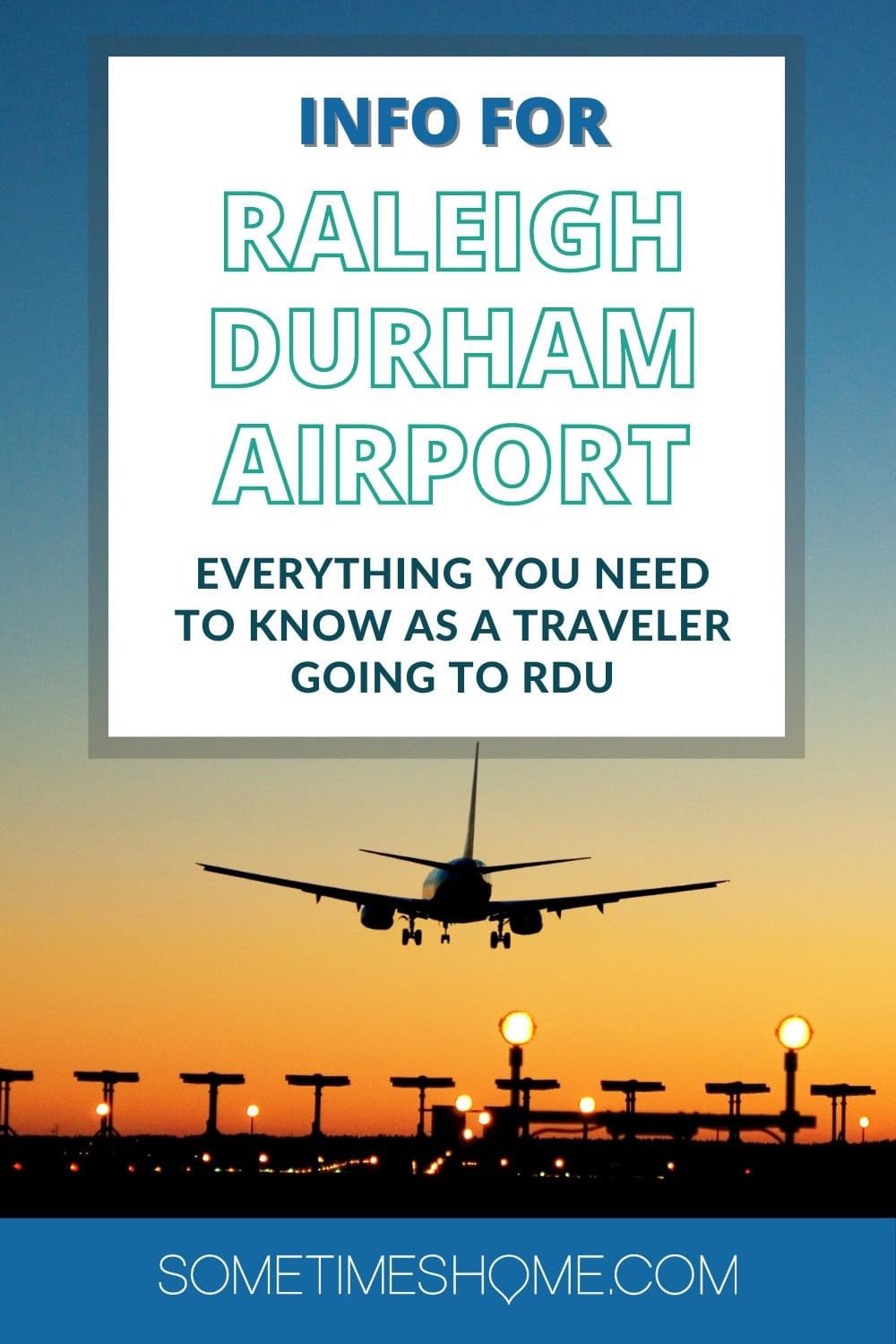 General Information about the Raleigh Durham Airport
This wonderful airport has two easy-to-navigate terminals. It is located in the north-central area of the state next to North Carolina's capital, Raleigh. It's incredibly easy to get to from major highways and a pleasure to fly in and out of.
RDU has been our home airport for over 7 years and we love it. It's just 20 to 30 minutes from downtown Raleigh and about the same distance to downtown Durham. It's only 45 minutes or so to Chapel Hill, and 30 minutes to Cary. It is the closest airport to the state's famous "Research Triangle" area.
Raleigh and Durham are two separate cities in NC, even though they're often mistaken for one and even hyphenated in some instances. The airport is between the two cities. The city RDU is actually located in is called Morrisville, NC.
RDU is near major restaurants and hotels, and it's easy to park there and roll your luggage into the terminals. It's a delight to fly out of here and into this airport and every time we travel in a crowded, dirty airport, we yearn for our home base RDU.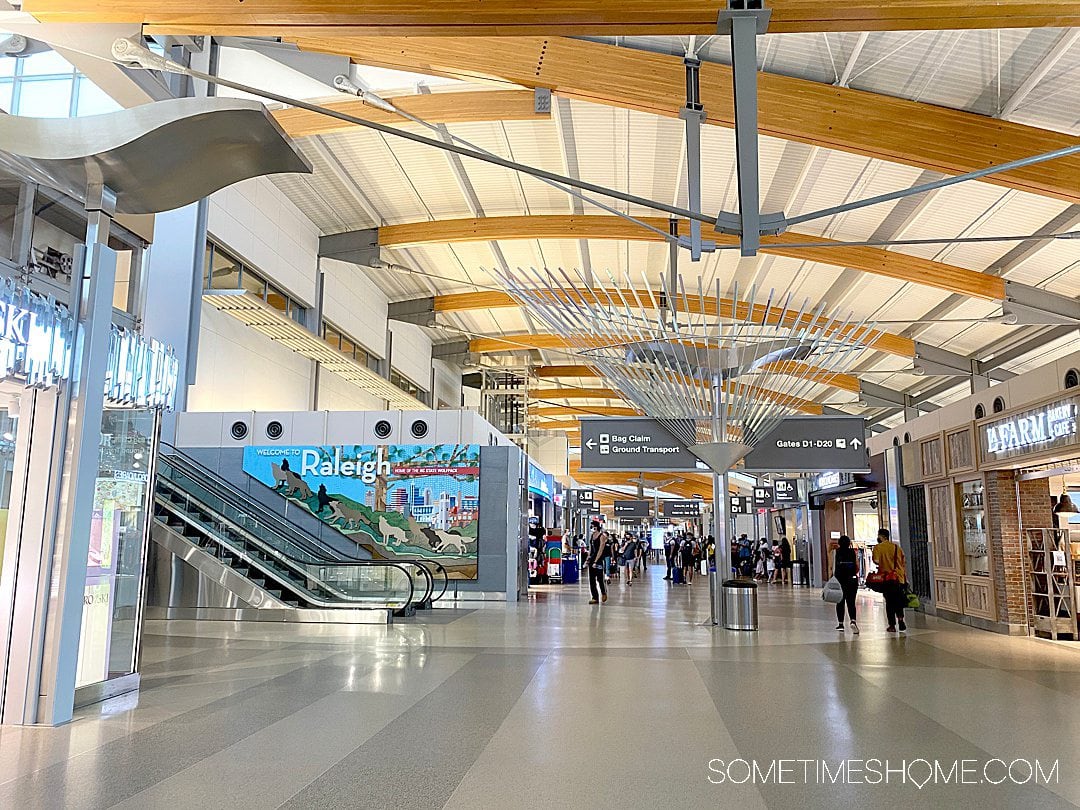 Raleigh Durham Airport Code: RDU
The airport that is closest to Raleigh, Durham, Chapel Hill, Knightdale, Clayton, Garner, and Cary in North Carolina is RDU. The other major airport in North Carolina is in Charlotte (code CLT), which is a 2.5-hour drive southwest from RDU. (Charlotte is very close to the South Carolina border, near York County, SC.)
There are smaller airports in North Carolina, like an airport in Asheville, NC (code AVL) in the Blue Ridge Mountains, which is closest to cities like Boone and Blowing Rock. There is a regional airport in Fayetteville, NC (code FAY), amongst other small airports across the state.
Raleigh Durham Airport Parking
"Official" RDU Parking
RDU airport has several parking options: Premier, Central, Express, and Economy.
Their Premier Parking is closest to the terminals, across the walkway connecting the lot to the building. Next is Central, which is next to Premier.
Express is like the Fast Park & Relax option below, but it costs a little more since it's technically on RDU property.
Lastly, Economy parking is the least expensive option at $10/day, but the frustrating thing about it is that the shuttle runs every 20 minutes and costs more than Fast Park & Relax.
Twenty minutes is a long time to wait for the next shuttle if you just missed it. If you park with this option, you need to add at least 40 minutes to your commute time to be safe.
Take our advice: if you want the best option for less than $10/day, with door-to-door shuttle service, park at Fast Park & Relax, referenced below. Better yet, sign up for their rewards and park there all the time at locations across the United States.
You can see how full the RDU lots are on the RDU website, which shows a real-time percentage of fullness/emptiness.
"Unofficial" RDU Parking: Fast Park & Relax
Our favorite parking is offsite at Fast Park & Relax.
You cannot beat the price and service. Both are great and for less than $8/day. Their shuttle bus takes you as close to door-to-door as you can get from your car to the airport. You need to add approximately 10 to 15 minutes extra time to park here, so there's time for the shuttle bus to get you to the airport terminal.
During peak times, you want to consider reserving a parking spot at the Fast Park & Relax RDU airport location, which you can do online ahead of time.
You'll even earn free parking if you sign up for an account and their rewards card/program. That's exactly what we do! You can park at various Fast Park & Relax locations across the United States and get rewarded for it.
Cell Lot at RDU
One of the best airport inventions of the 21st century was cell lots! This is where you can safely wait for flights to arrive if you're picking up a loved one or a friend at the airport.
RDU has a cell lot. When you approach the airport, look for signs to follow to the lot, which is a 3-minute drive from the terminals.
➡︎ The cell lot address at RDU is: 1000 Trade Dr, Morrisville, NC 27560
Rental Car Companies at RDU Airport
We recommend booking a car through Discover Cars. RDU has the following rental car companies:
Advantage
Alamo
Avis
Budget
Dollar
Enterprise
Hertz
National
Payless
Thrifty
Free shuttles to the rental car offices leave from the pickup location outside of baggage claim at each terminal.
Don't Postone Renting a Car!
RDU Rideshare: Uber and Lyft Info
RDU info for rideshares is pretty simple! Uber and Lyft are easy to use to get to or from the airport. There are taxis in the ground transportation area too.
An Uber/Lyft from the airport to downtown Raleigh, which is approximately a 20 to 25-minute drive, costs around $25-$30, during off-peak hours.
Shuttle Service and Transportation to RDU
You can get to RDU airport on public transportation, including local and intercity buses. Check travel times and options on RDU's website. Be sure to add about 30 minutes just in case there are delays.
If you want to book a private car or shuttle service, several are available to book online.
RDU International Flights
There are limited direct flights between RDU and international destinations. For example, Delta's Paris and Raleigh route or Iceland Air's direct flight from RDU to Reykjavík.
We took the direct Raleigh to Paris flight, which is awesome!!! Dan even gets complimentary access to the Delta lounge at RDU from his Platinum American Express, which is a great credit card with beneficial travel perks.
Currently, there are direct flights from RDU to the following international destinations:
Toronto, Canada
Montreal, Canada
Cancun, Mexico
London, England
Freeport, Bahamas
Paris, France
Reykjavík, Iceland
Our fingers are crossed for the direct international flight routes to increase as Raleigh and Durham's popularity continues to rise. Hopefully, we'll get direct flights to places like London and Amsterdam. Our fingers are crossed!
RDU Departure Terminals
The Raleigh Durham airport is divided into two terminals. Currently, the only airline that utilizes Terminal 1 is Southwest. All other airlines depart and arrive at Terminal 2.
Airlines that Fly from RDU Airport and their RDU Departure Terminals
Major airlines fly into and out of RDU airport.
This includes the following airline at Terminal 1:
The following airlines are at Terminal 2 at RDU:
Iceland Air
Allegiant
Air Canada
American Airlines
Delta
Frontier
JetBlue
Spirit
Sun Country Airlines
United
Food and Beverage Options at RDU Airport
We love that there are so many local options in the RDU airport, especially in Terminal 2. Walking from the C side to D side in Terminal 2 only takes 5-10 minutes if you like the dining options in C over D, over vice versa.
Terminal 2 Dining Options
Terminal 2 Marketplace
This is the area right after the escalators/stairs down to the gates, after security:
Starbucks
La Farm: Local Cary, NC French Bakery, with breakfast and lunch sandwiches and baked goods.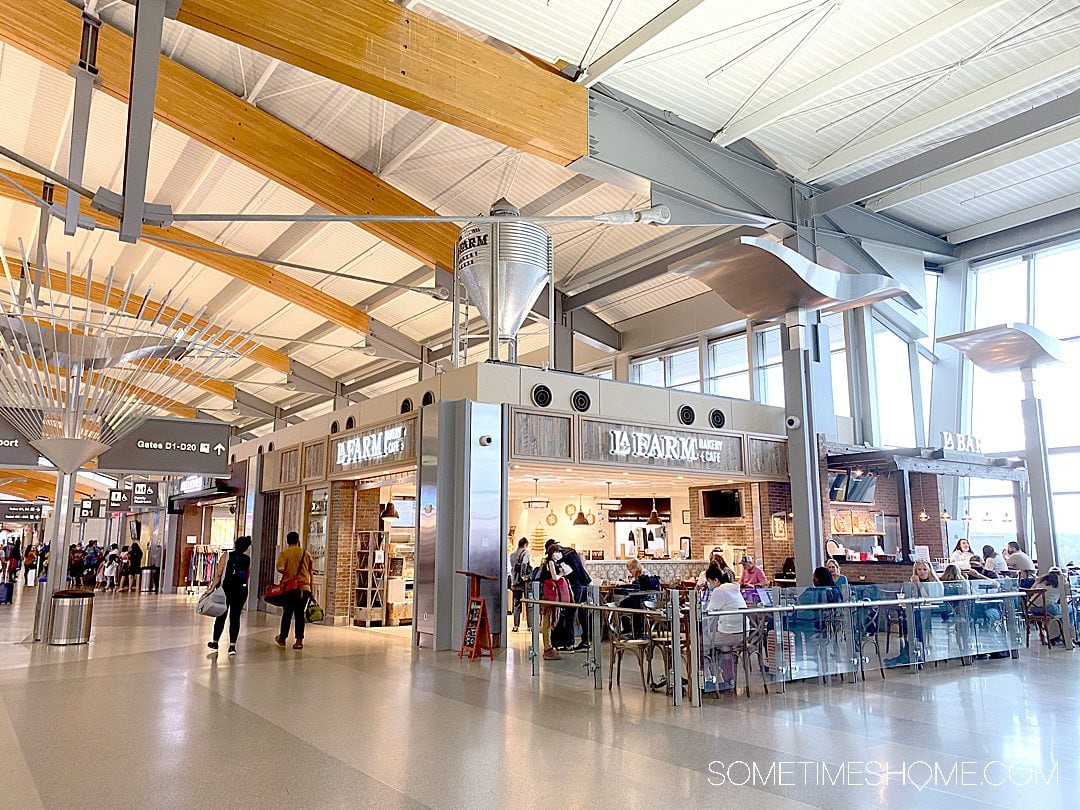 Terminal 2 Dining, C Side
42nd Street Oyster Bar: Bar with alcohol and sit-down meal options. This restaurant has a downtown Raleigh location that has been around for decades. At the airport, they serve breakfast until 10:30am, with a separate breakfast menu, lunch, and dinner. Oysters too! (Gate C1)
Bruegger's Bagels: Franchise quick service with bagels and sandwiches for breakfast and lunch. (Gate C18)
getREEF Virtual Food Hall: Touch screens are available for you to order your food, which is delivered in a locker nearby the touchscreens. It's considered quick service, but we're not sure how long it takes for your food to arrive. (Gate C9)
Uptown Burger Bar: Burgers, including beef and Beyond Burger options. They also have chicken tenders, stator tots, sweet potato fries, and salads. (Gate C18)
Terminal 2 Dining, D Side
BurgerFi: Hormone-free burgers, fries, and shakes. (Gate D3-D5)
Jason's Deli: Soups and sandwiches. (Gate D3)
Starbucks (Gate D12)
Popeyes Louisiana Kitchen: Fast food chain with southern favorites, like breakfast biscuits and Shrimp Po' Boys for lunch. (Gate D15)
Raleigh Tap Room: Airport location for a local brewery called Raleigh Brewing. They serve beer, burgers, sandwiches, and flatbreads. (Gate D3)
Whiskey River: Serving a little bit of everything at a sit-down location, including pulled pork, wings, quesadillas, cheese fries, salads, and more. They serve breakfast (with a separate breakfast menu), lunch, and dinner. (Gate D14)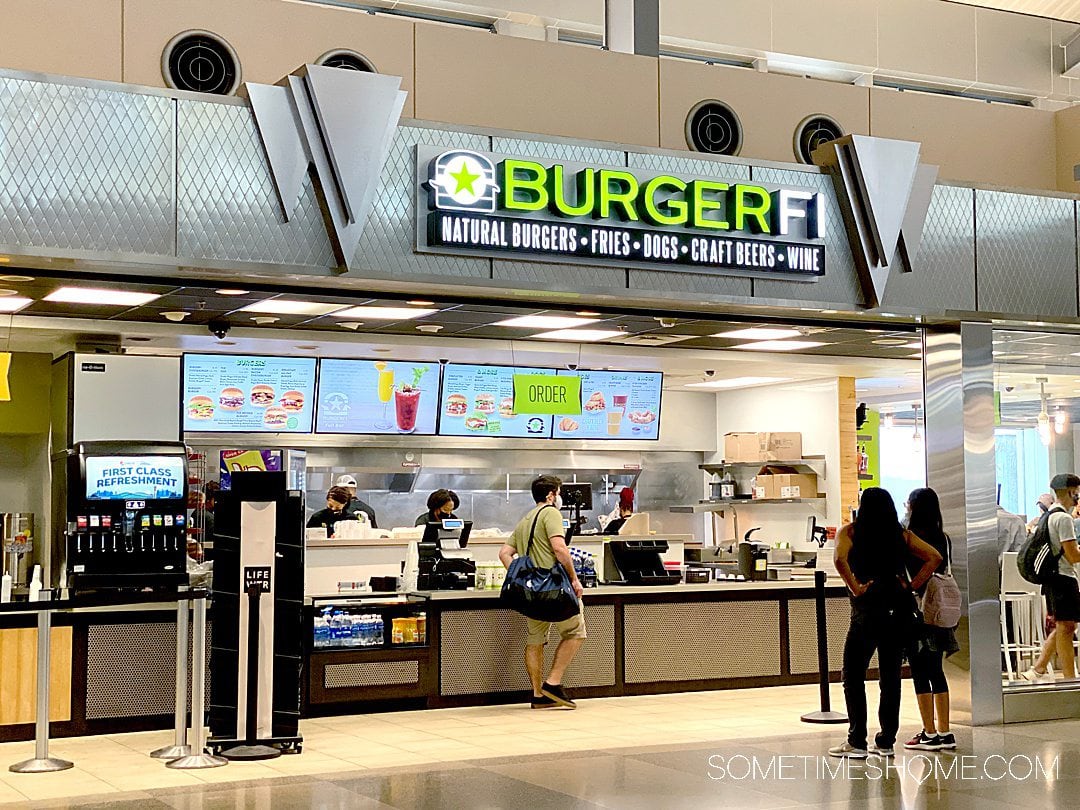 Terminal 1 Dining Options
Starbucks: By Gate 7
Char-Grill: A local Raleigh staple with burgers, shakes, and beer. (There's one near where we live in downtown Raleigh!)
ACC American Cafe: Bar and sit-down restaurant with sandwiches, flatbreads, and other entrees).
Salsarita's Fresh Cantina: Mexican-inspired cuisine.
La Tapenade: Mediterranean cuisine – part sit-down, part grab-and-go.
Cities that Directly Connect to RDU
The following cities fly to and from RDU:
Atlanta
Austin
Baltimore-Washington
Boston
Charlotte
Chicago-Midway
Chicago-O'Hare
Dallas-Forth Worth
Dallas-Love Field
Detroit
Hartford
Houston-Bush
Las Vegas
Los Angeles
Memphis
Minneapolis
Nashville
Newark
New York-LaGuardia
Orlando-International
Philadelphia
Pittsburgh
Punta Gorda
Salt Lake City
San Francisco
San Juan
Seattle
St. Louis
Tampa
Trenton
Washington-Dulles
Washington-Reagan
Refill Water Stations at RDU and Our Favorite Carry-On Luggage to Tote around RDU
We recommend two essential things for our favorite carry-on luggage, which we always tote around RDU airport and onto our flights:
CabinZero backpacks, which we LOVE and never travel without. They fit into every overhead space we've ever needed them to, from small planes to large. And depending on how much stuff we put in them, they've even fit under seats, too (even though we've never needed to go that route, but we've tested it out for kicks).
Packing Cubes: because #organization and sanity!
We also always travel with our BPA-free, reusable water bottles in our carry-on. This is because we fill it up at the water bottle filling stations. There are several throughout the terminals, near the restrooms.
Dan uses a bottle that's black and similar to a Hydro Flask, and I use a flat, clear Memo Bottle because I love how it fits flat against my backpack in the side pocket of my CabinZero bag.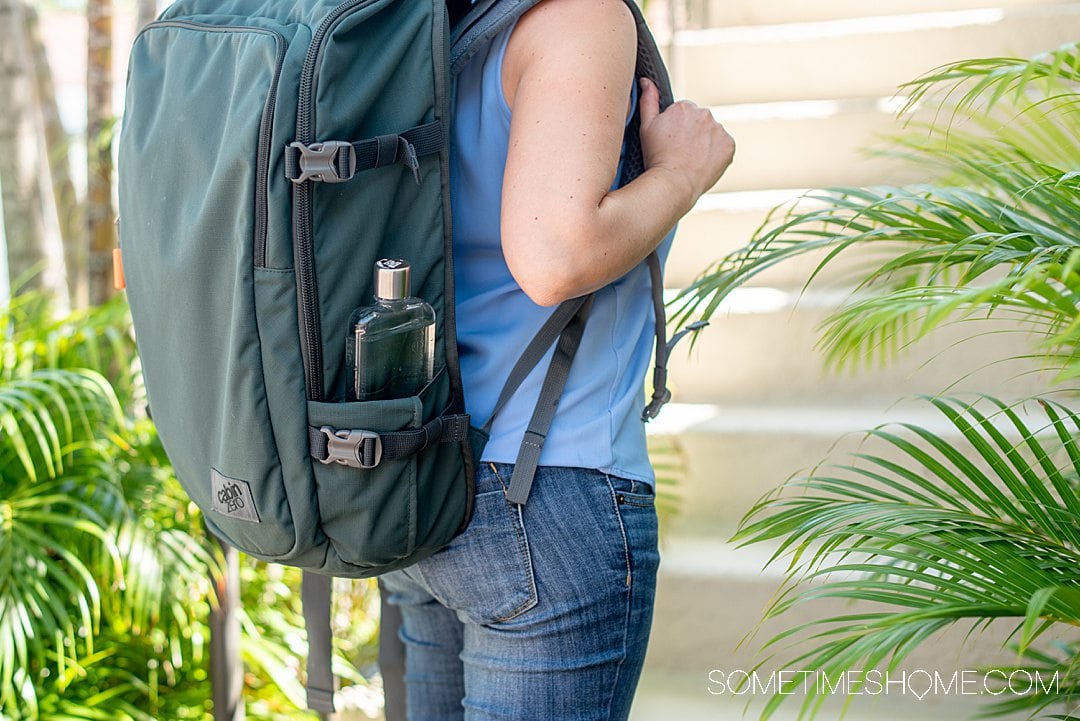 What time to Arrive at the Raleigh-Durham International Airport for Your Flight
RDU Arrival Time Info if you have TSA Precheck or CLEAR
If we are being dropped off at the airport, we generally arrive one hour before our flight. Yet, if we are parking our own car, we make sure we arrive a minimum of an hour and 20 minutes ahead of our flight so we can get to the Fast Park & Relax, shuttle over there, and breeze through TSA Precheck.
We should mention that we have TSA Precheck through Global Entry, which means that we can get through airport security in about 5 minutes at RDU.
We've never, ever had to wait for more than 10 minutes, max, to get through TSA Precheck at RDU airport. (We should also mention we got Global Entry for free through our Marriott Bonvoy American Express credit card, which gives us amazing travel rewards.)
RDU Airport also has CLEAR to breeze through security. It may be faster to go through TSA Precheck vs. CLEAR. It just depends on the day, who is working the security lines, and which line is longer.
RDU Arrival Time Info If You Are Going Through Regular Security
Allow for a little over one hour to get through security and get to your gate if you're being dropped off at the terminal. If you are parking your car, allow an hour and a half to park, get to the terminal, check baggage if needed, and get to the gate for domestic flights.
The line for the normal security moves fairly quickly, but allow at least 15 minutes for that, if not 20, to be on the safe side. (And more during peak travel times, just in case.)
What Time to Arrive at RDU if you Have an International Flight
No matter how you slice or dice it, RDU is a mid-size airport. Some would even say "small" compared to JFK in NYC or Atlanta's international airport (which is huge). It's certainly a bigger airport than that of a city like Charleston, SC.
Direct International flight from RDU, Abroad
That being said, if you have a direct international flight, we advise arriving 2 hours before the flight. This is not because the airport is large and you need to allow for time to walk to your terminal.
Rather, it's because the desk you must check into and show your passport may take a long time. So you'll need at least 30 minutes for the airline desk in the case of an international flight.
Indirect International Flight from RDU through another Connecting US Airport, then Abroad
If you are connecting through another airport to your final international destination – as we did for our Danube River Cruise when we flew from RDU to JFK, to then fly to Amsterdam in The Netherlands – you want to arrive at least an hour and a half before the flight if you're checking luggage.
While we're tempted to say an hour is fine if you're connecting to your final international destination through another airport and RDU is simply your starting point, there have been times we're grateful we had an hour and a half.
Here is why: We always carry on our luggage, but we have flown from RDU, connecting to an international flight (in other words, that wasn't direct from RDU – we flew to another U.S.A. airport and connected to Spain from there), and we still had to wait for someone at the desk to check us in. We weren't able to do so at the ticket kiosk machines.
So we had to wait…and wait…to the tune of 25 minutes. It's good that we had time to wait because we arrived early enough to account for the time!
Where to Go for Your Gate Once You're Through Security at RDU Airport
Walking through Terminal 2, where most airlines fly from, with the exception of Southwest at RDU, is simple. All the terminals are in one straight line through the airport so where you need to walk is literally straightforward. (Terminal 1 gates are in a straight line too.)
If you're leaving Terminal 2, you'll walk to your gate in the "C" or the "D" section. When you pass through security and go down the escalator to the gates, one is to the left, and one is to the right.
RDU Airport Lounges
Raleigh Durham Airport has three lounges in Terminal 2. There are no lounges at Terminal 1. None of the lounges are open 24 hours by they do have early morning hours into the evening.
Top Rated Hotels by RDU Airport
Here are a few hotels within 5 to 6 miles of RDU airport. Many hotels provide free shuttles to the airport.
Marriott family of hotels:
Hilton family of hotels:
Restaurants near Raleigh Durham Airport
If you're looking for a bite near the airport, here are some of our favorite options in Morrisville, Durham, and Raleigh, all within 10 to 15 minutes of driving time to the airport.
Quick Service Restaurants Near RDU Airport
Farmside Kitchen: Local quick service restaurant a little bit like Chop't salads and bowls, made with local ingredients.
Yin Dee: Delicious Thai and Lao food, including soups, rice bowls, noodles, and assorted appetizers. They have one of our all-time favorite warm soups in Raleigh and Durham.
ItsAWrap, Vietnamese Eatery: Vietnamese-inspired bao buns, rice bowls and vermicelli noodle bowls.
Fount Coffee + Kitchen: Light and airy coffee shop with lattes, kombucha, salads, fruit bowls, small plates, and toasts.
Bruegger's Bagels: There's a Bruegger's Bagels inside Terminal 2 at RDU, but if you want to pick some up before you go to the airport, there is one nearby on Surles Ct. in Durham.
Sheetz: This is a chain gas station with a convenience shop inside. It has a ton of food options and made-to-order food too. It's right next to the airport, at 1600 Aviation Pkwy, Morrisville.
Chipotle: A trusty, reliable friend. It's a quick-service chain that sells Mexican-inspired burritos and rice bowls. The location closest to the airport is on Page Road.
Sit Down Restaurants near RDU
Additional FAQs for RDU Airport in Raleigh and Durham
Is there Wifi at RDU airport?
There is, and it's free and easy to access from inside the terminals.
Is there any shopping at RDU airport?
There is! Most of the good shopping (in our opinion) is in Terminal 2. It has local shops, like Root & Branch, which sells a variety of things, including North Carolina items, and a WRAL Travel Store (WRAL is our local news station). There is a Swarovski jewelry store, a Vineyard Vines shop, a TripAdvisor store and more.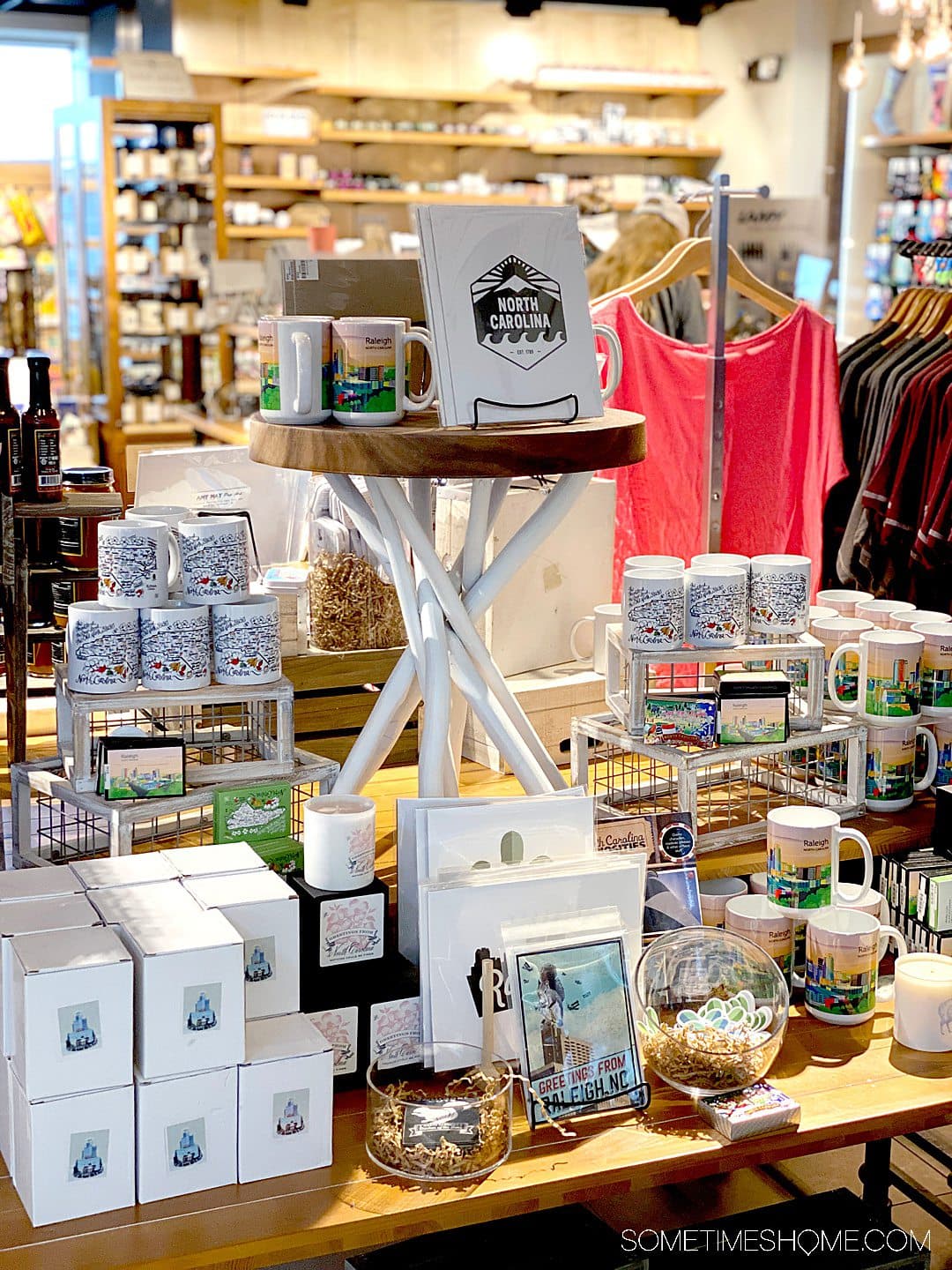 What are the pet facilities like at RDU?
Pets need to be crated at the airport. But honestly, we've seen them walking on a leash at the airport. However, according to the rules, they should be crated.
There isn't a pet relief area inside; animals need to be walked for peeing and pooping outside.
What time does the airport open?
The airport is open 24/7. However, the shops and ticket counters close. Breakfast locations in the terminals open between 4:30am and 6:00am.
How can we get between Terminals 1 and 2 at the airport?
You can either take the free shuttle bus or walk the five to ten-minute walk between the two.
Are there overnight facilities at the airport if I have an overnight layover?
There are not. We have rarely heard of an airport that has any overnight beds and private bathrooms that were not in a third-party lounge or at an airport hotel. (And all the airport lounges at RDU close by 8:00 pm.)
We recommend booking a nearby hotel if you want a bed to sleep in for an extended overnight layover. We've never heard of any airport supplying beds on their own unless it was for canceled or delayed flights OR it's a third-party airport lounge you pay for.
There are plenty of hotels right near the airport that are only a 5-minute drive away.
Is RDU Airport Safe?
Raleigh Durham is a completely safe airport!
Heading to Raleigh or Durham? Also check out: