9 Colorful Summer Flower Fields near Raleigh, NC: Sunflowers, Roses, Lavender, and More
Flower fields near Raleigh are one of our favorite hidden gems near the City of Oaks. They're hidden, of course, and not something you'd pass on the highway.
(Though we will say that the flowers the Department of Transportation plants along I-40 and I-95 in NC is one of our favorite things about the state. You just don't see that in other states up and down the east coast!)
But now you'll know where to find them with our helpful guide! Make sure to bookmark this post and mark your calendars every June, so you're prepared for the summer flower field fun. We'll tell you where the flowers are, how to get there, photo tips, and even share some flower products that will remind you of the beauty of the fields!
Disclosure: There are affiliate links in this post, which means we may earn a small commission if you click the link and proceed with a purchase, at no cost to you. We truly only recommend hotels, products, and services we personally use. As Amazon Associates, we earn from qualifying purchases.
1. Raleigh Sunflowers in Dorothea Dix Park
The sunflower field at Dorothea Dix Park is very close to the well-known, 24/7 State Farmers Market (which is also one of our Raleigh favorites).
Each year, for many years, they plant a gorgeous and full field of sunflowers that starts to bloom around late June and is in full force in mid-July.
It's a very popular field so expect lots of other people to be there when you visit. For the best lighting for photos, you'll want to visit just after sunrise (and also for less sweaty photos) or during golden hour, which is an hour before sunset.
The park places facts and info about sunflowers around the field, which is one of the things we love about it. You can also see some of the downtown Raleigh skyline from there, which is a treat.
For extensive info about the Raleigh sunflower field, check out this post.
🌻 Love Sunflowers? Check out these cool Sunflower Gifts on Amazon 🌻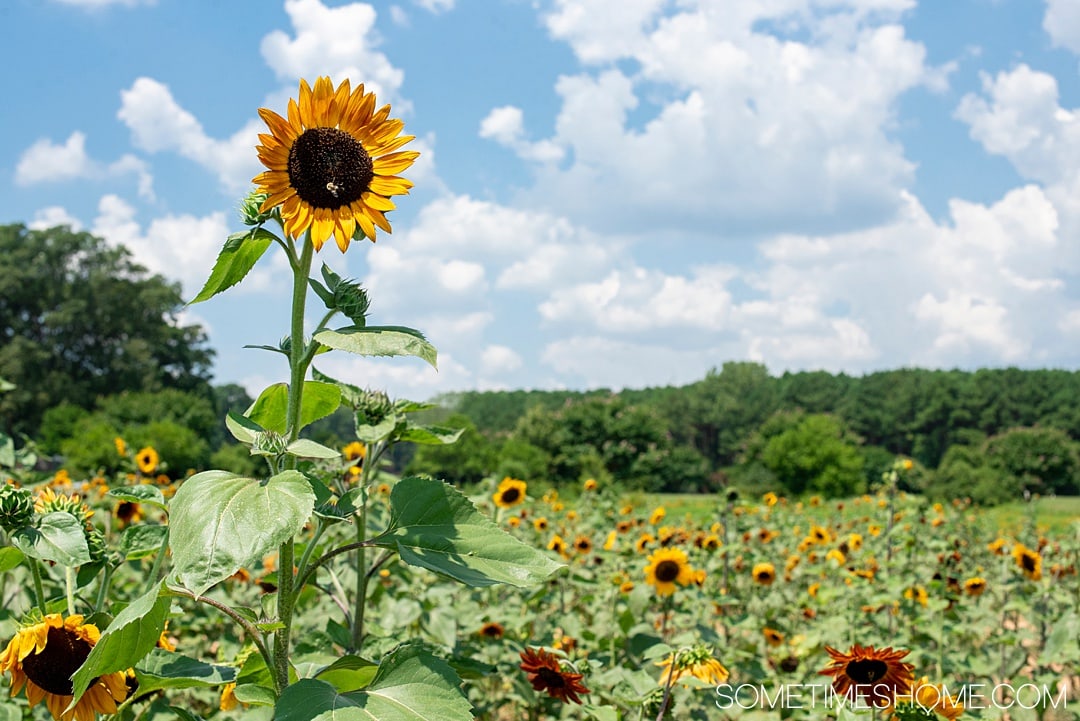 2. Rose Garden at Raleigh Rose Theater
One of the most fun flower "fields" is Raleigh Rose Garden. It's tucked away behind shopping centers and homes near The Village (formerly known as Cameron Village). But luckily, we're here to help you know how to find it!
The roses bloom in late May and surprisingly, some varieties stay in bloom as late as November some years. (We took some wedding photos there in mid-November and were lucky to get some roses in the photos.)
If you want to maximize your time, be sure to bring a picnic to enjoy! It's quiet and peaceful there and a wonderful place to enjoy the very fragrant and awesome smells of gorgeous roses.
Though there are not really restrictions for this City of Raleigh park, you simply need to be aware of events at the theater which may hinder your visit to the Rose Garden. Photography is welcome without a permit or fee unless it's a large commercial shoot, like for a movie or advertising. (The city of Raleigh requires permits for all types of shoots like that.)
It's open to the public every day, from dawn to dusk. It is one of three "official" and accredited rose gardens in the Raleigh area, and there are 60 beds of roses to ogle over (and you will – they're beautiful). The rose garden has been around since the 1950s.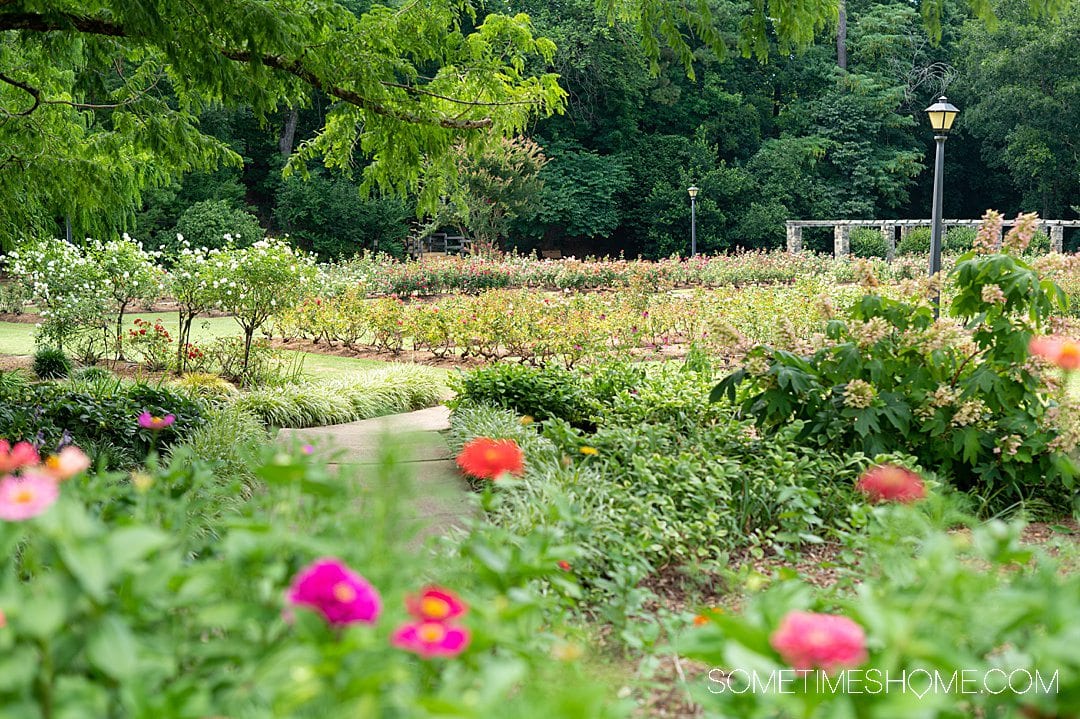 Parking at Raleigh Rose Garden
There is a small parking lot there you can use, which is also for the adjacent Raleigh Little Theatre. (Address below.) If there are no spots in the small lot, you'll likely find parking along Pogue Street.
Address: 301 Pogue Street, Raleigh, NC 27607 (The parking lot is off Pogue street, not Everett Avenue, just in case GPS takes you to the super small lot with only 4 or 5 spots off Everett. If it does, go back out to Pogue, make a right, and you'll see the "real" lot entrance on your right.)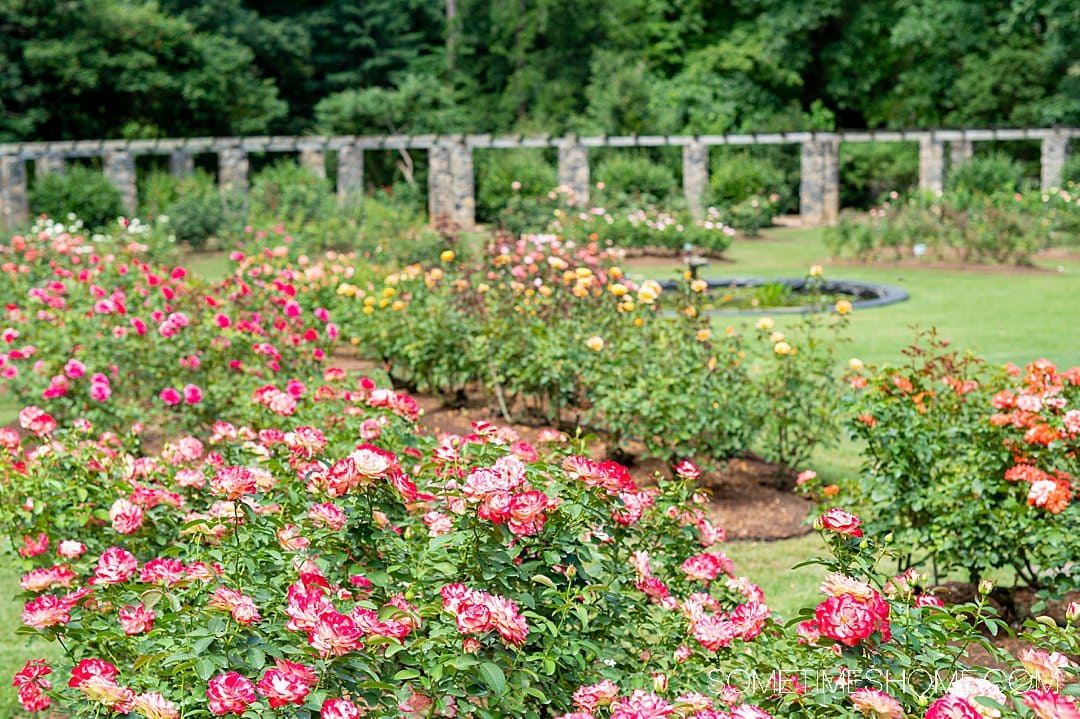 3. Lavender Farm at Lavender Oaks in Chapel Hill
No one can deny the beauty and intoxicating scent of lavender in bloom. Purple flowers fill our eyes and noses with the magnificence of summer.
Luckily, there is a fantastic lavender field near Raleigh in Chapel Hill. Lavender Oaks Farm has been around since 2015, and even has summer events and a u-pick option.
It takes about 45 minutes to get there from central Raleigh and is mostly open on weekdays and some weekends. For extensive information about Lavender Oaks Farms, including how much time to expect to spend there, parking and more, see this post.
Address: 3833 Millard Whitley Rd., Chapel Hill, NC 27516
➜ Have the best visit to the Lavender Farm with these tips!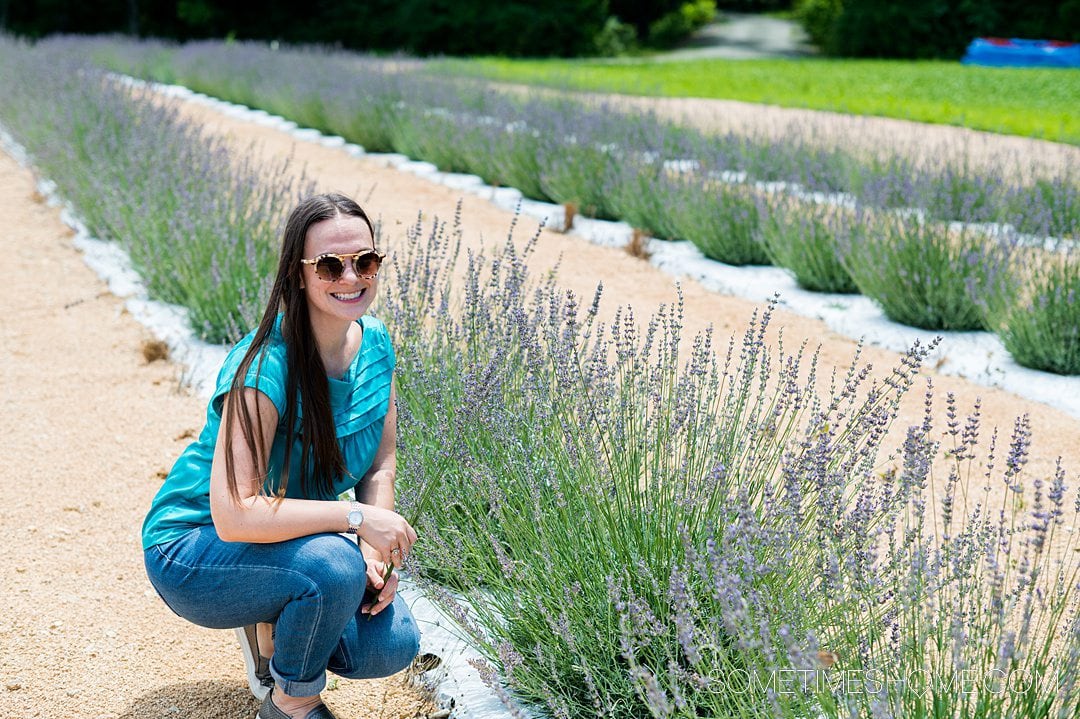 4. Sunflowers at Odom Farming Company in Goldsboro
There is a farm that is an hour southeast of Raleigh that has rotating crops, like strawberries and sunflowers. They also have the option to cut (and pay for) sunflowers, which is a lot of fun.
Odom charges a nominal fee of $5 to visit the gardens, which are in bloom in July and August (check their website for up-to-date information about the status of the sunflower field). They also have a playground visitors can enjoy and a small animal farm to visit, included in the price of admission.
If you wish to pick sunflowers, it's simply $1 per stem.
One of the fun things about this flower field near Raleigh is that you can enjoy it at different times during the year. Go for strawberry picking in the spring, summer sunflowers, and fall fun with their corn maze and pumpkin patch.
While professional photographers do not have to pay the $5 admission, they do have to pay a $30 photographer fee (which is incredibly reasonable if you ask us). Friendly leashed dogs are also welcome.
One of the things we love about Odom Farming Company is it is run by third-generation farmers. This small family of four is simply trying to teach their kids how to love and respect the land, which gives us both food and fun.
As such, their rules are simple, and they ask for visitors' respect for their land and nature and understanding of their small family business in return.
Their visiting hours are typically 6:00pm to 9:00pm but may vary, so be sure to check their hours on their website or contact them before you visit.
Address: 1426 Claridge Nursery Road, Goldsboro, NC 27530
Additional things to do in Goldsboro, where Odom Farming Company is
We must mention that we love Goldsboro!
It's a small town with a lot of history and lots to do, so if you visit the farm be sure to eat and drink your way through Goldsboro and tour the town a bit. There are also a few photo-worthy spots in Goldsboro we've shared that we think you'll enjoy.
🌻🌻🌻 Check out awesome Sunflower Gifts on Etsy 🌻🌻🌻
5. Sunflowers, Cosmos, and Zinnias at NCMA Sculpture Garden in Raleigh
North Carolina Museum of Art (NCMA) has a flower field during springtime too! They first planted the colorful flowers in 2018, and have followed up with new bright plantings each year.
Their field is a mix of sunflowers, cosmos, and zinnias. The quote, "The Earth laughs in flowers," comes to mind when we see this wonderful mix of stems popping up from the ground.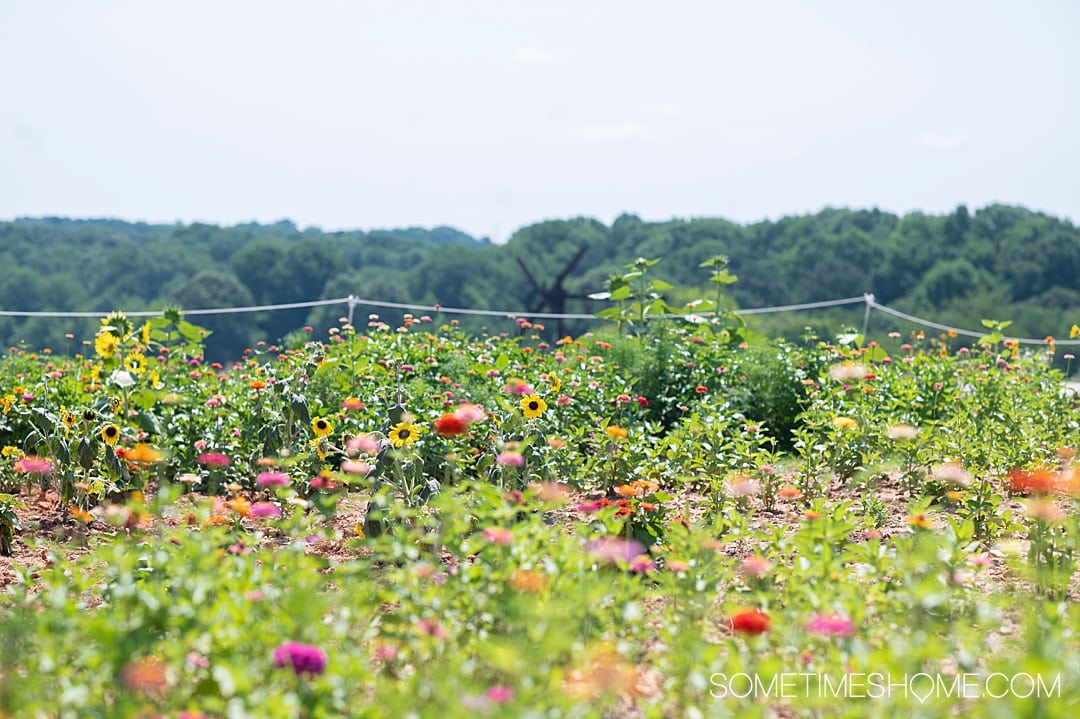 There is a sculpture garden on NCMA grounds that runs into the NC Greenway. The flower field is a bit past the famous three-ring iron sculpture, towards the forest.
There is plenty of parking at NCMA. From the lot, you simply walk towards the sculptures and proceed past them.
Address: 2110 Blue Ridge Rd, Raleigh, NC 27607
The flower field is in the opposite direction of walking towards the museum. However, don't forget to get a photo with the flower mural on the side of the building by famous muralist Louise Jones (also known as "OUIZI", who painted the mural in collaboration with the museum's Georgia O'Keeffe exhibition in 2018.
Here is a timelapse video of her painting the gorgeous mural, whose focal flower is a white magnolia:
6. Dewberry Farm in Kernersville, NC (Tulips, Sunflowers, Dahlias, and Zinnias)
If you're anything like us, you seek out flower fields wherever you go, whether it's seeing the acres of ranunculus in Carlsbad, San Diego, come spring, or the tulips in Skagit Valley, Washington. Even if we need to go to The Netherlands to explore the famous Keukenhof gardens, we'll do it! No area is too far to seek colorful flowers!
If you are game to venture a little further outside of Raleigh – but still stay in North Carolina – head about 2 hours west of the city. Dewberry Farm is an excellent choice for flower field fun.
It is located very close to Winston-Salem and has both spring Tulips, summer Sunflowers, Dahlias, and Zinnias. They offer you-pick for both.
If you wish to have a professional photography session here, the cost is between $30-$40, depending on the type of shoot you're doing.
Tickets must be purchased in advance on their website if you want to pick the flowers. Don't forget to bring your own scissors or sheers, like you need to bring for Lavender Oaks Farm.
*If there are no tickets available on their website, it means that the flower fields are too sparse for picking or the season has ended.
Address: 2585 Dewberry Farm Ln., Kernersville, NC 27284
Additional Locations to see Beautiful Flowers (and their Gardens) near Raleigh
We have to mention two additional locations to see flowers that we absolutely love in Raleigh. Both are free for visitors.
7. JC Raulston Arboretum
This gorgeous garden is open to the public and is owned and managed by NC State college and its volunteers. They do not require a photography permit to take professional photos there. (And we think it's one of the best places for photos in Raleigh.)
There is a lot at the address below, and they're usually open from morning to late afternoon. If you're interested in education about the plants and trees there, they have labels in front of most plantings; it's an educational garden.
You'll find a rose garden, succulent/cactus garden, Japanese garden, and more here.
Address: 4415 Beryl Rd, Raleigh, NC 27606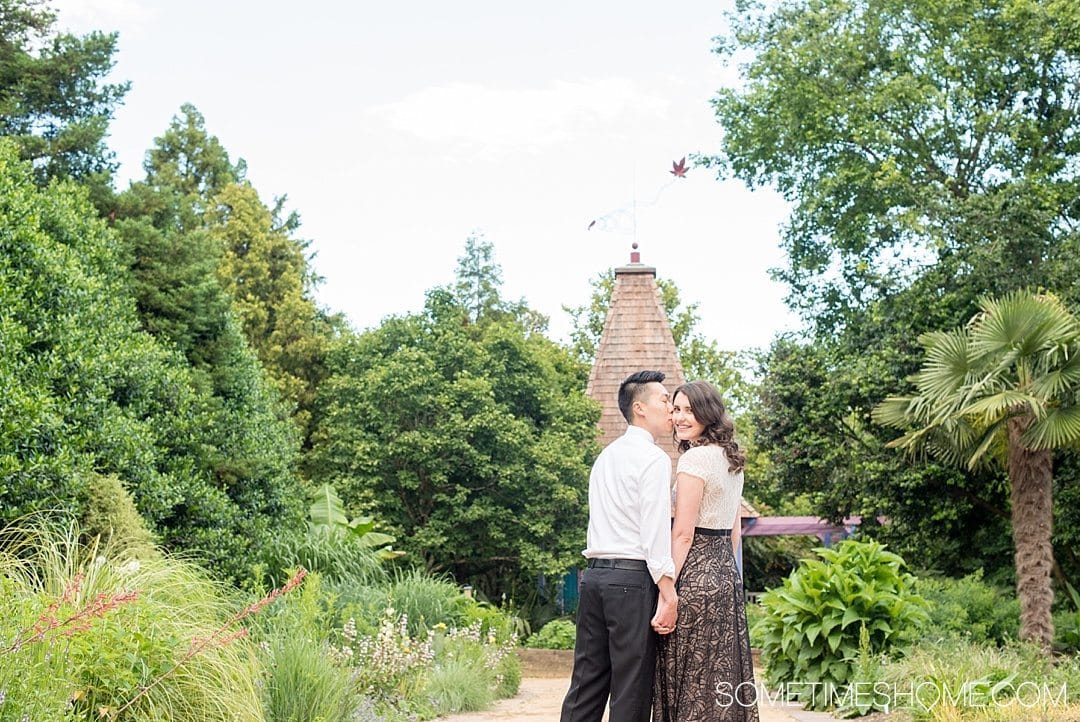 8. Fred Fletcher Park
This hidden gem is close to Raleigh Rose Garden. We love to take a picnic here and sit near a flower bed, taking in nature surrounding us in the tall trees, green grass, and pretty flowers the park staff plants each year.
We like to park in the small lot off Clay Street, but there is plenty of parking off Washington Street in a lot for Fred Fletcher Park too.
The official address of the park is: 820 Clay Street, Raleigh, NC
9. Sarah P. Duke Gardens in Durham (on Duke University Campus)
This garden provides acres of beauty, including Cherry Blossoms and Azaleas in the spring, summer hydrangeas and perennial flowers, and photo-worthy water features. Professional photography sessions require a permit.
Regardless, we think it's one of the most photo-worthy spots in Durham!
Address: 420 Anderson St, Durham, NC 27708 (the lot has paid-parking spots)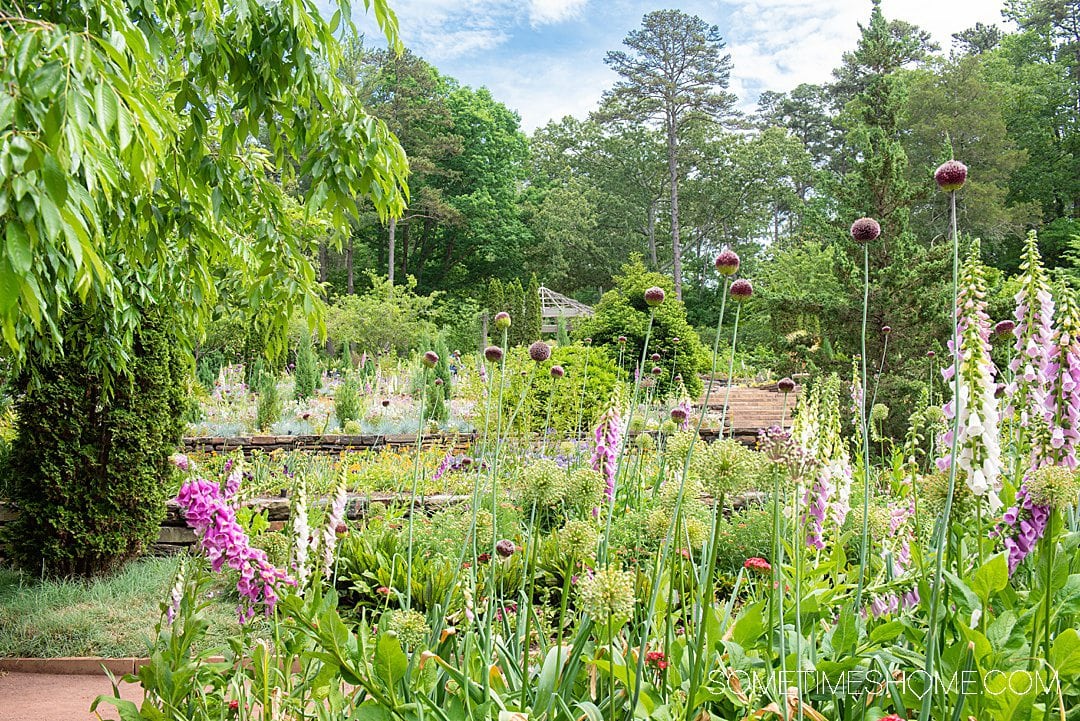 Important Information (and What to Bring) for Flower Fields Near Raleigh
Summer is hot and buggy in North Carolina, so we want to remind you of a few good pointers for visiting any summer flower field.
Bring Water
You must bring water with you. It gets hot fast during summer days in Raleigh and its surrounding areas. Stay hydrated to avoid headaches, the risk of passing out, and simply the effects of dehydration.
Here are our recommendations for the best reusable water bottles:
Memo bottle: We love it because it's flat, so it fits in a pocket, on the side of a backpack, in a purse, etc. very easily and comfortably.
MiiR bottles: They're insulated and keep the liquid at the temperature you added it to the bottle in for HOURS and hours. They rock. We also love that the wide-mouthed bottles are easy to get ice cubes into. Use code "SOMETIMESHOME" for 15% off your order.
Wear Sunscreen and Sunglasses (maybe a hat too)
Protect your skin and eyes! Don't forget your sunscreen, sunglasses, and a hat if you like. And if you want extra protection, wear lip balm with SPF protection in it too.
There will Likely be Bees
Bees not only love flowers but they are necessary to keep the flower and plant lifecycle going. They pollinate the plants. It's likely there will be bees on the flowers and surrounding them when you visit a flower field near Raleigh.
If you don't hurt or swat them, they'll leave you alone. Be kind to the bees! We need them. (We don't recommend going to a flower field if you, or someone you're visiting with, is scared of bees.)
The Bug Bite Thing is a great tool that we never leave home without. If you get stung by a bee or bitten by a bug, this tool is the best for helping the bite and relieving the pain and itch, immediately.
We always recommend buying a three-pack of The Bug Bite Thing because we keep one at home, one in our car, and I keep one in my purse at all times.
Do Not Pick the Flowers (unless it's Explicitly a "You-Pick" Field that you've paid for)
Imagine if everyone who visited flower fields that were not "u-pick" or "you-pick" picked the flowers. Imagine showing up to enjoy the beauty of a field of flowers to find that they were picked through and you couldn't enjoy them as a result.
Because of this, you should not pick the flowers unless the farm says you can and has rules around picking. The regulations are in place so people can enjoy the flowers throughout the season and the farm can regulate things.
Additionally, if there is a fee to pick flowers, know that the small amount is going towards supporting the farm and its employees so they can keep planting the fields yearly.
Dorothea Dix does not allow flower picking. Lavender Oaks Farm and Odom Farming Company do, for a fee.
Raleigh Flower Fileds, in Conclusion
Summertime brings the bounty of seasonal flowers. Whether you want to see lavender, roses, sunflowers, or all of the above, we're so glad that North Carolina is a state that values these beauties and loves to share them with its community and visitors!
Read this next: